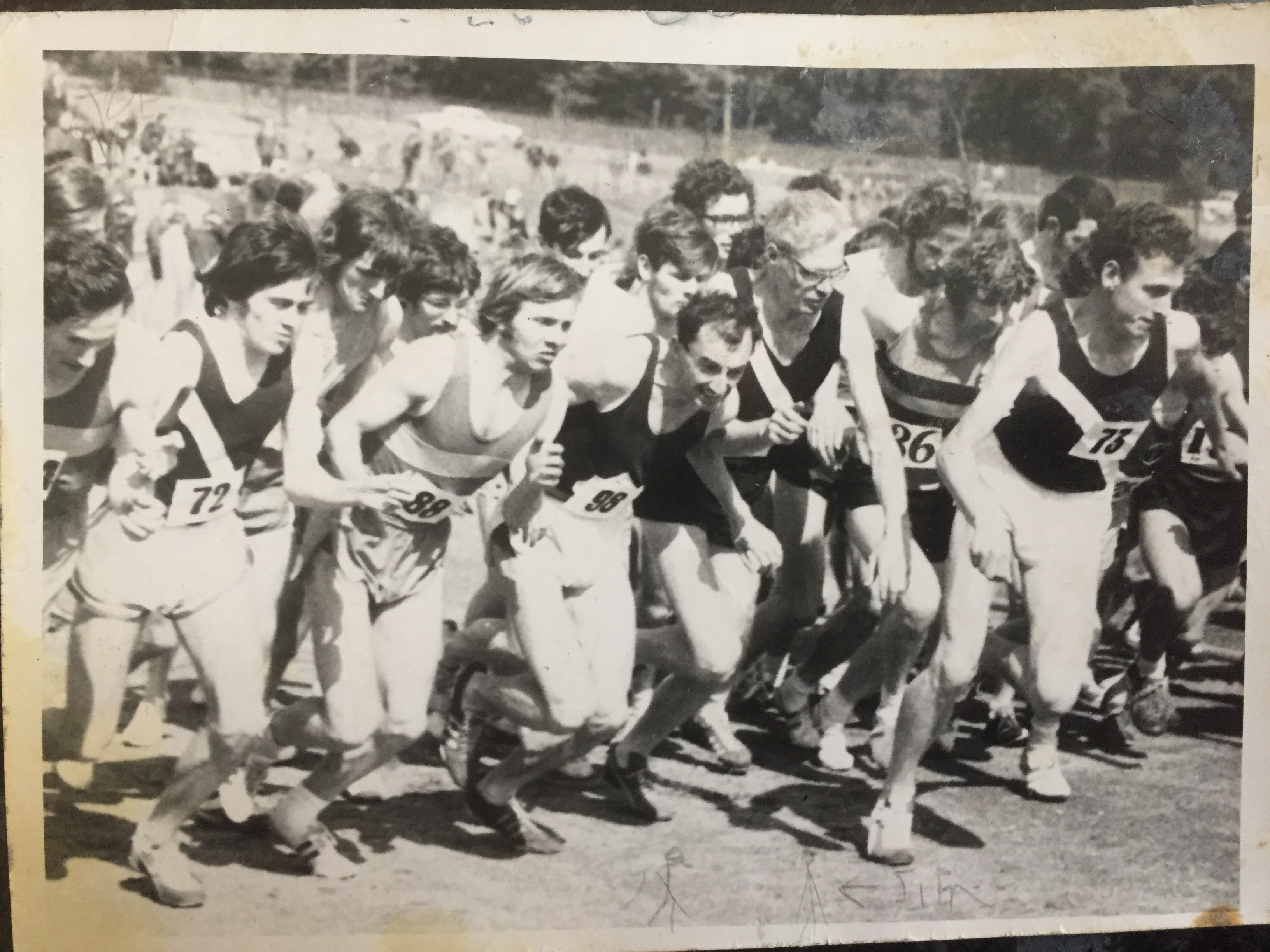 Just a picture of the start of the 3000m at Airdrie Highland Games. If the notion of Airdirie being in the Highlands is a novel one, the standard of athletics presented was as good as you are going to get. On a good quality, cinder track there were a mix of open and invitation events. The picture above is of the start of the 3000m in June, 1972 Result: 1. JLS 8:16.2; 2. Jim Brown 8:17.4; 3. R McDonald 8:27.6; 4. A Blamire 8:27.8.

The picture above is of Jack Paterson with one of the cups presented annually by Watsonians. A first class middle and long distance runner at the start of the last century, he is profiled by Alex Wilson at this link .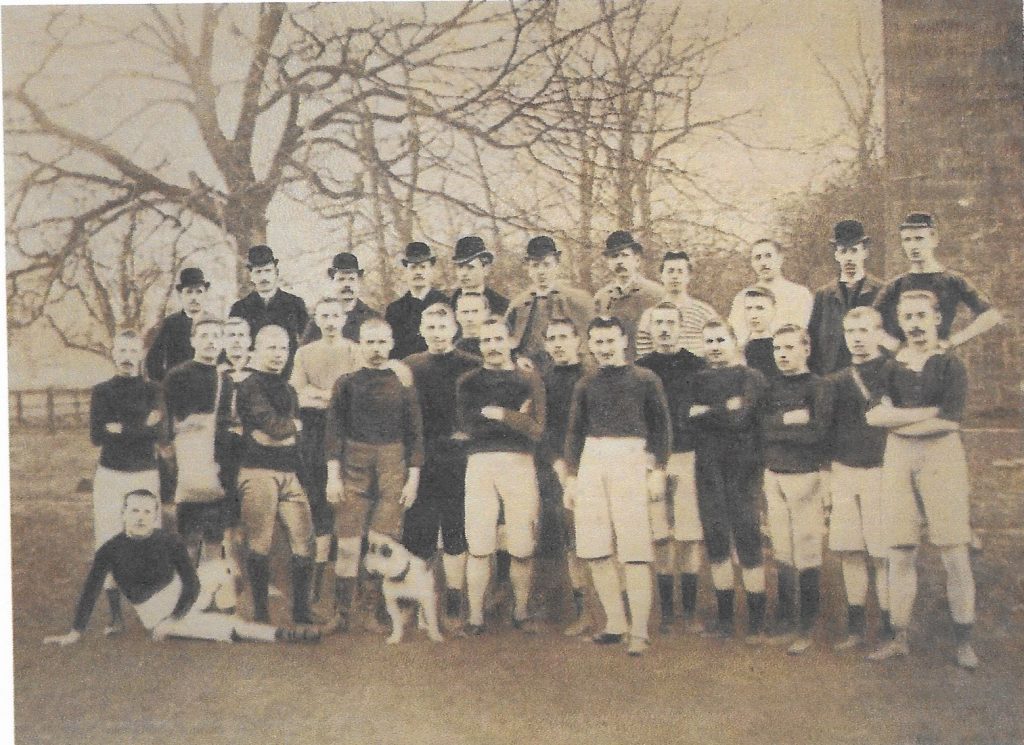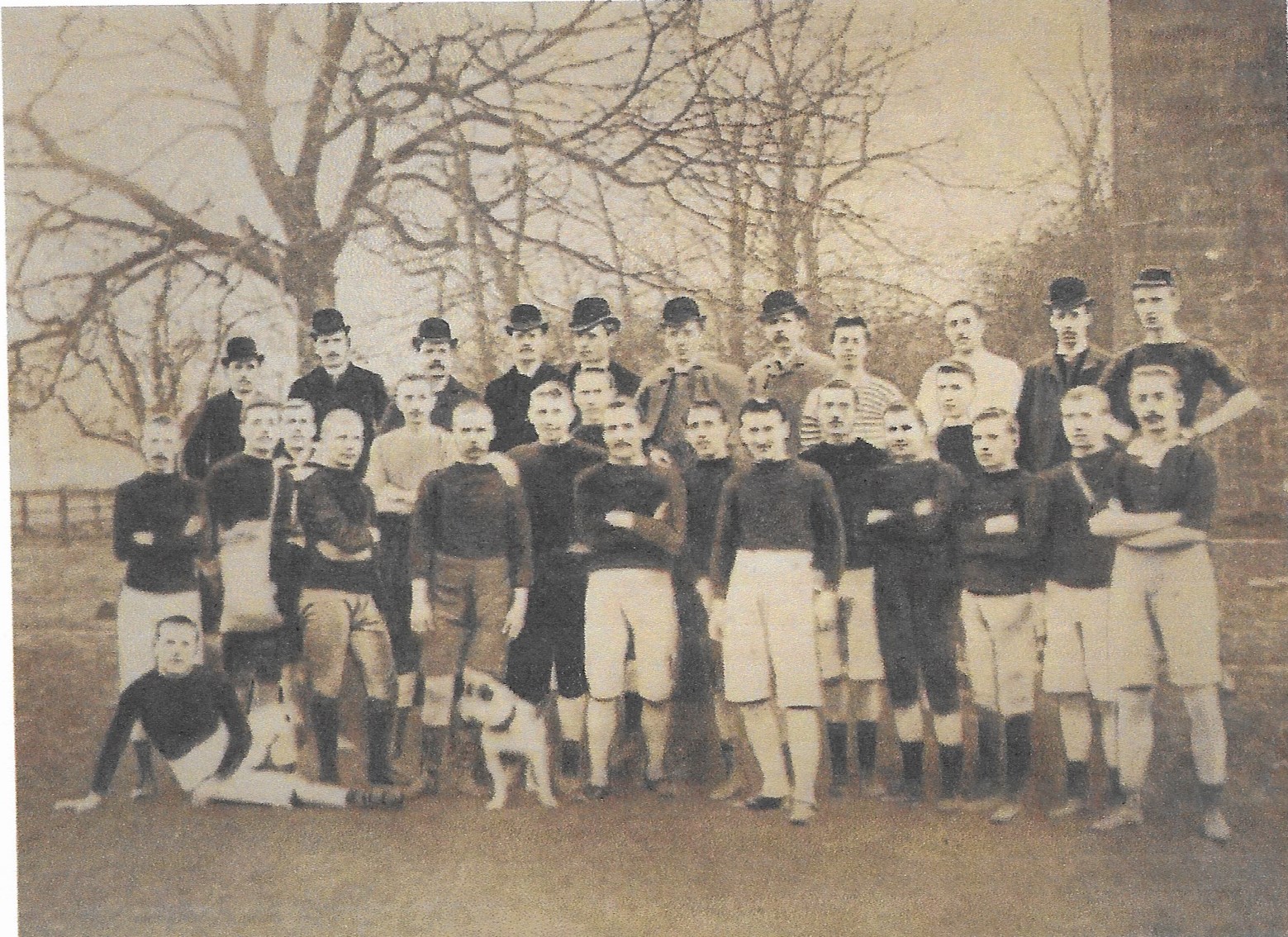 The photograph above is the first known picture of a Scottish Harrier club – it is not Clydesdale, nor is it Edinburgh – so who was it and when was it? Hamish Telfer has written an interesting article on the first Harrier clubs in Scotland with several good pictures. He is looking for a response so you can email him direct or go via the usual address here. Read the article at this link .
Walter Ross, pictured above, was the real mainspring of the Veteran Harriers movement in Scotland. Colin Youngson has an article on the beginnings of the Scottish Veteran Harriers Club in the 1970's. You can find it here.
We also have a page which has all Alex Wilson's historical profiles, other profiles to which he has contributed mightily and four pages of his photographs. Find it here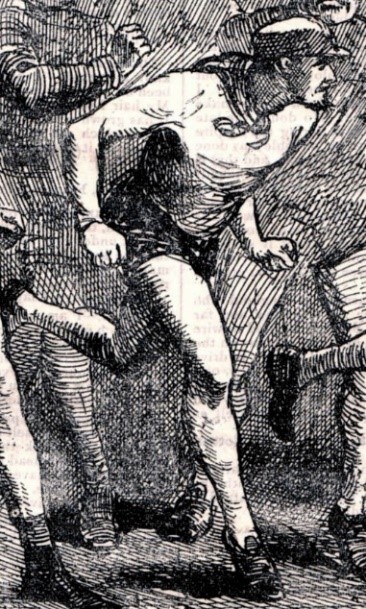 We have a super abundance of riches this time: Colin's Veteran's Newsletters which have already started gathering readers and another of Alex Wilson's formidably good biographies of Scottish runners of bygone days. This one is of Cutty Smith, a top class runner over distances between 1 and 25 miles. Read about him by clicking on his name. There have been good reviews by those who have already read it.

Colin Youngson who is now stepping down as editor of the Scottish Veterans Newsletter has worked tirelessly over the last weeks to get all of the issues that he has edited (24 in all) up on site. They contain information about races, committees, warm weather training, profiles of runners, interviews with runners and many, many top class pictures. There are also pages of cover pictures, Colin's personal selection of articles and Tom O'Reilly's account of the Three Island Peaks race. Click on the link above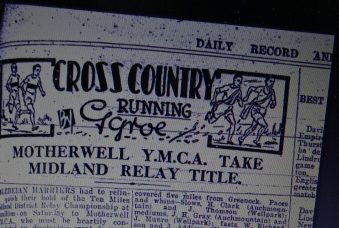 The above is the headline that went with every article on athletics written by Ggroe for the Daily Record in the 1920's and 1930's. One of the best and most consistent reporters the sport has had in Scotland, he went on writing through the 1940's and 50's under his own name of George Dallas. Read about Ggroe here .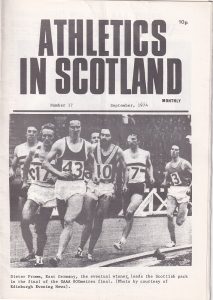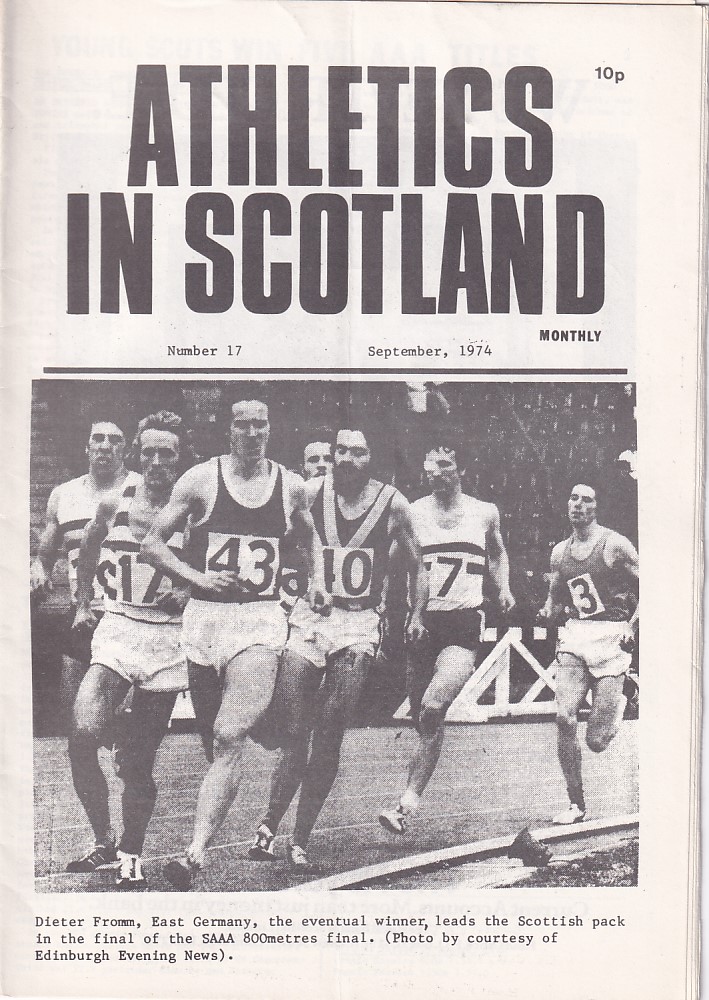 The cover picture above is one of the Athletics in Scotland collection at this link. Some good pictures from the 70's.. ..
We have some some information about the Athletics in Scotland magazine that ran in the mid 70's. Produced by George Sutherland in Edinburgh it provided results, articles on training and athletics generally. A good magazine, appreciated by the target audience, but like all dedicated athletics productions it did not do well on the money making front. Read about it here. There are links to several issues of the magazine at the foot of that page with several more to be added.If you have any cover pictures for the missing editions, especially for the last issue with all the wee photographs on it, a copy would be appreciated.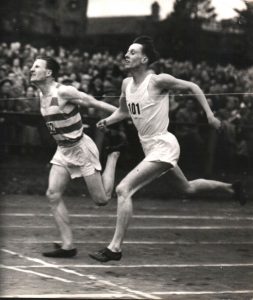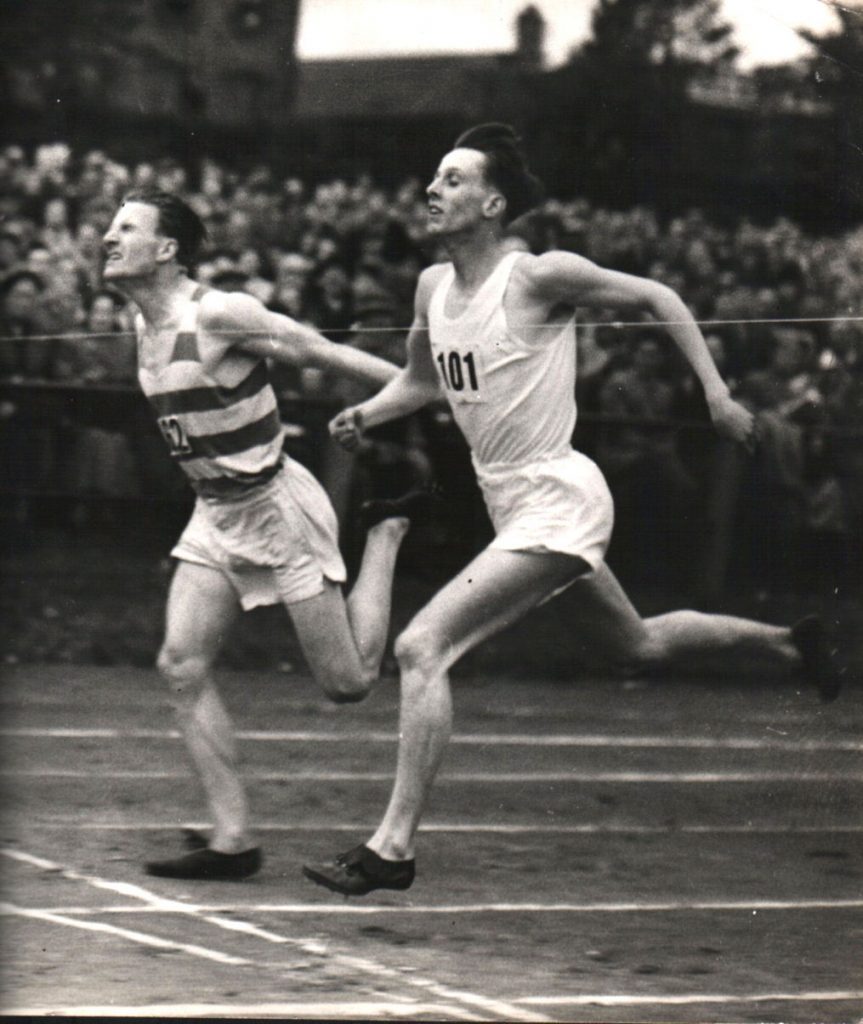 We don't usually have sprinters on the site but Bobby Quinn of Victoria Park, seen winning the SAAA 440 yards in 1954, was a top class official and a great club man for Victoria Park. His profile can be seen on the officials page but you can see it for now at this link .

Westmarch, Paisley, St Mirren's second ground is shown in the photograph above. There is some coverage of their sports between 1881 and 1887 now on site, ie up to the sprints duel between a Queen's Parker and a Clydesdale Harrier, the first challenge match in Scotland according to the pre-race publicity. See it here
The first world war profiles are via the WW1 link on the nav bar at the foot of the page with temporary link by clicking on WW1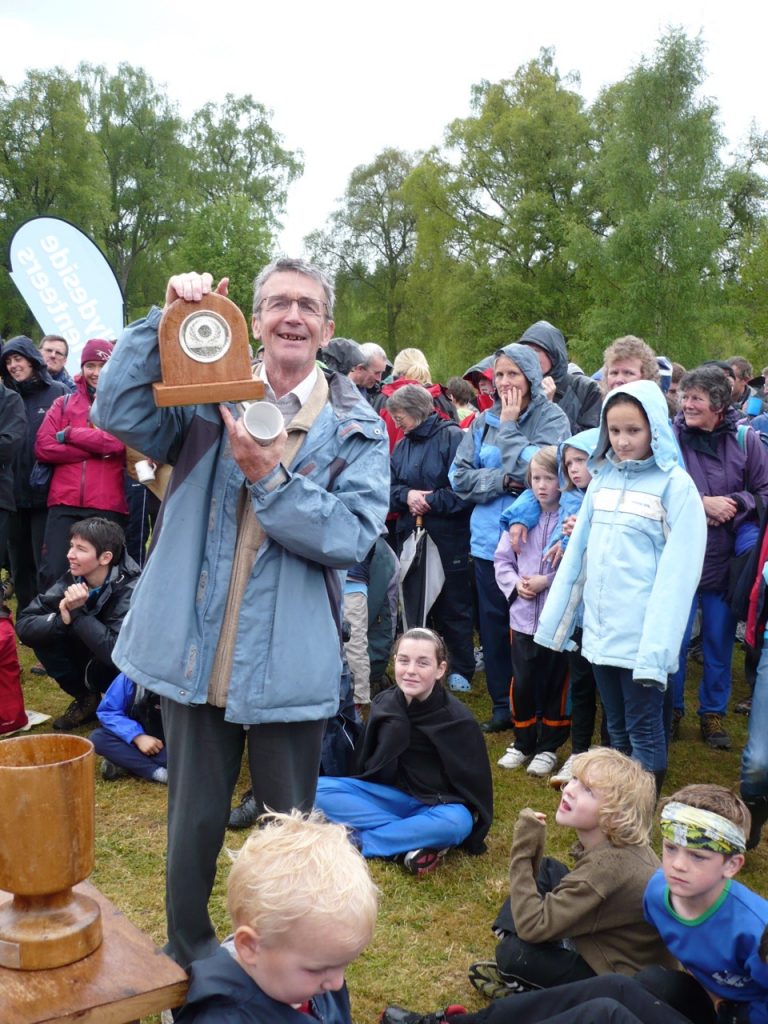 A happy man! Bill Melville was one of our best freelance sports journalists and reporters who had a long career. Starting as a runner he ran track, cross-country and roads including the 16+ miles of the Clydebank to Helensburgh. He then became an orienteer who wrote a very good book about a year spent in the event. All the while he was writing very good columns and for 40 years he worked as announcer or press representative at the Scottish Cross-Country Championships. Read about him here There are two pages – one on Bill as a competitor and one as a journalist.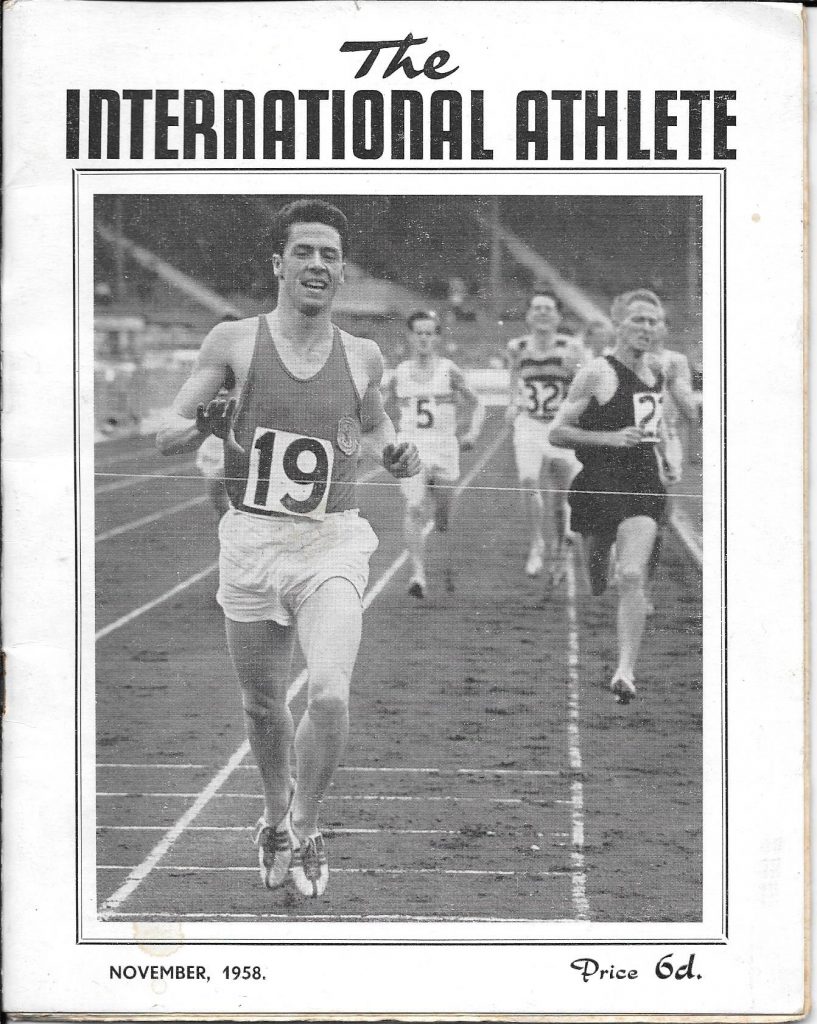 Walter Ross is remembered for the wonderful 'Scots Athlete' magazine. He followed it up with the short lived 'The International Athlete' magazine and, having borrowed the bound volume of the first 12 issues from Danny and Molly Wilmoth, the covers are reproduced here. Full magazines might well be added as the days go by. He was some man, Walter!
There is a new page on site now just dealing with the articles on Clydesdale Harriers which were starting to pile up. It can be found at this link with new (to this site) profiles of Dougie Gemmell and Ian Donald, and will be added to as the days go on.
There are also several additions to the meeting programmes on site:
[ The Coaches ] [ Great Club Men ] [ The Officials ] [ The Runners ] [ The Universe Is Mine ] [ Doug Gillon ] [ Sandy Sutherland ] [ Bill Melville ] [ The Press ] [Alex Wilson's Historical Profiles ] [ Alex Wilson's Galleries ] [ History ] [ Cross Country ] [Track and Field ] [ Track and Field: The Sports Meetings ] [WW1] [ The Games ] [ British Empire Games ] [ QPFC Sports ] [ Football and Athletics ] [ Sports Miscellany ] [Aberdeen Athletics ] [Tony McCall's Pictures] [ Distance Running History: An Overview ] [ Clydesdale Harriers ]