| | | | |
| --- | --- | --- | --- |
| Year | Winner | Year | Winner |
| 1900 | George Watson's College | 1905 | Allan Glen's School |
| 1901 | Glasgow Academy | 1906 | Glasgow High School |
| 1902 | George Watson's College | 1907 | Glasgow High School? |
| 1903 | Dollar Institution | 1908 | No Team Contest. |
| 1904 | Dollar Institution | 1909 | Allan Glen's School |
The table above lists the winners of the Inter Scholastic Games (which became the Scottish Schools Athletic Championships) from 1900 to 1908. Just click on the year to see the report. The sports of 1908 were very interesting in that there was no team aspect to the event. Many of the private schools failed to support it and there are articles from the Edinburgh Evening News' and the 'Scottish Referee' that outline the petty rivalries behind this. Click on the 1908 link above for them. 1909 will be added soon.

George Watson's College: winners of the first Inter-Scholastics Games in 1890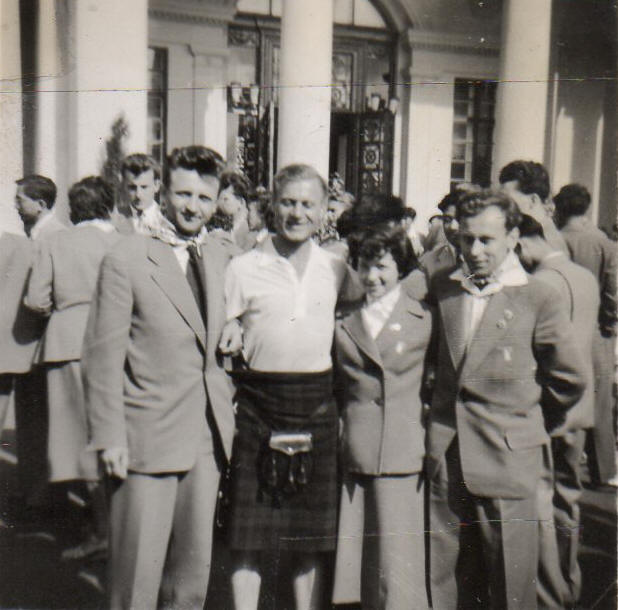 It was a great surprise to hear recently of the sudden death of Kenny Phillips at the age of 94. Known to hundreds of the present generation of athletes, many of whom probably didn't know him by name, for the photographs that he took at many races all over the country. And he knew where to position himself to take them too for the greatest effect. A loyal and life long member and supporter of Beith Harriers he ran in all the classic Scottish endurance races. We already have his profile on site at http://www.anentscottishrunning.com/kenny-phillips-first-part/ which has a link to a second part. I have now added a page with his poem and his own brief account of his life and experiences away from the running arena. You can find it here . Even if you don't read the poem, go down and read his story of his career away from the track. The photograph at the top of the page is of a young Kenny in his kilt in Moscow. For the whole story follow the link.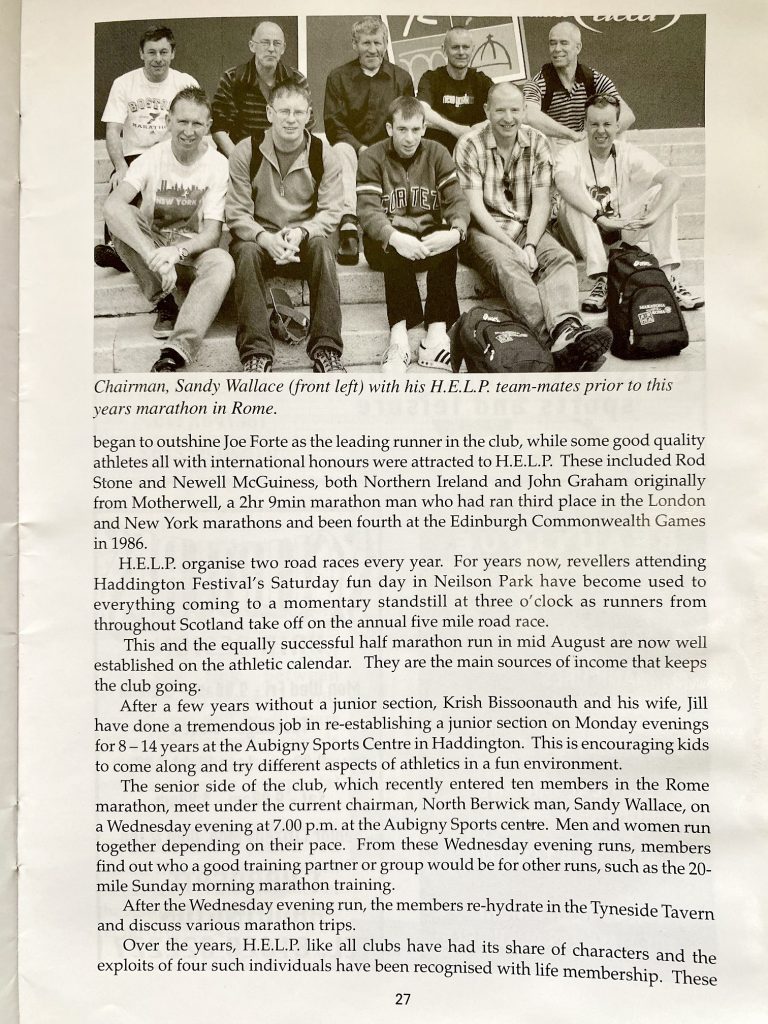 The page above is from the story of Haddington East Lothian Pacemakers (HELP for short) which is the only club that I know of which had as part of its own remit and activities the raising of money to help local charities, and indeed national ones. Most other clubs raise money from a variety of events for good causes, many athletes spend a lot of their time on that very same path, but this was a club which, as shown by its name, had that function as an everyday part of its raison d'etre. Just clisk on the name above to read the whole 5 page document.
We now have the second part of the Alexandra AC profile up on site. It covers the club's sports for the years 1875 – 1882 inclusive with some interesting information in it. Just click on the link above.
[ The Coaches ] [ Great Club Men ] [ The Officials ] [ The Runners ][Alex Wilson's Historical Profiles ] [ Alex Wilson's Galleries ] [ Hamish Telfer's History of Early Scottish Harrier Clubs ] [Before 1885 ] [Clubs Before 1900 ] [University Athletics 1930 – 1934] [Aberdeen Athletics
[ Doug Gillon ] [ Sandy Sutherland ] [ Bill Melville ] [ The Press ]
[ The Universe Is Mine ] [ Races & Training ] [ Scottish Veteran Harriers Newsletter ] [ Sports Miscellany ]
[ History ] [ Cross Country ][ Distance Running History: An Overview ] [Track and Field ][ Scoto-Irish Internationals ] [ Track and Field: The Sports Meetings ] [WW1]
[ The Games ] [ British Empire Games ] [ QPFC Sports ] [ Football and Athletics ] ] [Tony McCall's Pictures] [ Clydesdale Harriers ] [Ayrshire Harrier Clubs Association ]