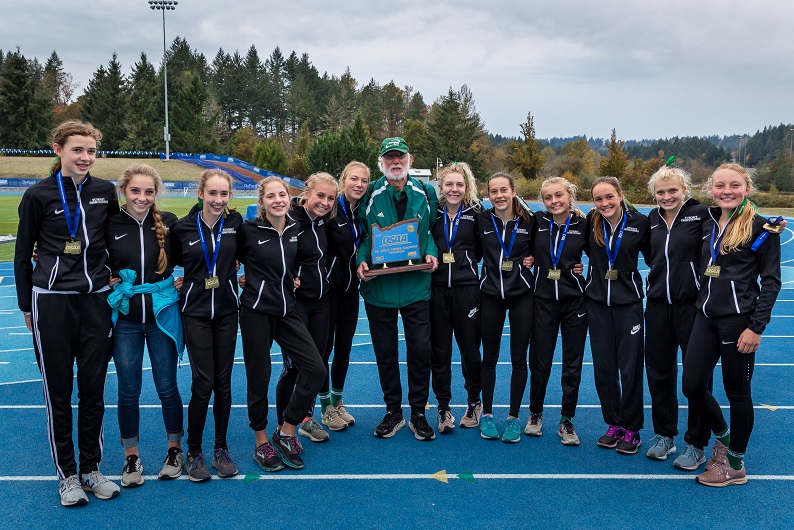 Captured at the 6A Oregon State XC Championships on November 03, 2018 by Matthew Lasala
Summit won eleven State Championships in a row on Saturday, 3 November. Get them at the link above. Terrific write up on the team and big Jim from the local Press at the foot of this page Some photograph of the former Scottish Internationalist two weeks after his stroke!
Just last two weeks ago, Jim suffered a stroke and was hospitalised in Bend, Oregon. However, being Jim, he asked for a four hour pass on Saturday to go to see the races! He got it and right well the runners produced for him. Five counters in the race, five Summit girls in the first five in the race. 15 points against the second team's 51. The same result in the boys race and victories – individual and team – in all four events on the programme. Results at the foot of the page above. The picture here is of Jim, duly released from the hospital with one of the girls after the race.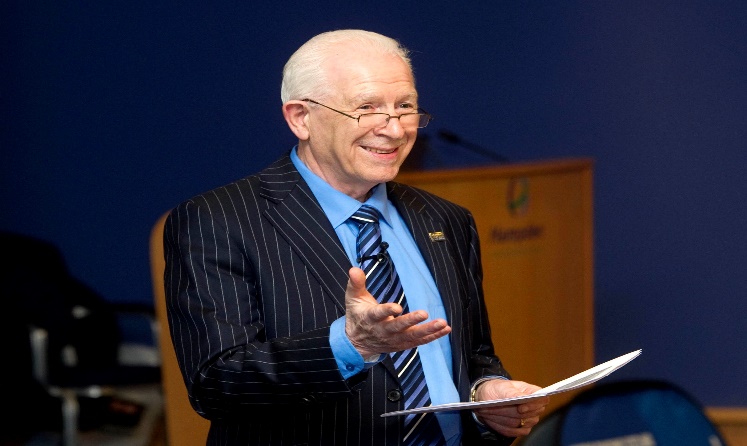 The latest coach to be profiled is Tommy Boyle. The profile is now complete and you can access it by clicking on his name. In four parts with a page of comments from others who know him, it is a bit of an education about a coach who started like the rest of us as a club runner but went on to remarkable things.
Summit HS girls squad is now Number One in the USA – a tribute to the work done under Scots coach Jim McLatchie and his wife Carol. Their Junior Varsity teams in particular – although not exclusively – are in great shape just now.
Alstair Lawson was kind enough to give me a bundle of SVHC Magazine published by Walter Ross in 1988 and 1989. The issue of March 1989 is reproduced here in full although they will all go to Colin Youngson, current editor of the Veterans magazine, to use as he sees fit.
[ The Coaches ] [ Great Club Men ] [ The Officials ] [ The Runners ] [ The Universe Is Mine ] [ Doug Gillon ] [ Sandy Sutherland ] [ Alex Wilson's Galleries ] [ History ] [ Cross Country ] [Track and Field ] [ The Games ] [ British Empire Games ] [ QPFC Sports ] [ Football and Athletics ] [ Sports Miscellany ] [Aberdeen Athletics ] [ Distance Running History: An Overview ]