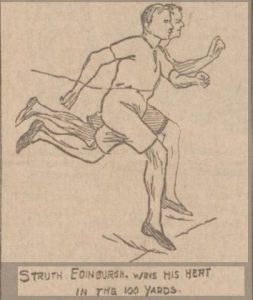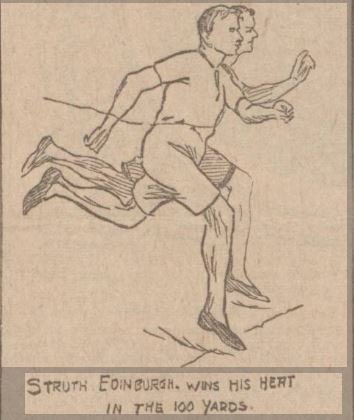 We have started a page of cartoons and cartoon drawings of athletics and athletes: the one above is from Hugh Barrow and there are several good cartoons of SAAA championships, Rangers and Celtic sports plus one from Firhill sports organise by Thistle supporters!     Entering into the spirit of things, Colin Youngson has sent the story from 'Victor' of how Alf Tupper won the Commonwealth Games marathon in Edinburgh.
More results from JimMcLatchie in Oregon are here with the permanent link being from Jim's own coaching page.   The results just keep coming and the onger the streak of excellence goes on, the more impressive it is!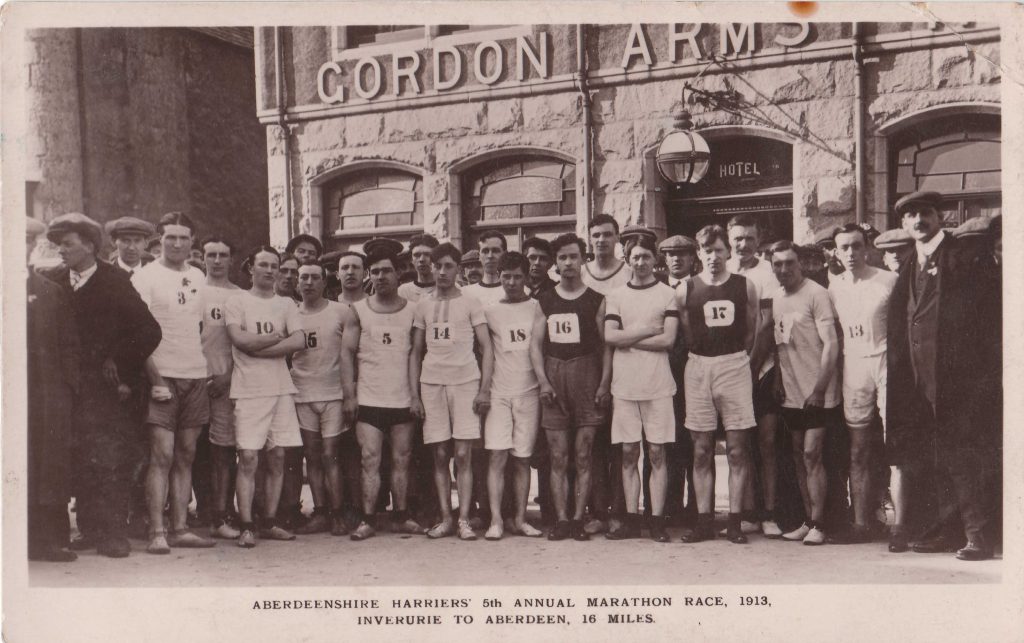 To complete the story of athletics in Aberdeen, we now have several papers written by W Hunter Watson which, taken with the history of the Aberdeen marathons of the early 20th century by Colin Youngson provide a fairly clear story of the athletics in the North-east.   Find the link to both here
We have two new pieces on Aberdeen-related topics:   following my strongly held and long held notion that the history of the sport can be told at least as well by looking at the people who take part as by statistics (which are also vital to understanding the development of the sport) there is an article on the career of James Youngson.   Forget Colin and look at this profile which deals with the sport in the 30's and 40's before a relaunch in the 1970's.  A wonderful career.   See it  here 
The Aberdeenshire Harriers had a long run for their money – the races went from 1909 to 1934 and at times there were two marathons a year in the North-east with Aberdeen YMCA also running a long distance foot race on the roads  around the granite city.   Alex Wilson and Colin Youngson have an article about them  here  Most of the photographs came from Alex although Colin supplied an interesting one of the race start in 1929 – and the start is identical to that in 1913.
What do you do when you have the first club in Scotland?   How do you write a constitution?   How do you organise competition when there is no opposition?  Clydesdale Harriers had this task – how they tackled it can beseen here.
A profile of the origins of Bellahouston Harriers is now available on scottishdistancerunninghistory.scot.   There is a temporary link  here
Hugh Barrow wrote a very  interesting piece about the early days of athletics in north west Glasgow for the westend report in 194.   He has given us permission to reprint it  here .  He comments on the use of swimming baths by various clubs such as Maryhill, Garscube and Clydesdale Harriers as stripping accommodation.
Alf Downer, one of Scotland's best ever sprinters and the man who did the Triple Treble:  ie won the SAAA 100, 220 and 440 yards three times, was a member for a time of the short lived Scottish Pelicans club.    You can read what we have so far here   If you have any more information, please pass it on.
Des Yuill is a well known figure in Scottish athletics, particularly on the road racing and cross-country scene.  Capable, respected and liked in equal measure he set an example to many of us.   As a runner he was nevergoing to challenge for international honours – but he has a tale to tell of the night he challenged MIng Campbell.   Read about it  here    And if you liked that, have a look at this page of true stories by other runners like John Anderson, Allan Faulds, Lindsay Robertson and Colin Youngson  here
A Glasgow football pitch that used to host athletic meetings such as the Lanarkshire Police Sports.   There was an outer track too used for dog racing!   This and several others have been added to Hugh Barrow's page of sporting memorabilia.
Charlie Robertson,was one of the best Scottish marathon runners in action after the war.   He ran for Dundee Thistle Harriers, an excellent club, founded in the same year as Dundee Hawkhill Harriers and the more successful of the two clubs up to the second war.  Unfortunately the went defunct in about 1960 leaving Hawkhill to carry the city's banner into the twenty first century.   We would like more information about this club to add to the profile: if anyone knows anything, or can point to a source of info, please let us know.
PJ McCafferty, was one of the first Irish runners to make his mark in Scotland but, infuriatingly, there is not a great deal of informatrion about him available.   Possibly that is because he lived part of the time in Ireland, part of the time in Scotland.   Itr may be because his name was often spelled McCaffrey and at other times McCafferty.   Maybe because he had a brother whose initials were JJ.   Whatever the reason, there are gaps in his story but what there is is interesting enough.   Access it  by clicking on his name at the top.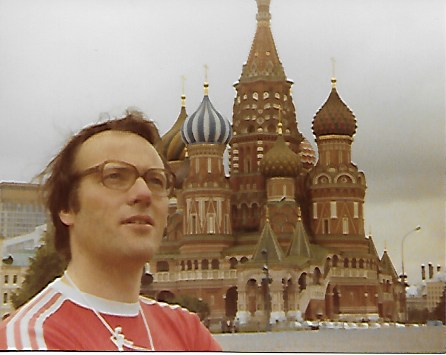 More pictures added to the profile of Sandy Sutherland.   Sandy and Doug Gillon are the only two journalists to be covered on the site but what wonderful careers they have had.   Sandy's profile is now up on site – find it here  for now.   It will have its own niche on the site next week.
Doug Gillon has been a fixture at just about everything that matters in world athletics and at just about every Scottish meeting he could get to: he's been seen at East Kilbride in December sliding on icy pavements, in muck and glaur at Clydebank and Beith, as well as at track events.   Now, supposedly, retired he is the latest profile on site.   Get it here.
[ The Coaches ] [ Great Club Men ] [ The Officials ] [ The Runners ] [ The Universe Is Mine ] [ Doug Gillon ] [ Sandy Sutherland ] [ Alex Wilson's Galleries ] [ History ] [ Cross Country ] [Track and Field ] [ The Games ] [ QPFC Sports ] [ Football and Athletics ] [ Sports Miscellany ] [Aberdeen Athletics ]