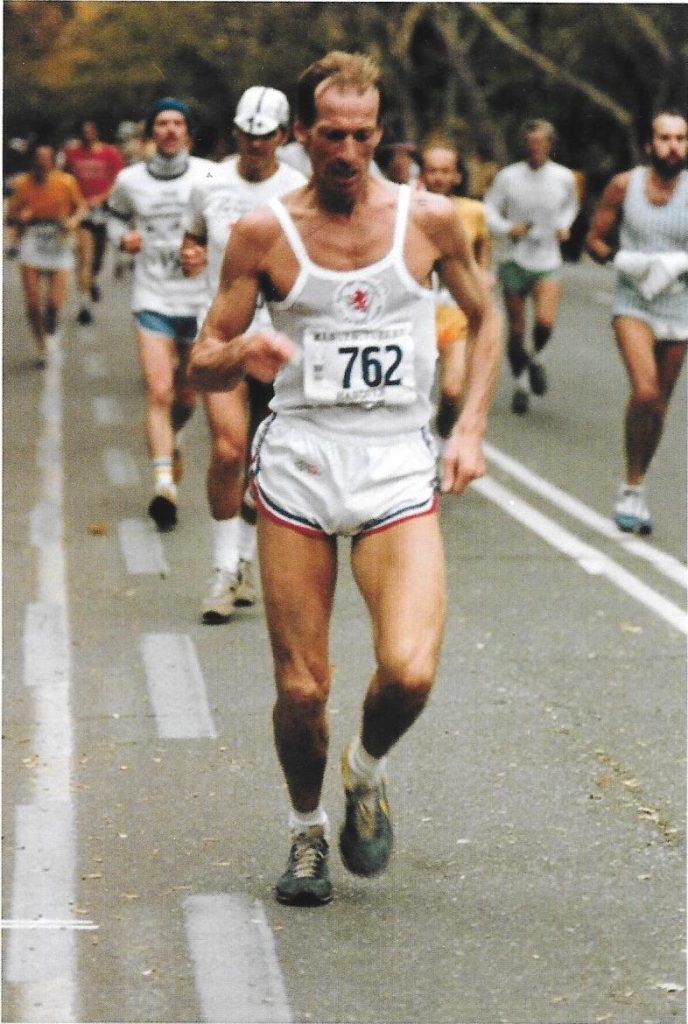 Bellahouston Harrier Jack MacLean's profile, seen above 200 yards from the finish of the New York Marathon, is now on site. A good career as a runner was followed by being a founder and prominent member of the SVHC. Click on his name.
Congratulations to Leslie Roy: the indefatigable administrator who has been awarded the MBE in the New Year's honours list. Have a look at her profile by clicking on her name above.

I post the results of Summit College quite frequently although it is not in Scotland. That's because the coach there is Jim McLatchie – a big boy from Ayrshire who was a top class runner and has been a superb coach for many yuears now. I print them because there have been a whole series of Scots down the years who have represented Scotland or the country in which they have settled for longer than I can remember: Mike Ryan and Paul Bannon as marathon runners for a start, then there have been such as JV Paterson and a very well known coach from the Borders who settled in the US – Jim Curran (see profile in the coaches section). Jim McLatchie is a reminder that we are still doing it. His wife Carol is also a coach and last year was the recipient of a best coach in the State. He used to have a reputation of being a hard man to work with – far from the truth – but he works hard at his coaching and I add a link – http://www.ustfccca.org/ustfccca-convention/convention-symposiums/convention-symposium-materials – to the proceedings of a coaching symnposium he proceedings that Carol attended recently. They are both bang up to date with research and good practice: it's not by acident that Summit has won the State Championmships ten years in a row. Have a good Christmas, Jim and Carol.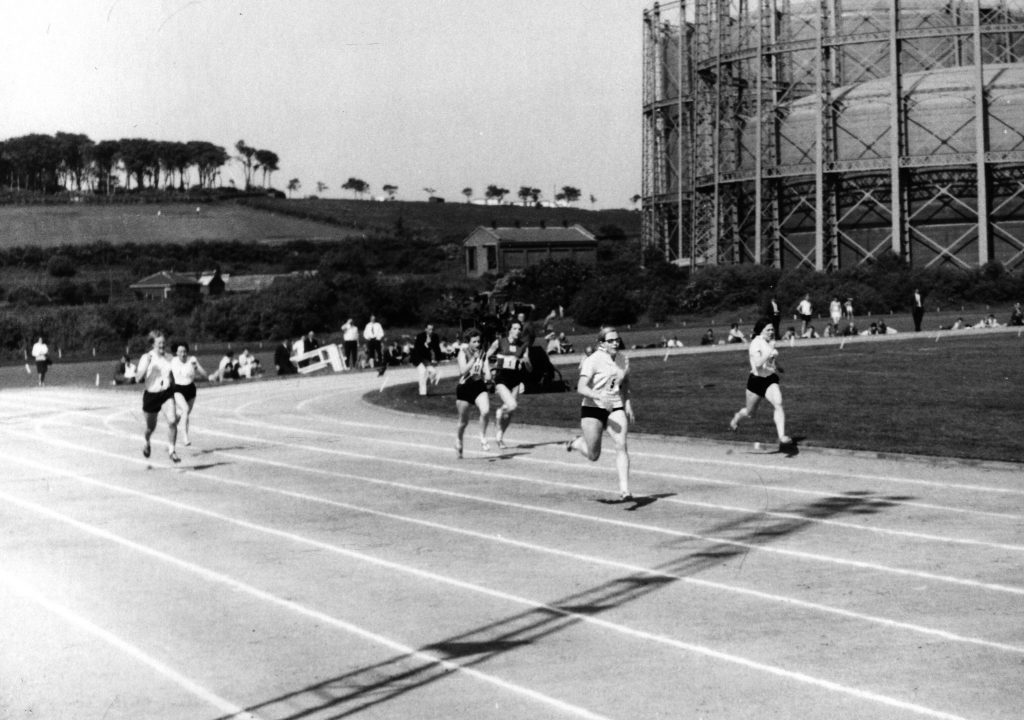 Above is from the BUSF championships at Westerlands in 1968. It is part of the story of Scottish university in the 60's and is now up on site – access it for now via this link.
The first of the series on university track and field athletics deals with the 1950 – 1954 period and we will progress in five year instalments up to 1990. It will spread over several weeks but it is a labour of love!
Jim McLatchie's girls have set a new record by winning the State title ten times in a row. Anyone who saw him race realises how tough a man he was to beat – training in a part of Ayrshire that had absolutely no facilities toughened him up. The girls he works with in Summit High School have better facilities but his training has made them almost as tough. Read about them here
Doug Gillon wrote his last piece for the 'Herald' on Saturday 28th October, 2017. He was given a two full page spread which covered his career (exceptionally briefly). Doug, scourge of the drug cheats, commented that common among successful sportsmen was belief and quoted a poem that Arnold Palmer kept on his office wall which began "If you think that you're beaten, you are, If you think that you dare not, you don't, If you'd …" Read all of it here Re-read the articles about his career while you are at it – it was a great career, covering some of the very highest spots in Scottish athletics history.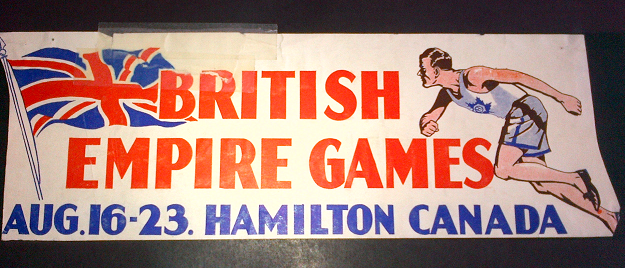 The first Empire Games was held in Hamilton, Ontario in 1930. You can find it here here where there are further links at the foot of the page.
We have added to the Early History of Track and Field by covering the QPFC Sports between 1926 and 1929, inclusive, with the temporary link here
Continuing our coverage of notable sports meetings of many years, we have started on the Greenock Glenpark Harriers sports which used to be a big feature of the sport. This first episode covers the years from 1920 to 1929 and can be found, for now, here Greenock Glenpark Harriers Sports 1914 to 1919 are now also on site look here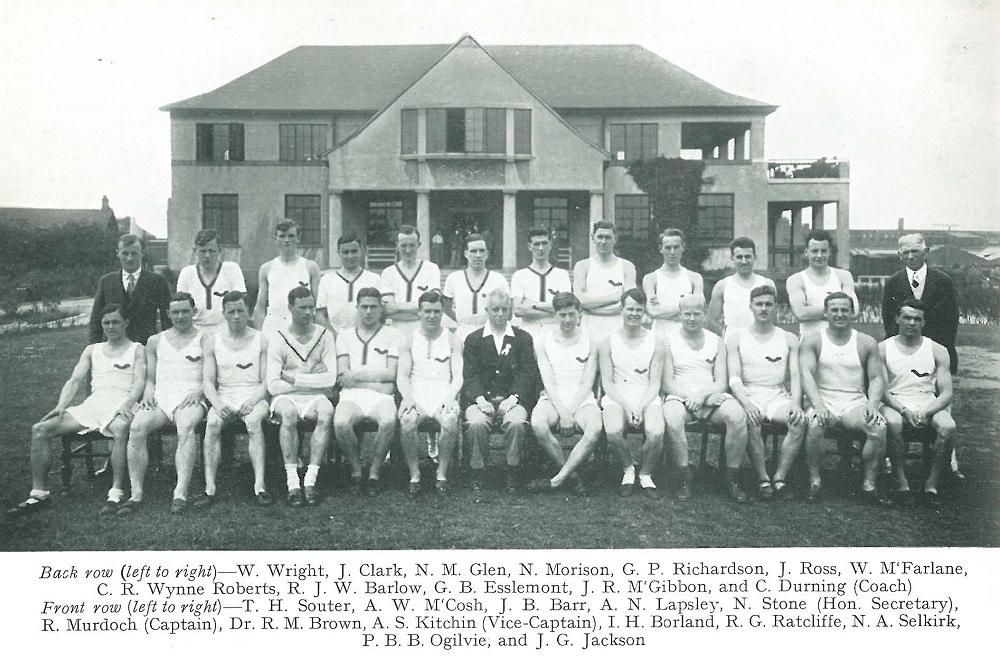 An excellent photograph taken at Westerlands in the 1920's with several very well known names, and others not as well known as they should be. From Hugh Barrow. Others at Hugh's page of photographs
We now have Willie Carmichael's profile up on site. A wonderful man who started in athletics in 1921, was President of both SAAA and SCCU, chairman of the NIAAA and mainly, the man who brought the Commonwealth Games to Edinburgh in 1970. Get it here for now
Queen's Park FC used to host one of the best athletic events on the calendar. There was a break in their series of Sports meetings in the first decade of the 20th century which was ended with a very good meeting in 1907. The course of the meeting from 1907 to the start of the war in 1914 is traced at this link. The revamped account of the QPFC Sports from 1919 – 1930 is also now up on site at this link
[ The Coaches ] [ Great Club Men ] [ The Officials ] [ The Runners ] [ The Universe Is Mine ] [ Doug Gillon ] [ Sandy Sutherland ] [ Alex Wilson's Galleries ] [ History ] [ Cross Country ] [Track and Field ] [ The Games ] [ British Empire Games ] [ QPFC Sports ] [ Football and Athletics ] [ Sports Miscellany ] [Aberdeen Athletics ]