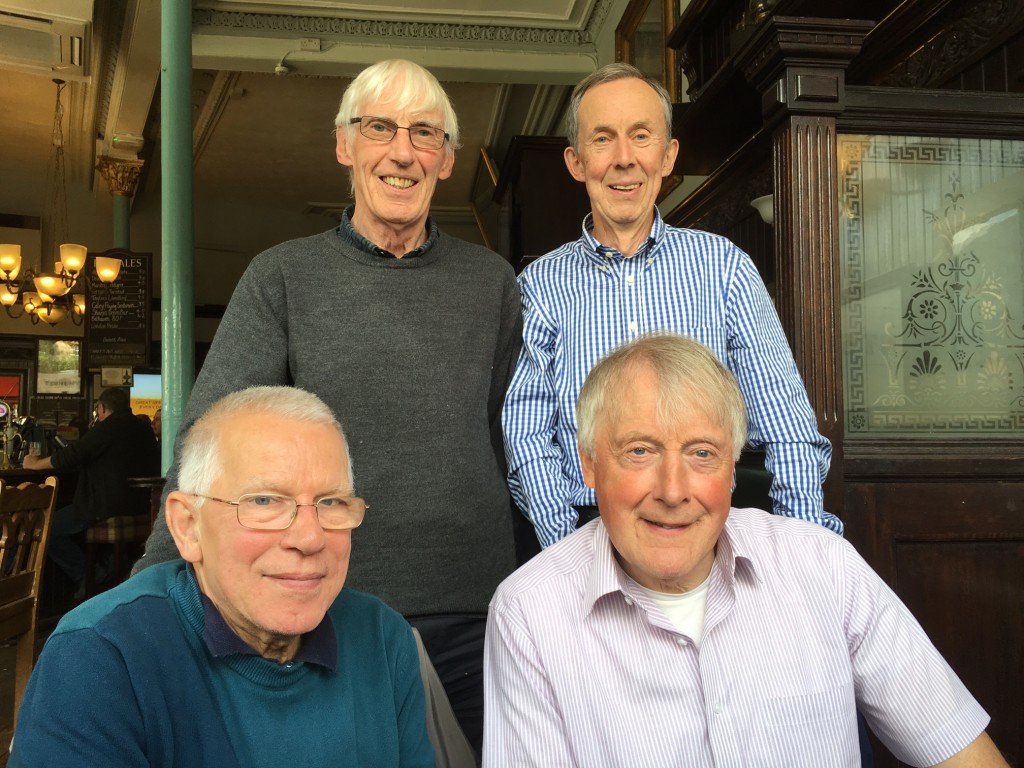 A winning team!    More anent anon – but how many of this Victoria Park foursome can you identify?
We now have a profile of George Sinclair who coached many of Scotland's finest athletes as a member of Octavians AC and Edinburgh Southern Harriers.   George is on the right of the middle row above.   If anyone has more information or photographs of him, they would be well received for inclusion in the profile.
Staying with coaching and coaches, Jim McLatchie's latest results are in: they are for the first weekend of the winter 2016/17 season and his athletes are all performing as well as ever.   eg the women of Summit easily won the Varsity team race with their leading runners 1st, 2nd, 6th, 7th and 9th, and their Junior Varsity women also won the team race, with the male equivalents being second and first.   Find it at http://www.athletic.net/CrossCountry/Results/Meet.aspx?Meet=115210
I was surprised a month or so ago with the number of views for the profile of Jimmy Duffy, the Scot who ran for Canada in the Olympics.   I now have a link, provided by Alex Wilson, of Jimmy running in the 1912 Olympic marathon.   It is at :
http://player.bfi.org.uk/film/watch-stockholm-the-olympic-games-1912-1912/
 .. for your information, Jimmy is the Canadian in the Tam O'Shanter!   If you haven't looked at the profile yet. just click on his name.
The most recent profile is of Archie Craig of Bellahouston Harriers who ran for Scotland in the 1912 – 1924 period and was president of the SAAA in 1937.   A very good runner whose carer was halted for six years by the first war and its immediate aftermath.   His profile is reached by clicking on his name.   There is a profile of his son George on the scottishdistancerunninghistory website.   For now, click on his name.
There is a history of the Speyside Way race done by Colin Youngson using Don Ritchie's annual reports with some good photographs on the scottish distance running history website, reachable via the link above.
The profile of Auchmountain Harriers (1903 to 1962) is pretty well complete but coverage of the very early days will be added when information is received.    They trained at Carbrook Street, Greenock, and at Cappielow Park.   Below is from the inaugural run of the Scottish Marathon Club.   More has now been added including the cartoon above.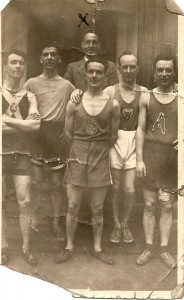 Another collection of Hugh Barrow's pictures and memorabilia, this time mainly of Herb and Percy, is to be found at this link.
[ The Coaches ] [ Great Club Men ] [ The Officials ] [ The Runners ] [ The Universe Is Mine ]  [ History ] [ Cross Country ] [Track and Field ] [ The Games ] [ QPFC Sports ] [ Football and Athletics ] [ Sports Miscellany ]