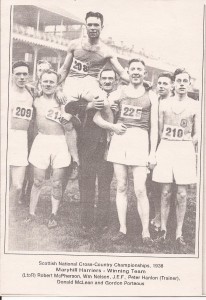 CORONATION MEETING THRILLER
To celebrate Coronation Year in 1937, several meetings were held throughout the country. The special three miles at Hampden was a thriller with the outcome in doubt to the very end. Jack Gifford of Bellahouston Harriers, the three mile champion, confirmed his status over myself and Jim Flockhart by a narrow margin in a good early season time of 14 mins 44.1 secs . I was quite happy to be runner-up in a field which included such two experienced runners and to help my club Maryhill Harriers to a team victory with the assistance of club-mates Donald McLean and Willie Nelson. Each of us received a solid silver statue of a runner on an ebony pedestal for our efforts. A few weeks later I had a comfortable win over 6 mil champion Wilie Donaldson of Shettleston in 9 min 50 sec for 2 miles.
RUNNER-UP IN THE THREE MILES CHAMPIONSHIP
GM Carstairs of Edinburgh University demolished a first class field in the Scottish three miles track championship by setting a devastating early pace and won in 14 mins 35.6 secs a splendid time in those days when the Scottish record was held by Maryhill's Tom Blakely and the all-comers record by Lehtinen of Finland in 14 mins 15.4 secs. Though well beaten I was pleased to finish runner-up and defeat JP Laidlaw of Edinburgh Northern who was usually too good for me on the track.
ALWAYS ONE JUST TOO GOOD
Mu constant runners-up position in that period evoked a note of sympathy from the press. I quote "Someday JE Farrell of Maryhill will rouse the enthusiasm of his many admirers by winning one of those long distance track events in which he gives so many good displays. This season he has been desperately unlucky. In the Coronation Sports at Hampden he was beaten by Jack Gifford; in the championship last week he beat Laidlaw, champion Jack Gifford and all the other fancied men except GM Carstairs. On Tuesday evening this week he again found one just too good in the Glasgow Transport 2 miles race when Frank Close of Surrey AC, an ex-AAA 10 miles champion beat him for the principal honour."
Always Good
The Maryhill runner however should not give up. He may lack the spectacular finish that characterises the other leading men at the distance, but he can at least claim to be the most consistent of all. I have never seen him run a bad race. That is remarkable because Farrell does not have the same training opportunities as the majority of his rivals. Owing to the nature of his employment, he has to undertake his training at odd hours and sometimes quite irregularly."
I quote this verbatim just to show that one should never be discouraged and keep plugging away; and strangely enough my response was immediate. Perhaps the pep talk worked for in my next 2 mile race I managed to win at last beating Willie Donaldson, the 6 mile champion, in 9 mins 45 secs, a reasonable time in those days. Later I realised that my best distance was over 10 miles where I had an excellent combination of speed and stamina and perhaps this was due toto my success ove the then 9 miles cross-country distance.
NOTHING SUCCEEDS LIKE SUCCESS
A few weeks later I again beat Willie in a 6 miles road race at Dunoon and hoped that I had at last banished the hoodoo of being unable to break the winner's tape. Nevertheless the runners-up position was once more my lot in a 2 mile team race. But this time I was quite happy with my performance, a close second to versatile, speedy Jack Laidlaw who won in 9:29. Timed at first under 9:30 (9:29.8) it was my fastest time at that distance and as I regarded myself as essentially a cross-country runner it was nice to know that I had some basic speed.
SEASON OF MISTS AND MELLOW FRUITFULNESS
The poet's evocation of the rural scene was not lost on me. Despite my flirtation with track and road I looked forward to the cross-country season with joy and expectation. Swimming, wrestling and other sports which I had enjoyed were now abandoned. My sporting love was now running and especially cross-country. The atmosphere, the colour, the sense of freedom, of escape from the claustrophobia of modern city life was overwhelming: a drug? an obsession? perhaps, but a magnificent one. The challenge of competition was merely the icing on the cake.
A SECOND PLACE ONCE MORE
In November 1937 my club, Maryhill Harriers, made a gallant bid to win the 10 miles Midland Relay Cross-Country Championship at Garscadden but were beaten narrowly by a splendid Shettleston Harriers team. Our club had never won this particular race even in their so-called heyday with the aid of such stalwarts as Dunkly Wright, WH Calderwood and speedy policeman Donald McLean. Running last I gained 35 seconds on Willie Sutherland but could not quite catch the anchor man who finished 7 seconds in front.
Some oldsters may remember some of the well-known names of these days with some nostalgia.
1. Shettleston Harriers (J Whiteside 13:36, Wm Donaldson 13:12, JC Flockhart 13:31, Wm Sutherland 13:51)
2. Maryhill Harriers (W Nelson 13:34, AT Peters 13:26, G Porteous 14:01, JE Farrell 13:16)
3. Bellahouston Harriers (J Gifford 13:41, TW Lamb 13:37, T Hunter 13:51, A Austin 13:30)
1938 AN UNFORGETTABLE YEAR
At the turn of the year all eyes were on the coming National Cross-Country Championship and the intervening club title races were eagerly anticipated as pointers to the big race. As I have indicated above, 1938 was to be an unforgettable year for many reasons but it followed a script which justified the old saying that truth is stranger than fiction. Though we did not realise it at the time, the following year we were to experience the obscenity of war. Athletics was merely one of the minor tragedies of the Second World War: athletes losing six years of their potential could hardly be expected to retain the speed and form of the lost years. To some extent two superb athletes, Jack Holden at 43 and Sydney Wooderson at 32 defied the passing years to write a glorious postscript to their splendid careers, albeit it was inevitably a brief encounter. Of their exploits I may comment later.
Meantime we harriers were enjoying our running and looking forward to races to come, especially tour big one, the National. As a pointer to the coming Cross-Country Championship, club races were eagerly scanned to see how the leading contenders were progressing. National and International champion Jim Flockhart received an early shock defeat by club-mate Archie Craig son of the old champion in Shettleston's 7 mile race but this was not considered too serious as it was early in the season. However all eyes were no focused on the various club championships a month later.
FLOCKHART'S SHOCK DEFEAT
This time Flockhart's second defeat in his club title race did send shockwaves of surprise through cross-country followers as it was only a month before the National Championship. This suggested a very open race indeed. Jim was obviously not in his best form and thus the form of other contenders took special significance.
CLUB CHAMPIONSHIP HAT-TRICK
I felt in excellent form and managed to make it a hat-trick of club titles over our 7 mile course. The fact that I won by over 300 yards from such good runners as Bob McPherson and Archie Peters boosted my confidence for the National.
WHAT I HEARD SUB-ROSA
At a small meeting not long before the National I happened to pass where some officials were conversing. I had no intention of eavesdropping but could not help hearing them discussing the prospects of a possible new champion to succeed a below-form Jim Flockhart. Archie Craig, Willie Sutherland, Willie Donaldson of Shettleston, Tommy Lamb and Albert Austin of Bellahouston consistent Alex Dow, 3rd in an international, and the speedy Peter Allwell were some of the names bandied about as well as my own. A few minutes later as I repassed the room back to the dressing room I herd an official remark, "I fancy Farrell, he's a great competitor."
A MORALE BOOSTER BUT A RESPONSIBILITY
This opinion had a two-pronged effect. On the one hand it was a spur but on the other hand I felt a responsibility not to let my sponsor down.
AND CONFIDENCE SHATTERED
Still I felt in such splendid shape that I was looking forward to the race feeling privately that I was the one the others had to beat. A keyed-up athlete often has that dual feeling of fear and elation, an eagerness for the battle to commence, "like greyhounds on the leash'. I had trained hard, had won my club title with ease and even took the precaution of staying overnight with friends just outside Ayr. Then suddenly out of the blue a slight chill which I contracted three days before the race worsened and I felt as if my whole world had just collapsed. On the day of the race, two of my friends who were miners accompanied me to Ayr. They retired to a hostelry for a quick refreshment and ushered me inside the inn to wait for them. They pushed a small sherry in front of me saying, "Get that down you, that will calm your nerves." At almost 29 years of age I had never indulged.
A PRE-RACE APOLOGY TO MY COLLEAGUES.
But I was so miserable, so shattered, that I felt at the moment that I would have taken "Laudanum". Imagine training hard, getting into shape and then to take a sherry just before going to the stadium. Not to be recommended. I arrived at Ayr Racecourse where Jean, my fiancée as she was then who had reached the stadium earlier, noticed my drawn and miserable appearance. Getting ready for the race, I apologised in advance to my Maryhill colleagues for having to let them down as we had a real chance of winning the team championship. I said I would strip and start the race but would probably have to drop out. Sportingly they said not to worry, just see how it goes. The race started nervously with no conviction and no commitment, just like a zombie. But after about a mile had been covered, I began to perspire. I was fairly well back but suddenly I started to ghost past runners getting eventually to around 12th position, then to 6th and after about 3 or 4 miles three of us had broken away from the field. Miraculously my strength and confidence had returned.
Now I concentrated on the possibility if winning the race. Alec Dow of Kirkcaldy and Peter Allwell of Ardeer were just in front and as the final circuit of just over 2 miles was imminent I summed up the situation as we neared a steep rise. Dow was the robot stayer. Allwell was the speedster. If the former took the lead my tactic was to shadow and try to outsprint him, but if the latter took the initiative on the hill, I daren't wait for a finish but try to use my greater stamina to outstay him. But it was Peter who faltered and as I lay just behind Alec my intention was to stay with him and hopefully outsprint him in the straight. But I felt so full of running that I was able to move away, step up another gear and win by about 200 yards. Naturally I was delighted to have won my first National Championship. Other successes can never quite recapture that "first fine careless rapture."
FARRELL LEADS MARYHILL TO JUBILEE DOUBLE.
The middle page of the Sunday Mail carried the above caption and I was pleased that as well as winning the individual title I had helped my team-mates of Maryhill Harriers not only to win the team title for the first time since 1932, but in their jubilee year; and it was only an added bonus that my wife, then my fiancée, who had never seen an athletic race, witnessed my success. Our team victory was something of a shock as at half-distance Shettleston seemed to have the race in their pockets but perhaps our team with four veterans from 29 to 36 used their stamina and experience to advantage over the long nine miles. I append the places of the first three teams. Perhaps those with long memories may recall some of the following names.
1. Maryhill H (JE Farrell 1. R McPherson 12, W Nelson 15, G Porteous 18, AH Blair 25, D McLean 28) 99 pts
2. Shettleston H (JC Flockhart 5, A Craig 7, JC Ross 9, W Sutherland 30, D Morrison 36, A Hall 38) 125 pts
3. Bellahouston H (T Gibson 3, T Lamb 4, J Campbell 16, G Hunter 34, R Lumsden 47, G Bell 52) 156 pts
After an achievement there tends to be an anti-climax. Satisfaction replaces elation. It is as if some virtue has diesppeared when reality takes the place of dreams. Robert Louis Stevenson summed it up by saying that "it is better to travel than to arrive." How illogical. Yet human nature supports that dictum, preferring the spirit of quest and aspiration even to achievement. The chase rather than the capture. The dynamic to the static. In ancient mythology the story of Ulysses illustrates this aspect of our human condition, one of our noblest and most endearing. It is said that the gods were so impressed by his courage and daring that they offered him immortality. Ulysses was sorely tempted but in the last analysis he found he could not abandon his wife, his friends and companions for the dull sterile world of the gods on Olympus. He rejected immortality, preferring to keep his mortal condition with its inevitable struggle but also with its glorious and unique spirit of adventure.
In our club there was a runner lacking talent but with a tremendous zeal and enthusiasm. For years he tried without success to win our club handicap. That was his ambition. At least he succeeded. But he was never quite the same again. Not even success can equal the spirit of the quest.
CHAMBER OF HORRORS
After my victory in the National Championship I was quite popular in the district for Maryhill had a great running tradition and a a local lad people enjoyed my success. One of my fans was the local undertaker who despite his calling had a very dry kind of humour and was a master of quick repartee. However he liked a dram and wasn't dry in that respect. I bumped into him on the Monday after my win and he approached me with congratulations and a serious face. "I saw your photo in the paper," he said, "so I cut it out" ath the same time performing that action gravely in mime. Then he went on, "I took it – and put it in my Chamber of Horrors." Then with a quick grin he was off leaving me no opportunity for a rejoinder. He was on;y pulling my leg. Still when I got home I couldn't resist a sly quizzical glance in the mirror.
GOOD RUN IN BELFAST
After the National came the International at Balmoral Showgrrounds, Belfast, and I was pleased to run well in this my second appearance for Scotland. First home for our team in 8th place only a minute behind the winner CAH Emery of England was satisfactory especially as the great Jack Holden winner of four Internationals was a mere five seconds in front of me. England won the team race comfortably placing 1, 4, 6, 9, 11 and 12; Scotland alas could only manage 5th place points (8, 24, 27, 34, 36 and 37). Had I been running for England I would have placed fourth in their counting six.
PRESSURISED TO RUN
The next championship on the calendar was the 10 mile track race at Celtic Park. I entered but was not too keen to start for two reasons. Though not jaded and still in good shape I felt mentally that I deserved a break after two hard races and this only three weeks ahead; and the thought of running forty laps round the track did not appeal to me. But my Maryhill officials and club-mates practically conscripted me to run for the honour of the club saying this was one event they had never won; and so without enthusiasm I agreed.
LATE ARRIVAL
At that time I was employed by Glasgow Corporation as a bath and wash-house attendant. On the day of the race I was on the 6:30 am to 2:00 pm shift. The wash-house was busy and the place full of steam, so one could hardly see more than a few yards. In addition the superintendant was non-cooperative and refused to let me away early. So I grabbed a cup of tea and a sandwich when I finished, met my fiancee Jean and boarded the tram for Celtic Park. How eccentric she must have thought me to want to run and race after enduring conditions which were not conducive to athletic performance. To make things worse the tram was slow and delayed by traffic lights. The race was scheduled for three o'clock and it was almost 2:55 at Springfield Road. I said to Jean, "I'll have to make a run for it. I jumped off with my little hgladstone bag and ran perspiring into the park with the other runners stripped and coming on to the park. "C'mon Farrell, you're late" the officials shouted, as if I didn't know. I peeled off quickly, wreathed in sweat, ran out and suddenly we were off on our 40 lap orbit. I honestly cannot remember starting the race. I was in a daze. Yet strangely I was running so easily it was unbelievable. After about two miles the majority of the field were tailed includeing holder Jim Flockhart leaving two ex-champions, Willie Sutherland, Alex Dow and myself in contention. At about the six mile stage Willie wilted andAlex and I were on our own. Several times I surged as was my wont in those days, then eased off uncertain whether I could sustain the pace and conscious of the fact that Dow was an experienced campaigner.
BUT NOT AT THE FINISH
It was a cat and mouse affair with me bursting into the lead several times then easing up and allowing my opponent to catch me up. But at about eight miles I decided to throw caution to the winds and within the space of one lap was about seventy yards ahead, the penultimate mile being covered in a brisk 5 mins07 secs. A leisurely 5:22 last mile saw me break the tape about 300 yards ahead in 52 mins 32 secs, less than a minute outside Suttie Smith's Scottish record of 51 min 37.8 sec and 8.6 secs faster than the AAA title won by R Draper on the same day.
PERHAPS TOO CRITICAL
Although an excellent time in those far-off days I realise that today such times would be regarded as merely useful. Yet perhaps when I compare my time unfavourably with the moderns I do so too harshly. Maybe I should redress the balance just a trifle. It is difficult to be subjective and objective at the same time. But when one considers the unhealthy atmosphere in which I worked, the snatched tea and sandwich, the excitement and rush to get to the stadium on time, three days a week training, no track training after the cross-country season; my rather inhib ited approach to the race surging and slowing alternately and so fresh at the finish that I sometimes wondr speaking objectively and without egotism what I was capable of over that distance. For as I have indicated around ten miles was my favourite distance, not having the speed of a miler or the stamina and phlegmatic temperament of the true marathoner. Perhaps that helped me to gain ten Scottish Internationaljerseys over the then cross-country distance of nine miles with the possibility of more but for the six years gap of the war years from 1940 – 45.
COMPARISONS ARE ODIOUS
So goes the proverb: and probably right when comparing our times excellent then, but so modest against those of modern days. But then so are those of Nurmi, Zatopek and even Herb Elliott whom I rate at least equal to his successors like Walker, Aouita, and our brilliant trio of Coe, Ovett and Cram. In fact if I were a bettingman I would have been loth to bet against him, all at their best on a given day. In the Marathon we hgave lady marathoners emulating Zatopek's winning time and speedy stayers like Caro Lopez and Steve Jones well ahead of their counterparts of twenty years ago. It is an arbitrary opinion but I cannot help favouring Abebe Bikila of Ethiopia as the supreme marathoner. A natural, he won his first Olympic title in bare feet and his next in more traditional style in running shoes and so fresh he was able to indulge in loosening up exercises at the finish. Yet Carl Lopez of Portugal's feat of winning the International Cross-Country title and theOlympic marathon in the same year at nearly 38 years of age must remain one of the great athletic feats of the century.
To the modern elite sport ios becoming less and less a recreation and more and more a job, a profession with financial rewards and status to match; and though the ordinary athlete may still regard his activity as a hobby, there is a tendency for everyone to be caught up in the frenetic rush to beat the stop watch.
The top class runner must have exceptional talent but modern tracks, more sophisticated and improved shoes, the opporunity to train abroad and at altitude, the more intense training and competitions must be important factors. It is now recognised that the body is a more elastic and durable medium than hitherto believed and thus an athlete is less inhibited and tends to get into racing gear right from the gun. In our day we tended to start fairly slowly and take a little time to attain racing tempo. There may be some price to pay in the modern quest for fast times and world records. Intense training and racing seems to be conducive to much injury and muscle break downs. There is a theory that the engine is protected at the expense of the musculature. In other wordsthe cardio-vascular system, ie the heart, lungs and blood pressure being more vital and of course enhanced by training can healthily withstand exertion which the more fragile skeletal frame cannot duplicate.
THE ENGINE GOOD, BUT THE CHASSIS OUT OF DATE
One thing that even young veterans may realise but older veterans like myself are even more conscious of, is the awareness of the loss of elasticity with the onset of age. That I believe is the chief factor in the gradual loss of pace. I recall vividly running alongside a much younger veteran who was blowing like a grampus. My own breathing was as gentle as a southern breeze, yet he gradually and inevitably pulled away from me. My muscles could not respond to his suppleness and strength. In other words, the engine was excellent but the chassis was out of date. Stamina still good but the muscular response could not match it; one felt it difficult to break free from the web of containment and so conscious of the law of gravity. Yet on occasions there could be special moments of exhiliration when one felt, even as a veteran, less and less earthbound.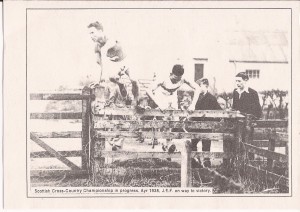 NO REST FOR THE WICKED
Returning to 1938, after my National win, good run in the International and brisk time in the 10 mile Track Championship, all hard races within a a four or five week period, a rest from racing might have been welcomed but in those days I felt strongly the call of club loyalty. In the annual Edinburgh to Glasgow eight man relay over 44 miles, a tremendously exciting race ensued. Although managing to give my club Maryhill a useful lead over the long 7 miles leg a splendid last lap by Albert Austin of Bellahouston gave his club a well merited victory.
SLOWER BUT STILL RUNNING
It may be of interest to note that three of the runners who took part in that race of 1938 are still running. Gavin Bell of Bellahouston, team-mate Gordon Porteous of Maryhill and myself all had fastest laps that day. Gavin's speciality was the half-mile, a distance at which he was a splendid performer so his run over four miles was specially meritotious. Gordon was always a consistent performer and stalwart for Maryhill Harriers and earned an international vest in 1946. But it is as a senior and veteran runner that he has really excelled, winning many world titles in his age-group and particularly at his speciality the marathon, he has set some amazing times including world age bests.
When you add Andrew Forbes of Victoria Park runner-up in the British Empire 6 Miles of 1950 in New Zealand and ex-track and cross-country champion and dapper enthusiast Davie Morrison of Shettleston Harriers who has developed from competent club runner to world veteran champion in his age category, it is a remarkable tribute to the attraction of the sport.
RETIRAL THREAT
There is a touch of humour in the fact that at the moment of writing I am still running though I threatened to retire in 1938 after winning the cross-country and ten miles titles.
DRYMEN RACE SWAN-SONG?
I decided to enter the Drymen to Firhill 13 miles road race because I stayed within yards of the Firhill Stadium where our club Mary Harriers were holding their jubilee sports meeting; and also because of its great tradition including the great Dunky Wright-Ernie Harper confrontations. I was criticised in the press for entering on the grounds that such a long journey might impair my track prospects. However I hinted that I might retire from racing and make it my swan-song. A press report had the following paragraph, "The Maryhill man finds it increasingly difficult to fit in training time in his present occupation and may indeed make the Drymen – Firhill the last race of his career. That is his present inclination but strenuous efforts will be made to dissuade him from abandoning his athletic career just when he has reached his pinnacle."
LOCAL HERO
The confrontation between club-mate Donald Robertson and myself did not take place as the AAA Marathon champion wished to reserve himself for a future distance event in Newcastle, but six mile track champion Willie Donaldson of Shettleston Harriers stepped in to make it one of the most exciting and closest contests of the series. We kept together most of the near 14 miles over one of the toughest trails imaginable. Several times I tried to get away but failed. Then he tried the same tactics but I responded. So it became a "gentleman's agreement" to run shoulder to shoulder. Several times Willie asked me how far it was to the finish and with my local knowledge I was able to give him a rough estimate. But it became a bit wearing and about a mile from the stadium I said, "Willie, it's about three-quarters of a mile to the stadium, turn at Northpark Street and another quarter mile to the park." So the talking stopped and we concentrated on the job in hand. Entering Northpark Street, near where I stayed, people in the street and some leaning out of their windows were shouting me on and I felt I couldn't let them down at this stage.
We were still neck and neck only 200 yards from the ground when I made my move and sprinted away. Willie couldn't respond and I entered Firhill Park some fifty to sixty yards ahead but whenever I reached the grass track I felt my legs as heavy as lead. One lap to go but there was no danger as my opponent's legs must have been even heavier as I finished over a hundred yards in fronty in 1 hour 22 minutes 33 seconds, a smart time over the hilly undulating course comparing favourably with the Wright-Harper encounters.
FROM 14 MILES TO 3 MILES
Two days later I dropped from 14 miles to 3 miles and managed a first place against Willie Sutherland of Shettleston Harriers and JN Lapraik of Glasgow University in a triangular team contest, in the useful time in those days of around 15 minutes especially after such a hard close race over the stiff Drymen circuit. Nowadays I sometimes cringe in retrospect at my output of energy in those far-off days.
TRY FOR A THIRD TITLE
Despite a long hard season I was still fit and eager and warmed up for an attempt on the six miles track championship with races over 6 miles and 2 miles on the track.
In the end I managed to win the 6 miles title easily beating Willie Donaldson once more by half a lap in 31 mins 02 secs, which was a championship best beating the previous best by J Wilson of Birchfield in 1934. The Scottish record was then 30 minutes 34 seconds set by JF Wood in 1932 in a harder race. The British record was 29 minutes 36.4 seconds by Nurmi and the World record 29 minutes 8.4 seconds by Salminen, also of Finland. So these times modest in modern times were excellent in those far-off days when runners were real amateurs and many struggling against unfavourable conditions.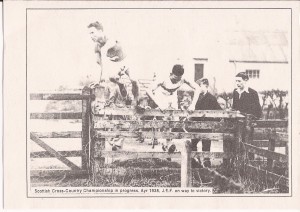 West District Championship: 1938
BUT DISAPPOINTING RUN IN SIX MILES AAA CHAMPIONSHIP
However I had a most disappointing run in the 6 miles AAA track championship, finishing a distant ixth. I stitched badly but that was no excuse. Beriacqua, a diminutive Italian, and robust Irishman F Cummings dominated the race but on form I should have been capable of challenging RV Draper of England for third place as I did a faster time ein my ten mile track championship than he did in winning the AAA title. In addition I beat him in the Cross-Country International at Belfast. It was the one disappointment in a most successful year and I wondered after such a hard winter and summer season if it was the "last straw" that broke the camel's back. Yet a fortnight later perhaps with the resilience and recuperative powers of youth I bounced back to win the six miles road race at Dunoon under a hot sun with George Hunter and Tommy Lamb of Bellahouston second and third.
FRESH FIELDS AND PASTURES NEW ONCE MORE
The track season was over but cross-country with its delightful atmosphere was once again present. A short rest and I felt my enthusiasm and strength returning. In my first outing I managed fastest time in our five miles handicap and I was pleased to find good early season form.
MARYHILL SUCCEED AT LAST
A great race seemed in prospect in the Midland Cross-Country 10 Miles Relay Championship with strong teams from the holders, Shettleston out for a hat-trick of wins, Bellahouston and ourselves, Maryhill, who had never won this title. But with a comparatively scratch team we pulled off a sensational win. In the last lap I ran a pillar-to-post race to catch Jim Ross of Shettleston to whom I conceded about eighty yards. I consider it was one of my best ever races but my club-mates were in equally good form, three of our members placing in the first four fastest times. The statistics of the first three teams were as follows:-
1. Maryhill (W Nelson 13:20, AT Peters 13:52, R McPherson 13:13, JE Farrell 13:03) 53:28
2. Shettleston (holders) (A Craig 13:22, Wm Sutherland 13:29, J Whiteside 13:24, JC Ross 13:27) 53:42
3. Bellahouston (G Hunter 14:01, WG Black 13:40, J Gifford 13:57, TW Lamb 13:23) 55:01
It was in relay races that I seemd to show my best form. I tended to be a lazy runner in ordinary competition, either lying behind opponents or alternately leading and endeavouring to slow the pace down. But in the relay races and carrying team responsibility it was necessary to go all out especially when trying to overcome a deficit. Because I was less inhibited under such circumstances I tended to throw caution to the wind with the result that I got the best out of myself.
POTENTIAL NEVER TO BE RELEASED
Thus the year 1938 finished on a high note with three titles, a good International peformance, the one disappointment being my poor run in the AAA 6 miles track championship. It showed promise of even better things, but these were never quite to be realised. My form in 1939 suffered from reaction except for my run in the International Cross-Country race but that could well have been a temporary hiccup but with championship athletics closed down for nearly six years due to the Second World War it was well-nigh impossible to fulfil one's potential. An athlete's prime is comparatively brief in any case though some soldier on with some success.
I may have made a lot of my success in 1938 bnecause it was my best year and as I say showed even greater potential. Especially so when it is realised the difficult working conditions under which I laboured. The heavy racing programme I undertook and the disparity of distances from two to fourteen miles; from cross-country to track and again to cross-country. As I have already indicated I was somewhat of a dilettante in athletics. In quick succession swimming, wrestling, boxing and football claimed my earlier attention. I was a late starter in athletics and one companion recognising my first flirtation with so many sports said that my new hobby would be of short duration. This time he was surprisingly proved wrong. Over fifty years is a long courtship. The sport captured me as it has others. It became " a way of life". That is the real reason for this little potted athletic biography : to emphasise the real charm of running.
A WAY OF LIFE INDEED
Competition forms indeed an important part. It provides an exhilarating challenge and aspiration. Buyt there are other facets provided. The jpoy of movement and the sense of freedom cater for physical and spiritual demands. technical advances if matched by wisdom are beneficial on many fronts but fail to satisfy our deep primitive urges. In many ways we pay a price for the former in noise, pollution, claustrophobia. We do not wish the natural world to be spoiled by a synthetic civilisation. As long as we are human and do not become robots we yearn for and rejoice in space and colour. To be alone with nature can be a cleansing and rewarding experience. Running can provide that. Yet even the lone wolf at times has an urge to rejoin the pack and togetherness can supply our social needs; the best of both worlds.
REACTION IN 1939
Despite that fine run in the Midland Relay,and a comfortable win in the club championship I began to feel I was struggling a bit. I had a change of job which was much healthier and entailed a lot of walking but perhaps my body needed time to settle down and with a touch of bronchitis and fluid on the knee I knew that my task of retaining the national title would not be an easy one. It is hard enough to win a title but even harder to retain it. You are one against the field, there to be shot at. Statistics are against the holder. Eveyone wants to beat the champion.
A BRILLIANT NEWCOMER
To make things even harder a new star appeared on the horizon, a young nineteen year old prodigy from Doon, Ayrshire, Bobby Reid. A Youth's champion and now a Junior he was carrying all before him. Unbeaten except by Peter Allwell he reversed that defeat in the Ayrshire Championship and the press had the pre-race caption – Youth versus Experience – as I was eleven years his senior. But having started late I did not have so very much more experience than Bobby who started early.
NEWCOMER TROUNCES THE FIELD.
True to form Bobby Reid at 19 won bioth Junior and Senior Scottish Cross-Country titles with awesome ease, beating even the improving Peter Allwell by nearly 200 yards with myself, the holder, another hundred yards in the rear. The result was as follows:-
1. R Reid (Doon Harriers) 53:07; 2. P Allwell (Ardeer) 53:44; 3. JE Farrell (Maryhill) 54:23; 4. A Craig (Shettleston) 54:27; 5. JC Ross (Shettleston) 54:31; 6. R McPherson (Maryhill) 54:39; 7. Wm Kennedy (Kilbarchan) 54:46; 8. JC Flockhart (Shettleston) 54:46; 9. Wm Sutherland (Shettleston) 54:49; 10. A Donnet (Dundee Thistle) 55:01; 11. T Gibson (Bellahouston) 55:05; 12. A McLean (Greenock Glenpark) 55:19.
As I recall, the winner ran in plimsoles not spikes as was normal though it must be have seemed to his rivals that he was wearing the wings of mercury. However it was dry and good going and he had rubber bars on the soles. As well as losing my individual title our club lost the team championship to the previous years runners-up, Bellahouston Harriers, without brilliant leaders but with splendid team packing having only one in the first twelve. On the other hand Shettleston Harriers had an amazing four in the top twelve but their weak tail left them an isolated third. It is only fair to say that we lost one of our best runners Willie Nelson through injury attempting to negotiate a barbed wire fence and still only lost by twelve points.
OLD TIMERS AT CARDIFF
The expected duel between veteran Jack Holden and our Bobby Reid did not materialise. The three times winner from Titton, 32 years of age, ran a brilliant race to set a record by winning for the third time. One has to record that our young star was not at his best and perhaps the pre-race publicity did not enhance his chances. By not finishing in the counting six it was obvious that he had had an off day. It was veterans day with a vengeance with Jack Holden the victor, Van de Wattyne of Belgium running for the twelfth time in this race leading home his countrymen and myself and Jim Flockhart leading for Scotland in seventh and twelfth places.
Holden ran a classic race. I was perhaps just two hundred yards behind him when I saw him pull off a masterpiece of strategy. Three coloured runners running foir France from Algeria and Morocco tailed him about a mile from home. Tremendously fast they were undoubtedly lying handy hoping to outsprint him in a finish. Just before the finishing straight there was quite a severe rise. Holden applied pressure at the crucial time and opened up a lead which he sustained to the finish.
Though disappointed at my colleagues' off day I was quite pleased to have my best run for Scotland in 7th place especially as I made three places in the last three hundred yards. I was caught however on the tape by a last gasp effort by the great Belgian runner Jean Chapelle who practically collapsed at the finish. Still I was pleased at leading Scotland especially, as if I had been in England's team I would have been second counter for them. However there was no time to rest on one's laurels. My club Maryhill Harrtiers having lost the cross-country title to Bellahouston harriers were keen to make amends against the same club who last year narrowly beat us in the eight man relay race from Edinburgh to Glasgow, and especially as even with our stars of the past was one we had never won.
MARYHILL BEAT BELLAHOUSTON IN THRILLER
Maryhill wn the race in a thrilling manner. Andrew Coogan gave us a narrow lead in the first lap which we retained to the end. Bobby McPherson was the hero of the race running a brilliant second lap to finish five hundred yards ahead of his Bellahouston rival. The lead was whittled down but I managed to sustain and finally increase it in the long hard leg from Forrestfield Inn to Airdrie against the combined menace of Jim Flockhart and Tommy Lamb. I ran steadily throughout and when colleagues including Dunky Wright told me there was only a mile to go I piled on the pressure. Good running by the last two Bellahouston runners closed down the lead and when their last runner, Sam Kennedy, seemed to be gaining on our last runnr Gordon Porteous we had fears of a repeat of last year when we were caught on the last lap. A mile to go we shouted to Gordon that Kennedy was gaining on him. He raised his hand signifying all was well. He had run a canny race and kept something for the finish. For our first success it is worthy to mention our winning eight in their running order:- A Coogan, R McPherson, Wm Nelson, AH Blair, D McN Robertson, JE Farrell, AT Peters, G Porteous.
HIGH JINKS AT THE CADORO
One of the highlights of this relay race enjoyed by the victors and losers alike was the slap-up meal provided at the prizegiving ceremony at the Cadoro Restaurant in Union STreet. The bill was picked up by the 'News of the World' consortium and must have been considerable. Admission was supposedly by ticket only for runners and officials but how many extras managed in was unbelievable. Whether some walked in backwards or counterfeit tickets were used I cannot say but the tables were so crowded we were practically sitting on each others knees. It wasn't so bad for th elate starters in the race but the early starters who had not eaten since breakfast were ravenous. Runners are perhaps second only to swimmers as first rate trenchermen. The menu was full. Bacon and egg plus fish and chips, plus a sweet, ice cream, coffee and a generous piece of cake. Yes, these were the days when cakes were more important than cheques.
FAMOUS RUNNERS DEAD HEAT
No time to celebrate and relax. Next week I was to defend my ten miles track title. It turned out not to be the greatest but certainly the most thrilling of the series. The above rather flattering caption appeared in the press.
"Some said that he won and some said I won"
For most of the forty laps Willie Sutherland of Shettleston and I ran together. Willie stalked me all the way and try as I could, I couldn't shake him off. Recognising that as an excellent miler he had more basic speed and tired as I was a lap to go I tried a long run for home. It nearly succeeded and I must have been five or six yards ahead in the finishing straight, but as I began to weaken Willie whittled down my lead and as he was about to pass me at the tape, I desperately threw my chest forward.
"But the judges said that "nane won at all."
To all intents we broke the tape simultaneously. There was no electronic timing in those days and it was left to the judges to decide the verdict. For over twenty minutes they deliberated before they intimated the official result a dead heat, the first in the long history of the event. It think it was a fair decision. It would have been a pity if either one of us having given our all had to lose on what must have been a tough technical decision.
A PUZZLE AND A POSSIBLE SOLUTION
I found it hard to understand why I was struggling in my running in 1939 compared with the apparent ease and "joie de vivre" of 1938. Certainly some runs were good, some not so good. I triued to solve the mystery of my erratic form without success. A change of job takes time to adjust but there could have been a more subtle and significant reason. My late job had been unhealthy and involved erratic hours. Yet perhaps the close steamy atmosphere acting like a moderate sauna bath had kept my muscles soft and supple and at least in the short term had been a compensating factor.
THE PRINCE AND I
In those days, Corunna Street in Glasgow ran an athletic clinic within the auspices of general physiotherapy under Tom Anderson, a theorist in muscular studies and Willie Kinloch whose magic hands were so soothing to many athletes who had passed through his hands. Prince Adedoyin the Nigerian high jumper and myself had the finest muscle texture he had experienced.
WILLIE SUTHERLAND DOES IT AGAIN
After our epic confrontation in the ten miles, Willie Sutherland I met again in my defence of the six mile title at Hampden Park in June. Again it was a splendid race, Willie's superior finishing speed gaining him a two yards narrow victory in 31 minutes 33.2 seconds as in the ten miles over half a minute slower than my time of the previous year. Yet quite soon I returned to winning vein by beating steeple-chase champion JC Ross of Shettleston by fifteen yards in the then smart time of 9 mins 28.5 secs. Winning again at Dunoon in the annual six miles road race for the third time was satisfactory and revealed consistent form. Maryhill's good win in the four man Victoria Park McAndrew Relay rounded off a reasonably good season. I was able to run a last lap without pressure because of the good running by my colleagues. The outstanding individual performances were agin those of Willie Sutherland in 12 mins 42 secs and Jack Gifford in 12 mins 47 secs. My own time was a modest 12 mins 56 secs.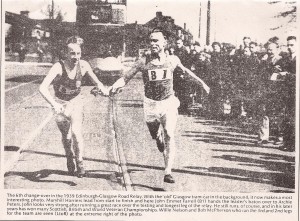 THE YEARS THAT THE LOCUST HATH EATEN
The above biblical quotation well describes the next almost six years of the second world war which wiped out official championships and the Olympic Games due at Helsinki in 1940. Athletics was just one of the minor tragedies of the war; five or six years is a long time in an athlete's competitive life and though some athletes like Sydney Wooderson and Jack Holden briefly and gloriously were the exceptions that proved the rule it was too much to expect then to retain it for long.
In a more restricted form in those post-war years I did manage some very good performances but though the stamina remained, the speed was beginning to decline. So it is fair to say that I was never able to fulfil the potential that the years of 1938 and 1939 particularly the former suggested. The sport was kept going by a series of unofficial races many of them organised by Dunky Wright the well-known marathon runner.
PILLAR TO POST RUN
I was always at my best in relay races where I ran in uninhibited fashion with the honour of the club at stake as opposed to individual races where I tended to be somewhat lazy, uncertain, conscious of aches and pains and fatigue. One of my best ever runs was in 1943 in Shettleston's 10 miles cross-country relay. Shettleston's Harry Howard had outclassed me in a road race yet running last in the two and a half mile leg I gave Harry 200 yards and beat him by almost 100 yards, a record for the course and 29 seconds faster than the next fastest. Our winning team was G Porteous 13:34, J Hoskins 13:37, $R McPherson 13:44. JE Farrell 12:42. Later I spreadeagled the field in a seven miles cross-country race at Dalziel Park, Motherwell, beating my old rival Harry Howard again by over 300 yards.
in 1943 at 34 years of age I was in the form of my life especially in cross-country and as a late developer felt that I had a positive chance to win the International individual title or at least be a serious challenger. Mentioning these particular races above may appear somewhat egotistical but they were objective results and as I usually played down any little talent I had in running regarding it primarily as a recreation perhaps I can be excused for somewhat redressing the balance. There were runs and races during the war period but of course they were unofficial tending only to preserve a bit of sanity and normality in a period of abnormality.
Having lived through two world wars which solved nothing and in which enemies have become friends and friends enemies it is hard to suppress cynicism.
It is worthy of mentin that Switzerland came off best at that time by managing to stay neutral but it had th great advantage of its International Banking System with its privacy for clientele and as we know in this acquisitive and materialistic world money is sacrosanct.
THE OLYMPIC GAMES – THE GREEK PRIORITY.
The different attitude of ancient and modern times is well shown by their behavior in respect of the Olympic Games. In some respect nothing has changed. The Greeks had their warring states but as the Games had a religious significance a cease-fire was declared so that the Games could go ahead. We're more civilised, we stop the Games to get on with the war!
HUMOUR IS TIMELESS
Perhaps at this stage it might be an opportune moment to recall some of the humorous incidents that occurred around this time or just after hostilities ceased but rationing was still imposed. In some ways such trivial incidents are more vivid than races which tend to lose their importance after the passage of time. We pin-point the date of races from cuttings and records but humour is timeless and does not require to be recalled by the printed word. Not only is it charming and therapeutic but even when mistakes or paccadilloes occur we tend to have a fellow feeling towards the recipients. we too have made faux pas. We welcome them into the inner sanctum of humanity.
THE POLICEMAN WHO LOST HIS WAY
Although I have indicated how modest our training methods were in those far-off days compared with the moderns we did by our own standards havce some really hard sessions on occasion. Our club Maryhill Harriers trained from the public-baths wash-house at Gairbraid Avenue and often on a Tuesday there were perhaps twenty runners all ready to start a real hard 7 or 8 miles run. Champions of the class of Dunky Wright, Donald Robertson, Tom Blakely, the 3 mile Scottish champion and Greenock policeman Donald McLean whose versatility ranged from half-mile to two miles on the track and even in the veteran stage provided a strong tail on cross-country team events.
When Donald made the special journey from Greenock we knew that there were going to be firworks and when pace-man Willie Nelson shouted in stentorian tones "Right lads" and left like a greyhound in the slips it was easy to lose contact with the pack if one was dilatory. It was a clear moonlight evening crisp and exhilarating, and so was the pace. Donald was in rampant form and none of us could hold him. Unfortunately he wasn't too familiar with the trail and failed to take a left turn and arrived at Charing Cross over two miles away and had to ask his way home to the Baths. The red-faced policeman eventually arrived but it was a long time before we let him forget about this incident. It's not every day that a policeman has to ask the way home. Donald blamed Dunky for not shouting left turn as the latter was well-known as a jokester but the latter countered by saying that he was too far ahead to hear instructions.
RUNNING IN THE BLACKOUT
On one occasion we had a pack running during the blackout. Two of our lads out in front were having a private duel and were as close as siamese twins. Suddenly they disappeared. They had run into a mound of granite chips and were 'hors de combat'. They turned up limping not too badly but with egos a bit bruised.
"DONALD, WHERE'S YOUR TROUSERS?"
The blackout once proved a god-send fro a runner who forgot his shorts. Unwilling to miss a training run he ran in his briefs getting his companions to form a phalanx with himself in the middle. It helped that he was a small chap. As we had to keep formation the run was quite sedate and rather frustrating for the pack who normally liked to proceed with freedom and abandon erspecially towards the end of a training session.
Maryhill Harriers had a great tradition for producing runners of class and even to be associated with the club was deemed to be an honour. One of our members at this period was a Jewish chap of German origin whose English was far from perfect. A bit overweight he ran two or three miles just to keep in reasonable trim without any real pretension as a competitor. It was a period of rationing and scarcity in most commodities and running gear was at a premium. This particular chap worked in a tailors and dress-making warehouse and manahed tpo conjure up remnants of satin from which he made up running shorts. He charged us something like 7/6d which those days we felt was a bit extortionate but we were lucky to get them and paid up manfully if not cheerily.
"THESE IS A LOVELY TROUSER"
Our benefactor waxed eloquent regarding his creations. "These is a lovely trouser, isn't they?" he said in his ungrammatic but quaint English. They were indeed. Unfortunately they were rather brief and made up with practically all the colours of the spectrum. Purple, lilac, crimson, pale yellow, etc, more suitable for adorning potential beauty queens rather than a mob of robust athletes. One of our lads, a big brawny hirsute chap fell heir to a shocking pink pair of shorts with white polka dots. We proceeded into the wide-open spaces with a certain diffidence but worse was to follow. We were just approaching Birrell's chocolate firm as the early shift was making iots exit. These girls were no shrinking violets and cat-calls were mandatory. Phrases like, "Come on, silver", "Gaun yourself" and others less complimentary echoed in our ears as we went like "Tam O'Shanter" trying to outrun the devil. As we entered the sanctuary of our club-house our benefactor was just leaving the shower. "You're back awful quick," he said, "Isn't these a lovely trouser?" He was right, "These was a lovely trouser." There was one consolation, it was one of our fastest runs ever.
The athletes of my day did not reach the awesome standard of the moderns. Our amateur outlook and preparation could not stand comparison with the professional approach of today's athletes. Their rewards for success are immense. Competition at the top level is intense and the media which high-lights them puts equal pressure on them. This approach tends to affect the psychology of the whole spectrum of athletic standard. There are of course exceptions, those to whom the sport is predominantly recreational. But does it contain as many characters, as much fun and humour? They certainly abounded in those days. Among the personalities in our club were two great "buddies" Jimmy McNamara and George Barber, not great athletes but wonderful characters.