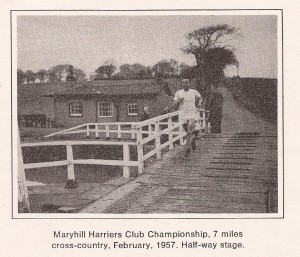 BOBBY REID WINS NATIONAL AFTER 11 YEAR GAP
Although I had won two Scottish cross-country titles after a gap of ten years, 1938 and 1948, Bobby Reid went one better.   There were eleven years between his wins of 1939 and 1950.    Bub Bobby was only 19 when he won his first title in the colours of the little Ayrshire club Don Harriers near Benwhat, and thus was just 30 years old when he duplicated his feat as a leading member of the famous Birchfield club.   Then he did most of his running in England and was invariably picked for Scotland on his form in the English National as an Anglo-Scot.   On the other hand I was nearly 29 years of age when I won my first and nearly 39 when I surprised myself and other in duplicating that win.  In Bobby Reid's 1950 success I again managed to earn a place quite comfortably despite my almost 41 years, running a well balanced steady judicious race but in the International this was not enough.   The early pace of the continentals on their flat fast course was upsetting allowing no time to settle down and the performance of most of my team mates was very moderate.
ONE HIGH-NOTE IN A POOR SEASON
My running form in 1950 was mostly unforgettable though I found interest in reading about the exploits of our athletics heroe in the Empire and European Championships.   In mid-May I ran in a 16 miles road race at Stirling but finished a poor third to Charlie Robertson (Dundee Thistle) and Hary Howard (Shettleston), not a good omen for the following Tuesday's attempt on the one hour record which I had set at 11 miles 77 yards in 1945 which erased Dunkly Wright's old record.
MY GRATEFUL THANKS TO SPEEDWAY ACE
Among my rivals were Alex McLean and Harry Howard and as the former had recently taken over my mantle in the distance track events and the latter was invariably too good for menow in road events, my prospects looked bleak.   Curiously I had recovered mentally and physically from that defeat of three days ago and felt in excellent shape.   The attempt took place at the Ashfield Speedway Stadium in the great days of speedway when crowds of 20,000 were the norm.      Even when we started as a pipe-opener to the dirt track racing over 5000 spectators were present.   Alex McLean took the lead from the start and retained it up to nine miles and I varied from forty to eighty yards behind.  At that stage the arena was now full with about 20,000 enthusiasts eagerly awaiting their favourites.   However they seemed to enjoy our race and gave us a rousing reception over the closing stages.   Being a local seemed to inspire me and I took the lead at nine and a half miles going on to win when the gun went at the hour I had covered 11 miles 241 yards adding 164 yards to the old record.   Ten miles took 53 minutes 52 seconds.   First mile 5 mins 12 secs.   Last mile 5 mins 31 secs.   Average 5 mins 25 secs.
1.   JE Farrell (Maryhill)   11 miles 241 yards;   2.  H Howard (Shettleston)   11 miles 180 yards;   3.   A McLean (Greenock Glenpark)   11 miles 69 yards.
After receiving a trophy from speedway ace Keith Gurtner he took me on a lap of honour on his bike.   I felt a bit apprehensive at first, thankfully he covered the lap in somewhat more sedate pace than he had done just fifteen minutes previously.
At the end of the 10 Miles at Ashfield
BUT MARATHON NOT MY CUP OF TEA
I ran in two marathons within a fortnight but could only get third in the Scottish Championship in 2:48 behind winner Harry Howard in 2:43 and Charlie Robertson in 2:44.   In the AAA Championship won by Jack Holden in 2:31 I finished 13th in 2:44:08.
NEWPORT HERE WE COME
The race for the Scottish cross-country championship in 1851 looked like developing into a tense and interesting struggle, especially as there seemed little to choose between Andy Forbes (Victoria Park) and the up and coming Tom Tracey (Springburn).   In the Ngel Barge road race Andrew had the upper hand.   Result:- 1.   A Forbes 23:41; 2.   T Tracey 24:31; 3.   JE Farrell   24:48.   But in the Midland District championship over 7 miles, Tracey reversed the placings comfortably.   Individual places were as follows:  1.   T Tracey  43:34;   2.  E Bannon (Shettleston) 43:48; 3.   A Forbes 44:36; 4.   JE Farrell   45:06.   Tracey was now slight favourite to win the cross-country title, Bobby Reid having decided to run n the English championship.   But the sensation in the English race was that of Junior champion Eddie Bannon who finished in an amazing fourth place and was now a certainty for the Scottish team at 21 years of age.   In our race both Forbes  and Tracey missed the start, failing to hear the broadcast for the warning call to report to the start and join in with the thundering horde.   But they soon settled down and a tremendous struggle took place, the former winning in a desperate finish by the narrow margin of five seconds in 50 min 08 secs to Tracey's 50 mins 13 secs with Charlie Robertson third in 51 mins 24 secs, and myself fourth in 51 mins 35 secs.   Alex Kidd (Garscube) was next in a fine 51 mins 47 secs and Jim Ellis (Victoria Park) sixth in 51 mins 48 secs.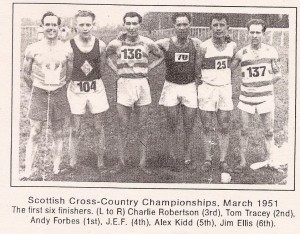 LIKE FLIES IN TREACLE
The conditions in the International at Newport were certainly the worst I have ever experienced.   If dry it would have been an excellent course but it was water-logged and heavy with mud.   Only one of the 71 starters mastered the course, Geoffrey Saunders of England who seemed somehow to have the knack of genty tip-toeing over the "glaur".   Scotland was sixth of eight nations.   In those days it was essentially a European race.   It had not evolved into the world-wide event as it has now becme.   The race was farcical.   Our best was Tommy Tracey who managed a good 24th despite losing a shoe.   Our placings were as follows:- 24th T Tracey; 32nd R Reid; 38th A Forbes; 42nd A Gibson; 44th JE Farrell; 46th J Ellis.    Pts 226.   E Bannon 51st; 55th A Kidd.
In normal conditions, Bannon who did not even makke the counting six despite finishing 4th in the English National would probably have led us home in a leading position closely followed by Forbes, Reid and Tracey.   The runners were a sorry sight, some covered in mud from head to foot.
Tom Richards, the marathon expert who had won the Welsh championship for the first time, finished 43rd.
A SPECTATOR IN 1952
Through illness and injury I missed the chance of gaining another International vest.   Eddie Bannon came at last into his own by winning the National cross-country championship and was our first man home in the International in 14th place won by Alain Mimoun the 1949 winner.
VICTORIA PARK MAKE HISTORY
In Olympic year 1952 there were to be many sensational performances but the cross-country was not over and from a Scottish point of view, Victoria Park's great win to talke the club title in the English cross-country championship made history.  Led by Andrew Forbes they were the first Scottish club to do so.   In a superb team effort the tail-enders took extra credit by running above themselves.
JIM PETERS RETAINS AAA TITLE IN WORLD BEST
In retaining his AAA marathon title, Jim Peers set a then world's best time of 2:20:42.2, taking nearly 9 minutes off his last year's time.   In doing so he was the pilot fish drawing out his rivals to personal bests as the times revealed:-
1.   J Peters (Essex Beagles)  2:20:42;   2.   S Cox (Southgate)   2:22:43;   3.  I Iden (Victoria Park)   2:26:53;   4.   CD Robertson (Dundee Thistle)   2:30:48;   5.   R McMinnis (Sutton)   2:31:42.
Charlie Robertson's failure to make the Olympic team was a gallant one, his time was easily his best ever.   Yet in winning the Scottish title his time was comparatively slow as the result showed.
1.   CD Robertson   2:38:07;   2.   J Duffy   2:38:32;   3.   JE Farrell   2:40:54;   4.   J Paterson   2:41:28;   5.   J McGhee   2:44:46;   6.   A Kidd   2:47:35.
Could it be that the Windsor to Chiswick course was a faster one or that the importance that the importance of the British race spurred runners on to previous unachieved heights?
OLYMPIC TRIPLE FOR ZATOPEK
All athletic enthusiasts know that Emil Zatopek of Czechoslovakia won 10000 metres, 5000 metres and a marathon within the space of one week, a feat which will probably never be repeated especially as competition becomes increasingly more intense and times even faster.   This was Ztopek's first public marathon and it is recorded that he asked Jim Peters advice regarding the pace.
"Is the pace fast enough, Jim?" he said.   What a struggling Peters replied is not reported.   Lack of experience or gamesmanship we'll never know.   Zatopek's winning times in his three races are unexceptional by modern standards but it was an epic feat by the charismatic Czech runner and the 5000 metres was one of the most exciting even run with the result in doubt to the tape.
CROSS-COUNTRY SWAN SONG
In 1953 at nearly 44 years of age I felt quite fit but athletically was beginning to feel my age and after my poor form of last year I did not fancy my chances of making the cross-country team.   Yet in the event experience and judgement helped me to finish a sound fifth.   Eddie Bannon had a comfortable win fromm Andy Forbes but it was in the International in Paris that he revealed his true potential by finishing a superb fourth, actually leading the field for a spell in the last lap.   The Scottish team was a bit disappointing but Andrew Forbes ran splendidly to finish twelfth.
I failed to make the counting six finishing 59th out of 76 runners, though I beat marathon maestro Tom Richards who was 67th.   The latter though a superb road runner was only moderate over the country.   At almost 44 I was the oldest runner in the rce to Tom's 43.   I made my International debut in 1937 but Tom made his in 1934.   Long service indeed.   It was a cross-country race only in name.   A combination of dirt-track and rubbish and the heat-wave conditions caused several runners to retire.
NOT FAR AWAY AT 45
Although I never again made the cross-country team,my 12th place in the 1954 race at nearly 45 years of age was a fair run.  I liked cross-country running and ten jerseys was a fair tally.   Later on I was runner-up to Joe McGhee in the Scottish marathon.   Joe's time 2:35:22, mine was a slow 2:43:08 but done with a minimum of training.
GLAD THAT JOE WON
In retrospect I was relieved that Joe won as it was a trial for selection for the Commonwealth Games marathon.   Irrespective of the time, one athlete at least was selected for Scotland and if by some freak chance McGhee had dropped out or been injured I would have been Scotland's representative.   In view of the gruelling heat-wave conditions which prevailed at Vancouver I was glad that this did not happen.   Who would have thought that Jim Peters who had beaten 2 hours 20 minutes would fail to beat someone who did 2 hours 35 mins, albeit without pressure?   But all race are different.   Conditions vary.   McGhee ran a fine well-judged race at Vancouver in torrid heat aided perhaps by the Peters-Cox rivalry that underestimated the effects of the heat-wave and that they pressed on regardless.
A NEW ERA
It was an exciting time in athletics with Bannister breaking the mile barrier of four minutes and the emergence of runners like Ian Binnie in Scotland and Gordon Pirie in England who followed in the footsteps of Emil Zatopek with his strict training programme.
Binnie although slimly built had a robust mental attitude and often trained in army boots.   He despised past and present athletic performances and his language concerning them was earthy indeed.
In writing of his attitude I paraphrased it in more dignified language asserting that he had "an uninhibited contempt for existing standards."
CONTINUED TO RUN AND RACE
Although now out of International reckoning, I continued to run and race in the National and other races.   Having been a competitor for so long it was difficult to stop completely though priorities were emerging.   The enjoyment of running for its wn sake began to assume the main consideration.   In the national cross-country I continued to run well for my club Maryhill Harriers finishing in the twenties and forties for two or three seasons and managed to win my last club championship title in 1957 at 48 years of age.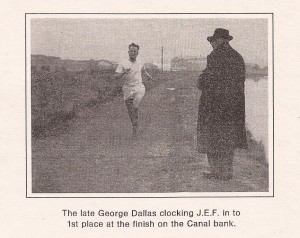 "WE COULDN'T DO THAT"
In Monday's press there was a short article with the head-line "48 Year Old Veteran Wins Again".   At work, in conversation with one of my customers who did not know I was a runner, said "I see an old guy of 48 won his club championship race."
"We couldn't do that," he added.   "You're darn right," I agreed.   He never did find out that I was the person referred to.   I had won my club title twenty-two times on the trot.   I am told that was a record(5 were unofficial).
LOSE TITLE BUT REVERSE DEFEAT LATER
Next year I lost my title to a mych younger runner, twenty-eight year old Willie Kirkwood.   Now 49, I could not hold the vigorous youngster.   In fact I finished only fourth, but later in the Scottish championship I avenged that defeat in the stamina sapping nine miles country trail by being the first man home for the club and winning the Paul Richfield trophy.
For several more years despite advancing age I turned out in the Scottish championship and despite running quite well gradually kept going further and further back in the placings.
THE STANALANE "STOMPERS"
At that time runners from different clubs mostly in the veteran stage ran together on Saturdays from the Stanalane clubhouse near Rouken Glen and Stewarton Road.   Victoria Park, Bellahouston and Maryhill Harriers formed the bulk of our pack.
The old guard of Gordon Porteous, Andy Forbes, Gavin Bell and myself were joined by others a bit younger.   We occasionally took part in road races at Dunblane, Shotts and other Highland Games and local country meetings.   Our competitive aim was to measure ourselves against runners of our now diminishing standard.
It was an enjoyable day's outing, kept us fit and catered for that competitive spirit which was muted but not entirely erased.   Certainly other priorities were emerging.   The love of running for its own sake, the fellowship, exhilaration of moods the sense of freedom.   Perhaps the last mentioned was the ace in the pack.
TRIP TO CANADA   – BUT RUNNING CONTINUES
In 1967 I got an unpaid leave of absence to visit Canada with my wife Jean to see our son Jack, his wife Rehona and our new grand-daughter Heather, just five months of age.   We travelled in winter and the temperature in Canada was below zero.   Jack met us in Calgary.  I recall the cold crystal clear air , our breath turning to vapour, the frost shining like scintillating diamonds.   Jack motores us to Kelowna a great fruit growing centre specialising in apples and peaches lying mid-way between Calgary and Vancouver.
We had about 200 miles to travel but over there the highways are indeed high wide and handsome and in such a big country with towns widely dispersed they think nothing of such distances.   On the way we stopped at Banff where we bathed in its hot mineral springs.   Travel-weary it helped ease our aches and pains.
HOT SPRINGS AND SNOW-COVERED PEAKS
It was almost an eeerie but magical experience to lie relaxing in steaming waters open to the air and gaze up at the snow-clad mountains, a complete contrast if ever there was.
It was tempting to stay in too long but warning notices advise ten to fifteen minutes because of possible weakening effects.   We resumed our journey westwards and stopped at a picnic site for refreshments.   There are still bears in Canada and one must keep a wary eye open.   They are not necessarily dangerous but the possibility of attack is always present as they are tempted down the slope for tit-bits.
As I've mentioned before, Kelown, where Jack and his wife Heather and Heather were staying then is a small fruit growing centre.   Bitterly cold in winter but very hot in summer with temperatures soaring into the nineties.   Always track shy because of the sub-zero temperature I managed some runs on my own  and sometimes with Jack outside business hours.   Later with my money running out I had to get a job at something.   These were at a premium but I managed to get one on a building sit roofing a container for a fruit depot.   It was most unpleasant work.   Sometimes the wind blew tar onto our dungarees, hair and face and it was a devilish job getting rid of it at night.   Margarine seemed to work best.    It was also intensely cold thirty of forty feet up in wintry weather and having to climb down to terra firma by special ladder was not calculated to help the nervous system.   Next I got a job pruning trees and again I wasn't too happy faced with a bewildering forest of branches.   Finally I got a job in an orchard cutting logs, making up bags of peat and going to various sites to collect sand for seedlings.   I enjoyed this job because of the variety but boy was it tough tiring work.   Most of the workers here were Portuguese, mainly because the locals were not prepared to indulge in such back breaking labour.   But in any case it was only a short term effort to get some badly needed dollars.
Jean and I made friends with a Welsh couple who had emigrated to Canada and started an orchard growing fruit produce, namely peaches.   On Saturday we went to their house for a meal.   After working to mid-day that day I went home to get washed and changed and walked about 2 miles to join Jean and our friends.   There was little or no public transport and often when I arrived from the cold to the centrally heated atmosphere I fell asleep with fatigue.   There was little running at that period.  By May we had saved enough to return home by train across Canada and then by boat to Greenock.
A UNIQUE EXPERIENCE
It was a wonderful experience to travel right across Canada through British Columbia. Manitoba, etc, to Montreal.   For four days we were able to see the whole of Canada pass before our eyes.   Upstairs there was a special observation look-out.   The beds were comfortable. food good and everything was immaculate.   But after four days it did get a bit monotonous.   The first part of the journey was by far the best.   The magnificent snow-covered Rockies, the deep valleys with fast lowing rivers and torrents, trees of bewildering height.   That was nature at its most savage and breath-taking beauty.   Later as we passed the flat wheat fields of Alberta and Manitoba, though colourful, the sameness became a bit monotonous to be relieved as we fringed the lakes of Erie, Michigan and Huron, though they were no match for the awesome majesty of the Rockies and so to Montreal, a splendid city.   Then boarding the liner White Princess to enjoy six days of luxurious lazy living before arriving at Greenock, a contrast to some hard labour endured earlier.   Ours was the last sailing made to Greenock from Ontreal.   Henceforth Liverpool was the port of call.
RISE OF THE VETERAN MOVEMENT
Around that period a veteran movement had been started in Germany to cater for long distance runners in the older age bracket, named IGAL for short.   Its idea was to foster the love of distance running for its own sake over path, road and field but even masters or veterans have not entirely lost their competitive urge and inevitably it was mandatory to promote annual road races at 10 kilometres (six and a quarter miles) and 25 kilometres (fifteen and five eighth miles) and in alternate years 10 kilometres and the full marathon distance.   A few years later a world veteran movement was formed, the WAVA, setting up a programme involving all athletic track and field events like a minor Olympic Games for older athletes to be held every two years.   The age categories  were over forty for men and thirty-five for women.   Eveentually it was agreed that groupings should be in five year periods.   Even five year groupings are arbitrary but perhaps as practical as possible.
In 1970 Walter Ross was instrumental in starting and developing a Scottish veteran movement.   At first it was almost like a family gathering of older runners but later it spread in numbers and in competitive intensity.
GERMANS CHRISTEN ME "ADOLF" FARRELL
I was over sixty when the veterans or masters' movement was started and was fortunate to win several Scottish and British championships in that age group as well as running in local track and road events.   So when Walter organised a group to go to Cologne in West Germany for two IGAL events, 10000 metres track and marathon, I managed to join the party for the former event.   At that time the categories were in ten years age groups, Over 40, Over 50 and Over  60.   The organisation was poor and in my event, the Over 50's and Over 60's ran together on the track in a mass-race very much over crowded.   I was running quite comfortably and colleagues assured me that I was ahead of other over 60's in my age category.   But then about half-way I was advised that another over 60, Norman Bright from USA was in front of me.   I managed to pass him and was settling down when I was informed that another in my age group, Jensen of Denmark, was leading me.   Two laps to go I made a supremebid, passed Jensen and raced to the tape where I remember just edging out another runner who I believe was the splendid veteran Kruychi from West Germany but there were so many at the tape that it was utter confusion.   I had run myself out and I was glad to be supported by my colleagues but inwardly elated to have won my category as I thought.
THE MOST UNKINDEST CUT OF ALL
But when the result sheet came out I was classed as an over 50 not over 60 runner and was of course well outside the medals and to make it even worse insult was added to injury.   My anem was down as "Adolf" Farrell.   Imagine an Irish-Scot with a first name "Adolf".   I scrutinised the programme and not one German competitor rejoiced in that name.   Plenty of Johan's. Wilhelm's, Harold's etc but no Adolf, for Adolf was a loser and out of bounds as regards a given name.   How they came to give me that name I'll never know.   Supported by colleagues Ross and Stodart I made a vehement protest assuring them I was over sixty.   But in teutonic fashion they would not be budged.   On the programme I was erroneously down  as an over fifty insetad of as an over sixty and that I remained.   In one respect I suppose it was flattering but at the time I was devastated.   I had travelled to Cologne and run myself into the ground all to no avail.   Still time is a great healer.   At times I have a good laugh to myself.   What a hybrid?   What a mouthful?   John Emmet "Adolf" Farrell.
STODDART VERSUS POWER – A CLASSIC
Before I ran I watched the over forty race and it turned out to be one of the greatest races I have witnessed at any level.   Ex-Empire champion Power of Australia was certainly the favourite but in the comparative unknown Scot Stoddart he met a tartar.   It was a splendid contest between two great competitiors neither of whom would give way.   Down the back straight each tried to break the other.
Eventually it was Power who had to give way and Bill Stoddart of cotland beat the famous ex-champion.   Both runners put up a classic display.   Stoddart is a great competitor win or lose.   Not the most graceful of movers, his robust style is dynamic in character.
ANOTHER VISIT TO CANADA
When I retired in 1974 my wife Jean and I, subsidised by my son, managed to pay another visit to Canada to see the family.
This time it was a holiday not a working vacation.   My son Jack was now in Victoria, Vancouver Island.   Victoria, the capital of British Columbia is a very pleasant and picturesque seaside town with attractive residential areas.   Kack seemed to have been in more houses and places than I've had hot dinners.   His business colleagues used to run at lunchtime and I often joined them.   I enjoyed the interesting trails and got quite fit.   The Canadian Masters Championships took place during my visit at the Vancouver Stadium and as it is only a two hours boat trip from Victoria to Vancouver we both ran in the 5000 and 10000 metres masters race in our respective age-groups.   Jack was not then a veteran but ran in the sub-masters races.   I managed to get two third places at both distances in my age group – over 60, but I could not quite cope with the heat and the speed of two world age champions of that time, Kruzychi of West Germany and Andberg of USA who were two years younger.   Both my son, who also got a third place and myself received specially minted silver dollars.   They were not yet in circulation but a pre-Olympic set for the coming Montreal Olympics of 1976.
Later our son and family took us with them on holiday in a motor caravan.   We visited many interesting places, too many to mention, but as the temperature soared to well over ninety degrees Fahrenheit we camped near a lake where it was cooler and enjoyed some swimming.
Then before visiting their own friends they drove us down to Vernox to meet a great friend who we had met in our visit of 1968, Renne who had a nice little bungalow and a garden with strawberries and other fruit and vegetables.   We stayed there for a week and each morning I rose early to pick the strawberry crop before the heat of the day made the work unpleasant.
One morning I took a notion to go for a jog.   It was my 65th birthday and I felt I was getting a bit lazy and wished to get in shape, and thereby hangs a tale.
CHASED BY INDIANS ON 65th BIRTHDAY
At the back of the house there was a path which eventually took me to a rather rusty looking gate.   There was some writing on a notice but it was rusty and eroded and not shut.   Fascinated by the winding undulating path which divided a picturesque panorama of shrubs and greenery and moved by a touch of curiosity I soldiered on anxious to see what was just beyond.   Having covered two or three miles and still no sign of finality or journey's end.   I thought that perhaps I should return home when suddenly out of the blue I saw some rather wild looking horses approaching me.   As I ran towards the nearest fence a horde of horsemen appeared, obviously Indians though they did not affect feathers and war-paint but cowboy hats.   I could not quite make out what they were shouting but it was obvious by their manner that my presence was not wanted.   I got the message and signalled that I would make a hurried exit.   Finally arriving back at the gate I had entered it was a shock to find that the party had beaten me to it and more alarming to see an Alsatian dog sidling up to me.   The presence of the dog made escape impossible.   It did not harm me but kept sniffing at mecloser than breathing.   I made placatory noises hoping that this would help tokeep our relations on at least an even plane.     The Indians shouted in broken English "No come in here."   I replied, "Very sorry to intrude" and hearing my Scottish foreign accent they became more friendly in manner and we parted in salutation.   But it was a most alarming experience.   I had by mistake wandered into an Indian reservation.   They feel that the white man has taken over land which was rightly theirs and herded into these reservations, they do not take kindly to intrusion.
Most boys dreams of encounters with cowboys and Indians are just fiction.   How strange that a pensioner should encounter the real thing chased by Indians on his 65th birthday!