DISTANCE RUNNING HISTORY: AN OVERVIEW
(Maybe this article will intrigue some to read more about the fascinating history of their wonderful sport.)
Pre-History
Primitive Man: Born to Run – nuchal ligament, Achilles tendon, springy foot arch – a 'weak predator' that can hunt by distance-running after prey animals until they collapse.
Nowadays, in the rough canyons of the Sierre Madre Occidental, Mexico, the Tarahumara (pictured below) still maintain their tradition of persistence hunting, running down deer and wild turkeys.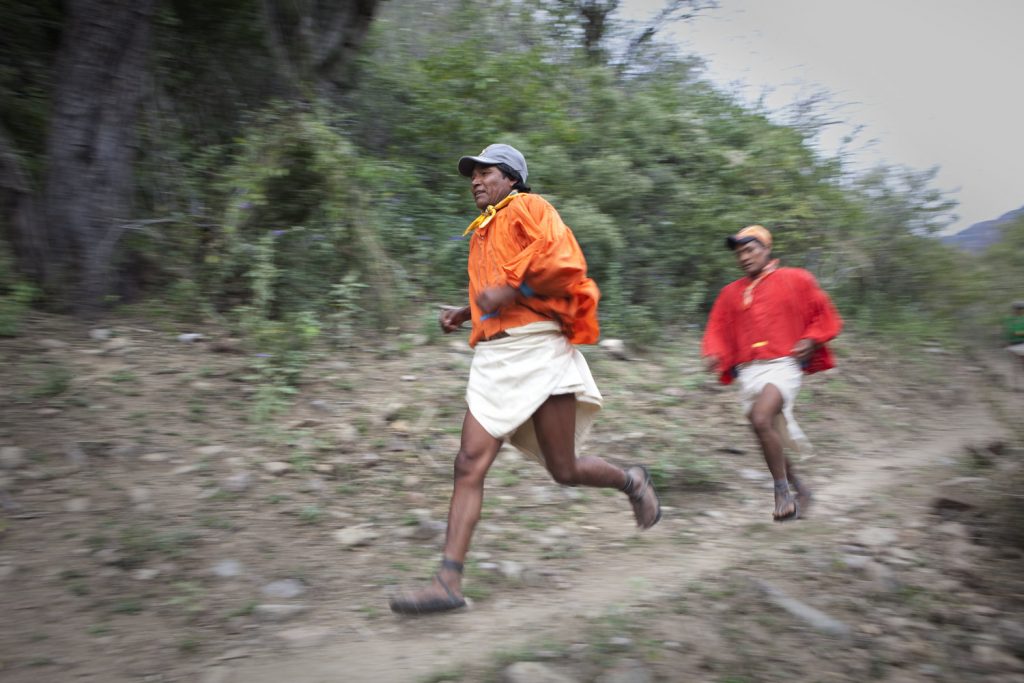 The Olympics
Olympia, Greece. The Games began in 776 B.C. Only men were allowed to compete. In 720, the Dolichos, or long foot-race, was added. Less than a Parkrun. Starting and finishing in the stadium, with the race course winding through the Olympic grounds, passing by the statue of Nike, the Goddess of Victory, near the Temple of Zeus. Acanthus of Sparta won the first Dolichos laurel wreath, and his statue was built in Olympia.
Ultra-marathons
490 B.C. The Persian Fleet approaches. (According to the historian Herodotus), Athens sends Pheidippides, a professional long-distance running messenger, to ask Sparta for help. 150 miles over rough hilly country in 30 hours. Immediate aid is refused; so he runs all the way back with bad news (the Spartans actually arrive two days after the battle) and good (the God Pan appeared to the exhausted Pheidippides and promised to help). Athenians are victorious at Marathon and their city is saved from destruction.
In 1983, the first Open International Spartathlon Race took place. The route had been pioneered the previous year by Englishman John Foden and two other R.A.F. officers.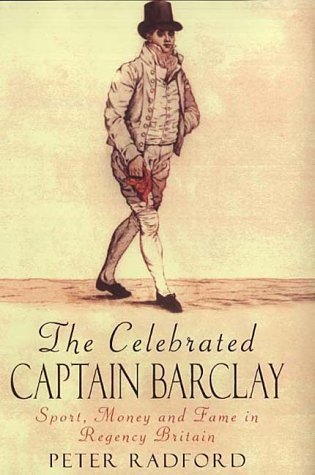 Barclay Allardyce – often simply known as Captain Barclay
Pedestrianism
In Britain, from the late 17th Century, aristocrats often employed footmen who ran and walked long distances, carrying letters and bringing back replies. Some employers boasted about the speed and stamina of their servants and placed bets on who would prove superior in a race trial.
Foot racing and walking evolved into Pedestrianism: professional distance running.
During the late eighteenth and nineteenth centuries, this was a popular betting spectator sport in the British Isles. Pedestrianism became a fixture at fairs – much like horse racing.
Famous pedestrians included Captain Robert Barclay Allardice, called "The Celebrated Pedestrian", from Stonehaven. His most impressive feat was to walk 1 mile every hour for 1000 hours, which he achieved between June 1 and July 12 1809. The feat captured the public's imagination and around 10,000 people came to watch, over the duration of the event. In 1864, Emma Sharp became the first woman to emulate the feat. Ada Anderson was named Champion Lady Walker of the World in April 1878, after covering 1500 miles in 1000 hours – at Leeds, England.
Sir John Astley M.P. founded a "Long Distance Championship of the World" in 1878, staged over six days, which became known as the "Astley Belt Races" (or 'Wobbles', because of the erratic progress of knackered runners). These events allowed a wide interpretation of rules, with walking, jogging, and running allowed. The competition was partly inspired by a desire to clean up the perception of the sport as corrupted by gambling interests and led to a push amongst some to codify pedestrianism as an amateur sport. The same process was happening to British track and field athletics and gave rise to the modern Olympic Movement.
Famous Six-Day racers included: Edward Payson Weston, Daniel O'Leary, Charles Rowell and George Littlewood, who in 1888 created a new world record of 623 miles 1,320 yards—a world record that wasn't beaten for 96 years.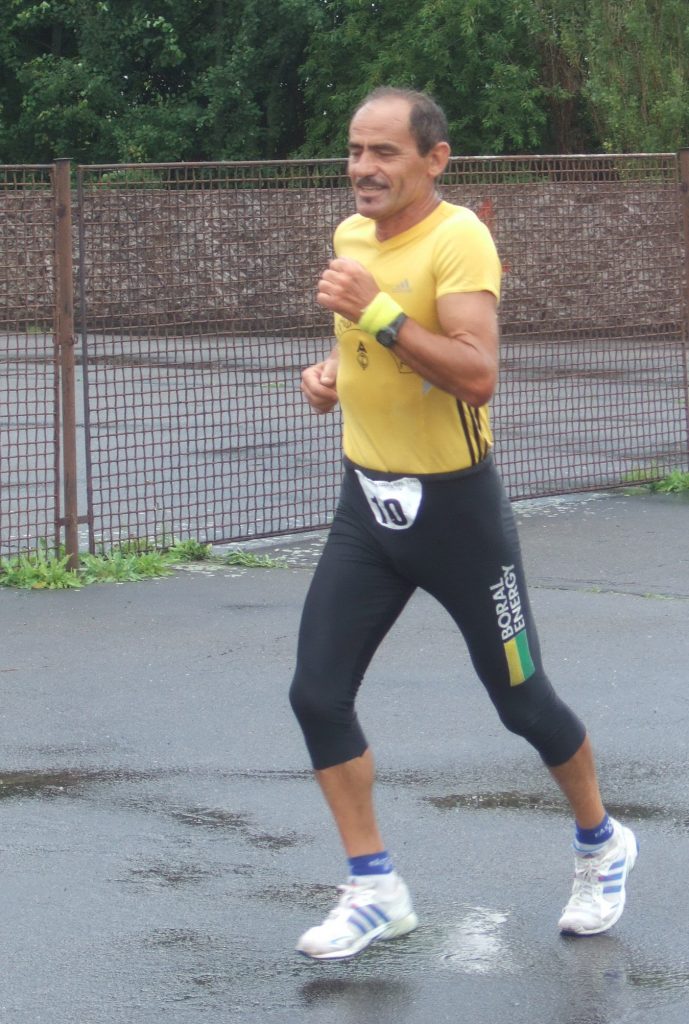 In 1984 Yiannis Kouros (above) from Greece ran over 1,022 km (635 miles) setting a new world record that would stand until 2005, when he improved to 1,036 km (644 miles) at the Cliff Young Australian 6-day race in Colac, Australia.
The women's world record was broken by Australia's Dipali Cunningham in 1998 when she covered 504 miles (811 km). In 2001 she improved this to 510 miles (820 km).
W.G. George: Walter Goodall George (1858 –1943) was a runner from Wiltshire who, after setting numerous amateur world records [between one mile and one hour (11 miles 932 yards)], went professional in part to challenge the mile record-holder William Cummings, defeating him in several highly publicised races. On 23 August 1886, he set a mile record (4 minutes 4:12¾ seconds) which was not surpassed for almost 30 years. (In a 1885 handicap race he had run 4:10​1⁄5 – which was not beaten until 1931.)
Alfred Shrubb (1879–1964), known as Alfie, was an English middle and long-distance runner from West Sussex. During an amateur career lasting from 1899 to 1905 (when he was barred from amateur competition for receiving payment for running) and a professional career from 1905 to 1912, he won over 1,000 races from about 1,800 started. At the peak of his career he was virtually unbeatable at distances up to 15 miles, often racing against relay teams so that the contest would be more competitive. He won the International Cross-Country Championships in 1903 and 1904. On 4 November 1904, at Ibrox Park, Glasgow, he broke the world record for the one hour run as well as all amateur records from six to eleven miles, and all professional records from eight to eleven miles, running eleven miles, 1137 yards (18.742 km). Altogether he set 28 world records.
The great annual professional meeting on 1st January, which has taken place every year since 1870, was for many years known simply as Powderhall, since that was where it took place. It is now known mainly as the New Year Sprint and although it is a real festival of sprinting, there have been races at half mile, mile, two miles and long distance. In the era of Open Athletics, amateurs have been permitted to enter since 1993.
Scotland's greatest ever sprinter George McNeill won the Centenary running of the race in 1970. For the illustrious history of this event, do look up the website: www.newyearsprint.com
You will also find an article about Powderhall under 'The Games' in http://www.anentscottishrunning.com/the-games/.
Cross-Country
"Tom Brown's Schooldays" by Thomas Hughes, was a very successful novel (published 1857). It is set in the 1830s and includes a marvellous description of a paper-chase cross-country run for senior pupils at a top fee-paying residential public school. Adults do not seem to have competed in this sport until Thames Hare and Hounds (the oldest cross-country club in the world) organised events from 1868. Such a steeplechase involved 'hares' starting ahead of the main pack, marking their route with a trail of paper. The pack of runners would then follow the trail, the first to catch the hares being the victor.
In 1879 the use of paper trails was banned in Wimbledon Common. 1883 was the year when the English Cross-Country Association was founded. The Scottish Cross-Country Union followed in 1890.
Before that, many cross-country races had taken place in Scotland. In Carnwath in Lanarkshire, the 'Red Hose' XC race dates back to the early 19th C. Public Schools and Universities encouraged cross-country running. Clydesdale Harriers was formed in May 1885; as was Edinburgh Harriers (that September). Colin Shields' invaluable centenary history of the Scottish Cross Country Union ("Runs Will Take Place Whatever The Weather") gives fascinating details.
This book, combined with the on-line archive of the Scottish Road Running and Cross Country Commission, anentscottishrunning.com and scottishdistancerunninghistory.scot will tell readers a great deal about top Scottish cross country runners, male and female. The articles (in SDRH) about 'Women's Cross Country' are particularly interesting. Between 1931 and 1957, there were only five International XC matches for Scottish women. The modern era began in 1967. However Scottish National championships were run between 1932 and 1938; and from 1951 onwards. The men were much luckier, since Scottish National Championships started in 1886, and the International Championships in 1903, at Hamilton Park Race Course, Scotland.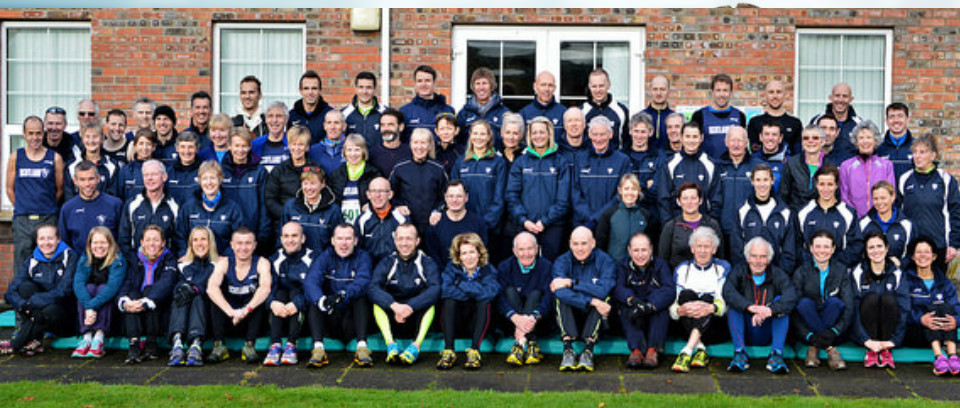 A Scottish Veteran Harriers Club Group
The Scottish Veteran Harriers Club began in 1970. Our cross-country champions include the following.
Dale Greig, Janette Stevenson, Tricia Calder, Sandra Branney, Trudi Thomson, Christine Haskett-Price, Liz McColgan, Sonia Armitage, Lynn Harding, Sue Ridley, Jane Waterhouse, Angela Mudge, Fiona Matheson, Melissa Whyte, Joasia Zakrzewski, Lesley Chisholm, Janet Dunbar, Hilary McGrath, Claire Thompson, Betty Gilchrist, Anne Docherty, Ann White, Katie White, Linden Nicholson, Jennifer MacLean
John Emmet Farrell, Gordon Porteous, Davie Morrison, Andy Forbes, Willie Marshall, Tom O'Reilly, Bill McBrinn, Bill Stoddart, Charlie McAlinden, Alastair Wood, Andy Brown, Hugh Gibson, Hugh Rankin, Ian Leggett, Walter McCaskey, John Linaker, Donald Macgregor, Dick Hodelet, Jim Alder, Brian Scobie, Bill Scally, Brian Carty, Allan Adams, Donald Ritchie, Davie Fairweather, Bobby Young, Pete Cartwright, Doug Gemmell, George Mitchell, Archie Duncan, Colin Youngson, George Meredith, Charlie MacDougall, Ian Elliot, George Sim, Brian Emmerson, Archie Jenkins, Brian Kirkwood, Frank Barton, Gerry Gaffney, Fraser Clyne, Keith Varney, Simon Pride, Ed Stewart, Colin Donnelly, John Duffy, Gerry Fairley, Andy McLinden, Brian Gardner, Ian Stewart, Iain Campbell, Neil Thin, Tommy Murray, Bobby Quinn, Kerry-Liam Wilson, Robert Gilroy, Jamie Reid, Andy McLinden, Frank Hurley, Tony Martin, George Black, Paul Thompson, Alex Sutherland, Les Nicol, Stephen Cromar.
Highland Games: Running
The Highland Games probably go back to the 14th century but, in their modern form, are about 150 years old. The 'boom' in Highland Games was due to: the development of the railway system in the middle of the 19th Century; and Queen Victoria's summer residence in Scotland. At first, all the Games were professional; but since 1993 have been open to every athlete. Two of the most famous are Braemar (picture below) and Ballater, both with hill races.
A series of Amateur Highland Games were introduced eventually – many of them in the Lowlands. Although the 'Heavy' Events: caber, hammer, shot put etc are most famous, grass track middle distance races (scratch or handicap) also featured, as well as hill and road races.
For example, Forres Highland Games used to include the finish of the Inverness to Forres Marathon. Nowadays it has a 10k road race and most events have been axed or shortened drastically. Many Games had road races: Strathallan 22 mile; Bute 18; Glenurquhart, the Inverness to Drumnadrochit 15; Glasgow the hilly Drymen to Scotstoun 15; Gourock 14; Dunblane 14; Shotts 14; Carluke 12; Bearsden 10. Kinlochleven had the Mamore Hill Race, with at least a third on the road. Alva had another hill race. Achmony hill race at Glenurquhart is one that survives.
Running those traditional events over non-standard distances was great fun; and the road races were excellent preparation for aspiring serious marathon racers.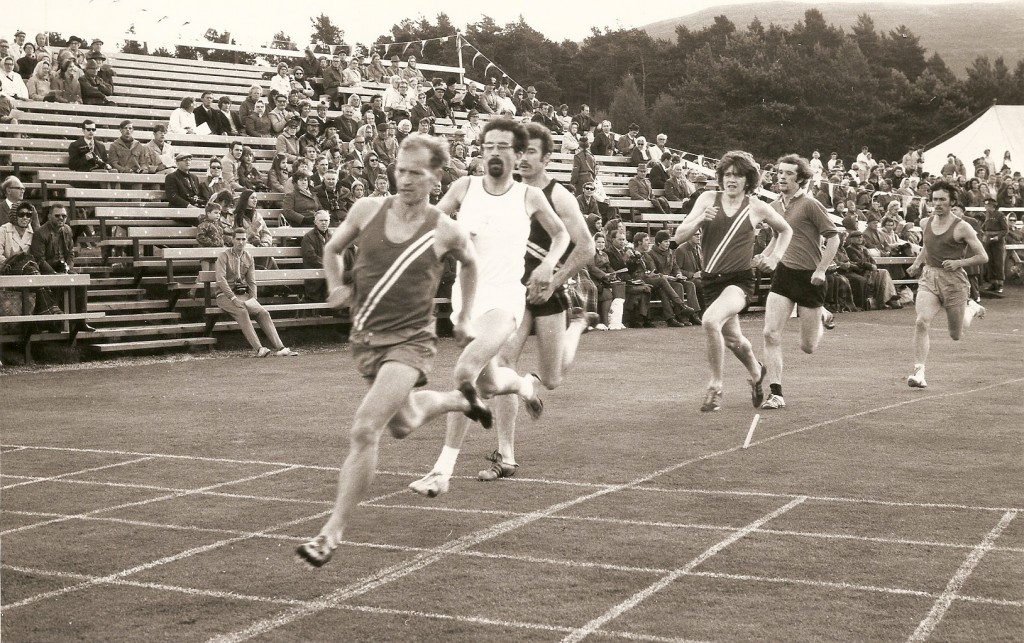 Amateur Outdoor Track
From 1865, the Amateur Athletic Club held track and field championships in London. One mile and Four miles races were included. However, entry was restricted to 'gentleman amateurs'. In 1880 the Amateur Athletic Association took over and the sport was open to anyone who had never been a professional athlete.
The Scottish Amateur Athletic Association was founded in 1883; and the first championships (for men) that year included 880 yards and one mile; ten miles track featured in 1886; and four miles in 1887.
The Scottish Women's Amateur Athletic Association was formed in 1931: 880 yards was the longest distance run. One mile was added in 1952; and 3000m in 1971.
The Scottish Association of Track Statisticians archive is a superb resource, listing championship winners, statistical profiles of individual athletes, records, Scottish International matches etc.
Scottish Distance Running History and Anent Scottish Running, both contain many more detailed profiles of top Scottish athletes.
Hill Running
Legend has it that King Malcolm III of Scotland, in the 11th century, summoned contestants to a foot race to the summit of Craig Choinnich (overlooking Braemar). Several Highland Games (e.g. Ballater and Braemar) hosted hill races. Nowadays the Scottish Hill Runners online calendar includes over a hundred challenging annual events.
At the beginning of September is the Ben Nevis Race. Britain's highest mountain tempted athletes to run up and down it from the late 19th Century. William Swan was the first to break 3 hours in 1895. The first race (ascent only) was in 1903; and shortly afterwards Ewen MacKenzie won the first run (in a record 2 hours 10 minutes) from Fort William and back, via the summit. Races took place intermittently until 1951, when the modern era began. The Ben Nevis Race website has all the results right up to 2017. Lots of SVHC members tried it at least once. (The writer, aged 21, a couple of months after completing his first 26 miler, ran the Ben Race in 1969, hated the dangerous downhill and for the next 30 years stuck to safer marathon running!)
Famous Scottish Ben racers include: Jock Petrie, Duncan MacIntyre, Brian Kearney, Eddie Campbell, Jimmy Conn, Pat Moy, Allan MacRae, Bobby Shields, Brian Finlayson, Colin Donnelly, Mark Rigby, David Rodgers and Graeme Bartlett.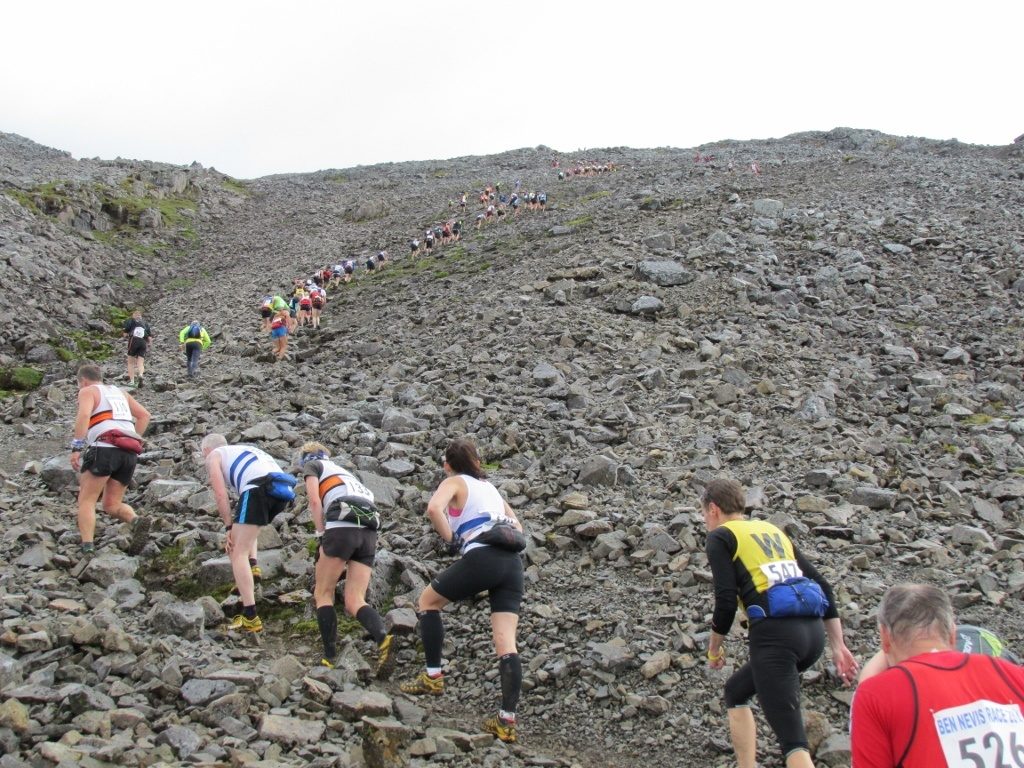 The Ben Nevis Race
Modern Olympic Games
Although the Cotswold Games 'Olimpicks' took place from 1612-1852; and the Wenlock Olympian Games (which influenced Olympics reviver Pierre, Baron de Coubertin) from 1850; the 1896 Olympic Games in Athens were inspired, not only by tales of the Ancient Olympics but also by the Amateur Athletics movement. In fact, the AAA Laws for Competition were adopted by the International Olympic Committee (1894) for the first Modern Games. In 1896, the middle-distance races held were: 800m and 1500m, both won by London-born Edwin (Teddy) Flack of Australia ('The Lion of Athens') who also led the Marathon for some time but had to drop out three kilometres before the finish. Female athletes were excluded from the Olympics in 1896 but took part from 1900. However, 800m for women was not introduced until 1928; and (very unfairly) not reintroduced until 1960. Sheer male chauvinism.
Marathon
In 1878 the great English poet Robert Browning wrote "Pheidippides". In a dramatic fashion, he amalgamated two stories about the legendary/mythical Greek runner: Herodotus's account (written in 450 B.C., 40 years after the Battle of Marathon) of the 300 miles trek to and from Sparta; and, 600 years later in 120 A.D., Plutarch's tale about Eucles, who (in full armour, just after the battle) was supposed to have run to Athens, gasped out news of the victory and dropped dead.
Browning's poem includes the lines:
"'Rejoice, we conquer!' Like wine through clay,
Joy in his blood bursting his heart, he died – the bliss!"
Roger Robinson wrote: "Presumably it was Browning's poem that Professeur Michel Breal had in mind, when he wrote to the Athens Olympic Committee in 1894 to propose 'a race from Marathon' on the route of 'the Greek warrior'.
As runners interested in the history of the marathon race will know, the 1896 Olympic event was won by the Greek Spiridon 'Spyros' Louis, over a distance of around 40 kilometres (25 miles). The 1908 London Olympic Marathon established the official distance as 26 miles 385 yards (42 kilometres, 195 metres).
Scottish runners completed several 'marathons' over a range of distances before the first official Scottish Marathon Championship (for Men) in 1946. (The first Scottish Women's Marathon Championship did not take place until 1983). The first two men's events were won by Donald McNab Robertson, who had been AAA Marathon champion six times between 1932 and 1939; a silver medallist in the 1934 British Empire Games in London; and had finished a valiant 7th in the 1936 Berlin Olympics. (He had also been selected, as AAA champion, for the 1932 Los Angeles Olympics but could not go because of work and family commitments).
Second in the 1946 Scottish Marathon was 'the Daddy of them all' – Duncan 'Dunky' McLeod Wright, who had been AAA champion in 1930 and 1931; 1930 British Empire Games victor in Hamilton, Ontario; and a close fourth in the 1932 Olympics.
The Scottish Marathon Club was founded in 1944, by stalwarts like Dunky Wright, Joe Walker and Jimmy Scott. The SMC helped to organise umpteen road races (often linked to Highland Games); liaised with the SAAA to ensure that the Scottish Marathon championship went well; and to nominate a runner to receive the Donald McNab Robertson Memorial Trophy (for Scottish Road Runner of the Year). Certainly, the SMC helped considerably to raise the standard of road running in Scotland. Our current SVHC President Alastair Macfarlane (1979 Scottish Marathon champion and Robertson Trophy winner) was the last SMC President.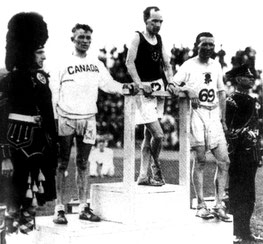 Dunky Wright (centre) in Hamilton (note the casually crossed legs)
Bill Stoddart, the 1969 Scottish Marathon Champion; won the second SVHC cross country championship in 1972; and was a World Veterans champion and record holder several times, including gold medals in the 1992 M60 10km and 25km in Birmingham.
Aberdeen's Alastair Wood was Scottish Marathon Champion six times; finished 4th in the 1962 European Marathon at Belgrade; and in 1974 became a runaway M40 World Veterans Marathon winner in Paris, leading SVHC to the World Vets Club gold medals.
In the 1972 Munich Olympics, Donald Macgregor finished an excellent 7th. He was later to win three Scottish Marathon titles; and the 1980 World Veterans Marathon in Glasgow.
Gordon Porteous, a truly great SVHC member, was World Veteran Marathon Champion many times. He won World Veteran Marathon gold medals in Toronto 1975, Coventry 1976, Berlin 1978, Hanover 1979, Glasgow 1980, New Zealand 1981 and Rome 1985. Gordon set World age-group marathon records at: M60 (2.51.17); M65 (2.57.00); M70 (3.11.45); M75 (3.23.12); and M80 (3.47.04).
Scotland's greatest female marathon runner was Liz McColgan (World and Commonwealth 10,000m champion and winner of the first World Half Marathon championship in 1992.) Liz won marathons in London and Tokyo and, seriously hampered by an insect bite which poisoned her system, finished 16th in the 1996 Atlanta Olympic Games.
Modern ultra-distance
After professional 6-Day events lost favour in the 1890s, and marathon fever took over, ultras were ignored. Arthur Newton, born in England but in 1922 a 38-year-old South African farmer, is considered the founding father of modern ultra-running. Between 1922 and 1934 he averaged 20 miles a day of running and walking. His victories included four Comrades Marathon wins – this 54 or 56 miles epic remains the world's leading ultra – and new records for the London to Brighton 52. Newton broke amateur world records at 50 and 100 miles; and, as a professional, covered 152 miles 540 yards in 24 hours – a record which remained unbeaten for 22 years. The 24-hour mark was set in 1931 on a 12-laps-to-the-mile track in the Ice-Hockey Arena at Hamilton, Ontario. The wooden surface was softened by a layer of felt and paper.
A little known fact is that, on 1st January 1929, the recently professional Newton set a record of 6 hours 39 minutes 50 seconds for running from Glasgow Pavilion to Edinburgh and the Powderhall track (on which he finished by circling four and a half miles). Conditions were atrocious – freezing cold, snowy and slippery in the West and thawing with deep puddles in the East.
In England and Wales, the ultra-marathon scene held many events, encouraged by the London-based Road Runners Club. The RRC also recognised the Tom Scott 10 and the Scottish Marathon, plus the most popular Scottish ultra – The Two Bridges 36, which was run between 1968 and 2005. Many of the best ultra-racers in the world took part and Scottish winners included Alastair Wood (who also won the London to Brighton), Alex Wight, Jim Wight, Don Ritchie, Andy Stirling, Peter Baxter, Colin Hutt, Simon Pride and Alan Reid.
Trudi Thomson finished first woman in the 2 Bridges three times and set an unbeaten women's record. As well as running for GB in many marathons, she won a silver medal in the World 100km championship. In addition, Trudi won Scottish Marathon titles and the British Veterans Cross-Country Championship.
Then there was the Edinburgh to Glasgow ultra (not the famous 8-man road relay). This 44-mile challenge was run between 1961 and 1972; plus a 50-miler (Meadowbank to George Square) in 1984. Scottish winners included Gordon Eadie, Andy Fleming, Hugh Mitchell, Bill Stoddart, Alex Wight and Jimmy Milne, with Don Ritchie victorious in 1984.
Although these great Scottish races are no more, Scottish Championships have been held over 50km from 1996; and over 100 km since 1992, when the main man mentioned below fittingly became the first champion.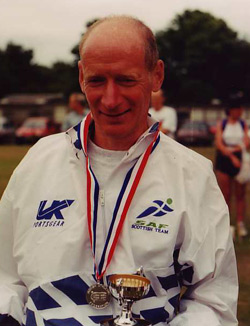 Donald Ritchie (above) of Lossiemouth, Moray, Scotland, has undoubtedly been the greatest ultra-distance runner the world has ever seen. This was the verdict in 1995 of Andy Milroy, a journalist who knows more about this branch of athletics than anyone. Milroy compared Don's achievements with those of past greats like Charles Rowell, George Littlewood and Wally Hayward; and with his contemporaries Yiannis Kouros and Bruce Fordyce. On the basis of the length of his world-class ultra-running career and his amazing accomplishments, Donald Ritchie is considered to have been the very best.
Do read Don's full profile on Scottish Distance Running History – you can find it by clicking on 'Marathon Stars' and then on his name under 'The Marathon and Beyond'. Better still, buy his autobiography "The Stubborn Scotsman" on amazon uk. No one has ever run harder than Don Ritchie.
Perhaps his finest performance took place on the 28th of October 1978. At the Crystal Palace track, he ran 100 km in 6 hours 10 minutes 20 seconds. Imagine: 62 consecutive miles, averaging almost precisely 6 minutes per mile! Unsurprisingly, this remains the world record in 2018.
Indoor Track
Peter Lovesey, in his AAA Centenary History, wrote that Indoor Athletics originated in 1863 at the Ashburnham Hall, Chelsea, where the London Rowing Club held their sports indoors by gaslight. Other London venues included Lambeth Baths and the Agricultural Hall, Islington. New York staged America's first indoor meet in 1868.
Peter Lovesey was also a fine detective novelist. Read 'Wobble to Death' for a real insight into corrupt ultra-distance challenges in the Victorian era.
The AAA held Indoor championships from 1935-1939, at the Empire Pool, Wembley. They did not return until 1962 at Wembley and subsequently R.A.F Cosford.
However, amateur indoor track became really popular in the U.S.A, between the First and Second World Wars. 'Running on the Boards' featured as Winter and Spring training for college athletes; and the most famous meeting took place at New York's Madison Square Gardens.
Scottish athletes were successful at AAA Indoors events; but the first SAAA Indoor championships did not take place until 1973-1976. The venue was Bell's Indoor Sports Centre in Perth: this had a 154 metres long banked track comprising compressed cork with lino strips on a wooden base. Twice Scottish Indoor 1500m winner was Adrian Weatherhead, who later became the fastest Scottish M40 Veteran in 10k road races.
Scottish Indoor Championships were not resumed until 1987 at Ingliston. From then until 2012, the competition was held at Glasgow's Kelvin Hall, where Scottish Veterans and British Masters championships regularly took place. From 2013, the Championships were held at Glasgow's new indoor venue, the Emirates Arena.