Explanatory notes: Harrier Club formation to 1900
The spreadsheet detailing the clubs formed to 1900 has been gathered from a variety of sources. There has been a heavy reliance on local press reporting which has its own pitfalls of subtle change of names, mis-spellings and occasional inaccuracies. Official club histories can also be written from 'a particular view'. This is by no means an exhaustive survey, merely a start. Inevitably, not all local sources have been plundered so there will be some local clubs in small places that have been omitted. However, 2 stand out as being a discovery. Banton Harriers adjacent to Kilsyth, and Dailly Harriers a small village in south Ayrshire both numbered only around 1,000 people in 1891 but both had harrier clubs. The common factor was the nature of the local industry which was coal mining and the iron industry. This aspect in the growth of the harrier clubs is important and touched on later.
Where clubs are mentioned in red, this indicates that they appear in sources but may only have been mooted and not actually formed. Some appear once but may have dubious provenance while in the case of Forfarshire Cross Country Union, this not only existed as a county administrative collective for clubs, but they also occasionally raced against stronger clubs as FCCU. There will certainly be many more local clubs in rural areas not mentioned in the sources that were used, so additions to the lists would be welcomed. Corrections to dates of formation are also welcomed. Clubs appear by (more or less) chronological order and there is a separate set of 6 sheets which breaks clubs down by area (West of Scotland, Borders, Tay and Dundee etc). There has been an attempt to establish the exact date of formation and include limited additional information. This was never intended to be an exhaustive picture of the sport but one merely to establish the harrier club landscape.
There has been no attempt to follow up the clubs formed to see what became of them, but it is clear from the accompanying area sheets that some towns and cities simply could not support the level of club formation (and therefore membership) to keep them viable. Dundee and Arbroath are two cases in point. Dundee numbered some 40 clubs in the period 1885 to 1900 with a population of approx 158,000 in 1891. The town of Arbroath numbered some 15 clubs with a population of some 22,900. However, by 1900 the press reported only 2 functioning clubs in Dundee. Clubs came and went and were part and parcel of leisure trends and 'fads' of the time. It does however demonstrate 'impact' in relation to the grip of the sport at the time. Population trends of the time indicate that Glasgow was the largest city of around 565,000 with Edinburgh next at approx. 370,000. Dundee just eclipses Aberdeen with 158,000 to 130,000. Fife and the Central belt numbered approx. 135,000 with the Borders at 130,000. While these numbers are extremely approximate, they nevertheless give an indication of population trends and what we know as Strathclyde today had fully one third of the total Scottish population of the time.
Schools and universities were difficult to get information on without direct access to the respective archives, but where they are mentioned they are included even if the reference was a bare mention since they were part of the landscape of the time. Prior to 1885 there is evidence of the public schools especially, but not exclusively, of Edinburgh engaging in 'athletic sports' which was essentially track and field events (Royal High School, Edinburgh Academy, Loretto, Merchiston Castle, Dreghorn and Glenalmond). These annual games or sports days also held 'stranger's races'. It may well be that harrier (hares and hounds) or cross-country activity was part of the sporting opportunities of the time but by 1875 these inter-scholastic meetings had all but died out and it was the universities of Aberdeen, St Andrews, Glasgow and Edinburgh that continued with 'athletic sports'. More work is needed to establish the contribution of the public schools both in Edinburgh and Glasgow, especially Glasgow Academy and the High School of Glasgow.
What has been put on the site is an extract from a Master document There is the 'main' document of all clubs but the Master document contains further information such as information on athletes, club colours and uniforms and trainers and training as well as run venues. Clubs held smokers, domino leagues, 'at homes', 'conversatziones', formal club dinners, less formal meals after runs with entertainment, smokers, variety nights and of course recourse by some clubs to their own club rooms. In addition to the main chronological document and the area document there is the Master document with further information and this Master can be accessed via the author at the email address appended below.
Documented in the press and in need of follow up is information covering deaths of harriers on runs, assaults on harriers, call ups for the 2nd Boer War, issues to do with betting, articles on how to run 'respectfully', trespassing, falsifying information on entry forms (nothing changes!) and articles directly advocating that harriers vote for certain candidates in local council elections. The richness of the social history and the way in which harrier clubs interacted with agencies around them at the time is worthy of more research.
What is also worthy of note is the social and economic context of club formation. Nearly all clubs were based on some form of industrial economy rather than a more rural, agricultural economy. Harriers needed to be in occupations that meant they had the means to buy running attire, specialist shoes and to be able to afford the travel to run venues as well as the meals and 'smokers' after the runs. Again, more work is needed on this aspect of harrier club membership. What is certain is that some harriers benefitted from the connections made within the club. There is one striking account of a harrier leaving for a post in London through connections made with ex pat harriers based there. The industries of weaving, mining, commerce and banking as well as shipping and textiles were at the heart of occupational status of harriers.
The documents are not exhaustive. Any additions and corrections are more than welcomed as the purpose is to set up a conversation relating to the earliest days of the sport to gain a better insight into not only the sport, but also its contribution to the various communities which the clubs represented.
Correspondence address:
Hamish Telfer.
Email: hamishtelfer@googlemail.com
This information is also available to be downloaded & printed using the following links: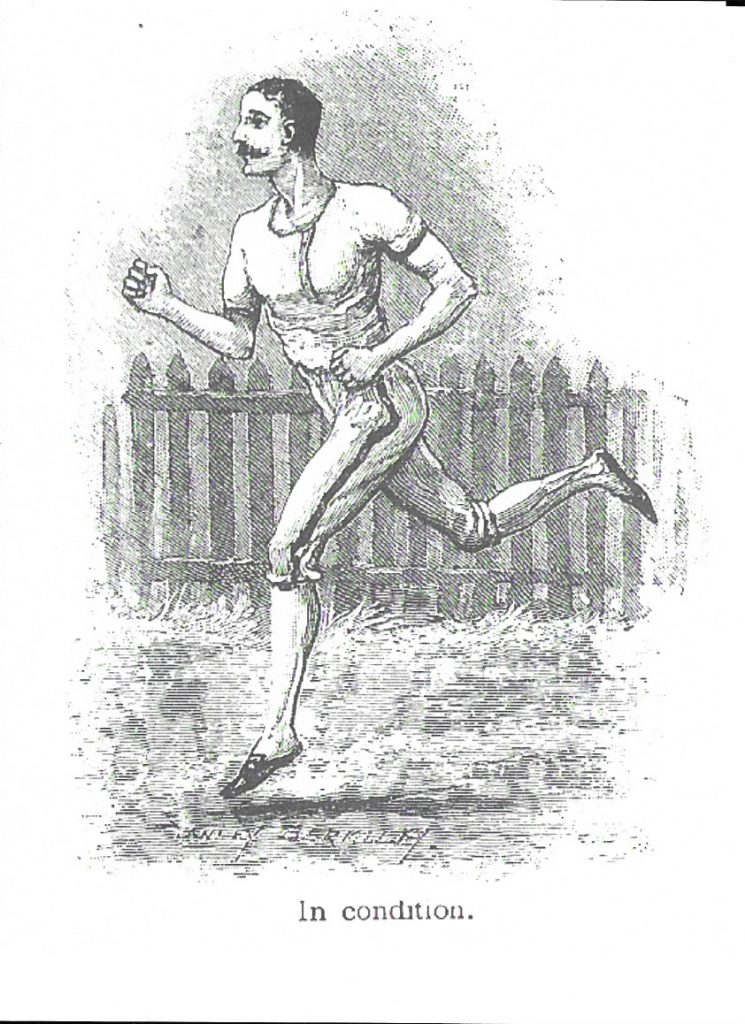 CLUB
Foundation Year (& Date)
Source
Sections
Location
Further detail
1
Glasgow Academical Club
1866 3/5/1866
Ev Citizen 3/5/1866
Harrier section by 1870
Glasgow
Second paper-chase of the season 23/4/1870 Glasgow Daily Herald 25/4/1870
2
Glasgow Hares and Hounds Club
1872 No exact formation info
NBrDaily Mail 7th
&21/10/1872
Glasgow
1st run 5/10/1872. Run description. Campbell & Graham (Hares); Chrystal (Master of Hounds), RM Liddell, Baird, Andrews, W Dewar, Carmichael, Marr, Paterson. 2nd run on 19/10/1872 13mls. Baird, Graham, Marr, Douglas, Paterson (Sen&Jun), W Dewar, Campbell, Jas. Kerr, J Hilliard, Next run 26th Demise pre 1875?
3
Alexandra AC
1873 April/May
NBrDaily Mail
27/5/1873
F.Club Harrier Section
Glasgow
Number of runs and also athletic meetings. 'Multi-sport' club but essentially football
4
St James FC
1881 ?
anent scottish running
– Alex Wilson
Had members who did cross country
Edinburgh
Alex Wilson's piece on Peter Addison, member of St James in 1881 and Edinburgh & Edinburgh Northern Harriers
5
Lanarkshire BC
1884
AthNews 12/11/1884
resolved to have
'impromptu runs'
Harrier Section
Lanarkshire
AthNews 12/11/1884 '… at a committee meeting held the other evening resolved to have impromptu runs'. AthNews 1/12/1885 2nd run at Milngavie (Black Bull) 11members, 6-7miles. AthNews 2/11/1886 'Seeing the cycling season has terminated the Lanarkshire BC will now take to cross country running'. SAJ 23/11/1886 p13 Run with WSH on 20th Nov,1886, 3 members – J Campbell, D Maclennan, J Richmond
6
Towerhill AC
1885 Run on
8/10/1885
Shields
F.Club Harrier runs
Glasgow
8/10/1885 Run over 17-20 miles around Lenzie and Kirkintilloch
7
Langside BC
1885
50yrs p62
Harrier Section
Glasgow
Unable to find run info
8
Clydesdale Harriers HQ
1885
Monday 4th May 1885
Club History +
SAJ 1885 -6th May
HQ with 5 Districts + 9 sections (listed) + Juniors. Gymnastics (1888@Rosemount Gym
Glasgow
SS 8/11/89; Chartered the 'Clutha' from the Broomielaw to Renfrew for a club run-SS13/12/89Glasgow Hibernian given their paviion to use in prep for Nationals, Canon trainer in attendance. 120 runners for opening run of 1889/90 season next was 130 on 19/10/89 then 140 on 30/10/89;averaging 125 in 1889;
9
Edinburgh Harriers
1885 02/03/1885? 30/09/85 CH history
SAJ 1885
Gymnastics & Boxing section(SS 8/3/89
Edinburgh
DS Duncan's address in 1896 as 7 Locharton Terrace, Edin. JWL Beck mentioned as being late Blackburn Harriers Ath News 2/2/1886. 3rd Annual Dinner @ Café Royal, Edinburgh. 26 to 56 runners
10
West of Scotland Harriers
1886 14/09/1886
SAJ 7/9/86
Glasgow
1st interclub with CH on 6/11/86. Talk of forming a Cycling section (SS 11th Feb,1890) SR 14/9/1891 club has more 'other'sports members than most – runners, rowers, swimmers, cricketers, golfers, lawn tennis, gymnasts, cyclists, bowlers, quoiters, curlers. Dance (SS. 14th Feb 1890) Presidents Cup (Warren/Pearce?) SR 15/10/1900. 30-50 Averaging 49 on runs by 1895
11
CH Renfrewshire Section
1887 01/03/1887?
SAJ
4th&25th October 1887
Seceded by April 1890 but Paisley Harr formed from splinter in April 1890
Paisley
Renfrewshire section defunct by 1890-91 but Greenock Section arose with 79 members by 1890-91. Paisley set up from rest of Renfrewshire members (1889-90, Section had 114 members)
12
CH Ayrshire Section
1887 02/03/1887?
SAJ
4th&25th October 1887
Ayr
In existence as a section from 1887 to 1891-92. Part of the United Ayrshire Harriers Club set up Dec.1888. 21 members 'til 1891-92 then defunct?
13
CH Dumbartonshire Section
1887 03/03/1887?
SAJ
4th&25th October 1887
Dumbarrton
Veteran Footballer Tom Vallance turned out for a run on 12/11/89. Still going until just before 1914.
14
CH S. Lanarkshire Section
1887 04/03/1887?
SAJ
4th&25th October 1887
S. Lanarkshire and Coatbridge by 90/91; Coatbridge by 95/96; seceded by 1898
Coatbridge
Merged with the new Coatbridge Section formed in 1891. Then dropped the SL name and was known more as Coatbridge Section. Separated in 1932 to form Monklands Harriers
15
CH Falkirk Section
1887 05/03/1887?
SAJ
4th&25th October 1887
Seceded in1889/90 to become East Stirlingshire Harriers
Falkirk
Mentioned in SHU Champs as Stirlingshire
16
Kilmarnock & District Harriers
1887 20/05/1887?
SAJ
18/10/87
Kilmarnock
Russell Shield. Demise possibly 1893/4
17
Dundee Harriers
1887 Exact formation 3/10/1887?
SU
25/10/87
Swimming
Dundee
1st run with 12
18
Hamilton Harriers
1887
22/10/1887
SU 25/10/1887
& SAJ25/10/1887
Re formed Sept 1897
Hamilton
19
Penicuik Harriers
1887 Unable to find exact formation date but could be 30/10/1887
SAJ
29/11/87
Penicuik
1st run on 26/11/87 postponed-heavy rains
20
Hamilton Academy/Junior Harriers
1887 Unable to find exact formation date but could be 01/11/1887
SAJ
15/11/87
Also 'Hamilton Junior Harriers' from HH
Hamilton
Mostly composed of the younger brothers of the HH. Low run numbers. 13 @ first run
21

Perth Academy Harriers

1887 02/11/1887?
SAJ
29/11/87
Perth
No further mention
22
Perth(shire) Harriers
1887 10/11/1887 @ Victoria Hotel
DA
18/10/87
SAJ
15/11/87+ DC 26/10/1891
Formed from Perthshire Rugby Football Club. Stopped?& Restarted 24/10/1891
Perth
Perthshire RFC couldn't play on the Inch so they had a run! 11mls in 1.5hrs. (Dundee Adv 18/10/1887). 2nd run on 29/10/1887 10mls, 1hr 10mins.(Perthshire Adv. 31/10/1887). More formally constituted on 10/11/1887 (SAJ 15/11/1887). Survived by 1900? See SR 27/8/1900
23
West of Fife Harriers
1887 Lady's Mill Pavilion 30/11/1887
Dunf Sat Press
3/12/1887p3
Dunfermline
24
Fernbank Harriers
1887 Possibly December 1887
DA
19/12/87
Became City Harriers on Monday 4/2/1889
Dundee
25
Lochee Harriers
1887 Possibly December 1887
DundeeEvTel
21/12/1887
From Lochee FC?
Dundee
Not mentioned as survived by 1899
26
Dunfermline Harriers
1887 20/12/1887
SU
27/12/87
EdinEvNews
16/12/1887
DunfFreePress
17/12/1887
Dunfermline
Wednesday run in December 1887: 'one hound hit a milk cart while another ran into an old man. A hare ran into a dyke in the dark and stunned himself.'
27
Dennistoun Baths Harriers
1888 01/01/1888?
SAJ
5/03/88
Dennistoun, Glasgow
Membership 66 in 1900 See SR 14/9/1900
28
Musselburgh Harriers
1888 08/02/1888
SAJ
14/02/88
Musselburgh
Founded with 20 members
29
Neilston Institution & Grammar School Harriers
1888 14/02/1888?
SAJ
21/02/88
Paisley
30
Paisley Junior Harriers
1888 Feb 1888
GH
27/2/1888
Paisley
1st run@Craigielinn on 25/2/1888. 15 runners. 2nd run @Todholm on 10/3/1888, 45mins
31

Falkirk Heavy Weather Athletic Club

1888 Formed Feb1888?
SS
1/1/89
Evidence of only 1 run
Falkirk
More of a Gentleman's Club/Philanthropic? Also played football. Clackmanan. Wheat Sheaf Inn,Falkirk(SS15/3/89), 60@ member leaving do
32
Arbroath Harriers
1888?
DC
19/10/88
Earliest mention
Arbroath
By 1900? See SR 27/8/1900
33
Maryhill Harriers
1888 02/11/1988
ref in TH club hist
Maryhill, Glasgow
Ref to the 'Kerr Trophy'
34
Forfar Harriers
1888 16/11/1888
FH&KA
16/11/88
Forfar
SS 8/11/89 Survived by 1900? See SR 27/8/1900
35
Ayr Harriers
1888?
Ayrshire Post
16/11/1888
3/12/1888
Resurrected Jan1891
Ayr
30 at inaugural meeting. Inter club with KH and a run form Somerset Park the following week (29th) Formed from Ayr FC? Didn't keep going but was revamped by D Vass in Jan 1891 (GlEvPost 23/1/1891)
36

Alloa Harriers

1888 No other info found. Mooted but not formed?
SR
10/12/1889
Not formed on 10/12/1888 yet wrote re formation of SHU on 8/12/1888
Alloa
(Alloa Advertiser 15/12/1888) Meeting on 10th Dec. 1888 @ McGechan's Hall. 'Only one or two turned up … abandoned'.
37

Dunstane Harriers

1888?
SL
10/12/88
Edinburgh
Only mention
38
Selkirk Harriers
1888 10/12/1888
SouthRep 20/12/1888
+EdEvNews 18/11/1889
Selkirk
1st run on 15/12/1888 @ Ettrick Rd Haining Lodge, 2nd run @ The Loan 22/12/1888, 8-9mls. Sat 16th Nov 1889 run at Philipshaugh
39
Broughty Castle Harriers/Broughty Harriers
1889 BCH early 1889?
To BH 22 November 1889
DC 22/11/1889
& 25/11/1889
DC 25/11/1889 From BCHarr after Broughty Cycling club failed to form a club
Broughty Ferry
DC 25/11/1889 Formerly named Broughty Castle Harr. Broughty Cycling Club tried to form a Harriers club but not enough interest so BCHarr became Broughty Harr. See letter to DC from Jas. Kidd Secy. Not mentioned as survived by 1899
40

CH Argyllshire Section

1889?
Glas Ev Post 6/11/1889+
LennoxHer 14/11/1891
Affiliated to SHU (SS8/11/1889) but little other mention
No fixed abode
Member of the SHU in 1889. Entered the Junior champs in 1889/90 (GlasEv Post 20/12/1889). Argyllshire names in report of a run at Helensburgh on Sat 14/11/1891, 10mls handicap
41
Aberdeen(shire) Harriers
1889 01/11/1889
SS
8/11/89
DundeeEvTel
Aberdeen
Aberdeen known as Aberdeenshire. Cyclists doing C-C as a winter sport. Mention in Dundee Ev Tel of 'other harrier clubs in the district'. SR 23/12/1889 reported 1st paper-chase 21/12/1889 at Chancery Grounds. 28/12/1889 road race at Bridge of Don 5mls and medals. 'Open to all Harriers clubs in the district'
42
CH Greenock Section
1889 November
CH Handbook 1890-91
Greenock
43
Bluevale Harriers
1889 20/01/1889
SS
12/2/89
Glasgow
Amalgamate with Dennistoun Harr by 1891?
44
Berwick & District Harriers
1889 11/01/1989
SL 14/01/89
SS 29/1/89
Berwick
On SCCU side
45
Strathblane FC Harriers
1889 Jan?
SS 12/2/89
Strathblane
Opening run on 26/1/1889. Harriers song in SS 03/12/89
46
Teviotdale Harriers
1889 24/01/1989
Club hist +
SS22/03/89
Hawick
Club foundered early on but restarted in 1891 @ Meeting in Tower Hotel (Hawick Ex 30/10/1891). 1st restart run 31/10/1891 Run att typically 20
47

Melrose Harriers

1889?
Southern Reporter
11/4/1889
Melrose
Border Harr Champs S+H+M+G
48

Galashiels Harriers

1889?
Southern Reporter
11/4/1889
Galashiels
Border Harr Champs S+H+M+G
49
Peebles Harriers
1889 September (1st mooted)
Peebleshire Ad 7/9/1889
+ PeebleshireAdv 26/9/1891
Evidence of association with Peebles FC at both meetings
Peebles
Did it form? Further mention – Meeting at Masonic Hall on 24/9/1891 to reform club?
50
Airlie Harriers
1889 23/10/1889
DC 29/10/1889
(SS 02/02/89?)
Had swimming section by 1891
Dundee
Formed at Mathers Hotel Wed 23rd Oct. Capt. W Wallace, VC A Stewart, Secy & Tr Charles Robertson, Comm Williamson, Fyffe, Smith. 1st run Sat 2nd Nov 1889. Not mentioned as survived by 1899. Social at Monifeith hotel with a tea and violinist
51
Clydesdale Harriers Junior Division
1889 October?
GH 7/10/1889
Glasgow
Probably before October 1889. SR 2/9/1892 change of name mooted to St Andrews Harriers. Vote failed
52
Edinburgh Nothern Harriers
1889 October?
SS 15/10/89
Edinburgh
Membership of over 100 by Feb 1892. Cycling section formed in 1895
53
Kirriemuir Harriers
1889 October?
SS 1/11/89
Kirriemuir
DA 19/11/1889 1st run Sat 15/11/1889, 7mls 54mins. Survived by 1900? See SR 27/8/1900
54
Aberdeen Argyle Harriers (variously Argyll)
1889 October?
SS 8/11/89
+ SS 5/10/95
+ Aberdeen P&J 24&
29Sept1894
From Argyle FC?
Aberdeen
Applied for membership of SHU in Oct89. Formed sections at Forres and in the suburbs of Aberdeen in 1898. AbP&J 10/9/1894 Club rooms in Mid Stocket. Run on 29thSept for Capt & V-C with 13 runners. Prizes in Prince of Wales Hotel with other Harriers. Off-shoot of Argyll FC? Ground at Argyll Park, Stocket Road. 1st appeareance at Ab&Dist Harr Assoc Champs in April1895. Resigned from SAAA and SCCU in Feb 1900 (SR 19/2/1900)
55
The City Harriers, Dundee
1889 4/2/1889
DundeeCour. 7/2/1889
Dundee
Not mentioned as survived by 1899
56
Dalkeith Harriers
1889 October?
SR21/10/89
&Dalkeith Adv. 7/11/1889
Dalkeith
Dal Adv 7/11/1889. 1st run on 2/11/1889 from Relief Hall (HQ). Meeting to form it (no date) at Scientific Hall. Defunct due to lack of numbers. Resigned from SCCU 20/03/99. Defunct by 20th March 1899. Defunct by 1899
57
Ibrox Harriers
1889 October?
SS 15/11/89
Ibrox, Galsgow
Initial runs with 20
58
CH Greenock Section
1889 24/10/1889?
SS 15/11/89
Became Greenock Glenpark Harriers in 1895
Greenock
Formed from rump of Renfrewshire section after Paisley runners went on their own. 49 members. 79 members by 1890-91
59
Arbroath Harriers
1889 30/10/1889
DC 25/10/1889
Arbroath
DC 25/10/1889 Formed at a meeting in the George Hotel on Wed 30th
60

Dalmuir Alpine

1889 Did it ever form?
club mooted SS 25/10/89
Dalmuir Dunbartonshire
From Dalmuir Alpine FC
61
Bathgate Harriers
1889 From Bathgate Harriers FC?
SS 29/11/89
Bathgate
Member of SCCA in Nov. Is it the FC?
62
Blairgowrie Harriers
1889 22/10/1889
DC 25/11/1889
& SS 29/11/89
Blairgowrie
Formed inTemperance Hotel. About 20 people.
63
Swift Harriers
1889 26/11/1889
AbP&J 28/11/1889
Aberdeen
Junior club
64
Carrick Harriers
1889 Nov?
Ayrshire Post 29/11/1889
+ GH31/3/1890
+SS 18/12/91
Maybole, Ayrshire
(Ayrsh Post 29/11/1889) 1st run on Sat 23/11/1889 over 9mls in 1hr 20mins. (GH 31/3/1890) Club 5mls Champs on 29th – 12 runners. Admitted to SCCU on Monday 20th December? 1891. Ailsa Hotel Oct 7 1893 with cyclists
65
Harris Academy Harrier Club
1889 Late Nov?
DET 29/11/1889
Dundee
members joined Lochee for a run
66
Hawkhill Harriers
1889 16/12/1889
SS 20/12/89
+ 2/02/89 Dadv
Dundee
Formed from mainly swimmers.1st run Tuesday prior to 20/12/1889 in ordinary clothes and overcoats. Suspended at some point but re-formed in1924
67
Lancashire Fusiliers Athletic Club
1889?
SS 10/01/90
Maryhill Barracks, Glasgow
Ad hoc Harrier activity with inter-club runs
68
Hawes Harriers
1889/90?
DET 24/1/1890
Dundee
1 run. No further info DET 24/1/1890. 8 mile run on 25/1/1890 from the top of Windsor St
69
Airdrie Boys Brigade Harriers
1889/90?
SS 17/01/90
Airdrie
Run round their own district from Buchanan St' on 18th Jan 1890
70
Arthur & Co. Warehouse (Harriers Division)
1890 January
G Ev Post 27/1/1890
&21/2/1890
& SR3/3/1890
Glasgow
G. Ev Post 27/1/1890. First run on 25/1/1890. 2nd run from Busby 1/2/1890.G.Ev Post 21/2/1890. Mention of run at Cathcart (Cathcart Cricket Club) and concern about laying paper trail as SHU Champs may come that way and confuse trails.
71
Edinburgh University Hares and Hounds
18980 January
SS 24/01/90?
Edinburgh
72
Rosefield Harriers
1890 January
DC 20/1/1890
& SS 24/01/90
Dundee
1st run 18/1/1890 over 3mls 18mins. Not mentioned as survived by Oct 1899
73
Glasgow West End Harriers
Possibly 1889/90 season
SS 31/01/90
Glasgow
74
Binrock Harriers/The West End Harriers
1890 January
DC 3/2/1890
& SS 07/02/90
DC 24/2/1890 Changed name to West End Harriers. Described as a Juvenile Club (SS28/3/1890)
Dundee
DC 3/2/1890. 1st run on 1/2/1890 Balgay Ave to Hillside to Lochee then to Menzies Hill Farm. Not mentioned as survived by Oct 1899
75
Sydney Harriers
1890 January
DET 4/2/1890
& SS 7/02/90
Dundee
SS 7/2/.1890 1st run on Monday night (3rd) over 6mls.(44mins). DC 10/2/1890 2nd run 8/2/1890. Not mentioned as survived by Oct 1899
76
Glenagness Harriers
1890 January
DA 10/2/1890
& SS 14/02/90
Dundee
DA 10/2/1890 1st? Run on 8/2/1890. Rosefield St, 8mls, 60mins. Not mentioned as survived by Oct 1899
77
Pollockshields Harriers
1890 January
SS 28/02/90
Glasgow
SS 28/2/1890. Run on Tuesday evening 25thFeb. 4mls 25mins. Not mentioned as survived by Oct 1899
78
Cumbernauld Harriers
1890 Jan/Feb
Falkirk Herald 8/3/1890
SS 07/03/90
&SR3/3/1890
Cumbernauld
79
Lyndhurst Harriers
1890 January
Dundee C. 24/2/1890
Dundee
Juvenile Club DC 24/2/1890 run on 22/2/1890 8mls.
80
Muirpark Harriers
1890 February
DA3/03/90
Dundee
DA 3/3/18909 A run of 6.5mls in 59mins. Not mentioned as survived by Oct 1899
81
Glenburn Harriers
1890 February
GH 3/3/1890
Dundee
GH 3/3/1890 Interclub between Bluebell (Lochee) and Glenburn Harriers. 7mls, 60mins
82
Morgan Harriers
1890 February
Dundee C. `14/3/1890
Dundee
Juvenile Club/Morgan Hospital?
83
Tay Harriers
1890 February
DET & DC 24/2/1890
Dundee
DC 24/2/1890 1st paper-chase on 22/2/1890. 5mls, 1hr
84
Blue Bell Harriers
1890 February
Dundee C. 24/2/1890
Lochee, Dundee
DA 24/2/1890 1st run on 22/2/18980? 2 miles
85
Star Harriers
1890 Feb/March
Dundee C. 24/3/1890
Broughty Ferry?
Juvenile club DA 24/3/1890 Inter-club with Broughty Harr on 22/3/1890
86
Crown Harriers
1890 Feb/March
Dundee C. 24/3/1890
Broughty Ferry?
Juvenile Club
87
Excelsior Harriers
1890 Feb/March
DC 31/3/1890
Dundee
DC 31/3/1890 Run with Bluebell on 29/3/1890. 6mls. 30mins
88
Albion Harriers
1890 Feb/March
DC 31/3/1890
Dundee
Run on Sat 29th March 1890 over 5 miles. 29mins
89
Roseberry Harriers
1890 Feb/March
DC 7/4/1890
Dundee
DC 7/4/1890 Run on Friday evening 4th. 5mls 35 mins.
90
Balgay Harriers
1890 7/3/1890
DC1/3/1890
Lochee, Dundee
91
Roslin Harriers
1890 March
10/3/1890
Dundee
92
Victoria Harriers
1890 March
DC 18/3/1890
Dundee
93
Blue Star Harriers
1890 March
DA 17/3/1890
& Dundee C. 24/3/1890
Dundee
Juvenile Club DA 17/3/1890 1st run of 4mls
94
Melrose Harriers
1890 March
Dundee C. 24/3/1890
Dundee
Juvenile Club DC 24/3/1890 1st mention. Had friendly run with Lyndhurst over 6mls Sat 22/3/1890
95
Woodland Harriers
1890 March
DC 24/3/1890
Dundee
Juvenile Club Woodland and West End interclub over 4mls. 26mins sat 22/3/1890
96
Thistle Harriers, Dundee
1890 March
DET 28/3/1890
St Andrews section by 1896 (SS13/11/1896)
Dundee
DET 28/3/1890 Run for club Champ on April 14th at Newport for silver badge
97
Albert Harriers
1890 March
DC 31/3/1890
Dundee
98
Mayflower Harriers
1890 March
DC 31/3/1890
Dundee
99
Stanley Harriers
1890 March
DC 11/4/1890
Dundee
DC 11/4/1890 Moonlight run Thursday 10th
100
Paisley Harriers
1890 15/4/1890
Paisley and
Ren Gaz 19/4/1890
From CH section Separate Tuesday section by 1897
Paisley
Tuesday section by 1898 have own officers and hold own AGMs Headquarters had 78 members in 1900. (SR 10/9/1900) List of patrons and office bearers
101
East Stirlingshire Harriers
1890 19/9/1890
Falkirk Herald 24/9/1890
From CH Stirlingshire Section
Falkirk
Met in Mrs McConochie's Temperance Hotel Friday 19th to form own club from CH section. Letter read from Secy of CH accepting their resignation as a section. 1st run on 4th October. McConochie's as HQ
102
Falkirk Victoria Harriers
1890 Sept?
SS26/9/1890
Falkirk
103
Kirkcaldy Harriers
1890 w/b 29th September
SS 10/10/90
Abbotshall Harr 'merged' with Kirkcaldy Harr. in 1894 assuming name of Kirkcaldy Harr (SR2/9/1894)
Kirkcaldy
Pocklington medal (SR19/1/1900)
104
Paisley Junior Harriers
1890 October
Pais&Ren Gaz 18/10/1890
Paisley
(PaisRenGaz 18/10/1890) 1st run(?) on 11/10/1890 @Todholm
105
Edinburgh Junior Harriers
1890 28/10/1890
EdEvPost 31/10/1890
+GlEvPost 2/1/190
EdEvNews 31/10/90
For 15-18 yr olds
Edinburgh
Formed @ Trades Hall. J Scott initial mover (EdEvNews 17/10/1990) (EdEvPost 3/11/1890)1st run on 1stNov 1890 over Blackford HillNew Years Day run with CH from Ed Northern FC Clubhouse 7mls. 50mins 1st run 1st Nov. @ Blackford Hill 6mls (Ed Ev News 3/11/1890), 1st Paperchase on 10th Nov @ Sheephead Inn (Ed Ev News 3/11/1890)
106

Fairport Harriers

1890 w/b10thNov,
ArHer&Adv for Mont Burghs 20/11/1890
Mainly cyclists for fitness Defunct by 1893
Arbroath
1st run on15/11/1890 4.5mls, 30mins. 2nd run on 22/11/1891.
107

Forfarshire Cross Country Union

1890 Nov 1890
DA 13/11/1890
See notes
Forfarshire
Although a county association for holding races it also competed in inter-clubs as a County eg. Inter-club on NY Day 1/1/1892 with Edinburgh Northern @ Edinburgh (BrFerryGuide&Adv 8/1/1892 + Changed name and function to become North of Scotland Cross-Country Union to include counties of Perth, Forfar & Aberdeen to try to evelop the sport. Meeting on 14/11/1892 @Imperial Hotel, Dundee (DET 18/11/1892)
108
Glasgow YMCA Harriers
1890 ?
SS 05/12/90
1st mention
Glasgoiw
109
Dundee & District Athletic Club
1890 15/12/1890
DC 15/12//90
From Dundee Cycling Club. Multi sport but strong Harriers section
Dundee
Inaugural meeting on 15/12/1890 in Queens Hotel @ 8pm. Not mentioned as survived by Oct 1899
110
CH Coatbridge Section
1890 16/12/1890
Airdrie&CoatAdv
20/12/1890
+ SS 26/12/90
&CH H'book 1891/92
SS19/12/1890 Coatbridge Cycling & Volunteer Athletic Club Joined CH
Coatbridge
Loosely formed 1890 but in the Handbook. Mention of 20 Coatbridge cyclists joining CH section. Meeting was held at Temperance Hall on16th then another on 30/12/1890 to draw up fixture card and appoint officials (SS 19/12/1890)Prelim run @ Bucklands Farm Saturday 20th Dec.
111
Thistle Swimming and Athletics Club
1891 Jan
AbEvExpress 26/1/1891
+SS 20/11/91
Harrier runs
Aberdeen
Formed from Aberdeen ThistleSwimming and Athletics Club. P/chase on Fri 23rd Jan 1891.P/chase on 23/12/1891 from the clubhouse
112
Herman Harriers
1891?
DC 2/2/1891
No further reference
Dundee
Had a run 31st Jan over 5mls.
113

Clifton Harriers

1891?
DC 9/2/1891
No further reference. Clifton FC?
Dundee
Run on Sat 7th Feb over 7mls. 45mins.
114
Eskbank Harriers
1891 Jan/Feb
DalkeithAdv 12/3//1891
&22/10/1891
Edinburgh
(DalAdv 12/3/1891) Inter club with Dalkeith Harr over 7mls on 7/3/1891. 17 took part. Newbattle/Eskbank. 1st run of the season, 13 members, Sherriffhall, Monkton, Inveresk, 10mls
115
Portobello Harriers
1891Feb/March
MidLothJour 6/3/1891
EdEvNews 9/10/1891
Portobello Cycling Club Harriers Section
Portobello
(Mid-Loth Jour 6/3/1891)Run with Edinburgh Harriers on 28/2/1891 @ Niddrie over 4mls. Opening run 10/10/1891 @Portobello Pier
116
Strathblane Harriers
1891 Pre Aug
GlasHer 31/8/1891
1st mentioned competing in track events that summer
Strathblane
117
Aberdeen Gymnastic & Rowing Club
15/9/1891
AbEvEx 17/9/18991
Harrier section
Aberdeen
Ab.P&J 23/11/1891Shire,Thistle&Gym raced paper-chase in 1891 (26) 1892 George Cruden Pres., Charles Florence Chair&Capt. Campbell Hardy V-C. Comm: Dickie, Aitken, Ironside, Jolly, Mertin, Moir, Paterson, Russell. Demise reported in SS on 22/03/95. Lack of numbers during season 1894/5.
118
Paisley Junior Harriers
1891 18/9/1891
SR 14/9/1891
Part of Paisley Harriers
Paisley
In particular 14-19 year olds
119
Greenock Junior Harriers
1891 18/9/1891
GrTel&
ClydeShGaz 21/9/1891
Part of Greenock Section of CH
Greenock
Opening run Sat 3rd October with Greenock Section of CH
120
Edinburgh Harriers Junior Section
1891 Sept?
EdEvNews 25/9/1891
Earlier?
Edinburgh
Run from Clarke's @ Coltbridge.
121
Peebles Harriers
1891 24/9/1891
PeebleshireAdv 26/9/1891
Re formed with assistance from Peebles FC
Peebles
Meeting at Masonic Hall on 24/9/1891
122
Eskdale Harriers
1891 24/9/1891
Eskdale&LiddlesdaleAdv 23/9/1891
+ Dum+Gall Stand 26/9/1891
Langholm
Eskdale Temperance Hotel on24/9/1891
123
Kirkliston Harriers
1891 3/10/1891
LanrkshUpperWardExam
3+10/10/1891
Kirkliston, Edinburgh
1st run form Society Hall on 3/10/1891, 5.5mls; 2nd run 10/10/1891
124
Grayfield Harriers
1891 October?
EdEvNews 9/10/1891
&6/11/1891
Edinburgh
Opening run 10/10/1891
125
St George Harriers
1891 October?
EdEvNews 19/10/1891
Link to St George FC?
Edinburgh
1st run (of the season?) 17th from Craigleith, 8mls
126
Wishaw Junior Harriers
1891 October
GlEvPost 16/10/1891
+ Motherwell Times
26/12/1891
Wishaw
127
Greenock West End Junior Harriers
1891 October
GrTel& Clyde
ShGaz 16/10/1891
Defunct by Oct 1892
Greenock
Run from Brougham St on Sat 24/10/1891 8mls, 47mins
128

Western Harriers

1891 October?
GlasEvPost 30/10/1891
1st mention+ DAdv 18/5/1891
Glasgow
129
Stirling Gymnastic Club
1891 5/11/1891
DEvTel 6/11/1891
Harriers Section formed
Stirling
130
Edinburgh Abstainers Harriers Club
1891?
SS 20/11/91
Still formed 1892
Edinburgh
EdEvNews 15/1/1892 run on 16th from Coltbridge Coffeee House and EdEvNews 8/1/1892 run on 9th from Granton Gymnasium
131
Lothian Harriers
1891 28/11/1891
JedGaz 12/12/1891
Jedburgh
Meeting at Spread Eagle Hotel, Jedburgh on Saturday 28/11/1891
132

Kingston Harriers

1892 ?
SS 25/03/92
1st mention but none other
Glasgow
133
Arbroath YMCA Harriers
1892 August
ArHer&Adv
for the Mont Burghs
1/9/1892
Arbroath
1st run 1/9/1892. ArbHer&Adv For Mont Burghs 20/10/1892 reported an inter club run on the 15th @Lochlands Park between the 3 Harriers clubs. 51 runners. YMCA 4 runners.
134
Arbroath Airlie Harriers
1892 Sept?
ArbHer&Adv 8/9/1892
Arbroath
1st run Thursday 6th Sept 1892. ArbHer&Adv For Mont Burghs 20/10/1892 reported an inter club run on the 15th @Lochlands Park between the 3 Harriers clubs. 51 runners. Airlie 16 runners.
135

Linlithgow Harriers

1892 ?
LinlithGaz 10/9/1892/92
Club mooted but formed?
Linlithgow
136
Bonnybridge Harriers
1892 w/b/12/9/1892
Fal Her 17/9/1892
Bonnybridge
Conservative Rooms
137

Dumbarton

1892 Sept
SS 20/9/1892
Club mooted from CH Section? Rowers? Kennedy. Suspect not formed
Dumbarton
138
Bellahouston Harriers
1892 Sept?
SR 9/9/1892
Glasgoiw
HQ moved to Trades Hall 555 Govan Road in 1897. Use Ibrox Park for training
139
Newton Harriers
1892 Sept
SR 19/9/92
Club split but continued. Mentioned GEvPost 28/11/1892. Some to W
Whiteinch, Renfrewshire
1st run 17/9/1892. Some removed to Whiteinch?
140
Cunninghame Harriers
1892 15/9/1892
Ard&Salt Her 23/9/1892
+ SR7/2/1896
Possibly changed name to Stevenston Harr by 1896
Stevenston, Ayrshire
Meeting @ John Duffy's, New St, Stevenston
141
Montrose Harriers
1892 28/9/1892
MontStand 30/9/1892
Montrose
142
Greenock Balclutha Harriers
1892 Sept?
SS 21/10/92
Some West End Harr. ran with them after West end went defunct Oct 1892 (GrTel & ShGaz 28/10/1892)
Greenock
West End men ran with them in Oct1892 but seems to have gone out of existence by March 1895. Members might have migrated to one of the other 3 clubs
143
Whiteinch Harriers
1892 w/b 24/10/1892
GEvPost 31/10/1892
Formed from some of Newton Harr
Whiteinch, Renfrewshire
1st run 29/10/1892. Used Stuarts Tavern at Whiteinch
144
Edinburgh Pharmacy Athletic Club
1892 Oct
SS 11/11/92
Confined to pharmacists in Edinburgh
Edinburgh
145
G.P.O. Athletic Club
1892 ?
SS1811/92
+GEPost 14/11/1892
Had Harriers section
Glasgow
GPO failed to turn up at an interclub with Bellahouston on 12th November
146
Westminster Harriers
1892 Nov
GEvPost 14/11/1892
Renamed QP Harriers (see below)?
Glasgow
1st run on 12/11/1892. 30. Smoker @ Royal Rest. West Nile St 24/11/92
147
Tayport Gymnasium Harriers
1892 ?
DC 26/12/1892
Had Harriers section
Dundee
1st run on 24/12/1892. 4mls 35mins
148
Kilsyth Harriers
1893 Jan
GH 27/2/1893&
FalHer 1/2/1893
Kilsyth
Run on 25/2/1893. 8mls, 58mins. Reference to it being a recent addition to the clubs
149
Queen's Park Harriers
1893 Jan?
GlEvPost 6/2/1893SS
10/02/93
Is this Westminster renamed? See names!!!
Glasgow
Run on 4th Feb with Whiteinch 5mls 29mins. J Topping and W Humphreys ran.
150
Fraserburgh Harriers
1893 Feb
Banffshire J&
GenAdv 14/2/1893
From footballers
Fraserburgh
151
Postal & Telegraph Swimming and Recreation Club
1893 12/9/1893
AberPress&Jour
14/9/1893
Resolved to form a Harriers Section
Aberdeen
1st race was on Friday 1st Dec 1893 over 2mls. Not mentioned in report on members affiliated to North of Scotland CC Union in 1898 (NSCCU)
152
Elderslie Wallace Harriers
1893 Sept
SS 29/09/93
&GEPost 27/10/1893
Junior club
Elderslie
54 members in 1900 (SR 17/9/1900)
153
Arbroath Thistle Harriers
1893 Sept
ArbHer&Adv for
Mont Burghs 21/9/1893
Arbroath
154
Denny Harriers
1893 Sept
FalHer7/10/1893
Denny
FalHer 7/10/1893 Inaugural run 30/9/1893. 5mls. Retired to Royal Oak after to eat and sing songs!
155
Cairns Harriers
1893 Sept
GEPost 6/10/1893&
SS 6/10/93
SR7/9/1894 Changed name to Cambuslang Harriers
Cambuslang
156
Watsonian Cross Country Club
1893 16/10/1893
EENews 17/10/1893
Edinburgh
Meeting held @ the College. 1st run from Myreside on Saturday 21/10/1893
157
Arbroath Roselea Harriers
1893 October
SS 20/10/93+ ArbHer
&Adv for Mon Burghs
7/12/1893
Arbroath
Not mentioned in report on members affiliated to North of Scotland CC Union in 1898 (NSCCU)
158
Carluke Beagles
1893 Sept
GEPost 2/10/1893
&SS 20/10/93
Carluke
GEPost 2/10/1893 mentions 3rd run @Black Bull Carluke on 30/9/1893. 10mls 1hr 10mins
159
Greenock Wellpark Harriers
1893 October
GrTel&ClShipGaz
17/10/1893
Formed from West-end and Balclutha men
Greenock
1st run on 14/10/1893 from Auchmountain Glen. 4mls
160
Bonnyrigg Harriers
1893 Oct
SS 3/11/93
Bonnyrigg
Musselburgh News 22/12/1893 Inter club on 16/12/1893 with Dalkeith, Edinburgh, Edinburgh Northern and Edin Univ H&H @Bonnyrigg. 8mls
161
Mayfield Harriers
1893 3/10/1893
DC 6/10/1893
From Mayfield AC
Dundee
Meeting in Mrs Nicol's Rooms, Union St on Tuesday 3rd October. Not mentioned as surviving by Oct. 1899
162
Kirkintilloch Harriers
1893 Oct
KirkHer 11/10/1893
Kirkintilloch
1st run Saturday 7th October from temperance Hall. 6mls, 41 mins. 30 members
163
PartickYMCA Harriers
1893 Oct
GH 31/10/1893
Partick, Glasgow
164
Springburn Victoria Harriers
1893 Oct
KirkHer 25/10/1893
Springburn, Glasgow
Interclub with Kirkintilloch on 28th October Resigned from SCCA Dec 1897 SS 3/12/1897
165
Glasgow South Side Harriers
1893 Nov
GEPost 9/11/1893
Section of the swimming club of the same name
Glasgow
Had evening run on 8th Nov from Glasgow Thistle FC Club rooms. 6mls, 67mins
166
Parkhead Harriers
1893 Dec
SS 29/12/93
Parkhead, Glasgow
167
Springburn YMCA Harriers
1893 Dec?
GEPost 29/12/1893
+ Club Hist
Harriers Section formed from Atrh Club so possibly Sprinburn Harr today
Springburn, Glasgow
168
Blythswood (Evening) Harriers
18984 Jan
SR 12/1/1894
Formed from some @ Western for evening runs
Glasgow
4mls from St Georges Cross w/b8th
169
Northern Athletic Club
18984 Jan?
SS 09/02/94
Entered Harriers Champs on April 7th
Aberdeen
Not mentioned in report on members affiliated to North of Scotland CC Union in 1898 (NSCCU)
170
Arbroath West End Harriers
1894 Feb
ArbHer&Adv fo
Mon Burghs 1/3/1894
Arbroath
171
Greyfriars Harriers
1894 Feb?
SS 02/03/94
1st mentioned. Entered Harriers Champs on April 7th
Aberdeen
Not mentioned in report on members affiliated to North of Scotland CC Union+X172:Z173 in 1898 (NSCCU)
172
Tay Cycling & Athletic Club
1894 8/3/1894
DETel 9/3/1894
&SS 16/03/94
Includes Harrier running
Dundee
For the promotion of the Dundee Athletic Grounds to encourage use by clubs. Not mentioned in report on members affiliated to North of Scotland CC Union in 1898 (NSCCU)
173
Scottish Pelicans Club
1894 March?
SR16/4/1894
Innerleithen
174
Dennistoun Athletic Club Harriers
August 1894
SR3/9/1894
Harriers Section
Dennistoun, Glasgow
For evening runs. 1st run Friday 7th Sept 1894
175
Cambuslang Harriers
1894 w/b 3/9/1894
SR7/9/1894
Changed name from Cairns Harr
Cambuslang
Opening run as Cambuslang Harriers on 29/9/1894
176
Abbotshall Harriers
1894 Sept
FifeFReePress 8/9/1894
&StAndrews Cit 10/11/1894
Kirkcaldy
Inaugural run on Tuesday 4th Sept 1894. 3packs over 4mls. Meet every Wednesday. Visit of ENH to Kirkcaldy to raise funds for Abbotshall Harr. 42 took part. KirkcaldyFC grounds Tea and soiree later. AH had 7ml c-c run Sat 3/11/1894
177
Dauntless Harriers
1894 Sept
ArbHer&Adv
forMonBurghs 13/9/94
Juvenile club
Arbroath
178
Ivybank Harriers
1894 Sept
ArbHer&Adv
forMonBurghs 20/9/94
Juvenile club
Arbroath
179
Excelsior Harriers
1894 Sept
ArbHer&Adv
forMonBurghs 20/9/94
Juvenile club
Arbroath
180
Arbroath Waverly Harriers
1894 Sept
ArbHer&Adv
forMonBurghs 20/9/94
Juvenile club
Arbroath
181
St Leonards Harriers
1894 Sept
ArbHer&Adv
forMonBurghs 20/9/94
Juvenile club
Arbroath
182
Arbroath Roslin Harriers
1894 Sept
ArbHer&Adv
forMonBurghs 27/9/94
Arbroath
183
Arbroath Elmbank Harriers
1894 Sept
ArbHer&Adv
forMonBurghs 27/9/94
Arbroath
184
Kelvinhead Harriers
1894 Sept
SS 21/9/1894
Glasgow
Opening run on 22/9/1894
185
Banton Harriers
1894 Sept
SR 5/10/1894&
SR 12/10/1894
Banton, Nr Kilsyth
2nd run on 13/10/1894 @ Banton
186
Nightingale Harriers
1894 Sept
SR 12/10/1894
Glasgow
Run on 10/10/1894.
187
Arbroath East End Harriers
1894 Sept
SS 28/09/94& ArbHer&
Adv for Mon Burghs
27/9/1894
Arbroath
Run with Roselea on 22/9/1894. Not mentioned in report on members affiliated to North of Scotland CC Union in 1898 (NSCCU)
188
Craigie CC Harriers Section
1894 Sept
SS 5/10/94
Changed name to Bowbridge Harr at AGM on 4/11/1896
Dundee
Opening run on 6/10/1894. Not mentioned in report on members affiliated to North of Scotland CC Union in 1898 (NSCCU). Not mentioned as surviving by Oct 1899
189
Dumbarton YMCA Harriers
1894 Oct?
SR3/12/1894
Only mention until 1896
Dumbarton
190
Brooklet Harriers
1894 Oct
ArbHer&Adv for
Mon Burghs 11/10/1894
Arbroath
191
Eastpark Harriers
1894 Oct
SR29/10/1894
1st mention
Glasgow
Run on 27/10/1894 with Western Harr
192
Dailly Harriers
1894 Oct?
SR 26/11/1894
1st mention
Dailly, Nr Girvan, S Ayrshire
1st mention but in existence before. Run on Sat 24th 6mls. 54 and 48 mins
193

Strathaven Harriers

1894 ?
SR29/10/1894
Mooted but formed?
Strathaven
Meeting held at Crown Hotel on Wed 31/10/1894
194
Northern Harriers Dundee
1894 Nov
DC 29/11/1894&SS6/9/1895
Had a half holiday section(DET 18/1/1896)
Dundee
Inaugural run on 24th Nov. Not mentioned in report on members affiliated to North of Scotland CC Union in 1898 (NSCCU)
195
The Red Cross Harriers
1894 Dec
ArbHer&Adv for Mon Burghs 13/12/1894
Arbroath
196
Kelso & District Harriers
1895 Jan?
SS 12/02/95
&The Field 16/2/1895
Little metion
Kelso
Admitted to SAAA in Feb 1895. Newcastle DailyChron1/4/1895 Interclub with Berwick on 18/4/1895. Scots 27/4/1895 Interclub with Berwick 6.5mls 35mins
197
Arbroath Rangers Harrier Club
1895 March?
SS 29/03/95
Little mention
Arbroath
Not mentioned in report on members affiliated to North of Scotland CC Union in 1898 (NSCCU)
198
Bothwell & Uddingston Harriers Club
1895 27/9/1895
SR4/10/95
Bothwell
1st run Thurs10/10/1895. Runs on Thursdays.
199
Mauldslie Harriers
1895 Sept
SR25/10/1895
+GEvPost4/11/1895
Mauldslie, Nr Carluke
Run on 2/11/1895 at Law over 5mls.
200
Ingram Harriers
1895 Sept
GEPost 30/9/1895
&SS 11/10/95
Glasgow
Seem to be struggling by Oct 1897
201
Fairfield Harriers
1895 Sept
ArbHer&
Adv forMontBurghs
3/10/1895
Arbroath
Records run of 6mls
202
Arbroath St Thomas Harrier Club
1895 23/9/1895
ArbHer&
Adv forMontBurghs
26/9/1895
Arbroath
Formed at Dishlandtown Hall. Not mentioned in report on members affiliated to North of Scotland CC Union in 1898 (NSCCU)
203
Junior Fellowship Harriers
1895 Sept/Oct
EEN25/10/1895
Little mention
Edinburgh
Run at Duddingston Sat 26/10/1895. Run @ Craiglockhart on 2/11/1895
204
Leith Acad Harriers
1895 Oct?
Fife Free P &
KG 9/11/1895
Little mention
Leith
Just one mention of the club in 1895 at the inter club on 9/11/1895 with ENH, KirkHarr, Partick.
205
Greenock Glenpark Harriers
1895 Oct
Club History
Formerly CH Greenock section
Greenock
206
Fettes School Harriers
1895?
SS 27/12/95
Fettes mentioned as relatively stronger despite the influence of HH Almond at Loretto
Edinburgh
Likely earlier than 1895 but first press mention
207
Loretto School Harriers
1895?
SS 27/12/95
Fettes mentioned as relatively stronger despite the influence of HH Almond at Loretto
Edinburgh
Likely earlier than 1895 but first press mention
208
Flowerhill Harriers
1896 Jan?
Airdrie&Coat Adv
18/1/1896 + 28/3/18986
2-3 mentions but seemed 'organised'
Airdrie
Mention of Flowerhill Harriers trail interfering with the trail laid for the CH Coatbridge Section run on 11Jan 1896 and again on 7th Marc h 1896. No other mention.
209
Limekilnsend Charlestown Harriers
1896 Feb
SR 21/2/1896
One mention
Charlestown, Fife
210
Bowbridge Harriers
1896 4/9/1896
SS 11/9/1896
Old CraigieCC Harriers section changed name @AGM on 4/9/1896
Dundee
211
Rutherglen Glencairn Harriers
1896 Sept?
SR 10/2/1896 +
SR 8/10/1897
See notes
Rutherglen, Glasgow
First mention as Rutherglen Harr wishing to enter the West Dist Jun champs (they didn't run). Nothing more other than many mentions of Rutherglen as a x-c venue until SR18/10/1897 when Rutherglen Glencairn Harriers appears in an interclub with Glassford Harrs on 9/10/1897. From Rutherglen Glencairn FC?
212
Lanarkshire Police AC
1896 ?
SS 10/04/96
Harriers Section. Only mention
Lanarkshire
Possibly earlier than 1896
213
Olympic Harriers
1896 11th or 18/09/1896
as 1st AGM
SS 11/09/96
Some ambiguity on exact formation date
Glasgow
Ambiguity as to whether the first AGM means the first meeting or the first full AGM after forming. First mention in the press about Olympic. SS 2/10/1896 Opening run from Mount Florida on3/10/1896. Use Ibrox Park for training in 1897
214
East of Scotland Harriers
1896 14/09/1896
DC 15/9/1896,
16/11/1896&
SS 22/09/96
Dundee
Formed after a disruption in the Thistle Club. 1st run on 3/10/1896. %.%mlsNot mentioned in report on members affiliated to North of Scotland CC Union in 1898 (NSCCU)
215
Kilbowie Harriers
1896 Sept?
SS 9/10/96
1st mention
Clydebank
Opening run on 2/10/1896 (SS 9/10/1896). Membership of 40 in 1900 See SR 10/9/1900
216
Lothian Athletic Club
1896 ?
SS 9/10/96
Formed early 1896 as generic sports club but joined SAAU. Suggestion of a Harriers section
Edinburgh
217
Longcroft & District Harriers
1896 ?
SS 9/10/96
+ LinGaz 14/11/1896
Pop in 1891 was 588
Falkirk/Dennyloanhead
Inter club with Bonnybridge on Sat 14/11/1896. Entered the Maryhill Harr open handicap March 1897.(SR 12/3/1897)
218
Bo'ness Harriers
1896 w/b 6/9/1896
LinlithgowGaz12/9/1896
+ FalHer 26/9/1896
Bo'ness
40 members at inception
219
St John's YMS Harriers, Port Glasgow
1896 Sept?
SS 9/10/96 +SR14/12/1896
+Green Tel&ShGaz 2/10/1896
Port Glasgow
1st run from Port Glasgow Baths with Greenock Glenpark. On 3/10/1896. Run from Gourock on 12/12/1896 over 5mls 40mins
220
Greenhead Harriers
1896 Sept
SS 9/10/96
Calton, Glasgow
221
Glassford Harrier & Athletic Club
1896 Sept
SR9/10/96
Glasgow
Inter club with Bellahouston Harr on 3/10/1896 from the Masonic Halls, Govan. 5.5mls, 46 & 36mins. Use Ibrox Park for training in 1897 SR 30/11/1900 mention of patrons incl Sir J S-M
222
Carfin Harriers
1896 Sept
Motherwell Times
25/9/1896
& SR 9/10/1896
Carfin, Nr Wishaw
Run on 3/10/1896 form Blacks Hall, Carfin
223
Cairneyhill Harriers
1896 Sept
Arbher&Adv for
MonBurghs 1/10/1896
1st mentioned in Oct1896. Pop. about 1000 in 1891
Cairneyhill, Nr Dunfermline
224
Dunearn Harriers
1896 Sept?
StACitiz. 7/11/1896
Reporting used inter changeable name of Burntisland Harr
Burntisland
Run with Kirkcaldy Harriers on 31/101896.
225
Edinburgh Waverley Harriers
1896 Sept?
EdEvNews 26/10/1896
Edinburgh
226
Kelvindale Harriers
1896 Nov
SS 20/11/96
One mention then further comment on a smoker that didn't come off on 14/12/1896
Glasgow
Opening run on 21/11/1896 from Bishopbriggs and a smoker arranged for 10/12/1896
227
Clydebank Harriers
1896 Nov?
SR 25/12/96
1st mention but seemed semi estbalished
Clydebank
Run on Sat. 19/12/1896
228
Sanquhar Amateur Athletic Club
1896 ?
SS 11/12/96
Had T&F athletes eg Jas Gilmour Long jumper (& musician!)
Sanquhar, Ayrshire
229
Langside Athletic FC
1896 Dec
SR18/12/1896
Harrier Section formed Dec 1896
Glasgow
Run on 19/12/1896
230
Stirling Osborne Harriers
1896 ?
FalHer (91/1897
1st mention but in existence
Stirling
231
Celtic Harriers
1897 13/1/1897
SR15/1/97
Section' of Celtic FC? Had cycling section.
Parkhead, Glasgow
Formed by Hibernian Swimming Club with 'assistance;' from Celtic FC and WSH. SS 15/10/97 SCU temp pavillion erected at Celtic Park for World Champs bought by Celtic FC for their Harriers Club. Has gym and baths. SR 22/2/1901 also mentions a meeting at the Grand National Halls of the Good Templars @127 Main St Glasgow with Wm. Maley and P. McMorrow at the helm to form an 'Irish Athletic Cross Country Club' which resulted in Celtic Harriers.
232
Paisley YMCA Harr
1897 Jan?
Pais& RenGaz 30/1/1897
1st mention but likely to have been formed late 1896
Paisley
233
Edinburgh Southern Athletic Club to Edinburgh Southern Harriers (1898)
1897 Jan?
SS 5/03/97+EdEvNews
22/3/1897 +Club History
See club history for exact date. Changed to Edinburgh Southern Harr in 1898
Edinburgh
Club history reports ESAC in 1897 but became ESH in 1898. See N Archives for more. Started by a Bible class run by Alex. Tod and was a 'multi-sport' club initially following the 'Muscular' tradition. Champ Run reported on Sat 20th March 1897 over 5mls @ Duddingston.
234
Abbotsford Harriers
1897 7/5/1897
South Rep 13/5/1897
Formed by Abbotsford FC
Galashiles
Formed at the AGM of Abbotsford FC on Friday 7th May. Sub was 1/-. Runs on Wednesdays and Saturdays.
235
St Mary's Christian Young Mens Harriers
1897 ?
GH 23/8/1897
SR 2/9/1898
In existence prior to Aug 1897?
Stirling
1st Mention of McMullan competing at Celtic sports in 2mls off 200yds. Mention of the AGM to be held at the CYM Hall on 5th Sept. Seems to have been in existence as M Hannan (V-P) intended to resign.
236
Stirlingshire Central Harriers
1897 2/9/1897?
SR6/9/1897
Harrier section of Stenhousemuir FC?
Stirling
Mention of athletics section added to Stenhousemuir club. Already got amateur and professional football, cricket nd now a haririer club. 1st run on 11/9/1897 from McLaren's Crown Inn
237
Cambusnethan Auld House Harriers
1897 28/9/1897
SR 1/10/1897
Wishaw
Meeting at Fleming Hall on Tuesday 28th Sept 1897. Opening run 9/10/1897
238
Craigengillan Harriers
1897 w/b 28/9/1897?
SS 5/10/1897
Postal Section of the club by 1898
Dalmellington, Ayrshire
1st mention in SR 4/10/1897 of a new club for the Auld Toon. Ditto SS 5/10/1897. Then appears at an inter club on 13/11/1897 with Ayr Harr and Dalmellington Harr. Then SR 25/2/1898 it had a Ayr Postal Section of the club.
239
Pumpherston Harriers
1897 Sept?
SR 1/11/1897
+SS 5/11/97
1st mention 1/11/1897. from the football club?
Pumpherston, W Lothian
Inter club with Edin Northern, Kirkcaldy, Maryhill from the Royal Gymnasium on 30/10/1897
240
Campsie Harriers
1897 Sept?
SR 15/10/1897
Lennoxtown
1st mention on 15/10/1897 with a run on a Wednesday 13/10/1897 from Craigbaronet Lodge, Campsie
241
Barrhead Section Paisley Harr
1897 w/b 24/1/1898
SR 7/2/1898+
BarrNews 4/2/1898
Section also had a Tuesday Section with no obligation to join (SR14/10/1898)
Barrhead
Formed at a meeting @ Cross Arthurlie Hotel with 4 members of PH. 1st Run from Dovecot Hall on 5th Feb
242
Coatbridge Harriers
1897 Sept
Aird&CoatAdv
18/9/1897
+SS 26/11/97
Seceded from CH after 1896/97 season
Coatbridge
Advert in paper calling meeting at Temperance Hall, Coatbridge on Thursday 23/9/1897. 30 members. 2/10/1897 was 1st run
243
St Andrews Harriers (Section of Dundee Thistle)
1897 13/10/1897
St Andrews Citizen
23/10/1897
& 2/4/1904
Branch of Dundee Thistle but full name by 1904
St Andrews
Meting held in Melville's Rooms, South St. 30 attended. HQ Templar Hall, Greyfriars Garden. Runs on Monday and Wednesday nights and Thursday and Saturday afternoons
244
Catholic Young Men's Society Harriers (Port Glasgow)
1897 Oct
GrTel&ClydeShGaz
29/11/1897
Port Glasgow
Admitted to Scottish Cross Country Assoc. (Western District) in Sept 1898
245
Aberdeen West End Swimming Club Harriers
1898 ?
AbP&J 30/3/1898
Harriers Section 1st Mention
Aberdeen
3ml run for club championship and cup. 21mins
246
Victoria Harriers
1898 ?
DC19/7/1898
One mention at a track meeting
Fife. Dunfermline?
Ran with 2 Dunfermline harriers: Robt Spowart & James Coutts
247
Larkhall Harriers
1898 8/8/1898
HamHer&
LanWeeklyNews
12/8/1898
Larkhall
50 members including some good track athletes and Gilhooly of Celtic FC
248
Garscube Harriers
1898 20/8/1898
SR 26/8/98
Glasgow
249
Jedburgh Harriers
1898 24/8/1898
JedGaz 27/8/1898
Jedburgh
Meeting at the Port Hall, Jedburgh on Wed 24th @ 8pm. Membership 1/-, entry 6d.
250
Neilston Harriers
1898 Aug
SR 2/9/1898
1st mention
Neilston, Renfrewshire
Run on Thursday 8th Sept
251
Kinghorn Harriers
1898 Aug?
SS 7/10/98
Kinghorn, Fife
252
Kirkintilloch YMCA Harriers
1898 6/9/1898
KirkHer 7/9/1898
From the YMCA
Kirkintilloch
253
Dysart Harriers
1898 w/b 19/9/1898
SS 7/10/98
+ FifeFree P
&KirkGuard. 24/9/1898
Dysart
Walker Medal D. Walker retained as Trainer
254
Germiston Harriers
1898 Oct
SR 17/10/1898
1st mention
Springburn/Royston, Glasgow
Run over 2mls(?!) @ Barnhill on Saturday 15th October
255
Coatbridge Junior Harriers
1898 14/10/1898
SR 17/10/1898
Coatbridge
Formed at a meeting in the Back Temperance Hall
256
Stirling Waverley Harriers
1898 ?
SR 18/11/1898
1st mention
Stirling
Had 3mile handicap . Humphreys, Bain & McIntosh. Also issued a challenge to any juvenile club. St Mary's Harr accepted (early 1899) then WH recanted.(SR 23/1/1899)
257
Aberdeenshire Wednesday Harriers
1898 Dec
DC 8/12/1898
Aberdeen
258
Boghead AAC
1898 ?
SR 19/12/1898
Had Harriers Section. Active prior to 1st mention Dec 1898
Dumbarton
259
Kilbirnie Harriers
1899 Jan?
SR 13/1/1899
1st mention
Kilbirnie
Mentioned as seeking a fixture in January with CH but 'snubbed'. Had inter club with Rutherglen Glencairn 15/2/1899
260
Meadowside Harriers
1899 w/b 13/2/1899
SS 17/02/99
Partick, Glasgoiw
New club formed. Applications for membership to the Trainer FW Warren, 23 Crawford St
261
Govan Pedestrian Athletic Club
1899 ?
SS 29/09/99
No other mention but had harrier 'activities'
Govan, Glasgow
262
Rosebank Athletic Club
1899 Sept?
SR 29/9/1899
Had harrier section but in existence prior to this date
Cambuslang
1st mention as joining SCCA in September 1899. Had inter club with Rutherglen Glencairn on 11/11/1899. 5mls 40 took part 1st annual dinner@ Masonic Hall, Cambuslang (SR19/3/1900)
263
CH Airdrie Section
1899 6/10/1899
Airdrie Adv 7/10/1899
In CH Handbook 1899-00
Airdrie
264
Pilrig Gymnastic Club
1899 Oct?
SS 17/11/99
Had a Harrier section.
Pilrig, Edinburgh
Had inter club run with Edinburgh Waverley, Edin Southern and Dysart Harriers @ Duddingston. Poor weather so only 40 turned out. 8mls
265
Eastwood Juniors Harr
1900 w/b 13/8/1900
SR 20/8/1900
Hills Hall, Pollockshaws
Glasgow
Details of AGM SR 21/9/1900. Officers and Patrons listed. Colours chocolate and black. Memberhip 3/- Opening run 4th October from Pollockshaws
266
Grange Harriers
1900 28/08/1900
FalHer 1/9/1900
Grangemouth
Formed at a meeting at the Victoria Hall with 26 members. 1st run on 15/9/1900.
267
Govan YMCA Harr Section
1900 11/09/1900
SR 3/9/1900
Meeting Christian Inst, Govan X
Govan, Glasgow
268
Burnbank Harr
1900 Sept?
SR 5/10/1900+Aird&
CoatAdv13/10/1900
1st mention & 1st AGM Burgh Hall
Burnbank, Glasgow
Run from Burnbank HQ. Only 12 runners.5mls. 35 and 30mins
269
North British Harriers
1900 Oct?
SR 10/12/1900+KilChron 15/12/1900
1st mention
Stirlingshire?
KilChron 15/12/1900 mentions an inter club with Bonnybridge @ Bonnybridge on the 8th over 5mls. 48mins
270
Royal High School Harr (Edinburgh)
1900 ?
SR 9/11/1900
1st mention
Edinburgh
In connection with a proposed interclub with Dysart Harriers. Likely formed earlier than 1900
271
Glasgow Olympic Harriers
1900 ?
SR 24/12/1900
Formerly CH Juniors and also referred to as Glasgow Harrs
Glasgow
Clubs By AREA
West of Scotland
| | | | | | | |
| --- | --- | --- | --- | --- | --- | --- |
| | Club | Year & Foundation Date | Source | Sections | Location | Further detail |
| 1 | Glasgow Academical Club | 1866 3/5/1866 | Ev Citizen 3/5/1866 | Harrier section by 1870 | Glasgow | Second paper-chase of the season 23/4/1870 Glasgow Daily Herald 25/4/1870 |
| 2 | Glasgow Hares and Hounds Club | 1872 No exact formation info | NBrDaily Mail 7th&21/10/1872 | | Glasgow | 1st run 5/10/1872. Run description. Campbell & Graham (Hares); Chrystal (Master of Hounds), RM Liddell, Baird, Andrews, W Dewar, Carmichael, Marr, Paterson. 2nd run on 19/10/1872 13mls. Baird, Graham, Marr, Douglas, Paterson (Sen&Jun), W Dewar, Campbell, Jas. Kerr, J Hilliard, Next run 26th. Demise pre 1875? |
| 3 | Alexandra AC | 1873 April/May | NBrDaily Mail 27/5/1873 | F.Club Harrier Section | Glasgow | |
| 4 | Lanarkshire BC | 1884 12/11/1884 | AthNews 12/11/1884 | Harrier Section | Milngavie | AthNews 12/11/1884 '… at a committee meeting held the other evening resolved to have impromptu runs'. AthNews 1/12/1885 2nd run at Milngavie (Black Bull) 11members, 6-7miles. AthNews 2/11/1886 'Seeing the cycling season has terminated the Lanarkshire BC will now take to cross country running'. SAJ 23/11/1886 p13 Run with WSH on 20th Nov,1886, 3 members – J Campbell, D Maclennan, J Richmond |
| 5 | Towerhill AC | 1885 Run on 8/10/1885 | Shields | F.Club Harrier runs | Glasgow | 8/10/1885 Run over 17-20 miles around Lenzie and Kirkintilloch |
| 6 | Langside BC | 1885 Unable to find run info | 50yrs p62 | Harrier Section | Glasgow | |
| 7 | Clydesdale Harriers | 1885 Monday 4th May 1885 | Club History + SAJ 1885 -6th May | HQ with 5 Districts + 9 sections (listed) + Juniors. Gymnastics (1888@Rosemount Gym) | Glasgow | SS 8/11/89; Chartered the 'Clutha' from the Broomielaw to Renfrew for a club run-SS13/12/89Glasgow Hibernian given their paviion to use in prep for Nationals, Canon trainer in attendance. |
| 8 | West of Scotland Harriers | 1886 14/09/1886 | SAJ 7/9/86 | | Glasgow | Talk of forming a Cycling section (SS 11th Feb,1890) SR 14/9/1891 club has more 'other'sports members than most – runners, rowers, swimmers, cricketers, golfers, lawn tennis, gymnasts, cyclists, bowlers, quoiters, curlers. Dance (SS. 14th Feb 1890) Presidents Cup (Warren/Pearce?) SR 15/10/1900 |
| 9 | CH (Renfrewshire Section) | 1887 01/03/1887? | SAJ 4th&25th October 1887 | Seceded by April 1890 but Paisley Harr formed from splinter in April 1890 | Paisley & Greenock | Renfrewshire section defunct by 1890-91 but Greenock Section arose with 79 members by 1890-91. Paisley set up from rest of Renfrewshire members (1889-90, Section had 114 members) |
| 10 | CH (Ayrshire Section) | 1887 02/03/1887? | SAJ 4th&25th October 1887 | 21 members 'til 1891-92 then defunct? | Ayr | In existence as a section from 1887 to 1891-92. Part of the United Ayrshire Harriers Club set up Dec.1888 |
| 11 | CH (Dumbartonshire Section) | 1887 03/03/1887? | SAJ 4th&25th October 1887 | | Dumbartonshire | Veteran Footballer Tom Vallance turned out for a run on 12/11/89. Still going until just before 1914. |
| 12 | CH S. (Lanarkshire Section) | 1887 04/03/1887? | SAJ 4th&25th October 1887 | S. Lanarkshire and Coatbridge by 90/91; Coatbridge by 95/96; seceded by 1898 | Coatbridge | Merged with the new Coatbridge Section formed in 1891. Then dropped the SL name and was known more as Coatbridge Section. Separated in 1932 to form Monklands Harriers |
| 13 | Kilmarnock & District Harriers | 1887 20/05/1887? | SAJ 18/10/87 | | Kilmarnock | Russell Shield. Demise possibly 1893/4 |
| 14 | Hamilton Harriers | 1887 22/10/1887 | SU 25/10/1887 & SAJ25/10/1887 | Re formed Sept 1897 | Bothwell | |
| 15 | Hamilton Academy/Junior Harriers | 1887 Unable to find exact formation date but could be 01/11/1887 | SAJ 15/11/87 | Also 'Hamilton Junior Harriers' from HH | Hamilton | Mostly composed of the younger brothers of the HH |
| 16 | Dennistoun Baths Harriers | 1888 01/01/1888? | SAJ 5/03/88 | | E. end Glasgow | Membership 66 in 1900 See SR 14/9/1900 |
| 17 | Neilston Institution & Grammar School Harriers | 1888 14/02/1888? | SAJ21/02/88 | | Neilston, Renfrewshire | |
| 18 | Paisley Junior Harriers | 1888 Feb | GH 27/2/1888 | | Paisley | 1st run@Craigielinn on 25/2/1888. 15 runners. 2nd run @Todholm on 10/3/1888, 45mins |
| 19 | Maryhill Harriers | 1888 02/11/1988 | ref in TH club hist | | Glasgow | Ref to the 'Kerr Trophy' |
| 20 | Ayr Harriers | 1888? | Ayrshire Post 16/11/1888 3/12/1888 | Resurrected Jan1891 | Ayr | Inter club with KH and a run form Somerset Park the following week (29th) Formed from Ayr FC? Didn't keep going but was revamped by D Vass in Jan 1891 (GlEvPost 23/1/1891) |
| 21 | CH Argyllshire Section | 1888? | Glas Ev Post 6/11/1889+ LennoxHer 14/11/1891 | Affiliated to SHU (SS8/11/1889) but little other mention | Can find no fixed abode | Member of the SHU in 1889. Entered the Junior champs in 1889/90 (GlasEv Post 20/12/1889). Argyllshire names in report of a run at Helensburgh on Sat 14/11/1891, 10mls handicap |
| 22 | CH Greenock Section | 1889 Nov | CH Handbook 1890-91 | | Greenock | |
| 23 | Bluevale Harriers | 1889 20/01/1889 | SS 12/2/89 | Amalgamate with Dennistoun Harr by 1891? | Glasgow | |
| 24 | Clydesdale Harriers Junior Division | 1889 Oct | GH 7/10/1889 | Probably before October | Glasgow | SR 2/9/1892 change of name mooted to St Andrews Harriers. Vote failed |
| 25 | Ibrox Harriers | 1889 Oct? | SS 15/11/89 | | Ibrox, Glasgow | |
| 26 | CH Greenock Section | 1889 24/10/1889? | SS 15/11/89 | Became Glenpark in 1895 | Greenock | Formed from rump of Renfrewshire section after Paisley runners went on their own. |
| 27 | Dalmuir Alpine | 1889 Did it ever form? | club mooted SS 25/10/89 | From Dalmuir Alpine FC | Dalmuir, Dunbartonshire | |
| 28 | Carrick Harriers | 1889 Nov | Ayrshire Post 29/11/1889+ GH31/3/1890+SS 18/12/91 | | Maybole, Ayrshire | (Ayrsh Post 29/11/1889) 1st run on Sat 23/11/1889 over 9mls in 1hr 20mins. (GH 31/3/1890) Club 5mls Champs on 29th – 12 runners. Admitted to SCCU on Monday 20th December? 1891. Ailsa Hotel Oct 7 1893 with cyclists |
| 29 | Lancashire Fusiliers Athletic Club | 1889? | SS 10/01/90 | Ad hoc Harrier activity with inter-club runs | Maryhill Barracks, Glasgow | Likely formed earlier than 1889 |
| 30 | Airdrie Boys Brigade Harriers | 1889? | SS 17/01/90 | | Airdrie | Run round their own district from Buchanan St' on 18th Jan 1890 |
| 31 | Arthur & Co. Warehouse (Harriers Division) | 1890 January | G Ev Post 27/1/1890&21/2/1890 & SR3/3/1890 | | Glasgow | G. Ev Post 27/1/1890. First run on 25/1/1890. 2nd run from Busby 1/2/1890.G.Ev Post 21/2/1890. Mention of run at Cathcart (Cathcart Cricket Club) and concern about laying paper trail as SHU Champs may come that way and confuse trails. |
| 32 | Glasgow West End Harriers | 1890? | SS 31/01/90 | | Glasgow | |
| 33 | Pollockshields Harriers | 1890 January? | SS 28/02/90 | | Pollockshields, Glasgow | SS 28/2/1890. Run on Tuesday evening 25thFeb. 4mls 25mins. Not mentioned as survived by Oct 1899 |
| 34 | Paisley Harriers | 1890 15/4/1890 | Paisley and Ren Gaz 19/4/1890 | From CH section Separate Tuesday section by 1897 | Paisley | Tuesday section by 1898 have own officers and hold own AGMs Headquarters had 78 members in 1900. (SR 10/9/1900) List of patrons and office bearers |
| 35 | Paisley Junior Harriers | 1890 Oct | Pais&Ren Gaz 18/10/1890 | | Paisley | (PaisRenGaz 18/10/1890) 1st run(?) on 11/10/1890 @Todholm |
| 36 | Glasgow YMCA Harriers | 1890? | SS 05/12/90 | 1st mention | Glasgow | |
| 37 | CH Coatbridge Section | 1890 16/12/1890 | Airdrie&CoatAdv 20/12/1890+ SS 26/12/90 &CH H'book 1891/92 | SS19/12/1890 Coatbridge Cycling & Volunteer Athletic Club Joined CH | Coatbridge | Loosely formed 1890 but in the Handbook. Mention of 20 Coatbridge cyclists joining CH section. Meeting was held at Temperance Hall on16th then another on 30/12/1890 to draw up fixture card and appoint officials (SS 19/12/1890)Prelim run @ Bucklands Farm Saturday 20th Dec. |
| 38 | Paisley Junior Harriers | 1891 18/9/1891 | SR 14/9/1891 | Part of Paisley Harriers | Paisley | In particular 14-19 year olds |
| 39 | Greenock Junior Harriers | 1891 18/9/1891 | GrTel& ClydeShGaz 21/9/1891 | Part of Greenock Section of CH | Greenock | Opening run Sat 3rd October with Greenock Section of CH |
| 40 | Wishaw Junior Harriers | 1891 Oct | GlEvPost 16/10/1891+ Motherwell Times 26/12/1891 | | Wishaw | |
| 41 | Greenock West End Junior Harriers | 1891 Oct | GrTel& Clyde ShGaz 16/10/1891 | Defunct by Oct 1892 | Greenock | Run from Brougham St on Sat 24/10/1891 8mls, 47mins |
| 42 | Western Harriers | 1891 Oct? | GlasEvPost 30/10/1891 | 1st mention+ DAdv 18/5/1891 | Glasgow | |
| 43 | Kingston Harriers | 1892 ? | SS 25/03/92 | 1st mention but none other | Glasgow | |
| 44 | Dumbarton | 1892 Sept? | SS 20/9/1892 | Club mooted from CH Section? Rowers? Kennedy. Suspect not formed | Dumbarton | |
| 45 | Bellahouston Harriers | 1892 Sept? | SR 9/9/1892 | | Glasgoiw | HQ moved to Trades Hall 555 Govan Road in 1897. Use Ibrox Park for training |
| 46 | Newton Harriers | 1892 Sept | SR 19/9/92 | Club split but continued. Mentioned GEvPost 28/11/1892. Some to Whiteinch? | Whiteinch, Renfrewshire | 1st run 17/9/1892. Some removed to Whiteinch? |
| 47 | Cunninghame Harriers | 1892 15/9/1892 | Ard&Salt Her 23/9/1892 + SR7/2/1896 | Possibly changed name to Stevenston Harr by 1896 | Stevenston, Ayrshire | Meeting @ John Duffy's, New St, Stevenston |
| 48 | Greenock Balclutha Harriers | 1892 Sept? | SS 21/10/92 | Some West End Harr. ran with them after West end went defunct Oct 1892 (GrTel & ShGaz 28/10/1892) | Greenock | West End men ran with them in Oct1892 but seems to have gone out of existence by March 1895. Members might have migrated to one of the other 3 clubs |
| 49 | Whiteinch Harriers | 18792 w/b 24/10/1892 | GEvPost 31/10/1892 | Formed from some of Newton Harr | Whiteinch, Renfrewshire | 1st run 29/10/1892. Used Stuarts Tavern at Whiteinch |
| 50 | G.P.O. Athletic Club | 1892 ? | SS1811/92 +GEPost 14/11/1892 | Had Harriers section | Glasgow | GPO failed to turn up at an interclub with Bellahouston on 12th November |
| 51 | Westminster Harriers | 1892 Nov | GEvPost 14/11/1892 | Renamed QP Harriers (see below)? | Glasgow | 1st run on 12/11/1892. 30. Smoker @ Royal Rest. West Nile St 24/11/92 |
| 52 | Queen's Park Harriers | 1893 Jan? | GlEvPost 6/2/1893SS 10/02/93 | Is this Westminster renamed? See names!!! | Glasgow | Run on 4th Feb with Whiteinch 5mls 29mins. J Topping and W Humphreys ran. |
| 53 | Elderslie Wallace Harriers | 1893 Sept | SS 29/09/93&GEPost 27/10/1893 | Junior club | Elderslie | 54 members in 1900 (SR 17/9/1900) |
| 54 | Cairns Harriers | 1893 Sept | GEPost 6/10/1893&SS 6/10/93 | SR7/9/1894 Changed name to Cambuslang Harriers | Cambuslang | |
| 55 | Carluke Beagles | 1893 Sept | GEPost 2/10/1893&SS 20/10/93 | | Carluke | GEPost 2/10/1893 mentions 3rd run @Black Bull Carluke on 30/9/1893. 10mls 1hr 10mins |
| 56 | Greenock Wellpark Harriers | 1893 Oct | GrTel&ClShipGaz 17/10/1893 | Formed from West-end and Balclutha men | Greenock | 1st run on 14/10/1893 from Auchmountain Glen. 4mls |
| 57 | Kirkintilloch Harriers | 1893 Oct | KirkHer 11/10/1893 | | Kirkintilloch | 1st run Saturday 7th October from temperance Hall. 6mls, 41 mins. 30 members |
| 58 | PartickYMCA Harriers | 1893 Oct | GH 31/10/1893 | | Partick, Glasgow | |
| 59 | Springburn Victoria Harriers | 1893 Oct | KirkHer 25/10/1893 | | Springburn, Glasgow | Interclub with Kirkintilloch on 28th October Resigned from SCCA Dec 1897 SS 3/12/1897 |
| 60 | Glasgow South Side Harriers | 1893 Nov | GEPost 9/11/1893 | Section of the swimming club of the same name | Glasgow | Had evening run on 8th Nov from Glasgow Thistle FC Club rooms. 6mls, 67mins |
| 61 | Parkhead Harriers | 1893 Dec | SS 29/12/93 | | Parkhead, Glasgow | |
| 62 | Springburn YMCA Harriers | 1893 Dec? | GEPost 29/12/1893 + Club Hist | Harriers Section formed from Atrh Club so possibly Sprinburn Harr today | Springburn, Glasgow | |
| 63 | Blythswood (Evening) Harriers | 1894 Jan | SR 12/1/1894 | Formed from some @ Western for evening runs | Glasgow | 4mls from St Georges Cross w/b8th |
| 64 | Cambuslang Harriers | 1894 w/b 3/9/1894 | SR7/9/1894 | Changed name from Cairns Harr | Cambuslang | Opening run as Cambuslang Harriers on 29/9/1894 |
| 65 | Kelvinhead Harriers | 1894 Sept | SS 21/9/1894 | | Glasgow | Opening run on 22/9/1894 |
| 66 | Nightingale Harriers | 1894 Sept | SR 12/10/1894 | | Glasgow | Run on 10/10/1894. |
| 67 | Dennistoun Athletic Club Harriers | 1894 Aug | SR3/9/1894 | Harriers Section | Dennistoun, Glasgow | For evening runs. 1st run Friday 7th Sept 1894 |
| 68 | Dumbarton YMCA Harriers | 1894 Oct? | SR3/12/1894 | Only mention until 1896 | Dumbarton | |
| 69 | Eastpark Harriers | 1894 Oct | SR29/10/1894 | 1st mention | Glasgow | Run on 27/10/1894 with Western Harr |
| 70 | Dailly Harriers | 1894 Oct? | SR 26/11/1894 | 1st mention | Dailly, Nr Girvan, S Ayrshire | 1st mention but in existence before. Run on Sat 24th 6mls. 54 and 48 mins |
| 71 | Strathaven Harriers | 1894 ? | SR29/10/1894 | Mooted but formed? | Strathaven | Meeting held at Crown Hotel on Wed 31/10/1894 |
| 72 | Bothwell & Uddingston Harriers Club | 1895 27/9/1895 | SR4/10/95 | | Bothwell | 1st run Thurs10/10/1895. Runs on Thursdays. |
| 73 | Mauldslie Harriers | 1895 Sept | SR25/10/1895+GEvPost4/11/1895 | | Mauldslie, Nr Carluke | Run on 2/11/1895 at Law over 5mls. |
| 74 | Ingram Harriers | 1895 Sept | GEPost 30/9/1895&SS 11/10/95 | | Glasgow | Seem to be struggling by Oct 1897 |
| 75 | Greenock Glenpark Harriers | 1895 Oct | Club History | Formerly CH Greenock section | Greenock | |
| 76 | Flowerhill Harriers | 1896 Jan? | Airdrie&Coat Adv 18/1/1896 + 28/3/18986 | 2-3 mentions but seemed 'organised' | Airdrie | Mention of Flowerhill Harriers trail interfering with the trail laid for the CH Coatbridge Section run on 11Jan 1896 and again on 7th Marc h 1896. No other mention. |
| 77 | Rutherglen Glencairn Harriers | 1896 Feb/Sept? | SR 10/2/1896 +SR 8/10/1897 | See notes | Rutherglen, Glasgow | First mention as Rutherglen Harr wishing to enter the West Dist Jun champs (they didn't run). Nothing more other than many mentions of Rutherglen as a x-c venue until SR18/10/1897 when Rutherglen Glencairn Harriers appears in an interclub with Glassford Harrs on 9/10/1897. From Rutherglen Glencairn FC? |
| 78 | Lanarkshire Police AC | 1896 ? | SS 10/04/96 | Harriers Section. Only mention. Likely formed earlier | Lanarkshire | Likely formed earlier. |
| 79 | Olympic Harriers | 1896 11 or 18/09/1896 as 1st AGM | SS 11/09/96 | Some ambiguity on exact formation date | Glasgow | Ambiguity as to whether the first AGM means the first meeting or the first full AGM after forming. First mention in the press about Olympic. SS 2/10/1896 Opening run from Mount Florida on3/10/1896. Use Ibrox Park for training in 1897 |
| 80 | Kilbowie Harriers | 1896 Sept? | SS 9/10/96 | 1st mention | Clydebank | Opening run on 2/10/1896 (SS 9/10/1896). Membership of 40 in 1900 See SR 10/9/1900 |
| 81 | St John's YMS Harriers, Port Glasgow | 1896 Sept? | SS 9/10/96 +SR14/12/1896+Green Tel&ShGaz 2/10/1896 | | Port Glasgow | 1st run from Port Glasgow Baths with Greenock Glenpark. On 3/10/1896. Run from Gourock on 12/12/1896 over 5mls 40mins |
| 82 | Greenhead Harriers | 1896 Sept | SS 9/10/96 | | Calton, Glasgow | |
| 83 | Glassford Harrier & Athletic Club | 1896 Sept | SR9/10/96 | | Glasgow | Inter club with Bellahouston Harr on 3/10/1896 from the Masonic Halls, Govan. 5.5mls, 46 & 36mins. Use Ibrox Park for training in 1897 SR 30/11/1900 mention of patrons incl Sir J S-M |
| 84 | Carfin Harriers | 1896 Sept | Motherwell Times 25/9/1896 & SR 9/10/1896 | | Carfin, Nr Wishaw | Run on 3/10/1896 form Blacks Hall, Carfin |
| 85 | Kelvindale Harriers | 1896 Nov | SS 20/11/96 | One mention then further comment on a smoker that didn't come off on 14/12/1896 | Glasgow | Opening run on 21/11/1896 from Bishopbriggs and a smoker arranged for 10/12/1896 |
| 86 | Clydebank Harriers | 1896 Nov? | SR 25/12/96 | 1st mention but seemed semi estbalished | Clydebank | Run on Sat. 19/12/1896 |
| 87 | Sanquhar Amateur Athletic Club | 1896 ? | SS 11/12/96 | Had T&F athletes eg Jas Gilmour Long jumper (& musician!) | Sanquhar, Ayrshire | |
| 88 | Langside Athletic FC | 1896 Dec | SR18/12/1896 | Harrier Section formed Dec 1896 | Glasgow | Run on 19/12/1896 |
| 89 | Celtic Harriers | 1897 13/1/1897 | SR15/1/97 | Section' of Celtic FC? Had cycling section. | Parkhead, Glasgow | Formed by Hibernian Swimming Club with 'assistance;' from Celtic FC and WSH. SS 15/10/97 SCU temp pavillion erected at Celtic Park for World Champs bought by Celtic FC for their Harriers Club. Has gym and baths. SR 22/2/1901 also mentions a meeting at the Grand National Halls of the Good Templars @127 Main St Glasgow with Wm. Maley and P. McMorrow at the helm to form an 'Irish Athletic Cross Country Club' which resulted in Celtic Harriers. |
| 90 | Paisley YMCA Harr | 1897 Jan? | Pais& RenGaz 30/1/1897 | 1st mention but likely to have been formed late 1896 | Paisley | |
| 91 | Cambusnethan Auld House Harriers | 1897 28/9/1897 | SR 1/10/1897 | | Wishaw | Meeting at Fleming Hall on Tuesday 28th Sept 1897. Opening run 9/10/1897 |
| 92 | Craigengillan Harriers | 1897 w/b 28/9/1897? | SS 5/10/1897 | Postal Section of the club by 1898 | Dalmellington, Ayrshire | 1st mention in SR 4/10/1897 of a new club for the Auld Toon. Ditto SS 5/10/1897. Then appears at an inter club on 13/11/1897 with Ayr Harr and Dalmellington Harr. Then SR 25/2/1898 it had a Ayr Postal Section of the club. |
| 93 | Coatbridge Harriers | 1897 Sept | Aird&CoatAdv 18/9/1897+SS 26/11/97 | Seceded from CH after 1896/97 season | Coatbridge | Advert in paper calling meeting at Temperance Hall, Coatbridge on Thursday 23/9/1897. 30 members. 2/10/1897 was 1st run |
| 94 | Catholic Young Men's Society Harriers (Port Glasgow) | 1897 Oct | GrTel&ClydeShGaz 29/11/1897 | | Port Glasgow | Admitted to Scottish Cross Country Assoc. (Western District) in Sept 1898 |
| 95 | Barrhead Section Paisley Harr | 1898 w/b 24/1/1898 | SR 7/2/1898+ BarrNews 4/2/1898 | Section also had a Tuesday Section with no obligation to join (SR14/10/1898) | Barrhead | Formed at a meeting @ Cross Arthurlie Hotel with 4 members of PH. 1st Run from Dovecot Hall on 5th Feb |
| 96 | Larkhall Harriers | 1898 8/8/1898 | HamHer&LanWeeklyNews 12/8/1898 | | Larkhall | 50 members including some good track athletes and Gilhooly of Celtic FC |
| 97 | Garscube Harriers | 1898 20/8/1898 | SR 26/8/98 | | Glasgow | |
| 98 | Neilston Harriers | 1898 Aug | SR 2/9/1898 | 1st mention | Neilston, Renfrewshire | Run on Thursday 8th Sept |
| 99 | Kirkintilloch YMCA Harriers | 1898 6/9/1898 | KirkHer 7/9/1898 | From the YMCA | Kirkintilloch | |
| 100 | Germiston Harriers | 1898 Oct | SR 17/10/1898 | 1st mention | Springburn/Royston, Glasgow | Run over 2mls(?!) @ Barnhill on Saturday 15th October |
| 101 | Coatbridge Junior Harriers | 1898 14/10/1898 | SR 17/10/1898 | | Coatbridge | Formed at a meeting in the Back Temperance Hall |
| 102 | Boghead AAC | 1898 ? | SR 19/12/1898 | Had Harriers Section. Active prior to 1st mention Dec 1898 | Dumbarton | |
| 103 | Kilbirnie Harriers | 1899 Jan? | SR 13/1/1899 | 1st mention | Kilbirnie | Mentioned as seeking a fixture in January with CH but 'snubbed'. Had inter club with Rutherglen Glencairn 15/2/1899 |
| 104 | Meadowside Harriers | 1899 w/b 13/2/1899 | SS 17/02/99 | | Partick, Glasgoiw | New club formed. Applications for membership to the Trainer FW Warren, 23 Crawford St |
| 105 | Govan Pedestrian Athletic Club | 1899 | SS 29/09/99 | No other mention but had harrier 'activities' | Govan, Glasgow | |
| 106 | Rosebank Athletic Club | 1899 Sept? | SR 29/9/1899 | Had harrier section but in existence prior to this date | Cambuslang | 1st mention as joining SCCA in September 1899. Had inter club with Rutherglen Glencairn on 11/11/1899. 5mls 40 took part 1st annual dinner@ Masonic Hall, Cambuslang (SR19/3/1900) |
| 107 | CH Airdrie Section | 1899 6/10/1899 | Airdrie Adv 7/10/1899 | In CH Handbook 1899-00 | Airdrie | |
| 108 | Eastwood Juniors Harr | 1900 w/b 13/8/1900 | SR 20/8/1900 | Hills Hall, Pollockshaws | Glasgow | Details of AGM SR 21/9/1900. Officers and Patrons listed. Colours chocolate and black. Memberhip 3/- Opening run 4th October from Pollockshaws |
| 109 | Burnbank Harr | 1900 Sept? | SR 5/10/1900+Aird&CoatAdv13/10/1900 | 1st mention & 1st AGM Burgh Hall | Burnbank, Glasgow | Run from Burnbank HQ. Only 12 runners.5mls. 35 and 30mins |
| 110 | Glasgow Olympic Harriers | 1900? | SR 24/12/1900 | Formerly CH Juniors and also referred to as Glasgow Harrs | Glasgow | |
East of Scotland
| | | | | | | |
| --- | --- | --- | --- | --- | --- | --- |
| | Club | Year & Foundation date | Source | Sections | Location | Further detail |
| 1 | St James FC | 1881? | anent scottish running | Had members who practiced harriuer running | Edinburgh | Alex Wilson's profile of Peter Addison is one example |
| 2 | Edinburgh Harriers | 1885 02/03/1885? 30/09/85 CH history | SAJ 1885 | Gymnastics & Boxing section(SS 8/3/89 | Edinburgh | DS Duncan's address in 1896 as 7 Locharton Terrace, Edin. JWL Beck mentioned as being late Blackburn Harriers Ath News 2/2/1886. 3rd Annual Dinner @ Café Royal, Edinburgh,1889 |
| 3 | Penicuik Harriers | 1887 Unable to find exact formation date but could be 30/10/1887 | SAJ 29/11/87 | | Penicuik | |
| 4 | Musselburgh Harriers | 1888 08/02/1888 | SAJ 14/02/88 | | Mussleburgh | |
| 5 | Dunstane Harriers | 1888 ? | SL10/12/88 | Only mention | Edinburgh | |
| 6 | Edinburgh Nothern Harriers | 1889 October 1889 | SS 15/10/89 | | | Membership of over 100 by Feb 1892. Cycling section formed in 1895 |
| 7 | Dalkeith Harriers | 1889 October 1889 | SR21/10/89&Dalkeith Adv. 7/11/1889 | Defunct by 1899 | | Dal Adv 7/11/1889. 1st run on 2/11/1889 from Relief Hall (HQ). Meeting to form it (no date) at Scientific Hall. Defunct due to lack of numbers. Resigned from SCCU 20/03/99. Defunct by 20th March 1899 |
| 8 | Edinburgh University Hares and Hounds | 1890 January 1890 | SS 24/01/90? | | | |
| 9 | Edinburgh Junior Harriers | 1890 28/10/1890 | EdEvPost 31/10/1890+GlEvPost 2/1/190 EdEvNews 31/10/90 | For 15-18 yr olds | Edinburgh | Formed @ Trades Hall. J Scott initial mover (EdEvNews 17/10/1990) (EdEvPost 3/11/1890)1st run on 1stNov 1890 over Blackford HillNew Years Day run with CH from Ed Northern FC Clubhouse 7mls. 50mins 1st run 1st Nov. @ Blackford Hill 6mls (Ed Ev News 3/11/1890), 1st Paperchase on 10th Nov @ Sheephead Inn (Ed Ev News 3/11/1890) |
| 10 | Eskbank Harriers | 1891 Jan/Feb 1891? | DalkeithAdv 12/3//1891&22/10/1891 | | Edinburgh | (DalAdv 12/3/1891) Inter club with Dalkeith Harr over 7mls on 7/3/1891. 17 took part. Newbattle/Eskbank. 1st run of the season, 13 members, Sherriffhall, Monkton, Inveresk, 10mls |
| 11 | Portobello Harriers | 1891 Feb/March1891? | MidLothJour 6/3/1891EdEvNews 9/10/1891 | Portobello Cycling Club Harriers Section | Portobello | (Mid-Loth Jour 6/3/1891)Run with Edinburgh Harriers on 28/2/1891 @ Niddrie over 4mls. Opening run 10/10/1891 @Portobello Pier |
| 12 | Edinburgh Harriers Junior Section | 1891 Sept 1891? | EdEvNews 25/9/1891 | Earlier? | Edinburgh | Run from Clarke's @ Coltbridge. |
| 13 | Kirkliston Harriers | 1891 3/10/1891 | LanrkshUpperWardExam 3+10/10/1891 | | Kirkliston, Edinburgh | 1st run form Society Hall on 3/10/1891, 5.5mls; 2nd run 10/10/1891 |
| 14 | Grayfield Harriers | 1891 October 1891? | EdEvNews 9/10/1891&6/11/1891 | | Edinburgh | Opening run 10/10/1891 |
| 15 | St George Harriers | 1891 October 18981? | EdEvNews 19/10/1891 | Link to St George FC? | Edinburgh | 1st run (of the season?) 17th from Craigleith, 8mls |
| 16 | Edinburgh Abstainers Harriers Club | 1891? | SS 20/11/91 | Still formed 1892 | Edinburgh | EdEvNews 15/1/1892 run on 16th from Coltbridge Coffeee House and EdEvNews 8/1/1892 run on 9th from Granton Gymnasium |
| 17 | Edinburgh Pharmacy Athletic Club | 1892 Oct 1892 | SS 11/11/92 | Confined to pharmacists in Edinburgh | Edinburgh | |
| 18 | Watsonian Cross Country Club | 1893 16/10/1893 | EENews 17/10/1893 | | Edinburgh | Meeting held @ the College. 1st run from Myreside on Saturday 21/10/1893 |
| 19 | Junior Fellowship Harriers | 1895 Sept/Oct1895 | EEN25/10/1895 | Little mention | Edinburgh | Run at Duddingston Sat 26/10/1895. Run @ Craiglockhart on 2/11/1895 |
| 20 | Leith Acad Harriers | 1895 Oct 1895? | Fife Free P & KG 9/11/1895 | Little mention | Leith | Just one mention of the club in 1895 at the inter club on 9/11/1895 with ENH, KirkHarr, Partick. |
| 21 | Fettes School Harriers | ? | SS 27/12/95 | Fettes mentioned as relatively stronger despite the influence of HH Almond at Loretto. Likely formed earlier | Edinburgh | |
| 22 | Loretto School Harriers | ? | SS 27/12/95 | Fettes mentioned as relatively stronger despite the influence of HH Almond at Loretto. Lkely formed earlier. | Edinburgh | |
| 23 | Lothian Athletic Club | 1896 ? | SS 9/10/96 | Formed early 1896 as generic sports club but joined SAAU. Suggestion of a Harriers section | Edinburgh | |
| 24 | Edinburgh Waverley Harriers | 1896 Sept? | EdEvNews 26/10/1896 | | Edinburgh | |
| 25 | Edinburgh Southern Athletic Club to Edinburgh Southern Harriers (1898) | 1897 Jan? | SS 5/03/97+EdEvNews 22/3/1897 +Club History | See club history for exact date. Changed to Edinburgh Southern Harr in 1898 | Edinburgh | Club history reports ESAC in 1897 but became ESH in 1898. See N Archives for more. Started by a Bible class run by Alex. Tod and was a 'multi-sport' club initially following the 'Muscular' tradition. Champ Run reported on Sat 20th March 1897 over 5mls @ Duddingston. |
| 26 | Pilrig Gymnastic Club | 1899 Oct? | SS 17/11/99 | Had a Harrier section. | Pilrig, Edinburgh | Had inter club run with Edinburgh Waverley, Edin Southern and Dysart Harriers @ Duddingston. Poor weather so only 40 turned out. 8mls |
| 27 | Royal High School Harr (Edinburgh) | 1900 1st mention | SR 9/11/1900 | | Edinburgh | In connection with a proposed interclub with Dysart Harriers. Likely formed earlier than 1900 |
Central
| | | | | | | |
| --- | --- | --- | --- | --- | --- | --- |
| | Club | Year & Foundation date | Source | Sections | Location | Further Detail |
| 1 | CH Falkirk Section | 1887 05/03/1887? | SAJ 4th&25th Oct. 1887 | Seceded in1889/90 to become East Stirlingshire Harriers | Falkirk | Mentioned in SHU Champs as Stirlingshire |
| 2 | Falkirk Heavy Weather Athletic Club | 1888 Formed Feb? | SS 1/1/89 | Evidence of only 1 run | Falkirk, Stenhousemuir | More of a Gentleman's Club/Philanthropic? Also played football. Clackmanan. Wheat Sheaf Inn,Falkirk(SS15/3/89), 60@ member leaving do |
| 3 | Alloa Harriers | 1888 No other info found. Mooted but not formed? | SR 10/12/1889 | Not formed on 10/12/1888 yet wrote re formation of SHU on 8/12/1888 | Alloa | (Alloa Advertiser 15/12/1888) Meeting on 10th Dec. 1888 @ McGechan's Hall. 'Only one or two turned up … abandoned'. |
| 4 | Strathblane FC Harriers | 1889 Jan? | SS 12/2/89 | | Strathblane | Opening run on 26/1/1889. Harriers song in SS 03/12/89 |
| 5 | Bathgate Harriers | 1889 From Bathgate Harriers FC? | SS 29/11/89 | Member of SCCA in Nov. Is it the FC? | | |
| 6 | Cumbernauld Harriers | 1890 Jan/Feb? | Falkirk Herald 8/3/1890SS 07/03/90 &SR3/3/1890 | Still going 1892 | | |
| 7 | East Stirlingshire Harriers | 1890 19/9/1890 | Falkirk Herald 24/9/1890 | From CH Stirlingshire Section | Falkirk | Met in Mrs McConochie's Temperance Hotel Friday 19th to form own club from CH section. Letter read from Secy of CH accepting their resignation as a section. 1st run on 4th October. McConochie's as HQ |
| 8 | Falkirk Victoria Harriers | 1890 Sept? | SS26/9/1890 | | Falkirk | |
| 9 | Strathblane Harriers | 1891 pre Aug | GlasHer 31/8/1891 | 1st mentioned competing in track events that summer | Strathblane | |
| 10 | Stirling Gymnastic Club | 1891 5/11/1891 | DEvTel 6/11/1891 | Harriers Section formed | Stirling | |
| 11 | Linlithgow Harriers | 1892? | LinlithGaz 10/9/1892/92 | Club mooted but formed? | Linlithgow | |
| 12 | Bonnybridge Harriers | 1892 w/b/12/9/1892Sept | Fal Her 17/9/1892 | | Bonnybridge | Conservative Rooms |
| 13 | Kilsyth Harriers | 1893 Jan | GH 27/2/1893& FalHer 1/2/1893 | | Kilsyth | Run on 25/2/1893. 8mls, 58mins. Reference to it being a recent addition to the clubs |
| 14 | Denny Harriers | 1893 Sept | FalHer7/10/1893 | | Denny | FalHer 7/10/1893 Inaugural run 30/9/1893. 5mls. Retired to Royal Oak after to eat and sing songs! |
| 15 | Bonnyrigg Harriers | 1893 Oct | SS 3/11/93 | | Bonnyrigg | Musselburgh News 22/12/1893 Inter club on 16/12/1893 with Dalkeith, Edinburgh, Edinburgh Northern and Edin Univ H&H @Bonnyrigg. 8mls |
| 16 | Banton Harriers | 1894 Sept | SR 5/10/1894&SR 12/10/1894 | | Banton, Nr Kilsyth | 2nd run on 13/10/1894 @ Banton |
| 17 | Longcroft & District Harriers | 1896 | SS 9/10/96+ LinGaz 14/11/1896 | Pop. in 1891 was 588 | Falkirk/Dennyloanhead | Inter club with Bonnybridge on Sat 14/11/1896. Entered the Maryhill Harr open handicap March 1897.(SR 12/3/1897) |
| 18 | Bo'ness Harriers | 1896 w/b 6/9/1896 | LinlithgowGaz12/9/1896 + FalHer 26/9/1896 | | Bo'ness | 40 members at inception |
| 19 | Stirling Osborne Harriers | 1896? | FalHer (91/1897 | 1st mention but in existence | Stirling | |
| 20 | St Mary's Christian Young Mens Harriers | 1897? | GH 23/8/1897SR 2/9/1898 | In existence prior to Aug 1897? | Stirling | 1st Mention of McMullan competing at Celtic sports in 2mls off 200yds. Mention of the AGM to be held at the CYM Hall on 5th Sept. Seems to have been in existence as M Hannan (V-P) intended to resign. |
| 21 | Stirlingshire Central Harriers | 1897 2/9/97? | SR6/9/1897 | Harrier section of Stenhousemuir FC? | Stirling | Mention of athletics section added to Stenhousemuir club. Already got amateur and professional football, cricket nd now a haririer club. 1st run on 11/9/1897 from McLaren's Crown Inn |
| 22 | Pumpherston Harriers | 1897 Sept? | SR 1/11/1897+SS 5/11/97 | 1st mention 1/11/1897. from the football club? | Pumpherston, W Lothian | Inter club with Edin Northern, Kirkcaldy, Maryhill from the Royal Gymnasium on 30/10/1897 |
| 23 | Campsie Harriers | 1897 Sept? | SR 15/10/1897 | | Lennoxtown | 1st mention on 15/10/1897 with a run on a Wednesday 13/10/1897 from Craigbaronet Lodge, Campsie |
| 24 | Stirling Waverley Harriers | 1898? | SR 18/11/1898 | 1st mention | Stirling | Had 3mile handicap . Humphreys, Bain & McIntosh. Also issued a challenge to any juvenile club. St Mary's Harr accepted (early 1899) then WH recanted.(SR 23/1/1899) |
| 25 | Grange Harriers | 1900 28/08/1900 | FalHer 1/9/1900 | | Grangemouth | Formed at a meeting at the Victoria Hall with 26 members. 1st run on 15/9/1900. |
| 26 | North British Harriers | 1900 Oct? | SR 10/12/1900+KilChron 15/12/1900 | 1st mention | Stirlingshire? | KilChron 15/12/1900 mentions an inter club with Bonnybridge @ Bonnybridge on the 8th over 5mls. 48mins |
TayFife
| | | | | | | |
| --- | --- | --- | --- | --- | --- | --- |
| | Club | Year & Foundation Date | Source | Sections | Location | Further detail |
| 1 | Dundee Harriers | 1887 exact formation 3/10/1887? | SU 25/10/87 | Swimming | Dundee | |
| 2 | Perth Academy Harriers | 1887 02/11/1887? | SAJ 29/11/87 | No further mention | Perth | Can find nothing more other than they were founded |
| 3 | Perth(shire) Harriers | 1887 10/11/1887 @ Victoria Hotel | DA 18/10/87 SAJ 15/11/87+ DC 26/10/1891 | Formed from Perthshire Rugby Football Club. Stopped?& Restarted 24/10/1891 | Perth | Perthshire RFC couldn't play on the Inch so they had a run! 11mls in 1.5hrs. (Dundee Adv 18/10/1887). 2nd run on 29/10/1887 10mls, 1hr 10mins.(Perthshire Adv. 31/10/1887). More formally constituted on 10/11/1887 (SAJ 15/11/1887). Survived by 1900? See SR 27/8/1900 |
| 4 | West of Fife Harriers | 1887 30/11/1887 | Dunf Sat Press 3/12/1887p3 | | Dunfermline | Formed at Lady's Mill Pavillion, Dunfermline |
| 5 | Fernbank Harriers | 1887 Dec? | DA19/12/87 | Became City Harriers on Monday 4/2/1889 | Dundee | |
| 6 | Lochee Harriers | 1887 Dec? | DundeeEvTel 21/12/1887 | From Lochee FC? | Dundee | Not mentioned as survived by 1899 |
| 7 | Dunfermline Harriers | 1887 20/12/1887 | SU 27/12/87 EdinEvNews16/12/1887 DunfFreePress17/12/1887 | | Dunfermline | Wednesday run in December 1887: 'one hound hit a milk cart while another ran into an old man. A hare ran into a dyke in the dark and stunned himself.' |
| 8 | Arbroath Harriers | 1888? | DC19/10/88 | Earliest mention | Arbroath | By 1900? See SR 27/8/1900 |
| 9 | Forfar Harriers | 1888 16/11/1888 | FH&KA 16/11/88 | | Forfar | SS 8/11/89 Survived by 1900? See SR 27/8/1900 |
| 10 | Broughty Castle Harriers/Broughty Harriers | 1889 BCH ? 1889? To BH 22 November 1889 | DC 22/11/1889 & 25/11/1889 | DC 25/11/18898 From BCHarr after Broughty Cycling club failed to form a club | Broughty Ferry | DC 25/11/1889 Formerly named Broughty Castle Harr. Broughty Cycling Club tried to form a Harriers club but not enough interest so BCHarr became Broughty Harr. See letter to DC from Jas. Kidd Secy. Not mentioned as survived by 1899 |
| 11 | Airlie Harriers | 1889 23/10/1889 | DC 29/10/1889 (SS 02/02/89?) | Had swimming section by 1891 | Dundee | Formed at Mathers Hotel Wed 23rd Oct. Capt. W Wallace, VC A Stewart, Secy & Tr Charles Robertson, Comm Williamson, Fyffe, Smith. 1st run Sat 2nd Nov 1889. Not mentioned as survived by 1899. Social at Monifeith hotel with a tea and violinist |
| 12 | Hawkhill Harriers | 1889 16/12/1889 | SS 20/12/89 + 2/02/89 Dadv | | Dundee | Formed from mainly swimmers.1st run Tuesday prior to 20/12/1889 in ordinary clothes and overcoats. Suspended at some point but re-formed in1924 |
| 13 | Kirriemuir Harriers | 1889 October | SS 1/11/89 | | Kirriemuir | DA 19/11/1889 1st run Sat 15/11/1889, 7mls 54mins. Survived by 1900? See SR 27/8/1900 |
| 14 | The City Harriers, Dundee | 1889 4/2/1889 | DundeeCour. 7/2/1889 | | Dundee | Not mentioned as survived by 1899 |
| 15 | Arbroath Harriers | 1889 30/10/1889 | DC 25/10/1889 | | Arbroath | DC 25/10/1889 Formed at a meeting in the George Hotel on Wed 30th |
| 16 | Blairgowrie Harriers | 1889 22/10/1889 | DC 25/11/1889 & SS 29/11/89 | | Blairgowrie | Formed inTemperance Hotel. About 20 people. |
| 17 | Harris Academy Harrier Club | 1889 Nov? | DET 29/11/1889 | | Dundee | members joined Lochee for a run |
| 18 | Hawes Harriers | 1889? | DET 24/1/1890 | 1 run. No further info | Dundee | DET 24/1/1890. 8 mile run on 25/1/1890 from the top of Windsor St |
| 19 | Rosefield Harriers | 1890 January | DC 20/1/1890 & SS 24/01/90 | | Dundee | 1st run 18/1/1890 over 3mls 18mins. Not mentioned as survived by Oct 1899 |
| 20 | Binrock Harriers/The West End Harriers | 1890 January | DC 3/2/1890 & SS 07/02/90 | DC 24/2/1890 Changed name to WEH. Described as a Juvenile Club (SS28/3/1890) | Dundee | DC 3/2/1890. 1st run on 1/2/1890 Balgay Ave to Hillside to Lochee then to Menzies Hill Farm. Not mentioned as survived by Oct 1899 |
| 21 | Sydney Harriers | 1890 January | DET 4/2/1890 & SS 7/02/90 | | Dundee | SS 7/2/.1890 1st run on Monday night (3rd) over 6mls.(44mins). DC 10/2/1890 2nd run 8/2/1890. Not mentioned as survived by Oct 1899 |
| 22 | Glenagness Harriers | 1890 January | DA 10/2/1890 & SS 14/02/90 | | Dundee | DA 10/2/1890 1st? Run on 8/2/1890. Rosefield St, 8mls, 60mins. Not mentioned as survived by Oct 1899 |
| 23 | Lyndhurst Harriers | 1890 January? | Dundee C. 24/2/1890 | Juvenile Club | Dundee | DC 24/2/1890 run on 22/2/1890 8mls. |
| 24 | Muirpark Harriers | 1890 February? | DA3/03/90 | | Dundee | DA 3/3/18909 A run of 6.5mls in 59mins. Not mentioned as survived by Oct 1899 |
| 25 | Glenburn Harriers | 1890 February? | GH 3/3/1890 | | Dundee | GH 3/3/1890 Interclub between Bluebell (Lochee) and Glenburn Harriers. 7mls, 60mins |
| 26 | Morgan Harriers | 1890 February? | Dundee C. `14/3/1890 | Juvenile Club/Morgan Hospital? | Dundee | |
| 27 | Tay Harriers | 1890 February | DET & DC 24/2/1890 | | Dundee | DC 24/2/1890 1st paper-chase on 22/2/1890. 5mls, 1hr |
| 28 | Blue Bell Harriers | 1890 February | Dundee C. 24/2/1890 | | Lochee, Dundee | DA 24/2/1890 1st run on 22/2/18980? 2 miles |
| 29 | Star Harriers | 1890 Feb/March | Dundee C. 24/3/1890 | Juvenile club | Broughty FerrY? | DA 24/3/1890 Inter-club with Broughty Harr on 22/3/1890 |
| 30 | Crown Harriers | 1890 Feb/March | Dundee C. 24/3/1890 | Juvenile Club | Broughty Ferry? | |
| 31 | Excelsior Harriers | 1890 Feb/March | DC 31/3/1890 | | Dundee | DC 31/3/1890 Run with Bluebell on 29/3/1890. 6mls. 30mins |
| 32 | Albion Harriers | 1890 Feb/March | DC 31/3/1890 | | Dundee | Run on Sat 29th March 1890 over 5 miles. 29mins |
| 33 | Balgay Harriers | 1890 7/3/1890 | DC1/3/1890 | | Lochee, Dundee | |
| 34 | Roseberry Harriers | 1890 Feb/March | DC 7/4/1890 | | Dundee | DC 7/4/1890 Run on Friday evening 4th. 5mls 35 mins. |
| 35 | Roslin Harriers | 1890 March | DC10/3/1890 | | Dundee | |
| 36 | Victoria Harriers | 1890 March | DC 18/3/1890 | | Dundee | |
| 37 | Blue Star Harriers | 1890 March | DA 17/3/1890 & Dundee C. 24/3/1890 | Juvenile Club | Dundee | DA 17/3/1890 1st run of 4mls |
| 38 | Melrose Harriers | 1890 March | Dundee C. 24/3/1890 | Juvenile Club | Dundee | DC 24/3/1890 1st mention. Had friendly run with Lyndhurst over 6mls Sat 22/3/1890 |
| 39 | Woodland Harriers | 1890 March | DC 24/3/1890 | Juvenile Club | Dundee | Woodland and West End interclub over 4mls. 26mins sat 22/3/1890 |
| 40 | Thistle Harriers, Dundee | 1890 March 1890 | DET 28/3/1890 | St Andrews section by 1896 (SS13/11/1896) | Dundee | DET 28/3/1890 Run for club Champ on April 14th at Newport for silver badge |
| 41 | Albert Harriers | 1890 March 1890 | DC 31/3/1890 | | Dundee | |
| 42 | Mayflower Harriers | 1890 March 1890 | DC 31/3/1890 | | Dundee | |
| 43 | Stanley Harriers | 1890 March 1890 | DC 11/4/1890 | | Dundee | DC 11/4/1890 Moonlight run Thursday 10th |
| 44 | Kirkcaldy Harriers | 1890 w/b 29/9/1890 | SS 10/10/90 | Abbotshall Harr 'merged' with Kirkcaldy Harr. in 1894 assuming name of Kirkcaldy Harr (SR2/9/1894) | Kirkcaldy | Pocklington medal (SR19/1/1900) |
| 45 | Fairport Harriers | 1890 w/b10/11/1890 | ArHer&Adv for Mont Burghs 20/11/1890 | Mainly cyclists for fitness Defunct by 1893 | Arbroath | 1st run on15/11/1890 4.5mls, 30mins. 2nd run on 22/11/1891. |
| 46 | Forfarshire Cross Country Union | 1890 Nov | DA 13/11/1890 | See notes | Forfarshire | Although a county association for holding races it also competed in inter-clubs as a County eg. Inter-club on NY Day 1/1/1892 with Edinburgh Northern @ Edinburgh (BrFerryGuide&Adv 8/1/1892 + Changed name and function to become North of Scotland Cross-Country Union to include counties of Perth, Forfar & Aberdeen to try to evelop the sport. Meeting on 14/11/1892 @Imperial Hotel, Dundee (DET 18/11/1892) |
| 47 | Dundee & District Athletic Club | 1890 15/12/1890 | DC 15/12//90 | From Dundee Cycling Club. Multi sport but strong Harriers section | Dundee | Inaugural meeting on 15/12/1890 in Queens Hotel @ 8pm. Not mentioned as survived by Oct 1899 |
| 48 | Herman Harriers | 1891? | DC 2/2/1891 | No further reference | Dundee | Had a run 31st Jan over 5mls. |
| 49 | Clifton Harriers | 1891? | DC 9/2/1891 | No further reference. Clifton FC? | Dundee | Run on Sat 7th Feb over 7mls. 45mins. |
| 50 | Arbroath YMCA Harriers | 1892 August | ArHer&Adv for the Mont Burghs 1/9/1892 | | Arbroath | 1st run 1/9/1892. ArbHer&Adv For Mont Burghs 20/10/1892 reported an inter club run on the 15th @Lochlands Park between the 3 Harriers clubs. 51 runners. YMCA 4 runners. |
| 51 | Arbroath Airlie Harriers | 1892 Sept | ArbHer&Adv 8/9/1892 | | Arbroath | 1st run Thursday 6th Sept 1892. ArbHer&Adv For Mont Burghs 20/10/1892 reported an inter club run on the 15th @Lochlands Park between the 3 Harriers clubs. 51 runners. Airlie 16 runners. |
| 52 | Montrose Harriers | 1892 28/9/1892 | MontStand 30/9/1892 | | Montrose | |
| 53 | Tayport Gymnasium Harriers | 1892 | DC 26/12/1892 | Had Harriers section | Dundee | 1st run on 24/12/1892. 4mls 35mins |
| 54 | Arbroath Thistle Harriers | 1893 Sept | ArbHer&Adv forMont Burghs 21/9/1893 | | Arbroath | |
| 55 | Arbroath Roselea Harriers | 1893 Oct | SS 20/10/93+ ArbHer&Adv for Mon Burghs 7/12/1893 | | Arbroath | Not mentioned in report on members affiliated to North of Scotland CC Union in 1898 (NSCCU) |
| 56 | Mayfield Harriers | 1893 3/10/1893 | DC 6/10/1893 | From Mayfield AC | Dundee | Meeting in Mrs Nicol's Rooms, Union St on Tuesday 3rd October. Not mentioned as surviving by Oct. 1899 |
| 57 | Arbroath West End Harriers | 1894 Feb 1894 | ArbHer&Adv fo Mon Burghs 1/3/1894 | | Arbroath | |
| 58 | Tay Cycling & Athletic Club | 1894 8/3/1894 | DETel 9/3/1894&SS 16/03/94 | Includes Harrier running | Dundee | For the promotion of the Dundee Athletic Grounds to encourage use by clubs. Not mentioned in report on members affiliated to North of Scotland CC Union in 1898 (NSCCU) |
| 59 | Abbotshall Harriers | 1894 Sept | FifeFReePress 8/9/1894&StAndrews Cit 10/11/1894 | | Kirkcaldy | Inaugural run on Tuesday 4th Sept 1894. 3packs over 4mls. Meet every Wednesday. Visit of ENH to Kirkcaldy to raise funds for Abbotshall Harr. 42 took part. KirkcaldyFC grounds Tea and soiree later. AH had 7ml c-c run Sat 3/11/1894 |
| 60 | Dauntless Harriers | 1894 Sept | ArbHer&Adv forMonBurghs 13/9/94 | Juvenile club | Arbroath | |
| 61 | Ivybank Harriers | 1894 Sept | ArbHer&Adv forMonBurghs 20/9/94 | Juvenile club | Arbroath | |
| 62 | Excelsior Harriers | 1894 Sept | ArbHer&Adv forMonBurghs 20/9/94 | Juvenile club | Arbroath | |
| 63 | Arbroath Waverly Harriers | 1894 Sept | ArbHer&Adv forMonBurghs 20/9/94 | Juvenile club | Arbroath | |
| 64 | St Leonards Harriers | 1894 Sept | ArbHer&Adv forMonBurghs 20/9/94 | Juvenile club | Arbroath | |
| 65 | Arbroath Roslin Harriers | 1894 Sept | ArbHer&Adv forMonBurghs 27/9/94 | | Arbroath | |
| 66 | Arbroath Elmbank Harriers | 1894 Sept | ArbHer&Adv forMonBurghs 27/9/94 | | Arbroath | |
| 67 | Arbroath East End Harriers | 1894 Sept | SS 28/09/94& ArbHer&Adv for Mon Burghs 27/9/1894 | | Arbroath | Run with Roselea on 22/9/1894. Not mentioned in report on members affiliated to North of Scotland CC Union in 1898 (NSCCU) |
| 68 | Craigie CC Harriers Section | 1894 ? | SS 5/10/94 | Changed name to Bowbridge Harr at AGM on 4/11/1896 | Dundee | Opening run on 6/10/1894. Not mentioned in report on members affiliated to North of Scotland CC Union in 1898 (NSCCU). Not mentioned as surviving by Oct 1899 |
| 69 | Brooklet Harriers | 1894 Oct | ArbHer&Adv for Mon Burghs 11/10/1894 | | Arbroath | |
| 70 | Northern Harriers Dundee | 1894 Nov | DC 29/11/1894&SS6/9/1895 | Had a half holiday section(DET 18/1/1896) | Dundee | Inaugural run on 24th Nov. Not mentioned in report on members affiliated to North of Scotland CC Union in 1898 (NSCCU) |
| 71 | The Red Cross Harriers | 1894 Dec | ArbHer&Adv for Mon Burghs 13/12/1894 | | Arbroath | |
| 72 | Arbroath Rangers Harrier Club | 1895 March? | SS 29/03/95 | Little mention | Arbroath | Not mentioned in report on members affiliated to North of Scotland CC Union in 1898 (NSCCU) |
| 73 | Fairfield Harriers | 1895 Sept | ArbHer&Adv forMontBurghs 3/10/1895 | | Arbroath | Records run of 6mls |
| 74 | Arbroath St Thomas Harrier Club | 1895 23/9/1895 | ArbHer&Adv forMontBurghs 26/9/1895 | | Arbroath | Formed at Dishlandtown Hall. Not mentioned in report on members affiliated to North of Scotland CC Union in 1898 (NSCCU) |
| 75 | Limekilnsend Charlestown Harriers | 1896 Feb | SR 21/2/1896 | One mention | Charlestown, Fife | |
| 76 | Bowbridge Harriers | 1896 4/9/1896 | SS 11/9/1896 | Old CraigieCC Harriers section changed name @AGM on 4/9/1896 | Dundee | |
| 77 | East of Scotland Harriers | 1896 14/09/1896 | DC 15/9/1896, 16/11/1896&SS 22/09/96 | | Dundee | Formed after a disruption in the Thistle Club. 1st run on 3/10/1896. %.%mlsNot mentioned in report on members affiliated to North of Scotland CC Union in 1898 (NSCCU) |
| 78 | Cairneyhill Harriers | 1896 Sept | Arbher&Adv for MonBurghs 1/10/1896 | 1st mentioned in Oct1896. Pop. about 1000 in 1891 | Cairneyhill, Nr Dunfermline | |
| 79 | Dunearn Harriers | 1896 Sept? | StACitiz. 7/11/1896 | Reporting used inter changeable name of Burntisland Harr | Burntisland | Run with Kirkcaldy Harriers on 31/101896. |
| 80 | St Andrews Harriers (Section of Dundee Thistle) | 1897 13/10/1897 | St Andrews Citizen 23/10/1897 & 2/4/1904 | Branch of Dundee Thistle but full name by 1904 | St Andrews | Meting held in Melville's Rooms, South St. 30 attended. HQ Templar Hall, Greyfriars Garden. Runs on Monday and Wednesday nights and Thursday and Saturday afternoons |
| 81 | Victoria Harriers | 1898? | DC19/7/1898 | One mention at a track meeting | Fife. Dunfermline? | Ran with 2 Dunfermline harriers: Robt Spowart & James Coutts |
| 82 | Kinghorn Harriers | 1898 Aug? | SS 7/10/98 | | Kinghorn, Fife | |
| 83 | Dysart Harriers | 1898 w/b 19/9/1898 | SS 7/10/98 + FifeFree P&KirkGuard. 24/9/1898 | | Dysart | Walker Medal D. Walker retained as Trainer |
Borders
| | | | | | | |
| --- | --- | --- | --- | --- | --- | --- |
| | Club | Year & Foundation Date | Source | Sections | Location | Further Detail |
| 1 | Selkirk Harriers | 1888 10/12/1888 | SouthRep 20/12/1888+EdEvNews 18/11/1889 | | Selkirk | 1st run on 15/12/1888 @ Ettrick Rd Haining Lodge, 2nd run @ The Loan 22/12/1888, 8-9mls. Sat 16th Nov 1889 run at Philipshaugh |
| 2 | Berwick & District Harriers | 1889 11/01/1989 | SL14/01/89 SS 29/1/89 | | Berwick | On SCCU side |
| 3 | Teviotdale Harriers | 1889 24/01/1989 | Club hist + SS22/03/89 | | Hawick | Tower Hotel. See note re restart. Club foundered early on but restarted in 1891 @ Meeting in Tower Hotel (Hawick Ex 30/10/1891). 1st restart run 31/10/1891 |
| 4 | Melrose Harriers | 1889? | Southern Reporter 11/4/1889 | | Melrose | Mentioned as part of Border Harr Champs S+H+M+G |
| 5 | Galashiels Harriers | 1889? | Southern Reporter 11/4/1889 | | Galashiels | Mentioned as part of Border Harr Champs S+H+M+G |
| 6 | Peebles Harriers | 1889 September (1st mooted) | Peebleshire Ad 7/9/1889 + PeebleshireAdv 26/9/1891 | Evidence of association with Peebles FC at both meetings | Peebles | Did it form? Further mention – Meeting at Masonic Hall on 24/9/1891 to reform club? |
| 7 | Peebles Harriers | 1891 24/9/1891 | PeebleshireAdv 26/9/1891 | Re formed with assistance from Peebles FC | Peebles | Meeting at Masonic Hall on 24/9/1891 |
| 8 | Eskdale Harriers | 1891 24/9/1891 | Eskdale&LiddlesdaleAdv 23/9/1891+ Dum+Gall Stand 26/9/1891 | | Langholm | Eskdale Temperance Hotel on24/9/1891 |
| 9 | Lothian Harriers | 1891 28/11/1891 | JedGaz 12/12/1891 | | Jedburgh | Meeting at Spread Eagle Hotel, Jedburgh on Saturday 28/11/1891 |
| 10 | Scottish Pelicans Club | 1894 March? | SR16/4/1894 | | Innerleithen | |
| 11 | Kelso & District Harriers | 1895 Jan? | SS 12/02/95&The Field 16/2/1895 | Little metion | Kelso | Admitted to SAAA in Feb 1895. Newcastle DailyChron1/4/1895 Interclub with Berwick on 18/4/1895. Scots 27/4/1895 Interclub with Berwick 6.5mls 35mins |
| 12 | Abbotsford Harriers | 1897 7/5/1897 | South Rep 13/5/1897 | Formed by Abbotsford FC | Galashiels | Formed at the AGM of Abbotsford FC on Friday 7th May. Sub was 1/-. Runs on Wednesdays and Saturdays. |
| 13 | Jedburgh Harriers | 1898 24/8/1898 | JedGaz 27/8/1898 | | Jedburgh | Meeting at the Port Hall, Jedburgh on Wed 24th @ 8pm. Membership 1/-, entry 6d. |
| 14 | Galashiels Harr | 1902 June? | BerwNews&Gen Adv 1/7/1902 | Mention of it as newly formed club | Galashiels | |
Aberdeen
| | | | | | | |
| --- | --- | --- | --- | --- | --- | --- |
| | Club | Year & Foundation date | Source | Sections | Location | Further detail |
| 1 | Aberdeen(shire) Harriers | 1889 01/11/1889 | SS8/11/89DundeeEvTe | | Aberdeen | Aberdeen known as Aberdeenshire. Cyclists doing C-C as a winter sport. Mention in Dundee Ev Tel of 'other harrier clubs in the district'. SR 23/12/1889 reported 1st paper-chase 21/12/1889 at Chancery Grounds. 28/12/1889 road race at Bridge of Don 5mls and medals. 'Open to all Harriers clubs in the district' |
| 2 | Aberdeen Argyle Harriers (variously Argyll) | 1889 October? | SS 8/11/89 + SS 5/10/95 + Aberdeen P&J 24&29Sept1894 | From Argyle FC? | Aberdeen | Applied for membership of SHU in Oct89. Formed sections at Forres and in the suburbs of Aberdeen in 1898. AbP&J 10/9/1894 Club rooms in Mid Stocket. Run on 29thSept for Capt & V-C with 13 runners. Prizes in Prince of Wales Hotel with other Harriers. Off-shoot of Argyll FC? Ground at Argyll Park, Stocket Road. 1st appeareance at Ab&Dist Harr Assoc Champs in April1895. Resigned from SAAA and SCCU in Feb 1900 (SR 19/2/1900) |
| 3 | Swift Harriers | 1889 26/11/1889 | AbP&J 28/11/1889 | Junior club | Aberdeen | |
| 4 | Thistle Swimming and Athletics Club | 1891 Jan | AbEvExpress 26/1/1891+SS 20/11/91 | Harrier runs | Aberdeen | Formed from Aberdeen ThistleSwimming and Athletics Club. P/chase on Fri 23rd Jan 1891.P/chase on 23/12/1891 from the clubhouse |
| 5 | Aberdeen Gymnastic & Rowing Club | 1891 15/9/1891 | AbEvEx 17/9/18991 | Harrier section | Aberdeen | Ab.P&J 23/11/1891Shire,Thistle&Gym raced paper-chase in 1891 (26) 1892 George Cruden Pres., Charles Florence Chair&Capt. Campbell Hardy V-C. Comm: Dickie, Aitken, Ironside, Jolly, Mertin, Moir, Paterson, Russell. Demise reported in SS on 22/03/95. Lack of numbers during season 1894/5. |
| 6 | Fraserburgh Harriers | 1893 Feb | Banffshire J& GenAdv 14/2/1893 | From footballers | Fraserburgh | |
| 7 | Postal & Telegraph Swimming and Recreation Club | 1893 12/9/1893 | AberPress&Jour 14/9/1893 | Resolved to form a Harriers Section | Aberdeen | 1st race was on Friday 1st Dec 1893 over 2mls. Not mentioned in report on members affiliated to North of Scotland CC Union in 1898 (NSCCU) |
| 8 | Northern Athletic Club | 1894 Jan? | SS 09/02/94 | Entered Harriers Champs on April 7th | Aberdeen | Not mentioned in report on members affiliated to North of Scotland CC Union in 1898 (NSCCU) |
| 9 | Greyfriars Harriers | 1894 Feb? | SS 02/03/94 | 1st mentioned. Entered Harriers Champs on April 7th | Aberdeen | Not mentioned in report on members affiliated to North of Scotland CC Union+X172:Z173 in 1898 (NSCCU) |
| 10 | Aberdeen West End Swimming Club Harriers | 1898? | AbP&J 30/3/1898 | Harriers Section 1st Mention | Aberdeen | 3ml run for club championship and cup. 21mins |
| 11 | Aberdeenshire Wednesday Harriers | 1898 Dec | DC 8/12/1898 | | Aberdeen | |