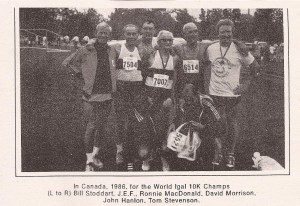 VETERANS' OLYMPIC-STYLE COMPETITION
A year afterwards in 1975 the first World Veterans Track & Field Championships took place.  An Olympic-like series of all the standard athletic events.   These were held in Toronto, Canada.   I did not manage but Gordon Porteous who won the marathon in his age group was enthusiastic about the organisation.   In 1977 the event was held in Gothenberg, Sweden.
HANOVER, 1979
I had never thought seriously about competing in these championships.   Expense was one reason, the other was that to some extent age had mellowed my enthusiasm for intense competition.   Local events catered for any lingering residue of former competitiveness and in our master runs we were sometimes in the mood to finish our weekly runs in what is known in the "trade" as a burn-up.   But that was all.   Priorities had emerged, the exhilaration, the companionship, the poetry and the beauty of nature sufficed.   But events changed that.   Walter Ross, our ubiquitous secretary, had to resign from that  office because of pressure of business.   His view that running was essentially to be enjoyed permeated his philosophy but for the moment he had to take a less active role.   Owen Flaherty from Edinburgh took over the secretaryship.    He took the competitive side very seriously, perhaps too seriously, and he was very statistically minded.   Rules and regulations had to be adhered to, but against that he was intensely enthusiastic.
HE TALKED ME INTO IT
As he was to help and encourage me in so many ways I always think of him with affection.   For some reason he seemed to take a "shine" on me.   During a local run at Bellahouston centre he button-holed me and suggested that as I had just reached seventy I should enter the world masters in that age group to be held later that year in Hanover.   I replied that I had had my day.   I had won championships when younger.   What was the point of competition at my now venerable age.   He argued that it was easy enough to run and win when in one's prime, but it was something else to prove that you were the fittest or one of the fittest in the world over seventy.   Arbitrary maybe but there's no doubt that long-distance running is a test of cardio-vascular fitness, embodying heart, lungs and blood pressure.   It was fair comment.   Just as they say that even in a cultured civilised person there are deep urges just below the surface, so an athlete never entirely loses that lust for competition.
Finally I fell for his blandishments and submitted my entry for Hanover in the 70-74 category for three events, the 1000, 5000 metres and the 1500 metres.   Staying with relatives in Dalgety Bay I ran every day and occasionally twice a day covering a five or seven mile trail and I felt in fine shape.   Owen Flaherty then living in nearby Edinburgh visited us and had tea with my wife Jean and myself.   More motivation followed and in case my motivation had waned he reinforced it with the information that he had booked a shuttle flight to London where I was to join him and the party for Hanover.   There was no escape and now my own enthusiasm was starting to match my mentor's.   But could I justify faith?   On the qay over to Hanover I felt a bit "peaky" and seemed to have contracted a slight chill.
An athlete is always super-sensitive to his condition and tends to feel keenly what the man in the street would treat with disdain.   But fortune smiled on me.   Unlike most of my colleagues who were booked into a rather noisy hotel at a busy junction where sleep was disturbed, for some reason I was booked into a quiet hotel about half a mile away along with some English runners.   In addition nearby was a small parl where it was possible to run or jog in peace.
Hot bath and showers were available.   There was just one snag and it was a personal one.   I could afford only bed and breakfast which was steep enough.   Breakfast was a boiled egg, rye or brown bread, pot of tea and perhaps a Danish pastry.   Not an awful lot for an athlete who had to run three events in less than a week.   But fortune again favoured me.   The Germans tend to be first-rate trenchermen, very heavy eaters indeed.   Groaning on a large table were fruits of all kinds, bananas, apples, tomatoes, cheeses, cold meats, bread and butter.   This was to supplement the official breakfast.
Surreptitiously I filled a plastic bag with some of these goodies and took them up to my room.   My lunch consisted of brown bread and butter, cheese, tomatoes and fruit.   So I was eating sparsely but healthily and with a little jogging and resting in bed, the odd hot and cold shower I began to perk up and feel good.   I had thrown off that slight chill.
On my own I saw some English runners occasionally.   This privacy and no excitement suited me.   Owen did come along from the other hotel and invited me out for a meal which was a nice change.   His help and encouragement were much appreciated but on the other hand I felt a deep responsibility to do well.
UNOFFICIAL COACH
Our first race, the 10000 metres, was held in a small stadium not too far from the big one and Owen did a good job timing and encouraging both Gordon Porteous and myself in our respective races.   I won my age group quite easily and Gordon ran a super race in an excellent time to finish second to the great German veteran Kruzychi.   Later Gordon was to win his marathon age group.   Two days later came the 5000 metres track race and after a few laps I pulled away and again won comfortably in my over seventy group.   I was well received by the spectators present but could not prevent a wry smile to hear myself announced as I neared the tape as Farrell of England.
The runner-up in that race was a Merv Jenkinson of Australia who had already won the 400 and 800 metres in his age group showing that he had a good turn on speed.
So in my final race, the 1500 metres, I felt he would be the danger man to my chance of winning a hat-trick of medals.   His speed against my stamina.   He going up and me coming down from our normal race distances.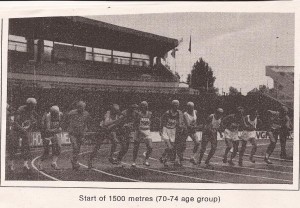 SHOCK NEWS!
I felt good and on the day of the race I decided to visit the other hotel and have a word with Owen Flaherty.   "Could I have Mr Flaherty's room number?" I asked the reception clerk.   "Mr Flaherty has taken  ill and is in hospital," he replied.   He could give me no specific details.   To say I was in a state of shock was no under-statement.   Back to my own hotel for a light meal, the coming race was well-nigh forgotten, the news about Owen took precedence.   But in a strange way it helped me as a pre-race tension which can sap an athlete's energies was entirely absent.   In good time and in mechanical fashion I took a taxi to the big stadium where the final day's events were taking place.   I registered, got my number and was told by the girl that I was to make my way to the small arena instead of the large stadium which I had assumed was the rendez-vous.
STROKE OF LUCK
Disappointed and surprised I was wending my way there when I met Betty Steedman.   "Where are you going/" she said.   "To run in my 1500 metres event," I replied.   "But your event takes place in the big stadium.   I've just heard it on the tranny."   So I went back to the registration office and explained to the girl what I had heard.   She phoned to confirm the venue and admitted that my information was correct.
It was a fine day and having half-an-hour to spare did a bit of jogging and striding on the track which was in superb condition.   It didn't seem long before we got the warning whistle to get ready for the starter's gun.   Jenkinson arrived late.   Perhaps he had the same trouble as me.   There were twenty five runners in this over-seventy field including a Jap who had won this event two years ago, so we had the advantage of being two years his junior.
But I was amazed at his comparatively youthful appearance, at seventy-two not a sign of grey in his black hair.   The gun went off and mind and body became concentrated on this one event which was for the moment the all important thing in life.   Foolish perhaps, but competition demands it.   Jenkinson assumed the lead with the Jap and I trailing him closely.   I felt good and was moving easily.   Our trio got away from the field and kept the same formation for perhaps two laps.   Starting the third lap, Jenkinson was still in the lead, the Jap and I together.   Strangely the Jap was running wide outside me and breathing heavily.   I remember thinking he's feeling the pace and sure enough he gradually fell behind.   I had made no specific plan how to run the race depending on the inspiration of the moment.   Except for one thing, not to wait till the last straight because of Jenkinson's speed over the shorter distances.
But coming round the bend into the straight perhaps a hundred yards from the finish of the third lap, I suddenly felt good, accelerated past Jenkinson and must have opened up a ten yards lead.   The bell went and I kept going down the back straight and kept on piling on the pace.   There seemed to be just one spectator at that side.   The stand was packed in the finishing straight.   I began to tire and suddenly from that one spectator came a shout, "You're ten yards in front and going away."   The voice barely registered but it kept me going.   Coming to the last bend I eased a little, gathered myself and went pell-mell for the tape.    My whole being was concentrated on it.   I reached it and the elation overcame my weariness and who was at the tape to welcome me but Owen Flaherty.   It was he who had positioned himself on the back straight who had shouted these encouraging words and helped me to keep going over that five hundred yards burst.
It appeared that he had suffered a slight asthmatic attack to which he was susceptible in warm, humid weather but had recovered well and made his way to the stadium in time for my race.
It was a magic moment especially as my time was 5 mins 242. secs, a best championship performance for a runner over seventy.   Later I was to set up a world best over seventy of 5 mins 19.7 secs.   I felt I was capable of that in Hanover.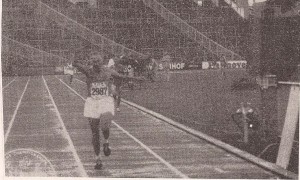 Victory in Hanover
ONLY SOME RACES FONDLY REMEMBERED.
Of races won and races lost, few are remembered.   Some are forgettable.   But perhaps the two that I remember with real affection are my first win in the cross-country championship at Ayr in 1938 and the above mentioned world veteran age-group win in the over seventy 1500 metres.   Not because they were my two best performances but because of the special romantic and dramatic circumstances involved.   In the first instance my first ever championship and because my then fiancee Jean who  had never seen a  race witnessed my success and the second because as I have indicated the special melodramatic ingredient involved.
"CAN'T LET A BUNCH OF OLD MEN BEAT ME!"
On my return home I was interviewed by a Sunday Express reporter.   Perhaps not so much because I had won three first medals in my age group in these world veteran championships but perhaps because of the novelty of men over seventy not just jogging but competing against  each other in races.   He asked me what my thoughts were when I lined up in the 1500 metres against my opponents from Australia, USA, Japan, Germany, etc.   I replied, "I had a look at then and said to myself, I can't let a bunch of old men beat me!"   Then I realised I was in that category myself.   Egotism?   Perhaps but it is legitimate and necessary in competition and usually only transitory.   Our rivals are our friends.   In the lust of honest competition they appear briefly like enemies but when the dust has settled, tea and sympathy is the order of the day.
AT MY BEST IN RELAY RACES
Looking back I realised that I was at my best in relay races for myt club Maryhill Harriers.   In individual races I had a tendency to be lazy often assuming the lead to slow down the pace, but relay races forced me to run in pillar to post style.  I took a certain pride in these team events.   No runner ever came from behind to catch me and often I had the task of attempting to catch others in front with a good success rate.
The press invariably afforded me enthusiastic treatment because as they said "I poured myself into my running."   That was because I had to unlike individual races where only personal honour was at stake.
Though not a stylist I was always good copy.   Others who were colourful were Zatopek and our splendid veteran Bill Stoddart.   Though Zatopek was in a different class we joined him in robust effort.
Facetiously if people from outer space had seen Zatopek in action and were ignorant of what he was doing, they would at least have said to each other, "That being is really trying."
OWEN KEEPS ME AT IT
A few weeks after returning from Hanover with three firsts in the 70-74 category at the world masters championships, Owen Flaherty, statistically minded as ever, induced me to make an attempt on the world best over 70 record for 1500 metres held by Harold Chapson of USA  of 5 mins 21 secs.
My winning at Hanover was a best championship time of 5 mins 24.2 secs some three seconds outside the world best over 70 but I won with something to spare and being in good shape the time was beatable, though personally I felt more like resting.   However unable to resist his enthusiasm I trook part in a psecial attempt with a small field of veteran helpers – some younger faster runners who could take me along at a brisk pace.   They did indeed and though I felt the pace easy it was probably just too fast for my now sedate years.   Owen with stop-watch in hand monitored my progress informing me that I was 5 seconds inside schedule in the first lap, dropping 2 seconds inside in the second, but a slow third lap had me inside the record, 5 mins 19.4 secs, or 1.6 seconds faster.   As I had already run a world best over 70 of 19:33 in June before Hanover, my form was consistently good and later in October a full 1500 metres time trial in 5 mins 21.4 secs was only two seconds outside my early figures.
GALLANT FAILURE IN 10,000 METRES
On 3rd August 1980, a late attempt was organised on the world best over 70 category of 40 mins 49 secs.   I ran a well-balanced race just outside 20 mins 30 secs for each 5000 metres finishing in 41 minutes 02 seconds or 13 seconds outside Nordin of Sweden's time of 40 mins 49 secs.
It wasn't a bad run considering I had had covered 15 miles in training the day before, unsure that I had to take part in that attempt.
WORLD IGAL
On 23rd August in the IGAL World Veterans Championships I won the Over 70 category over 10000 metres road at Bellahouston in 42 mins 46 secs.   These races kept me in good shape and sustained my competitive interest which was fading a bit.
The next world series was to be held in Christchurch, New Zealand, in January 1981 and was only some five months away.   This was only a year and a half from the Hanover games because, being in the Antipodes, their summer coincided with our winter.   The experience of Hanover gave me once more a taste for competition even though it was in the older age-groups and it was a bonus meeting athletes from all parts of the globe to whom running had become a way of life.   In each succeeding age group there were less and less competitors, but even in our older age group the competition and rivalry was still keen.    There were some tough "old boys" around.   Though less fleet of foot than in their prime.   They were survivors, athletes who had kept themselves in shape and had to some effect slowed down the effects of Anno Domini.
But any idea of Christchurch was for me academic.   The cost of such a trip was well outside my financial range.   Yet it is natural to dream even if dreams necessitate a miracle.
Entries closed officially in early December 1980 and the Games were due in early January; so when December came round I was resigned to the fact that I would not be going.   The fact that veteran colleagues Gordon Porteous and Andrew Forbes had entered briefly fanned my regret.
Gordon had planned a family visit to relatives and Andy was sponsored by his firm to return to New Zealand the scene of his great second place in the six miles in the then British Empire Games of 1950.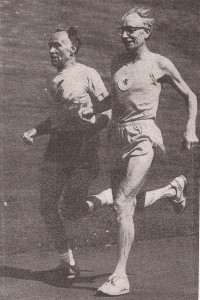 Two great veterans: Emmet and Gordon
MIRACLES SOMETIMES HAPPEN
But fate or luck toook a hand in the proceedings.   My suster Amy had, inknown to me, written a note to my cousin in Vancouver, Canada, mentioning tht I would have liked to go to Christchurch to defend the titles I had won in Hanover in my age group but the expense of such a visit was out of the question.   It was only a passing reference but cousin David who was quite well off financially responded by requesting what the fare would be for my wife Jean and myself.
We were both a bit stunned to get the telegram.   We had a dear friend in Wellington whom we would have loved to visit but entries had officially closed.   I contacted our secretary, Owen Flaherty, regarding my cousin's offer.   He in turn used his good officies to contact the organising secretary McDonald in Christchurch and he accepted my late entry  under the exceptional circumstances.
My cousin cabled a cheque to cover both our fares and there was a hectic rush to get passports and make ready for a visit to the Antipodes, just as far as it is possible to get in the inhabited world.
Down to London, organiser Barbara Dunsford met us and put us up along with others fr the night.   We were also to pay a visit to relatives over the New Year, on a cold star-lit morning before we got a lift to Heathrow Airport.   We managed a stand-by flight with the main party, going rather illogically to Amsterdam, then flying back over Britain to Vancouver, Canada.   Then followed a long wait till a mix-up was sorted out.   A flight over the Pacific to Fiji where we had to endure a sticky humid temperature in the nineties.
We were lucky to get a quick flight to Auckland with two veteran lady athletes, one of whom was Pat McNab, wife of Tom McNab ex-long jumper turned coach and novelist.   Another wait at Auckland then Jean an I got a flight to Christchurch.
There was nobody there to meet us and it was rather scary to find ourselves 12,000 miles fromhome with nowhere to go.  By luck I noticed a chap with a badge on his lapel and asked for advice.   He was indeed a Games official and conducted us to taxis outside.   The first driver we approached rejected our plea to take us to the Halls of Residence, students quarters which were to be our home for the duration of the Games.   But luckily the other taxi driver heard our rather heated conversation and told us to jump in and took us direct to our venue.   The residence was a nice building set in very palatial grounds, plainly furnished but clean.   Single beds, wardrobe with hot and cold showers just outside.   We were exhausted both physically and mentallyand tempers were somewhat frayed.   As I tumbled into bed that Sunday evening, thoughts of my first race in two days time were the last thing on my mind.   Nature had taken its inevitable toll.   I sank into oblivion.   Still it is amazing what a night's rest can do to eliminate exhaustion.   In bed about 7 o'clock it was imperative that we must be up for breakfast about seven thirty in the morning and in the battle between hunger and fatigue the former won a narrow victory.    Jet lag was still present and after a marvellous breakfast a nap was the order of the day.
It is fitting that we should talk about food because the catering was excellent.   In fact I have known none better.   There were just two meals, breakfast at 7:30 am and dinner at 7:30 pm.   But in each case the self-service was splendid and varied.   Orange juice, milk, coffee, tea and hot chocolate were available.   A cooked breakfast, cereal, fruits if desired.   For dinner, meat, potatoes, vegetables of all kinds, salads, fruits, cold buffet were displayed.   The temptation was to ver-eat.
We were pleased to be joined later by Gordon Porteous, wife Nettie and daughter Sheila, and when Andy Forbes also joined us it was a touch of home.   They had run earlier in a meet at Palmerston North and had done well.
The copious grass grounds adjacent to our quarters were handy for training and we took advantage of them for some gentle jogging.   Tuesday evening was our first race, the 10000 metres.
It took place on a small grass track just outside the Queen Elizabeth Stadium where the Empire Games of 1950 had been held.   My race in the 70-74 age category was first and just before the start who should appear, you've guessed it, the ubiquitous Owen Flaherty who attended all the big veteran events.   He had one look at my opponents and said, "I don't think you'll have too much trouble here, don't take too much out of yourself.   Remember you have two other races to come."   I accepted his advice with caution.   One can never tell with these old guys.
The pistol went and about twenty of us set out on our twenty-five-lap journey.   After a few laps the field spread out and perhaps only three of us were in contention.   The pace was modest but I took Owen's advice to go canny and lay just behind the leader.   About three laps to go he shouted, "On you go," and strangely I found it difficult to speed up.   I had got bogged down in the easy pace and though I eventually got away and won by forty yards, I was far from pleased with my performance.   In addition I felt that jet-lag was still present.
I was happy now to be a spectator and watch the next race (65-70 category) which featured some good veterans including colleagues Andy Forbes and Gordon Porteous, Bill McMinnis ( a previous AAA Marathon champion) and the excellent Burgoyne of Australia.   It proved an excellent race but a tragedy for Andy as when running easily with the leaders and looking a probable winner he had to retire with a bad leg strain.
In a stirring finish Gordon prevailed over Bill McMinnis and Burgoyne and showed that though his s[eciality was the marathon he was no slouch over the shorter distances.
ONE BIG HAPPY FAMILY
The large dining room must have housed well over two hundred athletes and friends and meeting every day for a fortnight we became like a big happy family.    Apart from the home contingent of Scots, English, Irish and Welsh there were Germans, Americans, Australians, New Zealanders, Japanese and many others.   There were also coloured athletes among whom was one charming lady who was the life and soul of the party.
There was a very moving occasion when a presentation was made to one of the athletes who had overcome a serious illness and had been able to resume running.   On the other hand some of the German heavy events men seemed a little uncouth at times, banging on the dining-room door at opening time, but with big appetites and the splendid food on offer perhaps they could be forgiven.
In retrospect though the winning of medals was important. especially at the time, it was the fellowship we enjoyed that evokes the special memories.
Returning to competition, the next event on the programme was the cross-country race.   Unfortunately it was run in something of a heat-ave and some of the competitors suffered from heat exhaustion.   There were two races, one for the over forties and the other for the over-fifties.   In a composite race it can be difficult to ascertain how one is faring against one's own age group despite the special numbers for each age group and here again Owen Flaherty did a splendid job for Gordon Porteous and myself.   Despite the heat I felt I was running well and when I began to tire after covering about two thirds of the course it was like manna from heaven to hear that I was well in the lead frm my next age group opponent.
A second medal, but this time unlike the first a very hard race indeed.   Gordon ran another splendid race, again beating his closest rivals, thus winning two "golds" in events which are not his speciality.       Later in the week he perofrmed the "hat-trick" by winning his speciality the marathon in his category.
HOW MANY LAPS TO GO ? I ASKED
My final race, the 1500 metres, was held on the last day of competition and was the one I most wanted to win.   I ulled out f the 5000 metres to retain freshness for the shorter speedier event but watching the latter event it was evident that I could have won it without any great effort.   The fact that it was held in the prestigious Queen Elizabeth Stadium (where the then Empire Games were held) gave it a special atmosphere.   I had now settled in well and felt really acclimatised and in good shape.   The start was fairly modest and running very easily I coasted into second place.   Old rival Jenkinson who had won the 5000 metres in which I did not compete was in the field but surprisingly he did not assume the lead as was his wont.   Two laps went by and I still lay in second place.   The pace seemed quite comfortable but it was rather early to assume the lead.
However half-way round the third lap I became restless and could not contain myself.   By the end of the third lap I had surged into a useful lead and was the bell went I shouted "How many laps to go?"   The look of amazement shown by judges and time-keeper was evident as I cruised round to win by some forty yards in the modest time of 5 mins 30 secs for a man of 72.   Jenkinson perhaps feeling the effect of Anno Domini did not reveal his customary threat but managed to come thorugh for second place.
The question asked me by those around was "surely when the bell went youmust have known that there was only one lap to go."  It wasn't that I coudn't count up to four, though it is said that the great scientist and mathematician Einstein often made mistakes in everyday arithmetic.   Not so!   I heard the bell isgnalling one lap to go but I felt so fresh that just for a split second I wondered if they had made a mistake and wanted reassurance that it was indeed the last lap.   Happy to have won my third gold I could now relax and enjoy even more the atmosphere and the banquet that followed.   It proved to be a luxurious gastronomic affair so tempting that it was a good job the athletics had ended.   Musical turns and dancing set the seal on a wonderful fortnight.   "Where are they now, the glory and the dream?" posed the poet.   Well the glory has faded but the dreams are ever fresh.   After mutual good-byes the athletes went their several ways.   Not everybody went home right away, several of us having come so far managed to visit relatives and friends and were to meet up at airports and exotic places later.
My wife and I got a short flight over the sea from Christchurch to the capital Wellington further north where our great friend Renee Chee met us and drove us up to her home several miles away to the village of Lower Hutt surrounded by hills.   We had two weeks there visiting her relatives and friends and enjoying the January sunshine of New Zealand.   It was almost embarrassing to be the centre of attention because I had won three "golds" in veteran competition but two weeks relaxation after a short, sharp heavy athletic programme was most appreciated.   All the men wore shorts, even the bank manager, and my apparel of long trousers seemed to them a British eccentricity.   Eventually because of the hot sun, I changed into running shorts and felt integrated into the New Zealand way of life
HOMEWARD JOURNEY TRIALS AND ADVENTURE
"Parting is such sweet sorrow".   Yet as we made our good-byes at Wellington airport for the long journey home we realised that we had enjoyed a full month in New Zealand and would take back lasting memories of our visit.   Hopefully too we had avoided the worst of the British winter.   But as we cruised gently towards our first stop, Auckland, and customs little did we realise the adventure and trauma we would experience before we returned to Scotland and dear old Glasgow.   The first stop was uneventful.   Next was the flight to Hawaii.   On arrival the weather was perfect and it was nice tomeet up with the Porteous' and some of the English lads who like us had stayed to visit relatives.   It was fitting that we should all make for the fanous Hawaiian beaches by bus.   But if we imagined a vision of palm trees and limitless stretches of sand we were to be disappointed.   High rise buildings and the honking of speeding motor cars were more typical of the American way of life which indeed it was.   The tentacles of that octopus have certainly reached some very distant places.   The quantity of life at the expense of the quality of life!
In my early life as a devotee of swimming I had read of the famous Olympic Hawiian swimmer Duke Kahanamoka a precursor of the even more famous Olyhmpian who played Tarzan, Johnny Wiesmuller.   At least the sea hadn't changed.   We disported ourselves in its warm balmy waters but it was so salty that my eyes nipped for ages.
A SHOCK AT THE AIRPORT
We returned to the airport and were met by the devastating news that our expected flight to Vancouver was unavailable and that we would have to wait until the next day.   It was a severe shock to both Jean and myself as we were running short of funds and were faced with the problemof finding and paying for an overnight stay in a hotel and in an American style one, prices are not cheap.
However by the good offices of a sympathetic air-line secretary we managed to get a last minute flight, giving us just time to get a phone call through to my cousin David in Vancouver who arranged to meet us.   We arrived at the unearthly time of 6 am and thankfully David was as good as his word.    Now it was the turn of the Poreous' to have problems.   Their flight from Vancouver was postponed till the next day and tired and hot it was not a pleasant problem for them.
David solved it by transporting us all to his house where rest and food set us up for the next day's flight.
NEXT STOP AMSTERDAM AND MORE PROBLEMS
When we arrived there we were informed that our flight tickets were not in order.   The pencilled note from our tour organiser was not recognised by the various desk secretaries so we had to wait around in the airport all day, tired and bored.   To pass the time I walked the length of the airport but on looking up I was dismayed to see soldiers on a verandah with guns at the ready.   I about turned and returned to the waiting room preferring boredom to the disturbing and rather firghtening side-effects of civilisation, 20th century style.
The Porteous' had their own problems in their particular flight to Glasgow.   We finally got a flight but it was to Edinburgh not Glasgow as per our flight ticket.   In contrast to the gigantic planes in which we had travelled all over the Atlantic and Pacific Oceans we were now on a tiny plane which held only a dozen passengers with the pilot only a few yards away from us with the cockk-pit open.   Looking down the city lights shone like diamonds but we were in no mood to appreciate the beauty of the night.   At Edinburgh we were ushered quickly through customs, took a taxi to Haymarket Station and just made the last train to Glasgow.   Another txi home at midnight to find no food in the house.   We had hoped to arrive in daylight but bureaucracy had foiled that hope.
At Christchurch we had arrived exhausted.   Our return home was similar.   But despite such travelling hiccups the trip was well worthwhile.   It was a real adventure, especially when well past the first flush of youth to travel 12,000 miles to meet old friends, make new friends, see places which were formerly only contours on a map.   The competition was a bonus.   After these world veterans events at Hanover and Christchurch everything athletically speaking was something of an anti-climax
Two years later the Games were held in Puerto Rico.   Finance would have made such a trip impossible and in any case the hot humid conditions prevalent made the distance events especially trying.   For a fleeting moment I felt that I might have made Rome in 1985 but finance and fitness were not equal to such a visit.   Colleague Gordon Porteous did manage and won a gold in the marathon and silver and bronze in cross-country and 10,000 metres.
MIXED FORTUNES IN WORLD IGAL EVENTS
Competition was now muted.   Jogging and running occasionally with other veteran companions for fun and enjoyment assumed priority.   Still when a party was organised by Walter to travel to Perpignan in the South of France for the Worl 10,000m and 25k road championships it seemed an interesting trip.   We went by coach and it proved a most tiring journey relieved only by the pleasant company.   We did not stay at Perpignan but went a little further south to Rosas in Spain across the French border and the Pyrenees which had a better rate of exchange and thus cheaper.
The hotel was pleasant, the beach was nearby and circled by the famous mountain range made it very scenic indeed.   Unfortunately my sleep was spoiled by mosquitoes.   The buzzing little blighters made my life a misery, though I cannot entirely blame them fopr managing only two third places in the 1000 metres and 25 kilometres in my age category (70-74) though it is fair to mention that the two runners in front of me on both occasions had a two year age advantage.
In June 1985 these IGAL events were held at Lytham St Annes near Blackpool.   I managed to win my category now (75-79) in the 10,000 metres quite easily with a Jap second, well behind.   But as there was a firly small field in my age group I found little to enthuse over in my win.   My time was reasonably good age-wise but I had taken too much out of myself to run next day in the longer 25 kilometres event.
We were quite comfortable in the Pontin chalets, though unfortunately our party could not guarantee being together at meal times as the restaurant was public and self-service.   But I regret to say that other arrangements were far from perfect bt as regards stripping and showers.
In the 10,000 metres event many of the times were out of focus as runners had to walk behind others inside ropes which were some two hundred yards from the official finishing line.   The bleak cold weather did not help and I was particularly sorry for those overseas runners who had graced us with their presence.   Still, despite these various hic-cups it is always a pleasure to meet if only briefly old running friends and that compensates for a lot.
"THERE'S NOWT SO QUEER AS FOLK!"
So goes the old Scots saying, and it's nice to finish off with a few humorous anecdotes which occurred in my later veteran years.   I can't recall exactly when they occurred but that doesn'y really matter as unlike normal mundane things humour is timeless.   One amusing incident happened a few years ago but even then I was over fify, a veteran though there was at that time no official movement.   Times have changed since then.   Especially in athletics women have become almost completely emancipated and men still running over seventy is almost the norm.   But when a man in his fifties still running was regarded as something special, bordering on the eccentric.   On one occasion I was in a pack of runners in the late afternoon and as we passed a rather crowded housing scheme one of our number, a very generous and enthusiastic person, pointed out at me and in a loud voice shouted, "Look at that chap he's over fifty."
Embarrassed I picked up the pace to get away but this made him all the worse.   "Look at him," he shouted, "Isn't he amazing?"   Up to this period no one was bothering, just making their way home probably musing about the really important things in life – like what won the 3:30 race or what was for supper.   One of the lieges put his finger in his ear annoyed by this strident shouting and retorted, "I don't give a damn if he's over a hundred.   He's old enough to know better."   Each to his own.
GO TO THE DCTOR ON MONDAY
Some of us veterans used to meet together on Saturdays for a long run.   On this particular occasion over sixty I felt particularly good and even after running twenty miles added a couple of laps on the track for good measure, while my running companion quite exhausted was glad to stop.
However after showering, I admitted to a colleague Gavin Bell, "I'm feeling a wee bit tired now."   Gavin advised, "Go and see the doctor on Monday and say to him, on Saturday I ran twenty miles and I'm feeling a wee bit tired, is there anything wrong?"   They kept that incident up for quite some time.
THE OLD MEN'S OLYMPICS
Just after winning medals at Hanover in my age-group I was returning home after a training run when I heard some local youngsters whispering, "There's the man that won in the old men's Olympics."   I felt quite amused.   I realised that I was still an old man but winning in the old men's Olympics took quite a sting out of the remark.   The term Olympics indicated that I was an old man with a difference.   Let's be thankful for small mercies!
"NOW YOU BE CAREFUL!"
Not so long ago I was returning from a jog when a rather corpulent fellow stopped me and cautioned me.   "Be careful with that jogging, remember what happened to that chap who invented jogging a few years ago."   He was referring to the unfortunate death of the well-known runner who wrote a book about jogging.   The fellow didn't seem to realise that people have been jogging from time immemorial though it has now become fashionable.   He went on, "How long have you been jogging?" perhaps under the impression that I was a new starter.   As I moved away I replied "About fifty three years."   His lips moved but no sound came thereof.  He seemed to be in a state of shock.
"CAN HE NO STOP?"
I often ran in Rouken Glen Park which was quiet and provided a nice scenic atmosphere of path, grass and trees.
On one occasion as I passed by the local park ranger, who knew me well, commented to a worker nearby "That chap's been running for over forty years"   The latter replied "Can he no stop?"   He was right.   Out of the mouths of babes and sucklings cometh truth.
EPILOGUE
Comparisons they say are odious and none more so than comparing the times of yesterday and today.   When I consider my own times modest  noteven against today's elite runners but also good fringe runners the difference in standard is marked.
But I am not alone in that respect.   Paavo Nurmi who ran a heat and a final on the same day and won the cross-country race in heat-wave condition when many runners colapsed.   Herb Elliott who never lost a mile race in a too short career.   Emil Zatopek winning 5000, 10000 metres and marathon in one week.   Abebe Bikila arguably the greatest marathon runner of them all winning his first in bare feet and his next Olympic race a few weeks after an appendicitis operation so easily that he did exercises to loosen up as he finished.   If times alone are the criteria these giants lose much of their stature.
RE-ITERATION OF CONTRAST
The moderns are professionally motivated.   Sophisticated shoes, fast tartan tracks, punishing training sessions, intense competitions, altitude and winter training in the sun, personal coaches acting not only as advisors but as psychiatrists and father confessors, laboratory testing, special pace-makers and perhaps even more important a less inhibited approach realising that the body is a more elastic medium than previously imagined.   Add to these ingredients a special talent and you have the athletic giants of today.   Perhaps their athletic careers may be shorter because of the rewards available.   certainly many of the top athletes are plagued by injury often requiring surgical treatment and there is a atheory that muscle breakdown is nature's way of protecting the engine, the more imprtant vascular system of lungs, heart and blood pressure.   If running becomes work and the media is hungry for fast and world record times does the enjoyment become less intense?
I recall running my first races in shoes out of Woolworths costing one and eleven pence ha'penny or almost 10p inmodern money.   Training three days a week we were advised not to overtax the body.   Heavy cinder tracks added to an inhibited approach.   I recall particularly the ten miles track title I won at Celtic park which I have described earlier.   Working in a steamy atmosphere from 7 am to 7 pm.  Snatching a cup of tea and a sandwich.   Arriving late and several times after surging ahead waiting on my nearest rival and finally winning by half a lap in 52 minutes 32 seconds less than a minute outside the then Scottish record and so easily that I was hardly out of breath.
Sometimes I ponder over tha and my extreme modesty changes to incipient egotism.   What time was I really capable of?   Inhibited and uncertain, yes, except in relay races where I often had to run pilar to post races for the honour of the club.   I take some pride that in those races no one ever passed me from behind and sometimes I was asked to make up big starts often unsuccessfully but always trying.
Then of course in common with many others we were never to reach our potential.   Six years of war saw to that.   An athletic cessation was one of the minor tragedies of that war.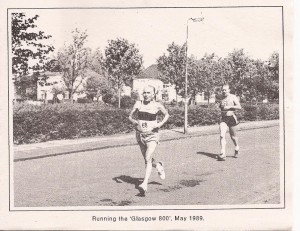 PRIORITIES EMERGE
Someone has said, I believe it was Emerson, that there are always compensations.   To a fit athlete, competition is intensely satisfying and perhaps tends to over-ride the other by-products, the exhilaration of fitness, the poetry and beauty of nature, the camaraderie, the therapy.   But when the wings of Mercury are clipped the by-products become products.   Without entirely losing our competitive urge we are more sensitive to the latter, discovering that while running is basic and spartan and at times even prosaic and pedestrian the individual strands can be woven into a tapestry of beauty.   Athletes are the test pilots of fitness but we don't ask all to necessarily reach their awesome standards.
Competitionis important.   The quest, the struggle, the aspiration provides a dynamic dimension.   At the lowest level it sublimates the ego, diverting it into harmless channels.   But perhaps most important of all is running for its own sake.   As Robert Louis Stevenson says "to miss the joy is to miss all".   Fit animals exult in their creaturehood.  Humans can add to that state the appreciation of the beauty of nature.
In running too there is a sense of freedom, a quality in itself it holds the  key to all the other virtues.   By virtue of our human condition perhaps we can never be entirely free, but we rejoice in aspiring to it, physically, mentally, spiritually.   Subject to the force of gravity we are earth bound, unlike the birds unable to soar into the deep blue yonder.   The benefits and advantages of our technical advance is dimished by the claustrophobia of city life and despite the comforts of modern civilisation, moved by deep primitive urges we yearn for the wide open spaces of nature.   Mylittle athletic biography bears no relation to that of Jean Jacques Rousseau and others who were prepared to admit in print their weakness as well as their strengths.
Yet I have one confession tomake.   Though I accept their use stoically I have never been entirely comfortable in lifts or planes.   Perhaps this is because I am a child of the open air and thus so sensitive to freedom.
BERTRAND RUSSELL AND THE CONQUEST OF HAPPINESS
The philosopher and mathematician Bertrand Russell wrote a book asserting that despite man's technological advance he has not conquered happiness.   A valid point and when we muse on the world situation of today, can we refute that conclusion?
What is happiness?   How can we achieve it?
A PERSONAL EXPERIENCE
Let me recall the following scenario.   It was an April morn.   Spring had arrived.   Nature was re-born.   The lark and cuckoo announced it in song.   Daffodils emerged shyly from their green shoots, the grass was carpeted with daisies and buttercups.   Wisps of cloud highlighted the blue of the sky.   How could one not rejoice in such beauty and freshness?
I jogged in bare feet, tentatively at first then with audacity and the jogging became a surge.   Nature had lent me a fraction of its explosive power.   Suddenly I experienced a sense of total freedom.    Not just being out of prison, but freedom from the pressures of life, from its suffocating claustrophobia.   Involved wit it was a feeling of exhilaration, a rare experience fro even athletes are often one degree under, and happiness was present, a sense of utter joy.   A trinity of special experiences in one package.
SDuch choice and fragrant moments do not last.   The bluebird of happiness does not tarry long.   Yet when we descend from the mountain top to the plateau and even to the valley below we will remember our brief sojourn at these elysian heights and we will aspire to reach once again these heady heights of freedom, exhilaration and joy.
So if it is possible through the physical activity of running to reach that state of poetic and spiritual exhilaration even for a brief eternal moment, who can say it is pedestrian and prosaic?   Does one need to rationalise and make excuses for the time spent on that recreation?
Let me finish with the following words of verse I have composed, which attempt to capture the spirit and joy of that special communication with nature.
THE UNIVERSE IS MINE
I brush my feet against the restless grass
And chase the scudding clouds with glee
I hear the cuckoo's strident call
And listen to the larks unceasing trill of joy.
Darkly stand the trees erect and tall
In mute admiration of the changing scene
For nature's brush can put man's artistry to shame
The merchant's eye is on the gold below
The poet's ever seeks the gold in sky
At last I scan the deep blue yonder
And see that all in nature is divine
And as far as I can see "The Universe Is Mine"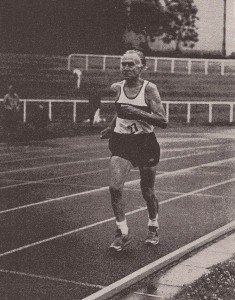 Racing at Coatbridge in 1990