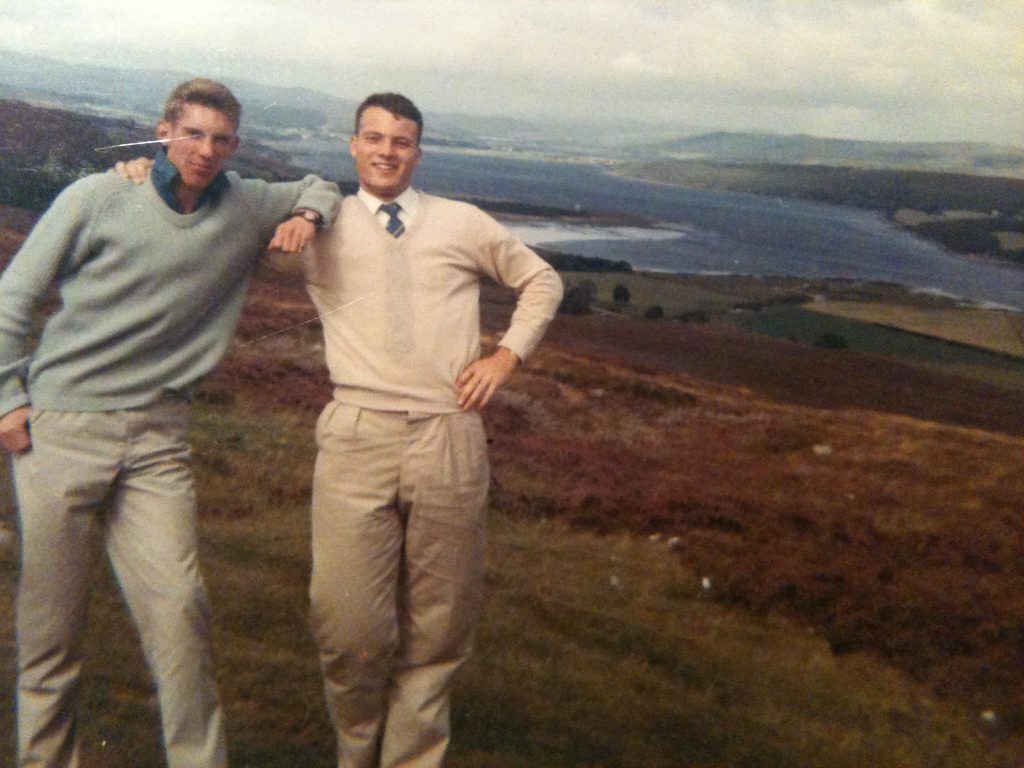 Sandy Sutherland (right) with Hugh Barrow in 1961
There have been many journalists covering athletics in Scotland – most only cover one sport and that a domestic one.   Fans with typewriters is the faintly pejorative description.   Some names are well known – George Dallas was a first class reporter for the Glasgow Herald with a couple of decades in which no event went uncovered.   Bill Melville is a good writer and genuine enthusiast and Ron Marshall held down the post at the Glasgow Herald for a while.   But the two best known are Doug Gillon and Sandy Sutherland.   Doug was a good class runner while Sandy was an international class shot and discus competitor.
AL 'Sandy' Sutherland would have been a remarkable athlete at any time.   The best of his generation as a shot putter, he won national titles every year from 1959 as an Under 17 athlete through to 1963 inclusive and his versatility was such that he was highly ranked every year from 1959 through to 1982 over a range of events including Pole Vault.   His background could not have been bettered as a cradle for athletic success.
First of all, Sandy Sutherland comes from a sporting family – his father was AJ, known as Alex James, Sutherland of Glynwood, Golspie, who was a former Ross County, Wick Academy and Brora Rangers footballer and his mother was Ella Sutherland (nee Coghill) who was twice Golspie Golf Club ladies champion.    Sandy says: "My father was a footballer, played for Brora Rangers, Wick Academy and Ross County and was offered a trial for Aberdeen but turned it down as it was too far away from Golspie where he worked for the Sutherland County Council and he would have to be away from my mother!   When I played football at Golspie Senior Secondary School,  I can still hear the locals saying "oh you're not as good a footballer as your father!!" But I could run faster – they stuck me on the wing."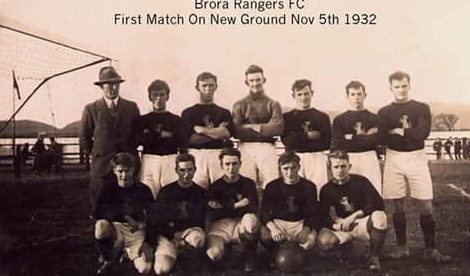 Sandy's Dad – extreme right, back row
But the family sporting tradition goes further back yet.   The Reverend David Lundie, minister in Tongue, was Sandy's great grandfather and in 1871 he won the Scottish Universities' shot putt title – exactly 100 years before Sandy won his second SAAA Shot Putt championship.   An interesting sidelight – his best shot of 41 feet would have won the first Olympic shot putt in 1896 by which time he had unfortunately retired.
Second, he lived in a community where sport was important and regarded highly.   He says: "I ran at the Sutherland Sheepdog Trials, the Sutherland Agricultural Show, The Lairg Crofters Show AND the Dornoch Games!! All had races for youngsters with CASH prizes and a great boost for pocket-money!   I once dead-heated with a boy two years older than me in the under-12 100 yards at Dornoch and we won 6s 3p each! I could have been banned for life!! Didn't know about that of course!   I then went on to run in the Sutherland County Sports at Dornoch against 1st year boys though I was still in Primary 7 and beat them. Alex Dalrymple was responsible for my promotion!! He had just come to the county then from Glasgow after seeing war service with Bomber Command as a navigator.   But I lost a big sprint challenge that same year when I was dragged somewhat reluctantly by the other kids to run in the playground against a GIRL.. one Anne McKenzie by name to prove who was the fastest sprinter in the Golspie Primary School! And she won!!"   Sandy also won the North of Scotland 100 yards title at Bucht Park in Inverness as well as the 120 yards hurdles and set a North schools long jump record of 6.43m.   And of course there were several shot putt records.
Third, there was the aforementioned Alex Dalrymple and his time at Golspie High School.    "It was only when Alex started teaching me in secondary school that he turned my thoughts to the throws!   "Every one wants to be a sprinter – let's start a tradition in something else"!
He had several older boys learning to putt the shot, including Ian McPherson who went on to win the Scottish Senior Shot and Discus titles in 1963, ..and my first efforts weren't great but when I reached 30ft in June 1956 Alex said to me: "I'll start coaching you seriously if you can reach 35ft by the end of the summer holidays"!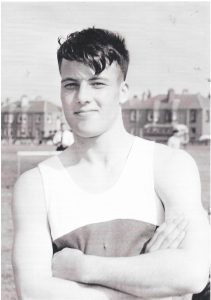 Sandy at Goldenacre, 1961: his last competition there
Almost every day of that entire 6 weeks plus holiday I cycled on an old bike out to a grass bunker beside the shore on Golspie Golf Course and week by week I got better..actually getting over 35ft the day before we went back to school!
"I don't believe it" was his comment on the first day back and not only was I able to prove I could do this but I reached 36ft during the first PE class!
All through that winter I toiled in all weathers with Dalrymple supervising and when the snow came we took a pail of hot water out and two shots, one to use and the other to keep in the hot water, changing them round during the session. I can still see him with a towel round his head! The following June I was runner-up to Grigor Purvis (Duns HS) for the under-15 Scottish Schools title, reaching 43ft 11.5 ins! Had I reached 2 ins further I would have won and set a new age group record.
I was due to move up to the 15-17 age group in 1958 and trained with the 10lb shot that winter but in the Spring we heard that the SSAA had changed the age group dates back a month and so my birthday on 21/4/43 made me just eligible again for under-15.    The 4k shot seemed so light by then and I broke the record … by 10 feet!  (54 feet 1.5 if I remember correctly.   The rest as they say is history.   I broke the 15-17 record in two successive years, the second time also breaking the discus record and in my final year in school broke the over-17 record at Goldenacre for the 12lb shot with 55 feet.   
I was awarded the Eric Liddell Memorial Trophy two years in a row, the second time sharing it with 440 yards runner Lenny Ross from Hyndland Secondary in Glasgow."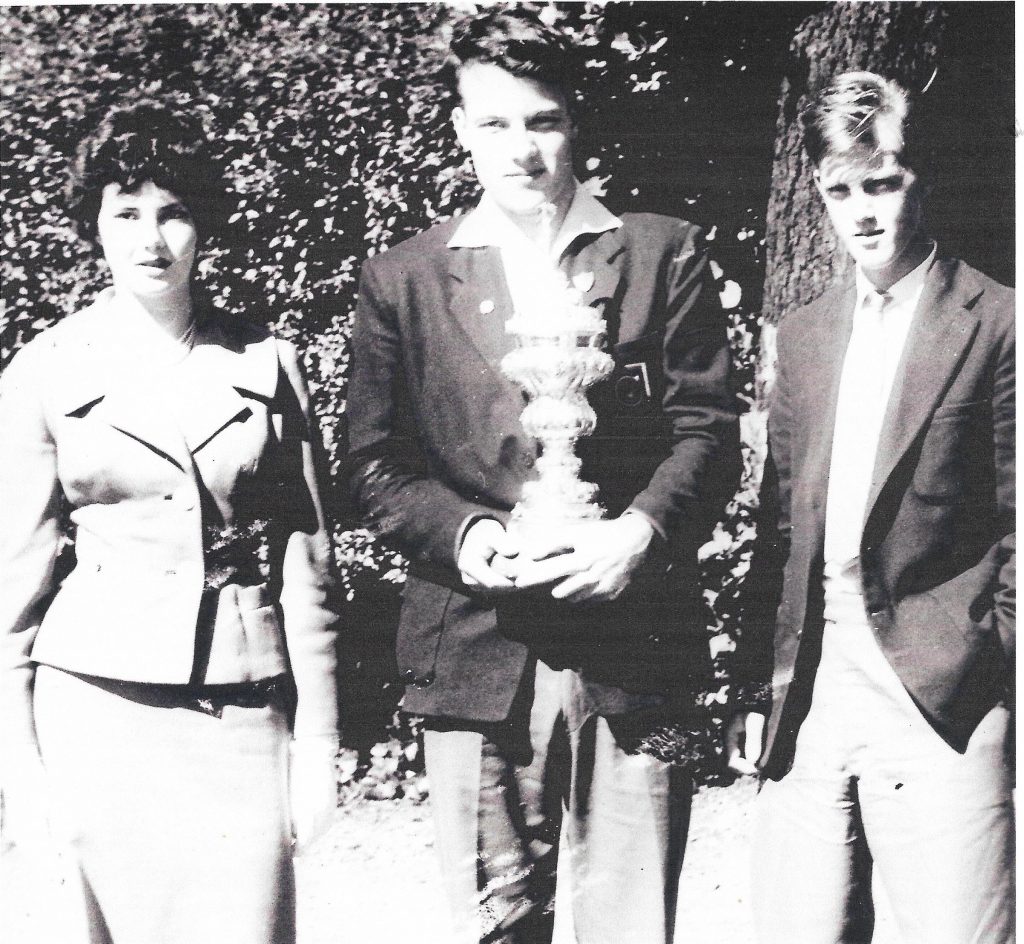 With the Eric Liddell Memorial Trophy in 1961
Also in picture: David Paterson Golspie HS, double hurdles winner,  and Karlyn Ross of Paisley GS, HJ champion
Sandy is lavish in his praise of Alex Dalrymple whose trophy is still competed for at the Scottish Schools Champs for the best throwing performance – this was the 50th year of its presentation which was down to Sandy as he raised the money from former athletes, friends, colleagues and admirers when Alex, by then Warden of Glenmore Lodge, died of cancer at the far too early age of 39.
Leaving Golspie High School, he went on to study economics and psychology at Glasgow University and thereby hangs another tale.   He had applied for both Glasgow and Edinburgh Universities.   The Scottish Schools Championships were held in Glasgow in 1961 and while there he met Sir Hector Hetherington, Principal of Glasgow University.   In the course of a brief conversation he said that he was going to Edinburgh University because they had accepted his application.  "We'll have to see about that!" Next week he had his acceptance from Glasgow.    It paid off handsomely for the University: Sandy won the Scottish Universities shot putt in 1962, 1963 and 1965, and the discus in in 1963.    In 1962 he not only won the Universities shot, but also (at the same meeting) the Scottish Junior and Senior titles at the same meeting.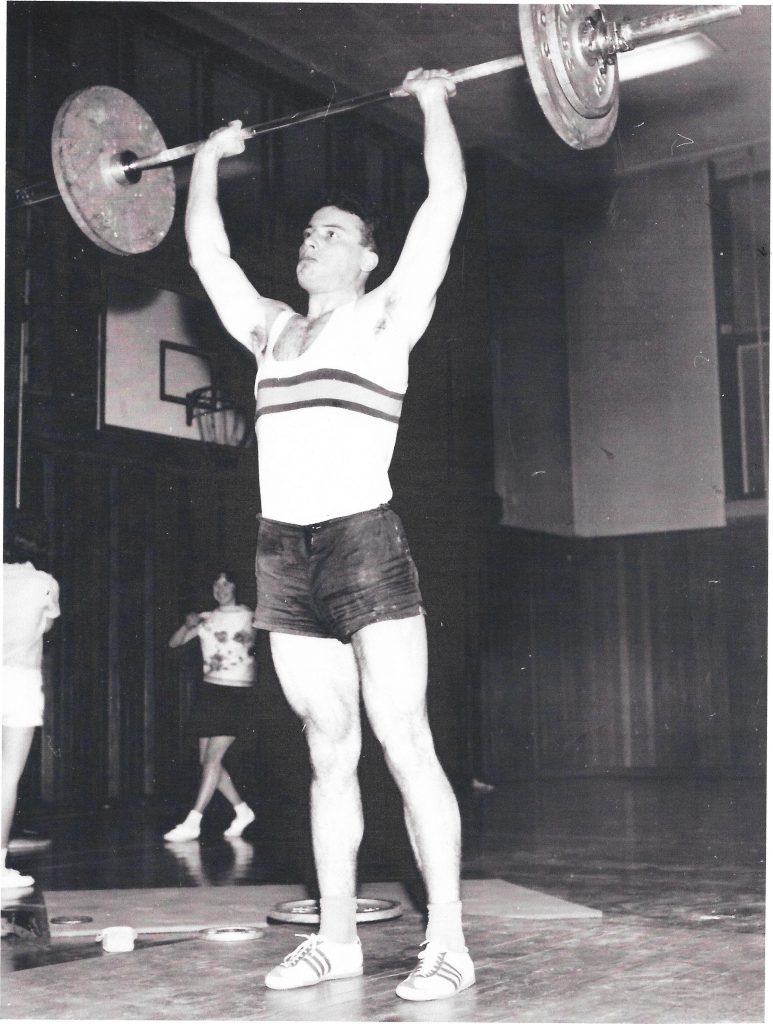 Weight training at Glasgow University's Stevenson Building
There were also international fixtures and invitation meetings.   One of the pioneering events was an indoor fixture at Wembley:
"In March 1963, Scottish athletes took part in a never-to-be-repeated event at the Empire Pool & Sports Arena, Wembley, London where there was an international indoor event incorporating a match between England and a combined team of Scotland, Northern Ireland and Wales. Among those in the combined team were George Wenk & Hugh Barrow (880y), Alan Black (1M), Alex Kilpatrick & Pat Mackenzie (HJ), David Stevenson & Norrie Foster (PV), Sandy Sutherland (SP), Georgena Buchanan (440y) & Helen Caldwell in the high jump. This combined might went down 51-93 in the men's events and 15-40 in the women's match, the scores perhaps a clue as to why the event did not become a regular fixture. Scotland's first indoor match in their own right came 6 years later, at Cosford in March 1969."
As well as excelling in athletics, he won the Scottish Universities mid-heavy and Scottish Junior mid-heavy titles in weight lifting.  The University's registrar when his application was accepted was an athletics supporter and enthusiast called George Richardson, a man who possibly never did the University athletics constituency a bigger favour.    After graduation Sandy went back for a post-grad certificate in social studies which enabled him to become President of GUAC: that same year Ming Campbell was President of the University Union.
On leaving the University, he went to London to work for the Universities Athletic Union in London – assistant secretary for a salary of £950 pa – and joined the Anglo-Scots club which was a good club at the time and was well-represented at SAAA Championships.   Influenced by his friend Tommy Robertson, he also joined Wimbledon AC.   Sandy has also had a massive involvement with basketball – he tells us that he got involved with the sport when he was in London with the UAU: the office was in Woburn Square and above the British Universities Sports Federation HQ and his interest in the sport dates from that.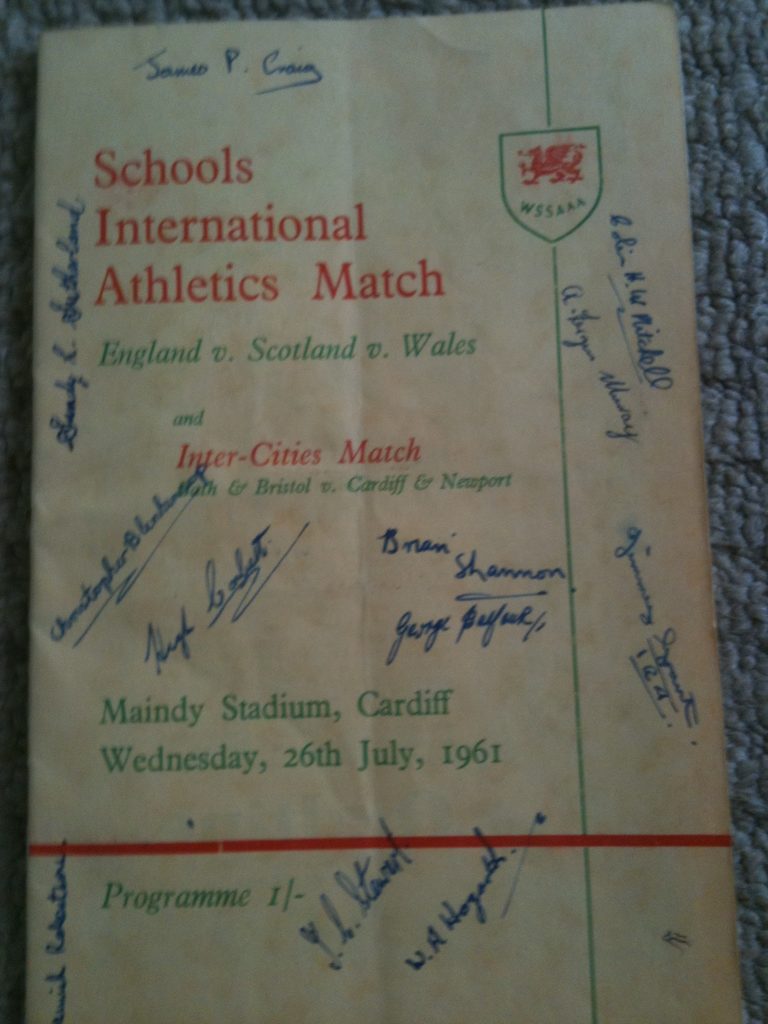 Signed Programme for Schools International in Cardiff in  1961
It is easy to get carried away with admiration of the man's achievements, but it is instructive to see just what they were.
Sandy's competitive record reads as follows:
1959:   Youth.   SAAA Shot 1st; SSAA (Group B) Shot 1st; Discus 1st.
1960:   Youth:   SAAA Shot 1st;   SSAA (B) Shot 1st; Discus 1st.
1961:  Junior:   SAAA Shot 1st; Discus 1st;  Senior SAAA Shot 2nd;   SSAA Shot 1st.
1962:   Senior SAAA Shot 1st; Junior SAAA 1st.    Scottish Universities Shot  1st;   West District Championship: Shot 1st;  Discus 1st.
1963:   Senior SAAA Shot 2nd.   Scottish Universities Shot 1st; Discus 1st; West District Shot 1st;   Discus  1st; SAAA Decathlon 2nd..
1965:  SAAA Shot 2nd;  Scottish Universities Shot  1st;   SAAA Decathlon 2nd.
1966:   SAAA Shot Putt 2nd; West District Championships  Discus 1st (Competing for Ayr Seaforth).
1968:   SAAA Shot 2nd; SAAA Discus 3rd.
1969:   Senior SAAA Shot 2nd;  Senior SAAA Discus  2nd; East District Championships Shot 1st  (Competing for Edinburgh Southern Harriers);
1970   East District Championships Shot 1st.
1971:   Senior SAAA Shot  1st.
For performance statistics, in the national rankings, Sandy was ranked nationally every year from 1959 to 1982 including such events as Long Jump,  Javelin and Hammer as well as Shot and Discus.   So versatile was he that he was also ranked in the decathlon in 1965, 1966, 1968, 1971 and 1972 with a best score of 5217 points in 1966 and a best place of 6th in 1965.   His best performances were as follows:
Shot:   15.16m   1970
Discus:   45.56m  1970
Hammer:   43.32m  1879
Long Jump:  6.48m  1960
Decathlon:   5217 pts   1966
Sandy's contemporaries as an athlete included such well-known names as Hugh Barrow, Fergus Murray, Jim Craig, Sandy Robertson and others.   Those who competed in the Schools International of 1961 have kept in touch and their most recent get-together was in 2011.   They were a good and gregarious group, and Sandy invited them up to Golspie for a game of golf – and the photograph at the top of the page was taken then.   Among the throwers, Laurie Bryce, Doug Edmunds, Mike Lindsay, Chris Black, Alex Black – all top class in their events – were his rivals.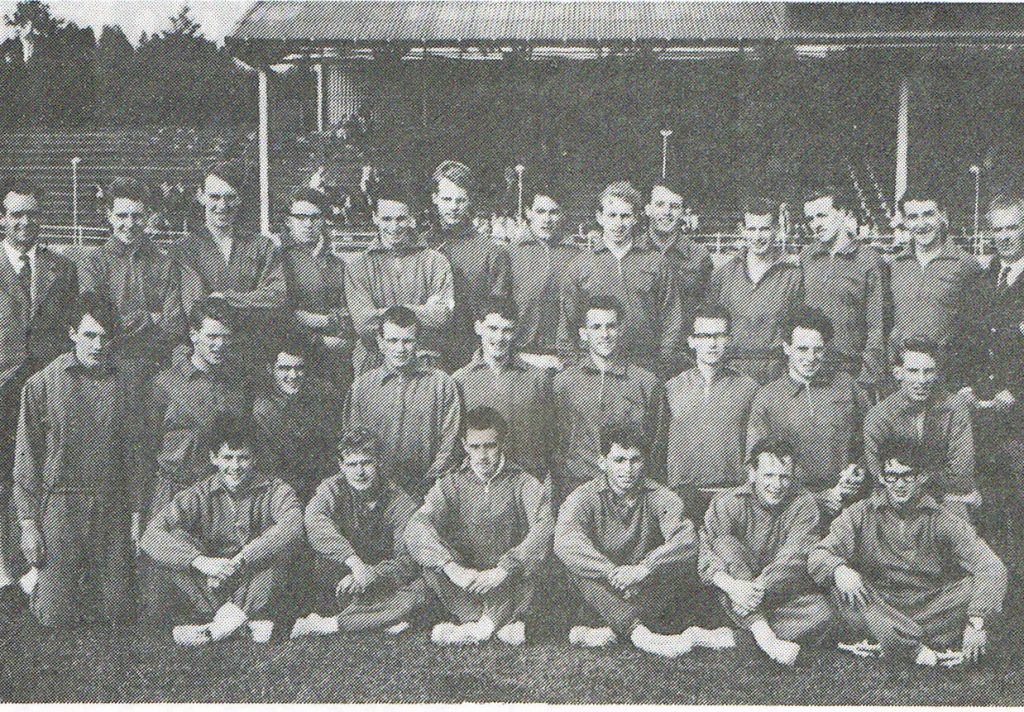 1961 SSAA team: Sandy five from the right in the back row.
As well as being selected for international matches, Sandy competed for the Atalanta Club.   Atalanta was a kind of Scottish equivalent of the Achilles Club in England and was made up of the best athletes from the four ancient Scottish universities of Aberdeen, Edinburgh, Glasgow and St Andrews.   Established in the 1920's  it took part in challenge matches until its demise in the early 1970s.   Sandy competed with distinction for them   For instance in July 1962  against SAAA he won the shot (45′ 8″) and at Iffley Road in 1963 against Oxford and Loughborough Colleges, he won the shot with  47.0,
However, he went to South Africa at the invitation of a relative, about which more later) and while there continued to compete.  He says:
"To begin with I competed as I went along before ending in Jo'burg and won provincial titles in shot and discus in Natal, Border, Eastern Cape and Southern Transvaal but then encountered the mighty Booysen brothers David (60ft + shot) and Hannes (55ft+) and the huge discus-thrower John Van Reenen (6ft 7ins) and way over 60 metres, 200 ft in the discus!
I went over 49ft for the first time with the shot and eventually reached a PB of 49ft 8ins, which I never really bettered when I came back in June 1968. Frustrated with my lack of progress I also flirted with the decathlon and competed in the SA Champs in Bloemfontein but did not improve on the total I managed at Westerlands when I had finished 2nd to Norrie Foster when he set a British record there (in 1965) of 6,701 pts.
I had a great 1st 3 events of including 47ft + in shot and even managed a 55.3 secs 400 in my first serious 400m going from side to side of my lane coming up the straight after going through 300m level with Norrie!   Never again I vowed..and I didn't..run as fast!
So journalism took precedence on coming back to Blighty and I turned down a job with the Daily Sketch whose sports editor Bob Findlay was a Scot (of course!) to take one at the Scotsman where Willie Kemp was the sports ed.
It was the time of Mexico Olympics as I think I've said! About the same time I met up with a hurdler, sprinter, pentathlete at Edinburgh Southern Harriers who went on to become my wife in September 1969. (6/9/69) Liz Toulalan won the Scotsman Trophy for the Scottish pentathlon Champ that year and the following, thanks to coach John Anderson, reached the final of the CG 100 metres..the rest of that is history …she can claim to have represented GB in more events than any other female athlete..100, 200, 4 x 100, 4 x 400, 60m hurdles, 100 hurdles, 400 hurdles and setting a Commonwealth record in the latter at Meadowbank in 1977 in beating the Russians!"
Arnold Black, statistician, reckons that as well as representing GB in six events, Liz competed for Scotland in eight events: the six listed above plus the 400m flat and 80m hurdles!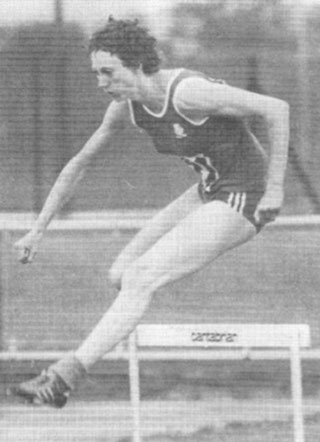 If you ask Sandy what, out of all those hundreds of performances, what were his best, he will tell you that the two performances he was most proud of were taking second behind Alan Carter in the AAA Junior shot in London in 1961 with his last round throw,   and   beating Doug Edmunds for the Scottish Universities title in St Andrews, in 1965, also with his last throw! He adds, "by that time Doug was consistently better than me!"
Over a decade later than either of these performances, in 1979, Sandy was a good bet for the Scottish shot putt championships but because he wanted to cover the meeting for BBC radio and the rules then forbade anyone competing in and reporting on the same meeting, he withdrew his entry.  The championship was won by George Loney, a worthy winner it has to be said, to take his only title.