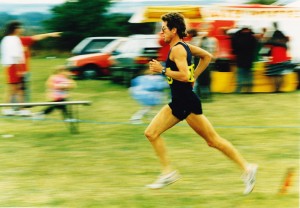 The Professional Games are organised by the Scottish Games Association which was inaugurated, according to their yearbook, on 21st Decmber 1946. It covers Highland and Border Games and the annual handbook lists Fixtures and Competitions as well as meeting secretaries, SGA Rules and Results. Alastair Macfarlane gave me copies of the SGA Yearbooks for 1968, 1969 and 1970 and I found them fascinating. For example the '68 booklet ran to 84 pages as well as having print on four sides of the cardboard covers. Details of 14 Games from all corners of the land with venue, prize values, dates of the meeting and of closing of entries plus names of secretary and handicapper. But more important are the Rules of the Association. The Objects of the Association are – "to raise and maintain all manner of competition, tradition, ritual and all other matters of common interest pertaining to Scottish Games or Sports Committees."
The traditon part is rather interesting. Many Highland Gatherings and meetings have a noble tradition in the local community and it is this mass of local meetings, each with its own origin and traditions, gathered together under the organisation of the SHGA that makes it what it is. I have a friend, formerly a level 4 coach for various field events, who is firmly convinced that the future of the sport in Scotland is local – partly because the major, formerly amateur, athletics scene is becoming so remote from people's lives and involve so many reprehensible practices (doping, fixing, etc) and partly because the local is often the most important to many of us. Certainly the Games are part of the many traditions that make up Scotland.
One of the more interesting of the Rules deals with the question of betting at meetings. It was always of interest to us in the days of the amateur Strathallan Gathering to see the bookies setting up at the end of the athletics for the pony trotting that always took place in the evenings. Betting was the big bete noir for amateur administrators. The booklet says – "Members will not allow Bookmakers to bet solely on horse racing events which may be held throughout the country on Games day, and must grant them Stances only on the understanding that they will make Books on the various foot-racing events – and cycling and trotting, if any." And of course, the biggest meeting on the calendar – Edinburgh at New Year – has so many bookies present that there is no question of the acceptability of betting. So betting was encouraged, not merely tolerated. I may come back to a discussionof this aspect of the Games.
Item 35 of the Rules dealt with sponsors and said, "Members who wish to sponsor events to be known as 'Championships' must apply to the SGA for licensing of same. Licence fees to be fixed by the SGA General Council, and paid for by Members to the SGA Treasurer. At the SGA 1964 pre-season meeting agreed that the licence for each championship should be one guinea annually."
Professional Games are known for the large number of sprint championships in particular with 'Championship' events at distances from 50 yards up : world and British champiponship records are listed for 50, 60, 65, 70, 75, 80, 100, 110, 120, 130,140 and 150 yards; admittedly the records up to 80 yards were all set pre-1920 but I have seen sprints at SGA meetings at distances from 90 yards up to 120.
The results of the New Year meeting are all given, some Autralian results are included and the results of all the Scottish Games and Gatherings the previous year are listed – winner,where he is domiciled, handicap, prize money, winning magin but only the one time (that of the winner) listed. There is also a look ahead with the fixture list for the coming season with names of secretary and handicapper plus starting time for the meeting. There is also an interesting note which reads:
"NOTICE TO ENGLISH RUNNERS. English runners must observe SGA Rule 38 which bans the use of assumed names and towns of residence to further entrants to professional athletics since 4th January, 1949″
One of the most interesting bits to me was that entitled "THE SGA ADVISES: which reads
(These are not rules)
(a) In open handicap events Entries on the Field should be discontinued.
(b) Clashing of Fixtures where possible should be obviated.
(c) Obviating Race in Prize Money can be achieved by comparing each other's standard of prizes at the pre-season meeting. Where clashing of fixtures occur. agreement should be mutually agreed by communication between parties concerned and not to attract larger numbers of competitors by needless increase of prize money.
(d) All authentic Ground Records at Members Games should be printed on programmes above each respective competition, and that purses should be awarded to members to athletes breaking such records, in 'heavy' or jumping events and/or in running, viz:- running or breaking 'even time' in sprinting events, viz, 100 yards – 10 seconds,120 yards – 11.7 seconds, 880 yards – 1 min 56 sec (off scratch – 10 yards), one mile – 4 min 22 sec (off Scr – 10 yards), 440 yards – 50 sec (off scr), two miles – 9 min 20 sec (off scr – 20 yards), such times looked on only as standard. Similarly, jumps, viz – High – 6 ft 0 ins, long – 21 ft, hop, step and leap – 47 feet, vault – 11 ft 10 ins.
(e) A runner can ensure that provisions for adequate timekeeping be made regarding any anticipated attempts by him on Ground Records or Standard Times performance on advising the SGA Secretary, giving two weeks notice. The General Council will endeavour to ensure that, at the principal meetings, at least two capable watch holders are present.
These recommendations are immensely practical and make sure that all athletes know of the exact situation at meetings regarding prize money, standard ad record time payments, etc. They run on to (o)! 15 in all – the remainder will be put up here on Boxing Day – have a look at what's here first.
They still publish the annual handbook and it can be obtained from their HQ at www.shga.co.uk