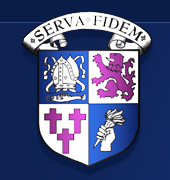 Glasgow Academy Crest: the Academy won the second Inter-Scholastic Championship
The Academy is the oldest continuous private school in Glasgow, having been founded in 1845. The motto means 'Keep Faith".
The schools championships took place on Saturday 18th May in 1901 but despite their praise of the inaugural meeting the Glasgow Herald did not cover the event. This is despite the fact that Glasgow Academy (badge above) won the sports from the eight other schools taking part. The report below is from the Scotsman of Monday 20th May, 1901.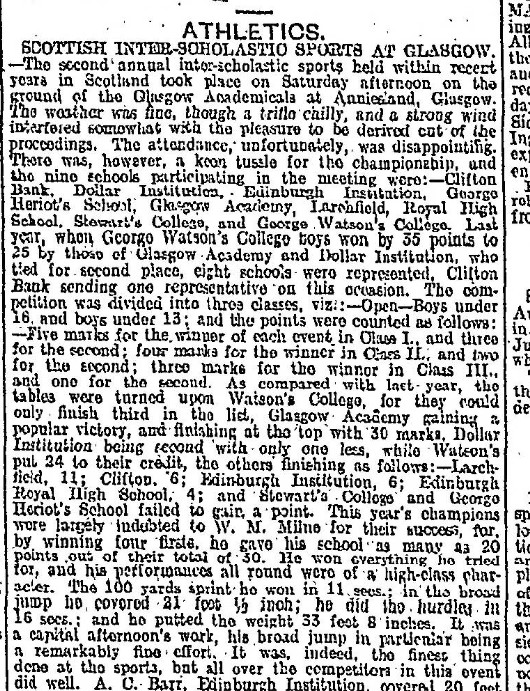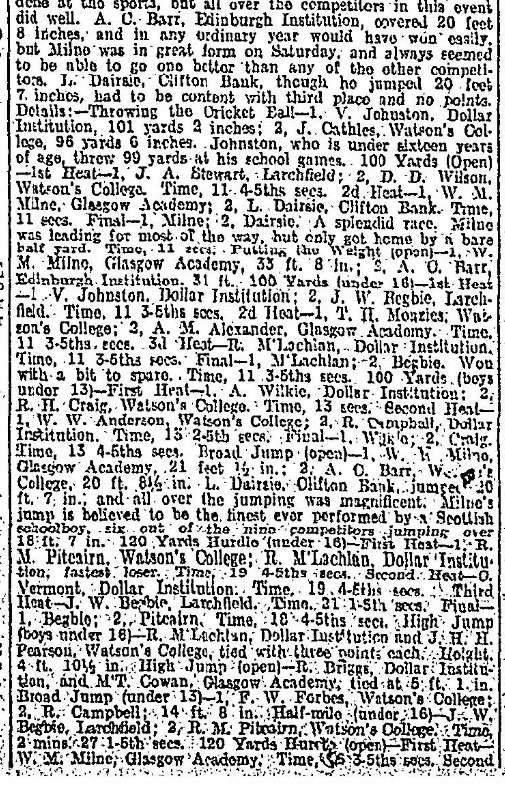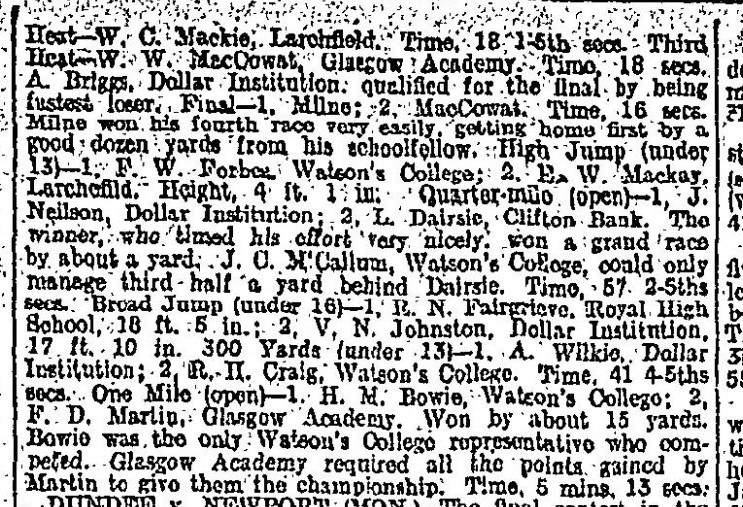 Concise results:
Nine Schools took part – Clifton Bank, Dollar Institution, Edinburgh Institution, George Heriot's School, Glasgow Academy, Larchfield Academy, Royal High School, Stewart's College and George Watson's College.
The result of the inter-school competition was first, Glasgow Academy 30 marks, second Dollar Institution 29 marks, and third George Watson's College with 24 marks. Larchfield had 11, Clifton 6, Edinburgh Institution 6, Edinburgh Royal High School 4 while neither Stewart's College nor George Heriots scored a point.
Individual winners:
Open Events
Event
Winner
School
Performance
100 Yards
W Milne
Glasgow Academy
11.0 seconds
440 Yards
J Neilson
Dollar Institution
57.4 seconds
One Mile
H Bowie
Watson's College
5 min 13 sec
120 Yards Hurdles
W Milne
Glasgow Academy
16.0 seconds
High Jump
R Briggs

M Cowan

Dollar Institution

Glasgow Academy

5′ 1″
Broad Jump
W Milne
Glasgow Academy
21′ 0 1/2″
Cricket Ball Throw
V Johnstone
Dollar Institution
101 yards 2 feet 0 inches
Putting the Weight
W Milne
Glasgow Academy
33′ 8″
Under 16
Event
Winner
School
Performance
100 Yards
R McLachlan
Dollar Institution
11.6 seconds
880 Yards
J Begbie
Larchfield Academy
2 min 27.2 seconds
120 Yards Hurdles
J Begbie
Larchfield Academy
18.2 seconds
High Jump
R McLachlan

JHH Pearson

Dollar Institution
4′ 10 1/2″
Broad Jump
R Fairgrieve
Royal High School
18′ 5″
Under 13
| | | | |
| --- | --- | --- | --- |
| Event | Winner | School | Performance |
| 100 Yards | A Wilkie | Dollar Institution | 13 seconds |
| 300 Yards | A Wilkie | Dollar Institution | 41.8 seconds |
| High Jump | F Forbes | Watson's College | 4′ 1″ |
| Broad Jump | FW Forbes | Watson's College | 14′ 8″ |