Club membership in the nineteenth century was a very 'loose' commitment. Where many sports clubs later, and even more so today, followed a 'thou shalt not have any other sport beside me' policy, sportsmen could join as many clubs as they wanted. The present situation is encapsulated for me in the story of an athlete that I knew in the 1980's who, as a schoolboy, was on the books of one of Glasgow's two giant football clubs. He was also an outstanding runner and had a chance of winning the Scottish Schools cross-country championship. When the day came, he had not been selected for the appropriate team and asked if he could represent his school in the race at Irvine, only to be told by the ex-Scottish international team manager that he would have to choose whether he wanted to play professional football or run cross-country. If anything, football demands exclusivity in everything to an even greater extent today.
It was different then – take this extract from an article that appeared in 'The Scottish Umpire' of 4th October, 1887: "Within the last ten days over 120 applications for membership of the Clydesdale Harriers have been made. The following clubs are now represented in CH:- Victoria & Caledonian Bicycling Clubs (Paisley), St Mirren FC, Abercorn FC, Dykebar FC, Linside Rowing Club, Arthurlie FC, Morton FC, Larkhall Bicycling Club, Hamilton Academicals, Royal Albert FC, Hamilton West End FC, East Stirlingshire Bicycling Club, East Stirlingshire FC, Falkirk FC, Helensburgh FC, 1st LRV AC, Dumbarton FC, Dumbarton Athletic FC, Vale of Leven FC, Ayr FC, Motherwell FC. Rangers FC, Queens Park FC, Pilgrims FC, 3rd LRV, Cowlairs FC …" and many others.
Or take this one from 30th November 1886:
"Apologies to Clydesdale Harriers. The Scottish Umpire had said after a footballing defeat that the Clydesdale had more to learn about football than about running. They were taken to task for this and published the following list from among the members of the CH:
Goal: Phillips (Pilgrims); Backs: Gow and Vallance (Rangers), Cherrie (Queens Park); Half Backs: Gow (Queens Park), Auld (3rd LRV), Cameron and McIntyre (Rangers); Forwards: Marshall and Thomson (3rd LRV), McKenzie and Gow (Rangers), Cleland (Cowlairs, Allan (Queens Park)"
Note that Auld, Marshall and Allan were all capped 14 days later!
The Clydesdale Harriers Football Team was distinct from Clydesdale FC but the club had a Football Committee which contained representatives from most of the Glasgow football clubs at one time or another. eg Willie Maley and John Mellish were members at one point.
Founded in May 1885, Clydesdale Harriers had by 1888, formed a gymnastic section training from the Rosemount gymnasium, a cycling section with the top man being the world champion RA Vogt, a swimming section was being spoken of while it had this to say about football:
"A Football Team has been spoken of but the time is not yet considered ripe for keeping up a permanent organisation, the present arrangement of getting up a strong team as opportunity offers being eminently satisfactory. We have been able, among other successes in this department, to overcome such strong bodies as the Preston North End, 3rd LRV and Celtic FC, although the former team last month succeeded in wiping out their earlier defeat."
The Football Committee that year was made up of W Brown, JC Lawson, AB MacKenzie, W Maley and A MacNab.
There was a relationship between harriers clubs and football clubs – Clydesdale Harriers trained at a variety of grounds but mainly with the Rangers since there were so many players among the founders of the club. They trained at Kinning Park and then at Ibrox Stadium. In his book "Rangers 1872: The Gallant Pioneers" Gary Ralston quotes this gem from the 'Scottish Athletics Journal' of 19th June 1885: "I should strongly advise the Clydesdale Harriers to switch their quarters from Kinning Park. Several prominent athletes have told me that as long as these handicaps are run on the Rangers ground they will not compete. I expect several names will be absent from the next handicap on account of the language used by the crowd and also because Kinning Park is not well adapted for running purpose. I know the Clydesdale Harriers are not of the Rangers stamp and hire Kinning Park because none other is available."
The CH Handbook for 1889 reported that "Grounds with cinder track have been repeatedly spoken of, but so long as the present friendly relations are maintained with the Rangers FC the Committee consider that there is no necessity for moving in this matter."
With Scottish championships being held at Hampden Park in 1887, 1889, 1891, etc, at Carolina Port Grounds in 1892, and at Ibrox 1892, Celtic Park in 1897, the Scottish football clubs started to hold their own sports meetings and Queen's Park, Rangers, Celtic, St Mirren, Ayr, Clyde and many others were among the quickest off the mark.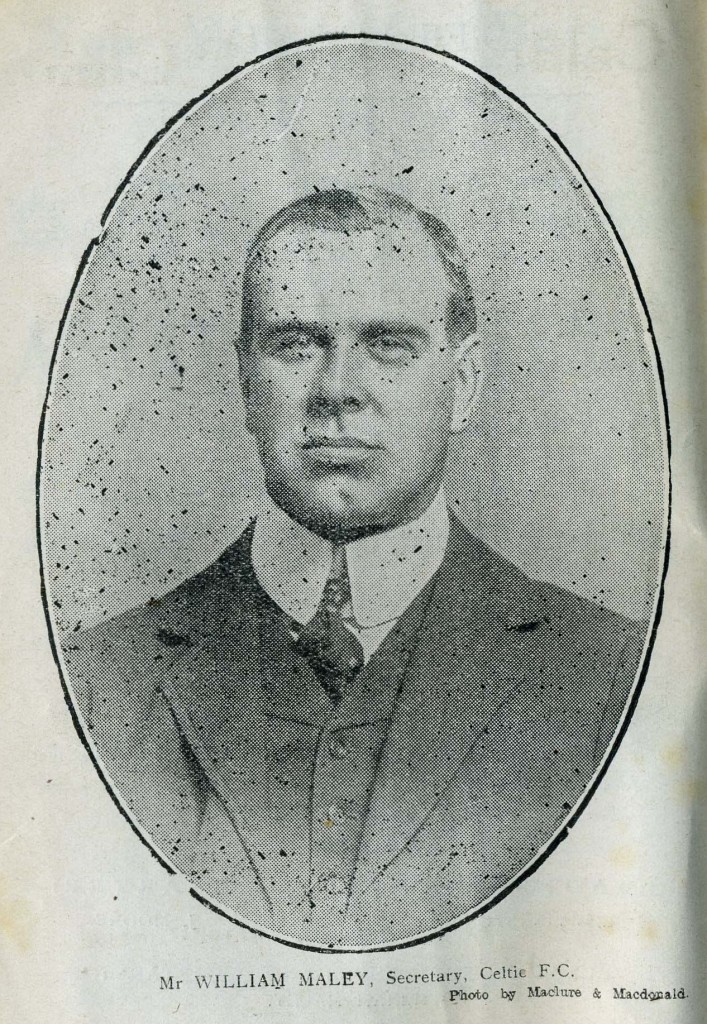 Not only were the players, cyclists, oarsmen and other competitors members of the various clubs, but there were many of the senior members of the football hierarchy that were more than slightly interested in athletics. In the 1870's and 80's James Crerar of Third Lanark – president not only of the club but of the Scottish Football Association – was a more than capable athlete at distance between 100 yards and the half mile with over 56 prizes to his credit. James Aitken of Clyde FC was an all round sportsman – oarsman as well as runner who won many races at home and then in the Scotch Games in New York won all the flat races including the sack race. Bill Struth of the Rangers was of a later generation but was a well known and successful sprinter when younger and Maley of the Celtic won the SAAU 100 yards in 1896 which was the year after Wilson of the Clyde FC won that same title.
More to come about the football clubs and athletics …