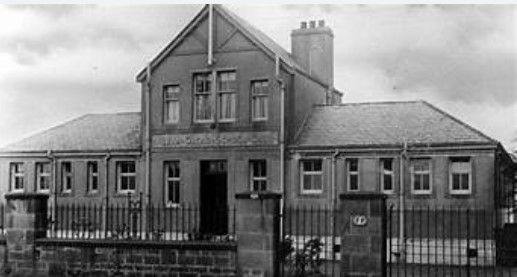 Allan Glen's High School was the winning school in 1905.
Founded in 1850 , it was a remarkable school with an emphasis on science and its management merged with that of Anderson's College which eventually became the Royal College of Science and Technology and then Strathclyde University. For many reasons, the school merged with the City Public School but had to close down as a school in 1989.
The Inter-scholastics championships sixth meeting took place in Glasgow at the Scotstoun grounds but with fewer schools taking part. Surprisingly, with the event being so close to their own premises, the Glasgow Academy did not take part although two other Glasgow schools – Allan Glen's and the High School – filled the first and second places. We start with the report from the 'Glasgow Herald'.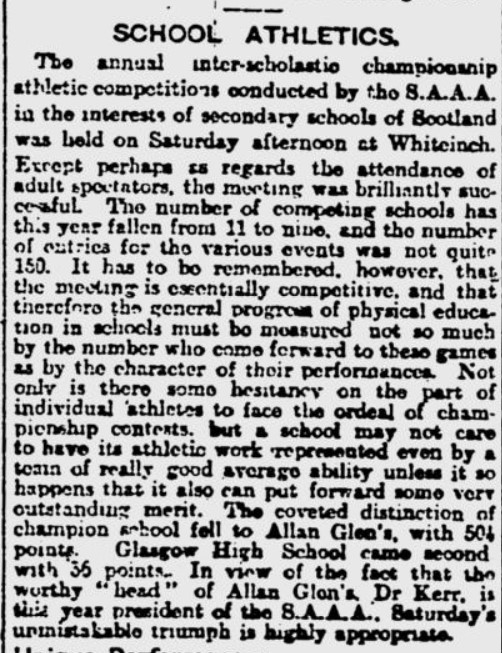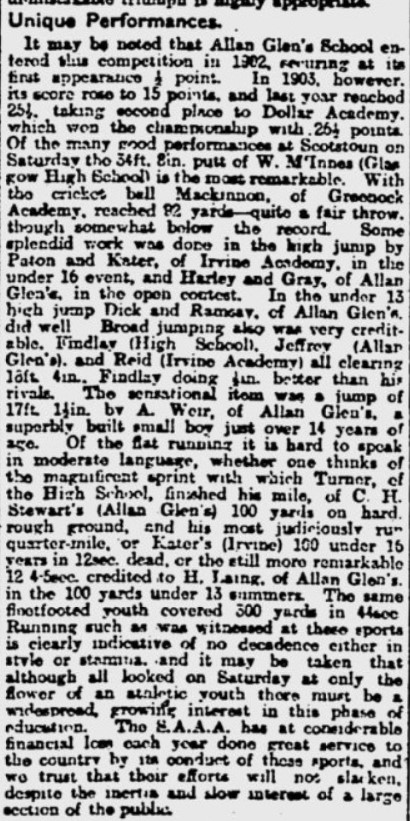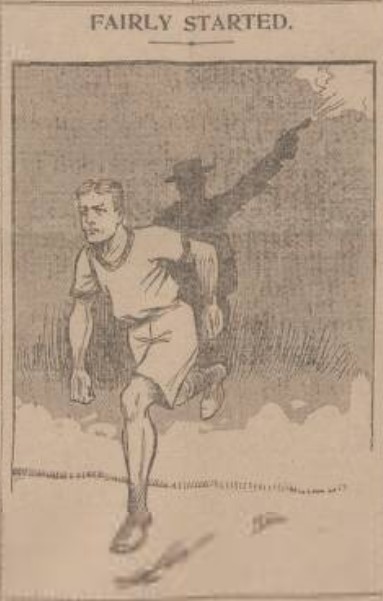 Cartoon from the 'Scottish Referee' of 22nd May, 1905 beside the comments below
So far, so good. The meeting was described and factual details outlined then there is a brief review of the actual sports. However, the 'Scottish Referee' drew critical attention to one factor not yet mentioned.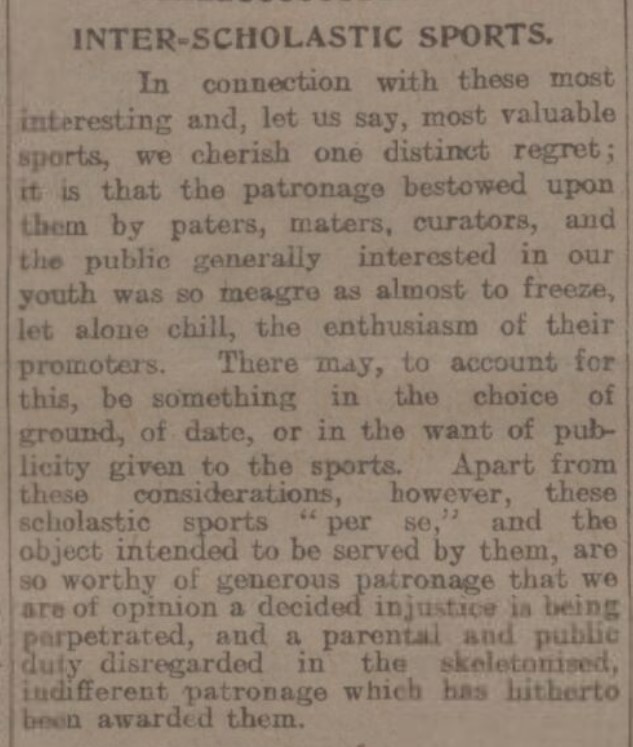 The Referee had already listed some dignitaries present at the Scotstoun meeting in this comment.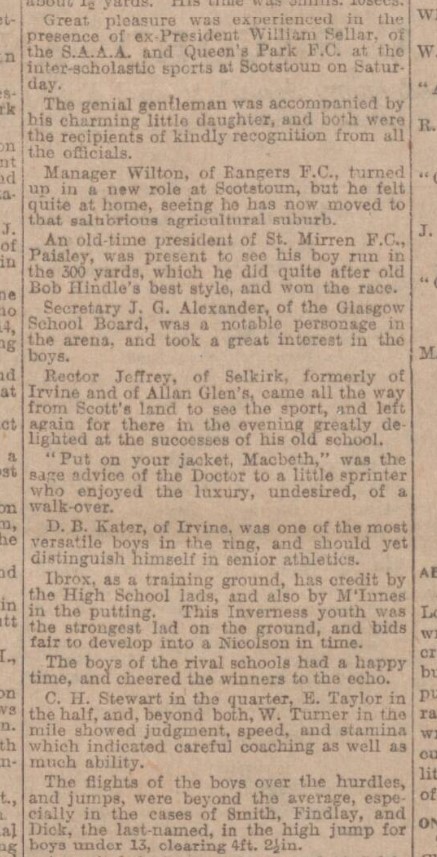 Unfortunately, despite the fine comments, we could not find the results anywhere in that issue of the 'Referee'.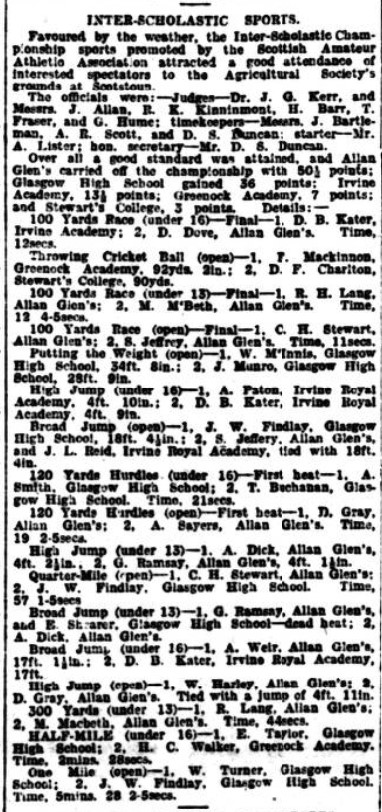 The results above are from the 'Daily Record' The results, winners only, are in brief below..
Nine schools took part. First five were Allan Glen's HS with 50 1/2 pts, second Glasgow HS with 31, then came Irvine Royal Academy 13 1/2 pts, Greenock Academy 7 pts and Stewart's College with 5 points. Neither Glasgow Academy nor Dollar Institution were present at this running of the championships.
OPEN EVENTS
EVENT
WINNER
SCHOOL
PERFORMANCE
100 Yards
CH Stewart
Allan Glen's High School
11.0 seconds
440 Yards
CH Stewart
Allan Glen's High School
57.2 seconds
One Mile
W Turner
Glasgow High School
5 min 28.4 seconds
120 Yards Hurdles
D Gray
Allan Glen's High School
19.4 seconds
High Jump
D Gray

W Harley

Allan Glen's High School

Allan Glen's Hugh School

4′ 11″
Broad Jump
J Findlay
Glasgow High School
18′ 4 1/2″
Cricket Ball Throw
F MacKinnon
Greenock Academy
92 yards 1 foot 2 inches
Putting the Weight
W McInnes
Glasgow High School
34′ 8″
UNDER 16
| | | | |
| --- | --- | --- | --- |
| EVENT | WINNER | SCHOOL | TIME |
| 100 Yards | D Kater | Irvine Royal Academy | 12 seconds |
| 880 Yards | E Taylor | Glasgow High School | 2 min 28 sec |
| 120 Yards Hurdles | A Smith | Glasgow High School | 21 seconds |
| High Jump | A Paton | Irvine Royal Academy | 4′ 10″ |
| Broad Jump | A Weir | Allan Glen's High School | 17′ 1 1/2″ |
UNDER 13
EVENT
WINNER
SCHOOL
PERFORMANCE
100 Yards
RH Lang
Allan Glen's High School
12.8 seconds
300 Yards
RH Lang
Allan Glen's High School
44 seconds
High Jump
A Dick
Allan Glen's High School
4′ 2 1/2″
Broad Jump
G Ramsay

E Shearer

Allan Glen's High School

Glasgow High School

13′ 5 1/2″