Those following the old 'amateur code' tended to look down on the 'peds' who ran for money, tended to use inferior tracks, did not have any international competitions and ran more slowly. When a quality athlete did appear, the attitude tended to be patronising. Even when an athlete, maybe especially a good athlete, wanted to switch codes, it was made very difficult for them to do so. This attitude changed in the 70's and 80's with top amateur coaches and athletes first of all investigating what the professionals had to offer, then investigating it more closely before taking some of the ideas on board and using them themselves! Among the practices adopted were such as towing motor tyres (one of the most important British coaches who had started using this method, asked Jimmy Bryce how to stop the tyre bouncing about all over the place when it was being towed by a runner – I think Jimmy suggested a wee dab of cement!) and the use of the speedball. The speedball was associated mainly with Jim Bradley, a well known sprint coach who had great success with his athletes over several generations.
Jim Bradley was born in Edinburgh in May 1921. The second youngest of five children, Bradley's father deserted the family, leaving Jim's mother Maggie to raise five children in a single room tenement in Broughton Street. .
Bradley left school at fourteen to work with the London and North Eastern Railway (LNER), where he worked as a junior checker, keeping a record of the number of wagons and their weight in coal. He supplemented his income by carting bottles of tea from local cafes to the workers in the rail yards. When he was 17 Bradley lost his railways job to a senior checker and joined the army in February 1939. He was in the Royal Army Services Corp and ending up in the Middle East where he served four years, sustaining a few minor war injuries. He later served in France, Belgium and finally East Berlin where he remained until the end of the war in 1945.
After returning to the UK in 1946, at the age of 24 Bradley took up athletics, immediately giving up cigarettes and undertaking a vigorous training regime. He joined Edinburgh Southern Harriers. After training alone for some months, a dairy farmer who lived opposite the training track suggested he should seek out a coach and soon Bradley was running under the guidance of George McCrae, an athletics coach.
In 1947 McCrae persuaded Bradley to run professionally, where he had his first run in the Powderhall sprint where he won his heat. Powderhall was/is always watched keenly for new talent and this run attracted the attention of bookmaker William Murphy who offered to sponsor Bradley for a preparation at the famous New year sprint. In 1951, Bradley became a training partner for the champion Australian professional athlete Eric Cumming who was on a 10 week preparation for the Powderhall sprint. Cumming was beaten in the semi final and was ready to return to Australia before Bradley convinced him to stay in Scotland and have another go at Powderhall in 1952. Cumming was indebted to Bradley's advice as he became the first Australian athlete to win the famous race in 1952 – he did it off the tight handicap of 2 yards on a track covered in snow.
By 1951 Bradley was training under new coach Jim Muir, another successful Scottish coach and after training under McCrae and Muir, Bradley began thinking of his arm action and ways he could improve it to enhance his running. Bradley's curiosity with the upper body's role in sprinting led him to research various upper body training methods and he commenced experimenting with the speedball.
After using himself as a guinea pig for his training methodology for a few years during which he enjoyed some success, he began coaching his first athlete in 1957. This was Ricky Dunbar who at this point was running 100 yards in 11.4 secs, Jim figured that using Dunbar as model for his speedball ideology could not harm Dunbar's athletic ability but might just help him. Bradley tried various speedball applications before settling on six three-minute rounds with a one minute rest. This he decided would produce the best results. To this he added body weight exercises and daily training. He kept detailed records of the training effects. Others saw what was happening and by 1958 he had another 6 athletes in his squad and they adopted the name of Albany Athletic Club. After holding several fund raising efforts such as dance nights, the Club had its own clubrooms and gym equipment. They trainied at Saughton Enclosure's cinder track where Jim needed to spread salt on the track to prevent it from freezing over. Whilst Jim enjoyed moderate success in his early years, by the early 1960s his squad became a regular force on the Border Games circuit in Scotland & Northern England.
In 1962, Ricky Dunbar was second in the 120 yards Powderhall Sprint off a mark of six yards, before returning in 1963 to win the race off a handicap of 4½ yards. Dunbar went on to become the British professional sprint champion as did his stablemate Dave Walker. One professional athlete that I spoke to at the time described the preps that the athletes did and spoke of Dunbar coming to Powderhall and 'he looked like superman when he stripped off – his skin glowed'. There was also talk at this time of matching Dunbar with the top British amateur sprinter WM Campbell and although Campobell was said to be willing, the SAAA put the kybosh on it and refused to sanction the contest.
In 1969, Bradley added George McNeil to his stable and had instant success with McNeil winning the 1970 Powderhall Sprint before running 2nd off scratch in 1971. Under Bradley, McNeil broke the world professional 120 yard record on the way to winning the British professional sprint title.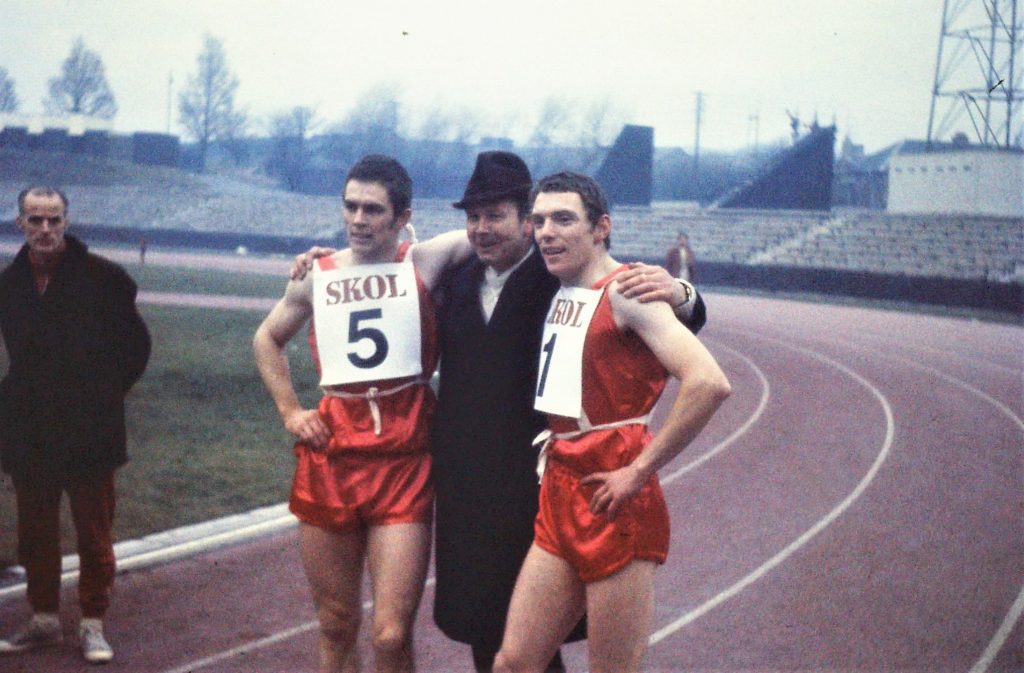 Wilson Young, Jim Bradley, George McNeill: runners wearing Bradley's red silks.
Between 1962 and 1971, Bradley had coached eleven Powderhall Sprint finalists including five winners. These included Ricky Dunbar in 1963, Tom Dickson in 1965, David Deas in 1969, George McNeil in 1970 and Wilson Young in 1971.
Bradley's influence in Scottish athletics continued through his athletes. For instance, Wilson Young later became a very successful coach, employing the training methods he learned from Bradley. Young coached Allan Wells for a time and then after his competition days were over Wells wrote a book on training for athletics that recommended the training that he himself had used to get him to the 1980 Olympic sprinting gold. The book advocates speedball training and body weight exercises. George McNeil also wpote a book on training for athletics and many of Bradley's recommendations found their way into textbooks written for amateur athletes.
In 1972, Bradley emigrated to Australia where he became a fitness coach for an Australian Rules Football team at Essendon Not all fun, in 1974, Bradley had his jaw broken in a brawl that erupted at half time of the Essendon v Richmond game. At the end of that season, Bradley became fitness coach for the Kangaroos and played an integral part in the club's first premiership in 1975. He soon left North Melbourne and undertook some freelance coaching, whilst building his sporting goods business.
In May 1988, at the age of 67, Bradley got the urge to go back to athletic coaching and commenced coaching his own squad on the Victorian Athletic League circuit. In his first season on the professional running circuit, he enjoyed his first Australian success with Paul Young winning the Brunswick Gift over 120 metres in December 1988. His squad quickly grew and within 3 years he was virtually unstoppable with his charges winning several major Gifts with multiple finalists in many of the events.
On New Year's Day 1990, Jim Bradley scored the unprecedented feat of having first and second in the feature Gifts at two of Australia's most prestigious 120 metre Gifts when Dave Clarke (from Edinburgh) beat Paul Dinan at Maryborough (Victoria) and Sam Kirsopp beat Simon Smith at Burnie (Tasmania). In another astonishing first, in January 1990 at the popular Rye Gift carnival, Bradley trained athletes – Simon Smith, Steve Tilburn, David Clarke and Sam Kirsopp filled the first four places in the 120m Gift final. In a stellar 1989/90 season, Bradley's athletes also won the Broadford, Wangaratta, Melton, Bendigo and Werribee Gifts, as well as several other sprint races on the VAL circuit. Consequently Bradley was named VAL and ACC (national) coach of the year.
In 1991, Bradley became only the second coach in Stawell Gift history to train the quinella (1st and 2nd) when Steve Brimacombe defeated his stablemate Paul Young in the 120m classic. It also gave him another record that is never likely to be broken – and that is coaching 1st and 2nd in both a Stawell Gift and the New Year Sprint. Brimacombe became Bradley's first Bay Sheffield (SA) winner in 1991, a race Bradley won again in 1993 with Ryan Witnish and 2000 with Craig Brown. Brimacombe also became Bradley's first Australian national champion, when in March 1994, he beat 1993 world championship finalists Dean Capobianco and Damien Marsh. Brimacombe later was a finalist in the 1994 Commonwealth Games, where he was unplaced in the 100m and seventh in the final of the 200m. He was Bradley's best ever Australian athlete.
In 1995, Bradley became embroiled in one of the most controversial incidents in Stawell Gift history, when his athlete Glen Crawford was sensationally disqualified after running the fastest heat on Easter Saturday. After two inquiries, Crawford was reinstated and on Easter Monday went on to become the most emphatic winner in Stawell history, winning in an incredible 11.78 secs on a rain affected track. Crawford was later heavily fined by the VAL for a failure to disclose performances, before it was rescinded after Bradley threatened legal action to clear Crawford's name. In December 1995, a Deed of settlement between Crawford and the VAL was signed, effectively clearing Crawford of any wrongdoing.
After disappearing for a couple of years in the late 1990s, in 2000/2001, Bradley re-appeared on the scene when Craig Brown won the Bay Sheffield and Burnie Gifts and Adam Burbridge was 2nd in the Stawell Gift. Despite being in his 90's, Jim Bradley continues to coach junior athletes and his last success was Sam Jamieson who won the Don Furness sprint over 70m.

I have included a lot about Bradley's Australian successes simply to show that his methods, apparently simple and uncomplicated, brought success in a different country, with different traditions. Just as Arthur Lydiard's success in New Zealand transferred to the situation in Finland, Mexico and other countries, so Bradley's theories and practices were able to cross borders and bring equal success. An even bigger border of course might have been the amateur-professional divide in his early days in Scotland! Finish with a tribute from a chap called 'Youngy' on the www.charliefrancis.com website who says this:
In my humble opinion, in the sport of professional athletics (handicap running, ie: Stawell Gift, Powderhall Sprint) Jim Bradley is the greatest sprint coach (trainer) in its history.
When I went to him as a 28 year old has been with a history of soft tissue injuries, he promised me I would run at least 5 yards faster than I had before. And he was right, in 1991 at the age of 31, I ran the fastest I'd ever had in my life, the equivalent of about 10.9, after running a string of 11.7ish performances the season before.
I now coach my own squad and my program is based on Jim Bradley's training regime, however since I've read Speedtrap and attended his seminar, I do blend in some of Charlie Francis's stuff to compliment what I'm already doing. The 10 day taper, tempo running at 75% etc. There's also several "one percenters' I have picked up from Charlie that have added value to the program. (eg: stretching exercises.)
Hence like a lot of coaches, my program and overall philosophy is evolving as you learn more about the craft of sprinting.
Jim's program relies heavily on the desire and motivation of the athlete to be prepared to pay a price in the gym. It is relentless and tough – after 6 x 3mins on the speedball (I min rest) you do 5 sets of sit ups, chin ups, squats, dips, push ups. Each week you increase the reps until you can do something like – 5 sets of 300 sit ups, 20 chin ups, 50 squats, 25 dips, 50 push ups. That should take 12 weeks.
Allan Wells adapted the program to suit what he thought he needed and I'm pretty sure did not include chin ups. Allan's work ethic was such that he was would leave nothing in the gym, putting himself through an enormous amount of exercises.
Either before or after the gym circuit, you do 6 easy run throughs at about 75%.
Once the athlete leaves the gym, he is in superb physical condition. He commences on the track with run throughs and then alternates between 50-20-50's and 60's for several weeks.
Jim uses what he calls "flying 50's" as his technique training, where the athlete builds up for 20m before running solidly between two markers 50m apart where the athlete concentrates on proper use of the arms. These are the easier days in between the 60's and 80's (trials).
People can condemn it all they want, but I have first hand seen quite a few runners improve substantially after moving to Jim (getting down to sub 10.4's after being 11 sec runners) and his history in Scotland in the 1960's is legendary.
After Jim moved to Australia in 1972, Wilson Young took over and by 1978 had the best sprint squad in Britain.
Wilson retired in the early 80's after guiding 34 year old George McNeil to a memorable and remarkable Stawell Gift in 1981.
As a side note, Neil King used Jim's speedball and gym circuit for his own squad in the 1980's and his runners won an extraordinary number of Australia's major pro races, including 4 Stawell Gifts in a 7 year period. Neil got a lot of his ideas from Wilson Young and Jim Bradley. Neil and Wilson Young are such good friends that Neil named his son Wilson.
Jim Bradley died on 2nd July 2015 in Melbourne Australia. Among the many tributes paid to this remarkable man was this one in The Scotsman:
http://www.scotsman.com/news/obituaries/obituary-jim-bradley-runner-and-sprint-coach-1-3823086