Jim McLatchie is well known as a talented and hard, no nonsense runner who never gave anyone an easy race in their life. You can read about his time as a runner by simply clicking on his name. He is not as well known here as a coach because it was almost all done across the Atlantic. His record includes British and American senior internationalists as well as the many high school winning teams he has coached – and is still coaching – since he retired. He is however a very successful coach indeed having worked with club runners and champions up to and including Olympic standard.
One of the questions that always comes up is "How did you get into coaching in the first place?" In Jim's case it goes back to the beginning, right back to his days in Muirkirk in the mid-1950's. He started a training group in the Community Centre which met twice a week in winter and they would go for a couple of miles easy run then get into some circuit training in the Centre. Most Sundays they would go for a cross-country run but only about 4 miles. For most of his running career he was self coached – I refer you to the link above about his time as a runner – and also when he was at college in the States he helped all of his college guys for events between 880 yards and three miles. When he was in Luton between 1965 and 1968 he worked with Tony Simmons. Tony was a Welsh and British International runner whose personal bests included 3:41.1 for 1500m, 13:21,2 for 5000m and 2:12:33 for the marathon; his world half-marathon record of 62:47 which stood for 16 months after he set it in 1978. They did two track sessions a week aimed at the mile and the rest of the week was mainly steady runs. Jim reckons that Tony ran a 4:03 mile as a teenager. Tony was trained for a while by Harry Wilson so there would be a lot of conversation between them about training too. And of course as an athlete he was at times in teams with Frank Dick and his good friend Brian Scobie, both of whom became well known coaches.
When he was living in Scotland he did weight training twice or three times a week with a lot of hill running. He says that at that time he did not know what drills were – but in Scotland (maybe even in Britain) not many did know about them. As he has got older, he has gone back to hills and weights but has incorporated Drills and other Core strengthening exercises. And he also believes that athletes of the same ability should train together – the girls train with the boys.
That's the background story of runner who was always interested in conditioning and training and who gradually made the transition into a successful coach.
After his serious racing career over, Jim moved to Houston in 1975 and, with Allan Lawrence (who had been third in the 1956 Olympic 10000m) and Len Hilton (who ran in the 5000m at the 1972 Olympics), started a running club called the Houston Harriers which was modelled on the British club system and was very successful. Outside running he had been working in the computer field. Houston was to be where Jim McLatchie's athletic career as official, administrator, organiser but mainly coach, took off in the most spectacular fashion. Any doubt about his status in the community is removed by the following report when he retired in 2002.
McLATCHIE RUNNING OFF INTO THE SUNSET
They call him tough, rough and crusty – a running coach with a philosophy of 'my way or the highway' But when Jim McLatchie shows up at the track with his famous red-covered clipboard containing the day's workout, runners know they're getting the best. Now Jim and his wife, champion runner Carol McLatchie – Houston's first couple of running – are heading into retirement and moving to Bend, in central Oregon. McLatchie will leave behind nearly 30 years of coaching success stories and the well-known club he helped to start in 1975, the Houston Harriers. He has coached some of Houston's most talented runners for years, runners who continue to dominate the winner's lists at area races, such as Sean Wade, Jon Warren, Justin Chaston, Joe Flores and Joy Smith to name just a few.
A champion runner himself, McLatchie knows what it takes to give one's best and improve on it. He never recruited runners – they came to him. And he didn't take them all. 'Don't come out if you don't mean to follow the instructions,' McLatchie said, 'There was always only one boss – me. And that's how it has to be. Someone has to take control. I always tell people to tell me what they want to accomplish. If they can't tell me that, I'm not interested. There are enough sheep in this life without me getting any more of them. If you could come to track and be disciplined in the workouts, it would help you in your life outside the track.'
His coaching offered a support system – runners helped each other reach their goals, and the workouts were not based in the star system. 'The key to success is, can you build upon each previous workout,', said McLatchie. That philosophy helped spur a host of champion runners and a series of titles through the years. What had inspired
Carol McLatchie is on sabbatical from running right now, but she continues to hold titles – like the American Female Masters 30K, and was named by Runner's World as Masters Runner of the year in 1993. She is in her sixth year as Chair of the USA Track & Field Women's Long Distance Running Committee. She met Jim at a track meet and starting training with him in 1979. They have seen young runners blossom, succeed and become champion Masters. But their ranks are slow to fill. 'There's no really good young ones coming up,' says Jim McLatchie.
In March, Jim will retire from his long time job overseeing systems and programming operations in Information Systems Administration for the City of Houston, the job that paid his bills all these years but an occupation few people knew about. The coaching he did was never a money maker – it was what he gave back to the sport. From his early days in Scotland, working in the coal mines at 15, running offered him the freedom nothing else could.
'Jim's an enigma really,' said Chaston, 'the only way he viewed running was from a runner's perspective – that's what really made Jim click.' 'The best thing that ever happened – him leaving town,' joked Wade, then he stopped laughing. 'He's going to be missed, especially by the more serious runners.' Warren, now men's head track coach at Rice, said McLatchie had been the single biggest influence on his own coaching career. 'Jim's done a tremendous job with tons of people. He'll work with anybody but you have to be able to make a commitment.'
McLatchie will keep in touch with many of his runners, Email makes it easy to communicate, and 'the telephone still works,' he said.
He's 60 now and hasn't raced in five years. But he was still good enough at 50 to run a 5K in just over 17 minutes. 'I'd like to do something for myself – I'd like to do some running and get myself in shape,' he said. 'I know everything I have to do; I just need to apply it to myself.' Some have suggested that he write a book, and he's not ruling it out. But he's packing the red covered clipboard too in case it's called into service in Oregon."
What had inspired this eulogy? Quite simply he had had success on a large scale and he had a personality that they Texans took to their heart. He was by now a coach first and foremost – just look at the following tables to illustrate this.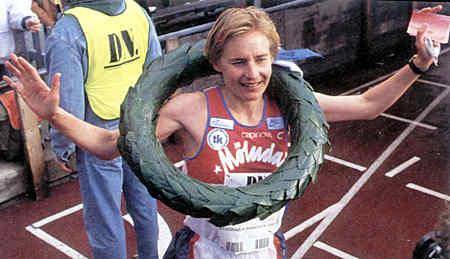 Mitte Hamrin (Sweden)
The first table is the list of Olympians he has coached.
| | | | |
| --- | --- | --- | --- |
| Year | Name | Event | Country |
| 1984 | Midde Hamrin | Marathon | Sweden |
| 1996 | Justin Chaston | Steeplechase | GB |
| 1996 | Sean Wade | Marathon | NZ |
| 2000 | Justin Chaston | Steeplechase | GB |
| 2004 | Justin Chaston | Steeplechase | GB |
* Hamrin was a Swedish marathon runner who won the Stockholm Marathon twice (1990 and 1991), the Chicago Marathon once (1991), and represented Sweden in the European and World Championships as well as running in the Olympic Games in Los Angeles in 1984.
* Sean Wade is a long distance runner from New Zealand who ran in the Atlanta Olympics marathon in 1996 and also competed in the Commonwealth Games steeplechase in 1996.
* Justin Chaston was a Welsh distance athlete who specialised in the steeplechase and competed in the European Championships in 1994, the World Championships in 1995, and three consecutive Olympic Games in 1996, 2000 and 2004. His personal best was 8:23.4 from 1994.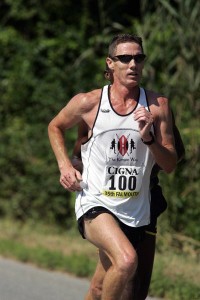 Sean Wade (NZ)
World Championship Competitors
| | | | |
| --- | --- | --- | --- |
| 1985 | Carol McLatchie | 15K | Gateshead |
| 1987 | Carol McLatchie | Marathon | Seoul |
| 1989 | Charlotte Thomas | Marathon | Milan |
| 1991 | Carol McLatchie | Marathon – World Cup | London |
| 1991 | Joy Smith | Marathon – World Cup | London |
| 1991 | Joy Smith | Marathon | Tokyo |
| 1991 | Joy Smith | Half Marathon | Gateshead |
| 1995 | Justin Chaston | Steeplechase | Gothenburg |
| 1997 | Patty Valadka | Marathon | Greece |
| 2003 | Sylvia Mosqueda | Marathon | Paris |
| 2006 | Max King | Cross-Country | Fukuoka |
| 2008 | Max King | Cross-Country | Edinburgh |
* Carol's ability and achievements have been illustrated above. * Joy Smith was named by running.competitor.com as one of America's greatest female marathoners: a personal best of 2:34:20, set in the 1991 London Marathon and times of 2:35:09 when sixth in the US Olympic Trials (1992), and 2:38:35 when ninth at Boston (1993) she went on to win the Athens Classic Marathon in 2:50:52. * Patty Valadka was a very good marathon runner who won the Richmond Marathon twice (1994 and 1995) as well as qualifying for the Worlds in Athens in 1997. Personal bests of 34:34 for 10000m in 1996, 57:29 for 10 miles (1998) and 2:38:35 for the marathon (1996). * Sylvia Mosqueda was a noted American long distance runner with personal bests of 31:54.03 for 10000m track (1996), 2:33:47 in New York 2002 for the marathon and has set several very good course records. * Max King is a very good ultra distance runner who as you can see above excelled at cross-country.
European Championships
| | | | |
| --- | --- | --- | --- |
| 1982 | Midde Hamrin | Marathon | Athens |
| 1994 | Justin Chaston | Steeplechase | Helsinki |
…. and these are only the major championships – there are even more in World Masters, PanAm Games, State Champions, etc. Little wonder that he was interviewed for the post of Scottish coach, a wonder that he was by-passed! He was a genuine hero for his coaching in Houston. He hadn't forgotten his old Scottish friends however. In the mid 80's Brian Scobie had a wonderful squad of endurance runners and he took some of them to Houston for the marathon there. Runners like Angie Hulley/Pain ran well but Veronique Marot was third in 1984 (2:31:16) and won it three times (1986 in 2:31:35, 1989 in 2:30:16 and 1991 in 2:30:55) and Brian won the Masters race in 1987 with a time of 2:30:59. Jim's own runner Martin Froelich won it in 1985 in 2:11:14. These coaching feats had to be recognised and Jim had brought himself to the forefront of USA endurance running coaches and his reward was international coaching assignments which are shown in the table below.
| | | |
| --- | --- | --- |
| Year | Assignment | Venue |
| 1986 | USA Men's IAAF World Relay Championships | Yokohama, Japan |
| 1989 | USA Women's International Road Relay Championships | Hiroshima, Japan |
| 1991 | USA Women's IAAF World Cup Marathon | London |
| 1994 | USA Women's International Road Relay | Yokohama, Japan |
| 1996 | USA Women's International Road Relay | Seoul, Korea |
| 1998 | USA Women's International Road Relay | Beijing, China |
| 2002 | USA Women's International Road Relay | Beijing, China |
| 2004 | USA Men's IAAF World Half Marathon Championships | New Delhi, India |
Having been a very good runner and then a top class coach in the States would have been enough for most – a pipe dream in fact – but Jim wasn't finished. He was also a bit of a fixture on several Coaching Committees and Action Groups. Have a look at these –
1984 – 1994: Worked with Nike as coach of regional athletes to raise them to a level where they could compete nationally. His women's team won the cross-country title in 1988. He was a member of several committees with associated coaches to develop a master plan to try to improve distance running in the USA;
1985 – 2002: Member of the Women's Long Distance Running Committee where he was one of the selectors for international competition. He also held a post lecturing and coaching marathon development at the Olympic Training Centre;
1990 – 1993: Member of the USA T&F Development Committee to develop a plan for distance running. He received an award from the USA Women's Track & Field for outstanding service to the sport;
1994 – 1999: Member of the USA Women's Cross-Country Committee to promote the development of sport for women;
1999 – Present: Member of the Great Britain elite coaching squad for the steeplechase;
2003 – 2009: Volunteer Coach at Pilot Butte Middle School;
2010 – Present: Distance Track Coach at Summit High School
The fifth of these, the GB elite coaching job, was unexpected but he explains that he went to England two to three times a year to work with Mark Rowland and the UK steeplechasers – and remember that Justin Chaston who was being coached by Jim competed in three Olympics and one World Championships for Britain. Jim clearly had something to offer on that front. Mark is now in Eugene, Oregon where he is the coach for Oregon Track Club.
What about the club that he set up with Al Lawrence away back in 1975? Houston Harriers? Well. he was a coach at the club from 1975 until 2001. The club has approximately 100 members and the focus is on middle distance, distance and marathon running for High School, College, Open and Masters athletes. The club was/is very successful and members have won more than seventy five USA National titles in twenty five years in events on the track, on the road and over the country. Quite a record.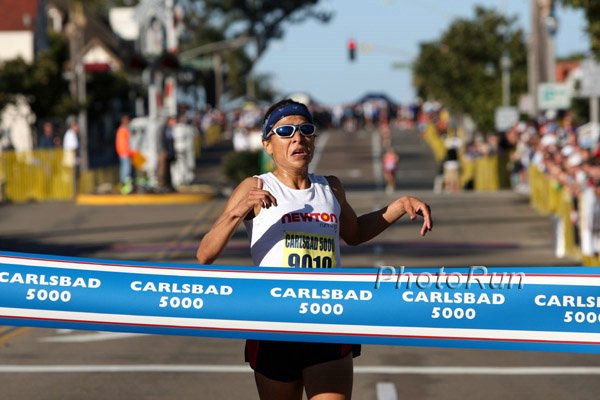 Sylvia Mosqueda
All coaches will now be asking what he did with the runners. Information in the public prints is hard to come by but there is an interview with Donna Stevens easily available on the internet and in reply to the question 'Can you give an insight into training in Houston in the 80's?' she gave this answer. " In 1979 I started training with Jim McLatchie and the Houston Harriers. In a few years we had a group of 25 – 30 totally dedicated distance running athletes who met at Houston Baptist University on Mondays and Wednesday nights for track workouts and Saturday mornings for long runs. On the track we were separated into groups of four to five runners that could run close to the same times. Jim would have our workouts in his "black book" that he brought to the track. Lots of Mondays, we would run 6 x 1 Mile or 12 x 800 with a 200 jog between. On Wednesdays we might have a mile breakdown of Mile, 1200, 800, 400 with 400 jog between. We always ran hard on the track, holding nothing back, my heart rate was over 200 bpm. Our long runs were 18 – 30 miles. During marathon training, I did 2-a-days by running 4 miles in the morning and 6 – 12 miles during the evening (including our track days) with a 20 plus mile run on Saturdays and an 18 on Sunday. I always built up from 70 miles a week in the off season to 100 – 120 peaking before a marathon.
We had a group of 4 – 8 women that consistently trained together and pushed each other to the limit. Jim coached 8 of us to the Women's First Olympic Marathon Trials in Olympia, Washington. Many of us PRed that day and it was an awesome experience and McLatchie's training really paid off."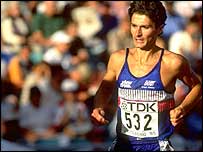 Three months into the winter of 2015, a wee run down of progress this year: September 12th, 2015, Ash Creek 5000m Boys: 1st Summit 33 points; 2nd Camas 75 pts; 5000m Girls: 1st Summit 54, 2nd Camas 58; 3000 Novice Boys: 1. Summit 31; 2. Camas 51; Girls: 1. Summit 29; 2. Camas 30. There were 24 teams in the Boys race, and 20 in the Girls event. September 19th, Oregon City Cross-Country Invitation 5000m JV Boys: 1. Summit 15; 2. Glencoe 75. 5000m Varsity Boys: 1. Summit 15; 2. Southridge 91; 5000m JV Girls: 1. Summit 27: 2. Glencoe 62; 5000m Varsity Girls: 1. Summit 28; Oregon City 87; Nike Portland Cross-Country: 1. West Torrance 147; 2. Mountain View 151; 3. Summit 153. 24 Teams competed. Oxford Classic, October 2nd 5000m Junior Varsity Girls: 1. Summit 24; 2. Mountain View 43; 5000m Junior Varsity Boys: 1. Summit 16; 2. Mountain View 63; 5000m Varsity Girls: 1. Sheldon 51: 2. Summit 66; Boys: 1. Summit 44 ; 2. Capital 113 George Fox Cross-Country Classic, October 10th 2015 5000m JV Gold Girls: 1: Summit 33; 2. Camas 36; 5000m Girls Varsity Gold: 1. Camas 46; 2. Summit 76; 5000m JV Boys Gold: 1. Summit 23; 2. Camas 52; 5000m Varsity Boys Gold: 1. 1. Summit 41; 2. Camas 118. 5A-4 Inter Mountain Conference Championships: October 23rd, 2015 Girls 5000m 1. Summit 17; 2. Mountain View 49; Girls Junior Varsity: 1. Summit 15; 2. Mountain View 54; Boys 5000m: 1. Summit 20; Bend 61; Boys Junior Varsity: 1. Summit View 16; Mountain View 61. State Championships – Oregon 5A, October 30th. Team Scores, Girls: 1. Summit 23; Mountain View 49; Boys: Summit 32: 2. Crater 36
… and the early Christmas present for them was that the boys were ranked number 10 in the entire United States by the authoritative "Runners World" at the end of November 2015! The 2015 Summit results will continue to be published here and the summer 2016 are at this link Finally for this post, on 2nd September 2016, athletic.net published results from the start of the new athletics year's cross-country. They are to be found at http://www.athletic.net/CrossCountry/Results/Meet.aspx?Meet=115210. I have started a new page for the 2016 cross country results at this link. while the 2017 performances are here, here, and the most recent are here
2018 summer results are going up now, the first two are here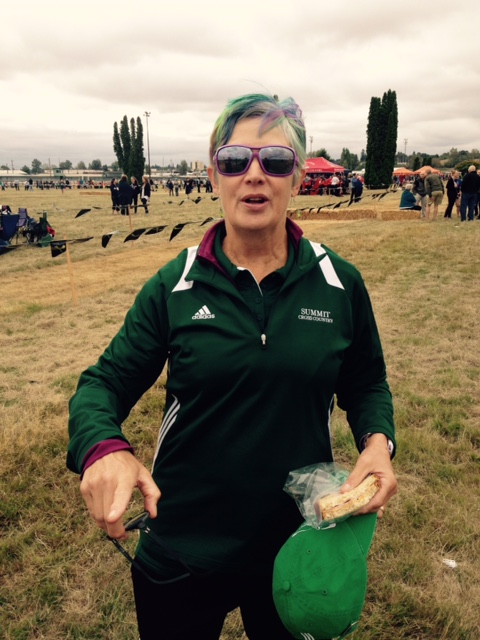 You will know by now that he is not the only coach in the family – Carol is a considerably good coach – a fact that has been recognised by the national association. At the ens of 2016, she was nominated the High School Coach of the year for their home state. After the girls had won ten straight State Championships, and they were going for their eleventh in October 2018, Jim had a stroke and was hospitalised. He was allowed out on the Saturday for the race and the report here is a wonderful tribute to the man and his teams.
Summit Girls Win 6A Title, Emboldened By Recovery Of Coach
By Doug Binder, DyeStat Editor
EUGENE — The Summit (Bend) OR girls soared into national contention during a month when there was deep concern for coach Jim McClatchey behind the scenes. The Storm have risen to No. 2 with a deep lineup that was on full display on Saturday at the OSAA Cross Country Championships at Lane Community College. Summit was entered in the Class 6A race after more than a decade of dominance in Class 5A. And with junior Fiona Max leading the way in 17:29 — just three seconds off the state course record — the Storm scored 39 points to unseat 2017 champion Jesuit, the No. 8 team.
But the most important part of the afternoon for Summit was that McClatchey was there. The coach with the Scottish brogue and white beard suffered a stroke in mid October and spent the second half of the month in the hospital. McClatchey coaches the team in partnership with his wife, Carol, but it is the one who writes the workouts. "Even in ICU, I asked him 'What are we doing on Wednesday?' and he was (rattling off workout details)," Carol McClatchey said.
Jim McClatchey is up and mobile again and his mind and humor are as strong as ever. A girls cross country team that is as deep as any in Oregon history had moment of deep concern as the momentum of the season began to build. "It's 100 percent a humbler," Max said. "It gives us a moment to take a step back and realize that everything has to be lined up perfectly for us to have our best meets. We take a breath, realign and realize that we're here for each other, we care about each other and every (opportunity) is special."
Max and a handful of teammates visited McClatchey in the hospital. "That man's made of iron," she said. One of Summit's seven assistant coaches, Dave Sjogren, stepped in to take a bigger role day to day with the team as Carol monitored Jim's progress. McClatchey's recent health scare is related to a heart attack he survived five years ago. The girls on the team have seen first-hand that time is precious. "He's our dad," Max said. "It definitely added to the stress of the past few weeks. He just got out of the hospital and was at our workout on Wednesday. It was great to see him back on his feet and swearing again. We pushed past it as a family."
Max was followed across the finish line by freshman teammate Teaghan Knox (18:01 for fifth), Isabel Max (18:13 for eighth), Kelsey Gripekoven (18:16 for 11th), Azza Borovicka Swanson (18:27 for 14th), Jasper Fievet (18:38 for 22nd) and Stella Skovborg (19:01 for 28th)
2018 was a superb year for Summit and the icing on the cake was when the girls won the National. Read Carol's Review of the year at this link
It was also notable because Jim had a stroke. BeingJim he got a Saturday pass from hospital for the next race. For his account of the stroke and the rest of the season go here
Jim was a very good coach from early in his career but for all the information about how he trained himself, and the work that selected athletes did, then go the page entitled Training with McLatchie