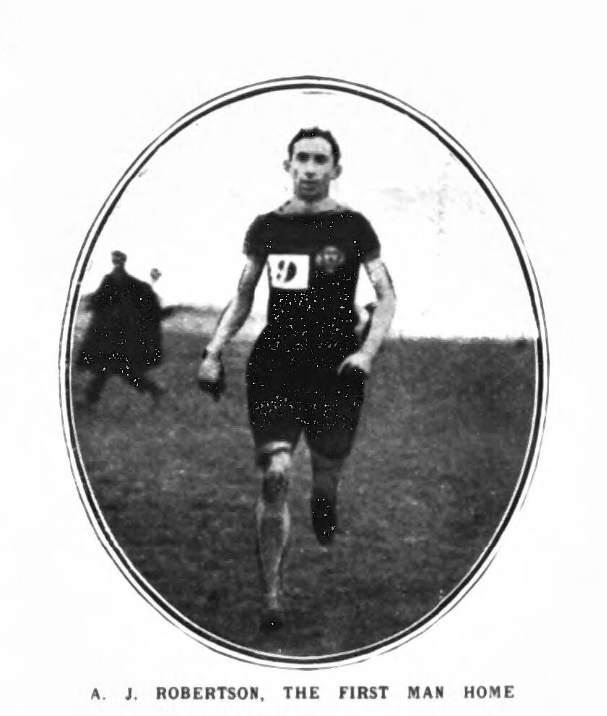 Winning the English National, 1908
Were you to ask a Scot who knows about distance running to name the Scotsman who won an Olympic gold medal, set a world record and won the individual international cross country championship, you might get a guess but more likely a blank look would be the result.   If you then said that he had never won either SCCU or SAAA title, nor had he ever represented Scotland, well I suspect that there would be total bafflement.   Who was this man?
Arthur James Robertson was born on 19 April 1879, at Harthill, Sheffield and died on 18th April 1957 at Peterborough.    The son of a Glasgow doctor, Robertson was educated at Kelvinside Academy, Glasgow, before moving to King's School, Peterborough at the age of 14.  Keddie tells us that his father was a 'golfer and a curler of Fife' and had been born at Dalziel, near Motherwell.   A brilliant all-round sportsman, Arthur initially concentrated on cycling and only took up serious athletics at the age of 25, after a cycling injury.    Had it not been for the injuries sustained, he may have competed at the London Olympics as a cyclist – as his brother David did. 
He only took up running seriously in 1904 specialising in endurance running on the track and over the country.  His first racing was in August and September 1905 when he took part in three handicap races, all over a mile and won them all.   It is interesting to note that the times were all good and the handicaps were slashed after each of them.  At Ely on 2nd August he won in  4:19.6 off 130 yards, at Cambridge he won in 4:18.6 off 110 yards and at Leyton on 9th September the time was 4:21.2 off 80 yards.  
In 1906, representing Peterborough AC he ran in his first AAA's championships on 7th July at Stamford Bridge.   It was over the Mile and he was fifth in the race in an estimated time of  4:21.6, with George Butterfield winning in 4:18.4 from Scotland's John McGough in his fastest ever time of 4:19.2.   On 21st July he moved up to the Three Miles at Chelmsford where he finished second in an estimated time of 15:20.  Back to Ely for the mile handicap, he was second, off 42 yards, in 4:15 for the full distance.   His final race in 1906 was at Pershore on 23rd August where he won the Three Miles in 14:53.2.    These had been two outstanding seasons for Robertson with his mile time down to 4:21 and his Three Miles at 14:53.   Little wonder that at the end of that year, he signed for Birchfield Harriers and the higher level of competition which that would open up for him.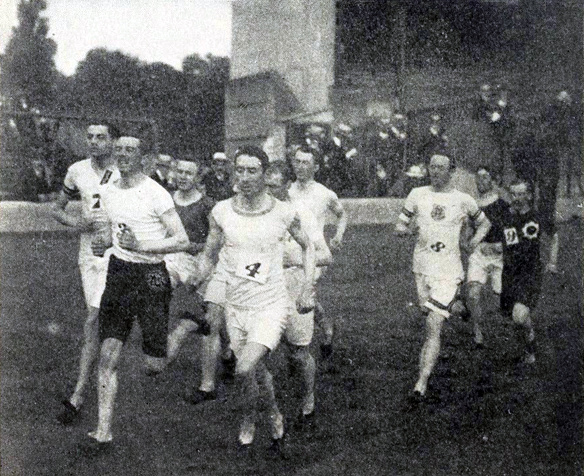 Robertson (4) makes his debut in the AAA's Mile at Stamford Bridge in 1906
His first race on the track for Birchfield was at Abergavenny on 2nd April where he won the Three Miles team race – unfortunately there is no time available for this one as it would have given a useful benchmark against which to measure the remainder of his season.   Eleven days later, on 13th April, he ran in the AAA's Ten Miles Championship at Fallowfield where he finished just out of the medals in fourth place 54:34.2, but on 4th May at Small Heath, Birmingham, he won the Midland Counties AAA Ten Miles in the slightly quicker time of 53:25.4.   Fourteen days later (18th May) at Derby he was back down at the Mile in the Midland Counties championships and finished third.   The races were now coming quickly and three days later he won a Two Miles at Cambridge in 9:47.2, followed after only four days by a victory in the Midland Counties Four Miles at Nottingham in 20:09.0.   This was a good win from British and English internationalist Adam Underwood by 20 yards.   After a short break he competed in not one, but two events in the AAA Championships at Stamford Bridge on 6th July: the Four Miles where he finished fourth and the Two Miles Steeplechase where he was second in 11:26.0.   On 20th July he ran in the Three Miles at Chelmsford and won but his time this year was 14:34.4 compared to his 15:20 of the previous year.   The strength of the man showed in the number of hard races fought out in relatively short periods of time – four races in 21 days including three in 7 days in May for instance.
Running only three One Mile races in 1905, a mere two years later he was racing over the Mile, the Three Miles, the Ten Miles and the Steeplechase and winning two Midland Counties titles with a second in the AAA championships too.   It was a remarkable start to his career in the sport but by any standards, 1908 would be quite amazing.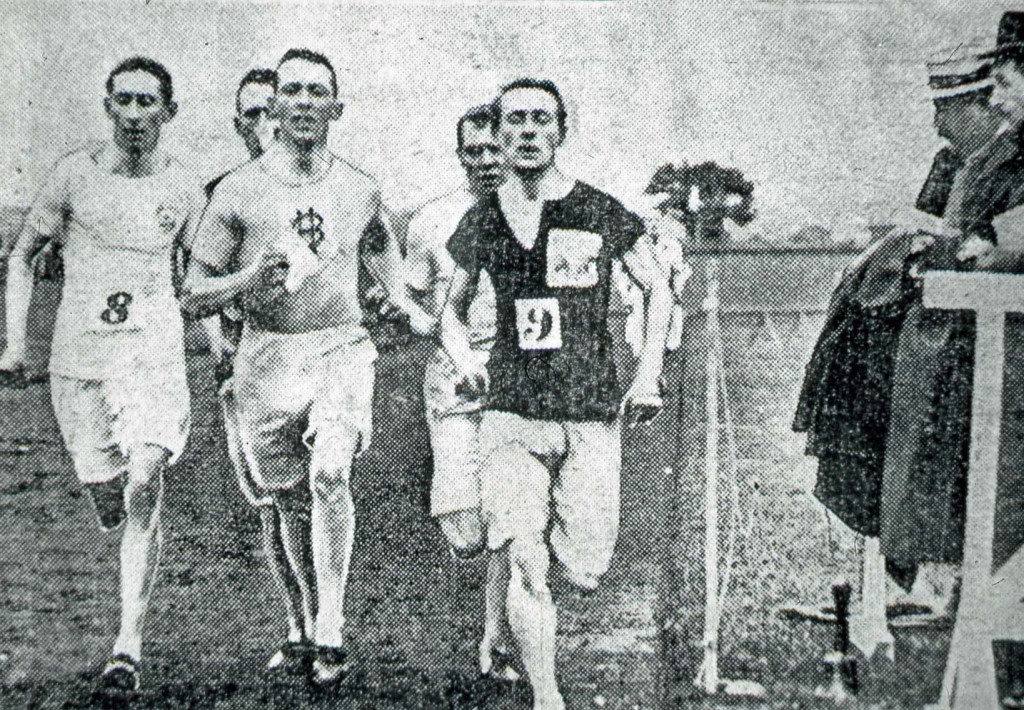 Robertson (8) in the AAA's Mile in 1907 at Fallowfield, Manchester
1908 was to be his year of years with almost unbroken success at the very highest levels, it would be the kind of year that every runner dreams of.   Starting with a second and two firsts in cross country events, he went on to track success at Olympic level and ended with a triumphant tour of Scandinavia.   It is difficult to think of any Scot in any event who has had such a remarkable 12 months.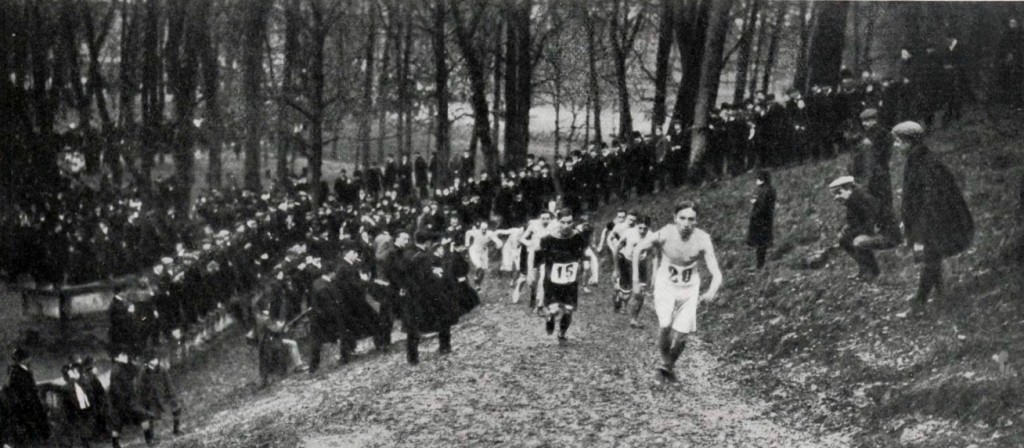 26th January, 1908: Racing Club de France v Birchfield Harriers, Paris 
Robertson was a very good cross-country runner – so good that he won the International Cross-Country Championship at  Colombes, outside Paris, at the end of March.   There was a snag from the Scottish point of view though.   Let Colin Shields tell the story:  
"A Scotsman won the Individual Title at Colombes!   But unfortunately he was not a member of the Scottish team.   Arthur J Robertson, an Anglo-Scot running for Birchfield Harriers who had earlier won the English National title, now won the international at his first and only attempt when competing for England.   ….  The most versatile and successful Scottish distance runner of the first decade of the century, Robertson started as a moderately successful racing cyclist  –  in a similar manner to James Flockhart almost thirty years later – before taking to track and cross-country racing."   There it is – a Scot won an international championship but in English colours.  The first Scot to win the event, one of very few to win at the first attempt, he was not at all well known to the Scottish public at this time and the result may have been a bit of a surprise to them.
To those who were aware of the cross-country scene however, his win did not come as a surprise.   He had started the year taking part in a competition in Paris between Birchfield, Union St Gilloise of Belgium and Racing Club de France on 26th January.   It was to all intents and purposes a race between the English and French clubs as the Belgians were totally outclassed.  Several talented runners such as Adam Underwood (at that time the AAA's 10 miles champion) fell and dropped out on the difficult and slippery course where Robertson finished second, one place behind Keyser the French Cross-Country Champion.   He proceeded to win the English national at Newbury in March before returning to Paris for the International.   It was a brilliant start to Olympic year.  
The international cross-country was held on 26th March and his next race was a Three Mile invitation team race at Stamford Bridge on 17th April where he emerged victorious in 15:02.2.   On the very next day he was fifth in the AAA's Ten Miles Championships in 53:46.0.   He again won the Midlands Four Miles Championships in mid-May and on 23rd May he won an inter-club Two Miles Steeplechase at Manchester in 11:05.0, then on 26th May he was second in a Mile at Shepherd's Bush to Joe Deakin who won by 6 yards in 4:29.8 with Robertson's time being an estimated 4:30.   At Shepherd's Bush on 30th May, he ran in the Five Miles Olympic Trial race.   In this, his third race in seven days, he was second in 25:26.6 to Emil Voigt who only won by half a yard in 25:26.5 after they had come through four miles in 20:29.4.    
Robertson ran in Scotland for the first time on 5th June, 1908, at Powderhall in the Edinburgh Harriers Sports.   'The Scotsman' reported that "the best run of the day was that run by that noted long-distance man, AJ Robertson of the Birchfield Harriers, in winning the three miles handicap from scratch.   This was Robertson's first appearance on an Edinburgh track.   His father was a native of Dalziel in Lanarkshire, so that Robertson is able to compete in the Scottish championships and it is hoped that he will do so."  
Robertson's time was 14:53.8 and his reputation had clearly gone before him as he was conceding 60 yards to Sam Stevenson who was an international cross-country and track runner who would join him in the British Five Miles team for the Olympic Games, but he won all the same with splits of 4 min 50 sec, 9 min 53 and 14:53.   It was not his only run at the meeting – he had turned out in the half-mile (which had 44 runners, while the three miles only had 38 starters for him to weave his way through!) but was unplaced.    On 20th June he turned out in anther Three Miles, at Crewe and finished third in an estimated 14:43 behind Emil Voigt.  
On 4th July he was back at Stamford Bridge in the AAA's Four Miles where he was second in 19:52.8 behind his regular rival Emil Voight who had run 19:47.2 .   The report read: 
"Conway led off at a good pace, the first quarter (62.6) being only a fifth of a second slower than in the mile.   The order was Conway and Duncan, together, Wilson next.   Time 4 min 45 sec.   Robertson now passed Conway, then Svanberg went by; but at two miles Duncan led from Hefferon and Coates.   Time 9 minutes 50.4 sec.     Wilson had retired and Deakin was beginning to flag; Coates now forced the pace for a mile, and led at three miles (15 min 1.6 sec) with Robertson and Voigt next.   Now AE Wood took up the running, and the pace increased.   At the bell Voigt went by, and running the whole lap in grand style, lapping some of his opponents, he won by quite 30 yards from Robertson, who in turn beat Woods by 12 yards."   The times were 19:47.4 for the winner, 19:52.8 for Robertson and Wood was 'well inside 20 minutes'.   The breakdown at the finish was last lap in 64 seconds, and last half mile 2 min 11.2 sec.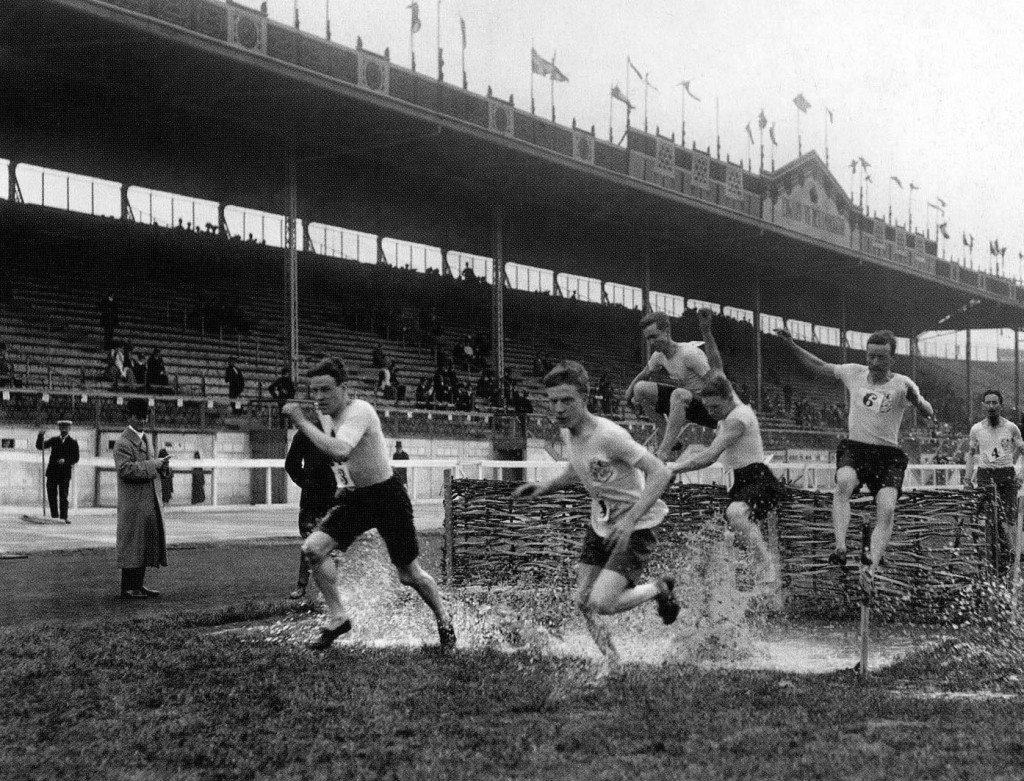 Olympic steeplechase final: 1  Russell, 4 Robertson
It was on to the Games Just nine days after the AAA's championships.Most countries were allowed to enter up to twelve competitors in most events In the Olympic Games,but in the team events – the medley relay and the three miles team race, only one team was allowed per nation.   Robertson was entered for three events: the Three Miles team race, the Five Miles and the 3200 metres Steeplechase.   It was a lot but the timetabling was savage.   Even with his history of running three races in a week or four in a fortnight, it was a daunting task.  If we look at his time table it was as follows: 14th July: Three Miles Team Race Heats; 15th July: Three Miles Team Race Final  plus   5 Miles heats;  17th July: 3200m steeplechase heats;   18th July:  Steeplechase Final  plus  5 Miles Final.   Six races totalling 19 racing miles in five days.  How did Robertson fare then?  
First of all there were the Three Mile Team Race Heats.   The rules for this race stipulated that each country could run 5 athletes but only 3 of them would count.   The British team ran in the first heat and their top four men finished hand-in-hand: William Coales, Joe Deakin, Arthur Robertson and Harold Wilson were the men and the team total was 1 + 2 + 3 = 6 points.   
On the next day (15th) in the final of the Three Miles the first three finishers were Deakin (first in 14:39.6), Robertson (second in 14:41.0) and Coales (third in 14:41.6).   This was Robertson's gold medal as part of the winning team, and set him up nicely for the heats of the Five Miles.   Robertson along with Sam Stevenson was in the fifth heat and qualifying was the heat winners and the four fastest runners-up.  Coales dropped out of the first heat and Svanberg (Sweden) won in 25:46.2 from Hefferon (South Africa); Voigt (GB) won the second heat (26:13.4); Landqvist (Sweden) won the third (27:00.2), Murphy (GB) the fourth heat in 27:59.2 and then in the fifth heat Robertson broke away after the first mile and won in 26:16.2 with Fitzgerald of Canada second.   Both qualified while Stevenson in third and not a runner-up, failed to qualify.   The sixth heat was won by Edward Owen (GB) in 26:12.0.  
After a day without races, the distance runners were out again on the 17th July in the heats for the 3200m steeplechase.   There were twenty four competitors for this one with no fewer than eleven coming from Britain.   There were six heats and Robertson won heat four in 11:10.4  – the second fastest qualifying time behind the 10:56.2 set by countryman Arthur Russell in the first heat.   On 18th July, there were two finals: the steeplechase and the 5 Miles.  Robertson  was out in the steeplechase with five other competitors.   Trailing for most of the race with Russell (GB) leading, Robertson only moved into second place at the bell but did not have enough left to catch his team mate.   It was a British 1-2 and a silver medal to add to his gold.   The 5 Miles was contested by a tired Arthur Robertson with Emil Voigt, his British rival throughout 1908 not having taken part in any other event at the meeting.   Also in the final were Owen (GB), Svanberg and Landqvist (Sweden), Hefferon (SA), Fitzgerald and Meadows (Canada)and Bellars of the United States.   Leaders at the successive mile points were Owen at one mile in 4:46, Hefferon at two miles in 9:54.2 (5:08.2) and three miles in 15:05.6 (5:11.6), Svanberg at four miles in 20:19.2 (5:07.6) before Britain's Voigt sprinted into the lead and led all the way to the finish in an Olympic record of 25:11.2.   Owen was second in 25:24, Svanberg third in 25:37.2 and Robertson back in fifth in 26:13.0. 
It had been a good if strenuous Games for Robertson with one gold and one silver medal to show for it.   Given the year's racing up to that point he could have been excused had he called it a day at the end of July.   But not a bit of it.   If anything he used the Olympics as a springboard for two more months of excellence.   Two weeks later, on 1st August, after the Games were over, he was back in Scotland competing at the Rangers Sports where he smashed McGough's record for the Four Miles with a time of 19:45.2.    It was a magnificent meeting with many of the Olympic stars from several countries competing and although Robertson ran well, he could only finish second to   –   Emil Voigt again who won in 19:40.2.    The 'Glasgow Herald' commented "ER Voigt of Manchester AC   ran with superb judgment in the Four Miles finishing with a dazzling sprint of 300 yards amid a perfect hurricane of applause.   It was a brilliant piece of running and has not been surpassed in the city since A Shrubb charmed supporters of amateurism.   Voigt did the Four Miles in 19:40.2 and as conveying some idea of his speed resources we may note that the last quarter was done in 64.2.   Only one in the first flight of runners could do that.   JA Robertson (Birchfield Harriers) was second, 25 yards behind, his time being 19 min 45 sec."  
McGough's record had been 20:06.2 and had been set in August 1905 and also at the Rangers Sports.   Voigt incidentally was younger than Robertson (Date of Birth 31/1/83) and had been born in Manchester to German parents . His first big win had been in the AAA's 4 Miles in 1908.   He won more AAA titles in 1909 and 1910 before emigrating to Australia in 1911.   His Olympic record still stands since the 5 Miles was not held again, being replaced by the 5000m and 10000m.   He was a considerably good athlete over a range of distances.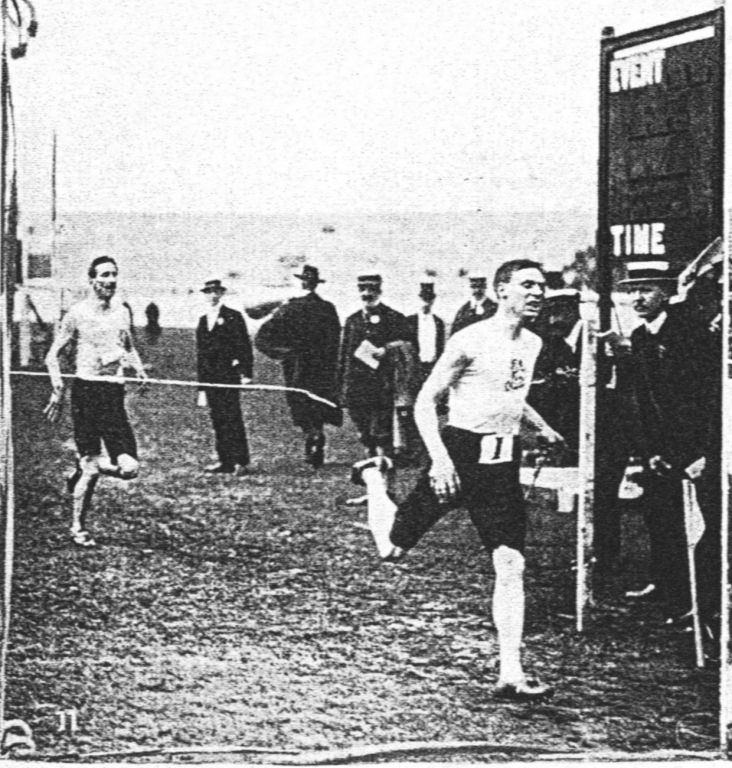 Olympic Steeplechase Final:   Russell from Robertson 
Robertson started his run in to the Scandinavian trip with a Four Miles at Stoke on Trent on 3rd August which was won by Emil Voigt; this was followed by a Three Miles at Windsor on 19th August which he won in 14:27.2.   These were very goodtime, done on cinder tracks which cut up more with every lap that passed, many club runners in the early twenty first century would be reasonably happy with them.   The important thing though was that these two races led in to a series of 9 races in 15 days interspersed with travelling from city to city across Norway  and Sweden.  
The racing started on 28th August at Oslo (then Christiania) when he won a 1500m in 4:17, followed by a victory over 5000m the very next day in 15:35.8 and an 800m on 30th August where he won the handicap race in 2:02.0.   The longest race in Norway was a 10000m on 1st September where he single-handedly beat a five-man relay to set a world's best time for the year of 31:52.0.   After travelling to Sweden, Robertson was second in a 1500m at Stockholm on 12th September in 4:07.2 behind four time Olympic gold medallist Jim Lightbody (4:06.4).   In the 5000m on 13th September he won in 15:01.2 from Svanberg, the local boy, beating him by 27 seconds in a world record for the distance.   This was 12.3 seconds better than the existing world record and, Arnold Black reminds us, 15 minutes was not beaten until Hannes Kohlemainen did so in the 1912 Stockholm Olympic Games final.   Not content with that, Robertson had a go at Shrubb's world record for the hour.   He won the race with Svanberg second.   Shrubb's record was  18742m, and Robertson's run was 18479m with Svanberg 18276m.   It should be noted that this race was run on a banked concrete track.   It really was an exceptional run and it is reported that Robertson had difficulty walking for some days after because his feet and ankles were so sore.   We shouldn't leave this race without pointing out that in the course of his hour's work, he had set personal and Scottish bests of 30:26.0 for Six Miles and 31:30.4 for 10000m, not to mention obliterating Tom Jack's   native ten miles record with an intermediate time of 51:44.8.
He finished his season at Stamford Bridge on 19th September with a 14:54.1 victory in a Three Miles race.   It had been a truly outstanding season whether you look at the times, at racing records or performances in the Olympic Games and in Scandinavia.   His race record (counting metric distances as their imperial equivalents) was 22 races with 15 wins, 7 seconds and one third.   Scottish records were set at one, four and ten miles distances  plus of course the world record set in Sweden.   Plus the English National and the International cross-country championships.  Plus Olympic gold and silver. 
The successes of 1908 would have been almost impossible for any athlete to follow.   Robertson had passed his twenty ninth birthday.    Younger men like Voigt were forcing the pace.   How would he do in 1909?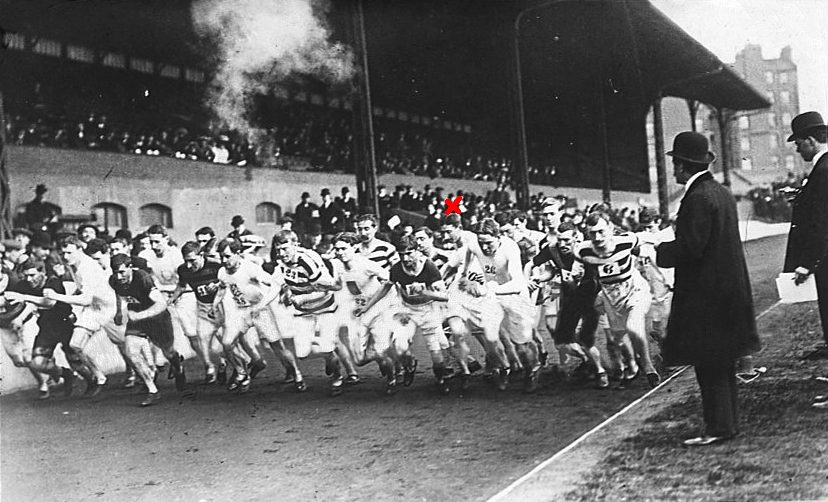 1909 AAA's Ten Miles: Robertson marked with the red cross
He started with a defence of his English Cross-Country title and finished second.   The race was run in a snowstorm and generally severe conditions with 163 runners starting the race.   It was over a ten miles course which was run in four laps and Coales led for the first lap followed by Robertson and Murphy of Hallamshire.   Murphy, the Northern champion, went to the front after three laps and held on to win in 62 minutes from Robertson by 20 yards with Coales 100 yards further back.   Robertson had some slight revenge when Birchfield won the team race from Hallamshire by 52 points.   He then did what all runners do as they advance in years and stepped up the distance and ran in the 15 miles road race at Cheltenham on 10th April where he finished second to Jack Price in 1:32:30.    Still heavy legged after his exploits at Cheltenham, he failed to finish in the AAA's Ten Miles at Stamford Bridge the following weekend.  The 'Sporting Life' commented that he 'was feeling the effects of his race on Easter Monday and could not get comfortable.'A month later, fully recovered, he travelled to Stoke for the Midland Counties 10 Miles track race which he won in 52:27.   This was not only faster than he had run when winning the same race two years earlier, but also 13 seconds quicker than the time posted by AAA's Ten Miles Champion AE Wood at Stamford Bridge.    
He then at the end of May came back down to his normal track racing distances and on 22nd  May ran a Three Miles handicap at Manchester where he finished second to Voigt by 25 yards with the times being 14:37.6 and 14:43.0e.    He came back up to Scotland and ran at Powderhall on 5th June in another Three Miles handicap which he won from scratch in 14:53.8    This was at the Edinburgh Harriers Sports – the same meeting where he had first  run in Scotland in 1908 – and 38 ran.   Robertson's splits were given as 4:50, 9:53 (5:03) and 14:53.8 (5:00.8).   As in the previous year he also turned out in the handicap half-mile: this time there were 44 runners and he was running from the 18 yards mark.   The report is that he "failed to make any headway and stopped in the finishing straight."   At Crewe on 19th June he ran his third 3 miles in five weeks and was third in an estimated 14:42.0 with the winner again being Voigt who was timed in at 14:32.6 – 50 yards up on Robertson.   
The countdown to the AAA's on 3rd July was now on and he stepped down another distance on 26th June to race over two miles at Wolverhampton where he won in 9:44.4.   His next meeting was the AAA's championship where he would be racing in the Four Miles and Mile.   In the Four he finished second to 'that man again' Emil Voigt in 19:59 with the difference being only 5 yards, and in the Mile he was also second, this time to Eddie Owen in 4:23.4 with Owen winning by only half a yard.    Despite his wonderful record and marvellous career up to this point, Robertson had never won a AAA's championship and that must be down to luck as much as the ability of others – for example to lose a Mile by only half a yard has as much to do with chance as with anything else.  
He went back up again to long distance on the road and raced in the 13 Miles marathon at Dorking which he won in 1:16:31.8.   The Essex Atalanta Cup was a trophy presented at the Essex cycling and athletics championships.   It was first presented in 1900 and the first winner of the 'huge, new, 50 guinea Atalanta Cup' for the Three Miles was Alf Shrubb.   It was to Essex that Robertson went on 17th July and he won in 15:07.6 from AE Wood.   It was maybe some consolation for the lack of AAA's gold.  
On 24th July it was another 'marathon', this time over 10 miles on the road at Bristol and he won in 57:22.2.   Then he jumped back down a distance or four to the mile handicap at Pontypridd where he was second off the 5 yard mark before going back up to 10 miles handicap event at the same meeting which he won off scratch in 57:36.4.   Having run in England and Wales, he returned to Glasgow on 9th August to run in a 1.5 miles race.   Several of the big Scottish sports meetings had double sessions – there was the big Saturday meeting and then there was another supplementary session on the following Monday night and it was at the Monday session of the Rangers Sports that Robertson ran in the mile and a half race and broke Shrubb's Scottish record in a time of 6:48.2.   It is of interest to note that this was a handicap race with Robertson finishing only third behind William Scott (Broughton Harriers) and Tom Jack of Edinburgh, both of whom had handicaps.   Then on 28th August 1909 he ran his last race.   It was, fittingly, with a victory.   The race was over Three Miles, run at Eastbourne, and he won in 14:34 defeating in the process the AAA Ten Miles champion, EA Wood, by half a lap.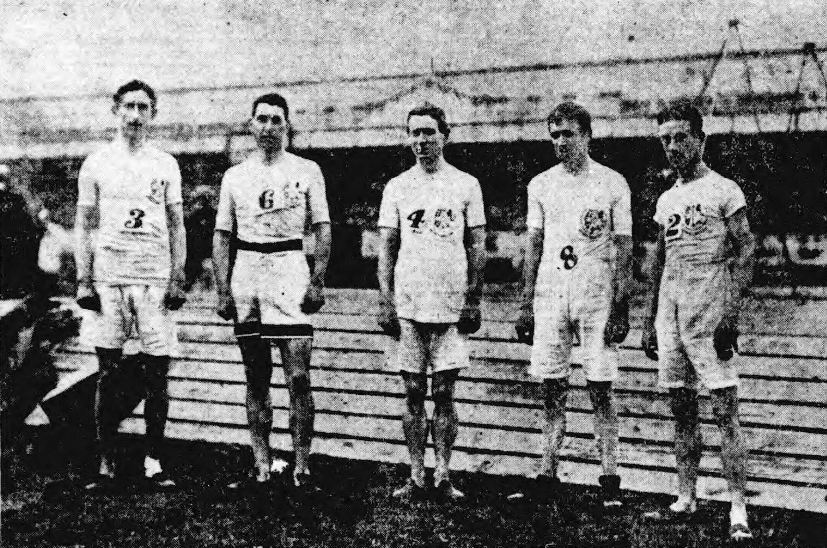 1908 Olympic Three Miles Team
He retired from athletics after 1909 season and returned to cycling. Later, together with his brother, he ran a sports shop in Peterborough, and then passed it over to his son.
Robertson was posthumously inducted into the Scottish Sporting Hall of Fame in 2004.   In January 2010, a new JD Wetherspoon pub in Perry Barr, Birmingham, (close to Perry Barr, Stadium, the former home of Birchfield Harriers) was named 'The Arthur Robertson' in his honour.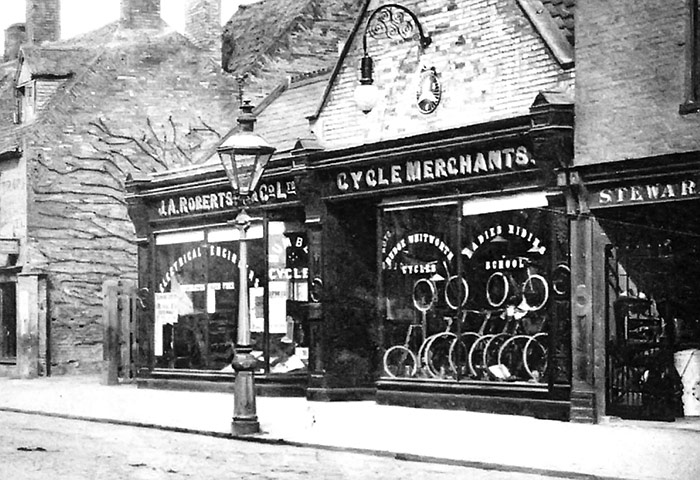 The original cycle shop
 Thanks are due to Alex Wilson for lots of help with statistics and to Alex, Wilf Morgan and Kexin Kelly for the photographs.   All of the photographs received, including some not used in the profile, have been put up on a separate page which can be accessed  here .  Wilf also told Alex that he had made a mistake when writing the Birchfield Harriers history in saying that Robertson was called 'Archie', and error that has since been propagated by many historians including those employed by the BBC.   He was apparently called 'Artie' and not 'Archie'.
There is an excellent three page article on Robertson in the BBC 'A Sporting Nation' archive at  http://www.bbc.co.uk/scotland/sportscotland/asportingnation/article/0016/
There is very good article on the first race for the Essex Atalanta Cup at
http://clappedoutrunner.blogspot.co.uk/2015/02/shrubb-blossomed-in-chelmsford.html