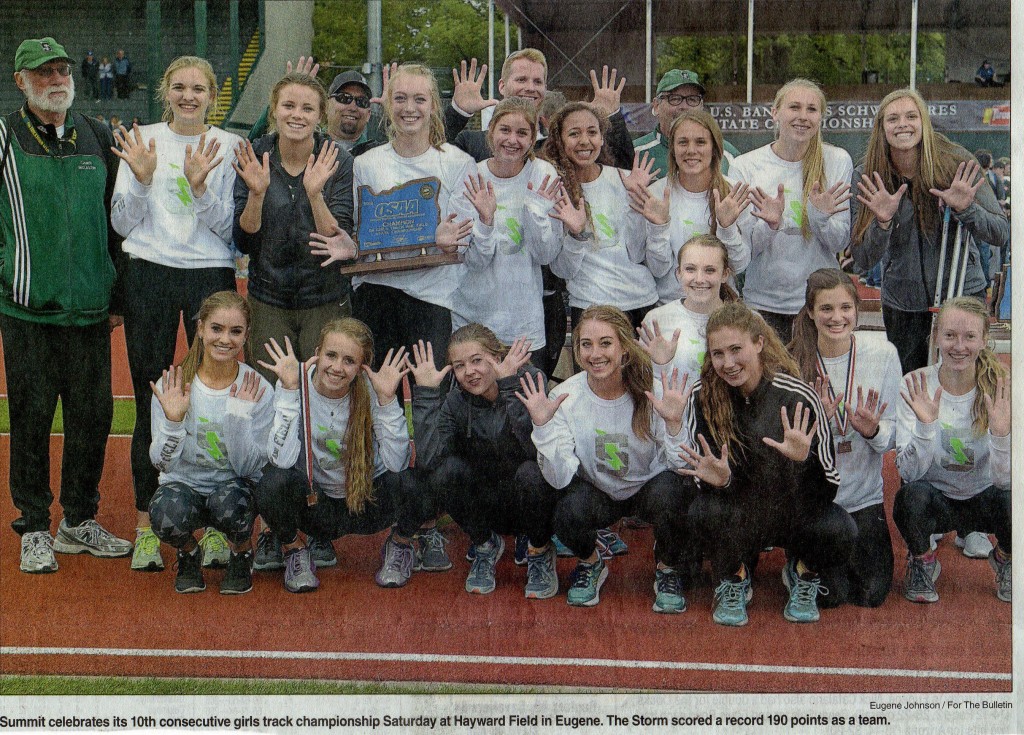 Jim McLatchie with some of the girls who did so well: 
Next to him is Sarah Reeves – won the 800m and anchored the 4 x 400m, in front row right is Kelsey (7th 800m), Taylor (4th 800), Hannah (in black, 2nd 1500, 2nd 3000), Emma (beside Hannah, 3rd 800, lead-off 4 x 400), Olivia (1st 1500 & 3000).
1st  3rd &7th – 800
1st, 2nd & 4th – 1500
1st and 2nd 3000
The results are as usual very interesting – clearly some very talented young men and women but it is also very clear that they have been well organised and trained leading in to the events in which they all do well.   Coach McLatchie has been good enough to send on some of the sessions that they did before the State championships and we have then below.
| | |
| --- | --- |
| MO | 4X400 REST-3/2/1 MIN/ JOG 5M/ 4X200 – REST 3/2/1 MIN |
| MP | 1600/ 8MR/1200/1MR/ 400 |
| M6 | 2X(4X200 3MR) 10 MIN SETS |
| | | | |
| --- | --- | --- | --- |
| 5/14/2016 | MO | ALEX M | 65 66 66 66/ 30 30 30 30 |
| 5/14/2016 | MO | SCOTTY | 65 66 66 66/ 30 30 30 30 |
| 5/14/2016 | MO | OLIVIA | 71 70 71 71/ 33 32 32 32 |
| 5/14/2016 | MO | SARAH | 72 75 77 83/ 34 32 34 34 |
| 5/14/2016 | MO | EMMA | 72 70 71 71/ 33 32 32 32 |
| 5/14/2016 | MO | HANNAH | 72 72 74 71/ 34 32 34 34 |
| 5/14/2016 | MO | KELSEY | 73 72 74 71/ 34 32 32 34 |
| 5/14/2016 | MO | TAYLOR | 73 72 74 71/ 34 32 32 34 |
| 5/16/2016 | MP | ALEX M | 4.46 2.26(DNF) 62 |
| 5/16/2016 | MP | OLIVIA | 5.19 3.57 71 |
| 5/16/2016 | MP | HANNAH | 5.24 4.04 76 |
| 5/16/2016 | M6 | SCOTTY | 26 28 28 29/ 28 28 28 27 |
| 5/16/2016 | M6 | SARAH | 31 30 30 29/ 29 29 29 29 |
| 5/16/2016 | M6 | EMMA | 31 30 30 29/ 29 29 29 29 |
| 5/16/2016 | M6 | KELSEY | 31 32 32 32/ 30 31 31 30 |
| 5/16/2016 | M6 | TAYLOR | 31 32 32 32/ 30 31 31 30 |