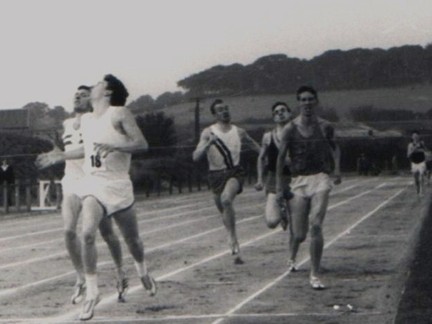 Brian Scobie winning at Westerlands, Glasgow, in early 60's 
Brian Scobie (born on 16th May 1944) was a very good runner who represented  Maryhill Harriers and then ran for Glasgow University AC in the 1960's, before becoming a very highly regarded and much respected coach in the 1980's, 90's and into the 21st century.   Brian ran while at school and his father was also interested in athletics.   Living in Milngavie, he was eligible for the Dunbartonshire team in the Inter-Counties Youth Sports which was an annual athletics contest between the young athletes from local government authorities and was not a school or club based competition – athletes from schools, clubs, youth clubs, youth organisations, and whatever else were eligible so long as they had demonstrated ability.   Brian was only eleven months younger than Lachie Stewart from the Vale of Leven (also eligible for Dunbartonshire) and their paths crossed frequently in these sports.   With age groups in two year bands, they were in direct opposition every second year.   They competed together several times in that context.   Like many another, Brian describes himself as a 'would-be footballer' who ran a bit in the summer but did no formal training.   He did have a paper round however on six days a week with a circuit of about 6 miles.   Sometimes he cycled the route, sometimes he ran but from second to sixth years at secondary he was covering, one way or another, 30 miles in total.
In summer 1961-62 – the year before he went up to University – he was training with Queen's Park FC Youth team at Hampden where they were not allowed even a sight of a ball until they had done 12 laps of the old cinder track.   Then there was a series of sprint sets – eg from one corner flag to the other, then from the tunnel to the corner flag, then from the edge of the eighteen yard box to the corner flag.   This, together with the school PE teacher he had, meant he won the County 440 yards and then finish second in the Scottish Schools 880 yards.   At that point he joined Maryhill  Harriers and started training with Tom Williamson's group.     He gained a reputation as a good competitor who could frequently win tactical races.    Jim McLatchie the very good miler and middle distance runner from Ayrshire, moved to Milngavie and immediately the two started doing a lot of their training together, regularly training with the girls of Glasgow Western LAC under Tom Williamson's guidance in the west of Glasgow.   If we take a look at his time with GUAC it is quite impressive.   He did not make the schools international mainly because, despite a good racing record, his times were not as fast as some others.   He had run in many highland games meetings and became a good tactical runner but tactical success doesn't always mean fast times.   The performances of others such as Kenny Oliver and Davie Hendry in Dublin also rightly counted with the selectors of course.   He ran in a floodlit international; at Ibrox in September with such as Hugh Barrow in the Scottish team in a race won by England's Morris Jefferson.
Brian first ran for Glasgow University in winter 1962-63.   Previously a summer runner, he had no experience of cross-country before joining the Hares & Hounds.  His initiation to the arts of cross-country running came when he ran the team trial, then went with the club to Belfast the following week where he was a very good third on the Saturday (27th) and then they went on to Dublin on Monday 30th where he was second to team-mate Cameron Shepherd, beaten by 12 seconds but four seconds ahead of Shillington of Trinity College. The first real domestic race with them was the Edinburgh to Glasgow relay in November 1962.   He ran on the eighth stage and held third place – holding off Chic Forbes (VPAAC) and Les Meneely (Shettleston Harriers) to win a bronze medal.   His next run in a winter classic was in the Nigel Barge Road Race on 5th January, 1963, when he finished 36th and third counter in a GU team that finished fourth and just out of the medals.     A week later in a match against Edinburgh University at Garscadden in Glasgow, he was fifth and third counter in a Glasgow team that won 26 – 52.  On 19th January he was sixth counter for the university in the Midlands District championship when he was 29th for the second placed Glasgow squad.   In action for the fourth consecutive week, he was in the winning team in a match in Glasgow against Aberdeen AAC, Aberdeen University, University, St Andrews and Dundee Hawkhill finishing eighth and fourth scoring runner for the University.   In a race featuring Calum Laing, Alastair Wood, Steve Taylor and Allan Faulds, eighth was not a bad run and the official history of GU AC comments that it was a confirmation of his return to form.   These races were the lead-in to the Scottish University championships on 2nd February when he was tenth, third counter in the team which finished second to Edinburgh.   In the National cross-country championships for Glasgow University on 23rd February, 1963, he finished twenty second for the team that won the bronze medals with 119 points behind Edinburgh University (49 pts) and Edinburgh Southern Harriers (91 Pts).
Brian ran over the summer and on 20th April finished first in the 880 yards in a match with Edinburgh University finishing in 1:59.5, assisting the Glasgow team to an 88 – 45 victory.   Although he undoubtedly raced al that summer, he was too young and too inexperienced to take on the many 'big beasts' competing in the country's middle distance events – an area where Scotland was particularly strong at that time with runners like Lachie Stewart, Ian McCafferty, Graeme Grant, Dick Hodelet, Duncan Middleton, Fergus Murray and many more.
Season 1963 – 64 was a better one for him.  Running for the Hares & Hounds over the following winter, Scobie ran in the team trials on 19th October, 1963, and finished fifth behind such strong runners as Allan Faulds, Dick Hartley, Calum Laing and Jim Bogan with Dick Hodelet sixth.  A cutting from a University paper said that "the reprobate Scobie finished fifth as expected in 41:05."    Not a regular in the first team, he ran in the Edinburgh to Glasgow in November 1963 on the short third stage and pulled the team from seventh to sixth.  Followed by Dick Hodelet who picked up another two places, the University scribes felt that they had both run very well.   On 23rd November at Kings Buildings, Edinburgh, in a match against Aberdeen University, Edinburgh University, St Andrews University and Edinburgh Southern Harriers, Scobie finished eighth – second Glasgow Scoring runner for the team which finished second to Edinburgh University.   On 7th December, he was second in a match against St Andrews to be second counter in 37:20 for the winning University team.   Into the New Year and Scobie was third in 38:08 to be second scorer in the winning team against Edinburgh U H&H over a six and three quarter mile trail.  A week later on 18th January  in the Midland District Championships he was twelfth and second scorer for the fifth placed team.  On 25th January it was back to Aberdeen to meet Aberdeen University, Aberdeen AAC, St Andrews University and Dundee Hawkhill over 6 miles of road and country where Brian finished third individual and second Glasgow man in the winning team.   On 1st February in the Scottish Universities Championships Glasgow won the team race with Brian Scobie in sixth place after seven miles of road and country.   Later in February he ran in the Junior National and finished twenty third in the Glasgow squad that was eighth.   At the club AGM on 27th April, 1964, Cameron Shepherd the club captain made his report in which he commented on the fine running of Calum Laing, Allan Faulds, Brian Scobie and Terry Kerwin and followed this up by saying that Brian Scobie had had an exceptional season and the Club was very disappointed that he had not been awarded the Blue for which he had been nominated.   It was however awarded the following year.
There are of course team contests on the track in the form of relays and Brian, a good team player, was in the winning teams for the 4  x  440 yards championship in 1963 (3:19.3) and 1964 (3:19.1) and ran the half mile leg of the winning team in the Mile Medley Relay in 1964 (3:36.6).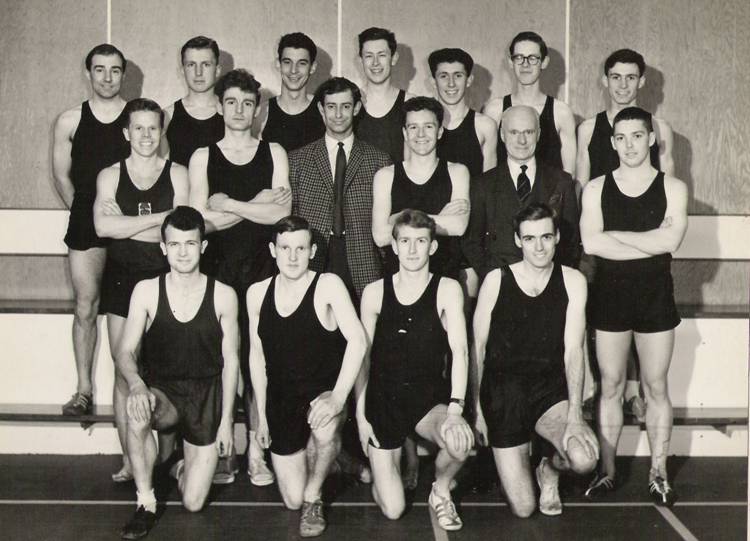 As the winter work would have led him to a high level of fitness, Brian began the summer season on 2nd May in a match between Glasgow University, St Andrews University and Queen's University, Belfast, at Westerlands.   Running in the Mile he was second to Glasgow team mate J Wilson who won in 4:24.8.   A week later in the University's confined championships he was third in the Mile, won by Dick Hodelet in 4:33.8 with Ray Baillie second, and second in the Three Miles, won by Calum Laing in 15:34.7.   As in 1963, the very high standard of competition in his favoured distances was so high that he did not appear in any of the other championships that year – not District, British Universities nor SAAA.   Nevertheless by the end of the season he was ranked 14th in Scotland over 880y with a best time of 1:55.6.
The first winter classic is the Edinburgh to Glasgow relay and in season 1964-65 Brian Scobie ran on the first stage and finished seventh.  The rest of team failed to hold this place and the team was fifteenth.   In the District Championships,  Scobie finished twenty second and the University team was fifth, and again the official history comments on the individual performances of Scobie and Shepherd.   Both were selected to run in the race against the UAU , and Scobie along with Barclay Kennedy and Ray Baillie was selected to run for Scottish Universities against a Scottish Cross-Country team.   He was, with four others, awarded First Team Colours and the report goes on to say "The outstanding member of the Hares and Hounds   over the season had undoubtedly been Brian Scobie; this was recognised by his winning of the Esslemont and McCulloch Trophies and the award of a Blue."   He had been captain that winter and in his report he commented on the drop in standard of team performances following the graduation of several first team members.   Citing Barclay Kennedy as an example he said "that no-one could claim that Barclay was built as a cross country runner, and yet he had reached the standard of a Scottish Universities' Select."   He stepped down as captain at that meeting at the end of the winter season.
After this excellent winter, he started the next summer concentrating on what many felt was his best distance, the half mile.   On 24th April, 1965  Brian Scobie was part of a Glasgow team that defeated Aberdeen University in Glasgow.   He won the 880 yards to get the season off to a good start and the 'Glasgow Herald' reported:  "Bill Ewing of Aberdeen was well contained in the 880 yards by BWM Scobie (Glasgow University) who gives every indication of being an even better runner than he was last year.   Scobie had the race in control from the start and led Ewing over the finishing line by about five yards."      On 1st May in Belfast against Queen's, Belfast, and St Andrew's, Scobie was again out in the half mile.  It was a windy day, witness this on the 880 yards, "After allowing lesser mortals in the 880 yards to act as hares, BWM Scobie (Glasgow) broke away with half a lap to go and won in 2:01.2, a time that on any other day but Saturday he would readily have scorned."   Only one week later was the Glasgow University AC club championship and it was again a day of strong winds, so strong that the officials allowed the 100m competitors to run with the wind rather than against it.   Pity there wasn't the same opportunity for the half milers – but Brian Scobie won the title anyway in 1:58.9 and the Mile in 4:38.1.   On the last Saturday in May, Scobie was third in the West District 880 yards behind Graeme Grant and Mike McLean – not a disgrace to be behind these two fine runners.     By the end of the season he had a best of 1:54.6 which ranked him sixteenth in Scotland.
I have spoken to several of his contemporaries at University who have all – without exception – said that he did not achieve anything like his potential as an athlete before graduating.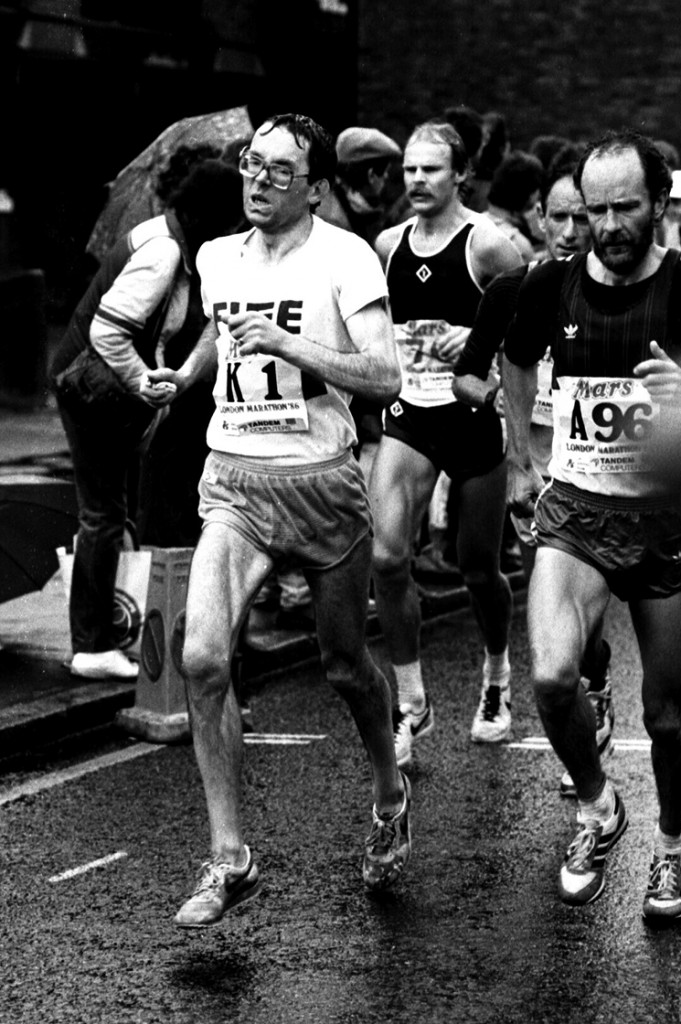 London Marathon, 1986: Brian Scobie A96
Brian moved to Leeds as an assistant lecturer in English in Leeds University in 1969 and stayed there until 2001 – a period of 32 years.   It was over this period that he developed his coaching skills and worked with many athletes of genuine quality – notably in the 1980's when his squad of endurance athletes, particularly marathon runners, was arguably the best in Britain.   Athletes in the squad included
*  Veronique Marot, who was twice British record-holder, winner London Marathon, 2nd New York Marathon, three times winner of Houston Marathon ('86, '89 and '91)
*   Angie Pain Hulley, two Commonwealth Games for England (6th and 3rd), A European Championship competitor, a World Championships runner and an Olympian
*   Sheila Catford,  Scottish Internationalist, winner of the Glasgow Marathon and Commonwealth Games competitor.
*   Sarah Rowell, World Student Games marathon winner, second in London Marathon, third in the Columbus Marathon in Ohio and 14th in the Olympic marathon in Los Angeles
*   Jill Clarke, world student marathon winner and 2:39:42 was fastest GB marathon debut until Paula Radford in 2002.
Julie Holland, currently number 24 on the UK all-time list for 10000m with 32:47:48
*   Sandra Arthurton, an outstanding cross-country runner, multi international appearances.
* Peter Whitehead who finished fourth in the World Marathon Championship (interesting article at www.liverpoolecho.co.uk/sport/other-sport/athletics/merseysides-100-olympians-no-60-3345933 )
* John Sherban – Commonwealth Games athlete
There are many more and those cited have all done much, much more that can be noted in this profile of their coach, Brian Scobie.   At this point he himself made a come-back to competitive athletics but at a much further distance than in his GUAC days – marathon running no less.   His first run at the distance was in the inaugural London Marathon in 1981 with some of his club mates in a time just outside 2:36.   He ran marathons very well indeed.  He ran London in 2:24 and 2:23 with his very best being 2:21:50 in London in 1984.     In 1986 the Scottish ranking lists had him at the age of 42 with marks of 30:52.8 for 10000m, and 2:24:14 for the marathon.    But at a time when the 'marathon boom' was in full swing and times were all, Brian was still a competitive runner and had two notable marathon victories under his belt.   Both were in the Horsforth Marathon.   The first victory was ion the second race in the series in 1982 in 2:29:09  from a field of 488 starters.  Two years later he won in 2:27:06.   The time in '82 was a record by 3 seconds but the 1984 victory took more than two minutes from his own record.   That record still stands.  The 80's was a good decade for him and after the two Horsforth victories he won the Commonwealth Games vets 25 K in 1986, the Scottish veterans cross-country in both '86 and '87 and then later in '87 won the masters category in Houston in 2:30:59.   No small achievement – the Houston Marathon started in 1972 and by 1987 there were thousands running every year with the winner in '87 being South Africa's Derrick May in 2:11:51.
It is of interest to note that at this point in his career he was back working with his old Glasgow University athletics team mate Craig Sharp.   Of this relationship Brian says:   "Craig Sharp was President when I was running for Glasgow University. In 1965 I won the trophy that he had presented a year earlier. My subsequent re-connection with him was when he was heading the newly-created British Olympic Medical Centre, in Uxbridge. In the late 1980s we had a number of professional contacts in relation to my efforts to prepare Veronique for the Worlds and Olympics 1990-1992. Craig was very knowledgeable and very accessible and helpful at every point, friendly and assiduous. Through him I had a mobile lab-van trackside in Leeds at one point, doing lactate field-tests. (Try that nowadays!) So Craig was a big and positive influence for me from the 1960s to the 1990s."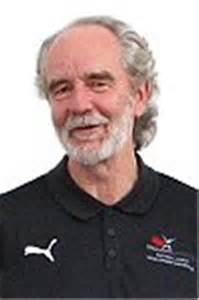 Brian Scobie, the coach.
Into the twenty first century and Brian Scobie is still working as hard as ever – that his work is successful is seen by some of the positions held:
From March 2003 to 2009 he was a Senior Performance Coach for UK Athletics before taking a post as Sprints Coach at Leeds Met University, a post which he held for a year.   He then became an Area Coach Mentor, Endurance, for England Athletics  in May 2011, a position which he still holds.   What does it entail?   "Mentor to Endurance Coaches in Yorkshire and Humber on behalf of the Athletics governing body in England; he has taken the post on a part-time consultancy basis.   He is required to manage the England Athletics Area Endurance Coach Development Centre which is based at Leeds Metropolitan University.  It involves organising and structuring all forms of coach education and speaking at venues across this huge part of the north of England. If we look at Linked In, his talents include Blind Sport Development, Paralympic athletics, Sprint Speed Coach, Marathon Coach, Endurance Coach.   He has written on all aspects of coaching, several available on the web – eg www.sportscoachuk.org/sites/default/files/CE-Does-Disability-Make-Difference.pdf on the coaching of athletes with a disability.
In the context of working with athletes with a disability he works with Tanni-Grey Thomson and has been described as 'her boss' in her new job of identifying talent among those with a disability.   He has also worked as Head Coach of the UK Athletics Paralympic Team.     The involvement with Blind and paralympic sport should maybe be looked at and I asked Brian about it:
"As a result of getting fully engaged in the British Blind Sport project that John Anderson had invited me to be involved in from about 1982, I took a team to the 1984 paralympic event.   I was co-managing with John Bailey who was unfortunately stretchered off the plane in New York with a suspected heart attack.   So I had to manage and coach that very strong team at the event in Long Island.   The event management was poor in many ways and I found myself battling heavily n technical meetings, etc, and having to raise issues for non-English speakers.   As a result, I made friends but also some enemies.   In the end it led to my involvement in the development and growth of blind sports in general within the governing body, IBSA.   By the Atlanta Games I was the Technical Director, responsible for about 16 sports across five continents.   In the early years of this involvement I also managed and coached Visually Impaired athletics but relinquished much of that role due to conflicts of interest.   I was offered a post within UKA to establish the British team for the 2000 paralympics but was reluctant to quit my University post."
And it didn't stop there.   Brian worked for a time as a sports development consultant.   Many of the contracts he was involved with were funded by the Spanish organisation for the blind which traded under the acronym of ONCE, which translates as Spanish Blind Association.   He undertook a number of projects with them and their partners in promoting disability sports.   This not only took him to Africa and countries in Eastern Europe but led to his designing a programme for the UK to which he was later appointed as head.   He was also involved with the IAAF and delivered a programme for developing countries at the World Championships in Lille.
Brian is still coaching club athletes, and he coaches athletes from a wide variety of clubs.   The Power of 10 website credits him with 15 athletes from 9 clubs, covering distances from 100m to marathon, both men and women and ranging in age from Under 20 to M40 veterans.   Let no one think he is now coaching at a lower level than heretofore: he always coached athletes of all abilities, bringing many through the ranks to international standard, and in 2013 one of his athletes, David Devine who runs the 800m, 1500m and 5000m in the T12 category, was included on UK athletics world class performance funding programme for 2013.   If you are interested in how he trains his athletes and in the advice he gives to coaches, you can access a slide presentation at
www.slideplayer.com/slide/1679711/
It starts with the picture of the student Scobie winning a race at Westerland shown above and ends with a slide of him running in a marathon pack with Veronique Marot in the mid-80s, but it's the content that matters.
His is a story of a lifetime's involvement in the sport going from his days as a schoolboy in Milngavie, just outside Glasgow right up to the present day: and a commitment all the way through to excellence, encouraging the athletes he works with – able bodied and disabled, club standard and international class – to' be all they can be.'