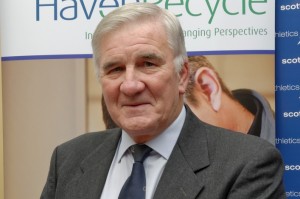 Ron Morrison
When starting this profile, I mentioned Ron's name to a former international athlete who started to smile, and after commenting on 'his idiosyncratic laugh (!), went on to say  "Ron has done so much for the sport – Fife AC, coaching Lemoncello, the archive, etc, etc.   A nicer, cleverer guy you could not meet."   These were typical of the other comments that were forth coming and noted his involvement with Fife from the very first, his coaching (where Andrew Lemoncello was the best known but by no means the only athlete to have profited from Ron's coaching) and his work with the SAL website which included the comprehensive archive feature.   All true but so much that Ron has done is not included there – his running with Shettleston Harriers and Strathclyde University, his versatility as an athlete, his work as team manager for both Shettleston and Fife, as well of course as his administrative and organisational capabilities.   We should however start where he started – with Shettleston Harriers in the 1960's.   Ron was kind enough to complete the questionnaire as follows.
*****
Name:   Ron Morrison
Club:   Fife AC
Occupation:   Retired
How did you get into the sport initially:   I was born a Shettleston Harrier.
Personal Bests?    Here are the ones I have confirmation for:
800m:   1:59.5 on  27/4/72                            1500:   4:20.7 on 10/5/72
5000:   16:28.0 on 13/4/74                           10000m:
Marathon:  2:52:33 on 7/5/77                      3000m Steeplechase:   9:54.8 on 27/5/72
110mH:                                                               400mH:   59.4 on 7/5/72
High Jump:   1.52m on 6/8/68                     Pole Vault:   3.12m on 12/6/66
Long Jump:   5.43m on 13/5/65                   Triple Jump:   11.24m on 25/1/64
Hammer Throw:   31.06m on 5/8/65          Shot Putt:   10.25m on 20/8/78
Discus:   30.26m on 5/8/65                           Javelin:   36.75m on 15/4/72
Has any individual or group had any marked effect on either your attitude to the sport or your performances? 
I always admired the way the Ian Clifton (Secretary) and Bob McSwein (Treasurer) ran the business of the SCCU in the 70s and 80s. Alex Jackson and myself had their model in our head when we took over the SAL RR&CC Commission in 2008.
What do you consider your best ever performance?
Hard one that as none of them were very good. The most pleasure I had was in the beating my old University pal George McIvor in the East District Cross-Country Championships at Cupar in 1976. I had just pushed him into a ditch about 150 metres from the finish.   To this day he has refused to pay out the bet. I did have the moral high ground. Cross Country is all about beating up your mates.
I also remember turning up with Norrie Foster to a League match at Meadowbank and we finished 5th for Shettleston. There were only two of us present. Norrie did ten events and me nine
How and when did you start out as an official?
At Strathclyde University. It was easier to do the job than watch it being bungled.
Can you mention any major competitions at which you have officiated?
I have refereed 16 National Cross-Country and many XCR and district events.   The biggest events were the World Cross-Country at Edinburgh in 2008 and the Commonwealth Games Marathon in Glasgow in 2014.
What qualifications do you hold as an official and/or coach?
Grade 3 Official and grade 2 coach
What honours have you been awarded so far?
SAL Honorary Life Member
What has athletics brought you that you would not have wanted to miss?
As an athlete fun, as a coach helping talented people and as an official seeing a good job being done.
What changes, if any, would you make in the sport?
I am an iconoclast. I would change everything but it is not a good idea.
*****
Born on 15th April, 1946,he says he was 'born a Shettleston Harrier'.   It is no secret that his Dad was the well loved and respected David Morrison who started with the club in 1933 and continued for the rest of his life in the club and the sport and set world records as a veteran.   He was also a multi events competitor with a range almost as wide as Ron's – I don't remember his father doing a 110m high hurdles.   There is a profile of David at www.scottishdistancerunninghistory.co.uk/David%20Morrison.htm .   It was inevitable that Ron would start out with the club.    
His first race was at the age of 12 in October 1958 when he took part in the club's trials for the Lanarkshire county championships.   Dick Wedlock who would go on to great things won the race and Ron was last.   One of the really great decathletes for Scotland was Norrie Foster who was also a member of Shettleston Harriers and, as they were in the same age group, they grew up in the sport together just doing every event.   (Norrie was fourth in the Commonwealth Games in Jamaica in 1966.)
Ron says that he was not 'great at anything but just did everything.'    Nevertheless he appeared in the national ranking lists every year between 1964 and 1977 inclusive.   He first appeared in the Scottish rankings in 1964 at the age of 18 with a 3.05 metre pole vault which placed him seventeenth in the national rankings for the event.   Not at all a one off, he appeared in both 1965 and 1966 in the same event with vaults of 3.05m and 3.12m which ranked him twenty first and seventeenth.    His versatility is evident in his track and field ranking between 1964 and 1977.    Clearly a good club man, he was also ranked in the 400m hurdles ( 1972 and 1973 with 59.4 and 60.3 which placed him twenty first and twenty sixth), 3000m steeplechase (1970, 1971 and 1972 with times of 10:02.4 [25th], 10:03.2 [24th] and 9:54.8 [28th]) and hammer throw (30.88m in 1977, ranked 19th) but it was the pole vault with which he was most consistent – 2.74m (30th in 1972), 2.90 (21st in 1973), 3.00m (23rd in 1974), 2.90m (22nd in 1975) and 3.00m (24th in 1976).   These were events that he would return to much later in his career to help the Fife AC team in their quest for league points.   Competitively, he was Glasgow Schools discus champion at the age of 13 in 1959.   Ron was third in the SAAA Junior Hammer Championship in 1964 with 101′ 8″ and in 1965 he was second in the Junior Hammer with 122′ 0″.   He was also good enough represent Scotland against the British Army at Grangemouth as a Junior Hammer thrower.   He says, maybe wryly, that he was built like a hammer thrower but wanted to be an endurance runner!
We think of him as a cross-country man though and he was a member of the team (A Blamire, T Dolan, D Adams and Ron) which finished tenth in the Youths National in 1964.   Alistair remembers 1964 and meeting Ron and says "I first met Ron at the Shettleston Youth club cross-country championships in 1963-64. I had joined the club when at Dumfries Academy, through an old Shettleston Harrier called Lewis Howitt, who lived in Dumfries.    I didn't know anyone at first but remember Ron well from that time as he was known to be cleverer than everyone else, including me of course!   Although I went to Edinburgh University shortly afterwards I still ran for Shettleston from time to time and will always remember Ron as the man who could throw the hammer and run the steeplechase at the same meeting! Now, that must be unique because he was pretty good at both events – I think he finished runner up in the SAAA Junior Hammer in 1965."   
Ron started his University career at Strathclyde University and ran for their cross-country team from 1964 – 1967, captaining the team in 1967.   Then running for Glasgow University in 1968 he was second in the second team race at the Scottish Universities Championships.   It was then on to St Andrews University when he was in the team that was third in the East District Relay Championships at Penicuik in 1972 with Stuart Easton, Philip Hay and David Lorimer.   His first Edinburgh to Glasgow Relay was for St Andrews in 1972 when the finished 16th with Ron on the last stage.   He was also for a time Secretary/Organiser for the Strathclyde University team and organised the annual trip to Lagan Valley Relays in Ireland.
 Ron ran in two Edinburgh to Glasgow races for Shettleston during this period: 1973 on the third stage after Lachie Stewart had come from 15th place to 9th and Ron ran well enough to drop only one place,  and 1974 again on the third stage when he hung on to twelfth place for the club.   He picked up a bronze medal in the National Cross-Country Championships in 1975 when he was sixth scoring runner for Shettleston in 114th place.   His first run in the National had been in 1964 as a Youth (ie Under 17).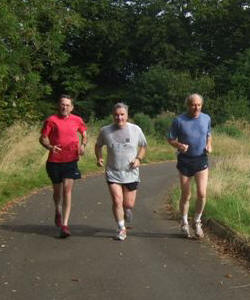 They call this one 'Two Wise Men' – so that they can argue about who's the odd man out!
His biggest success at this period however was not as a runner at all but as Shettleston Team Manager in 1970-'71.   The club cross-country committee at the times was made up of Ron (team manager), George Kay (president), Alex Naylor (coach), Davie Morrison (Ron's cousin) and Bill Scally.   A formidable quintet combining experience and wisdom, they were clear that with the talent at their disposal that year they had to get everybody training and competing.    Their first action was to send out a letter to all members:   "We sent them to everyone," recalls Ron Morrison, "recalcitrant non-trainers and superstars alike."   It is fair to say that their efforts succeeded beyond their dreams and 1970-71 turned out to be one of their best ever cross-country seasons.  
They won  the McAndrew, Lanarkshire, Midlands and Allan Scally Relays, the Lanarkshire, Midland and National cross-country championships, the team race at the Nigel Barge classic in January and the Edinburgh to Glasgow eight stage relay as well.    Marvellous.   Then they sent a team to the English National.   The story is told in the club history:
With the team that they had, and after all the successes of the season, Shettleston sent a team down to the English National Championships to be held at Norwich.   After a long journey down and cramped and uncomfortable sleeping accommodation (camp-beds!) the team positions were Alastair Blamire 11th, Lachie Stewart 19th, Dick Wedlock 24th, Norman Morrison 32nd, Henry Summerhill 65th and Tommy Grubb 131st.   Ronnie Morrison is quoted in the club history as saying more than thirty years later, "It took some time for the result to be accurately announced due to the fact that we were unfamiliar with the disc system employed to count the team scores.   Tipton Harriers were announced as the winners with 287 points but after checking I knew I was holding a team packet with a total of 282 points.   There was some disbelief when I eventually located the scorers and after detailed scrutiny of the names, the were declared legal by SCCU official Ewan Murray."    The history goes on "The most prestigious trophy, of what had been a momentous season was presented by the mayor of Norwich, after which the team bus headed north for a night of celebration.   "With victories in every senior event we entered, " said Ronnie Morrison, "season 1970 – 71 can be described as a year of gold."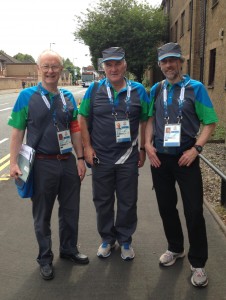 Alex Jackson, Ron and David Cairns
Ron had moved to St Andrew's in 1971 and when the new Fife AC club started up in 1975 he became one of the members there and ran in the Edinburgh to Glasgow in their colours in 1976 (seventh stage) and 1977 (eighth) for the team that was finding its feet in this competition.  Indeed the team of which he was a member in 1976 won the most meritorious performance medals.  He was President of the club between 1978 and 1980.  One of his fellow members of Fife AC was Donald Macgregor and I asked him how they had met up in the first place.     He replied
"I met Ron on St Andrews University playing fields around 1970/71 when training. There are two versions – did I ask him to join us or vice versa – I think the former.   We did quite a lot of training together, in and around Anstruther (where he lived for a while)  and in Tentsmuir Forest on Sundays.Others who ran with us were Terry Mitchell and Ian Grieve, both initially 'professionals -SHGA. 
 The weekly training pattern was long established: Monday fartlek, Tuesday longish run, Wed speed work, Thurs longish run, Fri easy 5, Sat race or 15, Sun 15-20.
I then went to Germany for a year and then 2 years in Dunoon. Meanwhile Ron was a professor. We became officials, and in due course both became presidents of the SCCU, requiring a lot of late night trips to Glasgow."
Don refers to Ron's academic career which was quite outstanding and I quote from the Wikipedia article:   Professor Ron Morrison was the head of School of the computer science department of the University of St Andrews and the inventor of the S-algol programming language, and co-inventor of the PS-algol and Napier 88 languages.  He is a Fellow of the Royal Society of Edinburgh.
Note that although he is not only a distinguished academic with well over 100 published papers and ten books to his credit but a very highly respected lecturer and speaker into the bargain.    He was however also seriously involved in athletics embodying the principal that 'if you want something done, ask a busy man.'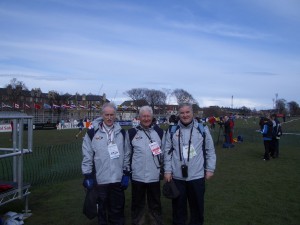 Bob McSwein, Ian Clifton and Ron at the world cross-country championships in Edinburgh, 2008
Having settled in St Andrews and become a member of the local athletic club he served as a committee member, ran, coached and at the same time was one of the hardest working members of the Scottish athletics Road Running and Cross-Country Commission.
His first year on the Scottish Cross-Country Union General Committee was 1979.   He became the East District Chairman and then President of the SCCU in 1985-'86 and was with the Scottish team at the World Championships in Neuchatel in March 1986 when John Ngugi of Kenya made his first winning appearance.
As an official, as opposed to his work as an administrator, Ron  has been consistently in action since 1988 when he refereed his first National Cross-Country Championship.   In the period between that meeting and the present he has held that post every year until 2015 making it 16 straight championships.   He was referee for the World Cross Country Championships in 2008 and the Commonwealth Games Marathons in 2014.   There have of course been many other events – Cross Country races including District Championships, league matches and open road races.
This was just at the time when Scottish athletics was starting to look to the future and contemplating setting up a more professional governing body.
One of his colleagues on many of the cross-country running committees was Alex Jackson from Edinburgh and he remembers an example of Ron's forward thinking at the time in this story from 1984.   "I can recall an SCCU General Committee Meeting from late 1984, Ron had recently been elected vice-president of the SCCU.   He suggested that the future of cross-country running in Scotland should be with a joint governing body for males and females This was in the day SCCU competition was male only and I remember a sharp intake of breath that night at the very thought of it."
  The Scottish Amateur Athletic Association and the Scottish Cross-Country Union were merged as part of a move to a more professional set up in the 90's.   There were repercussions throughout the sport.   For instance, the old group coach for endurance events had been responsible for all distance events from 800m to the marathon plus the walks and was allowed to spend up to £240 a year, a derisory sum that was not enough to cover the phone calls.   His was also a part time position which was just not appropriate for the start of the twenty first century.   The other group coaches were run in a similar fashion and had to be brought up to date.   In addition, the split between the various organising bodies of the sport was also inappropriate for a sport in modern times with four main organisations in existence (SAAA, SWAAA, SCCU and SWCCU) as well as separate bodies for hill running and schools.   There had to be changes and Ron was in the midst of these.   Alex Jackson again:
"Ron was one of the driving forces behind not only a joint governing body for cross-country but also for all athletics disciplines which resulted in the formation of Scottish Athletics in 1992.    Through these years he was head of a large Computer Sciences School at St Andrews University so would disappear from athletics for periods when he had to concentrate on the demanding day job.   When he was concentrating on athletics, academics researchers who had come to St Andrews specifically to work with him complained they never saw him.   
He was also the driving force in putting in place a professional management system which resulted in the appointment of David Joy as the first CEO of Scottish Athletics in 1998.   A similar system was subsequently used by other athletics governing bodies in the UK.   
The Cross-Country and Road Running Archive that he set up leads the way in depth of results from past championships.   None of the other home countries have anything approaching the range and content."
If we look at all that he was involved in at this time, we see first of all that in the shift from Scottish Amateur Athletics Association to Scottish Athletics Federation, he was on the SAF Steering Group with Alan Grassett and went on to be, first, Vice President, then President of the SAF from 1997 to 1999 and was made an Honorary Life Member.
With Neil Park, Bill Smith and Peter Carton he wrote the Vision and Business documents that were presented to the Sports Council to fund the present set up.   Ron adds, "As Alex says I then went back to work."   He has been Convener of the SAL RR&CC Commission for 6 years between 2008-14.   I became a member of the SAL Board in 2012
He was convener of the Scottish Athletics Federation from 2008-'09 to 2012-'13 and has been responsible for the creation, development and maintenance of the Commission website since its inception.   It is fair to say that it is one of the best research tools and sources of information  available to Scottish Cross-Country historians and others interested in the sport.
He became a member of the Board in 2012 and the Scottish Athletics website summarised his career as an official and in the sport at large as follows:
Board Of Directors
Ron Morrison
Director 
Ron Morrison has an extensive background in the leadership and management of scottishathletics. An U21 Hammer Internationalist he is still semi–active and has won 9 Scottish Masters titles in various events. His love of cross country running saw him President of the S.C.C.U. (1985-6) and the S.A.F (1997-9) where he led the setting up of the current professional business structure of the sport. As an official his expertise has been recognised with the appointment as Referee at the World Cross Country championships in Edinburgh in 2008 and Marathon Referee for the Glasgow Commonwealth Games. A professional background as Professor of Computing at St Andrews University, where Ron remains closely involved with coaching endurance athletes at the University and through Fife AC.
That was written in 2015 and this year Ron is in post as Past Convener of the Commission with the intention of standing down at the end of the year.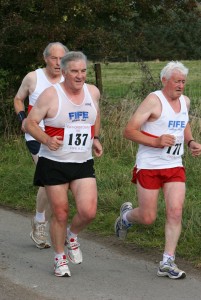 At Giffordtown 5K in 2009 with Bob Stark and Ron Hilditch.
Don Macgregor's involvement in the sport has several parallels with Ron's which he comments on, but they are known as something of a double act as far as coaching in Fife is concerned.   Among the runners he has worked with are British internationalists Andrew Lemoncello (Steeplechase), Megan Crawford (Hills) and Victoria Gill (10K)  and Scottish internationalists Owen Greene (Hills), Andrew Liston (Hills), Morgan Windram-Geddes (Cross-Country), Hester Dix (10K), Jennifer Kibble (U20 track 5000m, HR U17, U20 twice, London).
Along with his long-time friend, Don Macgregor, he has coached many generations of St Andrews University cross-country and endurance athletes.
Don says:
"We became officials, and in due course both became presidents of the SCCU, requiring a lot of late night trips to Glasgow.   I stayed with Ron's dad, Davie, when Davie and I both won world vet titles in 1980.
Ron started coaching in the late 1990s, and I joined him.   We are both still at it.   The schedules are written by Ron, but were originally based on my training diaries. Over the years some of our athletes have achieved considerable success, notably of course Andrew Lemoncello, but more recently Megan Crawford,  the women' teams and the marathoners (female).   We coach a mixture of local athletes and students.   At present we have a coaching team of 5, but Ron is the boss. I admire his persistence and enthusiasm ( much of which I have lost).   Without Ron our athletes would not be nearly as successful.   However all are treated the same, from champions to debutants. Everything is voluntary (including our services!).   Apart from coaching, Ron has run the Commission, as you know and has been race referee on numerous occasions, incl the World Champs at Holyrood in 2008 and the Glasgow CG. He has in my view done more for Scottishathletics than most."
Megan is the one mentioned above and is indeed very talented with experience of athletics at the highest levels – her first marathon race was in Inverness and she won that one in 2:46:37 taking two seconds from the record set by Ethiopian Mekash Tefara three years earlier – but Power of 10 lists athletes from the Under 23 age group to over 45.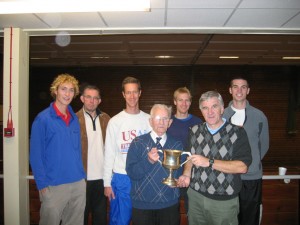 Don and Ron with their team which won the Allan Scally Relay in 2003
Ron receiving the trophy from his Dad, David.
Competition is not left to his athletes however.   Track league meetings reappeared in Ron's schedule in recent years when he has represented Fife in shot and hammer and he has won gold in Masters Championships hammer throwing too.  His Dad and brother won Scottish age group medals, what has Ron done?   He has kept well up with them.   The list –
gold 1996 (M50) – PV, Hammer, 400mh, JT;
2001 (M55) silver HT (30.52);
2006 (M60) – gold HT (28.78), 300mh (no medal – 59.34);
2007 (M60) gold – HT (26.52);
2011 (M65) – silver HT (26.58);
2012 (M65) gold – HT (25.42)
2013 Gold HT (M6) 25.74
And as a man with a hammer thrower's build who wants to be an endurance runner, he frequently runs in the St Andrews Parkruns over 5000m.   'The American 'Runners World' referred to George Sheehan who combined being a doctor with running long distances and writing for the magazine a Renaissance Man – what does that Make Ron Morrison?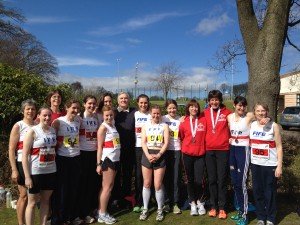 The Fife women's team that he is coaching in 2015:   They won the Masters National and were third in the women's National
We can finish on what his friend Alex Jackson calls 'The Beard Story.'    It goes like this.
In 1980 there was an athletics film being made in which a scene with runners running along the sand at St Andrews was to be shot.   Donald Macgregor was asked to get together a group of runners as possibles for it.   His good friend Ron Morrison was put forward as one, he was accepted provided he took off his beard.   Ron was fond of his beard, declined and wasn't in the scene.   He thought it was a little film which might not even make general release.   It was 'Chariots of Fire' which was nominated for seven Oscars and won four.  That scene in particular was described by Paul Gambacini as "One of the iconic moments in world cinema."  If he had known that, the beard might well have come off.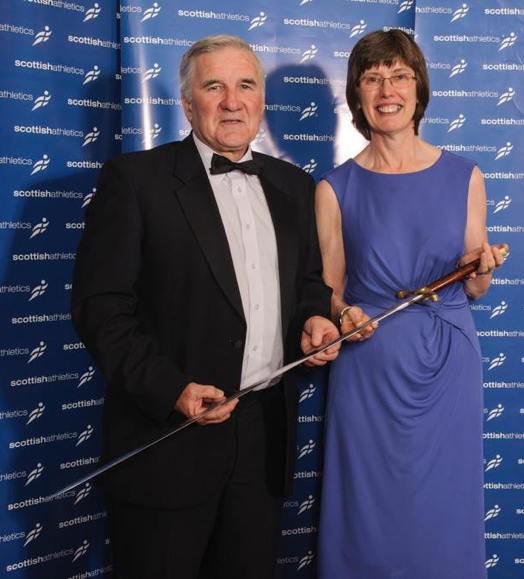 Ron receiving the Tom Stillie award from Leslie Roy, President of Scottish Athletics