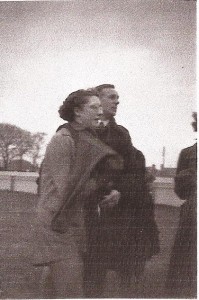 Jim Morton with Molly Wilmoth
Jim Morton was a Springburn Harrier all his life – first as a runner, then as a good committee member – who represented his club at national level in both SAAA and SCCU. I knew him as a genial and insightful member of the SAAA General and West District Committees in the late 1970's and a finer committee man I never met. Colin Youngson who was a member of several Scottish groups who trained at Cleland with Jim's teams said, " everyone found him to be motivating, efficient, supportive, cheerful, pleasant and very easily the best and most popular of all the top officials/team managers" He is almost certainly remembered by those of mine and succeeding generations as an administrator and official, he was a very good runner too and we will begin this profile by looking at his career as a runner.
Jim really arrived on the Scottish distance running scene in the Midlands Championships of 1939. Colin Shields describes the event for us: "There were three ex-Novice champions in the Midland Championships at Pollokshaws – R Simpson (Motherwell), WG Black (Plebeian) and D Fyfe (Springburn) – but there was a surprise winner in James Morton of Springburn who was later to become Union President. Morton defeated D Fyfe by seven seconds when winning Springburn's club championship a week earlier. Running with fine judgment and plenty of spirit he finished with a fine sustained challenge over the final half-mile to win the 7 mile race by 7 seconds from WG Black. Morton had, to that date spread his talents equally between hockey and running but this win encouraged him to concentrate on cross-country with many rewarding events both competitively and administratively resulting from his choice of cross-country as his main sporting interest."
He had in fact been third in the National Novice championship in 1937 behind R Reid and AT Peters in 1937. Click on the date for a report on that race. He continued to run regularly for his club although like many of his generation the War probably deprived him of what would have been the best years of his running career. His next notable run over the country was in the Midlands Championships of the 1950-51 season when he was eighth and third counter for the second-placed Springburn team. The eight-man Edinburgh to Glasgow Relay was started up in 1930 and Jim ran in it a total of six times between 1938 and 1952. His performances are summarised in the table below.
Jim's Six Edinburgh to Glasgow Relays
| | | | |
| --- | --- | --- | --- |
| Year | Stage | Position | Team Place |
| 1938 | 4 | 7th to 6th | 5th |
| 1939 | 4 | 10th to 9th | 9th |
| April 1949 | 6 | 6th to 6th | 7th |
| 1950 | 4 | 9th to 7th | 5th |
| 1951 | 3 | 6th to 4th | 3rd |
| 1952 | 4 | 12th to 13th | 12th |
His career as an official and administrator overlapped with the end of his running career and developed quickly at National level. He was always an athletes' man I remember on one occasion at a West District Committee of the SAAA Committee Meeting, when it was asked to have an exact timetable for the various events, the secretary of the time said it was difficult to do because the officials needed a break in the middle of the afternoon because they couldn't be expected to stand as timekeepers or judges otherwise. If they could hurry the events along early in the meeting, then they could have a break. The vote was a close-run thing and the status quo (ie no timetable) was maintained. Administrators such as Jim (along with others like Colin Shields , Eddie Taylor and Alex Naylor ) always stood up for the athletes. Another example of this is the SAAA post-mortem on the team at another Commonwealth Games. Another highly respected official was waxing eloquent on the shameful behaviour of some male athletes spending time with female athletes (who were accommodated on a different floor) and what they might have been getting up to. The speaker was on the left end of the top table, Jim was at the right end of the table. He looked directly along the table and said in a good-natured way, "Come off it, X, you know that the officials were all at it as well. If you're going to criticise the athletes, then let's be fair and bring out all the names." Am effective contribution.
There are often times when competitors complain about 'officials' when their complaints should be directed to the administrators – Jim served in both capacities and no athlete or coach that I knew of ever complained about either. His efficiency as an all-round track official and more than capable referee ensured that he was the sole track referee appointed for the 1970 Commonwealth Games.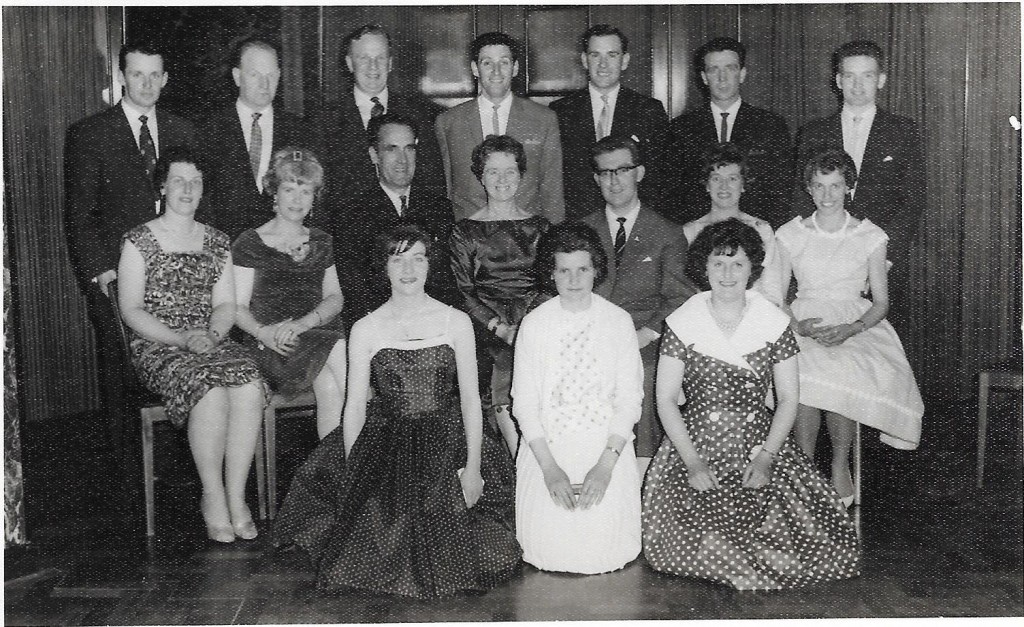 Jim Morton, third from left in the back row at a Springburn Harriers dinner in 1962
Colin Shields tells us that Morton had been, along with his son Forbes, an Assistant Secretary of the SAAA and was a top-class track referee – occupying this position at the 1970 Commonwealth Games at Meadowbank Stadium. He delighted in telling the story of the 10000m race on the opening day of the Games, won by Lachie Stewart in record time from Ron Clarke of Australia and Dick Taylor of England. Such was the downpour of rain throughout the race that the recorders lap scoring sheets were soaked and reduced to mushy pulp. It was only after Morton took them home, and dried them carefully in his gas oven, that they could be deciphered to determine the finishing order of runners after the first three medallists and discover the intermediate lap times of all the runners in the race."
Jimwas also involved in officials' education and is quoted as saying to some intending timekeepers that they needed concentration, good eyesight, keenness and a strong bladder because you were out there for the duration of the meeting.
He was Scottish cross-country international team manager from 1968 to 1979 and it was during this time that Scottish middle and long distance running reached a peak never since attained. Runners such as Jim Alder, Lachie Stewart, Ian McCafferty, Ian Stewart, Jim Brown, Ron McDonald, Fergus Murray and many others were to represent their country in the world championships. Teams under Jim's control performed well as can be seen from the statistics below.
Record as Scottish Cross-Country Team Manager: 1968 – 1979
1968: Tunis: Team 4th. First Scot: Ian McCafferty 10th
1969: Clydebank: Team 5th. First Scot: Ian McCafferty 3rd
1970: Vichy, France: Team 5th. First Scot: Lachie Stewart 12th
1971: San Sebastian: Team 9th. First Scot 7th
1972: Cambridge: Team 4th. First Scot
1973: Waregem, Belgium: Team 8th. First Scot N Morrison 13th, NB: Jim Brown 1st Junior
1974: Monza, Italy: Team 7th. First Scot Jim Brown 4th
1975: Rabat, Morocco: Team 6th (of 23) First Scot Ian Stewart 1st
1976: Chepstow, Wales: Team 10th First Scot Jim Brown 24th
1977: Dusseldorf: Team 10th. First Scot Allister Hutton 14th
1978: Glasgow: Team 9th. First Scot Nat Muir 7th
Performed well certainly, with some outstanding individual performances too, but over the piece there was a feeling of disappointment. In 1968 new manager Morton made his intentions clear with a very professional approach to the team competition. Colin Shields tells us that The preparations for thr ICCU International Championships at Tunis were the most methodical and carefully organised that the Union had ever carried out. Monthly training sessions were carried out under the supervision of team manager Jim Morton at Cleland Estate, Motherwell, where a mock-up course, shaped like the one the runners would encounter at Tunis was available for practice. Arrangements were so precise that, on the day of travel, a training run was arranged for the team at a sports ground near London Airport to alleviate a two hour delay between planes. The careful preparations were fully rewarded when the Scottish team returned their best performance in 32 years by finishing a close-up fourth of thirteen competing countries. The Scots were not to the ore at the start and the first five counters were scattered up to fortieth position at half distance. In the final three miles of the race the Scots improved greatly, and Ian McCafferty who had achieved two individual wins in Belgium during a severely restricted competitive season, again showed his great ability when he charged through the field to gain seven places to be the first Scot home in tenth place. His achievement was matched by 35 year old team captain Andrew Brown who after placing 48th in 1966 and 43rd in 1967, drove the team nwards while pushing himself into the first 20 finishers. From a team score of 172 points at half distance the Scots gained an average of six places per man for a final total of 137 points, just eight points behind Spain who gained the bronze medals with 129 points."
Fifth in Clydebank a year later, they could have been among the medals but there were under-performances from some athletes who were normally reliable and a fifth place in the event won by Gaston Roelants, and in which Mohammed Gammoudi dropped out less than a year after winning two medals in the Olympics in Mexico, was a disappointment. Ian McCafferty had a first class race to finish third with Lachie Stewart twentieth and Fergus Murray twenty third. Even 'Athletics Weekly' considered the team capable of medals. Ian Stewart was third but several established stars failed to reproduce their best form and the country was fourth. Jim was quoted at the time as saying, "This should have been Scotland's year. It can only be called a bloody disaster. When the established men let you down, and can give no explanation afterwards, then there's something far wrong. It's time for a major rethink on the Senior men's team."
Jim was the man in the hot seat in 1973 when the IAAF decided that the event became a true world championship with its first race at Waregem, Belgium n 1973. The team was 8th
His and Scotland's hopes were really high in 1978 – his last year in the post and a race in Glasgow. Unfortunately all did not go smoothly for the team. Let Colin describe the event. "His high hopes were quashed when Ian Stewart who had finished second in the English National Championships, caught 'flu and had to drop out of Scotland's team, joining Rees Ward who had earlier withdrawn due to injury. On race day the weather deteriorated badly and appalling conditions of rain, hail and sleet were blown by strong winds horizontally into the faces of runners and spectators. Twenty year old Nat Muir, judged too young to compete in the Senior National race was selected for the World Championship Senior team. He started slowly in the race and worked his way through from mid Twenties to fourth at one point before slipping back to finish seventh. The team finished ninth of twenty teams."
Jim had done a good thorough job during his years and the Scots team had some results that were the best since the thirties with individual victories in both Senior and Junior races as well as silver and bronze medals and the team with two fifths and a fourth did not do badly. Jim had worked so hard over the period that he really deserved at least one set of team medals. He had been a runner and he remained a runners' man.