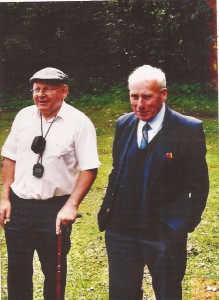 Raymond on the right with his friend and fellow time-keeper Cecil McPherson
I first met Raymond at the SAAA Championships in 1966. We both got off the train at Grangemouth at the same time, and although we didn't know each other we fell into conversation and made our way to the Stadium together. He had his haversack over his shoulder and I was to become familiar with the sight of Raymond with that rucksack over the years to come. We weren't great friends, we met too seldom for that, but Raymond got on well with everybody and I was to find out in the course of many conversations of his mountaineering and hill-walking (he climbed the Munroes twice!) and railway walking – he was interested when I moved to Lochearnhead because of the many old railway lines up here. Born in 1930, he died in 2007 at the age of 77. What follows is a personal tribute from one of his closest friends and colleagues, Graham McDonald.
"My early memories of Raymond were about 1957 at Inter Club Meetings when Pitreavie AAC hosted many enjoyable friendly evening matches with Larbert AC, Tillicoultry & Hillfoots AC, St Modans AC as well as some of the Edinburgh clubs at the then very new cinder track at Pitreavie.
Raymond came through to do the timekeeping with Larbert AC where his friend Bert Allan tells me he had been a member since least 1948. Our club secretary was always pleased to see that Raymond had arrived because that solved the problem of having a good timekeeper.
However, I kept embarrassing him about one of the sprint relay races where there was a very close finish with Larbert just pipping Pitreavie. I was sure we must have beaten our club record but he had been so excited that his team won that he forgot to stop his watch on us. He kept apologising for many years.
Raymond did compete at club level for a while but became more interested in timekeeping. Although not an official SAAA timekeeper at the time, his enquiring mind soon had him questioning the accuracy of times being returned by official SAAA timekeepers at some meetings.
After he became an official SAAA timekeeper he was concerned that there were no tests or exams for timekeepers in Scotland. Raymond got himself down to England to find out how the AAA conducted their timekeepers' tests under their timekeeping guru Harry Hathaway who had written the AAA guide to 'Timekeeping'.
I well remember in Oct '72 when I working down south and had been persuaded to take a timekeeping test at Motspur Park, Raymond arrived on the overnight sleeper to take the test. He had already done the test the previous year but he wanted to take it again to make sure he was keeping up to standard
With support of others, he was instrumental in starting training courses, and introducing testing and grading of timekeepers in Scotland. When timekeepers wanted to buy a good quality stopwatch, they were told by their colleagues 'see Raymond' and he would advise on the best watches available and arrange the purchase for them.
He was Chief Timekeeper at many on the major meetings in Scotland at Meadowbank and Kelvin Hall as well often being invited to officiate at Internationals at Crystal Palace. He officiated at the 1970 and 1986 Commonwealth Games in Edinburgh.
He had become involved in organising the first Scottish Men's T&F League in the '60s and tried to get a Scottish Inter Counties T&F Championships off the ground around the same time but he didn't get much support for the latter it only lasted a couple of years.
One incident of controversy he was involved in was at Kelvin Hall when it was thought that Colin Jackson had broken the World Record for the 60m Hurdles and it was reported throughout the media. Raymond's drive for accuracy made him re-check the photo-finish film several times which showed that Jackson had equalled the record, not broken it. BBC news bulletins later in the evening had to retract their earlier reports.
Raymond told me he received an irate phone call at home from Tony Ward after midnight.
When the early photofinish camera systems were introduced he became an expert in setting up and operating them. They were just 'up his street 'as it were. Being an Industrial Chemist with ICI in his working life and interested in photography he was in his element mixing up the chemicals in his white lab coat. However, the electrical connections in the system did not always work properly – not much change there – so Raymond was often heard to apply the high tech solution 'gie it a dunt, Jim' and that solved the problem.
One story he told against himself was when reading the time off the photo-finish film of a ladies race, he had lined up the cursor against the ladies knee until a colleague informed him where the ladies torso was. His excuse was that he was a bachelor!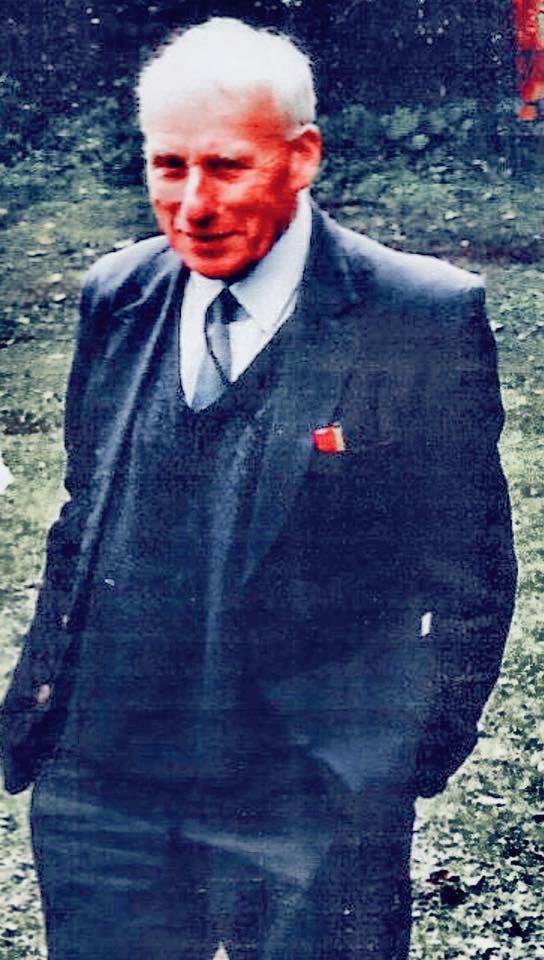 The Two Bridges Race.
This was the Ultra 36 mile Road Race starting in Dunfermline's Pittencrieff Park and routed through Fife , over Kincardine Bridge, Grangemouth, Bo'ness and back over the Forth Road Bridge finishing in Rosyth as the Civil Service Club.
This became a major annual event for Raymond. He was Chief Timekeeper from the time it started in 1968 till its untimely demise in 2005. He also measured the course each year on his bicycle to make sure check on any new road works which might have affected distances.
The map of the course given to his timekeepers gave the precise location of each point to the nearest lamp post or manhole cover.
For 38 years he organised his team of timekeepers and recorders and after each race produced a booklet of results with photographs which contained not only the finishing times of each runner but also their 5 & 10 mile splits, average pace/mile, marathon time, course record times and past winners. Every competitor and official was sent a copy.
The Two Bridges became a social event for his loyal team and the date was one of the first to be pencilled in the diary each year.
Quiet and unassuming he gained the respect of the athletes and his fellow officials. He was meticulous in every way. For instance, Colin Shields tells me that Raymond attended the Olympics in London in 1948 and he wrote down every performance of every event for every competitor including wind speeds.
Although the modern term carbon footprint would be an unfamiliar to him, he must have had one of the lowest. He travelled everywhere by public transport. Who can forget the bundle of timetables he would pull out of his rucksack.
Outside of athletics, he was an avid lover of the outdoor life and the Scottish Mountains.
The first weekend of every month was walking weekend. He had climbed all the Munro's and later on had started walking and collating notes and details about the old abandoned railway lines.
The Sport of Athletics should be grateful for the personal dedication Raymond gave to it but for most of us I guess that the most important thing is that it was our privilege to have known him. We are all the poorer for his passing."
That is Graham's appreciation of and tribute to Raymond which gives a full account of his career as a timekeeper and of Raymond's many interests. There was some extra information in the obituary in The Scotsman and I will quote some of it here. There will be some duplication, but I'll try to keep it to a minimum.
"RAYMOND Hutcheson was a modest, unassuming Falkirk man who built a formidable reputation for his expertise, diligence and knowledge in a wide range of disciplines. His working life was spent at ICI Grangemouth, where he was an integral member of the lab team, working initially on research into dyes and pigments, and latterly on the testing, trials and development of new products.
As a teenager, Raymond's interest in science led him to build a laboratory in the family home at Kersehill, Falkirk. There, he would conduct experiments and learned how to develop his own photographs, a skill which would later serve him well in his role as an athletics photo-finish expert.
As a teenager, Raymond's interest in science led him to build a laboratory in the family home at Kersehill, Falkirk. There, he would conduct experiments and learned how to develop his own photographs, a skill which would later serve him well in his role as an athletics photo-finish expert.
Raymond had a passion for the outdoors. His love of the Scottish hills was deep, and at an early age he joined the Scotsman Mountaineering Club, which in time became the Ptarmigan MC, with Raymond variously acting as club secretary and archivist. He attained the status of Munroist in 1980 – an achievement all the more impressive since he never held a driving licence, travelling to the remotest corners of Scotland on foot, bicycle or public transport.
He was enthusiastic and knowledgeable about trains, and active in many train-related societies, including the Railway Ramblers, a hardy bunch whose aim is to locate and walk the routes of abandoned railway lines.
Raymond was also the first-call for road-race measurement duties, a thankless but nevertheless vital task, if race times and distances are to be accurate. He became a kenspeckle if not downright suspicious figure who was sometimes approached, or escorted, by the police in the wee small hours while undertaking these measurements on his bicycle, when the roads were quiet.
He insisted on using solid rubber tyres for this task, an uncomfortable option, but Raymond did not want his measurements compromised by inaccuracies, however minute, caused by pneumatic tyres contracting and expanding due to temperature changes.
He was chief timekeeper for the Two Bridges Ultra 36-mile road race from its inception until its demise in 2005. For 38 years he organised his team of timekeepers and recorders, and after each race he produced a booklet of results. Every competitor and official received a copy of this booklet.
In 2004 Raymond received a lifetime award for services to Scottish Athletics.
In conclusion an example of Raymond's standing in Scottish Athletics. In the early 1980s the Tom Stillie Memorial Trophy was donated by the family of a long serving Borders official. It was to be awarded each year to the person considered to have contributed most to Scottish Athletics. The first recipient of the award was Alan Wells the Olympic 100 metres Champion. The following year it was awarded to Raymond Hutcheson.
I would like to add just a few comments of my own. The Two Bridges race was a genuine classic and it was a serious loss to Scottish athletics when it went. Runners came from all over the world – from the old world (with runners from several European countries running), from the new world (many good Americans took part too) as well as from the Antipodes and even Africa. They came from all over the British Isles and the runners from Tipton, Wakefield, Bolton and Leamington came among many others. It was also a social weekend and many lifelong friendships were made. Raymond and Graham were among those who made it so special. Raymond's results booklet was a wonderful creation – most would never have attempted it, some might have done it for a few years, but Raymond did it year after year after year. He would remark to Graham after the race that he was away to wrap a wet towel round his head! I will put one up in its entirety as a separate Gallery accessible from the Galleries page here.
Raymond was also very approachable – there are officials who never reply to questions from runners or coaches during the afternoon, there are many more who are quite friendly and if approached in a civil manner will give them what information they can, some are notoriously irascible but Raymond was never like that. Helpful at all times – I took a new sprint coach up into the photo-finish box at Kelvin Hall so that he could see what went on there and ask for a copy of the photo of the finish of the last 60m race: the photo was produced very quickly and with a pleasant manner. That was always his way.
The 1975 Record Booklet can be seen via the Galleries page of this website.