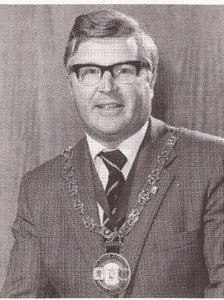 Colin Shields wearing the chain of office of President of the SCCU
I have known Colin for over 50 years.   We first met when we were running in the inter-club track meetings between our two clubs in the late 1950's, weserved on the SAAA General and West District Committees together, and sharing an interest in athletics history, there has been almost continuous contact over past few decades years.   His range on interest and abilities is wide: as a runner he has run track, road and cross-country and even raced the Ben Nevis race three times.   As an administrator he has served on the committees of  two athletic clubs (Greenock Glenpark Harriers and Dumbarton AAC), two District Committees (South Western and Western), the Scottish Amateur Athletic Association (where he rose to the position of President) and the Scottish Cross-Country Union (again he rose to the presidency).    As an official he has worked at club, County, District and National Championships as well as at other meetings large and small around the country.    And of course as a historian he has produced one of the great reference works of Scottish athletics, the official centenary history of the SCCU.    This was not without its difficulties when some committee men felt that it should be shorter and tried to do just that by removing a handful of pages without reference to the content but it has proved its worth and is treasured by historians, be they club, national or individual.   The whole speaks of a man who loves the sport and his career is well worth examining in some detail.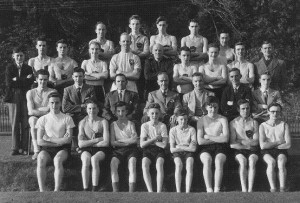 A very young Colin, second from the right in the middle row, with a Greenock Glenpark Harriers group in the 1950's
His athletics career has been summarised at the start of 'Whatever the Weather' (his centenary history of the SCCU) as follows.   "Colin was born in Shanghai and educated in Greenock and Strathclyde University.   He is a qualified civil engineer and town planner who was in charge of transportation planning at Glasgow District Council Planning Department.   He has been involved with athletics and cross-country running since joining Greenock Glenpark Harriers in 1952.   He has been involved in all aspects of the sport – he has been a runner, official, administrator, historian, announcer and statistician with interests in events as disparate as the decathlon (for which he was championship convener for ten years) and cross-country running.
He has always been fascinated by statistics and the results of the sport being a member of the National Union of Track Statisticians and a founder member of the Scottish Association of Track Statisticians, assisting in the compiling, collation and publishing of annual ranking lists.   He has been convenor of the SCCU Rules Committee as well as the Records and Statistics Committee.
A past President of the Scottish Amateur Athletic Association he has been a member of the SAAA General Committee from the 1970's into the twenty first century.   In cross-country, he has filled the offices of Secretary of the South Western and Western District Committees for over 16 years.
A long term fascination with the history and personalities of cross-country since its inception in 1885 has led him to carry out the lengthy and detailed research that led to the publication of his justly celebrated 'Whatever The Weather' – the centenary history of the SCCU.
He has also been a freelance contributor to athletics magazines such as 'Athletics Weekly' and produced the regular and much valued results service for the now defunct 'Scotland's Runner'."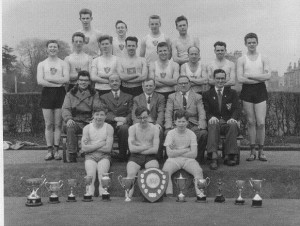 In some American publications a fellow who could run pretty well, could work as a doctor and also write for a well-known athletics magazine was referred to as a 'renaissance man' – I always thought that that was a bit over the top but if it were true, what does that make Colin?
Let's go back to the beginning: how did Colin get into the sport in the first place?    He was thirteen years old at the time and as a pupil in the second year at Greenock High School he went along to Greenock Glenpark Harriers with George and Jim Spence and Billy Murray.   Their PE teacher was really only interested in football and when George Spence kicked an opponent in a football match he was told he could just run round the football pitch for the rest of the period.   That encouraged the other Harriers in the class to lash out in the course of the match and a good training session became the norm.   They ran in the school summer championships on a grass 220 yard pitch and also in the 'The Metropolis of Greenock' championships encompassing the schools in Greenock, Gourock and Port Glasgow as well as in the Scottish Schools relay at Westerlands.   Colin's best times at this period were
100 yards:   11.7 seconds;   220 yards:   24.6;   440 yards:   55.4;   880 yards:   2:09.6;   Mile:   4:39;   Two Miles:   9:28
Colin ran in club, county and National Championships.   His first run in the National Championships in 1957 when he was 76th in the Youths event.   It was a good team that year with Willie Murray and George Spence as the first two club finishers.   For the following three years he ran in the Junior Championships, finishing 71st, 115th and 68th.   He ran as a Senior in 1962 and 1963 finishing down the field but the notes on the 1963 championship say that among those who failed to finish that year, were Bob Wotherspoon (Shettleston), Charlie Meldrum (St Modan's), Gordon Eadie(Cambuslang), Jim Alder (Morpeth Harriers), Graham Peters (VPAAC), John Kerr (Airdrie Harriers), Dick Penman and Jim Irvine (both Bellahouston Harriers).   So it wasn't too bad a run.   On the road he had one run in the Edinburgh to Glasgow relay, and ran in the first ever Tom Scott 10 Road Race where he was timed at 63:06.   Colin was for several years a regular in the Gourock HG 14 miles road race and also took part in such events as Dirrans (13 miles) and Carluke (12 miles) road races.   The hill running scene also attracted his attentions and Colin ran in the Ben Lomond race and successfully tackled the Ben Nevis race three times.
At the age of 17 he was elected to the post of Assistant Secretary of Greenock Glenpark and his duties included writing the minutes of committee meetings and collecting training levies on Tuesdays and Thursdays.    However having gained his first professional qualification he moved to a job in Hoddesdon, Hertfordshire.   This meant resigning as Assistant Secretary after just eight months in the job.   However you can't keep a good man down and on his return he joined Dumbarton AAC where he was Treasurer for four years.    He kept his membership of Greenock Glenpark Harriers alive however and future service to athletics was done under their banner.
In 1958, Colin with some other Greenock Glenpark harriers went to Cardiff for the British Empire Games and after they were over stayed with relatives for another week's holiday.   While there he went into the AAA's offices and saw his first copy of 'Athletics Weekly'.   he asked if he could keep it and was told he could take 'that whole box' if he wanted.   The box was filled with back numbers of AW's that were to be thrown out.   Needless to say he took it and that was when he started collecting details of performances.   This led to membership of SATS – the Scottish Association of Track Statisticians – and he became one of the  key figures behind the now sadly defunct Scottish Athletics Yearbook which was a 'must have' for all genuinely involved in the sport north of the border.   It had ranking lists for each and every event at every recognised age group for both men and women with short notes on the state of the event at the top of each event's rankings.   There were many other features – articles on various aspects by most of the great and good in the sport, pen portraits of selected athletes, historical records lists, results from championships and internationals and much more besides.   A closer look at this publication is taken below.
While on the subject of records, he was convener of the Rules and Records Committee for many years and at the Commonwealth Games in Edinburgh he was Chief Press Liaison Officer.   This led him into a story that was to be printed in all the national papers.   It concerned the decathlete Daley Thomson who won the event in typical style.   Clearly to my mind the best all-round athlete the country has ever produced, the word 'mercurial' has been used to describe Thomson's style in public and there were many occasions when he was genuinely kind and prepared to sign autographs and pose for pictures.  He had another side and  was described by the Times as being  "Objectional, charmless and rude" and "This is not a man destined to be a sports diplomat."   The Sun said that he showed "over-powering arrogance and rudeness.".    As for the incident itself, the Los Angeles Times described it as follows.   ""Thompson gives cold shoulder to officials: he wins third straight decathlon title then throws away sponsor's bib.    For the second straight day, Thomson delighted the spectators but angered the officials with his behaviour.   When games press liaison officer Colin Shields requested him to attend a press conference, the decathlete replied 'I bloody won't'"     The St Petersburg Times (in Russia) reported, "Thompson wins again: continues to defy officials.   When Press Officer Colin Shields requested him to attend a news conference for the medalists, Thompson said, 'I bloody won't.'   Shields said that he later complained to England's Track and Field manager Gordon Wright about Thompson's behaviour."   A final comment was added by the Philadelphia Inquirer when it said "We know but can't control him," Shields quoted Wright as saying."   
Colin's view of the matter was covered in an article by Stewart McIntosh in 'Scotland's Runner of September 1986 and reads as follows.   "What is the truth about the fracas between Daley Thomson and SAAA official Colin Shields?   For a gleeful Press the story of Thomson telling an official to 'piss off' added an extra head of froth to the previous day's antics about the Guinness logo.   Thomson defended himself by suggesting that Shields was out of order in approaching him immediately after the medal ceremony requesting him to attend a press conference.   But Shields insists that he approached Thomson much earlier and that the three-times Commonwealth gold medal winner breached an agreement about press procedures.  
To prevent athletes from being besieged by the press, the procedure had been agreed in advance.   Immediately after finishing their events, winning athletes would give the BBC a 'flash' interview before descending into the tunnel out of the centre of the arena.   If the written press wanted an interview, then it was Shields's job to pass the request on to the athlete and request him or her to go to the press room immediately after the medal ceremony.   This arrangement gave competitors about half an hour to compose themselves and give some thought to what they were going to say.   Although every nation attending the games had agreed that their athletes would be available previous experience with the decathlete had made journalists sceptical about the prospects of Thomson meeting this obligation.  
Shields approached him immediately after his 'flash' interview where Thomson was obviously relaxed and in good humour as he joked with the TV journalist.   'I congratulated Daley on his third Commonwealth gold – and told him that I hoped he would break the world record in Stuttgart.   I then asked him if he would come to the press conference in about half an hour's time after the medal ceremony', says Shields.   Thomson's answer was firm and to the point.   I'm not bloody well going to any press conference,' he told the press liaison officer.   'I repeated the request saying that it was just 20 yards along the corridor and he would have about half an hour until after the ceremony to prepare for the press,' says Shields.  
'No, I don't go to any bloody press conferences.   Don't you understand the bloody English language?   Now piss off, said Thomson.    'I was shocked because no one else had refused,; says Shields, 'Even some athletes like Fatima Whitbread who were a bit distraught agreed to come.   But it was the manner of his refusal which really took me aback.   I have no axe to grind for the press – if Thomson doesn't want to give interviews that's up to him, but there is no need for that kind of behaviour to someone whose job it is to pass on the message.'
Shields received an apology from the English team manager and an explanation that Thomson was difficult to control, but he was particularly wounded by Thomson's allegations next day that he had not been approached until after the medal ceremony.   'Every athlete was approached at the same time – down in the tunnel right after their event and with half an hour's notice of the press conference.   I have spent enough years watching and officiating at athletics matches to know that you have to be sensitive in your approach and that there are times when any athlete needs to be left alone.   But Thomson had plenty of time and had been joking and smiling with the TV reporter immediately before I went up to him, Shields explained.   Shields stresses that he remains a great admirer of Thomson's athletic abilities – 'I still hope that he gets that world record in Stuttgart, but I have lost some respect for him as a human being.'
And that's that story of how Colin came to appear in the pages of the press all over the world from Los Angeles to St Petersburgh as well as throughout the Commonwealth.
***
He was also a member of the club group that travelled with Shettleston Harriers to the Rome Olympics in 1960 and in 1970 one of his Dumbarton clubmates, Alistair Lawson had a relative with a flat in Edinburgh.   Colin and some others went through for the duration and watched every single day's athletics.   His list of Games attended is impressive and includes 1958  –   Empire Games in Cardiff;   1960   –   Olympic Games in Rome;   1970   –   Commonwealth Games in Edinburgh;   1972  –   Olympic Games in Munich;   1974   –   Europeans Championships in Rome;   1986   –   Commonwealth Games in Edinburgh;   1987   –   World Championships in Rome;   1987  –  Euro Juniors in Birmingham.    He also officiated at the inaugural Commonwealth Youth Games in Edinburgh and was responsible for records at the European Games in Glasgow in 1991.
When I asked him to say what was the high point from all the athletics that he had seen, he unhesitatingly said watching Herb Elliott win the Olympic 1500m in a new world record in Rome in 1960.   It was a really memorable trip and that particular event was the best of the best.   At home his top moment wasn't as might be expected to do with middle distance running, or indeed any track event.   It was Ken McKay in 1985 doing a tremendous long jump on a nasty night at Edinburgh.   As soon as he landed he was leaping around and celebrating excitedly.   When Colin asked him about it Ken said that when a long jumper hits the board right, gets the jump right and lands going forward and not falling back, it's a dream jump and he knows immediately.   It was a career best for the Pitreavie athlete.
Following the 1970 Commonwealth Games, he attended a course for track officials organised by Jim Morton at Bellahouston in Glasgow.   Jim pointed out right at the start that to be a track official, you needed concentration, good eyesight, keenness and 'a strong bladder' because you were out there for the duration of the meeting.   This led eventually to Colin being a Grade 1 track judge, a wind gauge operator, a marksman and the track referee qualification.
As a journalist, Colin had been a regular contributor to Athletics Weekly and Athletics in Scotland in the 1970s and Scotland's Runner in the 1980s.    One little known fact about Colin is his radio reporting.   He did the first ever report on athletics on Radio Clyde in early 1975.   He had a total of three minutes to cover the Springburn Cup.   he also broadcast on other events such as the Scottish Schools.   These were of course in the days before mobile phones and the like.   On occasion there were no phones available and on more than one occasion he had to run up the road 'chapping on doors' asking if he could use their telephone.   When Dumbarton AAC started to do their relay from Glasgow (leaving George Square at 6:30 am) to Fort William in the 1960's Colin was one of the two timekeepers, the other being Raymond Hutcheson.   His equally important task however was to phone in the team's progress to Radio Clyde and to give them the final time.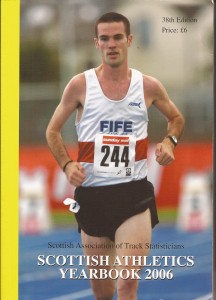 Colin was Convenor of the SAAA Records Sub-Committee and on the Selection Committee for track and field international teams. Also on these committees in the late 1980s was Arnold Black and in 1991 they resurrected the Scottish Association of Track Statisticians (SATS) which had been dormant since the publication of the Scottish Athletics Yearbook 1983.
A membership was formed to assist with the publication of the Yearbook, with Colin as President and Arnold as Secretary/Treasurer, with assistance with results and compiling from Dudley Brotchie, Richard Bunker, Robert Carrie, Fraser Clyne, Norrie Griffiths, Derek McGinley, Margaret McInally, David Morrison and George Young. In 1993, the Yearbook was again published, a 104 page list of records and rankings, printed by a small co-operative in Govan, Govan Litho, and sold for £2.
The success and reception for the yearbook's return saw it expanded the following year to 188 pages, incorporating advertisements to make the production affordable and viable. Colin would phone, write to and pester advertisers and achieved a success in raising funds that the compilers of the British equivalent had never even tried. He sourced articles for the yearbook and over the years wrote some of his own.
He added the observant event comments to the ranking lists which made the yearbooks all the more informative and readable, a great accompaniment to the statistics. Not everyone was enamoured by the comments though and even legal action was threatened on more than one occasion, although never forthcoming. Arnold edited the yearbook and Colin was less than impressed on occasion when some of his comments did not make the final publication for space reasons.
The yearbook continued until the 2009 yearbook was published. By then, the compiling team was down to just a few and, with the advent of internet rankings with their immediacy sometimes replacing accuracy, the demand for the yearbook fell away rapidly in the latter years until publication was no longer viable.
Colin and Arnold are continuing to work together on a long-standing (and long-running) project on the history of Scottish Athletics, through profiles of the great names in the sport. Colin's deep knowledge of the sport and of the eccentricities of the times make him a great contributor to such a volume, and they hope to be able to publish the volume early in 2014.
Travelling frequently to England taking athletes to races and attending BMC and British squad gatherings, I know that it was a publication envied by the athletes and coaches south of the border who did not have a similar publication solely for England although all their results of note were included in the BAAB Annual which was not exclusive to England and which did not go as deep as the SATS annual.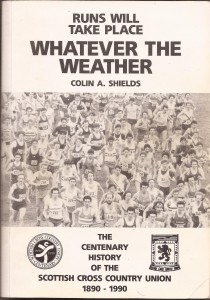 Colin is perhaps best known to the present generation as an administrator and official of some ability.   On his return from Hertfordshire, he lived in Dumbarton and joined the local club and ran for them in the District Relay Championships at King's Park in Stirling.   he was still a Greenock man at heart though and represented the club on the Renfrewshire AAA Committee.   In 1967 George Pickering retired as secretary of the South West District and Bob McSwein moved up from being County secretary to inherit the role.   Colin was proposed and elected as secretary of the Renfrewshire AAA and this is a post that he has held for almost 50 years, being the current incumbent of the role with no signs of slowing down!     Colin, during this time, has also been secretary of the South-Western District and, its successor when the Districts were re-organised, the West District for a total of 15 years.    In these posts he organised the District Relays and the District Championships for 13 years, and as a member of the SCCU was responsible for organising the National Cross-Country Championship twice.
As a member of the SAAA, he has been President and vice president, Chairman of the Rules and Records Committee, organised the West District Track & Field Championships four or five times, was decathlon convener for 10 years taking the event to Aberdeen in the North to Annan in the south and several points in between and has been team manager for several Scottish teams.    His credo on these occasions was "Athletics is for the athletes, officials will work to serve the athletes."
Probably the best ever reference book on any aspect of Scottish athletics is Colin's centenary history "Whatever the Weather", properly called "Runs Will Take Place, Whatever the Weather".    It is clearly the result of a lot of work and scrupulous attention to detail.   When I asked him how long it took him, he replied that it was somewhere between three and a half and four years.   But that was full time research and writing.   He had been given early retirement because he required of serious difficulties with his feet and took the opportunity to get the history done.   His wife, Linda, would drop him at the Mitchell Library at 8:00 am and collect him no earlier than 8:00 pm.    The result was a longer volume than that which was finally produced.   Once it went to the printer and the chapters were sent to him for proof reading, many corrections had to be made and there were also decisions to be taken about cost, etc.   The book was finally sold at £5 a copy and made a profit!    However he incurred the wrath of the SCCU Committee and a disciplinary meeting was held in the North British Hotel in Glasgow, beside Queen Street Station.   He was accused of various illegalities, asked to leave the room while discussion was held behind closed doors, and summoned to be told that he was suspended sine die and asked to resign from all posts held within the organisation.   At his own expense, Colin hired a lawyer to examine the situation and the outcome was that the Union was asked to a meeting with a QC in Edinburgh to put their case, as was Colin with the QC's decision to be taken as final.   The decision was that the SCCU had acted outwith their competence and ordered his immediate re-instatement to all posts.   The Union delayed implementation of this finding until the very last minute.   Almost three years later, in its final meeting which wound up the Union and transferred all its powers to the new Scottish Athletics Federation, he was re-instated to all the posts.   Regardless of all that, the book itself is an essential reference work for anyone involved in Scottish athletics.   The amount of detail as far as the running and racing is concerned is incredible, a separate section on the Edinburgh to Glasgow relay race for instance is worth the £5 price on its own, but he also gives an insight into the workings of the various committees and there are fine rounded portraits of the key people in the development of the sport.   I have three copies, I have given away a dozen and sold more than that.
He is still involved in the sport – he has been organising the DunRen meetings at Linwood with Stuart Irvine since the mid-90's, they also started up the Run/Jump/Throw meetings at the same venue and, still with Stuart, organises the Tour of Clydeside – four races, at four venues, over different terrain and at different distances.    He is still secretary of the Renfrewshire association after 47 years in the post and as such is responsible with his committee for the organisation of the County Cross-Country Relays and County Cross-Country  Championships as well as the Road and Track & Field Championships.   But what I am waiting for is the next Colin Shields/Arnold Black production – a book entitled "The Past Is a Foreign Country" which will contain 100 profiles.   35 of these profiles will be for the period up to 1939 with the remaining 65 covering the period from 1946.    It has been years in the making and should be well worth the wait.
Little wonder that in 2006 he was given a Lifetime Achievement Award by Scottish Athletics
Officials like Colin don't come along very often   ….   unfortunately for Scottish athletics.