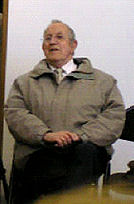 Alex was for most of my time as a coach the Big Daddy of Scottish endurance coaching. We first crossed swords as runners in the late 50's in the Clydebank to Helensburgh 16 mile road race for which I was not well prepared. A pal of mine said why not do the Balloch to Clydebank this year and then the Helensburgh? I agreed, we both ran the Balloch and then when I turned up for the Helensburgh, he was nowhere to be seen. I ran anyway. On the run in to Helensburgh from Cardross everyone I passed dropped out and eventually within finishing distance I dropped out as well. When I looked back at the results a few years later, who had been last in the race? A gent called Alex Naylor. Our paths crossed a lot – and I mean A LOT – over the next thirty or forty years. He was i/c Scottish squad sessions when I took runners along, we met at BMC weekends, when I organised training days at Huntershill he was an ever present and then in 1986 he invited me to become Scottish Staff Coach for 5000/10000 metres and the friendship has continued in various other guises right up to date. This is not a biography, it is not even in chronological order, it is quite simply (as Alex often says) about a man who has done a lot for his club and for the sport. The best overview of his career was the tribute paid after he died by Graham Smith of Victoria Park which is reproduced here in full.
Born in the East End in Bridgeton he qualified to be an optician, initially as a manager of Lizars and finally as a shop owner in Tollcross Road, Glasgow & Church Walk in Denny , Naylor's Opticians.
Alex Naylor was a revered name in coaching circles throughout the UK, being held in great esteem by all his peers. His first involvement with athletics began in 1953 when he joined Glasgow YMCA as an athlete, before joining Shettleston Harriers in 1957. Never likely to be an athlete of International standing, Alex's love and dedication for the sport over a period of 58 years was never diminished. He strived to be the best at whatever he did, and on a coaching aspect, he certainly achieved that receiving an MBE in the 2007 New Year's Honours list for services to athletics.
Alex's accolades were many, being awarded the Honorary title Master Coach for Middle distance, from UK Athletics, and from Scottish athletics just some of his awards and titles are listed below: Scottish Amateur Athletics Association Coaching administrator for 20 years Coaching lecturer receiving an award for 30 years of service Chairman of Scottish Joint Coaching Committee Interim National Coach Honorary Life Member of SAAA Senior coach for Scottish Schools residential camps for 10 years. Invited Coach to Irish Schools Summer camps for 2 years Team coach to many British and Scottish Teams Won Betty Clapperton Trophy for services to coaching on two occasions Was given a Life Time award by Scottish Athletics in 2002 Secretary of West District Committee for 4 years Won Tom Stillie Trophy for services to athletics in 1985 Founder member of first Scottish Young Athletes League in the 1960s Scottish Secretary of British Milers Club for 3 years.
Alex was one the few early coaches who were inclusive and he coached various athletes outwith Shettleston Harriers in his training groups, including several international athletes and club athletes from Victoria Park City of Glasgow. Including one of our Life Members Los Angeles Olympian, Lynne MacDougall who ran (4.05.96)1500m & (2:01.1) 800m in 1984 at the age of 19, Dave McMeekin (1:46.8) and Susan Scott, for a short period as a youngster when she moved to Glasgow from Ayr Seaforth. She went on to become an Olympian in Beijing and Scottish record holder (1:59.02) 800m.
Possibly his major individual coaching success. amongst his many achievements, was coaching Nat Muir who set a Scottish record at 5000m 13:17.9 in Oslo in 1980, which still stands today. Nat also won 8 Scottish Senior Cross Country Titles under Alex's guidance, he could only manage 3rd place in 1982 after being hit by a trolley bus during a New Year's Eve race in Madrid and had hardly any training prior to the National XC. In 2003 Alex also coached Allan Stuart to a World Record at 400m for athletes with learning difficulties and Olympic silver medal at the Sydney 2000, LD Paralympic Games.
In his capacity as a coaching lecturer he must have influenced the lives of thousands of athletes and coaches both directly and indirectly, through Schools residential camps, and the coaching weekends at Largs. He once told me that "If you want to become a good coach, you have to remember it's a commitment for life", it certainly was for him. On a personal note, I had known Alex for more than 30 years initially as a member of one of his coaching groups, and then as a coach tutor when I came into coaching in the mid 80's. He became my mentor and friend travelling with him to many B.M.C. conferences, seminars and training camps, introducing me to his peer group of Peter Coe, Harry Wilson, Frank Horwill et al. some of the greatest endurance coaches of Britain's "Golden Era", they all thought of Alex as a friend, such was his standing in the coaching community.
Everyone will remember his "Naylorisms", there are hundreds of examples that everyone here can recall like "I have seen milk turn faster" "Don`t lie there on the track, my athletes will get blood on their spikes" and "I don't know what you are whinging about, I can't feel any pain", but they were delivered with comedic timing, so the acerbic wit was never deemed offensive. In later years, Alex's health declined, but he still managed down to coach at Crownpoint Track on a Tuesday and Thursday night. I used to pick him up from his flat in Cumbernauld, and woe betide me if I was more than 5 minutes late arriving, though he could stroll down 15 minutes late and ask if I had been waiting long. I remember one journey, I had just collected my car from the garage after a service, and as we were driving I heard this "loud ticking "noise in the car, I proceeded switching off the radio, the heaters, air con etc. to no avail. I started off by saying to Alex, what I was going to tell that garage the next morning, that they hadn't checked the car thoroughly and hadn't completed the job. When we arrived at the track, I lifted the bonnet, checked all around the car, but every time I went inside I still heard the ticking even with the car stopped. I helped Alex out of the car, and then he produced an old clockwork stopwatch from his pocket, and said "Is this the ticking sound you mean" both of us burst out laughing, he had me going for the full journey from Cumbernauld to Crownpoint track.
When my wife and I used to visit him in the care home he could still have us laughing and reflective on our journey home after his tales and one liners, "There you are you see". Everyone who knew, or met Alex could tell a story, he was a true legend in his life time, a great man, a great coach and a good friend. He will be sadly missed by all who had the privilege of knowing him.
From Alex's Order of Service – a philosophy he lived by. If you think you are beaten – you are , If you think you dare not – you don't If you like to win but you think you can't, It's almost certainly you won't. If you think you'll lose – you've lost; For out of the world we find – Success begins with a fellows will, It's all in the state of mind. If you think you're outclassed – you are; You've got to think high to rise; You've got to be sure of yourself Before you can win a prize. Life's battles don't always go To the strongest or fastest man; But soon or late the man who wins Is the man who thinks he can.
And that's where Graham's tribute ends – a wonderful tribute written with affection and respect which also summarises Alex's career beautifully. My own involvement with him follows.
He started serious coaching before I did – I became a coach in 1961 and combined it with running on the track, over the country and on the road while Alex concentrated on the coaching side of athletics. It wasn't too long before the results of his athletes and his interest in furthering his knowledge had him one of the Scottish Staff Coaches and he went on to become Group for Endurance events and to hold various posts in British athletics – the one where I learned a bit from him was when he was GB Coach to Junior Steeplechase. The number of top internationals that he had was legion with Nat Muir and Alistair Currie probably the top two. Everyone in Scottish Athletics has an Alex story or two in their locker. For example, watching a slow middle distance race, it was "I could stand faster!" (Sayings of Chairman Alex, Number One) On one occasion I went in to a sports meeting at Crown Point on the way to visit some relatives in Barrhead and was wearing a natty navy blue sports jacket. "Where are you going, senilis?" He asked, "To a funeral for someone you don't like?" One of the big laughs was at the BMC Conference in Liverpool when Frank Horwill had given a talk on testing – Balke test, Kosmin tests, etc – and the meeting was then thrown open for fifteen minute lecturettes. Alex got up and using the Kosmin test formula and inserting the appropriate figures proved that according to Mr Kosmin a man with no legs could run two minutes for the 800. Nobody laughed more than Frank Horwill.
At times I was sonny and at others senilis. Before anyone else was working with athletes from outside his own club, Alex was famous for coaching "the body of the kirk". In other words, all who will may enter. The patter was good and the training was effective. One of his sayings was that what people get for nothing, they value at nothing and one of his examples was the circuit training he used to do at Bellahouston Sports Centre. It was on a Wednesday night and he had the whole big Hall. Athletes paid a fee of about 5/- and there were literally dozens of athletes being put through their paces with hard but good circuits. They came from all over the Central Belt to do them. They were so effective that the SAAA decided to subsidise them and the athletes didn't have to pay. Attendances dropped like a stone!
He can also tell a good story against himself. There was the one where he had Alistair Currie training I think at the Marinecraft in Dumbarton weights room. He kept telling Alistair that he wasn't doing a particular exercise properly and demonstrating to the guy how to do it. After about four or five demos with Alistair still not getting it, the wee guy training away in the corner said to Alex "I don't know what you are wanting him to do but he is copying what you are doing exactly!"
Although perhaps best known as a coach, he was a very capable administrator and was President of the SAAA in 1978 having previously been Secretary of the West District. He has also been a member of the British Amateur Athletic Board and he once said that although you were elected for three years you really only had one year where you could do anything. The first year you were playing yourself in, the second year you had to get the work done because in the third year you were on the way out. There are coaches whose athletes always look thoroughly miserable but Alex was never one of those. I remember at the big BMC Conference we had at Jordanhill, we all stayed in on the Saturday night and for a big chunk of it there was a big group of young runners sitting round his table from which gales of laughter were coming at regular intervals. Speaking of the BMC – he was a regular attender at meetings of the Club and when the meeting was held in Liverpool he gave Frank McGowan a lift down from Glasgow and Frank talks of Alex with a row of cigars on the dashboard before him and lighting one from the stub of the old one all the way down. After the BMC had agreed to have their final Grand Prix at Scotstoun I had a committee of six or seven to take care of various aspects of the organisation and Alex was one of the key members of such a group. He was also a Grade 1 Track and Field official and has refereed many important fixtures and was one of the first men that I approached when I was convener of the Decathlon in the 70's.
He was some guy and I'll finish for now – more to come – with the time in 1986 when I had been appointed Staff Coach for 5000/10000 and Willie Sharp had the same job for steeplechase. I had done a paper on the development of the events and Alex invited us up to his flat in Cumbernauld to discuss it. Once we had done that he turned to Willie who was at that time unmarried and asked him how he washed his shirts! Alex apparently washed one a day and hung it up over the bath. There was a row of shirts there and the wet one went at the back and next day he wore the one from the front! When the bedsheets came into the discussion I switched off!
When I did the second weekend of the Senior Coach course in 1978. the Friday night session was an introduction and issuing of timetables, etc for the weekend. The first session on Saturday was just covering all the bases and setting up what was to come. At the morning break, one of the attendees (a throws coach) went round the other coaches asking if they had learned anything new yet getting the obvious reply of "No, not yet." Returning after coffee we were all gobsmacked when this chap stood up, interrupted Gordon Cain who was about to speak with a complaint from everyone there that they were learning nothing. Word got out to Alex who was in the building and at the end of Gordon's very good presentation, in came Alex in his Great Britain track suit. He went straight to the rostrum and said straight out in a kind of aggressive manner that there had been some complaints. Was anyone there wanting to make the complaint and he, in his capacity as President of the SAAA would return his money and he could go home immediately. Silence. Alex repeated the question and after more silence, he turned to the chap responsible and asked him if he wanted his money back. He could go there and then. Of course he didn't. There was no further question of a rebellion that or any other weekend. Alex had dealt with it immediately and appropriately.
Sayings of Chairman Alex, Number two: "To cut a short story longer ……………………" Alex tells the story of one of his athletes, who often had to leave the track during sessions for a pit stop, turning to him when the athletes were lining up for the first rep, "Alex do I need the toilet?" Sayings of Chairman Alex, Number Three: "Sonny, you breathe through every orifice in your body"
Then there is the one about one of his younger runners who used to get up, take the dog for a walk, have breakfast and go to school. One day he was halfway round the walk when he discovered he had forgotten the dog!
Sayings of Chairman Alex, Number Four: "Percolate your way over to the start."
One of the biggest jobs that he undertook was coach to the Scottish cross country team and governing body. He held this post for over twenty years and gave it pretty well all he had. His scheme of Progressively Phased Incentives for the development of athletes from young boys right through to the senior ranks never seemed to me to be properly implemented as it should have been. It was a first class piece of work which could still be followed almost to the letter and lead to a better standard all round for Scottish cross country running.
Sayings of Chairman Alex, Number Five: "That was a kind of hand knitted effort!" Sayings of Chairman Alex, Number Six: About a guy who attended every meeting but never spoke a word: "He's like an apology for somebody who couldn't come." Sayings of Chairman Alex, Number Seven: "Digitus Extractus!" Sayings of Chairman Alex, Number Eight: "Stop lying on the track, I don't want people to get blood on their spikes." Sayings of Chairman Alex, Number Nine: "You're running like you have starch in your pants!" Sayings of Chairman Alex, Number Ten: "Many are cauld but few are frozen."
Sayings of Chairman Alex, Number Eleven: I was on my way to visit some friends and dropped in to Crown Point to see a bit of an Open Graded on the way. Alex looked at my neat jacket and pressed trousers and sai "You look like you're going to a funeral for somebody you don't like!"
… and of course he invented, I think, the word diabasterous …..
Numbers Seven and Eight above came from postings on the unofficial Scottish Athletics website. Coach, administrator, official, runner – he was all of those and one of the good guys. When I attended my first meeting of the West District General Committee, I was making my list of those present when Colin Shields sitting beside me asked what the crosses and ticks were. He claims I said "I'm sorting out the goodies and the baddies!" It's more likely that I was sorting out the runners' men from the committee men – and Alex was always a runner's man!
There was a very good article in the very first edition of PB (Scottishathletics quarterly magazine) by John Anderson about Alex and it is reproduced below along with some thoughts from Frank Dick.
"Alex Naylor and I first became friends when, as a teacher in Dennistoun and Shettleston, I sent some of my pupils to join him at Shettleston Harriers. His work with them and others under his tutelage there reinforced his excellence both as a coach and as a human being. His enthusiasm and larger than life personality produced many successful endurance runners. On my appointment as Scottish National Athletics Coach, having been National Coach in England for a couple of years one of my first moves was to contact Alex, and his sidekick Eddie Taylor, to bring me up to date with what was happening in the Scottish coaching scene. It followed that whenever I ran a course for coaches or athletes, Alex would be there expressing his views strongly but with his ever-present sense of humour. In particular the highlight of the coaching courses were the annual Scottish Schoolboys and Schoolgirls courses held at Easter at Largs. Alex was always first to volunteer his services and was a great success with his athletes both on and off the track. Alex Naylor was a very special kind of individual who was passionate about Shettleston Harriers and about his own role in coaching athletes. He was a one-off and though willing to express his views strongly did so with a light touch that was respected and valued by his peers. His impact on athletes he coached and indeed athletes he simply came in contact with left an impression they would carry with them for many years. Alex Naylor was a very special kind of person who you felt enriched for having known. His contribution to Scottish Athletics was immense. Thank you, Alex!"
"Alex Naylor personified the harrier culture that is the soul of endurance athletics in Scotland – on track and off track. He lived and breathed this large sector of our sport. Truly he was a man for all seasons and weathers. His characteristic generosity in selflessly affording time, energy and resource to his athletes and coaches making their way through the art and science of running enriched the cultures of coaching and of athletics. My personal debt to him was his special way of questioning conventional wisdom and of creating a tension between challenge and support – often cloaked in a bit of mischief."