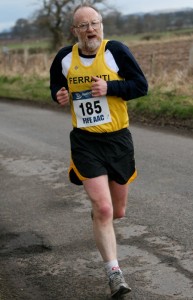 Alex running in the Cupar 5
When Alex Jackson was made an Honorary Life Member of Scottish Athletics, Ron Morrison outlined his career in athletics.   I have taken the liberty of paraphrasing his remarks.
"Alex Jackson is a keen and still active road and cross–country runner with a marathon pb of 2.53.0.   It is however, as an administrator that Alex has proved to be an outstanding servant of Club (Ferranti AC), District (East) and Country (Scottish Athletics).   In 1978 Alex became a founder member of Ferranti AC and in 1983 he was elected a member of the SCCU General Committee where has served as the East District Cross-Country Secretary from 1988 to now.   He took on the SAL Road Running & Cross-Country Secretaryship from 2008.    Alex Jackson has also been the Secretary of the East District Cross-Country League since 1984, during which time he has grown the three races per year into the major Cross-Country races of the year in Scotland outside the Championships with the trademark of a very short timetable that accommodates both male and female races totalling about 700 competitors per event. See
http://www.salroadrunningandcrosscountrymedalists.co.uk/Archive/East%20District%20League/ED%20League%20Home.html
 It is such long–term commitment that makes our sport what it is today.    Alex's family, particularly his wife Jen and son Peter, are a constant at cross country championships taking entries and producing the best results service I have seen anywhere. In recognition of this the whole family were presented with the Tom Stillie award for services to Scottish Athletics in 2003."
The  remarks indicate the length and quality of Alex's career and the respect in which he is held by his peers and it is only right that we look at each aspect of that career a bit more closely and start where he started – as a runner – with his responses to the questionnaire.
Name: Alex Jackson
Club: Ferranti AAC
Date of Birth:  8th March, 1948
Occupation:   University technician.
How did you get into the sport initially:   Working at Ferranti, Crewe Toll, Edinburgh in 1970 I started running at lunchtimes .   The main influences were Eric Fisher and Claude Jones, members of Edinburgh AC, who also worked at Ferranti.   Did little racing until the formation of Ferranti AAC in 1978, from then I was a regular at Cross-Country and Road Running.
Personal Bests:
Marathon 2:53:47 at Motherwell.          Half Marathon:   1:23:10  Great North Run on a sweltering day.   10 Miles:   57:58   Tom Scott
5 Miles:   27:48   Haddington.        These personal best times were all set in 1984, my best year.
Has any individual or group had a marked effect either on your attitude to the sport or your performances?   As a runner it was going to races with my clubmates at Ferranti AAC, the banter before and after the races was always great.  As an administrator, working for 6 years with Ron Morrison who was chair of the Cross-Country and Road Running Commission was nearly always enjoyable.
What do you consider your best ever performance as a runner?    My marathon pb.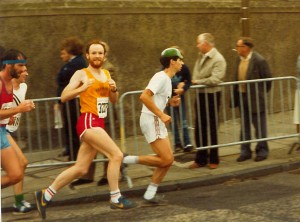 Alex in the Edinburgh Marathon, 1983
The names of Eric Fisher and the late Claude Jones that Alex mentions appear frequently in Scottish athletics of the period: Claude was one of the real driving forces behind the many successes of Edinburgh AC and Eric was a medal winning athlete who joined the club from Ferranti.   They influenced many athletes during the 60's, 70's and 80's with Eric still being active as a coach and administrator in the sport.      Note too that he is still running with Ferranti AAC of which he was a founder member.    In that capacity he influenced many other athletes – Brian Howie of Edinburgh Southern Harriers started his running at Ferranti and commented on his time in the club:
"I took up running just after my 28th birthday in 1978. This was just before the mass running boom of the 1980's when people used to point and stare at runners in the streets of Edinburgh.   Now they don't seem to bat an eyelid.   They just stand transfixed like sheep as you motor on towards them just to dodge the same way as you at the last minute.    
We called it the Ferranti Un-Athletic Club since twice a week a few of us went to Saughton Park from Ferranti at Robertson Avenue.   The Ferranti Athletic Club at the time comprised of giants in Scottish Athletics such as Bob Coburn and Alex Jackson."   
Brian goes on to talk about the club, training and the influence of fellow Ferranti runner Evan Cameron on him – with athletes like Eric and Evan as members, Ferranti had quality athletes (whatever Brian had to say!).  While still running and racing seriously, and before his best year of 1984, Alex became club representative on the East District Cross-Country Committee in 1982 and in 1983 was elected to the Scottish Cross-Country Union General Committee.   After serving on the District Committee for six years he was elected to the post of East District Secretary in 1988 and he  remained there till 1992 when Scottish Athletics came along.   The Cross-Country and Road Running Commission replaced the SCCU and in 2008 Alex became Secretary of that body.
While that was proceeding, he was not idle!    In 1984, the day after he set his marathon pb, there was an East District Cross-Country AGM at which he was elected Secretary – he says because no one else would do it.    However that may be, he is still there in 2015, 31 years later.   However, he has no ambition to become the longest serving official in that role – the late  George K Aithie held the post from 1928 to 1977.   That's 49 years!   Nevertheless Alex has done 31 years and is still going strong in a job which is no sinecure.   It is one of the biggest cross-country leagues in the UK and it is one of the most runner-friendly too.   As he says, "It has a simple turn up with your number on your vest and run.         It's frustrating now to see online events that fill up hours after they go online and months before the event is due to take place with a huge 'no-show' element  when the event does take place."    Many of us would echo these sentiments but the number of races which take entries on the day is dwindling – the sport could do with more of Alex's philosophy.
Athlete, administrator – and Alex also qualified as an official and has a UK Athletics Level 3 Coaching Certificate.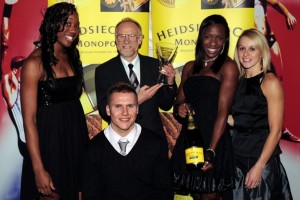 Alex in the back row with the beauties, at the British Awards ceremony in 2008.
When the World Cross-Country Championships were held in Edinburgh in 2008, Alex had the honour of being Competition Manager.  This was a major undertaking by any standards.   There were no fewer than 57 nations taking part with a total of 447 athletes involved.   There were four courses of different distances to be laid out around Holyrood Park from 6.04 kilometres for Junior Women to 12000 kilometres for Senior Men.   It was the year that Kenenisa Bekele won for the sixth time becoming the first man to do so.   The event was reported at length in the 'New York Times' and in the 'Herald' and for the IAAF.   The eyes of the world were on Scotland.    The only pity was that there was no Scottish team competing.  The event was a resounding success although domestic coverage was shaded a bit by the fact the some Eritrean athletes defected and joined Shettleston Harriers.    However Alex's contribution to the undoubted success of the meeting did not go unnoticed.
Later that same year, he was nominated as Scottish Off-Track Official of the Year.   He  was also UK Athletics Official of the Year in 2008 and the report on the event at britishathletics.org.uk read as follows.
The background. Official of the Year Alex Jackson worked as secretary of the East District cross country for more than 20 years and has also served off-track athletics with his road running and cross country event organisation. This year he took a key role in the organisation of the World Cross Country Championships that took place in Edinburgh – culminating in a highly successful weekend following months of hard work.
Pile of silverware. Jackson's award marks the end of a successful few weeks which also saw him awarded Scottish Off Track Official of the year the week before at the scottishathletics Annual Awards Dinner in Glasgow. 
And the award goes to. Speaking of his moment in the spotlight, Jackson said: "I've never experienced anything like this before, its like the Oscars without the split screen showing the other nominees. In Birmingham there are five other nominees, I listened as each of their background information was read out, they all have a wealth of experience and service to the sport and I was humbled to be in such company. 
Cross Talk.  In receiving his award, Jackson also paid tribute to his colleagues involved in the World Cross Country organisation: "I know that my involvement in the successful IAAF World Cross Country Championship in Edinburgh in March was a big factor in me winning the award, so to all the great Edinburgh Local Organising Committee, Officials, Volunteers etc, thanks, a measure of my large magnum of Heidsieck Monopole Blue Top Champagne is for you."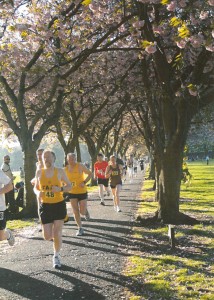 Alex Jackson at a Sri Chinmoy Meadows race with Eddie McDonald his long time friend and running rival behind
In 2011 Alex Jackson became a Life Member of Scottish Athletics and it was in this regard that Ron Morrison made the comments quoted at the top of this article.   I would like to finish with more of Alex's responses to the questionnaire.
Out of them all, what was the best moment?   In 2003 the Tom Stillie Award for contribution to the sport was presented, not to me, but to the Jackson family.   My wife Jen has been doing declarations/results for many years, and son Peter producing computing results using programmes that he had developed.
What has athletics brought you that you would not have wanted to miss?   As Competition Manager for the World Cross-Country Championships in Edinburgh in 2008, I was part of the team who went to the World Cross-Country Championships in Mombasa in 2007 to see how the championships were done, or as happened in some aspects, how not to do them.   A memorable trip.
What changes would you like to see in the sport?   I would like to see more clubs coming forward to host the Scottish Athletics Cross-Country Championships.   The burden of hosting seems to fall on the same clubs again and again.
You can't keep a good man down and at the Commonwealth Games in Glasgow in 2014 Alex was Assistant Referee for the Marathon.  Again it was a major event – 27 entries from 16 countries in the men's race, and 21 entries from 10 countries in the women's event running round Glasgow on a Sunday morning.   There were many officials involved in the event in many capacities but only three were 'marathon only' specialists – Alex, Ron Morrison and David Cairns – all in the picture below in that order.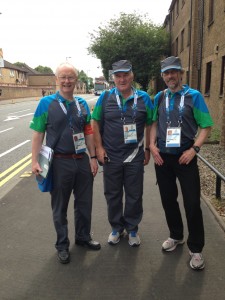 Many officials are 'runner's officials' – and Alex is certainly always conscious of what the runners need and want, some officials are 'official's officials' in that they will do whatever is asked of them, often away from the sunlight working hard on behalf of the sport.   Alex comes into both categories.   His capacities are undoubted: from the growth of the East District Championhips to his work at the World Championships and Commonwealth Games are testimony to that.