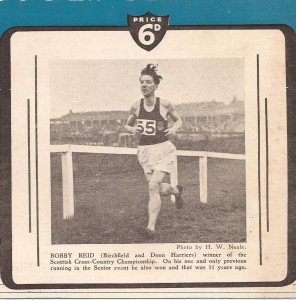 Robert Reid of Doon Harriers ran superbly wekk from the days when he was a Youth (Under 17) in Doon Harriers until after his last international appearance in 1952 winning track as well as cross country titles and was as Colin Shields says, "!the first runner whose lifestyle was lifestyle was to benefit from his running ability."     Information for this profile has come from The Glasgow Herald, The Scots Athlete, Scottish Athletics by David Keddie but mainly from what is probably the best history of any athletics discipline in Britain, Colin's "Whatever the Weather" which is a mine of information.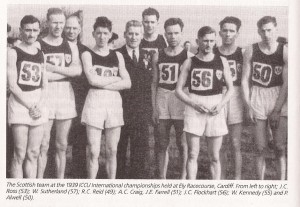 The first trophy of any sort won by Robert Reid was in 1937 when he won the Scottish Youths cross-country championship which he won from John Muir of West of Scotland.   He won the title again in 1938 but made the headlines that season for another race altogether.    I quote directly from "Whatever the Weather":   "The National Novice Championship amply justified its title as the most popular of all the NCCU Championships when over 300 runners from 41 clubs lined up for the start of the 1937 race at Bothwell Castle.   The strange rules of the event were demonstrated when 16 year old Robert Reid of Doon Harriers, the National Youth Champion, lined up with rivals twice his age who had been trying for years to win the title.   Reid followed AT Peters (Maryhill) the British TA mile champion, round the early stages of the five mile course.   He went into the lead at three miles and, displaying power and stamina far beyond that expected for a lad of his years, crowded on the pace to win in 24:36, 18 seconds in front of Peters, who had just 3 seconds to spare from Jim Morton (Springburn).
Reid's victory caused great administrative trouble for it was subsequently revealed that he was a re-instated amateur.   A clause in the championship rules stated that 'Competitors shall be ineligible who have been reinstated to the amateur ranks.'   But this had slipped through the scrutiny committee and Reid had been allowed to enter.   He was disqualified  and the novice title awarded to the runner-up, AT Peters.   As a schoolboy, just a few weeks after his fourteenth birthday, Reid had won a nominal prize of just a few shillings in an unpermitted Coronation Sports Meeting, when totally unaware of the amateur laws but nevertheless losing his amateur status.   Doon Harriers appealed against his disquaification, and there was a great deal of sympathy for Reid who had been wrongly advised that he was eligible to compete in the National Novice Championship.   A special meeting of the General Committee was called to determine 'whether it was meant that the law should have specified clearly that it was not applicable to members whose certificate of re-instatement stated that their offences were of a minor nature, carrying no extreme penalties.'     
General Committee by an overwhelming majority approved an amendment to the law in question which ensured that Reid, and all the other runners whose re-instatement came under the category of Minor Offences would be eligible for the National Novice Championship.   At the AGM in September 1938 the rule change was approved and made retrospective to the start of the 1937-38 season, so that Reid was duly recognised as the National Novice Champion almost exactly a year after the race."  
I think it's clear from the above which side Colin is on – he was always an athletes' man – and I think that any fair minded person would have been on Reid's side.    The fact that the governing body took its decision by a great majority is to its credit but this is yet another example of the difficulties of enforcing laws on amateurism that have bedevilled Scottish athletics since the 1880's.       Reid had a very good start to the following cross-country season which he started by winning the South-Western District title with ease after leading from start to finish, and followed this up with victory in the Ayrshire championship.   He then went on to win the National title in great style, and it was reported in The Glasgow Herald under the headline:   "Cross Country Triumph: Reid Invincible at Lanark:   Imposing record of achievement" and read as follows:
"As was anticipated R Reid of Doon Harriers won both the Senior and Junior by finishing an easy first over a course of  fully nine and a half miles at Lanark Racecourse on Saturday.   It was actually the first time that Reid had raced a greater distance than seven miles and it was also his first test against the entire array of Scotland's experienced distance runners.   But Reid surmounted these difficulties in the manner of a real champion, winning by 200 yards from PJ Allwell and 450 yards from the holder, JE Farrell of Maryhill.   As in all his previous races, Reid finished quite fresh.   His list of achievements is already formidable: Scottish youths cross-country champion twice; SAAA one mile youths holder once;   national novice champion (later title was declared void); South-Western, Ayrshire and now junior and national   champion."    
This was only the fifth time in the 53 year history of the event that the junior and senior titles had been won by the same runner – his predecessors being P McCafferty (1903), T Jack (1907), J Motion (1921) and J Flockhart (1933).      The international championship that year was held at Ely Racecourse in Cardiff and was a big disappointment for young Reid.   He started off as usual by going straight to the front at a fast clip and was twelfth at three miles.    However as the race developed he dropped further and further back to finish 31st, out of the counting six for the team race and probably learned a lesson or two.
The war intervened and his next chance to redeem himself in the blue vest of Scotland in an international came in 1946.    By this time he was living in Birmingham and running in the colours of Birchfield Harriers.    Colin Shields describes the move: "Reid, who initially ran for Doon Harriers, was the first runner whose lifestyle was to benefit from his running ability.   A baker's apprentice at Dalmellington, Ayrshire, Reid was just 19 years old when, as Scottish champion, he ran in the 1939 International championships at Ely racecourse in Cardiff.    Overawed by the occasion he finished outside the Scottish counting six but his obvious potential attracted the attention and patronage of CAJ Emery, the 1938 international winner who arranged a job for him in the BSA factory in Birmingham.   Once settled there, he joined Birchfield Harriers as so many other Scottish runners did before and after him, and gained athletic honours in Midland and English championships."
Reid did not run in the Scottish championships, preferring to race in England but his form was such that he was selected for the international where he finished twenty sixth – a big improvement on 1939 but not quite as well as had been hoped from his racing south of the border.    He did not race again in the Scottish championships until 1950 but was running so well that he never missed an international, finishing 20th in 1947, 12th (and first Scot home) in 1948 and 29th in 1949.
The Glasgow Herald report on the 1950 championship read simply: "R Reid (Birchfield Harriers, Birmingham) a former member of Doon Harriers, won the Scottish nine miles cross-country championships at Hamilton on Saturday, when  his powerful finishing burst proved too strong for another Anglo-Scot, F Sinclair (Blaydon), the former Scottish Mile champion."    Not a lot there, but as usual the report on the race in "Whatever the Weather" gives a lot more insight, adding, "Reid's victory came 11 years after his initial win in 1939 and was only his second competitive appearance in the championships, having preferred to run each year in the English National, but turning in such good performances in England that the selectors made him an 'ever present' in the Scottish team.    Indeed this victory gave him a unique record in the Scottish championship – that of having won every race he contested!    He won both the Youth titles in 1937 and 1938, and the two Senior titles in 1939 and 1950. "
What a career – packed with incident and illustrative of so many aspects of Scottish athletics: the professional/amateur interface; unbeaten in the Scottish National; profiting from his running, not by winning money but by getting better employment and housing.    Had it not been for the War, his eight internationals might have been 13 or 14.