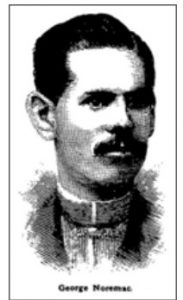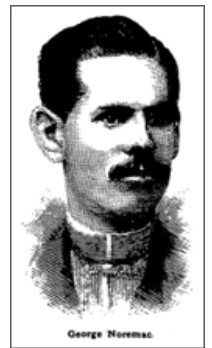 Noremac was a professional Scottish pedestrian (ie professional runner) in the late 19th century called George D. Cameron. He was a lithographer and like many very good distance runners he was a relatively small man – 5ft.3½ inches and approximately 8st.10lb. Born in Edinburgh on the 18th of May 1854, he decided when he was a fairly young runner that if he were to stand out in the ranks of professional runners, he needed a distinctive name and chose simply to spell his name backwards. He went on to stand out from the others by becoming a very successful ultra-distance runner and walker who competed successfully on two continents, wining huge amounts of money as well as commemorative championship gold belts.
The American Edward Payson Weston, of Providence, Rhode Island, the "father of pedestrianism" sparked off the "Pedestrian Mania" which reached its peak in 1879. Unlike the jogging and running boom of the 1970's and 80's which started in New Zealand with Arthur Lydiard and travelled across the globe to the USA where its main protagonist was Bill Bowerman, the long distance pedeatrian athletes started in the USA and spread from the Pacific West Coast of America to Europe and New Zealand. It was one of the great sporting of the Victorian age.
In his formative years as an up-and-coming "pro", Cameron proved himself as a handy runner at shorter distances. Winning prize money of up to £20 at a time, he consistently finished in the frame in races ranging from one mile handicaps to 4-hour events over six days all over Scotland, which included events at the Aberdeen Recreation Grounds, the Powderhall Grounds and Royal Gymnasium in Edinburgh, the Shawfield Grounds in Glasgow and the Drill Hall at Perth. For example, he raced in a six hours per night, seven-day "pedestrian contest" in Nottingham, which commenced on February the 7th 1880. Then, it was back to London again, when, along with another notable Scottish pedestrian, William Smith, and as the 4/1 race favourite, Noremac starred in the six-day, twelve hours per day, go-as-you-please "Championship of the World" race at the Agricultural Hall, Islington, London, in September. Noremac's enforced retirement through injury would mean that the race would be won by George Littlewood, the "Sheffield Flyer", who would later go on to beat the best in the world.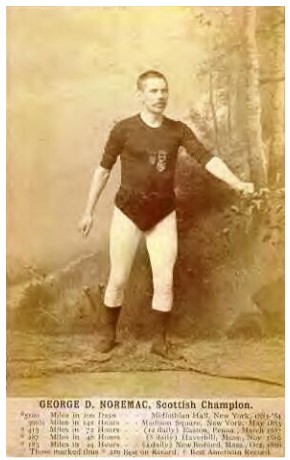 The reports that appeared in the dailies were fairly detailed as this one from halfway through his record setting Glasgow run in February 1880 indicates.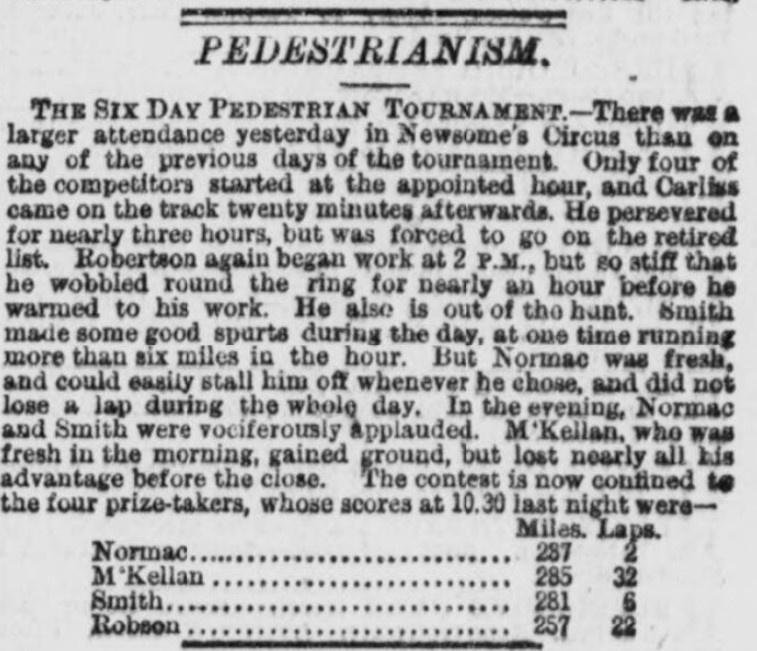 Glasgow Herald, 28/2/1880
But it wasn't till the spring of 1880 when his long-distance career really started to take off. In late February, March and early April of that year, Noremac somehow managed to muster a straight hat-trick of victories in 72-hour (12 hours a day "go-as-you-please") competitions beginning at Newsome's Circus in Glasgow with a score of 357 miles, The races were usually 6 twelve hour days with results published by the local, and at times national, papers daily. The final result of the race at Glasgow was as in the following extract from the Glasgow Herald.
I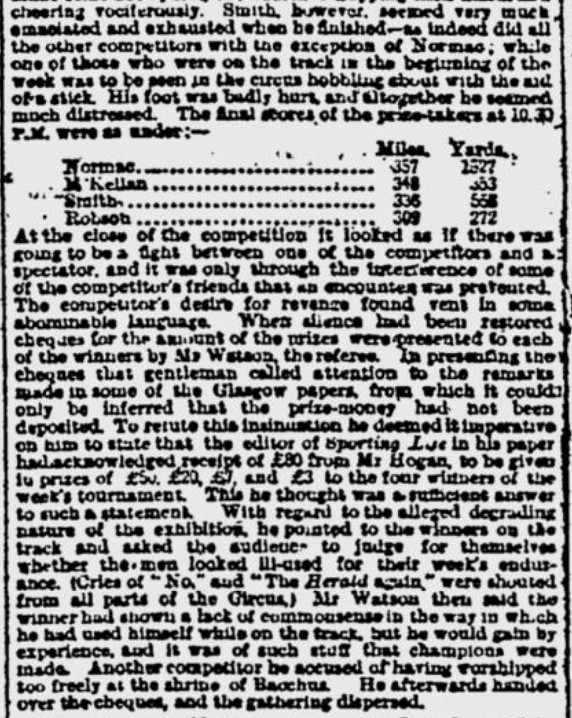 'Smith' is mentioned above and he was a most interesting character whose story is told by Alex Wilson at http://www.anentscottishrunning.com/william-cutty-smith/ – and the race is told from his point of view as follows:
"On 28 February 1880 Smith took part in his fourth 72-hour race in as many months at Newcome's Circus in Glasgow, but this time he failed to reproduce the form he had shown towards the end of 1879. With a total score of 337 miles, he had to settle for third place behind Edinburgh's George D. Cameron (aka Noremac) and Peter McKellan, who made 357 miles and 348 miles respectively. With the six-day craze now in full swing, Smith did not have to wait long for the next competitive opportunity to come along: a 72-hour go-as-you-please at the Edinburgh Royal Gymnasium on 29 March. There were eight participants competing for total prize money of £70 and the winner was to receive £40. The track measured a 125 yards per lap or 14 laps to the mile. Suffice to say that Smith was unlucky: during the first two days he suffered not only constipation but also unbearable pain in his right leg, necessitating the application of a cast. Despite all this, he still managed to cover 158 miles before finally discretion prevailed over valour. Consequently, he played no part in the best 72-hour race ever, a thrilling encounter in which Noremac triumphed over Davie Ferguson in front of a home crowd with a sensational score of 384 miles"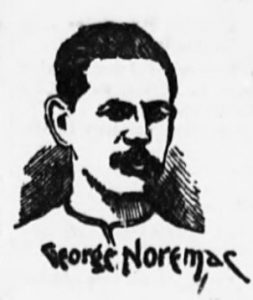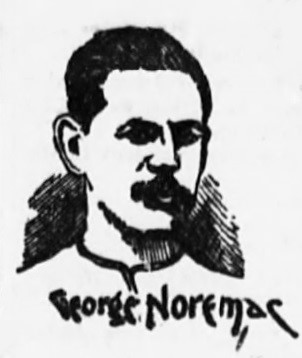 .
In March he ran in Perth, in a race under the same conditions, where he won again, covering 344 miles, and won easily. From there he went to Edinburgh where he was a competitor in a similar even held between March 29 and April 3. And won again , in a new world record of 384 miles, Ferguson was second, with 376 miles (the track being 125 yards in circumference – ie 14 laps to the mile – he ran 3728 laps).
His next race was on 5th June in Arbroath at the Arbroath Recreation Grounds, in an eighteen-hour go-as-you-please race, running three hours every night, when he again took first prize, with a record of 120 miles. He was in action again later in the month when be was a participant in a twenty-six-hour, go-as-you-please, race: four hours a night at Aberdeen, again finishing first, with 204½ miles. Then in July of the same year Noremac ran in a twenty-one-hour go-as-you-please contest, three hours a night, at Falkirk, and again he won again, having run of 160 miles. Then he took in a twelve-hour run at Agricultural Hall, London in September and scored another victory, completing 73 miles 1 lap in 10 hours 58 minutes 36 seconds. Heading back northwards, he went to Birmingham, and took part in a seventy-two-hour, go-as-you-please race of twelve hours daily, between September 27th and October 2nd, winning again, with 380 miles 308 yards covered; Cartwright was second with 368 miles 1,720 yards: and S. Day third, 357 miles 412 yards.
Cameron then travelled down to Bristol where, at the Rifle Drill Hall in October, he won a 14-hour, six-day, go-as-you-please race The Bristol Mercury of 18th October tells us that there were 20 starters in the race which finished on the Saturday in front of 2000 spectators. First prize was £50, second £20, third £10, fourth £5 with £3 going to every competitor who had covered 360 miles. The result was: 1st Noremac 383 miles, 2nd Day 380, 3rd Vanderpeer 346 miles, 4th Carless 320. There were nine finishers.
Back to Scotland and in a sixty five hour race, go-as-you-please, at Cook's Arms, Dundee, Scotland, December 4 to 11 following, Noremac finished second, with 333 miles before finishing the year by making a new 72-hour world record of 384 miles in the Show Hall at the Royal Gymnasium in Edinburgh. Noremac's last mile, which was timed at 6m.30s. would secure him the £40 first prize money.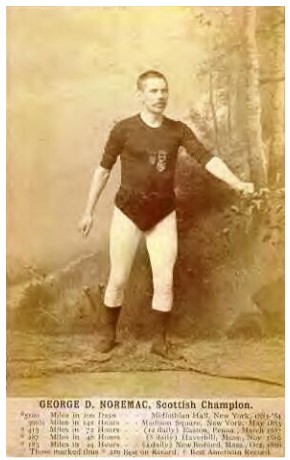 In March, 1881, Noremac competed in the "Astley Fifty Miles Running Championship Challenge Belt" at Lillie Bridge Grounds, London, before setting sail for America (where his professional career was to really take off) accompanied by his trainer, George Beattie, the pair arriving in New York in June. As a farewell competition, it was not a very successful one as this piece from the Illustrated Sporting and Dramatic Life of 19th March indicates.

Alex Wilson tells us that "Like many Scots of the era, he left these shores to begin a new life in America. He settled in New York City and ran an inn called the Midlothian Arms not far from Madison Square Garden, which was then the centre of North American six-day racing. Shortly after arriving on American soil, Noremac showed his prowess in a six-day race with big prize money at New York's American Institute Hall, commencing at midnight on Boxing Day 1881. Thanks to a consistent performance, he improved from seventh place at the end of the first day to finish second behind American Pat Fitzgerald with a Scottish record of 567.4 miles, winning $800 for his efforts. His daily totals were: 110, 213.2, 292.4, 398, 505 and 567.4 miles. To give an idea of the caliber of this accomplishment: no Scotsman has ever surpassed it, indoors or out."
A few months later, Noremac was in the starting lineup for a major six-day race at Madison Square Garden that began at midnight on February 27, 1882. It would go down in history as one of the greatest six-day races of all time. It began with a phenomenal performance by Charley Rowell on the opening day. The Englishman thrilled spectators by beating his own world record for 100 miles with a fantastic time of 13 hours, 26 minutes and 30 seconds, and then covering an amazing distance of 150 miles and 220 yards in 22.5 hours.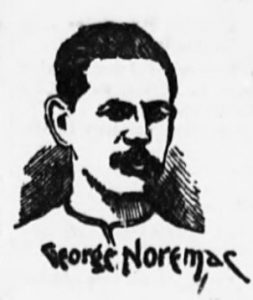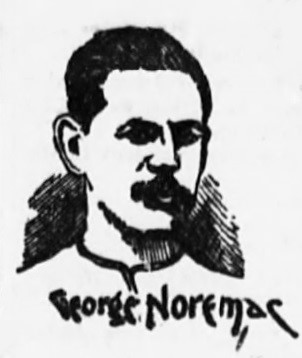 Noremac had won some big money prizes back home but what was to come was just in a different class of earning altogether. In six days, in a hotly contested event in February/March of 1882 at Madison Square Garden, George Hazael from London, became the first man to break through the 600-miles in 6 days barrier winning $18,380 while Noremac earned a staggering $2,251.39 for finishing in third place. Five months later, and on 31st July, 1882, he took part in the six-day go-as-you-please contest for the "Police Gazette Diamond Championship Belt" at the Casino in Boston, Massachusetts. 7000 people were there for the start of the race. Noremac also impressed in that one too.
Noremac's next big race, again at Madison Square Garden, took place in October, 1882. He again bettered his personal best by scoring 567 miles and 4 laps – a Scottish indoor record which still stands. In modern times, the amazing Willie Sichel had several attempts at beating it but did not succeed – a measure of how good the run was.
More about Sichel's attempts at the start of Part 2 – along with some coverage of his 100 days challenge, with the end of his athletics career in Part 3 .