Noremac's competitive career lasted for at least another 15 years during which he kept up his fierce competition record. Obviously we can't cover them all in this brief profile but we can look at some of them and note his progression. His best performances were behind him, but he kept on competing – he obviously enjoyed it, he often represented the walkers in the pre-race negotiations about prize money and race conditions he had already done what was to be his best ever 6 day Go-As-You-Please total and his 5,100 miles in 100 days in 1884/5 would stand as a world record into the twenty first century. It only really remains to show some evidence of his continuing involvement in the sport. We can start by giving an indication of his year by starting on 1st January, 1890.
January 1st, 1890: A six day race started in Pittsburgh with all the usual runners taking part.
March 1890: The Pittsburgh Dispatch gave a preview of 6 day Go-As-You-Please in second week of April. All the usual suspects: Noremac, Herty, Hegelman, Cartwright, Horan, Guerrero, and Golden would be competing on a track of 19 laps to the mile.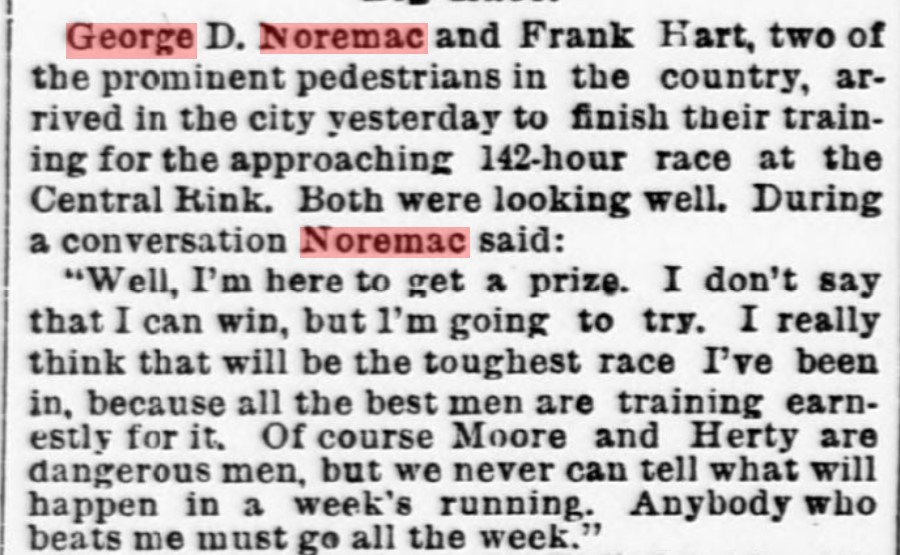 April 15th, 1890: Challenges of various sorts were also a way to make money, and simultaneously build a reputation. These were often, but not always man-on-man, something that you wouldn't see now unfortunately. One such was when George Cartwright challenged Noremac in April 1890. We quote: "Cartwright challenges Noremac to 72 hour race for $500 or $1000 a side: Noremac stipulates not less than six or eight weeks thereafter," After some coming and going the following appeared in the Pittsburgh Dispatch of 16th April 1890.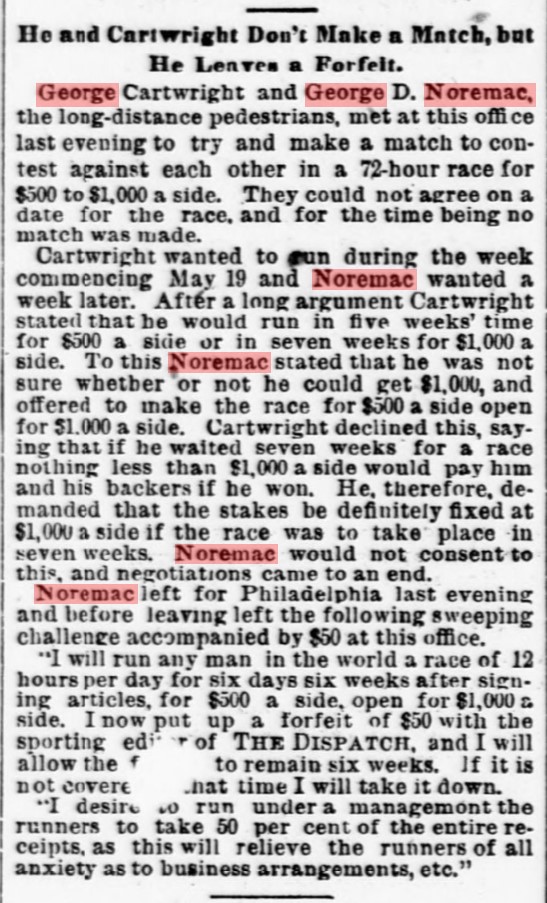 This was followed on 26th April by a paragraph in the San Francisco 'Morning Call' paper which read "George D Noremac, the pedestrian, has left a forfeit of $50 with the Pitsburgh Dispatch with a challenge to run any man in the world twelve hours a day for six days for $500 or $1000 , the race to be run six weeks after signing articles." This same para was run in the Wheeling Daily Intelligencer of the same date. $%00 – $1000 were not small sums of money and the fact of them being offered is an indication of th type of living standard enjoyed by the peds.
Wednesday 15th October: Another 6 day Go-As-You-Please in Altoona, Pennsylvania
This was no doubt followed by more races up to the Christmas period. Into 1891 and we see that he raced at least as follows.
1891: Among the interesting, and maybe educational from the point of view of the 21st century athlete, are the following from 1891.
The St Paul Daily Globe of January 25th, 1891: There was a very, very long preview of the Six-Day Challenge which was to start the following day with lots of information about the competitors, the organisation and anything else that could be conceivably be classed as relevant. What is interesting about it for us is the note about the meeting of the competitors to decide on how the money would be divided among the runners.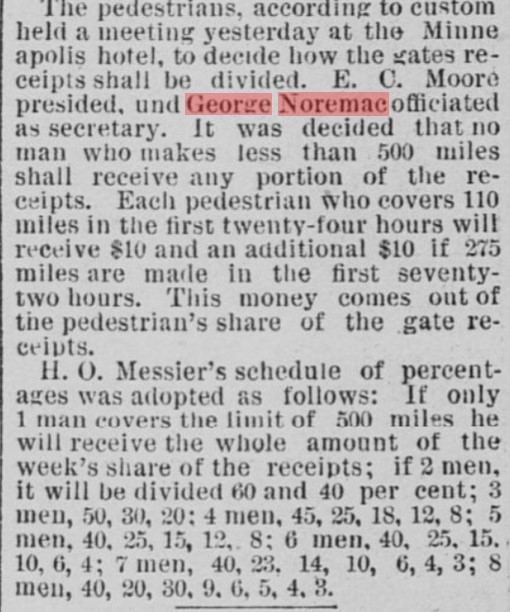 There was another 6 day race on Tuesday, February 24th, 1891 and again Noremac was one of the competitors.. The arena had seating for 700 spectators and a bridge had been built above the track for those who did not care to be seated could stand within the sawdust area. 3,842 people entered the Saturday before the competition began to see the peds. It was advertised as the first professional race to be seen within the city of St Paul. At the finish, Hegelman, who won, received $592:16, Frank Hart $370:04, Cowboy Smith $222:06, Henry Messler, $177:09, Sammy Day $118:43, Old Sport Campana and Noremac " were paid salaries".
The 'Helena Independant' of 14th March 1891 gave pen portraits of all the top runners of the day and had this to say of Noremac: "George D Noreman (or to call him by his right name, Cameron) is a plucky, stocky little Scotchman who may be depended upon to stay on the track until the walk is over and to make the man just ahead of him keep going. He is not as a rule a first prize winner but he usually wins some prize and is never the last in the hunt."
The Seattle Post-Intelligencer of March 16th, 1891, in an article dated 2nd March, announced "$10,000 Walking Match in Madison Square Gardens" And it was indeed to be a great race – there were 43 entries on that day of the article – and was to be held on 15th March. The track was to be a 'tan-bark elipse' and it was a determined effort to revive interest in six-day walking contests. Black Heart, the Sioux chief was also running. (Los Angeles Herald, March 16th) A Turkish Prince was also said to be taking part. There would be a belt, made of gold or silver, studded with diamonds and valued at $1500, for the winner, and the winner would receive $5000. Bob Fitzsimmons the boxer would start the race and be paid $11 for it. Each runner had to put up $300 and pay an entry fee as well as give evidence that they had done at least three weeks training. All runners were guaranteed some money reward at the end of the race – so some entered without paying the entry fee, saying that it could come out of their money for finishing!
The races continued and the money was made – albeit at an apparently reduced rate – but the popularity of the event was waning and coverage in the Press was reduced. No races were covered at a national level in any of the newspapers covered by the American Library of Congress between 1882 and 1899 with only one covered in the laast of these (a 72 hours event in New York in September of that year with all the usual suspects (Day, Guerrero, Noremac, Hegelman, Geary, Glick, etc.). There was slightly more coverage in the early years of the 20th century with most the same contestants – Hart, Cox, Degan – along with some newcomers such as Spotty Clifford were forward for a six-day event in Pennsylvania in September, 1901. Other events were being held, but not covered although some reference was made to them.
In 1902 the Butte Inter Mountain newspaper of 6th January 1902 reported on the 100 miles Go-As-You-Please in St Louis where the race ended after 97 miles with Noremac third (324 miles) behind Harry Shelton, the coloured pedestrian (361) and George Tracy (335). November 9th saw the start of the 6 day world championship race in Pittsburgh with more than 40 contestants.
A year later, as reported in the Waterbury Evening Democrat of 14th November, the race would again be held but with a variation: the variation was that the race would not be in 6 twelve hour stints, it would be non-stop with competitors being allowed to take as much or as little rest as they wanted/needed to. This was not legally permissible so they were going to compete as teams. Note the following.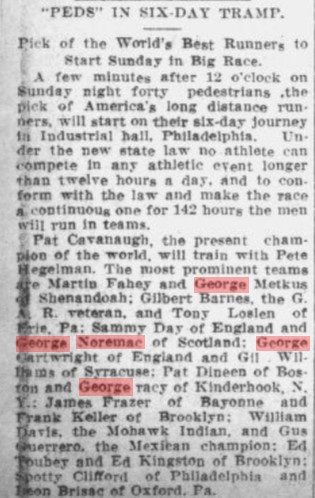 He would be 50 years old in 1904 and his career as an athlete was almost at an end. He had been racing since the 1870's and PS Marshall had this to say of him in 'King of the Peds': "In his formative years as an up-and-coming "pro", Cameron proved himself as a handy runner at shorter distances. Winning prize money of up to £20 at a time, he consistently finished in the frame in races ranging from one mile handicaps to 4-hour events over six days all over Scotland, which included events at the Aberdeen Recreation Grounds, the Powderhall Grounds and Royal Gymnasium in Edinburgh, the Shawfield Grounds in Glasgow and the Drill Hall at Perth."
He had raced all over Scotland, in England and then took his talents across the Atlantic to the USA where he had a long and successful career in the sport – undoubtedly one of Scotland's best ever endurance athletes.