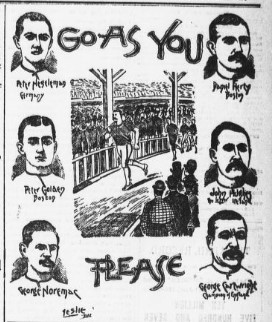 Noremac and some of his contemporaries in Americs: from Washington World, May 6th 1889.
We have looked at the start of Noremac's athletics career and been impressed with some of the feats recorded there but how would he have fared in today's athletics world? For instance, just how good was his six-day record? Willie Sichel (below) is indisputably one of the all time great British ultra distance runners with victories and, records set over many ultra long distance events. He had several attempts to take Noremac's Six-Day record but never quite managed it. When we spoke to him about it he said –
You're correct I didn't manage to break his record unfortunately. I first broke the 500 mile barrier in Monaco in 2007. After that I started to research records in these longer distances. I'm not sure how I stumbled across Noremac but possibly the initial information might have come from Andy Milroy. His story obviously caught my imagination and his record was one I seriously tried to break. My best ended up at 532.56 miles in Hamm, Germany in 2008. The thing with a 6 day race, is that so much can happen to both enhance or detract from your performance. Whether the race is indoors (like Noremac's) or outdoors like mine, there are pros and cons. My Hamm run was on a cinders track in summer and I had to cope with scorching temperatures with occasional downpours that flooded the poorly drained track.
I ended up doing ten, 6 day races, exceeding 500 miles in 4 of them. The 6 Day event requires a fascinating blend of speed, endurance, time management and resilience. I believe Noremac's record is safe for a long time to come."
What Willie says is very interesting: 500 miles in 6 days iss considerably good running: almost 84 miles per day, and his best run of 532.6 miles in a race (which he won) at Hamm in Germany in 2008. which is just short of 90 miles a day. The fact that he does not think Noremac's record will ever be beaten is testament to the quality of the mark.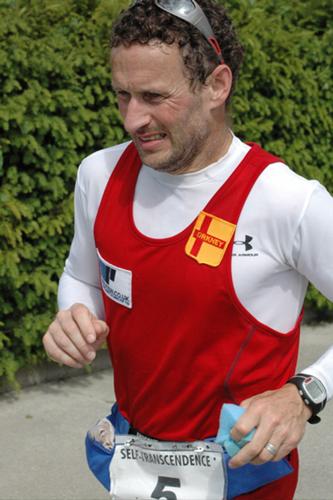 Noremac did a phenomenal amount of racing – reported to be over 5000 miles per year. We can't cover them all in a profile such as this but we can look at some of the highlights. 1884 was a very good year for him with a fine effort at the very end . Among the races he had that year before then were .
On 28th April, Daily Kennebec Journal reports on The Great Race in Madison Square Gardens in New York, and the Six Day Go-As-You-Please in Chicago during the week of the Democratic National Convention. These and others during the year led, for what was to me, arguably the real highlight: came between November 3rd, 1884 and between then and February, 1885. Read this short preview from the New York Clipper of 1st November, 1884 –
"George Noremac – The attempt on the part of George Noremac, the long distance pedestrian, backed by Capt. Paul Boyton, to excel the feat performed in England by EP Weston by walking fifty one miles daily for one hundred consecutive days, on a time limit of fifteen hours daily, will commence at 10 am, Nov. 3, at the Midlothian Arms, 466 Eight Avenue."
The event started on time and three days later The New York Sun reported – "George D Noremac who is trying to beat Weston's record of 5000 miles in 100 days was circling the track in Midlothian Hall last night. He has to go round the track 44 times to make a mile. He walked and ran at a rapid rate and completed the third stage of his long journey about midnight, when he had made fifty-one miles during the day. He then retired. He will resume his tramp at 9 this morning." He started well, and stopping after the exact 51 miles required for the day, he was disciplined eough to stop for his nine hours rest. Fitness and discupline servied him well for we read in the Mayville, Kentucky, Evening Bulletin at the start of January the following under the heading 'SCOTLAND'S PLUCKY PEDESTRIAN'
"New York, Jan 3rd – George D Noremac has passed over the summit of his great tramp of 5.100 miles to be made in 100 days. This is the fifty-third day of his journey. He has 2,601 miles to his credit. His task is 51 miles a day, over a track of forty-four laps to the mile in Midlothian Hall, Eighth Avenue, near Thirty-fourth Street. Norman Taylor, the pie-eating pedestrian from Vermont, keeps the score, and enough spectators are always on hand to detect errors. Noremac himself watches the figures closely. His ambition is to make an honest record that will lead the best previous performance of fifty miles."
At 44 laps to the mile. that would be 2,244 laps a day to get his 51 miles every day. It would be done in a Hall with abour 100 spectators present – more at particular times of the day or at special points in the walk (eg halfway) and towards the end. Nevertheless he continued and we are told in the Democratic Advocate of 28th February, 1885, "George D Noremac who has been walking at Midlothian Hall for the past 100 daysfinished his 5100 miles Thiursday night last. Thje pedestrian was in good ocndition. The walk grew out of a wager of $2000 that Noremac could walk 100 days in succession and score 51 miles each day." And the Abbeville Free Press of 11th March, said that – "George D Noremac, a professional pedestrian, has finished a long tramp in New York City, having covered 5,100 miles in 100 days on a wager of $2000." The New York Times says that he finished at 11:10 pm.
The cartoon below is from the Sundat Star, Washington, of June 13th, 1920 as part of the Ripley series of sporting wonders.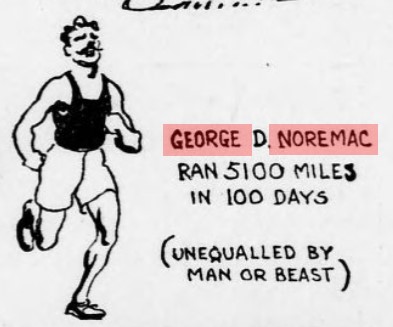 The public loved these events and most of the participants had their own supporters and backers, and many had their own trainers travelling with them. They were colourful characters – Noremac had changed his name) some of whom were quite eccentric – "Old Sport" Campana from Bridgeport was a real favourite because of the unusual antics he performed on-track. Gus Guerrero from Mexico was on occasion referred to as "The Greaser", Frank Hart, the "colored" champion from Boston also "wowed" the crowds because he was "different", Nitaw-Eg-Ebow was a Kickapoo Indian, Winston H Burrell 'a coloured man', and the Irishman, John "Lepper" Hughes, also created quite a stir because of his passionate attitude. They were well rewarded for their efforts – rewards for the most successful "peds" were huge: eg for winning just two races in New York, the "Cambridge Wonder", Charles Rowell, from England, managed to secure prize money totaling an incredible $50,000!
Noremac continued racing and appears over the years as George Noremac (New York), George Noremac of Philadelphia and he is even described as 'the Scotsman' or George Noremac (Scotland) and even as George D Noremac (Cameron) – the latter in the Caldwell Tribune (Idaho) in February 1887. He criss-crossed the continent throughout the year competing against the same opponents over and over again in races of all sorts, some as short as 12 hour man-against-man challenges, all the way up to the 5100 miles in 100 days challenge. The rewards were what made it worthwhile of course. That the races were popular there is no doubt. For instance in May, 1888, 44 contestants took part in the World Championship six-day championship in Madison Square Gardens. Each entry paid $350 and had to and had to make 100 miles in the first 24 hours to stay on the track. The entry fee was high but the prize money was also good with any man breaking the record receiving $10,000. The scene at the start as described by the Fort Worth Daily Gazette – "Nearly 10,000 people were gathered outside the gate by 9 0'clock awaiting the opening of the doors, and a mad rush followed as the gates were swung back. One hundred policemen on duty were for a time powerless to prevent serious over-crowding. The announcement that John L Sullivan would start the contestants was the drawing card but the crowd sought him in vain. At 12 o'clock the contestants were all on the track and Jack Dempsey vaulted over the railing to start the race instead of Sullivan.".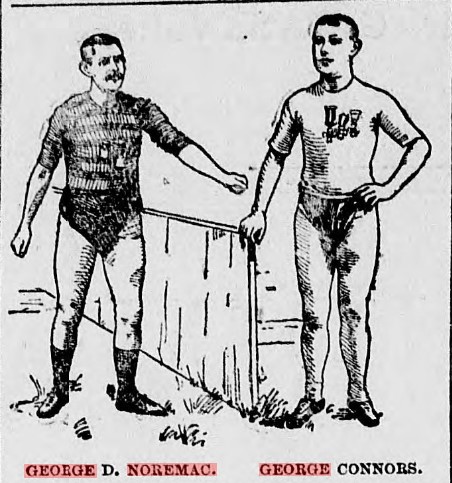 1889: A Typical Year
Given the amount of racing and travelling that he did, and that many of his races were covered only or in the main by local papers, they can't all be covered but it is interesting to try to follow 1889 as a typical year.
*7th March, 1889: 50 hour pedestrian contest at the rink in Parkersville, West Virginia from 8 o'clock on Thurday to 11 o'clock on Saturdau
*Beginning on the first Monday in April, there would be a six-day Go-As-You-Please in Kansas City. There would be special prizes for breaking 24 hour, 48 hour, 72 hour and 142 hour records. Won by the little Scotchman with 501 miles and 9 laps from Hegelman who covered 487 miles and 1 lap. Noremac won $1,100 and was a popular winer.
*20th April, Pittsburgh, 12 hour race between George Cartwright and George D Noremac and a notice appeared in the Dispatch saying "George Cartwright and George D Noremac appeared before Police Magistrate Gripp yesterday and made affidavit to the effect that their 12 hour race on Saturday, 20th April, is legitimate, and that each would try to win."
*On May 6th, 1889, the New York Evening World advertised the Grand Six-Day Go-As-You-Please with 'Every Civilised Nation on the Face of the Globe Represented' The final paragraph of the preview said that "Mr and Mrs Noremac were there: George Noremac, attended by his devoted wife is in, as usual, "to get a piece of the boodle", and having set out at a dog trot at midnight, will continue to the end." And he did well in the race: on the Wednesday he moved from ninth place to second. The "dog trotting little Scotchman" had two hours rest and then started off 'as slick as grease' according to his admirers. On the final day, when he passed the 500 miles, the band playing to entertain the crowd played "The Highland Fling."
*June 29th – Nine-Day (12 hours a day) race at Sea Beach Palace Hotel, Coney Island. This one had some novel features – (1) Ghost Sullivan Arab Stout, an Indian from the Catterangus Reservation in full war paint; (2) A special gold medal to be competed for by New York newsboys. This would be over two miles for the Police Gazette Championship of |New York; (3) Special prizes for short races which will also took place during the nine days. eg there would be a five mile race for the mail carriers for the gold medal and championship of the New York Post Office.; (4) A Niagara Falls of running water to keep the place cool, (5) The track was a good one and five laps to the mile. The novelties were partly because it was Coney Island but also because the 9 days included the 4th July and two Saturdays. Dates carefully organised to maximise crowd attendance and profits for the organisers – half of the takings was going to prize money.
*In early October there was a six-day event in Waterbury and it was commented that "Noremac is proving it correct that as the days increase, so do his running powers." The same issue of the 'Waterbury Evening Democrat' has an interesting couple of open letters. The first reads: "GUERRERO ISSUES A CHALLENGE. To the Editor of The Democrat:- A report has been issued since I left the track at the six-days race here that I had no heart and was pushed so hard I was not able to stand the strain. Some people have also sneered at the statement that I am not the 48 hours champion of the world. I have records to prove my statement and proofs sufficient to satisfy anyone. I therefore issue the following challenge:- I will run any man now on the track for $200 to $500 from 1 hour to 142 hours. I will also run on this track two local peds 5 miles, each to run 2 1/2 miles. This challenge means business. Now let the sneerers squeal or shut up. Gus Guerrero."
This was followed in the same edition by the following:- " A NUT FOR GUERRERO TO CRACK. To the Editor of The Democrat:- It having come to our knowledge that Gus Guerrero is to issue a challenge in your paper today to run any man now on the track, for 1 hour to 142 hours for any amount of money, we desire to make our statement and acceptance at the same time. Dan Herty will run Guerrero six days , twelve hours a day, George Noremac will run him twelve hours, and Jack Spicer will run him twenty miles, for any sum he wishes to put up. As a guarantee we have deposited $25 with The Democrat. Respectfully, Dan Herty, George Noremac and Jack Spicer."
*The year finished in Pittsburg from December 23rd to 28th, $1000 in prizes and as an example of how seriously the events were taken see the extract from the Pittsburgh Despatch for 3rd December below. Tracks had to be exact if big cash prizes were at stake for records set, and note also that runners could and did bet on themselves.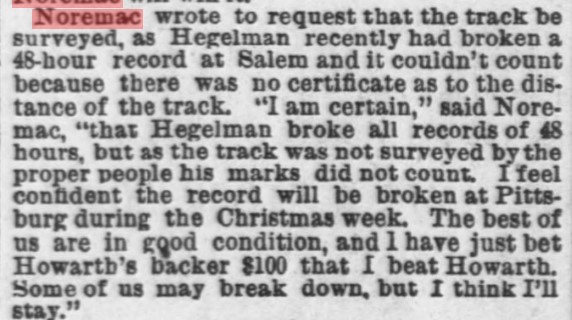 When the race came, Noemac finished eighth with 212 miles, well behind Hegelman who won with 398 miles and 1610 yards. That was the end of 1989.
We started this section comparing his best six day race distance with the best of the twenty first century Scots, went on to the wonderful feat of 51 miles a day for 100 days and ended with a typical year's competition for him. We can stop this section here to catch our breath and start another page for the final third of his walking career – he went on racing into the twentieth century and we can follow that next.