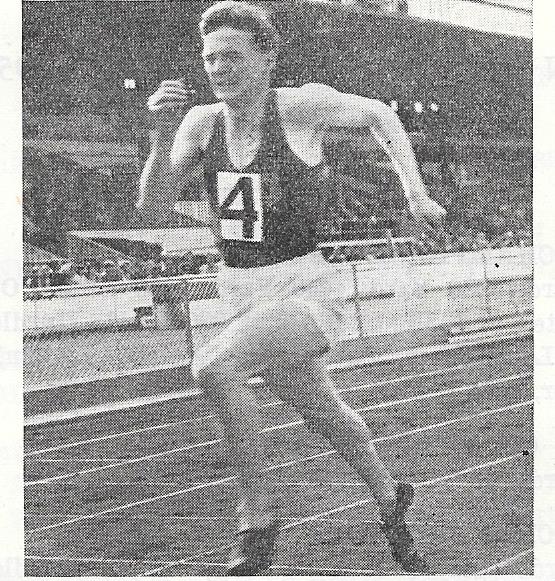 DK Gracie, Glasgow University
The University athletics season began very quietly on 22nd April, 1950, with the St Andrew's University Championships where the highlights were a new University two miles record of 10:33 by J Buchan, and a throws double by A Herdman in shot and discus. A week later on the final Saturday in April, St Andrews University and Edinburgh University competed at University Park, St Andrews. "WN Laing, a St Andrews University coloured student cleared 47 feet in the hop, step and jump beating by half an inch the record set by AS Lindsay who represented Scotland at the Empire Games. " How much of that has changed! 'a coloured student'. 'hop, step and jump' and the Empire Games are now the Commonwealth Games. Edinburgh won the contest and in the match between the Royal 'Dick' Veterinary College and Edinburgh's second team, the University made it a double delight by winning that match too. The season really started to come to life on Saturday 6th May when Glasgow University lost to Queen's, and Edinburgh beat Aberdeen at Craiglockhart. DK Gracie was the top man in the Glasgow team as he would be again and again. The Larkhall man was the country's top quarter The next week, the Universities of Edinburgh and St Andrews took part in inter-club fixtures with other non-university clubs. Edinburgh lost to Victoria Park AAC by 20 points to 30 at Goldenacre, and St Andrews lost to Shettleston Harriers and Edinburgh Southern at Westerton.
On 27th May there were three separate University Championships – Glasgow, St Andrews and Edinburgh. The short review that preceded the detailed results in the 'Glasgow Herald' read: "Two coloured students created new Scottish all-comers records on Saturday at their respective Universities' championships. SO Williams beat the previous best broad jump by over 7″with a leap of 24′ 2 3/4″ in the Glasgow University event at Westerlands, and at the St Andrews title meeting WN Laing bettered his year old record for the hop; step and jump with a splendid effort of 47′ 3 1/2". Williams also won the high jump and the hop, step and jump with DK Gracie taking the 440 yards. In Edinburgh, the star performer was Miss Pat Walker who won the 440 yards and the javelin, although she lost her discus record to Miss Toni Ireland.
The 1950 Scottish Universities Championship took place on 3rd June at Craiglockhart, Edinburgh and again Williams and Laing set the records. Both were Nigerian, and in the broad jump Williams did 24′ 1 1/2″ for a championship record, and Laing 48′ 5 3/4″ to set Scottish all-comers record. Other best performances were Gracie in the 440 yards equalled Liddell's 50.2 seconds championship best, TB Begg (Glasgow) set a record of 1:56. in the half-mile, DA Stewart (Edinburgh) in the 440y hurdles ran 58.4, RL Duguid (Edinburgh) set a record in the discus of 138′ 3 1/2″, W McNeish (Glasgow) in the hammer with 150′ 1″, and B McInnes (Glasgow) in the women's javelin with 90′ 2″. The Glasgow men's medley relay team also set a CBP of 3:34.5. Overall, Glasgow won the team contest with 61 points against Edinburgh's 48, St Andrews' 8 and Aberdeen's 4. A full team of two per event was chosen after for both men's and women's teams to compete at Newcastle at the start of July in a match against English universities.
Before that though there were some other contests – on 10th June Glasgow University defeated Aberdeen at Hilton Park with McNeish winning four field events – shot, discus, hammer and pole vault – and the track team winning every event bar the 120y hurdles and the relay. In the British Championships on 17th June in London, Williams set a new British record but since there was no wind gauge there were problems with it being recognised.
The quality of student athletics at the time can maybe be judged from their places in the SAAA championships in June and these are listed below:
100 yards: 1st AT Bruce, Edinburgh University 220 yards: 3rd D Mercer(Edinburgh University)
440 yards: 2nd DK Gracie 880 yards: TR Begg (Glasgow University)
120 yards hurdles: 1st JGM Hart (Edinburgh University); 3rd RD Unkles (Glasgow University)
440 yards hurdles: 1st DA Stewart (Edinburgh U); 2nd. RM Boyd (Glasgow U)
High Jump: 2nd SO Williams (Glasgow U). Hop, step and jump: 1st WN Laing, 2nd SO Williams
Long Jump: 1st SO Williams; 2nd G Mackie (Jordanhill TC), 3rd WN Laing (St Andrews U)
Pole Vault: 1st RF Edington (Glasgow University)
Discus: 1st RJ Duguid (Edinburgh U), 2nd DG Milne (Oxford U and Achilles)
Javelin: GNM Fraser (Cambridge U and Achilles.)
Of the five men selected to represent the association at the AAA's championships, three – Williams, Laing and ECK Douglas of Edinburgh U) – were university men.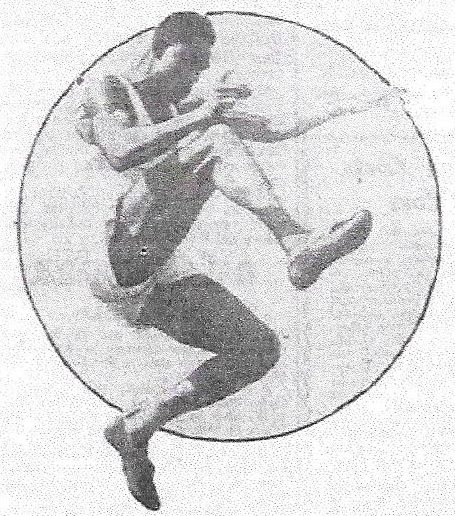 SO Williams, Glasgow University
On 5th May, 1951 Glasgow defeated Queen's Belfast, and St Andrews Universities at St Andrews in a triangular fixture. Since Glasgow still had the services of Williams, Gracie and Unkles it augured well for the only university in the west of Scotland for the rest of the season. The quality was emphasised a week later in an inter-university match between Glasgow and Edinburgh at Craiglockhart when HI Duguid of Edinburgh – the reigning SAAA discus champion – set a new British record for the event bettering John Savidge's record by 7 1/4 inches. Glasgow won the contest by only 9 points. SO Williams won both long and triple jumps. The matches came thick and fast at this point. The following weekend, Edinburgh University was beaten by Victoria Park at Scotstoun, St Andrews lost to Edinburgh Southern at New Meadowbank, and Glasgow comfortably defeated Aberdeen at Westerlands. St Andrews only winner was Laing in both long and hop, step and jump events, Edinburgh's top man was again Duguid with wins in shot and discus, while Glasgow won every event except the Mile (K Coutts) against Aberdeen.
The Glasgow University championships on the last Saturday in May saw a triple win for Gracie in 220 yards, 440 yards and 440 yards hurdles. It was his first public run over the hurdles and he was timed at 58.3 seconds. Hugh Hatrick won the half mile but another very interesting result was Bobby Calderwood's victory in the Mile in 4:42.2. Calderwood would be one of the first students to continue running for his club, in his case Victoria Park, while attending university. On the same day Jordanhill Training College defeated St Andrew's University. The Scottish Universities Championships were held at Westerlands on 2nd June when the Glasgow Herald reported on the event as follows.
No fewer than 14 records, 4 of which were Scottish, were established at the Scottish Universities Athletics championships on Saturday. The four Scottish records were made by women: Q Shivas, (Aberdeen) 11.2 sec for 100 yards and 12.2 sec for 80m hurdles; DE Walby (Glasgow) 5′ 0 1/2″ in the high jump; and E McInnes (Glasgow) 107′ 7 1/2″ in the javelin.
The six other University records were:- Men: K Coutts (Aberdeen) 4 min 24.3 sec in the Mile, SO Williams (Glasgow) 6′ 0″ in the high jump; HL Duguid (Edinburgh) 146; 11″ in the discus. Women:- Miss C Clephane (Edinburgh) 26.3 sec in the 220 yards; Miss J McGowan (Glasgow) 63.3 sec in the 440 yards and Edinburgh women 52.3 sec in the 4 x 110 yards relay. DK Gracie (Glasgow) equalled the university record for the 440 yards hurdles, 56.5 sec. Edinburgh won the men's team title aggregating 52 points. Glasgow had 48 1/2, Aberdeen 11 and St Andrews 7 1/2. Glasgow won the women's team championship with 36 1/2 points. Aberdeen had 19 1/2, Edinburgh 17 and St Andrews 1. "
Laing won the hop, step and jump and Hatrick the half mile.
The SAAA Championships were held at Hampden Park on 22nd/23rd June and Laing, Williams and Duguid all retained their titles while Hatrick, Gracie and McKenzie (EUAC) won the 880, the 440/440 yards hurdles and the javelin events. The students were all doing well and all were interesting characters. SO Williams graduated that year and went on to Purdue University in Indiana, USA.
Sylvanus Olatunde Williams had been born on 16th September 1922, son of a watch repairman, he attended dthe Methodist Boys School in Lagos and then Higher College, Yaba, before matriculating at Glasgow University in 1947 to study Civil Engineering. He attended classes at the Royal College of Science and Technology (now Strathclyde University) and Glasgow University and graduated with a BSC (Hons) in 1951. The then studied Civil Engineering at Purdue where he graduated with an MSc in 1955. Athletically, he was awarded his full blue in 1949. That year he won the first of three consecutive SAAA long jump titles. He won the British Universities title for the event in 1950. was seected for international duty against France where he won the long jump. A versatile athlete he also won Scottish medals in the triple jump and high jump. Internationally he represented Nigeria at the Olympics in 1952 in Helsinki where he could only finish 16th with 6.98 metres, and in the Empire Games at Vancouver in 1954 where he was third with 7.22 metres. After returning to Nigeria to work as a civil engineer, he also took an active interest in Sports governing bodies serving as chairman of the Amateur Athletics Association of Nigeria, president of the Athletics Federation of Nigeria (1969-79) and was a member of the Nigeria Olympic Committee from 1954 to 1974. These were recognised with awards of Officer and later Member of the Order of the Niger. He died in Canada in 2006.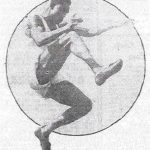 Although there were as many talented athletes at the various seats of learning as ever, 1952 had to be DK Gracie's year which will be summarised later but to start at the beginning:
The report in the Glasgow Herald on 12th May, 1952 indicating that the universities athletic season had started in earnest, read.
"INTER-UNIVERSITY ATHLETICS
Hurdler equals Record
Glasgow, although they did not field their best team – JJ Donnelly and H Hatrick for instance were absent – were too strong for Aberdeen in an inter-university contest on Saturday at King's College Grounds, Aberdeen. They won the men's contest by 66 points to 39, and the women's contest by 32 points to 31. RD Unkles (Glasgow) equalled the ground record for the 120 yards hurdles, 16.2 seconds. Miss J Pringle (Aberdeen) with the aid of a following wind beat her own ground record for the javelin with a throw of 91 ft 3 in."
"St Andrews University beat Edinburgh Southern and Shettleston in a triangular contest at St Andrews. "Doubles" were scored by JP McAslan (Edinburgh Southern) in the 120y hurdles and long jump, and by K Akinsete (St Andrews).
. Two weeks later in the Glasgow University championships. JJ Donnelly lived up to his billing as one of their best athletes by winning both 100 and 220 yards titles in 10.1 and 22.6 seconds and Hatrick won the half mile. Now that Williams had moved on the long jump was won by NC Smith with 22′ 3 3/4″. In the women's events Miss NP Kerr won three events – 100, 440 and high jump. There were however some notable names missing from the results sheet. The London Caledonian Games were being held on that day and DK Gracie won the 400 metres flat race and the 400m hurdles beating England's two top men in the event – Harry Whittle and RW Scott trailed in behind him. ECK Douglas of Edinburgh University won the Hammer and old friend SO Williams won the long jump. While Douglas was winning at London, his club best was being beaten by WJR Leckie when Edinburgh University hosted Victoria Park. Ken Coutts, who ran for Aberdeen University in previous years, was now at Edinburgh, along with JL Hunter and RWS Rankin were also missing from the University side.
On 31st May Edinburgh won the Scottish Universities men's championship at St Andrews for the 25th time. They had 57 points, Glasgow was on 39, St Andrews 16 and Aberdeen 8; St Andrews won the women's with 25 to Glasgow's 17, Edinburgh's 16 and Aberdeen's 14. There were several double on the men's side – JJ Donnelly won both 100 and 220 yards, WN Laing won both horizontal jumps, WJM Leckie (Edinburgh) won both discus and hammer throws. On the women's side, J Pringle (Aberdeen) won all three throws – shot, discus and javelin – setting a new record in the shot putt. Gracie of course won the 440 yards hurdles and Ken Coutts of Edinburgh won the Mile. It being Empire Games year, the SAAA championships were held early – on 7th June – and Gracie set a new Scottish all-comers record for the 440y hurdles of 54.7 seconds which took 0.4 seconds from that set by American HF Ault at the Glasgow Police Sports three years earlier. He also won the 440 yards flat in 50.5 seconds. DW McKenzie of Edinburgh University retained his javelin title with a windy 183′ 3 1/2″. Other students who performed well were WJ Leckie who was first in the discus and 3rd in the hammer, Ken Coutts of Edinburgh who won the Mile in 4:21.7, CAR Dennis of Edinburgh (3rd in 120y hurdles), H Ferguson (Glasgow: 2nd in long jump) and S Olafsen of Edinburgh (3rd in the shot). A good day all round, topped off by the selection of Gracie for the team to go to the AAA's in London later that month. The boy from Larkhall (Gracie) did not take a week off between championships – the following week he was competing at the Motherwell and Wishaw Pipe Band Sports at Fir Park where he won the short limit handicap 440 yards and anchored his club team to victory in the relay.
Reported as being 'rather slack from the blocks' in the AAA's, Gracie finished third.
Gracie was a quite outstanding athlete and his career is detailed in the Shields and Black book "The Past Is A Foreign Country" and it is required reading for anyone interested in the standards at the top of Scottish running. Doug Gillon, of course, wrote a marvellous piece about him on 21st July, 2016. David Gracie won seven SAAA titles in six years, set nine Scottish records in eleven days in 1952, won gold and silver in the World Student Games, set a UK record and was ranked in the world top 10 as well as running in the 1952 Olympic Games. On the Helsinki Olympics running, Gillon says: 'Gracie ran two rounds within three hours on the opening day, advancing to the next day's semi-finals. The first three qualified for the six man final later that evening, Gracie was fourth in 52.4 – faster than all but the winner of the other heat. That time would have placed fourth in the final.' His best 400m hurdles time would have won the Scottish title 24 times since 1969 and 8 times in the past 15 years. On only 4 times in that 47 years would he have failed to win a medal. Gillon's article is well worth reading – easily found on the internet. His results from Helsinki –
First round, Heat 7: 1st DK Gracie 54,2 2nd Wilson Carneiro (Brazil) 56 seconds
Second Round: Heat 3: 3rd DK Gracie 53.9
SF 1: 1st Y Lituyev (USSR) 51.8; 2nd John Holland (NZ) 52.0; 3rd A Yulin (USSR) 52.1; 4th D Gracie 52.4
He was a superb athlete and Scotland was very lucky to have him.
*
By the end of 1952 there were University athletes ranked in almost every event on the calendar
100 yards: JJ Donnelly Glasgow 4th 10.1; JR Moorhouse, Edinburgh, 10th 10.2
220 yards (straight): JJ Donnelly, 1st and 2nd fastest times 22,,1 and 22.6 sec; DK Gracie 4th 22.8; IB MacKenzie, Edinburgh 5th, 22.8
440 yards: DK Gracie, 1st 49.4; JM Cameron, Glasgow, 6th, 51.3; WHJ Campbell, St Andrews 8th, 51.5
880 yards: HA Cumming, Edinburgh, 7th, 1:59..3; H Hatrick, Glasgow, 8th, 1:59.4
Mile: K Coutts, 1st, 4:21.2; GD Hillary, Ednburgh, 6th, 4:24.6; J McDonald, Aberdeen, 9th, 4:28.1
3 Miles: JW Brydie, Edinburgh, 7th, 15:05.5
120 y hurdles: RD Unkles, Glasgow, 4th, 16.0; CAR Dennis, Edinburgh, 4th, 16.0
440y hurdles: DK Gracie, 1st, 52,7; DH McKenzie, Edinburgh, 57.5
High Jump: AG Ramsay, Glasgow, 8th, 5′ 10 1/2″
Long Jump: WN Laing, St Andrews, 2nd, 22′ 3″; HC Ferguson, Glasgow, 4th, 22′ 0 3/4″; G Storey, St Andrews, 7th, 21′ 7 1/2″; JL Hunter, Edinburgh, 7th, 21′ 7 1/2″
Hop, step and jump: WN Laing, 1st, 47′ 9″; HK Lawson, Edinburgh, 4th, 44′ 11″
Pole Vault: EO Akinsete, St Andrews, 4th 10′ 6 1/2″; D Corbet, Aberdeen, 5th, 10′ 6″; W McNeish, GUAC, 5th, 10′ 6″
Shot Putt: S Olaffsen, Edinburgh, 2nd, 32′ 0 1/4″; HK McLachlan, Glasgow, 7th, 40′ 0 1/4″
Discus: WHJ Leckie, 2nd, 137′ 2″; L Velecky, Glasgow, 4th, 125′ 2 1/4″
Hammer: WHJ Leckie, 3rd, 150′ 1 1/2″.
Javelin: DWR McKenzie, 1st, 183′ 3 1/2″
That's the list at the end of summer 1952: members of Atalanta, and members of Achilles or other English Universities are not included. The influence of the Universities was great and entirely beneficial. The inclusion of athletes from outwith Scotland – Williams, Laing, Akinsete, Olaffsen and the rest – all helped to raise the standard for Scottish students which would be taken back to the clubs for discussion and probably implementation.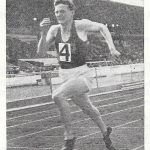 On 2nd May, 1953, the first of the year's inter-varsity matches took place at Westerlands where Glasgow University defeated Edinburgh by 104 points to 84. Several of the top men from 1952 were in action – Unkles, Finlayson and RS Scott were winners for Glasgow while Smart won the half mile for Edinburgh. In the Ladies triangular match between Maryhill Harriers, Edinburgh Southern and Glasgow University, they clubs finished in that order. Edinburgh was in action again two weeks later – this time against Aberdeenat King's College Grounds. They won by 76 points to 37 and the top athletes on show were LB McKenzie (E) who won both sprints, CAR Dennis (E), who won both hurdles races, while good performances were put up by Coutts in the Mile, Nisbet (E) in the discus and McKenzie (E) in the javelin. David Gracie ran in the YMCA Championships at Alloa on the same day and won both 100 and 220 yards. The following Saturday, May 23rd, Glasgow University defeated Durham University and a Northumberland & Durham side at Westerlands with only five victories in total (two on the track, three in the field). Their key men were AR Smith with two victories in the horizontal jumps, RS Scott in the Hammer, H McLaughlin in the javelin, Duthie in the 880 yards and Finlayson in the Mile. On the same day, Jordanhill TC beat St Andrews University in a combined men's and women's match at St Andrews. Jordanhill had one triple and one doubles – CF Riach winning shot, discus and javelin, and WP O'Kane 220y and 440y, St Andrews had G Storey winning long jump and hop, step and jump. On the women's side, St Andrews beat the Scottish women's record for the 4 x 110y relay with 52.1. R McLaren of the University won 100y and 220y, A Gaudin (St A) won both javelin and shot putt and I Todd of JTC won the 80m hurdles and the long jump.
Both Edinburgh and Glasgow had their championships the following weekend and both were reported in the Glasgow Herald with full results coverage. Of the Glasgow event, it ran as follows:
RS Scott established a Glasgow University championship record at Westerlands when he threw the hammer 142′ 1″. His distance beat the previous best by W McNeish by no less than 8′ 1 1/2″. For the achievement he was awarded the Biles Cup. DK Gracie also established a new championship best in the 440 yards hurdles whch he won in 57.2 sec. Less than an hour earlier he had won the 440 yards hurdles at the Glasgow Highland Gathering in 55.8. The Ure Primrose Cup was awarded to AS Dunbar who beat RH Ward in the 100 yards. Ward reversed the result in the 220 yards. For his first in the high jump and third in the broad jump TJA Johnstone was awarded the Tiger Trophy."
The Edinburgh Championship report read:
"With a time of 61.3 for the 440 yards, Miss W Bowden beat by 2.8 sec the Edinburgh University record in the championships on Saturday at Craiglockhart. She also broke the 100 yards record by 0.3 sec in a time of 11.9 sec, and won the 220 yards. Miss J Kirkland broke the 80m hurdles record by 0.4 sec with 13.5 sec. In the men's events, DWR McKenzie , Scottish javelin champion, although his 174′ 8″ throw was not his best, broke the university record by 9′ 1″. HE Lawson, a Jamaican who has also done better, raised the hop, step and jump by 3 1/2″ to 44′ 8".
For his brilliant running in the mile, K Coutts, the Scottish champion, received the Donovan Cup, and CAR Dennis was awarded the Fahmy Cup for his style in the hurdles. Miss Bowden won the Haultain Cup for the outstanding performance in the women's event and she was awarded the Points Cup. Miss I Smith who had three firsts in the field events was awarded the Pavilion Cup."
These pretty well cover the events and a good competitive national inter-universities championships was in prospect. These were held on 6th June at King's College, Aberdeen, and Edinburgh won with 64 points. Glasgow had 39, St Andreews 14; in the women's contest, St Andrews won with 37 points to Edinburgh's 15 and Aberdeen's 12. Gracie was absent so both hurdles events were won for Edinburgh with CAR Dennis. In the women's events. W Bowden set a new Scottish universities and ground record for the women's 440y in 61.9. J Pringle of Aberdeen won the javelin and the shot, being second in the discus. Winners: MEN –
100 yards: A Dunbar (G) 10.2; 220 yards: RM Ward (G) 23.1; 440 yards: J Johnston St A 51.5
880 y: CDG Hillary (E) 1:59.2; Mile: K Coutts 4:25; Three Miles: JW Brydie (E) 15:05
120y hurdles: CAR Dennis 16 sec; 440y hurdles: CAR Dennis 57.2 sec
Shot: S Olaffsen 42′ 6 1/4″; Discus: J Jarvis (St A) 114′ 5″; Javelin: DWR McKenzie 168'1″; Hammer: RS Scott 141′ 3″
High Jump: RS Scott 5′ 9″; Long Jump: AR Smith (G) 21′ 3 1/2″; Hop, step and jump: HK Lawson 44′ 5 1/2″; Pole Vault: E Akinsete 9′ 6″
WOMEN:
100 yards: R McLaren 11.6; 220y R McLaren 26 sec; 440 yards: W Bowden 61.9 sec; 8om hurdles: M Mellor (St A) 12.7 sec
Discus: Smith (E) 91′ 7″; Javelin: J Pringle 97′ 6″; Shot: J Pringle 32′ 0 1/2″; High Jump: M Mellor 4′ 9″; Long Jump: M Mellor 16′ 9 1/2″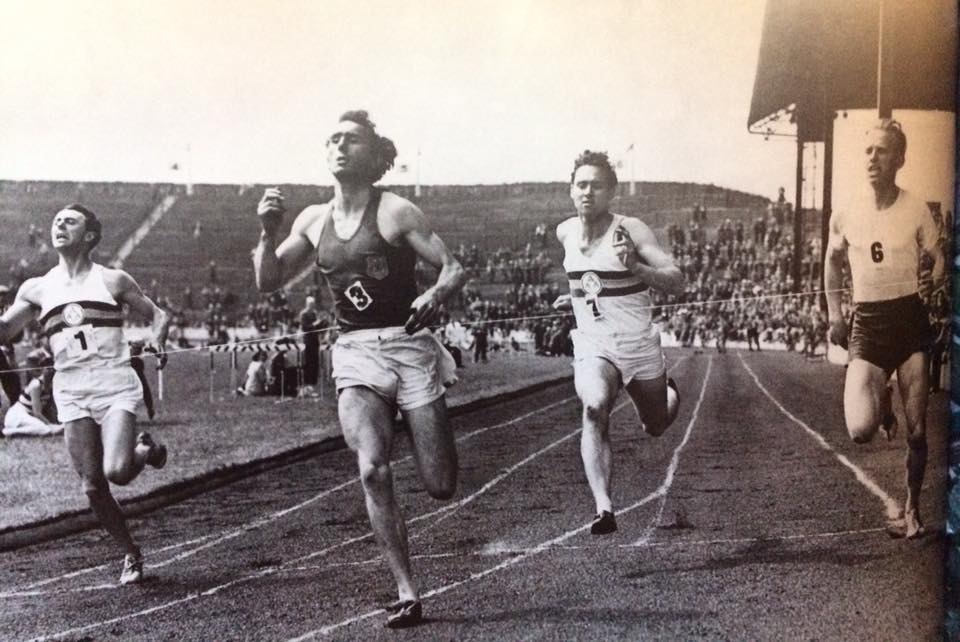 Alan Dunbar
St Andrews University took on Queen's, Belfast, and Glasgow University at St Andrews on 8th May, 1954. Glasgow won the men's match and St Andrews won the women's contest. Alan Dunbar, Glasgow, won the 100y and the 220y and team mate Peter Ballance won the Mile and the Three Miles, and tem mate I. Stuart won the half-mile in a ground record of 1:58.5 . On the women's side, M Mellor won the 80m hurdles and the high jump, while R McLaren won both sprints. On 15th May at Westerlands Edinburgh beat Glasgow by 64 points to 33. I Stuart in the half mile was again the top athlete on the day – he came through 440 in 55.5 and won as he liked in 1:1:57.5 from Boyd of Edinburgh. McKenzie won the javelin with 192′ 9 inches. Both were ground records. Old faces such as Alan Dunbar in the sprints, CAR Dennis in the hurdles and McLauchlan in the field events were joined by up and coming athletes like Adrian Jackson of Edinburgh who won the mile in 4:32 and L Nisbet in the throws. In the women's events, L Barr won both sprints and W Bowden won the 440. Away from the inter club, RL Scott of Glasgow won the hammer at the inter university championships at Motspur Park. Across London at White City, David Gracie ran away from the country's best hurdlers to win in 56.5 seconds. The following week Gracie won the 100y and the 220y at the Scottish YMCA Championships and Edinburgh took on Victoria Park and the Albert Foundry (Belfast) team in an inter-club. The Edinburgh winners included CAR Dennis in both hurdles races, Hunter Watson in the Mile and Adrian Jackson in the Three miles, McKenzie in the javelin and Nisbet in the Hammer. In the Glasgow University championships on 29th May, there were several good performances but many of the top athletes were missing. The same could not be said of the Universities championships on 5th June at Craiglockhart. They were all there – Gracie, Dennis, Jackson, Olaffsen, Nisbet, McKenzie were all winners. The women's competition was no less well attended – R McLaren, Bowden, Mellor and Gaudin also took titles.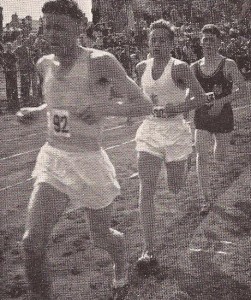 Adrian Jackson running second here behind 'the one who got away', Bobby Calderwood
In the SAAA Championships at the end of June several of the athletes ran in club rather than university colours – Alan Dunbar ran for Victoria Park for example – but those in the universities colours performed creditably. Gracie won the 440y hurdles while Dennis won the 120y hurdles and collected bronze in the longer race; Adrian Jackson won the mile, WA Little (Glasgow) won the high jump, McKenzie won the javelin and there were several second and third places.
There was a match between English and Scottish Universities at Linksfield Park, Aberdeen on the first Saturday in July which resulted in a win for the English squad. The Scottish winners were JV Paterson (Edinburgh) in the 440, P Ballance (Glasgow) in the Mile, Adrian Jackson in the Three Miles, CAR Dennis in the 120y hurdles, W Little in the high jump, RM Stephen (Glasgow) in the hop, step and jump, S Olaffsen (Edinburgh) in the shot, DWR McKenzie in the javelin, L Nisbet in the discus and RS Scott in the hammer.
There are several names there who would feature significantly in Scottish athletics over the next few years – Jackson and Paterson in particular.