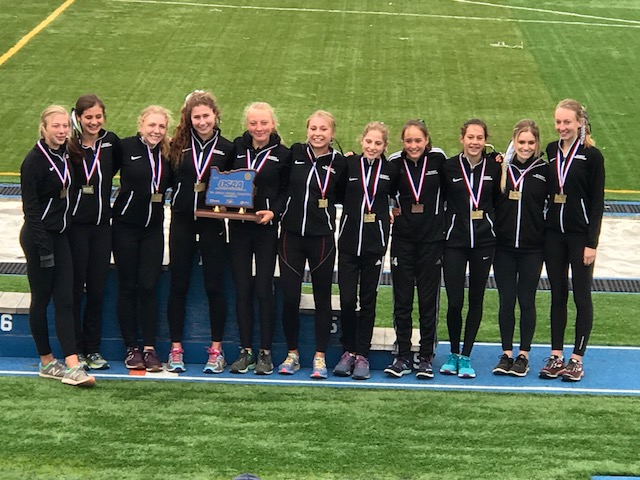 If there is any doubt left in anyone's mind about the quality of Jim and Carol McLatchie's coaching, the latest results from the Summit cross-country teams should dispel it. The target of a straight ten consecutive State Championships was brought to us on 29th October when Jim sent results of their latest District Championships victory when he noted that they were going for the record the following week.
Then on November 4th the local newspaper, the Bend Bulletin, published the story that the girls of Summit had won their tenth straight State championships. I quote: "With senior Taylor Vandenborn winning her first individual state title and five more Storm runners placing in the top 10, Summit claimed its record-setting 10th straight girls cross-country state championship Saturday at Lane Community College with 15 points — the first perfect score ever posted, by any gender in any classification, in OSAA history. " Reporter Grant Lucas went on to say that "No program had ever won more than nine consecutive cross-country state titles in OSAA history, and while Summit was heavily favored to win the championship Saturday, Vandenborn said there was no stress to break the record".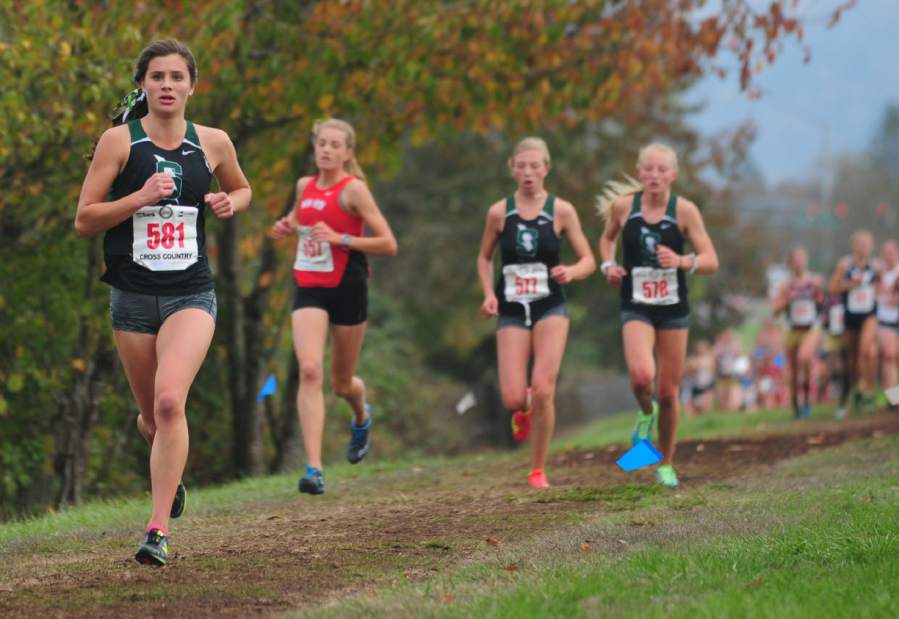 Many school coaches in all countries have a very good record but when it is examined you find the they have a lot of team titles with the Under 13 athletes, not as many with the Under 15's, several at Under 20 level and hardly any at Under 20. In other words, as the coaching effect takes place, the runners perform less well! Not the case with the McLatchies.
Taylor Vandenborn, mentioned in Lucas's story above, is leading the pack above and has been improving year-on-year for the past four years. For example look at her placings in the State championships: 2014 10th; 2015 4th; 2016 2nd; 2017 1st. Regular year on year improvement. The obvious question is how do they do it?
Interviewed by Lucas she started by saying that the level of expectation for the teams going into this event "was not pressure, it was motivation." For a whole team to think that way is not accidental, it is an attitude that is taught, perhaps without the coach realising it, session on session, year on year.
How about team spirit? "We just love each other so much that we just work hard for each other. We're not working for ourselves; we're working for our team, and that makes it really strong."
Then the question that coaches and athletes like to ask – how are they trained? Team mate Fiona Max who was second: "This whole season, we do these gnarly hill workouts, we do workouts running through swampy grass, and then recovery after that. It's all a process. We believed this season that if we put our minds to it, collectively as a group, and put our best foot forward, then we could accomplish it."
As a runner Jim McLatchie was a real hard athlete, he never gave anyone an easy race in his life. The same attitude has been passed to the runners: "You can't even describe it," Vandenborn said. "It's just a lot of hard work and a lot of pushing and mental toughness that you would never expect yourself to have. You dig deep down, you don't even know it's there, and it's amazing."
These are of course all qualities that serve well in life after running – team spirit, hard work and mental toughness. But regardless of who or how good the coaches are, it is the runners who deliver the goods. They are the ones who do the work, the training and the racing.
Another look at the photograph above: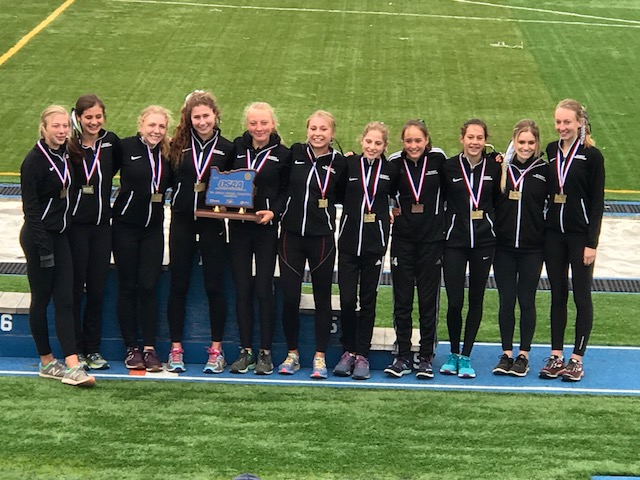 PLACES ON PICS LEFT TO RIGHT: 2,1,9,14,3,5,ALT,ALT,ALT,6,ALT,ALT
.