THE INTERNATIONAL ATHLETE
Walter Ross was a real athletics enthusiast. A publisher he was responsible for the remarkable 'The Scots Athlete' that appeared in 1946 and wss published through to 1958. It was a valuable document and much appreciated at the time but it did not make money – in fact it cost him money to keep it going. Partly to the post-war austerity regime ( a real and necessary regime, not at all like the Cameron/Osborne version) athletes tended to borrow other folks's copies. Reluctant to stop publishing an athletics magazine he tried to get a wider audience by starting 'The International Athlete' from autumn 1958. It was – I would guess – less successful than the original magazine. He still published all the championship results in detail, and still covered the doings of top Scots athletes, he still had Emmet Farrell writing the running commentary and Dale Greig was reporting on the women's scene but the colour had gone from the cover, there were fewer photographs and coverage of races such as the McAndrew Relay and the Nigel Barge road race was minimal and the magazine only lasted for three years.
It's presence should be recognised however and having borrowed the bound copy of Volume One (ie 12 issues) from Danny and Molly Wilmoth I reproduce the covers of the magazine here and may copy some individual issues to give the flavour of the magazine. I also had three of the four copies of the second volume that I had in my possession and they are here too.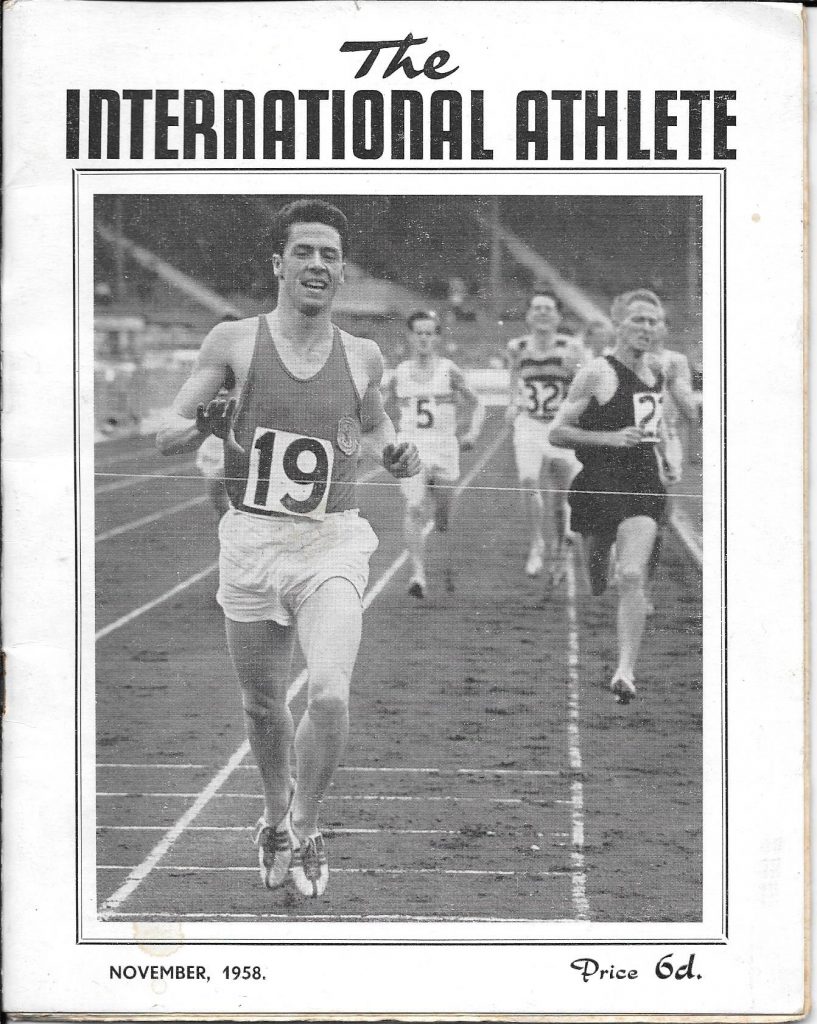 Number 1: November 1958 – Graham Everett winning the AAA's Mile from Murray Halberg in 4:06.6
This entire magazine is available here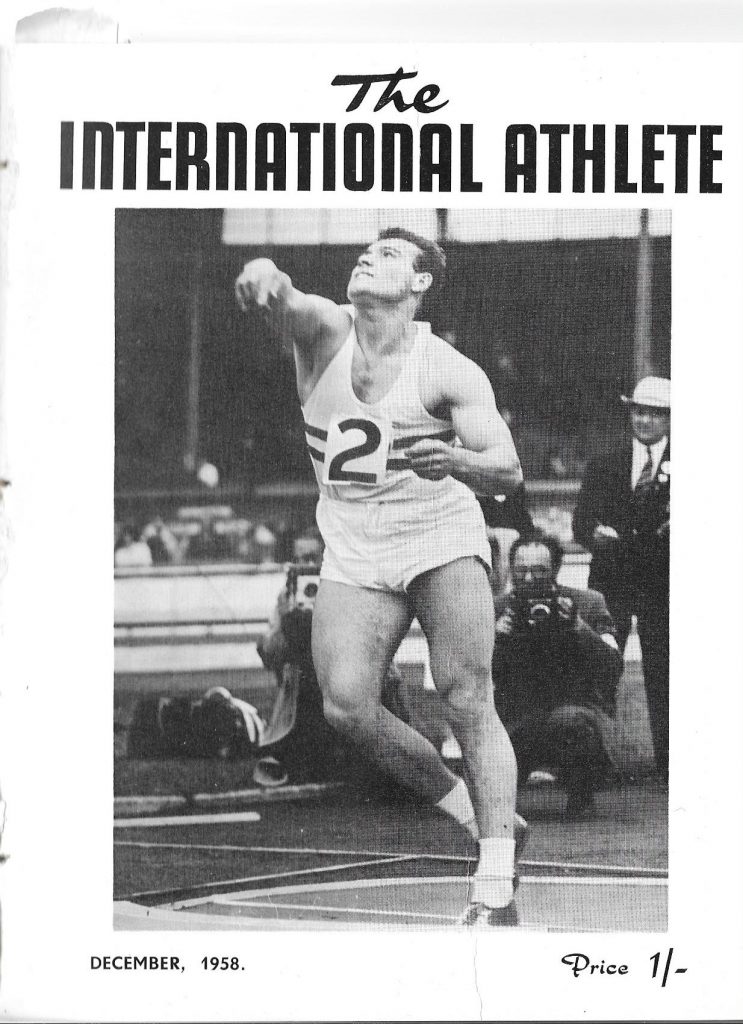 Number 2: December 1958: Read it in full here
Arthur Rowe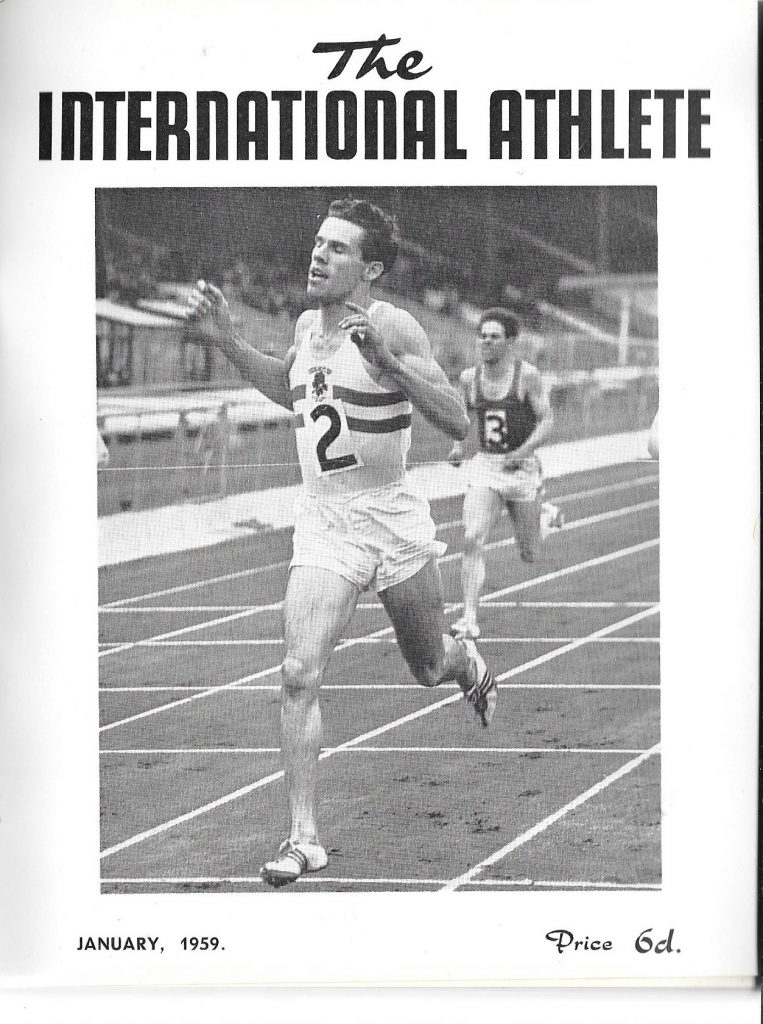 Number 3: January 1959
John Wrighton, Southgate Harriers, winner of the European m in 46.3 seconds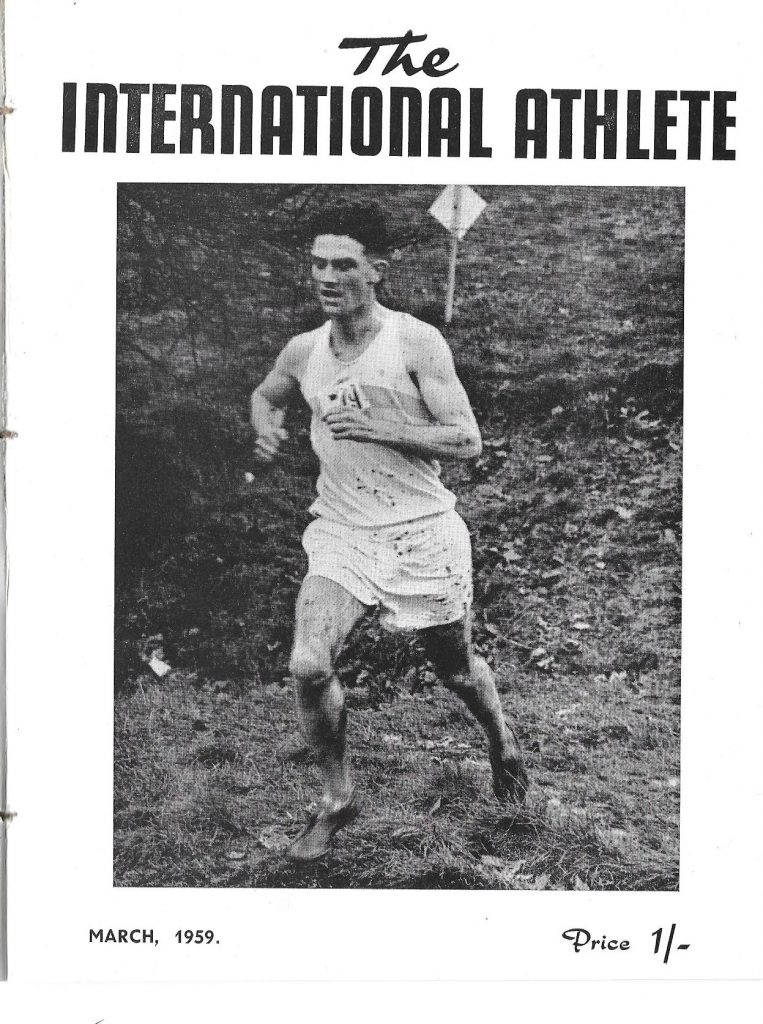 Number 4: March 1959
Stan Eldon, winner of the International Cross-Country Championship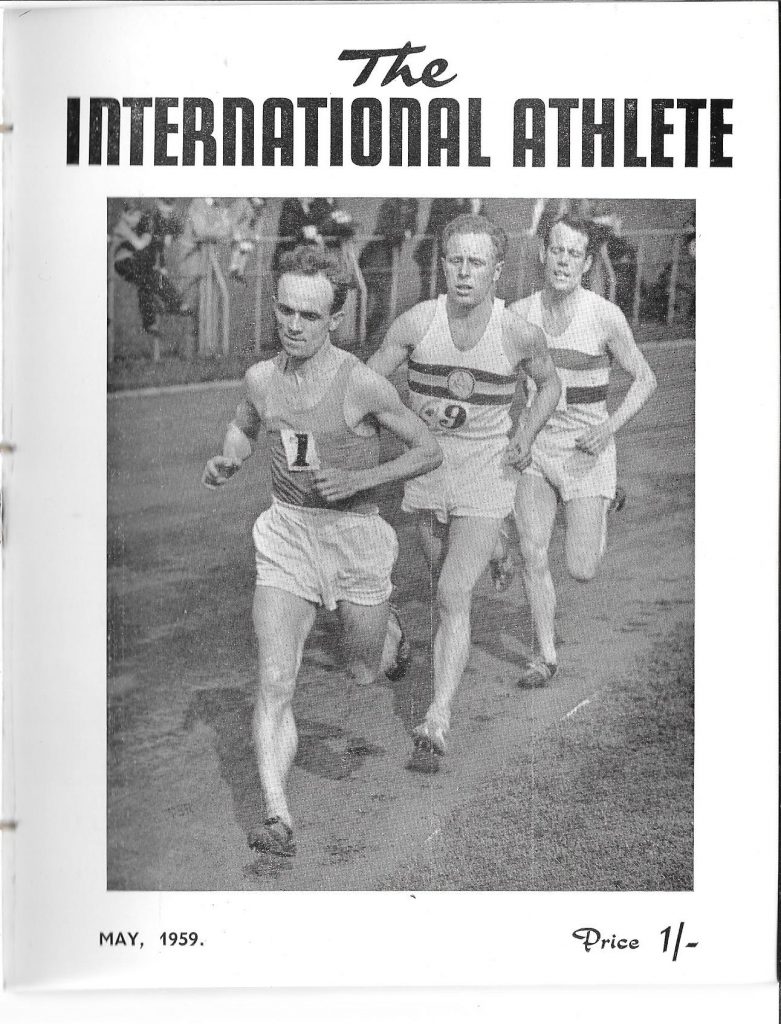 Number 5 May 1959
Fred Norris leading from Basil Heatley and Derek Ibbotson in his record breaking 10 miles.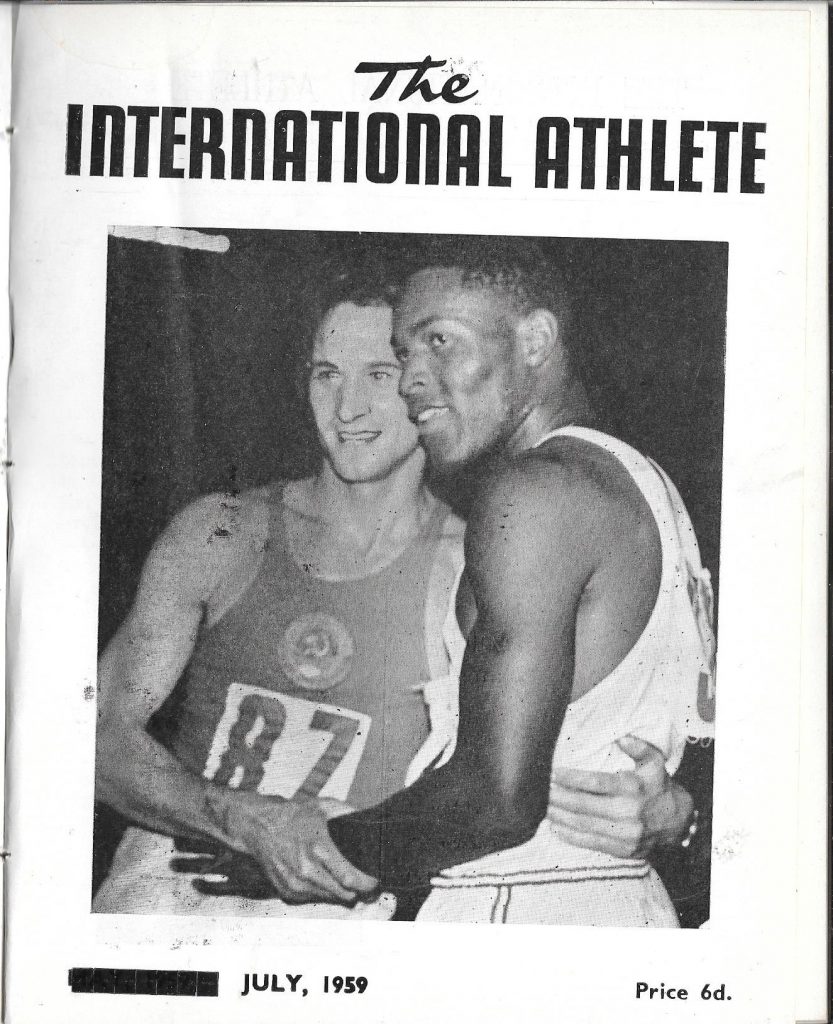 Number 6: July 1959
Decathletes Valeriy Kutznetzov and Rafer Johnson, world record holder and former world record holders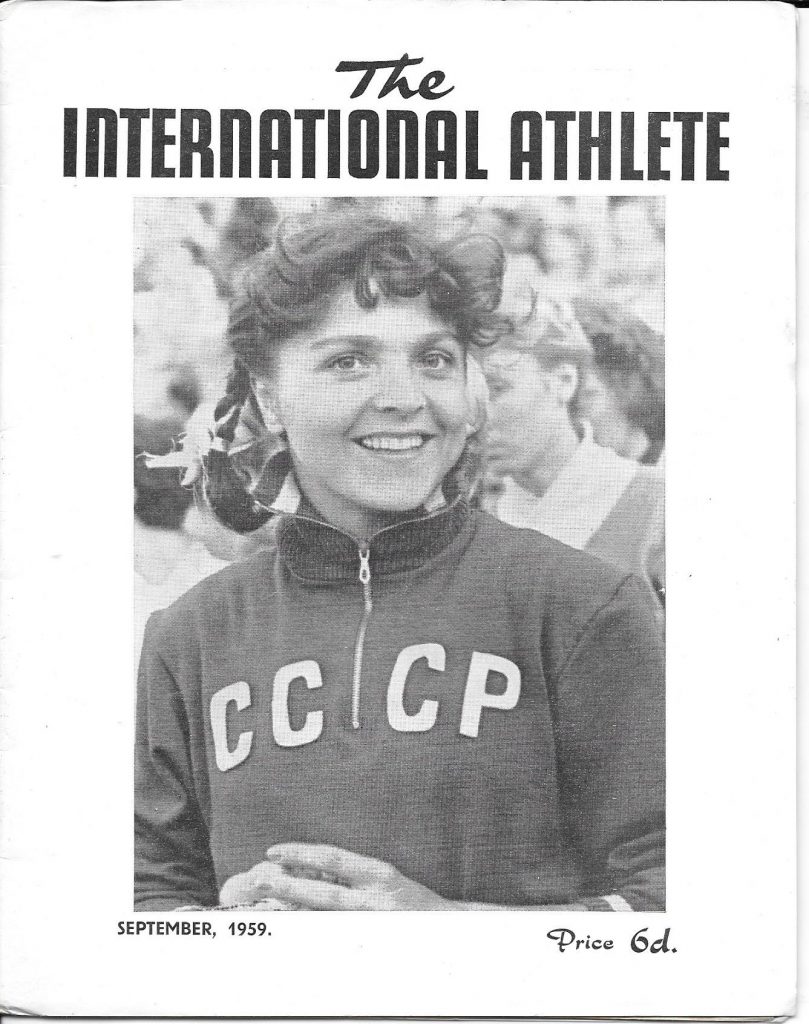 Number 7: September 1959
Galina Popove, Russian Sprinter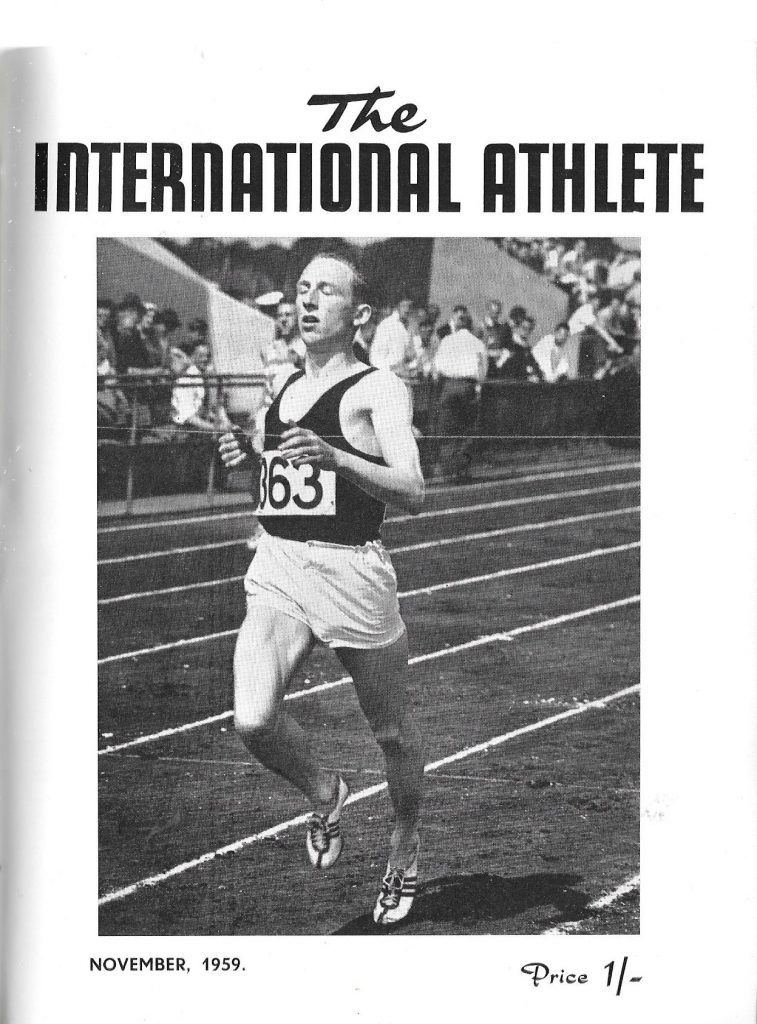 Number 8: November 1959
Malcolm Yardley, Birchfield Harriers, 440 yards champion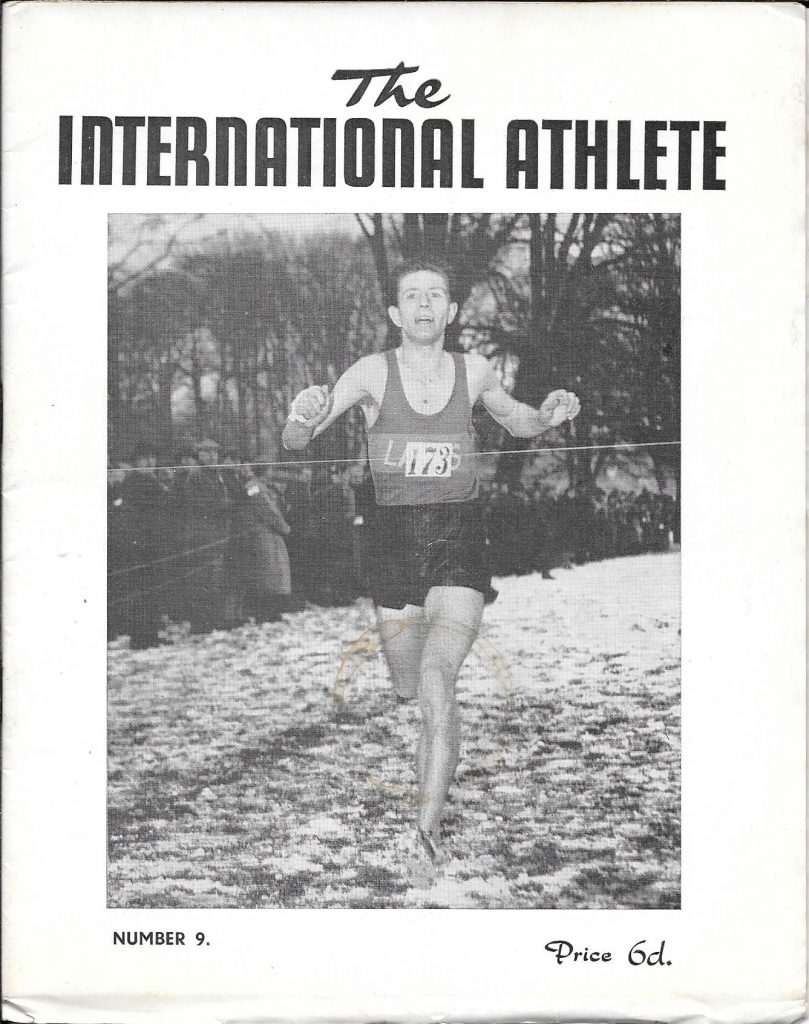 Number 9: February 1960
Gerry North, Lancashire, Inter Counties CC Champion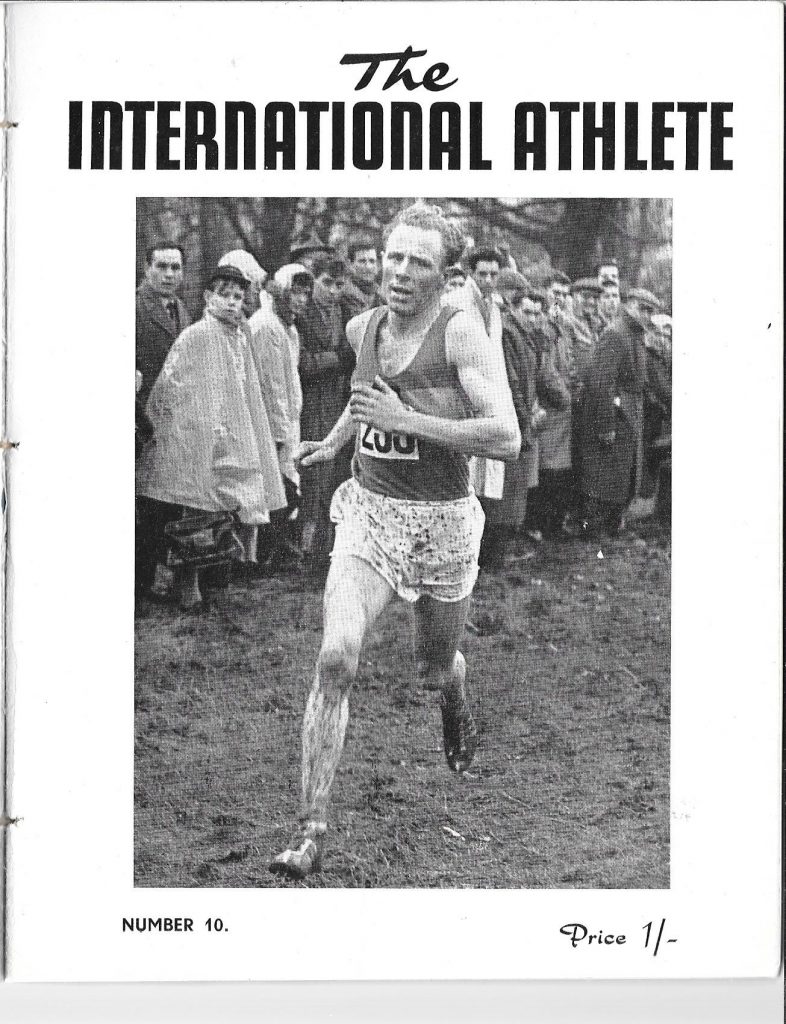 Number 10: April 1960
Basil Heatley winning the English CC Championship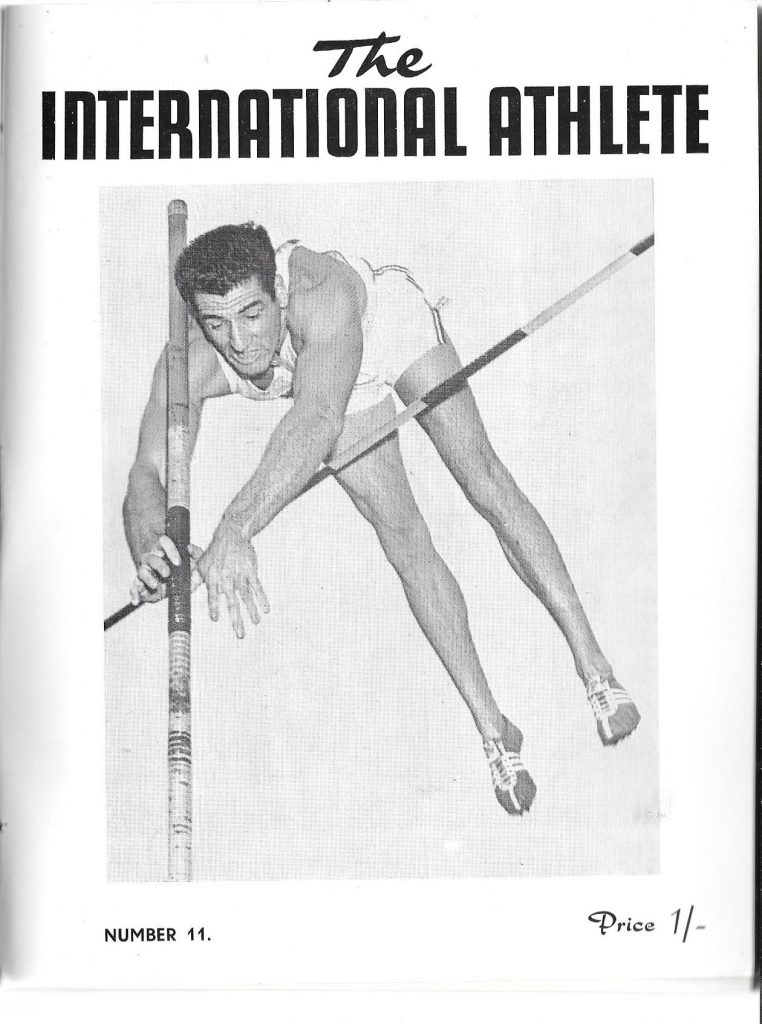 Number 11: May/June 1960
Don Bragg (USA, vaulting 15′ 0″ to set a new British All-Comers Record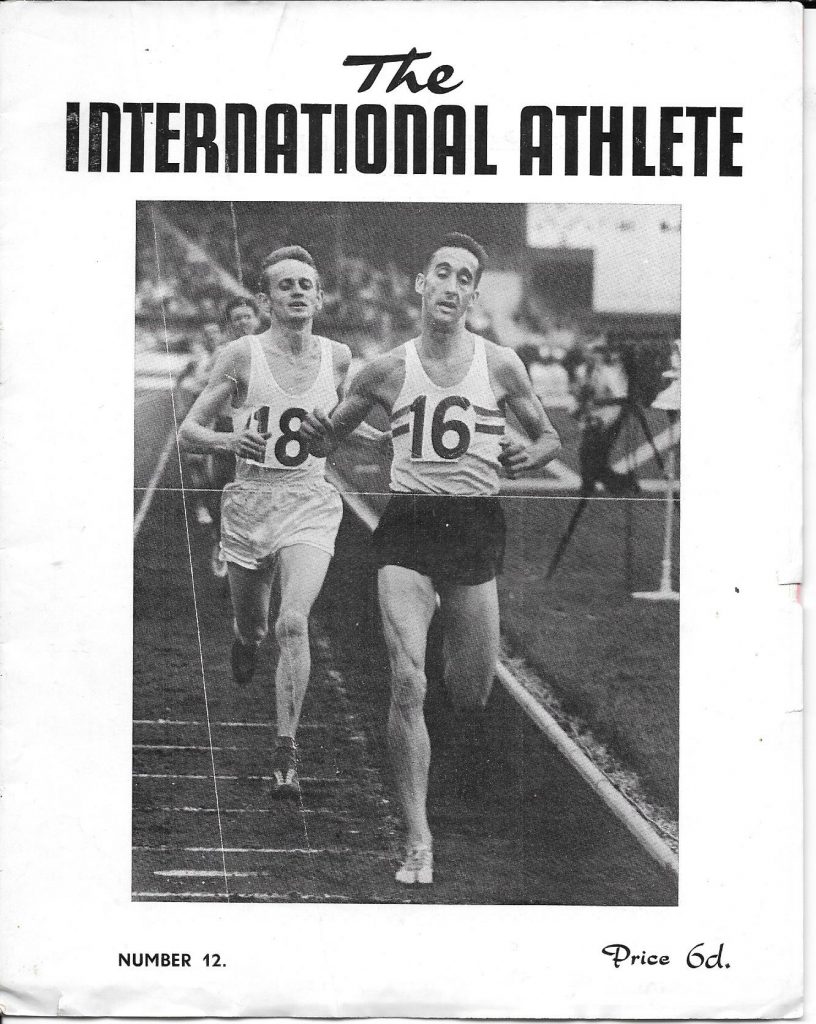 Number 12
Gordon Pirie winning the 3000m at the British Games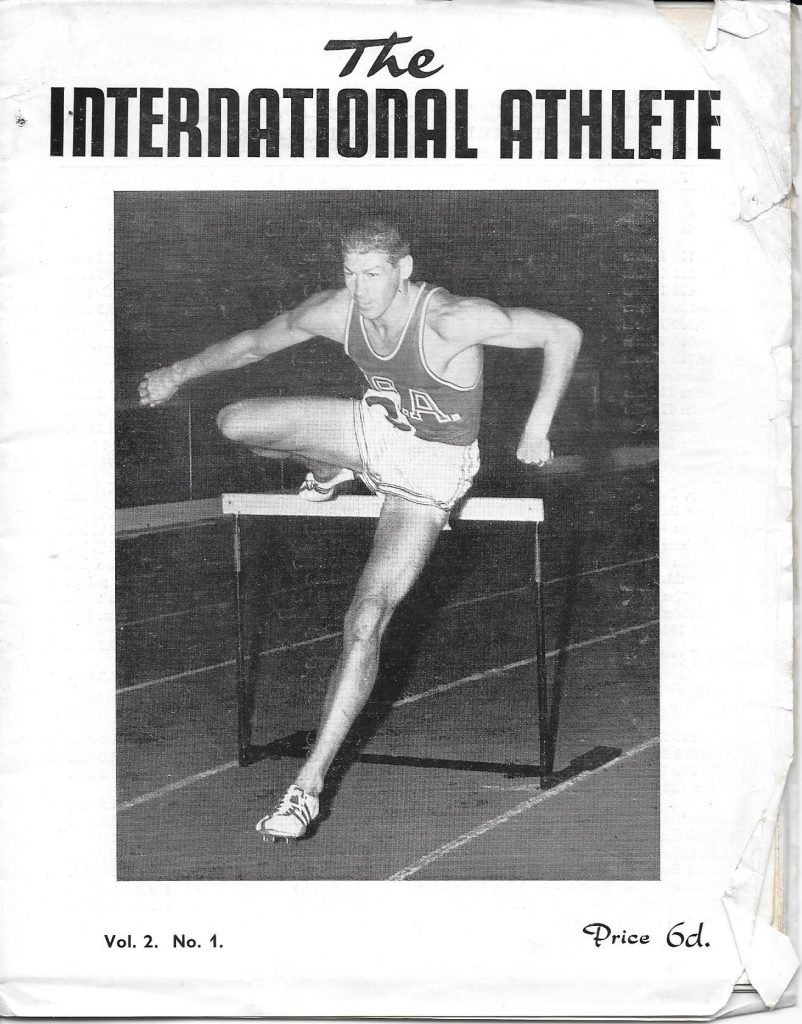 Volune 2, Number 1: October 1960
Glenn Davis (USA) World Record holder, 400m hurdles 49.2 seconds, Olympic champion.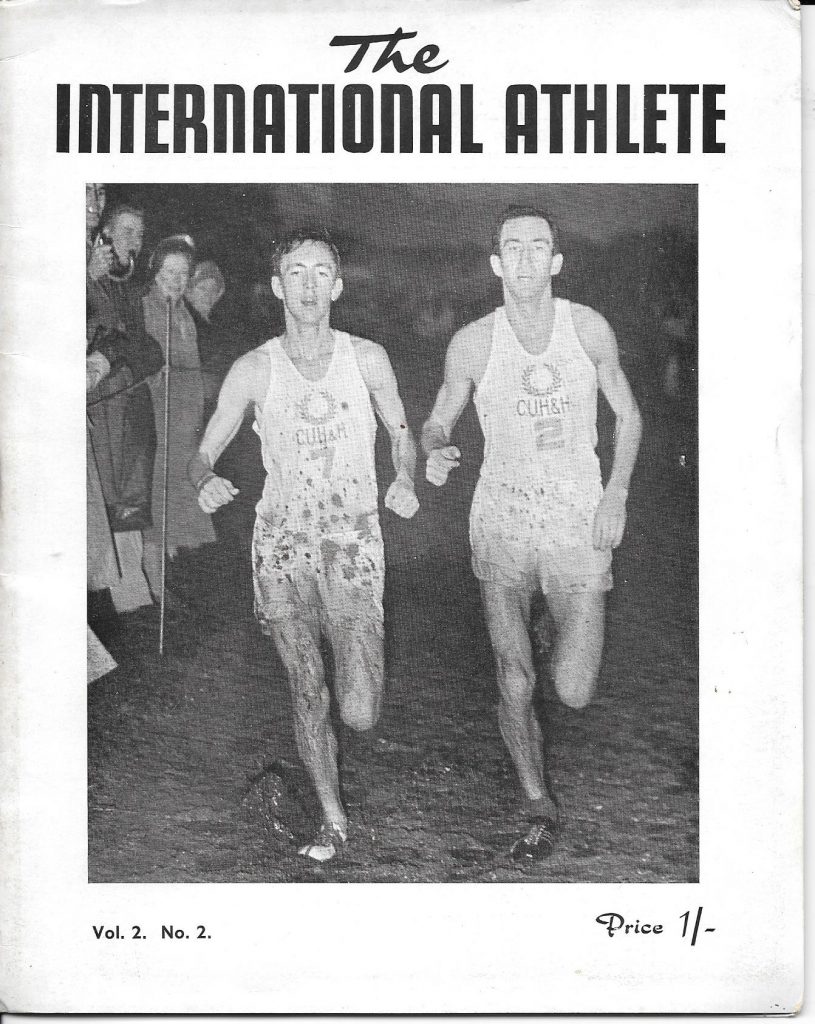 Volume 2 Number 2: February 1961
Not noted in the magazine but it's Herb Elliott, right, running with Mike Turner while at Cambridge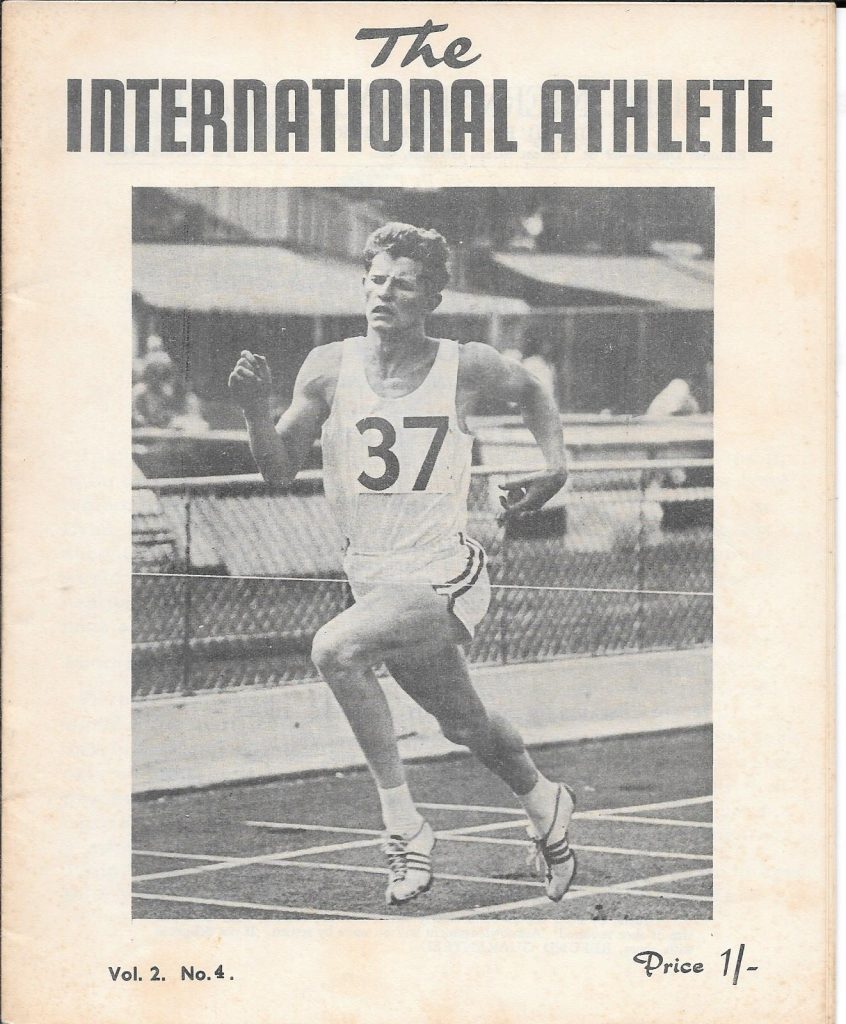 Volume 2 Number 4
Robbie Brightwell, fastest British sprinter of all time when the picture was published: 46.1 seconds.
The compete issue is to be found here
An indication of how the magazine was doing is the fact that the cover, which had to start with been stiff card had been changed to paper which meant that th cover picture was not as clear as it had been. In addition, the many photographs that had adorned the 'Scots Athlete' were much fewer in number, their place taken by line drawings and sketches. It would be good to have a copy of Vol 2, number 3 to complete the set. As we noted at the top, we will scan in the entire first number of the magazine to give an idea of what Walter had in mind when he started the 'International Athlete', the first edition of any publication is always seen as a shop window for future issues, and probably another two or three.