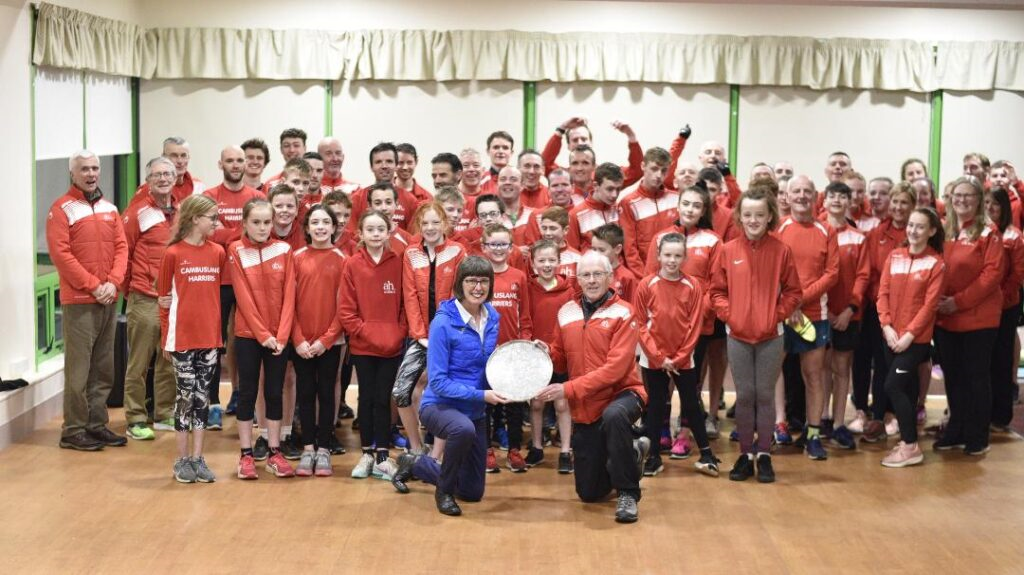 David receiving the AT Mays Team Trophy from Leslie Roy in 2019
One man in his time plays many parts and that is as true in athletics as in any other walk of life. Certainly David has more than played his part in the success of Cambuslang for decades not just for years. Starting as a runner approximately 50 years ago he contributed as we have seen to many triumphs for the club. His whole hearted commitment to the one club in his life is seen graphically in his run in the Mamore Hill Race but he also contributed seriously to the club's most successful years as a very capable administrator and team manager. Unlike many very good club servants who turn their hand to every single aspect of club activities – coaching, officiating, administration, team management, recruitment, running when required and so on – Dave concentrated his efforts on team management, and specifically senior and veteran teams. As a result his considerable energies were concentrated on the one aspect of club organisation. This specialisation and drive were key factors in the develpoment of the club. The following brief summary of club involvement gives some illustration of this.
* President of Cambuslang Harriers in two spells – from 1980 to 1986 and then a mammoth period from 1992 to 2019.
* Track& Field Team Manager (Senior Men) from 1976 to 1994
* Cross Country and Road Team Manager for Seniors and for the Masters Team from 1980 to date
*Club Publicist from 1980 to date * Athletics Weekly Correspondent from 1980 to 1986
Although he limited it, that is a lot of work for any club member to undertake – especially when you add in work as a Secondary School History teacher and commitments to his family. The work in itself is considerable at any level – doing it successfully is another matter and there is no measure that you could use that would say he has been unsuccessful. We only need to look at the statistics from 1980. It is almost impossible in a profile like this to detail all that the club won while David was team manager, but there is enough below to indicate that his reign was not one with a few lucky trophies, maybe won by one or two outstanding athletes. It has been consistent good performances. Good runners, encouraged and organised by a back up led by the team manager.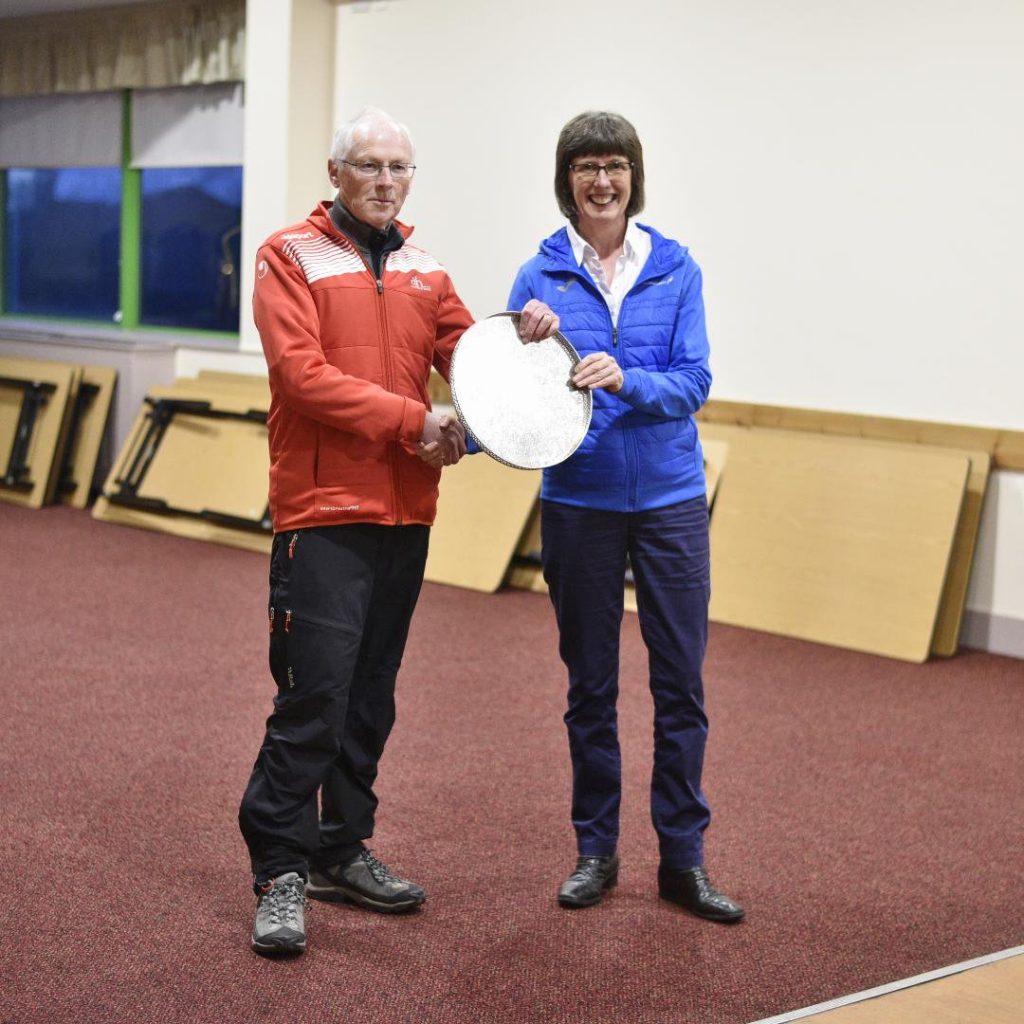 | Event | 1st | 2nd | 3rd | Event | 1st | 2nd | 3rd | Event | 1st | 2nd | 3rd | Event | 1st | 2nd | 3rd |
| --- | --- | --- | --- | --- | --- | --- | --- | --- | --- | --- | --- | --- | --- | --- | --- |
| National CC | 16 | 8 | 7 | District CC | 24 | 11 | 3 | Edinburgh Glasgow | 1 | 6 | 5 | Six Stage | 6 | 7 | 11 |
| National Relay | 5 | 5 | 5 | District Relays | 8 | 5 | 7 | National Masters CC | 18 | 8 | 3 | Masters Relay | 14 | 4 | 2 |
The photograph at the top of the page shows David receiving the AT Mays Trophy on behalf of Cambuslang Harriers from Leslie Roy in 2019. This Trophy is awarded to the club that scores the lowest aggregate number of points over the five races at the national cross country championships,. ie the club with the best all round performances over all five age groups. First introduced in season 1988-89, it has been won by the club 23 times out of a possible 31 to date.
By winning the national cross-country championship, Cambuslang Harriers were automatically invited to take part in the European Club Championships every year. In David's opinion the club's bestperformances were
1989

Albufeira
8th team
Andy Beattie/ Ross Arbuckle/ Eddie Stewart/ Jim Orr

1991

Marignane
6th team
Graeme Croll/Charlie Thomson/ Eddie Stewart/Jim Orr

1992

Alicante
8th team
Graeme Croll/Eddie Stewart/ Mark Gormley/Charlie Thomson

1993

Albufeira
6th team
Tommy Murray/Graeme Croll/Charlie Thomson/Jim Orr
In the 1993 version of the race, Tommy Murray finished 19th to be first UK runner and club in 6th was first UK team. As he says
"We did compete for a few years afterwards but with weakened teams as the Europeans was now held the week before the Scottish."
These are the bare statistics. As David says later, many clubmen worked hard to make them possible (and he names them) but how did he himself become involved? We asked him about it but before going on to the cross-country and road teams, we should have a look at the club's 17 years in the Senior Men's Track League. The League had been going for some time but at this point it was at its very best – especially after the mid 80's when there were 5 divisions, four of 8 clubs and one of 6. Many top class athletes with tenuous Scottish connections came up to take part and the standard was very high. David was the Cambuslang team manager here.
Club Track Team Manager for the Scottish League 1977 to 94.
How did it start?
From memory I took it on as probably no one else wished the job. It was an onerous one. We did not have a proper track and being mainly a road and cross-country club we were lacking in sprinters and field events athletes. We were always looking for athletes to compete for us in the sprints and in the field events. Cambuslang Rugby club provided some and Robert Anderson recruited some senior pupils from local secondary schools. Before each meeting I would make about 40 phone calls the week before to our athletes and then followed this up a few days before the event. It was sometimes frustrating when after all my efforts some individuals did not turn up which caused problems on the day in asking some athletes to double or triple up on events.
Non-appearance by athletes and having to step in to gain some precious points were not unusual in my role as team manager. I remember travelling up to Aberdeen one April and I spent my time marking Higher History essays there and back. Our bus was delayed and when we arrived I hurriedly handed in the tem sheet, changed my shoes and then joined the other 10,000m runners who were already lining up. Another time, having submitted the team sheets and run a 10,000m along with other management duties, I decided to have a can of Irn Bru, a Mars Bar and a packet of crisps. I was not long finished when word arrived that one of our 5,000m runners would not now be coming. I can tell you it was a painful run for me. Another episode which comes to mind was submitting the team sheet and then going to the hammer to act as an official. When it came to the start of the 3rd and final round I stepped in to take a throw as our designated hammer thrower had not arrived. There is a first time for everything. I managed to release the hammer after swinging it from side to side (no fancy turns for me). On release I almost fell out of the circle but just managed to hold my balance and record a legitimate throw. I almost made double figures! However, some precious points were gained.
During the period we had in the league we stayed mainly in division 2 although we twice won promotion to division 1 and were relegated twice to division 3. It was becoming harder and harder to find enough athletes to compete and at the start of the 1995 seasoned I contacted our regular competitors to gauge their interest. With the response being very lukewarm the decision was taken to withdraw from the league.
Undoubtedly gaining promotion to division 1 was the highlight of my involvement as track team manager. The success there was due to our strength at middle distance and to the acquisition of some talented sprinters/jumpers and field events athletes from the defunct Clydebank AC.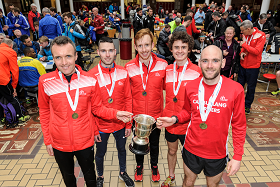 Road and XC Team Manager
How did it start?
In the early to mid 70s Robert Anderson as club captain was the key person with regards to the senior men and young athletes. From the mid 70s on I shared the responsibility for the seniors with Robert. Selection for road and country relays involved having a time trial before the opening event of the season i.e. the McAndrew Road Relay. Allocation of places to the various teams would be mainly based on the times recorded although consideration would be given to an athlete(s) missing the trial but who had competed well in the previous month. Normally selection for the 8 man Edinburgh to Glasgow Relay was based on performances in the relays leading up to it with the Allan Scally Relay being the final decider for any vacant places.
At times when Robert was not club captain the new captain would be involved in the selection process. Various captains in the late 70s, the 80s and 90s such as Alec Gilmour, Eddie Stewart, Jim Orr and Charlie Thomson would contribute to the selection discussion. Again selection on previous times was the major guiding factor but sometimes the horses for courses judgement was used especially when a Cross-Country course was known to be particularly tough which would suit one athlete over another.
From 1988 onwards when our veteran men first came to the fore Robert, the club captain and I were the selectors and in time a veterans captain also became involved.
The current selection set up for senior men and women now involves lead club coach Mike Johnston, current club captain Iain Reid and I, with the same trio plus Colin Feechan for the masters men and women. Mike is able to give good guidance on the current form and training performances of our athletes while I can provide up to date information on athletes living out with the local area whom I am regularly in touch with.
HIGH SPOTS AND DISAPPOINTMENTS
Having been involved with the club for almost 5 decades it is difficult to mention all the highlights as at the time any national team medal is special. However, there are several which stand out.
Naturally our first ever senior national medal in the 1980 Scottish 4 man Cross Country relay is special. Our quartet of Eddie Stewart, Rod Stone, Alec Gilmour and Gordon Rimmer beat pre race favourites and title holders Clyde Valley who had Jim Brown and Ronnie McDonald in their team. Such was Clyde Valley's confidence in retaining the trophy they had returned it pre race bedecked with red ribbons which added to the occasion when our runners went up to collect the trophy.
Our first victory in the national 6 stage road relay also stands out. With the final long leg to be run we were second to Edinburgh Southern thanks to the efforts of Tom Ulliott, Rod Stone, Jim Orr, Eddie Stewart and Charlie Thomson. Alec Gilmour who had come off the night shift was tasked with reeling the Edinburgh Southern runner in. I was standing about ½ mile from the finishing line alongside the Edinburgh bugler when an Edinburgh vest appeared on the horizon. At this point the bugler sounded his victory cry. However, he was premature in blowing as it turned out the Edinburgh vest was that of a 5th leg runner for them and right behind him the red and white vest of Alec came into view. The gritty Alec had delivered the team gold for Cambuslang. Incidentally Tom, Jim, Eddie, Charlie and Alec all trained with Brian's renowned Wednesday night's track group comprising runners from various Glasgow and Lanarkshire clubs.
The club's first and only Edinburgh to Glasgow Road Relay is also worthy of a mention. Victory was delivered courtesy of Charlie Thomson, Calum Murray, Tony McCartney, Andy Beattie, Eddie Stewart, Alec Gilmour, Paul McAvoy and Jim Orr.
The first senior men's Scottish XC team win in 1988 which was the start of 8 consecutive team victories is also fondly remembered. Our 6 counters were all inside the top 18 finishers – Alec Gilmour, Colin Donnelly, Eddie Stewart, Ross Arbuckle, Jim Orr and Charlie Thomson.
In contention too is the over 40 men's first win in the 1999 UK 8 man road relay championships. The team of Barnie Gough, Dave Dymond, Freddy Connor, Frankie Barton, Charlie McDougall, Eddie Stewart, Frank Hurley and Archie Jenkins upset the apple cart to gain a surprise victory from their more fancied English rivals. This win was very special to the club as it was its first UK team championship medal and it did not go down well with a certain English journalist who considered the Cambuslang runners to be "Scottish raiders" in what was a UK event! He even asked if Eddie was the son of a certain Lachie Stewart!
The Scottish Road Relays in 2016 saw Cambuslang sweep the boards in the senior men and masters over 40 and M50 events. The honours on that day went to the senior sextet of Iain Reid, Stuart Gibson, Craig Jardine, Robert Gilroy, Ryan Thomson and Kyle McLellan, the M40 sextet of Tony McCutcheon, Jamie Reid, Alick Walkinshaw, Kerry-Liam Wilson, Mick O'Hagan and Kenny Campbell and the M50 quartet of Paul Thompson, Chris Upson, Colin Feechan and Stan Mackenzie.
On the ladies front the club had its first female Scottish team victory in 2012 when the U20 trio of Alex Lamond, Katie Bristow and Mairi Brown took the honours.
The 2017 Scottish 10 mile road championship victory for our senior ladies by masters runners Bernie O'Neil, Erica Christie and Jennifer Reid stands out especially when seeing the ladies' joyful reaction when the team results were announced.
Finally the fact that the club has won the AT Mays Trophy, awarded to the best male club across the 5 age groups in the Scottish XC Championships, on 23 out of a possible 31 occasions since its introduction in 1989 speaks volumes about all our members who have contributed to this undoubted achievement
DISAPPOINTMENTS
None. No one team has a divine right to win national medals. All our athletes can do is to give 100% on the day which they do. If we lose or are not in the medals then our competitors have deserved their medals.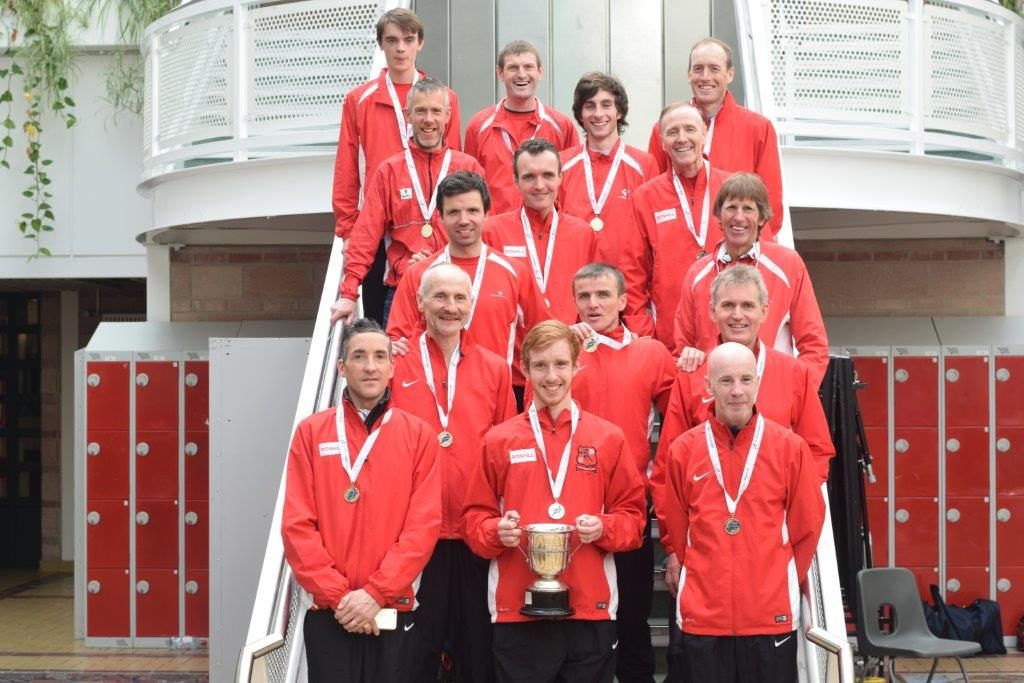 At the National Road Relays Cambuslang men won the senior race, the M40 race and the M50 Race. All the runners with their medals.
SIGNIFICANT HELP FROM PARTICULAR PEOPLE AS OFFICIALS, COACHES, ATHLETES AND A COMBINATION OF CATEGORIES
Again over such a lengthy period so many people have made significant contributions to take Cambuslang forward from being a small parochial club to one of Scotland's most successful clubs. The contribution of individuals can be measured in terms of the length of that contribution either as an official, coach or as an athlete and in a number of cases as a combination of these. It is impossible to mention everyone here and I hope that no one is offended if their name does not appear on the list.
With regards to officials Des Yuill and Jim Scarborough gave great service to the club from the early 1970s to the early 90s as did Cameron Brown during the 1980s and 90s. Likewise, Fiona Pollock, Robert Anderson's daughter, is currently heavily involved as a club official and along with Pamela Stephen is looking after the youngest group of athletes.
Mike Johnston and Owen Reid stand out as long serving and successful coaches from 1989 when they took their first coaching badges to the present day. Mike, in addition to his own coaching role is currently involved in mentoring a number of relatively new coaches to the club such as Colin Stephen, Iain Crawford, David Stirling, Simon Gold, Lynn Angley and Dale Woods.
From a strictly running point of view club has been blessed with a large number of committed and talented athletes such as Alec Gilmour, Eddie Stewart, Colin Donnelly, Charlie Thomson, Jim Orr, Mark McBeth, Stevie Wylie, Graeme Croll, Archie Jenkins, Charlie McDougall, Frankie Barton, Jack Brown, Jamie Reid, Robert Gilroy and Kerry-Liam Wilson and emerging young talented runners such as Ryan Thomson, Craig Jardine, Gavin Smith, Jamie Mackinnon Drew Pollock and Chris McLew. It is worth mentioning that Charlie has now been a club member for 40 years and has 9 Scottish XC team gold medals in his possession as does Colin Donnelly with Eddie Stuart on 8.
Finally there is a group of club stalwarts who have contributed both as runners and as a club officials or helpers. Iain MacCorquodale and Stuart Gibson are past club captains with Iain Reid being the current one. Barnie Gough, Frank Hurley, Colin Feechan and Dave Thom have always been great club servants as runners and officials/helpers. Ian Gordon too played his part as both a club official and master runner and Des Dickson has now stepped up to serve the club in his capacity as the new club president while recently winning his first ever national individual and team medals. Robert Anderson stands out for his 50 years plus service as a competitor, coach, club captain, committee member, recruiting officer and club groundsman. Robert has imbued me and the club with the desire for Cambuslang Harriers to be the best it can be.
Without the contribution of those mentioned and of others too numerous to include Cambuslang would not have become the club it is today.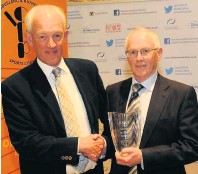 David receiving the SALSC award from the SALSC Chairman, Ken Owens
Of course it is important to read what some of the athletes who have worked with him have to say about him and we have noted these on another page, and it is clear from them that David had a major part to play in the development of the club. He has been President, with one six year gap, from 1980 to 2019 which also coincides with the development of the club from almost a village club to an international club. President and team manager for the most significant period in the club's history. The photograph is of him receiving an award for Services to Sport this year – 2019. Well deserved. Any sport could do with more of his sort. David would admit that he could not have done as much without the continued support and understanding of his wife Anne.