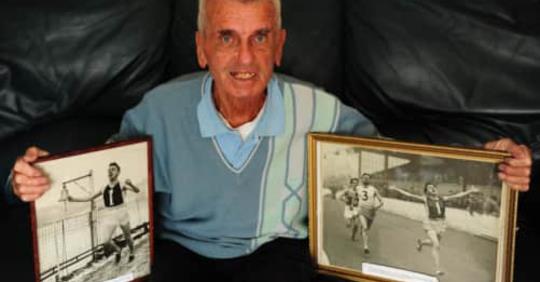 The professional running scene in Scotland threw up many excellent athletes who went unrecognised despite very good performances, usually on poor tracks of variable distances. Most of the better known 'peds' were sprinters such as Ricky Dunbar and George McNeill but many of the endurance runners were of a good standard – note how well Alastair Macfarlane performed when he switched codes in the late 1960's. One of the very best was Michael Glen from Bathgate who would have been a top class runner in any era and in any company. I asked Alastair whether he had run against Michael and he replied:
"Indeed I did compete against him. I first competed at the professional games in 1965 when I was 19. At that time Michael was past his best but was something of a legend. He was holder of the World Professional Mile record at 4m 7s which he did on a grass track at Keswick on August 1st 1955. During my time as a professional Michael didn't compete very often, I suppose because of his poor handicaps due to his reputation. He tended to run in scratch races and invitation short limit handicaps. I consider as one of my best ever races an invitation short limit mile handicap at Lauder in August 1968. I was off the back mark of 20yards and Michael was off 30. I was soon with him and we had a momentous struggle all the way to the tape as I won by a couple of yards. In July 1968 at Innerleithen, I paced Alan Simpson to a new Scottish record when he won the British Professional Mile Championship in 4m 9.2s. I took him to just beyond the half mile and I remember that Michael was furious with me afterwards for doing it! His brothers Jimmy, Eddie and Cornelious were all useful runners also. " Clearly a top class athlete whose career deserves a closer look.
MICHAEL Glen was born in Bathgate in 1934 and still lives there in a street called Race Road. He comes from a family of runners and his brothers Jimmy, Eddie and Cornelius were all useful runners too. His running career began in 1944 when, aged 11, he won what was called a "boy's marathon" at the Paulville Gala Day Sports at Bathgate and won a small amount of money. That made him a professional – it's a story that was repeated many times in Scotland during the amateur era and many very good athletes were lost to the sport as a consequence. (Robert Reid could have been one lost who applied and got reintsatement as an amateur) The likes of Gus McCuaig and Alastair Macfarlane who were reinstated showed just some of the quality that was lost.
For 26 years, he competed the length of the country (but principally in the Borders and Lake District) in many, many of races on the track and also in some of the hill races that were fairly common in the professional meetings. He was undoubtedly the "king" of professional middle distance running. If we look at any of the records for the many Games he competed in, his name is studded all the way through. eg some of his performances in the records of the Jedburgh Meeting we get first in the Mile and in the two miles in 1955, first in the same two events in 1956 (two miles in 9:25.3 on a heavy grassy track) in 1956, won the British One Mile Championship in 1958 in 4:20.4. It should of course be noted that the nature of the tracks and the distance round them was almost always inferior to the 440 yard cinder tracks used by the amateurs. There were two results that emanated from his continued and high quality success. The first was that he became well known to althletics aficionados of both codes and the second was that he was marked man as far as the handicappers were concerned and was know to have started as much as 30 yards behind the scratch mark in handicap races so that there were occasions when his Mile time was for 1790 yards! A long Scots mile indeed.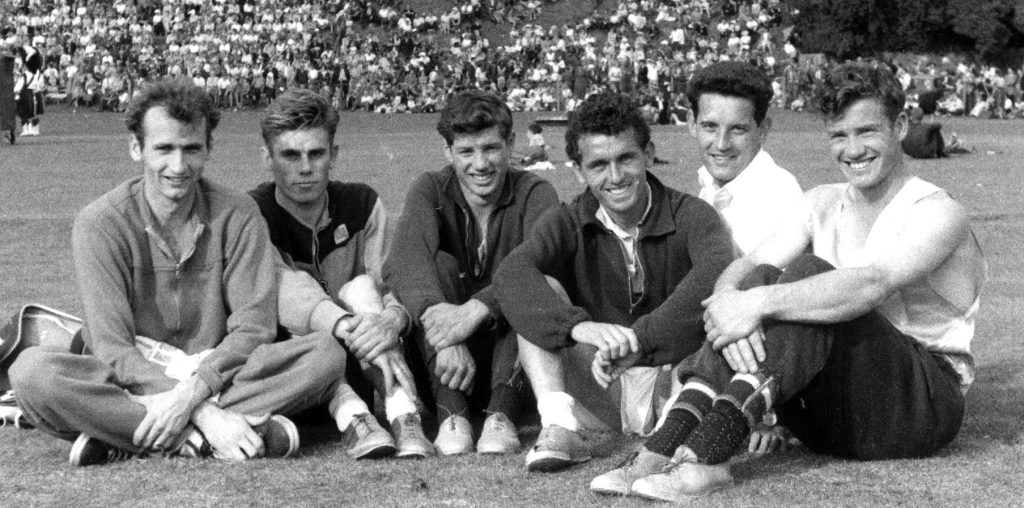 Michael is third from the right in this group
What was his best ever run? Well, the article "Monarch of the Mile" by Jack Davidson in the "Scotsman" on 27th July, 2013 (an article worth reading in its entirety), says that "His "day of days" was at the Keswick Games in the Lake District when he set a new world and British professional mile record on grass. "That Bank Holiday meeting was a big event, part of the annual Keswick Show in Fitz Park in the town. Professional running was very popular in the Lake District and had a long tradition. There must have been over 20.000 people there that day – a great atmosphere!
"The grass track was just laid out for that event and had a slight rise towards the finishing line. I hadn't set out specifically to beat the record but I'd been in good form. I was the backmarker off scratch conceding handicaps up to 250 yards to my 25 or so fellow competitors. I threaded my way through the field and crossed the line in 4min 7sec to set a new world and British record, beating the legendary Walter George's mark of 4m 12sec set back in 1886."
The obstacles posed by so many rivals and the deficiencies of a rudimentary grass track surely detracted from his performance?
"I reckon if it had been a proper track with a limited field of quality runners, including a pacemaker, I could have got the time down to about 4m 2 or 3sec."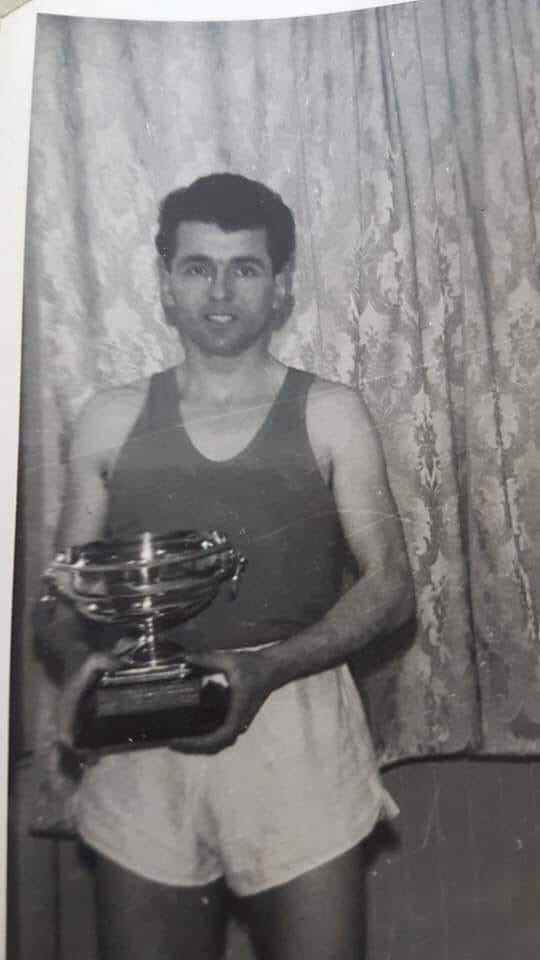 The top three Scotsmen in 1955 were 4:07.0, 4:07.8 and 4:13.2; in 1956 were 4:06.2, 4:07.6 and 4:08.6, in 1957 the men and their times were A Gordon (Achilles) 4:03.4, M Berisford (Sale) 4:04.8 and G Everett 4:05.3. That was the best of the decade which ended with 1959's top three all timed at 4:06. Clearly not too far away. The GB Mile championship winning times were: 1954: Roger Bannister 4:07.6; 1955: Brian Hewson 4:05.4; 1956: Ken Wood 4:06.8; 1957: Brian Hewson 4:06.7; 1958: Graham Everett 4:06.4; 1959: Ken Wood 4:08.1. Even GB Championships were not too far away!
At about the same time, Ricky Dunbar was the top paid sprinter in the country and I remember another professional talking about the 'preps' tha the top runners had for major meetings, telling me that when Dunbar stripped off for a big race "he looked like Superman." There was a suggestion that a head-to-head be arranged between Menzies Campbell and Dunbar to determine who was Scotland's top sprinter and both men were 'up for it', as they say. The SAAA would not hear of it and that was that. Were similar challenges on for Glen? Whether or not there was, the answer would have been the same. As Davidson says in the article already quoted,
"I would have loved to have run against Bannister and in the Olympics but it was not to be. Discreet enquiries were made on my behalf after my Keswick record about me joining the amateurs, but the response was a curt "No". You see, by then, I had been running as a professional for about 11 years."
A local trainer, Jimmy Gibson, a friend of his dad, took him and some others under his wing and soon had them running at games across the country. As prizes were in cash, Michael and his young pals were all deemed professionals. In those days, there was a wide chasm separating the amateurs from the professionals, with the latter being unable to compete in big international events like the Olympics.
"I never really had any personal issues with the amateurs of the time. We trained in our groups and they trained in theirs. I knew some quite well, including Graeme Everett, the top Scottish amateur miler of the time. He was a fine lad. Another top amateur I got to know was the famous Gordon Pirie, who was also a smashing guy. He turned professional not long after the Rome Olympics and I actually ran against him – and beat him – at Jedburgh Games in 1962. We got talking about the amateur/ pro issue and, when I told him my level of winnings, he thought the "amateurs" did much better overall – first-class travel all over the world, all expenses paid and "bonuses" thrown in."
So he went on doing what he enjoyed doing – all endurance runners, whatever their background, understand the compulsion to run. He ran in the Highland Gatherings in the North, on the Fife circuit, in some of the Midland events, at the Border Games and in the Lake District.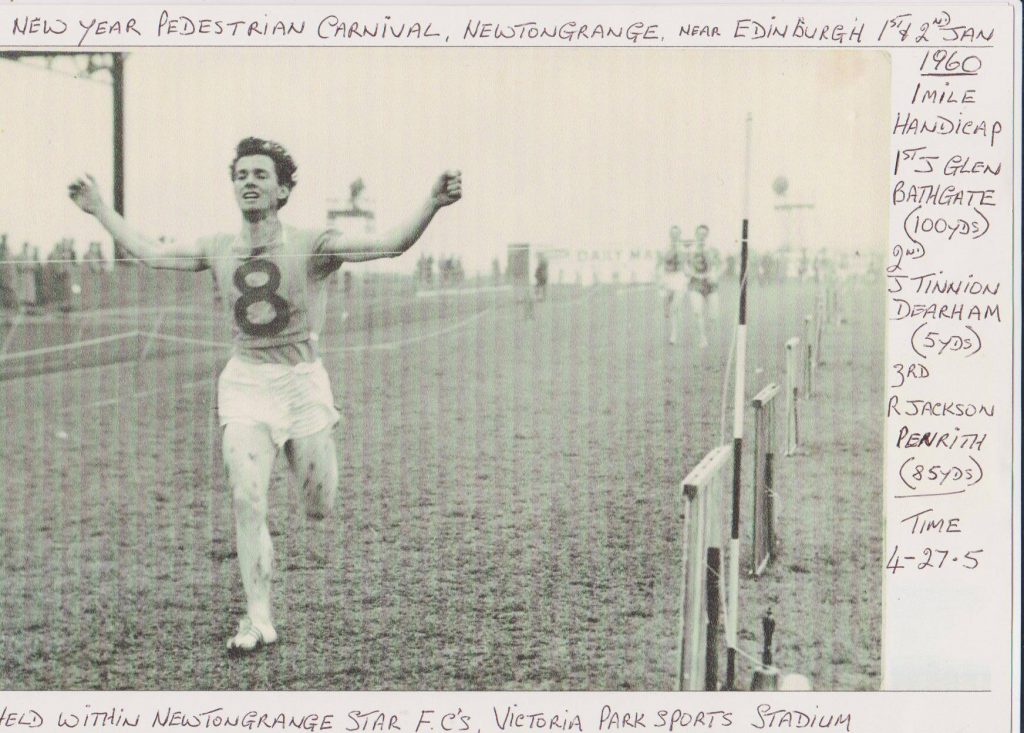 Brother John winning at Newtongrange in 1960
That was in the summer: what about the winter when Graham Everett and company were running in the short road relays and over the country? Another quote:
"In the winter, my main focus was on the Powderhall New Year events for which I would go on "special preparations" for six weeks at a time. In summer, on a good week, I could win up to about £60 or £70. Sometimes you'd also be paid petrol expenses and appearance money. It doesn't sound much now, but then it was about two or three times a working man's weekly wage. But competing and winning were the really important things for me. I just had to be the best, that was what drove me.
"I think I got that from my dad. He'd been a miner and instilled that will to win in me. My three brothers Neil, James and Edward, and my sister Mary were all good runners who had success at the games, but it was my will to win that made me better."
"Special preparations" have been mentioned already and mean nothing to anyone not versed in the professional game. They were explained to me by a runner who had done several of them for Powderhall over the years. His version (and they were not all identical but followed the same general principal) lasted for two months when he went to live with his trainer. He trained twice or even three times a day, each session followed by a massage; there was a nap in the afternoon; his food would be specially prepared and tasted by the trainer before he was allowed to eat it; he would be in bed every night at 9:00 pm. The end point was to get the man to the starting line as ready to produce his very best as possible. (Any further information about the 'preps' would be well received) He won Powderhall twice.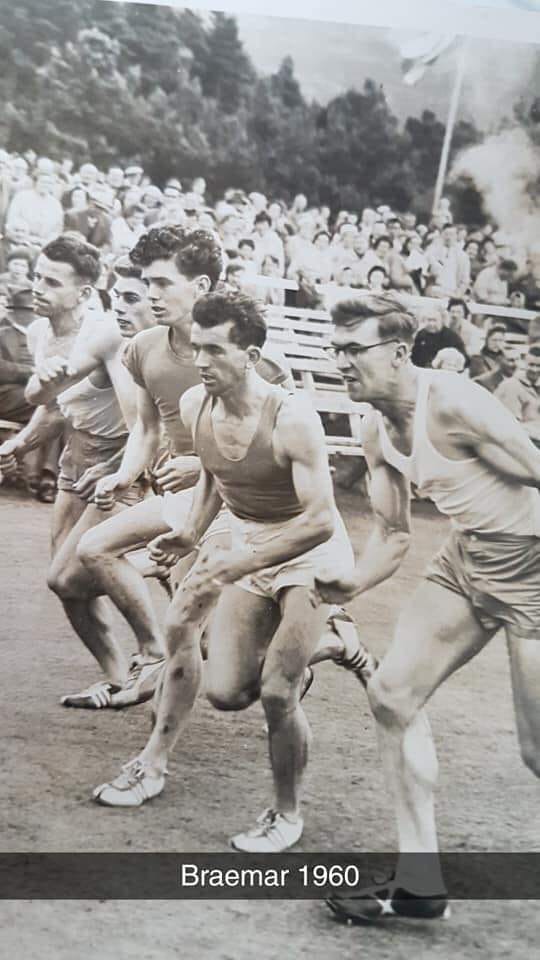 I have spoken to several sources about Michael and they all say that he worked with Bernard Gallagher, the golfer, working on fitness training. In the late 1960's Glen who had been self-coached formost of his career, begam a coaching career and in 1969 applied for and won a Churchill Fellowship Athletics Scholarship to travel to America to study coaching methods. The late 1960's and into the 1970's was a period when professional training methods were being looked at seriously by John Anderson and then Frank Dick and former professional athletes like Jimmy Bryce were being questioned about their methods and there is no doubt that professional training techniques were employed by Allan Wells on his way to Moscow in 1980. About the Churchill Scholarship he says, "That was a fantastic experience for three months in Los Angeles San Francisco and New York. I learned from top American coaches, including Olympic ones. Actually, at the end of my trip I was offered a coaching job in Los Angeles but family circumstances prevented me taking it."
In 1969, he was invited down to the Guildhall in London where he was presented with the Churchill Fellowship Gold Medal by the Queen Mother. That completed a nice double for Michael as, in 1955, he had been presented to the Queen at Braemar Highland Games.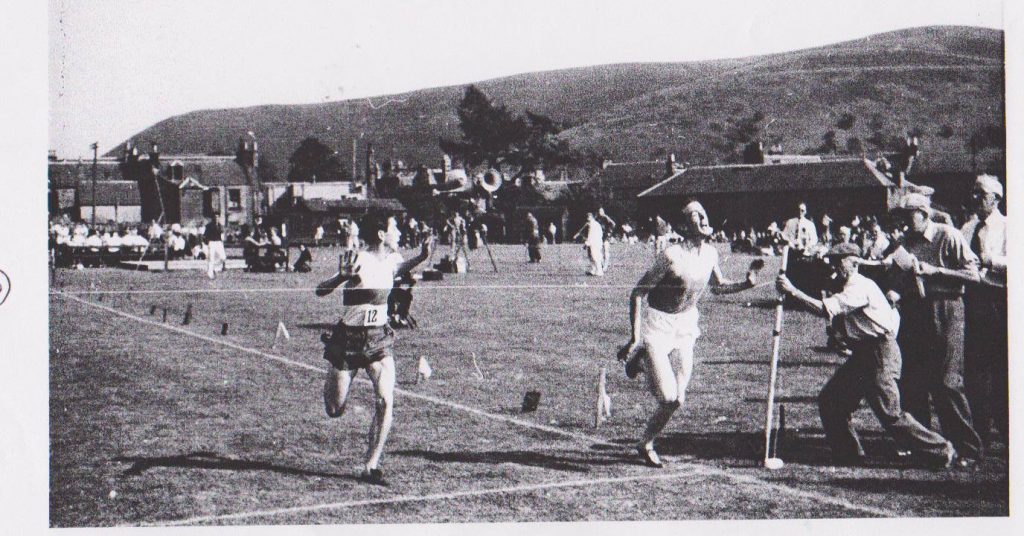 Brother Eddie winning Innerleithen Youths Mile in 1959
Michael, at 81 years old, had no active involvement in the sport, but still followed it closely. He was
Twice a winner at Powderhall,
winner of countless championships and races at Highland and Border Games,
14-times winner of the world's oldest continuous foot race, the Red Hose at Carnwath, established by Royal Charter in 1508
and, of course, that Keswick race with his British record there still standing 58 years on.
During his career, the emphasis was on competing and winning, often as many as four track races and a hill race the same day. As a result, times suffered. There was no opportunity to "peak" to achieve a special time in one particular race, nor were there pacemakers to facilitate that nor tracks as good as the amateurs'.
His talent waBs recognised in 2014 when Glasgow hosted the Commonwealth Games and he was asked to carry the torch on its way to Glasgow – his stretch, needless to say, was through Bathgate.
He was undoubtedly a vey talented athlete who was the equal of most of the top middle distance men in the country and would almost certainly have been a Games competitor and track title holder as an amateur. Michael died on 27th June 2017 at the age of 84.