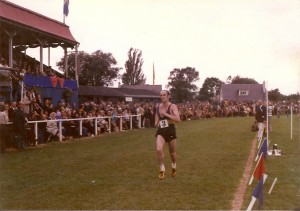 Willie Day winning the road race at Strathallan in the 1970's
As an amateur athlete running in the 1960's and 70's, there were not that many Highland Games that I was able to run in if I were to retain my amateur status. The Strathallan Gathering at Bridge of Allan was one though and it was always a great day out. The meeting, on a dedicated Games Field, with a wonderful stand (now sadly gone), before a very good crowd with genuine personalities as Chieftain and with a fair in the adjacent field and pony trotting after the Games had ended, was a real experience. I still go most years as a spectator but gone are the fireside rugs, cake stands and casserole sets as prizes and money prizes are good. As well as being easy for the Committee to organise and hand out, they are often most welcome to the athletes. Their permanent trophies for the various events are a good reminder of who has won what – they even have specific trophies for the younger age groups such as the Bastable Trophy for Under 17's which my own athletes have won three times. The following historical appreciation is from the meeting programme.
*
"The Strathallan meeting in its present form has held a central place in traditional Scottish sport for 150 years. Before that its origin can be found in the sports gatherings of ordinary country folk when the Lairds met to play at, "Tilting at the ring" under a charter granted by James I in 1453. A link to the old Wappenschaws, (a kind of medieval "Home Guard" when every grown man had to show his weapons in good order), is tenuous, but what is certain is that by the early 19th century competitive sports were taking place here on a regular basis. William Litt of Cumbria wrote in 1823 of "The famous old school of wrestlers in Strathallan, Stirlingshire".
There is no record of when The Country Archery and Rifle Club was founded but it was probably about 1825 and it also held sports competitions at its meetings. Their competitions became the Strathallan Highland Games and were organised by JA Henderson of Westerton from at least 1848 until 1858 when he died. Major General Sir James Alexander, K.C.B., became Laird of Westerton in 1863 and reorganised the games which have been held annually ever since then with the exception of the duration of the two World Wars.
Strathallan's committee has a unique claim to fame, it is intimately connected with the birth of the modern cult of Body-building. In 1888 it was responsible for organising the Highland Gathering at the Glasgow International Exhibition and in 1889 at the Paris International Exhibition. When the Strathallan Committee and the highland games stars they had brought to Paris for the Exhibition arrived, they found to their surprise that the world's first Body-building competition was about to be held. The competition was to be a team competition and had already attracted an entry of 300 strongmen, but nothing daunted, the Scots led by the famous wrestler Jimmy Esson of Aberdeen, entered and won. Sadly Jimmy Esson died of his wounds in A German Prisoner of War camp in 1916.
In 1999 the meeting reverted to its roots, until 1956 it was a traditional games with money prizes, then from 1957 till 1998 it affiliated to the amateur sports organisations. A new era demands a new start and in 1999, the year of the first Scottish Parliament for almost 300 years, we once again affiliated to the Scottish Games Association to continue to promote for the benefit of the coming generations, the old traditional Scottish sports, dances and music."