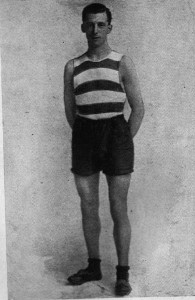 George McCrae
Alastair  Douglas (Victoria Park) was one of the best Scottish runners of his generation  and he got in touch about one of his relatives who was a professional runner in  the early 20th century.    His name as a ped was George McCrae.     Many, if not  all professional runners used false names right up to fairly recent times: not  as glamorous as in the 18th or 19th  centuries when they used false names and  had nicknames such as the Gateshead Clipper or Crowcatcher.  Read on until the  final paragraph where some information from Alex Wilson, a real student of the  period, in included.    Alastair continues with the story:
"George  McCrae was a postman from Banknock who was one of the best distance runners of  his time – he was running at the time of the First World War and the 1920's and  he held the title of World Professional 10 Mile champion.       His real name was Gavin Sorbie and he was born in 1893.   During the war he was  working in the mines, which explained the fact that he was not overseas on war  duty.   He was a professional long distance runner, although a lot of the best  distance runners were amateur.   He used to compete in front of huge crowds  although the crowd was sometimes there for a football match.   People would  place bets on the outcome of races between these 'pedestrians'.   He was the  first Scottish winner of the Powderhall Marathon and was champion 6 times.    Powderhall was a famous professional athletics meeting in Edinburgh and the  'Marathon' was actually a 10 or 15 mile track race.   He also competed in many  handicap events (usually from scratch) and in several head-to-head encounters,  often over 10 miles, against other British or European long distance running  stars.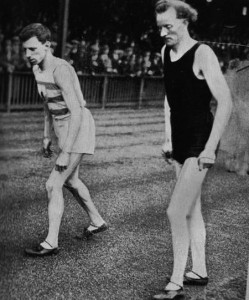 Lining up against RE Cole of  England at the start of a 10 miles championship at Powderhall Grounds on August  2nd, 1924.   McCrae won in 52:39 to retain his title of "World Professional 10  Mile Champion".
1918 was  his best year in athletics.   That year at Powderhall he broke the world  professional 10 mile record (also breaking the 8 mile record during the same  race.)   The report on the race states that he would probably have broken the  amateur record also if the financial inducements had been worthwhile!       It  was common practice in those days to take a competition name.   Although most of  the top runners of the day were amateur it sounds as if he was probably still  one of the best distance runners in Britain, amateur or professional, at that  time.   His times are still respectable today.   He ran his last race when he  was about 30 and was forced to retire after an injury that I am sure he would  have been treated for nowadays.   Indeed he could have gone on in his 30's to  better his times.   When he retired from athletics he became a football trainer  with Heart of Midlothian FC and eventually died in 1971."
Alastair also  provided this link to a video clip which showed a brief glimpse of him winning  the Powderhall Marathon in 1923 where he led from gun to tape beating Willie  Kolehmainan of Finland (no relation to the 1912 Olympic champion) and Hans  Holmer of the USA.   His time was 1:20:30.        www.britishpathe.com/video/powderhall-marathon/query/Edinburgh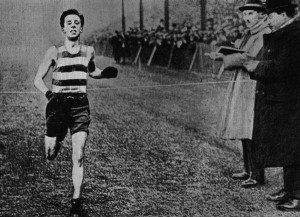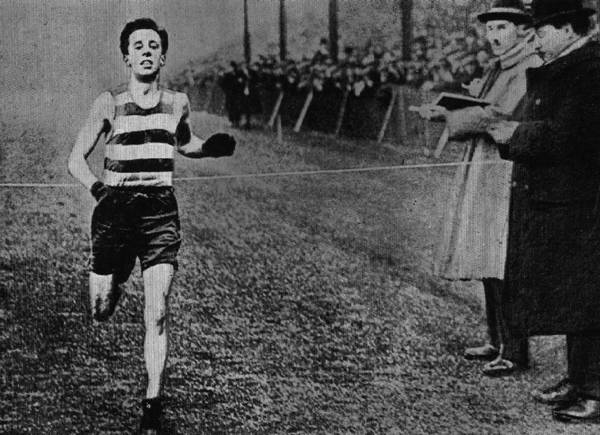 George McCrae winning at  Powderhall in 1915
There is a lot  to interest us here including the reference to the fact that in 1918, after he  set new world professional record, he could have broken the amateur record had  the reward been high enough.   'Peds' went for the victory every time, after the  money of course, the contest was the thing rather than the time hence the fact  that in reports of many races no time was given.   Reading about the amateur WG  George racing the professional William Cummings from Paisley and other  professional matches, once the opposition was broken, there was no need to push  on too hard..   Alastair also mentions races where the principal attraction on  the day was a football match.   When I came in to the sport there were many  athletics sports meetings at football grounds and they almost invariably  included five a side football matches.   In the very late 20th century, Frank  Horwill of the BMC was  claiming a first for having races held at half-time in  big football matches.
Powderhall was  a purely professional meeting and was the highlight of the year for most  Scottish peds.  All the best men turned out there and to win the championship  there was a real mark of a man's talent – George won six times!   I well  remember in the 1960's many wanting a race between the Powderhall Champion Ricky  Dunbar and the SAAA champion WM Campbell but it was not to be – amateurs could  not race against pedestrians!   In addition professionals used to on a 'prep'  before the meeting.   This often meant the runner going to stay with his coach  or trainer for several weeks of concentrated preparation for the race: no food  was consumed without the trainer having a spoonful first to ensure that it was  cooked properly; it was bed at the same time every night (often as early as 9:00  pm); training two or three times a day and daily massage.   It was said that a  man after such a 'prep' had a glow about him when he removed his sweats or  tracksuit; that he walked differently and had an air of confidence about him.    There's no evidence that McCrae did it but it is an indication of how seriously  this meeting was taken.
Although this  is a website dedicated to the amateur endurance athletes of Scotland, we have  already a page dedicated to Paddy  Cannon who  was also a professional although slightly before McCrae's time and it is felt  that George McCrae is a worthy addition..  Finally, Alastair has been a VPAAC  runner all his days, and although George was running before Victoria Park were,  have a look at this picture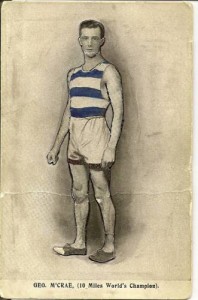 Alex Wilson  from Fife, currently employed in Germany, who is writing a book about this  period has this to say about George.   "The  Sorbies were a famous family of distance runners from Draffan and today Gavin,  or George McCrae, is the best known of them.   I believe that a Sorbie won the  famous Red Hose Race in the mid 1800's but I can't say for sure.   He was  coached by his Dad who himself had apparently been quite a useful runner in his  day.   There are a couple of pictures of him in 'Powderhall & Pedestrianism' .   He won the Powderhall Marathon for the first time in 1914 the distance then  being 15 miles.   The Evening News finally gave him a trophy to keep in 1919.    His 10 mile world record of 50:55, set at Powderhall in 1918 was pretty amazing  given the circumstances.   He was lucky to have been in an essential occupation  or he would have been running from bullets.   He had a great race with John  Lindsay in 1923, winning just yards from the finish.   By 1926 the writing was  on the wall and he was eclipsed among others by Allan Scally who never got  anywhere near his times but who is better known today."    He  went on to say, "Historically  I'd put him down as the successor to William Cummings and Paddy Cannon and the  last of the truly great Scottish professional distance runners.   He had a very  light frame and ran with a pitter-patter stride, a little reminiscent of Jm  Dingwall.   You can see that on the Pathe News film that Alastair recommended.    He moved to Edinburgh and took up a coaching post with Hearts.   Within a year  of him taking up the reins, Hearts did the double against the Rangers in the  League which back then was an amazing achievement.   After George/Gavin quit  running, his Dad emigrated to Canada and took up a coaching post there.   After  the War he ran a confectioner's and tobacconist's shop in Tynecastle with his  son John."