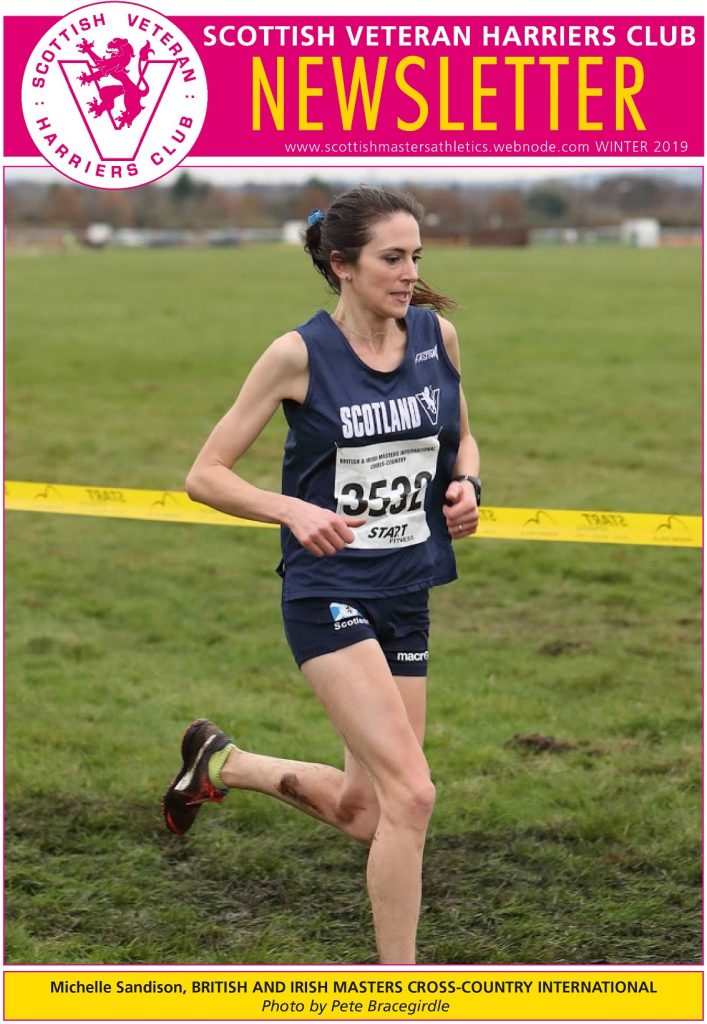 MEMBERSHIP NOTES 23rd November 2019
MEMBERS
For those who have not already renewed membership, payment is now due.
Standard Membership £20 Non competing Membership £10 Over 80 Membership Free
Welcome to the 17 new and 18 reinstated members who have joined or re-joined since 9th August 2019. As of 23rd November 2019, we have 556 members, including 30 over 80 & 4 Life Members.
NEWSLETTER The electronic version of the Newsletter is now the preferred option. Any member who would rather receive a printed Newsletter must contact David Fairweather (djf@ dfairweather.plus.com), if they have not already done so. Please inform David if you add or change your email address.
Please send photos, news, letters, articles, etc for the next issue To: COLIN YOUNGSON TOMLOAN, SANQUHAR ROAD, FORRES, IV36 1DG e-mail: cjyoungson@btinternet.com Tel: 01309 672398
SVHC EVENTS
Stewards/marshals are required for club races. The club appreciates all members & friends who volunteer to act as stewards/marshals. If you are not competing just turn up and introduce yourselves to the organisers.
STANDING ORDERS Thank you to the members who have set up standing orders for membership subscriptions. Please keep me informed if your membership details change (especially email addresses. Standing order details: Bank of Scotland, Barrhead, Sort Code: 80-05-54, Beneficiary: Scottish Veteran Harriers Club, Account No: 00778540, Reference: (SVHC Membership No. plus Surname). stewart2@ntlworld.com 0141 5780526 By cheque: please make cheque payable to SVHC and send to Ada Stewart, 30 Earlsburn Road, Lenzie, G66 5PF.
CLUB VESTS Vests and shorts can be purchased from Andy Law – £18 for vests, including postage and £23 for shorts, including postage. If ordering both together deduct one lot of postage. Or, can be delivered to any of the Club races by arrangement with no postage. (Tel: 01546 605336. or email lawchgair@aol.com)
NEW MEMBERS
NUMB CHRS SURN JOIN TOWN
2518 William Halliday 11-Aug-19 Lochgilphead
2519 Scott Henderson 11-Aug-19 Glasgow
2520 Nanette Heaney 19-Aug-19 Ceres
2521 Stuart Gibson 21-Aug-19 East Kilbride
2522 Stuart Robertson 28-Aug-19 Perth
2523 Finlay Finlay 30-Aug-19 Glasgow
2524 Morag Casey 30-Aug-19 Glasgow
2525 Andrew Norris 06-Sep-19 Glasgow
2526 William McCulloch 14-Sep-19 Galashiels
2527 Walter Henderson 16-Sep-19 Glasgow
2528 Yvonne Burgess 19-Sep-19 Glasgow
2529 Joe Chambers 23-Sep-19 Glasgow
2530 Colin Reilly 07-Oct-19 Glasgow
2531 Margaret Cavanagh 24-Oct-19 Kirkcaldy
2532 Daniel Scroop 12-Nov-19 Bearsden
2535 Ewan Jack 22-Nov-19 Dollar
2536 Billy Colvin 18-Nov-19 Edinburgh
2152 Crispin Walsh 21-Aug-19 Glasgow
2462 Barry Queen 23-Aug-19 Helensburgh
1503 James Rowley 31-Aug-19 Carluke
2320 Stuart McGeachy 09-Sep-19 Campbeltown
2047 Russell Whittington 09-Sep-19 Glasgow
917 Andy Rennie 12-Sep-19 Irvine
1702 Robert Rogerson 20-Oct-19 Kilsyth
2378 Jill Smylie 24-Oct-19 Glasgow
2387 Grant Noble 01-Nov-19 Dunbar
2133 Roddy Simpson 01-Nov-19 Linlithgow
2415 Alan Cameron 01-Nov-19 Airdrie
170 Richard Hodelet 01-Nov-19 Bishopton
2234 Morag Taggart 04-Nov-19 Broughty Ferry
1227 Alex MacEwen 05-Nov-19 Edinburgh
1377 Carol-Ann Gray 11-Nov-19 Edinburgh
2190 Jim Wilson 13-Nov-19 Lanark
2003 Louis O'Hare 14-Nov-19 Chryston
931 Douglas Cowie 17-Nov-19 Forres
Ada Stewart Membership Secretary
Obituary: MEL EDWARDS M.B.E.
Sadly, after a typically brave and very long battle against cancer, Mel Edwards, the hugely-popular Aberdeen runner, died recently aged 76. 500 people attended the cremation. Many SVHC members will remember Mel's endless enthusiasm and love for our sport. Do go to 'Elite Endurance' on the Scottish Distance Running History website to find Mel's updated profile, as well as detailed obituaries of a great man.
BRITISH AND IRISH MASTERS CROSS-COUNTRY INTERNATIONAL
AT AINTREE RACECOURSE ON THE 16TH OF NOVEMBER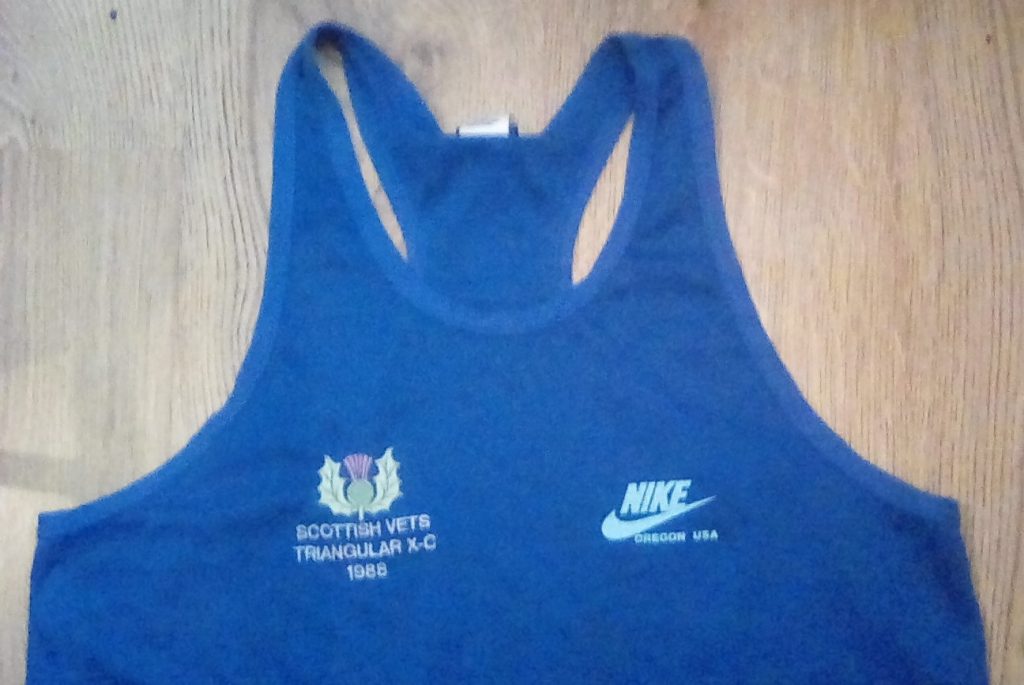 Original Int XC vest. Wrexham 1988 5th November: from Bobby Young
Scottish athletes enjoyed a particularly successful outing to the 2019 version of this great annual fixture. Individually, three gold, five silver and two bronze medals were secured; and there were two team victories as well as five silver medals (M60, M65, M70, M75, W35) and nine bronze.
Michelle Sandison (W35), Alastair Walker (M60) and Ann White (W65) each retained titles won last year. Ann was chased all the way by Jane Waterhouse (who has a very fine record in this event), Jeanette Craig finished fourth and Linden Nicholson fifth, which ensured team triumph. The other winning Scottish outfit was M35 due to fine runs by Stuart Gibson 2nd, Richard Mair 3rd and Colin Reilly 4th.
Scott Brember won M45 silver for the second year in succession. Alex Sutherland improved to M70 silver. Bobby Young fought off a Welsh rival for M75 silver. Jennifer MacLean, such a consistent runner, took W45 bronze.
Grant Baillie 4th was first Scottish M40; David Gardiner 5th led our M50 team; and Chris Upson finished 9th M55; Alastair Walker (M60) was well-supported by Rob McLennan 9th and Jeff Farquhar 12th; the M65 Trojans delivered yet again, with Tony Martin 4th, Andy McLinden 5th and Frank Hurley 8th; Alex Sutherland was well-backed by Robert Marshall 7th, Norman Baillie 8th and Stewart McCrae 9th. Bobby Young's old friend, Pete Cartwright, finished 7th M75.
Michelle Sandison's W35 team-mates included Katie White 5th, Sara Green 6th and Jill Smylie 10th; Louise Ross finished 8th W40; Megan Wright was 10th W45; Ana Richardson ran well for 4th W50, with Mary McCutcheon 6th; Anne Howie (6th W55) was supported by Mary Western 8th , Rhona Anderson 9th and Pamela McCrossan 10th; Isobel Burnett was 5th W60, with Phyllis O'Brien 9th, Nanette Heaney 10th and Innes Bracegirdle 11th; Liz Corbett finished 9th W70); and Elizabeth Gilchrist was 4th W75.
Congratulations Alastair Walker Scottish Athletics Masters Athlete of the Year 2019!
This award could not be more deserved. Alastair has had an absolutely fanastic year of competitive success. He is World, European, British and Scottish Masters M60 Champion at 10k and/or 10,000m; European, British and Scottish Masters M60 Champion at 5000m and/or 5k; and British and Irish, British and Scottish Masters M60 XC Champion!
The greatest Scottish Veteran Harriers include runners like Janette Stevenson, Trudi Thomson, Fiona Matheson, John Emmet Farrell, Gordon Porteous, Bill Stoddart, Willie Marshall, Donald Macgregor and Donald Ritchie, amongst others; and now Alastair Walker of Teviotdale Harriers can certainly be added to this small, select list of superstars.
AINTREE
It was fantastic to be selected to represent Scotland again at the Masters International. There is always a great atmosphere within the squad and a rendition of "Flower of Scotland" during the team photo certainly spurred us on. I was all warmed up and ready to race at 11am when a fifteen-minute delay due to the late running of the England bus was announced: there is nothing worse than hanging about in the cold in your vest and shorts. But at last we gathered at the start. I pushed my way to the front as all the England women had lined up across the start line. It was so much better having a separate race for the older runners: the start was much less crowded and it was sometimes possible to see other runners in my age group during the race.
I found the course itself rather disappointing: three circuits of a flat field with no hills, no mud, no trees and no standing water. Not really cross country at all! But I soon settled into a rhythm and tried to maintain a steady pace. On the second lap my daughter, Katie, told me that I was one second ahead of the next V65 runner. This spurred me on and by half way through the third lap she shouted "Just keep going steady and you've got it!" There was plenty of great support all round the course. It really does make a huge difference to hear your name being shouted out. I was delighted to run through the finish line as first woman in the race and even more delighted to realise that we had won the FV65 team gold as well. Great running, Jane and Jeanette! What a team!
The evening event was very enjoyable, meeting up with people that we hadn't seen since Swansea last year. The camaraderie carried over into the Sunday morning when we met lots of people running down the pier and along the sea front. Then it was all over for another year. Hope to see everyone in Dublin.
By Ann White
NEW EDITOR REQUIRED FOR THE SVHC NEWSLETTER
The Spring 2020 edition will be my last as editor. By then I will have overseen the creation and publication of 21 magazines – and feel that new blood is needed. It has been a very enjoyable task, with lots of assistance from Karen Connal, our computer expert; and contributions from so many SVHC members, especially David Fairweather.
After Spring, I will continue to help my successor (if asked) by suggesting material or people to email etc. The new editor will not be unsupported, when she or he works on the Autumn edition and puts her or his own stamp on a fascinating and satisfying project, which receives so much positive feedback.
Please consider yourself for the post! (Joint-editorship with a partner would also be possible.)
Colin Youngson
British Masters Outdoor Track and Field Championships
By Mike Clerihew
The main BMAF T&F event was held at the Alexander Stadium, Birmingham over the weekend 10th/11th August. Windy and wet conditions on Saturday hampered performances and although Sunday was dry the gusty wind remained an inhibiting factor. Despite the conditions the 32 Scottish competitors returned with an amazing haul of 47 medals – 26 gold, 13 silver and 8 bronze setting three British records, one Scottish Masters best with another being equalled.
It was good to see 1970 Commonwealth Games discus champion and multiple Word Masters champion Rosemary Chrimes (formerly Payne) return to competition after an absence of five years and set three British records in the W85 age group winning the hammer with a throw of 19.40, shot with 7.08m and discus with 18.61m. Although her shot figure is listed as the British record Rosemary actually recorded 7.09m at the beginning of August at Birmingham University relays as well as clearing 90cm for a new British record in the high jump. A bit odd that her high jump performance has been ratified as a record but her not her shot.
James Smith (Motherwell) was another triple gold winner taking the 200m in a time of 30.65s, bettering his own Scottish Masters best, the 100m and the long jump with a leap of 3.67m in the M75 category. Double golds were claimed by Claire Cameron (VP-Glasgow) in the W60 shot and discus, Anne Howie (Aberdeen) in the W55 800m and 1500m and John Thomson (Fife) in the M60 800m and 1500m.
Dougie Graham (Edinburgh) equalled his own Scottish Masters best with a winning 4.20m in the M40 pole vault and other winners were Liz Bowers (Worcester ) – W65 800m, Gillian Cooke (Edinburgh) – W35 long jump, Jacqui Etherington (Cambuslang) – W40 2000m steeplechase, Bill Gentleman (Edinburgh) – M75 hammer, Graham Lay (Southampton) – M40 shot, Allan Leiper (Aldershot, Farnham and District) – M55 weight throw, Linzie Marsh (Pitreavie) – W40 high jump, Alan Robertson (Motherwell) – M40 200m, Ron Todd (Central) – M55 pole vault, Julie Tuck (Aberdeen) – W40 80m hurdles, David Valentine (West Suffolk) – M60 hammer, Alastair Walker (Teviotdale) – M60 5000m and Colin Welsh (Gala) – M35 800m.
Well done to all athletes competing and my apologies to any I have omitted. Full results are listed below.
Name
Club
Age
Event
Position
Performance
Comments
James Buchanan
Dumfries
M50
3000m s/c
3rd
11m 54.10s
–
Liz Bowers
Worcester
W65
800m
1st
3m 14.17s
–
Stephen Brown
West End RR
M35
800m
6th
2m 10.30s
–
1500m
5th
4m 29.48s
–
Claire Cameron
VP-Glasgow
W60
shot
1st
9.36m
–
discus
1st
26.97m
–
weight
3rd
11.08m
–
hammer
4th
26.00m
–
Rosemary Chrimes
Halesowen
W85
hammer
1st
19.40m
British record
shot
1st
7.08m
British record
discus
1st
18.61m
British record
Gillian Cooke
Edinburgh
W35
long jump
1st
5.29m
–
100m
3rd
13.30s
Douglas Dickson
Kilmarnock
M50
200m
7th
28.43s
Bob Douglas
Livingston
M65
400m
2nd
66.07s
100m
5th
14.15s
Jacqui Etherington
Cambuslang
W40
2000m s/c
1st
7m 49.63s
Bill Gentleman
Edinburgh
M75
hammer
1st
30.90m
weight
2nd
12.26m
Douglas Graham
Edinburgh
M40
pole vault
1st
4.20m
=SMBP
Anne Howie
Aberdeen
W55
800m
1st
2m 41.08s
1500m
1st
5m 24.29s
Ian Johnston
SVHC
M50
5000m
5th
17m 09.53s
English national
Ian Johnstone
Inverness
M65
1500m
5th
6m 00.52s
Graham Lay
Southampton
M40
shot
1st
12.53m
discus
2nd
35.18m
weight
3rd
10.41m
javelin
3rd
41.97m
hammer
4th
28.23m
Gary Leek
Edinburgh
M55
100m
5th
12.82s
200m
9th
27.36s
Stephen Leek
Livingston
M35
long jump
2nd
5.39m
javelin
2nd
36.89m
Allan Leiper
Aldershot
Farnham & Dist
M55
weight
1st
13.87m
shot
2nd
12.61m
high jump
3rd
1.45m
javelin
3rd
39.42m
long jump
6th
4.40m
discus
5th
34.92m
pole vault
n.h
Martin Leyland
Shetland
M60
100m
4th
13.43s
200m
4th
27.77s
heat 27.62s
Linzie Marsh
Pitreavie
W40
high jump
1st
1.40m
Paul Masterton
Corstorphine
M55
high jump
2nd
1.45m
James MacGregor
Aberdeen
M50
high jump
2nd
1.60m
Grant Ramsay
Fairlands Valley Spartans
M45
3000m s/c
2nd
12m 25.14s
Alan Robertson
Motherwell
M40
200m
1st
23.75s
100m
2nd
11.76s.
Iain Robertson
Clydesdale
M40
800m
4th
2m 06.47s
Jim Sloan
Annan
M75
discus
5th
22.41m
James Smith
Motherwell
M75
100m
1s
t 14.91s
200m
1s
t 30.65s
SMBP
long jump
1st
3.67m
John Thomson
Fife
M60
800m
1st
2m 23.07s
1500m
1st
4m 58.43s
Ron Todd
Central
M55
pole vault
1st
3.30m
Julie Tuck
Aberdeen
W40
80m hdls
1st
13.35s
long jump
2nd
4.89m
shot
3rd
8.44m
David Valentine
West Suffolk
M60
hammer
1st
47.47m
weight
2nd
17.22m
Alastair Walker
Teviotdale
M60
5000m
1s
t 16m 55.16s
Colin Welsh
Gala
M35
800m
1st
2m 04.26s
1500m
2nd
4m 15.83s
Scottish Masters Track and Field Outdoor Best Performances
Claims for a Scottish Masters Best Performance should be submitted with details to Mike Clerihew (mikeclerihew@yahoo.com)
Note: When a Scottish Masters Best Performance betters a British Record and the British Record is held by a Scot the British Record is shown in italics below the Scottish Masters Best. This situation could arise for a variety of reasons such as appropriate British Record request form not being lodged or being unacceptable. Legal wind speed readings are required for British Record ratification but not for Scottish Masters bests.
The majority of timings are official electronic ones but it has been agreed that if a manual timing is 0.25s better than any electronic one it will be accepted as a best performance. If less than 0.25s better both timings are recorded.
100 metres
M35
Darren Scott 10.74
2006
Bedford
M40
Darren Scott
10.81
2010
Nyiregyhaza Hungary
M45
Darren Scott
11.19
2015
Manchester
M50
Darren Scott
11.47
2019
Abingdon
British Record
M55
John Steede
12.30
1997
Durban S. Africa
John Steede
12.2 (m
) 1997
Coatbridge
Alasdair Ross
12.2 (m)
2007
Bracknell
M60
Alasdair Ross
12.42
2013
Solihull
M65
John Ross
12.91
2003
Derby
M70
Walter Hunter
13.79
2014
Pitreavie
M75
Walter Hunter
14.10
2014
Birmingham
M80
John Ross
16.91
2018
Grangemouth
M85
Duncan McLean
16.3 (m)
1973
San Diego USA
British Record
M90
Duncan McLean
19.9 (m
) 1975
Hendon
Duncan McLean
19.9 (m
) 1977
Gothenburg Sweden
British Record
W35
Joss Harwood
12.39
1993
Miyazaki Japan
Joss Harwood
12.2 (m)
1993
Rotherham
W40
Joss Harwood
12.72
1999
Gateshead
W45
Pat McKinnon 13.1 (m)
1997
Coatbridge
Dawn Whittle
13.14 2007
Wishaw
W50
Sylvia Wood
14.0 (m)
1997
Coatbridge
Joss Harwood
14.12
2008
Pitreavie
W55
Esther Linaker
14.21
2000
Jyvasklya Finland
Esther Linaker
14.1 (m)
2000
Aberdeen
W60
Esther Linaker
14.05
2003
Pitreavie
British Record
W65
Esther Linaker
15.44
2006 Scotstoun
W70
Betty Steedman
18.04
2004
Arhus Denmark
Rosemary Chrimes
17.9 (m)
2007
Solihull
W75
Rosemary Chrimes
18.00
2010
Birmingham
W80
Rosemary Chrimes
19.75
2013 Birmingham
British Record
200 metres
M35
Darren Scott
21.15
2008
Ljubljana Slovenia
M40
Darren Scot
t 21.64
2010 Nyiregyhaz Hungary
British Record
M45
Darren Scott
22.49
2015
Lyon France
M50
Alasdair Ross
23.
2002
Hendon
Darren Scott
23.6 (m)
2019
Warrington
M55
Alasdair Ross
24.66
2007
Riccion Italy
M60
Alasdair Ross
25.38
2015
Lyon France
Alasdair Ross
25.3 (m)
2013
Abingdon
M65
John Ross
26.38
2003
Norfolk Virginia U.S.A.
M70
John Ross
28.86
2008
Pitreavie
Ernie Plimer
28.8 (m)
1987
Glasgow
M75
James Smith
30.6
5 2019
Birmingham
M80
John Ross
36.54
2018
Grangemouth
M85
Duncan McLean
41.1 (m)
1972
Crystal Palace London
M90
Duncan McLean
49.2 (m)
1975
Toronto Canada
W35
Joss Harwood
24.5 (m)
1993
Edinburgh
W40
Joss Harwood 25.9 (m)
1999
W45
Pat McKinnon
27.8 (m)
1997
Coatbridge
W50
Christine Scarles
28.6 (m)
1995
Pitreavie
W55
Esther Linaker
29.94
2000
Jyvasklya Finland
W60
Esther Linaker
29.59
2003
Pitreavie
W65
Betty Steedman
35.64
1998
Sheffield
W70
Betty Steedman
38.04
2004
Arhus Denmark
W75
Christine McLennan
41.31
2007
Riccione Italy
W80
Christine McLenna
n 44.28
201
1 Sacramento USA
400 metres
M35
Darren Scott
49.35
2008
Stretford
M40
Darren Scott
49.81
2011
Sacramento USA
M45
Alasdair Ross
51.18
1997
Durban South Africa
M50
Alasdair Ross
53.55
2003
Derby
M55
Alasdair Ross
54.94
2007
Riccione Italy
M60
Alasdair Ros
s 56.53
2015
Lyon France
M65
John Ross
59.71
2003
Norfolk Virginia U.S.A.
M70
John Ross
64.84
2008
Pitreavie
British Record
M75
John Ross
72.48
2014
Birmingham
M80
Harry Tempan
83.79
2008
Kingston
M85
Fred Cowan
1.36.00
2019
Grangemouth
British Record
M90
Hugh McGinlay
2.19.46
2017
Grangemouth
W35
Philippa Millage
55.59
2016
Southampton
W40
Dianne MacKenzie
59.47
2000
Inverness
W45
Barbara Oliver 60.00
1989
W50
Laura Mahady
61.05
2009
Lahti Finland
W55
Laura Mahady
64.60
2013
Birmingham
Laura Mahady
64.6 (m
) 2013
Aberdeen
W60
Betty Steedman
78.84
1993
Miyazaki Japan
W65
Liz Bowers 85.99
2018
Solihull
W70
Ann Bath
2.06.22
2018
Birmingham
W75
Christine McLennan
90.15
2006
Poznan Poland
800 metres
M35
Colin Welsh
1.58.56
2018
Stretford
M40
Alastair Dunlop
1.58.45
1996
Malmo Sweden
M45
Alastair Dunlop
1.59.08
2001
Brisbane Aus
M50
Alastair Dunlop
2.03.14
2005
San Sebastian Spain
M55
James Whiteford
2.07.62
1999
Gateshead
M60
Harry Tempan
2.15.2
1985
Wormwood Scrubs
M65
Fred Cowan
2.19.8
2001
Pitreavie
. Harry Tempan
2.21.0
1990
Glasgow
British Record
M70
Jimmy Todd
2.38.94
1994
Glasgow
M75
Jimmy Todd
2.42.35
1997
Birmingham
Jimmy Todd
2.45.82
1997
Durban South Africa
British Record
M80
Harry Tempan
3.08.8
2008
Kingston
M85
David Morrison
4.19.81
1999
Gateshead
M90
Emmett Farrell
4.38.99
1999
Gateshead
British Record
W35
Philippa Millage
2.05.13
2016
Manchester
W40
Sonia Armitage
2.19.3
2004
Aberdeen
W45
Sonia Armitage 2.19.8
2007
Dundee
W50
Laura Mahady
2.19.50
2009
Lhati Finland
W55
Laura Mahady
2.27.05 2013
Grangemouth
W60
Sandra Branney
2.53.61
2016
Grangemouth
W65
Janette Stevenson
3.00.33
2016
Perth Australia
1500 metres
M35
Stuart Campbell
4.04.62
2006
Grangemouth
M40
Ian Elliott
3.57.9
1992
Grangemouth
M45
Bill Boyd
4.11.16
1999
Gateshead
M50
Alastair Dunlop
4.12.65
2005
San Sebastian Spain
M55
Alastair Dunlop
4.25.83
2011
Sacramento USA
M60
Harry Tempan
4.36.04
1985
Rome Italy
British Record
M65
Harry Tempan
4.44.0
1990
Solihull
British Record
M70
Jimmy Todd
5.12.51
1992
Kristiansand Norway
British Record
M75
David Morrison
5.50.1
1989
Newcastle
M80
Harry Tempan
6.30.1
2007
Kingston
Gordon Porteous
6.39.4
1995
Jarrow
British Record
M85
Gordon Porteous
7.41.45
1999
Gateshead
British Record
M90
Gordon Porteous
9-01.92
2004
Birmingham
British Record
W35
Phillippa Millage
4.20.22
2017
Glasgow
W40
Carol Sharp
4.40.9
1995
Birmingham
W45
Sonia Armitage
4.45.36
2007
Riccione Italy
W50
Fiona Matheson
4.46.86
2012
Derby
W55
Sandra Branney
4.57.58
2009
Pitreavie
W60
Janette Stevenson
5.25.47
2009
Birmingham
W65
Janette Stevenson
5.50.62
2016
Perth Australia
W70
Ann Bath
8.22.09
2018
Birmingham
3000 metres
W35
Sandra Branney
9.26.0
1989
Walthamstow
W40
Lesley Chisholm
10.05.47
2016
Glasgow
W45
Janette Stevenson
10.17.7
1995
Coatbridge
W50
Fiona Matheson
9.58.0
2012
Grangemouth
W55
Sandra Branney
10.13.8
2009
Meadowbank
British Record
W60
Janette Stevenson
11.20.22
2009
Pitreavie
W65
Jocelyn Ross
12.47.6
1993
Wormwood Scrubs
5000 metres
M35
Robert Quinn
14.23.08
2002
Scotstoun
M40
Donald Macgregor
14.33.5
1979
Edinburgh
M45
Archie Jenkins
15.21.0
1997
Jarrow
M50
Iain Campbell
16.08.3
2010
Eton
M55
Alistair Murray
16.56.00
2008
Pitreavie
M60
Andy Brown
16.48.40
1994 Ayr
M65
Willie Marshall
18.02.12
1993
Jarrow
British Record
M70
Willie Marshall
19.16.8
1999
Edinburgh
M75
Jimmy Todd
20.00.13
1997
Durban South Africa
M80
Gordon Porteous
23.39.1
1994
Coatbridge
M85
Gordon Porteous
24.51.7
1999
Edinburgh
British Record
M90
Gordon Porteous
31.25.45
2004
Birmingham
European Record
W35
Sandra Branney
16.08.15
1989
Jarrow
W40
Hayley Haining
17.02.03
2014
Glasgow
W45
Fiona Mathieson
17.23.93
2008
Pitreavie
W50
Fiona Mathieson
16.55.08
2011
Scotstoun
British Record
W55
Sandra Branney
17.52.82
2009
Pitreavie
British Record
W60
Janette Stevenson
19.05.70
2009
Birmingham
W65
Janette Stevenson
21.08.25
2016
Perth Australia
W70
Ann Bath
29.17.78
2018
Birmingham
10,000 metres
M35
Chris Robison
28.47.26
1997
Sheffield
M40
Donald Macgregor
30.04.2
1979
Hanover Germany
M45
Kerry-Liam Wilson
31.33.38
2016
Crownpoint Glasgow
M50
Jeff Farquhar
32.58.51
2010
Meadowbank
M55
Bill Stoddart
33.35
1986
Glasgow
M60
Alastair Walker
34.54.08
2019
Carluke
M65
Willie Marshall
37.30.60
1993
Jarrow
M70
Willie Marshall
40.12.88
1999
Edinburgh
M75
David Morrison
42.03.4 1989
Coatbridge
M80
Gordon Porteous 48.06.0
1994 Greenock
M85
Gordon Porteous
55.03.48
1999
Gateshead
British Record
M90
Gordon Porteous
69.27.5
2004
Coatbridge
World Record
W35
Hayley Haining
32.47.96
2007
Watford
W40
Janette Stevenson
36.25.0
1990 Glasgow
W45
Fiona Matheson
35.53.8
2010
Coatbridge
W50
Fiona Matheson
35.05.7
2011
Coatbridge
World Record
W55
Fiona Matheson
37.04.54
2018
Glasgow
British Record
W60
Joselyn Ross
43.01.1
1989
Reading
W65
Joselyn Ross
46.48.34
1994
Miyasaki
Japan
W70
Ann Bath
63.33.23
2018
Battersea Park London
2000 m s/chase
M60
M Scott
8.54.7
1986
Grangemouth
M65
Andrew Galbraith
9.29.87
1999 Edinburgh
W35
Allison Simpson
7.02.33
2007
Scotstoun
W40
Claire Thompson
7.13.19
2016
Manchester
British Record
W45
Julie Wilson
8.10.23
2016
Perth Australia
3000 m s/chase
M35
Grant Baillie
10.15.27
2014
Grangemouth
M40
John Kennedy
9.43.2
1990
Ayr
M45
Stewart McCrae
9.47.93
1992
Glasgow
M50
Jim Buchanan
11.19.41
2018
Birmingham
M55
Benjamin Hands
11.53.43
2016
Perth Australia ;
W35
Allison Simpson
10.36.91
2007
Manchester
80 m hurdles
M70
Ian Steedman
15.39
1998
Sheffield
W40
Joss Harwood
11.55
1999
Gateshead
Joss Harwood
11.68
1998
Hexham
British Record
W45
Joss Harwood
12.58
2005
San Sebastian Spain
Joss Harwood
13.02
2008
Pitreavie
W55
Rosemary Chrimes
14.87
1989
Reading
W60
Betty Steedman
17.56
1996
Malmo Sweden
W65
Betty Steedman
18.56
2002
Sheffield
[.table]

100 m hurdles

M50
Tom Leeson
14.89
2013
Porto Alegre
Brazil
M55
Roy Buchanan
16.33
2010
Grangemouth
M60
Ian Steedman
16.9 (m)
1988
Grangemouth
M65
Ian Steedman
17.41
1993
Miyasaki Japan
W35
Joss Harwood
13.96
1993
Birmingham
110 m hurdles
M35
Francis Smith
15.42
2017
Grangemouth
M40
Paul Sutherland
15.90
2006
Birmingham
M45
Eamon Fitzgerald
17.1 (m)
1994
Grangemouth
Tom Leeson 17.1 (m)
2009
Dundee
300 m hurdles
M60
Robert Stevenson
44.86
2013
Porto Alegre Brazil
British Record
M65
Ian Steedman
49.52
1993
Miyasaki Japan
M70
Ian Steedman
59.01
1998
Newport
Ian Steedman
58.8 (m)
1998
Grangemouth
W50
Angela Graham
61.19
2012
Tauranga New Zealand
400 m hurdles
| M35 | Derek Paisley | 53.27 | 2009 | Lee Valley London | |
| --- | --- | --- | --- | --- | --- |
| M40 | Paul Sutherland | 56.87 | 2006 | Eton | |
| M45 | Robert Stevenson | 57.91 | 1999 | Gateshead | |
| M50 | Robert Stevenson | 58.40 | 2oo3 | Pitreavie | |
| M55 | Robert Stevenson | 61.34 | 2008 | Ljubljana Slovenia | |
| W35 | Jane Low | 60.70 | 1996 | Malmo Sweden | |
| W40 | Jacqui Etherington | 74.37 | 2019 | Venice Italy | |
| W45 | Catherine Geddes | 80.15 | 1994 | Ayr | |
High Jump
M35
Jamie Creighton
1.85
2019
Grangemouth
M40
Geoff Parsons
1.91
2005
Watford
M45
Eamon Fitzgerald
1.80
1992
Kristiansand
Norway
M50
Eamon Fitzgerald
1.75
1998
Inverness
M55
Allan Leiper
1.60
2015
Lyon France
M60
Eric Simpson
1.55
2008
Grangemouth
M65
Bill Lonsdale 1.40
2017
Kingston
M7
0 Trevor Madigan
1.30
2014
Aberdeen
M75
John Ross
1.12
2014
Birmingham
W35
Christine Drewry
1.55
1983
London
Christine Drewry
1.55
1986
Wigan
Nikki Thompson
1.55
1990
Glasgow
Jacqueline Gilchrist
1.55
1997
Durban
RSA
W40
Rosemary Chrimes
1.55
1975
Toronto Canada
W45
Janice Hardcastle
1.40
2006
Milton Keynes
W50
Lilian McNab
1.35
2011
Wishaw
Alison Murray
1.35
2017
Rugby
1.35
2018
Twickenham London
1.35
2019
Wimbledon
W55
Rosemary Chrimes
1.37
1989
Reading
W60
Rosemary Chrimes
1.30
1993
W65
Rosemary Chrimes
1.25
1998
Newport
Rosemary Chrime
s 1.25
1999
Edinburgh
British Record
W70
Rosemary Chrimes
1.26
2003
Carolina USA
British Record
W75
Rosemary Chrimes
1.18
2012
Nuneaton
British Record
W80
Rosemary Chrimes
1.10
2013
Porto Alegri Brazil
World Record
W85
Rosemary Chrimes
0.90
2019
Univ Birmingham
British Record
Pole Vault
M35
Dougie Graham
4.20
2013
Aberdeen
M40
Dougie Graham
4.20
2018
Malaga Spain
4.20
2019
Birmingham
4.20
2019
Venice Italy
M45
Allan Leiper
4.10
2006
Basingstoke
M50
Eamon Fitzgerald
3.70
1997
Linwood
Eamon Fitzgerald
3.70
1998
Cesenatico Italy
Allan Leiper
3.70
2015
Aldershot
M55
Allan Leiper
3.60
2015
Lyon France
M60
Bob Masson
3.00
2010
Aberdeen
M65
Bob Masson
2.90
2012
Pitreavie
Bob Masson
2.90
2013
Aberdeen
M70
Bob Masson
2.70
2019
Aberdeen
M75
John Ross
1.70
2014
Birmingham
W35
Gillian Cooke
3.22
2019
Grangemouth
W40
Janet Lyon
2.81
2004
Aberdeen
W45
Alison Murray
3.30
2016
Wimbledon
W50
Alison Murray
3.10
2017
Birmingham
British Record
Long Jump
M35
Ian Paget
6.62
2010
Pitreavie
Ian Paget
6.62
2011
Grangemouth
M40
Darren Scott
6.37
2009
Manchester
M45
Robert Stevenson
6.11
2001
Pitreavie
M50 Eamon Fitzgerald
6.01
1997
Sheffield
M55
Robert Stevenson
5.68
2008
Pitreavie
M60
Mike Clerihew
5.14
2008
Birmingham
M65
Robert Stevenson
4.98
2019
Grangemouth
M70
Trevor Madigan
4.22
2016
Aberdeen
M75
James Smith
4.00
2019
Grangemouth
W35
Jane Scott
5.48
2016
Perth Australia
Zara Asante
5.48
2019
Birmingham
W40
Fiona Davidson
5.25
2015
Grangemouth
W45
Linda Nicholson
4.66
2006
Poznan Poland
W50
Linda Nicholson
4.87
2010
Cardiff
W55
Sylvia Wood
4.20
1999
Jarrow
W60
Betty Steedman
3.87
1994
Bedford
W65
Betty Steedman
3.45
2001
Eton
W70
Betty Steedman
3.08
2005
Birmingham
W80
Rosemary Chrimes
2.34
2014
Birmingham
Triple Jump
M35
Stuart Benson
13.10
2017
Cosford
M40
Eamon Fitzgerald
12.76
1991
Birmingham
M45
Eamon Fitzgerald
12.25
1992
London
M50
Eamon Fitzgerald
11.78
1999
Meadowbank
M55
Robert Stevenson
11.33
2010
Ayr
M60
Robert Stevenson
10.29
2016
Aberdeen
M65
Robert Stevenson
10.33
2018
Grangemouth
M70
John Oulton
8.33
2003
M75
James Smith
7.80
2019
Venice Italy
W35
Zara Asante
13.41
2018
Sportcity Manchester
W40
Fiona Davidson
11.39
2017
Aarhus Denmark
W45
Sylvia Wood
9.36
1992
W50
Sylvia Wood
9.87
1996
Grangemouth
W55
Rosemary Chrimes
9.12
1988
Cwmbran
W60
Betty Steedman
8.17
1994
Bedford
W65
Betty Steedman
7.06
1999
Gateshead
W70
Betty Steedman
6.48
2005
Birmingham
Shot
M35
Neil Elliott
16.55
2007
Wakefield
M40
Steve Whyte
16.27
2004
Eton
M45
Steve Whyte
15.12
2009
Leeds
M50
Steve Whyte
15.54
2014
Solihull
M55
Jim Hogg
14.17
2010
Linwood
M60
Jim Hogg
15.44
2015
Livingston
British Record
M65
John A. Scott
12.22
2007
Grangemouth
M70
John A. Scott
12.78
2012
Crownpoint Glasgow
British Record
M75
John A. Scott
11.72 2016
Crownpoint Glasgow
M80
Ian Miller
10.88
2014
Birmingham
W35
Rosemary Chrimes
14.60
1972
Crystal Palace
W40
Rosemary Chrimes
14.67
1974
Port Elizabeth RSA
W45
Rosemary Chrimes
11.25
1978
W50
Rosemary Chrimes
11.34
1987
W55
Rosemary Chrimes
12.97
1989
W60
Rosemary Chrimes
12.20
1993
Miyasaki Japan
British Record
W65
Rosemary Chrimes
11.04
1999
Gateshead
W70
Rosemary Chrimes
11.02
2003
Derby
World Record
W75
Rosemary Chrimes
10.35
2010
Cardiff
W80
Rosemary Chrimes
9.50
2013
Univ Birmingham
W85
Rosemary Chrimes
7.09
2019
Univ Birmingham
7.08
2019
Birmingham
British Record
Javelin
M35
Tom Dobbing
60.81
2008
Portsmouth
M40
Alex Black
59.00
1990
Glasgow
M45
Alex Black
53.98
1994
Meadowbank
M50
Steve Whyte
44.42
2014
Amersfoord Ned .
M55
Allan Leiper
41.41
2019
Hull
M60
John Ross
45.04
1998
Solihull
M65
John Ross
39.07
2003
St George Utah USA
M70
John Ross
36.11
2009
St George Utah USA
M75
John Ross
31.92
2013
St.George Utah USA
M80
John L Scott
20.64
2019
Grangemouth
W35
Norma Bruc
e 36.01
2005
Scotstoun
W40
Jane Kirkpatrick
29.98
2014
Scotstoun
W45
Jayne Kirkpatrick
26.89
2018
Lee Valley London
W50
Joyce Rammell
27.22
1997
Grangemouth
W55
Margery Swinton
25.23
1998
Eugene USA
W60
Margery Swinton
27.22
2007
Grangemouth
W65
Margery Swinton
18.72
2009
Pitreavie
W80
Rosemary Chrimes
12.40
2014
Birmingham
Hammer
| M35 | Andy Frost | 66.25 | 2016 | Eton | |
| --- | --- | --- | --- | --- | --- |
| M40 | Steve Whyt | e 60.13 | 2006 | Twickenham | |
| M45 | Steve Whyte | 59.80 | 2009 | Leeds | |
| M50 | Chris Black | 66.92 | 2002 | Potsdam Germany | |
| M55 | Chris Black | 55.88 | 2006 | Stretford | |
| M60 | Bill Gentleman | 52.90 | 2001 | Brisbane Australia | |
| M65 | Bill Gentleman | 50.04 | 2005 | San Sebastian Spain | British Record |
| M70 | Bill Gentleman | 47.60 | 2011 | Birmingham | |
| M75 | Bill Gentleman | 41.59 | 2015 | Livingston | British Record |
| M80 | Ian Miller | 35.44 | 2014 | Birmingham | |
| W35 | Mhairi Porterfield | 53.15 | 2017 | Livingston | |
| W40 | Susan Freebairn | 35.77 | 2006 | Scotstoun | |
| W45 | Claire Cameron | 33.75 | 2004 | Arhus Denmark | |
| | Claire Cameron | 33.75 | 2008 | Malmo Sweden | |
| W50 | Margery Swinton | 36.84 | 1996 | Jarrow | |
| W55 | Margery Swinton | 35.56 | 2000 | Kamloops Canada | |
| W60 | Margery Swinton | 31.96 | 2004 | Reading USA | |
| W65 | Rosemay Chrimes | 31.62 | 2001 | Nuneaton | |
| W70 | Rosemay Chrimes | 31.62 | 2003 | Derby | |
| W75 | Rosemary Chrimes | 28.63 | 2010 | Leicester | |
| W80 | Rosemary Chrimes | 24.31 | 2013 | Porto Alegre Brazil | |
| W85 | Rosemary Chrimes | 19.40 | 2019 | Birmingham | British Record |
Discus
M35
Neil Elliott
48.53
2007 Meadowbank
M40
Steve Whyte
48.30
2004
Ewell Court
M45
Steve Whyte
47.31
2009
Compiegne France
M50
Steve Whyte
50.40
2014
Amersfoort
Ned.
M55
Steve Whyte
44.89
2019
Hull
M60
Jim Hogg
49.36
2015
Livingston
M65
Bob Masson
42.45
2012
Pitreavie
M70
Bob Masson
38.13
2019
Aberdeen
M75
Jim Sloan
31.10
2017
Grangemouth
M80
Ian Miller
25.41
2014
Birmingham
W35
Rosemary Chrimes
58.02
1972
Birmingham
British Record
W40
Rosemary Chrimes
56.40
1973
Crystal Palace Lon.
British Record
W45
Rosemary Chrimes
44.26
1978
Wolverhampton
British Record
W50
Claire Cameron
34.99
2009
Ancona Italy
W55
Rosemary Chrimes
40.86
1989
Eugene OregonUSA
British Record
W60
Rosemary Chrimes
37.56
1993
Miyasaki Japan
British Record
W65
Rosemary Chrimes
34.95
2001
Nuneaton
British Record
W70
Rosemary Chrimes
31.62
2003
Derby
British Record
W75
Rosemary Chrimes
30.07
2010
Leicester
Rosemary Chrimes
29.07
2008
Ljubljana Slovenia
British Record
W80
Rosemary Chrimes
24.18
2013
Birmingham
British Record
W85
Rosemary Chrimes
18.61
2019
Birmingham
British Record
Weight Throw
| M35 | Chris Black | 19.03 | 1986 | Grendon Hall | |
| --- | --- | --- | --- | --- | --- |
| M40 | Steve Whyte | 18.52 | 2004 | Randers Denmark | British Record |
| M45 | Steve Whyte | 17.38 | 2010 | Milton Keynes | |
| M50 | Steve Whyte (Indoor) | 22.10 | 2014 | Budapest Hungary | British Record |
| M55 | Chris Black | 20.01 | 2007 | Riccione Italy | |
| M60 | Bill Gentleman | 20.06 | 2002 | Leon Mexico | |
| M65 | Bill Gentleman | 17.06 | 2007 | Riccione Italy | |
| M70 | Bill Gentleman | 18.65 | 2010 | Nyerigyhaza Hungary | |
| M75 | Bill Gentleman | 15.52 | 2015 | Jarrow | British Record |
| M80 | Ian Miller | 14.44 | 2014 | Birmingham | British Record |
| W35 | Susan Freebairn | 13.25 | 2003 | Derby | |
| W40 | Claire Cameron | 11.02 | 2003 | Derby | |
| W45 | Claire Cameron | 11.41 | 2004 | Randers Denmark | |
| W50 | Claire Cameron | 11.39 | 2012 | St. John Canada | |
| W55 | Claire Cameron | 11.33 | 2014 | Budapest Hungary | |
| W60 | Margery Swinto | n 12.01 | 2004 | Hendon London | |
Combined Events – Best age graded performance only
Pentathlon
M65
John Ross
4032 pts
2003
Solihull
W40
Carolyn Smith
3845 pts
2003
Pitreavie
Heptathlon
W60
Betty Steedman
4149 pts
1995
Sheffield
Decathlon
M60
John Ross
7582 pts
1998
Scotstoun
Weight Pentathlon
M50 Steve Whyte 4590 pts 2014 Amersfoort
Ned. British Record
W45 Claire Cameron 3668 pts 2004 Aarhus
Denmark
29th August 2019. Scottish National Senior Championships.
Several Scottish Masters athletes competed at the recent National Seniors champs at Grangemouth with pride of place going to Mhairi Porterfield (W35) representing VP-Glasgow who won the shot with a throw of 13.54m (fifth in the hammer with 52.00m) and Zara Asante (W35) representing Blackheath and Bromley who won the triple jump with a leap of 12.89m.
Other medals were claimed by Gillian Cooke (W35 Edinburgh) with silver in the pole vault clearing 3.05m (7th in the long jump with 5.25m), Philippa Millage (W35 VP-Glasgow) with silver in the 800m in a time of 2m 09.15s (4th in the 1500m with 4m 32.05s) and Chris Smith (M40 Arbroath) with bronze in the javelin throwing 52.29m.
Ian Horsburgh (M40 Edinburgh) came 5th in the 200m in a time of 22.67s after a 22.60s heat, Colin Welsh (M35 Gala) ran 1m 59.97s in the heats of the 800m, Michelle Sandison (W35 Springburn) came 7th in the 5000m in 17m 36.60s and Catriona Pennet (W35 Edinburgh) finished 5th in the 100m hurdles with a time of 15.01s.
All the above athletes performed really well and must certainly have helped to enhance the profile of Scottish Masters. My apologies to anyone I have missed.
11th September 2019. Scottish Masters 10,000m Championships.
One Scottish Masters best performance and six Championship bests were recorded at the recent 10k championships held in Carluke with the most notable performance coming from Alastair Walker (Teviotdale) who ran 34m 54.08s in winning the M60 category setting a new Championship best and erasing Bill Stoddart's Scottish Masters best of 35m 19.2s from 1992.
Further Championship bests were set by Julia Johnstone (Gala) with 41m 44.96s in the W45 category, Marianne McLevy (Dundee) with 48m 37.92s in the W50s, Andy McLinden (Hamilton) with 39m 39.54s in the M65s, Norman Baillie (Garscube) with 45m 25.32s in the M70 group and Bobby Young (Clydesdale) with 45m 02.12s in the M75 category.
It is good note that over thirty athletes competed in this fairly recently introduced Championship event and, hopefully, it will continue to prosper in years to come as Scottish Masters have historically been at the forefront of Masters distance running. Well done to all competitors.
October 2019. European Masters Stadia Championships.
The event was held in very warm conditions at three venues, Jesolo, Caorle and Eraclea on the outskirts of Venice from September 9th to 15th and saw a large British team place third in the overall medals table with 247 gongs, 103 being gold. The home nation finished top with 337 medals (127 gold) followed by Germany with 317 medals (119 gold)
As far as I can ascertain twenty Scots competed and returned with a total of four individual and five team medals with two Scottish Masters best performances achieved and another equalled. Jacqui Etherington (Cambuslang) won silver in the W40 2000m steeplechase in a time of 7m 34.35s and set a new Masters best finishing 6th in the 400m hurdles in 74.37s, Dougie Graham (Edinburgh/Arbroath) took bronze with a 4.20m clearance in the M40 pole vault equalling his own Masters best whilst Jim Smith (Motherwell) set new figures of 7.80m in the M75 triple jump.
Ian Horsburgh (Edinburgh), a former British Junior international who recently returned to the track, won silver in the M40 200m in a time of 22.62s after a 22.51s semi and Dave Valentine (West Suffolk) won bronze in the M60 hammer with 48.23m.
Alan Robertson (Motherwell) was part of the British M40 4 x 100m relay gold winning team, Sue Ridley (Edinburgh) won gold in the W50 cross country team event, Ronnie Hunter (Corstorphine) won silver in the M55 4 x 100m relay as did John Thomson (Fife) with the M60 cross country team and Jim Smith won bronze in the M75 4 x 100m relay.
Full results for all Scots competitors are listed below. Well done to all with apologies to any I have missed.
| | | | | | | |
| --- | --- | --- | --- | --- | --- | --- |
| Name | Club | Age | Event | Position | Time/Dist | |
| Stephen Allan | Cumbernauld | M45 | half marathon | 12th | 1h 22m 28s | |
| Claire Cameron | VP-Glasgow | W60 | shot | 9th | 9.35m | |
| | | | discus | 8th | 27.02m | |
| | | | hammer | 14th | 26.87m | |
| | | | weight throw | 12th | 10.43m | |
| Gillian Cooke | Edinburgh | W35 | long jump | 4th | 5.18m | |
| | | | pole vault | 8th | 3.05m | |
| Jacqui Etherington | Cambuslang | W40 | 400m hdls | 6th | 1m 14.37s | SMBP |
| | | | 2000m s/chase | 2nd | 7m 34.35s | |
| | | | 4k cross country | 8th | 14m 43s | |
| Paul Forbes | Edinburgh | M60 | 800m | dnf | | |
| Dougie Graham | Edinburgh/Arbroath | M40 | pole vault | 3rd | 4.20m | =SMBP |
| Ian Horsburgh | Edinburgh | M40 | 200m | 2nd | 22.62s | sf 22.51s |
| Ronnie Hunter | Corstorphine | M55 | 100m | heat | 13.36s | |
| | | | 200m | heat | 27.59s | |
| | | | 4 x 100m relay | 2nd | | |
| Allan Leiper | Aldershot, Farnham | M55 | pole vault | 8th | 3.30m | |
| | | | shot | 5th | 13.09m | |
| | | | discus | 10th | 32.72m | |
| | | | weight pentathlon | 11th | 3192pts | |
| Fred McCain | Haddington/Central | M70 | 5000m | 23rd | 29m 28.97s | |
| Paul Masterton | Corstorphine | M55 | high jump | 18th | 1.40m | |
| Iain Moody | Pitreavie | M55 | 400m hdls | heat | 1m 10.93s | |
| Sue Ridley | Edinburgh | W50 | 4k cross country | 10th | 15m 35s | |
| | | | cross country team | 1st | | |
| Alan Robertson | Motherwell | M40 | 200m | 8th | 23.70s | heat 23.38s |
| | | | 4 x 100m relay | 1st | | |
| Brian Scally | Shettleston | M50 | 800m | heat | 2m 26.23s | |
| | | | half marathon | dnf | | |
| Jim Smith | Motherwell | M75 | 100m | 7th | 15.27s | heat 15.08s |
| | | | 200m | 6th | 30.96s | |
| | | | long jump | 7th | 3.91m | |
| | | | triple jump | 7th | 7.80m | SMBP |
| | | | 4 x 100m relay | 3rd | | |
| John Thomson | Fife | M60 | 800m | 6th | 2m 19.68s | |
| | | | 1500m | 6th | 4m 45.91s | |
| | | | 4k cross country | 10th | 14m 25s | |
| | | | cross country team | 2nd | | |
| Dave Valentine | West Suffolk | M60 | weight throw | 6th | 16.18m | |
| | | | hammer | 3rd | 48.23m | |
| Andy Vince | Falkirk | M60 | discus | 20th | 36.90m | |
| | | | weight throw | 8th | 14.43m | |
| | | | hammer | 5th | 44.27m | |
| | | | weight pentathlon | 10th | 3038pts | |
| Colin Welsh | Gala/TevioT | M35 | 800m | 8th | 2m 00.01s | |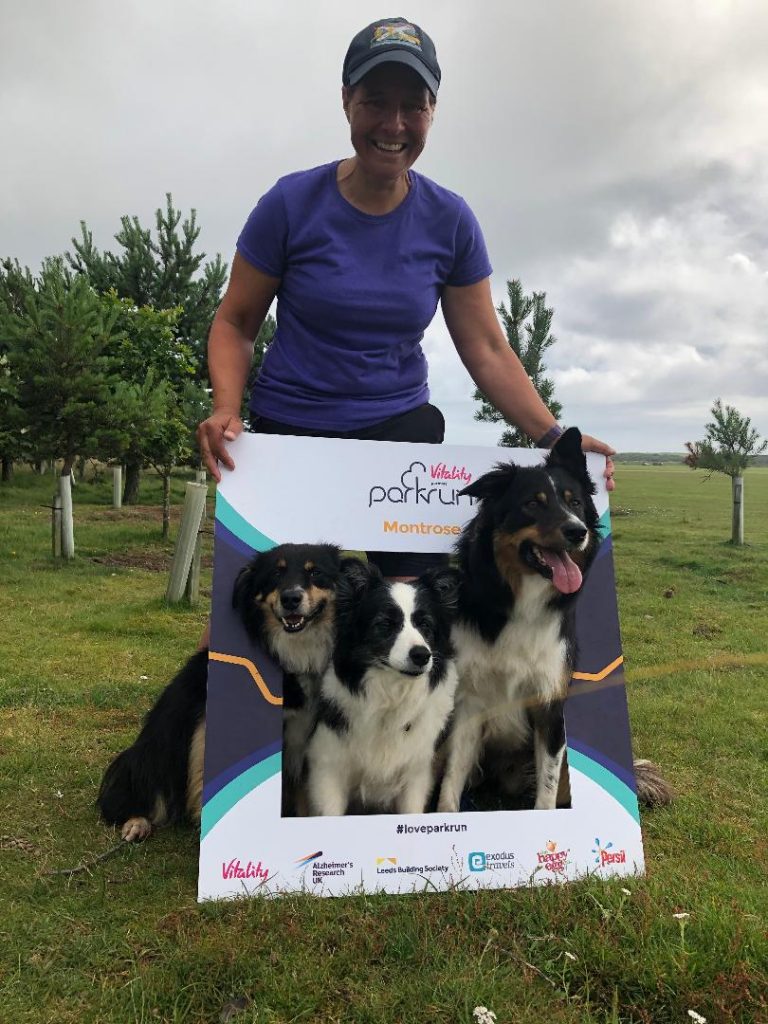 Our Computer expert Karen Connal wrote: "The Canicross is going really well. My young dog is amazing and has fairly given me my running mojo back. We did a freedom run round my new local parkrun in 22:09. I have been training there on Tuesday and Thursday mornings. Loving it!"
Photo by Karen. How happy all four look!
(Fifty years ago, the editor and Bob Anderson were clubmates in Aberdeen University Hare & Hounds. For several weeks in 1970. Bob visited Portsea in Australia, where the legendary coach Percy Wells Cerutty trained 1960 Olympic 1500m champion Herb Elliott and other great athletes. This is a photograph of one of Percy's inspirational essays.)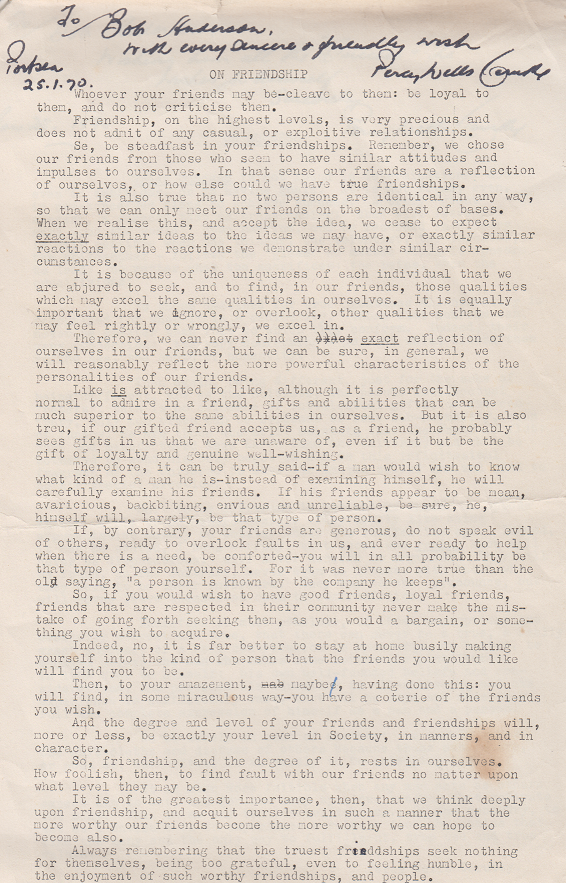 HISTORY SECTION
THE D. McNab Robertson Memorial Trophy
(for Scottish Road Runner of the Year)
PART ONE: 1952-1957)
In 1951 an appeal was launched to commemorate the outstanding Scottish marathoner Donald McNab Robertson who had died so suddenly in 1949. This appeal came to fruition in 1952 when the Scottish Marathon Club handed over a trophy to the Scottish Amateur Athletic Association, to be awarded annually to the Scottish athlete with the most meritorious performances in long-distance road racing, as adjudged by a joint sub-committee of the SAAA and the SMC.
Donald Robertson (Maryhill Harriers) had been the AAA Marathon champion six times (1932, 1933, 1934, 1936, 1937 and 1939, adding a silver medal in 1946. He had finished second in the 1934 London Empire Games; and, aged over 40, won the first two Scottish Marathon titles in 1946 and 1947. In Leni Riefenstahl's notorious yet epic film of the 1936 Berlin Olympics, Donald can be seen finishing seventh. Tragically, he died in 1949, aged only 43.
(N.B. From 1987, gaps appear in the list of Robertson Trophy winners; and there are no certain recipients after 1995. However, I have done my best to nominate yearly candidates right up to 2018. When one candidate seems to have the best claim, I have indicated this in bold italics. When it was difficult to make a decision, I have not emphasised any name in this way. At some point, the Donald McNab Robertson Memorial Trophy ceased to be presented; and now it seems to be lost. However, I wish to suggest that there should be annual recognition of Scotland's best distance road (or trail) runner.)
1952 Charles D Robertson: The minutes book of the SMC makes clear that Charlie Robertson was chosen unanimously as the first trophy winner "by virtue of his fourth place in the AAA Championship Marathon, when he returned a time of 2 hours 30 minutes and 48 seconds, the fastest time ever recorded by a Scotsman." The presentation was made by Miss Betty Robertson, sister of the late Donald McNab Robertson. Charlie (Dundee Thistle Harriers), the 1948 Scottish Marathon champion, was no relation of Donald. Before nearly making the 3-man GB Olympic team in the AAA event, Charlie had broken the Perth to Dundee 22 miles record; finished first in the Edinburgh Marathon; and then, after the AAA, tackled the Scottish Marathon (a lengthened Perth to Dundee), winning by 25 seconds from John Duffy.
1953 Joe McGhee: While Joe (St Modans) was the up-and-coming runner, and definitely a member of the SMC, he was beaten into third place in the Lauriston (Falkirk) to New Meadowbank Scottish Marathon championship, the winner being John 'Jock' Duffy (Broxburn and Hadleigh Olympiads), who had taken the train up from Southend to London and then Edinburgh. This was a twelve-hour journey. He slept for a few hours in his father's Broxburn house; then more travelling to the start, rather tired already! Duffy was not a member of the SMC, so was not considered for the Robertson Trophy, which was awarded to Joe "for consistently high standard running in 14 races and particularly for his fine performance in the Perth to Dundee race on 29th August 1953, when he beat the existing record set by C.D.Robertson, who had been awarded the Trophy in 1952."
1954 Joe McGhee: Joe had joined Shettleston Harriers and increased his training. At the end of May, the Scottish Marathon course was from the Cloch Lighthouse, Gourock, to Ibrox Park. Joe set a new championship record of 2.35.22. In early August at the Vancouver British Empire Games, Joe McGhee secured a famous victory in the marathon, after Jim Peters of England collapsed during the final lap of the track. Joe was made an Honorary Life Member of the Scottish Marathon Club. The SAAA presented him with the 'Coronation Cup' as "outstanding Scottish athlete of the year." Naturally, he kept the Robertson Trophy.
1955 Joe McGhee: Joe was fitter than ever, ready to show that he was a worthy Empire Games champion, when at the end of June, over the Falkirk to Edinburgh course, he won the Scottish Marathon by nine minutes. John Emmet Farrell, a Scottish cross-country champion before and after World War Two, wrote in 'The Scots Athlete' "Joe McGhee's championship record-breaking 2.25.50 was easily the feat of the SAAA Championships, puts him into world class and adds extra glitter to his British Empire gold medal." The SAAA awarded Joe the 'Crabbie Cup' for the best performance at the Scottish Athletics Championships; and it was a formality for Joe to retain the SMC Robertson Trophy.
1956 Joe McGhee: Joe retained his Scottish Marathon title – a third successive triumph – in 1956. Injuries had prevented some training but this was a successful come-back. He won in 2.33.36 – a meritorious performance in warm sultry conditions. The pace was fast from the start, but Joe had to slow down after 20 miles. However, his rivals suffered even more and the margin of victory was thirteen minutes. Therefore, Joe McGhee was awarded the Donald Robertson Trophy for the fourth year in a row.
1957 Harry Fenion: This was to be Harry Fenion's most successful season. The diminutive Bellahouston Harrier became not only the Scottish Cross-Country champion but also the Scottish Marathon winner. Even in 2019, this double achievement in a single year remains unique. Before the Marathon, Harry finished first in the Clydebank to Helensburgh 16. For some time after the start in Falkirk, on a cold and sometimes damp day, Harry was content to lurk in the leading pack. At the first water station after ten miles, he put in a kick and quickly pulled away. When he eventually entered the track, someone told him that he had a chance of beating the 1955 championship record, so he gave one final sprint and did so – by six seconds, in 2.25.44, three minutes clear of Hugo Fox (Shettleston) who finished second. The SMC agreed that this race was 'undoubtedly the performance of the season'; and Harry Fenion received the Robertson Trophy.
(Next Time: 1985-2019, featuring 17 wins by female athletes.)
IN PRAISE OF THE TEN-MILER
Don't you think 10 miles is the absolute greatest race distance?
Most races nowadays are 10k or Half Marathon but the 10-miler just fits so perfectly in between – a handy extra-endurance run for the 10k enthusiast, an ideal tune-up race for the Half Marathoner. There don't seem to be very many of them but somehow we have ended up, barely into April, with 4 different 10 mile races already under our belts this year.
Netherhall 10-mile Road Race in Maryport, West Cumbria was the first (24th Feb), and was in our calendar only because it was in our Club's Grand Prix. Starting and finishing at a (very easy to find) school, it's a loop on mostly minor roads through gorgeous countryside which starts with a pell mell downhill 200m, then turns a corner out of town and grinds steadily uphill for a mile and a half. Whew! There are a couple of uncomfortably steep downhill stretches and some lesser climbs, but other than that it's fairly low key 'undulating' and this year the weather was glorious enough to pass for May. The local support was enthusiastic, and the spread provided afterwards was incredible, with sandwiches, pies and quiche as well as the usual sweet treats.
Lasswade 10-mile Road Race a few miles South of Edinburgh was next (3rd March). This one was in the Scottish Veteran Harriers race list. Registration, changing, prizegiving and post-race feasting at the Whitehill Welfare football clubhouse. It was a sunny, bright day, with SERIOUSLY gusty wind, strong enough at times to lean right into and causing havoc with ponytails. This is not a joke, being whipped across the face with a 50mph ponytail hurts! The course description also prompted much in-race whining about the point at which use of the word 'undulating' should become illegal. A short climb out of town, an astonishingly long, quad-trashing downhill into a village that felt almost deep enough to be in the crater of a volcano, then a 400m climb so steep that if you were walking you'd be bracing your hands on your thighs…there were a few later hills which would have paled in contrast if you hadn't already destroyed your legs in the first 3 miles! The best bit was a long but very gentle (and wind-assisted!) down slope between 6 and 7 miles which delightfully brought together a classic uplifting super-hero bound with that wonderful stage of a 10 miler where you start to overtake the 10k runners as they run out of steam. The finish on leafy cycle path was lovely and the sweet and savoury edibles offered were judged excellent.
Tom Scott 10-mile Road Race is a regular for us, run in Strathclyde Park (just off the M74, 20 mins south of Glasgow), on 31st March. This is usually the Scottish Championship 10 miler and so attracts hordes of super-fast runners. It's mostly flat, and a good one if you're looking for a time…if only you could battle your way up to near the front at the start ahead of the elite runners (it's a big race with a gun start and chip mat only at the finish line), except you'd then have to avoid being trampled by them on the narrow cycle paths! The route goes out around the Loch then loops back on itself and round the other way. Between miles 5 and 6 anyone at a pace over 8-minute miles better watch out for 'elites' thundering past on their final mile.
The parking and accessibility is great, the changing facilities and showers excellent (though a few more toilets wouldn't go amiss on race day!), and the wee printout slips showing your time are brilliant. They don't, alas, do the 'spread' but there were Tunnock's Caramel Logs as well as Mars Bars at the end. The weather at this race always seems to be perfect – cold, clear, bright sunshine.
3 Village 10 Mile Road Race (7th April, another Grand Prix race) starts in Weatherall, a few minutes off the M6 just below Carlisle in pretty rural Cumbria. A very picturesque run which goes twice round a hilly 5-mile loop and passes through 2 other villages (the clue is in the name!) on the way. Lucky with the weather again, it was cool but dry with a bit of breeze. Considering the size of the villages it was amazing how many cheering supporters were on the road outside their houses or clapping at corners. This race has it all. The community centre used is right on the main road, with an excellent sized, airy hall for the registration, prizegiving and after race re-fuelling as well as plenty of space for hanging around. Well laid out, amply marshalled, generously provisioned, and the added benefits of a chip mat at the start and, like the Tom Scott, a wee printout of your time and position straightaway at the finish!
Reasons to love 10 milers – apart from the secret joy of picking off the 'roadkill' of 10k runners in the last 3 miles – are mostly related to the fact that they always seem to be local 'club' races rather than bigtime money-making extravaganzas, which from a runner's point of view means
– Cheaper entry.
– Starting from a local hall or community centre (Parking! Proper toilets! Changing rooms! Showers!).
– Easier to get there. Why is it that 'big' runs always seem to start in the middle of a city at some ungodly hour on a Sunday too early for public transport!?
– Less waiting about, shivering in your race kit at the start.
– Lots of friendly marshals and local supporters round the route to cheer and encourage.
– Post-race tea and coffee and tables laden with cake/biscuits/scones and other goodies, often supplied by volunteers and nearly always free for race participants.
– Age group prizes! And they generally wait till everyone has finished running before they start the prizegiving.
– 'Teams' from clubs often travel to the race together, so arrive together, cheer each other in and wait together to leave. This means that (especially at registration, buffet time and prizegiving) it's like a big party with groups of runners in their club colours all mingling and laughing catching up with rivals and comrades from other clubs.
– Tricky, hilly, challenging and otherwise interesting routes where your time can't really be compared to anything except another time on the exact same course.
And the icing on the cake is that it's harder than a 10k, but less damaging to ageing joints and muscles than a Half-Marathon, meaning quicker recovery so that even for old-timers, 4 races in 2 sets of consecutive weekends inside 7 weeks is more than just survivable, it's fun!
By Anne Macfarlane
OFFICE BEARERS SEASON 2018-2019
Honorary President: ALASTAIR MACFARLANE
President: CAMPBELL JOSS 25 Speirs Road Bearsden, G61 2LX Tel: 0141 9420731 cdjoss2@gmail.com
Immediate Past President: ALASTAIR MACFARLANE
Vice-President: ADA STEWART 30 Earlsburn Road, Lenzie, G66 5PF Tel: 0141 578 0526 stewart2@ntlworld.com
Honorary Secretary: ARLENE LEWIS 202 Archerhill Road Knightswood Glasgow, G13 3YX Tel: 07850 070337
Honorary Treasurer: ANDY LAW Euphian, Kilduskland Road Ardrishaig, Argyll PA30 8EH Tel. 01546 605336 Lawchgair@aol.com
Membership Secretary: ADA STEWART 30 Earlsburn Road, Lenzie, G66 5PF Tel: 0141 5780526 stewart2@ntlworld.com
Handicapper: PETER RUDZINSKI 106 Braes Avenue Clydebank. G81 1DP Tel.0141 5623416 p.rudzinski@ntlworld.com
Committee Members:
JOHN BELL Flat 3/1, 57 Clouston Street Glasgow G20 8QW Tel. 0141 9466949
WILLIE DRYSDALE 6 Kintyre Wynd Carluke, ML8 5RW Tel: 01555 771 448
DAVID FAIRWEATHER 12 Powburn Crescent Uddingston, G71 7SS Tel: 01698 810575
EDDIE McKENZIE Little Haremoss, Fortrie, Turriff Aberdeenshire, AB53 4HR Tel: 01464 871430
STEWART McCRAE 17 Woodburn Way, Balloch Cumbernauld G68 9BJ Tel: 01236 728783
PAUL THOMPSON Whitecroft, 5 Gareloch Brae, Shandon, Helensburgh G84 8PJ Tel. 01436 821707
ROBERT YOUNG 4 St Mary's Road, Bishopbriggs Glasgow G64 2EH Tel. 0141 5633714
BMAF Delegates To be appointed Ada Stewart
SAL West District Delegate Willie Drysdale
SAL Delegate at AGM To be appointed
Website Ada Stewart
Auditor George Inglis
FIXTURES
December 2019
Sun 22nd Xmas Handicap Sea Scouts Hall, Miller Street, Clydebank, Race start 11:00am
January 2020
Fri 3rd Scottish National 3000m Championships Emirates Arena, Glasgow
Sun 26th TBC SVHC Open Masters Road Relays Strathclyde Park, 11:00am February 2020
Sat/Sun 1st/2nd Scottish Athletics Indoor Combined Events. Emirates Arena, Glasgow
Sun 2nd Scottish Athletics Indoor Masters Championships. Emirates Arena, Glasgow
Sat 8th Scottish Masters XC Championships McMaster Community Sports Centre, Johnstone
Sun 9th British Masters 10 Mile Road Championships Lytchett Minster Sports Centre, Post Green Rd, Lytchett Minster, Poole, Dorset BH16 6JD
Sat 22nd Scottish Athletics XC Champs, Callendar Park, Falkirk
Sun 23rd British Masters Indoor Pentathlon Championships Lee Valley Athletic Centre Meridian Way London N9 0AR
March 2020
Sun 1st TBC 10 Mile Road Race (Lasswade AC) Whitehill Welfare FC, Ferguson Park, Carnethie Street, Rosewell Start time, 12:00pm
Sun 1st Inter-Area Indoor Track & Field Challenge Lee Valley Athletic Centre Sat/Sun 7th/8th British Masters Indoor Track & Field and Winter Throws Championships Lee Valley Athletic Centre
Sat 7th British Masters Open Cross Country Championships Rhug Estate, Corwen, Denbighshire, North Wales UK, LL21 0EH
Sun 15th – Sat 21st European Masters Indoor Track & Field Championships Braga, Portugal
April 2020
Sun 5th TBC Tom Scott 10 mile Road Race Water Sports Centre, Strathclyde Park, Motherwell 10:00am
Sun 19th British Masters 10k Road Championships Grangemouth Stadium, Falkirk St, Falkirk FK2 9DX
May 2020
Wed 6th TBC Snowball Race 4.8 miles Coatbridge 7:30pm Changing at Lochview Golf Driving Centre
Sat 16th TBC British Masters Road Relay Championships Sutton Park Sutton Coldfield Birmingham B74 2YT
Sun 24th British Masters Mile Championships Westminster Mile, The Mall, London. Assemble in Green Park London SW1A 1AA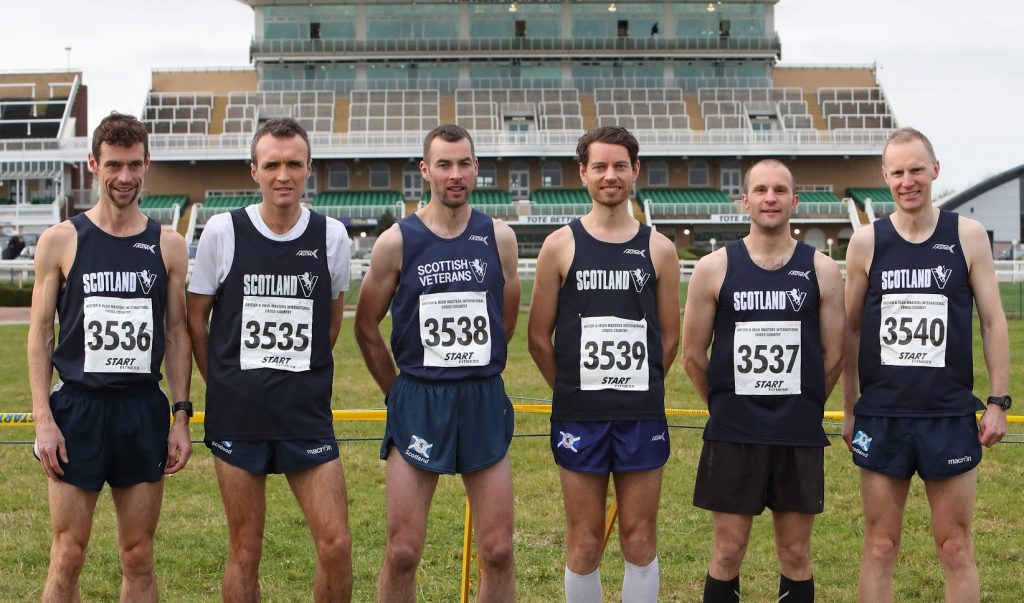 The winning M35 team at Aintree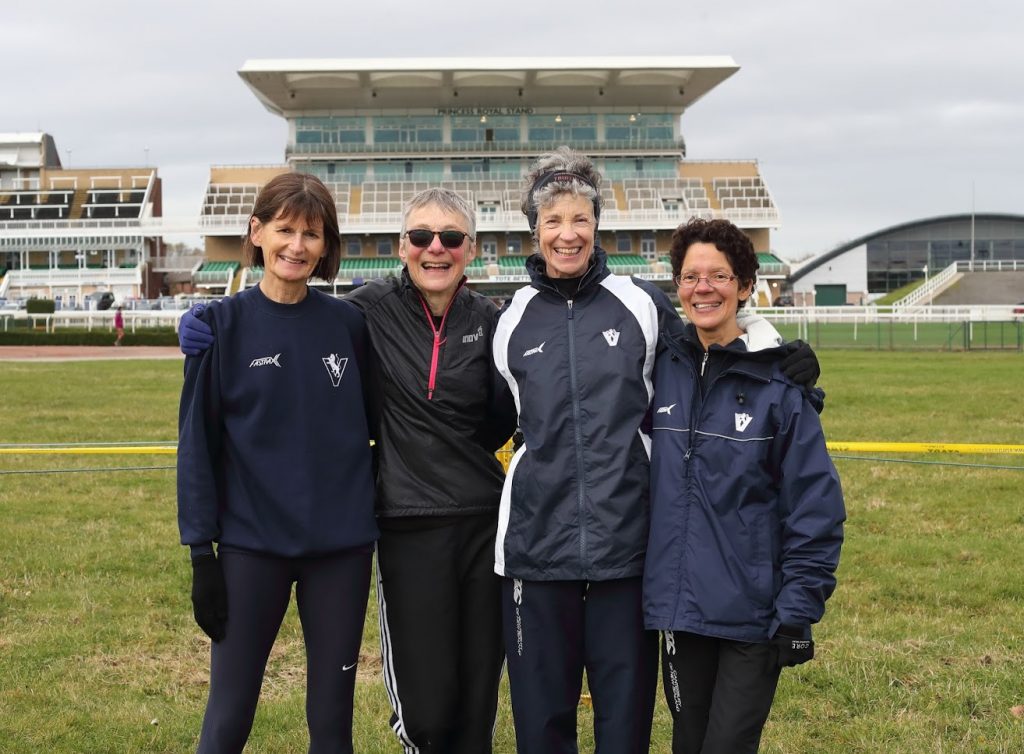 The winning W65 team
Photos by Pete Bracegirdle