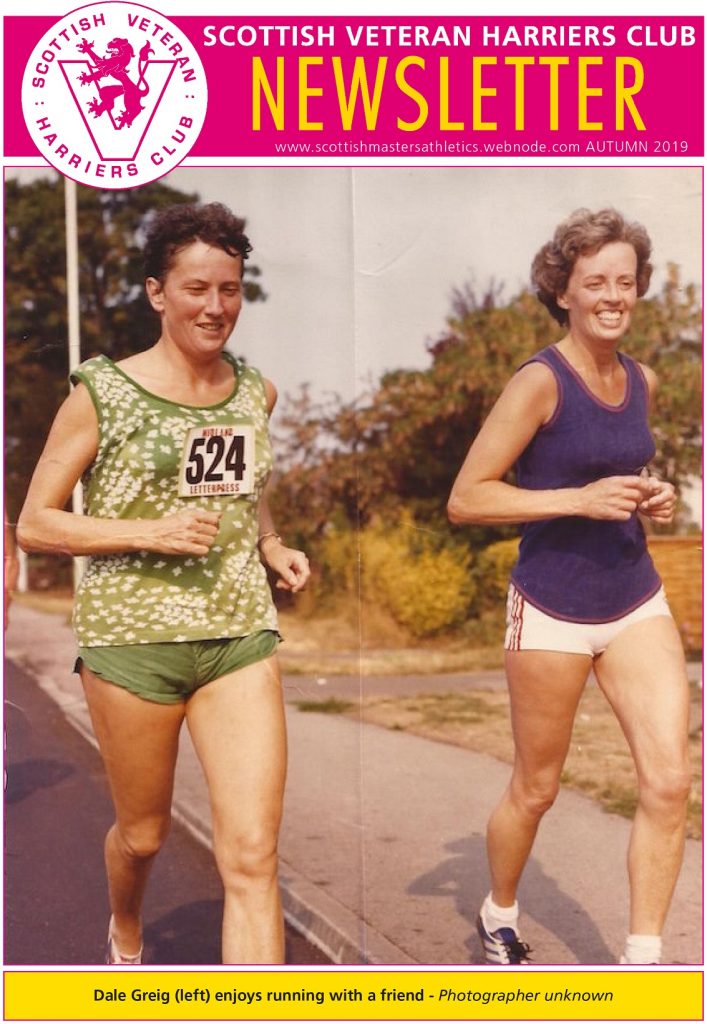 (Dale's friend was Aileen Lusk, another important pioneer of Scottish Veteran Women's running.)
MEMBERSHIP NOTES 12th August 2019
MEMBERS Standard Membership £20 Non competing Membership £10 Over 80 Membership Free
SVHC was saddened to learn of the passing on 12th May of Dale Greig, aged 82. She had been an Honorary Life Member since 1984, and for many years she printed our Newsletter. We also regret to report the passing of Hamish Cameron on 6th June, George Armstrong on 13th June and Hazel Bradley on 31st July.
Welcome to the 19 new and 9 reinstated members who have joined or re-joined since 4th April 2019. As of 12th August 2019, we have 528 members, including 25 over 80 & 4 Life Members.
NEWSLETTER The electronic version of the Newsletter is now the preferred option. Any member who would rather receive a printed Newsletter must contact David Fairweather (djf@ dfairweather.plus.com), if they have not already done so. Please inform David if you add or change your email address.
Please send photos, news, letters, articles, etc for the next issue To: COLIN YOUNGSON TOMLOAN, SANQUHAR ROAD, FORRES, IV36 1DG e-mail: cjyoungson@btinternet.com Tel: 01309 672398
SVHC EVENTS
Stewards/marshals are required for club races. The club appreciates all members & friends who volunteer to act as stewards/marshals. If you are not competing just turn up and introduce yourselves to the organisers.
STANDING ORDERS Thank you to the members who have set up standing orders for membership subscriptions. Please keep me informed if your membership details change (especially email addresses. Standing order details: Bank of Scotland, Barrhead, Sort Code: 80-05-54, Beneficiary: Scottish Veteran Harriers Club, Account No: 00778540, Reference: (SVHC Membership No. plus Surname). stewart2@ntlworld.com 0141 5780526 By cheque: please make cheque payable to SVHC and send to Ada Stewart, 30 Earlsburn Road, Lenzie, G66 5PF.
CLUB VESTS Vests and shorts can be purchased from Andy Law – £18 for vests, including postage and £23 for shorts, including postage. If ordering both together deduct one lot of postage. Or, can be delivered to any of the Club races by arrangement with no postage. (Tel: 01546 605336. or email lawchgair@aol.com)
NEW MEMBERS
NUMB CHRS SURN JOIN TOWN
2499 Ana Richardson 04-Apr-19 Glasgow
2500 Margaret Connolly 16-Apr-19 Canterbury
2501 Gordon Simpson 16-Apr-19 Invergowrie
2502 Robert McHarg 13-May-19 Old Windsor
2503 Paul McMonagle 15-May-19 Cumbernauld
2504 Kevin Durnian 16-May-19 Motherwell 2505 Chris Smith 19-May-19 Bellshill 2506 Patrick Gibbons 11-Jun-19 Helensburgh
2507 Iain MacCorquodale 02-Jun-19 Glasgow
2508 Nina Cessford 10-Jun-19 Galashiels
2509 Shirley Simpson 14-Jun-19 Kilsyth
2510 Ian Horsburgh 21-Jun-19 Doune
2511 Ian Smith 21-Jun-19 Sandford
2512 Martin Glancy Pending Kirkintilloch
2513 Douglas Dickson 15-July-19 Kilmarnock
2514 Kenny Leinster 27-July-19 Clarkston
2515 Paul Nichol 02-Aug-19 Peebles
2516 Fiona Jordan 11-Aug-19 Clydebank
2517 David Gill 11-Aug-19 Warrington
589 Jane Waterhouse 16-Apr-19 Dunblane
2225 Elaine Hogg 01-May-19 Moodiesburn
2305 AnnMarie McGregor 23-May-19 Kirkintilloch
1862 John McKeown 28-May-19 Banchory
2458 Emma Dawson 07-Jun-19 Peterhead
787 Joyce Rammell 10-Jun-19 Dumfries
1963 Stan Walker 13-Jun-19 Bridge of Don
2008 Grant Ramsay 28-Jun-19 Stevenage
1978 Kerry-Liam Wilson 04-Aug-19 Girvan
Ada Stewart Membership Secretary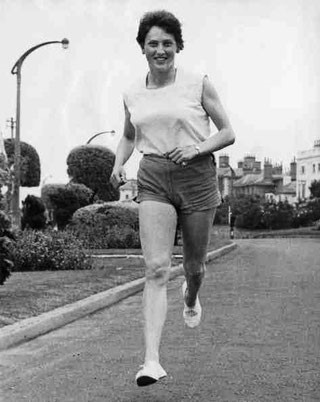 (Doug Gillon, the eminent sports journalist who knew Dale well, wrote the following obituary. Additional information came from Arnold Black, the Scottish Athletics historian. Many thanks to both.)
Dale Greig, athletics pioneer, administrator, benefactor, World veteran marathon champion, and inaugural holder of the women's world marathon best
Born 15th May 1937; Died 12th May 2019
"Dale Greig, who wore plimsolls when she set the first officially ratified world record for the women's marathon, has died in a Paisley hospice three days short of her 82nd birthday. Her funeral on Friday (May 24) came just a day after the 55th anniversary of her world best, at Ryde on the Isle of Wight.
Taking time off work as secretary to Walter Ross, publisher of The Scots Athlete magazine, she was intent only on lasting the distance. Prevailing rules excluded women, so she started four minutes ahead of 67 men. Nineteen failed to finish in 80-degree heat, with an ambulance – and her widowed mum, Anna, in a car – following the event.
Dale finished in 3:27:45. "I felt sorry for the men I kept passing in the closing stages – they looked embarrassed," she said subsequently.
Yet in interviews with The Herald she denied she was a campaigning feminist: "I never considered myself as championing women's rights. I ran because I loved being outdoors."
Her training regime, even by today's standards, was mind-blowing. "I'd set out from Paisley at 7am, and head for Largs via Bridge of Weir. I'd stop there for an ice cream cone and walk while I ate it. By the time I'd got to Largs I'd done nearly 30 miles. I would have a swim in the outdoor pool. I'd hire a towel but I carried my costume in a pocket of my wet-suit top. Then I would go for a cup of tea and a scone in a cafe and return along the coastal route, along the shore of the Clyde by Wemyss Bay and Inverkip. If I got thirsty I'd just drink from a stream, or sometimes I might stop for a coffee and a wee cake before finishing in Gourock. I'd go to a friend's for a bath and then catch the train and be home by 3:00 pm. The total run was just over 50 miles and I did it quite a few times."
After the record race, she danced until midnight and rose early for a swim before travelling home.
Misogynist officialdom was incensed, however. The Ryde club received a letter warning there must be no repetition, "as the resulting publicity is not good for the sport."
Greig received nothing for her trailblazing, but successors like Paula Radcliffe, only Briton to hold the women's world best since Dale, have become millionaires while hundreds of women now make a living from marathons.
Greig spent much of her life in a house she bought from the council, but was adamant: "I'm not envious. We ran just for the fun of it. I never made a penny, and I was proud to be an amateur. That's not to say I would not have liked to make a living as a runner, but I believed in the amateur code, and actually gave away my prizes. Now it's professional and completely different. Drugs are terrible. What pleasure can they get?"
There was no women's club in Paisley, so Dale formed her own: Tannahill Harriers, named after the Tannahill Weavers and the street where she lived. She was president, secretary, treasurer and the sole member – paying affiliation fees to the governing bodies from her own pocket.
She was a multiple national champion, representing Scotland for 13 years at cross-country, first having come to notice as runner-up for the national 880 yards title in 1956, before taking bronze at the mile four times in the next decade. It was the longest track race available to her.
She was the first woman to run the mountainous 40-mile Isle of Man TT course, first to race up and down Ben Nevis, and first to run the 53-mile London to Brighton. In 1974, then aged 37, over a difficult course, she won the inaugural World Masters Marathon, in Paris, in 3:45:21. It was the first time the sexes were allowed to race together, paving the way for mass participation and a whole industry. That historic race was a double Scotch: for Alastair Wood won the men's race.
But in 1982 Dale jumped in the shallow end at a swimming pool. "You'd think I was a kid," she recalled. "They were changing the water and it was shallower than it might have been. I hit my heels on the bottom, and suffered cracked bones in my feet. I was never quite the same."
Feisty and independent, but modest, self-deprecatory, and never strident, she served as secretary, treasurer, and president of the Scottish women's cross-country body and assistant secretary of the embryo global Masters movement, IGAL for five years from 1982.
She was inducted into the Scottish Athletics Hall of Fame last November. She was also a founder of the Scottish Women's Cross-country Union, an Honorary Life Member of the Scottish Marathon Club and an invaluable official in the Scottish Veteran Harriers Club.
She dismissed the notion that she deserved an MBE: "I have worked at being anonymous, and been reasonably successful at it,". she said. "I'm a wee shy person and don't look for plaudits." There was not a trophy to be seen in her home. She kept a veritable treasure trove hidden in a cupboard.
She was honoured annually, however, by the London Marathon, among an elite group of Brits who had held a world record or won a major title.
And in gesture surely rooted in her treatment by male officialdom, she helped establish a fund to give opportunities to Scottish female athletes. World champion Liz McColgan was among many benefactors. "I'd have loved the opportunity that they have to make a career and a life out of running," said Dale.
She did, however, write a column, Dale's Diary, for 'The Scots Athlete' magazine, for which she worked for many years."
(Arnold added extra information.)
"Beginning as a schoolgirl sprinter, Dale soon found that her natural métier was stamina rather than speed. Between 1956 and 1959 she won a silver medal over 880 yards and two bronze medals at one mile in the Scottish women's national championships before going on to specialise in cross country and road running.
She was the founder member of Tannahill Harriers, named after the famous Tannahill weavers from Paisley. In 1960, she won the first of four national women's cross country titles.
This was the last Scottish Cross-Country Championship organised by the Scottish Women's AAA and she is the only runner to have won national titles under both the SWAAA and the subsequent Scottish Women's Cross Country Union organisations. As a member of the group of active women enthusiasts who established the SWCCU at a time when the sport was languishing in Scotland, Dale was the national secretary for six years and treasurer for a further five years.
She continued to compete on the track in mile races and won her 4th and final Scottish cross-country title in 1968, going on to finish 8th in the English championships and 14th in the International championship at Blackburn.
Her interest in long distance running grew from a meeting with the inspirational Rhodesian, Arthur Newton, pioneer of ultra-long distance running. This led to her Isle of Wight Marathon record-setting feat in May 1964.
However, she enjoyed conventional competition too much to break from the standard women's events, and it was not until 1971 that she made her next attempt at a long distance event. After a thorough build up, running from 60 to 100 miles per week with continuous runs of 30 to 40 miles, she competed in the Isle of Man 40 miles race over the famous motorcycle TT course, finishing the distance in 6:48:00.
Another pioneering effort came in hill running, where she was the first woman to compete in and finish the Ben Nevis 10 mile mountain marathon race in Fort William.
In 1972 she decided to run in the classic London to Brighton 53 mile race. Her normal schedule of 50 to 60 miles per week was supplemented by three 40 mile runs, plus other continuous runs over 45 and 50 miles. For some of these long runs she ran from her Paisley home over country roads to the Clyde Coast, carrying her tracksuit in her shoulder rucksack.
Setting off on her solo run at 6 a.m. from Big Ben at Westminster Bridge, one hour before the male runners in the official race, she completed the arduous event, running non-stop with no noticeable aches or strains, in 8:30:03, representing a pace of under 9 minutes per mile.
GEORGE (IRONMAN) ARMSTRONG
Born 25/6/1939. Died 13/6/2019
Born in Jedburgh into a sheep farming family and was the eldest of three sons. His early life and school were in Hawick. He was a strong boy who loved action and played rugby for Hawick Juniors before moving to Dunbar in East Lothian after he married Jessie. They raised 5 children, Kenny, Christine, Pat, Colin and Caroline who now lives in Australia. George spent six years in the Royal Army Reserves.
George was a regular member of Haddington Rugby Club playing in the first team as a mobile forward. George's love of running began by taking part in the Borders Highland games event and local hill races. He started his road running in his late 30s having been inspired when acting as a steward in the 1970 Commonwealth Games in Edinburgh and ran his first marathon in 1981 under the Scottish AAA regulations around a 3-lap route in Edinburgh. He had to drop out at 20 miles, but his determination to finish was the hallmark of his further 140+ marathons during the marathon boom years with a personal best of 2hrs 36m.
In addition to his incredible marathon races George loved events such as the Corrieyairack Challenge, the Isle of Mull Fell Race and twice completed the 95 miles of the West Highland Way. George also was part of the Haddington East Lothian Pacemaker team to cover the East Lothian 3 Peaks run (Traprain Law, North Berwick Law and Lammer Law)
He was an original member of Lewisvale Spartans running club based in Musselburgh before it became Musselburgh DRC.
George was part of the successful HELP Veteran squad and also represented Scotland and Great Britain in numerous events including European and World championships in Europe, America, Japan and Australia. His medal haul is something that the local youngsters and fellow athletes were inspired by when they visited him. (In the Scottish Masters Cross-Country Championships, George won M50 bronze in 1990, M55 bronze in 1995 and M60 silver in 2008. One of his proudest moments took place in 1992, when he became M50 Scottish Champion.)
George's tartan bonnet and shorts marked him out and his well-known 'grunt' told you that he was chasing you down.
After retirement from the building industry at 65 George decided to 'put something back' into his love of athletics by taking a Scottish Athletics Coaching Course as a JogScotland Leader encouraging people of all ages to take up recreational running. He regularly led groups at Meadowmill and Haddington. He would attend as many events as he could and we can all remember his battle cry "Mental Toughness"
An unfortunate accident at his home in Robertson Avenue Tranent which impaired George's mobility resulted in a transfer to the Loch Centre Sheltered Housing Unit. Following several periods in hospital over the last year George became weaker and he passed the finish line of his greatest race, in peace, on Thursday 13th June 2019 just 12 days short of his 80thbirthday, supported along the road by his family and friends.
By Henry Muchamore.
MEMORIES OF HAMISH CAMERON
Born: 27/1/1947. Died: 6/6/2019.
Hamish and I first met in October 1966 when I started studying at Aberdeen University. We were both members of the AU Hare & Hounds – the cross-country running club. Hamish had started a year earlier, and 'Athletic Alma' the Summer 1966 edition of the annual sports magazine commented on him: "Elusive, but great potential as a runner. Social life unknown." Two years later, his profile read: "Notable for picturesque language, he has improved greatly this year and won the Christmas Handicap."
We travelled to races all over Scotland and usually trained together on Wednesday afternoons (the weekly club run) which could be on road, grass and sand. On warm days, it was noticeable that Hamish sweated a lot. His party trick, back outside the changing rooms, was to take off his running vest and wring an amazing amount of moisture from it. This was because his back had childhood scar tissue so the sweat could only come out of a limited portion of normal skin. Hamish never complained; his team-mates merely laughed!
Hamish steadily reduced his fastest time over the 6-and-a-half mile home course. By 1968 he was part of the first team (and is in the back row, third from the right, in this photo, looking young and happy). By 1969 Hamish had featured in several team victories against other universities, for example Queen's (Belfast), Glasgow, Dundee and St Andrews; and had run twice in the prestigious Edinburgh to Glasgow 8-man road relay. One of his very best performances was in the 1968 event, when he overtook two rivals on the final stage, moving AU up to 12th (third university to finish) which was good, considering that only the best 20 clubs in Scotland had been selected.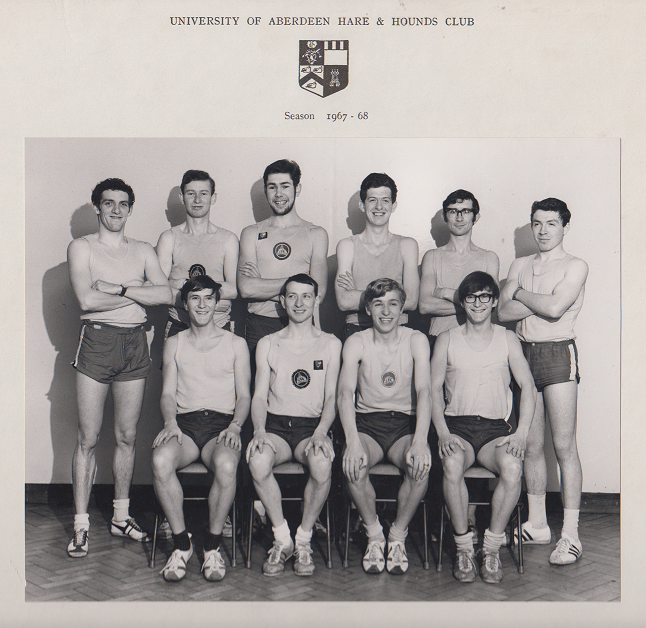 After graduating in 1971, to begin teaching I moved to Glasgow, joined Victoria Park AAC – and discovered a familiar team-mate – Hamish Cameron, who met his wife-to-be-Edna in that city. Hamish remained calm, clever and usually a man of few words, who raced and trained as hard as possible – he loved the sport. There were club runs on Tuesdays and Thursdays, in the winter though dimly-lit streets on twisting traditional routes. Cross-country in the West of Scotland involved deep mud. VPAAC was a very good club, ranked in Scotland's top four, but Hamish was right on the edge of the first team – indeed in 1972 he ran particularly well in the important McAndrew road relay and, judging by the time he set, should indeed have been one of the first 8 Vicky Park men. In 1974 Hamish appeared in the annual Scottish ranking lists, with a marathon time of 2.43.16, when he was 17th in the Scottish Marathon Championships in Edinburgh.
Between 1973 and 1981 I taught firstly in Sweden and then for seven years in Edinburgh. However, I often came up to run the Forres Highland Games road race and saw Hamish there. When I ran for Aberdeen clubs between 1981 and 2008 we frequently took part in North District events. By then Hamish was the invaluable long-serving Forres Harriers club secretary and organiser of the North District Cross-Country League – such a series of strenuous, challenging races. Despite never drinking alcohol, or partly because of this, Hamish was a star performer in pub quizzes, as well as BBC television Mastermind. In fact he was an outstanding Scottish International Quizzer.
In 2009 I moved to Forres and naturally joined the Harriers. Hamish was a clubmate yet again and running better and better – as most of us slowed down, Hamish maintained fitness and became a real 'friendly rival' – an opponent to worry about, specialising in 10km road races, an amazing 137 parkruns and cross-country. I remember that five years ago I got round a parkrun in Sydney and won my age category. Hamish replied with glee that he had raced that exact one earlier – and had run it faster than I had! We both ran for medal-winning M65 Scottish teams in the annual Five Nations Masters International Cross-Country event: Belfast 2012 and Dublin 2015. Before that, in the 2014 Benromach Forres Harriers 10k, Hamish had been too strong for me at last; and in the 2016 Scottish Masters XC Championships at Forres, when he was 69, finished a long way in front. A fine career in the M70 category seemed certain. Unfortunately, injuries prevented this, but Hamish kept very fit by cycling many days each week. In addition, he could still run when necessary, and was one of the small leading group of old graduates in the 2017 AUH&H reunion run, when the two of us finished side by side on the King's College playing fields, which we remembered so well from the 1960s.
I could only marvel at Hamish's impressive expertise and quick responses in 'Mastermind'. He did a lot to help others and achieved a great deal during his life, which has been cut cruelly short.
He and Edna were a devoted couple, who were so proud of Niall, Mairi and Isla. We can only remember a good, clever, determined man and express our sympathy to Hamish's family.
by Colin Youngson
QUESTIONNAIRE (for SVHC Newsletter)
(Jenny MacLean has won many National medals, including gold in the 2007 Scottish Half Marathon Championship. In Masters competition, at W35 she was first overall in the Scottish Masters XC (2009 and 2010); won the 5k road title in 2014; the 10 miles gold in 2012; and the Half Marathon crown in 2013. In the 2016 British and Irish Masters XC, Jenny was part of the silver medal-winning W40 Scottish Masters team.)
NAME Jenny MacLean
CLUBs Edinburgh AC
DATE OF BIRTH 28/11/73
OCCUPATION R&D Engineer for Bosch Rexroth (Hydraulic Motors)
HOW DID YOU GET INVOLVED IN THE SPORT?
Looking for something to do in the evenings during my third year University work placement in Warrington. I'd come across a Women's Jogging Initiative organised by a lovely American lady who was a founder member of the Reebok Running Sisters. It was for total beginners and was a fab group of people. Despite considering myself pretty fit, I was horrified when I found that I couldn't get all the way round the (small) local park without stopping to walk! 10 weeks and my first 5k later and I was hooked – running has been an important part of my life ever since.
HAS ANY INDIVIDUAL OR GROUP HAD A MARKED INFLUENCE ON YOUR ATTITUDE OR INDIVIDUAL PERFORMANCE?
Moving to Edinburgh in 2003, joining EAC, finally doing 'proper' sessions, running with lovely people and getting advice on a proper, structured programme was the real kick which I needed. Up to that point I'd mostly been a 3-4 miles, 3-4 times a week runner, though had been starting to do more and getting more competitive. Mixing with like-minded and knowledgeable folks and being more consistent gave me rapid improvement and a real sense of belonging.
In 2007 I was probably running at my best when hit by my first real experience of injury. At the time I was in charge of a small fitness business and met loads of really interesting people, one of whom helped me massively with focus and self-belief. As a result, I'm much better able to deal with disappointment and injury and also to really pull myself together when racing.
WHAT EXACTLY DO YOU GET OUT OF THE SPORT?
For me, running is a sanity check. It's my 'me time' where I can let my mind run free and let the endorphins do their brilliant thing. I've always loved being outside immersed in nature and love watching the seasons, the scenery and whatever else is going on as I'm running past. It also helps me to scratch my very competitive itch – the buzz of competing during training and racing is the most difficult thing to replace if I'm out injured. Despite doing the majority of my running solo, I really value the social side. Whether that's chatting on a long run or between reps during a session, or getting to know people better on a trip away. That sense of community developed over the years just gets stronger and makes races even more attractive.
WHAT DO YOU CONSIDER TO BE YOUR BEST EVER PERFORMANCE OR PERFORMANCES?
The results I'm proudest of are probably from cross country races – 4th at the Nationals in 2009 and 2nd at the National short course in 2010. They're certainly the highest profile. Much more recently, I was chuffed to come second at the British Masters in Forres in 2018, despite patchy training.
At the longer distance scale, I had a great run of results at the Corrieyairack Challenge (16 mile run over the pass, followed by a 26 miles road bike at the time when I did it – it has become shorter since then), with three wins in four attempts.
The most unexpected was the first time I did the London Marathon back in 2004. I got married at the end of January and had a 10-day ski honeymoon (zero running), so even with some good training after that, went into the race with very little expectation. The day before the race I started feeling a bit coldy and woke up on race day with basically no voice and a slightly sore throat. I squeaked and croaked my way round, chatting to people and enjoying the experience and was delighted to duck under 3:15 and gain myself a championship place for the following year. No sleep on the sleeper back up to Edinburgh (every muscle in my body hurt), and was then floored by a horrible bug for the next fortnight. You'd never recommend that to anyone, but the gamble paid off on that occasion.
YOUR WORST?
For some reason, half marathons feature prominently here, despite having had some really good experiences and results! At Glasgow in around 2006, it was a really warm day, training had gone really well and I thought this was going to be a breakthrough run. But the wheels really fell off 10 miles in and I remember miserably trundling the last three miles wondering where I'd gone wrong. I think it was fairly soon after that I managed to bust the 1:20 barrier, so it was just one of those bad days. More recently, in 2013, training had also been going really well for the Loch Ness Marathon, but I had achilles niggles. The second half of the Moray Half was VERY sore and disappointing, so that the thought of walking back from the town for the prizegiving was too much and I limped slowly back to the train station instead.
But I think the most disappointing was when I had a place in the elite field at the 2007 Great North Run (sat on the bus behind Paula Radcliffe and Kara Goucher). I'd had some ankle tendon issues in the lead up and deep down knew it was unlikely to end well and I shouldn't even have started. But… it was too good an opportunity not to have a go, so I persevered and was struggling so badly I had to limp across the regular finish line as they'd already pulled the elite one in. Could barely walk onto and off the train home and spent the next couple of days with my ankle on fire and elevated whilst lying on the sofa. The start of the most persistent and painful period of injury I've ever had.
WHAT UNFULFILLED AMBITIONS DO YOU HAVE?
The marathon and I have unfinished business – have never felt that my results and times have lived up to the shape I've managed to get myself in beforehand. Contemplating trying again in the autumn if I can manage to keep myself in one piece after several years of on-off training with niggly injuries. Also eyeing up age group duathlon/triathlon. I dabbled in triathlon in the mid-2000s and did quite well. Having always cycled as well as run, there's a big part of me which wonders how good I could be if I focused on it more seriously…
OTHER LEISURE ACTIVITIES?
I have to confess that a lot of them are also pretty active! Having avoided gyms for a decade and a half, I'm trying to balance out the running with some weights and mobility work and thoroughly enjoying some cardio classes into the mix.
Cycle touring is one favourite type of holiday and my husband and I have had some fun adventures the length and breadth of the UK and Ireland (including accidentally routing across the Hardnott and Wrynose Passes first thing on a Monday morning, on a day which was to be 90 miles and when we'd arranged to meet friends in Ambleside for coffee mid-morning).
Walking is a particular favourite – last summer's best adventure was a midsummer 13 miler starting at 11:30pm, along the River Avon with headtorches, tip-toeing past isolated West Lothian farmhouses to get up Cockleroy hill at 2:30am to see the Lothians laid out below us pre-dawn and getting home in almost full daylight before 4am!
Gardening is very therapeutic (we did our new build house garden in conjunction with BBC's The Beechgrove Garden in 2015, so feel we have to keep on top of it).
I do enjoy a good sit down too and can get lost in a good book for very many hours on end. Cinema, music and theatre trips also feature prominently in the social calendar.
WHAT DOES RUNNING BRING YOU THAT YOU WOULD NOT HAVE WANTED TO MISS?
A feeling of freedom and challenge. Camaraderie and connection to other people and the wider world. Getting to see different places (great for exploring whilst away too). I've been lucky enough to get trips to Milan, Dublin, Manchester and Conwy (amongst others) in a Scottish vest and see things I wouldn't have otherwise.
CAN YOU GIVE SOME DETAILS OF YOUR TRAINING?
When in one piece and training seriously, I've always been pretty consistent, generally putting in 45-55 miles over 6 days. One tempo type run or longer efforts, one session with shorter efforts (anything from short hill reps to laps of the Meadows, with pyramids, mile reps etc… also represented), often a mid-week longer (7-8 mile) run, a proper long run (typically 12-16 miles, off-road where possible), plus a couple of easy/recovery runs. If marathon training, volume goes up, if fighting off niggles, volume and intensity both go back down.
In the summer, some runs may be replaced with, or supplemented by cycling. In the winter, I've rediscovered spin classes and the gym for some variety and extra challenge. I was a Pilates teacher for many years and am increasing finding I'm missing it – at some point I'd like to be able to slip quietly into the back of someone else's class for some more regular core work!
Having moved out of town to Linlithgow a few years ago, I'm really appreciating the variety of great off-road training routes accessible right from my front door, and now make a point of cutting out the worst of the pavement pounding whenever I can. Point me in the direction of an interesting trail, preferably with a view and I'm happy!
Mabie 10k Trail Race. 10/06/18
(Or The Sad Demise of the Small Race Trophy)
Is there a setting more beautiful but still eminently accessible, than Mabie Forest? This wee race has to be one of the best ever. We've entered every year since we started racing…6 years now…and it was the first race where I ever won a trophy.
In those days they had trophies 1st to 3rd in each veteran age category going in 5-year steps, Mine was a 3rd place F45 trophy and I was a LONG way behind the F45 winner, but was immensely proud of myself. Although it's not exactly lost in the mists of time, it seems as though, since then, we've entered a different, 'voucher' era in race prizes.
Nowadays Mabie has a total of 3 female veteran prizes, one each for 40+, 50+ and 60+…(same for men) and no trophies! Sad to say, this now seems to be a feature of smaller races. The (small) collection of modest little trophies I have, from various small-town races around the country, seem to have tailed off around 2015 even though I still do many of the same races (and probably more often win age group prizes!) (A major benefit of getting older as a runner – the competition thins out somewhat).
It's a nice run anyway. Mabie Forest is an excellent reason to live near Dumfries, it's fresh and green and lovely and only 10 mins drive from the town centre. Our kids used to love the climbing frames, death slide and monkey bars in the adventure playground, and there are dipping ponds, bridges for Pooh sticks, long grass meadows and interesting forest walks short enough to herd small children round without too many tantrums. We often go for training runs around the miles of paths there and have family nicknames for most of the features.
Don't you love the cheerful buzz at the start of a wee local race? Even if you don't know anyone it feels nice, and completely different to bigger, commercially organised events. Dumfries Harriers always have plenty of marshals, and they're all very friendly and encouraging, whether you're rocketing off at the front or slogging along at the end. I was extra pleased to see that so many of their fast female runners were on marshal duty…
We came into this race pretty tired (yes, I know, excuses, excuses!); the Dick Wedlock 10k And Edinburgh Half being actual target, proper-taper, hard-effort races and us only 2 weeks past that, with 2 extra races (Race the Train and Grantown) last weekend instead of recovery. Also, Reformer Pilates on the Friday. The thing about Reformer Pilates is it really works all kind of obscure core muscles in a way that definitely helps your running, but is really exhausting and makes said obscure core muscles tender and sulky…but you have to do it to get the benefit and if you're racing all the time and missing it so you won't be sore in the races then you have to sacrifice that benefit. Probably matters more for auld yins too. Long story short: if it's not a 'target' race, no taper, do the classes and just tell the obscure core muscles to shut up and do their best.
Ready to go
So Mabie was, emphatically, a training race. No anxiety, don't chase anyone, take as long as it takes, concentrate on good form. It was a perfect running day, sunshine in the sky and all the wee birds tweeting prettily in the trees. The starting horn sounded and off we trotted, half a mile on level fire road. Alex (partner of Michelle the Niece and Serious Running Snake) meanwhile, tore off in a cloud of dust!
The long hill that starts half a mile into the race route is known in our family as 'Relentless brown' (because it's on the brown walking trail). The lack of shade as you plod up the endless hill prompted a re-think on how perfect the weather was, but, hey, it'll likely be hotter in Malaga…the next junction in the race is only 2/3 of the way up old Relentless and turns off onto more level roads which was welcome, as was the sporadic shade. Another half mile or so later it heads up into the woods on a favourite, undulating path…in this case undulating means proper ups and downs, some of them (like 'Mountain Goat Crag' which looks out over a truly magnificent view of the Solway Estuary with Criffel posed in the background) almost needing hands as well as feet. I got caught behind someone in less of a hurry on the way up there, mega frustration! Pet hate of the day: slowing down against your will when going uphill. Losing momentum, IMHO, just makes it harder.
Next is 'Badger path' where a – surprisingly long-legged – badger actually crossed in front of me once on an early morning run, it undulates (less sharp but still up and down) down the other side and is a good place to pick up a bit of speed…unless you're stuck behind someone running just a bit too slow on the single file path!
Then the route turns along the side of the hill overlooking a Loch on 'Butterfly Walk'. I think that might be the actual Mabie Forest name of that bit, there's certainly lots of butterfly information along the way. And actual butterflies . At the end of Butterfly Walk is the water station…on a T junction with the fire road…too busy offering water to remember with directions; Alex reported having to pause his charge to ask which way he was supposed to go! There were a couple of runners in front of me gave up and walked on the next set of uphills, but I'm always too paranoid to do that in case I can't get started again.
The levelling out is welcome again along the top of the hill, then it's right onto a tricky wee path until the terrifyingly steep downhill of 'The Glorious 12th', which is (!) on the orange walk. Geddit!?
The 12th was actually ok that day as it was dry underfoot, so apart from the odd loose rock didn't feel too life-threatening. At the bottom of the hill there's a super, open and undulating (very gentle undulations this time) section for another half mile or so, just enough of an overall downhill slope for powerful springing like a superhero. Turn right at the 'Crocodile Pond' (elder daughter named that one!) and up the 'Green Hill' (some names are better than others!).
When the marshal at the bottom of the 12th said I was 1st female I thought I'd heard him wrong, but the next one said the same. Oh no! Instant Pressure. What if someone overtakes me!? How close is the next one (CAN'T LOOK BACK!)?…It doesn't matter, I told myself sternly. It's still a training race, and 2nd or 3rd is still brilliant. It'd be lying to pretend I didn't speed up a shade, but I tried hard to keep the head.
After the Green Hill there's a longish stretch on fire road around the side of the hill, then the last km (it's marked!) follows a stream through shade-dappled beech-woods which we call 'Antelope Trail', because it gives you a real 'bounding gazelle-like through the sunlit forest' feel.
As it happened, the person I could hear behind was male with no other females close, so I came in 1st female. Yes, really!
2nd female, would you believe it, was the Running Niece! Oh, and Mr Running Snake had blistered the trails to come in a full 2 mins in front of everyone else in the race, winning 1st Male.
Running Niece, Running Snake, and First Female
Here's the sad thing. I've never been 1st in a race before (school doesn't count). I think it's not all that likely that I ever will again. I got 1st prize, and it's a voucher. How am I supposed to gloat over that in my old age?
"See these Injinji socks?" I'll say to the clustered great-grand-weans…"These came from my winnings the time I actually WON a race!"
Nah, vouchers are fine for superhero runners with trophy fatigue; I say bring back the cheapo keepsake trophy for us normal mortals who want to treasure our wee moment of glory forever!
By Anne Macfarlane
Road Running Round-up
Neil Green (Giffnock North) made quite a comeback (after only running six races in the previous 12 years). Now aged 51, in the Monklands Half Marathon in May, he finished second overall and first M40 in a time of 1 hour 20 minutes. A couple of weeks earlier, Neil completed the Victoria Park run in 17.10.
At the British Masters Indoor Championships trophies and certificates were presented to the best athletes of 2018. Some also gained World and European awards.
BRITISH AWARDS: FEMALE LONG-DISTANCE RUNNER – FIONA MATHESON
TRACK AND FIELD REPORTS by Mike Clerihew
3rd March 2019. Scottish Masters Indoor Combined Events Championships.
The combined events competition took place in over the weekend 16th and 17th February and saw M60 Brian Slaughter (Eastbourne) win the male heptathlon competition with a total of 5126 points ahead of M70 Bob Masson (Aberdeen) with 4870 points. As best placed Scot, Bob won the Steedman medal (I assume that Scottish Athletics are still presenting the medal) and also had the consolation of setting two Scottish Masters best performances in the high jump with 1.33m and pole vault with 2.65m.
In the woman's pentathlon competition W45 Amanda Broadhurst (Wrexham) won with a total of 2976 points.
3rd March 2019. Scottish Masters Indoor Track and Field Championships.
The Indoor T&F Champs took place in the Emirates Arena on Sunday 17th February and some excellent performances were witnessed.
Six new Scottish Masters best performances were recorded and another equalled. Bobby Stevenson (Ayr) set new figures in the M65 category winning the long jump with a leap of 4.75m and the triple jump with 10.10m and Fred Cowan equalled this feat with new bests in winning the M85 200m and 400m double with times of 44.00s and 1m 31.97s respectively. Fred's 400m time is superior to the current British record of 1m 40.37s held by Eric Shirley so I hope that the necessary paperwork has been completed and submitted to BMAF for ratification. John Ross (Corstorphine) also set a 400m best in the M80 category with a time of 1m 29.18s but lost his M65 200m best when Bob Douglas (Livingston) won the event in 28.38s, one hundredth of a second faster than John's time from 2004. Linzi Marsh (Edinburgh) equalled the W40 best with a winning clearance at 1.40m.
With the 3000m championships (held in January) included 22 Championship best performances were set and another equalled. In addition to Fred Cowan, Bob Douglas, John Ross and Bobby Stevenson's performances mentioned above new championship bests were set by:-
Andrew Lewis (Harrow) M50 60m hurdles (8.98s) and long jump (5.79m)
Mary Barrett (Loughrea, Ireland) W60 60m hurdles (11.87s), shot (10.12m) and high jump (1.20m)
Bob Douglas (Livingston) M65 400m (64.71s)
Jacqui Hodgson (Durham) W50 200m (28.63s) and 400m (64.82s)
Kathleen Stewart (North Shields) W75 60m (11.78s) and 200m (39.32s)
Catriona Pennet (Edinburgh) W35 60m hurdles (9.35s)
Robert Biggar (N. Ireland) M60 1500m (4m 51.05s)
Bobby Young (Clydesdale) M75 1500m (6m 04.72s) and 3000m (12m 39.28s)
Stuart Gibson (Cambuslang) M35 3000m (8m 39.04s)
Jacqui Etherington (Cambuslang) W40 800m (2m 25.45s)
Ian Horsburgh (Central) equalled the M40 60m best in 7.32s.
22nd March 2019. British Masters Indoor T&F Championships and Winter Throws Competition.
The BMAF T&F Indoors and Winter Throws took place at Lee Valley, London over the weekend 9th/10th March with Scots athletes winning a total of 28 medals (7 gold, 16 silver and 5 bronze) and setting two Scottish Masters best performances at the indoor championships.
Gillian Cooke (Edinburgh) secured a golden double in the W35 pole vault, in a new Scottish Masters best performance, with a 3.30m clearance and long jump with 5.21m as did John Thomson (Fife) in the M60 800m with 2m 26.14s and 1500m in 5m 5.66s. Other winners were Claire Cameron (VP Glasgow) in the W60 shot with 9.47m, John Coyle (Garscube) in the M45 3000m with a time of 9m 45.15s and Allan Leiper (Aldershot, Farnham & Dist) in the M55 shot with a throw of 12.80m.
James Smith (Motherwell) claimed four silver medals in the M70 age group, 60m in 9.22s, 200m in 30.79, triple jump with 8.63m and long jump with 3.64m, Jacqui Etherington (Cambuslang) won three in the W40 category, 800m in 2m 28.74s, 1500m in 5m 6.47s and 3000m in 11m 6.11s and Graeme Armstrong won two, the M60 60m in 8.25s and 200m in 27.35s. Other silver medal winners were Alison Murray ( Hercules Wimbledon) W50 pole vault with 2.81m, Colin Welsh (Gala) M35 1500m in 4m 9.50s, Ian Johnston (SVHC) M50 3000m in 9m 48s, Paul Masterton (Corstorphine) M55 high jump with 1.49m, Ron Todd (Central) M55 pole vault with 3.20m, John McGarry (Irvine) M65 60m in 8.63s and Bill Lonsdale (Aberdeen) M65 long jump with 4.19m.
In addition to his silver in the 1500m Colin Welsh won bronze in the M35 800m in 1m 59.78s which is a Scottish Masters best performance, whilst further bronze medal winners were Gary Leek (Edinburgh) M55 60m in 8.05s, Gary's son Stephen in the M35 long jump with 5.73m,
Jim Sloan (Annan) M75 shot with 9.66m and Dean Kane (Inverness) M35 3000m in 10m 7.85s.
In the throws Claire Cameron won the W60 weight with 11.21m discus with 26.02m and came third in the hammer with25.74m. Jim Sloan came second in the M75 discus with 28.56m, Allan Leiper second in the M55 discus with 37.89m and Stephen Leek third in the M35 discus with 25.09m.
Well done to all Scots competing.
4th April 2019. World Masters Indoor Championships.
The 8th version of the WMA Indoor Championships took place in Torun, Poland from 24th to 30th March with the British contingent finishing 4th in the medals table with a total of 166 (60 gold, 58 silver and 48 bronze). Germany once again headed the list with 262 medals (100 gold) followed by USA with 159 (62 g) and Poland with 182 (60 g).
To my knowledge 21 Scots competed winning a total of 4 individual and 6 team/relay medals. As I no longer either compete or officiate I have kind of lost track of Scottish athletes so I apologise now for anyone I have omitted from the undernoted.
Four new Scottish Masters best performances were set with Bob Douglas (Livingston) recording a time of 63.60s in the in his heat of the M65 400m to add to his 200m best from the Scottish Masters Championships and Colin Welsh (Gala) bettered his own best from the BMAF Championships with 1m 59.51s in his M35 800m heat. Jamie Creighton (Liverpool) cleared 1.90m in finishing 4th in the M35 high jump and Ron Todd (Central) cleared 3.35m for 10th place in the M55 pole vault.
Medallists:-
Jacqui Etherington (Cambuslang) won bronze in both the individual W40 8k cross country and team event as well as a silver in the 4 x 200m relay. Anne Howie (Aberdeen) won bronze in the W55 1500m (5:17.22), Alison Murray (Hercules Wimbledon) bronze in the W50 pole vault (2.80m), Gillian Cooke (Edinburgh) silver in the W35 long jump (5.36m), Susan Ridley (Edinburgh) gold in the W50 cross country team, Ronnie Hunter (Corstorphine) silver in the M55 4 x 200m relay, Brett Rund (Edinburgh) gold in the M40 4 x 200m relay and Bob Douglas silver in the M65 4 x 200m relay.
Other results:-
Jacqui Etherington 5th in the W40 800m (2:25.25), 5th in the 1500m (4:52.38) and 5th in the 3000m (10:50.31).
Anne Howie 5th in the W55 800m (2:37.59, heat 2:36.82).
Susan Ridley 8th in W50 3000m (11: 29.06s) and 5th in 8k xc .
Brian Scally (Shettleston) 11th in the M50 half marathon (1h 20m 03s.)
Ronnie Hunter heats of the M55 60m (8.11s) and 200m (26.47s).
Brett Rund sf of the M40 200m (23.55s, heat 23.35s) and 6th in the 400m (51.62s).
Bob Douglas sf of the M65 200m (29.39s, heat 28.53s).
Fiona Steele (Motherwell) heat of the W50 60m (9.03s) and sf of the 200m (29.52s, heat 29.47s).
Colin Welsh (Gala) 9th in the M35 800m (2:02.31, heat 1:59.51) and 11th in the 1500m (4:19.07s, heat 4:11.40).
Andy Ronald (Falkirk) heats of M50 M50 800m (2:16.32s) and 1500m (4:35.25).
Paul Forbes (Edinburgh) 6th in M60 800m (2:20.36, heat 2:20.24).
John Thomson (Fife) 4th in the M60 1500m (4: 50.84).
Chris Upson (Cambuslang) 18th in M55 3000m (10:27.33) and 22nd in 8 k cross country.
Allan Leiper (Aldershot, Farnham & Dist) nh in M55 pole vault, 6th in the shot (12.67m) and 14th in the discus (28.12m).
Jim Sloan (Annan) 10th in the M75 shot (9.70m) and 10th in the discus (27.11m).
Claire Cameron (VP Glasgow) 15th in W60 weight (11.04m), 14th in the hammer (25.98m) and 6th in the discus (25.56m).
Dave Valentine (West Suffolk) 6th in M60 weight (17.17m) and 4th in the hammer (47.92m).
Well done to all competitors and again apologies to any I have missed.
Scottish Masters Track and Field Indoor Best Performances
(from Mike Clerihew)
60 metres
M35
Gary Leek
7.00
1996
Glasgow
M40
Darren Scott
6.98
2010
Manchester
M45
Darren Scott
7.26
2015
Manchester
M50
Alasdair Ross
7.61
2004
Cardiff
M55
Alasdair Ross
7.67
2007
Helsinki Finland
M60
Alasdair Ross
7.92
2014
Lee Valley London
M65
Brendan Lynch
8.51
2017
Emirates Arena Glasgow
M70
Walter Hunte
r 8.64
2014
Emirates Arena Glasgow
M75
Walter Hunter
9.16
2017
Emirates Arena Glasgow
M80
Andy Coogan
11.21
1998
Glasgow
W35
Joss Harwood
7.80
1994
Glasgow
W40 Joss Harwood
8.04
1998
Glasgow
W45
Fiona Davidson
8.25
2018
Emirates Arena Glasgow
W50
Linda Nicholson
8.66
2011
Ghent Belgium
W55
Esther Linaker
9.14
2001
Cardiff
W60
Esther Linaker
8.98
2003
San Sebastien Spain
W65
Esther Linaker
9.43
2007
Helsinki Finland
W70
Rosemary Chrimes
10.41
2005
Cardiff
W75
Rosemary Chrimes
10.86
2010
Lee Valley London
W80
Rosemary Chrimes
11.49
2014
Lee Valley London BR
200 metres
M35
Darren Scott
21.62
2008
Clermont-Ferrand F
M40
Darren Scott
21.71
2010
Birmingham
WR
M45
Darren Scott
22.52
2015
Torun Poland
WR
M50
Alasdair Ross
24.05
2004
Sindelfingen Ger.
M55
Alasdair Ross
24.42
2007
Helsinki Finland
M60
Alasdair Ross
25.24
2014
Budapest Hungary
=ER
Alasdair Ross
25.24
2015 Torun Poland
=ER
M65
Bob Douglas
28.38
2019
Emirates Arena Glasgow
M70
John Ross
29.14
2009
Lee Valley London
M75
Walter Hunter
31.67
2017
Emirates Arena Glasgow
M80
Willie Russell
43.64
2012
Glasgow
M85
Fred Cowan
44.00
2019
Emirates Arena Glasgow .
W35
Joss Harwood
25.29
1992
Cosford
W40
Joss Harwood
25.99
1998
Glasgow
W45
Pat MacKinnon
28.60
1997
Glasgow
W50
Fiona Steele
29.09
2017
Lee Valley London
W55
Esther Linaker
31.15
2001
Cardiff
W60
Esther Linaker
30.43
2003
San Sebastien Spain
W65
Esther Linaker
32.51
2007
Helsinki Finland
W70
Betty Steedman
39.03
2004
Cardiff
W75
Betty Steedman
46.61
2011
Glasgow
400 metres
| M35 | David Agnew | 51.70 | 2015 | Emirates Arena Glasgow | |
| --- | --- | --- | --- | --- | --- |
| M40 | Darren Scott | 49.35 | 2010 | Birmingham | BR |
| M45 | Alastair Dunlop | 53.72 | 1999 | Glasgow | |
| M50 | Alasdair Ross | 55.37 | 2004 | Cardiff | |
| M55 | Alasdair Ross | 56.60 | 2008 | Lee Valley London | |
| M60 | Alasdair Ross | 58.13 | 2014 | Budapest Hungary | BR |
| M65 | Bob Douglas | 63.60 | 2019 | Torun Poland | |
| M70 | John Ross | 66.08 | 2009 | Lee Valley London | BR |
| M75 | John Ross | 71.90 | 2014 | Lee Valley London | |
| M80 | John Ross | 89.18 | 2019 | Emirates Arena Glasgow | |
| M85 | Fred Cowan | 91.97 | 2019 | Emirates Arena Glasgow | |
| W35 | Philippa Millage | 57.10 | 2016 | Emirates Arena Glasgow | |
| W45 | Gillian Dicherty | 66.31 | 2007 | Glasgow | |
| W50 | Laura Mahady | 64.20 | 2013 | Emirates Arena Glasgow | |
| W55 | Laura Mahady | 64.11 | 2013 | San Sebastian Spain | |
| W65 | Betty Steedman | 93.31 | 2001 | Cardiff | |
800 metres
M35
Colin Welsh
1.59.51
2019
Torun Poland
M40
Alastair Dunlop
1.58.36
1995
Glasgow
M45
Alastair Dunlop
2.02.02
2000
Glasgow
M50
Alastair Dunlop
2.02.20
2004
Sindelfingen Ger.
M55
Alastair Dunlop
2.09.99
2009
Glasgow
M60
Alastair Dunlop
2.20.19
2015
Lee Valley London
M65
Harry Tempan
2.22.28
1993
Glasgow
M70
Jimmy Todd
2.34.2
1912
Glasgow
BR
M75
Jimmy Todd
2.42.35
1997
Birmingham
ER
M80
Hugh McGinlay
3.52.47
2006
Glasgow
M85
Hugh McGinlay
4.10.88
2011
Glasgow
W35
Philippa Millage
2-05.96
2018
Emirates Arena Glasgow
BR
W40
Sonia Armitage
2.24.44
2004
Sindelfingen Ger.
W45
Sonia Armitage
2.22.77
2006
Linz Austria
W50
Laura Mahady
2.30.40
2009
Glasgow
W55
Laura Mahady
2.27.84
2013
San Sebastian Spain
WR
W60
Liz Bowers
2.59.27
2013
Lee Valley London
W65
Liz Bowers
3.08.57
2018
Lee Valley London
1500 metres
M35
Jozsef Farkas
4.05.44
2017
Deag S South Korea
M40
Andrew Brown
4.08.
2018
Emirates Arena Glasgow
M45
Alastair Dunlop
4.12.68
2002
Glasgow
M50
Alastair Dunlop
4.18.40
2004
Sindelfingen Ger.
M55
Alastair Dunlop
4.24.39
2009
Glasgow
BR
M60
Alastair Dunlop
4.39.74
2014
Budapest Hungary
M65
Harry Tempan
4.53.02
1991
Glasgow
M70
Jimmy Todd
5.13.1
1992
Glasgow
BR
M75
Jimmy Todd
5.42.26
1997
Birmingham
BR
M80
Hugh McGinlay
7.52.47
2006
Glasgow
M85
Emmett Farrell
8.41.47
1997
Glasgow
BR
W35
Susan Bevan
4.32.55
1996
Birmingham
W40
Lesley Chisholm
4.46.45
2016
Emirates Arena Glasgow
W45
Sonia Armitage
4.45.85
2006
Linz Austria
W50
Fiona Matheson
4.48.70
2013
Emirates Arena Glasgow
W55
Fiona Matheson
4.56.51
2017
Emirates Arena Glasgow
WR
W60
Liz Bowers
5.55.25
2013
San Sebastian Spain
W65
Liz Bowers
6.13.42
2018
Lee Valley London
3000 metres
| M35 | Stuart Gibson | 8.39.04 | 2019 | Emirates Arena Glasgow | |
| --- | --- | --- | --- | --- | --- |
| M40 | Eddie Stewart | 8.32.6 | 1997 | Prague Cze. | |
| M45 | Archie Jenkins | 8.56.69 | 1999 | Glasgow | |
| M50 | John Linaker | 9.16.6 | 1990 | Glasgow | |
| M55 | Hugh Rankin | 9.37.9 | 1990 | Glasgow | |
| M60 | Andy Brown | 9.43.88 | 1994 | Glasgow | WR |
| M65 | Willie Marshall | 10.32.28 | 1993 | Glasgow | |
| M70 | Jimmy Todd | 11.08.49 | 199 | 4 Glasgow | BR |
| M75 | Jimmy Todd | 12.12.72 | 1997 | Birmingham | BR |
| M80 | Gordon Porteous | 14.10.79 | 1994 | Glasgow | BR |
| W35 | Liz McColgan | 9.31.11 | 2004 | Glasgow | |
| W40 | Lesley Chisholm | 10-13.52 | 2016 | Emirates Arena Glasgow | |
| W45 | Susan Finch | 10.22.84 | 2008 | Glasgow | |
| W50 | Fiona Matheson | 9.56.39 | 2011 | Glasgow | WR |
| W55 | Fiona Matheson | 10.18.87 | 2018 | Emirates Arena Glasgow | WR |
| W60 | Jocelyn Ross | 12.33.3 | 1990 | Cosford | |
| W65 | Jocelyn Ross | 13.09.42 | 1994 | Glasgow | |
60 m hurdles
M35
Francis Smith
8.39
2017
Emirates Arena Glasgow
M40
Carson Graham
9.05
2018
Lee Valley London
M45
Tom Leeson
9.15
2009
Glasgow
M50
Tom Leeson
9.09
2014
Emirates Arena Glasgow
M55
Roy Buchanan
9.82
2010
Lee Valley London
M60
Robin Sykes
10.54
1995
Glasgow
M65
Ian Steedman
10.54
1994
Glasgow
M70
Ian Steedman
11.71
1999
Glasgow
W35
Joss Harwood
8.69
1993
Birmingham
W40
Joss Harwood
8.88
1998
Glasgow
W45
Joss Harwood
9.49
2005
Glasgow
W50
Joss Harwood
9.62
2008
Clermont-Ferrand Fr.
BR
W55
Joss Harwood
10.32
2013
Lee Valley London
High Jump
M35
Jamie Creighton
1.90
2019
Torun Poland
M40
Jim Malcolm
1.72
2004
Glasgow
M45
Eamon Fitzgerald
1.76
Brian Whittle
1.76
2012
Glasgow
M50
Eamon Fitzgerald
1.71
1998
Glasgow
M55
Eamon Fitzgerald
1.60
2002
Glasgow
M60
John Freebairn
1.50
1998
Glasgow
M65
Bill Lonsdale
1.41
2017
Deagu South Korea
M70
Bob Masson
1.33
2019
Emirates Arena Glasgow
M75
Ian Adams
1.16
1997
Glasgow
W35
Nikki Thompson
1.50
1990
Glasgow
W40
Elaine Forbes
1.40
2017
Emirates Arena Glasgow
Linzie Marsh
1.40
2019
Emirates Arena Glasgow
W45
Jan Hardcastle
1.38
2007
Lee Valley London
W50
Rosemary Chrimes
1.30
1987
Janice Hardcastle
1.30
2011
Ghent Belgium
W55
Rosemary Chrimes
1.36
1989
W60
Rosemary Chrimes
1.30
1997
Birmingham
W65
Rosemary Chrimes
1.25
1999
Birmingham
BR
W70
Rosemary Chrimes
1.18
2005
Cardiff
BR
W75
Rosemary Chrimes
1.16
2010
Lee Valley London
BR
W80
Rosemary Chrimes
1.09
2014
Lee Valley London
WR
Pole Vault
M35
Dougie Graham
4.10
2012
Glasgow
M40
Dougie Graham
4.17
2017
Emirates Arena Glasgow
M45
Allan Leiper
4.12
2006
Carshalton
M50
Allan Leiper
3.80
2014
Budapest Hungary
M55
Ron Todd
3.35
2019
Torun Poland
M60
Bob Masson
3.02
2009
Grangemouth
M65
Bob Masson
2.90
2012
Grangemouth
M70
Bob Masson
2.65
2019
Emirates Arena Glasgow
W35
Gillian Cooke
3.30
2019
Lee Valley London
W40
Janet Lyon
2.70
2004
Glasgow
2.70
2005
Glasgow
W45
Alison Murray
3.11
2015
Lee Valley London
W50
Alison Murray
3.02
2017
Carshalton
BR
Long Jump
M35
Ian Paget
6.21
2012
Glasgow
M40
Ian Paget
6.24
2014
Budapest Hungary
M45
Robert Stevenson
5.82
2002
Glasgow
M50
Tom Leeson
5.69
2014
Glasgow
M55
Robert Stevenson
5.29
2008
Glasgow
M60
Robert Stevenson
5.07
2015
Glasgow
M65
Robert Stevenson
4.75
2019
Emirates Arena Glasgow
M70
Trevor Madigan
4.28
2016
Emirates Arena Glasgow
W35
Gillian Cooke
5.65
2018
Emirates Arena Glasgow
W40
Fiona Davidson
4.93
2015
Emirates Arena Glasgow
4.93
2017
Lee Valley London
W45
Fiona Davidson
5.14
2018
Emirates Arena Glasgow
BR
W50
Linda Nicholson
4.66
2011
Glasgow
4.66
2011
Ghent Belgium
W55
Sylvia Wood
4.07
2001
Glasgow
W60
Betty Steedman
3.80
1994
Glasgow
W65
Betty Steedman
3.42
2001
Glasgow
W70
Betty Steedman
3.88
2006
Linz Austria
W80
Rosemary Chrimes
2.58
2014
Lee Valley London
Triple Jump
M35
Ian Paget
12.82
2010
Glasgow
M40
Steve Wallace
11.89
2000
Birmingham
Ian Paget
11.89
2014
Grangemouth
M45
Eamon Fitzgerald
11.81
1992
Glasgow
M50
William Beattie
11.52
2004
Cardiff
M55
Robert Stevenson
11.00
2012
Glasgow
M60
Robert Stevenson
10.32
2017
Emirates Arena Glasgow
M65
Robert Stevenson
10.10
2019
Emirates Arena Glasgow
M70
James Smith
7.97
2018
Lee Valley London
M75
John Scott
7.40
2015
Lee Valley London
W35
Zara Asante
12.75
2018
Birmingham
W40
Fiona Davidson
11.02
2014
Budapest Hungary
W45
Fiona Davidson
10.45
2018
Emirates Arena Glasgow
10.45
2018
Emirates Arena
Glasgow
W50
Sylvia Wood
9.21
1995
Birmingham
W55
Sylvia Wood
8.58
2001
Glasgow
W60
Betty Steedman
7.98
1994
Glasgow
W65
Betty Steedman
7.00
2001
Glasgow
W70
Betty Steedman
6.69
2005
Cardiff
Shot
M35
Neil Elliott
16.56
2009
Glasgow
M40
Steve Whyte
16.18
2005
Eskilstuna Sweden
M45
Steve Whyte
14.66
2014
Lee Valley London
M50
Steve Whyte
15.75
2014
Budapest Hungary
M55
John A. Scott
13.45
1998
Glasgow
M60
John A. Scott
13.33
2002
Glasgow
M65
John A. Scott
12.12
2007
Lee Valley London
M70
John A. Scott
12.75
2013
Lee Valley London
BR
M75
Ian Miller
11.15
2010
Lee Valley London
M80
Ian Miller
10.20
2015
Lee Valley London
BR
W35
Mhairi Porterfield
13.54
2018
Emirates Arena Glasgow
W40
Rosemary Chrimes
14.40
1973
Cosford
W45
Claire Cameron
10.74
2004
Glasgow
W50
Rosemary Chrimes
12.48
1986
BR
W55
Rosemary Chrimes
12.04
1989
Glasgow
W60
Rosemary Chrimes
11.66
1997
Birmingham
W65
Rosemary Chrimes
11.75
2002
Glasgow
BR
W70
Rosemary Chrimes
9.79
2005
Cardiff
W75
Rosemary Chrimes
9.66
2011
Gent Belgium
W80
Rosemary Chrimes
9.58
2014
Lee Valley London
BR
Multi Events Pentathlon (Age Graded) Points
M50
John Freebairn
3756
1988
W35
Carolyn Smith
3060
1997
Glasgow
Heptathlon (Age Graded)
M50 Eamon Fitzgerald 5240 1998 Glasgow
Scottish Masters Outdoor Track and Fleld Championships: Report One
The 5000m races were held in Aberdeen on 26th May. Officials were efficient yet relaxed and encouraging. This is not always the case at Grangemouth…….
Age-group winners:
Michelle Slater (Moray Road Runners W40, with a Championship record of 20.02.60);
Karen Kennedy (PH Racing Club W45 – faster than W40 with a Championship record of 19.13.69);
Anne Howie (Aberdeen AAC W55);
Richard Mair (Kilmarnock H and AC M35 – with a Championship record of 15m 02.27);
Darran Muir (Law and District AC M40);
Gordon Barrie (Dundee Hawkhill Harriers M45);
Ross McEachern (Cumbernauld AAC M50);
Athol Burnett (Aberdeen AAC M55);
George McPherson (Metro Aberdeen M60).
Charlie Noble (Fraserburgh AC M65);
Bobby Young (Clydesdale Harriers M75, with a Championship record of 21.52.86 – he also went on to win the 1500m gold medal in another Championship record);
Colin Youngson (Forres Harriers M70).
Other Track and Field events were held at Grangemouth on 13th July, along with a bewildering amount of Junior and Senior Multi-Events. The official results are in random order and I apologise for errors or omissions.
Although most of the Men's Masters events were well-contested, the number of Women Masters competing was disappointing.
On the track, multi-event winners included:
Fiona Steele (Motherwell AC W50) 100m and 200m;
Karen Kennedy (PH Racing Club W45) 800m and 1500m;
Anne Howie (Aberdeen AAC W55) 800m and 1500m.
Ian Horsburgh (Central AC M40) 100m and 200m;
Stan Walker (Aberdeen AAC M50) 100m and 200m;
Gary Leek (Edinburgh AC M55) 100m and 200m;
Bob Douglas (Livingston AC M65) 100m, 200m and 400m;
James Smith (Motherwell AC M75) 100m, 200m, long and triple jumps;
Paul Forbes (Edinburgh AC M60) 400m and 800m;
Gordon Barrie (Dundee Hawkhill Harriers M45) 800m and 1500m;
Ian Johnstone (Inverness Harriers M65) 800m and 1500m.
On the field, multi-event winners included:
Mairi Porterfield (Victoria Park W35) hammer, discus and shot;
Claire Cameron (Victoria Park W60) hammer, discus and shot;
Julie Tuck (Aberdeen AAC W40) long jump and shot;
Carson Graham (Shettleston M40) long and high jumps;
Bob Masson (Aberdeen AAC M70) javelin and discus;
James Sloan (Annan and District M75) discus and shot.
Edward McKenzie (Aberdeen AAC M50) shot and javelin.
Once again, WHY NOT INCLUDE the Masters 5000m? All Scottish Masters track and field events could easily be timetabled in one day, by shifting multi-events onto different dates. Alas, Scottish Athletics refuse to listen to this recurring and entirely justified complaint about the exclusion of Indoor 3000m and Outdoor 5000m from the other Scottish Masters T and F championship events.
Scottish Masters Outdoor Track and Field Championships: Report Two
(by Mike Clerihew)
The main championships were held at Grangemouth on Saturday 13th July and, certainly in terms of best performances, were very successful. A British Record, six Scottish Masters Best Performances and 23 Championship Best Performances were recorded.
Fred Cowan (Bellahouston) set a new British Record of 96.00s in the M85 400m to add to his recently set indoor record. Additional Scottish Masters Bests came from James Smith (Motherwell) with 4.00m in the M75 long jump and 31.02s in the 200m, Bobby Stevenson (Ayr Seaforth) with 4.98m in the M65 long jump, John L Scott (Kilbarchan) with 20.64m in the M80 javelin and Jamie Creighton (Liverpool) with 1.85m in the M35 high jump.
Championship Best Performances:-
Kevin Brown
Royal Sutton
M50
discus
41.61m
Claire Cameron
VP-Glasgow
W60
discus
25.59m
Eoin Coull
Ross County
M45
3000m s/c
11m 12.31s
Fred Cowan
Bellahouston
M85
400m
1m 36.00s
Jamie Creighton
Liverpool
M35
high jump
1.85m
Paul Forbes
Edinburgh
M60
400m
60.36s
M60
800m
2m 17.72s
Ian Horsburgh
Central
M40
100m 11.23s
Electronic best
M40
200m
22.30s
Jayne Kirkpatrick
Nithsdale
W45
javelin
26.80m
Linzie Marsh
Pitreavie
W40
high jump
1.43m
Bob Masson
Aberdeen
M70
discus
36.71m
Catriona Pennet
Edinburgh
W35
100m hdls
14.99s
Joyce Rammell
Nithsdale
W70
hammer
15.60m
W70
shot
6.13m
Hugh Ryan
North East Vets
M80
hammer
25.00m
John L Scott
Kilbarchan
M80
javelin
20.64m
James Smith
Motherwell
M75
long jump
4.00m
M75
triple jump
7.45m
Bobby Stevenson
Ayr Seaforth
M65
long jump
4.98m
Ron Todd
Central
M55
pole vault
3.30m
Alastair Walker
Teviotdale
M60
1500m
4m 44.50s
Bobby Young
Clydesdale
M75
1500m
6m 09.50s
The combined events championships were also held at Grangemouth over the weekend 13th and 14th July with, unfortunately, only four competitors. Derek Glasgow (M55 Inverness) gained gold in the decathlon with an age graded score of 5774 points. The women's heptathlon was a close-run thing with Rosemary Gibson (W45 Ireland) winning with an age graded score of 3053 points followed by Mary Scanlon (W40 Ireland) with 2993 points and Kathryn Ballard (W40 North Ayrshire) in third with 2734 points.
The 5000m championships were held in Aberdeen on 26th May and saw some excellent performances with four Championship Best Performances being set. Karen Kennedy (PH Racing Club) ran 19m 13.69s in the W45 category, Michelle Slater (Moray Road Runners) 20m 02.60s in the W40s, Bobby Young (Clydesdale Harriers) 21m 52.86s in the M75s and Richard Mair (Kilmarnock) 15m 02.27s in the M35 age group.
Full results for all the above events can be found on the Scottish Athletics website.
The 10,000m championships are due to be held on 31st August at the John Cumming Stadium in Carluke.
Finally, a big thank you and well done to all competitors for continuing to support Masters Athletics in Scotland and good luck to those intending to compete in the British Championships in Birmingham on 10th/11th August and at the European Masters Championships in Venice from 5th to 15th September.
MASTERS INTER-AREA TRACK AND FIELD CHAMPIONSHIPS
Clare Barr wrote:
"On Saturday 6th July the SVHC T&F team had an absolute ball at the Masters Inter-Area Championships.
We had 28 members competing in Coventry in ideal conditions. Eddie McKenzie has said he'll do a write-up for you and hopefully you'll be able to put something up on Facebook/website and in the newsletter.
SVHC came 5th overall from the seven areas taking part. We had some excellent performances but need to fill in some of the empty slots if we are to score more highly in the future; the top teams from other areas covered almost every event and therefore managed to amass loads of valuable points. We need to get recruiting for next year! It would be great if SVHC helped to promote this – summer track can be very beneficial for winter cross country runners!
It was such an excellent experience for all the SVHC members. Usually we compete as individuals so it was lovely to be part of a team and have the support and friendliness that comes along with that. It was also great for the runners, throwers and jumpers to mix – again, often our paths don't cross that much so it was a wholly positive day."
SVHC Winners: Paul Forbes (M60) 400m and 800m; Colin Welsh (M35) 800m and 1500m; Alastair Walker (M60) 3000m; Carson Graham (M40) Long Jump; Allan Leiper (M55) Shot; Chris Smith (M40) Javelin; Linzie Marsh (W40) 400m and High Jump; Anne Howie (W55) 1500m; Gillian Cooke (W35) Pole Vault, Triple Jump and Long Jump; Joyce Rammell (W70) Long Jump; Claire Reid (W40) Discus; 4x100m relay (W35/W40): Nina Cessford, Julie Hendry, Linzie Marsh, Gillian Cooke.
RECOLLECTIONS
When distance running years have passed
And walking proves quite hard enough
What memories might we recall
Of days when we were fit and tough?
As tireless children, we could play
For hours, resilient and carefree.
Contesting Primary School sprints,
Would earn us cheers, not victory.
Yet Sports Day at the Secondary
Demanded stamina plus speed –
The longest (One Mile) track race gave
A chance for us to take the lead.
Back then, our 'training' might turn out
To be a joke, more fake than real –
Mere jogging, hard laps, round-the-block
Then home in time for evening meal.
Cross-country, though, came as a shock –
The four-mile course, long-distance,
On steep and bumpy grass or roots,
Through heavy mud resistance.
And yet, thin youngsters learned to like
The challenge, effort, getting fit,
Then banter – even foolish pride,
With show-off badges on our kit.
Then, after school, we had to work,
But joined a club and trained much more.
That greatest race – the E to G –
Would motivate, in Days of Yore.
You grabbed the baton, ran off fast,
Yet had to learn to chase and pace
yourself but not slow down at all –
avoid collapse and cruel disgrace.
The 'National' (major target) next,
A mud-fest round a racecourse, then,
Or snowbound struggling up and down,
To separate the 'boys' from 'men'.
The girls and women raced elsewhere,
their company we'd sorely lack,
because of separate championships –
until we watched them on the track
At Meadowbank Athletics; the
3000 was the most they'd run.
Unfairly, men could tackle a
10,000 or the Marathon.
The Marathon! But first you had
To suffer roads near Highland Games,
rough routes round random distances
With finish lines by dancing dames.
A rite of passage was the Hill,
Though going up was hard but fair –
Ben Nevis was the famous one –
Where wheechin' doon wis affy sair.
'Road fairies' tried The Ben but once,
Preferring 26-mile slogs.
Was carbo-loading overdone?
If so, seek vainly en-race bogs.
Take care to set off cautiously
And concentrate on every stride.
Don't 'go for home' till very late –
Avoid 'the wall' and those who 'died'.
Attempt an Ultra? What about
Two Bridges? Or the L to B:
Run forty well-paced miles; what's left?
"Just" fourteen ("post-wall") to the sea!
'Peak Year' ascent then slip away
(Plateau till 35 or so)
But running was the sport we loved –
So we fought Time, our matchless Foe.
'The Boom' for fun-run Marathons,
Ten Ks and Halfs changed things a lot –
At least our ageing 'serious' pace
Looked pretty fast if not 'red-hot'.
Then 40 loomed – a 'Vet' at last –
A chance to wear fresh Scottish kit.
To try new races, just perhaps
To win new medals for 'Top Brit'.
We raced old rivals and new friends
Both male and female, Scots or not.
Defeat hurt less; resilient,
We laughed and then 'revenge' we sought.
The marathon might give you up
But Kelvin Hall could be a treat.
A second youth! "Short stuff" again –
Flat-out, steep bends and sliding feet.
A 'Master'? Hardly true because,
At 60 plus, the legs said "Oi!
Slow down, run fewer, cautious miles –
You're getting older now, My Boy."
Ah, well. To get outside feels good
And realistic goals are set –
Take part and do your best today,
Who knows how fast and far you'll get?
Olympic stars and joggers too –
A runner is a runner, still.
Wait long enough, all win and lose,
Get injured, fit again, until?
Was it all worth the effort, then?
Of course – it was the finest game!
The Joy of Moving, Dance of Life,
Regardless of success or "fame".
(by Colin Youngson)
OFFICE BEARERS SEASON 2018-2019
Honorary President: ALASTAIR MACFARLANE
President: CAMPBELL JOSS 25 Speirs Road Bearsden, G61 2LX Tel: 0141 9420731 cdjoss2@gmail.com
Immediate Past President: ALASTAIR MACFARLANE
Vice-President: ADA STEWART 30 Earlsburn Road, Lenzie, G66 5PF Tel: 0141 578 0526 stewart2@ntlworld.com
Honorary Secretary: SHARON TAYLOR 14 Skaethorn Road Glasgow G20 0TQ Tel: 07801 653103
Honorary Treasurer: ANDY LAW Euphian, Kilduskland Road Ardrishaig, Argyll PA30 8EH Tel. 01546 605336 Lawchgair@aol.com
Membership Secretary: ADA STEWART 30 Earlsburn Road, Lenzie, G66 5PF Tel: 0141 5780526 stewart2@ntlworld.com
Handicapper: PETER RUDZINSKI 106 Braes Avenue Clydebank. G81 1DP Tel.0141 5623416 p.rudzinski@ntlworld.com
Committee Members:
JOHN BELL Flat 3/1, 57 Clouston Street Glasgow G20 8QW Tel. 0141 9466949
WILLIE DRYSDALE 6 Kintyre Wynd Carluke, ML8 5RW Tel: 01555 771 448
DAVID FAIRWEATHER 12 Powburn Crescent Uddingston, G71 7SS Tel: 01698 810575
ARLENE LEWIS 202 Archerhill Road, Knightswood Glasgow, G13 3YX Tel: 07850 070337
EDDIE McKENZIE Little Haremoss, Fortrie, Turriff Aberdeenshire, AB53 4HR Tel: 01464 871430
STEWART McCRAE 17 Woodburn Way, Balloch Cumbernauld G68 9BJ Tel: 01236 728783
PAUL THOMPSON Whitecroft, 5 Gareloch Brae, Shandon, Helensburgh G84 8PJ Tel. 01436 821707
ROBERT YOUNG 4 St Mary's Road, Bishopbriggs Glasgow G64 2EH Tel. 0141 5633714
BMAF Delegates To be appointed Ada Stewart
SAL West District Delegate Willie Drysdale
SAL Delegate at AGM To be appointed
Website Ada Stewart
Auditor George Inglis
FIXTURES
August 2019
Sat 31st SA Masters & SVHC 10000m Track Champs. Main event 12:30 John Cumming stadium, Carluke On-line entries only. See SA website
September 2019
5th – 15th European Masters Track & Field Championships Venice, Italy
Sat 14th Masters Cross Country Trials Tollcross Park. Start 11am – 11:30am First Race:Women & M65+ followed by M35 to M64.
Sat 21st British Masters 10,000m Track Champs Monkton Athletics Stadium, Dene Terrace, Jarrow NE32 5NJ
October 2019
Sun 6th Loch Ness Marathon, Inverness
Sun 6th SVHC Half Marathon Champs, Kirkintilloch
Sun 20th SVHC Trail Race. Time 1:30pm Pollok House, Pollok Park, Glasgow Followed by AGM, 2:30pm See website for full details
Sun 20th BMAF Marathon Champs, York
Sun 27th Ruby's 5km race Kilmarnock
November 2019
Sat 16th British & Irish Masters Cross Country International – Southport, England December 2019
Date TBC Xmas Handicap Sea Scouts Hall, Miller Street, Clydebank, from 12.30. Race to start at 13:30
January 2020 Fri 3rd Scottish National 3000m Championships Emirates Arena, Glasgow
Sun 26th TBC SVHC Open Masters Road Relays Strathclyde Park, 11:00am February 2020
Sat/Sun 1st/2nd Scottish Athletics Indoor Combined Events
Sun 2nd Scottish Athletics Indoor Masters Championships Emirates Arena, Glasgow Sat 8th Scottish Masters XC Championships McMaster Community Sports Centre, Johnstone
Sat 22nd Scottish Athletics XC Champs, Callendar Park, Falkirk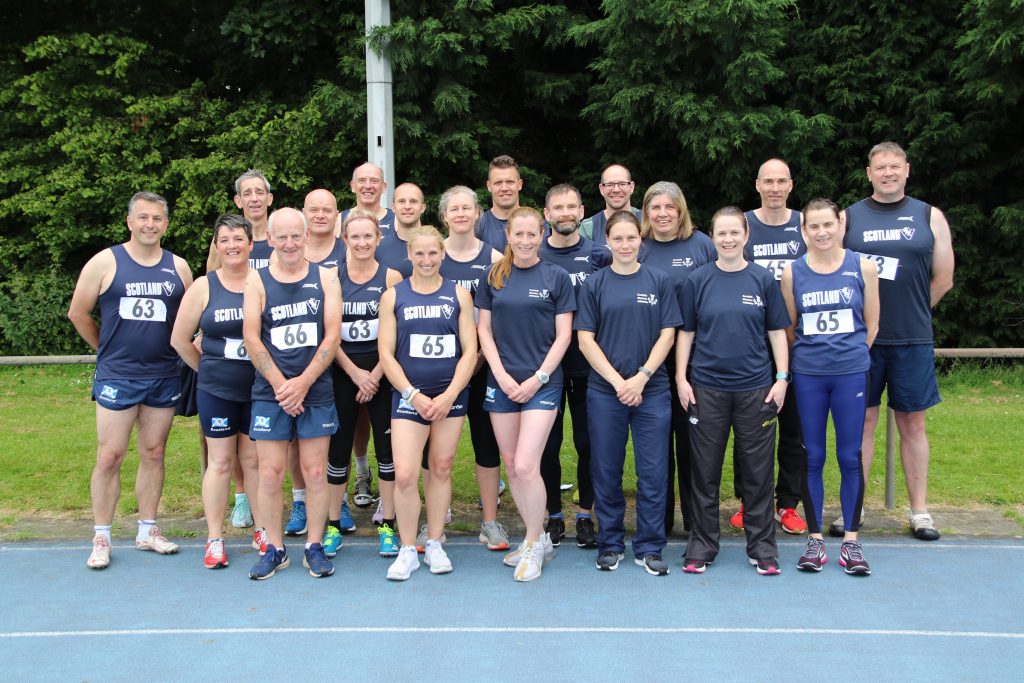 Photo by Clare Barr from Masters Inter-Area Championships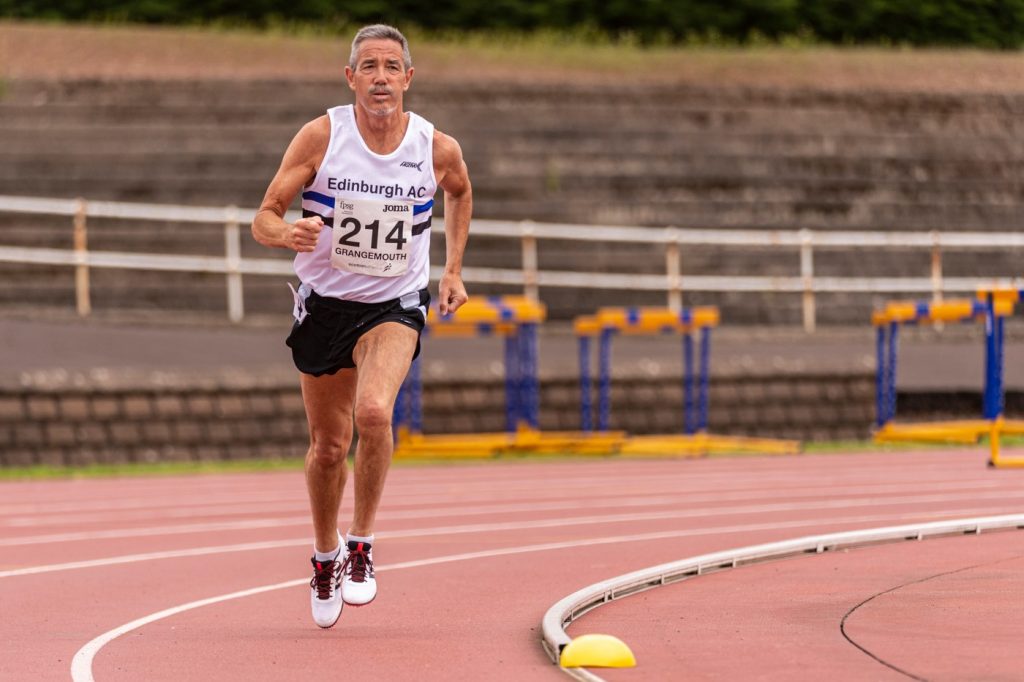 Former British and Scottish International Paul Forbes (now M60) out on his own.
FPSG Masters 2019 (C) Bobby Gavin of www.thatonemoment.co.uk