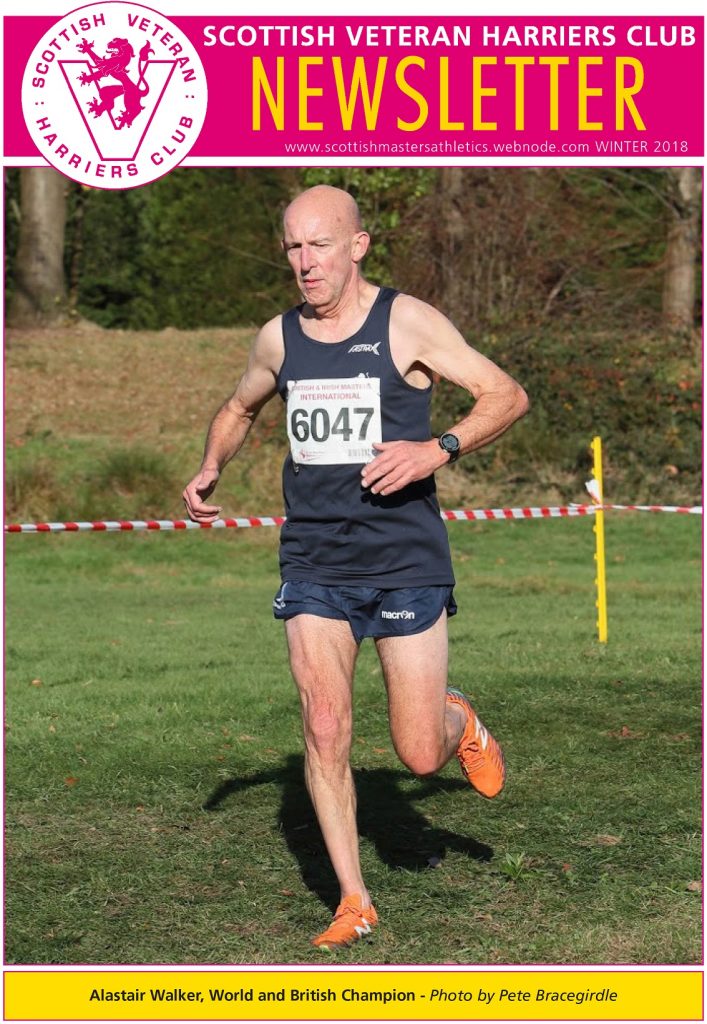 MEMBERSHIP NOTES 30th November 2018
MEMBERS Standard Membership £20 Non competing Membership £10 Over 80 Membership Free
Welcome to the 14 new and 13 reinstated members who have joined or re-joined since 12th August 2018. As of 30th November 2018, we have 555 members, including 301 paid, 10 underpaid, 215 unpaid, 24 over 80 & 5 Life Members.
NEWSLETTER The electronic version of the Newsletter is now the preferred option. Any member who would rather receive a printed Newsletter must contact David Fairweather (djf@ dfairweather.plus.com), if they have not already done so. Please inform David if you add or change your email address.
Please send photos, news, letters, articles, etc for the next issue To: COLIN YOUNGSON TOMLOAN, SANQUHAR ROAD, FORRES, IV36 1DG e-mail: cjyoungson@btinternet.com Tel: 01309 672398
SVHC EVENTS
Stewards/marshals are required for club races. The club appreciates all members & friends who volunteer to act as stewards/marshals. If you are not competing just turn up and introduce yourselves to the organisers.
STANDING ORDERS Thank you to the members who have set up standing orders for membership subscriptions. Please keep me informed if your membership details change (especially email addresses. Standing order details: Bank of Scotland, Barrhead, Sort Code: 80-05-54, Beneficiary: Scottish Veteran Harriers Club, Account No: 00778540, Reference: (SVHC Membership No. plus Surname). stewart2@ntlworld.com 0141 5780526 By cheque: please make cheque payable to SVHC and send to Ada Stewart, 30 Earlsburn Road, Lenzie, G66 5PF.
CLUB VESTS Vests can be purchased from Andy Law for £18, including Postage. (Tel: 01546 605336. or email lawchgair@aol.com)
NEW MEMBERS
NUMB CHRS SURN JOIN TOWN
2474 Mark King 15-Aug-18 Glasgow
2475 Donnie Macdonald 15-Aug-18 Muir of Ord
2476 Robbie Paterson 25-Aug-18 Forres
2477 Iain Robertson 04-Sep-18 Glasgow
2478 Brian Robinson 14-Sep-18 Ayr
2479 Romy Beard 16-Sep-18 Glasgow
2480 Ewen McNair 25-Sep-18 Alloa
2481 Julie Gordon 15-Oct-18 Glasgow
2482 Lesley Corr 15-Oct-18 Glasgow
2483 Morna Fleming 21-Oct-18 Dunfermline
2484 Claire Wharton 30-Oct-18 Eaglesham
2485 Steven Park 30-Nov-18 Edinburgh
2486 Penny Gardiner 15-Nov-18 Dunbar
2487 Derek Clyne 27-Nov-18 Galashiels
2351 Grant Baillie 24-Aug-18 East Kilbride
26 George Black 13-Sep-18 Kingskettle
2358 David Eckersley 14-Sep-18 Balfron
2135 Scott Hunter 16-Sep-18 Rutherglen
2278 Sheila Lewis 01-Oct-18 Clarkston
2128 John Duffy 01-Oct-18 Cumbernauld
1869 Alexander Chalmers 07-Oct-18 Bearsden
2211 Andrew White 30-Oct-18 Greenock
2303 Chris Devine 30-Oct-18 Loughbrickland
2160 Emilio Cosimo 06-Nov-18 Muirhead
2275 Deborah Roe 12-Nov-18 Lenzie
2374 Charles Steven 20-Nov-18 East Kilbride
745 Thomas Feeney 26-Nov-18 Uddingston
Ada Stewart Membership Secretary
2018, SWANSEA, WALES
This year saw our team head for Swansea which, if truth be told, isn't the easiest of places to reach. As Mens' team manager, I was just hoping everyone would be all right for race day after such a testing journey.
Ross McEachern V50 suggested that I could fly to Bristol then hire a car and drive to Swansea, allowing me to be there early to collect team numbers and check out the course etc.
So, when our team arrived finally arrived, slightly battered and bruised, I really didn't know what to expect come race day but, in fairness to our team, the mood was upbeat, which I must say was better than I would have been after travelling on a bus for some 11 hours.
With numbers handed out and our new newbies all kitted up you could see some nerves starting filtering through which. for a team manager, is a good sign, if you ask me. Our team had a real mix of old hands and newbies.
Our hotel was only a mile from the course, so some opted to run there and some took the coach to the course, which in hindsight maybe wasn't the best idea, as the second coachload missed our allocated photo slot time of 10.35 a.m. However, Innes Bracegirdle's husband Pete took some excellent photos, so many thanks Pete we really appreciated it.
On to the real business of the day, the races itself. First up for the males would be our V65, V70 and V75+, who started alongside the young whipper-snapper women of the V35 category.
I was hoping that the day would start well and by the end of the race we would have some silverware to get the rest of the age groups fired up. I had high hopes especially of our experienced V75 quartet (Bobby Young, Jim Scobie, Ian Leggett and Pete Cartwright). It was great to have strength in depth for this age group.
Our V65 and V70 runners had a wealth of experience at this level and included individual medallists from previous years so medals would depend on who raced well on the day.
Under starting orders on a dry course, which seemed to spectators fairly flat, but like a lot of courses it was not until you put the foot down you realised there was always a sting in the tail. The second half of this course was no different, with a long testing drag up to the highest point where you could see positions change throughout the day. First to come over the line for Scotland was none other than Andy McLinden V65 in 8th place, one in front of Tony Martin. Along with Ed Norton, the team secured Bronze medals.
With so many runners being in the first race, it is always hard to keep track of positions throughout the age groups, but in-form Alex Sutherland M70 had set his stall out early and was always in contention for an individual award, which he duly delivered with a gutsy performance to claim Bronze. Unfortunately, this age group wouldn't be claiming any team medals as Norman Baillie had to pull up with a hamstring injury after just 50 metres, taking the team out of contention, although it didn't deter Stewart McCrae from putting in a sterling performance finishing an excellent 7th M70.
If I had been asked beforehand which teams I thought had the best chance of medals, I would have opted for our V60 and V75, both very strong at British level and generally performing well at these events. It was great to see Pete Cartwright toe the line after his recent health issues, despite his doctor advising him not to run (what do doctors know about us runners?). Evergreen Bobby Young M75 never fails to amaze me not only by drinking skills afterwards but especially by his running achievements. He seems to rise the occasion every time with a calculated run making his final surge for victory on the tough climb to claim victory by 20 seconds. First Gold of the day for our men's team! Jim Scobie, Mister reliable, put in a tough shift, fighting all the way to finish 7th and help us claim a well-deserved team Bronze.
Just past mid-day and the medals were starting to come our way.
V50 to V64 races
The V60 year age group was up next, and this is where I thought we could play our ace of the pack, Alastair Walker, who I had down as pre-race favourite although nothing is guaranteed in this game such is the competition each year. Alongside the formidable Walker, we had the likes of Paul Thompson, Jeff Farquhar and Alex Chisholm, so hopes were high for a team medal of some colour. Despite being in the sport for a few years more than I care to remember, I still get excited watching guys like Alastair warm up, totally focused on the task ahead. After the first lap Alastair looking relaxed and composed. He was leading the the V60s but not without a spirited effort from the Northern Ireland athlete Laurence Johnston, who was trying to match Alastair's every move. Jeff Farquhar, now back on the stage where he belongs, ran a great race to finish 7th, Paul Thompson was 8th and Alex Chisholm 9th. These guys were a team manager's dream. Yet the day belonged to Alastair who was under pressure throughout but stayed calm and extended his lead on the final lap to 32 seconds, which may sound comfortable but my stomach was churning just watching as the NI athlete also ran a cracking race. Second Gold of the day! Not only that but we managed to secure team Silver for our efforts.
Our V55 team was made up of Mick McLoone 10th, Dave Eckersley, Steven Worsley and Stan MacKenzie. They had it tough as the strength-in-depth from the other nations was impressive. If I'm being honest, I think this may have been the strongest V55 I've seen from England and Northern Ireland, which left Ireland, Wales and ourselves fighting for the scraps, but fight we did, right to the end, with a great effort put in by everyone. Well done lads.
V50: This one had me monitor the team performance maybe more than others, as I know most of the team very well and have trained with them on many an occasion. Couple this up with me turning the Big 50 next year – who knows, will I aim for a comeback? (Watch out, Chalmers, your place is on a shaky peg!). Once again England and Northern Ireland were to the fore dictating the proceedings but, from a Scottish point of view, all our team gave us a great race to watch and to see who would come out on top of the V50 Scottish guys. Well that top spot went to Andrew White, finishing in a credible 14th, but as I say a great race to watch as all the guys had a turn at the front at one stage for the Scottish top spot – Andrew White 16th, Stephen Allen, Ross McEachern, Alex Chalmers, Howard Elliott and Ian Johnston.
Now we move on to the young guns – V35 to V45.
Our trial winner Scott Brember V45 was looking to perform well, as his recent racing programme had shown good signs. Alongside Scott we had Paul Rogan, who made his debut the same day as myself a few years ago down at Birmingham, but was feeling slightly nervous as he had thought he may have overcooked his build up to the race. However, as the results would show, Paul put in a top-class performance. Paul Monaghan had a nasty tumble at the start of the race and never fully recovered to get himself back in to the race where he had hoped he would like to have been, and the result didn't do him justice, but thankfully at the end of the day it was only his pride that was hurt and nothing more serious. On the injury note, Davie Gardiner pulled a hamstring with only 150 meters to go to which I feel slightly guilty about as I was yelling at him for that last push to the line. Justin Carter and Stephen Allan again showed what the Scottish vest meant to them by putting in 100% on the day – what more could we ask for? So back to Mr Brember, who was tracking his English rival like a man possessed and kept making inroads each lap but maybe just ran out of grass before that Gold would have been his – but hey, who wouldn't be happy with an excellent Silver medal against a top-class English runner? Great run Scott – he was first Scot home in this race, beating all his younger team-mates – but unfortunately there were no V45 team medals today.
V40: As the age group goes down, the pace usually gets faster so to medal at these age groups everyone has to run well and not just well but probably out of their skin even to be just considered for a team medal. So our boys did very well by claiming an excellent team Bronze. Without being disrespectful, I was thinking this would have been a tall order for the boys but I love to be proven wrong, especially when medals are up for grabs. Graeme Murdoch 10th and his team of Donnie MacDonald, Chris Devine, Darran Muir, Malcolm Lang and Stevie Campbell had us all celebrating. This race turned out very similar to the men's V50 event with each of the guys striving to finish in that counting four. As this result came out of the blue, it was probably the one I will savour the most. As is often said, cross-country races are not won on paper but on the course – guys, sorry for doubting you but at the same time so happy for you all.
V35: Please excuse me for starting my V35 report by mentioning the race winner, Mark McKinstry of Northern Ireland, but I couldn't help but admire the manner in which he took this race by the scruff of the neck right from the gun. Initially I thought he had started far too fast but he just kept going to from strength to strength to claim a well-deserved victory.
Our own guys (Grant Baillie 9th, Darrel Hastie, Mike Houston, Chris Mooney, Robbie Paterson and Garry Matthew flew the flag as well as they could but, without making any excuses, the pool our English counterparts have to choose from in this age group is always going to be the toughest, as some of the athletes are still competing for their country as seniors, never mind as veterans. Grant Baillie came away with a top 10 placing which might not sound particularly special but I thought this was a great run. Not to be outdone, all our other guys fought tooth and nail to be part of that counting four and were only separated by a mere 50 seconds. Unfortunately, Garry Matthew had to pull up with one lap to go with a calf injury but, after a few shandies, he seemed on the way to recovery.
Now for a brief overview. May I finish by saying that once again it has been a great pleasure, being asked to be team manager for a great bunch of guys who gave nothing less than 100%. Our Scotland team is not made up of any superstars or elitist athletes – just a mere bunch of hairy-arsed Scotsmen willing to give everything they have on the day for the vest!
So, roll on next year!
By John Bell
SCOTTISH WOMEN'S RESULTS
W35
Michelle Sandison has written about her splendid individual gold medal in this age-group. Backed by Sara Green and Romy Beard, the team won bronze medals.
W40
Carol Parsons finished an excellent fifth, with Jennifer MacLean 9th. Jacqueline Etherington completed the team and secured bronze.
W45
Megan Wright (7th) was first Scot home in this category. Karen Kennedy and Allie Chong allowed the team to obtain bronze medals.
W50
Mary McCutcheon ran well for 6th place. Her bronze medal-winning team-mates were Sue Ridley (9th) and Rhona Anderson.
W55
Our perennial star, Fiona Matheson, delivered individual victory yet again, for the third successive time in this age-group. (Between 2011 and 2013 she achieved the same feat in the W50 category and added two individual silvers in 2014 and 2015!) Fiona was ably backed by all her silver medal-winning team-mates: Anne Howie (7th), Pamela McCrossan (9th) and Mary Western (10th).
W60
Team bronze was the result for Isobel Burnett (a fine 5th), Margaret Martin (8th) and Innes Bracegirdle (9th).
W65
Last year's W65 gold medallist, Ann White, won an excellent individual silver this time; and team silver too, with superb backing from Linden Nicholson (4th) and Morna Fleming.
W70+
Liz Corbett (5th) was the outstanding Scottish runner in this category, and along with Anne Docherty and Margaret Robertson the team obtained bronze medals.
The Long and Winding Road: A By-Stander's Perspective
When Paul McCartney penned the lyrics for the Long and Winding Road in the late 1960s he is said to have credited the road from Carradale to Campbeltown as part of his inspiration. That's as may be, but I don't know if he ever spent a dark and cold November night on a Parks of Hamilton 53-seater going over the twists, turns, ups and downs of the Brecon Beacons in Wales after being on the road from Cowcaddens in Glasgow since 09:00. By the time the troops fetched up in Swansea the last thing they felt like doing was singing! Just over half of the Scots contingent came that way, others by car, plane (or two planes and hire car in the case of Susan Linklater from Shetland – with her husband, mark you), train and maybe even the odd ferry thrown in. Whatever, Swansea is not the easiest place to get to, but it does have a great waterfront, beach (excellent running along at least a three mile stretch of firm sand, best done on a dark early morning with the sun a mere suggestion in the south-eastern sky) and, as BBC reported after the event – https://www.bbc.co.uk/news/uk-wales-46237354. – "possibly the most disappointing Christmas parade in the UK."……. A Christmas parade has been branded a "shambles" after parents said it had just three floats and was "all over in five minutes".
We were greeted by the welcoming sight of The Dragon Hotel, digs for most of us and also, by happenstance, for the English team. No grief with that, although race day breakfast was carnage in the dining room – it's just as well most of the runners did not want too much to eat. There was the odd 'normal' guest in the hotel too who stumbled into the melee and must have jaloused that their chance of a well-cooked full breakfast was a bit dodgy!
Jim Baxter – Parks's driver – drove us back and forward to the course on the day and his gentle Glasgow patter and observations no doubt set the runners up for the battle ahead. Spectators had a great course to view the races, over what appeared to be a nicely firm surface, plenty of twists and turns and pretty challenging hills. The weather gods had been appeased, which was maybe just as well as there appeared to be no shelter from the storm, if it had come. Teams adopted their own particular tree in the park for kit drop, etc and that seemed to work well. Watching the runners, it was instructive as to how the runners with the best form also seemed to be the ones who got towards the front of their respective packs. As a comparison watching the final section of the race around two hundred metres from the finishing straight there was a fairly steep downhill and sharp final bend where (especially some of the more mature) athletes came down absolutely all out, heads flung back, gasping for air and arms flailing around to keep their balance. Good photography territory.
Brangwyn Hall – https://www.swansea.gov.uk/brangwynhall – at night for the prizegiving and meal where the Welsh had set things up admirably. The catering by an outside firm was as good as one was likely to get for the 500 or so odd folk there. Drinks orders seemed to arrive. Wall murals were admired and puzzled at and the craic was good. The decibel level of cheering for the successful athletes seemed to be in inverse proportion to the overall success level of the teams. Hence Northern Ireland made a goodly amount of noise for their victories, the Scots, Irish and Welsh not far behind, but strangely muted were the English celebrations of success. It may be that many of their team had gone off home after the event, or they were just being suitably modest as the best overall team by a long way.
A couple of interesting things to note about the evening event: –
 While acoustics for the speechifying were pretty lousy, the speeches themselves were admirably constrained and to the point. Well done to Mel James and Arthur Kimber for that.
 Photographs were not organised, in fact actively discouraged at the podium. That worked very well to speed up the flow of prize-winners and let individual teams do the necessary with smartphones, etc back at their tables.
Some of the Scottish team's support pack simply soaked up the race atmosphere and shouted on their team and individuals. Others did that and ran in the open race, and a few participated in the Parkrun on race-day morning, in particular one who managed the women's team – Ada Stewart take a bow. John Bell was seen to don a pair of shorts on Sunday morning, so no major hangover there then; maybe he was starting his training stint for an attempt on team selection for Southport next year!
By Andy Law
Wow, what a weekend… Swansea.
A flight from Glasgow to Bristol and a car share to get there but every second of travel was worth it.
Race Day – Singleton Park. As I warmed up, with pre-race music ringing through my head, I could feel the sun on my cheeks, I could smell a hint of mud which made me feel happy and I remembered how grateful I am to be injury-free and fit and healthy. So many times through my running life, as for every athlete, this has not been the case but bad times ensure that the good times feel even better. I went through my race plan, recalled my process goals and worked hard to keep the adrenaline at bay until the start line.
When standing there, I often think, "It's not too late to change your mind, you don't really have to do this" and "you need a wee" but deep down I know I do want to do it, I'm actually desperate to run it and I don't really need a wee. Weird head demons.
BANG! Elbows, elbows, elbows!! The tussle seems to have popped me out in front so I settle. I don't need to be at the front, that is not the race plan and is an unrealistic goal! All I recall about the first lap is working hard at keeping the adrenaline as low as possible, finding the hard tempo pace that I am happy with, remembering the best lines around the course and focusing on my breathing, my feet, my shoulders. The first time up the hill feels good but I know that it won't always seem that way so I prepare myself mentally for how it may feel harder next time.
Lap 2 is inevitably where it starts to hurt physically and mentally. I had planned a small "rest" period here to ensure I had plenty for lap 3 so I focused very hard on every aspect of my body…relax the jaw, shoulders down, use the arms, lean gently from the hips, switch on the glutes, listen to your feet, listen to your breathing….calm, calm, be calm. I am aware that I am leading V35 but I shove that knowledge far away. This is not the time to get carried away.
As I enter Lap 3 I am tired, I feel a bit sick and my arms and legs are starting to get heavy. "It's only a lap and a bit of Glasgow Green (one of my training areas in Glasgow) you've done that tired many times" I tell myself. Last big effort. The tannoy cuts in – I hear my name. It makes my heart jump, my adrenaline spike "shhhhhh, be calm, you need to breathe". The spotlight effect has not always been my friend so I force myself to ignore it and run away from the noise. As I run, my mind wanders, asking itself nonsensical questions, allowing demons in and losing focus on my body, another sign of fatigue for me. I work so very hard mentally to pull it back under control, to focus completely on my body and my breathing and I visualise all the times I feel like this in training. I force myself to hear the voice of my coach, Anne-Marie, in my head, I force myself to leave the reality of Swansea and go to the island I grew up running on (I am from Shetland). I visualise running through knee-deep heather with my father, as I did as a child, and force myself to block out the physical and mental pain. As I approach the final hill someone shouts "there's a medal in there for you Scotland" but I brush it off. I have a hill to climb and a "sprint" finish to complete, there's no medal if you collapse before the finish line!
Luckily, I didn't collapse and did cross the finish line and there was a medal. A gold! I was so exhausted that the overwhelming emotion at the finish was pure relief. I had followed my plan, I had kept my focus and had executed the race as I had wanted. I had run every ounce of energy out of my body (so much so that I got a visual migraine but even that was positive as I was looked after by the best team-mates you can ever hope for… but that is another story). Relief was quickly followed by elation and a final massive surge of chemicals through my body. The runner's high, I guess. And nothing beats it.
By Michelle Sandison
A Good Result
The race was on the side of a 'mountain'. 1k straight down and 1k straight up. Last 200m steep climb to high point and 200m steep down to start/finish.
Ran first lap to be told "Welshman 50m ahead". Didn't see him till got to steep climb on second lap and pulled him in. On long downhill he opened 30m. Eased up to him over gradual climb and made contact at bottom of steep 200m. Bombed up the hill and tore down steep 200m to finish!
Took about 20s advantage on the hill!
Turned out he was Emyr Davies. Old foe!
That was my 27th British and Irish XC contests out of 31.
25th team medal: 2 Gold 14 Silver and 9 Bronze.
8th individual medal: 2 gold 3 silver and 3 bronze.
Training 2018
Mileage 40-50 per week
80% comfortably steady 20% Quality (Intervals/hills/race)
Mon 5-6 miles steady
Tue 6 miles session e.g. 12 x 400m or 6 x 800m
Wed 5-6 miles easy
Thu 6 miles session
Fri 5-6 miles easy
Sat 5-6 miles Race or Parkrun
Sun 10-16 miles longer steady run
Phases
Stamina, then Strength, then Speed (Arthur Lydiard)
A Pyramid beginning with Stamina, acquired by concentrating on maximum steady mileage and only one session per day. The broader the base (aerobic threshold) the higher the peak.
Strength involves Tuesday/Thursday on hills (for about 4 weeks).
And finally Speed with 2 interval sessions and a race or parkrun (for 6-8 weeks).
Monday/Wednesday/Friday can be shorter or omitted if recovery is needed.
By Bobby Young
GREAT SCOTTISH RUNNERS: ROBERT QUINN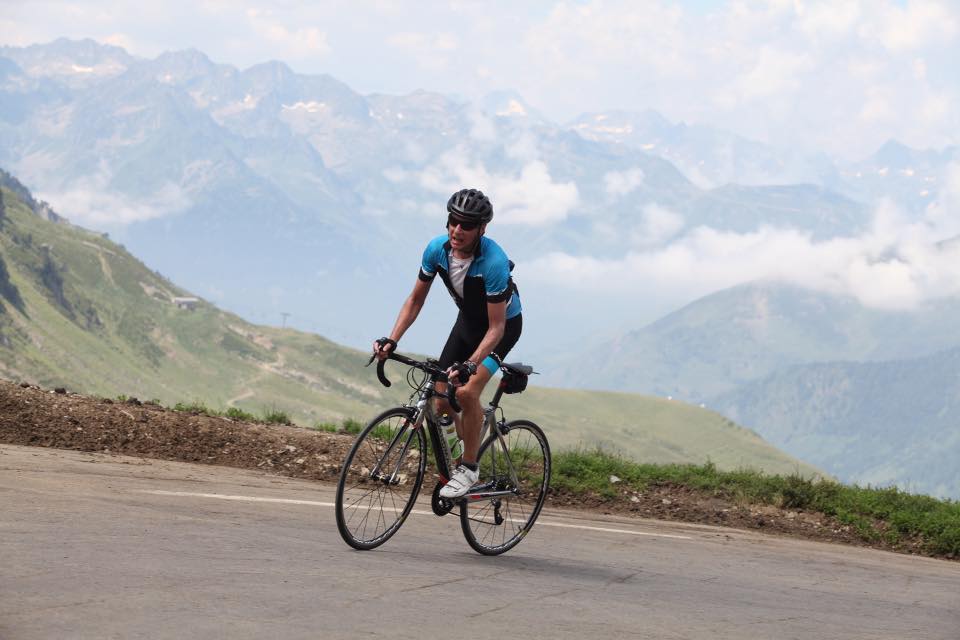 Robert cycling the Pyrenees, 2018
Robert Quinn ('Bobby' in his younger days) has been one of Scotland's finest distance runners for many years. Do look up his full profile by Brian McAusland under 'Elite Endurance' on scottishdistancerunninghistory.scot
Robert joined Kibarchan AAC in 1981 and in 1983 won his first Scottish cross-country title in the Youth age group. Since then he has added many Scottish XC titles: Junior in 1984; Senior in 1996, 1998, 1999 and 2000; the SAF 4k in 1999; Masters M40 in 2008 and 2009; M45 in 2011 and 2013 (winning the race outright on both occasions) and 2012 (second home)); M50 in 2017.
He ran for Scotland in the World Cross – at Junior and Senior levels; and for GB as a Senior.
Several memorable cross-country successes came in British and World Universities competition. Robert Quinn led Glasgow University Hares and Hounds to British victory in 1984. After becoming 1986 Scottish Universities cross-country champion, he was 9th in the World Student Championship. In 1992 he ran what he considers his best-ever cross-country performance on the international stage. First, Robert won the British Universities title by quite a long way and as a result captained the UK team in the World Student XC Championships in Dijon, France. In this event, Robert secured the individual bronze medal and led the British team to bronze medals. He was only seconds behind the winner Sean Creighton, who had been sixth in that summer's Olympic steeplechase.
On the track, Robert has been Scottish 10,000m champion four times – the last one in 2010, aged 44! He was twice ranked first in Scotland. Naturally he ran for Scotland many times over 5000m and 10,000m as well as on the road.
Brian McAusland reported that Robert reckoned he was always a good uphill runner, being light with a good strength to weight ratio, so he was suited to hill and mountain racing in a way that many cross-country runners are not. Spending summers charging over the most beautiful mountains in Europe and beyond, he describes as 'great' and who would disagree? His record is fantastic.
Robert ran for GB in the World Mountain Trophy six times between 1994 and 2002 with his best individual performance being third in 1998; to this can be added four participations in the European Mountain Running Trophy (including sixth in 2000); and tenth in the 2009 Commonwealth Mountain Running Championship. In the annual Grand Prix for Mountain Running, Robert won a major event in 1999 and was world-ranked third that year.
One of his many claims to fame is that he was the first person to gain full senior UK representative honours across all major surfaces: Track (European 10,000m Challenge, Lisbon 1996); Road (World Ekiden Road Relays, Copenhagen 1997); Cross-Country (World Championships 1995); and, of course, Mountains.
Robert Quinn has been very loyal to his club and has taken part in countless team events. In the Edinburgh to Glasgow Road Relay he recorded fastest times on the very classy Stage Two; and Kilbarchan won silver and bronze medals; as well as having similar success in the Six-Stage Road Relay and the Cross-Country Relay. In the National XC, Robert contributed to team silver medals (Youth and Junior).
As a Masters athlete, Robert has also enjoyed many successes, despite periods of inevitable injury. His M40, M45 and M50 Scottish Masters XC wins have been mentioned earlier in this article. Kilbarchan won team bronze in 2008 and silver in 2009. In 2007, he was first Masters finisher in the Gateshead UK XC Challenge. On the track, he was first in a gale-torn 2010 Scottish Masters 5000m at Pitreavie (a title he regained in 2013); and, also in 2013, won the Scottish Masters indoor 3000m at the Emirates Stadium, Glasgow.
Robert's three races for Scotland in the splendid annual British and Irish Masters XC International have been outstanding. In 2007 at Stormont, Belfast, he won the M40 title and at the presentation was cheered deafeningly as the hero of his entire team (female or male, aged 35 to 70 plus). In 2008 at the very muddy and hilly Singleton Park, Swansea, he may have been second to England's Tim Hartley, but considers this run to have been even better than Belfast. At Derry in 2017, despite being hampered by limited training due to injury niggles, he narrowly missed a medal, battling to fourth M50.
In the Scottish National senior cross-country Robert finished first Master three times, in 2008, 2009 and 2011, with his best position tenth.
In UK Masters rankings, Robert has been first M40 in 3000m, 5000m, 10,000m and Parkrun; and first M45 in Parkrun.
In 2018 he has taken a break from running, hopefully freshening his legs for future age-groups! Naturally, he remains very fit. This summer, as well as completing bike tours of Arran, Mull of Kintyre, round Loch Fyne, Bute and Rothesay, Robert cycled up major Pyrenean climbs like Luz Ardiden and the Tourmalet. In fact, before the road was closed on 27th July, he 'nipped' up the Tourmalet again to take photos of the Tour de France racers who were not far behind.
Brian McAusland finished his profile with the following. "A talented athlete, a superb worker, a ferocious competitor and a real and practising lover of our sport." All his many friends, including SVHC runners, wish this intelligent, friendly, admirable man a speedy return to running.
NEW FEATURE: MY BEST RACE
(or My Favourite Race Memory etc)
Since the Newsletter is struggling for lack of contributions, please consider emailing the editor with a short or long article describing an important event in your running career.
To kick things off, the editor remembers the very best race he ever ran, way back in Mediaeval Times…….
Sandy Keith was, in the mid-1970s, a major marathon rival and I trained with him on long runs near Edinburgh only when I felt good, since he was basically stronger than me. I defeated him three times in the Scottish Marathon – in 1974, 1975 and 1982. However he beat me in 1977 and was the superior marathon runner from 1976 to 1979.
My training at this time included three key weekly sessions. Monday meant The Meadows: four laps including no less than sixteen repetitions – short or long, on the flat, uphill or downhill on tarmac paths. Wednesday was a nine-mile pavement fartlek through Colinton with a series of testing longer efforts. Saturday was race day in the 1970s but, no matter what state you were in, the Sunday run was compulsory – a basic sixteen miles from The Meadows through Colinton Dell and out the old railway line to Balerno (and then back). The route might be extended via the reservoirs and Bonaly Tower. Anything between 16 and 25 miles might be covered (the latter with a sadistic little final lap of The Meadows, pretending not to be exhausted, until you parted from your companions/rivals with a cheery wave, turned a corner, and struggled wearily home. If you added some recovery running or a few hill reps on the intervening days, you had about eighty miles of excellent training in the hilly city – worth a hundred in the flat south?
Saturday 28th June 1975, Meadowbank Stadium, Edinburgh.
It was a warm, sunny day, and Sandy Keith took the initiative from the start, racing away down the hill to Portobello into a slight headwind. Only Colin tucked in behind and tried to relax. It seemed a hard way to start 26 miles! Sandy's ambition was to win a marathon from start to finish, from the front – and how he tried! Five miles in 25.30, ten in 51.30, the turn in 67.30. As the pair, on their return journey, passed ex-champions Alastair Wood and Donald Macgregor, who were approaching the turning point, Wood muttered that the young fools would destroy each other. Macgregor warned that they were about two minutes ahead already!
Since there was now a pleasant following breeze, and to show that he was feeling good in spite of Sandy's efforts, Colin moved alongside and they ran together for the next five miles. Then, at nineteen, as the route swung into a lay-by for a drink station, an official was clumsy in handing up Sandy's cup of water. Sandy swore, quite uncharacteristically, hesitated for the drink, and Colin, seeing that his rival was feeling the strain, simply surged away for a full mile, down the Wallyford hill. 20 miles in 1.43.45. A nervy glance back revealed a decent gap, fifteen seconds, and it was head down again and flat out for Musselburgh and Portobello. The pace was still fast, but tiredness and worry set in. To win the Scottish Marathon was Colin's main ambition in the sport, and now it was a case of hanging on grimly. Up the long hill to Jock's Lodge and then, at the twenty-five mile mark, Youngson's right leg suffered cramp. Would Keith catch up, so near to the finish? Keeping the limb as straight as possible, Youngson bashed onwards, to the stadium and round the track. No sign of Sandy until the final bend was reached and it was safe to negotiate the straight and break the tape.
What a relief for Colin Youngson, who felt sure that he must have broken the 2.20 barrier at last, but was very surprised to find that Jim Alder's championship record had been broken by 21 seconds. Finishing times were: Colin Youngson (Edinburgh Southern Harriers 2.16.50; Sandy Keith (Edinburgh Athletic Club) 2.17.58; Alastair Wood (Aberdeen AAC) 2.21.14; Davie Wyper (West of Scotland) 2.25.44; Gordon Eadie (Cambuslang) 2.25.48; Alistair Blamire (ESH) 2.26.20; Ian Trapp (EAC) 2.28.26; Mike Logue (Victoria Park AAC) 2.29.56.
After the race, Alastair Wood said, "Well done, Colin. I think you're at your peak now." To which Colin replied that he felt there was a little more to come. But in fact Alastair did turn out to be right since this remained Colin's fastest time ever. Still, the rest of the season produced further success: second to Allister Hutton (1990 London Marathon winner) in the 10,000 metres track race for Scotland against Iceland in Reykjavik; second behind 'ultra' great Cavin Woodward in a fast 'Two Bridges' 36 miler; and a close second to Olympian Danny McDaid of Eire in the international marathon in Berchem, Antwerp. This was Colin's only race representing Great Britain as a senior, and he and Max Coleby won the team race. At the end of the 1975 season Colin Youngson was presented with the Scottish Amateur Athletics Association 'Donald McNab Robertson Memorial Trophy' as Scottish Road Runner of the year.
THE ULTIMATE MASTERS CHALLENGE
By Doug Cowie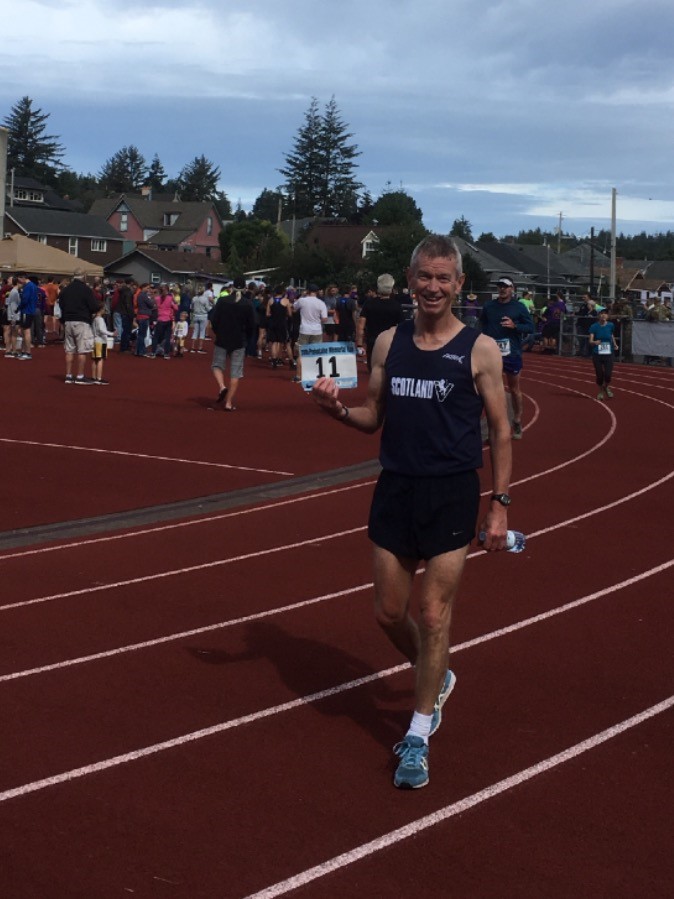 In November 1971 I started the transition from being a footballer to a runner, and for the last 47 years it's been a bit of a rollercoaster ride.
For someone who would be described as a 'decent' club runner I achieved a fair bit of success both as a Senior and a Master. I represented Scotland on numerous occasions, represented G.B. in three different events and won two European medals, but my FINAL athletic event was to prove to be the icing on the cake.
Regardless what sport we played, we all had our heroes and I was no different. My hero was American middle-distance runner Steve Prefontaine. Tragically 'Pre' was killed in a road traffic accident on the 30th May 1975 and for the last 39 years the Prefontaine Memorial 10k has been held in his home town of Coos Bay on the Oregon coast.
It was a race I'd always wanted to do but the right opportunity never arose, until last September. I decided I would retire the following February so with regard to the race, it was now or never. Plans were made and this year, September 2018 I made the trip to Coos Bay, Oregon, USA.
We spent 5 days in Vancouver before hiring a car for our trip to Coos Bay. The journey was broken with a couple of days in Seattle and Portland before heading out to the coast. Our route took us through Eugene where I visited 'Pre's Rock', the place where that fatal accident took place.
On arrival in Coos Bay we booked into the Edgewater Inn not knowing that this was where the Prefontaine Tours left from. We visited the museum where a room is dedicated to Prefontaine, showing photographs, records and medals. One picture I was very familiar with was of Prefontaine being pipped for bronze on the line by Ian Stewart in the 1972 Olympic 5000m final.
The race was Saturday morning but registration was open from 1600-1800 on the Friday evening so I decided to collect my number then. As soon as I said who I was or rather where I came from I got the feeling they were waiting for this runner from Scotland to arrive. I was taken to meet Prefontaine's sister Linda and the rest of the committee. The hospitality was amazing.
Preceding the 10K was a junior race where 28 High School teams were introduced to the spectators. Each had approximately 20 runners and they were immaculately turned out in club colours. Monies raised from the Prefontaine races go to promoting sport in youth.
Before the main event got underway the runner from Scotland, along with a few others were introduced to the crowd.
At this point I was still not sure whether I'd be able to complete the race…………I was definitely going to start!
Back in March I sustained a Medial Meniscus tear and I had not run a step since then. My fitness levels had been maintained by cycling and swimming. It didn't help either when I fell off my bike 6 weeks before the race. It was quite a heavy fall and I lost a chunk out of my arm and couldn't walk properly for four or five days.
My knee was sore warming up and the plan was to run the first half mile or so, drop out and walk to the finish.
That was the plan! My knee didn't get any worse so I decided to carry on and try to finish.
I crossed the line in 47.23, 84th overall out of about 1000 and 4th in the 60-69 age group. My slowest time ever for a 10K.
I was obviously disappointed with the time but on the other hand very happy to have been able to run and finish and to be honest it was the toughest 10k course I've ever run. Apart from the first and last half miles it was 5 miles of rolling road. If you weren't running uphill you were running downhill.
All things considered it was a truly wonderful experience – it was everything I hoped it would be, and more.
I would urge anyone who is remotely thinking about doing it, to JUST DO IT! You won't be disappointed.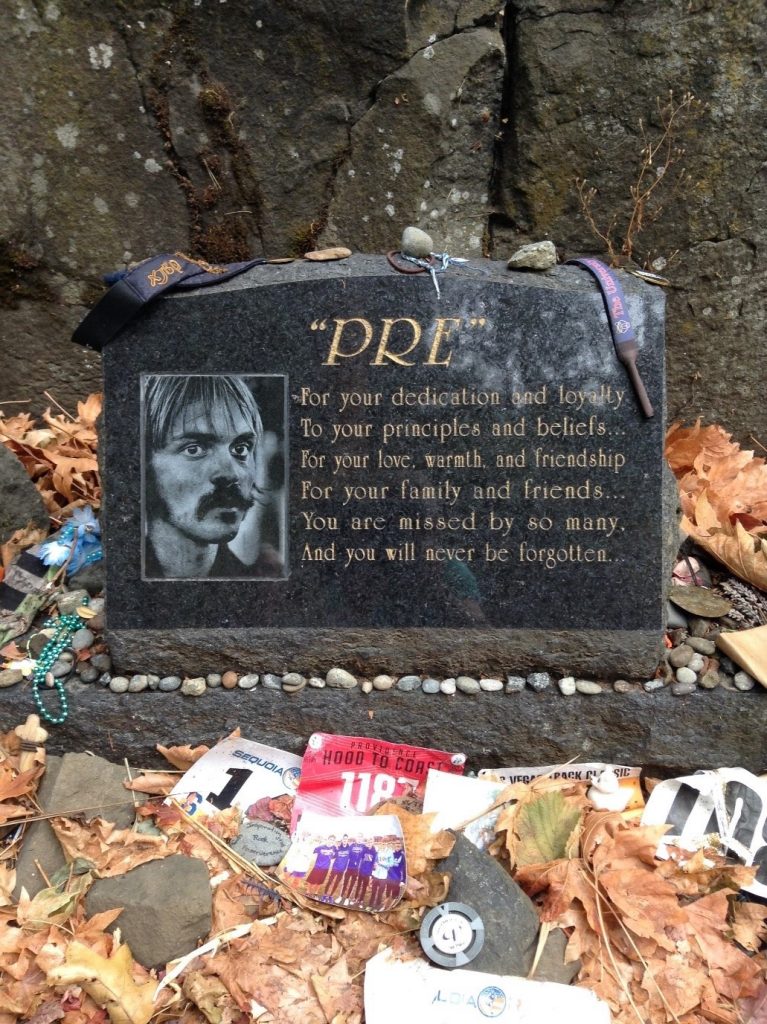 [Steve Roland "Pre" Prefontaine (January 25, 1951 – May 30, 1975) was an American middle and long-distance runner who competed in the 1972 Olympics. Prefontaine held American records in seven different distance track events, from 2,000 to 10,000 metres; he died aged 24 in an automobile accident near his residence in Eugene, Oregon. Prefontaine's career, alongside those of Jim Ryun, Frank Shorter, and Bill Rodgers, generated considerable media coverage, which helped inspire the 1970s "running boom." He was known for his moustache and long locks of hair that parted as he ran. (Wikipedia)]
Racing Round-up
World Masters Championships, Malaga, Spain
Scottish athletes did very well at this year's highly-competitive World Championships, securing individual and team medals. Thanks to the following for noting these performances: Mike Clerihew (and his valuable website scottishmasterstrackandfield.com); Fiona Matheson; Norman Baillie; as well as online official results.
Alastair Walker (Teviotdale Harriers), the BMAF 10km road champion, won two individual medals: bronze in the M60 5000m; and a runaway gold in the 10km road race. Last November in Derry, a rather late convert to veteran racing, Alastair (formerly 'Sammy') was an impressive silver medallist in the British and Irish Masters International XC; and now he is a World Masters Champion!
Fiona Matheson (Falkirk), in her third season in the age group, added to an illustrious W55 Masters medal haul with 1500m bronze and 5000m silver.
Andy Mclinden (Hamilton) sprinted home to snatch individual silver in the M65 Half Marathon and his GB team won gold.
Yvonne Crilly (Lothian) ran superbly to win silver in the W55 800m.
Ann White (Garscube) not only secured individual W65 silver in the Half Marathon but also contributed to the GB W60 team which finished second.
Her daughter Katie (Garscube) was second home in the W35 Half Marathon, leading the GB team to silver medals.
In the cross-country, Michelle Sandison (Springburn) won W35 individual bronze and team silver. Phyllis Hands (Motherwell) contributed to W60 GB team silver; while Stephen Allan (Cumbernauld) and Justin Carter (Cambuslang) secured M45 team bronze.
On the track, Ronnie Hunter (Corstorphine) was part of the GB team that finished second in the M55 4x100m relay.
In Half Marathon, Kerry-Liam Wilson led the GB team to M45 silver. Anne Macfarlane (Dumfries) gained W55 team bronze; and Norman Baillie (Garscube) M70 team bronze.
Apologies for any omissions.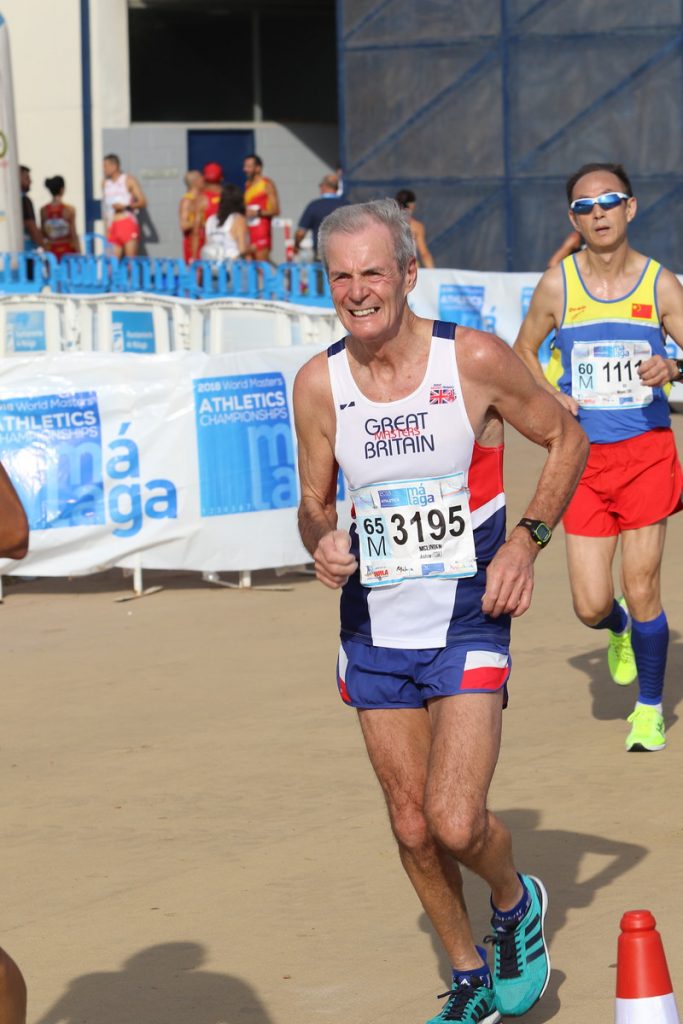 Andy Mclinden – photo by Doug Smith of shaggysphotos.com
TWO TOUGH RACES
Linda and I travelled with two of our friends on 06 Sep and stayed for a week in Torremolinos. The change in temperature from home was dramatic and I hoped itwould ease a bit for the 10k. Had three mornings of dodging early strollers and joggers along the front before the first of two big days arrived.
10k Road Race 09 September
The early start of the race (9.00 am) meant a 7.00 am taxi ride to the start at the main athletics stadium in Malaga. Even that early as light was breaking there were athletes from all over world milling around and the throng just grew and grew as start time approached. Had quick word with Justin Carter from Cambuslang in the warm-up area and outside while jogging, and ran into Paul Forbes and later Paul Thompson's lovely lady Jan. Back into the stadium and it was time for the start on the track. There I spoke to Paul Mingay, my nemesis from the Run Britain rankings who I had never met and had spent two years hating!! Turned out he was a really nice guy. The start was just a free-for-all. All ages pushing in. The gun went and we were off to a slow start till we got clear of stadium. The course was out and back and very flat. Thankfully, although it was still hot there was cloud cover. I felt that I was going well and my mile splits were as I had hoped. Didn't see many V60 numbers en route. My wife and friends had been briefed to look out for V60 runners. Finished very tired in 35.56 and hadn't a clue about my position I'd finished. I got to the reunion area for my wife to say I'd won and my friends confirming this. After a long wait for the official results, I was indeed World Champion. Then it all got quite surreal, with strangers lauding me, flags, national anthems and a gold medal. All very emotional. A truly unforgettable day.
5000m Track 12 September
This was held at the Carranque Stadium, one of three where events were held. Because of the numbers entered there were 3 seeded heats with the gold medal going to come from third heat which I was in. I wished John Thomson luck as he was about to compete and started my warm-up. It was much hotter than the day of the 10k. Then it was off to the call room and the start of the race. I noted that the Spaniard who won gold in the cross-country and the New Zealander who got bronze were both on the start line. My plan was to sit in but the pace was so slow I took it on from 800 metres. The Spaniard sat in and passed me with 300 metres to go and the New Zealander, who I wasn't conscious of being there, passed with 50 metres left. Could I have run differently? I don't know. Bronze this time. I wished Fiona Matheson all the best as she was about to compete and headed off on my warm down. My World Champs were over.
Footnote: Paul Mingay, who I beat in the 10k, won the half marathon V60 on the following Sunday and the 1500 metres was won in 4.51. (I'd done 4.52 at Grangemouth). If only, ha ha. Roll on Toronto!
By Alastair Walker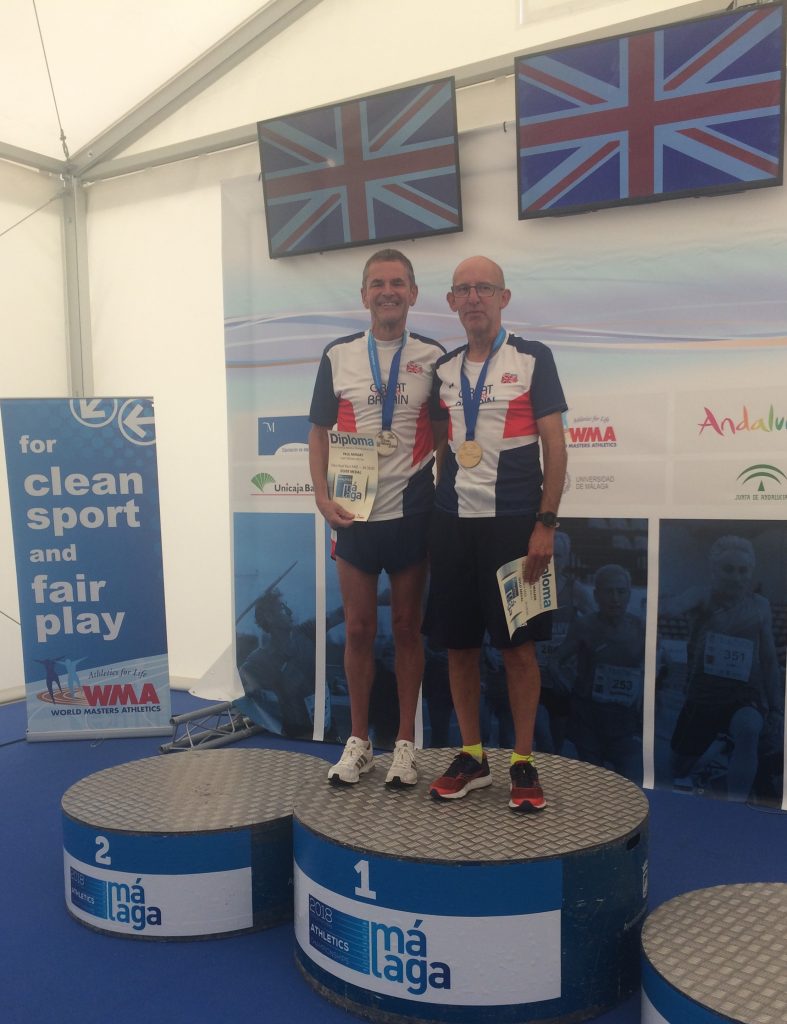 Alastair on the 10k Podium: photo by Linda Walker
A HOT HALF MARATHON IN MALAGA
We knew it was going to be very hard. We had trained in the heatwave during the summer and had found it difficult to maintain pace during speed sessions: we are just not used to that sort of weather in Scotland. The Beast from the East was more our thing. At least the race was early in the morning.
We were not sure of the route so we arrived early at the stadium and tried to work out where we would be running and where the water stations would be. We took advantage of the opportunity to have our own electrolyte drinks at two of the water stations. Having warmed up we headed for the start which was arranged in age groups.
Katie's race: Having not run in any of the International Masters events before I didn't really know what to expect from the race so I had no target time in mind. After an over-crowded start and a first loop around the stadium people started to spread out a bit and I settled into a consistent pace on the long out and back section of the course. On the first lap it was nice to find a bit of shade, but unfortunately it didn't last long. I wasn't sure what position I was in until the turn-around point at about 4.5 miles. Then I realised I was the second woman with quite big gaps between the women in first and third place, so I just hoped I would be able to keep a steady pace and maintain my position. I don't normally drink anything during a half marathon but I tried to make good use of all the water stations both for drinks and to throw water over myself to keep cool. Looping around the stadium to start the second lap there was some good support for the GB team, which really helped encourage us on as we set out on the long out and back again. The gaps between me and the other women runners didn't seem to have changed much and I was maintaining a relatively comfortable pace. It was good to finish with a lap of the track and experience the support in the stadium. Other than the hours spent waiting for the results I really enjoyed the event so hopefully it will be my first of many more International Masters events.
Ann's race: I set off at the pace that would give me my target finishing time but after the first few miles I realised that, because of the heat, I would not be able to maintain it for the whole race. There was an athlete in my age group from Finland just ahead of me and I had decided to use her as a pacemaker but I had to let her go and just run at a pace that I thought I could manage for 13.1 miles. We did two laps of the course, round the stadium and out and back along the coast. On the first lap there was some shade from the tall buildings along the way but later we seemed to be in the blazing sun all the time. It seemed a very long way between some of the water stations and it was a relief to pick up my drinks and pour water over my head. There were several moments during the race when I thought I wouldn't be able to finish but I just tried to maintain my pace. Starting the second lap was daunting as I knew exactly what I was up against but there was some good support along the way that kept me going. And then, about three miles from the finish, I spotted the Finnish runner up ahead! I steadily gained on her and then had a dilemma. Should I overtake her now or just tuck in behind and then make a break nearer the finish? I decided to risk it and went past her, expecting her to come back at me any second. But she didn't! Then it seemed a very long run back to the stadium, particularly the last mile where we had to circle the outside of the stadium and then do a lap of the track. I was getting cramp as I circled the track but I was spurred on by the sight of Katie cheering me on from the stands. What a relief to finish and get into the shade of the stadium.
I had no idea where I had come. Indeed it wasn't until very late in the afternoon that the results were revealed and I was delighted to find out that I had won an individual silver medal in the W65 age group and team silver in the W60 age group. Although we had to wait for several very trying hours in the heat for the medal ceremony, it was a great feeling to be on the podium with the Union flag. I was very proud to see Katie get her silver medals as well and we had an excellent paella and a couple of beers to celebrate later that evening.
By Ann and Katie White
SVHC QUESTIONNAIRE ANSWERED
(Two experienced and successful athletes are profiled in this edition. Sharyn Ramage has been mainly a track specialist but has run for Scottish Masters in the British and Irish XC International and won the Scottish W50 XC title in 2013. Pamela McCrossan has concentrated more on road and country: she finished first W55 in the 2018 Scottish XC championships; and has run for Scottish Masters several times in the British and Irish XC.)
NAME: Sharyn Ramage
CLUBS: EAC & Ayr Seaforth
D.O.B: 06/08/1962
OCCUPATION: Retired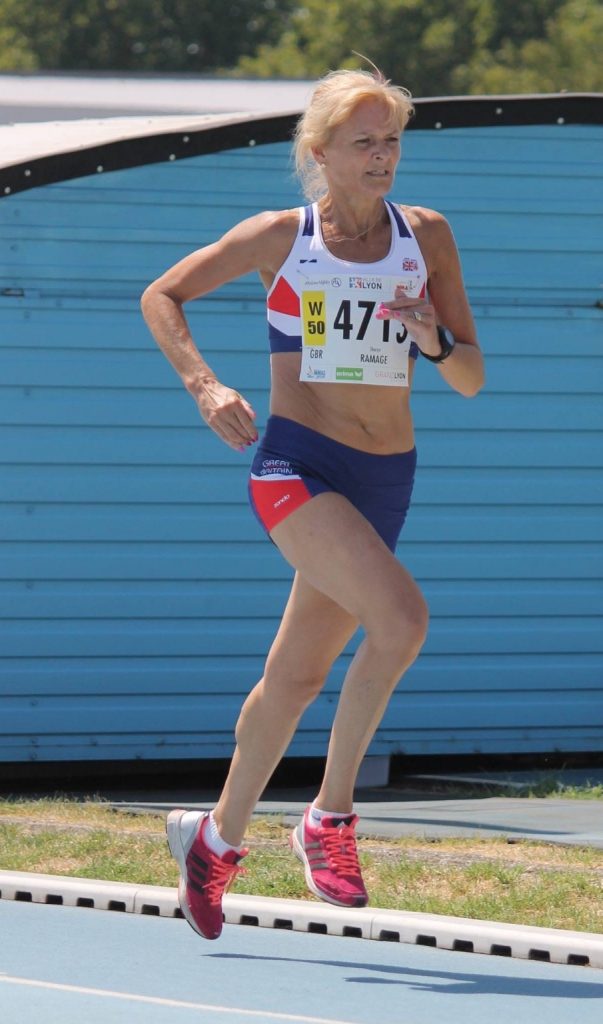 HOW DID YOU GET INVOLVED IN THE SPORT?
I was in the school gymnastics and netball team and as competition was fierce they required extensive training to ensure selection for the teams. I left school at 15 and my body was so conditioned to training that I needed something to fill the void. I began to jog and one day I stumbled on a group of 4 or 5 men warming up to go for a run and was invited to join them. From there Colchester Joggers was formed. I was hooked immediately and found myself running many half marathons, mostly within a 20-mile radius of Colchester, with reasonable success. My then husband was posted to Berlin where I joined Berlin Harriers for group training – however races were limited due to the restriction of the wall. I ran the Berlin marathon and 25km road race. I worked for the military whilst there where I ran the 7 miles to and from work every day. My colleagues were keen for me to run for them in the cross-country league. I was really not interested but after a lot of persuading I started competing for them and went on to win every race. To those colleagues, I am forever thankful. However I do not ever remember running in mud up to my armpits like here in Scotland, our,next posting. It was imperative I found a running group. I acted on an advertisement for a training group at Saughton and this was where I met Kim (Fisher) Forbes. Kim and I immediately struck up a friendship, running many miles together both in training and competition, usually not without incident, we always had a story to tell. During this time I joined Pitreavie for a short period. When I wasn't running I was playing netball for Edinburgh.
HAS ANY INDIVIDUAL OR GROUP HAD A MARKED INFLUENCE ON YOUR ATTITUDE OR INDIVIDUAL PERFORMANCE?
I ran up until the birth of my son, Reece, and was back on the roads 6 weeks to the day after his birth. I was looking to get the elusive sub-three-hour marathon. Kim, suggested meeting Bill Walker at Meadowbank and he advised me to join the middle-distance group. I fell in love with the training sessions and the 800m. Bill, a no-nonsense coach, together with a focused, competitive and supportive squad, helped develop me into the athlete I am today. Having joined Bill's squad I also joined my current club, Edinburgh Athletic Club.
WHAT EXACTLY DO YOU GET OUT OF THE SPORT?
Initially I began running solely for my health and well-being. Never did I envisage it being such a huge part of my life. Running has brought me everything I could possibly wish for and more. The camaraderie, lifelong friendships, amazing places I have travelled and picking up a few medals on the way, for me the best tonic ever.
WHAT DO YOU CONSIDER TO BE YOUR BEST EVER PERFORMANCE OR PERFORMANCES?
My first memorable performance was at the East District Championships 1500m at Pitreavie 1999. Hayley (Parkinson) Ovens, a Scottish senior squad member at the time, set the pace. I was a W35 and I tucked in behind her. What was I thinking? I remember wondering 'where are they'? i.e. the rest of the field. As Hayley started to pull away with a lap to go, I believed I could medal. With true grit and determination along with the benefit of Bill's training, I held onto win the silver medal with a PB of 4:44:04.
The second memorable performance was at the British Masters Championships 800m in Newport, Wales. The weather conditions were wild with torrential rain and a wind that could almost hold my body weight. My Mum and Dad were spectators. Mum had just been diagnosed with breast cancer and as I left for the call room I said, 'This one is for you'. My husband, gave me a pep talk advising I should tuck in behind given the gale force winds. Nodding my head, I made my way to the start line. Immediately after the gun I went to the front – I suspect Alan was shaking his head at this point. With 200m to go an athlete passed me, I was expecting more to follow. Visibility was poor and the headwind on the home straight was brutal. I'm hanging on for dear life to medal, working my arms like never before – I'm sure my eyes were closed – however I was aware of increased volume from the spectators. I was thinking the rest of the field were queuing up behind me. I remember looking down asking myself 'where the f*** is the finish line'? There it was, I lunged and pipped the leader to take the title. British Master W35 800m Champion, for my Mum!
YOUR WORST?
My worst performance has to be the Scottish Masters Indoor Championships 800m in Kelvin Hall. Leading from the gun I won! Oh no! I eased up at the wrong line, and let another athlete slip pass on my inside. I was gutted, adding to my woes Bill, my coach, was on photo finish. For months I was regularly reminded 'How far is 800m'?
WHAT UNFULFILLED AMBITIONS DO YOU HAVE?
Before I became very ill, I had been very close to a World and European individual medal. Eventually after two years I was diagnosed with Coeliac disease – this was a huge relief. After various tests and following a strict gluten free diet I was back to full health. At the time it had a massive impact on training and performance, too much time had elapsed and I never really recovered previous fitness levels. Occasionally there is a glimpse of my former self but mostly I'm propping up Edinburgh Athletic teammates Sue Ridley and Karen Dobbie for team medals in cross country races.
OTHER LEISURE ACTIVITIES?
For a laugh, my friend sent me a link to play "WALKING" Netball. The hardest thing is to not burst into a run, however, I now facilitate it and play regular netball myself. I didn't think I would ever play netball again.
CAN YOU GIVE SOME DETAILS OF YOUR TRAINING?
Training sessions have been varied over the years. In the early days I would run 6 miles to Meadowbank followed by a session and run the 6 miles back. Typical sessions were 10-12 300m or 400m with a minute recovery, 4 sets of 4 x 200m with 30 seconds recovery and 5 minutes between each set, 600m reps with 8-12 minutes recovery. Then there were the 150m reps, I hated them. Too fast and too short. I remember shouting at Bill, 'I'm going to scream if we have 150m tonight'! Yep, we had 150m and yep I screamed. I didn't appreciate the value of these sessions until my times improved.
My most memorable sessions were quite contrasting. The first being hill reps at Arthur's Seat with Andy Stoane. As it was just the two of us the reps were increased, and all on the long steep hill where Bill sat on a rock at the top with stop watch poised. Not shy of training hard we were giving it all we had. Lactic was excruciating unlike I had ever felt before to the point when returning to the bottom was a challenge in itself. We were walking down backwards, sitting down and eventually any which way in an ungainly manner ready for the next rep.
The second was at Meadowbank, only myself and David Ovens showed for training. Bill wanted us to work on our technique. Following his postural instructions and trying to run at the same time felt ridiculously alien to us, we giggled uncontrollably while Bill, unusual for him, quietly despaired. Incredibly we got faster every rep. I have so much to thank him for.
I am currently coached by Paul Forbes when I'm free of injury.
NAME Pamela McCrossan
CLUBs Clydesdale Harriers and SVHC
DATE OF BIRTH 10/6/1961
OCCUPATION Theatre Charge Nurse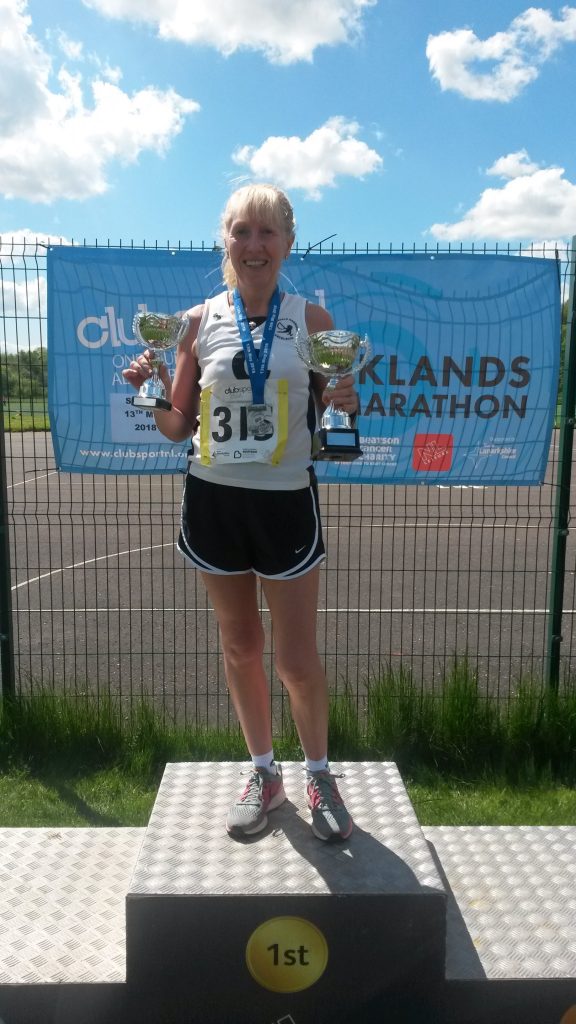 Pamela on the podium after the Monklands Half Marathon
HOW DID YOU GET INVOLVED IN THE SPORT?
Cliff Brown is neighbour of mine and he was a runner and a member of Clydesdale. He encouraged me to do a Ladies 10k race one year (about 20 years ago) and he helped me train for it. He then persuaded me to join Clydesdale Harriers and I have been running and racing ever since.
HAS ANY INDIVIDUAL OR GROUP HAD A MARKED INFLUENCE ON YOUR ATTITUDE OR INDIVIDUAL PERFORMANCE?
Clydesdale Harriers have had a huge influence on my running and helped me improve over the years. I have received so much help, support and encouragement from everyone there and I have made many good friends. Now I am very proud to be an Honorary Member of the club and current Ladies' Captain.
WHAT EXACTLY DO YOU GET OUT OF THE SPORT?
So many things! It keeps me fit and healthy and I get to enjoy the pre and post-race banter and chat with other runners. I often get to meet new people when I race or do parkruns and I get a great sense of achievement after a good race or a hard training session. I also get to spend time with like-minded people and fellow runners who are always so friendly
WHAT DO YOU CONSIDER TO BE YOUR BEST EVER PERFORMANCE OR PERFORMANCES?
That's a difficult question as I have done so many races over the years. However I was totally surprised and delighted to finish as first lady in the Aberfeldy Marathon in 2012 at my first attempt at the distance. I have also been lucky enough to be part of a medal winning team on the 5 occasions I have represented Scotland at the Masters International British and Irish Cross-Country events.
YOUR WORST?
A Dunbartonshire cross country race many years ago when I went over on my ankle and had to be carried off the course by John Hanratty! I then had to go to the Western Infirmary as a fractured ankle was suspected (it was actually ligament damage) and I had to take time off work. The only race yet where I have been a DNF.
WHAT UNFULFILLED AMBITIONS DO YOU HAVE?
None really. At my age I consider myself very fortunate just to be able to run and still compete in races.
OTHER LEISURE ACTIVITIES?
I go to classes in the gym, go to the theatre and cinema and I like to go on holiday as often as possible! First thing I pack is the running gear!
WHAT DOES RUNNING BRING YOU THAT YOU WOULD NOT HAVE WANTED TO MISS?
Running has brought me the opportunity to represent Scotland and the chance to spend many wonderful running holidays in the Canary Islands with friends from Clydesdale and other clubs. I have also enjoyed many weekends travelling away for races and special social occasions with friends I have met through running. These are just a few things I would not have wanted to miss.
CAN YOU GIVE SOME DETAILS OF YOUR TRAINING?
I try to run 4 or 5 times a week and do different types of sessions. There may be a speed session, a steady run, a hill session, a long run and maybe a parkrun too. I also like to do some classes in the gym for cross training.
Landscapes I have run through..…….
Running memories often come back to visit as a parade of sharply etched vignettes, probably heightened by the physical exertion and intensity of the activity at the time they were experienced. My own theory as to why recalling this can be so enjoyable most of the time is that basically we are still pursuit animals accumulating useful life skill experiences. This really becomes noticeable when you are part of a race pack or during a competitive interval training session.
Sometimes the location is the centre of the memory. One autumn weekend heading east to Portmahomack to avoid the equinoctial gales sweeping the Highlands I found the receding storm had whipped up huge amounts of foam onto the shore line route so that you ran through a mixture of knee-high soapsuds totally covering the path surface. An interesting contrast to the previous day's Bught Parkrun in Inverness when the running surface was rich with multi-coloured fallen leaves.
Then there was running across suburban Toronto to get to the start of a 10km race. The city is built over a deeply fissured lakeside landscape. The sound of a rock band from a park in the distance gave a clue to the event and, after extensive but frustrating suburbs, the most direct line to make the start seemed to be via a short-cut through an industrial estate which lead to an inevitable cul-de-sac and a high chain-link fence. There was only one choice and once scaled it was into thick brush with a steep drop off into a gorge and a tree-hanging descent to the bank of a suspiciously deep stream of sinister grey muddy water.
Meanwhile the sound of the warm-up band at the race start point was growing louder but further away. It is bad enough rushing to arrive at the start but even more frustrating to have to overcome man-made in addition to natural obstacles. Wisely I decided not to swim the river and eventually found a vestigial path which led to a footbridge. Got into the race and won a prize (a nutritional book for aspirant runners) but with a diminished ambition to take up orienteering or tough mudding.
In Perth, Australia, the obvious choice was to try a run along one of its famous beaches. Some miles into it I began to notice that garments were becoming more minimalist and then non-existent. All became clear when a sign appeared providing information that clothing was optional! And then there was the near-vertical section of the Knockfarrel hill race when the young lady close behind me felt herself slip and instinctively grabbed the waistband of my shorts!
Hill races are all about sure-footedness and fast fearless descents sharing a lot with downhill skiing. I once tripped on a descent from Ben Bhraggie, Golspie, (after spitting on the Duke of Sutherland's statue) and managed to convert a potentially disastrous fall into a forward roll with no more than slight gravel rash in the small of my back,
Beaches are also great for self-examination of running style through your footprints, but it is also possible to check posture and angle of lean from shop windows, shadows and even shadows on bigger road signs from rear headlights.
The Isle of Man has a great hill run along its south western coast high above the water and cliffs overlooking the Irish sea. Some distance into this route there is an old detached farm house now an outdoor educational centre. A minibus full of youngsters and a hassled instructor are wrestling with a large table trying to get it through the door. Arrival of one elderly runner who shows them how to turn it on its side and shuffle two legs past the porch and right angle to the living room and hey presto job done and the good Samaritan high tails it up the next hill. Who was that guy?
Animals – all part of the mixed terrain experience with usually manageable and predictable outcomes but there are some more memorable encounters. My worst dog experience was once again running along the riverside in Inverness in full winter darkness. A car with headlights at full beam completely dazzled me and the next sensation was a full-on impact from an Alsatian being run beside its owner's car. On the other hand, running local back roads in darkness it is sometimes the deer which get the biggest surprise. Hens and ducks, just messy, but don't be afraid of a hissing sinuous goose with its head out since they are great cowards and will back off if you stand up to them.
Similarly, dogs: don't let them sense your fear. And then there is the dog that decides to come along for the outing. I confess to some enjoyment from seeing an overweight owner struggling to bring one back to heel. I've had a number of runs in company with horse riders and here the main thing is to be aware of kicks, foot crushing and being pinned against a fence or wall by half a ton of animal. It is a bit like approaching a helicopter: always let the animal and or the pilot or rider see you. Cattle, and cows with calves at foot – never get between a mother and its young and generally just give all livestock lots of space, although llamas and alpacas can spit with deadly accuracy from up to 10 metres!
Cats will regard your progress with bemused indifference but beware the post-run moggie that leaps onto your lightly protected lap with unsheathed claws!
Pigs are very bright animals and often think an intruder into their field is bearing refreshment so they may stampede towards you but, if cornered, remember they can be transported into ecstasy by a well-administered back rub.
And then sometimes spectators can cause a smile. The two cailleachs (old ladies on Skye) chorusing, "He isn't even breathing hard!" was better than being overtaken by someone dressed as a pantomime fairy then a dog with a runner in tow.
And finally, if the Stromness Shopping Week Queen presents you with an award for their half marathon don't miss the chance to administer a sweaty embrace to the surprised young lady.
By Alex Sutherland
FROM THE ARCHIVES
A DAY OUT OF THIS WORLD
The first signs of dawn could be seen in the midsummer sky as twenty of us met at Milngavie railway station for the first official running of the West Highland Way Race. The air was filled with a mixture of excitement and apprehension as we made our last-minute checks to food, clothes and back up arrangements.
Words of 'encouragement' came from the course record holders. "You must all be mad!" said Bobby Shields. "You will know what suffering is before this day is out!" said Duncan Watson. "It will truly be a day out of this world!"
Undaunted, at 3 a.m., we set off. Our objective, of course, was to cover the 95 miles and 9400 feet ascent to Fort William in under 24 hours.
For the first four miles we all ran together at a very easy pace, chatting and getting to know those around us. The early morning mist hung over Craigallian Loch and it felt good just to be up and running at that time on a summer's day. The pack began to break up now and I found myself keeping good company with fellow SVHC Jim Templeton. Jim and I were to stay together, sharing the joys and helping one another through the bad patches.
Soon we were past Drymen at 12 miles and on up to Conic Hill. Before we descended, we paused for a moment to look down over Loch Lomond and its islands. It can never have looked more beautiful and we lifted our gaze to Ben Lomond and the Crianlarich hills beyond which led towards our destination. But at Balmaha our dreams were shattered as we ran into our first significant problem – midges! We quickly had some tea and a bite to eat but could hardly bear to stop as we were attacked by the relentlessly biting beasties. It was a relief to be running again and soon we were at Rowardennan – but so were the midges and we didn't linger for long.
The next fourteen miles of the way are perhaps the hardest going of all and certainly the slowest because of the roughness of the ground. We reached Inverarnan, our first major checkpoint, at 40 miles, in good spirits. We realised that the sun was very hot as we left the shade of the trees. The going became better now but the sun became even hotter as we continued northwards up Glen Falloch, through the new plantations near Crianlarich and eventually on to Tyndrum.
At 60 miles, Bridge of Orchy was our second major checkpoint. We were still keeping closely to the schedule I had set and we heeded the good advice we had been given and still managed to eat a little every hour. It was becoming increasingly difficult to get going again after a stop as the legs stiffened up quickly. On we went to Forest Lodge, up through Black Mount and past Ba Bridge. The cool of the evening was most welcome as we came off Rannoch Moor at Black Rock Cottage – with 'only' a marathon to run – and the Devil's Staircase looming in the distance. We went on past the Kingshouse to Altnafeadh and the first of two stiff climbs began.
Strangely enough it was almost a pleasure to be walking up the steep zigzags as 'fresh' muscles were discovered. Eventually we reached the top and began the long descent to Kinlochleven.
The distance would not beat us now. Only time and darkness would be our enemy. At Kinlochleven we had our last 'pit stop' – cups of tea and hunks of cake (well, they do say that a good runner can always manage to eat regardless of the situation).
With only 15 miles to go, we began the climb out of Kinlochleven and on through the Lairigmor. Regrettably, darkness had now descended upon us and because of the roughness of the path it became dangerous, on tired legs, to attempt more than a fast walk. For safety reasons, the race followed the road from Lundavra to Fort William. Luckily the darkness prevented us from seeing the tortuous route which lay before us as we concentrated simply on putting one foot in front of the other. At last the street lights of Fort William lit the sky and we were almost there.
A warm welcome greeted us at the Nevisbridge Hotel. There were sandwiches and soup, hot showers and even floors to sleep on for those who had not arranged for accommodation.
Fourteen completed the race, nine under 24 hours. The winner was Dave Wallace of Edinburgh in 18 hours 8 minutes. But the day surely belonged to the women vets and in particular to Betty Hall (Westerlands) who was second overall in 19.43 and Sylvia Watson (Leeds) who was fourth in 21.40. Their performances demonstrated women's ability over long distances, a fact which women themselves have always known but which men have been reluctant to accept! Jim and I were well pleased with our joint seventh place in 23.09.
It was certainly an unforgettable experience and one which any vet could enjoy with a little physical and a lot of mental preparation!
It really is a "day out of this world". Perhaps the best epilogue lies in the last line of the inscription on the special pottery flask which every finisher received: "Your prize is neither fame nor fortune, merely satisfaction".
By Kay Dodson, November 1988
(Kay was an invaluable member of the SVHC committee; a former editor of this Newsletter; and a tough determined runner! Do look up the West Highland Way Race website for the history and past results of this challenging annual event.)
Shakespeare needed stamina to cope with multi-tasking, as playwright, director, actor, manager and poet. Could he have been a runner?
(If you have written poetry about running; or have read some good ones, what about emailing the editor for inclusion in a future Newsletter. Contributions of any sort are always needed, in normal sentences as well as poetry, of course!)
A LATER SONNET
Oft do my footprints mark the morning dew
As I light-limbed, exultant, onwards tread
When sunrise sky is brushed a rosy hue
And freshness floods my Spirit, clears my Head.
Through every Season of my Life I've run,
Relishing Youth's resilient joyous Spring,
Then racing, Victory's garlands to be won
And now, with speed so sadly slackening.
Our Year is brief; so let us live with zest,
Strive to succeed and thus remember to
Put Brain – and Body also – to the test.
When faced with sure Defeat, which will be due
To swift opponent Time's relentless pace,
We hope to welcome rest and peace with grace.
IT'S STODDART'S TITLE
Scotland's Bill Stoddart, current world champion at 10,000 metres, aquaplaned his way through driving wind and rain to annex the M40-49 World Veterans 25 Kilometres title at Douglas, Isle of Man, on 20th May 1973.
At half way it looked as though he was on the verge of being dropped by speedsters Kilmartin and Rooke, but he rallied at the toughest part of the course and forged his way into a lead which he stretched steadily to the finish. Ken Hodkinson surprised everyone with a real eye-opener of a performance to finish second, while Germany's Willi Irmen finished strongly to take third as he did in the Cologne marathon last year.
Over 500 competitors from more than 20 countries had made their way to Douglas during the preceding three days, and they were welcomed by beautiful sunny weather tempered by a cool breeze off the Bay. Many made the most of that weather by looking over the Island, running round the course and taking trips on the horse-drawn trams along the Promenade. It was just as well 1hey did, for Sunday morning brought the most abysmal weather imaginable. Gale force winds lashed across the Bay driving wind, sea spray and anything free of anchorage against the terraces of hotels which lined the hill over the Bay.
Only runners ventured forth from the sanctuary of their hotel rooms that morning. Certainly no sane person would have done so. And they were to find no respite when their low-geared bus journey finally deposited them at the start in Glencrutchery Road, for they were now high enough to be in the midst of the trouble making elements themselves!
For up to an hour the mass of runners huddled beneath the T.T. stand jogging, singing and chanting in a variety of languages to keep their spirits up and their nervous energy at hay. The T.T. stand which is usually packed with motor cycling enthusiasts watching the world's fastest two-wheeled drivers race round the closed road circuit in pleasant weather, was now nothing more than a shelter from the wind-lashed rain outside. But those beneath the stand were not only out of the rain they were out of sight of the road and out of earshot too. The verbal warnings of the start, if they were made at all, were lost in the hub-bub of that patiently waiting crowd. The inevitable happened. The brave ones (and perhaps the wise ones too) stripped down just before 10.00 hrs. and jogged down to the start, a good 200 metres away. They were drenched within a minute or so, and having got their line positions were impatient to get away. Back at the stand the hub-bub continued, oblivious of the thinning ranks and the growing stream of runners jogging to the start. At 10.01 hrs. the gun was fired and it was 10.05 before the last man had crossed the start line.
Martinez of France and Cibosch of Czechoslovakia lead the charge over the first 800 metres when the course took a sharp right-hand turn and the road narrowed. This itself produced a bottleneck which hampered the late starters. It was noticeable though that most of the leading runners had not been caught napping and it was a relief to see lrmen, Hodkinson, Rooke, Wild, Mu!ler, Kilmartin, Jonsson, Holmroos and Stoddart all in the first group. With the head of this tadpole-like field well past, the tail brought forth its unhappy string of late starters. At about 40 seconds Bill Allen and Bob Bowman tore past in track style, with Bowman imploring his partner to "cool it". Twenty seconds back a despondent Arthur Walsham had already accepted that his title was lost. A half minute later Roy Coxon was beginning a chase he was destined to abandon at halfway, and a full 2 minutes behind the leaders came Ron Franklin cursing his way round the course and delivering unfinished sentences to each of the 400 odd runners he was due to pass. Even further back was a very cross John Tarrant, a good 3½ minutes down. After the first mile the leaders hit the l ¼ mile climb which they had to face on each of the 4 laps.
The pace was viciously fast with 1972's top 1500m man Terry Kilmartin. forcing the pace. At the end of the first lap (19:58) Kilmartin, Rooke and Hodkinson were just ahead of Wild, with Stoddart ten metres back, hanging on. And well he might be, for the pace was averaging 5:08 per mile! Almost a minute of rainy silence went by before the spattering of the next group was heard lrmen, Holmroos and Allen. Allen! He had taken over 300 runners in one lap to get up there. Could he possibly hold it? The second lap (21:01) showed only a slight easing in pace, but this certainly wasn't apparent as Kilmartin and Rooke towed the field through. Hodkinson, running the race of his life, was 5 metres down with Stoddart, straining again on this fast stretch, another 5 metres back. Wild had faded lo a 100 metres deficit and was now in the sights of a strong looking Irmen. When the leaders reached the long climb on the third circuit, Bill Stoddart's strength and class began to tell. He went to the front, refusing to allow the pace to lag and left the speed merchants in his wake.
Terry Kilmartin faded and it was left to Rooke and Hodkinson to lake up the chase.
A buzz of excitement went around the stand at the end of lap 3 (21.13) as Stoddart whipped past 100 metres clear of the field. And 50 metres behind the chasing English duo was Holmroos of Finland – already ahead of Kilmartin! With Irmen and Muller now up to 6th and 7th it was still very open. No one could afford to ease, even a fraction.
Bill more than doubled his lead on that final circuit (21 :26) and was taking no chances, thrashing himself right through to the line; Ken held his form well too and thoroughly deserved his second place. Terry Rooke was caught by the fast-finishing Irmen over the last 1,000 metres, Willi adding another bronze to the one he gained in the 1972 marathon. Rooke's was a courageous effort, for it was only 6 weeks earlier that he had suffered the tragedy of his wife's death.
H Muller of Germany gained Fifth place ·after a workmanlike effort, but probably paid for being over-cautious on that first lap. Terry Kilmartin's performance was the reverse. He paid for the early pace-making but still surprised many by the way he kept going and actually re-took Holmroos on the line.
Johnny Wild ran his usual brave race of hanging on to. the leaders and when dropped, saying "to beat me they have to pass me. To pass me they have to catch me. To catch me they have to run faster than me, and I'll make it as hard as I darned well can!" His 8th place was a fine effort.
Bill Allen of Canada went into the race as a medal prospect. On track and country he is very good, but the road is his true forte – and that first lap showed he would have been with the leaders but for missing the start. He took his disappointment very sportingly and showed no resentment. It is very likely he would have made 3rd or 4th.
Erik Ostbye was not his usual devastating self, but then he had no need to be, for he ran out an easy winner of the class 2 event once more from Englishmen Ken Hall and Jack Fitzgerald. Former marathon champion Tom Buckingham was amongst those who missed the start, finishing in an uncharacteristic 26th position.
Erich Kruzycki was an equally convincing winner of the class 3 race (60-69), beating marathon holder Jensen (Sweden} with Weichert (Germany) repeating his 3rd place of last year's marathon. It was surprising t0 see Farrell (Scotland) and Nordin (Sweden) out of the first three.
But 20th May 1973 was definitely Bill Stoddart's day. He had his problems too, as you will read elsewhere in these pages, but he overcame them to produce a run of high quality, portraying all the attributes of a great runner – judgement and self control, stamina and speed, courage and determination. A worthy champion.
With the race over and the bedraggled athletes back at the Summerland taking their baths and showers, the rain stopped and the sun appeared once more. Perhaps there is an omen there somewhere. Omen or not, there were plenty of high spirits abroad at the Summerland and neighbouring hotels that night in Douglas, Isle of Man.
Bill Stoddart said afterwards, "I made my effort on the hill the third time round and this time they didn't respond. From then on it was just a matter of worrying whether an injury caused the previous Tuesday would affect my running in the latter stages and how much daylight I could put between myself and the chasing group. I finished happy but very sore and it gave me as much pleasure as I can ever remember to beat such a large and experienced field."
1 Bill Stoddart GB/SVHC 1.23.38
2 K. Hodkinson GB 1.24.16
3 W. Irmen GER
4 T. Rooke GB
5 H Muller GER
6 T. Kilmartin GB
7 B. Holmroos FIN
8 J. Wild GB
9 B. Allen CAN
10 R. Monseur BEL
11 E. Goosens BEL
12 W. Vergison BEL
13 Charlie McAlinden IRE/SVHC
14 A. Walsham GB
15 J. Lindholm FIN
16 A. Taylor CAN
17 M.Ciboch CZH
18 J. Flannery IRE
19 Bobby Calderwood GB/SVHC
31 Bill Ramage GB/Scotland
480 finishers
By Clive Shippen (in 'Veteris' Magazine, September 1973)
OFFICE BEARERS SEASON 2017-2018
Honorary President: ALASTAIR MACFARLANE
President: CAMPBELL JOSS 25 Speirs Road Bearsden, G61 2LX Tel: 0141 9420731 cdjoss2@gmail.com
Immediate Past President: ALASTAIR MACFARLANE
Vice-President: ADA STEWART 30 Earlsburn Road, Lenzie, G66 5PF Tel: 0141 578 0526 stewart2@ntlworld.com
Honorary Secretary: JOHN SOFTLEY 6 Cathkinview Road Mount Florida Glasgow G42 8EH Tel. 0141 5701896
Honorary Treasurer: ANDY LAW Euphian, Kilduskland Road Ardrishaig, Argyll PA30 8EH Tel. 01546 605336 Lawchgair@aol.com
Membership Secretary: ADA STEWART 30 Earlsburn Road, Lenzie, G66 5PF Tel: 0141 5780526 stewart2@ntlworld.com
Handicapper: PETER RUDZINSKI 106 Braes Avenue Clydebank. G81 1DP Tel.0141 5623416 p.rudzinski@ntlworld.com
Committee Members:
JOHN BELL Flat 3/1, 57 Clouston Street Glasgow G20 8QW Tel. 0141 9466949
WILLIE DRYSDALE 6 Kintyre Wynd Carluke, ML8 5RW Tel: 01555 771 448
DAVID FAIRWEATHER 12 Powburn Crescent Uddingston, G71 7SS Tel: 01698 810575
ARLENE LEWIS 202 Archerhill Road, Knightswood Glasgow, G13 3YX Tel: 07850 070337
EDDIE McKENZIE Little Haremoss, Fortrie, Turriff Aberdeenshire, AB53 4HR Tel: 01464 871430
STEWART McCRAE 17 Woodburn Way, Balloch Cumbernauld G68 9BJ Tel: 01236 728783
PAUL THOMPSON Whitecroft, 5 Gareloch Brae, Shandon, Helensburgh G84 8PJ Tel. 01436 821707
ROBERT YOUNG 4 St Mary's Road, Bishopbriggs Glasgow G64 2EH Tel. 0141 5633714
BMAF Delegates To be appointed Ada Stewart
SAL West District Delegate Willie Drysdale
SAL Delegate at AGM To be appointed
Website Ada Stewart
Auditor George Inglis
FIXTURES
December 2018
Sun 16th Xmas Handicap Sea Scouts Hall, Miller Street, Clydebank, from 12.30. Race to start at 13:30
January 2019
Fri 4th Scottish National 3000m Championships Emirates Arena, Glasgow
Sun 27th SVHC Open Masters Road Relays Strathclyde Park, 11:00am
February 2019
Sat 2nd Scottish Masters XC Championships Hawick
Sun 17th Scottish Athletics Indoor Combined Events & Masters Championships Emirates Arena, Glasgow
Sat 23rd Scottish Athletics XC Champs, Callendar Park, Falkirk TBC
March 2019
Sun 3rd 10 Mile Road Race (Lasswade AC) TBC Whitehill Welfare FC, Ferguson Park, Carnethie Street, Rosewell Start time, 12:00pm
Sat 9th British Masters Open Cross Country Championships Stormont, Belfast, Northern Ireland
Sat 9th – Sun 10th BMAF Indoor Track & Field Champs Lee Valley Athletics Centre Sun 24th – Sat 30th World Masters Indoor Track & Field Championships Torun, Poland
Sun 31st Tom Scott 10 mile Road Race Water Sports Centre, Strathclyde Park, Motherwell 10:00am
May 2019
Sat 18th BMAF Road Relay Champs Sutton Park,Birmingham
June 2019
Sun 2nd BMAF 10 Mile Champs Dorking, Surrey
Sun 16th BMAF 5K Champs, Horwich Sun 30th BMAF Multi-Terrain Champs, Gravesend
November 2019
Sat 16th TBC British & Irish Masters Cross Country International – Southport, England