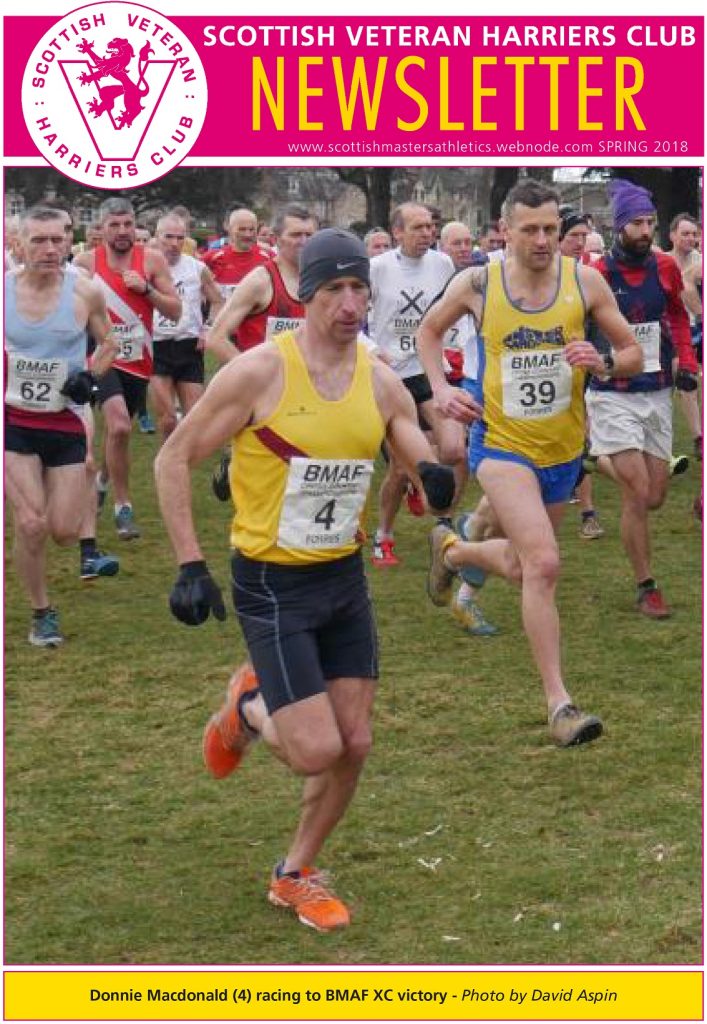 MEMBERSHIP NOTES 12th March 2018
MEMBERS
Welcome to the 12 new and 18 reinstated members who have joined or re-joined since 15th Nov 2017. As of 12th March 2018, we have 466 paid up members, including 21 over 80 & 5 Life Members. 104 have either not paid, or underpaid, their subscriptions. SUBSCRIPTIONS ARE NOW OVERDUE FOR 2017/2018 Standard Membership £20 Non competing Membership £10 Over 80 Membership Free
NEWSLETTER The electronic version of the Newsletter is now the preferred option. Any member who would rather receive a printed Newsletter must contact David Fairweather (djf@ dfairweather.plus.com), if they have not already done so. Please inform David if you add or change your email address.
Please send photos, news, letters, articles, etc for the next issue To: COLIN YOUNGSON TOMLOAN, SANQUHAR ROAD, FORRES, IV36 1DG e-mail: cjyoungson@btinternet.com Tel: 01309 672398
SVHC EVENTS Stewards/marshals are required for club races. The club appreciates all members & friends who volunteer to act as stewards/marshals. If you are not competing just turn up and introduce yourselves to the organisers.
STANDING ORDERS Thank you to the members who have set up standing orders for membership subscriptions. Please keep me informed if your membership details change (especially email addresses. Standing order details: Bank of Scotland, Barrhead, Sort Code: 80-05-54, Beneficiary: Scottish Veteran Harriers Club, Account No: 00778540, Reference: (SVHC Membership No. plus Surname). stewart2@ntlworld.com 0141 5780526 By cheque: please make cheque payable to SVHC and send to Ada Stewart, 30 Earlsburn Road, Lenzie, G66 5PF. CLUB VESTS Vests can be purchased from Andy Law for £18, including Postage. (Tel: 01546 605336. or email lawchgair@aol.com)
NEW MEMBERS NUMB CHRS SURN JOIN TOWN
2431 Jim White 05-Dec-17 Carluke
2432 Gordon McCaffrey 08-Dec-17 Clydebank
2433 Paul Forbes 09-Jan-18 Kirknewton
2434 Nicola Gauld 11-Jan-18 Aberdeen
2435 Yan Horsburgh 15-Jan-18 West Linton
2436 Graeme Armstrong 18-Jan-18 Edinburgh
2437 Oliver Scott 19-Jan-18 Lenzie
2438 Catriona Gourlay 31-Jan-18 Giffnock
2439 Colin Berry 02-Feb-18 Great Sutton
2440 Susan McRitchie 08-Feb-18 Forres
2441 Jim Meehan 01-Mar-18 Inverness
2442 Ian Thomson 06-Mar-18 Inverness
2199 Nicol Baird 16-Nov-17 Aberdeen
2268 Hylda Stewart 27-Nov-17 Newton Abbot 2262
Mark Gallacher 11-Dec-17 Motherwell
1210 Gerald Kennedy 15-Dec-17 Old Kilpatrick
2139 Keith Haining 18-Dec-17 Stewarton
1825 Scot Hill 18-Dec-17 East Kilbride
2167 Phyllis O'Brien 18-Dec-17 Edinburgh
2292 Frank Murphy 19-Dec-17 Strathaven
2245 Graeme Scott 21-Dec-17 Wemyss Bay
2244 Cameron Douglas 27-Dec-17 Dumfries 2252
Neil Young 28-Dec-17 Leven
1823 Hamish Cameron 02-Jan-18 Elgin
1973 Craig Johnston 02-Jan-18 Larbert
2234 Morag Taggart 15-Jan-18 Broughty Ferry
2002 Stephen Wylie 28-Jan-18 Blantyre
1861 Mike Stewart 30-Jan-18 Fochabers
1925 William Richardson 12-Feb-18 Seamill
28 Bernard Gough 20-Feb-18 Hamilton
Ada Stewart Membership Secretary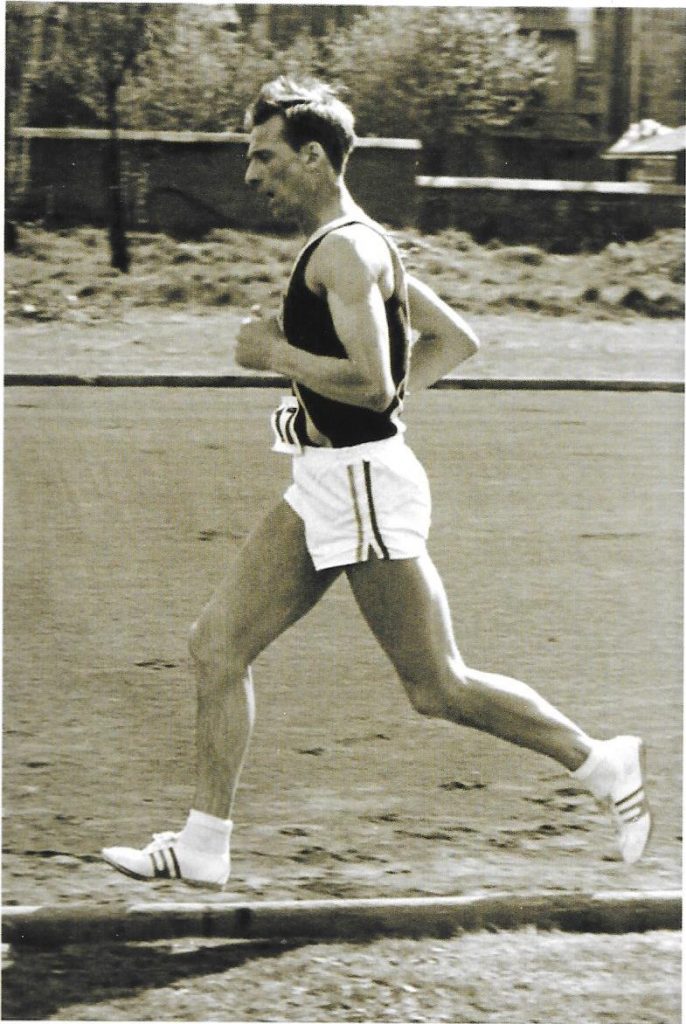 JACK McLEAN PROFILE ONLINE (To read an excellent profile of our only surviving SVHC founder member, go to anentscottishrunning.com and read the front page.) It starts like this:
"Jack McLean is a well-liked, much respected athlete who has been seriously involved in middle and long distance running since the 1950s. A life member of Bellahouston Harriers, he joined the club in 1950 after his National Service was over.
Jack has run all distances from 880 yards up to marathon in his career and has even won a medal, as part of an English team, for walking. Known throughout Scotland, he was a member of the Scottish Marathon Club, the British Marathon Runners' Club and a founder member of the Scottish Veteran Harriers Club.
He is currently in his 68th year as a member of Bellahouston Harriers and to find out what has kept him in the sport so long we asked him to complete a short questionnaire and we can look at his responses before going on to some detail about his involvement in the sport." (After lots of information about Jack's running career, a fascinating section of Jack's profile is about the start of our club!)
"The club in which he been most active has been the Scottish Veteran Harriers Club, of which he is the only surviving founder member. The other members of the group were Walter Ross of Garscube Harriers, Jimmy Geddes of Monkland Harriers, George Pickering, Roddy Devon of Motherwell and Johnny Girvan of Garscube.
How did that come about? After the Midland District Cross-Country Championship at Stirling University in 1970, Walter Ross spoke to me. He wanted to form a veterans' club with a minimum age of 40 years, and paid me the compliment of being one of the enthusiasts of the game. The committee was formed of Walter and six others, and we held our meetings in Reid's Tea Room in Gordon Street with a regular starting time of 7:00pm. We all put forward our ideas and Walter drew up a constitution.
In the beginning the age groups went up in ten-year intervals. I organised the very first Veterans race. It was in Pollock Estate on Saturday 20th March, 1971. We had very few officials at that point: Davie Corbet of Bellahouston started the race and shouted the times to George Pickering of Renfrew YMCA. I had laid the trail in the morning with markers of wee pegs with paper attached. 33 runners started and 32 finished. As I worked in the "Daily Record", I arranged for a reporter and a photographer to attend. There was a wee piece in the Daily Record about it. The race was run over about 5 miles and the winner was Willie Russell of Shettleston. He was followed by Hugh Mitchell, Willie Marshall, Tommy Stevenson, Willie Armour, Chic Forbes, Jack McLean and Andy Forbes in that order.
Within a year we had 1000 members from the whole of Scotland. Internationally we had great success as a small country. The first World Championship for the marathon was held in Toronto in 1976. I took part. There were about 750 runners. The race started at 7:30 am to avoid the heat. I started well and was twenty second at two miles. Then I started to be sick, I kept running and vomiting but I recovered at about 8 miles and finished 27th in 2 hours 43 minutes. Gordon Porteous finished not long after me, smashing the world record for the sixties age group. After that I put it to Walter that ten-year age groups were too much, so Walter put it forward at the World Committee meeting. Vets were well established by then and five-year age groups were adopted. I also put forward the idea of colour coding for groups which was also adopted. In the beginning the Scottish Vets took part in all the World Championships."
MY FAVOURITE RACE: Ben Lee
The distinction between a "favourite" and most memorable run can become blurred through the passage of time and of course the vicarious pleasure from reliving an old running experience is a great and enjoyable way to iron out the memory of discomforts, anxiety, or what on earth am I doing here? This usually begins soon after any hard event as relaxation, refreshments, banter and camaraderie take over.
Ben Lee looms above the small port of Lochmaddy in North Uist. It sits on the other side of the bay and is a prominent landmark without any direct connection to the village and ferry terminal. The 10.5 K. hill race was first held in 1994 and takes place on an August evening followed the next day by a race up Ben Kenneth in South Uist which also has the intriguing option of a swimming short cut.
The start is unusual, runners assemble on the pier, are handed out life jackets then taken across the bay by a small boat and landed on a sloping barnacle and seaweed covered slab of rock with waves threatening to pull you back into deep water. The hill race starts from that point and I just remember it as mainly being a joint effort by everyone to establish a foothold on dry land and to shrug off life jackets.
From there on everything was wet and I followed a steep self-guided route to the summit at 263 metres with occasional rock sections from a genuine sea level starting point. Of course, it was wet and windy and the local coastguards, complete with radios and survival gear were the marshals in a worsening storm. Several participants bailed out at the first check point, and the rest of us were directed along the ridge before being pointed down a gully into mist-strewn bogs and lochans. I relied on trying to keep another runner in line of sight while trying to navigate a route through the pathless bog pools, leaping over the remains of several long-deceased blackface sheep until eventually a welcoming single-track road provided the final mile return to Lochmaddy.
The finish was on the main street in the village and, of course, after changing into dry clothes, it was straight into the welcome warmth of a hotel bar and restaurant and great craic about what we'd just survived and then inevitably plans for other events began to creep into the conversation…. Certainly one for the memory bank!
Alex Sutherland
MEMORIES OF DERRY
The excitement really started to build at the team photos, seeing how many people were taking part and what it meant to everybody to be there running for their country. A warm-up jog round the course revealed how muddy some sections were, the difficult corners and the long, tiring stretches.
The start line was very crowded but the initial straight was quite wide and the field soon spread out. Although we were wearing numbers on the back and front of our vests I found it impossible to know how I was doing in my age category as I didn't see anybody else with a 65 number for the full three circuits. So it was just a case of going as fast as I could and hoping for the best. The support around the circuit was tremendous particularly as we approached the end of each lap and it really kept me going.
The celebration dinner was lovely and the food was excellent. I was absolutely delighted to have won an individual gold and team silver. The medals are a really beautiful design. The organisation was superb and I had a great time both at the race and the dinner.
Everyone in Derry was really friendly and the city itself was very interesting, highlights for me being the Peace Bridge, the city walls and the Museum of Free Derry.
We also ventured further afield and went to the Giant's Causeway and Belfast where we visited the Titanic Exhibition. Thanks to everyone who took part, the organisers in Derry and in each of the participating countries and all the supporters.
By Ann White
After struggling (due to illness) through the race in Tollcross the previous year, my aim for the race this year was to finish as a counter for the team. Conditions on the day were good, and after checking out the course during the warm up we were ready to go.
As I tend to start slowly and gradually improve my position throughout the race, I was a bit concerned that I had started too fast as early on I found myself just behind the leading group. But I was feeling good and as the group gradually broke up I was able to make up a few places and by the start of the last lap there were three of us left challenging for first place.
The support all around the course was great and really helped push me on to finish in second place overall in a close race. I was delighted to have far exceeded my expectations and win my age group. I then had a nervous wait hoping that mum would finish well in her age group too.
It was a great weekend, a well organised event, with good support and cameraderie between all the runners. I enjoyed being part of the SVHC team and will hopefully get another opportunity in Swansea next year.
By Katie White
I have been a road runner for about 10 years. I never thought about Cross Country running until two keen friends from my club encouraged me to enter the trials for the British and Irish Masters at Tollcross in 2016. So I did, thinking that would be an end to that. To my amazement I was told I had been selected to run for Scotland for my age group. How could I refuse!
2017 was unfortunate for me as I had a number of injuries. I had to drop out of the Cardiff Half marathon and I thought it would be the same for the Cross Country at Derry. However, I recovered and was looking forward to taking part. A week before the event I was out training in Bellahouston Park when I was bitten by a dog. I ended up in A&E and the first question I asked the Doctor, was, "Will I be able to run next week?" Needless to say, I did.
Derry was a wonderful experience. My daughter and I stayed in the hotel with most of the Scottish Team members. It was good to mix with the other participants at the reception or at breakfast and get to know them. On the day itself, I found there was a great atmosphere in Gransha Park. We encouraged one another even though we hoped our nation would win.
At the dinner and awards ceremony in the evening, again the ambience was friendly even when sitting in our respective country groupings. For me, it was a privilege to represent Scotland for a second time. I made new friends, visited a new city, and also realised how much preparation and planning goes on behind the scenes for the country that is hosting this event. Now I'm looking forward to the 31st British and Irish Cross country in Swansea and I hope I will be representing Scotland again for another year!
By Jeanette Craig
My trip to Derry last November to run in the over 70 team brought back memories of my previous involvement with Scotland. Mind you it was a long time ago and even my running diary was struggling to remember. However, the fact that the teams included runners like Colin Youngson and Bobby Young who were there 20 and 30 years ago when I previously took part made me feel very welcome.
I took part in the first meeting in 1988 when, as Janette Stevenson mentioned, it was only England and Wales we ran against. As with a few of the earlier years I was accompanied to the venue in Moss Valley, Wrexham by my Dundee Roadrunners friend Sue Roger who is slightly older and sometimes ran in my age group and sometimes in the next one up. There is a very fuzzy picture of us on the Scottish Distance Running History website wearing what would now be considered very tight shorts and with very 1980s looking hairstyles. In that race the over 40s team, which I was a part of, was 3rd.
I also took part in the next event in 1989 which was at Ampthill Park in Bedfordshire. My main recollection of this course is of Heartbreak Hill and the strongly worded encouragement I got as I struggled up it! In addition, I have vivid memories of the journey to the race. One of my team mates was Tricia Calder from the Borders racing family. At the time I had a Vauxhall Astra which conveyed us to Ampthill. After we picked up Tricia she took over the driving and my car exceeded speeds and did things it never did before or after. We travelled with Sam Graves from Fife AC and Sue Roger and the look of fear on Sam's face was worth seeing. Scotland was second W40 team at the race with Janette Stevenson, Sue and myself.
I was in Scottish teams for Aberdeen 1991 and Cardiff 1993. By 1993 I was 46, but there was no W45 team at the time, and I finished 11th W40. Dundee Roadrunners were well represented with myself, Sue and Irene Gibson who were both in the over 50 race by that time and the over 50 team got silver. The picture on the Scottish Distance Running History website only has Christine Price and myself with all the men. Again, my strongest memory of this event was not of the race but the opulence of the Cardiff hotel, which I think had a moat round it. I have a picture of me and Sue Roger in the room which was extremely nice.
1993 was my best year at cross country and in the Vets Championships at St Andrews I was 1st over 45 and 3rd overall behind the greats – Sandra Branney 1st W35 and Janette Stevenson 1st W40.
I also took part in the 1998 competition at St Asaph in Wales. I'm not sure how I ran but probably not great. Round about the mid-90s, when I was at my best and doing reasonably high mileage, I got a stress fracture of my foot which was not diagnosed at the time, and that led to a long period in the wilderness of not being very competitive.
My final British and Irish International before 2017 was at Ballymena in 2002. Our W55 team comprised Phyllis Lemoncello, Sheila Bauchop and myself. We packed well at 9th, 10th and 11th and got the bronze.
I got back to competitive running in the last few years through parkruns and found a challenge in trying to get as high up the over 65 and over 70 charts as possible. I didn't do the trial for the Scottish Vets team, as I had lost track of what level was necessary to get into the team, but hours of scanning the parkrun charts gave me the confidence to say "yes" when I got the call from Ada Stewart. In the end our W70 team got bronze and I was 2nd counter.
This involvement has got my adrenalin going, and I have invested in a new pair of spikes and am determined to push on over the next year to see if I can keep it up. I always enjoyed cross country and running in spikes gives such a buzz. Let's see what 2018 brings – I am even entered for a half marathon for the first time in about 20 years.
By Margaret Robertson
I was pleased to make the V60 team for the British and Irish XC International in Derry in November probably helped by being towards the younger end of the 5 year age bracket. Our hosts in Derry put on an excellent event. It was also worth going for a few more days either side of the run to take in and explore the lovely historic city of Derry.
The course in Derry was generally flat but testing underfoot due to recent rain. Although sapping, it didn't turn into a mud-fest characterised by many cross- country courses in Scotland in recent years. It is interesting to compare our ideas of cross country to those of other nations, a recurring theme when watching seniors at televised World and European events. I had first-hand experience of this as I was persuaded to run in 2 World Masters Championship events in Perth, Australia (October 2016) and Daegu, South Korea (March 2017). Both championships opened with a cross country event. Both courses were pancake flat and firm underfoot to the point of suiting a road runner like myself rather than a cross country or hill specialist. No need for anything but road racing footwear. My impression for this, at least at these Masters events, is that the cross-country event and indeed a half marathon are add-ons to what are essentially track meetings and their inclusion makes such championships more attractive to road runners like myself who might baulk at travelling to potentially expensive destinations to run in just one or two track races.
Runners who have yet to participate in a World Masters event might be surprised by the lack of strength in depth in the field although most races were competitive at the sharp end. As might be expected medals generally went to runners in the younger end of the 5 year age category. Also at World events many countries outside Australasia, Europe and USA fail to have enough runners to compete for team medals (awarded in the cross country and road events) so GB athletes have plenty of opportunity to compete for both individual and team medals. In 2018 the World Championship is in Malaga so one anticipates more intense competition for both individual and team medals.
I would encourage runners to take in at least one World or European Masters Championship as the experience is interesting on many levels. They really are the Olympic equivalent for the master athlete in that they are structured along the same lines with as much rigour and organisation. Unlike the Olympics, however, we are lucky as no selection is necessary.
Running in a GB vest as opposed to a Scottish one is also interesting. Incidentally, the tale of purchasing my GB vest is a long and complicated one and my wife (Jan) has the story and it involves a few tears and a lot of angst culminating in an acrimonious encounter with an unofficial team GB person which nearly resulted in a Glasgow kiss. For the first few events in Perth I ran the cross country in a borrowed female vest 2 sizes too small but the correct vest, ordered some 4 months previously, was finally purloined.
In Perth and Daegu, the Scottish contingent was numerous and tended to gravitate together helped by excellent daily reporting on the SVHC website by Alan Ramage. There was, however, a general camaraderie amongst the GB runners and many new friendships were formed which were renewed in Derry.
By Paul Thompson
I started running at Bearsden Academy, in 880 yards and mile races, which shows my age. Then with Dunbartonshire County. I did one Scottish Schools age group mile championship, at Westerlands, perhaps in 1964, when I may have finished fourth. All training and races at school were on grass track or football pitches, so maybe I should have taken up cross-country then. Then I left athletics behind, except for a couple of local half marathons and early Glasgow marathons, with very ordinary times, as I recall.
I ran Some Polaroid 10k races in 2007, and got the bug and joined Garscube around 2008. Interestingly, I did the Buchlyvie 10k, unattached in 2009, and got round in a new PB around 44 minutes. It was 2010, when I stopped working (if I ever started) in the insurance industry in Glasgow, when I started training properly, and enjoyed my running and improved my times a lot.
Onto Derry, which was a great experience, despite having a previous aversion to X/C, for no good reason. I think Derry was my 5th-ever mud race. I loved the camaraderie and the characters, no names, although I had known Archie previously. I was only convinced to do the Trial in Tollcross, by John Bell and am very grateful to him. It is only a pity that this is the only Scotland Masters representative race. However it is definitely very much worth being involved in. I loved it.
The event itself seemed to me very well-organised, particularly when listening to some of Bobby Young's stories from early years, when " a cup of soup or Bovril and a sandwich" was the best you could hope for after the race, before driving straight home. Obviously holding this event anywhere in the UK is so much better when the host city is near an airport. The whole weekend experience was fabulous and I will remember it all for a long time.
By Norman Baillie
Being a bit of a runner myself I know the feeling when it comes time for another race. The preparations, the anticipation, the pre-race nerves and the post-race endorphins, but attending race events as a bag carrier/supporter is a different thing altogether. You get the opportunity to travel with someone going thru all these highs and lows, whilst you are wondering what range of ales will be on offer in the bar, and will white AND black pudding be available at breakfast.
Cross Country has never been my favourite type of running, but carrying Fiona's bag on the GB and Ireland XC international certainly has been. I got hooked early, with a trip to Dublin, and every subsequent trip to the Emerald Isle has been a joy. With the growth in Park Runs I have had a run on the Saturday morning prior to heading off to the course to see the best Master athletes from these islands going thru their paces.
Derry/Londonderry was no exception – indeed it was perhaps the friendliest and most enjoyable venue that I have been to. Everything was close by and the mid November weather was great. Many of you will know that Fiona is not very keen on flying, but she makes an exception occasionally, and the trip from Glasgow to Derry was very straightforward and the flight was about 30 mins in the air. On landing we were fortunate to pair up with Willie Murray, who showed why he was selected by tearing thru the airport and getting to the front of the taxi queue. Well, truth be told, ignoring any mention of a queue and leaving the younger runners to ponder how they might plan their airport escape better next year.
SVHC management had flown over the day before to get the logistics up and running and I have to thank Ada, John, Andy and Ishbel for block booking rooms for us in the Di Vinci hotel, which was a great base for the team, being very close to the city centre, and having a lively bar. Fiona and I had booked our Friday night dinner at a local restaurant (so no di Vinci Last Supper for us,) and the mile walk there and back was a pleasant leg stretch for us both, and allowed us to find our bearings. Fortunately for me it coincided with part of the Parkrun route so I was able see where I had to go in the morning.
On Saturday morning I was up early to get ready for the parkrun, which was a well-run event. The RD was well aware that he had many visitors running that morning, supporters of the athletes running the International, and asked us to cheer when he called our country out. Needless to say, Scotland got the biggest cheer. The route was an out and back, starting on the river walkway and going over the Peace Bridge, along the other side of the river, round a picnic bench and back. My main aim was to get it done, get back to the hotel, have a shower, get down in time for a cooked breakfast and figure out how to get to the course. Fiona was away on the bus to the course by the time I got back, but I did manage to get my cooked breakfast, and get a lift to the course from Eddie Devine who was over shouting on his son, Christopher. Like me, Eddie had done the parkrun and was enjoying his post run breakfast. Thanks again Eddie.
Eddie and I, between us managed to find the course, and in perfect timing for race one starting. It was a good course to spectate on, offering a few different vantage points, and it's always a pleasure to see the Scots runners mixing it up with the other 4 teams.
Fiona's race finished and as she always enjoys a post-race chat with the many friends she has made at these events over the years, I got to see the other two races before we headed back to the hotel on the bus.
Being on my holidays I headed straight to the hotel bar when Fiona went to get showered and changed, and then we went off for a late lunch, before heading back to the bar at the hotel. My second visit to the bar (Fiona's first) was an unusual one as it was one of the few times when Fiona has asked me to visit a bar, and not the other way round. The Gala girls (and boys,) were fine company.
The dinner and medal awards in the evening was a well organised event, and the Scots were all within the main room. Some of the speeches went on a little, but the company at the table was good and the time went quickly.
The scrum for the taxis at the end of the evening was a bit of a low point as the booking system had broken down completely, but Fiona and I decided to walk and see if we could flag down a taxi on the way. We met up with Frank Hurley and his better half, who had had the same thought and we weren't even off the hotel's driveway when we struck gold, jumped in a taxi, and were soon back in the bar at the di Vinci, where Scottish accents were very much in prominence.
Sunday was a quiet day, we went to walk round the city walls, where you can see why this very welcoming small city has two names. A quick flight home and the weekend was over.
For those who have the honour of being selected for 2018, yin dod ar yr Alban!
By Grant Matheson
First of all, I would like to say huge thank you to all the Scottish Team of Volunteers, and Team Captains that spent their valuable time in organizing this trip as without them this type of event would not take place. It is always quite exciting visiting a new place for the first time and when Grant and myself arrived at the hotel in Derry we were quite keen to get our bearings so decided after the travelling (flying which is a challenge to me before the actual event) it would be a good idea to stretch our legs as well as get our bearings and took a walk along the River Foyle for a mile or so then back again. While walking we were, of course, checking out the best café for cakes and coffee to come back to on Saturday.
The morning of the XC event I was pleased to see that the weather looked favourable as most of my family and friends know I don't do cold/icy conditions in fact I think I would enjoy running XC more in the Springtime if I was given the choice.
Having done my usual preparation of looking to see the competition in the W55 Category from the other teams, I knew who would be my rivals in this age category. However, when you cannot get a chance to check out the course or run around it until the actual day, this can be a bit of the unknown, as everyone will have a particular XC course that they favour over others. However, this course at Gransha Park had a bit of everything in it, including quite a bit of mud which can be interesting especially when there is more than 1 lap involved. I try to take a mental note, on the first lap of a course about where the deepest parts of mud are. Thus, on the 2nd and 3rd Lap I may try to avoid this. However, I always end up ploughing through the same sections of mud nearly every time.
Before the Women's race went off, it was Team Photographs for all and the Scotland Team were up first which is always good, as then it lets you do all your pre-race preparation in plenty of time. Just after the Scottish Team Photograph, Archie Jenkins seemed oddly keen for me to stick around. However all eventually became clear, as Archie had kindly organized to surprise me by presenting Certificates for the World W55 records in 1500m and 3000m indoor events that I had achieved earlier in the year. This actually gave me the adrenaline rush I needed just before the start of the Women's XC event, therefore huge thank you for that Archie!
I thoroughly enjoyed the whole weekend of competing and spending time with many like-minded great people from all Teams. Meeting new characters is always a bonus, as is spending time with many running friends that I have got to know over the years. Well done to all the Scottish Team! Here's to a Healthy Fit 2018!
By Fiona Matheson
A TALE OF TWO ATHLETES
Sammy Walker – Played Rugby from school age up to 27 years old got swept up in the running boom of the mid 80'S (same as Davie Cavers who remarkably played prop). Joined my home town club of Teviotdale Harriers in 1983.
Got blown away in my first East District league race, total shock to the system. My abiding memory was there was a false start and Allister Hutton had run half a mile before they could stop him!
Decided needed take this running thing seriously. Finished 19th in the East Districts of 1984 and 33rd in the Scottish of that year. Was so chuffed and thought this was as good would ever get ….then my friend Colin Hume returned from college in the States. I thought I had been training hard but with Colin went to a different level. Was running at a pace I had never been near. The results were startling – 6th in the East Districts of 1985 and 17th in the Scottish of that year (which was the year that "Humegate" occurred when Colin made the Scottish World Cross Country team at Eddie Stewart's expense.
Around this time, it all started to come together for Teviotdale. Brian Emmerson was there already and had been ploughing a lonely furrow. Now there was me, Davie Cavers had joined, Rob Hall from Jedburgh, Andy Fair was taking it seriously. Keith Logan came from the local cycling club and I was in Ian Elliot's ear every day at work about coming back to us from ESH. There were legendary 15 mile runs on a Sunday morning which set off at 5.40 pace.
Best achievements of Sammy Walker. The win in the National relays at Inverness was an amazing buzz. We were just three Hawick guys plus one from Jedburgh. All mates had left Hawick at 6.00 a.m. To win was just insane. Two fastest legs at the E to G are right up there. Winning the Flockhart Trophy. Top ten finish in the Scottish at Dundee.
My proudest moment isn't even in the record books. I finished 5th in the Paris to Versailles road race, beating Steve Binns (who I became good friends with). I went there with Brian Emmerson on one of those "running tours " or joggers' tours as I found out it was. As a result I had number 10756 so, when the guy with this number approaches the finish line in 5th they think…cheat and stop me crossing the line. Managed a 29.49 10k, 1hr 06 Half Marathon, 2.22 Marathon (in the last Glasgow).
So, got to 38 and Sammy fell out of love with running. Had done no too bad and "never going to run over 40 ..I mean that Vet stuff, it's a bit of a joke isn't it??"
Alastair Walker – 22 years on and two stone heavier than his namesake "Sammy" . Son Greg joins Teviotdale. Alastair goes to watch a few of the league races and catches the bug. Starts to go out a couple nights a week. Feels great. Flying. Be as good as that Sammy ever was ..maybe even better. Enters the Hawick 1OK (two-lap course ), blows up after a lap and drops out feigning injury.
Get Serious Time! So Alastair gets serious and ups the miles. Buys a Garmin and discovers all Sammy's training runs are two miles shorter than listed in the training diaries. This is Strava time and Run Britain rankings. So much information on people and times. Goals to aim for.
Runs an acceptable 1OK at Jedburgh. Struggles at league race at Broxburn and enters the Scottish Vets at Dundee. Finishes a distant fourth in the V60 behind Eddie Stewart who must have been stored in ice for last 30 years because looked exactly same.
Now going get Really Serious. The result? Fastest 5k and 10k in Britain for 2017 for V60 and 2nd in the British and Irish Masters V60. One of the best weekends ever – the race, the people, the reception when received medal .."I mean that Masters stuff, it's what everyone should aspire to, right?" Sammy and Alastair doing the same training. Alastair a bit slower. One long run, 2 speed sessions. Other days steady running. Around 50 miles a week.
By Alastair Walker
SWAN SONG
It had been a day full of other days, yet unique, as every day may be, Alastair Taylor mused around midnight, as he lay on the hotel bed. Running hard was one reason for tiredness, of course, but travelling from the North of Scotland to Northern Ireland had not been straightforward – a long bus journey to Glasgow, overnight there, then bus, plane and taxi to arrive the evening before the event.
In his youth he had merely walked or cycled to a local grass track or parkland and rough trails for cross country. Scottish Schools' championships had involved bus trips, true, while, at university, subsidised travel was by train and, later, minibus – or, each December, a swaying, dipping ferry to Ireland for two races in Belfast and Dublin, each followed by many pints of black nectar.
As a senior athlete, but still young, he cadged lifts from car owners. Planes had only been necessary years afterwards when expenses-paying European marathons beckoned. During more than fifty years, he had competed in a number of exotic countries: Greece, Italy, Spain, France, Belgium, Holland, Sweden, Finland, Iceland, Czech Republic, Australia, USA (the Boston Marathon, with its ten miles of quadricep-mashing descents leading to five miles of wall-inducing heartbreak hills) – plus every part of the British Isles. Yet the actual venues often tended to be less attractive – post-industrial towns or sprawling untidy S cities. Never mind, in each place, only the race had mattered.
As usual, Alastair had slept fitfully the previous night, after booking in, chatting lightly with familiar grey-haired team-mates, exchanging ritual complaints about injuries and lack of fitness, marvelling at the athleticism of 35 and 40-year-olds. Old Masters, not! A sensibly small meal – low-fat and easily digested – had been consumed, with not even a beer to wash it down. He recalled that, in his prime, he had avoided alcohol only before marathons or ultras – concerned to avoid dehydration. While in his late 30s, with carefree confidence, the night before one Scottish Senior National Cross-Country Championship, he had downed four pints of real ale – after all, the distance involved had 'only' been seven and a half miles – and had almost made the top twenty, considerably better than expected. Nowadays, although M70s were expected to cover a paltry 6 km, he went teetotal for a couple of days beforehand. It would be stupid to add (to the impossibility of quality training and frequent leg niggles) yet another probable cause of failure. Before competition, optimism had never been one of his characteristics, unlike moaning.
Long ago, some self-appointed sage had stated that it was not sleep the night before that mattered – but sleep the night before that. If you could not doze off, between nightmares about missing the start, remember that you were lying down, as calmly as possible, getting plenty of rest. Easy for that guy to say.
On race day he had nibbled breakfast (toast, cereal, banana, fruit juice) a full four hours before the start, leaving plenty of time for digestion, sips of water, changing into kit and nervy repeated visits to the loo. Surely, at this late stage, he should be less twitchy? Yes, wearing a dark blue vest added extra responsibility, but nowadays he could only start slowly, not jet-propelled, so why not age-related wisdom and composure?
At least his pre-race meal had not been steak and chips, which he had chomped an hour before his first marathon back in 1969. Strangely, at the age of 21, that had not caused a problem. However, the pint of cream (in theory, taking on fatty acids as fuel, to go with a 'fast start' triple black espresso) half an hour before a Scottish Championship marathon in the late 70s had caused a massive personal worst after so many pukes, plods and pitstops. Curry was best avoided, too.
A brief coach trip to the course, two hours before "Go!" and the build-up began. A walk to inspect at least some of the two-kilometre lap – some tricky mud and rather mossy underfoot but only lightly undulating, thank goodness, and suitable terrain for veterans aged 35 to 80 plus. Steep climbs and drops nowadays? No thank you! Traumatic memories of ghastly trails passed through his mind with merciful brevity. The 1972 English National XC in Sutton (very) Coldfield (nine miles of mud, sub-zero temperatures, extra wind-chill and snowstorm – on the last desperate lap, a reigning Commonwealth gold medallist had been passed, upside down in a ditch); uphill slurry before clambering over barbed wire fences in Dunbartonshire; near death by hypothermia in Hawick. That one had been a Scottish Masters; the very first he had contested was Clydebank 1988. Some sadist had taken a film of the three laps. First one, pretty snowfall adding enchantment; second, the action totally obscured by a blizzard of heavy, wet, white flakes; the final lap, knackered survivors of a Norwegian notion of hell. Any hat-wearers now sported snow-stacks stuck to their heads.
Despite tackling any conditions when forced to, really Alastair had been a bit of a 'road fairy', whose favourite cross-country routes traversed firm, dry, grassy, mainly flat golf courses. Heat exhaustion, Alastair thought, had not been a problem in cross country events; only in long, scorching road runs, especially marathons or ultras. Foreign ordeals where you were shocked yet grateful when spectators sprayed you with garden hoses or chucked buckets of water; that Lairig Ghru 28 miler (80 degrees in mid-glen) when you struggled exhausted past the finish line on the wrong side of the busy main street in Aviemore. Officials hauled you across safely, then left you hanging over a fence in blessed shade. And how long it took before even a vestige of energy returned so you could fumble to untie over-tight running shoes and find something, anything, to drink! A final heatwave moment, was finishing as roasted runner-up in a South of France marathon. A photo in the local newspaper had been published in black and white – despite this, it was obvious his face had been bright scarlet. The report had referred to him as "Taylor, l'epouvantail". Alastair's schoolboy French had not included that word. Back in Scotland, a language teacher had cackled as she told him it meant "the scarecrow".
Photographs were taken on time, an hour and a half before the start. So many grinning male and female teammates and now, unbelievably, he was in the second-oldest age group. When happy, he still felt like a teenager, as long as he avoided mirrors. However, while cycling a road bike in perfect weather gave an illusion of fitness, running told the truth about damaging impact, physical deterioration and advancing years. Never mind, shut up, too bad, keep trying!
Warming up routine. Alastair recalled that, in earliest days this was merely a five-minute jog; at the peak, an hour of steady running, stretching, strides and sprints; now the process was laughably but necessarily careful. This was no parkrun where, if something hurt before the start, you could simply forget it and get back into the car. Injury might force you to drop out, but it could only be even slightly acceptable if a calf or hamstring ruptured during the actual race.
Start by walking away from the rest to find a quiet area. Don't be psyched out by superior-looking rivals – Alastair had learned that trick as a teenager, when impressive lads with fancy tracksuits covered with running badges usually proved easy to beat. Very slow jogging, short strides, try to keep upright, stop occasionally for a gentle hamstring stretch. Then five or ten minutes steady; concentrate on smooth progress. A loo check, no problem. Half an hour to go. Steady with a few fifty-yard strides, gradually working up to what passed for race pace. Save any real effort for mid-contest! More stretching, lower back, hamstrings. And, miraculously, muscles and tendons ease a little, permitting increased range of movement. Hope increases, some confidence re-appears. Maybe this might be okay! All you need is just a little luck.
Between 40 and 15 years ago, luck was hardly necessary, since injuries occurred seldom and proper training was normal – 60 to 80 miles each week, sometimes including a twenty miler, plus hill reps, group fartlek, steady runs and a time-trial or a race, in which you were almost certain to run well or even very well.
Nowadays, Alastair had to listen to his whingeing body very carefully indeed, and work within those frustrating limits. Still, fortunate to be able to jog at all. No hip or knee replacements yet!
A last, totally unnecessary, loo check. Then the call to the start-line. Alastair was edgy but under control. Not like before long ago high-pressure road relay events – they were the worst. Sometimes he actually stress-retched five minutes before receiving the baton – fairly cleared the tubes, though, for the panting, eyeballs-out charge all the way to the next changeover.
Now he took up position near the back of the field, alongside other old fogeys. Injuries usually happen soon after too rapid a start. With some common sense, he might just come through eventually to a decent finishing position. Let young women, fast old guys and idiots go for it! Some might blow up before too long. Experience might count for something, after all.
An officious self-important official bawled irrelevant guff about the course and warned that anyone with even a toe in front of the line would have it amputated. False starters would, deservedly, be executed. Or some such traditional nonsense. Impatient athletes jiggled up and down and ignored him. Alastair had a brief flashback to Nos Galan, the Welsh New Year event through the narrow streets of Mountain Ash, when stars like Dave Bedford used to emerge from shop doorways in front of the start line and took their places seconds before the race commenced. Then there was the English National, when thousands anticipated the gun and started jogging away inexorably before they were ordered to go. No chance of calling them back!
Bang! Release! While speedsters shot off, Alastair focused on getting into a short, pattering rhythm, keeping upright and swinging his arms forcefully. For the next 400 yards or so, the trail was extremely muddy – if this continued throughout the race, it would be horrible. However, they emerged onto the loop and most really sticky patches could be avoided. Gazing ahead, Alastair noticed without surprise that the leaders were already out of sight. At 41 he had led every step of the Scottish Vets cross country championship – a sequence of photos proved it. In this event at M45 he kept up with the fastest M40 men for quite a while, before winning his age group.
Ah well. Occasional nostalgia can be pleasurable; but remember to appreciate the present moment! Although he knew that few in his age group had started more slowly, Alastair still felt in control. In front he could see a straggle of individuals and small groups, including men around his age – who were the real targets today. Taking care to accelerate only slightly, he started to inject more effort, and gradually moved out to pass 'victims'. If he could just keep working hard, then others might fade. Anyway, overtaking was much more fun than being overtaken.
At his peak, Alastair had loved front-running and also putting in surges mid-race. Road had been his favourite surface, and long uphills where he tried to break away. Not having much of a sprint meant that he had to go for it early, at unexpected moments. Even as a veteran on the track, these tactics had sometimes worked well.
Nowadays, grinding away, hopefully at a single semi-decent speed (the only alternative being slower) was the simple strategy. At least it meant that he didn't have to think much. Just aim for the runner in front or try to hang on to others. As usual, he seemed to be puffing faster – still testing for possible heart attacks – compared to everyone he plodded past. A team-mate was only fifty yards behind and, when Alastair glanced back, it seemed that they were moving up the field at the very same pace, as if attached by invisible rope. Since this old friend possessed a sprint finish, Alastair would strive to keep clear as long as possible. Being trounced by strangers was much less irritating.
A long shallow downhill was negotiated gingerly. Thirty years earlier, in the British Vets XC, Alastair had been clinging on to the leader and race favourite – a very classy Welshman – when a steep downhill proved his undoing, as a hamstring strain forced him to ease off and (at least he was thoroughly warmed up) concentrate on holding second place. Eventually, still clear of the bronze medallist, but moving with difficulty and discomfort, he approached the finish, to be "congratulated" by a famously-grumpy Scottish blazer-wearer who grated, "Taylor, you're such an ugly runner!" which, although he had never been a stylish swan, seemed a trifle uncharitable to Alastair, who had rated himself a "brave war-wounded soldier"!
Now, much closer to second-last but trying his best on the day, Alastair entered the third and last lap. He must have moved up thirty places, passing several age group rivals, but had no idea of his current position. Not last anyway, and still making slow progress. With two kilometres to go, he pushed some more, since he could see a few more strugglers coming back. Half a mile left and one more man within reach. At the start of the long finishing straight, Alastair forced himself ahead, but the effort emptied his energy tank, so his rival closed right up and then strode away in the last hundred yards. Knowing he was beaten, Alastair looked over his shoulder for other sprinters. Clear, thank goodness, and over the line. His team-mate was only eleven seconds down – they had both squeezed into the M70 top ten.
On a previous occasion, as a dirty, knackered runner collapsed at the end of a such a race, a bewildered spectator had inquired, "Who are you trying to impress?" Well the answer could hardly be a potential girlfriend, with a warped lust for mire and snotters. Self-respect after trying hard, that was all. A stamina adventure!
One good thing about having dodgy, fragile legs was that they would not permit racing too far or hard, so Alastair recovered quickly, glad that disaster had been avoided. His team definitely wouldn't be fifth, thank goodness, and he would not be to blame. Quite an enjoyable run, in fact. Winners nowadays punch the air; while respectable also-rans mainly feel relief. Still in the game! And forget the warm-down. Who knew when he would next take part in an important race?
Of course, you could be left in a dreadful state after really tough events: hitting the proverbial in marathons, for example, battering through the final miles gasping, weaving about and groaning aloud. Off normal training, Alastair had once attempted the famous challenging London to Brighton road race (54 miles – and a quarter). Even pacing it perfectly, he had run out of blood sugar at 40 miles but did not drop a place during the last 14, since everyone within range was feeling just as weak. At the longed-for end, he waved away a space blanket and then his legs buckled! Shortly afterwards, he had been deposited in a deep bath, and had to scream for help, since it was far too hot. However, drinking colder water, warm tea and (with difficulty) consuming a few biscuits had encouraged a quick recovery. Since the pace had been steady, his legs hadn't been destroyed and he managed to take part in a short road relay six days later. Years afterwards, he wished that energy bars and gels had been invented earlier….
The afternoon passed in a contented blur. The showers proved impossible to locate but he found a doorway and changed into dry clothes, while spectators were fascinated by much younger men bounding athletically through their races.
A lift to carefully selected Derry pubs – old friends, including all the M70 team, turned up – assured 'rehydration', thanks to pints of stout and nips of Irish malt whiskey. Back to the hotel, shower, change for the banquet – the food was delicious, but Alastair sobered up with water. The Scots had tables farthest from the stage. As ill-prepared speechmakers droned on and on, Alastair sat back and assessed the British and Irish Masters International XC experience.
A decade ago, he had looked through a long running career and tried to order his top ten races. These were fairly easy to list, but somehow he ended up with a top fifty worth remembering. It was not all about 'lifetime best times'. (When else could you achieve them?) Nor about most significant wins or medals or (badly designed) trophies. As park-runs suggested (with their age-grading of times), any event, even when you were old, could give some sort of satisfaction. Team wins stood out as important. Running was essentially a solo activity, and it was a real bonus when fellow enthusiasts banded together to do well. Like today.
Was that to be his "swan song"? And what did those words mean, anyway? His phone supplied formal research answers. "Swan Song came from ancient Greek, and was a metaphorical phrase for a final gesture, effort, or performance given just before death or retirement. However, the common Mute Swan (Cygnus Olor), although not actually mute, was known neither for musicality nor to vocalise as it died. The only sounds it could make were honking, grunting, and hissing – not unlike overstressed runners, perhaps. Yet the snow-white Whooper Swan (Cygnus Cygnus), a winter visitor to parts of the eastern Mediterranean – and Scotland – did possess a 'bugling' call, and had been noted for issuing a drawn-out series of notes as its lungs collapsed upon expiry, both being a consequence of an additional tracheal loop within its sternum. This was proposed by naturalist Peter Pallas as the basis for the legend." So there! Ye ken noo. Well, Alastair had no thought of imminent retirement from his beloved running, or indeed expiry, unless that referred to breathing out before breathing in again.
The medal presentations were nearly complete. Every recipient was applauded generously by folk from all five nations. The Scots were noisiest, as usual. His M70 team was announced – they had won surprise silver medals! White-haired Alastair and his three companions, heads high, floated the length of the hall, down a river of shouts, cheers, claps, handshakes and even mistimed high fives. Alastair tried to maintain dignity and smiling self-control. Yet, although no song came from mute lips, around his mind echoed a silent whoop!
By Colin Youngson
As promised in the previous Newsletter, here are two more reports about races which David Cooney selected as great team performances by Cambuslang squads. They took place at Sutton Coldfield, in the park which may be considered the spiritual home of UK road relay running.
RONHILL CAMBUSLANG RETAIN UK VETS ROAD RELAY TITLE 22 MAY 2003
Ronhill Cambuslang convincingly secured their third victory in the prestigious UK 8 man over-40 road relay trophy at Sutton Coldfield and their day was made complete when it was announced that John Cowan and Jack Brown had recorded the two fastest times of the day.
Cambuslang's tactics were to start steadily and to produce a strong tail courtesy of Alex Robertson, John and Jack. However, things did not initially go to plan as Dave Dymond, who had prepared well for the event, felt below par right from the gun and struggled round the tough three-mile trail in 16.17 to hand over to Dave Thom in 30th place. Despite feeling unwell, Dave D had given his all, which is what relay running is all about.
Dave T, in spite of not having raced for a number of months, produced a solid and valuable time of 16.02 to gain 10 places for the club and to launch their comeback.
Hill runner Colin Donnelly in his annual road race carried forward the Scots' momentum to finish in seventh place with a strong time of 15.30 which was the 4th fastest on leg three.
Frankie Barton now took up the challenge and to the delight of the Cambuslang team prised open a lead of 11 seconds over the fancied local club Telford. In clocking 15.23 Frankie had recorded the fastest time on leg 4 and had made it look easy with his smooth-running style.
Ian Williamson, although unsure about his fitness due to a longstanding injury, maintained the Scots lead over Telford and Woodford Green with a useful 15.44 (4th fastest on leg 5).
Alex Robertson with a 15.34 stint and 4th fastest on his leg held on to first but Woodford Green had moved to within 19 seconds of Cambuslang. Alex was disappointed that he did not get closer to his previous time of 14.57 but a persistent heel injury had hampered his preparations.
With two legs to go Woodford Green were feeling confident that they could overhaul the Scottish outfit. Their plan was to keep Cambuslang's penultimate runner in sight to allow former British international John Sear the opportunity to run the glory leg. Unfortunately for them John Cowan sabotaged their plan by running a smooth and outstanding time of 14.51 to record a new club record and the fastest time of the day.
The London club was now 67 seconds behind with Telford 3 seconds adrift of them.
The glory leg fell instead to Jack Brown who anchored Cambuslang to an emphatic victory with a confident and relaxed 14.55, the second-best time of the day.
While Jack and John attracted the individual attention, it had been another great spirited team effort.
The Ronhill Cambuslang over-50 veterans also contested their 6-man event. In spite of injury problems, they managed a creditable 14th place. The star performer was Frank Hurley who ran a fast 16.26 to move Cambuslang into 4th spot after Freddy Connor had led off. After successive legs by Sandy Eaglesham, Ian Gordon and Tom McPake the Scots were 9th but dropped 5 places as Archie Jenkins suffering from a cartilage problem jogged round. Archie had only come to spectate but a late withdrawal by the injured Barnie Gough allowed Archie to step in.
There was further Scottish individual and team success as Clydesdale's Bobby Young recorded the fastest time by a 60-year-old (16.58) and, with support from Peter Cartwright and Brian Campbell, the Clydesdale trio won the bronze medal.
REPORT ON UK VETS ROAD RELAY CHAMPIONSHIPS AT SUTTON COLDFIELD 0N 15 MAY 2010
Ronhill Cambuslang Harriers triumphed at the UK veterans' road relay championships when winning the over-35 and over-50 team titles. The Cambuslang athletes were continuing the proud record which the club has in this prestigious event. The over 40 men had previously won gold in 1999, 2003 and 2004 as well as silver in 2000 and 2002 and bronze in 2001. The over 50 squad had also achieved bronze medals in 2002 and 2003.
This year the over 35, 40 and 50 athletes competed together with the younger age group doing 4 legs, the middle group 8 and the older group 6 legs. It was touch and go whether the club would be able to field an over 35 team as Alan Ramage had suffered a calf injury while training in Tenerife only 4 days before race day. However, Kerry-Liam Wilson kindly agreed to step in at the last minute to support Greg Hastie, Charlie Thomson and Jamie Reid. Greg and Charlie who are both over 40 vets were up against some younger rivals.
Greg (15.58) ran a well measured opening leg over the tough 3 miles and 8 yards trail to finish 10th in the over 35 age group. Charlie (15.43) provided his usual gutsy performance to advance the team 3 places. It was great to see Charlie back in serious competition after a lengthy spell of injuries over the last 4 years. Kerry-Liam, the Scottish Veterans cross country champion, proceeded to run a stormer (15.08) and catapulted Cambuslang into the lead ahead of Liverpool Harriers. His time was the 2nd fastest on the day by an over 35 and confirmed that he is running better than ever.
The experienced Jamie (15.21) who had major Achilles surgery last winter ran strongly from the front to anchor the team to a 27 seconds victory over Trafford with Preston a further 7 seconds adrift. This was an impressive performance by the Cambuslang runners who were only 10 seconds outside Salford's course record.
Colin Feechan had the difficult task of launching Cambuslang's over-50 challenge against the two younger age groups. Colin (17.20) paced himself well to finish 17th in his age category. Our rivals were lined up nicely ahead for Frankie Barton to majestically slice through the field to prise open a lead for Cambuslang. His time of 15.49 was the 2nd fastest of the day in his age category. Archie Jenkins (18.17) was now the target man for the opposition and although he lost some ground the club was still in close contention. Dave Thom who only turned 50 prior to the race restored RHC's lead with a strong 16.26 stint which was the 2nd fastest for this leg and Iain Campbell with an impressive 15.59, the fastest on leg 5 and 5th fastest time overall, consolidated the club's position at the head of the field. This allowed Frank Hurley (17.05) to run a hard but relaxed final leg which gave Cambuslang a decisive 86 seconds victory over Clayton Le Moor with South London Harriers 18 seconds further behind. Like the over 35 squad this was a well-balanced team effort and the second-best club performance ever behind Oxford City.
Interestingly Frankie, Archie, Frank and Dave had previously won gold in the over 40 race and Frankie had previously competed in all of the 6 medal winning teams while Archie had been in the two over 50 bronze medal teams and Frank in one of them. These statistics speak well of the longevity of the athletes concerned and of their commitment to the club and the sport.
Cambuslang also fielded an over-60 team for the first time. This race took place before the main event and was combined with the men over 70 and all the female age categories. The club finished 24th team through Davie Fairweather (21.15) who had recently returned from an extended holiday in Australia and New Zealand, David Cooney (20.16) and Robert Anderson (21.39).
However, the Cambuslang trio were overshadowed by former title holders Clydesdale who were 12th team thanks to Peter Cartwright (19.16), Brian Campbell (20.09) and Bobby Young (19.06). This UK event is unique in terms of atmosphere, excitement and quality of athletes taking part and it is surprising that so few Scottish teams have participated in the past. Certainly, Cambuslang hope to return again next year and contest all male age groups from over 35 to over 60.
By David Cooney
LETTERS TO THE EDITOR
Euphian, Kilduskland Road. Ardrishaig. Argyll PA30 8EH
I had the good luck to accompany the Scotland team to the British and Irish Masters 2017 Cross Country International in November and was struck by the great camaraderie around the weekend and the way in which this was seen by many of the runners there as one of (or perhaps) THE highlights of their running season.
That got me to thinking on how we could translate that back to the benefit of Masters Athletics in Scotland and more specifically what the SVHC can do to act as the catalyst in the process. My brief thoughts are a wee starting point for some further work and not all of these have a prescription attached. The suggestions and questions are mine only and not related to my role as the SVHC Treasurer, nor do they represent a Committee view.
The XC International is a pivotal target for many of the best runners in their age group in Scotland (as it is in the other nations) and we need to keep it as a focus for our annual planning. The trial leading up to the selection process has been a great innovation over the last two years and it gives everyone the chance to aspire to run against the best in the British Isles. We should have a wee bit more pushing to get non-SVHC members to join up and strengthen the team.
We should recognise that the running calendar is pretty full and that there is ample opportunity almost everywhere in Scotland for athletes to get their weekend fix in a variety of ways. ParkRun, every local community looking to raise a few bob, serious money making ventures – you know the kind of organisations I mean – and Jogscotland all seem to have added their wares to more established events since I started running seriously about 15 years ago. In this environment the SVHC have to be cute about how we target our own organised races and/or helping out other organisations.
3 The SVHC (Run for It) series is a good model to try and get folk to attend club races or other masters' events, but does it suffer from having too much of a scatter-gun approach?
I would like to see our runners competing abroad in European and World Masters events wearing Scotland kit if they wish to do so (excepting where they are chosen to be part of a Great Britain and NI team). Most of these events are not selected on talent, apart from the ability to write a cheque, As I understand it if the BMAF was to register more than one kit for representatives of the home countries that would be a possible solution.
The SVHC Committee – or just the Club for that matter – needs help in maintaining its Facebook page, website and club magazine. Facebook by its nature is pretty self-serving but the website is hungry of resources and the magazine is excellent but too dependent on its editor. An under the bus scenario is not good to think about. Volunteers needed.
Is the best name for the club still the Scottish Veteran Harriers Club? I recall it was voted on at an AGM a few years back and it was quite divisive – as a lot of voting is. The traditionalists, including me then, won that debate and kept the existing name, but I wonder if use of the term Master in the name would be better in attracting new members? I'm not quite sure of my own views in this, just that there is a discussion to be had.
What can we do to engender interest in track events? What can we do to spread our events wider throughout Scotland – I'm writing from the west, not the central belt like all thae Glesca and Lanarkshire folk, but I know we are seen as a West of Scotland organisation. Interestingly mind you the XC International team was made up of athletes from across all parts of the country, so there's maybe something in the mantra of "Put on an event and they will come"
Anyway, that's enough for now, but it would be interesting to get some reaction.
By Andy Law, Ardrishaig
LETTERS TO THE EDITOR continued
FROM JAMES MUNN
John Emmet Farrell was Maryhill Harriers XC club champion for 21 successive years.
I asked Emmet about the first year he was NOT champion, "Who beat you Emmet? Was it an up-and-coming young man or someone who had come close in previous years?"
He was reluctant to answer but I was persistent and eventually got an answer.
"Jim, three of them beat me."
"You were fourth, Emmet?"
"Yes, and when we got back to the clubhouse everyone was overjoyed. You would think they were pleased I had lost."
"Emmet, they were pleased, and I'm with them …….. they were all fed-up with you winning every year."
"Jim, some smart-alec stood up and called for everyone's attention. "Listen lads it's the Scottish XC championships in three weeks' time so why don't we have a medal for the first Maryhill Harrier to finish?" Everyone agreed it was a splendid idea.
However Emmet, in a light-hearted way, had his revenge on the whole pack of them – yes, he was the first Maryhill Harrier to finish and, yes, he collected the medal! Oh, and yes, I was back on Emmet's side.
(As related to me by JEF himself.)
(John Emmet Farrell was one of the greatest ever SVHC members. See his profile under 'Marathon Stars' on scottishdistancerunninghistory.scot and read his autobiography "The Universe is Mine" on anentscottishrunning. com)
SCOTTISH WOMEN IN THE IAAF WORLD CROSS
Cross-country running is a traditional sport: a true test of endurance and resilience; meeting such a difficult challenge certainly forms character! Although the population of Scotland is small compared to many other countries, including England, Scottish International cross-country runners work very hard for selection and race even harder. Naturally, some have more talent than others and, assuming they have trained properly and have strong race day nerves, probably finish higher in the results. However, every person named in this article deserves considerable respect.
For Scottish teams, the ICCU International Championships started in 1935 with only one opposing outfit. By 1972, up to 18 teams were competing. Once the IAAF World XC Championships started in 1973, even more countries took part. By 1987, the record number of nations competing had risen to 28. Obviously, this meant a higher standard and truly world-class competition. Scottish Women (and Men) found it increasingly difficult to shine, especially against Russian, American or African opponents but, despite this, often ran well and always did their best on the day. Who can ask for more?
Between 1973 and 1987, Scottish teams took part in the annual IAAF World Cross Country Championships. From 1988 onwards, Scots could only participate as part of a British (United Kingdom) team. There were three types of event for Women during 1973 and 2017: Senior Women Long Course; Junior Women (under 20 years of age, from 1989 onwards); and between 1998-2005, a Senior Women Short Course.
The first IAAF World Championships was held in 1973 in Waregem, Belgium. 75 started and Scotland finished 9th team from 13, in front of Wales, France, Spain and Netherlands. Christine Haskett had won the Scottish National Senior title, but was beaten in the Worlds by her constant rival Margaret Coomber, who was 19th to Christine's 27th. Ann Barrass finished 38th and Moira O'Boyle 43rd.
Moira O'Boyle was a precocious, determined young athlete who had won the 1973 Scottish Intermediate XC title. Aged only sixteen, she was selected for the Senior Women's race in the 1973 World XC Championship. In 1974 Moira O'Boyle won the Senior National XC, beating Christine Haskett and Ann Barrass. She had won bronze and silver medals in the SAAA 3000m in 1972 and 1973. Eventually her family moved from Glasgow to Belfast and Moira (later Moira O'Neill) became Northern Irish marathon record holder (and champion three times) and ran for NI in two Commonwealth Games marathons, finishing 8th in 1986 and 12th in 1990. She won the Belfast and Dublin marathons and her fastest time was an impressive 2.37.07.
In 1974 the World Championships took place in Monza, Italy. There were 69 competitors. Mary Stewart ran a tremendous race to finish 8th (4th Briton); Christine Haskett was 33rd, Margaret Coomber 39th and Moira O'Boyle, the Scottish Champion, 43rd. The Scottish team finished 8th, beating four countries – France, Spain, Ireland and Wales.
Rabat, Morocco, was the 1975 venue. 71 ran. Mary Stewart repeated her excellent 8th position (with the same time as the leading British runner, England's Ann Yeoman 7th), with Scottish Champion Christine Haskett 23rd ((6th Briton), Margaret Coomber 42nd and Ann Barrass 56th. The Scottish team finished 10th, beating Australia, Wales and Morocco.
The 1976 World Championships took place in Chepstow, Wales. 69 ran. Once again, Mary Stewart was first Scot in 9th place (second Briton). Scottish Champion Christine Haskett finished 23rd (4th Briton), Moira O'Boyle was 41st and Margaret Coomber 54th. The Scottish team was 9th, beating Spain, Finland and Wales.
Dusseldorf, West Germany, was chosen for the 1977 World Championships. 96 ran. Margaret Coomber (52nd) beat Scottish Champion Christine Haskett (61st). Judith Shepherd finished 65th and Gillian Hutcheson 86th. The team was 16th, in front of Wales. The medallists were: Soviet Union, United States and New Zealand.
Judith Shepherd was newly 18 when she ran the 1977 World XC. She was to be SAAA 3000m track champion from 1977 to 1979; break the Scottish record for that distance; and win Scottish National XC titles in 1978 and 1979.
The 1978 event was in Glasgow, at Bellahouston Park in wet, muddy conditions. 99 ran. Scottish Champion Judith Shepherd performed very well to be first Scot in 22nd place (5th Briton). Margaret Coomber was 69th, Scottish Intermediate XC winner Fiona McQueen 79th and Janet Higgins 87th. The team finished 16th, beating Wales and Italy.
Fiona McQueen won the Scottish Intermediates XC titles in 1977 and 1978. In 1983 she was first in the Senior National. On the track she became 1981 SAAA 3000m champion.
Violet Hope was Scottish 1500m champion in 1980 and 1983.
Limerick, Eire, was the venue in 1979. 100 ran. Judith Shepherd, Scottish champion once again, finished 44; Fiona McQueen 57th; Kerry Robinson 67th; and Margaret Coomber 82nd. The Scottish team was 14th, beating Wales and Northern Ireland.
In 1980 the World Cross took place in Paris. Scotland had a new champion – Christine McMeekin – and she ran very well indeed to finish 18th (and fourth Briton) from 104 competitors. Fiona McQueen was 73rd, Barbara Harvie 79th and Margaret Coomber – in the last of her fantastic fourteen successive International Cross Country appearances for Scotland – still a counter in 88th place. The team was 15th, just behind Netherlands and Denmark but in front of Wales and Northern Ireland.
Christine McMeekin (later Christine Whittingham) had a twin sister, Evelyn, and an older brother David. All three were outstandingly successful Scottish International athletes and took part in Commonwealth Games. Christine won several SAAA titles including: 800m (thrice); and Indoor 600m (twice). She ran 800m in the 1976 Olympics; and twice raced 1500m in the Commonwealth Games – in 1978 (when she finished fourth) and in 1986. She won two 1500m silver medals in 1986 – in the AAA and UK championships.
Sonia McLaren (later Armitage) was a versatile, durable athlete. In addition to her 1980 World Cross appearance, she secured two bronze medals in the SAAA 3000m in 1979 and 1983; won the 1996 Scottish Hill Running championship; ran for Scotland five times in the World Hill Running Cup and once in the European event; was first in the Scottish Indoor 1500m in 2010; and won four World Masters titles – Hill Running (W40 in 2001), Indoor 800m (W45 in 2010) and Indoor 1500m (W45 in 2008 and 2010).
The 1981 International was held in Madrid, at an altitude of 2200. Spanish athletes think that this makes running more difficult! The 4400m course was on a racecourse with a testing switchback section. Certainly, the British did not do well that day. 118 ran. Christine Price (who had switched clubs to Bolton United Harriers) finished 68th (6th Briton), Lynne MacDougall was 75th, Yvonne Murray 79th and Scottish Champion Alison Wright 95th. The team was 19th, in front of Angola. However, the Scots included two sixteen-year olds: Lynne and Yvonne, plus newly 17-year-old Linsey Macdonald.
Lynne MacDougall. Lynne won the Scottish Intermediate XC in 1982 – a year after her Senior World Championship debut! She won the Scottish Senior National XC in 1985. On the track she won Scottish titles at 3000m (twice) and 1500m (five times). In 1984 she ran 1500m for GB at the Olympics and finished 11th in the final. Lynne also competed in the European Indoors twice and in the Commonwealth Games 1500m in 1986 (8th) and 1990 (5th). In 1989 she became UK 1500m champion and was twice second in the AAA Indoor 1500m. Her long career ended in 2002, when she topped the Scottish marathon rankings with a very good 2.36.29.
Yvonne Murray enjoyed a superb career. Although she shone as a schoolgirl cross country runner and won the Intermediate National in 1981, the track was her best surface. As well as winning five Scottish titles (at distances between 800m and 3000m), Yvonne was AAA champion six times (1500m and 3000m) and UK champion twice (3000m and 5000m). She competed in four Commonwealth Games (winning the 10,000m in 1994); four European Championships (winning the 3000m in 1990); four World Championships; two World Indoor Championships (1993 gold in the 3000m); and two Olympic Games (including a 3000m bronze medal in 1988). Yvonne set many new Scottish records and was a truly great athlete.
Alison Wright had run 800m in the 1978 Commonwealth Games for New Zealand. Then she switched to Scotland and in 1981 won the Senior National XC and the SAAA 1500m.
Linsey Macdonald, it is fair to say, would not have considered cross country her best event. However, she was immensely talented on the track and at 16 years of age ran in the Moscow Olympics 400m (8th in the final) and then helped GB to a bronze medal in the 4x400m Relay. Injuries may have troubled her, but Linsey competed in the 1982 European Championships and Commonwealth Games (making an important contribution to Scotland's 4x400m bronze). She also took part in the 1986 Commonwealth Games. Linsey was third in the 1982 AAA 400m. Scottish championships were won too: 100m and 200m in 1981; and 400m (1985). In addition, she secured two 800m silver medals in 1987 and 1988, as well as Indoor 800m silver in 1990.
The 1982 World Cross was held in Rome. 109 ran. Christine Price (Scottish champion for the sixth and last time) was first Scot home in 36th place (5th Briton); Yvonne Murray finished 42nd, Kathy Mearns 65th and Jean Lorden 66th. Liz Lynch (of whom much more later) was 71st and Lynne MacDougall 81st. The Scottish team improved considerably to finish 11th from 18 countries, ahead of Sweden, Belgium, Wales, Ireland, Netherlands, Algeria and Denmark.
Kathy Mearns became SAAA 3000m champion in 1983.
Jean Lorden won the Scottish National XC championship in 1986.
In 1983, the event took place in Gateshead, on the notoriously hilly Riverside course. 111 ran. Scottish champion Fiona McQueen was first Scot in 51st place (6th Briton), with Kathy Mearns 53rd (7th Briton), Elise Lyon 67th and Jean Lorden 77th. The team finished 15th, in front of Wales, Ireland, Netherlands and Northern Ireland.
Elise Lyon became Scottish National XC champion in 1984. The 1984 World XC was held in New Jersey, USA. 109 ran. Fiona McQueen was again first Scot, in 41st place. Elise Lyon was 77th, Christine Whittingham (nee McMeekin) 81st and Kirsty Husband 84th. The team was 16th, in front of Northern Ireland. Andrea Everett (the daughter of the famous Scottish One Mile champion and National XC winner Graham Everett) won the SAAA 3000m in 1984.
In 1985, the IAAF World XC took place in Lisbon. 131 ran. Yvonne Murray was first Scot in 42nd place (fourth Briton); and Elise Lyon finished 84th, Christine Price (back again!) 94th and June Standing 101st. The team was 19th, in front of West Germany, Denmark, Northern Ireland and Gibraltar.
Karen MacLeod was a very good runner but, despite the fact that she won the 1987 National XC, probably preferred track or road. She won three Scottish titles: 3000m in 1987 and 1988 and 10,000m in 1994. In 1985 she was third in the 1985 AAA 10,000m and won the 1987 AAA Indoor 3000m. In the Commonwealth Games, Karen ran the 1990 10,000m (12th) and the 1994 marathon (4th). She also ran marathons for GB in the 1993 World Championship and the 1996 Olympics.
Lynda Bain's best surface was the road. She was SAAA marathon champion twice, in 1983 and 1984 (when she also represented GB in Czechoslovakia) and broke the Scottish record with an impressive time of 2.33.38 in the 1985 London Marathon.
(THIS ARTICLE WILL BE COMPLETED IN THE NEXT NEWSLETTER.)
MEMORIES: R.A.F. and BRITISH AND IRISH INTERNATIONAL
As I approach my 65th birthday my body is telling me I might also be approaching the time to 'call it a day' with regard to competing! For someone who started out as a football playing squash player I feel very honoured and privileged to have achieved what I have done as a runner. How was it all achieved? The love for the sport, dedication and hard work, good coaching and guidance, family support, great team mates, at ALL levels and…….talent!!!! Not sure about that one, I've always said that if I had talent I might have made a 'Big Games' rather than just dreamt about them.
As a runner I went through the RAF in the late 70s, 80s and into the 90s, where, when you lined up in a XC race your team mates were all current GB or Home International runners. I'll give you an example. One year I finished 13th in the RAF XC Championships and ahead of me that day was Jones, Hackney, Goater, Rimmer x 2, Wild, Crabb, Jenkins, Donnelly, McNeilly and Flint, a fine mixture of great talent showing representation from the four Home Countries.
The history of RAF dominance during that period shows a streak of 23 consecutive wins in the Inter-Service XC Championships. The team would be nine strong, there would be five reserves and fringe runners got the opportunity to attend by being listed as, assistant team manager, kit man etc. I attended on a number of occasions doing one of those jobs and also for three years as Junior Team Manager.
I had to wait until I was a veteran before I got the opportunity to compete, and that was a very nerve-wracking experience to say the least, especially the start. I'd run for Scotland and GB in the marathon before but that was nothing to the pressure I felt waiting for the gun to go. Eighteen runners in the race, six from each Service and your team are favourites! The Inter- Service XC would bring the season to a close with the end of season dinner at night……always a night to remember! A few weeks after my second Inter-Service XC as a runner, I left the RAF. I was ready to leave the RAF but I felt perhaps that might be the end of my running at that level.
Quite the reverse really, because, for the last 20 years I've gone on to experience a fair degree of success as a 'Master'. Although running marathons gave me the opportunity to travel world-wide, XC has always been by first love and The British and Irish Masters XC Champs. would become my new 'Inter-Services'. I have been lucky enough to have competed in this race many times and every race, every venue brings back fond memories.
My first time, I was only a 'youngster', a newbie and the race was hosted by Wales. I boarded the team bus outside Glasgow railway station and we set off 11am. We arrived Cardiff 9.30pm, got our hotel room keys and off to bed. Immediately after the race it was a quick visit to Tesco for some food and drink, and then it was back on the bus getting into Glasgow about 1.30am. Talk about the poor relations.
The following year was much the same. A great course at a sports centre in Sunderland, muddy as hell and like the previous year it was back on the bus and straight back to Glasgow.
The next year it was a trip to Dublin and even today I'm still amazed we managed to get there and back in one piece! On the boat the bus developed a fault and for the rest of the trip we had to push the bus to get it started. It was good to experience, Dublin on a Saturday night and to finish off the evening singing and dancing to Joe Dolan and his Band. We had George Sim to thank for that one!
The Kissing Gate at St.Asaph, dining at Barnstaple around the indoor swimming pool and back to Ireland and Navan, Davie's gold medal, the Flag! Every trip has a special memory.
One thing I particularly remember about those early trips is the first couple of hours after the races had finished. In those days the Rugby 5 Nations were this side of Christmas and many a time was spent in a pub with Archie, Ian and the Editor watching a game while engaging with the locals. The pub selected was usually one that was on Archie or Colin's list. Their knowledge in that 'field' is something to be admired!
But, their knowledge was not just restricted to the U.K. I was lucky enough to accompany them both to the European Non-Stadia Champs in the Czech Republic. The 'tour' they took me on in Prague was nothing short of excellent and has been repeated.
My race, in short, was memorable! Archie and Colin both contested the 10K so it was great to have them encourage me in the Half Marathon. I had an inspired run and crossed the line securing a silver medal. Unfortunately, that meant we had to hang about for the medal ceremony. Now, if you think winning a silver medal in a European Championship wasn't exciting enough it was nothing compared to the ceremony itself. I was presented with my medal by the late Emil's wife Dana Zatopek. Unfortunately, I don't have a picture of that in my scrapbook, since the photographer was dozing in the sun!
Many friendships were formed, not only within your own team but also with runners from the other countries and the meal, presentations and entertainment was always good fun. One year in Northern Ireland I had former RAF team mates all running for the other countries. Put them together and it would have been a winning team. It was always good too to go home with a medal and even better if it was a gold, which I did a couple of times. The best I did individually was, one year, finishing 5th but the success of any team I was in was mainly down to Messrs McLinden and Hurley. I think every time I was selected Andy was also in the team but to be honest there was always a good mix: Archie, Barney and Freddie etc.
Things are a little bit different now thanks to Budget Airlines but personally I don't think it's a change for the better. I know there was the odd issue travelling by bus but I do believe back in the early days there was a stronger camaraderie within the team. It was always good fun travelling by bus, Cambuslang slagging off each other; and everyone else on the bus slagging off Cambuslang.
Since I have been involved in organising and managing teams in the past, it cannot be underestimated just how important Davie Fairweather was to the team. A man of few words, the butt of the joke on many an occasion, but totally respected by all.
In this event I've competed in all but one of the countries – the one that always eluded me every five years was Scotland. Some things are just not meant to be.
I have a couple of things planned this year; on the 'bucket list' is a trip to Oregon for the Prefontaine 10K in September; and hopefully……one last trip to Wales for the XC!
By Doug Cowie
Scottish Masters 3000m Indoors
Eleven 3000 metres races were held on the afternoon of 7th January at the Chris Hoy Stadium, Glasgow. Full results are on the scottishathletics site. A successful event was put on by the Glasgow Athletics Association, the British Milers Club and scottishathletics working together for athletes, coaches and clubs with a view to raising standards. Two Olympic athletes appeared: Laura Muir won the Scottish Senior 3000m title in a fast time; and Eilidh Doyle started her year with a rapid 200m.
Scottish Athletics reported "There was another stunning run by Falkirk Victoria athlete, the incomparable Fiona Matheson. Fiona bettered her own time from this event last year to lower her W55 World Best for 3000m to 10.18.83 with a superb run that surprised her – with her husband, Grant (M55), setting a personal best a bit further back at 10.43. 'Sometimes you get a performance when you least expect it and I'm really chuffed with this one,' said Fiona. "To come straight in and run that time surprises me because it's been difficult training through the Festive period and some tough weather. Grant and I found a hilly field near where we live in Falkirk for one session and then used a cleared mile path at Forth Valley Hospital to do nine x 1 mile reps! He's getting quicker, now, so I need to watch my back!"
Other Women Masters champions were: Claire Thompson (VP City of Glasgow, who was well clear in the W40 category; Sue Ridley (W50 / EAC) who had a tight battle with Julie Wilson from Inverness and Karen Dobbie (EAC); and Phyllis Hands (W60 / Motherwell.
For the Men, Darrell Hastie (Gala / M35) set the fastest Masters time of the day with 8.51.06; Law's Darran Muir won the M40 age group; Kerry-Liam Wilson (Cambuslang / M45) posted an impressive 9.02.23 personal best, which for Masters runners, was beaten only by Hastie; Brian Scally (Shettleston / M50) narrowly overcame Cumbernauld's Howard Elliott; Garscube's Rob McLennan (M55) won clearly; Allen Marr (P.H. Racing) took the M60 title; Keith's Ray Aiken secured the M65 championship; and Colin Youngson (Forres H / M70) was content to finish under the standard time for his age group.
SCOTTISH MASTERS INDOOR TRACK AND FIELD CHAMPIONSHIPS AT THE CHRIS HOY STADIUM ON 4TH FEBRUARY 2018
Scottish Athletics apologised for scheduling this fixture the day after the (very well-organised) cross-country championships, but really this is, YET AGAIN, simply not good enough. Instead of cramming Masters Track and Field in with young athletes, relays and combined events, why can't Masters athletes have a meeting on their own? In this particular case, our events could easily have included the 3000m which took place in early January – had it not been for the usual crazy timetabling, which seems to enjoy usually treating older athletes inconsiderately. When SVHC officials complain, they are fobbed off with weak excuses and perhaps some suggestion that the timetabling will be better next time. Should we believe this? Alasdhair Love is the Scottish Athletics spokesman, but who is actually responsible for such dreadful timetabling?
Although some very good Masters athletes took part in this event (many of them from Ireland and England), there is no doubt that the number of Scots entered was disappointing – partly because of the clash with XC.
The Throws and Jumps tended to have only one entrant in each age-group. Fiona Davidson (Aberdeen AAC), who is the current W40 World Masters Triple Jump Champion, was in fine form, winning three W45 events (60 metres, Long Jump and Triple Jump) and setting three Scottish Masters records. The Long Jump performance (5.28 metres) was a British Masters record as well. Sadly, Fiona took one triple jump too many and had to go to A & E with a badly injured Achilles tendon. Let's hope she makes a full recovery before long.
Gillian Cooke (EAC – W35) won the 60m, Long and Triple Jump titles. David Carson Graham of Shettleston (M40) won both High Jump and Long Jump. James Smith (Motherwell M70) secured Long Jump, Triple Jump, 60 m and 200m gold medals. James Macgregor (Aberdeen AAC – M50) did well to win his High Jump, defeating competitors in younger age groups.
In the Throws, the star was Mhairi Porterfield (W35 – VPGlasgow AC) who achieved an impressive shot putt of 13.15m.
In the Sprints, Dougie Donald (Central – M55) won titles at 60m and 200m; as did his club-mate Cameron Smith (M45); and Martin Leyland (Shetland AAC – M60).
The Middle-Distance events produced some interesting results. Fiona Matheson (Falkirk Vics – W55) actually lost a race! This was the 800m, when Yvonne Crilly (Lothian Running Club) narrowly outsprinted her. However normal service was resumed when Fiona was well clear of her rivals in the 1500m, which she added to her 3000m victory.
Darran Muir (Law & District – M40) was second in the 1500m but won the 800m to go with his 3000m title; Gordon Barrie (DHH – M45) ran exceptionally well to complete the 800m/1500m double; Andy Ronald (FVH – M50) won gold in an extremely competitive battle with Howard Elliott (Cumbernauld AAC, who had previously won his 800m) and Brian Scally (Shettleston). In the M60 800m, Alastair Dunlop (Kirkintilloch) came out top in a tight contest against John Hughes (Motherwell AC). Frank Hurley (Cambuslang – M65), not content with his excellent silver medal in the previous day's cross-country, showed great resilience by winning gold in the 1500m.
SCOTTISH MASTERS CROSS COUNTRY CHAMPIONSHIPS AT KILMARNOCK ON 3rd FEBRUARY 2018
Scottish Athletics reported as follows: "Scotland international hill runner Charlotte Morgan claimed the Women's gold at the Scottish Masters XC Champs with a dominant performance. And Shettleston's Jethro Lennox made it two-in-a-row as he followed up his victory at Dundee last year with a repeat success at Dean Castle Country Park.
To say conditions were muddy would be an understatement. There was mud and hills and muddy hills, plus a horses' field, tree roots to negotiate, paths with mats thereon and, not to forget, a log to hurdle on a steep uphill. It was, as organisers and host club Kilmarnock Harriers had promised, 'proper cross country' and a mental as well as physical battle.
Morgan (Carnethy Hill Racing Club) burst clear early on in the Women's and Men's V65 race and seemed to relentlessly keep building that advantage. In the end, she romped home in 23.41 – fully 51 seconds ahead of nearest rival, Catriona Morrison of Stirling Triathlon Club. There was a bronze medal for Lesley Chisholm of Garscube Harriers. Gala Harriers women are often prominent on these occasions and 2018 was no different as they took the team golds back to the Borders. Chisholm led Garscube to silvers, with Giffnock North AC landing the bronzes.
Lennox won the men's V40-60 race over 8k in a time of 30.13 to take it by only a couple of seconds from silver medallist, Iain Reid of Cambuslang Harriers in an exciting finish. In fact, for Jethro it was basically a repeat of last year when he took the title from another Cambuslang athlete – Robert Gilroy. The bronze medal went the way of Tom Ferrington of Corstorphine. Ferrington's performance helped Corstorphine to the team gold medals with Cambuslang taking silver and Shettleston Harriers bronze.
Tony Martin of Falkland Trail Runners won the M65 race ahead of Frank Hurley of Cambuslang and Andy McLinden of Hamilton Harriers.
Many thanks to host club Kilmarnock Harriers for superb efforts in staging the Masters XC and putting in a lot of work to deliver the event and a tough course. Thanks, too, to Dean Castle Country Park staff and to all the volunteers making a vital contribution as marshals, timekeepers, finish-line video and Results and so on. Your assistance is vital to making events happen."
A very good report but more should be added. Some would say that the course was too tough for some of the older Masters runners, judging by a number of falls and injuries and general exhaustion……
The W45 contest was won, narrowly, by Karen Kennedy of PH Racing Club (which is based in Dunfermline) from Allie Chong of Giffnock North AC, with Jennifer Forbes (Gala Harriers) close behind.
The battle for W50 medals was also tight, and victory went to Sheila Gollan (East Sutherland AC), in front of Rhona Anderson (Dunbar Running Club) and Jill Morrow (Edinburgh AC).
Pamela McCrossan (Clydesdale Harriers) finished first in the W55 category, not far ahead of PH Racing Club's Mary Western, with Fiona Carver (Corstorphine AC) third.
The W60 tussle produced a clear win for Isobel Burnett (Carnegie Harriers), from Susan Linklater (Shetland AC) and Innes Bracegirdle (Fife AC).
British and Irish champion W65 Ann White (Garscube Harriers) won easily from her International team-mates – Linden Nicholson (Lasswade AAC) and Jeanette Craig (Springburn Harriers).
Tony Martin's M65 victory was well-deserved, since he had to defeat stern opposition in Frank Hurley (Cambuslang) and Andy McLinden (Hamilton Harriers).
Alex Sutherland (Inverness Harriers) produced a great run to win the M70 title (not far behind the M65 medallists) and was a very long way in front of Colin Youngson (Forres Harriers) and Phil Smithard (Carnegie Harriers).
M75 Stephen Cromar (Dundee Hawkhill Harriers) added another gold to his impressive medal collection from this annual fixture. Second was George Black (Fife AC) and third Ian Leggett (Lothian Running Club).
First over 80 home was Arnott Kidd; and SVHC stalwart Willie Drysdale (Law & District) soon followed.
The M40-M64 race was packed with impressive 'young' athletes!
M45 gold went to William Richardson of Irvine Running Club – he was fifth overall and well clear of Cambuslang's Justin Carter and Stephen Wylie.
Jim Buchanan (M50 – Dumfries Running Club) had to fight hard to stay a few seconds in front of previous champion Nick Milovsorov (Metro Aberdeen Running Club). Cumbernauld AAC's Ross McEachern was third.
The next two categories were won by particularly famous Scottish athletes, both from Cambuslang. Colin Donnelly was first in the M55 race, in front of Ted Gourley (Giffnock North AC) and Alick Walkinshaw (Cambuslang). Eddie Stewart became M60 champion but his team-mate Paul Thompson made him work hard and it was good to see Charlie Haskett (DHH) a former multi-surface Scottish International runner, secure the bronze medal.
In the 50-60 Men's Team Race, Cambuslang won from Shettleston and Corstorphine. The Women's 40-45 Team medallists were Gala Harriers, Garscube Harriers and Giffnock North AC; and in the 50+ contest, Edinburgh AC, Giffnock North and Fife AC.
There were long queues for showers and also for food and drink; but the medal ceremony was organised very efficiently by Alex Jackson and many colleagues.
Altogether, it was a memorable day and an extremely 'challenging' course!
Kilmarnock 2018
There is an apt Gaelic expression for when you encounter an obstacle or obstruction in your path. It's "cnap staidhre" pronounced with a sneaky but appropriate "r" between the first two letters; literally an annoying or unexpected bump in your progression up some steps or indeed anywhere else where forward movement is affected. One of the pleasures of running with the 'fast ladies' is the occasionally shared feminine squeak when a sudden drop or mud slide comes up to meet you – not that they are incapable sometimes of a more robust response.
Anyway, Deans Park, Kilmarnock was not a course for the faint-hearted; no douce Holyrood parkland but a full-blooded, gutsy, mixed-terrain experience providing a continual challenge to find the best foothold, balance and pace adjustment. And that is why those of us who love to get off road can become addicted to cross-country running!
If I go off too quickly I can get the equivalent of travel sickness until the internal bits get used to the jolting, so a good 15-minute warmup confirmed the challenges ahead. Deans Park mud varied between shoe removing suction and sago pudding consistency. Spikes definitely helped on the firmer ground and uphill but how exactly do you run fast downhill in the things with no heel grips? Apply ski technique and just keep leaning forward looking for the turns and open up on the flat? And then there's the fall-back of imagining you're playing a good Highland Strathspey on the fiddle or on the dance floor with swoops and checks in rhythm and movement which allow you to soak up and even out the terrain on the musical journey.
So, to return to this race that I'm supposed to be writing about for Colin. It was useful to get a sight of the leaders at the bottom bend and although I'm in another age bracket I'm still racing these guys who have yet to move up to the biblical three score and ten category. Vocal support was good throughout and you could not at any cost let yourself be seen to drop to a walk pace breasting that hill for the second time. The offset log after the muddy drop and hairpin turn was an interesting uphill hurdle challenge which could have spelt disaster but that was claimed by Bobby Young who tripped on one of the rubber mats when almost safely home and proudly wore the local camouflage all the way back to the shower.
And that reminds me of another useful bit of terminology from Orkney. I am told that when you fall off a pier headfirst with a peculiar twisting motion you have "Capswevilled" into the drink. Bobby got an Olympic 9.5!
By Alex Sutherland
BRITISH CROSS-COUNTRY CHAMPIONSHIPS AT FORRES ON 17TH MARCH
2018
Despite the icy wind blowing across Grant Park, it turned out to be a great day for the organisers Forres Harriers and for many Scottish Masters runners. The course wound round bumpy grass, up forest trails and a long, steep, horrible hill, and then along leafy litter (but very little mud), before plunging back down to the park and towards the finish; or into the final lap for non-pensioner men.
Women and old guys raced first, which was only polite. Merely six seconds separated the W40 medallists, with Jennifer MacLean of EAC squeezed into silver medal position by only two seconds.
Sara Green of Gala Harriers won the W35 contest: 5th overall but one place behind the amazing evergreen Fiona Matheson (Falkirk Victoria) who cruised to W55 gold – only a week before she had gained another two British Masters victories (1500m and 3000m) at the Indoor meeting at Lee Valley.
Michelle Slater of Moray Road Runners secured W35 bronze; and Anne Howie (AAAC) W55 silver. W50 bronze medallist was Rachel McCuaig of Nairn Road Runners.
In the W60 category, silver and bronze went to Fife AC runners: Innes Bracegirdle and Margaret Martin.
Linden Nicholson of Lasswade AC enjoyed a tremendous race and became the W65 British Champion by three clear minutes.
Forres Harriers favourite, Anne Docherty, made sure of yet another W70 British Masters title after a close battle with Lesley Bowcott of Wimbledon.
Tony Martin (Falkland Trail Runners), who has kindly sent in an action-packed report, thoroughly deserved his clear M65 victory against very good opposition; Cambuslang's Frank Hurley sprinted to silver just in front of that durable campaigner Stan Owen from Salford.
Inverness Harrier Alex Sutherland, who is in great form, was clear favourite for the M70 title and won by two minutes. His clubmate Tim Kirk finished third.
A real Scottish Masters stalwart, Pete Cartwright of Clydesdale, ran strongly to win M75 gold.
Then there was a special moment for Les Nicol (Metro Aberdeen RC). He has won Scottish Masters XC titles at M70 and M75; and was M75 bronze medallist in the 2014 British and Irish Masters XC International; but now he achieved a greater triumph, becoming British M80 Champion a minute ahead of Steve James (Southport), who is a past World Champion in several age groups.
In the Second race, Inverness Harrier Donnie Macdonald sped to an impressive overall victory and M35 gold. Robbie Paterson from Moray Road Runners was fourth finisher and secured M35 silver. Just behind him, Leon Johnson (EAC) won M40 bronze.
Justin Carter of Cambuslang sprinted in to win M45 silver, hotly pursued by two age-group rivals.
Steve Cairns, nowadays representing Tyne Bridge Harriers, became M50 champion.
The seemingly indestructible Colin Donnelly (Cambuslang) raced away with the M55 title. (It was long ago, in 1979, when young Colin first made clear his amazing talent and toughness by winning the gruelling Ben Nevis Race.)
In the M60 age group, there were silver and bronze medals for two Scottish athletes: Donald Petrie (Kilbarchan) and Frankie Barton (Cambuslang).
18 individual gold medals were available; and Scots won 9 of them! This was the northernmost venue for the BMAF XC but more than 200 finished and another 50 had entered – a good turnout for this annual event.
Many team prizes also stayed in Scotland. W35: Metro Aberdeen gold; Forres Harriers bronze. W45: Inverness Harriers gold; Edinburgh AC silver. W55: Forres Harriers gold. M35: Inverness gold; EAC silver; Moray Road Runners bronze. M45: Inverness gold. M55: Cambuslang gold. M65: Cambuslang gold; Inverness silver; Clydesdale bronze.
BMAF officials were delighted. Maclean's range of delicious hot pies prevented hypothermia. Then results arrived and presentations went smoothly. For those not travelling home, celebrations continued into the night. A great day, indeed!
BMAF Masters Cross Country 2018: The Battle for M65 Victory
The Beast from the East Part 2 had started its shenanigans again on Sat morning. Looking out of the window at 6:30 a.m., I could see a small blizzard was blowing in, not a good omen for the 3-hour trip up to Forres for the British Masters XC champs (6K).
However, the weather gods relented and we enjoyed an incident free trip past snow-covered mountains, highlighted with spring sunshine against a blue sky. We arrived in Forres with around 40 minutes to spare before the start of the race – quick number pickup, changed and a jog over to the start – it didn't give us much time to look at the course – apart from the loop around the park. Met up with a few running friends and rivals, notably my Scottish team mate Frank Hurley and, from way back when I first started running, Salford runner Stan Owen. Stan doesn't travel to races just to take part.
The fact that it was a British Championship gave us a chance to race against runners from London, Gloucester, Liverpool and other areas from England. Those making the journey hadn't come all that way just to look at the scenery.
Considering the amount of rain and snow we had over the past weeks, the course was dry underfoot. The route took us around the park over a couple of bumps and up a small hill, cut off to the right and back round the park again. Instead of cutting off right on the small hill, this time we continued up the big hill, up some more, climbed a bit more, but after that it was back down onto the flat and into the finish.
At the start the wind was in our faces. The sun was out but couldn't compete against the chilly wind. As we lined up, I looked around – Stan was way over to my left. I was as close to the barrier as I could get, on account that the course took a right turn. Frank hovered behind me. I didn't want to lead out from the start, but from where Stan was it meant he had quite a way to run to get to the corner.
I had no choice, as the gun went, but to go into the lead at a steady pace. Stan caught me and immediately went to the front. "Here we go," I thought, "He's going to force it now." The pace was comfortable and I sat on Stan's shoulder until we hit a small bump. Then I pushed up, overtook Stan and hit the hill.
As we turned right and headed down to the 2nd loop, Stan came flying past me, putting in a burst onto the flat. Decision time. Do I let him gain a few yards and try to pick him up (if I could) later on? Or go with the pace and hang on? Go with the pace, it's a championship race.
I got my head down and chased him. Stan slowed down, so I went past, lungs bursting. "Oh, blinking heck!" (substitute your own swear words in here!): he's now going to sit in with Frank and leave me hanging out at the front. Momentum carried me on, and I gradually pulled away from the pack. I'm assuming that's what happened, as I wasn't looking back, too scared about what I might see!
I decided that when we hit the hill, to push really hard. if anyone came past me, fair play to them, they deserved it. The hill was a relentless hard climb, which levelled out to a bend then kicked you in the teeth with another incline – we only did it once but the youngsters had to run it twice.
I had a chance to look down on the path as we twisted our way up. I couldn't see Frank or Stan below me, so I assumed they were sitting behind, waiting to give me a good kicking. Over the top, and we headed down towards the park again, leaping over a small embankment which caused a few casualties as we landed among the Spring daffodils poking up nervously.
Summoning up my last reserves of energy, I dug in hard around the winding route to the finish, trying to make it difficult for anyone sneaking up behind me to overtake. I crossed the line in 1st place 22:44, 6th overall, happy to note that Frank had passed Stan on the small embankment to secure 2nd place with Stan 3rd.
It may not seem like this to the observer from the sidelines, but the racing in the Vets is just as fierce as you would find in Senior races – only maybe a bit slower. Most of us hail from an era (before the running boom) when road and XC was predominately about racing and not a mass-participation sport. That's why I enjoy competing in Masters races – you get a good honest race like they used to be! Coupled with a friendly competitive spirit and a chance to catch up with Old friends (literally!). You couldn't wish for more.
By Tony Martin
OFFICE BEARERS SEASON 2017-2018
Honorary President: ALASTAIR MACFARLANE
President: CAMPBELL JOSS 25 Speirs Road Bearsden, G61 2LX Tel: 0141 9420731 cdjoss2@gmail.com
Immediate Past President: ALASTAIR MACFARLANE
Vice-President: ADA STEWART 30 Earlsburn Road, Lenzie, G66 5PF Tel: 0141 578 0526 stewart2@ntlworld.com
Honorary Secretary: JOHN SOFTLEY 6 Cathkinview Road Mount Florida Glasgow G42 8EH Tel. 0141 5701896
Honorary Treasurer: ANDY LAW Euphian, Kilduskland Road Ardrishaig, Argyll PA30 8EH Tel. 01546 605336 Lawchgair@aol.com
Membership Secretary: ADA STEWART 30 Earlsburn Road, Lenzie, G66 5PF Tel: 0141 5780526 stewart2@ntlworld.com
Handicapper: PETER RUDZINSKI 106 Braes Avenue Clydebank. G81 1DP Tel.0141 5623416 p.rudzinski@ntlworld.com
Committee Members:
JOHN BELL Flat 3/1, 57 Clouston Street Glasgow G20 8QW Tel. 0141 9466949 MARGARET DALY 24 Strowan Crescent Sandyhills Glasgow G32 9DW Tel. 0141 573 6572
WILLIE DRYSDALE 6 Kintyre Wynd Carluke, ML8 5RW Tel: 01555 771 448
DAVID FAIRWEATHER 12 Powburn Crescent Uddingston, G71 7SS Tel: 01698 810575
EDDIE McKENZIE Little Haremoss, Fortrie, Turriff Aberdeenshire, AB53 4HR Tel: 01464 871430
STEWART McCRAE 17 Woodburn Way, Balloch Cumbernauld G68 9BJ Tel: 01236 728783
PAUL THOMPSON Whitecroft, 5 Gareloch Brae, Shandon, Helensburgh G84 8PJ Tel. 01436 821707
ROBERT YOUNG 4 St Mary's Road, Bishopbriggs Glasgow G64 2EH Tel. 0141 5633714
BMAF Delegates To be appointed Ada Stewart
SAL West District Delegate Willie Drysdale
SAL Delegate at AGM To be appointed
Website Ada Stewart
Auditor George Inglis
FIXTURES
April 2018
Sun 1st Tom Scott 10 mile Road Race Water Sports Centre, Strathclyde Park, Motherwell 10:00am
Sat 28th BMAF Road Relay Champs Sutton Park,Birmingham
May 2018
Wed 2nd Snowball 4.8M road race Coatbridge 7:30pm Changing at Lochview Golf Driving Centre
Sun 6th Walter Ross 5m Trail Race, Pollok Park, Cartha Rugby Club 1:30pm
18th – 20th European Masters Non Stadia Championships – Alicante, Spain
Sat 26th Bathgate Weslo Cairnpapple Race 2:30pm Entry fee £3 June 2018
Wed 6th Corstorphine 5 Mile Road Race Turnhouse Rd, Edinburgh, 7:30pm
Sun 17th BMAF 5km Championships Horwich Leisure Centre Victoria Road , Horwich BL6 5PY
Sun 24th BMAF Multi-Terrain Champs Gravesend
Wed 27th SVHC 5K Champs Sea Scouts Hall, Miller Street, Clydebank, 19:30
July 2018
Sun 8th England Masters Inter-Area T&F Challenge Solihull
Sat 14th SAL Masters T&F Champs, Grangemouth
Sun 22nd BMAF Half Marathon Champs Redhill, Surrey
Fri 27th SAL Masters 5000M Champs, Scotstoun
August 2018 Sun 5th BMAF 10K Champs, Stoke on Trent
Sun 12th Glasgow 800 10km road race Cartha Rugby Club, 1:30pm
September 2018 Sat 15th Masters Cross Country Trials Tollcross Park
Sun 23rd Loch Ness Marathon, Inverness
October 2018
Sun 7th SVHC Half Marathon Champs, Kirkintilloch
Sun 7th BMAF Marathon Champs, Chester
Sun 14th SVHC Track 10,000m. Times TBC Followed by AGM, Date & venue TBC See website for full details
November 2018
Sat 17th British & Irish Masters Cross Country International – Swansea, Wales