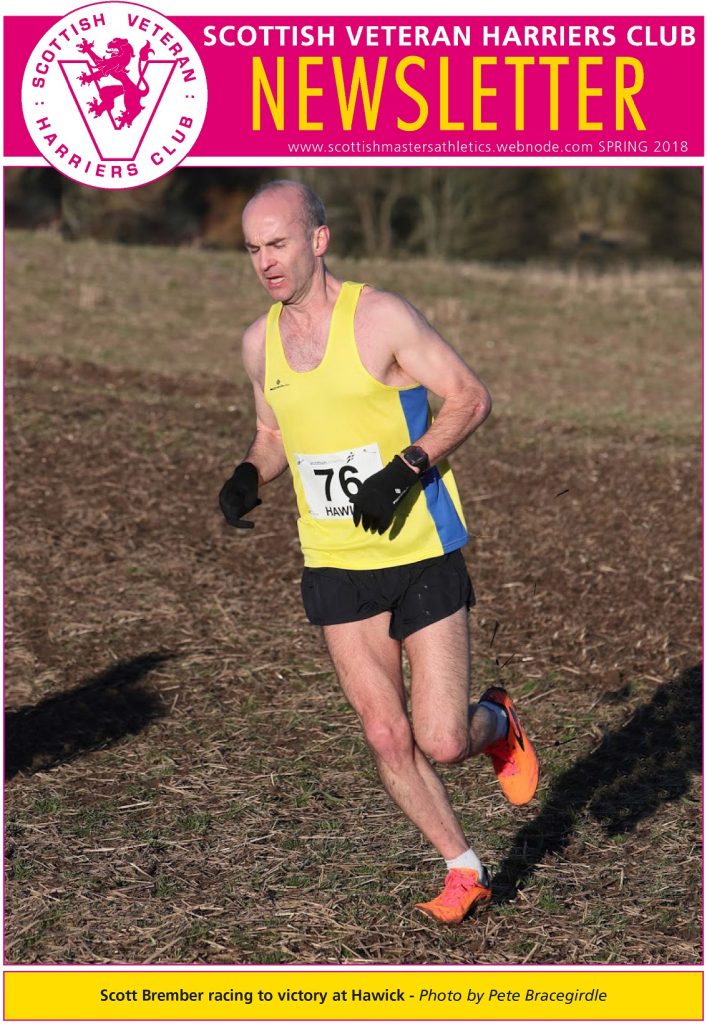 MEMBERSHIP NOTES 1st April 2019
MEMBERS Standard Membership £20 Non competing Membership £10 Over 80 Membership Free
Welcome to the 11 new and 2 reinstated members who have joined or re-joined since 30th November 2018. As of 1st April 2019, we have 489 members, including 459 paid, 25 over 80 & 5 Life Members.
NEWSLETTER The electronic version of the Newsletter is now the preferred option. Any member who would rather receive a printed Newsletter must contact David Fairweather (djf@ dfairweather.plus.com), if they have not already done so. Please inform David if you add or change your email address.
Please send photos, news, letters, articles, etc for the next issue To: COLIN YOUNGSON TOMLOAN, SANQUHAR ROAD, FORRES, IV36 1DG e-mail: cjyoungson@btinternet.com Tel: 01309 672398
SVHC EVENTS
Stewards/marshals are required for club races. The club appreciates all members & friends who volunteer to act as stewards/marshals. If you are not competing just turn up and introduce yourselves to the organisers.
STANDING ORDERS Thank you to the members who have set up standing orders for membership subscriptions. Please keep me informed if your membership details change (especially email addresses. Standing order details: Bank of Scotland, Barrhead, Sort Code: 80-05-54, Beneficiary: Scottish Veteran Harriers Club, Account No: 00778540, Reference: (SVHC Membership No. plus Surname). stewart2@ntlworld.com 0141 5780526 By cheque: please make cheque payable to SVHC and send to Ada Stewart, 30 Earlsburn Road, Lenzie, G66 5PF.
CLUB VESTS Vests and shorts can be purchased from Andy Law – £18 for vests, including postage and £23 for shorts, including postage. If ordering both together deduct one lot of postage. Or, can be delivered to any of the Club races by arrangement with no postage. (Tel: 01546 605336. or email lawchgair@aol.com)
NEW MEMBERS
NUMB CHRS SURN JOIN TOWN
2488 Lorna Simpson 05-Dec-18 Linlithgow
2489 Alistair Peat 04-Jan-19 Bishopbriggs
2490 Catriona Pennet 08-Jan-19 Bridge of Don
2491 Neil Green 16-Jan-19 East Kilbride
2492 Adrienne Caldwell 28-Jan-19 Crieff
2493 Ross Houston 05-Feb-19 Roslin
2494 Jennifer Learmonth 05-Feb-19 Dundee
2495 James Annan 27-Feb-19 Settle
2496 Duncan Ryan 13-Mar-19 Perth
2497 Alan Robertson 27-Mar-19 New Brighton
2498 Ian Sutcliffe 01-Apr-19 Orkney
1144 Michael Clerihew 05-Dec-18 South Queensferry
2210 Jim Scott 07-Mar-19 Edinburgh
Ada Stewart Membership Secretary
SCOTTISH MASTERS XC, HAWICK 2ND FEB 2019
Scottish Athletics reported as follows:
"Garscube Harrier Lesley Chisholm landed the Scottish Masters XC title on a sunny afternoon in Hawick – making it four wins in five years for the Scotland international.
In the men's race, Central AC runner Scott Brember became the first M45 to take victory in the M40-60 race for the first time since Kilbarchan's Bobby Quinn some six years ago.
Brember prevailed in an exciting finish in the sunshine in the Borders. Title holder Jethro Lennox (Shettleston H) and Scott shared the lead after the first lap of the two -lap race over the hilly Hawick course. During the second lap Graeme Murdoch (Gala Harriers) moved into the lead and coming into the final field he was still leading with Brember close behind. But, over the final downhill sprint it was Scott who came through to become 2019 champion closely followed by first M40 Murdoch. Winner for the past two years, Lennox took bronze on this occasion.
The team gold for M40+ went to Cambuslang Harriers with the same club retaining the M50+ team title.
The other men's Age Category gold medals were as follows: M50 Charlie Thompson (Cambuslang); M55 Colin Donnelly (Cambuslang); M60 Alastair Walker (Teviotdale); M65 Andrew McLinden (Hamilton); M70 Alex Sutherland (Inverness); M75 Bobby Young (Clydesdale); M80 Stephen Cromar (Dundee Hawkhill).
Central AC's Scott Brember is joined by bronze medallist Jethro Lennox (left) and silver medallist Graeme Murdoch at Hawick (photo by Alex Corbett)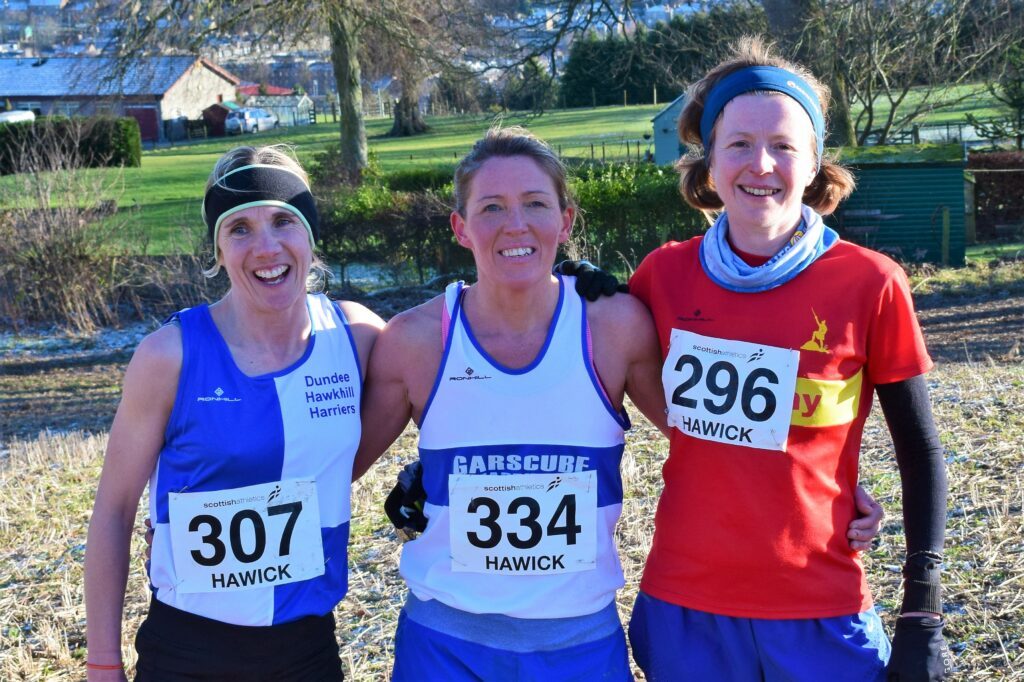 Champion Lesley Chisholm is flanked by silver medallist Charlotte Morgan (right) and third-placed Carol Parsons (photo by Alex Corbett)
In the women's race, Chisholm and 2018 champion Charlotte Morgan (Carnethy HRC) shared the lead after the first lap. During the second, Lesley went clear with Charlotte taking silver and Carol Parsons (Dundee Hawkhill) the bronze.
It was a special day for Chisholm with her dad, Alex, taking silver medal in the V60 men's race.
Dundee Hawkhill Harriers won Women 40+ team gold, the first ever Masters women's team medals of any colour for the Hawks. Edinburgh AC retained the Women's 50+ team title.
Other women's Age Category gold medals were as follows: W45 Megan Wright (Hunters Bog Trotters); W50 Veronique Oldham (Aberdeen AAC); W55 Rhona Anderson (Dunbar RC); W60 Isobel Burnett (Carnegie); W65 Linden Nicholson (Lasswade AAC); W70 Sheila Strain (Hunters Bog Trotters)
A sunny though cold day contrasted to the near blizzard conditions the 2014 Master's Championships held over the same course.
Teviotdale Harriers are again due thanks for all the work involved in hosting the championship; with thanks also to (local farmer) John Mercer for use of his fields."
The editor added the following.
Although the weather, bright with a chilly breeze, was nothing like the Nordic nightmare hypothermic hell of five years ago, the course posed definite problems. It was frozen rock-hard and bumpy with steep downhills, which were difficult (especially for older stagers) to negotiate, nasty little climbs, a slippery slanting section round the side of a hill and a stumbling awkward finish. A real test for knees, ankles, hamstrings, nerves and resilience. Nevertheless, three valiant M80s completed the course: well-deserved respect for role-models Stephen Cromar (9 wins so far), Walter McCaskey (also 9) and James Pittillo (M80 winner in 2017).
Great runs by Lesley Chisholm and Scott Brember, of course, but others shone very brightly indeed.
In the Women's race, an impressive fourth overall was Veronique Oldham W50 (who has now won a total of four titles in three age groups) just in front of M45 champion Megan Wright. Rhona Anderson was first W50 in 2015; and first W55 in 2019. Isobel Burnett completed a hat-trick of W60 titles to add to her W55 win in 2014. Linden Nicholson, reigning W65 British champion, gained Scottish gold.
In the Men's race, the tireless Colin Donnelly continues to amaze: a third successive M55 title took his individual gold medal count to 9 in four age categories. M60 World (and British and Irish) champion Alastair Walker raced away with the Scottish championship on his Teviotdale Harriers home course. British M70 champion Alex Sutherland now has 5 titles at M65 and M70. British and Irish champion Bobby Young's M75 victory makes his total so far 7 wins between M55 and M75.
Congratulations to all the medallists. As for the rest of us: at least we finished!
SCOTT BREMBER ANSWERS THE QUESTIONNAIRE
NAME: Scott Brember
CLUBs: Central AC
DATE OF BIRTH: 27/10/1972
OCCUPATION: Customer Service Coach
HOW DID YOU GET INVOLVED IN THE SPORT?
I have been running on and off over the years and ran a couple of half marathons in my 20s. I started running more regularly in my late thirties and ran the Edinburgh marathon a couple of times. I heard about Central AC from a friend that was interested in going along and decided to go to one of their training sessions to try it out.
HAS ANY INDIVIDUAL OR GROUP HAD A MARKED INFLUENCE ON YOUR ATTITUDE OR INDIVIDUAL PERFORMANCE?
All the members at the club have had an influence on my attitude and in particular the coach, Derek Easton. Everyone works hard at the sessions and it's really beneficial to be in that environment. I don't think I would get as much out of a session if I was training on my own. Derek is always available to offer advice and encouragement and has helped me immensely in the time I have been at the club.
WHAT EXACTLY DO YOU GET OUT OF THE SPORT?
The main benefit I get from the sport is to help stay fit and healthy. I also like the feeling I get from running. Running lifts my mood and if I've had a stressful day at work it can help me to relax.
WHAT DO YOU CONSIDER TO BE YOUR BEST EVER PERFORMANCE OR PERFORMANCES?
The National Masters Cross Country at Hawick! (Surely Scott's silver medal in the M45 category at the 2018 Swansea British and Irish Masters International XC also deserves a very honourable mention. He was first Scotsman in the race, beating our M35 and M40 runners. Ed.)
YOUR WORST?
The London marathon in April this year. Although I was reasonably happy with my time it's the hardest race I've ever run. It was a hot day and I made the mistake of going off too fast at the start which caught up with me as the race went on. Hopefully, I will learn from the experience. In spite of that the atmosphere was incredible and I'd like to give it another go.
WHAT UNFULFILLED AMBITIONS DO YOU HAVE?
Longer term I would like to run some ultras. I go for a long trail run on a Sunday which is my favourite run of the week so I would like to pursue this at some point. There are loads of great races in Scotland and abroad that I would like to try.
OTHER LEISURE ACTIVITIES?
I used to go hill walking on a fairly regular basis but I haven't been out as often the past few years as running has taken over. I still get out occasionally though and always enjoy it when I do.
WHAT DOES RUNNING BRING YOU THAT YOU WOULD NOT HAVE WANTED TO MISS?
I enjoy the social side of running. I look forward to meeting up with other runners at the club and finding out how they got on at the weekend or any races they have planned. I've always loved the outdoors so it's great to spend a Sunday afternoon on a trail somewhere.
CAN YOU GIVE SOME DETAILS OF YOUR TRAINING?
I normally do most of my races between August and December. During this period an average week would be roughly 60 miles. This would be;
Monday – 10 miles (easy pace)
Tuesday – Club session
Wednesday – 10 miles (easy pace)
Thursday – Either Club session or 5 miles easy pace (incl. short hill sprints) if racing at the weekend
Friday – Rest
Saturday – Race or tempo run
Sunday – Trail run (16 – 20 miles)
I go to the gym once or twice a week for strength and conditioning.
In the winter I will start building up my weekly mileage (up to 80 miles) for a spring marathon. I do the same in the summer to get ready for the autumn races.
ISOBEL BURNETT ANSWERS THE QUESTIONNAIRE
NAME: Isobel Burnett
CLUBs: Carnegie Harriers, SVHC
DATE OF BIRTH: 21/12/1956
OCCUPATION: Retired teacher
HOW DID YOU GET INVOLVED IN THE SPORT?
About 14 years ago I used to go for a weekly short run with a couple of friends until one of them persuaded me to enter the Smokies 10-miler. She handed me the paper form (online entries were few and far between then) after giving me a lift back from the hospital. I was recovering from a varicose veins op, wasn't allowed to drive and could hardly walk 10 metres, never mind run 10 miles! This was November, however and, never one to dismiss a challenge, I had till March to get my legs in some sort of working order for it to happen. I got the bug!
I entered several more races after that, and about two years later I joined Carnegie Harriers, a club I have remained with for the last 10-11 years.
HAS ANY INDIVIDUAL OR GROUP HAD A MARKED INFLUENCE ON YOUR ATTITUDE OR INDIVIDUAL PERFORMANCE?
I found the regular training provided by Carnegie Harriers caused a noticeable improvement in my times; and the wise practical advice of the more experienced members of the club was worth following. It has also been a club with a variety of running genres catered for so I have easily been able to join in hill-racing, cross-country and trails as well as the road-running that I started with. I have put my foot in the ultra waters 4 or 5 times but I don't feel the love like some of our members do!
WHAT EXACTLY DO YOU GET OUT OF THE SPORT?
At first it was a good way to get out in the fresh air and take some exercise, and I was happy to run on my own, whether on road or trail. I have always enjoyed sport and played hockey and tennis matches at school, and later played badminton and squash (leisure only). Running up and down a hockey pitch or fast movements in racquet sports always gave me a lot of satisfaction so, although I did a little athletics as part of the normal school curriculum, I wasn't surprised when I found that taking up running at the age of 49 seemed to work for me.
WHAT DO YOU CONSIDER TO BE YOUR BEST EVER PERFORMANCE OR PERFORMANCES?
I think, in sense of personal time achievements, my favourites would be getting a parkrun PB of 19:40 at the age of 56, and in the same year running the Smokies 10-miler in under 70 minutes (69:16). I also managed to run the Loch Ness Marathon the year before in my best marathon time of 3:16.
I have also been able to wear my Scottish vest on 5 occasions for the British and Irish XC Internationals, and gained team medals at 4 of those. And in the Scottish Masters XC Championships I have just this year completed a hat-trick of golds for my age group.
YOUR WORST?
I don't feel I've ever performed really badly but I have had two races which were certainly challenging for different reasons. In 2017 I was pleased to complete the London marathon in 2017 with a splint on my arm, albeit the slowest marathon time I've ever had of 3:45. Recovering from a broken wrist and therefore having missed a lot of training gives your completion of the race plenty of meaning. Also, my first attempt at the Lairig Ghru, an off-road/hill race of 26.5 miles, was an experience of being wet and cold to the point of numbing, and therefore unable to open my much-needed cereal bar or unzip my jacket for the checkpoint marshals to see my number. I learned a lot from that race about Scottish mountain weather in June, about lack of salt causing cramping and how to just hang on in there to the end – a real sense of achievement!
WHAT UNFULFILLED AMBITIONS DO YOU HAVE?
I wouldn't call myself particularly ambitious and so, apart from an occasional little flirtation with the idea of trying track running, I mainly aim to keep fit and uninjured, trying hard to attain performance times which are equal or close to what I've achieved in the previous year.
OTHER LEISURE ACTIVITIES?
Sailing (usually weekly for the April to September season) – hanging out the edge of the boat is great cross-training, helping core and quad strength as well as upper body… although on the cooler days out on the splashy Forth, I often look wistfully over at the sun shining on the Pentlands! Weekly Pilates and swimming plus fortnightly field archery and an occasional cycle all help with general fitness and, although Scotland's snow is somewhat erratic, I enjoy an annual ski holiday in the French Alps to keep the knee joints working! Non-sporting leisure time is spent doing stained-glass work or spinning and dyeing wool, but time seems to be limited!
WHAT DOES RUNNING BRING YOU THAT YOU WOULD NOT HAVE WANTED TO MISS?
Friendships, the challenges and self-discipline that training for and running races give you, and the amazing opportunity to explore the area of Scotland I live in – far more than I would otherwise have done, with plenty of wildlife encounters (including a face-on challenge from a belligerent capercaillie, never to be forgotten (not in Fife, I hasten to add).
CAN YOU GIVE SOME DETAILS OF YOUR TRAINING?
As I tend to enjoy a variety of race distances, it can depend on what races are coming up, but my general rule is to run 4 times in the week, one of which will include club training and to aim for a speed intervals session, a tempo run, a hill session and a longer run. The longer runs vary from 9 or 10 miles up to over 20, depending on how close a marathon race might be.
I usually try to do at least 2 of my own runs on trails, as there is a fantastic amount of accessible woodland in West Fife that I can use as my training ground. The problem I have is trying not to stop every time I spot some flora or fauna or interesting flying creature that requires further inspection!
In the winter season I use cross-country as part of my training as it keeps me focused on my running fitness and I enjoy the club and inter-club camaraderie at XC races.
Along with the cross-training activities, I also fully believe in good recovery time after a race, getting adequate sleep (easy for me to say since retiring), including making time for a "wee snooze" after a particularly hard race or after a very long training run. Recovery is a much bigger part of training than many runners appreciate, and becomes even more important, I think, with advancing years. That's my excuse anyway for taking my time in the morning these days!
MICHELLE SANDISON ANSWERS THE QUESTIONNAIRE
(Michelle Sandison has run both 5000m and 10,000m for Shetland in the bi-annual NatWest Island Games four times, in Lerwick (2005), Sandown (2011), Jersey (2015) and Visby in Sweden (2017). Her Power of 10 profile lists umpteen track or cross-country races from under-23 (for Shettleston Harriers) back in 2001; onto representing Springburn Harriers from 2010 onwards. It is notable that Michelle's personal bests (for 3000m, 5000m, 10,000m, parkrun and 10k) have all come in 2017 and 2018, after she moved into the W35 age-group. In 2016 (Glasgow), 2017 (Derry) and 2018 (Swansea), she took part in the prestigious British and Irish Masters International, running very well for Scottish Masters: obtaining individual bronze and team gold in Glasgow; finishing fourth individual in Derry (team silver but in front of England); and winning the W35 title in Swansea (team bronze). Michelle also secured W35 bronze (and GB team silver) in the 2018 World Masters cross-country in Malaga.)
CLUBS Springburn Harriers and SVHC
DATE OF BIRTH 11.04.80
OCCUPATION Additional Support Needs Teacher.
HOW DID YOU GET INVOLVED IN THE SPORT?
I have run all my life. I grew up on a small island in Shetland and running was a natural way to get to places quickly. When I was young, I accompanied my dad on his long hikes through the hills and, when I reached 10 years old, he had to give me his fly-fishing gear and the water to carry – he says it was to slow me down so he could keep up! I joined Shetland Amateur Athletics Club which was based on the mainland of Shetland when I was 12 years old. For me to train on the mainland of Shetland required a lot of dedication from my parents, who had to drive me to and from the sessions. The journey consists of a 30-40 minute ferry journey and 30 minute drive, often in challenging weather conditions.
Running became a lot more serious for me when I left Shetland to go to Stirling University in 1998. I joined Central AC and had my own coach. At Uni I was selected to run for Scotland at Cross Country and I represented the Scottish Universities and East District team at Inter Districts events. I also competed in 3000m and 5000m events on the track.
HAS ANY INDIVIDUAL OR GROUP HAD A MARKED INFLUENCE ON YOUR ATTITUDE OR INDIVIDUAL PERFORMANCE?
There are four people that spring to mind.
Firstly, my parents. They have always accepted and supported my love of running even when they haven't understood it. They allowed me the freedom to be outdoors, get very muddy and to run everywhere as a child. They drove me to and from athletics three times a week and sat waiting in some awful conditions until I had finished. My father's love of the hills, nature and being outdoors certainly had a huge impact on me as a child, helped me to appreciate what's around me when I run and how to pace myself. My dad has always been my biggest fan and has been proud of me when I have won but, more importantly, has been there for me the many times that I have lost or been disappointed.
Secondly, my husband whose background in sports psychology has helped me significantly change my approach to racing and training.
And finally, my coach, Anne-Marie Hughes. Without her I don't even know if I would still be running. Anne-Marie became my coach in 2002 when I was seriously ill and had not been able to run for nearly a year. She agreed to take me on at a time when I felt like I had lost running forever. Her honesty, love and belief in me is something that shaped my future, my running and my attitude to life.
WHAT EXACTLY DO YOU GET OUT OF THE SPORT?
My husband says running for me is my "default state" and in many ways he is right. It's something that I have done for as long as I can remember and, when I can't run due to injury or illness, I yearn for it.
Running has widened my horizons and given me opportunities to travel. It is running that brought me to Glasgow, where I now live and work and where I met my husband. It has also provided me with deep, ever-lasting friendships and a busy social life. I have a lot to thank the sport for.
WHAT DO YOU CONSIDER TO BE YOUR BEST EVER PERFORMANCE OR PERFORMANCES?
The most memorable and most meaningful performance for me was when I won 10,000m gold at the 2005 Island Games in Shetland. It wasn't my fastest time or best tactical race but running (and winning!) in front of my family, friends and my community was a very rare opportunity. It gave me an experience that I shall never be able to repeat and will stay with me forever.
YOUR WORST?
My worst was in Holyrood Park in 2001 when I was running for the East District in the Great Edinburgh International and Inter Districts event. I was not well and hated every step. When I crossed the line, I was a wreck physically and mentally. It was the last time I ran for a year.
WHAT UNFULFILLED AMBITIONS DO YOU HAVE?
I try very hard not to set outcome goals, as I find they tend to work against me, rather than be a source of motivation. I have things that I would still like to accomplish in my running, of course, but it won't be the end of the world if I never do.
OTHER LEISURE ACTIVITIES?
I love catching up with friends near and far, so I tend to go out socialising quite a bit and travel to see people when I can. As a teacher and a runner, I don't get much time for leisure but in the holidays I like to read.
CAN YOU GIVE SOME DETAILS OF YOUR TRAINING?
I am a low mileage runner. I usually run between 25 and 30 miles per week. I have learned over the last 38 years what my body is happy with and that I have to listen to it or I will get injured. My job is also very physically demanding so I see work as my first session of the day.
A typical week consists of:
Mon – Quality session consisting of anything from 300m reps to mile reps.
Tue- Cycle and weights session.
Wed – Hard tempo run and Kettlebells.
Thurs – Speed type session.
Friday – Rest.
Sat – Hard reps session or hills. Core work.
Sun- Either a swim or a few easy miles, usually no more than 4 or 5.
MALAGA WORLD MASTERS REPORT
It's been a while since I wrote a race tale, but I thought our BIGGEST RUNNING ADVENTURE EVER might be of interest!
We didn't even know there was such a thing as World Masters until 3 or 4 years ago; What a fantastic idea …running not only against other people in your own age group but from all over the world! We discovered that it's held every 2 years and moves around the world. Korea and Australia sounded a bit far to travel but it was due to be in Malaga, Spain in 2018…that had the added benefit (at the time) of being far enough in the future to be exciting but un-scary.
I was surprised, at first, to learn there are no qualifying standards. Then I actually thought about it. International games for young athletes are sponsored by companies who make their money because people want to watch televised coverage with adverts (including kit…remember those rainbow-coloured Nike trainers from the Rio Olympics?) and product placement. Since there's not a huge audience looking to watch old athletes, it has to be self-funding like any other race. Hence, like most other races (obviously they do other events; throwing and jumping etc., but we're biased too! you enter online, pay your entry fees, claim your number at registration and wear it to compete. And like any race, you can only race the other people who enter!
We agreed that Malaga was our only real goal this year and tried to gear training towards that. A most excellent plan which worked perfectly…until we introduced life to the mix…weddings, funerals, illnesses, weather (including the allotment), oh, and then there were all the other races that we didn't want to miss even though they didn't really fit the training plan…oops. So maybe the training didn't go EXACTLY as intended, but it was hard to be proper upset about that. After all, we run because we like it! Neither of us was expecting to do particularly well (at this point my husband Planman usually inserts some loud comment to the effect that HE doesn't expect to do well but of course I will…he's a sweetie and simply doesn't see that I'm nowhere near the best W55 in Scotland never mind UK!) and the adventure never was about actually winning anything.
Flights and accommodation were no problem, we had that all sorted last October (well you give the man a chance to plan…!) and as soon as the event entries opened, we were online getting our spots.
Complication number 1 presented itself…we'd both assumed we'd run for Scotland. Turns out there is no Scotland in World Masters (then how come Gibraltar get to be a country!? Not fair!!) and it goes by your actual passport – having an Irish spouse isn't enough. I suppose that makes sense, there has to be some method other than just picking a country you like…so it's non-negotiable; I'm GB and Planman is Ireland.
Then there's the kit. Again, it makes sense when you think about it…you have to wear your country's official kit to compete, and so you have to buy it (unless you're Irish, they have a sponsor!). There are howls of outrage all over the internet about the injustice of having to shell out for your own kit when you're representing your country, but really, who do they think is going to pay for it? And £20 odd for a vest isn't cheap, but it's not ridiculous. Having said that, buying horrible, strangely sized (or is it me who's strangely sized…?) uncomfortable Lycra shorts and weirdly shaped vest tops by mail order definitely qualifies as the low point of my Malaga adventure, I thought I'd grown out of being self-conscious about body shape! Still, as my Irish spouse observed, at least I HAD kit…a convoluted saga involving missed calls and factories burning down resulted in us leaving for Malaga with still no Irish kit…being unprepared so close to a deadline, you understand, being something close to Planman's worst nightmare!
Malaga, as expected, was hot. Not as hot as the sauna though! This was our clever idea before we came…I had vaguely remembered one of the offspring coming home from a biology class all excited at learning that in a hot climate your body fats actually change to ones that solidify at higher temperatures – hence people from hot countries become sluggish when visiting Scotland in winter, and us Scots genuinely feel like our blood might be boiling when it's hot…because it is! Well, apparently it takes at least a fortnight for the body fats to adapt, so in order to get a head start we visited a sauna several times in the 2 weeks before we left.
We arrived with only a few minor adventures on the journey, took the (excellent and super-cheap) train straight from the airport into town (don't you just love European public transport!) and walked 4 min to our apartment which was also 12 mins from the subway that would take us to the stadium.
By the way, I'd definitely recommend going for an apartment or aparthotel any time you want accommodation in Europe…it's usually cheaper, you have more space, you can cook and eat whatever and whenever you want and, for a longer stay, especially if it's hot, a washing machine and drying space makes life much easier.
Next morning we set off to find the stadium. It took a bit of wandering (and more than 12mins!) to find the subway station the first time, but already we were seeing people around the streets that looked like athletes, including a skinny and happy-tired looking guy in Brazilian kit who must have been on the way back from competing in one of the sprint events. We found the subway, chatted to Naana, a bubbly GB W35 100m runner on the journey and she helped us find registration.
The stadium was just ALIVE with people…mostly athletes and their supporters, with events happening out on the track, people registering or declaring, stalls with info about other events or selling kit. In less than an hour we'd almost signed up for Venice (European Masters next year), chatted to several other athletes (and the son of an M90 100m runner) and found some Irish people who knew, or at least had heard of, the person who might have the Irish kit, hallelujah!
For the next couple of days we did a few wee practice runs, trying to hit the times and temperatures we were expecting on race day, and learned:
– Even if you can take the heat, the sun burns the bits you don't usually expose (duh!).
– You need sunglasses (unless you wear glasses anyway) because the wind is hot and gritty
– Spanish ice cream is many-flavoured and delicious.
– It's really hard not to overeat when you're not doing much else and hardly running.
We spent time at the stadium to watch other events and it was BRILLIANT
We walked, we lounged, we arranged a clandestine meeting with a stranger in a train station to procure the elusive Irish kit (whew!), we read a lot of books and drank strong Spanish coffee, and we checked the weather forecast – I'm not kidding – every half hour.
At long last, Sunday 9th September arrived and it was time for the 10k.
It had been hard to decide whether to enter 10k or Half Marathon for the best results…it was our esteemed coach who suggested we did both. "But I can't run a good HM just 7 days after a hard 10k!" I wailed. "So run the 10k easy" says he, "and use it to acclimatise to the conditions" and we did pairs of 10k/HM races to try it out, especially to practise doing actual 10k races slowly. Don't laugh! It's ridiculously difficult not to run as fast as you are able once you're out there with all the other runners racing past you!
An added twinge of angst, I realised with some embarrassment as we prepared for the race, was that 'everyone' would think that WAS the fastest I could run…Down, my over-sensitive Ego!
My beloved just laughed in absolute delight…he'd no intentions of running anything other than as fast as he possibly could and was determined to seize the opportunity to try and beat me in the 10k!
Our number bibs were pinned to vests the night before (and tried on to make sure they were in the right place…don't want to discover that when you're on a timescale in the morning!). You have 3 numbers, one for your front (that one has a timing chip in it), one for your back (so anyone coming up behind you can see what age group you're in…this is essential information as the only people you're actually racing against are the ones in the same age/gender category) and one for your bag. The coffee was in the pot ready to switch on, kit laid out, sunglasses, shoes all ready. We were a tad anxious about finding and using the bag drop facility so just travelled in our vests and shorts with essentials (apartment key, subway cards, emergency euros, spare hanky…) in a waist belt.
It was still dark when we crept out, courteously quiet, and the streets were deserted…as a fellow Scot you can probably appreciate how surreal it felt to be walking along a street in the dark morning dressed in only a vest and shorts. Dark mornings mean the clocks have gone back, it should be winter! Instead the air was so warm it pressed gently against your bare skin. The closer we got to the subway, the more fellow athletes and supporters we saw. We waited for the train beside Americans, Kiwis, Colombians, Swedes, Spaniards, Latvians and Argentinians. We sat in amongst a Chilean group on the train, then came out at the other end to a twilight morning in a real crowd all headed for the stadium.
The streets around the stadium are wide and open, and were teeming with jogging athletes in various national kit, warming up already in the brightening morning. The crowds denser the nearer we got.
There wasn't any obvious sign of the start line, but somehow the information filtered through the crowds that we'd all to head underneath the stadium and we'd be 'processed' there. Inside was a huge, almost warehouse-like space which must have been beneath the main seating area…there was plenty room for literally hundreds of athletes to run, skip, stretch as we all warmed up. The M35-65 athletes were herded first through the big double doors into the arena; the rest of us had to wait another 10mins to start…hence your Uncle's gleeful optimism about beating me, in most 10k races he'd be around 10 mins slower, he was determined that today I wouldn't catch him!
It seemed a long 10mins before we all crushed through the doors and out onto the track. A start gantry marked the beginning and the runners were all loosely clustered behind it. Well, the part of the crowd I was in anyway…the ones at the front were (as evidenced by the race photos!) crammed tight, poised on the start line. I couldn't even hear the start gun but suddenly noticed those front runners as they came into my field of vision running like the wind and already half way round the track! The back end of the race kind of shuffled over the line, people jostling for position as we ran a loop of the track and out of the stadium at the other side. It was actually difficult not to trip over people at the same time as keeping moving…lesson learned for future events…though really you'd think I'd have got this by now – if the time matters, wriggle up nearer the front!
From there it was a case of trying to settle into a pace, dodging round people where necessary, not too fast. My strategy, in order to NOT risk any impact on the HM was to run nose-breathing pace (that's both in and out through the nose) until 8k, then hurry it up a bit for the last 2k. Even I can recover from 2k hard in a week
By now it was full daylight and sunnier than it was forecast (did I mention we'd been checking the weather forecast every 5 mins? The most recent we'd seen predicted light rain with 24 degrees (feels like 28) at the start time and humidity 77% (I've no idea what that means!)) rising to 29 (feels like 31).
There was no rain, it was bright though not full sun, with hot air hugging you weirdly…a bit like being in a swimming pool…
The streets are wide and mostly flat, some with palm trees up the sides, and the route was more or less straight along the front on the main road with some side loops. There were several sections where you ran one side of cones with, on the other side, the people in another part of the race going the opposite direction, so you could see roughly where you were in the race. I was surprised, at first, to notice quite a few barefoot runners, some towards the back but others well up. There was an enormous range of speeds and as my bit of the pack started to overtake the end of the men's race it was clear that the slower runners weren't necessarily the older ones.
I ran as hard as I could manage without trading up to mouth-breathing and concentrated on feeling comfortable in the pressing warmth…on the grounds that my brain will let me run better if I'm feeling good. I declined any anxiety at the sight of women with W55 bibs running past me (it's a training race, it's a training race…) and focused on form. Then I saw the 8k marker and – as your mother would say – ran like hell!
What a buzz!! Charging past all the (well, at least some of them!) people who'd outpaced me in the last stretch, opening out the legs and really going for it. I overtook an Australian M65 who gave me a fight for it, then chased down a Colombian W45 and a Polish M55…as we came into the stadium for the final lap I saw a woman in GB kit maybe 50m ahead and upped the pace to close on her…close enough to see the W55 on her back! There was that still moment where I realised there wasn't time to catch her before the finish gantry, then decided all of a sudden to blast it and try. Eyeballs bursting and snot flying I somehow lunged past her a few feet before the line…and saw, to my utter dismay, that this was the start gantry and the actual finish was another 75m down the track
That last 75m must be one of the hardest I've ever run…the kind of effort you pay for in grey hairs and try to reserve for the times that matter. I could FEEL this instant rival right on my shoulder, battling to get her place back. All in my overheated head though – the finish times say she was nowhere near my shoulder (6 seconds behind).
Once over the line we had time to make friends as well as with another GB W55 who was not far behind, and we pledged to look out for each other at the Half Marathon the following Sunday.
Planman was smugly content to beat me in by 3 mins and the pair of us strutted the stadium feeling pretty darned pleased with ourselves
Upstairs, there was some big 'Masters Athletes' research study going on, run by a German university, and in the haze of endorphins following the race, we signed ourselves up, committing to appointments on the Friday.
Now for the Half Marathon.
It was still dark when we got out of bed and we couldn't wait to get started! At long last, the reason we came to Malaga in the first place, the World Masters Half Marathon, the main race of our whole year, probably the most important race of our lives so far.
Doing the 10k as a dry run had been a superb idea…we knew how long the journey would take, where the bag drop was, all the things that help you feel comfortable going to any race. We were glad we'd set off a little earlier this time, because the subway station was much busier. Standing among the groups of athletes waiting for the train we started a casual conversation with a British couple nearby. Then I, politely, asked the woman if she'd be running…Oh no! Have you ever had someone ask you how your run went, when you know they're really not the slightest bit interested, and in a split second of pure evil you decide to tell them, EXACTLY how your run went!? (…am I the only evil one in this family?)
So this random stranger seized the opportunity to tell me – including countless details like the name of each specialist, the dates of the various scans and procedures and a blow-by-blow of every actual experience of attempting running with the affliction which was preventing her from running today
I had no idea how to stop her.
Speaking of afflictions, it was hard for me to even hear this poor injured runner over the loud whinging of my right calf. Clever race prep tips: do not (eagerly!) sign up to participate in scientific studies of Masters athletes (Masters Athletics Field Study – MAFS) 2 days prior to an important race. I mean, it was truly fascinating…they plugged us into various machines and gave us intriguing feedback on our body composition, cardio-vascular function and resting metabolism. The problem was the calf-strength test. Let me describe…you sit with your foot flat on a platform, there are electrodes all over your calves and ankles, some kind of pressing weight thing is on the knee and when they say 'push!' You've to push up on tiptoe AS HARD AS YOU CAN against the weight for 6 seconds while they take ultrasound readings of what your muscles do. The testers whoop and cheer you on. You can also see your muscles shift and pull on a wee screen as you do it. Cool! Well they said as hard as you can and so…visualising the granny who lifts a car to save a trapped grandchild I pushed with all my heart and all my might. 6 reps was the test, and although I was all chuffed to have lifted 75% of my bodyweight on a single muscle (they said that was good, though for all I know they might've said that to everyone!) the cramp afterwards was a bit alarming. I limped around all the next day (at least by the next morning the cramp had stopped!) and, I kid you not, on the way to the race my calf was so tight and sore that it was all I could do not to burst into howls of manic, gasping laughter at the sheer ridiculousness. Like I said, biggest race EVER, all that preparation, and then do something like that 2 days before it!?!
Ah well. I wasn't really limping much; it only hurt, by now, when pushing through my toes…like at the take-off point on a running stride
Off the train in the twilight morning again, up to the stadium, quick visit to the bag drop and into warm up.
This race started out on the street, the route looping around several times (I think we passed the start line 4 times) with long stretches backwards and forwards along the main road in the open sun. It's a very flat route, but that doesn't make it easy…it feels endless and by half way you'd do anything for a wee variation.
The runners were corralled by age-group, with the youngest (35+) at the front. Some older people had sneaked into our corral, which I didn't think anything of at the time because I didn't realise till afterwards that there was no chip mat at the beginning…this meant that we ONLY had gun times. I think the rationale was that it was a race to the line, against only the others in your own age group (who should all be in the same corral) so your actual time was irrelevant. Well, even without the dodgy calf and the roasting sun, I was never going to be in a medal position, so it didn't really matter!
The first kilometre or so, until the field opened out a bit, was hard going, with all speeds of people mixed in together (mostly) by age, there was lots of potential for tripping. After that it was, pure and simple, a slog in the hot sun. For the first time in my life, I emptied water over my head. Weirdly, it felt as though it slowed me down a bit every time (which was every water station!), but I figured it was all investment in holding off the overheating. If I'd tried the tactic before, I'd probably have realised that there's a technique to maximise the cooling without getting water a) in your shorts (now that's an unpleasant feeling!) or b) in your shoes …just call me Squelchy McGee!
Experiential learning in effective cooling with water aside, the race went as well as it could. I worked hard, ignored, as much as possible, the pathetic bleating from my calf, and tried to stay focused. Twice I nearly back-ended into other runners who stopped suddenly. I don't know if that was them giving up altogether, or just temporarily running out of steam. Every so often there would be an athlete sitting or crouching at the side of the road, or walking sadly in the opposite direction to the race. You can't tell from the results how many started but didn't finish (anyone who didn't finish is recorded as DNS), but a full third of the runners in my age group didn't finish…only 29 out of 45 entrants actually completed the race!
The sun beat down as we ran, on and on. Looking at the route map before the race didn't help at all, we just followed the runners in front of us round bends, along roads and between buildings, tiny, tree-sized patches of shade on sun baked streets, over and over. Passing the same things repeatedly added to the surreal relentlessness of it all. Squelchy shoes, fried eyeballs. It seemed at least 3 weeks later we were finally in the stadium where the last stretch went round the outside of the track (the track itself was being used for the 1500m finals at the same time). The spouse's moment to treasure came as he powered in and overtook the W80 champion in that final circuit! Mine was after the race.
We had to wait 3 hours for the results, and couldn't go home (well, back to the apartment!) to change until we knew…if you get a prize, you see, you have to be wearing your national kit (and we didn't exactly buy spare kit just in case!)…I knew there were lots of individual W55s ahead of me, but there are team prizes as well. The first 3 'counters' from each country have their times added together and the lowest totals win.
And we did it!
My very absolute best claim to fame (so far) and treasured possession, is a bronze team medal for GB from the W55 World Masters Half Marathon. Not only that, but I was FIRST counter in the team.
Icing on the cake…My sister – the stat geek – told me, when we got home (to Scotland), that if they HAD let me run for Ireland, Ireland would have won the Gold Team Prize. Their loss!
We loved the World Masters and would recommend it to anyone. Not just competing, it's absolutely incredible to watch – you'd be truly astonished at the power and the speed and the passion, and it does something warm to your insides seeing the performances in the older age groups. The spectators (other athletes and their families) out of their seats without even meaning to – on their feet, hearts bursting with the sheer joy of it, bouncing up and down whooping and cheering because when we're that age, maybe WE can be like that!
By Anne Macfarlane (Dumfries Running Club)
(This article was previously published in the Road Runners Club Journal.)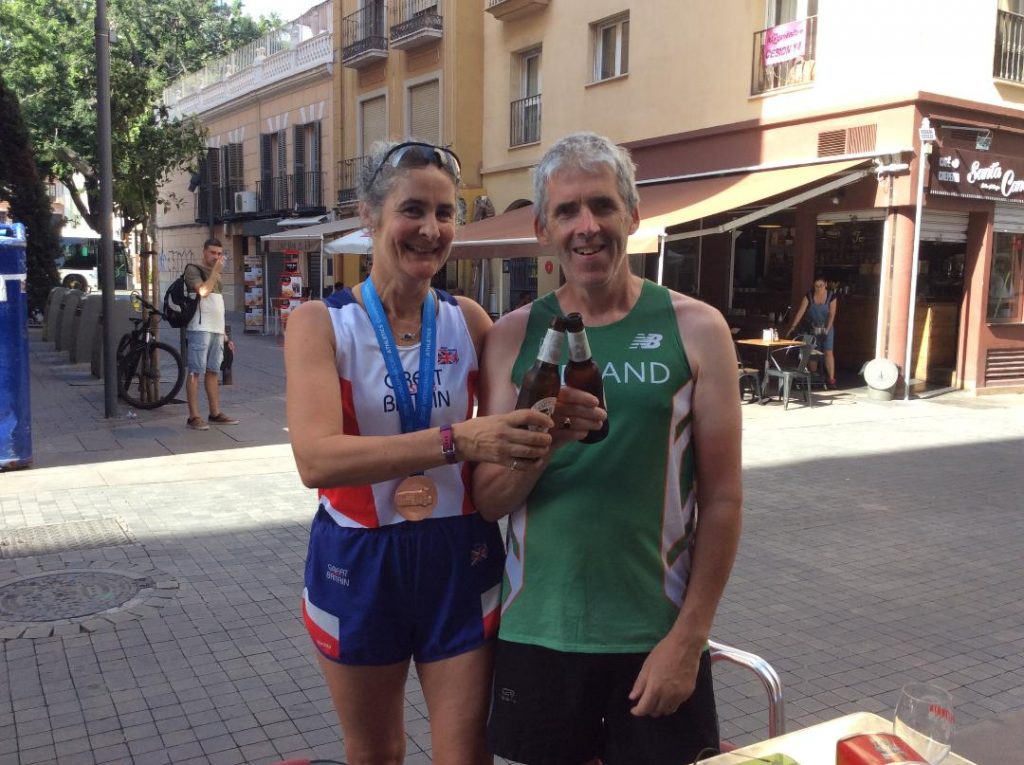 Anne and her husband after the Malaga World Masters Half Marathon
SCOTTISH MASTERS INDOORS CHAMPIONSHIPS
Friday 4th January 2019. GAA Miler Meet
*There were Scottish Masters golds at 3000m at the Emirates Arena for the following athletes:
W40 Lesley Chisholm (Garscube) 10.23.59
W45 Cath Ferry (Edinburgh AC) 11.33.32;
W55 Anne Howie (Aberdeen) 11.34.04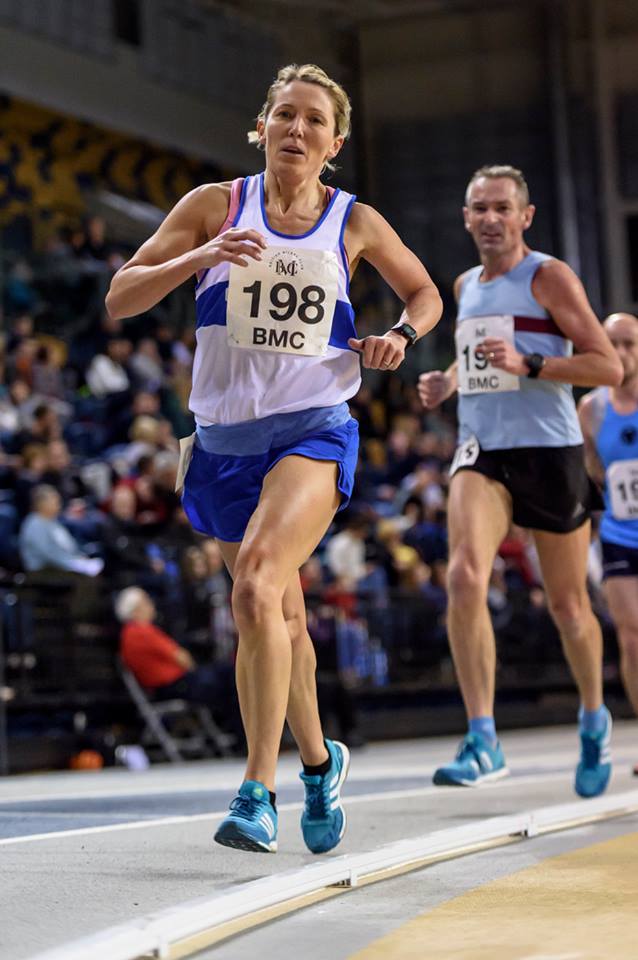 Lesley Chisholm. Photo by: Bobby Gavin of www.thatonemoment.co.uk
M35 Stuart Gibson (Cambuslang) 8.39.04;
M40 Darran Muir (Law and District AC) 9.02.00;
M45 Kerry-Liam Wilson (Cambuslang) 8.59.06;
M50 Stephen Allen (Motherwell Ac) 9.24.78;
M55 Guy Bracken (North Shields) 9.10.14;
M60 Roger Homyer (Highland HR) 12.13.98;
M65 Ray Aiken (Keith and District) 13.20.89;
M75 Bobby Young (Clydesdale) 12.39.28.
Sunday 17th March: Scottish Masters Indoors Track and Field
Scottish Athletics reported: "At the Emirates Stadium, medals were on offer in five-year age categories from V35 with a number of our Masters looking for good performances ahead of other competitions later in the year – starting with the British Masters on March 9-10. The World Masters is also next month, taking place in Poland."
The Combined Events, Relays and Masters Indoors Championships. Note that Masters come last in the list. Judging by the confusing, near endless results, nowadays fewer and fewer Scottish athletes enter Masters Indoors Track and Field. Top honours are frequently taken by people from Northern Ireland or England; and the timetabling mish-mash of events for Young Athletes and Multi-Eventers, plus lots of hanging around, surely discourage participants. If only it were possible to bring back the Kelvin Hall and one day of Masters-only fixtures, including the 3000m!
Not many contestants; inevitably lower standards, in spite of superior facilities.
The 2019 edition, despite the fact that some runners, jumpers and throwers must have enjoyed taking part, seems to have produced few notable performances. Apologies if I miss out significant names; I can only judge by the results information and memories of past championship standards.
Double wins were achieved by I Horsburgh of Central AC (M40 60m and 200m); G Cooke of EAC (W35 60m and Long Jump); C Welsh of Teviotdale Harriers (M35 800m and 1500m); G Barrie of Dundee Hawkhill Harriers (M45 800m and 1500m). There was a triple victory for J Smith of Motherwell AC (M70 60m, 200m and Long Jump).
In the M65 800m and 1500m, Andy McLinden of Hamilton Harriers came out on top, as he continued his old rivalry with Frank Hurley of Cambuslang Harriers.
There were two especially well-contested races. In the Women's 1500m, Lesley Chisholm of Garscube Harriers won the W40 clash, in front of J Etherington (Cambuslang) who had earlier finished first the 800m. Third overall was the tireless W55 Fiona Matheson of Falkirk Victoria Harriers, well clear of W45 and W50 rivals. R Bigger of Northern Ireland just managed to pip J Thomson of Fife AC in the M60 1500m.
At least one Scottish Masters record was broken, by Bobby Young of Clydesdale, whose 6 minutes 04.72 seconds reduced the M75 1500m mark, previously held by Hugh McGinlay of FVH by 17 seconds.
Former World Masters Triple Jump Champion Fiona Davidson of Aberdeen AAC finished first in the W45 Shot Put but, inexplicably, results for the Triple Jump (and some other events) were not available two days after the fixture.
LANDSCAPES I HAVE RUN THROUGH..…….
Running memories often come back to visit as a parade of sharply etched vignettes, probably heightened by the physical exertion and intensity of the activity at the time they were experienced. My own theory as to why recalling this can be so enjoyable most of the time is that basically we are still pursuit animals accumulating useful life skill experiences. This really becomes noticeable when you are part of a race pack or during a competitive interval training session.
Sometimes the location is the centre of the memory. One autumn weekend heading east to Portmahomack to avoid the equinoctial gales sweeping the Highlands I found the receding storm had whipped up huge amounts of foam onto the shore line route so that you ran through a mixture of knee-high soapsuds totally covering the path surface. An interesting contrast to the previous day's Bught Parkrun in Inverness when the running surface was rich with multi-coloured fallen leaves.
Then there was running across suburban Toronto to get to the start of a 10km race. The city is built over a deeply fissured lakeside landscape. The sound of a rock band from a park in the distance gave a clue to the event and, after extensive but frustrating suburbs, the most direct line to make the start seemed to be via a short-cut through an industrial estate which lead to an inevitable cul-de-sac and a high chain-link fence. There was only one choice and once scaled it was into thick brush with a steep drop off into a gorge and a tree-hanging descent to the bank of a suspiciously deep stream of sinister grey muddy water.
Meanwhile the sound of the warm-up band at the race start point was growing louder but further away. It is bad enough rushing to arrive at the start but even more frustrating to have to overcome man-made in addition to natural obstacles. Wisely I decided not to swim the river and eventually found a vestigial path which led to a footbridge. Got into the race and won a prize (a nutritional book for aspirant runners) but with a diminished ambition to take up orienteering or tough mudding.
In Perth, Australia, the obvious choice was to try a run along one of its famous beaches. Some miles into it I began to notice that garments were becoming more minimalist and then non-existent. All became clear when a sign appeared providing information that clothing was optional! And then there was the near-vertical section of the Knockfarrel hill race when the young lady close behind me felt herself slip and instinctively grabbed the waistband of my shorts!
Hill races are all about sure-footedness and fast fearless descents sharing a lot with downhill skiing. I once tripped on a descent from Ben Bhraggie, Golspie, (after spitting on the Duke of Sutherland's statue) and managed to convert a potentially disastrous fall into a forward roll with no more than slight gravel rash in the small of my back,
Beaches are also great for self-examination of running style through your footprints, but it is also possible to check posture and angle of lean from shop windows, shadows and even shadows on bigger road signs from rear headlights.
The Isle of Man has a great hill run along its south western coast high above the water and cliffs overlooking the Irish sea. Some distance into this route there is an old detached farm house now an outdoor educational centre. A minibus full of youngsters and a hassled instructor are wrestling with a large table trying to get it through the door. Arrival of one elderly runner who shows them how to turn it on its side and shuffle two legs past the porch and right angle to the living room and hey presto job done and the good Samaritan high tails it up the next hill. Who was that guy?
Animals – all part of the mixed terrain experience with usually manageable and predictable outcomes but there are some more memorable encounters. My worst dog experience was once again running along the riverside in Inverness in full winter darkness. A car with headlights at full beam completely dazzled me and the next sensation was a full-on impact from an Alsatian being run beside its owner's car. On the other hand, running local back roads in darkness it is sometimes the deer which get the biggest surprise. Hens and ducks, just messy, but don't be afraid of a hissing sinuous goose with its head out since they are great cowards and will back off if you stand up to them.
Similarly, dogs: don't let them sense your fear. And then there is the dog that decides to come along for the outing. I confess to some enjoyment from seeing an overweight owner struggling to bring one back to heel. I've had a number of runs in company with horse riders and here the main thing is to be aware of kicks, foot crushing and being pinned against a fence or wall by half a ton of animal. It is a bit like approaching a helicopter: always let the animal and or the pilot or rider see you. Cattle, and cows with calves at foot – never get between a mother and its young and generally just give all livestock lots of space, although llamas and alpacas can spit with deadly accuracy from up to 10 metres!
Cats will regard your progress with bemused indifference but beware the post-run moggie that leaps onto your lightly protected lap with unsheathed claws!
Pigs are very bright animals and often think an intruder into their field is bearing refreshment so they may stampede towards you but, if cornered, remember they can be transported into ecstasy by a well-administered back rub.
And then sometimes spectators can cause a smile. The two cailleachs (old ladies on Skye) chorusing, "He isn't even breathing hard!" was better than being overtaken by someone dressed as a pantomime fairy then a dog with a runner in tow.
And finally, if the Stromness Shopping Week Queen presents you with an award for their half marathon don't miss the chance to administer a sweaty embrace to the surprised young lady.
By Alex Sutherland
A FAVOURITE RACE MEMORY
THE LONG WARM UP
On the 9th May 1989, just short of the my 39th birthday, a bus load of Fraserburgh Athletes was leaving Fraserburgh to take part in the North District Track and Field Championship events at Queens Park, Inverness. As it was a particularly fine morning, I left instructions with the bus driver that I intended to run as far as I could and to look out for me en route and pick me up on the road somewhere.
I set off at 5am on a quiet main road, passing New Pitsligo, Macduff, Banff, Portsoy and I was just short of Cullen when the bus came along and picked me up.
I had covered 37.4 miles in 4hrs 36mins, averaging 7.22 mins per mile.
Later that afternoon, when we finally reached Inverness, I ran the 5000 metres track race. The first few laps were a struggle until I got going properly but I managed to run that race in a time of 16mins 43secs and achieved 6th place out of a field of 21 runners.
Nowadays, that time of 16mins 43secs would win most Park Runs!
By Charlie Noble
Fraserburgh Running Club
(Editor adds: Charlie is a legend in Fraserburgh and Aberdeenshire. Almost 70, he is still running well. He completed all 12 Aberdeen Marathons; between 2001 and 2003 won the M50 category three times in the Scottish 50km Championship; ran for Scotland at 100km; and was a Scottish Masters Cross-Country International.)
My Favourite Race Memory
The Dumfries Marathon, 1986 – a Sprint Finish!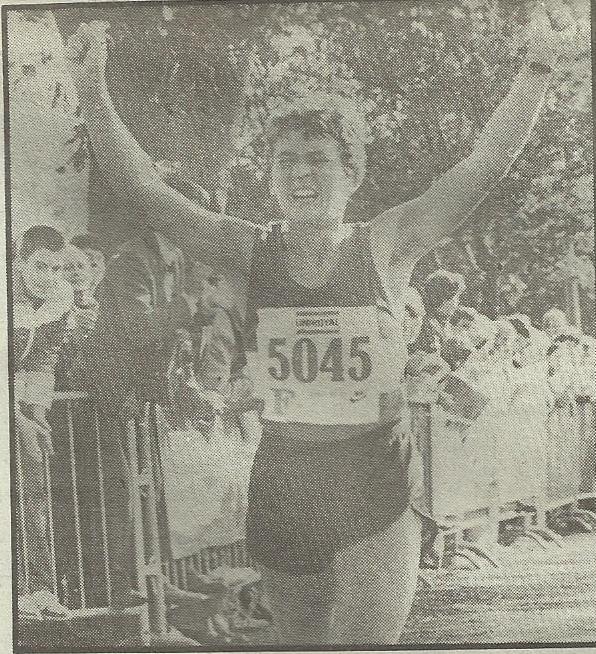 It was a fine, breezy day on Sunday, October 12th, 1986, when several of us, members of Law and District AC, travelled south to run in the Dumfries 800 Marathon, a celebration event to mark the Octocentenary of the town. It would perhaps be the only ever Dumfries Marathon so I wanted to take part even though I had run the Glasgow marathon 3 weeks previously, finishing 10th woman in 3.03, and just failing yet again to break the 3 hour barrier.
I was still disappointed with my Glasgow run and had no great expectations in Dumfries, my 13th marathon, other than to enjoy a run around the pleasant Dumfriesshire countryside. I knew that there were another couple of women running who would be strong competitors, Carolyn Brown of Dumfries Running Club and Kate Todd of Loudoun Road Runners but I decided just to run my own race. It was all going quite smoothly until the 25 mile mark when someone in the crowd shouted to me that the first lady was only a short distance ahead. So that was it. I had to make a bit of an effort. I suppose the adrenaline must have kicked in and I put on a bit of a spurt but not too much too soon as I couldn't risk cramp at this stage. And then, with just a few hundred yards to go, I saw her. It was Carolyn, just 50 yds ahead. Then it all came back to me – the good advice given to me by the legendary David Morrison who mentored me when I first joined the 'vets' – how to pass rivals effectively – "get up to them, collect yourself, then GO and never look back and once you have gone you can't slow down just KEEP GOING no matter how bad you feel". So, with David's words ringing in my ears, I did go and I didn't look back and I did feel bad. There was doubt in my mind. Did David really think I could do this in the last few hundred yards of a marathon? Well, I would soon find out and I wouldn't let him down. I hung on and there was the finish line. I had won the women's race. It was a slow 3 h 11 mins, well outside my PB, with Carolyn finishing just seconds behind me and, unbeknown to me, Kate Todd was finishing strongly less than a minute behind Carolyn, 70 seconds separating the first three women according to the official record. I never expected to have to finish a marathon with a sprint finish but I had done it! It was my fifth marathon win.
I was delighted to find that David Fairweather had placed second in the race, and first vet, clocking 2 h 28 min, after an equally dramatic battle with eventual winner, Dave Wilson of Wallasey. The next surprise was that our team from Law and District AC were awarded the team prize, with David Fairweather, Ian Donnelly who finished 24th in 2 h 55 min and myself counting for the team. However, that was not the end of the drama. A complaint was made to the organisers by a well-known Central Belt club which shall remain nameless. The complaint was that a team containing a WOMAN wasn't allowed to win the team prize! I thought that this was a bit silly as surely if a team of 3 men couldn't beat a team of two men and a woman they didn't really deserve to win the prize. I think the organisers must also have thought that it was a bit silly as, after some discussion, the complaint was dismissed and we retained our team prize. I suspect that the organisers had actually broken some SAAA rule in awarding us the prize but rules are made to be broken. I have always remembered the words of Walter Ross, one of our SVHC founding fathers, who once said to me "with running as with everything in life, let's not take ourselves too seriously. Running is for fun and, at the end of the day, we are all fun runners."
Kay Dodson
A VIEW OVER THE BARRIERS
My interest in finding out about the steeplechase event was stimulated by talking with other athletes, followed up by viewing internet videos. I had returned to running aged forty-five, some nine years ago, with my favoured surface turning out to be cross country – the rougher and muddier the better, demonstrated by winning my first age group gold in the Kilmarnock mud last year. Whilst there are various opinions about steeplechase technique and tactics, everyone agrees that a heightened degree of exhaustion is caused by hurdling the barriers. It's this management of complexity and concentration, with increased tiredness levels, that fascinates me.
Masters men, until the age of sixty, compete over 3000m with 28 hurdles (36" in height) and 7 water jumps. Masters women compete over 2000m with 18 hurdles (31" in height) and 5 water jumps. It's also important to state that the steeplechase barriers are solid and heavy, and are extremely unforgiving if hurdling technique or timing falters.
Early hurdling attempts during the Winter 2017/18 were a bit 'Alf Tupper', with several wooden pallets set on their side across the lawn at home. Successfully surviving these clearances provided confidence to go 'semi-public', and to set up the sprinters' hurdles at the local track. Although I do admit to timetabling my sessions to avoid club training times, until I felt a further degree of confidence. Steeplechase training utilises the lighter weight sprint hurdles, four located at the correct track positions, and one located outside the water jump. Few athletes will train over the actual water jump, as the jump down and outwards produces forces up to seven times body weight. Add these stresses to those of training and there is a recipe for numerous aches, pains and longer lay-offs through injury.
Early sessions emphasised 'volume', so I gradually built up to 10 x 400 with hurdles, allowing an accumulation of sixty hurdle clearances. This volume was then moulded into differing configurations, 5 x 800, 4 x 1200, and peaking at 3 x 1mile. A second hurdle session each week was light on volume, and more about drill techniques emphasising hip mobility. Unfortunately, I tried to cover too many areas within training, plyometrics for dynamic hurdling movement, yoga for flexibility, track technique drills, plus endurance sessions – hence somewhat inevitable (with hindsight) knee inflammation.
With six weeks to go till the Scottish Masters Track & Field Championships at Grangemouth (July 2018) I spent most days undertaking spin sessions on the bike or some light pool running. With a week to go the inflammation eased enough for several light hurdle sessions, which re-established confidence at clearing the obstacles. Attendance at the Championships for the first time also introduced the nerves and protocols of warm-up areas, call-up rooms and the starter's orders – all very enjoyable but maybe another layer of nerves for a first run-out over the barriers!
Whilst my time of 11.30.48 felt slow, it was enough to claim gold and set a new Scottish best outdoor performance. I cleared all 35 barriers without incident – a success, considering that I had missed six weeks of running. The experience made clear that the dynamic action of hurdling creates a high level of tiredness, and it's hard to describe the exhaustion brought on by the water jump. The push off the top of the water jump barrier presents a particular physical challenge in structural loading to the legs upon landing. The further one jumps, the greater the impact. Landing on one leg for a rolling restart creates a high force; or you can share the landing load across two legs, but then have to make a restart to your running from a momentarily stationary position.
An additional challenge with the water jump is the need to land the lead foot on top of the barrier. The other barriers can be hurdled and cleared, whereas this one requires a precise placement of the foot on top. Then sufficient momentum to roll the foot forwards into position for a push off across the water. It's my current thinking to 'Alf Tupper' this as well and construct a solid barrier in the garden, so that this leap up, foot placement and push off can be regularly practised.
A second run out over the steeplechase came at the British Masters Track & Field Championships in late August. It was a dreary wet Sunday 9.30am morning race, with no one seemingly 'up for it'. There were three known (to me) steeplechase exponents in my M50 age group. It was delightful that one let slip being seemingly "stuck on about 11.18…", I confess to deploying a fine Scottish lowland stalking technique for five laps before slipping past to claim bronze and the time further reduced the Scottish age group outdoor best to 11.19.42.
With this year being in my last in the 50-54 age group, the emphasis is on gathering more race experience over several steeplechase distances of 1500, 2000 and 3000. But also entering (flat) track races at those distances to gain experience in race strategy, positioning and competitiveness. As stated earlier, the lesson of last year was not to cover too many aspects within a training cycle, so a better periodised overview is being planned. I also recognise that I have joined a small band of runners, perhaps with a slightly different headspace, and there is a great sense of camaraderie in that heightened shared challenge.
I should like to conclude my 'view over the barriers', by acknowledging the guidance and encouragement given to me by coach David Hood (Nithsdale AC). Sadly, David passed away this January, and will be sorely missed. His words prior to my first steeplechase were along the lines of 'No matter where you are (in the race) it's all about the next hurdle, sight it, and focus on it until it's cleared'. These words are about personal focus and awareness and, in a simple phrase, I was given a key, not only to unlock the complexity of the steeplechase, but also a way to approach daily life in a more rewarding way.
Jim Buchanan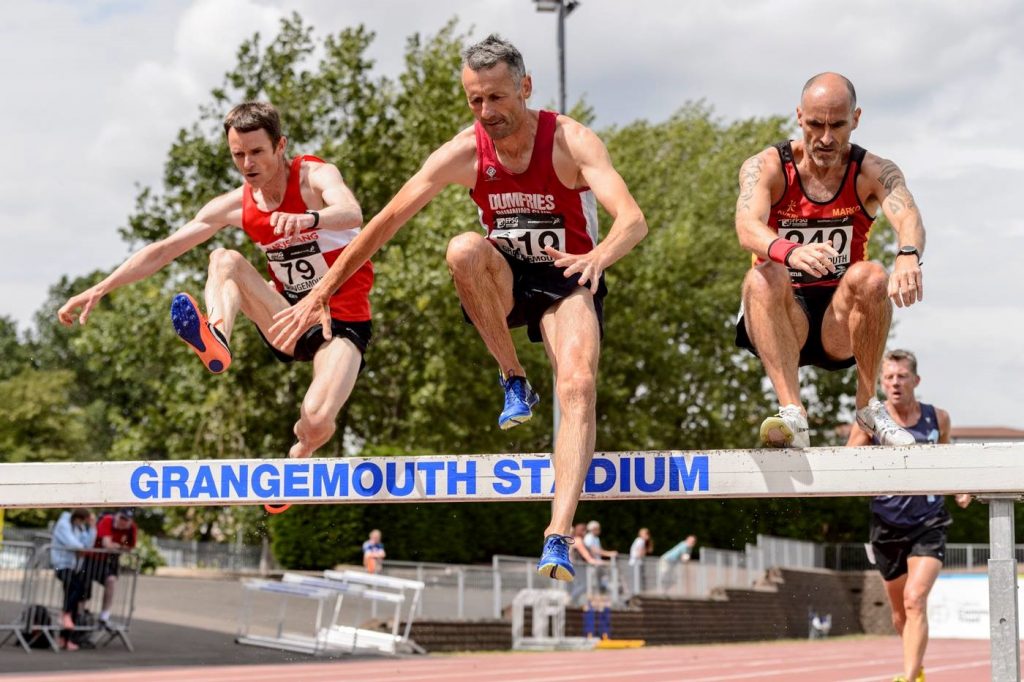 Jim leading at Grangemouth. Photo: Bobby Gavin/Thatonemoment
FROM THE ARCHIVES
GREAT SCOTTISH VETERAN RUNNERS: GORDON PORTEOUS
When, at the age of 93, Gordon died on 18th of January 2008, his club Maryhill Harriers published a respectful, affectionate and informative obituary. He was described as "a gentleman and a fine example to others in many ways. He was a courteous, caring individual and an ambassador for Maryhill Harriers and Scotland." Anyone who was privileged to meet Gordon, or to receive one of his elegant, precise but witty letters, can only agree wholeheartedly.
The obituary continued: "Gordon's contribution to and support for Maryhill Harriers was simply breath-taking. A member since 1935, he held every senior office and did so for many years at a time. As well as support the club administration, he would still turn up to help out at those races in which he was not competing, whatever the weather. He had encouraging words for several generations of runners and was notable in never having a bad word to say about anyone. He was simply inspirational, always positive.
At the time of his death, Gordon was Honorary President of Maryhill Harriers and Honorary President of Scottish Masters Athletics (incorporating the Scottish Veteran Harriers Club).
He was a keen modeller who used to escape his female-oriented household to the loft to undertake this hobby for many hours at a time. He would only re-enter the house if there was a John Wayne movie on the TV!"
Gordon Porteous was born on the 20th of February 1914. In the late 1930s he trained and raced with illustrious clubmates like the Olympians Dunky Wright and Donald McNab Robertson and the 1938 (and 1948) Scottish Cross-Country Champion John Emmet Farrell. When the Second World War ended in 1945, despite a poor diet (which continued for years of severe rationing in Britain), Gordon wasted no time in returning to athletics at the 'advanced age' of 31. On 16th June 1945 he travelled south to take part in the famous Polytechnic Marathon from Windsor to Chiswick, finishing 8th in 3 hours and 14 seconds. That sounds like an inauspicious debut, although it did rank him in the top 70 in the world that year. Gordon's excuse was that he "suffered severe stomach cramps around the 21-mile mark and had to actually stop – couldn't even walk – so much so, that my clubmate Andy Burnside, who had been over four and a half minutes behind me at 20 miles, passed me before I could get going again. I probably lost about 5 minutes as a result. That was the only time cramp ever affected me during a marathon. (I never had cherry pie again for my lunch!)"
In 1946, after a trial race, Gordon Porteous was selected to run for Scotland in the ICCU Cross Country Championship in Ayr. He finished 43rd as one of his country's counting team.
That was the year when the first Scottish Marathon Championship took place, although Gordon did not take part. However, he provided useful information which is quoted in 'A Hardy Race'. "After the war, dietary problems included digesting dried egg and getting hold of enough food to sustain us. Runners lucky enough to be 'possibles' for the 1948 Olympics received food parcels from South Africa, courtesy of the AAA. Survivors of the Saturday long run replenished reserves with Bovril (served in special club Bovril mugs) and cream crackers or a pie. Maryhill road men had one advantage over their rivals. Dunky was a member of the Home Guard. The crafty fellow obtained a supply of heavy brown Army plimsolls, which had much thicker rubber soles than the usual ones. More cushioning and fewer blisters. The alternative was Dunlop Green Flash – a tennis shoe which would ensure blood on the road for its masochistic owner. This brand was still used in the 1960s!
Other kit comprised shorts, a vest, grey flannel trousers for the warm-up and a jersey with long sleeves to be pulled down over the hands on cold nights. Training was usually thirty miles a week. Maryhill Harriers (motto: 'Good Fun – Good Fellowship – Good Health') ran together from Maryhill Baths on Tuesdays and Thursdays – about seven miles a night. There might be a slow pack and a fast pack, each one with a Pacer and a Whip. A good deal of wisecracking could be heard, especially as the fast pack whizzed past, unless runners were breathless. On Saturdays, if there was no race, a pack of runners might cover fifteen or even eighteen miles over road and country, followed by tea, buns and a singsong to the music of mouth organs etc. An alternative was some serious hiking.
Not surprisingly, Sunday was considered to be the day of rest. However, Dunky Wright and Donald Robertson (who was 'a bit of a horse') added a long Sunday run to the regime."
By 1948, Gordon was ready to have another go at the marathon, and improved to 5th in the Scottish Championship at Dundee, finishing in 2.54.11.
By 1962, aged 48, he hadn't been doing much racing, when John Emmet Farrell, who was five years Gordon's senior, suggested having a go at the Scottish Marathon. Consequently, they trained together doing about 40 or 50 miles per week, with the odd 20 miler nearer the race. Gordon suspected JEF of "doing an extra run on the QT." The race started outside Old Meadowbank Stadium, and went through Dalkeith, Cockenzie and back to finish on the ash track. "Since it was a warm day," (Gordon wrote) "the two (not so old) warriors ran steadily together. This was a wise move since JEF was notorious for going off course. Then with 50 yards or so to go, the old b…. sprinted to hold me off at the line! I never let him beat me in a marathon after that."
Amazingly, Gordon Porteous was still breaking the three-hour barrier in 1981 at the age of 67. (He stated that his so-called 'failure' to run as fast after then, was due to a hamstring injury sustained while track training for the 10,000 metres in the European Veterans Championship in Strasburg.) Between 1949 and 1969 he contested only eight marathons (PB 2.49.23) and dropped out of three of them. However, he ran two in 1970 and never missed the Scottish Senior (or Veteran) Marathon Championship between 1972 and 1982.
At the age of 60 in 1974 he ran 2.53.08 and in 1975 two M60 World Marathon records: 2.51.35 in the Scottish Senior and 2.51.17 to win the inaugural World Veterans Championship in Toronto. This was nearly three minutes faster than his 1948 effort!
Gordon Porteous went on to achieve a truly marvellous series of successes. He set European and World age-group marathon records at: M65 (2.57.00); M70 (3.11.45); M75 (3.23.12); and M80 (3.47.04).
He won World Veteran Marathon gold medals in Coventry 1976, Berlin 1978, Hanover 1979, Glasgow 1980, and New Zealand 1981 plus Rome 1985. A European Marathon gold medal was won in Brugge, Belgium in 1989.
In 1976 Gordon actually won an amazing four World Championships in ten days. As well as the marathon in Coventry, he was first in 10,000 metres on the track, 10k cross country and 25k road!
Of course, he won many gold medals at shorter distances and in British championships too. Doug Gillon wrote about the occasion when in September 1994, at the age of 80, Gordon "added another title and record to a portfolio which, in its way, rivals that of Linford Christie. Porteous took more than nine minutes from the UK over-80 10,000 metres track record, clocking 48.06, when he won his age group in the Scottish Veterans championships at Ravenscraig Stadium."
Gordon enjoyed many glory days in the company of his close friends John Emmet Farrell and Davie Morrison. The three of them travelled together all over the world to championships and broke so many records. I remember in particular the splendid and well-deserved newspaper and television coverage of those three Scottish heroes in the 1999 British Veterans Championships at Meadowbank; and the subsequent World Championships at Gateshead.
Even when he was over 90 years old, Gordon said, in an interview "In a good week I manage to run 30 to 40 miles. The idea is to keep fit, although a little piece of pride also comes into it. When I began running, I didn't imagine it would become as popular as it is today. Normally, you try to do a wee bit better each year, but eventually you reach a stage when you're just hoping to finish!" He was married to Nettie for more than 60 years. She survived him for just two.
Even now in 2010, Gordon Porteous continues to hold three world age group records: M85 5000m (24.51.7); M90 5000m (31.25.45); and M90 10,000m (69.27.5). He should be remembered as a great champion and a wonderful role model.
Please sing along to these lyrics! They were compiled by Dougie Gemmell of Clydesdale Harriers, a fine road and cross-country runner as a senior athlete; and, when M50, Scottish Veteran XC champion; Scottish and British 3000m winner; and 2nd in the British and Irish International XC.
The scenario is as follows: a runner is responding to a request from his club to compete in multi-events for cheap points; and the tune is 'The Laughing Policeman' (google it if you are too young), and the voice a cross between folk-singing legend Matt McGinn and actor John Grieve.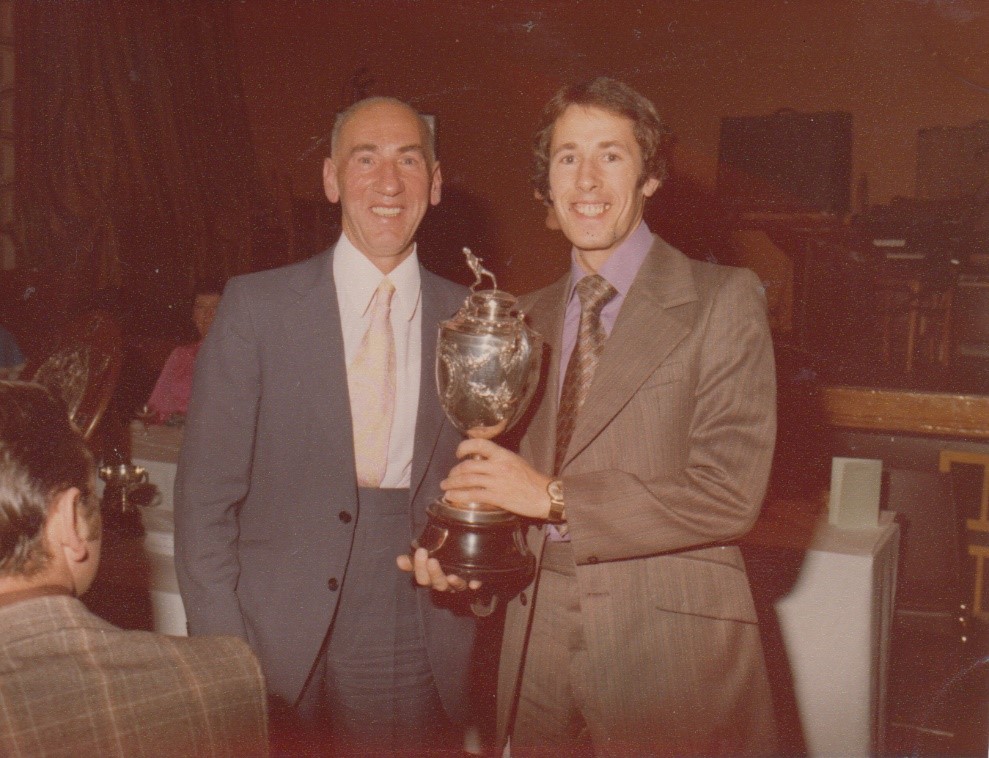 The photo is of Dougie being presented (by Walter Ross) with a cup at Clydesdale's Annual Dinner in 1977. Walter was the founder, and driving force behind, the SVHC.
OH I RUN THE TEN THOUSAND
Oh I run the ten thousand
That's all I ever do
I do not run the steeplechase
You always get wet through
Five thousand metres is too short
The marathon too far
Tae travel a' thae miles away
I'd rather take the car.
I tried the hundred metres
But found I couldny sprint
The gun went BANG, I fell and said
A word ye cannae print
Two hundred, it was just as bad
Goin' roon the bend I tripped
I tumbled ower my wulkies and
My brand-new shorts got ripped.
Oh I don't run the metric mile
Three laps and up the straight
Cause I like runnin' roon an' roon
And wavin' tae ma mates
I don't run ower the hurdles
I canny jump that high
And I don't do the pole vault,
Cause I'm too young to die.
I do not do the triple jump
I canny count to three
And I don't throw the hammer –
It's awfy MICHTY ME!
I do not do the indoor meets
I like to breathe fresh air
Nae Kelvin Hall or Emirates
Ye willny see me there.
You'll always find me doon the track
I canny get enough
What, gie up sunshine, rain or hail?
Not on yer Nelly Duff!
Cross-country is another thing
That I just willny do
Gie me a nice flat Tartan track
Wi' nae sign o' a coo.
Oh I run the ten thousand
To that I'm dedicated
It used to be the six-mile race
But I've been metricated
Oh I run the ten thousand
And OOOYAH! That was SORE!!
I've torn my hamstring a' tae shreds
QUICK! Bring that stretcher ower!
Ooooh ….. I canny move.
OH GOOD, IT'S A CLUBMATE!
(The Psychology of Running Teams)
'Rover'. 'Wizard'. 'Hotspur'. 'Adventure'. The best comics for boys I ever read. Nineteen Fifty-something. Most stories had one drawing and a long action-packed yarn, featuring swarthy snarling baddies, toffee-nosed snobs and clean-cut daring heroes or admirable eccentrics such as 'The Great Wilson' and of course 'Alf Tupper – the Tough of the Track'. How I wish I had kept those comics – a fine escape from reality. My mother even gave me a subscription to B.O.P. – "Boys' Own Paper" – the most morally-improving magazine imaginable. Now how would these publications have portrayed running and the bond between team-mates?
"Now pay attention, chaps. This is the Public Schools Cross-Country Trophy and we just can't let these rotters from Chancerhouse make off with it. Now we're all white men – and that includes you, Ram Jam Singh – and won't resort to shortcuts, tripping, spiking, barging, bribing officials, twins running a relay and so on. It's a jolly good job that amphetamines and diabolic steroids haven't been invented yet, or they'd use them too. Make no mistake – they're out to win by foul means or fouler! So keep your wits sharp, stick together and give your best for the old Alma Mater. We can be confident that, in this comic, good always triumphs over evil, so let's toe the line, give them a rousing chorus of the school song – and run united to victory and a gruff word of congratulation from 'Slasher' Grimthorpe, our beloved Headcase!"
Heart-warming stuff – and nonsense? Well, not entirely, if you consider Road or Cross-Country Relays (and no doubt sprint or 4×400 metres relays too – although as a slow-twitch ectomorph I have no experience of these exotic athletic events). Certainly, a team-mate passing responsibility on to you (by baton, touch of a hand or simply overlapping) does excite a surge of adrenalin and a desire to gut yourself for the cause. Some folk collapse under the strain but many produce their best performances in relays. Tactics (apart from 'eyeballs-out') are seldom needed, unless you're allowed a brief rest behind an opponent into a severe headwind – and even then you have to take your share of the work to prevent other clubs from closing up. Six, Eight or even Twelve-Man road relays are best. The 'stars' of the team are only marginally more valuable than the slowest runners. Anyone who can squeeze out more effort, and save a few seconds, may contribute to a famous victory or a more respectable placing. I'm not particularly devoted to amateurism – everyone likes a decent prize – but relay medals are to be treasured because they remind you of occasions full of drama, whole-hearted trying, good fellowship and (probably) beery exultation.
How about 'team spirit' in normal racing and training? I don't propose to discuss athletics as such. No doubt it's pleasant if a busload of assorted juniors and seniors from Princetown Posers descend on a track and field competition – the South-East Minor District Athletics League Round Five, for example. At the end of the day, once the points have been added up for third place in the standing bunny-jump, second in hurling the haggis and fifth in the metric mile medley, the Posers are first overall! How easy will it be for massive-muscled chuckers, egocentric speedsters, elongated elastic-jointed springers and sinewy middle-distance mules to find enough in common to communicate – let alone celebrate together? More difficult than the athletics, I would suggest. But what about a team of distance runners?
A vital feature of any cross-country or road-racing team is the Weekly Evening Run. If some folk meet up on Sunday mornings as well, this only emphasises how important pain (suffered or inflicted) is to them. No one totally unfit attends the club session. Slow jogging, helpless panting, stopping and walking, stiff sore legs and that sick weak exhausted feeling – these stages are best endured in the dark, on your own (unless they coincide with the last six disastrous miles of a mass marathon, in which case begging onlookers for drinks and sweets can be added.) In the dressing room before the club run, most people look and sound relaxed and carefree. Of course, cautious types will choose to run steadily with others incapable to 'beating' them. But for the first team and those on the fringe, the club session will not lack 'needle' despite the banter and bonhomie. Passers-by may think "Skinny men but friendly ones". Insiders might disagree.
You see, racing well is partly a matter of talent and effort and partly a matter of confidence. A good competitive so-called 'training session' will provide that confidence. All you have to do is record a fast time for the Winter nine and a quarter – or manage to drop your 'chums' and leave them grovelling. Unless the best runner zooms off from the word go, the first couple of miles will involve no more than a stride-out for a group of friends, chatting on the run. Then, strangely enough, the jokes and reminiscences cease, and you reach a certain point (usually the bottom of a long tough hill) when companionship disappears abruptly as, without apology, someone leans into the slope, the effort increases fifty per cent, and the bunch fragments. Some will hang on as long as possible before heading back by a shorter route (trying not to be caught by the fast boys); others, running very nearly flat out, will grit their way onwards to the finish. Usually the pecking order stays the same: but the savage joy of someone who moves up the rankings can barely be concealed.
During a 'proper' competition, status quo may well be re-established. There are those who perform much better in 'training' than in racing. But although most runners will wish both clubmates and rivals the best of luck before a race, and say well done or sympathise afterwards, this is partly insincere tradition. During the struggle for supremacy or self-respect, there is nothing worse than sensing someone looming up beside you – and realising that he's wearing an identical club vest! What a stab in the vitals; or motivating kick up the rear! Strangers may pass without much retaliation, but to be beaten by a 'friend' or old foe is not to be contemplated, unless you are injured or about to pass out from the sheer desperate insanity of effort recently produced to keep the devil behind you. To concede sixth place in the club charts, especially without any real fight, would be an admission of imminent senile decrepitude. Next stop Zimmer City!
And yet, I may exaggerate. Rightly or wrongly, there are rumours of nastiness and hatred between footballers, cricketers and rugby players. Are runners quite as resentful? Probably not, because distance running is a very humbling sport. We all have our good races; and even champions know what it is like to fail, and flounder in the mud, their hopes trampled by better men (on the day). Could there actually be genuine friendship and respect – even between clubmates?
CLUB NIGHTS
For dogged old runners in their seventies, club sessions must be avoided, since one tends to try too hard to keep up with swifter youngsters and injury is almost guaranteed. In youth and middle age, however, training with clubmates was essential to improve fitness and confidence and achieve potential. Hardier athletes might manage to run hard in company perhaps two or three times per week, on Tuesdays, Thursdays and Sundays for example. Others might restrict themselves to once a week for speedwork and once for endurance. It depended on the training pattern of your own club and I competed for quite a few.
At Aberdeen University in the late 1960s, we only ran together on Wednesday afternoons. Few lingered for long in the Hare & Hounds dressing room in King's College pavilion, due to the rank, musty, sweaty pong. Less hygienic harriers simply removed their steaming amber vests and wound them round the hot pipes, so that they would be dry, crusty and aromatic in time for the next outing. Starting slowly, we might go round the varied six and a half miles race route: past St Machar Cathedral, over the cobbles, onto the road, down the dodgy steps and over the narrow Don bridge, along the towpath, over the fence and up the grassy hill to Balgownie, fast down the road hill to the main Ellon road, onto the dunes, back along the sand, and then onto the undulating riverside path to finish in Seaton Park by sprinting up to the cathedral. Our annual half marathon was twice round plus laps of King's field.
In Aberdeen AAC, aspiring long-distance runners usually ventured out on Woodie's Sunday run (15 miles or further). Several youngsters might be suffering a hangover, since races plus piss-ups were usually on Saturdays. At 10 a.m. the group left the house of Alastair Wood, irascible marathon guru, and almost immediately battled up King's Gate, a long hard hill en route to Hazlehead pony-track, the golf-course, narrow country lanes, and more forest paths before plunging down to Cults for the final two-mile 'race-track' along the pavement of the North Deeside Road. A truce was called at Mannofield and most survivors pretended to be cruising easily home – before the redoubtable Wood (and his equally hard training companion Steve Taylor) cut off, whereupon the rest of us sagged against pillar-boxes and groaned back to our residences at walking pace.
Victoria Park AAC was a traditional Glasgow club, heavily influenced by pre- and post-war training patterns. Tuesdays and Thursdays might feature club races or time-trials round the streets made familiar by the McAndrew Relay. Yet the usual system involved a slow pack and a fast pack, both with a 'Pace' to choose appropriate leg-speed and a 'Whip' to ensure that the pack kept together. However, by the early 1970s we were less amenable to regimentation. Ronnie Kane the coach would give stern instructions that the slow pack were to be given at least two minutes start, as a five-mile route like the 'Shorter Knightswood Backward' was tackled, but Alastair Johnston, Pat Maclagan, Ian Binnie, Albie Smith and co normally started chasing the moment their less talented clubmates were round the corner, swept past and bashed on mercilessly in the dim light of winter streetlights. No prisoners! On Sundays, only Pat and Alastair did long runs, which lesser men found ridiculously fast. The alternative was a testing cross-country effort out at Milngavie. Nearly all Vicky Parkers preferred the roads.
Fredrikshof Idrottsforeningen, was a wealthy Stockholm club that provided free kit and paid my racing expenses during the ten months (1973-1974) I taught in Sweden. Sadly, since I lived a hundred miles away from the city, I was forced to train alone. When I did join up with the team, it struck me that the pace was a lot friendlier than back in Scotland. However most of them were not very fast competitors!
Edinburgh Southern Harriers was one of the very best Scottish clubs when I ran for them between 1974 and 1981. While there were club nights at Fernieside, where the old cinder track was used for speedwork, most of the key distance runs were open to all-comers and started at The Meadows. On Mondays there was a ten-mile, sixteen short repetition session, lapping the park; Wednesday featured another ten-mile run, with nine longer reps, out by Colinton; and Sundays could be sixteen miles out and back to Balerno, via the old railway track, or anything up to 25 miles, if one added the reservoirs, Bonaly Tower, and extra circuits of the Meadows. It is fair to say that any athlete who avoided injury despite participating regularly and putting real effort into these three runs could only get fitter! A number of these guys were ex-university, so after races (still on Saturdays!) rather a lot of real ale might be downed, to prevent dehydration of course.
Back with Aberdeen AAC during the 1980s (when the club won three E to Gs), Wednesday night was the important one. After warming up round the Linksfield track or nearby streets, the group headed out at a good pace, up King Street, down the Beach Boulevard, up the promenade to the Bridge of Don, left towards Balgownie. If the pace was not fast enough by then, it lifted savagely on long uphills, and continued through housing estates before zooming homewards past Woodside, down St Machar Drive and back to Linksfield. This was thought to be ten miles, but the record-holders made clear that it could not be further than nine and a quarter. The second half at least was very competitive and runners sometimes chose to hang on desperately until they were forced to let go, before straggling back or cutting the route short. Either way, it was a serious session, which gave a real indication of how fit or unfit we were. One of our members supplied beer to pubs, so he often arranged for post-run beers (and free snacks) at some hostelry. The venue had to keep changing, since publicans were displeased because, unlike rugby types, most of us could only manage a couple of pints before heading home knackered to bed.
Metro Aberdeen Running Club was formed by road-runners who reckoned that AAAC concentrated too much on young athletes and track and field. Coach Jackie Stewart organised evening rep sessions or hill-work not far from King's College, and in addition (after the initial democratic delusion, soon ignored, that we would all wait for the slower athletes) there was usually a very similar road race/run to the one described in the previous paragraph. Regular rehydration continued, since Metro continues to be very sociable.
10 years ago, I retired from my main job and moved north to join Forres Harriers. We have 80 to 100 members, young and old, with many female runners. Once again there are club sessions on Tuesdays (speedwork) and Thursdays (about six miles on the pavements). Sometimes there are hill-sessions from Grant Park. For several years, the Harriers won the North District cross-country league, partly because I am far too slow nowadays to count in races. In recent years I have also been too slow to train with anyone apart from myself.
In all these fine organisations, there has been complaining about real or imaginary injuries, banter, insults, jokes, motivation, friendship, fellow-suffering and team spirit. Long may such marvellous running clubs flourish!
Canicross, my Motivation to Run by Karen Connal
The editor has asked me if I would write a story about Canicross (I put together the artwork for this newsletter), and as there is a full page empty in this newsletter, here goes.
I started running when my kids were of an age to join the local running club and I was not the sort of mum to drop them off and go for the shopping so I slotted in to the slowest group and discovered how much fun and how social running could be. My sport had been dog agility but my dogs had got too old for even a good walk so running was something to do till I eventually got another dog for Agility in 2007.
That dog was a border collie called Jura and in 2008 we took her down to Crufts dog show, this would change my life as we saw a demonstration race of Canicross. I watched it with my son and we both got excited that we could do this with Jura. We shot off to the trade stall and bought some kit, not the right kit but it was a start and we were seen running round a Birmingham hotel car park that night with a rather bemused dog.
That was the start but we were disappointed to find that our new sport was only really happening south of Birmingham, although we did find an event at Kielder but it clashed with a ski holiday and we only managed the 2nd day on very tired ski legs but we were hooked.
In those days I was not a fan of driving long distances so the few races we got to were those furthest north (Hamsterly forest, Kielder and Glen Tress) but the desire to run with the dogs was a strong one so a few of us decided to put on a race in Scotland.
Canix, the company holding the races down south tried to host one at Mugdock park in Milngavie but ignored all our advice and clashed it with the Great Scottish Run so the Canicross entries were low as people had already entered the GSR so the following year in 2012 we held an event at Mugdock Park independently and it was well attended and people seemed to love it.
Over the years the other organisers moved away or dropped out, it was a lot of work to host races, but I carried on and eventually built it up to hosting one race event a month over the season which is September to May in the cooler months.
We went from an entry of 36 up to a capped entry of 150 with races selling out in a matter of days. Other organisations and Canicross clubs started to host races and the sport is Scotland is strong and growing with a large Scottish team assembling to challenge for the "Fur Nations" a 3 part home international which Scotland has won in 2018 and 2019.
I now happily travel all over the country to run and race with my dogs, we have represented the UK twice in the Canicross European Championships and my son was Junior World Champion in 2013 when it was held in the UK.
I personally continue to host races under the Umbrella of "Cani-Sports Scotland".
I find great motivation in my furry pacemakers, they need exercise and running with them is a great way to get a run in at the same time. If I go out for a run without them I don't enjoy my run so much.
Canicross has taken me to some of the most beautiful places in the country, because I seek out off-road, quiet places that suit my running buddies, I find gems of tranquillity off the roads and on the trails. Old aches and pains from my years of road-running are gone as the trails seem to suit me better.
I have made friends from every corner of the country and attended races in far flung places to support them as they start up in their area as I started up in mine. It even got me into running Ultra Marathons but that's another story.
The turning point for me, when I had just discovered the sport, was a friend telling me "you can run with a dog at parkrun you know!" "parkrun what's that?" I said and another addiction was kicked off.
I started at Strathclyde parkrun which is still a favourite for running with a dog as the start is wide and grassy. I have run at nearly all Scottish courses (4 still to do at time of printing) mostly with a dog to pace me. Tiree is my dog of choice for parkrun as she really knows her job and responds to instructions very well and she really loves it. Finn & Jura get a shot sometimes. I have a young dog in training but he won't do a parkrun till he has learned to respond to commands like "steady" and has sharp directional commands.
Although I am not a fast parkrunner I do like to start nearer the front with a dog as they don't understand pacing and set off full pelt only settling in to the run after the excitement has died down. I find it much easier and safer for other runners to overtake me when they can see me and my dog than to be forced to start at the back and have to overtake half the race to find our place, startling or offending people as we pass.
Canicross etiquette is to let people know that you are about to overtake "I'm coming by you on the left/ right with a dog" is my warning. In nondog runs, like parkrun, especially when people have headphones in, we have to be very careful not to startle folk.
Things we are asked and things that are said: "That's cheating." It's not cheating, It's what we do, it's Canicross, it's fun and in trail races where dogs are allowed we aren't allowed to take a podium place or there are separate results for Canicross runners, parkrun can mark the run as assisted.
"Can I get a tow?" No because I won't lend my running partner to anyone who hasn't trained and learned his/ her ways, they are our partners we are a team.
"That shouldn't be allowed." We use parkrun as training and for fun the same way as non-dog runners do. Parkrun is an excellent place to teach our dogs how to race, it's local and it's free, perfect, the same reason many other people go there to run.
"My dog would pull me over." It won't, with the right equipment, a waist-belt puts the pull on your hips, it's a great core workout, a hand-held lead will pull you over as it upsets your point of balance. Once you get going it just feels great. Once your dog learns the commands, you're a team.
The bond you build with your dog in a shared activity is second to none. There are local clubs and groups who can help you get started. Look up
www.canisportsscotland.co.uk
OFFICE BEARERS SEASON 2017-2018
Honorary President: ALASTAIR MACFARLANE
President: CAMPBELL JOSS 25 Speirs Road Bearsden, G61 2LX Tel: 0141 9420731 cdjoss2@gmail.com
Immediate Past President: ALASTAIR MACFARLANE
Vice-President: ADA STEWART 30 Earlsburn Road, Lenzie, G66 5PF Tel: 0141 578 0526 stewart2@ntlworld.com
Honorary Secretary: JOHN SOFTLEY 6 Cathkinview Road Mount Florida Glasgow G42 8EH Tel. 0141 5701896
Honorary Treasurer: ANDY LAW Euphian, Kilduskland Road Ardrishaig, Argyll PA30 8EH Tel. 01546 605336 Lawchgair@aol.com
Membership Secretary: ADA STEWART 30 Earlsburn Road, Lenzie, G66 5PF Tel: 0141 5780526 stewart2@ntlworld.com
Handicapper: PETER RUDZINSKI 106 Braes Avenue Clydebank. G81 1DP Tel.0141 5623416 p.rudzinski@ntlworld.com
Committee Members:
JOHN BELL Flat 3/1, 57 Clouston Street Glasgow G20 8QW Tel. 0141 9466949
WILLIE DRYSDALE 6 Kintyre Wynd Carluke, ML8 5RW Tel: 01555 771 448
DAVID FAIRWEATHER 12 Powburn Crescent Uddingston, G71 7SS Tel: 01698 810575
ARLENE LEWIS 202 Archerhill Road, Knightswood Glasgow, G13 3YX Tel: 07850 070337
EDDIE McKENZIE Little Haremoss, Fortrie, Turriff Aberdeenshire, AB53 4HR Tel: 01464 871430
STEWART McCRAE 17 Woodburn Way, Balloch Cumbernauld G68 9BJ Tel: 01236 728783
PAUL THOMPSON Whitecroft, 5 Gareloch Brae, Shandon, Helensburgh G84 8PJ Tel. 01436 821707
ROBERT YOUNG 4 St Mary's Road, Bishopbriggs Glasgow G64 2EH Tel. 0141 5633714
BMAF Delegates To be appointed Ada Stewart
SAL West District Delegate Willie Drysdale
SAL Delegate at AGM To be appointed
Website Ada Stewart
Auditor George Inglis
FIXTURES
May 2019
Wed 1st Snowball Race 4.8 miles Coatbridge 7:30pm Changing at Lochview Golf Driving Centre
Sat 18th BMAF Road Relay Champs Sutton Park, Birmingham
Sat 25th Bathgate Weslo Cairnpapple Race 2:30pm £3 entry
Sun 26th SAL Masters 5000m Track Champs Aberdeen
June 2019
Sun 2nd BMAF 10 Mile Champs Dorking, Surrey
Wed 5th Corstorphine 5 Mile Road Race Turnhouse Rd, Edinburgh, 7:30pm
June 2019
Sun 16th Horwich Leisure Centre Victoria Road Horwich BL6 5PY
Wed 26th SVHC 5K Champs Sea Scouts Hall, Miller Street, Clydebank, 19:30
Sun 30th BMAF Multi-Terrain Champs, Gravesend
July 2019
Sun 7th BMAF Half Marathon Champs Ashbourne, Derbyshire
Sat 13th SAL Masters T&F Champs Grangemouth
August 2019
Sun 11th Glasgow 800 10km road race Cartha Rugby Club, 1:30pm
Sat 31st SA Masters & SVHC Andy Forbes 10000m Track Champs Carluke
September 2019
5th – 15th European Masters Track & Field Championships Venice, Italy
Sat 14th B&I Masters Cross Country Trials Tollcross Park October 2019 Sun 6th Loch Ness Marathon, Inverness
TBC SVHC Half Marathon Champs, Kirkintilloch AGM, Date & venue TBC See website for full details
Sun 20th BMAF Marathon Champs, York November 2019
Sat 16th British & Irish Masters Cross Country International – Southport, England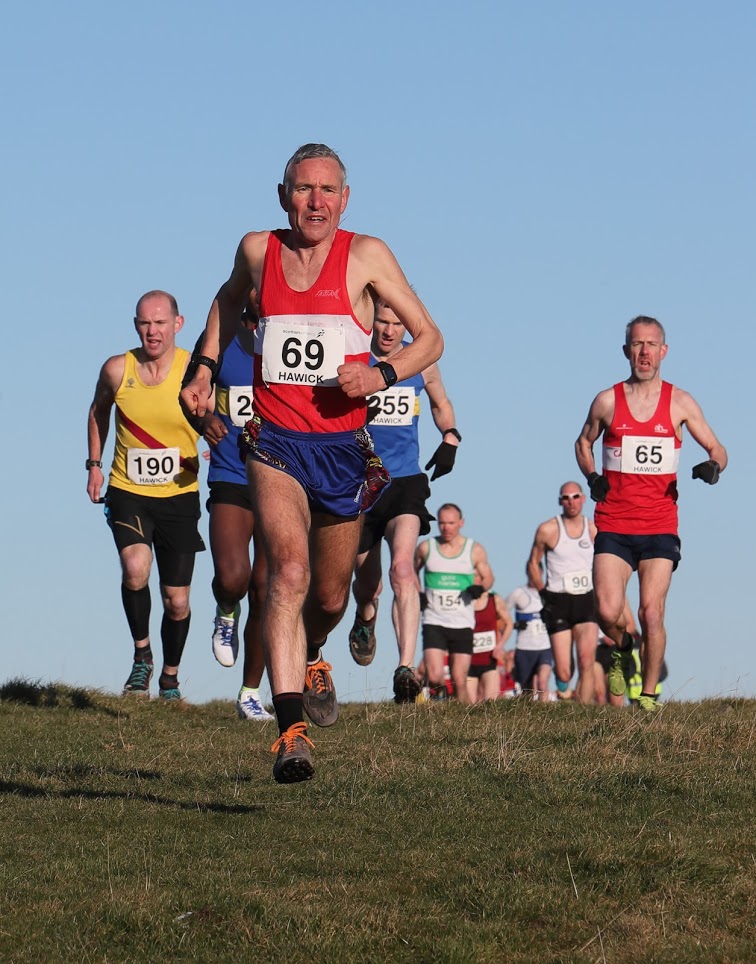 Colin Donnelly at Hawick (Photo: Pete Bracegirdle)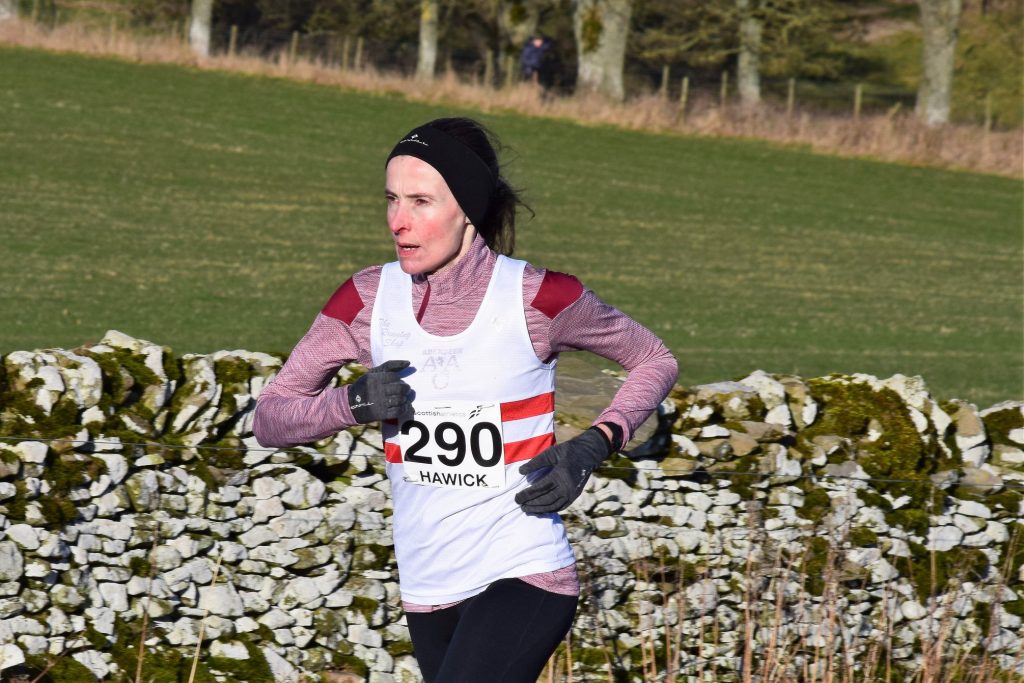 Veronique Oldham at Hawick (Photo: Alex Corbett)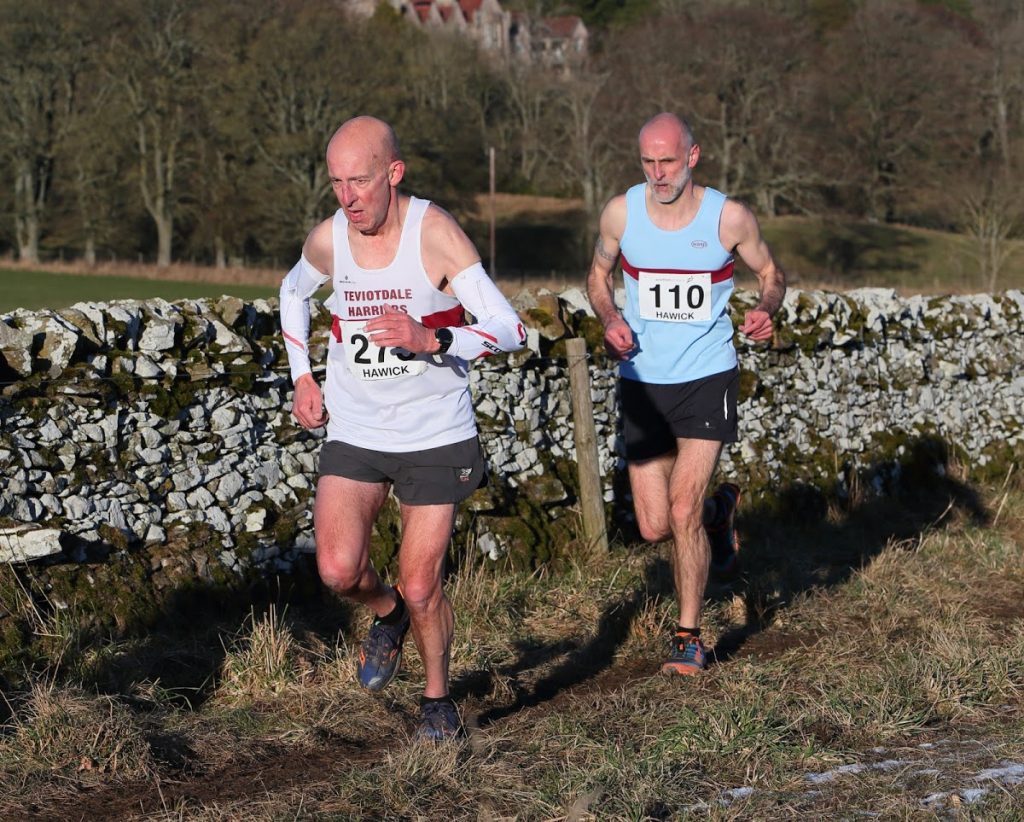 Alastair Walker (275) heading for M60 gold (Photo: Pete Bracegirdle)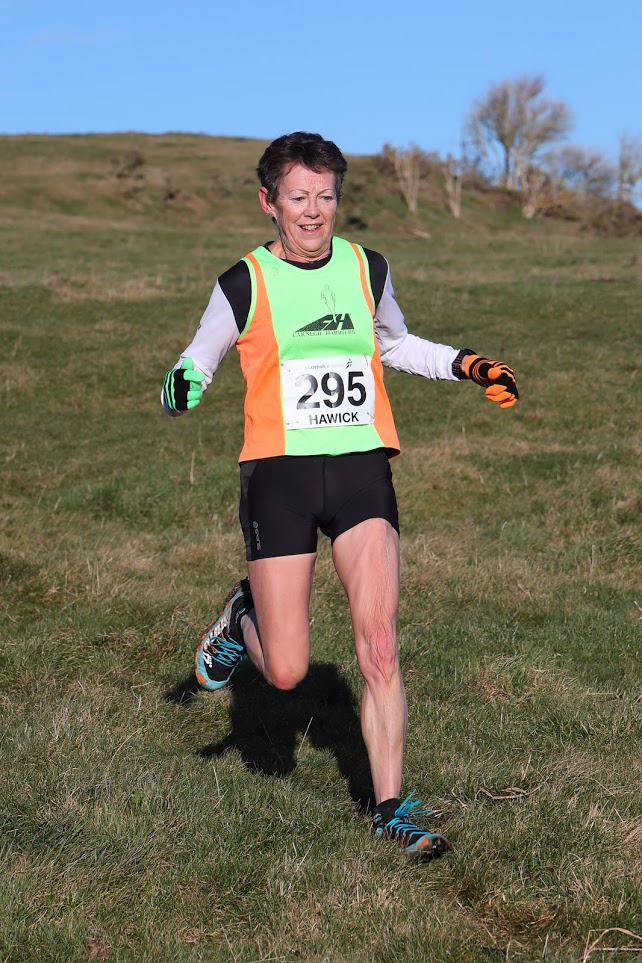 Isobel Burnett easing towards W60 hat-trick victory (Photo: Pete Bracegirdle)