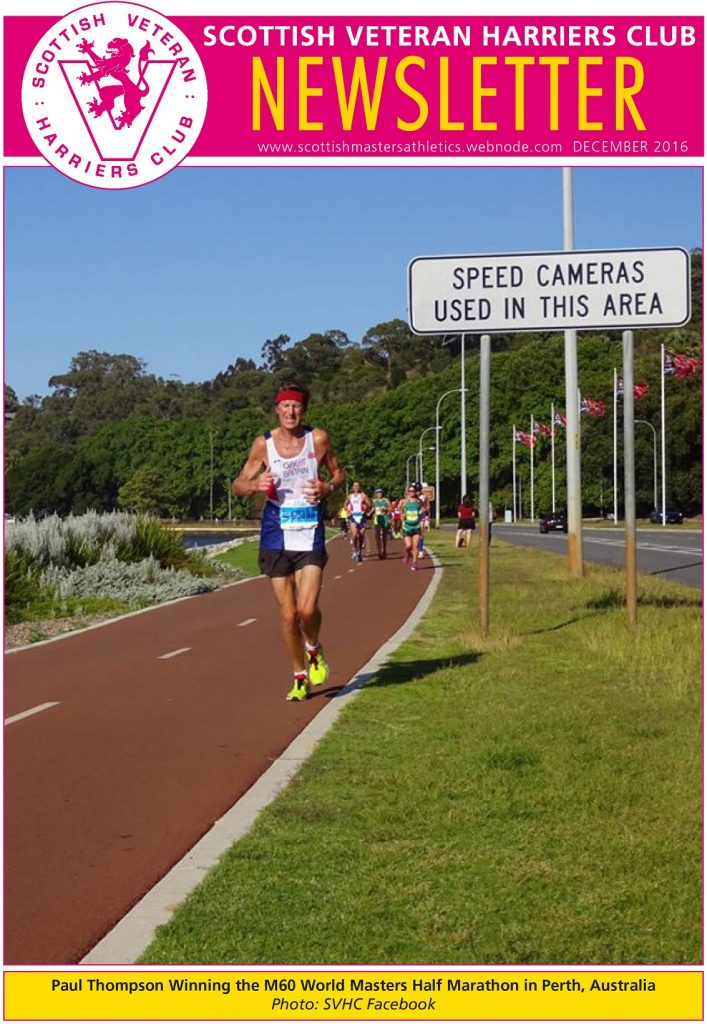 MEMBERSHIP NOTES 29th November 2016
Ada Stewart and John Softley have replaced David Fairweather and Alastair Macfarlane as Membership Secretary and SVHC Secretary following the AGM on 16th October.
I regret to announce that Willie Marshall passed away on 30 Sep 2016 aged 88.
MEMBERS
Renewal subs are now due for 2016/2017. Welcome to the 46 new and 8 reinstated members who have joined or re-joined since 15th July 2016. 37 members did not renew their subs last year. As of 29th Nov 2016, we have 536 paid up members, including 20 over 80 & 4 Life Members.
NEWSLETTER The electronic version of the Newsletter is now the preferred option. Any member who would rather receive a printed Newsletter must contact David Fairweather (djf@ dfairweather.plus.com), if they have not already done so. Please inform David if you add or change your email address.
Please send photos, news, letters, articles, etc for the next issue To: COLIN YOUNGSON TOMLOAN, SANQUHAR ROAD, FORRES, IV36 1DG e-mail: cjyoungson@btinternet.com Tel: 01309 672398
SVHC EVENTS
Stewards/marshals are required for club races. The club appreciate all members & friends who volunteer to act as stewards/marshals. If you are not compe
STANDING ORDERS
Thank you to the members who have set up standing orders for membership subscriptions. Please remember to update the amount payable, & keep me informed if your membership details change (especially email addresses). If any other member wishes to set up a standing order please contact me.
CLUB VESTS Vests and shorts can be purchased from Andy Law – £18 for vests, including postage and £23 for shorts, including postage. If ordering both together deduct one lot of postage. Or, can be delivered to any of the Club races by arrangement with no postage. (Tel: 01546 605336. or email lawchgair@aol.com)
NEW MEMBERS
NUMB CHRS SURN JOIN TOWN
2323 Debbie Savage 08-Aug-16 Perth
2324 John Hynd 08-Aug-16 Dunfermline
2325 Malcolm Lang 08-Aug-16 Bathgate
2326 Robert Lindsay 08-Aug-16 Kilmarnock
2327 Iain Williams 08-Aug-16 Jedburgh
2328 Robert McCulloch 11-Aug-16 Paisley
2329 Jim Scobie 08-Aug-16 St Andrews
2330 Ron Stuart 12-Aug-16 Leeds
2331 Brendan Lynch 12-Aug-16 Linlithgow
2332 Gordon McInally 15-Aug-16 East Kilbride
2333 Ann Robin 15-Aug-16 Glasgow
2334 Susan Linklater 17-Aug-16 Levenwick
2335 David Carpenter 18-Aug-16 Kilwinning
2336 Stuart Tite 18-Aug-16 Burntisland
2337 Innes Bracegirdle 22-Aug-16 Newport-on-Tay
2338 Louise Potter 23-Aug-16 Lochgilphead
2339 Mark Simpson 23-Aug-16 Wembley Downs
2340 Bryan Mackie 25-Aug-16 Edinburgh
2341 Frank McMahon 25-Aug-16 Skelmorlie
2342 Marie Baxter 01-Sep-16 Aberdeen
2343 Craig Mattocks 01-Sep-16 Peebles
2344 Ann White 03-Sep-16 Stirling
2345 Scott McDonald 06-Sep-16 Peebles
2346 Chris Mooney 07-Sep-16 Gourock
2347 Margaret Martin 07-Sep-16 Ceres
2348 Graham Crawford 07-Sep-16 Glasgow
2349 Alan Robertson 08-Sep-16 Coleford
2350 Roger Clark 09-Sep-16 Crieff
2351 Grant Baillie 09-Sep-16 East Kilbride
2352 Katie White 09-Sep-16 Glasgow
2353 Anne Macfarlane 10-Sep-16 Dumfries
2354 Mary Western 13-Sep-16 Dunfermline
2355 Daniel Doherty 13-Sep-16 Port Glasgow
2356 Graham Bennison 20-Sep-16 Cupar
2357 Ed Norton 20-Sep-16 Dunfermline
2358 David Eckersley 20-Sep-16 Balfron
2359 Luke Chamberlain 27-Sep-16 Glasgow
2360 Gillian Palmer 28-Sep-16 Edinburgh
2361 Carol Parsons 07-Oct-16 Chester
2362 Iain Reid 13-Oct-16 Glasgow
2363 William Macrae 27-Oct-16 Gairloch
2364 Liz Corbett 28-Oct-16 Glasgow
2365 Charlotte Black 14-Nov-16 Dunrossness
2366 Colin Watson 16-Nov-16 Kirkintilloch
2367 David Graham 16-Nov-16 Glasgow
2368 Colin Young 17-Nov-16 Sorn
2369 Steve Oliver 24-Nov-16 Winchester
2370 David Stirling 24-Nov-16 Glasgow
2371 Mike Lieberman 29-Nov-16 Edinburgh
2083 Lorraine Brown 15-Aug-16 Kirkcaldy
2109 William Skinner 23-Aug-16 Aberdeen
2236 Andrew Campbell 03-Sep-16 Barrhead
1946 Paul Rogan 06-Sep-16 Forres
2220 Gary Hester 14-Sep-16 Glasgow
2147 Gareth Jenkins 17-Sep-16 Elgin
2062 Dianne Lauder 27-Sep-16 Hawick
2247 Sean Casey 03-Oct-16 Cumbernauld
David Fairweather Membership Secretary
OBITUARY: WILLIAM MARSHALL 12/12/1927 – 30/9/2016
I am sad to report that Willie Marshall passed away on Friday 30th September. Our thoughts at this time go out to his family – his son David and daughter Carol and their respective spouses Fiona and Brian, grandchildren Lauren and Grant and great grandson Noah.
Willie was very much a family man. His wife Mary, until her death in 2007, fully supported his running career.
When not racing he enjoyed going to the football with David to support their beloved Motherwell FC.
Willie had a long and prolific running career particularly from the age of 50 onwards at Scottish, UK, European and World level. He won at least 10 Scottish Veteran track titles, 11 Scottish Veteran Cross Country titles along with 1 silver and 1 bronze, 14 UK Veteran track titles and 4 road titles, 4 European Veteran and 4 World Veteran titles while breaking 4 Veteran World records in addition to Scottish and UK Veteran records.
What an incredible and often unheralded list of achievements for such a quiet and unassuming man! No one who saw him shuffling at a slow pace around the streets of Hamilton would have imagined the running stature of this elderly frail looking gentleman. Willie may have looked frail but in running terms he was strong and determined and was a totally different athlete racing than when training. He was a difficult man to drop and once he was in top gear he did not falter. His maxim was to train slowly but to race regularly which clearly worked for him.
Willie represented Motherwell YMCA, Clyde Valley and Cambuslang Harriers from 1994 onwards. His son David also took up running with Clyde Valley and later Cambuslang. David posted the very respectable times of 8.42, 15.06 and 31.40 for 3/5/10K before his running career was cut short by injury.
Willie and David made Scottish Athletics history when they became the first father and son to compete in the same team in the prestigious Edinburgh to Glasgow road relay in the 1982 event. Willie's grandson Grant Sheldon has recently shown that he has inherited his grandfather's genes by winning this year's World Students Triathlon Championship and gaining a bronze medal in the European under 23 Triathlon. Grant also competed for Scotland in the 2014 Commonwealth Triathlon Event and won the 2011 Scottish Cross Country Under17 Cross Country Championship when competing for Cambuslang Harriers.
I first became aware of Willie when competing in the 1973 Clydebank to Helensburgh 16 mile road race. This was my first attempt at the distance and I was surprised to be overtaken at the halfway stage by an apparently frail older runner wearing black plimsolls. However, there was nothing I could do but let him disappear into the distance.
When he moved house in 1980 to near where I stayed we started training together on a Sunday and were accompanied by David, Tom Ulliott, Kevin Newberry and Donald Burt. This continued for over a decade. I also sometimes took Willie to races as he did not drive.
We were competing in the 1981 Sanquhar 11 mile road race which weaved its way from the splendid starting point of Drumlanrig Castle along quiet country roads into Sanquhar playing fields. We ran the race together and the tranquil atmosphere of the day was abruptly shattered on entering the track for the run in. We suddenly heard loud animated voices urging both of us on. Naturally Jim Brown and Peter Fox of Clyde Valley who had finished 1st and 4th were shouting Willie on as he was their 3rd and final counter for the team race. I was the only competitor for Cambuslang that day but I found myself being roared on by the Springburn trio of Graham Crawford, Doug Gunstone and Alastair MacFarlane who had finished in 5th, 6th and 7th place. Springburn were sitting on 18 points and would clinch the team title by 1 point if I finished ahead of Willie. I duly beat Willie by 3 seconds much to the delight of the Springburn team who jokingly offered me an honorary membership of their club. Willie was content to win the first veteran prize. Coincidentally Graham was reminding me of this incident earlier this year when we met at a cross country event.
During all the time I knew Willie he never had a bad word to say about anyone and he was extremely modest about his superb achievements. Although he retired from competition in the early 2000s due to eye and leg problems, he continued light running.
In recent years he was not able to train but he was still out walking and could at times be seen breaking into his shuffling running style to catch a bus. He took great pride in seeing Grant compete for Scotland at the Commonwealth Games and on his recent European and World Triathlon successes.
Only a month ago he was delighted to receive a copy of the Scottish Veteran Harriers Magazine in which Colin Youngson, in collaboration with Willie's son David, had written an excellent article on his remarkable running career. This article serves as a most fitting and well-deserved tribute to a Scottish running stalwart.
David Cooney (Cambuslang Harriers)
GREAT SCOTTISH VETERAN ATHLETES: GEORGE BLACK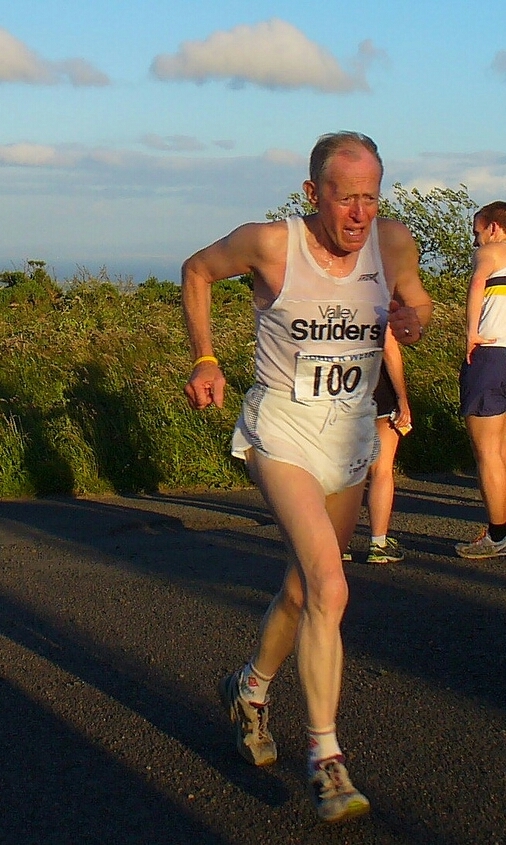 George in the Tour of Fife
Name: George Black.
Clubs: Fife AC – Scottish Vets – Glasgow Nightingale Cycling.
Date of Birth: 23rd November 1939. Occupation: Retired.
How did you get involved in the sport? Could not afford a bike!
Has any individual had a marked influence on your attitude or individual performance? Very many, including Bill Stoddart, Bill Scally, Willie McBrinn, Jimmy Moore, Max Jones, Jim Dingwall, Steve James, Emmet Farrell, Gordon Porteous, Davie Morrison, Bobby Young, Pete Cartwright and Davie Fairweather.
What exactly do you get out of the sport? Fun and friendship.
What do you consider your best ever performances? Winning the European Duathlon Championships in 2007. Running a 2.30 marathon only 15 months after my first run.
Your worst? I try to forget them.
What unfulfilled ambitions do you have? To win individual gold at the Veterans International XC. Set 100 year old best time for the marathon.
Other leisure activities? Cycling. Sleeping.
What does running bring you that you would not have wanted to miss? Friendships. You get to know a person's character during long hard training sessions together.
Can you give some details of your training? This has varied according to age and target race etc. Everything from 13 weeks averaging 128 miles a week, to long spells of short high-intensity runs with an average of 19 miles a week. The latter might include 20x400m with 15 seconds 'recovery'. My record week totalled 196 and a half miles – and I almost went out again to reach the 200!
Currently I run between 30 and 40 miles per week, with nothing too severe so that I might avoid injury.
Below is a long letter from George about his unusual and very successful athletic history. "Until I began working shifts aged 21, I was a good club racing cyclist. My cycling at the time was mainly track and time trials. Aged 20 I managed 12th in the Scottish Best All Rounder competition, over distances of 50 miles, 100 miles and 12 hours. I realised I had good endurance: my 12 hours distance was 248 miles – still a club record.
At 22 I stopped cycling, got married, we had two children and I took no exercise other than occasional rounds of golf. I weighed 14 stone 12 pounds at one point, but mainly 12 stone 12 pounds.
Aged 42 I went out for a jog with a friend, hated it and was happy I caught a cold after a second run and had an excuse to stop – this was November 1981.
In January 1982 I decided to try again but struggled to cover half a mile in a local park. A friend, Gordon Campbell was a Clydesdale Harrier, and told me about the Scottish Veteran Harriers. I went to Woolworth, bought a pair of 'training shoes' for £4 and began training at night. Gordon encouraged me and soon I was running up to 14 miles in the morning, several days a week.
I learned that the Vets Marathon Championships was being held in Glasgow on 21st March 1982 so thought I would give it a go. The Thursday before this event I went for a run in East Kilbride and met the wonderful Jimmy Moore, who caught up and slowed down to encourage me. He told me he was going over to Bellahouston to watch the race and agreed to give advice.
This was my first ever running race – a bloody marathon! When I heard there were 'feeding stations' I thought I would be receiving bananas etc but of course discovered it was only water. Jimmy introduced me to three old guys and told me to stay with them and I would be okay – Davie Morrison, Gordon Porteous and Emmet Farrell (a legendary trio of World Veteran Champions). What an introduction to the sport!
The marathon took place on a lovely day and I had an enjoyable run in great company, finishing in 3 hours 19 minutes. The winner was Bill Stoddart in 2.30, after a hard-fought contest with Andy Brown. I was hooked but my right hip was sore so I had a week off and bought a pair of New Balance 660, which cost over £30.
Next I began training with East Kilbride AC under Jimmy Moore's guidance and improved rapidly. In July I won the North Tyneside Peoples Marathon in Whitley Bay. This was for runners who had not broken 2.50. My time was 2.46. I could not understand why a runner I caught with half a mile to go was trying so hard to beat me, as I thought we were outside the top ten. Obviously, he knew we were racing for the win.
In August I managed 2.44 in the Inverclyde Marathon; and in September had my first track race – the Vets 10,000m at Coatbridge (3rd in 34.30). Bill Scally won in 33.33 from Dick Hodelet. The first official Glasgow Marathon took place in October and I finished 60th in 2.36. I had no idea how high up I was, and in fact estimated somewhere inside the top 500, since masses had sprinted off and disappeared up the High Street at the start.
During Winter 1982/1983 I trained with a group of friends. I averaged 128 miles a week for 13 weeks, including 'double headers' at weekends with Charlie McDougall, another former cyclist. We ran over the Glasgow Bellahouston marathon course on four successive Sundays, all of them under 2 hours 50 minutes. This was after a long run the previous day.
In March 1983 I returned to the Vets Marathon Championship at Bellahouston and won by 12 minutes on a very windy day by in 2 hours 30 minutes. Willie McBrinn ran two laps of the three lap course with me before I discovered he was using it as training for the London Marathon and only intended doing the two laps. Thanks, Willie! Willie duly went to London and set the current British over 55 marathon record. After he turned 60, he also broke the British record for that age group at the Lochaber Marathon.
A change of jobs meant more responsibility and travel but in July 1985, at the age of 45, I managed to run a 71 minute half marathon at Musselburgh. The best part of that day was beating Peter McGregor and getting my name added to the 'book' he kept of people that had beaten him. Yes – a result!
My job took me south in 1988 and I joined the Leeds Valley Striders in identical circumstances to when I joined East Kilbride. I told my wife I was going out for a run and would look for another runner to find out about local trails. I met Max Jones who took me under his wing and introduced me to his club.
Probably my best year was 1995, when I was 55 years old. That February I ran an out and back road ten miles in a very good 56.36. In March I contested the Hull 20, finishing in 1.58.06, which is still the British age group record. My five mile splits were 29.12, 29.11, 30.23 and 29.20. I ran with Jim Dingwall who was living in Hull. I did not realise it at the time but sadly it was the last occasion I would meet this fine man. (Back in October 1982 I took part in the Scottish Vets half marathon at Grangemouth and was amazed to see Jim marshalling a Vets race out in the wilds. That year he had finished the London Marathon 5th in 2.11 and yet was still willing to help out at a Vets event!)
In March 1995 I was second in the over 55 British Vets XC Championships, behind Steve James, which was no disgrace. That October in the British Vets XC Relay I was fastest M50 individual, recording 19.21 for 6k.
Other achievements included the following. Two wins (M50 and M70) at British Vets half marathons. Three individual silver medals for Scottish Masters in the British and Irish XC International. First places in Scottish Vets Marathons; and in Cross Country Championships.
My best age-graded performance was in December 1996 at the Abbey Dash in Leeds. At the age of 57 I ran 10km in 34.49 which was rated at 91%. The course was remeasured later and found to be 50 metres too long.
I was a member of the British Masters gold medal team at the 1991 World Championship marathon in Turku, Finland. Other fast age group times included one mile road in 4.54 at 45; 2 miles road in 9.59 at 46; 3km track in 10.13 at 47; 4 miles road in 21.36 at 53; 5km road in 16.48 at 55; and 5 miles road in 28.28 at 57. Another race I remember well was the 1983 Piccadilly Radio Marathon in Manchester, when I finished first M40 in 2.36.
In Cycling, I won the over 60 Scottish Road Race and also the Series. In the British over 60 road race I finished third. In addition I was age graded winner of the Lennon Trophy and the Boomerang Trophy.
In Duathlon, I won the 2007 over 65 European Championship. In the 2010 World Championships I was second over 70. I enjoyed numerous British and Scottish age group wins from over 60 to over 75. In fact in these championships I was only beaten once since I learning about such events and making my debut in 1999.
Why not try Triathlon? I'd probably drown.
After having a heart attack in January 2014, I had a stent fitted. Many veteran athletes have had the same operation and I call us the Stenturions! I was told to continue training and racing. Would we have survived had we not been so fit?"
[After this setback, George Black was second M75 in the 2015 British and Irish XC International, only four seconds behind the age group winner. Then in March 2016 in the East Hull 20, George set a new British M75 20 miles road record, and was also first M70 by just 23 seconds. His official time was 2.50.12, which beat the previous record, set a week earlier, by 11 minutes 48 seconds. This means that he currently holds the British records for 20 miles aged 55 (1.58.06) and M75. Amazing durability! (Ed.)]
[On 29 October at the St Andrews Park Run, with a time of 21:46, George recorded the first sub-22 minute Parkrun recorded by a 75+ in Britain. Thirty minutes earlier in England, Roger Wilson had established the previous record! However in November at the 2016 Masters XC International in Glasgow, Roger got his revenge by winning the age category, with George a meritorious second yet again. George wrote "I was more pleased with the team silver, which none of us expected. What can you say about the wonderful M80 Walter McCaskey!"]
BRITISH AND IRISH MASTERS INTERNATIONAL CROSS-COUNTRY HISTORY (CONTINUED)
1998: St Asaph, Wales. Team awards for M55, M65, W45 and W55 were introduced. The event took place in North Wales and Davie's report said "The course was a fell-runner's dream, with a long steep descent followed by a strength-sapping climb – with a rest at the top while you queued to get through a kissing gate!"
Trudi Thompson, so consistent, gained W40 silver and her team (Trudi, Lynn Harding 7th, Sonia Armitage 8th and Anne-Marie Hughes 17th) finished first.
Bobby Young was an excellent second in the M55 race; and Archie Jenkins won M45 bronze again, leading his team (John Hanratty 11th, Andy McLinden 12th and Barney Gough 13th) to silver medals.
In the M40s, Keith Varney was 9th, Gerry Gaffney 10th, Brian Gardner 11th and Ian Stewart 13th. George Meredith was first M50 Scot in 8th place. Bert McFall was 9th M60.
1999: Bideford, England. GB international marathon runner Trudi Thompson won the W40 title in fine style, by 34 seconds.
Elaine McBrinn was 8th W35; Patricia Affleck 9th W40; and Jane Waterhouse 10th W45.
The Scots also had an individual gold medallist: hill runner extraordinaire Colin Donnelly (M40), who led his team (Keith Varney 4th, Gerry Gaffney 9th, Dave Dymond 14th, Brian Gardner 15th and Ian Stewart 17th) to silver medals.
For the second time in succession, Bobby Young won individual M55 silver; and his team (Davie Fairweather 7th, Pete Cartwright 8th and Brian Campbell 9th) was second.
Ian Leggett finished 9th M60. The Scottish M65 team (Bert McFall 4th, Hugh Gibson 6th, Tom O'Reilly 8th and Henry Morrison 9th) also won silver.
2000: Navan, Eire, Dalgan Park. Despite the course being tough, with glue-like mud, World W50 10,000m record-holder (and also 1999 World Masters 5000m and 10,000m champion) Janette Stevenson ran away with the W50 title. Her W50 team won silver.
Jackie Byng was 3rd W55. Sue Ridley did well to finish third W35. Sue Ridley wrote: "My first ever British & Irish XC Masters International in 2000 still stays fresh in my mind. I can remember clearly phoning David Fairweather asking him if it was OK to bring my 14 month old daughter on the bus journey to Navan! He clearly was full of apprehension (probably horror) at the thought of a long, tiring bus journey through Ireland with a screaming toddler! Thankfully we were allowed to go and Amy was as good as gold for the whole weekend (never cried once). She had a great time with all the attention she was given, being held by different people and made such a fuss of. Everyone was very friendly and made you feel so welcome. I met some very nice people, some of whom are still very close friends. Staying at a convent was different but made for a great team spirit. Everyone was so supportive of their team-mates and colleagues in every age group and that happy atmosphere has stayed with me. The weather wasn't particularly nice and the course was tough but I still remember managing to sprint to the line overtaking an old rival from my senior days to take bronze in the W35 event. It was a fantastic experience. What is also so nice about this event is the number of people you befriend from each country who you often meet year after year."
First Scot home in the men's race was Colin Donnelly (3rd M40). However, the Scottish men's performance of the day was by Davie Fairweather, who triumphed in the M55 category; and led his team (including Bobby Young and Brian Campbell) to gold medals. Davie wrote later: "I had enjoyed a good build-up, with 78:28 in the Helensburgh ½ Marathon, 2:48:39 2 weeks later in the Glasgow Marathon, and 78:48 3 weeks later in the Inverclyde ½ Marathon. By the time I got to Navan, I was well-prepared, but fell flat on my face in the warm-up, which didn't augur well for a good race performance. I'm never very good at judging my position in cross country races, and I didn't see any M55 numbers, so just assumed that all the good runners were out of sight in front. Then, on the last lap, I passed Archie Jenkins (who was in the M45 team), and suddenly I was on Colin Youngson's heels (in the M50 team) but he wasn't going to let me beat him this time, and I crossed the line 3 sec behind him to win M55 gold. Frank Reilly came in 12 sec behind me, with Graham Patton 3rd a further 6 sec behind. With Bobby Young 4th and Brian Campbell 10th we won team gold as well."
The M50 team [George Sim (individual silver), Charlie McDougall, George Meredith and Colin Youngson] finished a very close second; as did the M65 outfit (Bert McFall, Jim Irvine and Henry Morrison).
2001: Falkirk, Callendar Park. David Fairweather reported: "In the Ladies' race, Anne Keenan-Buckley (Eire), for the 3rd year in a row, completely dominated the race from the off. She appeared to just float over the ground to win by over 1½ minutes in a 16 minute race. Tricia Affleck ran the race of her life to finish 3rd overall and 2nd W40. Just like me last year, she had no idea she was so far up and couldn't believe she'd won silver. Trudi Thomson (6th W40) showed that she is only human and can no longer head the field just 2 weeks after running the Dublin marathon (well she is training for the Commonwealth Games Marathon after all). She had to pull out all the stops to hold off the determined onslaught of Janette Stevenson, who repeated last year's W50 gold medal performance, and Susan Finch who was 5th placed W35.
Addi Gerard finished 7th W40 to secure team silver. Sue Ridley was 8th W35.
According to the usual biased reporting in Athletics Weekly, four Englishmen were favourites for the M40 title. However, GB international and Multi-Scottish champion, Tommy Murray, had other ideas and went on to win by 26 seconds. Then, 45 minutes later, Tommy finished first in the Open Race too 'because I was good enough.' (In 2003 Tommy and Julian Critchlow (England) had a closer battle at Beach Park, Irvine, before the Scot won the British Masters XC championship. Shortly afterwards, aged 42, he retired.)
Colin Donnelly started very cautiously and had to work his way up from the low 50's to a final sprint for 3rd M40. All the Scotland M40s (Murray, Donnelly, Ross Arbuckle, Colin Meek, Dave Dymond and Ian Stewart) had excellent runs, but the tight packing of England in 2, 4, 5 and 6 was too much to beat and we had to settle for silver.
However, it was a different matter for the M45s, with Keith Varney coming in 2nd, Gerry Gaffney 4th, Brian Gardner 5th, and Nicol Maltman 10th (plus Archie Jenkins) to beat England by 5 points to win team gold. (Did any other readers hear Brian's mother phone in to Radio Clyde on Sunday morning and mention that her son had been running the veterans international at Falkirk?)
George Sim (4th M50) failed narrowly to win a medal this year, but with Andy McLinden 9th, Brian Emmerson 13th and Charles Noble 16th they won team silver.
In the M60s, Ian Leggett pulled through to 5th, George Black finished 7th and, with support from last-minute replacement and team newcomer Robert Daly, they won team silver.
The M65s were led by Bert McFall in 7th. This is the 1st time that every team in the Men's race has finished in the top 3. All the runners I spoke to were unanimous in their praise for the excellent course."
2002: Ballymena, Sentry Park again. The same hilly, muddy loop had to be negotiated several times. In the women's race, Sonia Armitage was top Scot (4th W40), just in front of Elaine McBrinn (6th W35) and Frances Florence (5th W40). Hazel Bradley finished 5th W50.
In Tommy Murray's absence, Julian Critchlow won the 40-49 race, with Colin Donnelly first Scot (fifth M40). The Scottish M45 team (Mike Simpson, Ian Stewart, Gerry Gaffney and Dave Dymond) secured silver medals. George Sim ran his usual fast race to be third in the M50 category, and was well-supported by Andy McLinden and Archie Jenkins in fifth and sixth. Fred Connor was fourth counter and the M50 team finished second. Colin Youngson managed 3rd M55, just in front of Bobby Young (4th). Terry Dolan was third counter and that team too won silver. Ian Leggett ran well to finish fifth M60.
Hugh Gibson produced the best individual performance by a Scottish man, with second place in the M70 age group. Bill McBrinn was 6th.
2003: Cardiff, Bute Park. "Race day was cold and grey; and the course flat, twisting grass. In the Women's race, Eileen Lang ran boldly and hung on bravely to finish 4th overall and win a bronze W35 medal. Sue Ridley and Suzanne Carson contributed to an excellent team silver. Susan Finch was 5th W40; and Jane Waterhouse 5th W50.
Bobby Young (M60) moved through strongly mid-race to secure an individual bronze medal. Unfortunately, even very good team packing by Pete Cartwright (5th) and Brian Campbell (6th) led to a heartbreaking one point defeat by the inevitable English.
Hugh Gibson (M70) maintained his excellent record with a fine silver medal. He and his team-mates Tom O'Reilly (8th) and Willie Hamill (10th) clinched second place too. Keith Farquhar (M40), running smoothly and rhythmically, was first Scot in the 40-49 race, with Ian Williamson (from Shetland but a Cambuslang athlete) not far behind. Tom Anderson (M45 was next), followed by Gerry Gaffney (M45).
Doug Cowie (recently M50 silver medallist in the European Masters Half Marathon) was first Scot in his category. With Archie Jenkins, Campbell Joss and Jim White, the M50 team won silver.
Gentleman George Mitchell, tall, tanned, bearded and quietly determined was our first M55."
2004: Croydon, Lloyd Park. "After an arduous 400 miles bus journey from Glasgow, we reached the hotel in Croydon about 8:30, it was a relief to find that Ann Nally had volunteered to distribute numbers and provide assistance to the team. Saturday morning dawned cold and grey, but it didn't look too bad as Ann guided us through Croydon on a walk/jog to Lloyd Park. However, just as we reached the park we saw the odd flake of snow, and the weather went downhill from there.
The course consisted of 1 small loop, followed by a 3km loop that went out to the extremity of the park, so it wasn't good for spectating. M40-69 ran 2 full 4km laps, while the women and M70+ ran a figure of 8, before disappearing onto the large loop to make up 6km.
Ann Keenan-Buckley wasn't running this year, but fellow Irish International Niamh O'Sullivan proved an able successor. Mountain runner Sonia Armitage led the field up the first hill and round the starting loop, with Niamh in close attendance. BMAF and SAL W35 cross country champion Sue Ridley was not far behind, followed by W45 Tricia Affleck, W35 Janet Laing and SAL W40 cc champion Hazel Dean.
The M70s were led through by Brian Ashwell (Eng), but Walter McCaskey came through in 2nd followed by Bert McFall, with Tom O'Reilly and Hugh Gibson not far behind. We then had to wait while the field negotiated the muddy, undulating large loop.
Niamh O'Sullivan appeared with an 80m lead over Margaret Deasy (W40, Eng), closely followed by 1st W35 Sue Ridley. Hazel Dean was next Scot to finish 12th overall, followed by Sonia Armitage 14th and Tricia Affleck 22nd. Jacqui Thomson, who is actually W40, ran superbly for the W35 team to finish 23rd overall.
With good performances by all team members the women won silver medals for W50 (Jane Waterhouse, Hazel Bradley & Liz Bowers).
In the M70s, positions were reversed at the finish with Bert 2nd and Walter 3rd. Tom finished 7th, closely followed by Hugh Gibson, to win team silver just 1 pt behind England.
Sue Ridley wrote: "I seem to do the opposite of most people – instead of winning when going into a new age group, I wait until I'm about to move up! The W35 International victory in Croydon came off the back of winning the British Masters Cross-Country overall earlier in the year at Durham.
I remember Sonia Armitage taking the race out up the first hill and leading round the first small loop. The course was pretty muddy and undulating. The leading group were fairly close packed but after the large loop Niamh O'Sullivan (Ireland) proved the stronger and pulled away from Margaret Deasy (England) and myself who had managed to break clear of Claire Pauzers to clinch victory in the W35 age group as the first two were W40s."
The next race was for M55 – 69. Unfortunately, the M55 and M65 teams were not in medal contention, but Pete Cartwright (M60) kept close to the leading M60 England runners and managed to split them up to win bronze. Bobby Young, David Fairweather and Gibson Fleming followed in 5th, 7th and 9th places to win team silver.
George Mitchell again led the M55 team home in 9thplace, while Steve Cromar was 7th in the M65 race.
By the start of the M40 – 54 race the temperature was just above freezing, and the ground was badly churned up. Not many of us hung around to provide support, preferring to retreat to the changing rooms for a hot drink.
Brian Gardner ran the race of his life to win M45 gold and finish 5th overall. Tom Anderson and Ian Stewart were neck and neck throughout the race, with Tom just sprinting clear at the finish in 8th place. John Simpson ran a spirited debut international race to finish 15th and help secure team silver.
Steven McCloone was first Scot home in the M40 race in 15th place, and Andy McLinden, who flew down to Luton on Sat morning, was first Scot M50 in 8th place. Despite strong team support they weren't in contention for team medals.
Brian Gardner wrote: "The build up to the race couldn't have been better for me: I was winning cross country races outright and setting lifetime pbs on the road. I had planned and trained to the best of my ability and this was the most important race. Although I'd never finished higher than 12th overall before, I knew that if I concentrated and held my nerve, this could be my time. We were held up in the sleet at the start while the organisers found a 1st aider (!) It was difficult to keep warm but I made a cautious start and then threaded my way through the field. With about a mile to go, I knew I was the leading M45 and first Scot overall but England's Jon Cordingley was trying to get past me. I surged to hold him off several times until I sprinted clear in the home straight. Crossing that finish line was the proudest moment of my life. And it was only after finishing that I learned that I was 5th overall; I had no idea that I'd moved so far up. The support from team mates was heart warming. I had planned and trained for that win; and had finally run as well as I possibly could."
The Dinner and Presentation, at the HSBC Sports & Social Club in New Beckenham, was rather disappointing. There was a free bus service, but the bus was due to return to our hotel before the end of the dance. We were so tightly packed in the hall that the staff had difficulty serving the meal and, despite an effort to shorten the medal presentation, the dance was just starting as our bus was ready to depart.
The homeward bus journey took about 10 hours in spite of Jamie's sterling efforts. He took his life into his hands when he leapt out of the bus in Birmingham to move some cones, so that he could switch lanes and gain access to the toll road, thus avoiding a long delay on the M6."
2005: Dublin, Santry Demesne. Report by Davie Fairweather. In the Women's Race, first Scot home was Ann McPhail (12th overall and 5th W35), one second in front of Sue Ridley (6th W40).
Janette Stevenson won the W55 event by 32 seconds, leading her team (Hazel Bradley 7th and Phyllis Lemoncello 11th) to team silver. Fiona Matheson was 8th W40 and Sonia Armitage 4th W45.
The M55-M69 race was dominated by England's Mike Hager, but he was bravely chased by George Sim, who won the M55 silver medal.
Meanwhile Bobby Young was having the run of his life to win the M60 title by shaking off reluctant England runner Willie Allan, who is actually Scottish and used to run for Edinburgh University but lives in Tadcaster. Gibson Fleming was 7th M60 and Brian Campbell 12th. The M60 team only lost second place on countback.
Ian Leggett had a fine run to finish 3rd M65 (Steve Cromar was 9th). Walter McCaskey came through to secure M70 silver, leading his team (Tom O'Reilly 5th, Bert McFall 6th and Willie Hamill 8th) to second place medals.
The Scotland team for the M40-54 race was sadly depleted by injuries but Jack Brown finished 6th M40 and Andy Little 8th. Ian Stewart was first Scottish M45 in 10th; and Andy McLinden 9th M50.
2006: Falkirk, Callendar Park. The superb Janette Stevenson retained the W55 title, no less than one minute 25 seconds in front of second place in this age group! Her team (Hazel Bradley 5th, Kate Todd 7th) won silver medals.
First Scot home was Fiona Matheson (8th overall and second W45). Susan Finch (4th W40) was two seconds behind her. Fiona's W45 team (Sonia Armitage 5th and Pam McKay 11th) finished second. Janet Dunbar was 7th W35.
In the M40-64 race, Andy Little finished 8th M40, with Jack Brown 9th. Neil Thin ran very well to end up 4th M45. Brian Gardner was 6th M50 and Alastair Dunlop 9th.
George Mitchell (4th M60) led his team (Graham Smith 6th and Frank Yeoman 10th) to silver medals.
However, the Scottish male star was elegant George Sim who improved one place from the previous year to win the M55 title. Andy McLinden was 9th and Charlie Noble 10th. Ian Leggett was 8th M65. The M70 team (Walter McCaskey 5th, Les Nicol 6th and Alistair Shaw 8th) finished second behind England.
2007: Belfast, Stormont Estate. The course featured a narrow, muddy start, but then several laps of fine parkland, before a hill and a tricky, slippery finish. Bobby Quinn, a multi-Scottish champion, ran brilliantly to finish first in the 35-49 race and secure the M40 title. With support from Andy Little 6th, Roger Alsop and James Snodgrass, Robert's team won second team medals.
Second Scot home was Neil Thin, who had a fine run to win M45 individual silver, with Ross Arbuckle 9th.
In the M50-64 event, Ian Stewart raced very well to be second M50. His team [Brian Gardner 3rd, Alastair Dunlop 8th and Colin Miller) won silver.
The M55 Scots did even better by winning the team title [George Sim second (to Mike Hager of England), Andy McLinden third, plus Archie Jenkins 7th and Ewan Patterson 8th].
In the M60 age group, Scotland won team silver [Archie Duncan a splendid individual silver medal, and support from consistently strong George Mitchell (4th), Colin Youngson and Frank Yeoman].
It was second again for the M65 team (Pete Cartwright winning an excellent individual silver, with backing from Ian Leggett, Rab Daly and Steve Cromar).
The M70s matched that team result, due to Les Nicol 4th, Alistair Shaw 6th and Walter McCaskey 7th.
In the women's race, W45s Susan Finch (6th) and Sonia Armitage (7th) were the first Scots home. Clare Gemmell (10th W35), Julia Henderson (12th W35) and Michelle Heatherington (6th W40) were the next Scottish finishers. Jane Waterhouse (7th W50) and Hazel Bradley (5th W55) also ran well.
2008: Swansea, Singleton Park. The first race was 6km for W35 – W65 plus M65 and M70. England's Debby Walters W40 was 1st, followed by Ireland's Donna Mahon W35. Megan Wright (3rd W35) was first Scot 7th overall, finishing just in front of Ireland's Niamh O'Sullivan W45. Julia Henderson (10th W35), Sonia Armitage (5th W45) and Hazel Dean (7th W45) were the next Scottish finishers. Jane Waterhouse and Liz Bowers (4th & 5th W55) also ran well in their age-group, with Jane finishing 21 sec behind winner Zina Marchant. Hazel Bradley was 10th W55, which meant that the Scottish team won silver medals.
On a severely undulating, damp, lap course, Walter McCaskey was 7th M70 and Alistair Shaw 8th. Brian Campbell (6th M65) assisted by Bobby Young (7th), Pete Cartwright (8th) and Ian Leggett (9th), secured team silver.
Next race was 8km for M50 – M60. George Mitchell was 4th M60 and Archie Duncan 6th. George Sim (4th M55), Andy McLinden (6th), Ewan Patterson and Archie Jenkins finished second team. Brian Gardner finished 5th M50 and, with Iain Stewart (7th), Jeff Farquhar and Colin Miller, the team won silver.
By the final international race for M35 – M45 conditions were more sticky and slippery, which made the race more interesting. The best performance on the day by a Scottish man was certainly produced by Bobby Quinn, who was second M40 behind England's Tim Hartley. They both outpaced all the M35s. Lewis Lawson finished 9th M45.
2009: Birmingham, Perry Park. What would have been a flat, fast course was hit by a thunderstorm just before the start of the race, so that mud became a challenge, particularly on corners.
In the women's race, Sue Ridley (10th W40) was first Scot home; Sonia Armitage was 9th W45; Phyllis Hands 10th W50.
However, the finest Scottish performance was achieved by ultra-consistent Jane Waterhouse, who fought off three English rivals to win the W60 title. Jane wrote later that, athletically, it was her finest hour! Liz Bowers and Liz McGarry helped her to secure team silver as well.
Ian Leggett (4th M70), assisted by Les Nicol (6th) and Hugh Rankin (7th) made sure that the Scots finished second team. Davie Fairweather, Pete Cartwright and Bobby Young were 5th, 6th and 7th in the M65 contest, to win silver as well. George Mitchell was 5th M60; Andy McLinden 4th M55, with Doug Cowie 7th; and Jeff Farquhar ran especially well to win individual M50 silver, with Ian Stewart 8th.
In the M35-49 race, first Scot was Neil Wilkinson (8th M40). Iain Campbell finished 7th M45.
2010: Dublin, Santry Demesne. On a deceptively tough, increasingly muddy lap course near the Billy Morton Stadium, Melissa Whyte was the Scottish star, with 3rd overall in the women's race and 1st W45.
Sue Ridley ran well to be 5th in that age group. The ultra-consistent Jane Waterhouse was 4th W55, with Liz Bowers 9th. Hazel Bradley ran her usual good race for 5th W60, with Kate Todd 7th. Steve Wylie did very well to finish 5th M35.
Dave Gardiner excelled with 4th M40. Iain Campbell was 6th M50; Alastair Dunlop 8th M55; Robert Marshall 6th M60; Davie Fairweather 9th M65; and Walter McCaskey 7th M70.
2011: Glasgow, Bellahouston Park. Report by Davie Fairweather. The race was two weeks later than usual, on 26th November. The weather forecast was poor, but we didn't get snow and ice, just rain and gales, which made the course very heavy, slippery and treacherous. Nevertheless the Scottish teams had some good results.
In the 6 km race for Women and Men aged 65 upwards, there was a tremendous battle between Lesley Chisholm W35, Melissa Whyte W45 and Fiona Matheson W50, who eventually finished 3rd, 4th and 5th overall respectively. Lesley was second W35 but Melissa Whyte and Fiona Matheson both won age-group titles.
The W35 team (including Dianne Lauder 4th, Julia Henderson 7th and Paula Wilson) finished second, as did the W45 outfit (Sue Ridley 5th, Kirsty Husband 8th and Hilary McGrath 8th). Sheila Gollan was 6th W40; Jane Waterhouse 5th W55, with Erica Christie 9th and Phillis Hands 10th; and Kate Todd was 7th W60, with Beth McLafferty 10th. Betty Gilchrist (W65) ran extremely well to secure individual silver.
Totally reliable George Mitchell finished third M65, and with backing from Stewart McCrae (8th), Pete Cartwright and Davie Fairweather, his team was second.
Ian Leggett 6th, Watson Jones 8th and Walter McCaskey 11th did well in the M70 age group.
In the M35-64 race, the M35 team (Jamie Reid an excellent 2nd, David Millar 4th, Robert Gilroy 7th and Joe McKnight 17th) finished second. Stuart Kerr was 7th M40; and Neil Thin won M50 individual bronze, with Iain Campbell 6th. The M55 team packed well (Brian Gardner 3rd, Paul Thompson 5th, Alastair Dunlop 6th and Alex Chisholm 8th) to make sure of silver medals. Andy McLinden ran very well to finish 2nd M60.
2012: Belfast, Queen's University Playing Fields. Fiona Matheson gave a first class performance to retain her W50 title. Sue Ridley ran well, as usual, to achieve W45 individual bronze, as did Liz Bowers (W60). Joasia Zakrzewski was 7th W35; Jacqui Thomson 6th W45; Pamela McCrossan 8th W50; and Hazel Bradley 8th W60.
Pete Cartwright excelled again to win M70 bronze. George Mitchell produced another fine run to win M65 bronze, and led his team [Colin Youngson (7th), Stewart McCrae and Hamish Cameron] to silver medals.
In Race Two, Ian Stewart (M55) and Andy McLinden (M60) both secured individual silver. Neil Thin (M50), Brian Gardner (M55) and Tony Martin (M60) all finished fifth in their categories. The M55 squad (Stewart, Gardner, Gerry Gaffney and Alastair Dunlop) was second.
In Race Three, Kerry-Liam Wilson (M40) and Charlie Thomson both tried extremely hard and achieved 5th places in their age groups.
After the races but before the banquet, for some Scots there was a particularly memorable hour, celebrating in the nearby heritage pub The Barton Arms, which was actually hosting a real ale festival at that time. Forres Harriers trio Paul Rogan, Doug Cowie and Colin Youngson, plus Archie Jenkins and (kind abstemious driver) Lynne Marr drank fast. Only one of them consumed slightly more strong ale than was entirely sensible! 2013:
Cardiff, Bute Park. The course was flat as a pancake, dry and firm; and the weather calm and quite mild. The amazing Fiona Matheson was first Scot in the women's race and won the W50 title, for the third year in a row, in emphatic style, as well as leading her team [Hilary McGrath (5th), Beryl Junnier and Pamela McCrossan] to silver medals. A few seconds behind Fiona, Lesley Chisholm ran well to finish 5th W35.
Jane Waterhouse excelled to win W60 individual silver, and led her team (Liz Bowers, Hazel Bradley and Linden Nicholson) to second place.
Robert Marshall was fourth M65; and Bobby Young also ran well to win individual bronze (M70). Stan Mackenzie (5th M50) was first Scot in the M50-64 race; and Paul Thompson won a fine individual bronze medal (M55).
In the 35-49 event, Kerry-Liam Wilson had a good run to be first Scot and 3rd M40.
2014: Nottingham, Wollaton Park. "We assembled in good time on the steps of Wollaton Hall for the photoshoot. Once again we were blessed with good weather: it was very mild, calm, and almost remained dry. The course was more testing than last year, but was ideal for runners and spectators.
In Race One, Megan Wright and Fiona Matheson came up the hill on the first of three laps in good positions, closely followed by Hilary McGrath and Beryl Junnier. Martin McEvilly ROI & Martin Ford ENG were also well up the field. Fiona was being challenged by Clare Elms ENG as the race progressed, and (2nd W50) was just pipped on the line. She was closely followed by Melissa Wylie, who had moved up to 4th W45 and Megan 7th W40. Hilary McGrath (5) and Beryl Junnier (9) helped Fiona to win W50 team silver medals.
Meanwhile Isobel Burnett finished 8th W55. Jane Waterhouse was 5th W60, and with support from Liz Bowers (6) and Hazel Bradley (9) won another team silver. Then Betty Gilchrist (1st W70) came through with a commanding lead of 1:37 over Brigid Quinn NI, and in front of all 3 Scottish W65 runners.
Alex Sutherland (6) was the first M65 Scot to finish. Bobby Young improved one place on last year to win M70 silver. Pete Cartwright 5th M70 and Gibson Fleming (11) ensured that their team won silver medals. Les Nicol was 3rd M75, and led 80 years young Walter McCaskey (6), and Bill Murray (13) to team bronze medals.
In Race Two, Stan MacKenzie finished 8th M50. Paul Thompson and Colin Feechan worked well together to end up 5th and 6th M55.
Frank Hurley and Andy McLinden ran very well to secure individual silver and bronze M60 medals.Tony Martin (8) and Doug Cowie ensured M60 team gold for Scotland.
In Race Three, Robert Gilroy had a cracking run, finishing 2nd M35.
Overall, Scotland won one gold, four silver, and two bronze individual medals; and one gold, three silver and five bronze team medals, our best result since 2011.
2015: Dublin, Santry Demesne. The race was held on almost the same course as previously, but some minor changes were made because of the water-logged conditions. However. the team did a lot better than 5 years ago, finishing 3rd Women's team, 3rd Men's team and 3rd overall out of the 5 competing countries; and won 4 silver and 8 bronze team medals. There were 4 individual silver medallists & 1 bronze medallist, but unfortunately no gold medals.
In Race One, Joasia Zakrzewski finished 3rd W35, behind Anne-Marie McGlynn & Natasha Adams IRL, followed 32sec later by 2nd W50 Fiona Matheson, who was once again pipped in the finishing straight by Claire Elms ENG. With help from Beryl Junnier , Pamela McCrossan and Rhona Anderson, the W50 team won silver medals. Sharon Muir and Alison Dargie were 7th and 8th W40.
Betty Gilchrist again finished clear of Brigid Quinn, but was pushed into 2nd place by new W70 Dot Fellows ENG. Isobel Burnett 6th W55, Jane Kerridge 5th W60, Hazel Bradley 4th W65 and Anne Docherty 6th W70 all deserve special mention.
Alex Sutherland was first Scots male, finishing 7th M65, 2 sec ahead of 1st M70 Peter Giles ENG. Bob Young and Stewart McCrae finished 5th and 6th M70, and Pete Cartwright made sure that the team was second.
George Black put in a brave run, with the aid of permitted painkillers, to finish 2nd M75 just 4 sec behind Peter Covey ENG and 1min ahead of 6th placed Watson Jones. 81 year old Walter McCaskey was 8th M75, 2 min behind Watson, ensuring that the M75 plus team won silver.
In Race Two, Neil Thin ran extremely well to finish 2nd M55, 23sec behind Tommy Payne IRL. Colin Feechan was 5th M55. Robert McLennan and Paul Thompson also contributed to team silver. Andy McLinden and Alastair Dunlop were 7th and 8th M60.
In Race 3 Martin Williams 7th M35 was first Scots finisher, followed by 7th M40, Kenny Campbell. Kerry-Liam Wilson was 7th M45.
David Fairweather, Men's Team Manager for a very long time, who has written so many reports on the British and Irish International, decided to step down from the post. Alastair Macfarlane declared that it would take more than one man to fill Davie's shoes – and indeed two men will share the job in 2016.
Davie wrote: "I want to pass on the responsibility of being Team Manager to younger members. Although it has been a fantastic 23 years, and I've made so many friends, I have found the last 2 events particularly stressful, with the increased number of competitors, and I'm also feeling the effects of the advancing years!"
WHAT DID THE RRC EVER DO FOR SCOTS?
(Encouraged by former ultra-distance man Geoff Stott's recent contribution, I decided to submit an article to 'Roadrunner', the magazine of the Road Runners Club. This was published in Spring 2016. Ed.)
Long ago, while at Aberdeen University, I first became aware of the RRC when I took part in one of Scotland's most famous road races: The Tom Scott Memorial Ten Miles, from Law to Motherwell. The distance may well have been accurate, but the first mile was steeply downhill, and Scotland's best runners often participated, so times were always fast. In 1968, at the age of 20, I finished 24th in 53.22 and discovered that this was only just outside the "1st Class Standard" of 53 minutes.
Older Aberdeen AAC runners, like Alastair Wood and Donald Ritchie, who both went on to win the London to Brighton in very fast times, and who also tended to 'murder' me on long Sunday runs, talked about the RRC; and I must have joined not long thereafter. My membership number is 3882 and, since then, I have continued to pay my subscription every year. I did so, motivated by the RRC Standards Scheme (and of course the excellent magazine). Yes, there were not many races in Scotland that were recognised, but to gain a First Class Certificate, by achieving this standard at three different distances in a single year, was definitely possible, if I continued to train hard and mature into a decent senior athlete.
Road was definitely my best surface during peak years, since I lacked the gymnastic and mud-skipping skills to succeed in cross-country and did not have enough middle distance speed to excel.
In 1969, although the Tom Scott results sheet showed me scraping under 1st Class Standard with 52.44, my race certificate stated only 2nd Class! Unfinished business, then. Later that year, aged 21, I ran my first marathon – Inverness to Forres – in 2.41.13, so maybe I had potential at longer distances.
Eventually, in 1972, representing Victoria Park AAC in Glasgow, since I had started work there as a teacher of English, but also Aberdeen AAC second claim, I obtained a treasured RRC First Class Certificate: second in the Scottish Track Ten Miles in 50.15; the Morpeth to Newcastle 13 and a half in 1.09.11; and third in the Scottish Marathon in 2.26.45 (after striking a very large 'wall' about 23!) Alastair Wood, who I had kept up with for 16 miles, easily won his sixth title, fully five minutes in front.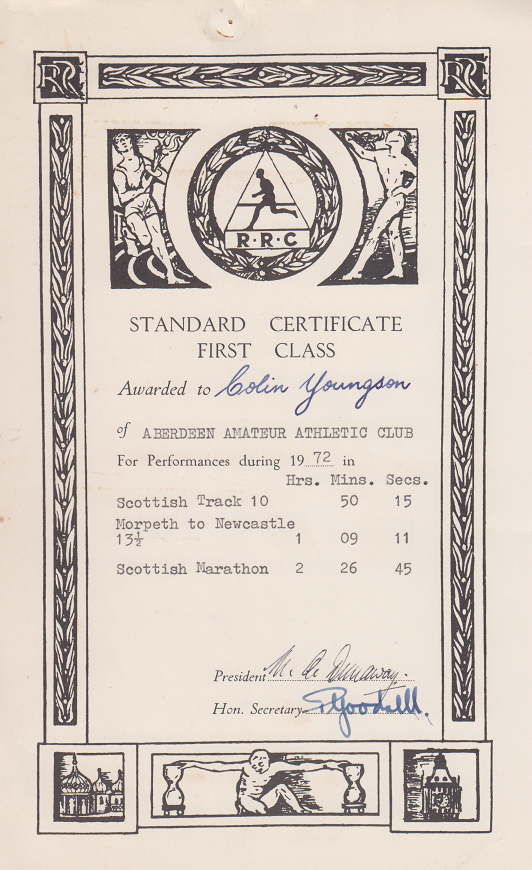 Earlier in 1972 I had taken part in Aberdeen AAC's attempt to break the record for the ten-man John o'Groats to Land's End Relay. We failed by half an hour; but succeeded a year later by running one hour faster. It was educational to plumb new depths of exhaustion while continuing to do my best; but truly inspiring to watch in action amazing team-mates like our charismatic but sarcastic guru Alastair Wood, Steve Taylor, Sandy Keith, Rob Heron and Joe Clare. Some very good marathon and ultra runners there!
In 1982 we took another hour and three quarters off this mark, with stars like Graham Laing and Fraser Clyne, as well as the almost indefatigable Wood and legendary Ritchie. 850 miles in 77 hours 24 minutes and 8 seconds.
My own best ever run was my first Scottish Marathon win in 1975, when a new Championship record was set: 2.16.50, with Sandy Keith a minute behind. Max Coleby (Gateshead Harriers) and I (Edinburgh Southern Harriers) represented GB in the Berchem International Marathon in Antwerp that autumn, and won the team race, beating Eire and all the continentals.
In the Two Bridges 36, I was three minutes behind the great Cavin Woodward at ten miles, but had clawed back a few seconds by the finish, securing second place in 3.29.44 – this was my first venture beyond the marathon.
Although I managed to break 2.20 another eight times over the next ten years, and ran quite frequently for Scotland, mainly in Home Countries Marathon Internationals (my team even beat the other three plus Eire in Glasgow 1983) I seldom dared to attempt an ultra. Yes, I paid close attention to RRC Standard Times at other distances (especially after reaching veteran status and then continuing through the age-groups), but sadly never took part in RRC Championships, despite racing more than fifty marathons all over Europe, including the Marathon to Athens, plus Boston, USA.
One exception was in October 1980, when I finally summoned up the nerve to attempt the most famous RRC race of them all: the London to Brighton Road Race (that year, a daunting 54 and a quarter miles in length). On the Westminster Bridge start-line, I introduced myself to Gloucester AAC's future 24 hour world record breaker Dave Dowdle, and ran with him and his team-mate Ken Leyshon at a sensible speed for a very long time. At 40 miles, having missed a drinks station (where I was looking forward to a glucose-based potion plus a plastic bag of dates!) I began to hit the proverbial, but soldiered on, better up Dale Hill than down, due to knackered quads.
I had been warned that 'Welcome to Brighton' meant six miles to go! Eventually I plodded over the finish line, my legs wobbled and I had to be helped into the famous Baths, which had individual cubicles. The water there proved to be not far off boiling – scream!
However, the heat helped tired muscles and sipping cool water started recovery. The afternoon was spent eating ice cream, drinking coke and chatting to other survivors. Former European and Commonwealth Marathon Champion Ian Thompson had smashed the average time per mile record, and was 37 minutes faster than my 7th place in 5.52.04, but even that was 35 minutes inside First Class. My award was the smallest medal ever but, for me, one of the most important. At last I could claim to be a true RRC member.
In 1984 I was a struggling third, a very long way behind my old friend Don Ritchie in the 50 miles Edinburgh to Glasgow solo road race, which went from Meadowbank Stadium, Edinburgh, to George Square, Glasgow. Donald and I (Aberdeen AAC) won the team prize. That was almost the end of ultras for me, although I had finished fourth in the 1980 Two Bridges, and went on to win the 1986 28 Mile Lairig Ghru Race and perform reasonably well in a couple of Speyside Way 50km races in the mid 1990s.
After I hit 50, due to weaker legs which could no longer pound out adequate mileage, marathons gave me up (although I did win one British Veterans M45 title at the 1993 Flying Fox event in Stone, Staffs.); and since then my better age-group efforts have been in the annual British and Irish Masters International XC or on the track.
Nowadays, daily jogging seems almost enough, in the pleasant wooded environment of Forres, Moray. However, it is pleasant to look back on distant memories of good competitive road-racing, when I met world-class athletes as well as enjoying the friendliness of so many fellow runners.
Credit must be given for the initial impetus provided by that motivating organisation, the Road Runners Club.
By Colin Youngson
The Arduous Joy of Racing
By Roger Robinson
(A valediction for "Running Times," the American magazine which so richly served performance-seeking runners of all levels and ages. Many thanks to the author, one of the very finest athletics journalists, for permission to reprint this article.)
It's magic—that moment in a race when suddenly, unexpectedly, you think you might beat the rival who has broken away from you. It was almost two miles into the 8K race when Rob caught an unexpected glimpse of Joel's red shirt, bobbing among the crowd of runners ahead. There he is! It's him! Is he coming back? Am I closing? Maybe, maybe! Yes! There he is again! Rob was suddenly refocused.
From the gun, Joel had powered confidently away, soon out of sight in the surging river of runners. Rob, his pace stretched close to the edge, had given away hope of the age-group win. That was as expected. Joel was a minute faster on recent times. But suddenly, unexpectedly, the race was on again. Rob checked the gap. He's closer! About 18 seconds. Must have gone out too fast, and he's paying for it. There's a chance. Don't blow it. Catch him slowly. Slowly! Yes, good, down to 15 seconds. Get it right. Twelve seconds. Now he's within range. Get with him and wait.
Between two and three miles Rob angled across through the moving crowd to take up position a step behind Joel. The pace seemed a shade slower. Following is always easier. Wait! Wait! This is good! Get it right! Wait till he's at his lowest! Between three and four is the place to break him. When you wait like that, there's a build-up of potential energy. You're near full stretch but the battery is recharging. At every stride the mind is assessing how you feel and how he looks.
At three miles Rob began to sense the moment. He moved alongside. Later Joel said, "You looked so smooth, and I was leaking oil." It wasn't quite time to attack, but to share, to test, to put just a little pressure on—getting ready. Rob wanted a good break by four miles. The course's last half-mile is downhill, so with his restricted downhill speed he needed a gap before that point.
After three minutes side by side, with the four-mile marker due soon, it was time. Rob surged—not too hard, not tilting over into oxygen debt, but enough to change the rhythm. He got the break, worked hard after four to keep it, and held it down the hill to the river. The finish-line felt like a triumph.
Rob is me. Joel is Joe Philpott, top senior age-group runner in Virginia. The race was the HCA Virginia 8K, part of the excellent Richmond Marathon festival on November 14, 2015. Joe and I are aged 72 and 76.
For the race narrative above, I changed our names and concealed our ages, otherwise no reader under 50 would have got past the first sentence, or believed that such doddering old antiques could possibly have a race worth taking seriously. But it is so. Believe me. It's been more than 25 years since I experienced a race as totally absorbing and ultimately successful as that one.
That race demanded the same hard and carefully structured hours of training, the same intense commitment—mental as well as physical—and the same sequence of precise tactical decisions, as when I was racing 29 minutes for 10K, 50 years ago. In age group terms Joe and I ran well, national class: 36:01 for me, 36:28 for Joe.
But this, my last "Roger on Running" column for Running Times, is not about age. It is dedicated to the thing that has distinguished Running Times, and made it so true to running as it evolved from 1977 to 2015—the recognition that competition, runner-to-runner contest, aspiration, totally committed personal effort, are still of the essence, even in the ascendance of the "complete, not compete" mass fun-run culture.
"Why don't you just have fun?" friends sometimes ask me. But I do have fun, I say, nothing is more fun for me than the drama and challenge of a hard tactical race. I love it, win or lose. It's like a great novel or play, but you're one of the characters, you're in the midst of the action, and you don't know how it's going to end. Are you the hero or a minor face in the crowd? Only the race will tell. Nothing is more fun than that, or the months of hard structured training with a friend or team-mates, all focused on improvement.
Thirty years ago, in Heroes and Sparrows, my first running book, I described my famously rigorous interval training as "purposeful fun." That was the truth. Bliss was it in that dawn to be alive. Young, rambunctious, and intently focused, we jested and mocked our way through miles of unremitting effort.
I'm uncomfortable with the insistence that unpurposeful "fun" is the be-all and end-all of human choice about how to use our disposable time. I enjoy my cakes and ale as much as anyone, but I grew up in the aftermath of a devastating war, on a literature that values the deep rewards of duty, moral honesty, and strenuous personal effort to make the most of your talents. For the ancient Greeks—not a bad cultural role model—it was through competition that humanity could best fulfill our potential and approach nearest to the gods. Racing to your best was a religious commitment. Their word for competition was "agon", from which we take "agony," our word for extreme pain, and also our word for active participation, as "protagonists." Not just being there, but contesting, striving to achieve your best possible.
The athletes lived and trained before the Games in sacred sanctuaries. "The sanctuaries' spiritual task was to teach that it was only through the contest, the sporting competition, that humanity could succeed in becoming free from the 'bestial life,' in awakening and developing the inexhaustible mental and physical powers with which nature has endowed us…The Games laid the foundation for the ideal of noble rivalry." (Nicolaos Yalouris, The Eternal Olympics, 1976) "Noble rivalry" gets it well.
Nothing forges a friendship better than a hard race, or a hard training session, because you feel such total respect for someone who has pushed to her or his limits and made you push to yours. I'd never met Joe Philpott before, but quickly found he is a substantial, engaging, and literate man. And a terrific runner and competitor. He reports that he went right back to the drawing board, revised the intervals component in his training, analyzed his over-ambitious first mile, and he will no doubt be after my guts next time we met.
He's not the only one. Harry Carter, 79, whom I beat in Boston in June, told me later through Facebook, "I'm working on recovering my marathon qualifying time and so far am staying healthy." Then there's Bill Mayle, Ron Maston, Roland Comrie, and others.
This year was my best racing year for three decades. But next year, for me, begins to look like the Gunfight at OK Corral. We love it, creaky old pensioners though we are. The harder, the better. Don't tell us we're not having fun. There's nothing elitist or exclusive about this. It's true in every age group. We don't interfere with all the non-competitive runners who are there for their own kind of fun. Our sport is huge, and generously inclusive.
I do smile, however, at all those—pretty much every runner on the planet—who claim to be running "only to finish," yet go into ecstasies when they hear they got a personal record. No one is immune to the pleasure of improvement ("developing their mental and physical powers," as the Greeks put it). The heroes and the sparrows, I wrote 30 years ago, truly are equal.
But at this sad moment in running's history, with the demise of the magazine that so richly served racing runners of all levels and ages, it's appropriate to take a last opportunity to celebrate pure racing—and its "arduous joy." It's admirable, and of great benefit to society, that so many runners join our sport because they want to take charge of their health, lose weight, eat well, claim private time, transform their lives, raise money for a good cause, be part of a community, and many other excellent reasons.
I am putting a word in here for another group, those of us who may share those motives, but more than anything simply love to race. We love the process, the way of the competitive runner's life, the sharpness of mind and emotional joy it gives us, and the welcoming community of fellow racing runners it admits us to.
"Life has no happiness as pure, or as fully deserved, as winning the race by your own speed and strength, achieving it through determined preparation and focused courage on the day." That's the Greek poet Pindar, about 2,490 years ago. We may lose our magazine but we won't lose the happiness of competition.
The Scottish Master Marathoner Award
Introduction We know that many Masters athletes commit huge amounts of time, talent and commitment to training for their competitive programme each year and that the recognition afforded to them is less than might be seen in some other sports. The Scottish Veteran Harriers Club (SVHC) is now going to do something about that for the segment of our membership for whom running a good marathon is a particular target.
The Award
Will be presented annually to the best age-graded performance (using WMA Tables) recognised by the SVHC Committee in a Scottish Athletics permitted marathon run in Scotland by a member of SVHC over the age of 35.
For the purposes of this Award the year will be 1st October to 30th September.
To be considered for the Award athletes will require to have been in fully paid membership of the SVHC on the date of competition.
Winners of the Award will receive a commemorative medal and a cash prize of 100 guineas (£105) and have their race success featured in the Club magazine.
While the Committee of the SVHC will keep a watching brief on race results it will also be in the gift of individual athletes to bring their performance to the notice of the Club's handicapper for ratification.
The decision of the SVHC Committee in deciding on the Award will be final.
While the SVHC will underwrite the Award for at least 20 years, this will not preclude us seeking sponsorship for it to support Masters Athletics in Scotland.
Background The genesis of the Award came from discussions following a £2,000 legacy left to the Club in 2015 by Bob Donald, late Honorary Life President. Bob was a keen marathoner and long-time supporter of Masters Athletics and the SVHC felt it fitting to recognise one outstanding performance annually in an event which is sometimes focused on big city marathons to the detriment of other races.
Andy Law
WORLD RECORD FOR FIONA
Fiona Matheson (Falkirk Victoria Harriers and SVHC) produced yet another marvellous performance in the Great Scottish Run 10k on the 2nd of October. Ken Young of the Association of Road Running Statisticians, which is the leading authority on the sport (do check their marvellous website arrs.net) has confirmed that Fiona's time (adjusted to 36.16 since her 36.14 was a net time for joggers!) set a new W55 World Record, taking two seconds off the German athlete Silke Schmidt's previous mark set in Utrecht, Netherlands in 2015.
(Many congratulations to Fiona, a truly great Masters athlete. Ed.)
KERRY-LIAM WINS THE TOP SCOTTISH MASTERS AWARD
Kerry-Liam Wilson was the deserved winner of the Scottish Masters Athlete of the Year Award, at the Scottish Athletics Awards Ceremony on 29th October, for his multi success on road, country and track at Scottish, UK and European level.
On the road he won Scottish M40 gold at 5K, 10 miles and at the half marathon, UK gold at 5K and European M45 silver in the half marathon. He also secured M45 gold in the Scottish 3K indoors along with Scottish and UK M45 5K gold medals as well as setting M45 age group bests for 5 and 10K. Kerry-Liam further demonstrated his versatility by winning the Scottish M45 Cross Country title. In addition, he was a vital team member in helping Cambuslang win all of last season's M40 Scottish team titles on road and country and to achieve UK team silver in the UK O35 6 man road relay championships in Birmingham. (from the Cambuslang Harriers website)
(We would all wish to add our congratulation to Kerry-Liam on this achievement, which is thoroughly deserved for his fantastic dedication, hard but thoughtful training and racing consistency. May his success continue for many years! Ed.)
WORLD MASTERS ATHLETICS CHAMPIONSHIPS, PERTH, AUSTRALIA
There was a medal rush from the Scots in the final day of the Championships in Perth with the stars of the show being Gold Medallists Claire Thompson (Victoria Park Glasgow) and Paul Thompson (Cambuslang).
Claire, following her PB in yesterdays "warm-up" 1500m, claimed her first World Title, winning the W40 2,000m Steeplechase with a time of 7mins 25.49secs to beat the top Australians by a massive 24secs. Perth proved to be an excellent hunting ground for Claire, leaving with a Gold and Silver medal.
Paul added the title of M60 World Half Marathon Champion to the 5,000m which he won earlier in the week. He also led his team to Gold medals in the team race, taking his tally of medals to four for the championships. Paul finished the half with a time of 83 mins 00secs.
Moving back to the track, Julie Wilson (Inverness), running in her first chase over the distance, also picked up her first World medal, running a very courageous race in the W45 2,000m Steeplechase, finishing 3rd with a time of 8mins 10.23secs.
Summary of Medallists Gold – Paul Thompson M60 5000m Gold – Paul Thompson M60 Half Marathon Gold – Paul Thompson M60 Half Marathon Team Gold – Claire Thompson W40 2,000m Steeplechase Gold – Sue Ridley W50 Cross Country Team Gold – Alex Sutherland M65 Cross Country Team Gold – Janette Stevenson W65 Cross Country Team Gold – Jan Fellowes
W60 Half Marathon Team Silver – Janette Stevenson W65 Cross Country Individual Silver – Janette Stevenson W65 4x400m Relay Silver – Ian Williams M35 Cross Country Team Silver – Colin Feechan M55 Cross Country Team Silver – Colin Feechan M55 Half Marathon Team Silver – Claire Thompson W35
Cross Country Team Bronze – Jane Scott W35 100m Hurdles Bronze – Janette Stevenson W65 5,000m Bronze – Julie Wilson W45 2,000m Steeplechase Bronze – Paul Thompson M60 Cross Country Team Bronze – Caroline Lawless W55 Cross Country Team Bronze – Jan Fellowes W60 Cross Country Team Bronze – Bob Douglas M60 4x400m Relay Bronze – Debbie Savage W40 Marathon Team Bronze – Michael Craig M50 Half Marathon Team Bronze – Mark Simpson M45 Half Marathon Team Bronze – Ian Williams M40 Half Marathon Team
British & Irish Masters Cross Country International Sat 12th November 2016, Tollcross Park, Glasgow
This year the race returned to Scotland, and the Committee decided in 2014 that they would use the same course at Tollcross Park that had been successfully used for the BMAF Cross Country championship. It was all go from then for John Bell, Campbell Joss, Andy Law, Alastair Macfarlane, Ada Stewart and other helpers, to get the race organized for 2016.
The Committee decided to hold a Selection Race on the course in September, with the first 2 finishers in each age-group gaining automatic selection for the International team. This race was very successful, and provided a good opportunity to get the feel of the course. Another innovation was a team get-together in October, with another chance to train on the course, and an opportunity to obtain numbers, vests and function tickets
England's population advantage always makes them favourites in most races at this event but in certain age groups, with five-year brackets, Ireland and Scotland also secured team golds.
Three Scottish women's teams took gold medals with the W35s setting the tone thanks to Gillian Palmer (2), Michelle Sandison (3) and Dianne Lauder (4). Dianne is actually W40 but was an invaluable addition to the W35 team.
The other winning women's teams were at W65 via Ann White (2), Jeanette Craig (3) and Hazel Bradley (6) as well as the trio at W70 of Elizabeth Gilchrist (4), Liz Corbett (5) and Anne Docherty (6).
By an impressively clear margin, Fiona Matheson took individual gold in the W55 category (18th overall); and Lesley Chisholm bronze in the W40 (9th overall).
The competition was intense in the men's age brackets as Robert Gilroy took a hard-earned bronze at M40 and Neil Thin likewise at M55.
Andy McLinden was a silver medallist at M65 while there was a bronze for Stewart McCrae at M70 and a silver for George Black at M75.
With a number of the Scotland teams picking up silvers and bronzes, the overall competition ended in a win for England, with Ireland second and the hosts in third – ahead of visitors Wales and Northern Ireland.
Race 1: 6km for Women and M65+
W35: 1 SCOTLAND Gillian Palmer 2, 20:29, Michelle Sandison 3, 20:53, Dianne Lauder 4, 20:57, Katie White 7, 21:09.
W40: 2 SCOTLAND Lesley Chisholm 3, 21:02, Joasia Zakrzewski 6, 21:30, Sharon Muir 8, 21:50, Jennifer MacLean 10, 21:52.
W45: 3 SCOTLAND Karen Kennedy 5, 22:11, Fiona Dalgleish 9, 22:21, Jennifer Forbes 12, 22:38, Lindsey Currie 14, 23:32.
W50: 2 SCOTLAND Hilary McGrath 4, 22:30, Susan Ridley 8, 23:11, Mary Western 11, 23:39, Rhona Anderson 16, 24:30.
W55: 2 SCOTLAND Fiona Matheson 1, 21:24, Pamela McCrossan 5, 23:57, Isobel Burnett 7, 24:14, Lorna Coyle 12, 26:02.
W60: 3 SCOTLAND Jane Kerridge 7, 25:30, Innes Bracegirdle 8, 25:40, Margaret Martin 11, 26:11, Linden Nicholson 16, 27:17.
W65: 1 SCOTLAND Ann White 2, 24:23, Jeanette Craig 3, 25:41, Hazel Bradley 6, 26:27, Beth McLafferty 9, 28:42.
W70: 1 SCOTLAND Betty Gilchrist 4, 30:07, Liz Corbett 5, 30:11, Anne Docherty 6, 30:15.
M65: 3 SCOTLAND Andy McLinden 2, 22:00, George Sim 9, 23:21, Alex Sutherland 10, 23:43, Robert Marshall 16, 25:12.
M70: 3 SCOTLAND Stewart McCrae 3, 24:25, Bob Young 6, 24:38, Pete Cartwright 13, 26:40, David Fairweather 17, 28:36.
M75: 2 SCOTLAND George Black 2, 26:47, Watson Jones 8, 28:51, Walter McCaskey 10, 30:04, Jim Scobie 12, 33:42.
Race 2: 8km for M50 – M60.
M50: 5 SCOTLAND Stan Mackenzie 15, 27:08, Jim Buchanan 17, 27:31, Alan Derrick 18, 27:44, Denis Williams 25, 28:25, Steve Worsley 28, 29:14, Robert McCulloch 30, 30:18.
M55: 3 SCOTLAND Neil Thin 3, 26:31, James Gallacher 9, 27:55, Dave Thom 14, 28:32, Jeff Farquhar 19, 29:48.
M60: 2 SCOTLAND Frank Hurley 4, 28:35, Paul Thompson 6, 28:42, Alastair Dunlop 8, 28:59, Frankie Barton 15, 29:53.
Race 3: 8km for M35 – M45:
M35: 3 SCOTLAND Iain Reid 8, 24:58, Grant Baillie 11, 25:09, Chris Devine 14, 25:27, Colin Thomas 17, 25:48, David Henderson 19, 25:53, Richard Mair 20, 25:59. M40: 3 SCOTLAND Robert Gilroy 3, 24:39, Jamie Reid 7, 25:33, Chris Walsh 13, 26:09, Graeme Paterson 17, 26:25, Justin Carter 20, 26:43, Stephen Allan 24, 27:18. M45: 4 SCOTLAND, Graham McCabe 13, 26:40, Ian Johnston 14, 26:41, Gareth Jenkins 16, 26:46, Paul Monaghan 21, 26:54, Russell Whittington 22, 27:04, Roger Clark 25, 28:03.
Next year's race is Sat 18th November 2017 at Derry, Northern Ireland. David Fairweather
Reflections on Tollcross
It was a mixture of relief and satisfaction when the dinner and disco concluded early on Sunday morning after all the action at the park. The event was 2 years in the making and the core team of organisers finally saw all their efforts culminate in a very successful weekend according to all the post-race feedback. This was only made possible by a large group of volunteers to whom grateful thanks are due.
In September a trial was held over the course and many runners thought this was a good innovation. Not only did it help the selectors but it seemed to engender a healthy team spirit for the actual event. It may become a regular fixture.
Looking at the results featured elsewhere it may also have assisted in improving our overall tally of medals. Congratulations to all the medal winners.
Scotland finished in joint second place overall with Ireland which I believe is better than most recent years.
Many favourable comments were received about the course layout. The function at the Crowne Plaza seemed to be a resounding success. The video footage of the races during the meal was very popular and was followed by all the prize winners being featured on the big screen. Lachie Stewart was our special guest and presented the medals with genuine enthusiasm. It was a great privilege to share a meal and memories of his wonderful running career.
Next year it is on to Derry and judging by the slick presentation by the very enthusiastic lady from Northern Ireland it should be a popular venue.
Campbell Joss, SVHC President
SCOTTISH VETERAN HARRIERS RUN and BECOME RACE SERIES 2015/2016
After 16 races spread over 11 months the Jackie Gourlay Trophy for the winner of the Men's event goes this year to Colin Feechan with 70.4 points, followed by Bobby Young 2nd on 69.0 and Connell Drummond 3rd, 64.7. Stuart Waugh & Robert Rogerson made up the top five, covered by 7.3 points.
The Dale Greig Trophy for the winner of the Women's event goes to Pamela McCrossan 68.8 points, followed by Phyllis Hands with 64.1, and Marina McCallum 53.7. Shirley MacNab & Lesley Chisholm made up the top five, covered by 34.8 points.
The best performances over the series came from Colin Feechan and Bobby Young with 9.0 points at the Xmas Handicap.
For those who are new to this competition, each runner's best 8 performances from 16 selected races are involved, with age grading utilised to allocate points won. For those who complete more than the required 8 races an additional 1 point is awarded. Over £600 worth of prizes are available along with trophies and competition is always keen. Check the SVHC website for regular updates.
The draft list for 2016/17 is –
17/10/16 SVHC 10K Track Champs Coatbridge
??/05/17 SVHC Walter Ross 10K Road Race Cartha
30/10/16 Ruby's Race 5K Kilmarnock
??/05/17 Bathgate Hill Race Bathgate
11/12/16 SVHC 5 mile Xmas Handicap Clydebank
07/06/17 Corstorphine 5 miles Road Race Edinburgh
25/02/17 SAL Cross Country Champs Falkirk
tbc SAL Masters Track & Field 3km/5km
??//03/17 Lasswade 10 miles Road Race Lasswade
??/06/17 SVHC 5km Champs Clydebank
02/04/17 Tom Scott 10 miles Road Race Strathclyde Pk
??/08/17 SVHC Glasgow 800 10k Champs Cartha
??/04/17 Round the Houses 10K Grangemouth
tbc Marathon Moray??
03/05/17 Snowball Race 4.8 miles Coatbridge
??/10/17 SVHC Half Marathon Champs Kirkintilloch
Run and Become Become and Run Scotland's Specialist Running Store KEEPING THE CAPITAL RUNNING 20 Queensferry Street, Edinburgh, EH2 4QW 0131 331 5300 edinburgh@runandbecome.com www.runandbecome.com
OFFICE BEARERS SEASON 2016-2017
Honorary President: ALASTAIR MACFARLANE
President: CAMPBELL JOSS 25 Speirs Road Bearsden, G61 2LX Tel: 0141 9420731 cdjoss2@gmail.com
Immediate Past President: ALASTAIR MACFARLANE
Vice-President: ADA STEWART 30 Earlsburn Road, Lenzie, G66 5PF Tel: 0141 578 0526 stewart2@ntlworld.com
Honorary Secretary: JOHN SOFTLEY 6 Cathkinview Road Mount Florida Glasgow G42 8EH Tel. 0141 5701896
Honorary Treasurer: ANDY LAW Euphian, Kilduskland Road Ardrishaig, Argyll PA30 8EH Tel. 01546 605336 Lawchgair@aol.com
Membership Secretary: ADA STEWART 30 Earlsburn Road, Lenzie, G66 5PF Tel: 0141 5780526 stewart2@ntlworld.com
Handicapper: PETER RUDZINSKI 106 Braes Avenue Clydebank. G81 1DP Tel.0141 5623416 p.rudzinski@ntlworld.com
Committee Members:
JOHN BELL Flat 3/1, 57 Clouston Street Glasgow G20 8QW Tel. 0141 9466949
MARGARET DALY 24 Strowan Crescent Sandyhills Glasgow G32 9DW Tel. 0141 573 6572
WILLIE DRYSDALE 6 Kintyre Wynd Carluke, ML8 5RW Tel: 01555 771 448
DAVID FAIRWEATHER 12 Powburn Crescent Uddingston, G71 7SS Tel: 01698 810575
PHYLLIS HANDS 39 Albany Drive Lanark ML11 9AF Tel. 01698 252498
STEWART McCRAE 17 Woodburn Way, Balloch Cumbernauld G68 9BJ Tel: 01236 728783
KEN MONCRIEFF 25 Princes Street Stirling FK8 1HQ Tel. 01786 474978
PAUL THOMPSON Whitecroft, 5 Gareloch Brae, Shandon, Helensburgh G84 8PJ Tel. 01436 821707
ROBERT YOUNG 4 St Mary's Road, Bishopbriggs Glasgow G64 2EH Tel. 0141 5633714
BMAF Delegates Alastair Macfarlane Ada Stewart
SAL West District Delegate Willie Drysdale
SAL Delegate at AGM Ken Moncrieff
Website Ada Stewart
Auditor George Inglis
FIXTURES
December 2016
Sun 11th SVHC 5mile Christmas Handicap Playdrome, Clydebank 2pm
January 2017
Sun 22nd SVHC Open Masters Road Relays Strathclyde Park, 11:00
Sat 28th SA Masters XC, Camperdown Park, Dundee Entry via 1st claim club February 2017
Sat 25th SA XC Champs, Callendar Park, Falkirk
Sun 26th BMAF 10 Mile Championships, Netherhall School, Netherhall Road Maryport, Cumbria CA15 6NT
March 2017
Sun 5th SA Masters Indoors Champs Emirates Arena Glasgow
Sun 5th Lasswade 10 miles Road Race
Sat 11th – Sun 12th BMAF Indoor Track & Field Champs Lee Valley Athletics Centre Sat 18th BMAF Cross Country Champs, Liverpool
April 2017
Sun 2nd Tom Scott 10 mile road race West Dist Champs Strathclyde Park
Sun 9th Round the Houses 10K Grangemouth
May 2017
Wed 3rd Snowball Race 4.8 miles Coatbridge Outdoor Sports Centre, 19:30
Sat 20th BMAF Road Relay Championships Sutton Park Sutton Coldfield Birmingham B74 2YT
Date tbc SVHC Walter Ross 10K RR Cartha Rugby Club, 13:30
Date tbc Bathgate Hill Race, Meadow Park, Bathgate
June 2017
Wed 7th Corstorphine 5 miles Road Race Turnhouse Rd, Edinburgh, 7:30pm.
Sun 18th BMAF 5km Championships Horwich Leisure Centre Victoria Road Horwich BL6 5PY
Sat 24th – Sun 25th BMAF Track & Field Championships Alexander Stadium Walsall Rd Perry Barr Birmingham B42 2LR
Wed 29th ? SVHC 5km road race. Playdrome, Clydebank, 7:30pm.
October 2017
Sun 15th SVHC Track 10K 11:30 & 13:00. AGM 14:00, Grangemouth TBC November 2017
Sat 18th British & Irish Masters Cross Country International – Derry, N. Ireland