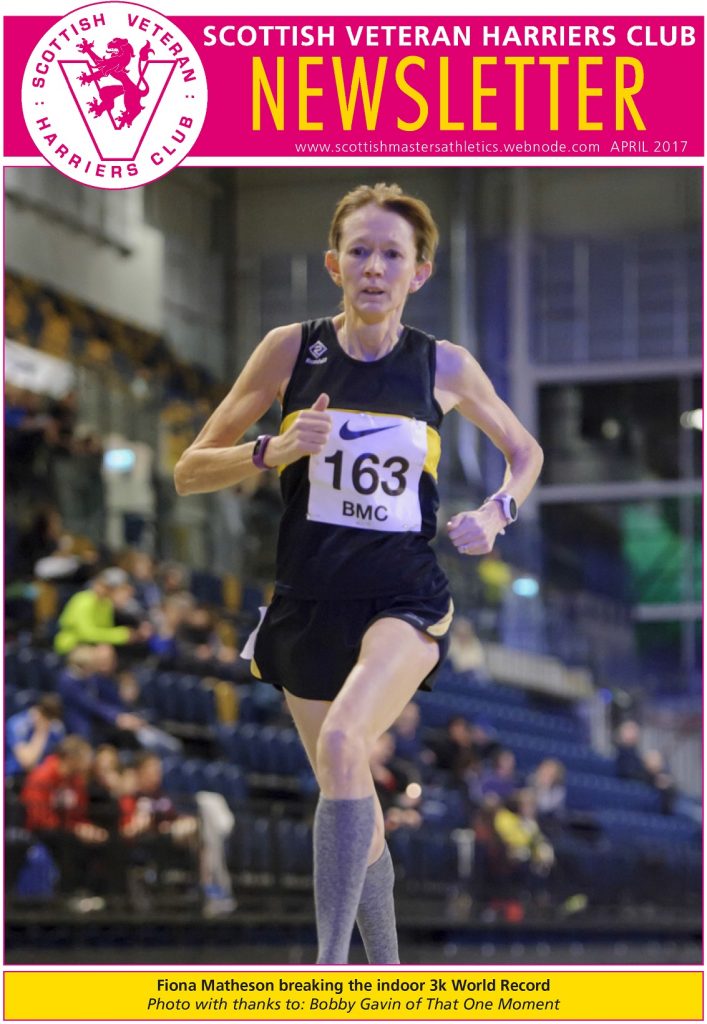 MEMBERSHIP NOTES 8th APRIL 2017
I regret to report that Christine McLennan passed away on 16th January, aged 85.
I regret to report that Kenny McVey passed away on 5th March aged 67, and Duncan MacFadyen passed away on 21st March aged 56.
MEMBERS Renewal subs are now due for 2016/2017. Welcome to the 10 new and 7 reinstated members who have joined or re-joined since 29th November 2016. 80 members have not renewed their subs this year, or have underpaid. 7 members resigned. As of 8th Apr 2017, we have 464 fully paid up members, including 22 over 80 & 4 Life Members.
NEWSLETTER The electronic version of the Newsletter is now the preferred option. Any member who would rather receive a printed Newsletter must contact David Fairweather (djf@ dfairweather.plus.com), if they have not already done so. Please inform David if you add or change your email address.
Please send photos, news, letters, articles, etc for the next issue To: COLIN YOUNGSON TOMLOAN, SANQUHAR ROAD, FORRES, IV36 1DG e-mail: cjyoungson@btinternet.com Tel: 01309 672398
SVHC EVENTS
The club appreciates all volunteers at SVHC races. We require assistance at races on Wed 3rd May – Snowball Race, Sun 7th May – Trail Race, Wed 28th May – Clydebank 5K & Sun 13th Aug – Glasgow 800. If you are not competing either turn up and introduce yourselves or let us know in advance. Thank you.
STANDING ORDERS
Thank you to the members who have set up standing orders for membership subscriptions. Please remember to update the amount payable, & keep me informed if your membership details change (especially email addresses). If any other member wishes to set up a standing order please contact me.
CLUB VESTS Vests and shorts can be purchased from Andy Law – £18 for vests, including postage and £23 for shorts, including postage. If ordering both together deduct one lot of postage. Or, can be delivered to any of the Club races by arrangement with no postage. (Tel: 01546 605336. or email lawchgair@aol.com)
NEW MEMBERS
NUMB CHRS SURN JOIN TOWN
2372 Roger Sandilands 20-Dec-16 Glasgow
2373 Kevin Newberry 04-Jan-17 Hamilton
2374 Charles Steven 04-Jan-17 East Kilbride
2375 Lindon Taylor 14-Jan-17 Glasgow
2376 Robert Bartley 03-Feb-17 Kirkintilloch
2377 John Martin 07-Feb-17 Falkirk
2378 Jill Smylie 21-Feb-17 Glasgow
2379 Jethro Lennox 01-Mar-17 Glasgow
2380 Sally Condie 03-Mar-17 Cumbernauld
2381 Kenneth Ross 28-Mar-17 Hamburg
1545 David Will 01-Nov-16 East Kilbride
2233 Lorna Coyle 28-Nov-16 Gourock
1277 Pat Kelly 29-Nov-16 Motherwell
1061 Robert Stevenson 18-Jan-17 Irvine
1804 Colin Miller 26-Jan-17 Irvine
1805 Henry Curran 03-Feb-17 Paisley
1572 Ronnie Hunter 22-Feb-17 Glasgow
Ada Stewart Membership Secretary
SCOTTISH VETERAN HARRIERS RUN and BECOME RACE SERIES 2016/2017
The Run and Become Race Series is now well under way with 6 of the events completed at the time of writing.
Current leader in the women's event is Shirley MacNab with 33.1 points followed by Ada Stewart with 32.0 and Pamela McCrossan 26.2.
Leading in the men's competition is Andy McLinden 42.3, with Neil Robbins 2nd 32.2 and Stuart Waugh 3rd 30.2.
For those who are new to this competition, each runner's best 8 performances from 16 selected races are involved, with age grading utilised to allocate points won. For those who complete more than the required 8 races an additional 1 point is awarded.
Over £600 worth of prizes are available along with trophies and competition is always keen. Check the SVHC website for regular updates.
The remaining fixtures for 2017 are:
09/04/17 Round the Houses 10km RR Grangemouth
28/06/17 SVHC 5km Champs Clydebank
03/05/17 Snowball Race 4.8 Coatbridge TBC
SAL Masters Track & Field 3km/5km TBC
07/05/17 SVHC Walter Ross 5mile Trail Race Cartha
13/08/17 SVHC Glasgow 800 10k Champs Cartha
27/05/17 WesLo Cairnpapple Road Race Bathgate TBC
Moray Marathon TBC Elgin
07/06/17 Corstorphine 5 miles Road Race Edinburgh
??/10/17 SVHC Half Marathon Champs Kirkintilloch
OBITUARY: Kenny McVey 1949 – 2017
Victoria Park A.C. received the sad news that Kenny McVey had passed away on the 5th of March after a short illness.
Kenny was born in Glasgow in 1949 and attended school in Scotstoun before he sought employment on the Clyde. He qualified as a marine engineer and worked for most of his career at Yarrows in Scotstoun. He married his wife Kathy in Paisley in 1970 and their only child Kenneth was born in 1974.
Kenny's first contact with Victoria Park A.C occurred in 1990 when he brought his 15 year old son Kenneth along to Scotstoun to start a successful athletic career. Kenny soon followed his son into the club, tried some track running and was hooked, trying anything from sprints up to middle distance, cross country and road running.
He took part enthusiastically in confined club events, winning trophies on several occasions, such as the Knightswood Shield (handicap road races) in 1992, 96 and 98, Crawford Shield (scratch road races) in 2006 and 09, the coveted Jamie McClure Trophy (Christmas handicap) in 1997, 99 and 2004, and had a share in the George Munro trophy (handicap sprints) in 1997.
He represented the club countless times in cross country and road events, was very proud of his unbroken participation in the MacAndrew Relay (possibly a club record) and even gained selection for the prestigious Edinburgh to Glasgow relay shortly before it was disbanded.
When he attained veteran status he branched out and took up other events so that he could participate in pentathlons and heptathlons, indoor and out, and won several national age group medals.
Ever a faithful club supporter, he was prepared to turn out in league matches to earn valuable points at times when we were short in certain events. On one memorable occasion in Division 4 of the Men's League at Scotstoun in 1999 he took part in six events, three of them one after the other (400 hurdles, 800 and 100), helping to ensure our promotion as champions.
As age kicked in Kenny concentrated on longer distances, some of his favourite events being the Polaroid 10k series, the Paisley 10k, Alloa half marathon and, being a proud Renfrewshire resident, the Neilston Pad. He also greatly enjoyed the comradeship and variety of events organised by the Scottish Veteran Harriers.
In addition to training and competition, Kenny was also of great value to the club in coaching and committee work. He became a qualified UK coach in middle distance, and his most notable success came when Andy Young (now respected as coach of Laura Muir) won the World Schools 800m in Cyprus.
His favourite training sessions were the Sunday morning pack runs from the Allander Sports Centre at Milngavie, from where prodigious distances were racked up, all in a spirit of sporting camaraderie. Many a young athlete was introduced to the concept of ultra-distance at these sessions, of which Kenny became a lynchpin.
As a marine engineer with Yarrows and BAE Systems on the Clyde, where he was involved with the interior fitting out of new ships, Kenny sometimes had to spend time off shore during trials, but he did not let that interfere with his running. He would pad round the deck if he could safely find room, then adjourn to the small multi gym set up for use of the crew so that on his return to shore he was fit enough to take part in his next 10k or pack run.
In recent years Kenny was our men's cross country and road running convenor, doing sterling service in managing and entering teams for championship events. This was not always an easy task, given the problems caused by injury and unavailability which beset all running clubs, but people like Kenny are vital to the health of the sport and its continuing prosperity. When success came, as it surely did on many occasions, both athletes and Kenny were able to celebrate together.
Kenny's wife Kathy said that he had three passions in his life, fishing, athletics and eating biscuits. The latter he successfully kept secret from his leg-pulling club mates.
Kenny will be greatly missed by everyone at the club, he had many friends and was always popular with the youngsters. He was notorious for tormenting the younger athletes which endeared him to them greatly. He was almost as popular as his doppelganger Santa Claus. The club have sent their deepest sympathy to his wife Kathy and his son Kenneth.
By Hugh Stevenson and Gordon Innes
OBITUARY: Ed Whitlock (CANADA) born 06 March 1931, died 13 March 2017
It is sad news indeed to learn of Ed Whitlock's passing from prostrate cancer. There is not sufficient space to detail all of Ed's amazing accomplishments.
He dominated the 70+ age divisions, setting standards that may never be surpassed from 3000m to the marathon.
Marathon – age group records for V70, V75, V80, and V85. Twelve single age records- aged 68/85
30 km road – age group records for V60, V65 and V70. Six single age records 63/73
25 km road – single age record at 63.
Half Marathon – age group records for V70, V75, V80, and V85. Ten single age records- aged 68/85
10 miles road – age group records for V65 and V70. Six single age records- ages 64/72
15 km road – age group records for V65, V70, V75, V80, and V85. Thirteen single age records- ages 66/85 12 km road – age group record for V65. Two single age records- ages 67 and 68
10 km road – age group records for V70, V75, and V80. Ten single age records- ages 63/84
8 km road – age group records for V65 and V70. Eight single age records- ages 63-70
4 miles road – age group record for V65. Four single age records- ages 65/72 5 km road – age group records for V65, V70, and V75. Nine single age records- ages 65/75
10,000m track – age group records for V70, V75, V80, and V85. Six single age records- ages 70/85
5000m track – age group records for V75, V80, and V85. Seven single age records- ages 67/85
3000m track – age group record for V80. One single age record- age 80
3000m indoor track – age group records for V70, V75, V80, and V85. Thirteen single age records- ages 68/85
Totals are 40 world age group records and 108 world single age records.
This does not include his records at distances less than 3000m.
By Ken Young, Association of Road Running Statisticians (arrs.net)
While at school and university in England, Ed Whitlock was a serious junior runner, primarily at cross country but also at track and road relays. He was the winner of the Ranelagh Harriers and South London Harriers inter schools cross country races in consecutive years, 1948 and 1949. He was the University of London champion at cross country and 3 miles on the track.
He stopped running after arriving in Canada. Whitlock did not start running again until he was 41, concentrating on middle distance running, and after several years recorded best times of 1:59.9 for 800 metres and 4:02.5 for 1500 metres.
Whitlock, who ran as a teenager and took up the sport again in his forties, first became the oldest person to run a marathon in less than 3 hours in 2000 at the age of 69, with a time of 2:52:47. He later extended this record, running a time of 2:58:40 at the age of 74.
At 73, he set a world record in the marathon for men 70 to 74, running a 2:54:48, his fastest time after turning 70. According to an article in The New York Times, if age-graded, this time would be equivalent to a 20-year-old running 2:03:57 and which would have been the fastest marathon ever run in 2010.
At the time of his death, Whitlock was known to be the only person over 70 to run a marathon in less than three hours. At age 85, he became the oldest person to run a marathon in less than four hours at 3 hours, 56 minutes 34 seconds at the Toronto Waterfront Marathon in October 2016. In 2005 ran 2:58:40 at age 74, making him the oldest man to run under three hours for a marathon. In 2006 he set the world record for the 75 to 79 age group with a time of 3:08:35 at the Toronto Waterfront Marathon and in the Rotterdam Marathon on April 15, 2007, Whitlock lowered that mark to 3:04:54 on a day when the marathon was stopped after three and a half hours because of high temperature. SEE WIKIPEDIA for times in shorter events in several age-groups.
Great Scottish Masters Runners: Walter McCaskey
That fine Scottish sports journalist, Doug Gillon, wrote an article about Walter in January 2015; and here are several excerpts.
In the Scottish Masters Cross-Country Championships at Kilmarnock, one of the "hardy stalwarts is Walter McCaskey, making his first appearance in the over-80 age group for which three men line up.
He began by accident, running the 1982 Edinburgh Marathon to help raise funds for an exercise pool. 'I trained for four months,' he recalls, 'and finished in four hours four minutes.' 'I didn't think 26 miles sounded a lot, but it was a long way on a wet, cold day and there was no chance of stopping. You just kept going. But I enjoyed it and got the bug.'
'I have now run more than 50 marathons, but none for the last few years. I was advised not to because of osteoarthritis in my left knee. I did Edinburgh, Aberdeen and Glasgow, with just a fortnight between each. It was just about having fun.'
'I only started pushing it at 70, started training with a pal. We did the 10k together and had a real tussle. I managed to win the Scottish Veterans Championship, and then the British. I'm amazed. I never thought I was any good at running.'
His best marathon time was in Glasgow aged 53 (2.59). 'But now I focus on cross country and shorter stuff.'
Today he defends the Scottish Masters title he won 12 months ago at Hawick, and he completed the 12k course of the Scottish National at Falkirk last year (first in his age group) in a very creditable 67.12. He was sixth in the British and Irish Masters International cross country at Nottingham in November, second Scot as they won team bronze.
He says he has no sporting pedigree or history. 'I played a little football when I was younger, in the street, up the park, and perhaps a wee bit in the Army in Hong Kong.' He tried bowls, but in a reversal of the perceived norm, chucked it for running. 'I am really hooked on it. I only do about 20 miles a week now since I have stopped marathons, but I go down to the gym and I swim a bit.' 'If anyone tells me I'm getting on a bit, I just ignore it. Obviously you know you're getting older – you're not running as fast – but I don't dwell on the subject. Get on with life, enjoy yourself.'
The mud threatens to be difficult today, but having spent a chunk of his life working with bulldozers and other plant machinery, Walter says he is prepared."
(Ed. An inspection of sporting records reveals that Walter won Scottish Masters XC medals at M60: bronze in 1996 and silver in 1998. He won his first titles at M65 in 2001 and 2003, plus a silver medal in 2004 and bronze in 2000. There ensued four successive M70 golds between 2005 and 2008; and he was second in 2009. In the M75 category, he won in 2010, 2011 and 2014; and was second in 2013. Naturally he won the M80 titles in 2015 and 2016! Walter is an inspiration to all SVHC members!)
QUESTIONNAIRE ANSWERS: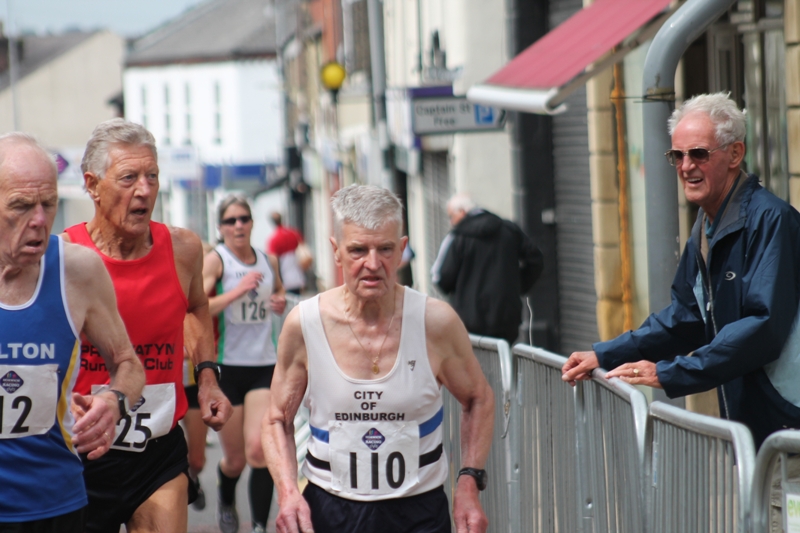 Walter on his way to winning the M80 British 5k title in 2016
Walter McCaskey (born 11th August 1934).
Club: City of Edinburgh A.C. I began running in 1982. It was at my daughter's wedding and, after a few drinks, I promised to raise some money for charity by joining my brothers, who were training for the Edinburgh Youngers Tartan Marathon. Little did I know what I had let myself in for. After marathons at Aberdeen and Glasgow, in the 1984 Black Isle Marathon I came first M50. After setting my fastest time in the 1986 Glasgow event I did not improve, probably because I was doing so many races and using them as social events, just going away for long weekends.
It was about this time that I joined EAC and started doing cross country. Alex McEwan got me thinking about how I was running. He told me that I had too much energy left at the finish of races! The next event I tried much harder and won gold at Aberdeen. It was Bert McFall that got me to join the Scottish Veteran Harriers and it was the start of a great friendship. We had some really good training sessions and the rest is history. I made it into the Scottish Masters team, thanks to Bert and, along with the rest of the age-group team, we had several good races.
I really enjoy running. It has given me the chance to make so many good friends and has really helped me to get on with my life
[Ed. In the annual British and Irish Masters International XC, Walter has represented Scotland at least nine times since 2004, winning individual M70 silver in 2005 to improve on bronze the previous year. His M70 team won silver medals four times, including one loss to the Auld Enemy by a single point. Then in 2014, aged 80, he contributed to M70 team bronze! In M75 contests Walter's team won silver medals in both 2015 and 2016 (when he was 82). Amazing!]
I can say that the best races that come to mind are firstly the 2005 Scottish Masters XC Championships at Bellahouston Park, when I came in first M70 only two seconds in front of Bert McFall. It was a great contest and Bill McBrinn reckoned it was the finest contest of the day. The only thing I did not like about it was having to beat my friend Bert!
Secondly, the following week I travelled to Bangor and came in first M70 in the British Masters XC Championships.
The worst race was rushing to catch the bus in Glasgow to join the Scottish team! By the time I reached it I was really done in.
I have only one ambition and that is to keep on running. As for my other activities, I bike to the gym and do some work on the rowing machine and the cross trainer. I do some speedwork on the treadmill and then finish with a little swim.
My training is a mixture of road and grass running. I do hill reps in the park. Each week I run 15 to 20 miles and probably a little bit more when building up for a race. Running has made me a more responsible person, and given me time to think about other people and the good they do. By joining SVHC I gained one big family of friends.
Great Scottish Masters Runners: George Sim
QUESTIONNAIRE ANSWERS
NAME George Sim
CLUBs Moray Roadrunners/Scottish Veteran Harriers Club DATE OF BIRTH 23 January 1950
OCCUPATION Retired
HOW DID YOU GET INVOLVED IN THE SPORT? There was a local 3 mile race taking part in a nearby village and myself and my brother in law decided to give it go. I went for 3 training runs before the race and won it with my brother in law coming 2nd. I then heard about a running group that the council had set up trying to get the community active so went along. This is where my enjoyment of running through the woods started at the age of 35 and Moray Roadrunners were formed.
HAS ANY INDIVIDUAL OR GROUP HAD A MARKED INFLUENCE ON YOUR ATTITUDE OR INDIVIDUAL PERFORMANCE? No, I just enjoyed the company and started to enjoy the improvement of my own running.
WHAT EXACTLY DO YOU GET OUT OF THE SPORT? The feeling of fitness, racing and the camaraderie of other runners and supporters. I then started coaching juniors and this helped improve my own performances and gave a great sense of satisfaction.
WHAT DO YOU CONSIDER TO BE YOUR BEST EVER PERFORMANCE OR PERFORMANCES? My most memorable best performances are winning 3 British Track Masters Golds in MV50 one weekend in July 2000 in Bedford. The first gold came in the Saturday in the 1500m in a time of 4.27 followed by the 5k in 16.20. Then the 10,000m on the Sunday winning in 33.18.
Also in 28 degrees in Riccione Italy, in the World Vets Track in September 2007, I was 5th in the MV55 5k in a time of 16.57, 4 days after I took the Silver medal in the 10,000m in a time of 35.10.
All my Scottish and British Masters X Country medals but always behind Mike Hager (England). I was also pleased that in September 2006 at the age of 56 I ran 33.37 in the Dyke 10k and a week later did 75.44 in the Great North run.
Personal Best performances: 5k 15.32 aged 45 10k 31.45 aged 45 10mile 52.06 aged 45 Half Marathon 69.53 aged 41 Marathon 2.32 aged 40
YOUR WORST? I cannot remember ever having a really bad race. I only get out of the racing what I have put into the training.
WHAT UNFULFILLED AMBITIONS DO YOU HAVE? I don't really have any. I just want to be able to keep running and remain injury free.
OTHER LEISURE ACTIVITIES? I thoroughly enjoy my golf now that I have retired, trying to reduce my handicap which is currently 16. I also enjoy a bit of coaching, travelling and gardening.
WHAT DOES RUNNING BRING YOU THAT YOU WOULD NOT HAVE WANTED TO MISS? Lots of lasting friendships, fitness and enjoying watching friends/athletes in various competitions.
CAN YOU GIVE SOME DETAILS OF YOUR TRAINING? Typical training week aged 40 – 45 Monday. – 1hour steady in woods Tuesday – track, 4x4x 400m in 70 sec, 50sec recovery. 3min between sets Wednesday – steady wood run 50/60 mins Thursday – 6x 1000m in 3.10, 200m jog rec Friday – rest/golf Saturday – 3x4x400m in 66sec, 1 min rec, 3 mins between sets Sunday – steady 14-16 miles. (Week before my 31.45 I did 20 mile run on Saturday and GTV League on Sunday – 3000m in 9.20!)
Typical week aged 50 before BMVTrack – 3 golds Monday – steady wood run 60 mins Tuesday – 8x400s in 70, going every 2 mins. 6min jog x 2 sets Wednesday – club run usually eyeballs out with great training group Thursday – 16x200s in 31/32sec walk back rec Friday – rest/golf Saturday – steady wood run 60mins Sunday – 12/14 miles steady
Typical week training aged 55 Monday – steady 45/60 mins Tuesday – 2×4 600s in 1.52 4mins rec, 8mins between sets Wednesday – club night usually hard run 50/60 mins Thursday – steady 59 min wood run Friday – rest / golf Saturday – rest Sunday – Tom Scott 10 mile race 1st M55 vet, 4th vet overall – 55.36
Nowadays I'm happy if I can get out and just run! Injury has prevented me from proper training over the last 3 years so training is not as serious as it was 10 years ago. The body is not quite willing any more. There is no set pattern to my training now. These days it consists of runs in the local woods that I have run in for 33 years. Usually 6/7miles steady. Fartlek and speed sessions with the MRR. I also try to fit in dreaded hills reps that I know have to be done!
The Editor added the following. George Sim is renowned for being an elegant, graceful athlete who makes nearly all of the rest of us look bad by comparison! He has a great deal of talent and, as his training above shows, worked hard and intelligently to carve out a very successful running career.
In addition, he has always been modest and extremely casual about his many successes. When we first met in 1990, before the Scottish Veterans Cross Country Championships in Dumfries, I knew that my Aberdeen AAC clubmate Graham Milne (a former Scottish marathon international) had been training with George and rated him as extremely promising. Graham lived in Elgin and had convinced George, a near neighbour, to join AAAC since we had a good veteran team. George made an immediate impact by finishing 7th and we won team gold medals for the third year in a row. George had just turned 40, having started running five years earlier.
I was running quite well by 15 and so for a while, due to more background, had the edge on my new clubmate, who is more than two years less old. However his improvement was rapid – in fact it took him little more than three years to relegate me to the also-rans.
A few significant races illustrate this process: a 'Veterans' Mile' in July 1991 on the posh Aberdeen track, when George was right behind me with half a lap to go but I tried extra hard while he glided in just behind my 4.38.8; a month later he thumped me in the Aberdeen Half Marathon; then the 1992 Scottish Vets Cross Country in Troon when I got some revenge by finishing second to his fourth and AAAC won the team title again; the 1992 Alloa to Twechar 8-Man Relay when team victory was almost assured because George rolled right away from Fife AC on Stage Six (the great Don Macgregor was impressed, saying 'A classy runner'); in late 1992 I finished a couple of places ahead in the Forres 6. The last time I managed to beat him was in August 1993 when I almost gave myself a heart attack in the Aberdeen Half Marathon, eventually finishing five seconds ahead of George, with Shetland's Bill Adams another seven seconds down. This three-way battle was for the SAF veteran gold medal at that distance.
By 1994 the contest was over for me: George Sim was different class. I could only admire the stylish supremacy of such an athlete and make the most of races when he was in a younger age group or running elsewhere!
In his answers to the questionnaire, George did not mention title successes in the Scottish Masters XC: gold medals at M45 (1996), M50 (2003), M55 (2007) and M60 (2010). He did not run the British and Irish International until 1995 in Dublin, when he was 5th M45. By 2016 he had run for Scotland nine times in this most prestigious of events; winning many team medals (including M55 gold in Belfast 2007); plus individual M50 bronze in 2002; three silver (M50 in 2000, M55 in 2005 and 2007) and two fourth places as well. Yes, England's Mike Hager (a frequent record-breaking World Veteran champion, after all) often had a slight edge on him but justice was served when, in Falkirk 2006, George Sim won the M55 age group.
It was good that, despite many injuries, George was fit enough to be part of our M65 outfit in the 2016 Glasgow International, contributing to team bronze. Hopefully he will regain full fitness and go on to further fully-deserved successes.
FLYING!
Athletically and psychologically, you're in prime condition – healthy, fit, agile, keen and resilient. Now that winter has been survived, being outside seems even more wonderful. You need to exercise, to compete, to play with speed and stamina.
Naturally, eating and sleeping are both essential for recovery. Sometimes you are part of a group – of friends or even rivals, wearing bright or plain oufits – but often you operate as an individual or in a pair. On a good day, you absolutely fly – racing around, almost without effort but so powerfully. What a sensation! It could make you burst out in song!
A middle or long-distance runner (dedicated and addicted) will remember with nostalgia those peak sensations, on the rare days before injury and age affected ease, pace and strength. But the previous paragraph is not really about runners – it is about wild birds and why, now that I am an old jogger, they fascinate me increasingly.
I was a fairly decent runner by the age of 15, set good 'lifetime bests' by 28, kept going well to 45 and not too badly until 57. Since then, leg and back niggles have slowed me considerably.
Now I am 69 and have seldom 'run' well for the last two years. In fact most efforts are deeply unimpressive: but, if possible, I still yearn to exercise every day – and jogging nearly always seems preferable to cycling or walking. Eventually I have learned that going hard and fast should certainly not be the only aim or pleasurable result of such a session.
One of the few advantages of being uncompetitive is that, when training, you can actually notice what Swedes call 'The Nature'. In the past I used to concentrate on effort and was usually going too fast to focus on mere surroundings. Trees, flowers, crops and the occasional animal can be interesting of course – but wild birds are a constant source of joy.
As the start of this short article suggested, they are superb athletes, usually in great shape, and capable of amazing feats of speed and style. Fighters, hunters, lovers, escape artists, show-offs; bold, shy, furtive or secretive; their feathers drab, distinctive or positively psychedelic. No matter their size, I like seeing all of them.
My list of favourites in the lovely riverside, arable or wooded landscape around Forres is lengthening – I used to have a top five, then ten, now at least twenty. Who couldn't admire Robin (cocky and bright, even in Winter)? Wren – tiny and indomitable, with such a thrilling loud song?
In Summer, there are soaring, swooping, skimming, diving Swallows, Martins and Swifts. Goldfinches are small but gorgeous multi-coloured delights; Long-tailed Tits improbably petite and soft-spoken; Yellowhammers unafraid and handsome; Great Spotted Woodpeckers cheep, tap and climb; Great, Blue and Coal Tits hang upside down from branches; 'Ordinary' Sparrows are gregarious and feisty; Lapwings, flapping, plaintive, worried parents; fearless Dippers cling to waterfalls; elegant Grey Wagtails frisk in streams; busy Whitethroats chitter, fly up then dive for cover ; pairs of Mute Swans grace ponds or lochs; and who does not relish the sight and sound of a hovering, operatic Skylark?
Then in Autumn, those ultra-distance champions, Wild Geese, honk triumphantly as they complete another epic challenge. There is nothing wrong with thriving species: Blackbirds, Thrushes, Crows, Pigeons, Mallards, Chaffinches, Pheasants, Oystercatchers, Buzzards and Gulls.
More unusual birds glimpsed include Waxwings, Jays, Red Kites, a Black Pheasant, Siskins, Treecreepers, Puffins, Goosanders, Crossbills, Goldcrests, Kingfishers, Egrets, a Capercaillie and, on past Munro-climbing days, Golden Eagles.
Every habitat has its own avian residents, which a cross-country jogger may delight in observing.
Although a 'new' bird is undoubtedly good to spot, I am no 'Twitcher', only ticking off unusual varieties. Instead, to view any bird is a pleasure, with favourites providing frequent, life-enhancing moments of happiness. Birdsong, familiar or unfamiliar, is a bonus. To me, they are fellow mortals and 'wild pets': I wish them freedom and good luck.
Nowadays, we are advised to 'live in the moment'; and mobile bird-watching is certainly a multi-sensory experience. Even IKEA adverts refer to 'the Wonderful Everyday'! As a child, I may not have been claustrophobic but, after becoming a serious runner, certainly disliked total darkness and confined spaces. Unsurprisingly, daylight, fresh air and unhindered movement was treasured!
Watching top athletes is always amazing, from Mo Farah to the leading male or female runners in the 35-49 age groups in the annual British and Irish Masters International Cross-Country Championships. Gazelles, every one!
Thrilling displays of speed, style and stamina are also part of jog-birding. You might no longer be a speedy athlete, but the sight (and sound) of fantastic wild birds provides not only pure but also vicarious pleasure. Imagine that you can 'fly' once more!
By Colin Youngson
LETTERS PAGE (for all sorts of contributions)
HOW I STARTED RUNNING….. (From Alex Sutherland)
It might be better to start with my brother's tale of how he started running. We used to describe his faithful canine companion as a 'borderline collie', a dog which had retained all the instincts of its majority parentage.
Over time however walks in the local park began to be marked by a desire to round up passing runners and bring them into a manageable flock. Clearly such behaviour couldn't be allowed to continue, so, being resident on 'the other side of the pond' a visit to a dog psychiatrist seemed to be in order. This individual examined the culprit and Django was duly fitted with a collar which would administer a mild electric shock on depression of a button.
So, sporting the new collar, down they went to the park for a trial of the corrective apparatus. A small Korean lady in a pink tracksuit obligingly hove into view and the dog set off in pursuit, the button was firmly depressed once, twice and again with no visible results. My brother set off in pursuit of pet and quarry, catching up with them at the edge of a pond. Frustrated, he booted his dog into the water, the zapper went off, the dog became terrified of water – and my brother took up jogging!
To continue with my own experience, I took up running aged 34, following the deaths of four climbing companions within a fairly short time and, after a few narrow escapes and with a young family, came to the conclusion that pleasure in being among the hills didn't necessarily have to involve taking so many risks. Plus it was possible to achieve the state of being just as physically tired and mentally relaxed in a much shorter time.
However I still think that kicking and hacking your way up a winter ice-filled gully in heavy clothing and pack, blowing spindrift and diminishing daylight is probably some of the hardest training I've ever done. I always liked the writing of Geoffrey Winthrop Young, who gave us the great quotation "For what is there in all this world but what I hold and see and what remains of all I see and hold if I let go."
Three months after I started running, as you did at that time, I took part in a marathon, clocking 2.54. However, this rapid transition from mountaineer to runner led to predictable knee pain. Our local G.P. operated a surgery in his home, in a room behind the kitchen. After we'd gone over some of the background to my visit, he suggested (predictably) a bit of a break from the running lifestyle, and that I should perhaps check out some less strenuous activities for a time. We kicked around a few alternatives and I happened to mention taking up the guitar again but, just as an aside, said that I'd always wanted to play a fiddle. At this he got up from his desk, disappearing into the nether regions of the house and returned with a polished wooden box containing my first ever fiddle! From one obsession to another: probably the most unforgiving musical instrument to take up; but what a running companion – reels, jigs and Strathspeys bouncing around your skull providing a rhythm to cover the ground. No need for earphones when the musical accompaniment is inboard and, happily, running and music are now both back in place. And just suppose the N.H.S. could send you away from the surgery with a flute, viola or tambourine instead of pills or liniment!
**In an attempt to convince readers of this Newsletter to prevent the Editor from writing most of the material, and to send in reports, articles and letters, what about emailing in 'HOW I STARTED RUNNING' or similar memories of your career?**
For example, here is how I started.
I was a skinny young boy who really enjoyed all sorts of sport. Yet, no matter how hard I tried, genuine sprinting speed, robustness and agility were lacking – so I was rubbish at football (a natural hacker) and too fragile for rugby. Never mind. Every opportunity was taken to rush down to the park and charge around enthusiastically with my friends.
At weekends or in the school holidays, apart from running home for lunch, before hurrying back to the park, it could be virtually non-stop from dawn to dusk. Cricket, rounders, football, tennis, putting. What else? Table tennis, hockey, golf, cycling, climbing hills. Everyone walked or cycled everywhere. No lifts from parental taxis in the self-reliant, unafraid 1950s.
Pity I never did well in the annual school sports. Dad said that he had enjoyed some success in mile races before the war and afterwards in cycle time-trials. He was even thinner than me, with boundless energy. So I made a real effort to impress in the primary school hundred yards, clawing the air desperately as everyone else sprinted away from me. Too slow, alas.
Then, one summer, boys from my street were taking on lads from another in what, nowadays, might be termed a multi-events challenge. After hours of competition, the score was tied at three-all. What trial could be devised to decide the champion street? Someone suggested a 'marathon' – running TWICE round the outside of the park, an enormous, ridiculous distance! (In retrospect, maybe one and a half miles.)
Everyone had to start and whoever finished first would clinch the glory for his team. They zoomed away as usual, while I trotted along behind. Then something mysterious happened – they all slowed down and, keeping the same steady pace, I passed every single one. In fact the second lap was a solo performance and my mates shouted, "Well done!" or "You must be mad!" as the imaginary tape was broken.
I had never heard of genetic inheritance but, at nine years of age, I certainly had something to think about. After all, at Secondary School, there would be not only sprints but also one mile track races and even longer cross country contests!
(Donald Ritchie ran several Scottish Veterans Cross Country Championships in the 1980s. He never finished better than fourth M40 on the mud; but broke many World Masters Records at Ultra-Distance events. Incredibly, he represented GB Senior teams after his 50th Birthday! Ed.)
DONALD RITCHIE: PER ARDUA AD ASTRA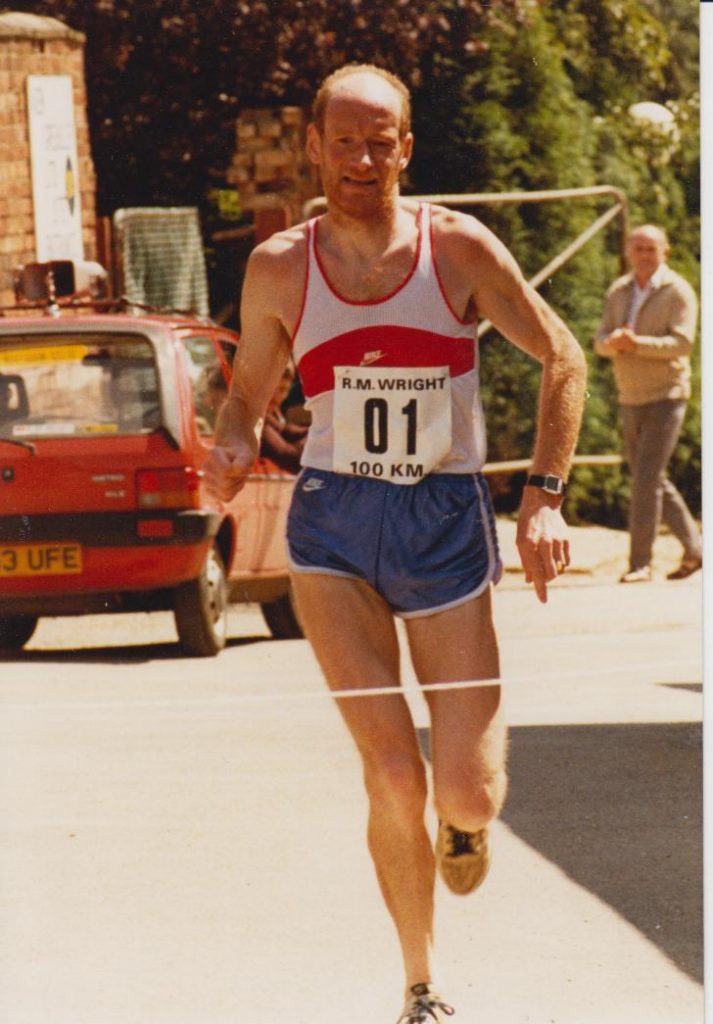 If his 1970 interview with the RAF had gone better, Donald Ritchie might well have been a fighter pilot. He had a licence to fly small planes and indeed practised aerobatics! As a runner, it was clear that he was brave and tactically bold. However, he might have been (physically) better suited to long-haul flights or indeed solo round-the-world record attempts.
I have known Don Ritchie since 1968, as a good friend and sometime rival (but only up to the 'mere sprint' marathon distance). Although I was well aware that, even in his mid-twenties, he trained hard and ran what seemed to me a ridiculous number of weekly miles, when he suddenly became a world-class ultra-distance athlete, I wasn't sure exactly how he had become so good. Now that I have read his autobiography ('THE STUBBORN SCOTSMAN'') which is selling very well on amazon.co.uk the reasons for his success have become crystal-clear.
Recently, on a train journey, I spent ten minutes writing down a series of words I associated with Donald's personality and running career. Quiet, modest, calm, charitable, friendly but private. Self-motivated, determined, dedicated, ambitious. Stoical, masochistic, amazingly tolerant of pain, resilient. Obsessed, addicted to training and racing. Seldom allowing time for rest or recovery. Secretly passionate, foolishly optimistic, occasionally crazy. (I did wonder whether a title for this article might be 'Hero or Madman?'!)
Having started running (as a 440 yard man!) in 1962, Donald served a long 'apprenticeship' on track, road and cross-country, became a decent marathoner and finally, in 1977 at the age of 33, realised that his true strength lay in the ultra-distances. Yet despite producing many wonderful performances, he endured a process of trial and error for years, not infrequently making serious mistakes connected with over-racing, lack of recuperation, inappropriate diet, injuries and illnesses.
By the mid-1980s, he had developed a greater ability to analyse reasons for disappointing races; and thereafter made fewer errors in preparation, nutrition and recovery. Yet the very nature of ultra training and especially racing is essentially gruelling. The champions have learned to suffer greatly and to push on regardless. Agonies, injuries and infections are part of the game. To fight through these extreme difficulties and win must be tremendously satisfying.
Donald Ritchie M.B.E. broke world records for distances including: 50 km, 40 miles, 50 miles, 100 km, 150 km, 100 miles, 200 km and 24 Hours Indoor, and also set many new age-group standards. He won most of the classic ultra races in Britain and Europe; and was also victorious in America.
Lesser mortals talk about striving to achieve their potential. Despite starting off with reasonable talent, speed and natural stamina – he was a sub-2.20 marathoner – Don must be the most over-achieving runner ever!
'Per Ardua' translates as 'through hard work or struggle or adversity'. During his running career, and indeed most of his life, as so many admirers would agree, Don Ritchie has been the ultimate trier, and has undoubtedly succeeded in adding his own bright star to the athletics universe.
Experts voted him the greatest ultra-distance runner of the 20th Century. Donald's autobiography covers, in considerable detail, his early life, running apprenticeship, peak performances and Masters highlights. Blood, sweat, pain and triumph, but no tears from this most uncomplaining of Scotsmen. Buy a copy now – and marvel!
And here, to make you want to read more, is an excerpt from the book, describing Don Ritchie's very first ultramarathon triumph, in the 1977 London to Brighton Road Race. He had only just lost a close encounter with his rival Cavin Woodward, in Scotland's Two Bridges 36 miles Road Race.)
"On the 29th of August, school resumed and I got back into my routine, but altered my Wednesday sessions. In the morning I ran to school by the 8 miles route. At night I ran back by the 12 miles course and incorporated a pyramid session of: 2 X 1, 2, 3, 4, 5, 6, 6, 5, 4, minutes efforts with equal time easy running recoveries. I planned to peak for the London to Brighton race and built my training up with weeks of 107, 138, 150 and 145 miles, while maintaining my effort sessions.
I was a little lax in applying for an entry for the race, so the Road Runners Club entries secretary Mike Tomlins wrote: 'I fear you may have missed the boat', but he would accept my entry if it arrived by first post on Tuesday the 6th of September.
This was 19 days before the race date, but I suppose this was for organisational reasons. I received confirmation that my entry had been accepted, much to my relief. On the week of the 'Brighton' I did a glycogen depletion run of 22 miles on Tuesday after school and maintained a low carbohydrate diet for the next 2 days. I ran to and from school by the 12 miles route on Wednesday, 8 miles to work on Thursday morning and felt remarkably well despite being on the 'diet', plus 8 miles at night with Donnie and Graham. On Friday morning I ran 10 miles at an easy pace and then began eating carbohydrates at breakfast before going to school. On Saturday I travelled by train all day down to London.
LONDON TO BRIGHTON TRIUMPH
On race day morning, Sunday the 25th of September, I was up early since my accommodation was 3 miles from the changing rooms. Unfortunately I had underestimated the time that it would take for me to walk there. Consequently I arrived in an agitated state, having had to jog part of the way, and quickly got changed, declared, and headed off to Westminster Bridge just in time for the 7am start. Fortunately, a fellow with a Ford van volunteered to be my Second and dispense my drinks along the route, an offer I gladly accepted. I started quite quickly because of pre-race tension, but soon eased off. I let Bob (or Rab) Heron (ex Dundee Hawkhill Harriers and Aberdeen AAC) go ahead, and later let Norman Wilson go past as well, since I gambled that they were running at too fast a pace to maintain and that I could catch them later. I continued running at an easy pace with Cavin Woodward, Mick Orton and Mike Kearns and passed 5 miles in 28-31 in joint 3rd. By 10 miles reached in 56-58 I was 5th, 54 seconds behind Bob and at 20 miles I was 4th, 63 seconds behind Bob as I passed this point in 1-58-13.
Bob was over 7 minutes ahead of me at one point, but when I decided to start a push for home at 30 miles I began to pull him back. Only Mike Kearns tried to come with me and held a constant gap for a while, but gradually he dropped back and I moved into 3rd.
At about 37 miles I saw Norman Wilson and gradually caught him and moved to 2nd place, and at Bonley (39 miles 179 yards) I was just over 3 minutes behind Bob. Soon after that I caught sight of Bob Heron, who seemed a long way off and I had doubts about catching him. However, I was encouraged by the fact that I was pulling him back, and I caught and passed him on Dale Hill at about 46 miles and pushed on.
After the top of Dale Hill I began to get cramp in my quads and calf muscles, which occurred every 20 metres or so. I had to try to run with straight legs and the finish seemed to take an eternity to come. I felt fine in my upper body, but my legs were in a bad way.
I was absolutely delighted to win this 'Classic' 52 miles plus race, especially on my Mother's birthday. My condition was fairly good after finishing, which was encouraging. I had no serious blisters from my Karhu racer shoes. I realised that I had finally found an event, really long distance running, that suited me.
I went for a walk along the Prom and had a couple of pints of beer courtesy of a newspaper reporter who had requested an interview with me. Weather conditions in the race were not great with a headwind part of the way and some very heavy rain showers.
My time of 5-16-05 was 4th fastest of all time. Bob Heron was 2nd in 5-19-47, with Cavin Woodward 3rd in 5-23-36. Later at the tea and presentations I was delighted to receive the 'Arthur Newton Cup' and the 'Ernest Neville gold medal'.
I arrived back in Elgin at 09:22 on Monday after travelling on an overnight train from London to Inverness and then on to Elgin. I had very little sleep as I had the 'Arthur Newton Cup' with me concealed in a black bin bag, which was quite a responsibility, so I was very tired while teaching that day."
Scottish Masters International Team Jackets
£49 including Post and Package. Please order before October 14th to guarantee arrival before the cross country international in November. Email orders to: archiemeadowriggs@btinternet.com Include name, address, email and size (small, medium or large options only). Most of the men`s team members order medium. The jackets are embroidered on order and are not "off the shelf". They are normally sent out as a bulk delivery order and not per individual order. Cheques for £49.00 payable to A Jenkins. 8 Meadow Riggs, Alnwick, Northumberland, NE66 1AP Normally a small order is always necessary post-event.
Run and Become
Become and Run
Scotland's Specialist Running Store
KEEPING THE CAPITAL RUNNING
20 Queensferry Street, Edinburgh, EH2 4QW
0131 331 5300 edinburgh@runandbecome.com www.runandbecome.com
SCOTTISH INDOOR CHAMPIONSHIPS
The 3000m races took place, as part of a GAA promotion, on 4th January 2017 at the Emirates Stadium Glasgow.
For Scottish Masters athletes, the premier performance was by Fiona Matheson (Falkirk Victoria) whose 10.21.52 took a considerable fourteen seconds off the previous World Masters W55 3000m Indoors record. Fiona wrote that most races had a rather large number of runners on the track, which did not make it that easy, especially at the start. However she was very pleased to clock up her second World Record (after setting a new 10k road best last October) in this age category. (Subsequently, Fiona was back at Emirates on 14th January for an indoor 800m and 1500m. Her main objective was to use these races as training for the Scottish Masters and BMAF indoors in March. Although Fiona had only ever done two 800m events before, she clocked a PB in 2 30.80 and mused that one strategy might be to do distances seldom attempted previously and grab easier personal bests! The 1500m went even better, since she recorded an excellent 4 59.18, which set a new W55 U.K. Record!) Then on 28th January, in the Scottish Senior Indoors, she broke the World W55 1500m record with a splendid time: 4.56.51. What a season she is enjoying!)
Kerry-Liam Wilson (Cambuslang) ran very well indeed to clock an impressive 9.02.65, easily win the M45 gold medal and beat the M40s. (In March, Kerry-Liam went on to win the British Masters M45 3000m title.) David Henderson (Inverclyde) was first M35, dipping under the 9 minute barrier in 8.59.69, with Gordon Robertson (Cambuslang) second in 9.02.63. Robert Gilroy was first M40 in 9.19.18.
North-East Englishman Guy Bracken, a frequent visitor to Glasgow, broke the British M55 record with an outstanding 9.04.33. Chris Upson of Cambuslang won the M50 medal after a close battle with Gary McKendrick of Inverclyde.
Female athletes who secured gold medals included: Jacqueline Etherington W35; Claire Thompson W40; Julie Wilson W45; Sharyn Ramage W50 and Phyllis Hands W60.
On 5th March, the other Scottish Masters indoor events were contested. Some of the outstanding performances were as follows. Athletes named Fiona broke five championship records, so change your first name now, if you hope to succeed! Aberdeen AAC's Fiona Davidson set three new W40 marks: 60m (8.41 secs); Long Jump (4.64 metres); and Triple Jump (10.51 metres). Falkirk Victoria's Fiona Matheson set two new records: 800m (2.33.04); and 1500m (5.04.41).
Jacqueline Etherington (Cambuslang W35) won two gold medals: 800m (2.27.73 championship best); and 1500m (5.07.55).
Several new championship bests were also set by male athletes. Iain Robertson (Clydesdale M35) won the 800m in 2.06.72 and Gordon Barrie (Dundee Hawkhill M40) the 800m (2.10.11). (Gordon also won the 1500m in 4.33.16.) Chris Upson (Cambuslang M50) set a new mark in the 800m (2.20.25), as did Benjamin Hands (Motherwell M55) when he ran 2.23.44. Gary McKendrick (Inverclyde AC M50) was a clear winner, when he set a new record in the 1500m (4.38.46). Kirkintilloch's Alastair Dunlop starred as usual, winning two M60 titles: 800m (2.28.47) and 1500m (5.04.27). In fact I wonder whether the new 800m/1500m 'championship records' in younger age groups might still belong to Alastair, set some years ago at the Kelvinhall arena!)
Evergreen Bobby Young (Clydesdale M70) ran well to win the 1500m in 5.57.09. Alan Robertson (Motherwell AC M35) broke the record in the 60m (7.25) and also won the 200m (23.35). His team-mate James Smith set a new M70 mark in the 200m with 30.40.Finally a frequent visitor, Guy Bracken (North Shields) ran with his usual brilliance to set a new record in the 1500m (4.16.69).
SCOTTISH MASTERS CROSS COUNTRY CHAMPIONSHIPS
On the 28th of January, record fields contested the Scottish Masters XC Champs at Camperdown Park, Dundee. Many thanks to Scottish Athletics and Ron Morrison for an excellent report and to Pete Bracegirdle for the photos.
"Dave Hanlon and his army of Dundee Hawkhill Harriers are to be thanked for hosting the event. They were rewarded with a total number of finishers of 446 which is a record by about 150. The weather was not so kind varying between dry spells and showers but the snow did not start until the last runner crossed the line. Surprisingly given the low temperature the day before, the underfoot conditions were soft to good." (although the course was undulating and testing, with many tree-roots to negotiate.)
"The Championships got underway with the Women's race of 6km that is run in conjunction with the Men's over 65 age group races. Immediately Jennifer MacLean, EAC, who has won this Championship twice when there was a W35 category, decided to test her competitors by opening up a 20m gap. However defending champion Lesley Chisholm, Garscube, also had eyes on the win and they were closely followed by ultra specialist Joasia Zakrzewski, Dumfries RC, and triathlon specialist Catriona Morrison, Stirling Tri Club, who has won individual medals from the National Cross Country.
By the end of the 1st lap, the leaders were clear with Lesley and Dianne Lauder having a 5m advantage of Joasia and Jennifer and Catriona a further 10m in arrears. It took a determined sprint finish from Lesley to retain her title winning by six seconds from Dianne and a closing Joasia only one second further back.
The W45 championship was won by Karen Kennedy, PH Racing Club, in their first championship, from far-travelled Karen Lyons, Highland HR, and Fiona Dalgleish, Gala Harriers.
Last year's W45 champion Veronique Oldham, Aberdeen AAC, triumphed again in the W50 race winning by some distance from the multiple Masters and National medallist Susan Ridley, EAC, who was closely followed by her team-mate Jill Morrow.
A very tight finish in the W55 race saw Lynne Stephens, Fife AC, take her first title by two seconds from last year's champion Sonia Armitage, Aberdeen AAC, with Fiona Carver, Corstorphine just six seconds behind that.
The 2015-6 W55 runner up, Isobel Burnett, Carnegie H eased to the W60 title this year followed by the Fife AC pair Innes Bracegirdle and Margaret Martin.
Deirdre Hoyle, Bellahouston H was the only finisher in the W65 race and thereby became champion.
Anne Docherty, Forres H, out-paced Elizabeth Gilchrist, Ferranti AAC, to retain her W70 title.
Jane Askey, Fife AC the W65 runner up in 2008-9 became the first ever W75 title holder.
The Women's open team title was retained by Gala H with Dianne Lauder, Fiona Dalgleish and Anya Campbell with a total of 28 points, with Edinburgh AC second with 38 points and Fife AC third with 86 points.
After removing W40 and W45 athletes and open team medallists and rescoring the W50+ team results showed a win for Carnegie H with 50 points from EAC with 51 points and Dundee RR with 61 points.
The most amazing aspect of the Men's O65 race was the number of medals presented. Three medals were awarded at the M80 level for the 3rd year is a row with James Pittillo, Teviotdale H, who has been 2nd for the last two years moving up to the champion's spot from Arnott Kidd and William Drysdale, Law & District AAC.
Multiple champion Stephen Cromar gave Dundee Hawkhill H their well-deserved title of the day in the M75 category.
The perennial Robert Young, Clydesdale, regained the M70 from Patrick Kelly, Law & District AAC and Gibson Fleming, Westerlands XC Club.
In the M65 category, there was a win for Hamilton's Andrew McLinden from second-placed Alex Sutherland, Highland HR, and third-placed Tom Scott of Fife AC.
The men's 8km championship was just as exciting as the Women's race with the result in doubt until the last moment. A small group consisting of Jethro Lennox, Shettleston H, Don Naylor, Hunters Bog T, Neil Smith, Anster Haddies and Michael Carroll, Perth RR contested the lead early on with Ruairidh Campbell, Montrose and District and Robert Gilroy, Cambuslang H looking as if they were playing a waiting game. Close up was four-time National Cross Country champion Bobby Quinn, Kilbarchan AAC, who was bidding for the M50 title to go with his previous M40 and M45 titles.
By the end of the first lap, Robert had moved up to the shoulder of Jethro while Ruairidh was gaining ground on the others contesting third place. Emerging from the woods at the top of the hill with about 1km to go it was clear there was a battle royal developing between Jethro and Robert. Jethro kept surging in the last long straight and eventually broke Robert by three seconds with Ruairidh well clear in third position and winning the M45 championship from Don Naylor, who was fourth overall. Fifth-placed Neil Smith took the M40 bronze medal and Michael Carroll the M45 bronze. Bobby Quinn achieved his goal of adding the M50 title to his previous M40 and M45 ones, winning from the 2016 champion Nick Milovsorov, Metro Aberdeen RC, and Stan MacKenzie, Cambuslang.
The M55 race was won by another perennial victor, Cambuslang's Colin Donnelly, with Patrick O'Kane, Strathearn, in second and William Jarvie, Portobello, in third. The M60 race looked like a club trial with all three medallists Ed Stewart, Paul Thompson and Frank Hurley in that order representing Cambuslang.
The open team race was no less exciting with Cambuslang continuing to dominate but this time only just. Corstorphine AAC the only team to beat Cambuslang in this event in the last 10 years equalled the Cambuslang total of 60 points but lost on the count back. Hunters Bog Trotters were third with 99 points.
After rescoring and removing M40s and M45 and multiple medallists Cambuslang H took the M50+ title from Strathearn H with 41 points and Fife AC in 3rd with 91 points. The popularity of the event was emphasised by the fact that 31 M45-M50 teams and 21 M50+ teams finished."
WORLD MASTERS, DAEGU, SOUTH KOREA: MARCH 2017
Paul Thompson continued his successful assault on M60 World Masters medals. David Fairweather sent three emails about Paul's progress. "Paul Thompson came agonisingly close to being World Masters Cross Country Champion this morning in Daegu, being outkicked in the last 40m of the 8km race, losing by less than half a second to take the silver medal. Another gutsy run saw Paul sit with the leading group over the first half of the race until deciding to stretch them out over the third lap. Reducing the group to four in the final lap, Paul managed to gain a 20m gap coming into the last 100m. However the Pole, who had started his charge, had the momentum as they both rounded the last sharp bend. Unfortunately by the time Paul realised the Pole was there he had run out of straight to hold on. Paul can still be pleased with his run, going two places better than in Perth last year. He also added another Bronze medal to his ever growing collection in the Team competition.
"Paul Thompson has added another Silver medal at the World Indoor Masters Championships in Daegu this morning. Paul finished second in a time of 10:38.68, just under 4 secs behind an Irishman. Just as he was winning another medal he unfortunately had to hand his bronze medal back from the Cross Country Team event after an error had been made with the Italian team results. Paul will look to make it a trio of medals in the Half Marathon on Sunday."
"It was Gold at the third time of asking this week for Paul Thompson in the M60s Half Marathon this morning at the World Masters Championships in Daegu. With a determined display of running, annihilating the field, Paul won in a time of 79mins 52secs to add to the title he won in Perth last year. He also helped his team to Bronze medals. This takes Paul's tally for the week to four medals: one Gold, two Silvers and a Bronze, not a bad week's work for Paul."
Scottish Athletics reported: "In fact, it was a hugely successful championships for the contingent from Scottish Veteran Harriers Club with a number of good performances helping land 21 medals in total. Among those to land more than one medal were Paul Thompson, Lynne Marr, Janet Fellowes, Brian Scally and Sharyn Ramage. Here's a list of the Daegu haul: Gold – Paul Thompson M60 Half Marathon; Sharyn Ramage W55 Cross Country Team; Lynne Marr W55 Cross Country Team; Janet Fellowes W60 Cross Country Team; Brian Scally M50 Cross Country Team. Silver – Paul Thomson M60 Cross Country Individual; Paul Thompson M60 3000m; Claire Cameron W55 Discus; Janet Fellowes W60 Half Marathon Team Bronze – Janet Fellowes W60 3000m; Brian Scally M50 3000m; Jozsef Farakas M35 3000m; William Lonsdale M65 Pentathlon; Janet Fellowes W60 Half Marathon; Claire Cameron W55 Shot Putt; Brian Scally M50 1500m; Dean Kane M35 Cross Country Team; Tony Golabek M35 Cross Country Team; Paul Thompson M60 Half Marathon Team; Sharyn Ramage W45 4x200m Relay; Lynn Marr W45 4x200m Relay."
THIS PAGE HAS BEEN LEFT BLANK BECAUSE HARDLY ANY READERS HELP BY SUBMITTING ARTICLES. PLEASE EMAIL to cjyoungson@btinternet.com RACE REPORTS OR PERSONAL ARTICLES ABOUT ANY ASPECT OF RUNNING OR FIELD EVENTS, PAST OR PRESENT.
OFFICE BEARERS SEASON 2016-2017
Honorary President: ALASTAIR MACFARLANE
President: CAMPBELL JOSS 25 Speirs Road Bearsden, G61 2LX Tel: 0141 9420731 cdjoss2@gmail.com
Immediate Past President: ALASTAIR MACFARLANE
Vice-President: ADA STEWART 30 Earlsburn Road, Lenzie, G66 5PF Tel: 0141 578 0526 stewart2@ntlworld.com
Honorary Secretary: JOHN SOFTLEY 6 Cathkinview Road Mount Florida Glasgow G42 8EH Tel. 0141 5701896
Honorary Treasurer: ANDY LAW Euphian, Kilduskland Road Ardrishaig, Argyll PA30 8EH Tel. 01546 605336 Lawchgair@aol.com
Membership Secretary: ADA STEWART 30 Earlsburn Road, Lenzie, G66 5PF Tel: 0141 5780526 stewart2@ntlworld.com
Handicapper: PETER RUDZINSKI 106 Braes Avenue Clydebank. G81 1DP Tel.0141 5623416 p.rudzinski@ntlworld.com
Committee Members:
JOHN BELL Flat 3/1, 57 Clouston Street Glasgow G20 8QW Tel. 0141 9466949
MARGARET DALY 24 Strowan Crescent Sandyhills Glasgow G32 9DW Tel. 0141 573 6572
WILLIE DRYSDALE 6 Kintyre Wynd Carluke, ML8 5RW Tel: 01555 771 448
DAVID FAIRWEATHER 12 Powburn Crescent Uddingston, G71 7SS Tel: 01698 810575
PHYLLIS HANDS 39 Albany Drive Lanark ML11 9AF Tel. 01698 252498
STEWART McCRAE 17 Woodburn Way, Balloch Cumbernauld G68 9BJ Tel: 01236 728783
KEN MONCRIEFF 25 Princes Street Stirling FK8 1HQ Tel. 01786 474978
PAUL THOMPSON Whitecroft, 5 Gareloch Brae, Shandon, Helensburgh G84 8PJ Tel. 01436 821707
ROBERT YOUNG 4 St Mary's Road, Bishopbriggs Glasgow G64 2EH Tel. 0141 5633714
BMAF Delegates Alastair Macfarlane Ada Stewart
SAL West District Delegate Willie Drysdale
SAL Delegate at AGM Ken Moncrieff
Website Ada Stewart
Auditor George Inglis
FIXTURES
MAY 2017
Wed 3rd Snowball Race 4.8 miles Changing & entries at Coatbridge Outdoor Sports Centre. Start: 19:30 Drumpellier Park
Sun 7th SVHC Walter Ross 5m Trail race , Pollok Park Cartha Rugby Club, 13:30 Sat 20th BMAF Road Relay Championships Sutton Park Sutton Coldfield Birmingham B74 2YT
Sat 27th West Lothian Highland Games Cairnpapple Road Race Free entry to Games for competitors. Entries & changing inside pavilion in Meadow Park, Glasgow Rd, Bathgate Start: 2:30pm
JUNE 2017
Wed 7th Corstorphine 5 miles Road Race Turnhouse Rd, Edinburgh, 7:30pm.
Sun 18th BMAF 5km Championships Horwich Leisure Centre Victoria Road Horwich BL6 5PY
Sat 24th – Sun 25th BMAF Track & Field Championships Alexander Stadium Walsall Rd Perry Barr Birmingham B42 2LR
Wed 28th SVHC 5km road race. New venue Clydebank Leisure Centre, 7:30pm.
JULY 2017
Sat 1st July Scottish Athletics National Masters Championships Grangemouth AUGUST 2017
Sun 13th Glasgow 800 10 km Road Race Cartha Rugby Club, 13:30
AUGUST 2017
Sun 13th Glasgow 800 10 km Road Race Cartha Rugby Club, 13:30
SEPTEMBER 2017
Sat 16th Trial Race for International XC Tollcross Park
October 2017
Sun 15th SVHC Track 10K. Followed by AGM , Grangemouth Times TBC NOVEMBER 2017
Sat 18th British & Irish Masters Cross Country International – Derry, N. Ireland