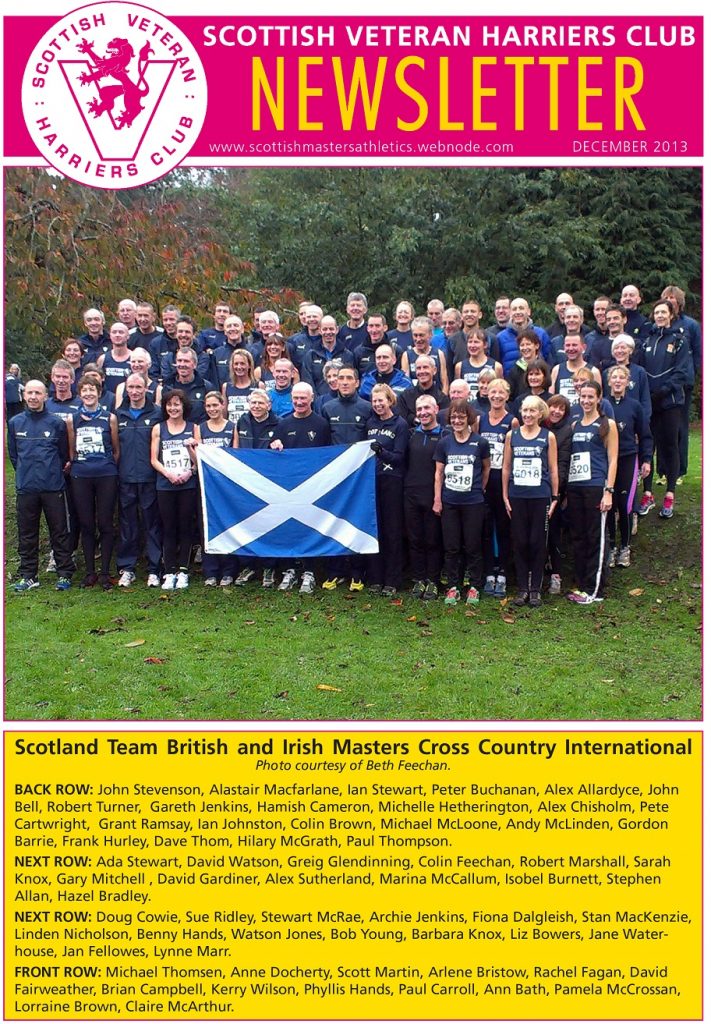 MEMBERSHIP NOTES 25th November 2013
MEMBERS
Welcome to the 22 new and 3 reinstated members who have joined or re-joined since 29 August 2013. 1 member has resigned and. 2 members have died, We now have 493 paid up members.
2 members, Bill McBrinn and David Bauchop, have recently passed away. We send our condolences to their families.
.NEWSLETTER
The massive increase in postal charges has forced us to change to an electronic version of the Newsletter as the preferred option. Any member who wishes to continue receiving a printed Newsletter must contact me, if they have not already done so. Please inform me if you add or change your email address.
Please send photos, news, letters, articles, etc for the next issue To: COLIN YOUNGSON TOMLOAN, SANQUHAR ROAD, FORRES, IV36 1DG e-mail: cjyoungson@btinternet.com Tel: 01309 672398
SVHC EVENTS
Stewards/marshals are required for club races. The club appreciate all members & friends who volunteer to act as stewards/marshals. If you are not competing just turn up and introduce yourselves to the organisers. Thanks to all those who have already helped out.
STANDING ORDERS
Thank you to the members who have set up standing orders for membership subscriptions. Please remember to update the amount payable, & keep me informed if your membership details change (especially email addresses). If any other member wishes to set up a standing order please contact me.
Please ensure, if possible, that the next payment date is set for 10Nov2015, and annually thereafter.
CLUB VESTS
SVHC running vests can be purchased from Molly Wilmoth for £15 (Tel: 0141 7764941).
NEW MEMBERS
CHRS SURN JOINED NO. TOWN
Craig Brown 12-Nov-13 2177 Newton Mearns
Andrew Buchanan 04-Nov-13 2175 Airdrie
Peter Buchanan 30-Aug-13 2159 Edinburgh
Isobel Burnett 01-Nov-13 2173 Charlestown
Steven Campbell 25-Sep-13 2161 Gourock
Emilio Cosimo 02-Sep-13 2160 Muirhead
Lindsey Currie 21-Oct-13 2170 Dumbarton
Fiona Dalgleish 04-Nov-13 2174 Galashiels
Elaine Davies 23-Nov-13 2178 Edinburgh
Gillian Duncan 04-Oct-13 2165 Forbrae Park
Karen Kealey 12-Nov-13 2176 Blair Drummond
Gary Leek 25-Sep-13 2162 Shotts
Angela Lyttle 25-Nov-13 2179 Blackwood
William McFadden 17-Oct-13 2168 Kirkintilloch
Danny McLaughlin 05-Oct-13 2166 Greenock
Michael Murray 27-Sep-13 2163 Edinburgh
Phyllis O'Brien 14-Oct-13 2167 Edinburgh
Gillian Sangster 29-Oct-13 2171 Carnoustie
Ruth Watson 30-Aug-13 2158 Haddington
Martin Williams 21-Oct-13 2169 Dudley
Frances Wood 31-Oct-13 2172 Linlithgow
Melissa Wylie 28-Sep-13 2164 Dumbarton
Fred Cowan 23-Nov-13 74 St Leonards
David Dickson 03-Oct-13 1915 Glasgow
Bernadette O'Neil 30-Aug-13 2036 Newlands
David Fairweather Membership Secretary
SVHC / RUN and BECOME RACE SERIES 2013 / 2014
After a close fought finish the first three men and women in the 2012/13 competition were John Gilhooly, Colin Feechan and Andy Law, and Phyllis Hands, Claire McArthur and Pamela McCrossan.
As will be seen from the fixture list elsewhere in your Newsletter, the 2014 version of the very popular Run and Become Race Series has one or two alterations.
We are adding the Lasswade 10 miler thus giving participants the opportunity to run an additional 10 mile race.
As the Moray Marathon in September is hosting the BMAF Championship we have also included this in the Series.
And of course the BMAF Cross Country Championship will replace the SAL National. There will therefore be 14 races to choose from with each runner's best 8 to count. Another small change is that 1 bonus point will be awarded to each runner completing more than the required 8 races regardless of the number of additional races.
The RUN and BECOME Series goes from strength to strength and with a prize list valued at over £600 this is hardly surprising so it would be great to see another season with record numbers taking part.
Alastair Macfarlane
OBITUARY
William McBrinn, 30 July 1930 – 22 September 2013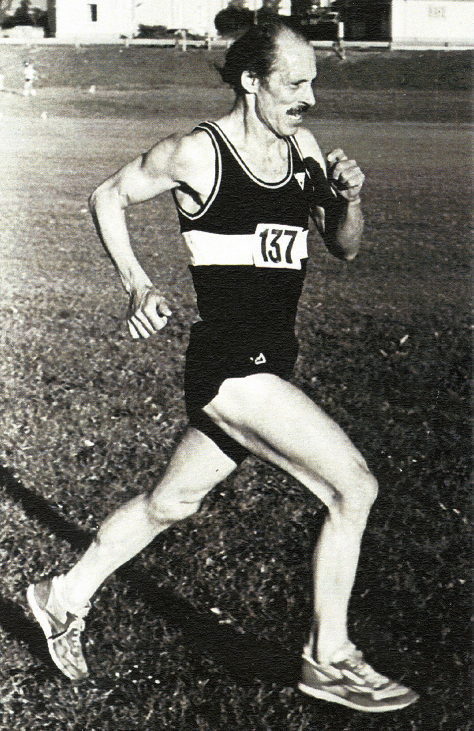 On Sunday 22nd September we were saddened to learn that Bill McBrinn had died, aged 83.
Bill had been a member of the Scottish Veteran Harriers Club for longer than I can remember, served on the Committee for many years including 1 year as President (88-89), and was given Honorary Life Membership in 2006.
He will be fondly remembered for his McBrinnlets, which were a Newsletter feature from 1989 (or earlier?) until 2008; and his promotion of the annual Snowball® race (originally the Alastair McInnes Memorial Race), where he provided Snowballs® to every competitor, and to all the helpers. He also provided countless prizes at his own expense. He would also often hand out diaries, and more Snowballs®, after the annual 10,000m track race.
Bill was born in Coatbridge, where he lived for the whole of his life. There he met Margaret, who became his wife for 51 years.
The other loves of his life were athletics and magic, as well as a bit of acting. He was an Equity card holder, and appeared in many Scottish TV dramas such as Taggart and Edge of Darkness, under his stage name Billy Stevens. He was also a member of the Magic Circle, and in 1975 was President of the Scottish Association of Magical Societies.
He would often perform tricks at SVHC social and athletics events, and was still performing 2 weeks before he died.
Bill was a regular competitor in veterans events, and represented Scotland regularly in the British & Irish Cross Country International.
He competed at every distance from 800m up to marathon. In the latter he set a British M55 record of 2:34:24 at Greenock on 25/08/85, and a British M60 record of 2:46:36 on 21/04/91 at Fort William. Both these records still stand.
The M60 record is exceptional because Bill had suffered a heart attack 3 years earlier.
Bill suffered another heart attack in the BVAF Indoor Track Championships at the Kelvin Hall. He won the 800m, and had qualified for the 1500m final, when he suffered chest pains and had to be taken to the Western Infirmary. He had to be dissuaded from returning for the final, which he reckoned he would have won when he saw the winning time!
He kept on racing into his late 70s and ran 22:50 in the SVHC 5km in 2007, but the loss of half a lung to cancer curtailed his running somewhat. It didn't stop him completely and he continued training until just 3 months before his death.
In 2010 my wife and I, along with many other SVHC members, were privileged to be invited to his 80th birthday celebrations at St Patrick's Church Hall in Coatbridge. Bill was in fine form and it was a great night.
Bill is survived by his six children James, John, Steven, David, Mary and Diane, and eight grandchildren.
David Fairweather
LETTERS PAGE
(Only one this week. More wanted!)
Age-group prizes
As we runners get older we have to face up to tricky questions like "why am I still doing this?"
Well, in my case (now 66), I have a two-part strategy:
a) competing against my own age-group; and
b) trying races which I have never done before….
Plenty potential here, as new events seem to spring up every second week these days.
Of course, for age-group competitions to be meaningful, there have to be prizes in all age categories.
Some events are good in this respect, others not so good. I've taken part in a few recently, where MSV (i.e. M50) was the oldest category on offer when you filled in the entry form. Well, I like a challenge as much as the next oldie, but being expected to beat guys who've just turned 50 is not the real world! These people are still young, for goodness sake!
So, whether the age-groups are going to be in 5s (preferably) or in 10s, they should go up to M70 at least, and the female equivalent.
And it's good if the pre-race notes state clearly which age-category prizes are on offer.
As organiser of the Seven Hills of Edinburgh Race for many decades, I have the honour of presenting the M70 prize to Bill Gauld every year.
As he came up to collect this in 2013, I asked him what age he is now. Eighty, he said! (Still got round in under three hours.)
So there will have to be an M80 prize next year, leaving the way clear for younger up-and-coming runners to claim the M70 one.
Roll on the first M100 prize!
Alan Lawson, Dundee
SVHC ATHLETE PROFILE QUESTIONNAIRE: JANE WATERHOUSE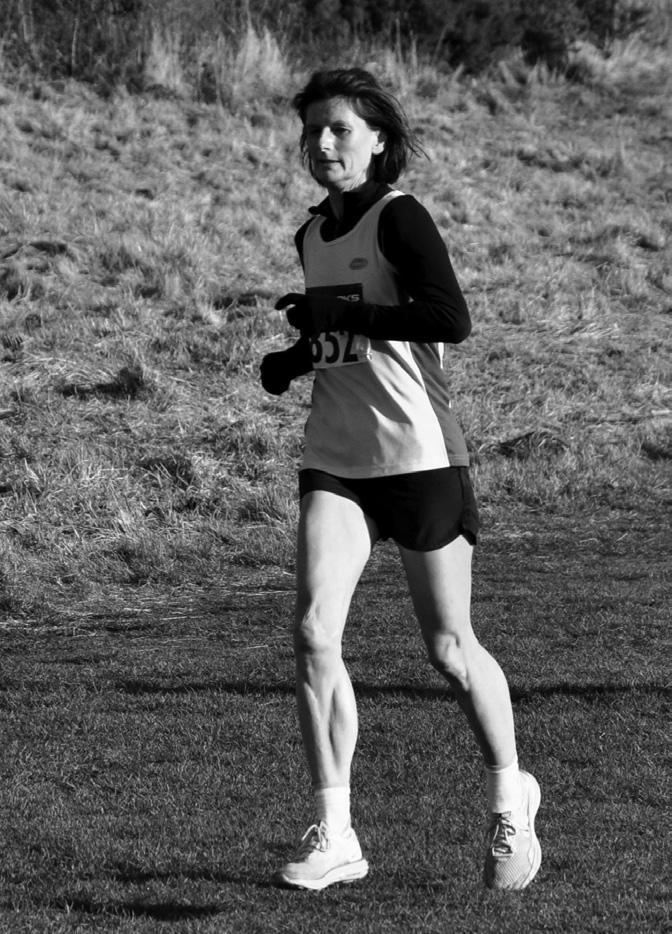 Jane Waterhouse looks serious and races hard. Nevertheless she is very friendly and supportive to other runners. Her modesty hides the fact that she is one of the most successful Scottish Masters cross-country runners, female or male, EVER.
I base this assessment on her incredible record in the Scottish Masters CC: Jane has won thirteen individual titles, all by clear margins!
She started off in 1997 with the W40 championship; won three W45 gold medals between 1999 and 2001; added three more at W50 (2003-5) plus another in 2007; then secured four W55 titles in 2008 and 2010-12; and started her W60 campaign with gold in 2013.
She did not compete in 1998, 2006 and 2009, and suffered her only defeat in fourteen races when she could 'only' obtain bronze in 2002!
In addition Jane has been a stalwart team leader for Scotland in the annual 5 Nations CC Masters International.
I do not have all her results, but note that in 2007 she was 7th W50, but improved to 5th W55 in 2008 (behind the winner, England's Susan Cooper).
As she states below, her finest performance was at Birmingham in 2009, when her strong finish ensured that she overtook the long-time leader, Susan Cooper, and gained revenge by sixteen seconds to win a rare individual gold medal for Scotland in this very prestigious event. Her team won silver medals, only five points behind the Auld Enemy.
In 2010 in Dublin, Jane finished fourth (only ten seconds behind third) and led her team to bronze medals.
2011: 5th and another third place for Scotland; 2012 9th and another team bronze.
In the recent 2013 International in Cardiff, she came very close to equalling her 2009 achievement, finishing second W60, only nine seconds behind the winner, England's Janice Needham. Jane trained especially hard for this race and was justifiably pleased with her performance, especially since she led the Scottish W60 team, who packed very well indeed, to silver medals.
Name: Jane Waterhouse
Club: Central AC
Date of Birth: 01/02/53
Occupation: Manager Medical Practice
How did you get involved in the sport? Through my two daughters. I used to sit and watch them train and then someone suggested I join in. I have never looked back!
Has any group had an influence? My training group at Central have always been a big part of my life. It is a very mixed group with a huge age span but always encourages us oldies.
What exactly do you get out of the sport? Lots of friends, lots of laughs, some stress (I hate racing) and being able to eat lots of cake.
Your best-ever performance? Winning my age group at the 5 Nations International Cross-Country at Birmingham in November 2009. It was my finest hour!
Your worst? Plodding around in last position in an interleague cross country down in the South of England – and they were pulling down the course while I was running.
What unfulfilled ambitions do you have? I would like to run another marathon alongside my two daughters but am not sure my knees are up for that any more.
Other leisure activities? Singing in a choir. (That is my sensible side.) Walking in the mountains. Looking after my wonderful little grandson Fraser.
What does running bring you that you would not have wanted to miss? Keeping fit, making lots of friends from all over Scotland and from all walks of life and being part of our running group.
Can you give some details of your training? I train with Central AC twice a week. These sessions consist of repetitions of different distances from 400 to 1000 on fields or track in the summer. I run by myself on the weekend, doing a tempo run on Saturday and a longer slower run on Sunday.
SVHC ATHLETE PROFILE QUESTIONNAIRE: ANDY McLINDEN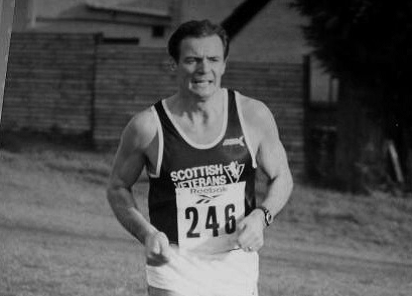 I remember reading about twenty years ago that Andy had recorded very fast times over 10k and half marathon. Since we had never raced against each other, I assumed those courses were short! How wrong can you be?
According to the age-graded tables, Andy is currently better than he has ever been and a major contender for British and International titles.
He has seldom contested the Scottish Masters CC but won the M50 title in 2002, during a Glaswegian gale, well in front of Tom Scott and myself. In 2007 he secured M55 bronze behind George Sim and Tom Scott. Then in 2012 he was victorious in the M60 race, after a close battle with eccentric, injury-prone but talented Alistair Murray from Aberdeen.
Like Jane Waterhouse, he has run consistently well in the annual 5 Nations Masters International CC. Once again, I do not have all his results, but note that in 2002 he was 5th M50 and his Scottish team won silver medals. The M55 age group produced several very good runs: individual bronze in Belfast 2007 and a glorious team victory for Scotland (George Sim 2nd, Andy McLinden 3rd, Archie Jenkins 7th, Ewan Patterson 8th). Swansea 2008: 6th and team silver. Birmingham 2009: 4th and team bronze. Dublin 2010: 10th.
By Glasgow 2011, Andy McLinden had improved once more to win an individual silver medal in his new M60 age group behind the almost superhuman Mike Hager of England. Andy repeated this fine achievement in Belfast 2012 and led his team to bronze medals.
Andy writes that he ran all his best times as a veteran. He completed a marathon in 2.39 but reckons that, without the intervention of an unfortunate injury, he was capable of 2.30 at least. (At M55 he ran London in an excellent 2.46).
His fastest half marathon was 69 minutes at Arbroath in 1993. He also recorded 15.20 for 5k and 32.20 for 10k.
Looking back at his International cross-country performances, he reckons that, "like a fine wine", he has matured into a medal-winner!
He has won several Scottish titles on track as well as road and topped the British Masters rankings on a number of occasions.
In 2011 he had a go at the European Masters half marathon in Thionville in France, winning a silver medal in the M60 category, and "catching (golden girl) Fiona Matheson on the line for a nice wee Scottish double".
He comments that his gold medal in Finland last year was "not bad for a fun runner"!
Andy considers that the fact that he has never done a high mileage might be a factor in "getting away with it now". Recovery has always been an important part of his training.
Name: Andy McLinden
Club: Hamilton Harriers
Date of Birth: 2/4/1951
Occupation: Clothing machine technician (28 years). Postman (last 10 years).
How did you get involved in the sport? The marathon boom in the mid 80s.
Have any individuals had a marked influence? Hugh Gibson had a big influence in my early years at the club and also gutsy Brian Campbell.
What exactly do you get out of the sport? A feeling of well-being.
Best performances? I had a head-to-head battle with the great Jim Dingwall in a 1500m at a track meet in Coatbridge and pipped him on the line before I realised who he was.
However I suppose standing on the podium last year after winning the World Masters Half Marathon M60 title in Finland was the pinnacle.
Worst? None really – I just enjoy racing.
Unfulfilled ambitions? When you are over the 60 mark – just to keep going.
Other leisure activities? None. Not much time for anything else.
What does running bring you that you would not have wanted to miss? The competition and the friendship of my fellow athletes.
Training? Long Sunday run (15 to 18 miles); speed session Tuesday (400s or 800s); tempo run Thursday (four or five miles); easy runs or rest days in between.
ARTICLES WANTED!
Any editor will struggle to fill the next edition of a newsletter, unless readers send in articles. Any topic might be considered, for example: running memories; profile of a clubmate or indeed your club; reasons why you started running and why you continue; race report; training hints; the official's viewpoint etc.
Don't be modest if writing about yourself – we all have good days and also very bad ones! On page ?? is a new regular feature "Favourite Races".
Please contribute by emailing the editor, Colin Youngson – cjyoungson@btinternet.com or by post to Tomloan, Sanquhar Road, Forres IV36 1DG.
OXBRIDGE SCOTTISH RUNNING BLUES
The Oxford versus Cambridge Inter-'Varsity CrossCountry race is one of the oldest inter-club matches still in existence and has a rich history. Barring the war years, it has been held annually since 1880. Many world-class athletes feature amongst the winners, including Jerry Cornes, Jack Lovelock, Roger Bannister, Chris Chataway, Tim Johnston, Julian Goater and Richard Nerurkar.
The only two Scottish winners I can spot were Alasdair Heron (Cambridge) in 1964 and Neil Thin (Cambridge) in 1981 and 1982 – Neil's team won both races too.
Alasdair Heron (Edinburgh Southern Harriers) had a brief but successful running career. In 1962 he won the Scottish Junior CC title in front of Craig Douglas and Mike Ryan; and finished a very good 11th for Scotland in the Junior International CC at Graves Park, Sheffield. His team won bronze medals in this prestigious event. In 1964, after securing fifth place in the National (when he led ESH to the Scottish team title) Alasdair Heron was third counter (39th) for Scotland in the Senior International CC at Leopardstown Racecourse, Dublin. In the Edinburgh to Glasgow Relay, Alasdair won two silver medals with ESH in 1962 and 1963 (when he was second fastest on Stage Two, behind Scottish Internationals Callum Laing and Fergus Murray respectively) and bronze in 1964.
Post-graduate students from Scotland took part in Oxbridge Cross-Country and Athletics fairly often, for example. Alastair Wood (Oxford), Martin Craven (Oxford), Fergus Murray (Oxford), Mel Edwards (Cambridge) and Doug Gunstone (Cambridge). Several coveted 'Blues' were awarded. I remember that Ally Wood and Martin Craven were both justifiably proud of their double blues for Athletics as well as Cross-Country.
But how tough was the training for such a prestigious event? We have a good idea how hard the rowers train for their annual contest. What was the selection procedure? What sort of courses were tackled? Surely not modern, flat, emasculated ones. What tactics were employed? How cut-throat was the competition? After the race, did runners celebrate, commiserate and drown their sorrows? On what basis were blues awarded? Scottish athletes have a range of memories.
Mel Edwards had developed into a very good runner during his years at Aberdeen University. His best performance was in February 1964, when he won the Scottish National Junior CC at Hamilton Racecourse, after a thrilling battle with future Commonwealth Games medallists Ian McCafferty and Lachie Stewart. Subsequently he was a scorer for the Scottish team in the Senior International Cross-Country Championships at Leopardstown Racecourse, Dublin.
At Cambridge University he became friends with Mike Turner, who became England's cross-country captain.
Mel recalls "Early morning 10 mile sessions in the Cambridge mists and 16×800 in the evening produced a second place and a blue in the 1964 Oxford v Cambridge cross-country race at Roehampton." (The course at that time started and finished at the Big Holly Bush, close to where Roehampton Lane met the A3, and stayed completely on the Common.)
Mel remembers "Selection in 1964 was by trial and the course was chosen to replicate the Roehampton one as closely as possible. We sussed out the race course a few weeks before but I was still surprised by the toughness of the 'Toastrack' on the day. I recall one of our team had not turned up ten minutes before the start and our reserve was all warmed up and ready to go. The latecomer arrived and our captain had a difficult decision. He went for the latecomer, who proceeded to have a poor run.
Shortly after the start Alasdair Heron and I were chasing Dai Davies of Oxford. We closed him down and I remember Alasdair saying "You pass one side, I'll pass the other. It's the best way." We did so and Alasdair went on to win with me second in 38.41, 28 seconds behind."
Unfortunately, Mel lost the 1965 season to Achilles tendonitis, which was cured by osteopathy in early 1966, and he was selected for the Cambridge team for the 3 miles versus Oxford at the White City.
"There were four in the field, including the late Henk Altmann, the South African 3 mile record-holder, so it was a tough task. I was tipped to finish third, which meant a whitewash for Oxford. My colleague John Baggaley was dropped early on and Henk, John Waterhouse and I battled it out.
Just before the bell Henk went for it. Decision time. Do I go with him or fight it out with Waterhouse for second? I went after Henk, my legs fell off with 200 to go and I got third in 13.52, four seconds off my best, and twelve seconds behind Henk. At least I tried."
Fergus Murray studied for a Dip Ed at St Catherine's College, Oxford during 1966-1967. Previously he had enjoyed an extremely successful running career while at Edinburgh University: representing Great Britain in the 1964 Tokyo Olympic 10,000m; and winning three consecutive Scottish National CC titles. Inevitably he had secured EU full blues for both cross-country and athletics.
He trained very hard (100 miles per week), eventually became injured and had a cartilage removed in August 1966.
Consequently, he did not run in the first team crosscountry contest versus Cambridge, but did compete for the second team (Oxford Tortoises v Cambridge Spartans), finishing first equal with his team-mate Tim Taylor.
The 1967 athletics season was very successful for Fergus. He placed second in the AAA 10 miles track after a close contest with Ron Hill, the future marathon great. Murray's time was 47.45.2 (a Scottish record), only 6.6 seconds behind Hill.
Fergus was training a lot with John Waterhouse, who made up a formidable three mile Oxford track pairing with Henk Altmann, so Fergus was not disappointed when he did not run in the match against Cambridge.
However, he reduced his best six mile time to 27.42.96 when placing sixth in the AAA race and then won the famous Polytechnic Marathon from Windsor to Chiswick in 2.19.06.
During the week following this long but apparently not exhausting race, Fergus won the two miles for a combined Oxford/Cambridge team v Harvard/ Yale at the White City in 8.44; came fourth in another two miles in Reading in 8.38.8; and won the British Universities 6 miles on the Saturday in 28.38.2!
Fergus remembers victory against the Americans with particular pleasure, as well as being in the St Cats team that won Cuppers (an athletic contest against other Oxford colleges) in 1967. There was a wager on the result between the Bursar Charles Wenden (also Treasurer of the British Universities Sports Federation) and the Master of St Catherine's, the illustrious historian Alan Bullock. Charles asserted that St Cats would be known for Sport rather than Academia!
Neil Thin writes "the Oxford-Cambridge Varsity CrossCountry has been run on neutral territory in Roehampton Park since the 1890s.
Cambridge training in the early 1980s was, it must be admitted, typically rather boring for anyone from Scotland, given the lack of any accessible hills. To get even a moderate gradient you had to run about six miles each way to the Gog Magog golf course, and this being an English institution, there was always the risk of being shouted at.
Otherwise training was on flat commons in town, or occasionally in the sticky grey mud of nearby fields and marshes, or on the cinders athletics track. Almost no one did any gym training in those days, so everything happened outdoors.
Cambridge and Oxford runners rarely went head-to-head in pre-Varsity races, and selection for the blues fixture was mainly based on performance in local races a couple of weeks beforehand, including occasional contests against astonishingly good local teams with world-class runners like Julian Goater, Chris Garforth, Mike Turner and Tim Hutchins.
Sometimes a very enterprising captain might seek out inside knowledge about rival team standards, but generally you just waited to see how things went on the day.
I remember going as reserve in my first year to watch the Cambridge team being heavily defeated, and returning the next year to not only an individual win but also a rare 'whitewash' victory over Oxford (i.e. all six scoring runners came in ahead of the opposition).
Full blues were awarded to all who ran in the cross country Varsity race, but only the most status-conscious and thick-skinned of the Cambridge team would actually invest in the virtually unwearable duck-egg blue blazer!
The dinner in London after the race was a very grandiose affair attended by various ex-Oxbridge runners, including significant numbers of former Olympians.
To get your full athletics blue you had to compete in the first team at the Varsity athletics match, and attain a high standard time (e.g. 3.53 for 1500m or 14.45 for 5000m)."
(The editor recalls that in the 1960s the Aberdeen University blues blazer was a startling powder-blue, and that only the elegant Scottish international steeplechaser and cross-country runner Bill Ewing was ever seen to wear one, ignoring critical banter which insulted his fashion sense!)
(N.B. Brian McAusland's excellent website www. scottishdistancerunninghistory.co.uk includes lengthier profiles of Alastair Wood, Martin Craven, Fergus Murray, Mel Edwards, Bill Ewing and Doug Gunstone, under 'Marathon Stars' or 'Elite Endurance' or 'The Chasers'.)
SCOTS CORNER
Noo, tho roon aboot the Steen Age ah wis een a yon prefects at Aiberdeen Grummar Skweel and hid a decent eddification an a' that, an warked in muckle an supposedly ceevilized cities like Glesga an Aul Reekie, as weel as oot in the sharny sticks, ye can tak the loon oot o' Aiberdeen bit ye canna tak the Aiberdeen oot o' the loon, ken fit ah mean?
Neist is a wee screev frae yon Falkirk chiel Shuggie McGinlay, still game, fa we a' ken fine.
The peer aul mannie canna maintain the Quine's English fir lang, let alane dee punkchewashun, bit maun keep lapsin intae a kinna dialect that isna even the Doric!
Bit, fit wy div ither folk nae coaryspond in their ain wy, mibbie in a letter or a race report?
Cum oan, Fifers, Borderers, Teuchters, Shetlanders, and even posh types frae Kelvinside or Morningside – efter a', we're cried the SCOTTISH Vets, are we no?
Aal coantributions gratefully prented, an at's nae lee.
Sir, I am an OAP, a Senior Citizen, an octogenarian, an many would aver a crabbit auld git, if they say sugar, I say sand, but it would seem the race has been run, the medals won, you've had it son.
Three physios have treated my Achilles and would have me running, all to no avail, but a NHS qualified has given me the most exhaustive exam, and will tell me in a few weeks' time if the game is done, took months to have that service, but he, a runner himself, commiserated with me.
Noo, jist fit fur whye am a writin yese. It is Veteran! Master, a rose by any other name is jist the same, well it is not, it is chalk and cheese.
I have been both, as a Master I am given every respect, consideration, a top-class international rep. I do not spectate at our national indoor centre, I run, participate, compete, against the watch, and am supported by thousands, they being the mums, dads, grandparents of the juniors of our scene, the organisation of their relays perfection of the highest.
On the outdoor track, ditto, minus the support.
Unable to compete on the road, I cannot comment on that scene but would think it is well organised.
The NHS bod enquired of me what was your best memory from racing years. It was Perpignan. We were a club par excellence, we ran for Scotland and were welcomed.
Anither souvenir is a quaich from the Japanese marathon.
The British Vets Champs in England with my Scottish Vets vest.
Our promotion of the British Masters disquiets me, we are a voluntary amateur club and it shows, let us have Scottish Athletics serve us, is that not their remit?
As for the polis, I am having discourse with my MP on that issue, and not just on the athletics front, just suggest something and they are procrastinating the problems.
Doug Gillon wrote a good article in The Herald recently ('Train heavy, race light") about the great amateur athlete Jim Alder, who, to my mind epitomises veteran athletics, tremendous, I can personally relate to this!
Hugh McGinlay
British Masters Track and Field Championships Report
Very few SVHC members made the trip to Birmingham for this belated event on September 14th and 15th. Nearly all of them won medals, however.
World W55 record holder Laura Mahady (Aberdeen) won the 400 (64.6) and 800 (2.34).
Fiona Matheson (Falkirk W50), who is Britain's overall No 1 in her age-group, continued her outstanding year by narrowly outsprinting the W40 victor to win the 1500 (4.58.42); and then ran away with the 5000 (17.33).
Fiona Davidson (Aberdeen W40) finished first in the long jump and triple jump.
In the M70 category, the star Scottish performer, as mentioned below in his profile, was Clydesdale's Pete Cartwright, who recorded clear victories in the 800 and 1500 and also finished third in the 5000m.
The durable Bill Gentleman secured silver medals in the hammer and the weight.
John Thomson (Fife M55) recorded impressive wins in the 800 (2.16) and 1500 (4.39).
Alex Bryce (Falkirk) fought his way to a bronze medal in the M50 800 and fourth place in the 1500.
The excellent photographs on this page and many of those from the British and Irish Cross Country International in Cardiff were taken by Jeremy Hemming, who for a long time has contributed to Athletics Weekly. His address is 7 Emmerton Court, Wynter Street, London SW11 2DJ, email address is hemming@dircon.co.uk and phone 0208 871 9989. If you would like to buy a photo, the following print prices include postage and packing. 6×4 = £4; 7×5 = £5.50; 9×6 = £7.50; 12×8 = £17.50. Jpeg by email for personal use = £7.
SCOTTISH MASTERS MALE ATHLETE OF THE YEAR: PETER CARTWRIGHT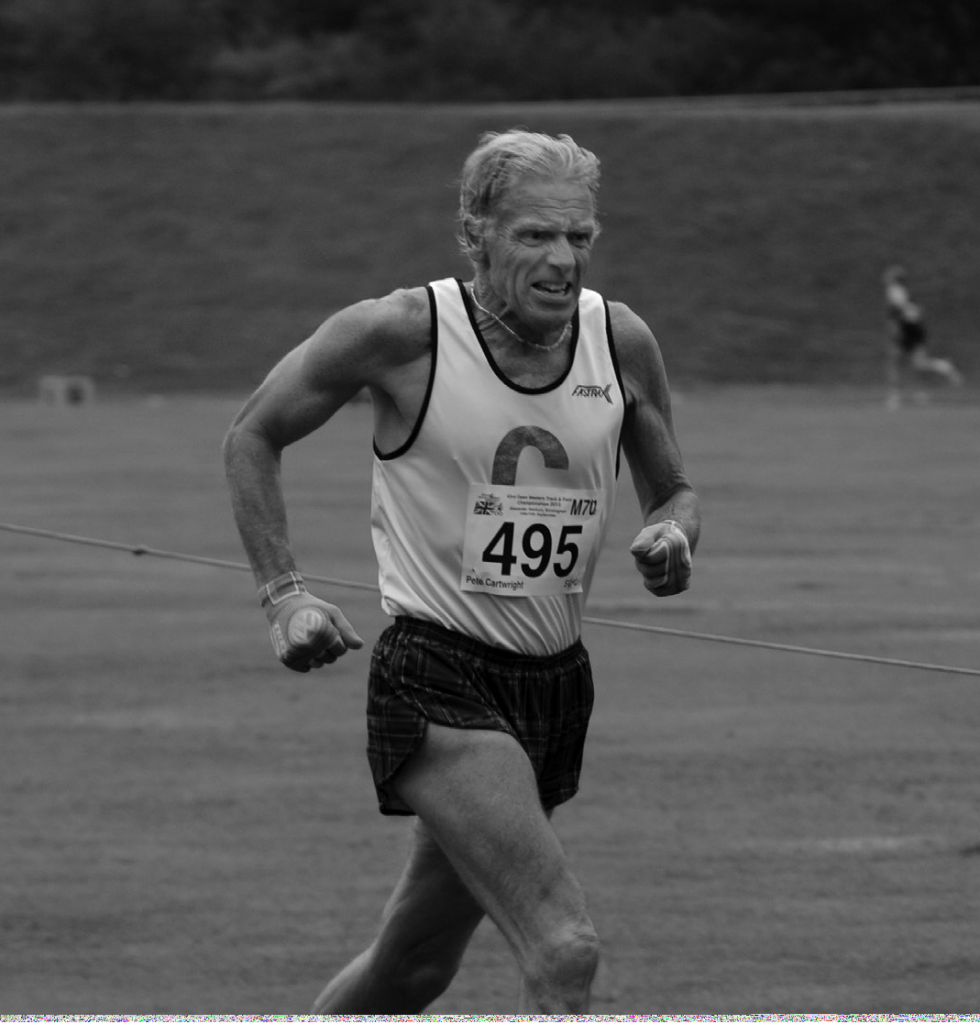 There is little doubt that Falkirk Victoria Harrier Fiona Matheson (W50) is our female athlete of the year and that Clydesdale Harrier Pete Cartwright (M70) is the most successful male athlete, with no fewer than six individual victories in Championships organised by the British Masters Athletics Federation. (Thanks to Brian McAusland for much of the following information.)
An ex-professional footballer in Manchester, Pete moved to work with the G.P.O. at Stirling University as the resident engineer, and joined in a lunchtime run, as well as playing 5-a-side football.
By the time he was 38 he met a very good runner, Derek Easton (nowadays a highly-respected coach), and started training seriously for his debut as a veteran at the age of 40 and joined Falkirk Victoria.
Running took over his life, since he covered 70 to 100 miles per week in training with three track sessions thrown in. In the evenings after work he often ran 12 miles from Stirling to his home in Thornhill.
He was very successful. He won a round of the British Adidas Half Marathon series at Wilmslow in Cheshire, followed by what he calls "a streak of title winning".
At 1500 he won the SVHC, the British Telecom National Championship and the British Civil Service Championships plus a bronze medal in the Vets Commonwealth Games in Grangemouth.
1994 was a very good year. He took gold in the WAVA Games in Canada, running for Great Britain; and also won in America over 5 miles and 10 miles.
His first individual titles on home ground were secured when he took the 1500 and 3000 on the same day at Kelvin Hall. He then won the 5k Road championship and was pleasantly surprised when his club named him their athlete of the year.
Like everybody at the time he continued to race all over Scotland and he won his share of races but the standard of Masters Athletics was so high that hard fought races did not always end in success. The highest honour of his career was when he won the Athlete of the Year Award for Central Scotland in 1999.
Pete Cartwright raced and trained until he was 55 before he switched to Mountain Bike Racing.
Having raced motor bikes as a sidecar passenger in the Isle of Man TT and World Championships for 15 years and gone into SuperKart racing, using his fitness for the thrill of mountain bike racing was irresistible.
In his first two years he won the Scottish Masters Series title and became totally hooked on the speed, jumps, single track and adrenalin rush of downhill speed. Like all bikers, however, he had a big accident which damaged several discs in his back and he had to spend six months having treatment.
He made his return with the intention of taking on the British Championships against the very best riders from the four home countries. He made it to second in the series and then in the Welsh series he attempted an eight foot drop-off and things went wrong: he ended up with a suspected broken neck. On X-Ray he was told he was lucky that he only damaged the discs in his neck but that was enough for the doctor to tell him that any more disasters like that and there would be no more sport for Peter!
So it was back to running. That's when he joined Clydesdale Harriers, teaming up with Bobby Young and subsequently Brian Campbell with the avowed aim of trying to bring some M60 British team titles back to Scotland.
The Three Amigos trained hard – individually and as a group – travelled a lot and had a great time winning gold medals. Between 2004 and 2008, the trio contested seventeen BMAF M60 team championships and won an amazing thirteen of them.
Their peak year was 2005, when they were undefeated and victorious six times: the CC Relays in Norwich; CC Championships in Bangor; Road Relays in Sutton; 5k in Horwich; 10k in Strathclyde Park; and 10 miles in Bishop Stortford.
Their final team gold medals were secured in 2008: the 5k Championship in Horwich.
By then, Pete Cartwright had started a very successful M65 career, including a silver medal in the British and Irish CC International at Belfast in 2007.
However, 2012-2013, after Pete Cartwright's 70th birthday, has been a year of even greater individual success.
In October 2012 he won the BMAF 10k (41.30) and the 10 miles (71.03), with both events taking place in Essex. In November he was a close third in the British and Irish Masters International CC in Belfast. Then in March 2013, on the Lee Valley Indoor Track, Pete won the 1500 (5.31) and the 3000 (11.23). In August's 10k road race in Glasgow he won a team gold medal, along with his Clydesdale Harriers chums Bobby Young and Brian Campbell. On the Outdoor Track at Birmingham in September, he won the 800 (2.45) and the 1500 (5.31) and was third in the 5000m (20.46). Oh, and he also won four Scottish Masters titles: cross-country, indoor 1500 and 3000m and 10 miles (70 minutes exactly)! In the Scottish Masters cross-country championships, Pete won the M55 category in 1998, M65 in 2008 and M70 in 2013, plus silver medals at M55 and M65 and two bronze at M60.
Pete adds: "I have won all the M70 SVHC or SAF races this year – from 1500 to half marathon. In the Polaroid 10k road series I was first in all 4 races and was awarded the overall title, despite having to drop down to the M60 category since there wasn't an age-group for me.
The British and Irish Masters International CC will take place in Cardiff in mid-November. The Scottish M70 team has four competitors: Bobby Young, Brian Campbell, Watson Jones and myself, all from Clydesdale Harriers! I'm not sure this has happened before – all the runners from one club.
I put in about 50 miles training a week (including two track sessions) during the summer. In the winter I like to up the mileage a bit, cut out one track session) and put weight sessions in three times a week. I'm ranked No 1 M70 in the UK over 1500 and 3000 indoor plus 1500 outdoor and second over 10 miles road. I'm ranked No 1 M70 in Scotland from 800 to half marathon.
I think the most pleasing thing this year was doing the track treble: winning the three major 1500 titles (SAF Indoor, BMAF Indoor and BMAF Outdoor). I think that's the first time that has been achieved in the M70 age group."
Now in spite of all the achievements celebrated above, Pete Cartwright is a modest, cheerful man who deserves every success, since he trains exceptionally hard, has keen tactical awareness and a wicked change of pace.
(Drug testing reveals one secret: he never even drinks alcohol, which some consider tantamount to cheating.) He is almost too good to be a role model – the temptation for his rivals is to retire immediately!
FAVOURITE RACES
Over a fifty year 'running career' I enjoyed a wide range of interesting races. The important ones I ran most often included the Scottish Marathon championship, the Scottish National (and then Masters) crosscountry and the British and Irish Masters cross-country international, but my favourite event was undoubtedly the late, great EDINBURGH TO GLASGOW ROAD RELAY.
The last time I wrote about this in the newsletter was three years ago and I return to the topic, to start off the FAVOURITE RACES feature, which I hope readers will add to in the near future!
As any old buffer will insist, the E to G was a wonderful race (although it is a shame that it was an all-male event), anticipated for months, specifically targeted, trained and tapered for, full of nervous intensity, flat-out effort, drama, triumph and disaster.
It was a chance to watch Scotland's best distance runners in action, including outstanding international athletes, Commonwealth Games and Olympic participants; and a real social occasion as well, with plenty of bantering, pints and parties afterwards.
I was lucky enough to race it on thirty occasions, representing five clubs over this time: Aberdeen University, Victoria Park AAC, Edinburgh Southern Harriers, Aberdeen AAC and Metro Aberdeen RC. (I always ran for the club nearest my home.)
The Edinburgh to Glasgow Road Relay took place every November from 1930 to 1939 and then from 1949 to 2002. Entry was by invitation only, and usually the best twenty Scottish teams took part.
To be selected for the E to G was considered an achievement in itself. For many years the fixture was sponsored by the News of the World newspaper, and then by A.G. Barrs (famed producers of Irn Bru).
Free buses transported many runners from Glasgow to Edinburgh, deposited them at the start of their stage, picked them up afterwards and took them back to Glasgow.
By the 1970s, clubs tended to use their own vehicles to ensure that each runner was set down and, after their stint, helped, exhausted, back inside. Supporters shouted loud encouragement (and occasionally abuse) from pavements and verges and out of windows.
There was an atmosphere of constant suspense, excitement, delight and disappointment.
To be in a winning or medal-winning outfit was a tremendous thrill, but no matter the finishing position, every runner tried his utmost for the team.
This fantastic event possessed unparalleled magic. It was axed by the police, the health and safety buffoons and the killjoys.
Nowadays many organisers continue to fight to ensure that their race continues, despite severe constraints. Relays tend to take place on cross-country or closed road courses like Strathclyde Park.
Yet, although a small number of E to G runners did 'argue' with cars, absolutely no one was injured seriously.
Vicky Park was absolutely obsessed with the race. The club had a tremendous record in the event, especially in the 1950s, and when I joined for two years from 1971 the fastest guys all performed best on road (and occasionally track) rather than country.
Discussing selection for the next E to G started shortly after the previous relay finished! It was made clear to me that the second most important yearly fixture was the club TRIAL before the great race.
But who might be most suitable to tackle particular sections? The Edinburgh to Glasgow was an eight-stage relay.
In my day, the event started at the gates of Fettes College. Stage One (5 and a half miles) negotiated a series of long hills before descending to Barnton roundabout and turning left en route to Maybury and right onto the Glasgow Road.
Two (six miles) was a long, flat, fast route with an uphill finish into Broxburn.
Three, to Wester Dechmont Farm, was a hilly four and a half miles.
Four, to Armadale, five and a half miles.
Five, to the long-gone Forrestfield Inn, (where runners who had already played their part grabbed a quick pint) a tough, exposed, undulating five and a half.
Six, the longest at seven miles, eventually finished at Airdrie War Memorial.
Seven (5 and a half) was one for downhill specialists and ended at Barrachnie.
Eight (5 miles) was mainly flat, with one significant uphill and downhill, and finished outside Glasgow Town Hall in George Square, after more than 44 miles of serious endeavour.
Down the decades the route did not vary much (until the final two races) but starts and finishes were tinkered with, so that the distances (and record performances) for each stage occasionally varied.
Clubs without strength in depth might put their best man on Stage One, but real contenders usually chose their fastest man for Stage Two and their strongest for Stage Six.
Tremendous battles took place during each section and often all the way to the end of the race.
The basic philosophy of road relay running was: "RUN TILL YOU DROP – EYEBALLS OUT!"
Occasionally tactics might enter into this form of competition e.g. when operating into a headwind, or when jockeying for position on the first leg, or trying to go for a medal on the last one. It was vital to avoid a complete 'blowup' that would deprive your anxious team-mate of the baton. But, in normal circumstances, if you fell over the line with one extra ounce of strength in you, then you had failed, and would be well advised to tell no one!
I ran for some good teams, that finished first several times, and managed a few fastest times on some of the less-prestigious legs (but never the elite Stages Two or Six).
On the other hand, one of my clubs ended up third-last, with me second-slowest on Stage Five!
Never mind, we did our best on the day and it was a genuine privilege to take part.
Statistics suggest that the number of good, fast Scottish distance runners was greater in each year from the mid-sixties to the mid-eighties, compared to nowadays. A major reason is the loss of Scottish participation in the World Cross after 1987. Another is the demise of the Edinburgh to Glasgow Road Relay, which motivated so many runners to develop speed, stamina, determination and ambition.
Colin Youngson
Older readers! Why not send in brief accounts of your most memorable E to G moments – good, bad, sad or funny?
The same could be done (by any SVHC member) for memories of other favourite races.
The newsletter will publish every one!
HUNTSMAN SENIOR GAMES, UTAH, U.S.A
(John Ross has been an outstanding multi-events athlete for decades and is now in the M75 age group. He recently recovered from injury, returned to form in the British Masters and then competed successfully in America.)
After a barren year due to injuring my calf muscle at the Scottish Masters at Grangemouth, I had some treatment from a physiotherapist and was advised to train only on grass. This resulted in my competing at Birmingham in the British Masters, where I won gold in the javelin and 400m plus silver in the 200m. This gave me the confidence to try my luck in the Senior Games for people aged 50 and over in the U.S.A.
This event, which takes place in St. George, Utah, is very well organised indeed. St. George can be reached by various means, but I believe that the best way is to fly from Manchester Airport direct with Virgin Atlantic to Las Vegas. The competition is held over two weeks and always starts from the first Monday in October.
I stayed in Las Vegas for two days before catching the shuttle bus to St. George, a two hour drive north. The Utah open marathon is always held on the Saturday before our Games start and beds are difficult to get until after this, which this year attracted 7700 runners. The race starts at 6.30 a.m. as the temperature at midday is around 25 centigrade and the atmosphere is very dry.
Our Games had over 10,000 competitors this year, with entries from 61 countries taking part at various first class venues. As well as track and field, there were road races over 5k, 10k and half marathon distances. Other sports included: triathlon, volleyball, tennis, archery, swimming, table tennis and soccer.
The opening ceremony is always a great night's entertainment. A prominent sports person is invited to carry the torch round the track and light the flame to start the Games.
Getting around to your venues is very easy as they have a transport sponsor with a fleet of mini buses at your disposal. You just have to phone the transport desk and request a lift to the competition site and they collect you from the hotel or motel. These lifts can be booked the day before.
This year the athlete invited to open the Games was Jason Lezak, Sydney Olympic Games swimming gold medallist in the 4x100m relay. He also took individual silver in the 100m and anchored the 4x400m relay team to gold at Beijing.
In my own events I had the good fortune to win five gold medals and one bronze. The golds were for 50m, 100m, 200m, 400m and 800m; and the bronze was for the javelin.
I met up with a friend from Fairbanks, Alaska – Jim Madonna, a great distance runner. Jim asked how long my journey over took and I told him the flight took ten hours. When I asked him how long his journey lasted, he replied that he drove down from Alaska in his motorhome and it took five days. That is dedication for you, as Jim is also 75 years of age.
There were quite a few athletes from the Caribbean, in particular Barbados and Trinidad and Tobago. We are always entertained at a western dinner dance with a live band and an attempt at line dancing.
I hope this gives some insight into what goes on at these Games. I like the place and the people and have now taken part six times.
The important people who make this great event possible are of course the organisers, officials and the 2500 volunteers.
I managed to squeeze in two days at Las Vegas before coming home and took in a show with a Bee Gees tribute band that was terrific.
British & Irish Masters Cross Country International Sat 16th November 2013, Bute Park, Cardiff
As in 2012 we started selecting our team at the end of August, and aimed to complete the selection by end September. We had our usual problems with numerous call-offs, including two just 2 days before the event. We still managed to field complete teams apart from W55 and W65. Michael Thomsen was our only genuine M35 runner, with 5 M40s making up the rest of the team.
We had good representation from all parts of Scotland, plus a few England domiciles, but the 2 travelling the greatest distance were Arlene Bristow from Lerwick, Shetland and Liz Bowers from Nizas in southern France.
The team managers had their usual 9pm Friday meeting, and I must thank Hazel Macfarlane for dealing with distribution of numbers and function tickets while we were away.
Scotland had last year proposed the inclusion of an M75 team, and this year it was agreed to also include W70s. These proposals will be discussed at the next BMAF meeting.
It was also announced, with reservations expressed by Ireland and Scotland, that the 2014 event will be held on the early date of 25 October, at Wollaton Park, Nottingham.
(Ada arrived when these discussions were almost over, having walked to the Mercure Centre instead of the Mercure Holland Hotel!)
The Cardiff weather was ideal – calm, dry and relatively mild. The course was flat as a pancake, dry and firm, which promised some fast races, though not hilly enough for some of our runners.
In Race 1 Lesley Chisholm, Fiona Matheson, Rob Marshall and Bobby Young all came round the 1st of 3 laps in good positions, but Lesley and Rob dropped back a bit as they began to feel the effects of the fast pace.
It was good to see Bobby back on form after struggling for the last 3 years. He finished strongly to win M70 bronze.
Fiona strengthened her position as the race progressed, drawing clear of Lesley and moving into a dominant W50 lead and 5th position overall. Hilary McGrath (5) and Beryl Junnier (8) helped to win W50 silver medals.
Meanwhile Jane Waterhouse finished 2nd W60, and with support from Liz Bowers (6) and Hazel Bradley (7) won another team silver.
Linden Nicholson made her team debut finishing 8th W60.
Robert Marshall kept going to finish 4th M65 and with Alex Sutherland (7) and Stewart McCrae (14) won team bronze.
Pete Cartwright 4th M70 and Brian Campbell 10th ensured that their team won bronze medals. These 2 have both made good recoveries from major health problems.
Paul Thompson was our only individual medallist In Race 2, finishing 3rd M55, but the M55 and M60 teams both won bronze. New recruit Stan MacKenzie was 5th M50.
In Race 3, Kerry-Liam Wilson finished 3rd M40, 2 places higher than 2012, and 6th overall. With support from Gordon Barrie (10), Gareth Jenkins (17) and Robert Turner (21) they won team bronze.
Despite winning 1 gold, 1 silver, and 3 bronze individual medals, and 2 silver and 5 bronze team medals, the Scottish results were a bit disappointing, but once again a lot of runners were unavailable for various reasons.
Race 1: 6km for Women (all age groups) and M65+
W35: 4 SCOTLAND, 5 Lesley Chisholm 21:17, 13 Avril Mason 22:52, 17 Claire McArthur 23:27, 18 Rachel Fagan 23:57.
W40: 5 SCOTLAND, 14 Alison Winship 23:11, 15 Fiona Dalgleish 23:16, 19 Sarah Knox 24:58, 20 Marina McCallum 25:14.
W45: 5 SCOTLAND, 12 Sue Ridley 23:31, 16 Arlene Bristow 23:40, 19 Michelle Hetherington 23:48, 20 Lorraine Brown 24:32,
W50: 2 SCOTLAND, 1 Fiona Matheson 21:05, 5 Hilary McGrath 22:24, 8 Beryl Junnier 22:56, 14 Pamela McCrossan 23:48.
W55: 4 SCOTLAND, 7 Isobel Burnett 24:38 14 Phyllis Hands 26:43, 18 Jan Fellowes 28:17.
W60: 2 SCOTLAND, 2 Jane Waterhouse 25:24, 6 Liz Bowers 26:10, 7 Hazel Bradley 26:13, 8 Linden Nicholson 26:44.
W65: 8 Anne Docherty 30:18, 15 Ann Bath 32:50
M65: 3 SCOTLAND, 4 Robert Marshall 22:57, 7 Alex Sutherland 23:38, 14 Stewart McCrae 24:43, 17 Hamish Cameron 25:12
M70: 3 SCOTLAND, 3 Robert Young 24:42 4 Pete Cartwright 26:29, 10 Brian Campbell 28:20. 13 Watson Jones 28:53.
Race 2: 8km for M50, M55 & M60:
M50: 4 SCOTLAND, 5 Stan MacKenzie 26:11, 17 Peter Buchanan 27:36, 19 Michael McLoone 27:51, 21 David Thom 28:04, 23 John Stevenson 28:11, 29 Benjamin Hands 30:45.
M55: 3 SCOTLAND, 3 Paul Thompson 27:10, 9 Colin Feechan 28:17, 10 Ian Stewart 28:30, DNF Alex Chisholm.
M60: 3 SCOTLAND, 7 Frank Hurley 28:11, 8 Andy McLinden 28:36, 15 Douglas Cowie 30:22, 19 Archie Jenkins 34:41.
Race 3: 8km for M35, M40 & M45:
M35: 4 SCOTLAND, 13 David Gardiner (M40) 26:00, 15 Grant Ramsay (M40) 26:04 16 Stephen Allan (M40) 26:10, 23 Michael Thomsen 26:54, 25 John Bell (M40) 27:22, 28 Paul Carroll (M40) 27:42.
M40: 3 SCOTLAND, 3 Kerry Wilson 24:38, 10 Gordon Barrie 25:39, 17 Gareth Jenkins 26:08 21 Robert Turner 26:29, 22 Alex Allardyce 26:36, 25 Greig Glendinning 26:58.
M45: 5 SCOTLAND, 18 Scott Martin 26:43, 21 Ian Johnston 27:13, 24 Kenny MacPherson 27:31, 28 David Watson 27:53, 29 Gary Mitchell 29:15. 30 Colin Brown 30:15.
With racing over, it was time to enjoy the Dinner Dance and medal presentations at the Mercure Holland Hotel. Unlike last year, the meal service was abysmally slow, and the medal presentations not much better. The team and individual medals should have been presented together, like last year, and photos should have been taken away from the main presentation area. It was 11:30 before the dancing started, and many of us had lost the mood for dancing by then!
David Fairweather
SCOTTISH RACE WALKERS NEWS
Andrew Fraser and others have been encouraging participation in several race walking events. The central contact email address is scottishracewalkers@outlook. com and the mobile phone contact number for Andrew Fraser is 07881373060.
The main UK Race Walking website, which lists many events in Northern England, is http://www.racewalkuk.com/EventsB.asp
The Strathclyde and Edinburgh parkruns have been used for race walking, with post-event brunches used for social and coaching purposes.
In addition, nine walkers took part in the SVHC 10,000m track championships at Coatbridge on Sunday 20th October. They started 25 minutes before the runners and then completed their stint in the third lane. After the 25 laps were completed, the walking judges offered coaching tips to improve technique.
Future fixtures are as follows.
Winter Gathering
8th December: Challenge Scotland Edinburgh Christmas 5k
14th December: Strathclyde parkrun
15th December: Scottish Vets Christmas handicap 5.8 miles (Cartha Rugby club 13.15 start for walkers) entries to Andrew Fraser by 12th December – bring wrapped £5 Secret Santa gift.
22nd December: LSD session (South Queensferry, 08.30, contact Andrew Fraser) 1st January 2014: Portobello Promathon 4 miles (Portobello Gymnastics Centre) 18th January: Edinburgh parkrun
15th February: Strathclyde parkrun
15th March: Edinburgh parkrun
Summer Gathering
12th April: Strathclyde parkrun
10th May: Edinburgh parkrun
14th June: Strathclyde parkrun
12th July: Edinburgh parkrun
16th August: Strathclyde parkrun
13th September: Edinburgh parkrun
Scottish Veterans Harriers Club 10km Track Championships Coatbridge, 20 October 2013
WALKERS
Time Gender Position Athlete Club Minutes: Seconds
M 1 Andrew Fraser M47 Portobello / SVHC 56:51
M 2 Bill McFadden M52 Scottish Veterans Harriers Club (SVHC) 65:18
M 3 Dave Evans M66 Lancs RWC 65:23
F 1 Gill Donald F42 Unattached 69:37
F 2 Pat Evans F62 Lancs RWC 69:45
M 4 Crawford Brown M38 Unattached 71:34
M 5 John Softley M64 Bellahouston 71:55
M 6 John Payn M80 Lancs RWC 74:24
F 3 Jenny Law F28 Unattached 75:35
OFFICE BEARERS SEASON 2013-2014
Honorary President: ROBERT DONALD
President: ALASTAIR MACFARLANE 7 Andrew Avenue, Lenzie, G66 5HF Tel: 0141 5781611 almacrun@btinternet.com
Immediate Past President: PETER OGDEN 16 Springhill Road Glasgow, G69 6HH Tel: 0141 7711950
Vice-President: ADA STEWART 30 Earlsburn Road, Lenzie, G66 5PF Tel: 0141 5780526 stewart2@ntlworld.com
Honorary Secretary: CAMPBELL JOSS 25 Speirs Road Bearsden, G61 2LX Tel: 0141 9420731 cdjoss@tiscali.co.uk
Honorary Treasurer: STEWART MCCRAE 17 Woodburn Way Balloch Cumbernauld. G68 9BJ Tel: 01236 728783 stewart047@hotmail.com
Membership Secretary: DAVID FAIRWEATHER 12 Powburn Crescent Uddingston, G71 7SS Tel: 01698 810575 djf@dfairweather.plus.com
Handicapper: PETER RUDZINSKI 106 Braes Avenue Clydebank. G81 1DP Tel.0141 5623416 p.rudzinski@ntlworld.com
Committee Members:
JOHN BELL Flat 3/1, 57 Clouston Street Glasgow G20 8QW Tel. 0141 9466949
WILLIE DRYSDALE 6 Kintyre Wynd Carluke, ML8 5RW Tel: 01555 771 448
PHYLLIS HANDS 39 Albany Drive Lanark ML11 9AF Tel. 01698 252498
ANDY LAW Euphian, Kilduskland Road Ardrishaig Argyll. PA30 8EH Tel. 01546 605336
PAUL THOMPSON Whitecroft, 5 Gareloch Brae, Shandon, Helensburgh G84 8PJ Tel. 01436 821707
BMAF Delegates Alastair Macfarlane Ada Stewart
SAL West District Delegate Willie Drysdale
SAL Delegate at AGM Ada Stewart
Auditor George Inglis
FIXTURES
DECEMBER 2013
Sun 15th Xmas Handicap 5.3 miles 1.30pm. Cartha Rugby Club. Pre entry Pollok Park
JANUARY 2014
Sun 26th SVHC Open Masters Road Relays Strathclyde Park Motherwell 11:00am Pre entry
FEBRUARY 2014
Sat 1st National Masters Cross Country Champs, Hawick
Sun 23rd BMAF 10 miles Champs Netherhall Cumbria
MARCH 2014
Sun 2nd Scottish Masters Indoor Championships – Emirates Stadium Glasgow
Sun 2nd Lasswade 10 miles SVHC Champs Rosewell. 12:00 Pre-entry via a down-load or on line. www.lasswade-ac.org.uk
Sat/Sun 8th /9th BMAF Indoor T & F Championships – Lee Valley
Sat 15th BMAF Cross Country champs Tollcross Park, Glasgow
25th /30th World Masters Indoor Championships – Budapest
APRIL 2014
Sun 6th Lochaber marathon 11.00am. Fort William
Sun 13th Tom Scott 10 miles road race. 10:00 am. Strathclyde Park
MAY 2014
Sun 4th Walter Ross 10km road race. 1:30pm. Cartha Rugby Club.
Sun 4th BMAF 10k Road Championships Kings Lynn (Gear 10k)
Wed 7th Snowball 4.8m road race 7:30 pm. Outdoor Sports Centre, Langloan Street, Coatbridge
Fri/Sun 13/15th EVAA non-stadia c'ships Thionville,Yytz, France
Sat 17th BMAF road relays. Sutton Park, Birmingham
Sat 17th Bathgate hill race. TBC
JUNE 2014
Sun 8th BMAF outdoor pentathlon/10km track. TBC.
Wed 4th Corstorphine 5 Mile Road Race 7:30 pm. Turnhouse Rd, Edinburgh
Sun 15th BMAF 5km Road Championships Horwich
Wed 25th SVHC 5km road race c'ships. 7:30pm. Playdrome, Clydebank. TBC
JULY 2014
Sun 6th BMAF Multi-terrain Championships – Bewl Water, Sussex