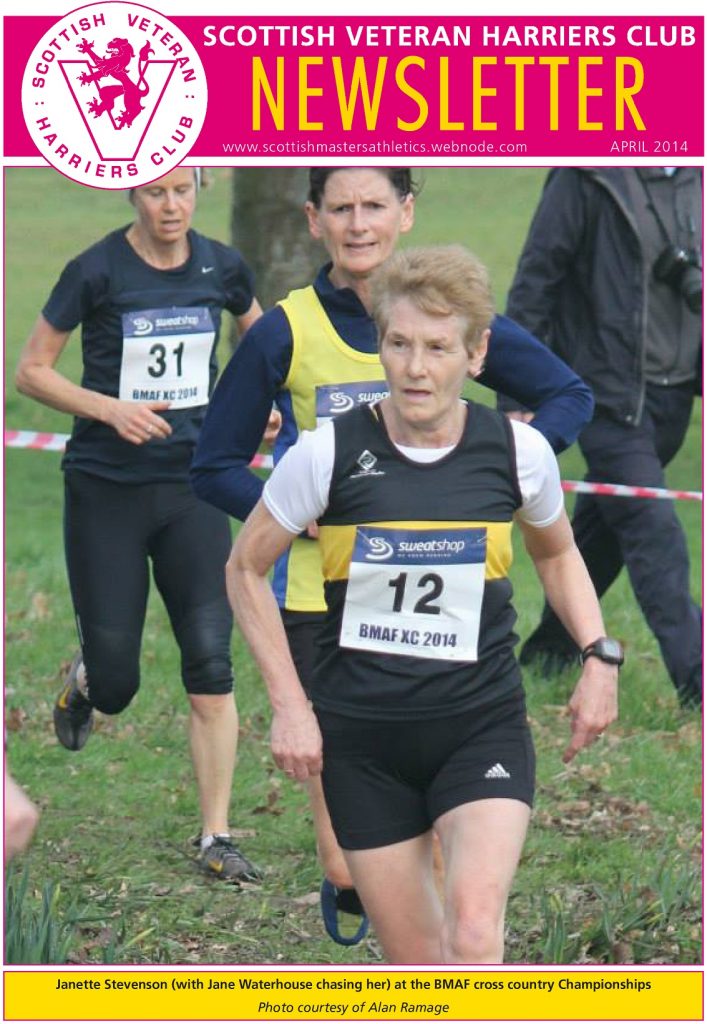 MEMBERSHIP NOTES 5th APRIL 2014
MEMBERS
Welcome to the 26 new and 5 reinstated members who have joined or re-joined since 25 November 2013. 2 members have resigned and 103 have not renewed their subs. We now have 419 paid up members. Congratulations to Hamish Cameron, who has qualified for the MasterMind Final after impressive wins in his preliminary round and semifinal.
NEWSLETTER
The massive increase in postal charges has forced us to change to an electronic version of the Newsletter as the preferred option. Any member who wishes to continue receiving a printed Newsletter must contact me, if they have not already done so. Please inform me if you add or change your email address.
I'm sorry that many members who requested printed Newsletters did not receive the last 2 editions. I hope the problem has now been rectified.
Please inform me if you add or change your email address.
Please send photos, news, letters, articles, etc for the next issue To: COLIN YOUNGSON TOMLOAN, SANQUHAR ROAD, FORRES, IV36 1DG e-mail: cjyoungson@btinternet.com Tel: 01309 672398
SVHC EVENTS
Stewards/marshals are required for club races. The club appreciate all members & friends who volunteer to act as stewards/marshals. If you are not competing just turn up and introduce yourselves to the organisers. Thanks to all those who have already helped out.
STANDING ORDERS
Thank you to the members who have set up standing orders for membership subscriptions. Please remember to update the amount payable, & keep me informed if your membership details change (especially email addresses). If any other member wishes to set up a standing order please contact me.
Please ensure, if possible, that the next payment date is set for 10Nov2015, and annually thereafter.
CLUB VESTS
SVHC running vests can be purchased from Molly Wilmoth for £17 (Tel: 0141 7764941).
NEW MEMBERS
CHRS SURN JOINED NO. TOWN
Robert Adams 20-Jan-14 2192 Gourock
James Baird 03-Jan-14 2186 North East Lane
Nicol Baird 22-Feb-14 2199 Aberdeen
Jude Boulton 28-Jan-14 2195 Greenock
Derrick Brydon 10-Jan-14 2189 Darnick
Liam Conway 01-Dec-13 2180 Glasgow
Gordon Crawford 14-Feb-14 2196 Riverside
Chris Creegan 06-Mar-14 2202 Edinburgh
Mark Davidson 06-Jan-14 2187 Aberdeen
John Denholm 18-Feb-14 2198 Stenhousemuir
Jacqueline Etherington 23-Dec-13 2184
Stanley Alastair Ewen 06-Feb-14 2197 110 Saucel Crescent
Ted Gourley 30-Dec-13 2185 Giffnock
Chris Greenhalgh 05-Mar-14 2201 Busby
Gerry Kane 10-Dec-13 2181 Clydebank
George Lambie 09-Dec-13 2182 105 Hyndland Road
Jill Logan 25-Feb-14 2200 Larkhall
Darran Muir 22-Jan-14 2193 Wishaw
Graeme Murdoch 19-Mar-14 2205 Galashiels
Caroline Mutch 19-Jan-14 2191 Prestwick
Ian Wallace Paget 24-Jan-14 2194 Kilsyth
Graeme Paterson 19-Dec-13 2183 Mosspark
Argy Rizos 08-Mar-14 2203 127 Hutchison Road
John Sharp 06-Jan-14 2188 Glasgow
Jim Wilson 10-Jan-14 2190 Lanark
Steven Wright 10-Mar-14 2204 Elgin
Alex Hay 21-Jan-14 1913 Lanark
Andy Henderson 20-Dec-13 2023 East Kilbride
John McKeown 29-Jan-14 1862 Woodlands of Durris
Janette Stevenson 07-Jan-14 888 Falkirk
James F White 26-Feb-14 788 Kilbirnie
David Fairweather Membership Secretary
SVHC / RUN and BECOME RACE SERIES 2013 / 2014
The Run and Become Race Series is now well under way with 3 of the events completed at the time of writing.
Current leader in the women's event is Ada Stewart with 21.7 points followed by Barbara Knox,15.6 and last year's winner Phyllis Hands, 15.6.
Leading in the men's competition is Andy Law,24.7, with Neil Robbins second on 24.0 and Stuart Waugh, 23.4 while the holder John Gilhooly hovers in fourth on 23.2.
For those who are new to this competition, each runner's best 8 performances from 13 selected races are involved with age grading utilised to allocate points won. For those who complete more than the required 8 races an additional 1 point is awarded..
Over £600 worth of prizes are available along with trophies and competition is always keen. check the SVHC website for regular updates.
The remaining races for 2014 are:
April 6 Lochaber Marathon
April 13 Tom Scott
10 May 4 SVHC Walter Ross 10km Cartha Rugby Club
May 7 Snowball Race Coatbridge
May 17 Bathgate Hill Race
June 4 Corstorphine 5 miles RR
June 15 SAL Masters Track Champs (Men 5K, Women 3K)
June 25 SVHC 5K Clydebank
August 17 SVHC Glasgow 800 10km Cartha Rugby Club
October 5 Half Marathon, Kirkintilloch
Alastair Macfarlane
OBITUARY – CHRIS CHATAWAY
Online there are several detailed obituaries of this remarkable man and world-class athlete, who died in January. A particularly heartfelt tribute is on the Thames Hare and Hounds website. It is written by the prominent journalist (and author of several athletics books such as '3.59.4') John Bryant (ex Edinburgh University H&H) and published here because Chris Chataway was such a famous figure in British Athletics and younger athletes should know about him.
"Sir Christopher Chataway, who sadly died this week at the age of 82, became a legend on May 6th, 1954 when he and his close friends Roger Bannister and Chris Brasher raced to the first sub-four-minute mile.
As a young man in Oxford I went up to the University just nine years after Bannister's record breaking attempt and there was still much talk of what had been done at Iffley Road. Going along to the Thames Hare and Hounds headquarters in those days, complete with its ancient hip baths and pre-war memorabilia, there were echoes everywhere of what Chataway, Bannister and Brasher had achieved.
They had all quit athletics early, even Brasher who went on to win a gold medal in the Olympics of 1956, had hung up his spikes later that year.
For me those legends were more than athletes, they were great boyhood heroes and role models. What impressed me most was how they handled their legendary status – and what they did next with their careers.
Athletics-wise, Chataway not only paced Bannister to a sub-four-minute mile and went on to run one himself, but was named as the first-ever BBC Sports Personality of the Year in 1954. Chataway also went on to win the Commonwealth Games 3 miles title in 1954 and completed his Olympic appearances by appearing in the Helsinki games of 1952 and the Melbourne games of 1956.
My most enduring memory of witnessing Chataway's finest hour was during the televised battle between him and Vladimir Kuts which ended with Chataway taking a last-gasp lead in the finishing straight to finish in a new 5000m world record of 13.51.6. There were no instant replays or recordings in those days. I had watched this on a flickering black and white 12 inch television screen, courtesy of my grandfather. It was staged at the White City with wartime searchlights picking out the two leading figures as they flicked up the dark cinders behind them. This was the most dramatic race I'd ever seen and probably turned me on to athletics for the next six decades.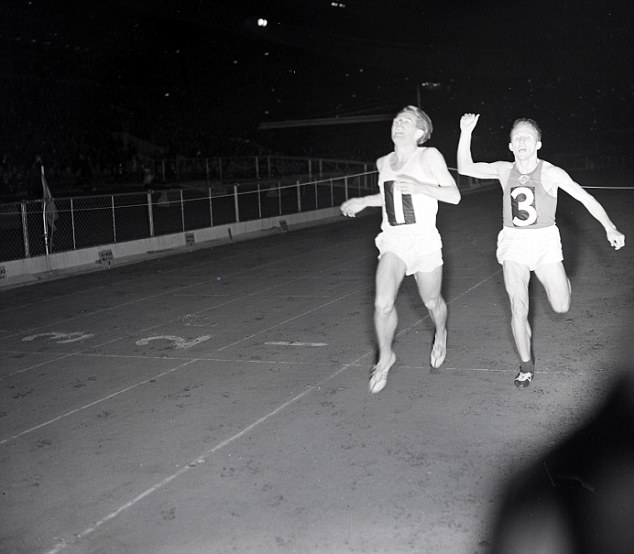 Subsequently, Chris Chataway went on to be a towering figure with that air of 'effortless superiority' of which he often joked. He became, in a dizzying climb up the career ladder, – an MP, a rising star in the Conservative party, vice-chairman of Orion Bank, chairman of the Civil Aviation Authority, broadcaster for BBC and ITV and chairman of the broadcasting station LBC.
Similarly, Bannister and Brasher used their fame as a springboard to activate great things with their lives.
I was lucky enough to get to know these three legends well over many years. I wrote books and articles about them. They were not only boyhood heroes but they did so much else with their lives.
They grew up in the shadow of World War Two (Chataway had done national service in the RAF where he was a leading member of the cross country team) and they constantly scorned professionalism.
Already well into their chosen careers when they reached their peak, they could often squeeze in just half an hour a day and prepared, under the watchful eye of their coach, Franz Stampfl, using high intensity interval training.
I remember Chataway telling me that when Stampfl left to take up a position as head of coaching for Melbourne, Australia, he used to send him old fashioned spools of recording tape, in those days by post, which Chris used to play over and over again. He found the voice of Franz hypnotic, and this always used to inspire his training.
One of the things that Stampfl had drilled into the brain of Chataway was that running a world record was as much work of art as painting the Mona Lisa – and Chris confided to me that at the time he believed it.
Late in their careers, long after they had officially retired from running, I persuaded my good friends Chris Brasher and Chris Chataway to return to Thames and renew their old rivalries. They brought with them a frisson of their former fame and the hilarious badinage that took place over teapots and pint pots.
Chataway was then induced by Brendan Foster to take part in the Great North Run where he put up the most amazing times in his late 70s.
These boys, just too young to take part in the Second World War, surged around the cinder tracks like Spitfires in spikes and provided instant and lasting inspiration to a generation that had grown up in the 1950s. They were amateurs and proud of it. They regarded athletic success as a stepping stone. And there is much to be learned, even today, from these legends and role models.
Through the years, Chataway always kept up his love of athletics and sparkling sense of humour.
Shortly after Chris Brasher died, he took part in a long-distance relay to raise funds to buy wine for the Mob Match between Thames H&H and Ranelagh Harriers. An elderly lady approached him on Folly Bridge in Oxford, and seeing he was stripped to shorts and vest, asked:
'Aren't you Chris Chataway?'
'I used to be,' Chataway replied with a smile.
'Ah ….' the elderly lady replied, 'Fame never fades.'
In Chris Chataway's case this was true – we won't see the like of these amateur legends again."
GREAT SCOTTISH VETERANS; JANETTE STEVENSON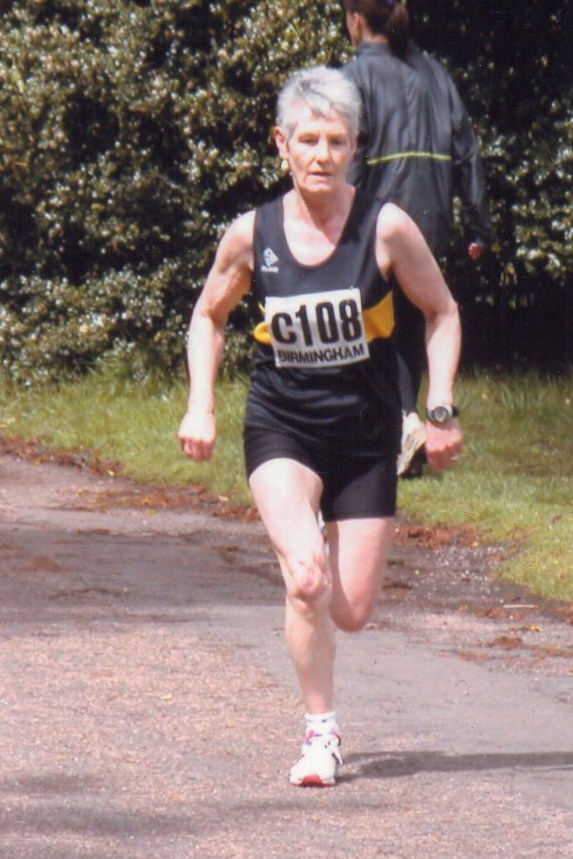 Janette Stevenson has undoubtedly been one of the most successful Scottish veterans ever.
In the Scottish Masters Cross Country Championships she won eight individual titles (from W35 to W55) plus two team titles with Falkirk Victoria.
Her record in the British and Irish International CC is unparalleled, improving from 4th W35 at Wrexham in 1988 to 3rd W40 in 1989, 2nd W40 in 1992 and then winning four titles: 1st W50 in 2000 and 2001 and 1st W55 in 2005 and 2006. Only her younger team mate Fiona Matheson looks likely to emulate Janette. In addition, she won the 1995 Scottish Senior 10k title in 35.22 at Cumbernauld, at the age of 46.
Her W50 time of 36.25 for 10,000m in June 1999 ranked fourth on the all-time lists. In 2007 she set a European 5000m record (18.25) in Riccione, Italy. At the age of 58 in Dublin on 6th April 2008 she set a world W55 record of 38.23. Then in June 2009 Janette ran 3000m in 11.20 at the Scottish Masters Track Championship, creating a new W60 world record. In March 2014 (aged 64) she made a fantastic come-back to win W60 gold in the BMAF cross country championships in Glasgow.
CLUBS: Falkirk Victoria Harriers and SVHC
DATE OF BIRTH: 03/05/1949
OCCUPATION: Retired Library Assistant
HOW DID YOU GET INVOLVED IN THE SPORT? Never did any running at school. In primary school in 1950's Glasgow the only P.E. I can remember was Scottish Country Dancing and a lot of messing around with beanbags??
At High School in Grangemouth the preferred sports for young ladies were hockey (which I hated) and netball. I was in the 1st year netball team and played in centre position as I was too wee to score points.
Once a year in the summer we had the school sports day. I can't remember anyone training for it we just lined up and ran like the clappers. It was all 60 metres dashes as I remember and I was usually left standing by the bigger girls. Might have been different if we had to run maybe half a mile or cross country but there were no opportunities for that in those days.
I got involved in running in 1984 there was an initiative between Woman's Own Magazine and Nike the sportswear company to get women into running. It was rolled out countrywide in sports centres and was augmented by a weekly training programme in the magazine. It started in April 1984 and the objective was to run a 10K in September.
So I turned up at Grangemouth Sports Complex along with about 20 or so other ladies all keen to be trained. It was raining of course and we thought They would let us run round the gym – nice and dry. But the coach I always remember this, said "If you don't run in the rain in this country – you don't run!", and he opened the doors and shoved us out to run half a mile round the park.
The training was twice weekly and one of the coaches was veteran runner Hugh McGinlay. Most of us managed to run the 10K and I think my time was 54.09.
After the race Ian Cluggie a coach at Falkirk Victoria asked us if we would be interested in jogging with the club so I started training and the rest is history
HAS ANY INDIVIDUAL OR GROUP HAD A MARKED INFLUENCE ON YOUR ATTITUDE OR INDIVIDUAL PERFORMANCE? Probably as I mentioned before Ian Cluggie the women's coach with Falkirk Victoria in the 1980's was the most influential person at the beginning of my running career. He pushed me to train on the track and persuaded me to enter events which I would not have had the confidence to enter on my own. We often disagreed over training as I wanted to run 10Ks and half marathons on the road but his background was track running. But therein lies another story.
Also at that time there was a group of female runners within Falkirk Victoria who provided great competition and companionship. The only one still running I think is Caroline Lawless. We were later joined by that superb athlete Fiona Matheson and we enjoyed some success in team events in road and cross country.
Also my husband Andrew trained with me for a while and was a very patient "bag carrier" and always very supportive in the face of my pre-race nerves and bad temper.
WHAT EXACTLY DID YOU GET OUT OF THE SPORT Self confidence. Discipline. A lifetime obsession. Physical fitness. Opportunity to achieve targets. Travel to races all over Great Britain and overseas (No need to puzzle over where to go on holiday – just find a race or Championship and go there!
WHAT DO YOU CONSIDER TO BE YOUR BEST EVER PERFORMANCE OR PERFORMANCES Probably winning the National 10K road championships in Cumbernauld as a Master in May, 1995 with a time of 35.22 at age 46.
Also in 1999 just turned 50 in June I took gold W50 in the European 10K road championships in Bruges.
In the same year, July at the BMAF track Championships at Meadowbank Edinburgh I took gold in the W50 10K then in August I took gold in the W50 5K and 10K at the World Masters Track Championships in Gateshead.
YOUR WORST Nothing too much. Just remember running in the Barnsley 6 miler after being awake all night due to loud music and traffic noise outside hotel.
WHAT AMBITIONS DO YOU HAVE THAT WERE UNFULFILLED Not being involved in athletics in my teens and twenties. Not being able to compete at my best in the W60 category due to ill health.
WHAT DID YOU DO AWAY FROM RUNNING TO RELAX Reading, films, television, walking, cycling, cooking, baking, travelling UK and Europe in my motorhome. Visiting grandchildren in Dublin. And I love cuddling up with my Burmese cat Jason.
WHAT DID RUNNING BRING YOU THAT YOU WOULD NOT HAVE WANTED TO MISS Gaining international vests for cross country. The discipline you get from training. Running and racing overseas, Spain, Malta, Italy, United States, Belgium. On holiday you always know the best bars and cake shops as you suss them out on your morning training run. Companionship of like minded people.
CAN YOU GIVE SOME DETAILS OF YOUR TRAINING When I was training seriously the max I have ever run is 50 miles per week. A long run on Sunday probably 10 miles max 13 miles. Probably in summer 2 track interval sessions plus one LT session. In winter probably hill reps, mile road reps and one shorter rep session as well as recovery mileage. Now only running about 25 miles a week, with some intervals and fartlek.
GREAT SCOTTISH VETERANS: BILL STODDART
(Many thanks to Brian McAusland for nearly all of this profile)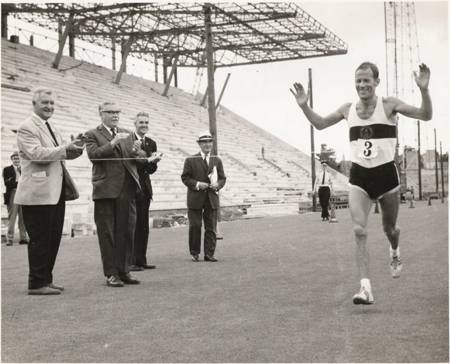 Bill Stoddart came to most people's attention when he won the 1969 SAAA Marathon Championship from the unfinished Meadowbank Track. The race was used as a trial for the route to be used for the Commonwealth Games marathon in 1970 and a good field was forward for the event. Bill Stoddart, of course was to become a veteran multi world record holder and champion in track and cross country as well as the marathon. In 1972 at the age of 41 he recorded 2:21:18.
He reports that back in 1969 he was a 38 year old teacher of maths and physics at Reid Kerr Technical College in Paisley. Six weeks earlier he had been silver medal winner in the SAAA Track 10 Miles so he was in good form. However only a fortnight before the Scottish Championship he had run his first 26 miler in the Shettleston event starting too fast and fading over the last two miles. Perhaps he would learn better pacing for this championship.
At halfway (at Spittal, East Lothian) Bill was well in front when he swung round a policeman guarding a bollard first in 70:40, followed by Alistair Matson (Edinburgh Southern) and Hugh Mitchell (Shettleston) in 73:15. Then came Gordon Eadie (Cambuslang), Jim Wight (EAC) and Jim Irvine (Bellahouston).
Bill found the head wind on the way back refreshing on a hot and humid day, but the course seemed boring with long straights to endure. Still, 'when you win, what does it matter?'
At 23 miles, out on his own, climbing the hill to the stadium, Bill remembers that 'Willie Fulton, the time keeper was shouting out my time, which I couldn't hear since I was a bit light headed by then. I vaguely remember shouting back to Willie not to bother with my time but would he please tell me (as in the song) the miles to Dundee.'
Bill Stoddart's winning time was 2:27:25, second was Hugh Mitchell in 2:31:30 and third was Peter Duffy (Motherwell YMCA) in 2:37:04.
1969 was a very good year for Bill. He had two marathon times in the Scottish Rankings: 2:27:25 at Meadowbank placed him tenth Scot and was the fourteenth time by a Scot that year; he also recorded 2:29:16 at Manchester on 20th July. The faster time placed him at number forty six in the UK; At ten miles his time of 50:55 placed him at number two in Scotland and thirteenth in the UK; he was also number three at Six Miles in Scotland.
There was no way that anyone could regard his run in the marathon as a freak performance. Earlier in the year he had won the Scottish South West Cross Country title for the first time, leading his club Greenock Wellpark Harriers to victory in the team race and in 1970 he competed for Scotland in the International cross country championships. In looking at the rankings you must remember of course that it was at a time when British and Scottish endurance running was at a real peak with Don McGregor, Jim Alder, Alastair Wood, Fergus Murray, Ian McCafferty and Lachie Stewart were all running and in the wider British scene there were athletes like Ron Hill, Mike Freary, Bill Adcocks and Tim Johnston who were all performing exceptionally well.
In the 1971 Scottish Marathon Pat Maclagan won by two minutes in 2:21:17 with Bill Stoddart second in 2:23:31 and Willie Day third in 2:26:07 – good times considering the weather, which was dreadfully wet.
Ten years later, a particularly outstanding marathon for Bill was the very first Inverclyde Folk Marathon in August 1981, when Stoddart stormed through in the last six miles to defeat a field of 500 and record a tremendous time for a fifty-yearold – 2.27.53.
'Scotland's Runner' magazine in November 1992 outlined Bill's career to that point. NEVER TOO OLD TO STRIKE GOLD
Margaret Montgomery talks to Bill Stoddart in the wake of his gold medal winning performance at the veteran world road racing championships in Birmingham.
With a spritely and alert demeanour which belies his 61 years and semi retired status, Bill Stoddart appears every inch the world veteran champion.
Watching him greet non athletic contemporaries at his regular training haunt – Battery Park in Greenock – the impression of a man with an unusual degree of zest and vitality for his years is even more pronounced. While Bill jogs along with easy grace, those he bumps into are either slowly walking their dogs or watching the activities of boats on the Firth of Clyde from the comfort of a park bench.
This particular lunchtime however Bill was to join the ranks of the park bench pensioners. Taking an hour or so off from a fairly hectic daily training schedule, he managed to sit down long enough to talk about his latest athletic accomplishments and share the goals he has set himself for the coming year.
Fresh from the recent world veterans road race championships where he struck gold in both the over 60's 10K and 25K, Stoddart is presently on the crest of a wave. Even by his own very exacting standards he has just achieved something rather special. "I really wanted to pull off the double", he explains, "Although I've come first and second in these events in a single championships, I've never won both at once before."
Stoddart's preparation for double gold was long and arduous. Despite his comparatively advanced years, he was putting in between 70 and 80 miles a week in the run up to Birmingham. On top of that he was racing every other week and doing the equivalent of another five miles a day deep water treading in a local swimming pool.
"I've used deep water treading as part of my training for around three years now," Stoddart confesses. "I started it in my late fifties and my times have got faster every year since. It's a tremendous thing. It works your cardio-vascular system, tones muscles and prevents shock. People tend to use it when they're injured but I'd recommend using it as an everyday training aid."
Bill's performance in Birmingham rounded off a highly successful season for the Greenock man. At Arbroath in June he achieved a world best in his age group for the half marathon with 75:53, while in August he did, to all intents and purposes, the same thing in the 10K when he clocked 34:51. This however has still to be ratified.
With the world ten mile best in the same age group already lodged under his belt (at East Kilbride and Lanarkshire 10 mile road race in August 1991 he clocked a formidable 57:43) Stoddart's remaining target is an Over 60 world best in the marathon. This he hopes to have acquired by the end of the year.
"I clocked 2:49:53 at the Inverclyde Marathon last year," he says "I've got 2:42 to beat but I'm fitter this year than I was in 1991 so I think I'm capable of the low forties."
Whether or not Bill does achieve his marathon goal by the end of the year, he won't be short of accomplishments to list on his athletics curriculum vitae. Stoddart has won Scottish and British titles in all veteran age groups, Scottish titles in distances from 1500 metres up to the marathon and British in distances from 10,000 metres upwards.
Meanwhile on top of this Stoddart has the distinction of being the only man to have held world bests in all veteran age groups, these being in distances of 5K and upwards. It all adds up to a remarkable career.
What makes it all the more outstanding however is that it hasn't been developed on the back of an equally glittering senior career. Although he competed as a senior, representing Scotland a number of times along the way, it is only since turning 40 that he has become what is euphemistically known as a world beater.
Stoddart puts his 'late development' down to the fact that he was too much of an all-rounder in his early days to concentrate solely on one sport. A county standard table tennis player and a keen junior football player, he only began running 'for fun' when he was called up for National Service in 1952.
"I was stationed with the RAF in the Black Forest for two years," he recalls, "the choice was either to become an alcoholic or a sportsman. I decided I'd rather become a sportsman. I started doing cross country running every Wednesday and eventually became good enough to win a place in the RAF combined team. I suppose I got a taste for running at this time but it was very much a leisure pursuit. I still saw football and table tennis as my main sports."
By the time Bill returned to civilian life he was 23. His appetite for running whetted, he joined Greenock Wellpark Harriers to which he has remained loyal ever since. Throughout his twenties and most of his thirties, Bill by his own admission was no more than a good club runner. Training just twice a week and competing in only the odd cross country, mile and half mile, he was devoting most of his energy to building up his career as a draftsman while also pursuing his old loves of table tennis and football.
Running was not high on his list of priorities and perhaps would have stayed that way had it not been for a change of lifestyle and a chance meeting at the national cross country championships when he was in his late thirties.
"I met up with Andy Brown who I'd known was in the RAF," Bill explains. "I'd just come twenty fifth in the national which was quite good, all things considered. Andy came over and said I should concentrate on my running and that if I did I'd make the Scottish team."
As it turned out he was right. Brown gave Stoddart a training schedule. Bill who had just entered further education for the first time and had more time on his hands than he was used to, duly complied by following it assiduously. Table tennis and football were finally dropped and before long he was representing the SAAA in road races and had made the Scottish cross country team, a feat he managed in four successive years from 1969 to 1972.
"I was known as the old man of the team," says Stoddart, a veteran of 42 during his last year in the team. In making the national team at this late juncture in his life. the Wellpark Harrier had what he describes as the 'great honour' of being part of one of the greatest ever Scottish cross country teams and attending the World Championships in Vichy. Among those he travelled to France with were Lachie Stewart, Ian McCafferty, Ian Stewart, Gareth Bryan-Jones and Jim Alder. It was a team capable of a top three place. In the end however it failed to place among the medals.
"We got caught up in the strikes that were hitting Paris at the time. We ended up travelling overnight and were tired before we even started running. There's no doubt we could have done better if we had been blessed with better circumstances," he now says.
Stoddart has also suffered his fair share of injury. In 1974 while competing in the South West Cross Country Championships, he hit a rock with his spikes and was forced to pull out of the race.
The next week, thinking what was a minor matter had cleared up, he entered another race. In fact he had fractured an ankle and racing again so soon had turned it into a compound fracture.
Out of training and racing for almost a year as a result of the injury, he gave up ideas of continuing to compete as a senior and began from then on to concentrate on the veteran scene.
"I never got into the County or Scottish team after that injury," says Stoddart. "That's when I seriously started to compete as a vet." Although he thinks he might well have achieved more as a senior had he taken running more seriously at an earlier age, Stoddart doesn't regret the way he's done things.
"I suppose I thought I had the balance right at the time," he says. "There were too many other things to do when I was a young man. Nowadays it is a lot easier to be concentrated on the one thing."
Certainly, he has packed a lot into his life and has a number of other strings to his bow which might be absent were it not for the fact that he had an all-rounder's outlook when he was young.
Head of Management and Industrial Studies at James Watt College, Stoddart was one of the first people to complete an Open University degree and can also boast an MA from Strathclyde University in Industrial Relations. On top of this he is a corporate member of the Institute of Industrial Managers, the Institute of Mechanical Engineers and the British Board of Management.
Other sports related commitments include the post of chairman of the Inverclyde Athletics Initiative and a place on the committee of the Scottish Veteran Harriers Club. In many ways Bill exudes the qualities associated with old fashioned athletics values. It is only since a more flexible working life and semi retirement came his way that he has made running a major priority in his life.
"I've always worked full time," says Bill. "I've never made a penny out of my running." Although he admits he "wouldn't say no" to making a small amount from his efforts, Stoddart says he would never go out of his way to look for cash. The fact that a fair number of the people he beat in Birmingham have subvention funds and are managing to make a living from running as a vet is not enough to change his strongly held beliefs on this matter.
"It's gone a bit too far," he says. "Take Linford Christie and Carl Lewis. They're delaying a race until the stakes are high enough. It's all gamesmanship and professionalism. People are obsessed with it. I remember when people used to be happy to run for a canteen of cutlery or a set of sheets."
Whatever his views on the sport's ethics (or lack of them) Stoddart is nonetheless determined to stay with it for as long as he can. "Till death us do part!" He jokes.
Who knows then what the future could hold for veteran athletics?
"I like to think I've set standards for others to beat," says Bill. "And I hope to go on doing so."
Now in his sixties, he's one of the few vets in any age category to have dipped below 76 minutes for the half marathon, 35 minutes for the 10K and 60 minutes for 10 miles. He's also getting faster as he gets older.
There would seem to be little doubt that Bill Stoddart could be setting challenging standards for some time to come.
BILL STODDART FACT FILE
Date of Birth: May 2, 1931
Club: Greenock Wellpark Harriers
M60 World Bests: 10 Miles: 57:43 (East Kilbride and Lanarkshire 10 Mile race, August 1991) Half Marathon: 75:53 (Arbroath Half Marathon, June 1992) 10K: 34:51(SVHC Championships, August 1992) World Titles 10K and 25K (World Veterans M60 Road Race Championships, August 1992)
Personal Bests AGED
800m track 2.04 41
1500m track 4.10.5 41
3000m track 8.52 41
5000m track 14.56 41
10,000m track 30.32 41
One hour run track 18.900m 42
10 miles track 50.52 40
HM road 68.24 42
25K road 1.21.25 40
Marathon 2.22.14
Edinburgh to Glasgow 4.36.13 (record) 39/40
Personal Bests in M60 Age Group
1500m 5.06 60
5000m 17.37 60
10,000m 35.10 61
10K road 34.51 61
10 miles road 57.43 60
HM 75.53 61
25K 1.34.50 61
Marathon 2.49.53 60
Where do these times stand in 2010?
At British level, the half marathon time above still stands as at December 2009 as a British M60 age best but Bill ran an excellent 18:18 for 5K Road on 18th June 1997 at Lochinch which was and still is a British record for the M65 age group.
It is a sign of the quality of the times that in an era when veterans and masters athletics are being fought out at a higher level than ever before that times set eighteen and thirteen years ago are still top of the lists.
Daily Training Schedule Morning: Swim, followed by half an hour intensive deep water training
Lunchtime: 40 minutes to an hour easy running and strides. Usually 6 – 8 miles at most.
Afternoon: 4 Mile Run.
(Bill says: "I'm not a scientific runner. I do ten to twelve miles every day but I'm not obsessed by the stop watch while I'm doing it. I aim to keep even pace. Speed work frightens me – at my age particularly it can lead to too many injuries.)
N.B. The above article omits a few relevant details. Bill Stoddart actually won his first World Veterans Championship in September 1972, when he was victorious in the M40 10,000m (30.52.4) in Bensberg, West Germany.
Consequently, he won many World Veteran Titles in marathon, track and cross-country, in several age groups: M45, M50, M55, M60, M65 and M70. So many, in fact, that he cannot recall the total.
No other Scottish Veteran Harrier has come near to equalling Bill's achievements.
The secret, he says now, is DEDICATION.
MASTERS HOME COUNTRIES CROSS COUNTRY INTERNATIONAL
SCOTTISH AGE-GROUP WINNERS 1988-2013
1992
Newton Abbey NI
Colin Youngson
(M45)
1993
Cardiff
Christine Price
(F40)
1995
Malahide Dublin
Hugh Rankin
(M60)
1996
Irvine
Lynn Harding
(F35)
1999
Bideford England
Trudi Thomson
(F40)
Colin Donnelly
(M40)
2000
Navan Eire
Janette Stevenson
(F50)
David Fairweather
(M55)
2001
Falkirk
Janette Stevenson
(F50)
Tommy Murray
(M40)
2004
Croydon
Sue Ridley
(F35)
Brian Gardner
(M45)
2005
Santry Dublin
Janette Stevenson (F55)
Bobby Young
(M60)
2006
Falkirk
Janette Stevenson
(F55)
George Sim
(M55)
2007
Belfast
Robert Quinn
(M40)
2009
Birmingham
Jane Waterhouse
(F55)
2010
Dublin
Melissa Whyte
(F45)
2011
Glasgow
Melissa Whyte
(F45)
Fiona Matheson
(F50)
2012
Belfast
Fiona Matheson
(F50)
2013
Cardiff
Fiona Matheson
(F50)
MARATHON MAN'S MIND OVER MATTER by Mark Macaskill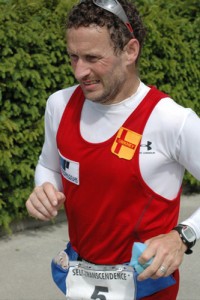 A 60-YEAR-OLD ultramarathon runner from Orkney who has completed a gruelling six-day race in Arizona told how he hypnotised himself to cope with the ordeal.
William Sichel crossed the finishing line on Friday after clocking up more than 470 miles. Along the way, he set 17 new records, including a world best.
Speaking from Phoenix last night, Sichel said he listened to hypnosis courses on his MP3 player to help to prepare mentally. "I've been doing more and more work in self-hypnosis. It helps the brain cope with the overwhelming fatigue and to accept it has to go further than it's gone before. For most of the race I was in a semi-hypnotic state," he admitted.
Across the Years is an annual endurance event in which runners aim to complete as many circuits of a mile-long course as they can in time frames of 24 hours up to six days. Competitors are free to walk, stop, eat and sleep but the clock is always ticking.
About 300 competitors took part in this year's event, which started on December 28 at Camelback Ranch in Glendale, Phoenix, a training facility for the Chicago White Sox and Los Angeles Dodgers.
However, only 60 attempted the six-day endurance race.
On Friday, Sichel finished first in his age group and fourth overall with 472 miles under his belt. The winner, Joe Fejes, clocked up 555 miles.
Sichel set a new world record for men in the 60-65 age group. He also collected 16 new British and Scottish records.
Sichel attributed his success to his mental preparation but admitted that the race was "one of the most unusual" he had run. "The circuit was billed as a trail but it was a dusty, rocky, uneven surface and in the first couple of hours I thought to myself, 'I'm already having trouble running on this surface and I've got six days to go.' My running shoes kept filling up with dust and razor-sharp stones and I suffered ankle strain."
Sichel said Arizona's desert climate was also a challenge, with temperatures swinging from 20 to minus 2C in just a matter of hours. "When the sun was high in the sky, it beat down on you and was very uncomfortable. Then as the day wore on, the temperature fell dramatically and suddenly you were cold."
Sichel can already lay claim to setting 77 long -distance running records meaning his latest haul takes his career tally to 94.
However, his ambition is to have set 165 records by his 65th birthday – leaving him about 4½ years to gather the remaining 71.
"I think I can do it. I run every race as if it's my last and I push hard to the line. My motivation is self-curiosity to explore the limits I can put my body and mind to."
Sichel's success in Arizona comes hard on the heels of a 2nd place finish in an eight-day race around Monaco harbour in November. He covered just over 533 miles and bagged 8 Scottish and 1 British age-group records. More than 9,100 runners took part in the event, which was halted when Cyclone Cleopatra hit the port area of Monaco.
Shona Robison, the Scottish sports minister, described Sichel as "an inspiration for everyone". from The Sunday Times
MELDRUM BARCLAY EDWARDS M.B.E.
Mel Edwards (Aberdeen AAC) became a Member of the British Empire at Buckingham Palace on the 24th of January. Prince Charles made the award, for services to Athletics and Charity.
The ever-enthusiastic Mel is a former international marathon runner with a 1967 personal best of 2.18.24 in the Harlow Marathon. He was also a fine hill runner. He is a UK Athletics Level 4 Endurance Coach and an inspirational speaker who has dealt with cancer on three occasions.
Mel continues to be marvellously supportive to thousands of runners in Aberdeen and elsewhere. His full running profile is under 'Elite Endurance' on the website scottishdistancerunninghistory.co.uk. He now refers to himself (jokingly) as MBE squared!
SCOTTISH ATHLETICS NATIONAL MASTERS INDOORS CHAMPIONSHIPS
This event took place at the Emirates Arena in Glasgow on Sunday 2nd March 2014. Laura Mahady of Aberdeen AAC maintained world class form by winning the W55 400m (64.29) and 800m (2.30.79).
[Stop Press: At the end of March, Laura achieved the same double at the World Masters Indoor Track Championships at Budapest! Stornoway's Alastair Dunlop set an impressive new Scottish M60 1500m record (4.39.74) when finishing fifth in Budapest. He was also fifth in the 800m (2.21.15).]
Steven Wright (Forres Harriers) won the M40 800m in the fast time of 2.03.75.
Stephen Allen (Law & District AAC) was first in both the M45 800m (2.07.01) and 1500m (4.20.17), in the latter defeating many younger athletes.
Evergreen John Thomson (Fife AC) also did the double: M55 800m (2.14.54), a runaway win, and 1500m (4.39.40) in front of M50 Ken Mortimer (4.42.60).
Fiona Matheson (Falkirk Victoria Harriers) maintained her outstanding form by winning the W50 1500m (5.01.61) and 3000m (10.31.30), after close battles against W50 rival Hilary McGrath (Law & District), who recorded fast times too: 5.03.65 and 10.36.75.
Stop Press: Fiona Matheson went on to become W50 World Cross Country Champion in Budapest at end of March AND won two silver medals in the Budapest World Indoors, behind Clare Elms of England. Fiona recorded 4.52.43 for 1500m and 10.14.33 for 3000m. In the 3000m, Ian Johnston (Shettleston Harriers) won the M45 title in 9.31.15 and Colin Feechan (Ronhill Cambuslang Harriers) became M55 champion (10.10.04).
MY LIFE ON THE RUN by Arthur Walsham
Arthur is the president of Northern Vets. He was a very successful veteran athlete, especially when he won the very first British Vets Cross Country Championship at Hull in 1971 and triumphed in the World Veterans Championships 25k and marathon (gold medals at both M40 and M45).
Now he has published his athletic memoirs in a book introduced by Ron Hill. As well as describing training, triumphs and disasters, Arthur describes how he coped with getting older and slower.
He really knows everything about Veteran Running. All proceeds from this thoroughly recommended book will be donated to Parkinson's UK. If you would like a copy, send a cheque for £5 (made payable to Mr AJG Walsham), write down your name and address, and send this to Arthur at 31 Thornfield Road, Heaton Moor, Stockport, Cheshire SK4 3LD.
Print & Design for Club and Races by runners for runners Clubs and races need print – often it's done by the hard working secretary or race director on their home ink jet at their expense (ink jet ink is ounce by ounce more expensive than gold!).
Connalmac Design can help with all sorts of print and design needs – from race numbers, to programmes and newsletters like this one or much simpler affairs. We can put together your publication from scratch or print from your file supplied. Fast efficient cost effective and by runners for runners – so next time you are in need of print think of Connalmac we are only an email away and delivery is included no matter where you are
.In Business? Then for all your print and design needsConnalmac can help you too with the full range of business stationery, logo and corporate identity design, brochures, leaflets, banners, exhibition displays design and production.
CONNALmac DESIGN (www.connalmac.com) are delighted to support Scottish Veteran Harriers Club with the production of this Newsletter and with their printing and design needs throughout the year. Email: solutions@connalmac.com
BMAF CROSS COUNTRY CHAMPIONSHIPS TOLLCROSS PARK GLASGOW
There were some excellent performances from the Scots as they took full advantage of the local venue when the BMAF Cross Country Championships were held over an undulating course which was surprisingly firm after a few days sunny weather, at Tollcross Park Glasgow on March 15th and organised by Scottish Veteran Harriers.
Competition was top drawer with some great racing in very windy conditions.
First race up was the Women and Men over 65 run over 3 laps of the 2 Km course in which Scots outstandingly took 7 of the 12 individual titles on offer.
Right at the front, after some initial jousting over the first half of the race, Lesley Chisholm W35 continued her excellent form of the winter, which has included a 3rd place in the West Districts and a fine run at the Masters International at Cardiff, by pushing on to break clear and come home untroubled with a lead of almost 30 seconds.
After a strong final part of the race Janet Dunbar came through to claim second place overall and first W45, while Shona Robertson, perhaps better known as a hill runner, was in the hunt for most of the race as she took the W40 age group.
Other Scottish age group winners were Hilary McGrath at W50 and Anne Docherty in the W65 race while it was great to see Janette Stevenson racing again after a long layoff taking the W60 gold, following a close battle with Scottish Masters Champion Jane Waterhouse.
In the team race, based on the cumulative times of each clubs first three finishers, North Shields Poly took the W35 – 44 age group with the Edinburgh AC team of Janet Dunbar, Susan Ridley and Sharyn Ramage comfortably winning at W45 – 54.
The over 65 men's race resulted in a runaway win for former Bellahouston Harrier Robert Marshall, running for Morpeth Harriers. This was an outstanding performance by the Scottish Masters International against top English contestants.
And Bobby Young added to his medal collection by taking bronze in the M70 race and team silver along with Clydesdale Harriers club mates Peter Cartwright and Watson Jones as they just lost out to Bingley Harriers.
The M35 – 64 race held over 8 Km was a high quality affair with last year's overall winner Philip Hinch M35 of Tipton Harriers, Andy Morgan-Lee M45 of Thames Hares and Hounds and the two in form Ronhill Cambuslang men Robert Gilroy M35 and Kerry-Liam Wilson M40 quickly forming a group at the front with last year's runner up Ben Reynolds M50 of Thames H&H close at hand.
However, it was the white hatted Gilroy, looking comfortable throughout, who broke away soon after the half distance to come home 10 seconds clear of Hinch with Morgan-Lee, in winning the M45 race, just holding off Kerry Wilson.
Kerry's consolation was in retaining his M40 title, won last year at Sunderland, as the Scots dominated the age group with Cris Walsh and Jamie Reid taking the minor medals.
Further back Andy Little and Neil Thin had a fine tussle as both got among the medals at M50 while Colin Feechan, still improving, was the M55 silver medallist.
Ronhill Cambuslang were predictable and comfortable team winners at M35 – 44 and M55 – 64 while the only other Scottish team medallists were Kirkintilloch Olympians whose improving squad took silver at M35 – 44.
It will be understood that an event like this doesn't just happen, much work goes into all aspects of organisation and in that respect SVHC acknowledge and appreciate the efforts of John Bell, Ada Stewart, Andy Law and Campbell Joss in making the championships a success.
And it wouldn't happen without the help and support of Glasgow City Marketing Bureau, LSK Supplies, Glasgow Life and Sweatshop.
With the organisation, course and the facilities at the Tollcross International Swimming Centre receiving a big thumbs up from competitors afterwards, it's fair to say that there will be more Vets events at Tollcross Park.
Alastair Macfarlane
INDIVIDUAL AGE GROUP MEDALISTS
WOMEN 35
1 22:20 Lesley Chisholm Garscube Harriers 2 23:06 Claire McManus North Shields Polytechnic 35 3 23:16 Avril Mason Shettleston Harriers 35 1 23:34
WOMEN 40
Shona Robertson Shettleston Harriers 35 2 24:05 Jennifer Forbes Gala Harriers 35 3 24:13 Wendy King Chelmsford AC 1 22:49
WOMEN 45
Janet Dunbar Edinburgh AC 45 2 22:55 Elaine Leslie Jarrow & Hebburn 35 3 23:28 Susan Ridley Edinburgh AC 45 1 23:37
WOMEN 50
Hilary McGrath Law & District AC 2 24:10 Beryl Junnier Falkirk Victoria Harriers 45 3 24:28 Heather Robinson Jarrow & Hebburn 35 1 24:47
WOMEN 55
Ruth Magill Lagan Valley 2 25:15 Isobel Burnett Carnegie Harriers 35 3 25:43 Penelope Barber Tipton Harriers 1 26:49
WOMEN 60
Janette Stevenson Falkirk Victoria Harriers 45 2 26:53 Jane Waterhouse Central AC 3 27:13 Christine Kilkenny Cannock & Stafford AC 1 32:14
WOMEN 65
Anne Docherty Forres Harriers 2 32:45 Elizabeth Gilchrist Ferranti 3 34:22 Sheila Thomson Westerlands CCC 45 1 37:48
WOMEN 75
Pam Jones Ilford AC
MEN 35
1 25:46 Robert Gilroy Ronhill Cambuslang 35 2 25:56 Philip Hinch Tipton Harriers 3 26:29 Malcolm Muir Ilford AC
MEN 40
1 26:04 Kerry-Liam Wilson Ronhill Cambuslang 35 2 27:30 Crispin Walsh Bellahouston Harriers 35 3 27:42 Jamie Reid Ronhill Cambuslang
MEN 45
1 26:01 Andy Morgan-Lee Thames Hare & Hounds 2 26:53 Steve Cairns Tyne Bridge Harriers 45 3 27:27 David Lockett Salford Harriers
MEN 50
1 26:23 Ben Reynolds Thames Hare & Hounds 2 27:31 Andrew Little Shettleston Harriers 3 27:34 Neil Thin Edinburgh AC
MEN 55
28:46 Paul Merrison Sunderland Harriers 2 29:05 Colin Feechan Ronhill Cambuslang 55 3 29:08 Richard Drage Tavistock AC
MEN 60
1 28:30 David Butler Billericay Striders 2 29:43 Stanley Owen Salford Harriers 45 3 29:55 Paul Elliot North Belfast Harriers
MEN 65
1 24:09 Robert Marshall Morpeth Harriers 2 24:46 Roy Treadwell Oxford City AC 3 24:55 Michael Mann Dulwich Runners AC
MEN 70
1 25:57 Gordon Orme Carmarthen Harriers 2 26:11 Les Haynes Bingley Harriers 65 3 26:39 Robert Young Clydesdale Harriers 65
MEN 75
1 26:45 Fred Gibbs Bingley Harriers 65 2 29:41 Steve James Southport Waterloo AC 3 29:51 Ian Barnes Darlington Harriers & AC
MEN 80
1 31:44 Geoffrey Oliver 100km Association 2 34:21 James Pittillo Teviotdale Harriers
50 SCOTTISH CHAMPIONSHIP SEASONS
Recently I trudged dourly through sleet and freezing gale to reach the end of the 2014 Scottish Masters Cross Country in Hawick. Half-fit and slower than ever at the age of 66. Why bother? Arguably, to record my fiftieth consecutive season of finishing at least one Scottish Championship.
Mind you, what can be considered a Scottish Championship? There is no doubt about the National CC, indoor or outdoor track and marathon. Then there are those drama-packed relays – four-stage CC and six-stage road – which guarantee extra pressure to run your heart out for mates, no matter how successful the team.
But sometimes injury restricts participation to only one major fixture in a year, such as the late-lamented Edinburgh to Glasgow road relay – well that always felt like a national team championship to me. And back in 1965, as a novice runner from Aberdeen Grammar School, my so-called sequence started with the Scottish Schoolboys CC round muddy Motherwell. They all count as far as I am concerned, so there, don't care what anyone says!
I have completed more than 170 Scottish or Scottish Masters championships. Yes, I am pleased to have been reasonably fit for so long, although retirement beckons seductively.
But what has been so addictive about championship racing, when there are so many alternatives – not only events in Continental Europe, England and Ireland but hill-running, city 10ks, half marathons, marathons, tough guy events (no chance!), parkruns and fun runs?
Admittedly, one reason has been 'pot hunting' – the chance of adding to a vast, rusting medal collection, mainly Masters of course. Gaining a good 'gold medal' (which might lead to a coveted Scottish vest) still feels like real achievement – my best-ever performance was setting a championship record to win the 1975 Scottish Marathon – but there have been lots of mediocre runs too, despite considerable effort on the day. All part of the sport.
Chasing and sometimes defeating old rivals/friends could be an incentive – most runners beat most other runners at least once if they compete for long enough!
Improving personal best times or race positions may be the motivation. Or force of habit – I took part in 30 Edinburgh to Glasgow Relays, 13 Scottish Marathons and 20 Masters Cross Country Championships in a row. Why not run your favourite events every year, if you can?
Surely the glamour of prestige events must be a factor? After all, cross country championship courses range from friendly golf links, to mudbaths, virtual fell races, and snowbound ski-slopes, in every conceivable type of weather.
Racing a track 10,000m or a marathon in a heatwave is a different challenge from battering through a severe headwind.
And think of the venues – every Scottish city and smaller places like Currie, Coatbridge, Glenrothes, Irvine, Livingston, Falkirk, Dumfries, Troon, Linlithgow, St Andrews, Elgin, Cumnock, and Forres. Admittedly some of those lack the svelte luxury of the Emirates Arena!
It has all been character-forming. Championship racing has an intensity that surpasses everyday normality. You have to peak at the right time, cope with nerves and problems during the event, accept defeat graciously (which is not always possible, alas) and avoid boasting if you have the luck to do well.
Sheer pig-headedness and resilience will be developed. Your own physical potential will be explored thoroughly.
Few will be interested in all this but it will matter to you and sometimes to team mates. It is important to do your best.
Running is the finest of sports – enjoy it for as long as possible!
Colin Youngson Forres Harriers
OFFICE BEARERS SEASON 2014-2015
Honorary President: ROBERT DONALD
President: ALASTAIR MACFARLANE 7 Andrew Avenue, Lenzie, G66 5HF Tel: 0141 5781611 almacrun@btinternet.com
Immediate Past President: PETER OGDEN 16 Springhill Road Glasgow, G69 6HH Tel: 0141 7711950
Vice-President: ADA STEWART 30 Earlsburn Road, Lenzie, G66 5PF Tel: 0141 5780526 stewart2@ntlworld.com
Honorary Secretary: CAMPBELL JOSS 25 Speirs Road Bearsden, G61 2LX Tel: 0141 9420731 cdjoss@tiscali.co.uk
Honorary Treasurer: STEWART MCCRAE 17 Woodburn Way Balloch Cumbernauld. G68 9BJ Tel: 01236 728783 stewart047@hotmail.com
Membership Secretary: DAVID FAIRWEATHER 12 Powburn Crescent Uddingston, G71 7SS Tel: 01698 810575 djf@dfairweather.plus.com
Handicapper: PETER RUDZINSKI 106 Braes Avenue Clydebank. G81 1DP Tel.0141 5623416 p.rudzinski@ntlworld.com
Committee Members:
JOHN BELL Flat 3/1, 57 Clouston Street Glasgow G20 8QW Tel. 0141 9466949
WILLIE DRYSDALE 6 Kintyre Wynd Carluke, ML8 5RW Tel: 01555 771 448
PHYLLIS HANDS 39 Albany Drive Lanark ML11 9AF Tel. 01698 252498
ANDY LAW Euphian, Kilduskland Road Ardrishaig Argyll. PA30 8EH Tel. 01546 605336
PAUL THOMPSON Whitecroft, 5 Gareloch Brae, Shandon, Helensburgh G84 8PJ Tel. 01436 821707
BMAF Delegates Alastair Macfarlane Ada Stewart
SAL West District Delegate Willie Drysdale
SAL Delegate at AGM Ken Moncrieff
Website Ada Stewart
Auditor George Inglis
FIXTURES
APRIL 2014
Sun 13th Tom Scott 10 miles road race. 10:00 am. John Cumming Stadium Carluke MAY 2014
Sun 4th Walter Ross 10km road race. 1:30pm. Cartha Rugby Club.
Sun 4th BMAF 10km Road Championships Kings Lynn
Wed 7th Snowball 4.8m road race 7:30 pm. Townhead Community Centre.
Fri/Sun 13/15th EVAA non-stadia c'ships Thionville,Yytz, France
Sat 17th BMAF road relays. Sutton Park, Birmingham
Sat 17th Bathgate Hill Race.
JUNE 2014
Wed 4th Corstorphine 5 Mile Road Race 7:30 pm. Turnhouse Rd, Edinburgh
Sun 8th BMAF outdoor pentathlon/10km track. Tilsley Park, Oxford
Sun 15th SAL National Masters T & F & Relay Champs, Pitreavie Athletics Centre BMAF 5km Road Championships Horwich
Wed 25th SVHC 5km road race c'ships. 7:30pm. Playdrome, Clydebank.
JULY 2014
Sun 6th BMAF Multi-terrain Championships – Bewl Water, Sussex
AUGUST 2014
Sat/Sun 9/10th BMAF Track & Field Championships Birmingham
Sun 17th SVHC Glasgow 800 10km Cartha Rugby Club
Fri22nd – Sun 31st European Vets Track and Field Championships Izmir Turkey OCTOBER 2014
Sun 5th SVHC Half Marathon Champs Kirkintilloch
Sun 19th BMAF Half Marathon Champs Salisbury SVHC Track 10K and AGM Coatbridge
NOVEMBER 2014
Sat 22nd British & Irish Masters Cross Country International Wollaton Park, Nottingham