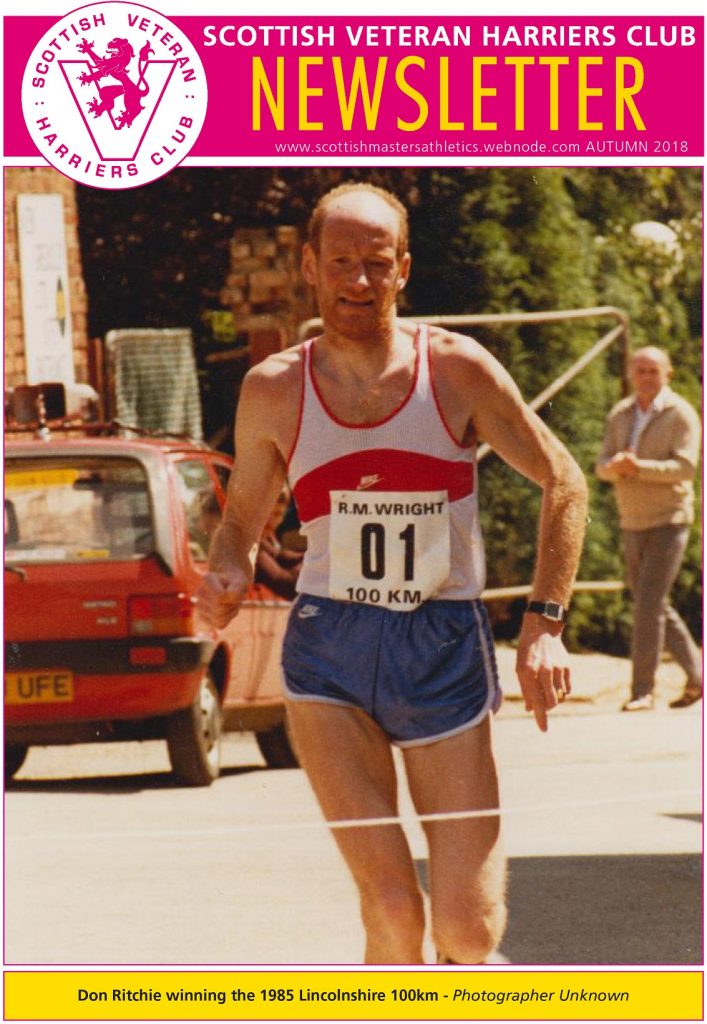 MEMBERSHIP NOTES 12th August 2018
MEMBERS Standard Membership £20 Non competing Membership £10 Over 80 Membership Free
Don Ritchie OBE sadly passed away on 16th June.
Welcome to the 31 new and 6 reinstated members who have joined or re-joined since 10th Mar 2018. As of 12th August 2018, we have 518 paid up members, including 24 over 80 & 5 Life Members. 87 have either not paid, or underpaid, their subscriptions.
NEWSLETTER The electronic version of the Newsletter is now the preferred option. Any member who would rather receive a printed Newsletter must contact David Fairweather (djf@ dfairweather.plus.com), if they have not already done so. Please inform David if you add or change your email address.
Please send photos, news, letters, articles, etc for the next issue To: COLIN YOUNGSON TOMLOAN, SANQUHAR ROAD, FORRES, IV36 1DG e-mail: cjyoungson@btinternet.com Tel: 01309 672398
SVHC EVENTS
Stewards/marshals are required for club races. The club appreciates all members & friends who volunteer to act as stewards/marshals. If you are not competing just turn up and introduce yourselves to the organisers.
STANDING ORDERS Thank you to the members who have set up standing orders for membership subscriptions. Please keep me informed if your membership details change (especially email addresses. Standing order details: Bank of Scotland, Barrhead, Sort Code: 80-05-54, Beneficiary: Scottish Veteran Harriers Club, Account No: 00778540, Reference: (SVHC Membership No. plus Surname). stewart2@ntlworld.com 0141 5780526 By cheque: please make cheque payable to SVHC and send to Ada Stewart, 30 Earlsburn Road, Lenzie, G66 5PF.
CLUB VESTS Vests can be purchased from Andy Law for £18, including Postage. (Tel: 01546 605336. or email lawchgair@aol.com)
NEW MEMBERS
NUMB CHRS SURN JOIN TOWN
2443 Peter Mackie 10-Mar-18 Glasgow
2444 John Coyle 23-Mar-18 Glasgow
2445 Graeme Ferguson 27-Mar-18 Forth
2446 Michelle Slater 30-Mar-18 Buckie
2447 Chris Gunstone 05-Apr-18 Tyninghame
2448 Mary Senior 11-Apr-18 Clydebank
2449 Mike Houston 11-Apr-18 Chichester
2450 Karen Greasley 26-Apr-18 Reading
2451 Douglas Graham 27-Apr-18 Edinburgh
2452 Sean McGleenan 28-Apr-18 Dumfries
2453 Darrell Hastie 04-May-18 Kelso
2454 Brian Hughes 04-May-18 Glasgow
2455 Patricia Hampton 11-May-18 Balerno
2456 Paul Masterton 14-May-18 Edinburgh
2457 Nick Freer 22-May-18 Edinburgh
2458 Emma Dawson 21-May-18 Ellon
2459 Craig Taylor 22-May-18 Tranent
2460 Julie Hendry 23-May-18 Aberdeen
2461 Brent Broadie 28-May-18 Newton Mearns
2462 Barry Queen 30-May-18 Helensburgh
2463 Stephen Murphy 05-Jun-18 Edinburgh
2464 John Robertson 05-Jun-18 Peterhead
2465 Graeme Gemmell 13-Jun-18 Glasgow
2466 Julie Tuck 13-Jun-18 Peterculter
2467 Paul White 05-Jul-18 Motherwell
2468 Emma Raven 22-Jul-18 Silsden
2469 Gavin McMurray 26-Jul-18 Balerno
2470 Julia Johnstone 26-Jul-18 Morebattle
2471 Claire Reid 30-Jul-18 Coatbridge
2472 Jane Kidd 01-Aug-18 Kenilworth
2473 Gillian Cooke 10-Aug-18 Edinburgh
2202 Chris Creegan 12-Mar-18 Edinburgh
2094 Robert Watson 27-Mar-18 Cumbernauld
1266 Martin Leyland 14-May-18 Shetland
2246 Robert Keenan 30-May-18 Cumbernauld
1534 Alex Parker 20-Jun-18 Clydebank
2205 Graeme Murdoch 09-Aug-18 Galashiels
Ada Stewart Membership Secretary
DON RITCHIE: VETERAN CHAMPION
After my dear friend Donald died suddenly in June 2018, many impressive tributes and obituaries were published on both sides of the Atlantic. He was rightly celebrated as a modest, friendly, incredibly tough Scotsman who had been the greatest 20th Century ultra-distance runner, certainly in track or road events between 50km and 24 hours indoors. Do check online to learn more about Donald's peak performances between 1977 and 1979 (when his age was 32-34).
For the SVHC Newsletter, I thought it would be appropriate to mention highlights of his 'Masters' running career.
In the M35 category he won important 100km titles, set Track World Records for 40 miles, 50 miles and 200km, ran two sub-2.20 marathons, represented Scotland (aged 39) at that distance and won the Two Bridges 36-mile road race.
Before his retirement from running in 2011, Donald secured another ten Scottish vests (four for marathon and six for 100km) and 17 British vests (eleven 100km and six 24 hours). His last Senior International appearance (aged 56) was in 2000.
His achievements, in Veteran age-groups from M40 to M55, were outstanding. Although he could do no better than 4th in the 1985 Scottish Masters cross-country and first M45 in the 1992 Lochaber/SVHC marathon, as an ultra-runner, Donald reigned supreme.
In the M40 category, he ran the 1985 London Marathon in 2.21.26; won 100km races in Lincolnshire and Turin; triumphed in the 1986 Two Bridges; won overall silver (and M40 gold) in the very first (1987) IAU World Championships 100km in Belgium; and was victorious in the Italian Del Passatorie classic (101.5 km) and the Moray Marathon. In 1988, Donald set 7 Scottish Indoor Track Records (from 40 miles to 144 miles 1009 yards) in the Kelvin Hall 24 hours race. In April 1989, he set a new record for the gruelling John o'Groats to Land's End solo run: 846.4 miles in 10 days 15 hours 27 minutes.
As an M45, he had a marvellous race in the 1990 Road Runners Club 24 hours indoor event in Milton Keynes, winning the AAA, GB and International titles with a new World Record of 166 miles 425 yards (setting other new marks en route at 100 miles and 200km). Then Donald finished first in several other races: Lochaber Marathon, John Tarrant Memorial 50 miles, Lincolnshire 100km, Two Bridges 36 miles and Santander (Spain) 100km. Unsurprisingly, also in 1990, Donald had no difficulty in becoming the inaugural Scottish 100km track champion, establishing World M45 records. Aged 46, he secured his first GB vest in the IAU World Cup 100km in Duluth, USA.
More M45 achievements followed. Donald was first Veteran in the 1991 Madrid 100km; second GB team counter, contributing to bronze medals, in the Del Passatorie 100km World Cup; finished outright victor in the West Highland Way Race and the Tarrant 50 miles; and first Veteran in the Santander 100km. He became British 24 Hours outdoor track champion with a personal best of 166 miles 1203 yards, which was also an M45 World Best (at 100 miles, 200km and 24 hours).
By 1992, Donald had been awarded all the major Scottish Athletics trophies. That year he won the British 100km championship and retained his AAA 24 hours title. Then he finished first Veteran in the European 100km championships; and won the first Scottish 100km road championships at Riccarton, near Edinburgh. In 1993 he was second in the UK National 100km and also the AAA 100km. 1994 included 3rd place (and first M45) in the West Highland Way.
At M50, Donald continued to run well most of the time. In the 1994 Commonwealth Games demonstration 100km, which took place in Victoria, Canada, he was individual bronze medallist and first M50, contributing to Scottish team silver behind the host nation. In 1995, he set an M50 record in the Barry 40 miles track race; became European M50 champion over 100km; secured Scottish 100km M50 gold; for GB was first M50 in the IAU World Cup 100km in Holland; and set M50 World Track Records (for 50 miles and 100km) in a 24 Hours race in England.
Then on 5th December 1995, Queen Elizabeth presented Donald Alexander Ferguson Ritchie with the M.B.E. (Member of the British Empire) for services to Running and Charity.
In 1996, Donald was Scottish Captain for the 100km Anglo-Celtic Plate and won individual and team silver medals. Then diabetes was diagnosed and his running suffered. Nevertheless, he was second M50 in the European 100km.
In 1998, Donald was third M50 in the European 100km; and first GB counter in the IAU European 24 hours. In 1999 he was first M50 in the Speyside Way 50km; and the Scottish 50km championships; as well as running well for Scotland (5th overall) in the Dublin 100km Anglo-Celtic Plate.
In 2000, Donald set an M55 record in the Speyside Way 50km; and was second Veteran in the Scottish 50km. He was first M55 in the Flanders 100km and the Moray Marathon. He became M55 champion in the World Veterans 100km in Holland; and won his age group in the London to Brighton 55 miles road race. Then he was second GB finisher in the European 24 Hours in Holland and contributed to team bronze medals.
In 2001, Donald won his age group in the Barry 40 miles track. In 2002, he was first M55 in the London to Brighton. By the end of that year he was still averaging more than 100 miles training per week. His final win took place in 2003, when he won the Sri Chinmoy Track 24 Hours race in England.
Despite enduring several worsening health problems, Donald kept trying to run until 2011; and then during the last seven years travelled world-wide with his wife Isobel.
Donald Ritchie's whole career training diaries (1962-2011) cover a thousand pages and note every mile run: an amazing total of 208 thousand 100.8 miles. Truly phenomenal!
SCOTTISH WOMEN IN THE IAAF WORLD CROSS continued
In 1986 the World XC Championship moved to Neuchatel, Switzerland. A record field of 161 competed. Marcella Robertson ran a very fine race to finish 25th and fourth Briton. Yvonne Murray was 38th (6th Briton), consistent Christine Price 57th and Karen MacLeod 101st. The Scottish team did remarkably well to finish twelfth from 28, and beat Australia, Switzerland, Poland, Canada, Ethiopia, Italy, Japan, Denmark, Ireland, Brazil, Wales, Morocco, Netherlands, India, Northern Ireland and Puerto Rico!
Marsela Robertson had a short but successful career in Scotland. She won the 1985 SAAA 1500m and finished ninth in the 3000m at the 1986 Commonwealth Games in Edinburgh.
Very sadly, and unfairly for Scotland, since the team was definitely worthy of continuing to compete as a separate nation, 1987 was the final year before a harsh IAAF order insisted that only one 'United Kingdom' team would be allowed to compete. The event was held in Warsaw – and what a good performance was put on by the Scottish Women!
152 ran. Liz Lynch had improved dramatically and made a bold attempt to race right away from a top-class field of rivals. Doug Gillon of The Glasgow Herald reported that Liz tried so hard to dominate, despite the course involving the freezing muddy wastes of a racecourse, with thirty obstacles to negotiate. Unfortunately, she began to slow towards the finish, slipped momentarily and was overhauled by France's Annette Sergent only 150 metres from the line. Liz Lynch, defeated by only two seconds, and in front of future champions Ingrid Kristiansen (Norway) and Lynn Jennings (USA), was bitterly disappointed, but her silver medal was a wonderful achievement and by far the finest result for any Scottish Woman since International cross-country championships began for her country in 1935. The team backed their leader very well indeed. Yvonne Murray was 16th and second Briton, Karen MacLeod 64th, and Christine Price (in her tenth and final appearance in the IAAF World Cross Country Championships) a valiant 81st. Scotland finished an excellent ninth from 26, only eleven points behind England and in front of Canada, New Zealand, West Germany, Wales, Spain, Italy, Belgium, Australia, Ethiopia, Ireland, Poland, Sweden, Japan, Bulgaria, Brazil, India and Northern Ireland.
Liz McColgan (formerly Liz Lynch) became the best-known Scottish and UK distance runner. Her full profile should be read. A few highlights include the following. Scottish titles at 1500m indoors, 3000m (both indoors and outdoors) and Cross Country (aged 39, in 2004). UK titles at 3000m, 5000m and 10,000m. Taking part in Commonwealth, European and World Championships and three Olympic Games. Two Commonwealth gold medals for 10,000m (in 1986 and 1990). Silver medals in the 1987 World Cross, 1988 Olympic 10,000m and 1989 World Indoor 3000m. Winning the World Championship 10,000m in 1991, simply burning off her rivals with relentless front-running. Being named 1991 BBC Sports Personality of the Year. A World Half Marathon victory in 1991. Winning the New York, Tokyo and London Marathons. Breaking Scottish, British, Commonwealth, European and World records. What a talented, tough athlete; what an amazing career. Dundee, Scotland and Britain should be very proud of Liz McColgan.
SCOTTISH WOMEN IN THE WORLD CROSS 1988-2017
Predictably, English runners have packed most UK teams in the World Cross and Scottish athletes, unable to race cross country for their country, lost some motivation as well as valuable racing experience against the best opposition. However, a number of Scots have been selected and have run well in the three events available: Senior Women Long Course; Senior Women Short Course; and Junior Women.
Senior Women
No Scots, predictably, were selected for the Senior Women's Long Course Championships between 1988 and 1990. Trials were held in England.
In 1991 at Antwerp, Liz McColgan (nee Lynch) ran with her usual fire to secure the bronze medal, only four seconds behind Lynn Jennings and one second behind future Olympic champion Derartu Tulu of Ethiopia. 126 ran. The UK team was 5th from 20.
The 1992 World Championship was held in Boston, USA. 127 ran. Liz McColgan finished 41st (3rd Briton) and Vikki McPherson 61st (5th Briton). Derartu Tulu did not finish. The UK team was 7th from 21.
Vikki McPherson: In 1992 the Glasgow University student won the British Universities and the Scottish XC titles. She won the Senior National again in 1993 and, running for City of Glasgow AC, in 1995. On the track, Vikki McPherson became AAA 10,000m champion in 1993 and won the UK 10,000m in 1997. She ran that distance in the 1993 World Championships and two Commonwealth Games: 1994 (5th) and 1998 (4th).
Amorbieta, Spain, was the venue in 1993. 148 ran. Liz McColgan produced another excellent performance, finishing 5th in a top-class field. Paula Radcliffe was 18th and Scottish champion Vikki McPherson ran very well to be 38th (third Briton). The UK team finished 7th from 26.
Budapest, Hungary, hosted the 1994 event. 148 ran. Vikki McPherson (now City of Glasgow AC) was selected for the third year in succession and finished 80th (4th Briton).
No Scots were selected in 1995, but in 1996 (Stellenbosch, South Africa) Vikki McPherson finished 49th (and second Briton) behind Paula Radcliffe (19th). 133 ran.
In 1997 the World Cross took place in Turin, Italy. 148 raced. Paula Radcliffe won a silver medal and Hayley Haining, the Scottish XC champion, ran a fine race to finish 22nd (third Briton). The UK team just missed out on medals, finishing 4th from 24 countries. Ethiopia won, with Kenya second and Ireland third, mainly thanks to Catherina McKiernan (7th) and Sonia O'Sullivan (9th).
Hayley Haining was very talented but susceptible to injury. Nevertheless, she achieved many excellent results and carved out a long career. She won the 1985 British Schools Cross-Country international at the age of 13; and later that year won the SWAAA 800m title for her age group. In 1990 and 1991 she ran for the UK in the World Cross Country Championships for Junior Women. Hayley became a Glasgow University team-mate of Vikki McPherson and in 1991 beat her into third place when winning the National Senior XC title. Hayley, representing City of Glasgow AC, won that championship again in 1997 and 2000. In 1995, Hayley secured the Scottish track 5000m title, which she regained in 2000. In 1999 Hayley Haining won the AAA 5000m championship; and in 2008 (running for Kilbarchan AC) finished first in the Scottish 10,000m championship. Apart from Team Bronze in the World Cross Senior Long Course in 1998, her best race was probably in the 2005 World Championship Marathon in Helsinki, when Paula Radcliffe won, Hayley was 25th and GB won World Cup Team Bronze, behind Kenya and Japan but ahead of Ethiopia. In the 2006 Commonwealth Games marathon she finished 9th. Then Hayley was unlucky because, after running an excellent 2.29.18 in the London Marathon, she was named only first reserve for the Olympic event. Finally, aged 42, in the 2014 Commonwealth Games marathon, held in her home town of Glasgow, she rounded off a very successful career with 13th place.
In 1998 the World Cross moved to Marrakech. 97 ran. Ten years earlier, the UK had won team silver; and in 2004 finished third. In 1998 it was an excellent third place as well – and between 1988 and 2017, these were the only team medals gained by the UK. In Morocco, Paula Radcliffe won silver. She received strong support from two Scots – Hayley Haining (13th) and Vikki McPherson (25th), as well as Liz Talbot (34th). 15 teams started and only Kenya and Ethiopia were ahead of UK.
No Scots were selected in 1999 but in 2000 the World Cross was held in Vilamoura, Portugal. 104 ran. Paula Radcliffe finished 5th and Scottish champion Hayley Haining was 56th (fifth Briton). The UK team was sixth from 16.
Paula Radcliffe won at last in 2001, alas without Scottish team-mates. She retained the World Cross title in 2002, when the event took place in Dublin, where 88 started. Kathy Butler ran well to finish 18th (third Briton), and the team was fifth from 13.
No Scots were selected in 2003 but Kathy Butler featured again in 2004 (Brussels, 100 starters) finishing an excellent 11th, and leading the UK team to third place from 14 teams, behind the inevitable Ethiopia and Kenya. By now, fewer countries tended to participate, presumably because of predictable African domination.
Kathy Butler had previously competed for Canada in the 1996 Olympic 5000m. However, she had been born in Edinburgh (with English parents). Kathy changed allegiance to the UK in 2000 and she ran well in the 2001 World Cross Short Course event, for which she was selected again in 2003. Scottish 1500m titles were won in 2000 and 2001, when she ran the World Championship 3000m and 5000m. In 2004 she won the AAA 10,000m (a title she retained a year later) and finished 12th in that event at the 2004 Olympics. Kathy Butler specialised in 10.000m and was 12th in the 2006 European Championships and 7th in the 2006 Commonwealth Games.
In 2005, when the World Cross moved to St Etienne, France. Kathy Butler started but did not finish.
Fukuoka, Japan, was the 2006 venue and 99 started. Kathy Butler finished 32nd and second Briton but the team was seventh from 15 countries.
No Scot competed in 2007 but in 2008, when the World Cross was held in Holyrood Park, Edinburgh and 99 started, Laura Kenney ran well to finish 38th and third Briton. The team was 6th from 12 nations.
Laura Kenney's married name was Laura Whittle. Her father was Paul Kenney, who ran well for Scotland in the World Cross at Junior and Senior levels. In 2010 and 2015 she was second in the AAA 5000m (and third in 2008 and 2014). Laura competed internationally for GB and also for Scotland in the 2014 Commonwealth Games, where she ran a fine race to finish sixth.
The 2009 event took place in Amman, Jordan, where 97 started. Steph Twell finished 38th and first Briton. The team was ninth from twelve.
Steph Twell (who had a Scottish mother) was a very promising athlete who enjoyed tremendous early success before suffering a fractured ankle in a 2011 cross country race. Since then she has fought back bravely and has gained GB selection for further major championships. In 2005 and 2006 she ran for UK in the World Cross event for Junior Women; and won the European Junior Cross Country championship three times (2006-2008). Steph won the 2008 World Junior 1500m title. In 2009 she ran 1500m in the World Championships; and a year later finished 7th in the European 1500m. Running for Scotland, Steph Twell won a bronze medal in the 2010 Commonwealth Games 1500m and was fourth in the 5000m. She set a new Scottish 5000m record that year. Eventually recovering from that horrible injury, she won the 2013 Scottish 1500m title and ran 5000m in the 2014 Commonwealth Games and 2015 World Championships. In 2015 she won the GB 5000m; and a year later the GB Indoor 3000m. 2016 was a very successful year, since Steph was sixth in the World Indoor 3000m; won bronze in the European 5000m; and competed at that distance in the 2016 Olympic Games in Rio de Janeiro.
Two Scots were selected for the 2010 World Cross in Bydgoszcz, Poland, where only 86 started. Steph Twell finished 23rd to lead the UK team, with Freya Murray 37th and 3rd Briton. The UK team was sixth from twelve.
Freya Murray (married name Freya Ross) won the 2001 Scottish under-17 XC title; the 2003 and 2004 under-20 championships; and the Senior National six times (2006, 2007 and 2009-2012). She ran for UK in the 2004 Junior World Cross. Freya won two Scottish track championships: 10,000m in 2009 and 5000m in 2010. In addition she was UK 5000m champion in 2009 and 2010. In the 2010 Commonwealth Games Freya was 7th in the 5000m and 5th in the 10,000m. After running the 2012 London Marathon in an impressive 2.28.12, Freya Murray was selected to compete for GB in the London Olympic Games marathon and did well to finish 44th (first Briton – 2.32.14) in a truly world class field.
No Scot was chosen in 2011 but because from then on the World Cross was to be held every two years, the next event was in 2013, again in Bydgoszcz, Poland. 97 started. Steph Twell finished 40th (third Briton) and the team was seventh from 15.
In 2015 (Guiyang, China) when 83 started, only two British athletes were chosen for the Senior Women's race. England's Gemma Steel ran well to finished 18th, as did Scotland's Rhona Auckland (19th) who was only three seconds behind.
Rhona Auckland was a promising young cross country and track runner from the North East of Scotland. Her victories included: 2011 Celtic Nations XC; 2012 Scottish National 4k XC; 2013 Scottish National XC; 2014 Scottish National Short Course XC. At Under-23 level, Rhona won four European titles: 2013 Cross Country and 10,000m track; 2014 Cross Country; and 2015 10,000m. In 2015 she won the British Universities 5000m, the English Under-23 5000m, and the British Senior 10,000m track championships. Her personal best for 10,000m was a very good 32 minutes 22.79 seconds.
In 2017, no Senior Women competed for UK in Kampala, Uganda. Could the IAAF World Cross Country Championships continue much longer? Why did the UK not send a team? Surely many runners in that country still competed seriously in cross country?
IAAF WORLD CROSS: WOMEN'S SHORT COURSE 1998-2005
This eight-year experiment involve only two Scots.
In Ostend 2001, 118 ran. Kathy Butler (who had been fourth for Canada in 1999) finished 12th (second Briton) and the UK team was fourth from 19 countries.
Both Kathy Butler and Freya Murray were selected to compete in 2003 but neither started the race.
In Brussels 2004, 97 started. Kathy Butler finished 20th (second Briton) and Freya Murray 52nd (fourth Briton). The UK team was 5th from 12 nations.
IAAF WORLD CROSS: JUNIOR WOMEN 1989 onwards
In 1990 at Aix-les-Bains, France, 121 ran, Hayley Haining finished 42nd (4th Briton) and the UK team was fifth from 21 countries.
The venue in 1991 was Antwerp. 127 started. Hayley Haining ran very well to be 7th (first Briton, since Paula Radcliffe was 15th). The UK team was fourth from 20.
1996 (Stellenbosch, South Africa) was the next time a Scot was selected for the UK team. Unfortunately Sheila Fairweather started but did not finish.
Sheila Fairweather (City of Glasgow AC) was a very promising athlete who won the Scottish National XC under 17 title in 1995 and the under 20 championship in 1998. In 1997 she became Scottish track 5000m title holder.
Belfast was where the 1999 Junior World Cross took place. 124 ran. Susan Partridge finished 89th (5th Briton) and the UK team was 13th from 21.
Susan Partridge (Victoria Park City of Glasgow / Leeds City). Her father Alan was a good Scottish middle distance and cross country runner. Susan won the Scottish under 17 XC title in 1996 and 1997. She ran for UK in the 1998 European Junior XC Championships and the 1999 Junior World Cross XC. She won the Senior National XC in 2003 and 2008. In 2003 she finished first in the Scottish track 5000m. Her career as a marathon runner started in 2004 and in 2005 she ran for GB in the World Half Marathon championships, finishing a good 25th. She competed for Scotland in the 2006 Commonwealth Games marathon, running well to finish tenth. In the 2010 European marathon she was 16th and the British team won bronze medals in the European Marathon Cup. In the 2011 World Championships marathon she was first Briton in 24th place. Susan Partridge's best time for the classic distance was 2 hrs 30 minutes 46 seconds.
In 2001 at Ostend, 130 ran. Collette Fagan finished 38th (third Briton) and the UK team did well to be 6th from 23.
Collette Fagan (City of Glasgow AC) won the Scottish under-20 National XC title in 2002; and the Senior National in 2005. She was first in the Scottish 5000m championship in 2004 (when she was third in the AAA as well) and retained the Scottish 5000m title in 2005. Collette ran for Scotland in the 2006 Commonwealth Games 10,000m, finishing twelfth.
In 2002 Freya Murray was selected but did not start.
Brussels was the venue in 2004, when 117 started. Rosie Smith finished 56th (second Briton) and the team was 11th from 17.
Rosie Smith has run for Edinburgh University and Hunter's Bog Trotters, the most cavalier club in the country. Between 2010 and 2016 she won 3 silver and three bronze medals in the Senior National XC. In 2010 and 2016 Rosie Smith led HBT to the Scottish team title – feats which were doubtless celebrated thoroughly!
St Etienne, France, hosted the event in 2005. 117 started. Steph Twell finished 60th (third Briton) and Morag MacLarty was 71st (4th Briton). The team was 8th from 17.
Morag MacLarty (Central) won the Scottish under 17 National XC in 2002 and 2003, the Junior National in 2005 and the Senior National title in 2017. On the track Morag ran for Scotland in the 2006 Commonwealth Games 1500m; and won the Scottish 1500m title in 2008, 2009, 2010 and 2015.
The Junior Women's race at the 2006 World Cross was held in Fukuoka and there were 78 starters. Steph Twell improved to 30th (2nd Briton) and the team was fifth from twelve.
In 2007 (Mombasa, Kenya) Olivia Kenney (Royal Sutton Coldfield) finished 38th from 87 (fourth Briton), with the UK team fifth from 11. (Although Olivia, like Laura, had a Scottish mother, I am not sure that she followed her sister's lead by running in or for Scotland.)
The 2010 (Bydgoszcz, Poland) team featured Beth Potter, who finished 36th from 95 and fifth Briton. UK was fifth from 14.
Beth Potter (Victoria Park City of Glasgow AC) won the Scottish under 17 National XC in 2008 and 2009, the Junior National in 2011 and the Senior National title in 2016. She was third in the GB 5000m in 2011 and second in the GB 10,000m in 2014. In 2014 she ran for Scotland in the Commonwealth Games 5000m (9th) and the 10,000m (5th); she was also 14th in the European Championship 10,000m. Then in 2016 she ran that distance for GB in the Rio Olympics.
In 2017 the World Cross moved to Kampala, Uganda. 104 ran in the Junior Women's race (for under 20-year-olds). Two Scots did well in difficult conditions, after unpleasant travel injections and a long flight, arriving one day before the event. Gillian Black finished 46th and Anna Macfadyen 48th. They were second and third Britons. Although the UK team was 9th from 16, the other competing European teams – Spain and Italy – were defeated, as well as Morocco, Australia, USA, Peru and Tanzania.
Gillian Black (Victoria Park City of Glasgow AC) has been a good athlete for quite a while. She won the Scottish Schools 1500m (Group B) in 2013; and the 3000m in both 2013 and 2014. As an under 20 runner, in 2015 she was first in the Celtic Games XC; and won the National Short Course XC title. In 2017 she became National XC under 20 champion; and was second to Anna in the English Inter Counties in Loughborough, which ensured selection for Kampala.
Anna Macfadyen (Forres Harriers) is a year younger than Gillian and in 2016 won the National under 17 XC title. She was first in the North District XC championships, won the Scottish Schools XC and ran for Scotland in the Czech Republic, finishing seventh in the International Mountain Running Youth Cup. In 2017 Anna won the Scottish Schools XC title again; was second to Gillian in the under 20 National XC; won the Celtic Games/GB Cross Challenge in Cardiff; and then won the English Inter Counties XC/GB Cross Challenge outright in Loughborough, which ensured selection for Kampala.
Both of those young Scottish women show great promise and, if they remain committed to their sport, and avoid over-training and injury, I can see no reason why they should not enjoy long, successful careers in athletics, emulating the distinguished runners who have been mentioned in this brief history of Scottish Women who have participated in the ICCU or IAAF World Cross Country Championships between 1935 and 2017.
Scottish Senior Women in the IAAF World Cross Country Championships
Rhona Auckland

Aberdeen AAC
(1)
2015 (19)

Lynda Bain

Aberdeen AAC
(1) . 1985 (113)

Ann Barrass / Parker

Aldershot F&D
(3)
1973 (38) 1975 (56) 1976 (60)

Alison Brown

Greenock Rankin Park
(1)
1975 (64)

Kathy Butler

Windsor
S and E

Mary Chambers

Blaydon H/EAC
(2)
1973 (61) 1976 (61)

Margaret Coomber

Cambridge H
(8)
1973 (19) 1974 (39) 1975 (42) 1976 (54) 1977 (52) 1978 (69) 1979 (82) 1980 (88

Andrea Everett

Glasgow AC
(1)
1984 (100)

Katie Fitzgibbon

London Olympiades AC
(1)
1987 (138)

Palm Gunstone

Dundee HH
(3)
1973 (74) 1974 (63) 1975 (67)

Hayley Haining

Glasgow University/City of Glasgow AC
(3)
1997 (22) 1998 (13)

Barbara Harvie/Murray

Aberdeen University
2
1980 (79) 1981 (103)

Christine Haskett/Price

Dundee HH/Stretford AC
(10)
1973 (27) 1974 (33) 1975 (23)
1976 (23) 1977 (61) 1981 (68) 1982 (36) 1985 (94) 1986 (57) 1987 (81)

Janet Higgins

Glasgow AC
(2)
1977 (92) 1978 (87)

Violet Hope/Blair

Central Region AC
(2)
1978 (91) 1979 (91)

Kirsty Husband

Edinburgh Southern H
(1)
1984 (84)

Gillian Hutcheson

Edinburgh University
(1)
1977 (86)

Laura Kenney

Royal Sutton Coldfield
(1)
2008 (38)

Liz Lynch/McColgan

Dundee Hawkhill H
(2)
1982 (71) 1987 (2) 1991 (3) 1992 (41) 1993 (5).

Jean Lorden

Edinburgh Southern H
3
1982 (66) 1983 (77) 1986 (107)
Elise Lyon
Wycombe Phoenix
(3)
1983 (67) 1984 (77) 1985 (84)
Linsey Macdonald
Pitreavie AC
(1)
1981 (110)
Lynne MacDougall
Glasgow AC
(3)
1981 (75) 1982 (81) 1983 (97)
Karen MacLeod
Edinburgh AC
(3)
1985 (107) 1986 (101) 1987 (64)
Sonia McLaren
Aberdeen AAC
(1)
1980 (89)
Christine McMeekin / Whittingham
Glasgow AC / WSE
(2)
1980 (18) 1984 (81)
Vikki McPherson
Glasgow University/ City of Glasgow AC
(5)
1992 (61) 1993 (38) 1994 (80) 1996 (49) 1998 (25)
Fiona McQueen
Glasgow AC
(5)
1978 (79) 1979 (57) 1980 (73) 1983 (51) 1984 (41)
Kathy Mearns
Aberdeen AAC
(3)
1982 (65) 1983 (53) 1984 (87)
Freya Murray
Edinburgh
(1)
2010 (37)
Yvonne Murray
Edinburgh AC
(6)
1981 (79) 1982 (42) 1983 (94) 1985 (42) 1986 (38 1987 (16)
Moira O'Boyle
Victoria Park AC
(3)
1973 (43) 1974 (43) 1976 (41)
Arlene Pursglove
Westbury H
(1)
1974 (61)
Marsela Robertson
Edinburgh Woollen Mill
(1)
1986 (25)
Kerry Robinson
Pitreavie AC
(3)
1978 (89) 1979 (67) 1980 (99)
Penny Rother
Dundee Hawkhill/EAC
(1)
1987 (131)
Judith Shepherd
Glasgow AC
(3)
1977 (65) 1978 (22) 1979 (44)
June Standing
Crawley H
(2)
1985 (101) 1986 (139)
Mary Stewart
Birchfield H
(3)
1974 (8th) 1975 (8) 1976 (9)
Elizabeth Trotter
Glasgow AC
(1)
1979 (93)
Steph Twell
Aldershot F&D
(3)
2009 (38) 2010 (23) 2013 (40)
Alison Wright
Edinburgh Southern H
(1)
1981 (95)
Rubina Young
Shettleston H
(1)
1977 (89)
QUESTIONNAIRE
NAME Ann White
CLUBs Garscube Harriers, SVHC
DATE OF BIRTH 13th March 1951
OCCUPATION Retired
HOW DID YOU GET INVOLVED IN THE SPORT?
In an unguarded moment descending Ben Lomond with my daughter, Katie, about 5 years ago, I agreed to do a mountain marathon. Knowing how competitive she is I thought I had better do a bit of training so as not to let her down. So I started running. I have always been reasonably fit and active and was doing a lot of hillwalking and backpacking at the time but I had never really been much of a runner. I was quite enjoying it when Katie sustained a fractured fibula doing the Liverpool marathon (which she went on to win anyway!) and she spent weeks on crutches. We never did the mountain marathon but I had been bitten by the running bug and carried on regardless, entering my first race, the Balloch to Clydebank half marathon about six months later. My main aim was to finish in less than two hours or not come in last, whichever proved to be more feasible on the day. I was, however, surprised and delighted by my time and started looking for more races. I did several more half marathons and gradually reduced my PB until last year I got a new PB of 1 hour 39 minutes on my 65th birthday. Katie was already a member of Garscube Harriers and she suggested that I join the club so that I could take part in cross country events over the winter. I really enjoy the team aspect of cross country and at Garscube we have the added incentive of home baking at the end of every race.
Whilst the half marathon and cross country are my favourite events I have also done lots of 10Ks, one marathon, one ultramarathon, various other distances such as 10 miles and a few trail races, including the Glentress Half Marathon.
HAS ANY INDIVIDUAL OR GROUP HAD A MARKED INFLUENCE ON YOUR ATTITUDE OR INDIVIDUAL PERFORMANCE?
Being a member of Garscube Harriers has improved my running a lot as there is a great team spirit and everybody is very supportive. The training schedule is very good and keeps me on track with some tough sessions. My daughter, Katie, is my biggest supporter, though, and she often persuades me to do things that I wouldn't consider, such as doing another marathon (I said I would NEVER do another one and Manchester 2018 is definitely my LAST!). She gave me brilliant support when I did the Kintyre Way Ultra in 2017, providing jam sandwiches at regular intervals and getting me through the last 5 miles.
WHAT EXACTLY DO YOU GET OUT OF THE SPORT?
Apart from the obvious things such as maintaining cardiovascular fitness, muscular strength and bone strength as I get older I like the challenge that running and racing provide: trying for a PB, running longer distances, completing a tough interval session, running up a hill without stopping. Mostly, though, I just love getting out and running on all the wonderful tracks and trails near where I live, enjoying the scenery, the fresh air, the wildlife and the changing seasons.
The social side of being a club member is also important to me and I try to get to as many club events as I can. At Garscube we have a brilliant training weekend when we go away somewhere such as the Isle of Arran or the Borders and just run and enjoy ourselves. And then there is the Christmas Ceilidh!
WHAT DO YOU CONSIDER TO BE YOUR BEST EVER PERFORMANCE OR PERFORMANCES?
I think that my best performance was being first FV60 in each of the Polaroid 10Ks in 2016. But the performance I am most proud of is the Kintyre Way Ultra in 2017.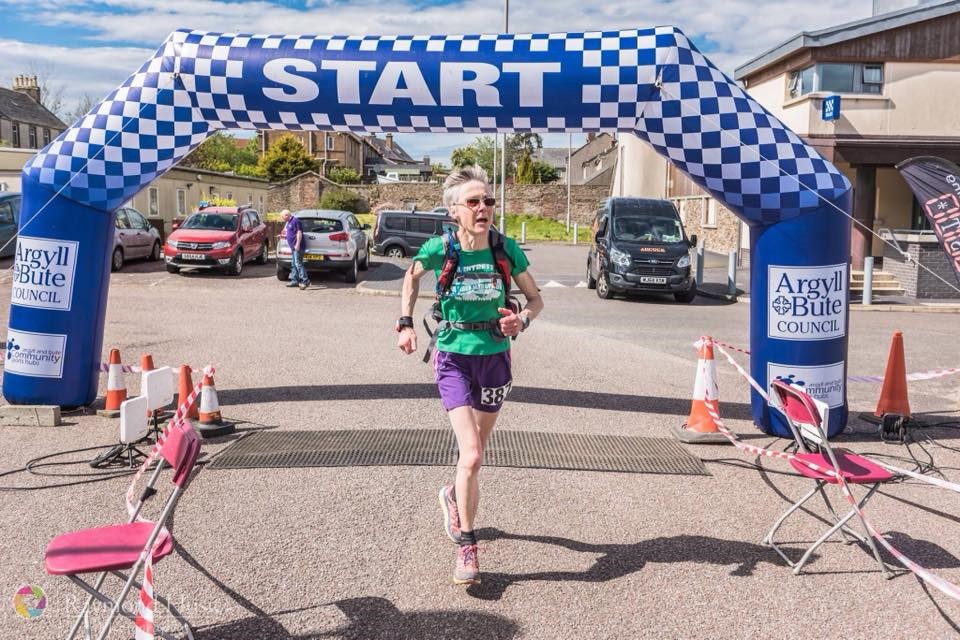 Ann White finishing the Kintyre Way Ultra-Marathon Race: Photo: Unknown.
YOUR WORST?
My worst ever experience in a race was at the National Cross Country in Callander Park a couple of years ago when I was on the verge of hypothermia after the race.
WHAT UNFULFILLED AMBITIONS DO YOU HAVE?
My main ambition is to carry on running as long as I can. I would love to represent Scotland again at the Masters International Cross Country: it would be good to take part in all the competing nations.
OTHER LEISURE ACTIVITIES?
Running does tend to take up a lot of time but I manage to fit in a few other activities. I volunteer with Loch Lomond and the Trossachs National Park as a volunteer ranger and also as a conservation volunteer. The Park provides lots of different opportunities such as taking part in wildlife surveys, repairing footpaths, planting trees, removing invasive species and helping at events in the National Park. I count some of these as cross training e.g. pushing a wheelbarrow full of aggregate up a hill – two birds with one stone.
I also like to travel, I read a fair amount and I enjoy painting using acrylics. And gardening.
WHAT DOES RUNNING BRING YOU THAT YOU WOULD NOT HAVE WANTED TO MISS?
A little pain, a lot of pleasure and many wonderful people.
CAN YOU GIVE SOME DETAILS OF YOUR TRAINING?
I usually follow the Garscube training schedule for interval and tempo sessions. Then I do a long run at the weekend plus another short run: usually about 30 miles a week or so. However, when training for a specific event such as marathon or ultramarathon I find a more specific schedule which seems to be at right level for me and what I want to achieve in the race. After each session I do lots of stretching and rolling about on my foam roller.
I also try to do some core strengthening exercises at least once a week. However, I find that I need one or two days rest and recovery depending on the particular schedule that I am following. I certainly can't train every day. But I am usually fairly active on the days that I am not training.
QUESTIONNAIRE
NAME Katie White
CLUBs Garscube Harriers
DATE OF BIRTH 6th January 1981
OCCUPATION Medical writer
HOW DID YOU GET INVOLVED IN THE SPORT?
I never really intended to get involved in running. I hadn't really done any running before, but I ran the Buchlyvie 10K in 2011 just to get involved in the village event. I was surprised by how much I enjoyed it and so I started doing a few runs as I preferred to be outside rather than in the gym. A couple of months later I ran the 10K at the Milngavie highland games and surprised myself, and everyone else, by winning it. The race was organised by Garscube Harriers and while chatting to some of the members after the race they suggested I went along to a training session. The following week I decided to give it a go and before I knew it running became a big part of my life.
HAS ANY INDIVIDUAL OR GROUP HAD A MARKED INFLUENCE ON YOUR ATTITUDE OR INDIVIDUAL PERFORMANCE?
As I have more or less been a member of Garscube Harriers since I started running, the club has had a huge impact on my running. When I joined I had no idea about anything to do with running from what to wear, how to train and what races were available. The advice and support from everyone at the club has been invaluable to me. It's also been great having my mum, Ann, getting involved in running. It's something we can enjoy doing together and having someone who understands the highs and lows of training and racing and why I want to take my running kit whenever we go away anywhere is a big help.
WHAT EXACTLY DO YOU GET OUT OF THE SPORT?
I get so much from running in addition to it being a good way to keep fit and healthy. Having a desk job I look forward to the end of the day when I can get out for a run and have a break from everything else. The constant challenge it provides with new targets to work towards keeps me motivated to continue running. I also love having the freedom of just being able to put on my trainers and go and explore somewhere new wherever I am.
I have also made a lot of friends through running and enjoy training and racing with like-minded people. I think the running community is great with everyone being so encouraging and supportive. It's good to be part of that and to be able to share everyone's achievements, whatever they are.
WHAT DO YOU CONSIDER TO BE YOUR BEST EVER PERFORMANCE OR PERFORMANCES?
Probably getting a PB and finishing in 6th place of the mass start in the London marathon last year.
YOUR WORST?
A cross country race in the Manchester league a couple of years ago. The only reason I didn't drop out was that I knew I would at least score some points for the team. For a few months I nearly gave up running completely as it was making me feel so unwell. Luckily, I discovered that it was just because I was anaemic and when I sorted that out I had a huge improvement in my running.
WHAT UNFULFILLED AMBITIONS DO YOU HAVE?
My main ambition is just to keep avoiding injuries and enjoying running. I would like to try and improve my marathon time and I enjoyed doing a bit of fell running last year, so maybe a few more fell races.
OTHER LEISURE ACTIVITIES?
Running takes up most of my spare time and having recently moved to a house that needs a lot of work, DIY and gardening are going to be keeping me busy for a while.
WHAT DOES RUNNING BRING YOU THAT YOU WOULD NOT HAVE WANTED TO MISS?
All the people I have met and places I have visited through running.
CAN YOU GIVE SOME DETAILS OF YOUR TRAINING?
I run almost every day, even if it is just a few easy miles. Generally, I do an interval session, tempo run and long run every week. My mileage varies between about 50 and 85 miles a week. I go to the club training sessions when I can, but the majority of my running is on my own. I also go to the gym most mornings for strength and conditioning.
LES NICOL: HOW HE BECAME M80 BRITISH XC CHAMPION
(Many thanks to Fraser Clyne for two articles about the amazing Metro Aberdeen RRC man's late-peaking running career, along with an excerpt from 'Who's Who of Scottish Distance Running' on the website scottishdistancerunninghistory.scot)
November 2006
Les Nicol is looking forward to representing Scotland for the first time – at the age of 70.
The Torry runner has been invited to compete for the Scottish Veteran Harriers select side in next month's British and Irish masters cross country international at Falkirk.
Runners will compete in five-year bands from age 35 upwards.
Les won his place on the team after finishing second in the over-70 age group trial in a 10,000m track race at Coatbridge earlier this month.
His time of 44min 48sec is one that many runners of half his age would be happy to accept.
"It's the first time I've ever run on a track," Les said. "I wasn't sure how it would go because I didn't have any spikes, so I ran in my road running shoes."
"I was surprised to get such a fast time as I thought I'd be closer to 45 or 46mins."
Nicol will invest in spiked shoes before he tackles the cross country international on 18th November.
"I don't want to be slipping around on the grass course," he said.
Les took up running 15 years ago to keep in shape. "I'd always tried to keep fit by walking to work," he said. "Then I started going to the gym and began running on a treadmill. It compensated for sitting at a desk all day."
"I decided to try some races and the first I did was the Dyce half marathon."
"I enjoy 10kms, 10 miles and half marathons, but nothing longer than that."
Nicol thrives on exercise. "I run every second day for about six or seven miles at lunch-time," he said.
"On the other days I go to the gym and use the rowing machines or tackle some weights. And at the weekends I'll try to fit in a race."
And although he's well past the normal retirement age, Les continues to schedule his daily fitness regime around his job as an engineer.
Appropriately, he works for Marathon Oil in Aberdeen.
"I enjoy running as a way of keeping fit. In races I just try to do my best. I've no idea how I'll get on at Falkirk but I'm sure it'll be competitive."
Leslie NICOL, Metro Aberdeen RC
Les came to the sport very late but this cheerfully tough Aberdonian sparrow had real talent and thoroughly enjoyed his success. In the Scottish Masters XC championship, he won the M70 title in 2010. In 2012, 2013 and 2015, Les added three M75 titles. For Scotland, Les ran consistently well in the British and Irish Masters XC International: contributing to three M70 team silver medals, in 2006, 2007 (when he finished 4th individual and first Scot) and 2009. Les won individual bronze (M75) in 2014, leading Walter McCaskey and Bill Murray to team bronze. In 2018, recovering from injuries and race-training over a hilly Aberdeen parkrun, Les triumphed in the British Masters XC championships in Forres, winning a well-deserved M80 title.
March 2018
Les Nicol has won his first British athletics title at the ripe old age of 82.
The Metro Aberdeen club member showed his rivals a clean pair of heels to strike gold in the British Masters Athletics Federation cross country championships over-80's age group race at Forres.
Nicol completed the testing 6km course, which included some undulating woodland trails, in 32min 47secs to finish well ahead of his closest challengers.
He was delighted to claim the scalps of English athletes Steve James (Southport Waterloo AC), a former World Champion in several age groups, who was runner-up in 33:57, and Walter Ryder (Morpeth Harriers) who took bronze in 36:46.
Nicol said: "I am chuffed to bits to have won. I just wanted to beat some of the folk who have always beaten me in the past, so I've done that now.
"The guy who finished second has always beaten me but I was well ahead of him, which surprised some people.
"It's my first British title although I think I was third in a younger age group a few years ago."
Nicol's success is particularly impressive, given he only returned to running a few months ago after being side-lined with a heel injury for the previous two years.
He said: "I developed plantar faciitis in one foot and once it cleared up I got it in the other one. I went to physios and did lots of exercises in the gym to get it fixed and to strengthen myself, but it took a long time.
"It was very frustrating but I started running again towards the end of last year. I began by doing 1km, then progressed to 2km, then 3km.
"I managed to do a few hilly Hazlehead parkrun 5kms before going to the Masters championships but the Forres race, being 6km, is the furthest I have run so far."
Nicol's running career began when he was in his mid-50s but he had always kept fit by walking and going to the gym.
He won his first Scotland call-up in 2006 at the age of 70 when he competed in the British and Irish masters international cross-country match at Falkirk.
Two years later he recorded his best 10km time of 44:46, a performance which many runners half his age would be delighted to achieve.
Nicol is still employed full-time as an engineer, appropriately with Marathon Oil, and has no difficulty in fitting his family, work and running commitments into a busy schedule.
He said: "I enjoy it. I run every second day and I'm in the gym most other days. I'm busy at work as well, which is good.
I've no immediate race plans. I just want to work back into it steadily. My Hazlehead parkrun times are getting faster, so that's encouraging.
"I might consider doing the BHGE 10km in May but it depends how training goes between now and then. I have no particular ambitions at the moment. I just enjoy being able to take part in races so I'll see what comes along."
He joked: "My wife and family came to Forres with me but I'm not sure what else they might let me go to, so I'll have to ask permission if I'm going any further."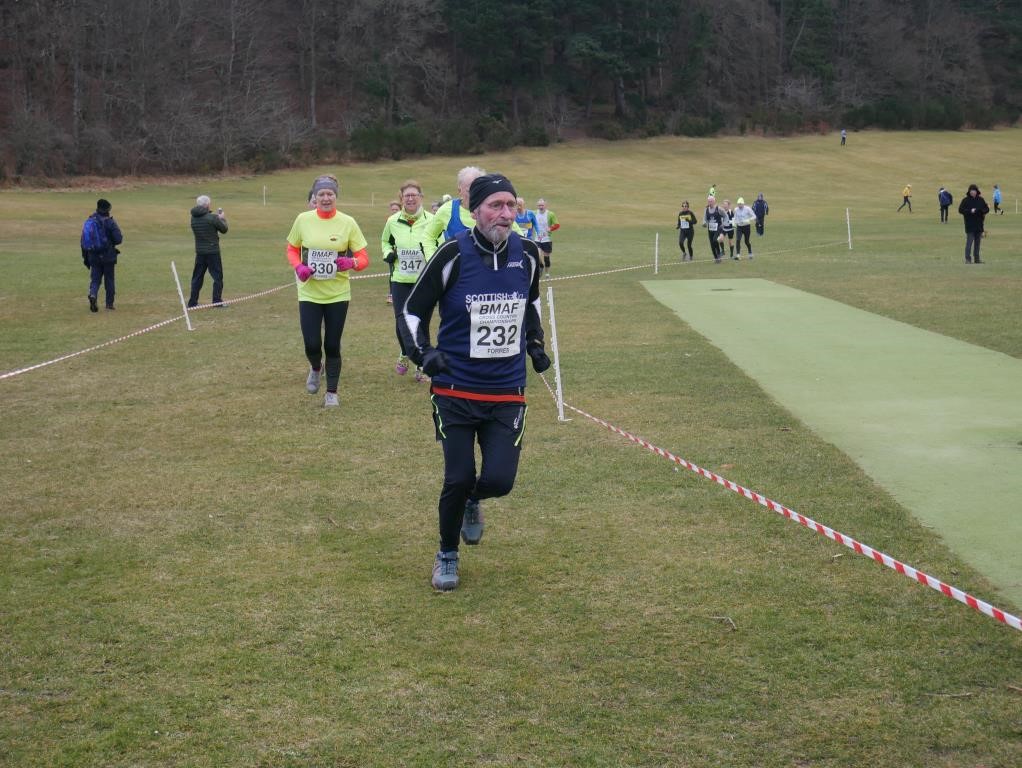 Les moving away from his rivals at Forres: Photo by David Aspin.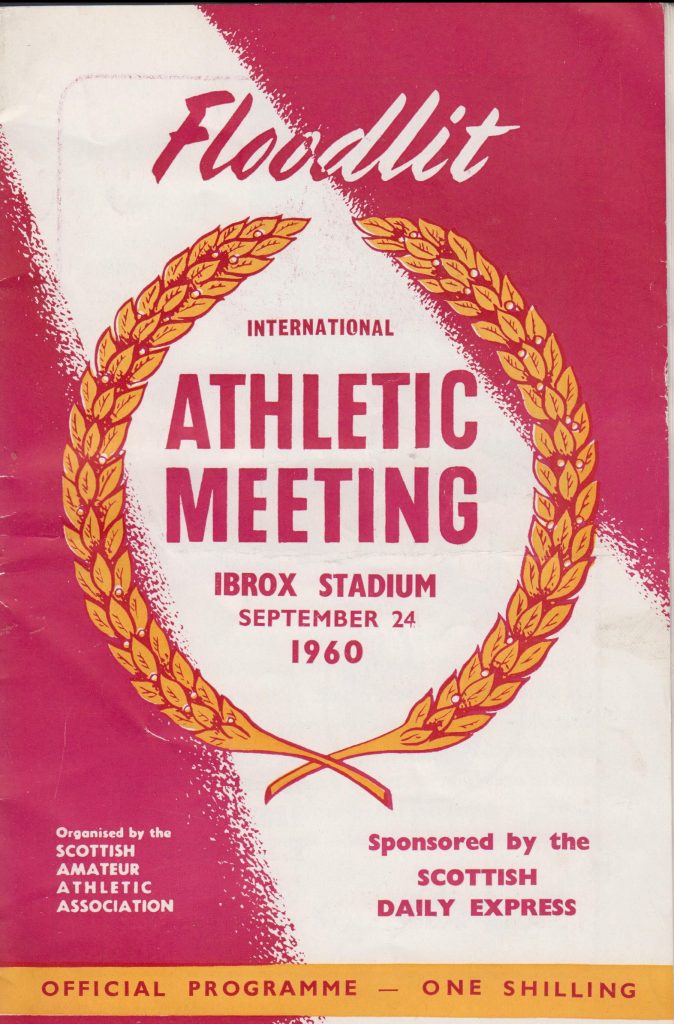 (The one and only time Herb ran in Glasgow, he beat fellow Australian Tony Blue over 1000yds: from Hugh Barrow.)
HAPPY BIRTHDAY, HERB ELLIOTT (80 years old on February 25th 2018)
By Roger Robinson
The ultimate achievement in running is to win an Olympic gold medal in world record time. One of the few to attain that exclusive double, and one of only two to do it in the glamour 1500m (the other one was Jack Lovelock of NZ in 1936), reaches his 80th birthday this week – Herb Elliott.
It's very hard for me to think of Herb Elliott as a man of eighty. Sorry, but my memories of him at his 22-year-old prime remain vivid after almost sixty years. I was in the awe-struck crowd that watched him win the Olympic 1500m in Rome in 1960, where he looked like a modern embodiment of Achilles, the greatest of the warrior athletes of the Greeks. Watch him in slow motion on Youtube if you think I'm exaggerating. Like Achilles, Elliott was a superb natural physique and running talent honed by training of unprecedented intensity, inspired by a spiritual fervour, and powered by a killer competitive drive that has rarely been equalled even in our intensely competitive sport.
To that all-round excellence, add acute intelligence and fearless courage. In Rome, Elliott surged to the front with 600 metres still to run, moved relentlessly away, and looked as if he was accelerating all the way to the tape. He utterly dominated a field that included eight sub-four milers, at a time when breaking four still made you world-class.
His 3:35.6 (equivalent to a 3:52.7 mile) broke his own world record by 0.4 seconds and in the race put him 2.8 seconds ahead of Michel Jazy. To win by nearly three seconds! He has described his inner anxieties and weariness, but from the stands it looked as if he was in a race of his own. Since 1904, only Kip Keino has won the Olympic 1500m by a bigger margin, and that was in the special high-altitude circumstance of Mexico City.
Every time I watch a tedious twenty-first century doddle-and-dash apology for the Olympic 1500m, I long for Herb to show them how a truly great Olympian races.
That tactical courage and invincible spirit gave Elliott another unique credential – he never lost a race at 1500m or the mile; not one, from high school to the Olympic final. True, compared to today's well-paid professionals, he blazed only briefly. At barely 20, he was double world record holder (1500/mile) and double Empire/Commonwealth Games winner (880/mile), at 22 he was world-record breaking Olympic champion, and at 23 he had retired. Successful academically and in business, he had a career and a family to attend to, and the only possible income from running in 1960 was from shoddy exhibition stuff.
The mouth-watering Elliott versus Snell Olympic final in 1964 never happened.
Two excellent books give well-informed views of Herb Elliott, "The Golden Mile: the Herb Elliott Story as Told to Alan Trengove" (1961) and "The Landy Era. From Nowhere to the Top of the World," by Len Johnson (2009). In the Trengove book, Herb gives what is still the best account of Percy Cerutty, the flamboyant eccentric coach who inspired him to the top after a phase when he was, by his own account, a lazy cigarette-smoking teenager.
Re-reading those books for Herb's birthday, he seems to me to have embodied the best of a remarkable and little-known culture, Australia in the 1950s. His childhood was a mix of very good academic schooling, committed religion (as a Catholic), and, crucially, free-ranging outdoors living on the sandhills and beaches of sparsely-populated Perth, with a sports conscious father and a nutrition conscious mother. His adult success was also essentially Aussie, founded on hard work in a natural ocean-side environment (Portsea, near Melbourne) with the important support of good mates, and the coaching inspiration of a devoted, radically-thinking, creative nutcase.
Like New Zealand when I was first there (1968), Australia then was a place so remote that no one waited for the world to visit. You got on and did things well for yourself, building a new nation on home-made excellence, and coaches and runners in Portsea, Owairaka or Greymouth discovered ways to beat the whole world.
Though never outgoing in the traditional Aussie way, and often intently focused, Elliott made good friends everywhere, including Louis Zamperini (of "Unbroken") and Lazslo Tabori in Los Angeles, the roguish Derek Ibbotson in England, and determined Kiwi Murray Halberg. Elliott liked determination. Watching Vladimir Kuts kill the opposition in the Olympic 5000m and 10,000m in Melbourne when Elliott was 18 was formative in making him commit to running.
Herb's farewell races were for Cambridge University, which in those years had one of the best student running teams in history. I knew him then, but only slightly, as he was busy with his Masters degree, married life, and a growing family, so he didn't join our group runs, but he did train quite often with Tim Johnston (eighth, Olympic marathon, 1968). And he fronted up for all the key team races, although his personal commitment was fading. To turn out on an English November afternoon for a muddy cold seven-mile cross-country just to earn points for your college, only three months after you have proved in the sunshine of Rome that you are the greatest middle-distance track runner on earth, showed generosity and a sense of collegiality alongside the famed individualism and competitive drive.
Herb passed me at five miles that day. Despite that tragic memory, my admiration remained undented. I offer this short tribute for Herb Elliott's 80th birthday – even if in my mind's eye, he will always be the youthful demigod of the Rome Olympic Stadium.
(Many thanks, yet again, to that great athletics journalist Roger Robinson, for permission to reprint this superb article.)
ANOTHER BRITISH RECORD FOR FIONA MATHESON
On Friday 20th April at Crownpoint Track, Fiona finished third in the Scottish 10,000 metres, recording 37.05.54. This was another British W55 record for her – it was previously held by Sandra Branney. Fiona has recently recorded British bests at three distances – taking in the Tom Scott 10-Mile Champs (which was a World best) as well as the 4 x 800m Record at Grangemouth and this 10,000m run at Crownpoint.
Cambuslang Harriers ran very well at the BMAF Road Relays held at Birmingham on 28th April. This annual event, which attracts the top masters runners from across the UK, is always fiercely competitive. The Cambuslang M45 quartet of Chris Upson, Justin Carter, Kerry-Liam Wilson and Stevie Wylie worked their way steadily through the field to snatch the lead on the final leg thus ensuring the British gold medals were heading back north of the border.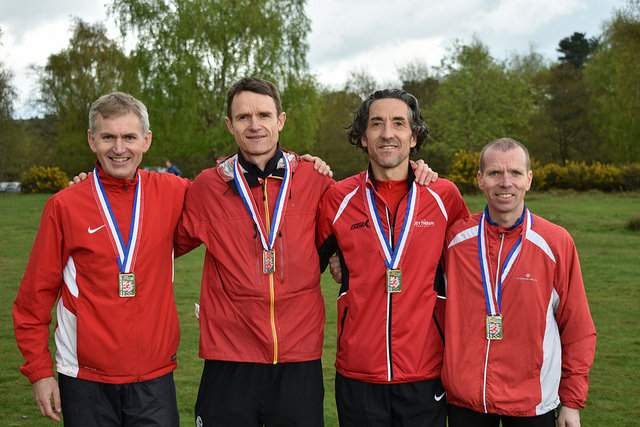 CambusRelay2018 photo by David Aspin.
RACING ROUND-UP
The European Masters Athletics Championships (Non-Stadia) took place in Alicante, Spain, between 18th and 20th May. SVHC athletes did very well.
Fiona Matheson won the W55 10k title; and, along with Lynne Marr, contributed to team bronze medals for GB in the XC Relay.
Fiona's husband Grant Matheson featured in two bronze medal-winning GB M55 teams: 10k and XC Relay.
Norman Baillie secured two M70 GB team gold medals for 10k and XC Relay.
The BMAF 10,000m track championship was run in Oxford on 3rd June. Ian Johnston (SVHC) won M50 gold.
The BMAF 5k road championship was held on 17th June at Horwich and Scots won four age-group titles: Darrell Hastie (M35); Kerry-Liam Wilson (M45); Alastair Walker (M60); and Frank Hurley (M65).
A SUCCESSFUL DAY FOR CAMBUSLANG AT THE BMAF 5K
Cambuslang Harriers made their presence felt at the British Masters 5K Road Championships at Horwich with the club lifting 2 team golds and 1 silver along with 2 individual golds, 1 silver and 1 bronze. All male and female age groups from 35 upwards competed together in a well organised race around a three-lap town centre course. However, there was some confusion immediately prior to the start when the runners who were lined up across the full width of the road were squeezed into one side of the road where the chip mats were. This resulted in several of our runners being pushed further back in the line-up. This is reflected in the wider time differential between gun and chip times for the runners concerned.
Kerry-Liam Wilson was first Cambuslang runner home in 5th place and first M45 out of a field of nearly 200 competitors. As well as lifting the M45 title for the 3rd successive year he led team members Stevie Wylie who was just pipped for the individual bronze medal and Justin Carter to a decisive team gold in the M45-54 category ahead of fellow Scottish club Cumbernauld's trio of David Hogg, Ross McEachern and Howard Elliott The Cambuslang M55-64 team of Paul Thompson, Brian Hughes and Frankie Barton backed up by Alick Walkinshaw narrowly lost out to a strong Warrington AC squad and had to settle for the silver medals. There was some consolation for Paul and Brian as they gained individual silver and bronze M60 medals. The final Cambuslang successes came in the form of team gold for the M65 trio of Frank Hurley, Sandy Eaglesham and Barnie Gough and individual gold for Frank. Frank and Barnie now have the full set of team medals for this championship event having previously won M50 bronze and silver in 2005 and 2006. Iain Reid was also representing the club as our sole M40 athlete and finished 5th in his age group despite suffering from a calf injury during the race.
Cumbernauld continued to fly the Scottish flag by finishing first team in the M35-44 age group thanks to Louis O'Hare, Stephen Allan and Robert Bartley. There were other individual Scottish successes with Gala's improving Darrell Hastie winning the race outright and securing the M35 title while former Scottish International Alastair Walker of Teviotdale lifted the M60 gold thus giving Scottish runners a 1, 2, 3 in this age category. M50 Brian Scally of Shettleston used his track speed to good effect in the dash to the line to overtake 2 rivals and move into the bronze position. Former HBT runner Steve Cairns, now competing for Tynebridge, added the M50 road gold to his XC victory achieved earlier in the year at Forres.
Cambuslang Harriers would like to thank Walter Hill and the BMAF team for their efficient organisation of the event.
David Cooney
SCOTTISH MASTERS TRACK AND FIELD REPORT
Grangemouth was the venue for this fixture on 14th and 15th July. Masters events were crammed in with umpteen Combined events for youngsters and seniors. There were even two open steeplechases – six Masters runners took part BUT WHY WAS THE 5000m PUSHED OUT YET AGAIN, and relegated to evening races weeks later in Glasgow? Very disappointing.
Neverthess, many Masters athletes produced fine performances, with some winning two or more age-group gold medals.
The Scottish Athletics report highlighted Margaret MacRae from North Uist AAC. She won both W35 sprints. Fiona Steel (Motherwell AC) did the same in the W50 category; and Angela Kelly (Giffnock North AAC) completed the W55 double.
Alan Robertson (Motherwell AC) was a clear winner in the M40 100m and 200m; Ronnie Hunter (Corstorphine AAC) was outstanding in the M55 age group, as was Martin Leyland (Shetland AAC) in the M60 section. Other double sprint victors were John McGarry (Irvine AC – M65), James Smith (Motherwell AC – M70) and the evergreen John Ross (M80).
Colin Welsh (Teviotdale Harriers – M35) showed speed and stamina to win not only 400m but also 800m. The redoubtable Hugh McGinlay (Falkirk Victoria Harriers – M90) fought his way to the finish line in both events. Hugh was also featured in the Scottish Athletics report.
800m/1500m double winners included the following: Stephen Allen (Motherwell AC – M50); Sandy Eaglesham (Cambuslang – M65); and Pete Cartwright (Clydesdale Harriers – M75). Alastair Walker (Teviotdale – M60) added the Scottish Masters 1500m title to his recent win in the BMAF 5k road championship.
Fiona Matheson (Falkirk Victoria Harriers – W55) beat all her younger rivals in the 1500m; as did Yvonne Crilly (Lothian Runners – W55) in the 800m. Phyllis Hands (Motherwell – W60) won both her races.
The Field events produced several good performances (even though some results seem to be missing at present).
Paul Masterton (Corstorphine AAC – M55) won the High Jump. Stephen Leek (Livingston AC – M35) was first in Triple Jump and Long Jump; as was M65 Robert Stevenson (Ayr Seaforth AAC) and M70 James Smith (Motherwell AC) who had also completed a sprint double and ended up with four gold medals!
Heavy event winners included: Mhairi Porterfield (VP-Glasgow AC – W35) who was first in Hammer and Shot Put; her clubmate Claire Cameron (W55 Hammer, Discus and Shot); Jayne Kirkpatrick (Nithsdale – W45 – Javelin and Discus).
Graham Porterfield (Central AC – M35) won Hammer and Shot; M50 Eddie McKenzie (Aberdeen AAC) Javelin and Shot; M60 Alexander McIntosh (Kilmarnock H and AC) Hammer and Discus; and the inevitable Bill Gentleman (Edinburgh AC – M75) Hammer and Discus.
GENERAL DATA PROTECTION RULES PRIVACY POLICY FOR SVHC
The above regulations came into force in May 2018 and affect organisations such as ourselves. These regulations(GDPR)define data protection rights for each individual member. The main changes refer to the consent of members in holding certain information and accountability in how we use and share this. Due to the nature of our organisation there is an interest in holding certain information in order that those on the committee can communicate properly with the members in matters such as information on events, team selection, subscriptions and the Newsletter. The information which is held comprises residential address, phone number and email address and date of joining. Where members have supplied this information it will be presumed in the absence of any objection to the contrary that they still consent to that information being used in relation to SVHC matters. The details of members are held securely by the appropriate office bearers and it is the policy of SVHC not to divulge any such information to third parties. Where any bank details are given to the Treasurer this information will be held securely. It is important to make it clear that any member has the right to withdraw his or her consent to any of this information being held.
SURVEY ON SVHC RACES
The committee organise a number of events throughout the year some of which are well supported, whilst others are less so. In particular races such as the Snowball 5 mile , 10k trail, both in May, the 10k road race in August and the Christmas handicap have been poorly supported in recent years. These events tend to attract an attendance of around 30 out of over 500 members. Clearly a proportion of members are track and field athletes or reside far away from the location of these events.
However the committee require your feedback on this topic and your views will be appreciated. Below are listed some points to consider. Please reply to me at cdjoss2@gmail.com
If you do not participate in the above events please list your reasons
What should SVHC do to make these events more attractive?
What other events would you like SVHC to promote?
Campbell Joss
DISTANCE RUNNING HISTORY: AN OVERVIEW
(Maybe this article will intrigue some to read more about the fascinating history of their wonderful sport.)
Pre-History
Primitive Man: Born to Run – nuchal ligament, Achilles tendon, springy foot arch – a 'weak predator' that can hunt by distance-running after prey animals until they collapse.
Nowadays, in the rough canyons of the Sierre Madre Occidental, Mexico, the Tarahumara still maintain their tradition of persistence hunting, running down deer and wild turkeys.
Ancient Olympics
Olympia, Greece. The Games began in 776 B.C. Only men were allowed to compete. In 720, the Dolichos, or long foot-race, was added. Less than a Parkrun. Starting and finishing in the stadium, with the race course winding through the Olympic grounds, passing by the statue of Nike, the Goddess of Victory, near the Temple of Zeus. Acanthus of Sparta won the first Dolichos laurel wreath, and his statue was built in Olympia.
Ultra-marathons
490 B.C. The Persian Fleet approaches. (According to the historian Herodotus), Athens sends Pheidippides, a professional long-distance running messenger, to ask Sparta for help. 150 miles over rough hilly country in 30 hours. Immediate aid is refused; so he runs all the way back with bad news (the Spartans actually arrive two days after the battle) and good (the God Pan appeared to the exhausted Pheidippides and promised to help). Athenians are victorious at Marathon and their city is saved from destruction.
In 1983, the first Open International Spartathlon Race took place. The route had been pioneered the previous year by Englishman John Foden and two other R.A.F. officers.
Pedestrianism
In Britain, from the late 17th Century, aristocrats often employed footmen who ran and walked long distances, carrying letters and bringing back replies. Some employers boasted about the speed and stamina of their servants and placed bets on who would prove superior in a race trial.
Foot racing and walking evolved into Pedestrianism: professional distance running.
During the late eighteenth and nineteenth centuries, this was a popular betting spectator sport in the British Isles. Pedestrianism became a fixture at fairs – much like horse racing.
Famous pedestrians included Captain Robert Barclay Allardice, called "The Celebrated Pedestrian", from Stonehaven. His most impressive feat was to walk 1 mile every hour for 1000 hours, which he achieved between June 1 and July 12 1809. The feat captured the public's imagination and around 10,000 people came to watch, over the duration of the event. In 1864, Emma Sharp became the first woman to emulate the feat. Ada Anderson was named Champion Lady Walker of the World in April 1878, after covering 1500 miles in 1000 hours – at Leeds, England.
Sir John Astley M.P. founded a "Long Distance Championship of the World" in 1878, staged over six days, which became known as the "Astley Belt Races" (or 'Wobbles', because of the erratic progress of knackered runners). These events allowed a wide interpretation of rules, with walking, jogging, and running allowed. The competition was partly inspired by a desire to clean up the perception of the sport as corrupted by gambling interests and led to a push amongst some to codify pedestrianism as an amateur sport. The same process was happening to British track and field athletics and gave rise to the modern Olympic Movement.
Famous Six-Day racers included: Edward Payson Weston, Daniel O'Leary, Charles Rowell and George Littlewood, who in 1888 created a new world record of 623 miles 1,320 yards—a world record that wasn't beaten for 96 years.
In 1984 Yiannis Kouros from Greece ran over 1,022 km (635 miles) setting a new world record that would stand until 2005, when he improved to 1,036 km (644 miles) at the Cliff Young Australian 6-day race in Colac, Australia.
The women's world record was broken by Australia's Dipali Cunningham in 1998 when she covered 504 miles (811 km). In 2001 she improved this to 510 miles (820 km).
a) Middle Distance
W.G. George: Walter Goodall George (1858 –1943) was a runner from Wiltshire who, after setting numerous amateur world records [between one mile and one hour (11 miles 932 yards)], went professional in part to challenge the mile record-holder William Cummings, defeating him in several highly publicised races. On 23 August 1886, he set a mile record (4 minutes 4:12¾ seconds) which was not surpassed for almost 30 years. (In a 1885 handicap race he had run 4:101⁄5 – which was not beaten until 1931.)
b) Long Distance
Alfred Shrubb (1879–1964), known as Alfie, was an English middle and long-distance runner from West Sussex. During an amateur career lasting from 1899 to 1905 (when he was barred from amateur competition for receiving payment for running) and a professional career from 1905 to 1912, he won over 1,000 races from about 1,800 started. At the peak of his career he was virtually unbeatable at distances up to 15 miles, often racing against relay teams so that the contest would be more competitive. He won the International Cross-Country Championships in 1903 and 1904. On 4 November 1904, at Ibrox Park, Glasgow, he broke the world record for the one hour run as well as all amateur records from six to eleven miles, and all professional records from eight to eleven miles, running eleven miles, 1137 yards (18.742 km). Altogether he set 28 world records.
c) Scotland: Powderhall
The great annual professional meeting on 1st January, which has taken place every year since 1870, was for many years known simply as Powderhall, since that was where it took place. It is now known mainly as the New Year Sprint and although it is a real festival of sprinting, there have been races at half mile, mile, two miles and long distance. In the era of Open Athletics, amateurs have been permitted to enter since 1993.
Scotland's greatest ever sprinter George McNeill won the Centenary running of the race in 1970. For the illustrious history of this event, do look up the website: www.newyearsprint.com
You will also find an article about Powderhall under 'The Games' in anentscottishrunning.
Cross-Country
"Tom Brown's Schooldays" by Thomas Hughes, was a very successful novel (published 1857). It is set in the 1830s and includes a marvellous description of a paper-chase cross-country run for senior pupils at a top fee-paying residential public school. Adults do not seem to have competed in this sport until Thames Hare and Hounds (the oldest cross-country club in the world) organised events from 1868. Such a steeplechase involved 'hares' starting ahead of the main pack, marking their route with a trail of paper. The pack of runners would then follow the trail, the first to catch the hares being the victor.
In 1879 the use of paper trails was banned in Wimbledon Common. 1883 was the year when the English Cross-Country Association was founded. The Scottish Cross-Country Union followed in 1890.
Before that, many cross-country races had taken place in Scotland. In Carnwath in Lanarkshire, the 'Red Hose' XC race dates back to the early 19th C. Public Schools and Universities encouraged cross-country running. Clydesdale Harriers was formed in May 1885; as was Edinburgh Harriers (that September). Colin Shields' invaluable centenary history of the Scottish Cross Country Union ("Runs Will Take Place Whatever The Weather") gives fascinating details.
This book, combined with the on-line archive of the Scottish Road Running and Cross Country Commission, anentscottishrunning.com and scottishdistancerunninghistory.scot will tell readers a great deal about top Scottish cross country runners, male and female. The articles (in SDRH) about 'Women's Cross Country' are particularly interesting. Between 1931 and 1957, there were only five International XC matches for Scottish women. The modern era began in 1967. However Scottish National championships were run between 1932 and 1938; and from 1951 onwards. The men were much luckier, since Scottish National Championships started in 1886, and the International Championships in 1903, at Hamilton Park Race Course, Scotland.
The Scottish Veteran Harriers Club began in 1970. Our cross-country champions include the following.
Dale Greig, Janette Stevenson, Tricia Calder, Sandra Branney, Trudi Thomson, Christine Haskett-Price, Liz McColgan, Sonia Armitage, Lynn Harding, Sue Ridley, Jane Waterhouse, Angela Mudge, Fiona Matheson, Melissa Whyte, Joasia Zakrzewski, Lesley Chisholm, Janet Dunbar, Hilary McGrath, Claire Thompson, Betty Gilchrist, Anne Docherty, Ann White, Katie White, Linden Nicholson, Jennifer MacLean
John Emmet Farrell, Gordon Porteous, Davie Morrison, Andy Forbes, Willie Marshall, Tom O'Reilly, Bill McBrinn, Bill Stoddart, Charlie McAlinden, Alastair Wood, Andy Brown, Hugh Gibson, Hugh Rankin, Ian Leggett, Walter McCaskey, John Linaker, Donald Macgregor, Dick Hodelet, Jim Alder, Brian Scobie, Bill Scally, Brian Carty, Allan Adams, Donald Ritchie, Davie Fairweather, Bobby Young, Pete Cartwright, Doug Gemmell, George Mitchell, Archie Duncan, Colin Youngson, George Meredith, Charlie MacDougall, Ian Elliot, George Sim, Brian Emmerson, Archie Jenkins, Brian Kirkwood, Frank Barton, Gerry Gaffney, Fraser Clyne, Keith Varney, Simon Pride, Ed Stewart, Colin Donnelly, John Duffy, Gerry Fairley, Andy McLinden, Brian Gardner, Ian Stewart, Iain Campbell, Neil Thin, Tommy Murray, Bobby Quinn, Kerry-Liam Wilson, Robert Gilroy, Jamie Reid, Andy McLinden, Frank Hurley, Tony Martin, George Black, Paul Thompson, Alex Sutherland, Les Nicol, Stephen Cromar.
Highland Games: Running
The Highland Games probably go back to the 14th century but, in their modern form, are about 150 years old. The 'boom' in Highland Games was due to: the development of the railway system in the middle of the 19th Century; and Queen Victoria's summer residence in Scotland. At first, all the Games were professional; but since 1993 have been open to every athlete. Two of the most famous are Braemar and Ballater, both with hill races.
A series of Amateur Highland Games were introduced eventually – many of them in the Lowlands. Although the 'Heavy' Events: caber, hammer, shot put etc are most famous, grass track middle distance races (scratch or handicap) also featured, as well as hill and road races.
For example, Forres Highland Games used to include the finish of the Inverness to Forres Marathon. Nowadays it has a 10k road race and most events have been axed or shortened drastically. Many Games had road races: Strathallan 22 mile; Bute 18; Glenurquhart, the Inverness to Drumnadrochit 15; Glasgow the hilly Drymen to Scotstoun 15; Gourock 14; Dunblane 14; Shotts 14; Carluke 12; Bearsden 10. Kinlochleven had the Mamore Hill Race, with at least a third on the road. Alva had another hill race. Achmony hill race at Glenurquhart is one that survives.
Running those traditional events over non-standard distances was great fun; and the road races were excellent preparation for aspiring serious marathon racers.
Amateur Outdoor Track
From 1865, the Amateur Athletic Club held track and field championships in London. One mile and Four miles races were included. However, entry was restricted to 'gentleman amateurs'. In 1880 the Amateur Athletic Association took over and the sport was open to anyone who had never been a professional athlete.
The Scottish Amateur Athletic Association was founded in 1883; and the first championships (for men) that year included 880 yards and one mile; ten miles track featured in 1886; and four miles in 1887.
The Scottish Women's Amateur Athletic Association was formed in 1931: 880 yards was the longest distance run. One mile was added in 1952; and 3000m in 1971.
The Scottish Association of Track Statisticians archive is a superb resource, listing championship winners, statistical profiles of individual athletes, records, Scottish International matches etc.
Scottish Distance Running History and Anent Scottish Running, both contain many more detailed profiles of top Scottish athletes.
Hill Running
Legend has it that King Malcolm III of Scotland, in the 11th century, summoned contestants to a foot race to the summit of Craig Choinnich (overlooking Braemar). Several Highland Games (e.g. Ballater and Braemar) hosted hill races. Nowadays the Scottish Hill Runners online calendar includes over a hundred challenging annual events.
At the beginning of September is the Ben Nevis Race. Britain's highest mountain tempted athletes to run up and down it from the late 19th Century. William Swan was the first to break 3 hours in 1895. The first race (ascent only) was in 1903; and shortly afterwards Ewen MacKenzie won the first run (in a record 2 hours 10 minutes) from Fort William and back, via the summit. Races took place intermittently until 1951, when the modern era began. The Ben Nevis Race website has all the results right up to 2017. Lots of SVHC members tried it at least once. (The writer, aged 21, a couple of months after completing his first 26 miler, ran the Ben Race in 1969, hated the dangerous downhill and for the next 30 years stuck to safer marathon running!)
Famous Scottish Ben racers include: Jock Petrie, Duncan MacIntyre, Brian Kearney, Eddie Campbell, Jimmy Conn, Pat Moy, Allan MacRae, Bobby Shields, Brian Finlayson, Colin Donnelly, Mark Rigby, David Rodgers and Graeme Bartlett.
Modern Olympic Games
Although the Cotswold Games 'Olimpicks' took place from 1612-1852; and the Wenlock Olympian Games (which influenced Olympics reviver Pierre, Baron de Coubertin) from 1850; the 1896 Olympic Games in Athens were inspired, not only by tales of the Ancient Olympics but also by the Amateur Athletics movement. In fact, the AAA Laws for Competition were adopted by the International Olympic Committee (1894) for the first Modern Games. In 1896, the middle-distance races held were: 800m and 1500m, both won by London-born Edwin (Teddy) Flack of Australia ('The Lion of Athens') who also led the Marathon for some time but had to drop out three kilometres before the finish. Female athletes were excluded from the Olympics in 1896 but took part from 1900. However, 800m for women was not introduced until 1928; and (very unfairly) not reintroduced until 1960. Sheer male chauvinism.
Marathon
In 1878 the great English poet Robert Browning wrote "Pheidippides". In a dramatic fashion, he amalgamated two stories about the legendary/mythical Greek runner: Herodotus's account (written in 450 B.C., 40 years after the Battle of Marathon) of the 300 miles trek to and from Sparta; and, 600 years later in 120 A.D., Plutarch's tale about Eucles, who (in full armour, just after the battle) was supposed to have run to Athens, gasped out news of the victory and dropped dead.
Browning's poem includes the lines:
"'Rejoice, we conquer!' Like wine through clay,
Joy in his blood bursting his heart, he died – the bliss!"
Roger Robinson wrote: "Presumably it was Browning's poem that Professeur Michel Breal had in mind, when he wrote to the Athens Olympic Committee in 1894 to propose 'a race from Marathon' on the route of 'the Greek warrior'.
As runners interested in the history of the marathon race will know, the 1896 Olympic event was won by the Greek Spiridon 'Spyros' Louis, over a distance of around 40 kilometres (25 miles). The 1908 London Olympic Marathon established the official distance as 26 miles 385 yards (42 kilometres, 195 metres).
Scottish runners completed several 'marathons' over a range of distances before the first official Scottish Marathon Championship (for Men) in 1946. (The first Scottish Women's Marathon Championship did not take place until 1983). The first two men's events were won by Donald McNab Robertson, who had been AAA Marathon champion six times between 1932 and 1939; a silver medallist in the 1934 British Empire Games in London; and had finished a valiant 7th in the 1936 Berlin Olympics. (He had also been selected, as AAA champion, for the 1932 Los Angeles Olympics but could not go because of work and family commitments).
Second in the 1946 Scottish Marathon was 'the Daddy of them all' – Duncan 'Dunky' McLeod Wright, who had been AAA champion in 1930 and 1931; 1930 British Empire Games victor in Hamilton, Ontario; and a close fourth in the 1932 Olympics.
The Scottish Marathon Club was founded in 1944, by stalwarts like Dunky Wright, Joe Walker and Jimmy Scott. The SMC helped to organise umpteen road races (often linked to Highland Games); liaised with the SAAA to ensure that the Scottish Marathon championship went well; and to nominate a runner to receive the Donald McNab Robertson Memorial Trophy (for Scottish Road Runner of the Year). Certainly, the SMC helped considerably to raise the standard of road running in Scotland. Our current SVHC President Alastair Macfarlane (1979 Scottish Marathon champion and Robertson Trophy winner) was the last SMC President.
Bill Stoddart, the 1969 Scottish Marathon Champion; won the second SVHC cross country championship in 1972; and was a World Veterans champion and record holder several times, including gold medals in the 1992 M60 10km and 25km in Birmingham.
Aberdeen's Alastair Wood was Scottish Marathon Champion six times; finished 4th in the 1962 European Marathon at Belgrade; and in 1974 became a runaway M40 World Veterans Marathon winner in Paris, leading SVHC to the World Vets Club gold medals.
In the 1972 Munich Olympics, Donald Macgregor finished an excellent 7th. He was later to win three Scottish Marathon titles; and the 1980 World Veterans Marathon in Glasgow.
Gordon Porteous, a truly great SVHC member, was World Veteran Marathon Champion many times. He won World Veteran Marathon gold medals in Toronto 1975, Coventry 1976, Berlin 1978, Hanover 1979, Glasgow 1980, New Zealand 1981 and Rome 1985. Gordon set World age-group marathon records at: M60 (2.51.17); M65 (2.57.00); M70 (3.11.45); M75 (3.23.12); and M80 (3.47.04).
Scotland's greatest female marathon runner was Liz McColgan (World and Commonwealth 10,000m champion and winner of the first World Half Marathon championship in 1992.) Liz won marathons in London and Tokyo and, seriously hampered by an insect bite which poisoned her system, finished 16th in the 1996 Atlanta Olympic Games.
Modern ultra-distance
After professional 6-Day events lost favour in the 1890s, and marathon fever took over, ultras were ignored. Arthur Newton, born in England but in 1922 a 38-year-old South African farmer, is considered the founding father of modern ultra-running. Between 1922 and 1934 he averaged 20 miles a day of running and walking. His victories included four Comrades Marathon wins – this 54 or 56 miles epic remains the world's leading ultra – and new records for the London to Brighton 52. Newton broke amateur world records at 50 and 100 miles; and, as a professional, covered 152 miles 540 yards in 24 hours – a record which remained unbeaten for 22 years. The 24-hour mark was set in 1931 on a 12-laps-to-the-mile track in the Ice-Hockey Arena at Hamilton, Ontario. The wooden surface was softened by a layer of felt and paper.
A little- known fact is that, on 1st January 1929, the recently professional Newton set a record of 6 hours 39 minutes 50 seconds for running from Glasgow Pavilion to Edinburgh and the Powderhall track (on which he finished by circling four and a half miles). Conditions were atrocious – freezing cold, snowy and slippery in the West and thawing with deep puddles in the East.
In England and Wales, the ultra-marathon scene held many events, encouraged by the London-based Road Runners Club. The RRC also recognised the Tom Scott 10 and the Scottish Marathon, plus the most popular Scottish ultra – The Two Bridges 36, which was run between 1968 and 2005. Many of the best ultra-racers in the world took part and Scottish winners included Alastair Wood (who also won the London to Brighton), Alex Wight, Jim Wight, Don Ritchie, Andy Stirling, Peter Baxter, Colin Hutt, Simon Pride and Alan Reid.
Trudi Thomson finished first woman in the 2 Bridges three times and set an unbeaten women's record. As well as running for GB in many marathons, she won a silver medal in the World 100km championship. In addition, Trudi won Scottish Marathon titles and the British Veterans Cross-Country Championship.
Then there was the Edinburgh to Glasgow ultra (not the famous 8-man road relay). This 44-mile challenge was run between 1961 and 1972; plus a 50-miler (Meadowbank to George Square) in 1984. Scottish winners included Gordon Eadie, Andy Fleming, Hugh Mitchell, Bill Stoddart, Alex Wight and Jimmy Milne, with Don Ritchie victorious in 1984.
Although these great Scottish races are no more, Scottish Championships have been held over 50km from 1996; and over 100 km since 1992, when the main man mentioned below fittingly became the first champion.
Donald Ritchie of Lossiemouth, Moray, Scotland, has undoubtedly been the greatest ultra-distance runner the world has ever seen. This was the verdict in 1995 of Andy Milroy, a journalist who knows more about this branch of athletics than anyone. Milroy compared Don's achievements with those of past greats like Charles Rowell, George Littlewood and Wally Hayward; and with his contemporaries Yiannis Kouros and Bruce Fordyce. On the basis of the length of his world-class ultra-running career and his amazing accomplishments, Donald Ritchie is considered to have been the very best.
Do read Don's full profile on Scottish Distance Running History – you can find it by clicking on 'Marathon Stars' and then on his name under 'The Marathon and Beyond'. Better still, buy his autobiography "The Stubborn Scotsman" on amazon uk. No one has ever run harder than Don Ritchie.
Perhaps his finest performance took place on the 28th of October 1978. At the Crystal Palace track, he ran 100 km in 6 hours 10 minutes 20 seconds. Imagine: 62 consecutive miles, averaging almost precisely 6 minutes per mile! Unsurprisingly, this remains the track world record in 2018.
Indoor Track
Peter Lovesey, in his AAA Centenary History, wrote that Indoor Athletics originated in 1863 at the Ashburnham Hall, Chelsea, where the London Rowing Club held their sports indoors by gaslight. Other London venues included Lambeth Baths and the Agricultural Hall, Islington. New York staged America's first indoor meet in 1868.
Peter Lovesey was also a fine detective novelist. Read 'Wobble to Death' for a real insight into corrupt ultra-distance challenges in the Victorian era.
The AAA held Indoor championships from 1935-1939, at the Empire Pool, Wembley. They did not return until 1962 at Wembley and subsequently R.A.F Cosford.
However, amateur indoor track became really popular in the U.S.A, between the First and Second World Wars. 'Running on the Boards' featured as Winter and Spring training for college athletes; and the most famous meeting took place at New York's Madison Square Gardens.
Scottish athletes were successful at AAA Indoors events; but the first SAAA Indoor championships did not take place until 1973-1976. The venue was Bell's Indoor Sports Centre in Perth: this had a 154 metres long banked track comprising compressed cork with lino strips on a wooden base. Twice Scottish Indoor 1500m winner was Adrian Weatherhead, who later became the fastest Scottish M40 Veteran in 10k road races.
Scottish Indoor Championships were not resumed until 1987 at Ingliston. From then until 2012, the competition was held at Glasgow's Kelvin Hall, where Scottish Veterans and British Masters championships regularly took place. From 2013, the Championships were held at Glasgow's new indoor venue, the Emirates Arena.
Colin Youngson
OFFICE BEARERS SEASON 2017-2018
Honorary President: ALASTAIR MACFARLANE
President: CAMPBELL JOSS 25 Speirs Road Bearsden, G61 2LX Tel: 0141 9420731 cdjoss2@gmail.com
Immediate Past President: ALASTAIR MACFARLANE
Vice-President: ADA STEWART 30 Earlsburn Road, Lenzie, G66 5PF Tel: 0141 578 0526 stewart2@ntlworld.com
Honorary Secretary: JOHN SOFTLEY 6 Cathkinview Road Mount Florida Glasgow G42 8EH Tel. 0141 5701896
Honorary Treasurer: ANDY LAW Euphian, Kilduskland Road Ardrishaig, Argyll PA30 8EH Tel. 01546 605336 Lawchgair@aol.com
Membership Secretary: ADA STEWART 30 Earlsburn Road, Lenzie, G66 5PF Tel: 0141 5780526 stewart2@ntlworld.com
Handicapper: PETER RUDZINSKI 106 Braes Avenue Clydebank. G81 1DP Tel.0141 5623416 p.rudzinski@ntlworld.com
Committee Members:
JOHN BELL Flat 3/1, 57 Clouston Street Glasgow G20 8QW Tel. 0141 9466949
WILLIE DRYSDALE 6 Kintyre Wynd Carluke, ML8 5RW Tel: 01555 771 448
DAVID FAIRWEATHER 12 Powburn Crescent Uddingston, G71 7SS Tel: 01698 810575
EDDIE McKENZIE Little Haremoss, Fortrie, Turriff Aberdeenshire, AB53 4HR Tel: 01464 871430
STEWART McCRAE 17 Woodburn Way, Balloch Cumbernauld G68 9BJ Tel: 01236 728783
PAUL THOMPSON Whitecroft, 5 Gareloch Brae, Shandon, Helensburgh G84 8PJ Tel. 01436 821707
ROBERT YOUNG 4 St Mary's Road, Bishopbriggs Glasgow G64 2EH Tel. 0141 5633714
BMAF Delegates To be appointed Ada Stewart
SAL West District Delegate Willie Drysdale
SAL Delegate at AGM To be appointed
Website Ada Stewart
Auditor George Inglis
FIXTURES
September 2018
Sat 15th Masters Cross Country Trials Tollcross Park. First race 11am.
Sun 23rd Loch Ness Marathon, Inverness
October 2018
Sun 7th SVHC Half Marathon Champs, Kirkintilloch
Sun 7th BMAF Marathon Champs, Chester
Sun 14th SVHC Track 10,000m from 11 a.m., followed by AGM at 2 p.m. At Greenfaulds High School, Cumbernauld.
Sat 27th Lindsays Scottish Athletics National XC Relay Championships Cumbernauld House
Sat 27th Ruby's Race 5K Kilmarnock
November 2018
Sat 17th British & Irish Masters Cross Country International – Swansea, Wales December 2018
Sun 16th Xmas Handicap Sea Scouts Hall, Miller Street, Clydebank, from 12.30. Race to start at 13:30
January 2019
Fri 4th Scottish National 3000m Championships Emirates Arena, Glasgow
Sun 27th SVHC Open Masters Road Relays Strathclyde Park, 11:00am
February 2019
Sat 2nd Scottish Masters XC Championships Hawick
Sun 17th Scottish Athletics Indoor Combined Events & Masters Championships Emirates Arena, Glasgow
Sat 23rd Scottish Athletics XC Champs, Callendar Park, Falkirk TBC
March 2019
Sun 3rd 10 Mile Road Race (Lasswade AC) TBC Whitehill Welfare FC, Ferguson Park, Carnethie Street, Rosewell Start time, 12:00pm
Sat 9th British Masters Open Cross Country Championships Malone, Belfast, Northern Ireland
Sun 24th – Sat 30th World Masters Indoor Track & Field Championships Torun, Poland