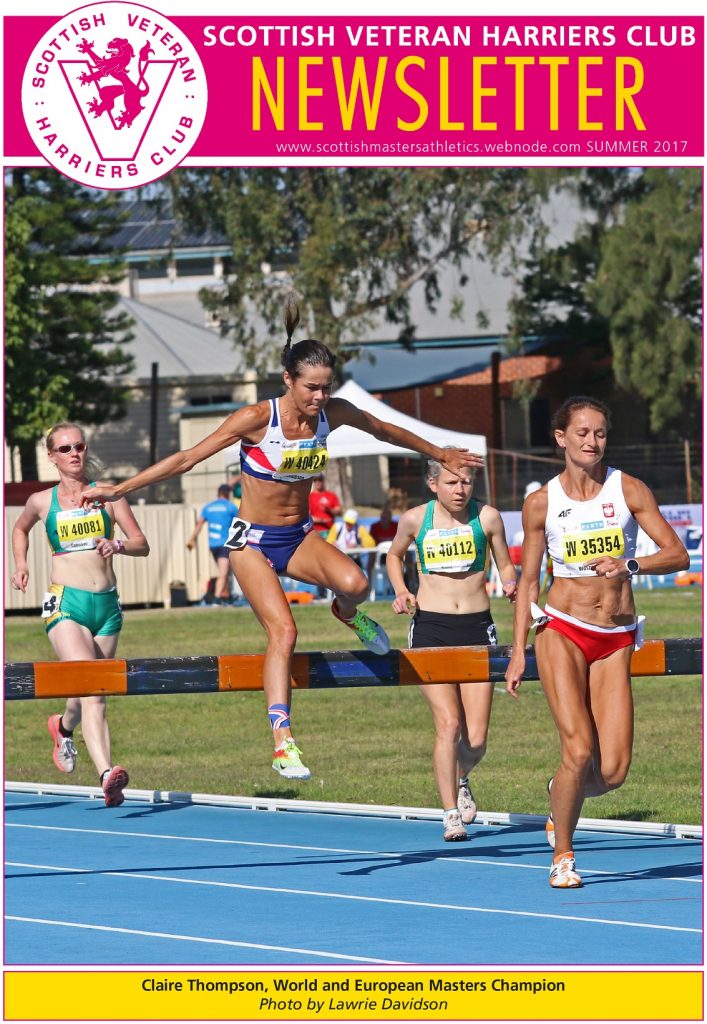 MEMBERSHIP NOTES 18th AUGUST 2017
I regret to report that Christine McLennan passed away on 16th January, aged 85. MEMBERS Welcome to the 19 new and 5 reinstated members who have joined or re-joined since 28th March 2017. 61 members did not renew their subs this year, & 8 underpaid. 7 members resigned. As of 18th Aug 2017, we have 496 fully paid up members, including 21 over 80 & 4 Life Members.
NEWSLETTER The electronic version of the Newsletter is now the preferred option. Any member who would rather receive a printed Newsletter must contact David Fairweather (djf@ dfairweather.plus.com), if they have not already done so. Please inform David if you add or change your email address.
Please send photos, news, letters, articles, etc for the next issue To: COLIN YOUNGSON TOMLOAN, SANQUHAR ROAD, FORRES, IV36 1DG e-mail: cjyoungson@btinternet.com Tel: 01309 672398
SVHC EVENTS
Stewards/marshals are required for club races. The club appreciates all members & friends who volunteer to act as stewards/marshals. If you are not competing just turn up and introduce yourselves to the organisers.
STANDING ORDERS
Thank you to the members who have set up standing orders for membership subscriptions. Please remember to update the amount payable, & keep me informed if your membership details change (especially email addresses). If any other member wishes to set up a standing order please contact me.
CLUB VESTS Vests and shorts can be purchased from Andy Law – £18 for vests, including postage and £23 for shorts, including postage. If ordering both together deduct one lot of postage. Or, can be delivered to any of the Club races by arrangement with no postage. (Tel: 01546 605336. or email lawchgair@aol.com)
NEW MEMBERS
NUMB CHRS SURN JOIN TOWN
2382 Johnny Lawson 07-May-17 Musselburgh
2383 Timothy Kirk 18-May-17 Inverness
2384 Rosemary Hill 23-May-17 Blanefield
2385 Carole Craig 05-Jun-17 Lenzie
2386 Bob Johnson 28-Jun-17 Walkerburn
2387 Grant Noble 15-Jun-17 Johnstone
2388 Stuart Tytler 15-Jun-17 Bishopton
2389 Peter Tucker 15-Jun-17 Dunbar
2390 Paul Clawson 28-Jun-17 Glasgow
2391 Paul Kernohan 28-Jun-17 East Kilbride
2392 Joyce Allardice 05-Jul-17 Carluke
2393 Graham Laing 13-Jul-17 Inverness
2394 Alastair Walker 13-Jul-17 Hawick
2395 Craig Clarke 31-Jul-17 Paisley
2396 Julie Oswald 09-Aug-17 Pencaitland
2397 Colin Simpson 09-Aug-17 Lenzie
2398 Stephen Brown 11-Aug-17 Glasgow
2399 Catherine Connelly 13-Aug-17 Gartcosh
2400 Ron Todd 16-Aug-17 Edinburgh
1413 Brian Colella 09-Jun-17 Minley
2227 Vincent Carroll 28-Jun-17 Cumbernauld
2137 Angela Carson 28-Jun-17 Paisley
2153 Jennifer Forbes 28-Jun-17 Melrose
2241 Wayne McIntosh 04-Aug-17 Kelso
Ada Stewart Membership Secretary
SCOTTISH VETERAN HARRIERS RUN and BECOME RACE SERIES 2016/2017 The 2016/2017 Race Series is now well under way with 14 of the events completed at the time of writing. Current leader in the women's event is Pamela McCrossan with 68.8 points followed by Fiona Matheson with 67.9 and Yana Thandrayen 62.4. Leading in the men's competition is Andy McLinden with 70.1 pts, Bobby Young 2nd with 69.7 & William Jarvie 3rd with 67.9. For those who are new to this competition, each runner's best 8 performances from 16 selected races are involved with age grading utilised to allocate points won. For those who complete more than the required 8 races an additional 1 point is awarded.. Over £600 worth of prizes are available along with trophies and competition is always keen. Check the SVHC website for regular updates. The remaining fixtures for 2017 are: 24/09/17 Loch Ness Marathon Inverness 08/10/17 SVHC Half Marathon Champs Kirkintilloch
Alastair Macfarlane
Recently, Alastair Macfarlane was pleased to accept an invitation to take on the post of Honorary President of the Scottish Veteran Harriers Club.
Many current members will know him as an invaluable club official, hard-working, friendly and encouraging. However older ones respect him even more since he used to be a really good runner, who was always gracious, in victory or defeat. Here is a brief athletic profile.
In 1963, aged 17, Alastair started running at school. Later on, he began to train with an older athlete called Willie Scott, who convinced him to join him in taking part in the professional highland games circuit. At that time people like John Freebairn, Jimmy Bryce, Stuart Hogg, Eric Simpson, Arthur Rowe and the legendary Bill Anderson were all prominent competitors; and Olympics fourth placer Alan Simpson and former world mile record holder Derek Ibbotson were soon to join the pro ranks.
By 1968, Alastair was one of the top competitors in middle distance events. That season he enjoyed mile victories at Hawick and Peebles; a half mile and mile double at Alva Games; and an invitation mile win at Lauder, where he prevailed after a race long battle with professional world mile record holder Michael Glen.
The biggest day of the season though came at the Grasmere Sports in the Lake District where he won his heat of the 880 yards and then the final and also the mile to be awarded the trophy for the athlete of the day, unheard of for a track runner where they take their fell running and wrestling so seriously.
Then, to cap an eventful season, there came the New Year meeting at Powderhall. In the 880 yards he finished fourth in the Final but in the mile the following day he had to work hard to qualify for the final in a distant second place. For the final, though, in spite of a heavy grass track, he was totally focused as he got up to win in the last few strides from the back mark. For his efforts over the season he was awarded the Scottish Games Association's Athlete of the Year.
His training at that time was mostly track based doing sessions like 20 x 220 yards (pre-metrication) in close to 30 seconds with 30 seconds recovery, 2 x 4 x 220 in 25/26 seconds with two and a half minutes recovery and ten minutes between sets, 6 x 440 in 55/56 with five minutes rest, and he would sometimes do a 'long run' of 5 – 7 miles. In addition he did a lot of running at King's Park Golf Course at Stirling, a lap of about 1.7 miles, very hilly over the first three quarters of a mile, then very fast, flat running to the finish. Ideal running territory!
In 1973 Alastair moved to Lenzie and, feeling that his running could improve as an amateur, after three attempts was eventually reinstated as an amateur, and joined Springburn Harriers. He made his marathon debut at Harlow in 1974, finishing in 2:29:43. In May 1975 he reduced his personal best to 2:25:00 at the AAA race in Stoke, then ran 47:56 for twelfth place in the high quality Brampton to Carlisle 10 Miles with Ron Hill second in 47:02.
Between 1976 and 1981, Alastair ran the Scottish Marathon Championship four times, and won one gold and three bronze medals. He was third in 1976, behind Donald Macgregor and Doug Gunstone. In November that year he won the first stage of the prestigious Edinburgh to Glasgow Road Relay, beating Colin Youngson. Just after that, he enjoyed another good run at the Brampton 10. Ian Elliot got away in the last 600 metres but Alastair was second in 48.04.
1979 proved to be Alastair Macfarlane's peak. Here are his own words about that season. "By the time of the Tom Scott 10 I was fit enough to dip under 50 minutes and take fifth place in a race won by Jim Brown. Things were starting to fall into place and by the Clydebank to Helensburgh I won by over a minute. This victory gave me a big boost and two weeks later I won the Lanarkshire 5000 metres title in a personal best of 14:50 from Hugh Wilson. Then it was on to the big one: the Scottish Marathon Championship and although I was very nervous, I couldn't fail to be confident given my preparation. And my confidence was justified as I took a huge chunk from my pb with 2:18:03 to beat the old masters, Donald and Colin! I never felt in trouble in that race, the least painful marathon experience of my career and I felt sure that I could improve on it. For my efforts that season the SAAA presented me with the Donald MacNab Robertson Trophy for the Outstanding Road Runner of the Year. Sadly, due to injuries I was not able to improve on that time." The result was first Alastair Macfarlane, relaxed and fresh in 2:18:03, second Donald Macgregor, two months from being a veteran, 2:19:15, third Colin Youngson 2:19:48.
In the1980 Scottish, Alastair finished third behind Graham Laing and Colin; and was third again in 1981, behind Colin and Donald. In October 1981, The Glasgow International Marathon included a match between (in finishing order) Scotland v Wales v Northern Ireland v Eire. For Scotland, Colin Youngson was 4th in 2.19.12, Des Austin 5th in 2.19.19 and Alastair Macfarlane 6th in 2.21.01. All three counters were required. The Scottish team members were presented with specially inscribed SAAA gold medals.
Alastair's final marathon was at Dundee in 1984, when he was fourth (in a good 2.19.56), behind Donald, Charlie Haskett and Murray McNaught but just in front of Don Ritchie.
Alastair's training during his road running years over never altered too much: there was a lot of consistent running but never huge mileage. He would try to hit about 70 miles a week with a two hour Sunday run, a session of reps, usually on the track in midweek and a race at the weekend. The rest of the time it was just running, often twice and sometimes three times a day. Track session would include 20 x 200 continuous with a 200 jog recovery, a staple for him, 10 x 600 in 1:42/1:45 with a 200 jog or 6 x 1 miles in 4:50/5:00 minutes with 400 jog.
Brian McAusland, who used to train with Alastair and Doug Gunstone at Lenzie, wrote, "Alastair has also been a first class official who always worked for the athletes – with Springburn Harriers, with the Scottish Marathon Club and now with the Scottish Veteran Harriers Club. In his racing days, he was what might be called a complete endurance runner – his personal best times, from 800 metres up to the full marathon, are very impressive and represent a wider range of talent than most marathon men." We are very fortunate to have such a distinguished gentleman – and all-round great guy – as our new Honorary President.
Great Scottish Veteran Harriers: WILLIE DRYSDALE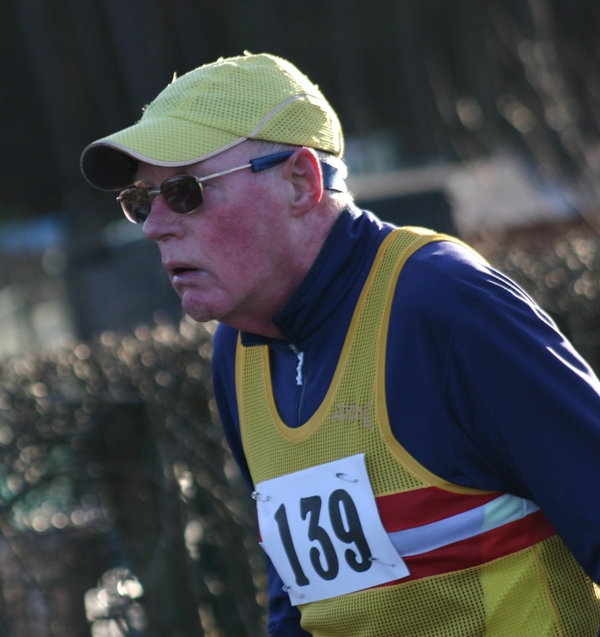 (Willie, who has done a tremendous amount for SVHC, is well known to many club members and still continues to battle round the annual Scottish Masters Cross Country Championship. While I was at Aberdeen University and he was near his peak, I remember racing him in the 1968 Tom Scott 10 miles – Willie beat me by over 20 seconds and received a treasured first class certificate.
His longevity as a runner is amazing – at the end of September 2017 he will have been in Athletics for 70 years, 27 years with Monkland Harriers and 43 with Law & District AAC!) Willie is 81 years young, having been born on the 26th of November 1935.
He joined Monkland Harriers in October 1947. He enjoyed football and swimming but took to running because he thought he could be good. He got involved in the sport because he saw an advert in a pub window to join Monkland Harriers. Competition began in 1951 when he was a Youth (under 17). This was the youngest age group at the time and very few events were available: only 100 yards handicap and the occasional 880 yards handicap. The minimum age to take part in road and cross country was 16.
Willie's best times were as follows: 880 yards – 2.02.3 (1967); 1 Mile – 4.29 (1967); 6 Miles – 30.09 (1967); 10 Miles Track – 51.50 (1967).
Willie had a fine record in the Scottish 10 Miles Track Championship. He won a bronze medal in 1966 at Seedhill, Paisley, recorded his personal best a year later, and between 1966 and 1969 was high in the annual Scottish rankings: 4th followed by 7th three times.
In the Scottish Senior National Cross Country he was a very respectable 29th at Hamilton Racecourse in 1966; and 39th in 1967, when ten New Zealand team members were allowed to take part as guests.
In the Scottish Masters Cross Country, he was second M40 behind the great Bill Stoddart in 1978; second M70 in 2010; 3rd M75 in 2011; and 3rd M80 in 2016 and 2017.
Willie was known as a good road runner. He took part in several Edinburgh to Glasgow Relays between 1965 and 1980. For Monkland Harriers he took on the most competitive stages (2 and 6); and was in their best teams when they were 9th in 1971 and 10th in 1972, when his team mates included future SVHC stalwart Bill McBrinn and young stars like Jim Brown, Ron MacDonald and Ian Gilmour, who went on to run for Britain.
Between 1974 and 1980, Willie often ran Stage 8 in the E to G for Law and District. The club's best position was 10th in 1974, when Willie's fastest team mate was Scottish XC International XC John Myatt.
In November 1966 Willie won the handicap in the traditional Brampton to Carlisle 10 miler; and on the 1st of January 1967 was second in the handicap in the even more famous Morpeth to Newcastle (at least half marathon distance) in a time of 71.51, a personal best by over four minutes. He ran the top Scottish event, the Tom Scott 10 (over the old Law to Motherwell course) in under 51 minutes, finishing 14th.
Willie is a hill walker and also liked hill races and his favourite was the long-established Carnethy event, which he ran twelve times.
Willie Drysdale reckons that his fastest years were between 1967 to 1975, when he was 32 to 40 years old. Normally he trained once a day, 6 days a week, resting on Friday, since races used to be on Saturday. His weekly training distance, up to age fifty, was about 50 or 60 miles. He also used to do weights at Monklands.
As a Veteran and Masters athlete, since March 1997 he has trained off road, due to back and knee problems. However he can still run for 60 to 80 minutes and goes to the gym three days a week. Occasionally he does speedwork – some strides in the football park!
Willie used to train at Corkerhill Stadium (near Bellahouston Park) on Sundays between the early 1960s to mid 1975. The best thing that happened was that Ken, a Senior Lecturer at Jordanhill College, supervised Willie's weight training between 1963 and 1965. After that, Willie started running personal bests.
His original work training, as a pre-apprentice engineer, was at Coatbridge Technical College; and then he went on to qualify as a turner and fitter. National Service. Between 1957 and 1959 he served with the Royal Scots Greys. He had seven weeks of general and fourteen weeks specific training as a Centurion Tank driver, then stayed at Catterick in Yorkshire for one year. In 1958 the Greys were sent to Munster in West Germany, near the Dutch border. In October 1957 Willie ran a North Yorkshire & South Durham Cross Country League race and finished well up and first home for the Greys. He was asked to run for the league in an interleague match – but his officer said to the selectors that Willie was not good enough! The officer was proved wrong in February 1958 when the Northern Command XC championships were held at Catterick and Willie ran well to finish third; then he was 28th at the Army XC championships at Aldershot but writes that this was a bad run for him.
Between 1966 and 1979 Willie worked as a technician at Strathclyde University. In 1967, through S.U., he got treatment three times a week for a hamstring injury at Caronna Street physiotherapist. However the injury did not clear up properly until 1980. At lunchtimes he ran five to seven miles along Alexander Parade to the golf course and back.
Between 1979 and 1989 he worked as a technician at Wishaw High School – and trained by running five and a half miles there from his home; and back later on. From 1989 to 1997 he worked as a technician at Carluke High School. Willie used the gym when at Carluke and, after retiring in 1997, continued to use the gym.
As for diet, Willie writes that he just eats normally. The GP has given him Adcal-D3 vitamin. He also takes Perindopril (blood pressure) Simvastin. Willie was mostly self coached, although he was supervised at Corkerhill a little. He himself had a coaching qualification from the 1960s onwards. In addition he was Secretary and Treasurer at Monkland Harriers; and, when President, organised the club training.
Since joining Law & District AAC, Willie has been Secretary three times and has been a Life Member since 2009. He helps the club at league matches and compiles the results for the referee. He assists with the organisation of the Tom Scott 10 miles road race at Strathclyde Park. Willie Drysdale was a member of The Scottish Marathon Club; and continues to belong to the Scottish Hill Runners and the Fell Runners Association.
He was President of the Scottish Veteran Harriers Club from 1999 to 2001; and was Secretary from 2001 to 2012. He still works for the club in a number of ways.
Willie writes that he has always liked to compete in races to find out if he can improve his performance. Nowadays he just wants to keep on running and intends to take part in the BMAF XC championships at Forres in 2018. Running, he writes, is a great way to meet people and to see other parts of the country. He has competed all over Scotland, in some parts of England, in Spain, Portugal, the USA and Canada. Willie Drysdale has enjoyed it all.
Great Scottish Masters Runners: Eddie Stewart
How did you get involved with the sport?
At the age of fourteen I started running at school, where they had a cross country club. The head music teacher, Bill Wright, was a keen runner and a member of Paisley Harriers. Like most boys I played a lot of football, not very well but I used to run all over the pitch chasing the ball, which annoyed the other lads but I did win my first medal in football when our primary school team won the local school league. So I liked running and, when I realised I would never be much of a football player, it seemed natural to take up running as a sport.
Has any individual or group had a marked influence on your attitude or individual performance?
Probably the first person was Bill Wright who took the running club at school. We used to train on Tuesday and Thursday after school and on a Saturday morning if we didn't have a race. We had 5 or 6 different routes of different lengths, ranging from 1mile to nearly 10miles. Most of the runs were like races and were all timed, so we could see how fast or slow we had run compared to the previous run over that route. Looking back, it wasn't the most sophisticated type of training and probably coaches nowadays wouldn't train young boys that way, but we enjoyed it, and it gave us plenty incentive to beat our own times or the times of the other lads.
After I left school I joined West of Scotland Harriers but then I went to work for the Ordnance Survey in Southampton, where I half-heartedly trained and ran a few races for Southampton and Eastleigh.
After 3 years I left the OS and came back to Glasgow. In the meantime West of Scotland Harriers had folded and I was thinking of joining Bellahouston when Robert Anderson arrived on the doorstep and asked if I wouldn't like to join Cambuslang Harriers, since they had a young up-and-coming team. The bus connection between Mearns and Cambuslang wasn't very good so Robert, being the enthusiast that he was and still is, used to pick me up on a Tuesday night and take me to the club and then take me back again after training.
So I was inaugurated into the Cambuslang Tuesday night 'Hampden Park' training run'': 71/2 miles of hell. It always started out at a reasonable tempo with perhaps 20 runners in the group but it was never an easy run, with the likes of Alec Gilmour, Colin Donnelly, Rod Stone and later Jim Orr and Charlie Thompson to name just a few. There was always someone who was feeling good on the night who wanted to push the pace, and if the infamous Jimmy Quinn was there he used to stick the boot in after half a mile. The Tuesday night run was harder than a lot of races although we never admitted it, saying only that it 'wasn't bad' or 'felt okay'.
The whole squad of Cambuslang runners and officials had a big impact on my running – Robert, Dave Cooney, Des Yuill and Jim Scarborough who organised the club, along with all the runners who never made the first team, but who always kept the pressure on, waiting on a chance if we didn't perform. None of us in the club were superstars – we were a bunch of lads with a bit of talent and a lot of hard grind, who made an impact on the cross country and road running scene in the 80's and 90's, but I doubt I would have had the same running success if it hadn't been for the team spirit which the club had.
What exactly do you get out of the sport?
I think, like most people who run, that the biggest thing is the feeling of being physically fit, of being able to get your training gear on and just run when and where you want, with no rules or regulations telling you that you must do this or that, and then the cameraderie of other runners. There is very little aggression in the sport because most of your energy is needed just to combat your own feelings of fatigue and tiredness and the battle is with yourself.
What do you consider to be your best ever performance or performances?
I suppose my best performances were in the Scottish cross country championships in 82 and 84 when I was selected for the Scottish team for the World Cross in Rome and New York – not that I ran very well when I got there, but I gave it a go.
Most of my best performances were associated with Cambuslang winning team titles, notably when we won the Scottish cross country relay championships for the first time in Inverness. Clyde Valley AC was the favourite team and, expecting to win again had decorated the cup handles with red and white ribbons, but that didn't bother us, as Cambuslang also run in red and white.
Another first was winning the Scottish cross country team title at Irvine and then winning gold in the E to G relay which, although I never felt I ran very well in it, was always a great event , and it's a pity it's no longer in the race calendar.
Worst?
My worst performance I think was going down to the English Inter-Counties cross country and running like an absolute donkey – the legs didn't work, the lungs didn't work, and only the brain was working, telling me to stop. But I carried on and ended up near the rear of the field. Horrible.
What unfulfilled ambitions have you?
I don't think I've any unfullfilled running ambitions – just to keep running and enjoying it.
Other leisure activities?
I like walking, painting and drawing and generally watching nature.
What does running bring you that you would not have wanted to miss?
The main thing running brought me is my wife, who I met at a race in Bolzano in Italy. It was a New Year's Eve race in 1987, and I was running in the Scottish team with Aidie Callan and Alastair Douglas. My wife-to-be was running for Czechoslovakia as it was then. We wrote letters to each other for about four years before I packed my bags,and I've been here in Prague ever since.
In addition I've always liked the freedom and the feeling of being physically fit that running gives you. Also the friends I've made through the sport, both in Scotland and in the Czech Republic.
Can you give some details of your training? I was never a big mileage man, due to my physical work as a gardener, but I always managed to get by with about 40 miles a week when I was running at my best. I always say that 8 hours gardening work is like steady circuit training – you're using your whole body and not just your legs. so it gives you good general fitness. I never had a coach for running. For about 2 years I did train with Brian McAusland's squad on a Wednesday night at Coatbridge, and Brian gave me a few ideas about how I might improve. Just training with that squad improved my general speed, not that I was ever known for my sprinting ability! My main running season was always September to March, usually with a break in April, and then some track and road running during the summer, but the cross country season was my main interest.
A typical week's training for me in the autumn would have been as follows. Mon. 2mile jog,10 x 200m hills slow jog down recovery, 2mile jog Tues. Club 71/2 miles road hard Wed. Track i.e. 12 x 400 in 69 secs with a diminishing recovery – 45 secs, 30 secs, 15 secs. Thur. Steady 5 miles run on country Fri. Rest Sat. Race or 7 miles over country Sun. Longer steady run over the country 10 miles.
I wasn't fanatical about my training. If I felt I was tired I would take 2 or 3 days off to rest before starting again. I tended to do most of my training at a fairly good pace, even my longer runs, since I never felt comfortable running at a slower pace than I felt I had the energy for.
During recent years, as a veteran, I try to get out 2 or 3 times a week, and this would include one longer run of say 9 or 10 miles, one interval session 8 x 500 on an undulating track in the woods, and a shorter 4 or 5 mile run on the country. I think that's enough for me and it gives me a rest day or 2 in between my runs.
(During a long and distinguished running career, Eddie Stewart, such a strong, consistent athlete, produced track bests of: 800m – 1.59; 1500m – 3.55.4; 3000m – 8.16.5; 5000m – 14.11.7; 10,000m – 29.55. On the road he ran a half marathon in 65.14; and, as an afterthought, a marathon – 2.23.47 (aged 39) and 2.26.59 (aged 40). In his favourite Scottish National cross country championships, Eddie was in winning Cambuslang teams an amazing 10 times, between 1988 and 2000. In the Scottish Masters cross country championships, he won the M40 title in 1998 (leading Cambuslang to team victory); M45 in 2004; M50 in 2007; M55 in 2012, 2015 and 2016; and M60 in 2017. The end for Eddie's superb running is definitely not in sight! In addition, his wife Miriam picked up a bronze medal in the W50 1500m in Korea this year at the World Masters Indoors; and both his son and his daughter Moira run well. In fact Moira has run several times for the Czech team in the European XC championships; and recently finished 7th in the 5000m at the European Under 23 championships in Poland.)
DID YOU DO THE RUN?
A simple question 'Did you do your run?' concluded the brief message I recently received from my sister. I thought that I could elaborate on a brief yes/no answer. The run in question was 10,000m on a Glasgow track. There were 4 races in all with about 20 competitors in each race. The winner of the fastest would be crowned the Scottish 10,000m champion for the year. There were also lesser prizes at stake – winners of each 5 year age category from 35 years upwards. Looking at the list of entries I noticed I was in the oldest participating category – the 65 to 69 year olds.
For some time now my 'achilles heel' has been my Achilles heel, preventing me from freely running pain-free. I'd replaced my habit of regular runs with injury-free swimming and cycling, still fitting in parkruns where possible especially if the surface was soft and thus kinder to the heel. Quite often I finished the parkrun with a limp but a day or so later was moving with ease again. Not so with my latest parkrun. Several days later and the heel, unhealed, hadn't come to heel. I took comfort and hope from a walk with my brother along Portrush beach, two days before the Glasgow race. I don't think I could have run along the beach but a pain-free walk was more than a step in the right direction. Maybe Friday evening's run was on.
I arrived at the track with plenty of warm-up time, felt a dull pain from the heel, but told myself I'd give it a go after promising that I'd drop out when it seemed sensible to do so. Surely it was the brave thing to start and then sensible drop out before the pain became excruciating. Maturity was knowing when. Surely I was mature by now?
Wearing number 90, I was in the first race, the slowest. The next race after mine was scheduled to start 45 minutes later. We were told races would start on time. No delays. Wasn't sure that, even if pain-free, I could complete my task in the allotted three quarters of an hour. During my warm-up I did a little maths and set myself the target of running at 7 minutes per mile pace. That would see me finish in 43' 45''. It made it easy to check on lap times. One minutes 45 seconds per lap.
Gun goes and while I'm not quickly into my stride I am quickly established in last position. The first lap 1' 38''. Seven seconds to spare. Feeling a slight Achilles niggle but nothing to warrant pulling out. By the time I'd reached the mile I was still a few seconds within my target. It's going okay but maybe I should do the brave thing. Drop out and save the tendon for another day.
Breathing and the sound of feet behind me. The leaders were on the point of lapping me. Moved over to the second lane. Got thanked for doing so by the pacemaker. I was aware of a dull ache in the first 5 laps. I'm not sure what happened between laps 6 and 10 apart from more overtaking or rather being overtaken.
As lap 10 concluded I recall a feeling of freedom from pain. Hmm… there's still 15 laps to go. Can't pull out now. No valid excuse. Just a case of motivating myself to keep going as runners lap me more than once.
One of the lap counter judges made sure I knew what I had to do as I completed each lap. 'Ten to go number 90, nine to go number 90, seven to go number 90'. What happened to 'eight to go?' Ah, a mistake as I heard the 'seven to go' on completing another lap.
Something similar happened when it came to three laps left. I clearly heard, 'two to go, number 90'. Now, well under my 7 minutes a mile pace and with plenty of time to think I imagined kindness being extended to an old man. I was being allowed to do one lap less than others. After all, most of them were on their warm-down.
My finishing time was somewhat irrelevant but perhaps they'd add on about two minutes to my 9600m. Ah, no. After completing another lap I was told 'two to go' again. No need to add 'number 90'. There was only one person left in the race.
Coming into the home straight for the last time I got clapped on by the runners on the track, stripped off and waiting to begin race 2. The second race wasn't going to start exactly on time. The first aid crew were full of praise as well as anxious questioning as to my well being. I was delighted. No pain in the achilles. A Scottish Masters Athletics gold medal. Last and first rolled into one. The only over 65 year old. By Ray Aiken
Ray Aiken
(Ed. While still in the M60 category, Ray Aiken (Keith AC) won Scottish Masters titles at 800m (indoors and outdoors) and 1500m. He was also Northern Irish Masters champion at 400m and 800m. Here is a letter about his running background. If you don't know how good Eamonn Coghlan and John Treacy were, check wikipedia!)
My running history goes back a long way. My earliest memories involve running behind the trailer as the tractor pulled a load of peat / turf harvested from our 10 acre bog to the farm homestead in North West Ireland. Sometimes I held onto the trailer as the tractor started at a very slow speed and then had to keep moving the feet faster as things quickened or else…. (although, the old grey Ferguson could never be called a fast machine).
My first memory of a competitive run was at the end of either my first or second year at secondary school. I won a trial mile race to represent the school in a triangular schools athletic contest. I think my time was 5 minutes 30 something seconds. In the triangular match I finished second taking about 10 seconds off my previous time. Aged 18 I left home to attend a teaching training college in Buckinghamshire. One of my best runs there was when representing the college at a race promoted by Borough Road PE College around Hyde Park… 3 miles on a very flat surface …in just under 15 minutes. As I write this I'm beginning to question myself….could I have run that fast? While I have a photo of me looking lean and hungry in race action at Hyde Park I haven't got a written record of the time but that's what my memory tells me.
Then I joined London Irish AC. Cross-country was never my forte. I was well down the field in Metropolitan league races. I did much better on the track, regularly running both 800m and 1500m. My best times were 1min 54.5secs and 3mins 57secs respectively.
I came to Scotland to set up home in Kirriemuir after marriage in 1981. Track running stopped. I began stepping up my mileage which enabled to do my one and only marathon. Went off too fast and suffered for this in the end. It took me as long to do the last 6 miles as the first 10. Total time 2 hours 55mins.
I moved to Buckie in 1986. I got involved with coaching a school's athletic group. I took pupils to various track meetings held at places like Inverness and Grangemouth. I made use of the grass track at the school as well as Cullen beach to get back into middle distance training.
As I approached 40 I got excited about doing something useful on the track as a veteran. 1992 was a very successful year. I've got a newspaper clipping from that year with the title ''The Old Ones are the Best''. In the article I get a mention as ''the dual Scottish veteran champion who tops the 400m (53.4 secs), 800m (2:01.6) and 1500m (4:08) lists''.
Alas, I presumed that more training would further improve my times. Not so. I became quite ill. Eventually I was diagnosed with ME / Chronic Fatigue. There were days when walking 100m was a real feat. All running stopped.
After some 10 to 15 years I gradually got back to walking reasonable distances and to running again. As I approached 60 there were some similarities to 20 years earlier. I was keen to do something useful on the track now that I could run again and the younger speed merchants weren't in the same races.
Hopefully I've learnt from past mistakes when overdoing training. There is now a greater appreciation of simply being able to run, even at a much reduced pace compared to years of yore.
I'm not sure how to introduce the following as it could be presumed to be too big-headed. It concerns a clipping from the Irish Sunday Independent on July 22, 1979. The previous day I'd taken part in the 800m at the Irish track and field championships in Dublin. On the boat as I was making my way back to England I saw the newspaper with the headline "NOW RAY HAS THE LIMELIGHT''. There is a photo in which I am leading the pack. Eamonn Coghlan is tucked in behind me. The caption reads: "Eamonn Coghlan is well placed during the first heat of the 800m at Belfield yesterday''. The following explanation cuts me down to size. Eamonn Coghlan won the heat and the final. I didn't qualify for the final! The reference to Ray having the limelight was to ''Ray Treacy, who has lived in the shadow of his famous brother John, over the last few years, came into his own at blustery Belfield yesterday when he won the 10,000m title in the Yoplait BLE national athletics championships'."
ATALANTA: WOMAN RUNNER OF MYTH
The founding myth for women's running
With women runners now the majority in North America, and every race in the world, electric with their zest and commitment, can we find a female equivalent to Pheidippides? Is there a founding myth for women's running?
No female story of long-distance running has come down from antiquity, and no winner's name has survived from the ancient Games of Hera. So the best candidate is Atalanta, a heroine, runner, and huntress of classical Greek myth. She was adopted as an icon by the Avon women's running series, she gave her name to an Italian soccer team (Bergamo), and she has inspired centuries of artists and poets. "Bind on thy sandals, O thou most fleet. Over the splendour and speed of thy feet" enthused the poet Swinburne.
Unsurpassed in speed, gloriously beautiful, and dangerously skilled with the bow and arrow, Atalanta stars in two of the classical world's best stories. In one, she helps Jason hunt and kill a giant boar. In the other, she races and beats every man who seeks her hand in marriage – until the guy she truly fancies lines up against her. She has vowed to marry only the man who can beat her in a footrace. That's a tough assignment, she's so fast. The challengers she outruns – and there are many of them, since she's so attractive – get put to death. Melanion is reluctant to risk that fate. But when he sees her run, so svelte and smooth-striding, her hair streaming out behind her bare white back, and wearing little but some alluringly fluttering ribbons, he decides to chance it. (He is named Hippomenes in some versions – it's an Orlando Bloom role, anyway.)
Melanion astutely visits Aphrodite the goddess of love to ask for pre-race advice. The goddess has a plan. She gives him three golden apples, telling him to drop them one by one as he runs. The poets agree that Atalanta feels sudden love for this latest challenger. For the first time, she cannot bring herself to defeat him in the race. It's her love, more than greed for the golden apples, that holds her back. Aphrodite got it right – she is the goddess of love, not gold. The distance of the race is never specified, but seems to be about a mile. Short enough anyway to keep the crowd whooping.
Here's a new narrative of the famous race. I've looked at all the best versions of the story, including Ovid (the main source), Laurence Eusden, William Morris, many modern translators, and modern poets like Ted Hughes and Allen Mandelbaum. But it's a running story, so I present it here in a way that runners will understand, and that would be worthy of our best magazines – like a race report for the late and deeply lamented 'Running Times'.
"The two runners crouched side by side, waiting for the start. The trumpet blared, and away they raced, so fast that it seemed their flying feet hardly touched the sandy ground. The crowd got behind Mel, up on their feet, yelling: "Now! Go! Give it all you've got! Good job, Mel, you can do it!"
Running with silky smoothness, Atalanta privately felt pleased at all the support for her challenger. She could not bear to beat him. At last, this was the man she wanted. Every time she drew level, she gazed across with longing affection into his face, and eased back the pace again. But it was still fast, and the pressure was beginning to tell.
Mel was hitting oxygen debt, his breath heaving, his throat burning, his mouth parched. And the finish was still way off. He pulled out the first golden apple, and rolled it glittering across the course. Atalanta, astonished at its beauty, checked, and scooped it up.
The crowd went crazy as Mel hit the lead, but she powered right back into her full flowing stride, and edged reluctantly ahead again.
The second apple came bouncing by. Again, she pulled up, grabbed it, and had to close the gap and regain the lead. Now they were coming off the last bend with the finish in sight. They were side by side.
Mel gasped a quick prayer to Aphrodite, and threw the last golden apple. It went spinning across Atalanta's path and off to the side of the course. For a stride she hesitated. An impulse of love sent her after it once more. She slowed, and stooped to gather it. Now she was clutching three apples. She kept slowly jogging. The race was over. Mel jubilantly passed the finish, with the crowd on their feet, cheering and happy.
Weddings are better than funerals. Atalanta crossed the line, trotted over to Mel, slipped the apples into the crook of one arm, and lovingly took him by the hand. The winner led away his prize. That last line is straight from the Latin of Ovid – "duxit sua praemia victor".
Sometimes in ancient Greece, slave girls were race prizes, according to Homer's "Iliad". But this is an equal match. Clearly, Atalanta and Melanion are both happy with the outcome.
Commentators like Robert Graves have suggested that the myth may originally derive from ceremonial tests of manhood, or be an allegory for sexual selection.
Atalanta in part is a variant on Artemis, or Diana in Roman times, the virgin goddess of hunting, and quite often the golden apples story gets attributed to Diana.
Hence also the other Atalanta story, her role as supreme archer in hunting the giant Calydonian boar.
But the story of her race that has come down to us is also founded in recognisable human reality. Even today, it's a story true to our inclusive sport and running community, where the bond between runners is stronger than any competitive rivalry. It appeals to the many modern couples who meet through running, and whose relationships include supporting each other's fulfilment as runners (like mine).
That mid-race moment when Atalanta looks lovingly across at Melanion is the key. The forgotten old poet Laurence Eusden caught it perfectly in 1717, with his words "sighed, and dwelt, and languished": "When a long distance oft she could have gained, She checked her swiftness, and her feet restrained: She sighed, and dwelt, and languished on his face, Then with unwilling speed pursued the race."
You don't have to believe in golden apples or crafty goddesses to enjoy the drama of the race, or the glow of the romance. Atalanta the supreme woman runner of myth is not really distracted by shiny gold apples. She decides the result. Hers is the first runners' love story.
By Roger Robinson
(Ed. Many thanks to Roger for allowing us to publish this article, which appeared in an earlier form in the column "Footsteps" by Roger Robinson, in Running Times online, August 2014. The Atalanta story as a subject in literature is dealt with fully in his highly-recommended book "Running in Literature".)
DISTANCE RUNNERS AND PUBCRAWLS
Back in the early 1990s I wrote a 'faction' short story called "Refreshment Stations" about a runners' pubcrawl in Aberdeen. Now, in my ceaseless search to find any old stuff to pad out the SVHC Newsletter, I have decided to re-use some of the 'research' material. However I had to wonder if Scottish distance runners still like pubs and beer nowadays. Maybe you can answer that question.
Cross-country and road runners in the 1950s hardly seem to have drunk any alcohol – after club sessions or races (which were then always on Saturdays) they headed off for scones or pies and cups of tea. The fashionable ones may have chanced dangerous coffee!
These respectable standards were destroyed by immoral 'Baby Boomers' like me in the notorious 1960s, and the decline steepened in the 70s and 80s.
During the 21st Century, according to Joggers World (sorry, 'Runners World') it all seems much more scientific and health-obsessed, with core fitness gym workouts, radical diets, super-vitamins and stern self-discipline essential if one is to have any chance of breaking 3 hours for the marathon aged 25! My generation used to jeer supportively at anyone (aged 21-35) who couldn't manage that – and all we did in preparation was run a lot, stretch far too little and drink a lot of beer after races.
Here are a few of the foolish mistakes we enjoyed making. Do not do this at home.
At secondary school, whenever a rival sports team came to visit us the night before a fixture, we used to send our second team out to drink with their first team…… At university, the real trend-setters, between 1965 and 1970 or so, must have been the Edinburgh University Hare & Hounds Club, which not only dominated Scottish and British University distance running, but also won Scottish National cross country team titles and broke the record for the Edinburgh to Glasgow Relay. Many Scottish and British International athletes featured in their ranks. The standards they set have hardly been bettered to this day – in boozing as well as running!
Older SVHC members may remember former EU men like 'Hugo' Stevenson, Dave Logue, Jim Dingwall and Robin 'YP' Thomas (the founder of Hunters Bog Trotters). In Aberdeen University we decided that, if we could learn to drink even half as much as EU runners, we might finish slightly less far behind them in races.
Irish Tours were a real joy. Usually in the Christmas holidays, Aberdeen University Hare & Hounds used to travel (by train and later by minibus) to Belfast and Dublin, racing cross-country in both cities, against various Irish universities and sometimes Strathclyde University, whose fine runners could certainly out-drink us too.
'Scottish' Guinness tended to be of a lesser quality then, and we used to sample a glass or two: in Aberdeen before we set off; in Glasgow en route to Stranraer; on the ferry; and in Belfast. The point of this experimentation being that the quality of the stout seemed to improve steadily, the nearer we got to Dublin, which of course was the Mecca at the end of the pilgrimage, where the food of the gods was dispensed on O'Connell Street in pint-sized measures.
Although the better runners tended to be the less successful drinkers, unexpected talent was discovered one night when a speed test revealed that Charlie Macaulay (later a 2.23 marathon man), who until then had been considered only a robust teetotal lad from a rural background, had sunk his first pint of Guinness in less than four seconds! When we inquired how he had accomplished this feat, he claimed modestly than it had been quite easy – he had drunk it in his normal way back on the farm, pretending it was fresh milk!
Another Irish tour memory was when Dublin's Trinity College boys were perfect hosts: they not only lost the race through Phoenix Park (their best runner dropping further and further behind as he politely and breathlessly shouted route instructions to our disappearing lead pack); they also provided accommodation adjacent to their historic quadrangle and three free barrels of best Dublin Guinness. I have never been able to drink vast quantities of beer (normally getting hiccups after five pints) but that night myself and Robin Orr, another comparative non-drinker, staged a contest which we considered a tie at a 'life-time best' of ten pints all, not inebriated (in our unreliable opinions) just full up! You will note that Aberdonians tend to indulge freely when the booze is gratis.
Two final memories from those AU days. The only Welsh adventure was a crazy drive on snowbound roads from Aberdeen to Mountain Ash so that we could take part in the famous 'Nos Galan' four mile road race (1970-71 edition), all the way from Hogmanay to New Year's Day. After the unexpected delight of receiving third team awards (me, Don Ritchie – the future ultra-marathon great – and Charlie Macaulay) we slept on the floor that night in a dingy local hall with a roaring fire. I use the word 'slept' loosely – since about eight Scots and two Cornishmen drank and sang the night away, much to the fury of the fifty English runners who didn't celebrate the occasion and were trying and failing to get some rest! At least they got half an hour in at 6 a.m. when some of us tried jogging in a blizzard.
The other anecdote concerns our attempt to make (appropriately enough) the Guinness Book of Records, by running a relay for three days and three nights round the university field at King's College, Old Aberdeen. An effort of over 600 miles raised quite a lot of sponsor cash for students' charities and the committee gratefully gave us three barrels of beer. Twenty of us tried to drink it all (about 240 pints). I don't think we managed but my only memory of the night was Donald Macintosh succeeding in downing several pints while doing a handstand against a wall!
Between 1971 and 1973 I ran for Victoria Park AC in Glasgow during my first two years teaching. Real Ale was making a comeback and Hugh Stevenson (a Fine Arts graduate, no less) led us round mini-pubcrawls, often in 'heritage' establishments with traditional interiors, such as The Arlington, The Halt and the Three-In-One; and also The Bon Accord. After the Edinburgh to Glasgow Road Relay, his 'Soup-Teas' in Crow Road were legendary, due mainly to endless supplies of excellent home-brew.
From 1974 to 1981, I ran for Edinburgh Southern Harriers (Scotland's top distance club at that time), while teaching in the Capital, which boasted so many remarkable public houses. In the novel 'Whisky Galore', Compton McKenzie invented a lengthy list of marvellous-sounding names for brands of malt. They could not echo more evocatively for me than the titles of several Edinburgh Pubs. Think of the 'magnificent Victorian tiled interior' of Bennets Bar by the King's Theatre; and the equally striking Abbotsford and Café Royal in Rose Street.
Perhaps the least forgettable is the ironically-named 'Athletic Arms' near Gorgie Road, deep in Hearts territory. This is the famous 'Gravediggers' – home in those days to 'the best pint of heavy in the land'. The Good Beer Guide at the time asserted that '13 fonts dispense real ale at lightning speed in a raw Scots atmosphere' and that the pub 'is dedicated to the art of perpendicular drinking'.
What this meant was that, as you squeezed your way in the door, an ancient but sharp-eyed wee man wearing a wrap-around apron caught your eye and asked a silent question, to which you replied "X pints of 80!" – McEwans 80 shilling ale, of course – emphasising the precise number by a careful show of fingers. The foaming light brown liquid was settling in that indescribably magical manner as you slipped apologetically past bulky maroon-scarved customers en route to the bar. The final top-up was completed, you passed over the cash, and the deep brown beer with the creamy head was your own to sip or pour back as you wished. At its finest, a Diggers pint had no peer for flavour – the perfect blend of sweet and bitter, with a delicate rich texture and a deceptive strength. It positively glided down and you simply HAD to order another.
Surely the Prince of Pub-crawls is the Water of Leith, an adventure which may well be repeated to this day, at haphazard intervals. Having set the date and notified the researchers, who may come (like guest beers) from afar, the procedure is as follows. Wisely free from the taint of drink, at 8 a.m. you board the bus from Edinburgh to Balerno, eight miles away. Having encountered your accomplices, you start by sneaking into the grounds of a lunatic asylum or some similarly appropriate establishment and then changing into running gear and hiding your clothes under a bush.
A survivor (depending on the degree of brain damage suffered) of previous Water of Leith sagas may be able to assist with the navigation as you stravaig up the waterside (or over nearby minor roads) to the source of your stream in the Harperrig reservoir. After a cursory glance at the scenery and, depending on the time available, you meander back along the burn or stride hurriedly via the tarmac. The round trip is about half marathon distance.
Inevitably you arrive back at 10.45 a.m. and rush to change in the bushes or the Balerno public toilet, before heading rapidly for the old-fashioned centre of the village and the door of the Grey Horse Inn.
Here quite often the party splits into sub-groups whose overall task is to ensure that every pub within a hundred yards (on both sides) of the Water of Leith, all the way from Balerno to Leith Docks is visited, and a pint per pub per person polished off (the distance being 16 miles). If there are two groups to share the work, a true drinker may have to down, between 11 a.m. and chucking-out time, about 16 or 17 pints!
I have to admit that, knowing my frailty, I never even attempted the whole expedition, but did either the earlier or the later sessions (before all-day opening, there used to be a two and a half hour halt between 2.30 p.m. and 5 p.m.) Sometimes (what a failure!) I even resorted to half pints.
But it was quite an experience just to associate with the 'macho men' who met the challenge and lasted the trip, as they wound their way through Currie to Colinton, halting only in Colinton Dell to engage in a sporting (and necessary) competition involving liquid and horizontal distance (all-time champion – Jim Dingwall). No, not jumping the river.
Even more fascinating for a student of human psychology (and physiology) was to observe from a more sober viewpoint the evening procession following paths and byways through to Warrington Cemetery and thence to Leith Docks themselves, to journey's end at 'The Black Swan' (now 'Roseleaf' Café/Bar).
Real drinkers (e.g. Dave Logue, Willie Sheridan, Ron Maughan, Robin Thomas) merely became more and more like their normal selves – but others, formerly Dr Jekylls, might turn into Mr Hydes (now there's a novel explanation for that famous change of personality in Edinburgh!) For example the mild-mannered Martin Craven (a GB marathon representative) had to be restrained then ejected when refused a final pint near closing time in a pub somewhere in Leith!
Overall, the Water of Leith pubcrawl is an experience never to be forgotten (unless your memory has gone for some inexplicable reason).
The final reminiscence concerning distance runners and marathon beer-drinking was the 'Double Hundred'. This could be attempted in Arran or more likely in the Isle of Man, which used to have two breweries and inexpensive easy-drinking real ale which was between 3 and 4 per cent ABV – i.e. not too strong. An additional attraction was the annual Manx Easter Festival of Running (and fast pint drinking).
A bunch of distance runners (usually current or ex-university) would have a week's holiday, during which each contestant would try to run 100 miles in training and racing and drink 100 pints of beer. A fair number of misguided 'heroes' managed this feat.
However only one person, ever, succeeded in the 'Triple Hundred' challenge – 100 miles and a 100 pints in 100 hours. Work it out – 24 miles and pints per day with four hours left to run four miles and drink four pints. Every pint was observed and noted by scrupulous 'officials'.
Robin 'YP' Thomas, for it was he of course, eventually, with some difficulty, managed to force his 100th pint past his stress-fractured Adam's Apple with 15 minutes remaining of the 100 hours.
You may well ask, "How did he celebrate?" Of course he ordered another pint – and promptly puked it up with remarkable velocity! If that had happened on his 100th beer, the stupendous (or stupefying) record would not have been set.
No less an athlete (and famed beer drinker) than Dave Bedford (former World XC champion and 10,000m record holder) was very impressed when he heard about Robin's feat of mad 'athleticism'.
Improvement in distance running is partly about training hard to improve one's resistance to physical stress; while at the same time reducing the symptoms of psychological stress. The latter can also be done by beer drinking (within sensible limits). Since that form of alcoholic drink is mainly water, one partial justification is rehydration after exercise!
But although good distance runners must be able to cope with solitary effort, the sport can also involve the pleasure of teamwork and post-event celebration. Lots of running can help one to eat or drink quite freely without negative effects like excess fat or serious hangovers.
Robert Burns summed the whole thing up. Sadly he died while still at the pre-veteran stage, but by all accounts before then he had a lot of fun running around the fields and woods of Ayrshire (in mixed company). And undoubtedly ('Tam o'Shanter') knew the joys of drink after 'exercise'.
Burns proclaimed "Freedom and Whisky gang thegither! Tak' aff your dram!" and I would assert that Freedom, Beer and Running go together too. So – Down Your Pint! By Colin Youngson
ZATOPEK
(Ed. This article by Doug Gillon, the top Scottish Athletics journalist, first appeared in The Herald newspaper. In an email, Doug kindly added relevant information about a meeting with Ron Clarke, the great Australian runner who was a hero of mine. Zatopek was Clarke's hero.)
"SPORTING anniversaries have always fascinated me. Last weekend, 63 years to the day after Roger Bannister's epic first sub-four minutes for the mile, Olympic champion Eliud Kipchoge covered the marathon distance in 2:00.25. Though the fastest ever, the Kenyan's time won't be ratified as a world record because relays of three pacemakers sheltered him, some 20 in all, dropping in and out. Nevertheless, this prodigious feat puts the magical two-hour marathon less than one second per mile away.
And so I got to thinking about the spring of 1954. I was an impressionable seven-year-old and remember my father's recurring amazement at athletics achievements: Bannister's mile eclipsed within weeks by Landy; Emil Zatopek breaking the world 5000 metres record and then the six miles and 10,000m marks – Sunday in Paris, then Tuesday in Brussels – all inside 51 hours. On his return home Zatopek insisted his wife, Dana, keep a promise by kow-towing to him in public! "I have saved the pictures, just in case anyone ever tells me that I never achieved anything through running." That's what he said in their joint autobiography.
That weekend in 1954, he became the first man in more than 30 years to hold both 5k and 10k records simultaneously. There was no pacemaker in the 5000, and in the 10k he had dropped them by 3000m, becoming the first man under 29 minutes.
In setting his five world 10k records he carved off 41 seconds and won 38 successive races at the distance. He set 18 world bests and won three European titles.
Monday marks another anniversary, that of Zatopek's first race. I learned about it from the best of three 2016 biographies of the iconic Czech: Quicksilver*, by my good pal and fellow athletics correspondent, Pat Butcher.
Though his daily 100 x 400 metres training (in three sessions) became the stuff of legend, Zatopek was not always obsessively enthusiastic, fighting to avoid his debut race as an adult. It was May 15, 1941, and he was an apprentice at the Bata shoe factory in Zlín. There was a race for the workforce, but Emil knew there were fitter apprentices in his dormitory, so he had no interest. He tried to con a doctor, feigning a knee injury, and went to extremes to avoid competing, but to his great annoyance was rail-roaded to the start. Surprised, he finished second, winning a fountain pen and the approval of his self-serving supervisor who took the credit.
Soon after he ran a 1500m, again finishing second. His time of 4min 21sec was decent for a poorly-nourished teenager in Nazi-occupied Czechoslovakia, and he was invited to train with established regional athletes. He was hooked.
As a young man in the army, Zatopek would run 10- 12k in heavy snow, wearing boots, in severe sub zero temperatures. "I wore three pairs of jogging bottoms so that I wouldn't feel cold," he said, describing his regime. "After training there was only cold water available; so cold, even, that icicles hung from the taps in the washroom. I would always move the hose into place and tie it so that a huge blast of water shot out into the middle of the washroom. When I jumped into the blast, steam would rise from my skin . . . I was so hot that nothing could cool me down." Training under bad conditions meant racing would be a relief.
His greatest claim to fame is winning 5000, 10,000 (as defending champion), and marathon gold at the 1952 Olympics. He had never run a marathon before, and introduced himself to world record-holder Jim Peters on the start line. Before half distance he asked Peters if the pace was fast enough. Peters said "no", and crossed to the other side of the road to discourage further dialogue. Zatopek ran off alone, and was soon chatting to his only companion – a news cameraman recording the race. In one of the great Olympic romantic tales, Dana had won Olympic javelin gold within seconds of his 5000m victory.
Prior to the Helsinki Olympics, Zatopek had risked his life to persuade the authorities to select Stanislav Jungwirth whose father was an anti-Communist activist. Challenging the regime was potentially lethal, as Butcher discovered after his death. "People don't realise how dangerous it was," said his wife. "They were executing people." Emil had been assured Jungwirth would be on the plane to Helsinki. When he was not, Zatopek disembarked, leaving his wife on board, and went to Jungwirth's home. The pair trained together for the next few days, until the regime capitulated. "I was in tears," said Dana. "Emil was taking a big chance."
Zatopek and his wife signed the so-called 2000 Word Manifesto. He was stripped of his army rank (Colonel) and expelled from the Communist party. He worked as a bin man, but on the streets of Prague the public came out to applaud him, and emptied their rubbish into his truck. So he was sent into exile, labouring in a uranium mine and living in a caravan. Cruelly he was obliged to recant support for the liberal manifesto.
Butcher casts fresh light on a legend and debunks some apocryphal tales surrounding one of the sport's most revered figures. He also recalls how, in one of athletics' most selfless acts, Zatopek presented one of his Olympic gold medals to Ron Clarke, whose world record-shredding career ended without a championship title. **" *Quicksilver, Pat Butcher (£14.99). Visit www.globerunner.org **
Clarke told me the story from his perspective, in 1982. The Czech invited Clarke to run in Prague, and Clarke loved to recount how Zatopek would park illegally and police would not only turn a blind eye, but would also park his car.
"When I was leaving the country in July 1966, Zatu came on to the plane with me and had a little parcel wrapped in brown paper tied with string. I had the front seat and he handed it to me as we said goodbye. "I didn't know whether I was smuggling contraband or whatever. I thought I'd better wait until I was through customs in England before I opened it, and if something was discovered I could say I knew nothing about it: that it was just something a friend gave to me. But I lost my nerve." He went into the toilet, opened the packet, and sat down on the seat and wept when he saw an Olympic gold medal. [I admit I wept when he told me the story]
Clarke received the Order of Australia and MBE, but treasures this medal above all. "I was just incredibly honoured, and it was a story I thought should be shared," he told me. So the medal is in the Gold Coast Sports Hall of Fame. "I think that's the best place for it," he said.
With it is Zatopek's note which acompanied the package: "Not out of friendship, but because you deserve it." Which medal was it? "Well I know it's not the London one," he said. "It was one of the three from Helsinki, but you can't tell which. I like to think it's the one from the 10k."
By Doug Gillon
SCOTTISH MASTERS TRACK AND FIELD CHAMPIONSHIPS
At Grangemouth Stadium on 1st July 2017 the main Masters events took place. (The 5000m races were at Scotstoun on Friday 28th July, as part of a GAA meet. Why not at Grangemouth?)
There was no report on the Scottish Athletics website, so a trawl through the results produced the following. Apologies to anyone who feels omitted unfairly – feel free to email in personal reports about this championship or future ones.
Fiona Davidson (Aberdeen AAC) starred as usual by winning W40 titles for 100m, Long Jump and Triple Jump. Fiona Steele (Motherwell AC) ran well to secure the W50 100m and 200m titles, while Angela Kelly (Giffnock North AAC) was the W55 victor in both these races.
The 800m was won by Julie Hendry (W35 – Metro Aberdeen RC) in a time of 2.34.48. Second in 2.35.68 was the incomparable Fiona Matheson (W55 – Falkirk Victoria H). Leslie Chisholm (W40 – Garscube H) was first in the 1500m in 5.01.35, with Fiona Matheson runner-up in 5.09.63.
Jayne Kirkpatrick (Nithsdale AC) won the W45 Javelin, Discus and Shot Put titles. Mary Barrett (Loughrea AC) was W55 champion for Javelin and Shot and also won the High Jump.
The 100m/200m double was achieved by Alastair Beaton (M35 – Inverness H), Alan Robertson (M40 – Motherwell AC) and Stan Walker (M45 – Aberdeen AAC). Stan also won the 400m. Bob Douglas (M60 – Livingston AC) won 100m and 400m.
In the 800m, M45 Gordon Barrie was fastest, beating his younger rivals in 2.09.88. He also won the 1500m title. Brian Scally (M50 – Shettleston H) secured age group titles in 800m and 1500m; while Barney Gough (M65 – Cambuslang H) enjoyed two victorious tussles with Ray Aiken (M65 – Keith and District AC) in the 800m and 1500m. The indefatigable Hugh McGinlay (M90 – Falkirk Victoria H) was first in the 400m and 800m.
Bill Gentleman (M75 – Edinburgh AC) won the Hammer title outright, beating all his younger rivals. Robert Stevenson (M60 – Ayr Seaforth AC) was first overall in the Triple Jump – and also won the Long Jump in his category. Bob Masson (M70 – Aberdeen AAC) won Discus and Pole Vault titles. James Sloan (M75 – Annan and District AC) was first in Discus and Shot. Hugh Ryan (M80 – North East Vets AA) won age group titles for Javelin, Discus, Hammer and Shot.
Friday 28th July: GAA Meeting Scottish Masters 5000m gold medallists
Below are the age-group winners. Obviously Nicola Gauld and Fiona Matheson were outstanding; as well as Robert Gilroy, Kerry-Liam Wilson, Alexander Chisholm and Bobby Young.
Women: V35 Nicola Gauld (Aberdeen) 17.16.32; V40 Yana Thandraya (Portobello) 20.10.84; V50 Sue Ridley (Edinburgh AC) 20.14.95; V55 Fiona Matheson (Falkirk Vics) 18.05.26
Men: V35 Josef Farkas (Stirling University) 15.24.15; V40 Robert Gilroy (Cambuslang) 15.32.95; V45 Kerry-Liam Wilson (Cambuslang) 15.38.64; V50 Scott McDonald (Moorfoot) 17.10; V55 John Hynd (Carnegie) 19.18.64; V60 Alexander Chisholm (Garscube) 18.53.98; V65 Ray Aiken (Keith) 21.48.78; V70 Bobby Young (Clydesdale Harriers) 21.33.59
TWO MORE RECORDS FOR FIONA MATHESON
On the 28th of June at Clydebank, Fiona set a new W55 World Record for 5k Road, in a time of 17.41. Previously, on the 7th of June at Corstorphine, she created a new W55 British Record for 5 Miles Road, in 30.14.
EUROPEAN MASTERS ATHLETICS HIGHLIGHTS
Scottish medal-winners in Aarhus, Denmark included the following. Fiona Davidson won the W40 Triple Jump and was second in the Long Jump. Claire Thompson won the W40 2000m Steeplechase, and was third in both the 5000m and the 4 km Cross Country. Fiona Steele (W50) played her part in the gold medal winning GB 4x100m Relay Team; as did Alan Robertson in the M40 event. Alastair Dunlop finished second in the M60 800. Kerry-Liam Wilson collected three M45 silver medals: second individual 5000m and the Half Marathon, plus GB team silver in the latter race. Congratulations to everyone! (There should be a profile of Claire in the Christmas edition.)
REGULAR FEATURE: MY FAVOURITE RACE
Alan Lawson kindly emailed the editor with an excellent idea, encouraging female or male readers to contribute to this SVHC Newsletter – by writing about your favourite race, past or current. A short piece would be fine, although there is plenty of space for longer articles. Where, when, how long, why you liked it, how often did you run it, results, memories? Below is Alan's contribution. (He also suggests that HBT's Black Rock Race in Kinghorn should be described and no doubt we could all name several other noteworthy events.)
MY FAVOURITE RACE THE LAIRIG GHRU HILL RACE
I am sometimes asked to recommend races to overseas runners who are going to visit our shores. Assuming they aren't 100m specialists but REAL runners, The Lairig Ghru race (which is nowadays organised by the Deeside Runners Club) would be my top pick. It really IS a classic, being a point-to-point – from Braemar to Aviemore – which follows a famous old route / drove road, and is well known to hill-walkers and mountaineers.
Although it's described as a hill race, it's not one of those events where you have to ascend and descend vertically like some (old) mountain goat; rather it's a long-distance trail race, 28miles in total, with some tarmac on the first and last stages, and 640m ascent.
The first 4 miles being on tarmac eases you gently into the race. But for the rest you're running through some of the highest mountains in the country, and the scenery is spectacular.
Admiring the scenery has to be balanced against watching your footing, though, as the path is narrow and awkward in many places, including the famous boulder-field at the highest point, the Pools of Dee… but you're probably needing to take it a bit slower by then, being just past half way.
The weather (June) is very important, as it can get seriously hot in the pass. (It can also get seriously wet of course.) Two of my three attempts were in hot conditions: the first time I took on too much water from the many burns and got water-logged; the second time I drank too little, got dehydrated and tired, and took a fall which smashed my dark glasses (which I really need). Times were very poor.
My third – and final – attempt (2006) started ominously, as the sun was melting the pavements when we drove out from Dundee, but as we passed the Glenshee ski centre the weather changed, bringing cloudy conditions and a temperature of only 14C. This time things went well, despite a spectacular flying fall into the heather on the way down, where a large rock made a nasty and long-lasting impression on my chest.
Although the temperature was rising noticeably by this stage, I carried on okay to finish in 3 hours 54, which I was pretty chuffed with (aged 59). I then had to persuade the race staff to sell me a race T-shirt on tick, as I was locked out of our team car and had no money and no dry clothes! But it's a very nice shirt and I still wear it.
About 15 years ago the field-size had dropped to only 60 or 70 runners, which was rather low for such a great race, and which increased the chances of having to run on your own for much of the route… a tough gig.
These days things are much healthier, with 220 in the 2017 race, 25% of them women. (Special note for Vets: 60% of the field this year were over 40.)
In summary, this is an event that every long-distance runner in Scotland should do at least once. Even if you don't get the time that you were hoping for, just to reach the other end seems such an achievement that you feel entitled to bore your friends with the tale for ages afterwards!
By Alan Lawson
(Mel Edwards from Aberdeen wrote "In 1975, a classic race was born – Eddie Campbell's Lairig Ghru, 28 miles of the roughest, toughest terrain around. Eddie (a great character who was a legendary Ben Nevis racer) had been telling us about his plan at other hill races.
It turned out to be a beautiful day and thirteen bold heroes lined up outside Braemar police station, just after 11 a.m. on June 19th. Eddie's race briefing went like this, "Thanks for turning up, lads. Now this is the start, and we're going to run through the Lairig to Coylumbridge, turn left and finish at Aviemore Police Station. It's about 28 miles. Ready? GO!"
We all thought, "Hey, wait a minute, what about marshals, drinks, race numbers…" but off we set. Andy Pratt won in 3.12.40 with me a minute behind, and Andy's time remained a record for almost 20 years."
The editor adds: In 1986, somewhat miraculously, I actually finished first in this adventure race, despite a) going off course after Derry Lodge and b) hitting the 'wall' before Coylumbridge, due to the temperature in the Lairig reaching 80 degrees Fahrenheit. The Police Station in Aviemore was at the far end of town, after a long gradual rise. I plodded painfully slowly up the right hand pavement until opposite the 'finishing line' and was so knackered that some kind person had to escort me across the busy road and let me slump over a fence in the shade! I stayed there for some time but, after a couple of pints, recovered….Must have been about half an hour slower than the record, though.")
FORTHCOMING ATTRACTION: 2018 BRITISH MASTERS CROSS COUNTRY CHAMPIONSHIPS
Doug Cowie, who is organising this prestigious event along with other Forres Harriers, wrote with the following information. The date for your diary is 17th March 2018 and the venue Grant Park, Forres, Moray. A memento will be given to each finisher. There are 'fantastic spot prizes' and free refreshments for all competitors and supporters. Entertainment will be provided by the Forres Pipe Band. A warm Highland Welcome is guaranteed!
LONDON OLYMPIC MARATHON, 1908
(Roger Robinson's choice for greatest Olympic Marathon)
They started outside Windsor Castle, with the royal family picnicking on the lawn, 26 miles 385 yards from the finish line in White City Stadium. If you ever find a marathon one mile too far, blame British royalty.
Perhaps inspired by the presence of the Princess of Wales, a big group of British runners went out fast, news that delighted the huge crowd waiting in the stadium. But it was too fast, given 1908 training and the day's hot sun. Two survived to 10 miles, but 56:53 was still suicidal.
Soon it was the big South African Charles Hefferon in front, shaking off the little Italian Dorando Pietri. Behind, the pre-race favourite, Canadian Indian Tom Longboat, attacked hard, raced through to second at 16 miles, but by 17 was walking. To quench his thirst he was given champagne by his bicycle attendant, which probably did not help.
Hefferon led by two minutes at 15 miles, by nearly four at 20 miles. The race was surely his. But those days no one understood how suddenly the tank can go dry in a marathon. Pietri caught Hefferon at 25.
Now began the drama that entered the consciousness of the 20th century. Pietri was heat-exhausted. He collapsed, unseen by the crowd, in the passage into the stadium. Then he entered, to the roar of 100,000 spectators. But he was shuffling, staggering, and confused. Officials had to turn him the right way for the final half circuit of the big (three laps to the mile) track. He floundered a few steps, then crumpled.
Officials and medical attendants ran to help. "It was impossible to leave him there, for it looked as if he might die," said the official report later. Lifted to his feet, he covered a few more yards, and fell again. The crowd demanded that he be helped.
Twice more he was rubbed and raised, twice more he stuttered a few yards and collapsed. "Surely he is done now," wrote Sir Arthur Conan Doyle, observing from the stand.
Now the next runner appeared, Johnny Hayes of the United States, who had judged the distance perfectly, and (I have calculated) was moving at close to 6-minute miles at the end. As Hayes reached the final bend, Pietri was on his feet once more, and with floppy legs and dazed face, supported at the right elbow by race manager Jack Andrew, he tottered to the tape.
Thus was created one of the iconic sports images of all time. Pietri was hastily declared the winner, there was a protest, Hayes properly replaced him, controversy raged, and the marathon footrace entered the world's imagination as the ultimate challenge to human endurance.
The Fascinating Struggle, Part 1: Near-death drama at the Great White City (London 1908) "He has gone to the extreme of human endurance…It is horrible, and yet fascinating, this struggle between a set purpose and an utterly exhausted frame." – Arthur Conan Doyle on Dorando Pietri.
It is the fantasy moment all marathon runners imagine during training runs on cold wet nights – you're running through a dark tunnel and out into the bright sunlight of the stadium – and then, that sudden swelling roar of acclamation rises from a hundred thousand people. Your blood races at the very thought of it. No other moment in sport, however thrilling, is quite like this one. There are great touchdowns, and soccer goals, and home runs, and sprint finishes to one-mile races; but we watch and analyze the unfolding plays that precede each of those – we are witness to the whole drama.
At the finish of a marathon, the stadium crowd sees only the final minute of a 3-hour narrative. And for the runner the moment of encounter is just as sudden – 26 miles of lonely effort, then this sudden welcoming rapture.
It happens in a second. The crowd has waited, often with limited information. It mutters and shuffles and worries and waits – and then, he's there, in front of you – he or she, since that iconic emergence into the sunlight by Joan Benoit in 1984.
So much significance is condensed into that first glimpse of the marathon leader – an arrival that is the beginning, not the end, of the drama, a hero completing a journey, on the edge of triumph, yet still not quite there, visibly tired, terribly vulnerable, a tiny figure on a huge arena. Few moments are so expressive of human heroism and human frailty, the aspirations and fears we all share. Even as we roar in praise, we are looking anxiously or eagerly for the next runner.
The runner's sense of completion is also full of fear. That moment has never been more dramatic than on July 24, 1908, at the Olympic Games marathon in London. Ten minutes earlier, a gun and a megaphone announcement, "The runners are in sight," had told the crowd that they were near, but gave no names.
"Finally after what seemed to be an intolerable suspense a runner staggered down the incline leading to the track," wrote the New York Times. Down the sloping ramp and out on to the crunching cinders came a small, slight man in a sodden white tee shirt and baggy kneelength red shorts, a white handkerchief on his head. It was the Italian Dorando Pietri. And the crowd roared.
Earlier bulletins had brought them the welcome news from the course that some of the twelve British runners went out fast into the lead, and that two were still well ahead at 10 miles. Later the announcement was that South African Charles Hefferon was in front by nearly four minutes at 20 miles. For a British crowd, a South African winner born in England was nearly as good as a Briton in 1908, only six years after a bruising war had given Britain that last major colony. Better the South African than the young Canadian Indian Tom Longboat, who was the pre-race favorite following his recordbreaking win at Boston in 1907 – but who was suspected of having taken money for running. Far better Hefferon, most of the crowd thought, than any of the twelve Americans, whose team had won many events and few friends in those conflict-ridden Games.
But when you're waiting for the marathon leader to appear, nothing is certain. It was not the big white South African but the little dark Italian who by some miracle entered the roaring furnace of the Great White City (as the stadium was known). And the crowd cheered him a welcome from his dreams.
The dream was already a nightmare. At the very moment he appeared and was acclaimed, his frailty was evident. He staggered and shuffled rather than ran. He "reeled as he entered and faced the roar of the applause," wrote Arthur Conan Doyle (see "The Man With the Armband"). "It was evident at once to everyone that the man was practically delirious," wrote the New York Times.
He stuttered slowly out on to the cinder track, tried to turn the wrong way, encountered officials bewilderingly shouting and gesticulating at him, stopped in confusion, "afraid that they were trying to deceive him" (New York Times). He finally turned (or was turned) the right way, began to shuffle again. "He staggered along like a man in a dream, his gait being neither a walk nor a run, but simply a flounder, with arms shaking and legs tottering" (New York Times). Wavering from side to side, he covered about twenty yards – and then, to the horror of nearly 100,000 people, his legs crumpled and he fell.
He was directly in front of a huge packed stand, and the people held their breath. Some thought he had died. We might think that the noise or heat of the stadium overcame Pietri, but it is a little known detail that he had already collapsed on the way into the arena.
The marathon medical officer, Dr Michael Bulger, reported, "I was first called to Dorando in the passage leading to the stadium. He was in a state of absolute collapse and quite pulseless. In a short time he recovered sufficiently to enter the stadium." Now he was down and out in full view of the crowd.
Officials ran to help the stricken runner. Later, Pietri lamented that the runners' official bicycling attendants were not permitted inside the stadium. "If I had had my attendant to guide me and give me such aid as I was entitled to, I could have finished without falling again," he said (through his half-brother as interpreter).
"There were wild gesticulations. Men stooped and rose again," wrote Conan Doyle. All was confusion, and I'm trying to say only what I'm sure from contemporary sources did actually happen. Even eyewitness reports vary wildly. "He had to do one round of the arena [in fact it was half a lap] where unfortunately he was helped up, and so disqualified." (Lady Metcalfe, letter to the Daily Telegraph, September 1965). "My recollection is that Dorando, on arriving at the track, was followed by a few enthusiasts…who patted him on the back. This no doubt caused his collapse." (G. Chapman, letter to the Daily Telegraph, August 1965).
Think how hard it is to get agreement on exactly what happened in the Budd/Decker incident in 1984 – and that was televised and recorded on video. The official report probably gets nearest to a clear account. "As it was impossible to leave him there, for it looked as if he might die in the very presence of the Queen and that enormous crowd, the doctors and attendants rushed to his assistance. When he was slightly resuscitated the excitement of his compatriots was so intense that the officials did not put him on an ambulance and send him out, as they no would doubt have done under less agitating circumstances." (T. A. Cook, Official Report of the Olympic Games of 1908). Pietri now struggled, or more probably was helped, to his feet, tottered along the rest of the long straight, "the little red legs going incoherently," as Doyle wrote. "Driven by a supreme will within," he reached the curve, and "there is a groan as he falls once more" (Doyle). "The crowd shouted that he should not be left there, perhaps to expire in front of them all," said Lord Desborough, the starter and referee, on a 1960s BBC radio program ("Scrapbook for 1908"). Up again – "a cheer as he staggers to his feet" (Doyle) – Pietri covered only a few yards before crumpling at the top of the bend. This time there is a photograph, showing him lying on his back, supported in the arms of the medical officer, Dr Bulger (see "The Case of the Man With the Armband"), with another man touching, perhaps massaging, his leg.
Pietri looks totally out of it – eyes shut, limbs soggy, face shattered. He seems to have passed out. How he got to his feet again I can't imagine, but he did, almost certainly with plenty of help. He got round the bend, "in the same furious and yet uncertain gait. Then again he collapsed, kind hands saving him from a heavy fall" (Doyle). And again the crowd gasped in horrified sympathy.
Only about sixty yards remained to the white tape stretched across the track in the middle of the straight. But Pietri was down. "Surely he is done now. He cannot rise again," writes Doyle, with the dramatic immediacy of a commentator on live radio or TV.
And now things became really exciting. The next runner appeared, the striped shield of the USA on his white shirt. It was Johnny Hayes, a New Yorker of Irish parentage. And he was charging – "going gallantly, well within his strength," wrote Doyle.
Hayes had run a perfectly judged race when everyone else was going bananas. The Brits ran the first mile in 5:01, and 1908 training and 1908 road surfaces simply did not give you a 2:11 marathon. Perhaps they were carried away by the presence of Mary, Princess of Wales at the start (see "Not in the Nursery"). She received a telegraph from Queen Alexandra, and thereupon commanded Lord Desborough to fire the gun. With that royal inspiration two of the Brits reached 10 miles in a still suicidal 56:53.
Hefferon and Pietri were on 57:12 – also much too fast, on that training, on a hot day, on a course that was mostly dirt and stone and crossed cow paddocks at 25 miles. But Hefferon and Pietri had enough in reserve to sweep up the Brits by 14 miles, where Hefferon moved powerfully away – too powerfully. On the fifteenth mile he went ahead by two minutes.
Then Tom Longboat came up fast – too fast. He was in second at 16 miles. At 17 he was walking. He soon gave up. ("A Special Car will follow to carry competitors who abandon the race," promised the official instructions.) Longboat's bicycle assistant was plying him with champagne to quench his thirst, which probably did not help. Hayes ran the first few miles well back in the field of 56. Some say dead last, but his teammate Joseph Forshaw of Missouri, who came through to 3rd (4th counting Pietri), told the New York Times that Hayes was always ahead of him. Anyway, he went out slow. At 17 miles, probably running with two teammates, he was still six minutes behind Hefferon the leader – which means he was running perfectly.
One photo taken at 23 miles shows him, now alone, looking composed and resolute, with a firm stride. Pietri in a photo at the same point looks wobbly – his head on one side, down on his hips. At 25 miles, Pietri had caught Hefferon and they were battling for the lead, but it must have been a battle in slow motion. Hayes was coming on strong two minutes or so behind. Soon after Pietri dropped Hefferon, Hayes scooped him up, and was in second.
While Pietri was a crumpled heap on the track, Hayes was powering over the cow tracks across the open space of Wormwood Scrubs towards the ramp into the stadium, running close to 6-minute miles (see below). He appeared. And the crowd roared again – not entirely in acclamation.
How did Pietri ever reach the finish? He got there as Hayes was on the final bend, a mere 150 yards behind, roughly. The famous finish line photo shows Pietri with liquid legs and glazed expression. Clerk of the Course (Race Director in our terms) Jack Andrew is helping him through the tape, with a good grip on Pietri's right upper arm, holding a huge megaphone in the other hand. Andrew claimed later that he "only caught Dorando as he was falling at the tape," and Dr Bulger said "I exercised my right in having precautions taken that he should not fall again. Hence the slight assistance rendered by Mr. J.M. Andrew just before the goal was reached."
The photo does not bear out that interpretation. Andrew is supporting and steering the sagging Italian, and it looks likely that he has had that grip on the arm for some time. Given Doyle's phrase, "kindly hands saving him from a heavy fall," Andrew and others were probably alongside him all the way from the second time he fell (within the stadium).
Another retrospective eyewitness account recalled, "local officials couldn't bear to see Dorando lose, so they picked him up and threw him over the tape" (Major N. Leith-Hay-Clark, letter to the Sunday Times, 1964). That makes it sound a little too like the great Australian pub sport of dwarf tossing, but it gets the spirit of the moment.
That is not to criticize Andrew. "Kind hands" is appropriate. The instinct to help a courageous and dangerously exhausted man is a decent one. Dr Bulger had been right with Pietri since the very first collapse on the ramp into the stadium, and seems properly to have taken responsibility on medical grounds. The huge crowd was noisily pleading for Pietri to be helped. Hayes was coming on fast. The place must have been bedlam.
Andrew promptly declared Pietri the winner, presumably announcing it through that giant megaphone. As a long-time stadium announcer, I'm very grateful I wasn't working that day. The American team immediately lodged a protest . . .
TO BE CONTINUED IN THE CHRISTMAS ISSUE OF SVHC NEWSLETTER
OFFICE BEARERS SEASON 2016-2017
Honorary President: ALASTAIR MACFARLANE
President: CAMPBELL JOSS 25 Speirs Road Bearsden, G61 2LX Tel: 0141 9420731 cdjoss2@gmail.com
Immediate Past President: ALASTAIR MACFARLANE
Vice-President: ADA STEWART 30 Earlsburn Road, Lenzie, G66 5PF Tel: 0141 578 0526 stewart2@ntlworld.com
Honorary Secretary: JOHN SOFTLEY 6 Cathkinview Road Mount Florida Glasgow G42 8EH Tel. 0141 5701896
Honorary Treasurer: ANDY LAW Euphian, Kilduskland Road Ardrishaig, Argyll PA30 8EH Tel. 01546 605336 Lawchgair@aol.com
Membership Secretary: ADA STEWART 30 Earlsburn Road, Lenzie, G66 5PF Tel: 0141 5780526 stewart2@ntlworld.com
Handicapper: PETER RUDZINSKI 106 Braes Avenue Clydebank. G81 1DP Tel.0141 5623416 p.rudzinski@ntlworld.com
Committee Members:
JOHN BELL Flat 3/1, 57 Clouston Street Glasgow G20 8QW Tel. 0141 9466949
MARGARET DALY 24 Strowan Crescent Sandyhills Glasgow G32 9DW Tel. 0141 573 6572
WILLIE DRYSDALE 6 Kintyre Wynd Carluke, ML8 5RW Tel: 01555 771 448
DAVID FAIRWEATHER 12 Powburn Crescent Uddingston, G71 7SS Tel: 01698 810575
PHYLLIS HANDS 39 Albany Drive Lanark ML11 9AF Tel. 01698 252498
STEWART McCRAE 17 Woodburn Way, Balloch Cumbernauld G68 9BJ Tel: 01236 728783
KEN MONCRIEFF 25 Princes Street Stirling FK8 1HQ Tel. 01786 474978
PAUL THOMPSON Whitecroft, 5 Gareloch Brae, Shandon, Helensburgh G84 8PJ Tel. 01436 821707
ROBERT YOUNG 4 St Mary's Road, Bishopbriggs Glasgow G64 2EH Tel. 0141 5633714
BMAF Delegates Alastair Macfarlane Ada Stewart
SAL West District Delegate Willie Drysdale
SAL Delegate at AGM Ken Moncrieff
Website Ada Stewart
Auditor George Inglis
FIXTURES
September 2017
Sat 16th Trial Race for International XC Tollcross Park First race 1:00pm
Sat 16th BMAF 10000m Track Championships Monkton Stadium, Dene Terrace, Jarrow, Tyne & Wear, NE32 5NJ
Sun 24th Loch Ness Marathon, Inverness http://www.lochnessmarathon.com/
October 2017
Sun 8th SVHC Half Marathon Champs Kirkintilloch 09:00 https://www.entrycentral.com/mccoverhalf
Sun 8th BMAF Marathon Championships Chester Racecourse, Chester, CH1 2LY Sun 15th SVHC Track 10,000m. Times TBC Followed by AGM at 2:30pm, Grangemouth Stadium See website for full details
Sat 28th Lindsays Scottish Athletics National XC Relay Championships Cumbernauld House
Sat 28th BMAF Cross Country Relays West Park Long Eaton NG10 4AA
November 2017
Sat 18th British & Irish Masters Cross Country International – Derry, N. Ireland December 2017
Xmas Handicap Details still TBC January 2018
Sun 7th GAA Miler Meet (Including Scottish National 3000m Championships) Emirates Arena, Glasgow
Strathclyde Park Relays Details still TBC
February 2018
Sat 3rd Scottish Masters XC Championships Venue TBC
Sun 4th Scottish Masters Indoor Championships Emirates Arena, Glasgow
March 2018
Sat 17th BMAF Cross Country Championships Grant Park, Victoria Road, Forres, Scotland, IV36 3BT
Mon 19th – Sat 24th European Masters Indoor Track & F ield Championships Madrid, Spain May 2018
18th – 20th European Masters Non Stadia Championships – Alicante, Spain