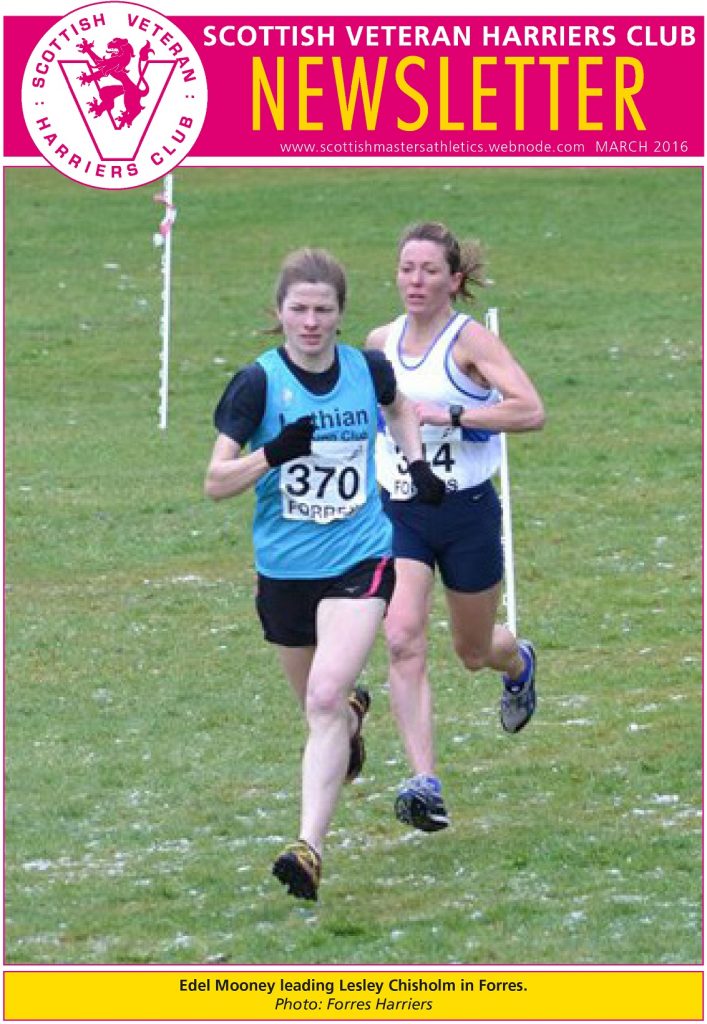 MEMBERSHIP NOTES 8th March, 2016
I am standing down as Membership Secretary and Alastair Macfarlane is standing down as SVHC Secretary in October 2016. Ada Stewart and John Softley have very kindly volunteered to take over from us, subject to approval at the AGM on 16th October.
MEMBERS
I regret to report that 1 of our members Bert McFall. passed away on 3rd January, aged 83. He had been a member of SVHC since 1997.
Welcome to the 13 new and 1 reinstated members who have joined or re-joined since 4th December 2015. (Ed note: Apologies to Gary Mitchell, who was actually reinstated on 18 Oct 2015)
50 members have not yet renewed their subs this year
As of 8th March 2016, we have 440 paid up members, including 19 over 80, & 4 Life Members.
For those who have not already paid or set up standing orders, subscription renewals are overdue now for 2015/16.
It was agreed at the AGM to change the annual subscription as follows: £20 for ordinary members, £10 for non-competing members and zero for all aged 80 or over. Any member not wishing to renew their membership should send me a resignation letter by post or email.
NEWSLETTER The electronic version of the Newsletter is now the preferred option. Any member who would rather receive a printed Newsletter must contact David Fairweather (djf@ dfairweather.plus.com), if they have not already done so. Please inform David if you add or change your email address.
Please send photos, news, letters, articles, etc for the next issue To: COLIN YOUNGSON TOMLOAN, SANQUHAR ROAD, FORRES, IV36 1DG e-mail: cjyoungson@btinternet.com Tel: 01309 672398
SVHC EVENTS
Stewards/marshals are required for club races. The club appreciate all members & friends who volunteer to act as stewards/marshals. If you are not competing just turn up and introduce yourselves to the organisers.
STANDING ORDERS
Thank you to the members who have set up standing orders for membership subscriptions. Please remember to update the amount payable, & keep me informed if your membership details change (especially email addresses). If any other member wishes to set up a standing order please contact me.
CLUB VESTS Vests and shorts can be purchased from Andy Law – £18 for vests, including postage and £23 for shorts, including postage. If ordering both together deduct one lot of postage. Or, can be delivered to any of the Club races by arrangement with no postage. (Tel: 01546 605336. or email lawchgair@aol.com)
NEW MEMBERS
NAME JOINED NUMBER TOWN
Sandison 08-Dec-15 2286 Glasgow
MacRae 31-Dec-15 2287 Inverness
McCutcheon 06-Jan-16 2288 Blantyre
Shepherd 15-Jan-16 2289 Galashiels
Johnson 15-Jan-16 2290 Cults
Cole 28-Jan-16 2291 Croy
Murphy 01-Feb-16 2292 Strathaven
Dodson 04-Feb-16 2293 Lanark
Bruce 05-Feb-16 2294 Cardenden
Steele 18-Feb-16 2295 Douglas
McGowan 19-Feb-16 2296 Stirling
Jardine 29-Feb-16 2297 Glasgow
Farkas 07-Mar-16 2298 Stirling
Mitchell 18-Oct-15 2054 Moodiesburn
David Fairweather Membership Secretary
BERT McFall, December 5, 1932 – January 4, 2016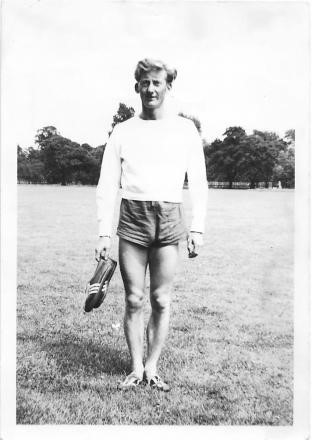 BERT McFall, who has died aged 83, was a popular and respected figure in Scotland's athletics community for whom running was not so much a sport as a way of life. He had a deep and enduring passion for it from childhood days till a hip operation seven years ago brought an end to a long and successful career.
During that time he won medals at district and national level on the track, on the road and over the country, enjoying particular success latterly as a veteran or masters athlete. He was accomplished over a wide range of distances from the mile to half marathon and represented Edinburgh Southern Harriers, latterly Edinburgh Athletic Club, with distinction.
In 1961 he was ranked fourth in Scotland at 3,000m steeplechase while in 1963 he won the East of Scotland title at that event and over several years figured prominently in the national ranking lists as well as for the mile.
While he enjoyed track, his favourite disciplines were cross country and road. One of the highlights of his cross country career was being a member of the Edinburgh Southern Harriers team which won the National Cross Country Championship for the first time in 1964. This was a highly sought after title and one which had hitherto eluded the Edinburgh club in their 67-year existence. In the individual race Bert finished a highly creditable 16th out of a high calibre field of more than 300. He also assisted his team-mates to silver and bronze medals in the championships on four other occasions while achieving very respectable finishes in the individual event.
On the road he enjoyed success in the prestigious Edinburgh to Glasgow relay race, again for the Harriers. In 1961 and '62 he helped win silver medals and bronze in 1964. He always ran the third leg, over his 'home' territory, collecting the baton at the east end of Broxburn and running through Uphall to Wester Dechmont where he handed it on. This was a demanding, hilly four and a half mile stretch, McFall being the fastest over this leg in the 1962 race.
As a veteran/masters athlete he achieved numerous distinctions. He won the Scottish cross country title several times and often represented Scottish Veteran Harriers in the British and Irish championships, assisting the team to silver and bronze medals while once earning an individual silver and finishing first Scot frequently. On the track he was 1st M65 in the Andy Forbes Memorial 10km race in 2000 with a time of 41:56. Well into his 60s, he ran excellent times for the half marathon.
Although very competitive, above all he loved running for its own sake. He particularly enjoyed going for ten-mile runs in the Bathgate Hills near his home, taking in Cairnpapple, Cockleroi and Binny Craig en route. Another favourite venue was Almondell Park where the steps up to the viaduct provided testing training.
After his hip operation, he turned his attention to the gym, becoming a regular visitor to Broxburn Sports Centre where his competitive streak continued. A few years ago the gym hosted an open competition replicating the Empire State Building Challenge, a run up its 102 levels, on a 'Stairmaster' machine. Much to everyone's astonishment Bert, in his late 70s, won. Aged 80, under monitored conditions there, he completed 10 km on an exercise bike at an average speed of about 22mph.
Born and brought up at Roman Camp near Uphall, where his Irish-born father worked in the shale industry, he enjoyed a happy childhood. Running to school in Broxburn nurtured his love of the sport, which would play such a huge part in his life.
Initially he worked as an engineer with Wimpey Construction before and after national service in the RAF Regiment in Germany, later joining Parson and Peebles in Broxburn. Aged 30 he changed career, becoming an insurance agent for Pearl Assurance company in the Broxburn/Uphall area. In this role he was well known, highly trusted and much liked in the local community, often referred to affectionately as 'Bert the insurance man', with many clients becoming friends.
Thanks to his social conscience, some years ago he set up a successful 'It's a Knock Out' series of competitions in Broxburn, based on the idea of the successful TV programme of that name, to give local youngsters an activity and keep them off the streets. A man of strong religious faith, he regularly attended his local Roman Catholic church.
Away from running he had a number of interests including gardening, growing tomatoes, jam-making, cooking and fine wines. He was a man of immense energy and goodwill and, according to his widow Nancy, filled every second of every day. "He was always positive and saw the best in everyone," she said. Former Scottish marathon champion Colin Youngson described him as "A real gentleman, interesting company and a very good and respected athlete."
His first marriage ended in divorce. In 1982 he married Nancy Comiskey, with whom he enjoyed over 33 happy years. He is survived by her, children Stephen, Vivienne and Elizabeth from his first marriage, stepson Kevin and four grandchildren.
By JACK DAVIDSON
I knew Bert from 1997, when he joined SVHC. He was a keen cross country runner, and started competing in the Scottish Athletics Veterans/Masters Championships in 1996. He finished 2nd M60 behind Tom O'Reilly in 96 and 97. In 1998 Bert moved up to the M65 age group and won his category in the 98 and 99 races, in front of Hugh Gibson and Tom O'Reilly respectively. He then missed a few years and made a come-back in 2003, finishing 2nd M70 behind Hugh Gibson. In 2004 He won M70 in front of Tom O'Reilly, then in 2005 he was 2nd just 2 seconds behind his good friend Walter McCaskey.
From 1998 to 2005 Bert competed for the SVHC team in the annual British & Irish Veterans/Masters Cross Country Champs, only missing 1 year (2003 at Cardiff). At St Asaph in 1998, although over 65, he finished 1st M60 Scot and 9th overall, helping the team to bronze medals. At Bideford in 1999 he finished 1st M65 Scot and 4th overall, leading the team to silver medals. He repeated this performance at Navan in 2000. At Falkirk in 2001 and Ballymena in 2002 he again led the Scottish M65 team to bronze medals. Then in 2004, after missing the 2003 race, Bert went to Croydon in superb form, winning an individual M70 silver medal and leading the team to silver medals. In 2005 at Santry, Bert was 6th M70. With Walter 2nd and Tom 5th, they again won team silver.
Bert also had some good road and track results, notably in 2000 1st M65 in the Andy Forbes Memorial 10,000m race in 41:56, less than 2 months before his 68th birthday.
Unfortunately Bert was having worsening knee problems, and had to give up running after 2005, though he still kept very active in other sports.
By DAVID FAIRWEATHER
SCOTTISH VETERANS CROSS COUNTRY CHAMPIONSHIPS
THE FIRST TWO RACES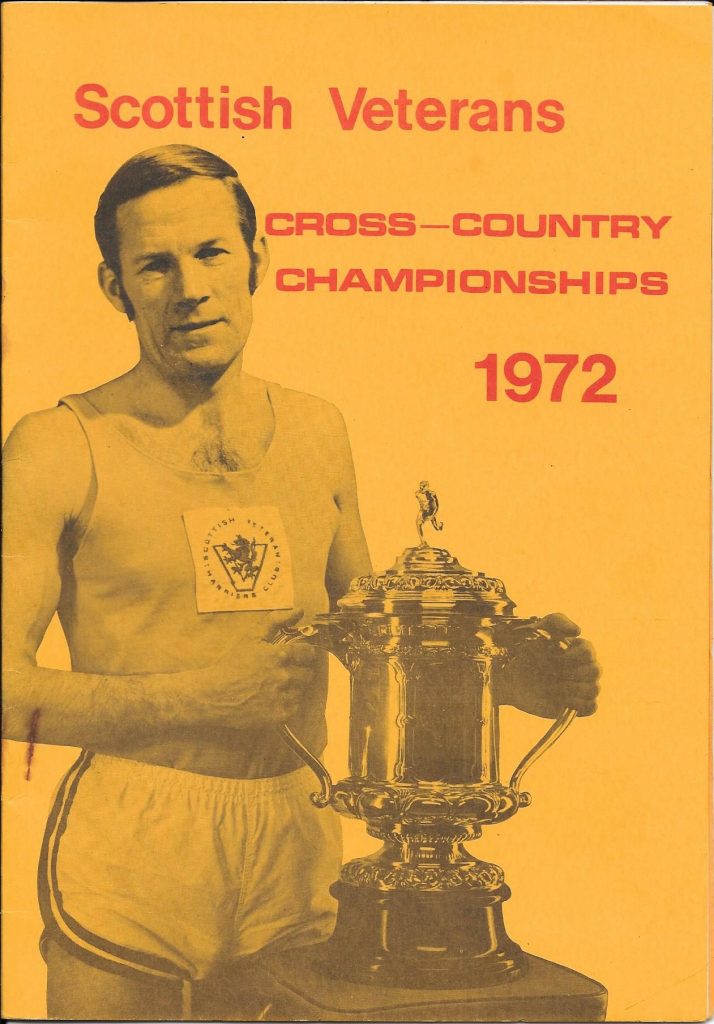 (Bill Stoddart with the British Veterans Cross Country Trophy. He defeated England's Arthur Walsham by thirty seconds)
The very first SVHC Cross Country Championships took place on Saturday 20th March 1971. The venue was Pollok Estate, Glasgow. 33 ran and 32 finished the course.
Willie Russell won, followed by Hugh Mitchell, Willie Marshall, Tom Stevenson, Willie Armour, Chick Forbes, Jack McLean and Andy Forbes, who won the Over 50 title from Tommy Harrison and Walter Ross. John Emmet Farrell was first Over 60, in front of Harry Haughie and Roddy Devon. Shettleston Harriers won the Team Award.
The second Championship, this time officially recognised by the Scottish Cross Country Union, was on 4th March 1972, at Clydebank, Dunbartonshire. The course was five miles (or eight kilometres) long. The SVHC organised the event, assisted by Clydesdale Harriers.
Bill Stoddart (Greenock Wellpark H) won easily, from Hugh Mitchell (Shettleston H) and Moir Logie (East Kilbride AAC). M50 champion was Andy Forbes (Victoria Park AAC), in front of Tommy Harrison (Maryhill H) and Walter Ross (Garscube H). Emmet Farrell (Maryhill H) retained his M60 title from Ron Smith (SVHC) and George Taylor (Shettleston H). Greenock Wellpark Harriers won the Team Award.
In the programme, Walter Ross, the SVHC Secretary, and a very important figure in the development of Scottish Veteran Athletics, published a poem (written many years earlier by an anonymous Clydesdale Harrier). Walter suggested it could be retitled 'To a Veteran'.
To a Harrier
Some fellow men seem lucky, yet
I yearn to change with few,
But from my heart this afternoon,
I needs must envy you,
Mud-splattered runners, light of foot,
Who on this dismal day
With rhythmic stride and heads upheld
Go swinging on your way.
A dismal day? A foolish word;
I would not, years ago,
Despite the drizzle and the chill,
Have ever thought it so;
For then I might have been with you
Your rich reward to gain:
That glow beneath the freshened skin,
O runners through the rain.
All weather is a friend to you:
Rain, sunshine, snow or sleet.
The changing course – road, grass or plough –
You pass on flying feet.
No crowds you need to urge you on;
No cheers your efforts wake.
Yours is the sportsman's purest joy –
you run for running's sake.
O games are good – manoeuvres shared
To make the team's success,
The practised skill, the guiding brain,
The trained unselfishness.
But there's no game men ever played
That gives the zest you find
In using limbs and heart and lungs
To leave long miles behind.
I'll dream that I am with you now
To win my second wind,
To feel my fitness like a flame,
The pack already thinned.
The turf is soft beneath my feet,
The drizzle's in my face,
And in my spirit there is pride,
for I can stand the pace.
(Editor adds: a romantic view of cross-country, no doubt, but perhaps how we all feel, briefly, on a very good day! The first SVHC championship took place in 1971: no less than 45 years ago. We owe those pioneers a great deal.)
QUESTIONNAIRE: FIONA DAVIDSON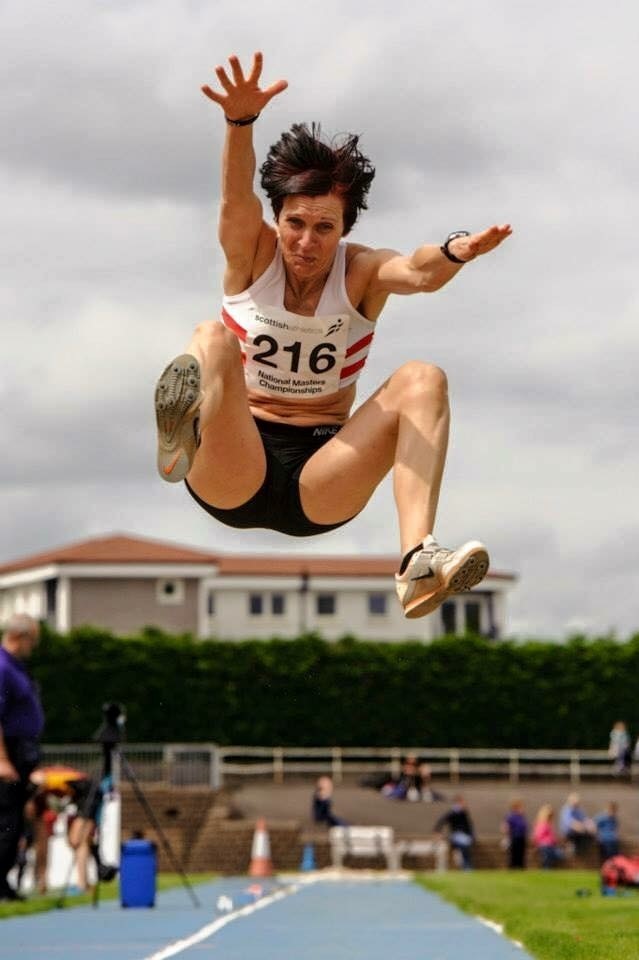 Fiona Davidson (born Fiona Watt) has had a long and versatile athletics career. At fifteen years of age, her events ranged from 100m to 400m Hurdles. Until 1992 Fiona concentrated on 100H as well as 400H. Then in 1993, Long and Triple Jumps make an appearance. Within a year she was ranked third in Scotland for Triple Jump; and in 1995 reached a peak when she won the Scottish Indoor Triple Jump title with 12 metres 15 centimetres – which is still 14th on the Scottish All-Time TJ rankings. In all, indoors and outdoors, in Scottish Senior Triple Jump Championships, Fiona has won one gold medal plus three silver and one bronze.
After marrying, in 1996, Aberdeen AAC's 1990 Commonwealth Games 400H athlete and Scottish Champion Mark Davidson, (who was the 2014 British Masters Indoors M45 200m Champion), Fiona competed less frequently, since her children were born in 1999 and 2002. Nevertheless, in 2001 and 2004, she was still ranked 5th best Triple Jumper in Scotland. Having reached the W35 age group, Fiona Davidson quickly secured victory in the 2008 Scottish Masters Long Jump and Triple Jump, both Indoors and Outdoors. She repeated this feat in 2010, adding the 60 metres Indoors and also finishing a meritorious fourth in the Scottish Senior Championship TJ.
In 2011 Fiona won even more Scottish Masters titles: Indoors 60m, LJ, TJ and Shot Putt, plus first place (as a guest) in the Scottish Universities Triple Jump. 2012 to 2015 saw a considerable increase in competing. Highlights included victories in: several more Scottish Masters LJ and TJ; British Masters TJ wins in 2012 and 2013; a British Masters W40 Indoors LJ and TJ double in 2014, plus third in the Budapest World Masters TJ.
2015 has been extra special for Fiona Davidson. Scottish Masters titles plus silver (TJ) and bronze (LJ) in the European Masters Indoors in Poland. Then, in Lyon on 15th August 2015, a gold medal in the World Masters Triple Jump, with a distance of 11.35m. Long may similar successes continue for this exceptional, dedicated, resilient athlete!
NAME Fiona Davidson
CLUBs Aberdeen AAAC/Scottish Veteran Harriers Club
DATE OF BIRTH 29/01/1973
OCCUPATION PT Sales Administrator
HOW DID YOU GET INVOLVED IN THE SPORT? I was always winning the school sports day at primary school so my mum suggested going along to the local athletics club. I went along to Coatbridge outdoor sports centre to train with Shettleston Harriers. I was looked after by Bob and Dora Stephens who coached and ran the club.
HAS ANY INDIVIDUAL OR GROUP HAD A MARKED INFLUENCE ON YOUR ATTITUDE OR INDIVIDUAL PERFORMANCE? I loved my years with Shettleston Harriers, training with Bob Stephens, fun times going away to British Leagues with older athletes and being part of one big team. Latterly, before moving to Aberdeen, I trained at Coatbridge with Roger Harkins and a group of people who brought out the best in me. They made me train hard and gave me the belief that you can do whatever you put your mind to. This made me even more competitive than I already was.
WHAT EXACTLY DO YOU GET OUT OF THE SPORT? Lots of things: discipline, structure, satisfaction. Most of all, fun and enjoyment. I have met lots of friends along the way. It's funny that we all go along nowadays to competitions to watch our children compete. I still keep trying to get them all back training and joining the Masters' circuit. They don't seem too keen.
WHAT DO YOU CONSIDER TO BE YOUR BEST EVER PERFORMANCE OR PERFORMANCES?
I always remember when I won the Scottish Seniors indoor triple jump title at Kelvin Hall in 1995 and, at the time, set a new Scottish Native record, so that was pretty memorable. More recently must be my performances in 2015. Winning 2 medals at the European Masters and then following it up with a World title was pretty special. I was actually surprised with my distances as I never thought that I would jump that far again. I haven't jumped that far for over 10 years. The distance ranked me 5th in Scotland. Nice to be competitive with the young ones.
YOUR WORST? I don't really remember anything in particular. However, when I competed for Scotland in Turkey in 1994, I didn't jump well at all. In fact I jumped further in Lyon last year – that sums up how bad it was.
WHAT UNFULFILLED AMBITIONS DO YOU HAVE? When I was younger I was a multi-eventer and moved into 300mH/400mH. I did well in those events and competed for Scottish Schools/Scottish Juniors. Sometimes I feel I had unfinished business at 400mH, but kids came along so I found it easier to stick to triple jump.
OTHER LEISURE ACTIVITIES? To be honest I don't really have the time for much else. I train and compete myself, as well as the kids (Callum 16 and Jane 13) competing too. I am also quite well involved with Aberdeen Athletics Club. I team manage the girls' side so, from April through to August/September, that takes up most of my time. Breathe, Eat and Sleep Athletics!
WHAT DOES THE SPORT BRING YOU THAT YOU WOULD NOT HAVE WANTED TO MISS?
Achievements. I can look back and say that I competed for Scotland, held Scottish Records and was a World Champion.
CAN YOU GIVE SOME DETAILS OF YOUR TRAINING? I am currently recovering from a knee operation but a typical week in the winter months would be as follows.
Monday – Circuits AM – Easy running PM
Tuesday – Weights
Wednesday – Jumping/Sprinting
Thursday – Weights
Saturday – Circuits or Running
Sunday – Stretching or Short Hills
Fiona added the following:
Mark and I met in May 1994 at a Scottish Senior International in Turkey. Mark was hurdling and I was triple jumping. I always say he fell at my feet as he fell over the last hurdle. Shame though, as that put him out for the rest of the season or I am sure he would have made the 1994 games too.
I then moved to Aberdeen in January 1996 and we got married in September that year. All quite quick I suppose. Saved on train fares.
We both encouraged each other in our training and it worked well when we started going out. When I came up to Aberdeen I just trained with Bob Masson (Mark's coach at the time) who already coached Mark's sister Linda for jumps. Then, when Mark came to Coatbridge, he fitted in well with my training group, as he knew Roger Harkins and Davie Mulheron from Scottish Internationals previously.
When I eventually moved to Aberdeen, I just slotted into Bob Masson's group no problem.
My son Callum (16) is an U17 – he is just like Mark, with long legs, so he will be more suited eventually to 400m but is currently sticking to 100m/200m to get him quicker.
My daughter Jane (13) is an U15 – she is currently doing multi events but, coming from a gymnastic background, she is already showing signs that hurdles will be her thing.
I think I have progressed more in the last couple of years as I started to have a different outlook on my training. I focused more on strength and conditioning. I joined a gym in Aberdeen, called Barry Stephen Personal Training (advert in AAAC yearbook) where I work with Rory Annand, who has helped me get conditioned and able to cope with jumping at my age – ha ha. I still do technical work with Bob.
SCOTTISH PAST MASTERS: HUGH RANKIN
Back in Spring 1995, 'Veteran Athletics' featured an article, written by Alastair Aitken, entitled 'Hugh Rankin in Top Form'.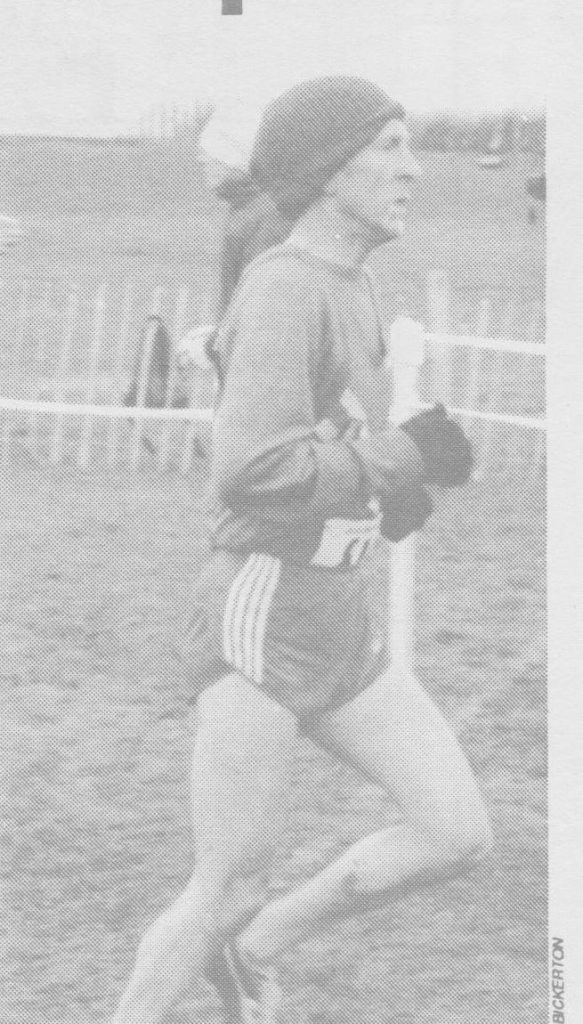 (Photo by Ben Bickerton)
"Kilmarnock's Hugh Rankin, who was 60 in December, showed his class in the BVAF Cross Country Championships in Irvine in March. He finished 18th out of 94 finishers in the over -50 race and won the M60 group by a margin of nearly two and a half minutes. He confessed, however, to 'nearly jacking it in' just before the end of the first lap. He commented, 'To be fair to myself, I was not 100 per cent as I was running with a chill. My friends round the course were telling me that I was so far in front in my age group. This kept me going. I believe that I would have packed it in if any of the others had been close to me, but I felt much better by the time I started on the third lap.'
Rankin, a hospital porter in Kilmarnock, has other results to be proud of. In 1990, when he reached 55, he set a World Indoors M55 record of 9 minutes 37 seconds for the 3000 metres at the Kelvin Hall. The same year he did the M55 double in the prestigious Bruges Veterans Grand Prix, winning the 10k in 34.29 and the 25k in 1.31.36. He also gained representative honours when selected for Scotland in the Home Countries Cross Country International at Ampthill, near Bedford.
Hugh, who has only ever belonged to one club, joined Kilmarnock Harriers about forty years ago. As a teenager, cycling was his main interest. Called up for National Service, he took his bicycle with him but, when posted to Benghazi, he had to leave it behind so took up running. Although he produced some good performances in his younger days, he did not find the time to train consistently, and so never achieved his true potential. With a family of five children to raise, training became haphazard. 'I could have trained harder and I should have done. It was just one of those things,' he said. Rankin did get chosen for a Scottish Select team at this time but could not run because of illness.
He has been more successful as a veteran, although an operation on his knee at the age of 50 held him back for some time. In recent years he has found more time to train and is now running up to 70 miles per week. This, and the fact that he did not train hard when young, he gives as the reasons for his successes in recent years. 'I did not burn myself out in my younger days. You cannot run high mileages all your life. The younger runners, who are covering 100 miles a week now, will not be performing well when they reach middle age,' he declared.
Hugh Rankin's most immediate athletic priority is to produce good performances in the European Road Championships in Valladolid, Spain, in May, when he will be competing in both the 10k and the Half Marathon."
Hugh Rankin was born on the 18th of December 1934. In 1956 he took part in the Scottish Senior National Cross Country Championships; and soon became Kilmarnock's first finisher in the annual event. He was in the top fifty several times, including a good 33rd position in 1964.
In the Scottish Masters Cross Country Championships, Hugh won the M55 title in both 1990 and 1992. When, in 1990, Johnny Walker Kilmarnock Harriers finally took part in the marvellous Edinburgh to Glasgow Road Relay, Hugh, aged 55, was one of their team. A truly outstanding performance for this fine athlete was when he triumphed in the annual British and Irish Masters Cross Country International Championships at Dublin in 1995, by winning the M60 race.
In 2009, aged 74, he ran the fast time of 44.16 to win his age group in the SVHC 10k. In 2014, Scottish Athletics magazine 'PB' had an article on Kilmarnock Harriers, saying that the club "paid tribute to Hugh Rankin – one of their oldest, most long-serving and successful members, in a double celebration to mark his 80th birthday and his 60th year as a member.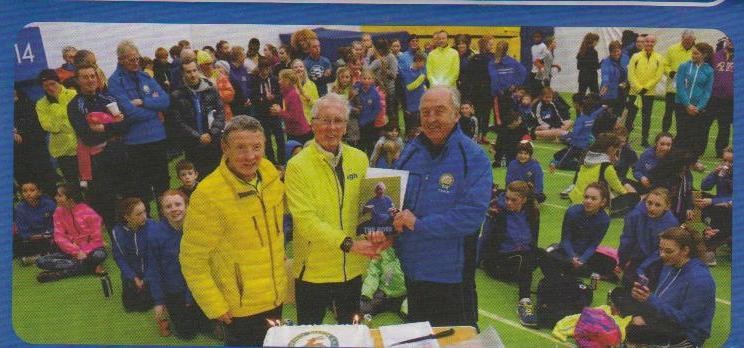 The club chose to mark the occasion with a torchlight run from the Ayrshire Athletics area, accompanied by rousing music, a light show and fireworks. The club's best-kept secret was a total surprise to Hugh, and he loved every minute of it. Following the run there was a presentation in the indoor area, where those present were reminded of Hugh's contribution as an athlete, a coach and as a volunteer helper. In honour of this contribution he was presented with a hand-embroidered club pennant, produced by the East Ayrshire textile group, and a substantial sum of money that he promised to donate to a charity of his choice. In addition, on behalf of Provost Jim Todd, he was given a 'Luath' limited edition book of Robert Burns' poems, which was much appreciated."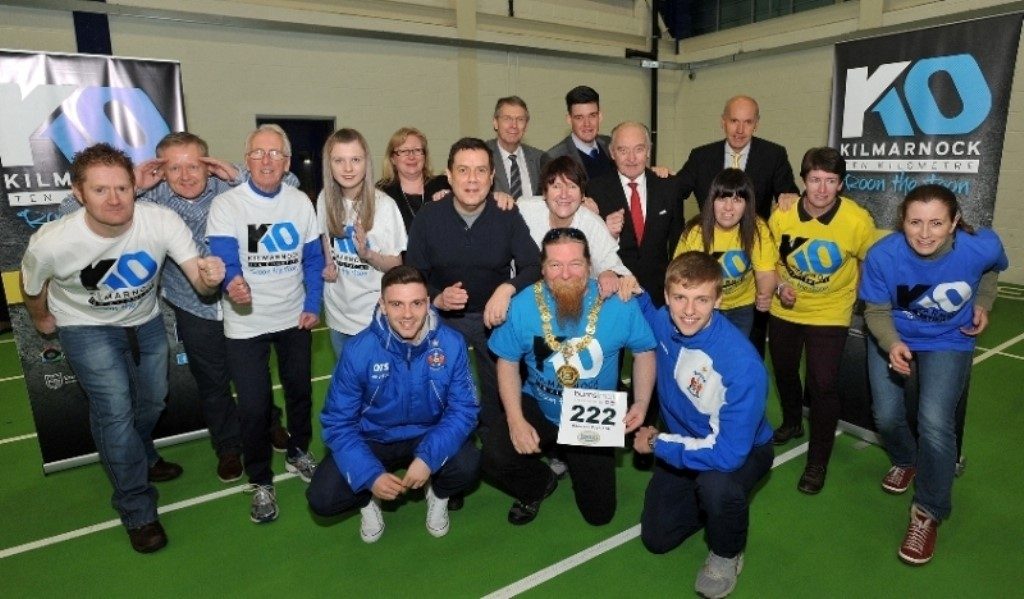 On 30th June, 2014, the Queen's Baton Relay before the Glasgow Commonwealth Games reached Ayrshire Athletics Arena. Team Scotland coach Chick Hamilton had the honour of carrying the baton, before passing it to Kilmarnock Harrier stalwart Hugh Rankin. His old team-mate from the 1950s, Jim Young, was also a baton bearer that day.
Ian Gebbie, who is the Event Organiser for Kilmarnock Harriers and AC, writes: "Hugh is my main support – still marshalling and setting up every race, clearing the cross country course etc, etc. He coaches our disabled section on a Wednesday night; is a jog leader Tuesday and Thursday; and still manages to give me and Kate Todd a fair run for our money on Mondays and Fridays. Not bad at 81. He has just recently signed up to do our new 10k – the "Roon the Toon 10K". The attached photo is from our launch event."
SCOTTISH PAST MASTERS: ALLAN ADAMS
Allan Adams (born 3rd January 1944) enjoyed a long running career, achieving most success after the age of 40, when he not only ran marathons for Scotland but also won many age-group titles as a Veteran. Dumbarton AAC was his only club and he served them extremely well. His son, Allan Adams (Junior) also became a prominent Scottish athlete and represented his country internationally. In 1997 he won silver medals in Scottish 10,000 metres Championship and Half Marathon; and secured bronze in the 2001 10k. In 2004 Allan Junior won the Scottish 10k title.
By 1966, Allan (Senior) was representing DAAC in the Edinburgh to Glasgow Road Relay, moving up three places on Stage Three. He took part in the event again in 1972, 1976 and 1983. Allan's clubmates during this period included International runners Graeme Grant and Colin Martin, as well as steeplechasers Hugh Elder and Bill Cairns. Tough guy Alastair Lawson also featured: he specialised in hill and trail races; but no one trained harder than Allan Adams.
His frequent training partner, Colin Martin, started off as a talented young track specialist but in 1988 won the Scottish Marathon Championship, outkicking Donald Ritchie, the ultra-distance legend. Before this triumph (aged 41) Colin and Allan had been doing 90 to 100 miles per week, with Tuesdays and Thursdays devoted to 400, 800 or even mile repetitions with Lachie Stewart and his promising son Glen (later a GB track representative). The Saturday session might be 22 miles on the road; with Sundays an hour and a half over country trails. Both men became extremely fit, due to this arduous schedule.
Back in 1979, Allan Adams appeared in the Scottish ranking lists with a marathon time of 2.32.27. By 1984 (aged 41) he had improved to 2.25.48; and then in 1986 produced an outstanding 2.23.03. He was still running 2.26.32 in 1989 and signed off with 2.31.37 (aged 47) in 1991. Apart from World Veteran champions Donald Macgregor, Dave Clark, Alastair Wood and Bill Stoddart, plus ultra-distance legend Don Ritchie, hardly any Scottish Veterans have covered the classic distance so fast.
1986 was his peak as a marathon runner. In April he was 1st M40 in the famous Tom Scott Memorial 10 Mile Road Race, finishing in the outstanding time of 49.12. After that, he set a record for the Cairnpapple/SVHC Hill Race. In May, at the Aberdeen International Marathon, Allan Adams ran for Scotland in the match against the 'Auld Enemy'. English team runners were the first three home. Aberdeen AAC's Colin Youngson was first Scot, only a minute ahead of the fast-finishing Adams, who was fifth (and 1st Veteran) in 2.29.10 on a long, hilly course. Then in September, representing his country again in the Glasgow International Marathon, Allan was second team counter (and 1st Veteran) in his fastest-ever time of 2.23.03.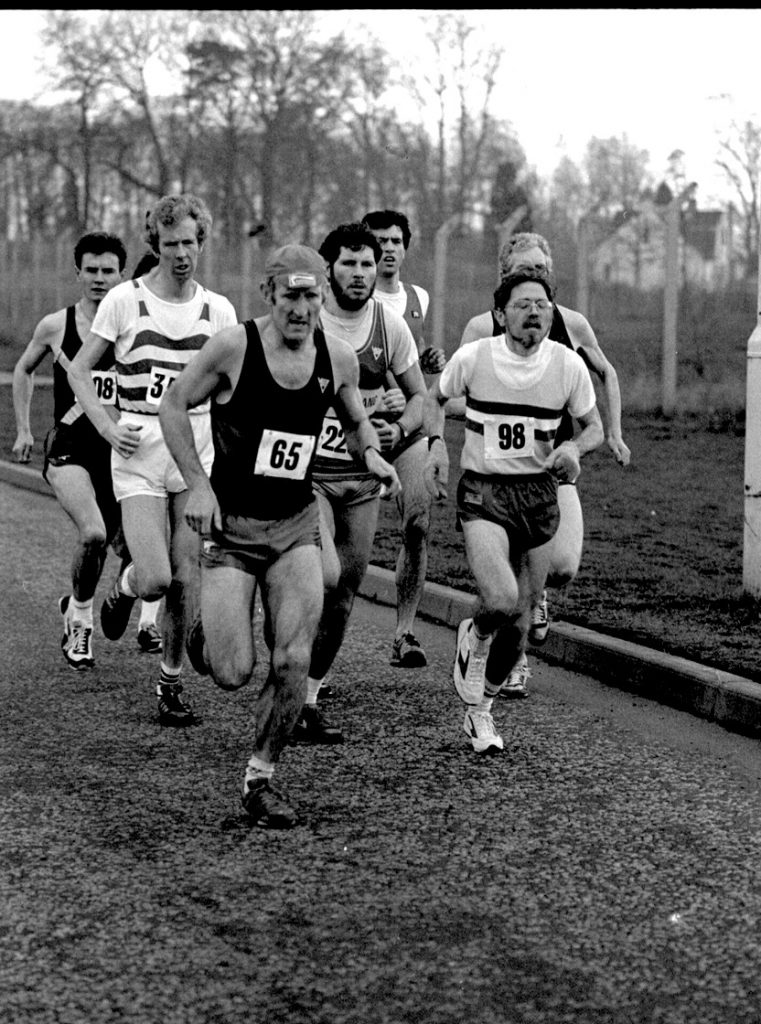 [Allan Adams (number 65) in the Tom Scott 10, 1985. Photo by Graham MacIndoe.]
Further highlights were to come for this Tough of the Road. In April 1989 at the Lochaber Marathon, Allan had a real battle with Colin Youngson for the Scottish Veterans marathon title. There was snow on Ben Nevis behind the runners, as a pack of seven battled into a strong headwind on the way out to halfway. Naturally, Adams showed his strength by leading into the gale, while Youngson loitered in shelter behind the others. After the turn, the pace suddenly increased by about a minute a mile! Colin gained fifty yards but Allan hung on. Every time the leader passed Allan's wife (who kept overtaking the pair in a car) Colin tried to look fresh, but in reality he was tiring. Eventually he threw everything into the last couple of miles and, exhausted, won in 2.29.40 while Allan secured the M45 title in 2.30.09. Then, in October 1989, Allan Adams became British Veterans M45 Marathon Champion in the Flying Fox event in Stone, Staffordshire. In actual fact, Allan became the only Scot ever to win this event outright, defeating all the M40 runners too! He was timed at 2.29.32, with his Dumbarton team-mate Colin Martin 2nd M45 in 2.33.03.
In Masters Cross-Country, Allan was outstanding, representing Scotland five times in the annual Five Nations British and Irish International fixture: with his best performance being 3rd Individual M45 at Ampthill, Bedford in 1989, when his team won silver medals.
Allan Adams won no fewer than six Scottish titles. In 1985 Allan finished second M40 (only three seconds behind Greenock Glenpark Harrier Dick Hodelet); and in 1986 he was second again, this time to Maryhill Harrier Brian Scobie.
1989 brought Allan Adams' first M45 Scottish CC gold medal; and he retained this title in 1990, 1991 and 1992. After M45 silver behind Youngson in 1993, Allan continued age-group domination with M50 gold in 1994 and 1995, before injuries brought his career to a halt.
In 2012 a reunion was organised at Drymen by Clydesdale Harrier Brian McAusland. This was attended mainly by old runners from the West of Scotland, plus a few from the East or North. Allan Adams, cheerful and vibrant, looked as strong and energetic as ever!
My Favourite Events: by Davie Fairweather
[Editor. One aspect of being over 65, and slowing drastically, but still meeting younger Masters runners, is that they have no idea that you used to be quite fast at their age! For many years, Davie Fairweather has done a tremendous amount for SVHC, including the onerous task of being our team manager at the annual British and Irish cross country international. Here are some details of his successful running (and cycling) career.]
3 Peaks Cyclo-Cross Race.
When I was a lad, I was a keen racing cyclist, but my favourite sport was cyclo-cross, and in the 70s the highlight of the year for me was the annual 3 Peaks Race held on the last Sunday in September. This was a 25 mile race, open to amateurs & professionals, with about 20–22 miles rideable and 3–5 miles running/ walking/ staggering/ falling, dependent on individual ability & prevailing conditions. It included 5000' of climbing and descending. The race started at Horton-in-Ribblesdale, proceeding on road to Ribblehead Viaduct, then by tracks up and down Whernside 2419', with a road stretch through Chapel-le-Dale then left onto the track to Ingleborough 2373'. It was possible to cycle across the plateau at the top, then there was a steep descent before joining a rideable track to Selside, back along the road to Horton and left up a rough track for the final climb up Pen-y-Ghent 2273'. Most of this was rideable, with a hair-raising descent to the finish in Horton.
I completed the race 7 times between 1970 and 1977, with 5 finishing places between 4th and 8th. In 1975, my wife Theresa, with Claire almost 3 and Catherine 7 months, managed to get to Ribblehead Viaduct with spare wheels. I punctured just before the viaduct, and dropped from 1st to last place before I got my wheel changed, but without Theresa's help I'd have been out of the race. I managed to get back up to 2nd place at the top of Whernside, and was still 3rd at the top of Ingleborough, but the chase had taken too much out of me and I finished 6th in 3:07:10, 15 minutes behind the winner. My best ever time was 2:56:15 in 1972, and I helped Keighley St Christophers/Bronte Wheelers win the team prize 5 times.
In those days the race field was restricted, though 100 finished my last event in 1977. The event has now been extended to 38 miles, and 536 finished in 2015!
In 1978 I decided to try the 3 Peaks running race instead. As Mel Edwards said in his article, conditions were atrocious. The course differed from the cycling route, and visibility was near zero on top of Ingleborough. I lost sight of the runner in front, and couldn't find the path down to Selside. However I could see a clear descent to Clapham, so I ran down there with 2 other runners, even though I knew it was miles off-course. I managed to scrounge a beer at the pub and then hitched a lift to Settle. I don't know what the other 2 did. I ran back from Settle to Horton and managed to get clocked in as a finisher in 4 hours 1 min. Like Mel I was dismayed to find out later that a runner had died, and thankful I'd decided to make a safe descent. Theresa wouldn't ever hear of me doing the race again!
1977 was my last cycle race until 2006, when I started doing duathlons and time trials.
Inverclyde & Lochaber Marathons
After these endurance events, it was a natural progression through half marathons to the marathon, and my favourite race was the Inverclyde Marathon. After 'hitting the wall' in the first event in 1981 (2:36:04, 13th), won by 50 year old Bill Stoddart in 2:27:43, I swore "Never again!", but I ran the race 10 times all told, & a total of 40 marathons between 1981 & 2000.
1983 was my best year, starting with London, running in Greta Waitz's group for 19 miles, before dropping back & finishing in 2:29:05.
4 weeks later I ran at Motherwell, finishing 2nd in 2:29:38. It was great having a police motor cyclist escorting me over the last few miles, and all the family cheering me at the finish.
Then I had 3 months recovery before returning to the Inverclyde Marathon, finishing in 4th place with a PB of 2:24:49 at age 39, 2:24 behind winner John Stephens & 1:27 in front of Brian Carty.
By then I had the marathon bug, and I ran Glasgow 2 weeks later in 2:31, followed 2 weeks later by the Humber Bridge Marathon, where I finished 6th in 2:31:42.
All of these races were just preparation for a charity marathon relay starting at 6am on Sat 8th Oct 1983, when a team of 14 runners from Organon Laboratories Ltd (where I worked for 30 years) ran from Newhouse, Lanarkshire to the Organon HQ in Cambridge. Organon UK was celebrating 50 years in healthcare, and we decided to do this 376 mile relay in 14 stages to collect money for The Cystic Fibrosis Research Trust. As the most experienced runner, I volunteered to run the hilly 4th stage from Jedburgh over Carter Bar to Otterburn. We were blessed with perfect running conditions, and I managed 26.7 miles in 2:47. After my run I was given overnight accommodation in Darlington, with a family, which had a child with cystic fibrosis. Then one of our support vehicles took me to Lincolnshire. On Sun evening we were relaxing in a pub near Lincoln, and I was on my 3rd pint, when the call came that our 11th stage runner was in difficulty, so I was pressed back into action to complete 7 or 8 miles of the stage through Lincoln. The beer must have given me wings, because I got to the changeover point, before the next runner was ready! I just kept running till the support vehicle got him up to me, then I was driven down to Histon, where all 14 runners (including the 14th stage runner) completed a final 4 mile jog to Cambridge Science Park, finishing at 13:31 on Mon 10th Oct. We collected over £5000 for our efforts, which Organon made up to £10,000, and it was a memorable team-bonding experience.
I returned to Inverclyde in 1984 as a veteran and finished 3rd overall in 2:26:57, but was beaten by the indomitable Allan Adams, who finished 69 seconds in front. Allan beat me again in 1985, with 2:26:10 to my 2:27:24, when we were 1st & 2nd in the Scottish Veterans Championship. Brian Carty was 3rd vet in 2:29:28. John Stephens won again in 2:23:13.
In 1990 I finished 3rd, & 1st vet, in 2:30:03. The absence of Allan & Brian made it a bit easier.
In 1991 the race incorporated the Scottish Marathon Championship for the first time. I was feeling good and hoping to beat Charlie McDougall, but suffered a torn hamstring at the Inverkip turn. I didn't fancy walking 7 miles, so started running again after walking briefly & managed to finish in 4th place, 2:23 behind Charlie. To add insult to injury, Charlie & I both had to undergo a drugs test after the race! I think we were allowed some beer to help us produce samples. First 4 finishers were T Mitchell (Fife) 2:24:50; J Stephens (Low Fell) 2:27:10; C McDougall (Calderglen) 2:35:51; D Fairweather (Cambuslang) 2:38:14, 1st Veteran.
In 1992 I decided to try the Lochaber Marathon, which was the Vets Championship for many years. It was an inauspicious start, as I hit the wall after 15 miles & finished 13th, 11min behind Colin Youngson (2:36:23). I ran at Lochaber 8 times & it took 3 attempts before I got a grip on it, In 1995 I finished 4th & 1st Vet in 2:36:02, which I think was an M50 course record. John Duffy won in 2:31:19.
In 1998 it was the BMAF Championship, and I had a memorable duel with Colin Youngson. After the turn I started putting in short spurts to try to open a gap on Colin, who finally gave up at 17 miles gasping "On you go you wee b—–!" I think it's the only time I've beaten Colin in any race. Meanwhile Bobby Young had been watching us from behind, and started chasing me. I only just managed to keep going, & finished in 2:43:37 for my 2nd BMAF M50 title, with Bobby 2nd M50 in 2:43:58. M40 Mike Girvan won in 2:30:36.
Although I had several disastrous marathons, where I hit the wall, I did manage to win 1 marathon from the front, without any problems. In June 1988 I ran the last Galloway Marathon. Although it was quite a strong field, I thought the pace was too slow, & everyone was watching me and nearly tripping me up, so I broke away after just 3 miles. I felt good & just kept going, finishing in 2:32:06, almost 5 minutes in front of Colin Kinnear from Dumfries, & broke the Vets' course record by 13 minutes!
Cross Country Races
I've enjoyed cross-country races since my Uni days, & initially used them as training for cyclo-cross, but I never had a decent run in a major event until the SCCU Veterans Cross Country Champs at Musselburgh in 1987. Up till then I'd always been an also-ran, but that winter I had a week off work when our factory site was closed by snow. I took advantage of the break to do hard runs every day in the snow, & by 8th Feb I was at my peak…Brian Scobie led from the start, & it was a race for 2nd place between me & Brian Carty. I clung to him like a leech & we opened up a gap on the rest of the field. I knew I couldn't outsprint Brian but I hung on till the last 200 metres & finished 10 sec behind Brian C & 38 sec behind Brian S. I claimed numerous scalps, including Archie Duncan, Colin Martin & Allan Adams. It was a 1-off performance & I never got any other medal in the Scottish Veteran Championships.
Similarly, in the British & Irish Veterans/Masters Cross Country International, I'd managed to get a few team medals, & I did win an Open Race M50 prize at Malahide in 1995, but I was never near winning an individual medal until Navan in Nov 2000. I suppose I had a good build up, with 78:28 in the Helensburgh ½ Marathon, 2:48:39 2 weeks later in the Glasgow Marathon, & 78:48 3 weeks later in the Inverclyde ½ Marathon! Anyway, by the time I got to Navan, Eire, I was well-prepared, but I fell flat on my face in the warm-up, which didn't augur well for a good race performance. I'm never very good at judging my position in cross country races, and I didn't see any M55 numbers, so just assumed that all the good runners were out of sight in front. Then on the last lap I passed Archie Jenkins (who was in the M45 team!), and suddenly I was on Colin Youngson's heels (in the M50 team!) but he wasn't going to let me beat him this time, & I crossed the line 3 sec behind him to win M55 gold. Frank Reilly came in 12 sec behind me, with Graham Patton 3rd a further 6 sec behind. With Bobby Young 4th & Brian Campbell 10th we won team gold as well. I've managed a few more team medals since then, but been nowhere near another individual medal.
HOW CAN CLUB RUNNERS BREAK 2.30 FOR A MARATHON?
(Peter McGregor was for many years a respected club runner with Victoria Park AAC. Below is a summarised version of a long article he has written. Nowadays, Peter is a mature sports student at the West of Scotland University.)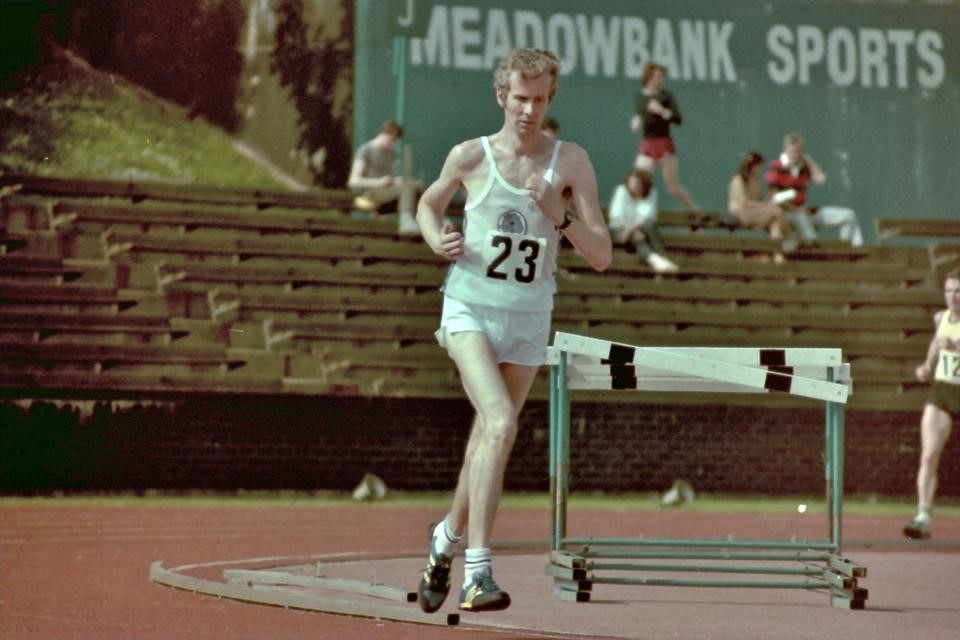 Introduction
My best race was in the 1981 Glasgow International Marathon, when I ran 2 hours 26 minutes 47 seconds. This was my third marathon of the year. In 1980 I completed four, including a 2.28.49.
In 1981 I was ranked 21st in Scotland and 204th in the UK. 176 Scottish male club runners registered times between 2.20 and 2.30.
In 1982 I ran 2.30.20 in the Glasgow People's Marathon; and was ranked 409th in the UK. This highlights the strong depth of marathon performance then at club level.
However in 2012 only 23 British marathon runners ran under 2.25.
Training and Racing Development: Peter McGregor
Between 1969 and 1989, I ran on the Highland Games circuit during the summer, racing 800m and 1500m handicaps, 3000m and 5000m events on uneven ash or grass tracks. Many competitors took part, including International athletes like Lachie Stewart, Ian McCafferty, Jim Brown, Jim Dingwall and Hugh Barrow.
Over three years I achieved personal track bests at 3k (9mins 6secs), 5k and 10k (34.07). In addition I ran many road races (between 10 and 21 miles), all over Central Scotland. Thus speed and stamina were both improved.
1981 Build-Up to My Fastest Marathon
In preparation for the Scottish Marathon Championship on 20th June in Edinburgh, I completed four road races (between 12 and 21 miles in distance). Training averaged over 110 miles per week (maximum 129), with two weeks of 75 before the Scottish Marathon. During the last week I was on a low carbohydrate diet between Sunday and Tuesday evening; and then high carbo until the race on Saturday. I finished tenth in 2.33.45.
Peter finishing the 1981 Scottish Marathon.
Quickly recovering, I began training for the Inverclyde Marathon on 30th August, and managed to average 108 mpw for seven weeks, including one week of 132 and four road races (between 10 and 14 miles). Then a taper week of 44 miles (low carbo only on Wednesday, then high carbo to the Sunday race). This marathon was completed in 2.30.47.
In the seven weeks before the Glasgow International Marathon on 14th October, I reduced training slightly, averaging just under 100 mpw. On Saturdays and Sundays I ran twice; and at Club Nights included two weekly repetition sessions over distances like 150m or 400m. In addition seven road races were completed, over distances ranging from 14 miles to 3 miles (road relay stage). The taper week was 44 miles (including low carbo on Wednesday then high carbo to the Sunday race. I was delighted to finish the marathon in a Personal Best 2.26.47.
I worked full-time from 7.30 a.m. to 4 p.m. Morning runs Mon-Fri were at 5.30 a.m.; Evening runs 5 p.m. Saturday runs 9 a.m. and 2 p.m. Sunday runs 9 a.m. and 2 p.m. Apart from Club Nights I always ran alone. Club training took place Mon and Wed between 7 p.m. and 8.30 p.m.
Reasons why club marathon times have declined?
I think that one reason is that club runners nowadays usually aim for high profile mass town or city 10 races; and coaches encourage training mainly for that purpose. However track 10,000m races are seldom available – and these used to be invaluable speed-work, in a tough, tactical, competitive event, for aspiring club marathon racers.
Another Scottish Championship event used to be Ten Miles Track. The majority of participants went on to race well (2.13 to 2.30) in marathons. Again, this was an extremely testing, competitive event which developed speed as well as stamina. The same could be said for One Hour Track races.
Sadly, quite a number of Highland Games road races have also disappeared, especially the ones longer than half marathon, which used to help runners 'bridge the gap' between half and full marathons. Merely training over, say, 18 or 21 miles, is not as effective as racing over these distances, especially against prominent Scottish International athletes, who used to take part in these events.
Summary
To run a marathon in under two hours thirty minutes is quite possible for a good club runner nowadays.
However, planning a road racing programme, which is part of a runner's marathon training development, is so different compared to in the past.
Surely administrators and coaches should organise more 10,000m track races during the year. Could Scottish District and National Standard Track times be reintroduced, such as sub-33 minutes or sub-31 minutes for 10,000m? This would provide targets to motive athlete improvement. Female athletes, who frequently race 10k on the road, should have similar track times to aim for – perhaps sub-36 or sub-34. This would improve speed endurance.
There is an argument for reintroducing similar standards for at least one Ten Mile Track and/or a One Hour race every year. Could road race organisers offer one or two 18 mile races? These would develop mental strength and be physical stepping stones towards a serious attempt at achieving a good marathon time.
Since the 1970s, Sports Coaching, Nutrition, Strength and Conditioning, and High Altitude Training have advanced dramatically. Yet good club marathon performances have become much slower in recent years. Surely this trend can, and should, be reversed?
[Editor adds. Peter was a team-mate of mine in the early 1970s at Vicky Park, a top Scottish road running club. He may not have had immense talent, but he surely worked very hard and thoroughly deserved to achieve a good marathon best. I agree with most of his conclusions above, but it is notable that he covered fewer miles before his 2.26 and also included faster work. My own theory is that a club runner with reasonable talent, aged 25-35, should duck below 2.30 (or even head down for 2.20) on about 70 or 80 miles per week, including a long run (10-20 miles), a midweek hardish ten, a competitive club pack run – maybe including longer efforts – and some two minute, not-too-steep road hill repetitions, plus recovery jogging. Other sessions which might be included in a fortnightly programme are: five times approximately four minutes on tarmac or grass, with a three minute recovery; and a time trial over a distance like 3k or 5k. Racing should include 5k, 10k, half marathon and if possible a hard 18 to 20 miler. Six weeks of marathon build-up (from a generally fit base) should be followed by two weeks tapering, with the last week no more than 30 miles. Young veterans (35-45) could perhaps aim for sub-2.30 and certainly sub-2.40, on about 60 to 70 miles per week. Email if you would like specific advice on pre-marathon race diet.]
LETTER FROM KENNY MACPHERSON
GB or not GB?
The 2014 independence referendum created many unanswered questions about the Economy, Defence and Industry. But another issue is Athletics, and
hitherto the quandary whether an athlete (born in Scotland) would prefer to
compete for Scotland or Great Britain.
Prior to September 14 there was a lot of scaremongering about funding for
Athletics and competing as an independent Nation but thankfully common sense has prevailed and dialogue is actually underway.
Scottish Athletics has recently contacted the Smith Commission and, indeed,
Seb Coe has been petitioned to ask for more Scottish involvement in
European and World Athletics competitions. Possibly this has been galvanised by the success of Scottish Athletes during the Glasgow Commonwealth Games.
Ironically, this is the sole competition in which athletes can compete for
Scotland and, as it only occurs every four years, there is a renewed hunger for more frequent participation.
Scotland competed at the World Cross Country Championships from its inception until 1987 before, inexplicably, only a GB select was entered. This is one competition that Scottish Athletics highlights as being potentially reinvigorating to our sport, if Scotland was allowed to compete as a separate team.
With the right funding and support, Scottish athletes have proved they can
mix it with the best. We brought home thirteen of the sixty five medals won at the London Olympics: almost 20%, which was not bad for a wee Nation.
If we evaluate the recent Commonwealth Games, admittedly held on home turf, Scotland's athletes more than held their own with a 4th place finish: 53
medals in total, including 19 gold and 4 medals in Athletics.
Ironically the "No vote" has not deterred the growing belief that Scotland
should compete more in major athletic competitions.
How does this affect Veteran athletes? We have our yearly good-humoured
battles against the rest of the Home Nations in the Masters Cross Country.
Imagine, however, Auckland 2017: the World Masters Track and Field. You're on the start line with the dark blue vest of Scotland and the lion rampant on your breast, going into battle as a Scot or as part of a winning Scottish relay
team. Would that not be a little bit more special? Could you push harder to gain a vital couple of metres more?
I have spoken to several athletes about their thoughts on Scottish athletes
competing for Scotland and, obviously not everybody will agree, but I think
the wise words of Andrew Lemoncello resonate with me.
"Being able to compete for Scotland last year in the Commonwealth Games on home soil was the highlight of my career. When someone asks me where I'm from, I don't say I'm British. I say I'm Scottish as that's the country I
feel truly tied to. I'm not anti-British – I just love the country that I grew up in. Being able to compete for them more often would be a phenomenal way to
ride out the last few years of my running career."
Sunday 3rd January 2016, Emirates Arena
"There were Scottish Masters Indoor 3000m medals up for grabs during this lengthy meeting, with golds for (among others) the likes of Ronhill Cambuslang Harriers duo Robert Gilroy (M35) and Kerry-Liam Wilson (M45); Gordon Barrie (M40) of Dundee Hawkhill; Garscube's Lesley Chisholm (W40) and Rob McLennan (M55); and Melissa Wylie (W45) of Dumbarton." Thus stated the Scottish Athletics website report.
Unfortunately the fields were chaotic, with youngsters and seniors mixed in with Masters. Consequently, Scottish Masters 3000m titles had to be decided on fastest times, rather than true-run races. Furthermore, the date was ridiculously early in the year and suited only to runners from the Central Belt. Why was the 3000m not held with the rest of the Masters Indoors on 14th February? This is the second year in succession that Scottish Athletics has insisted on such an entirely unsuitable date!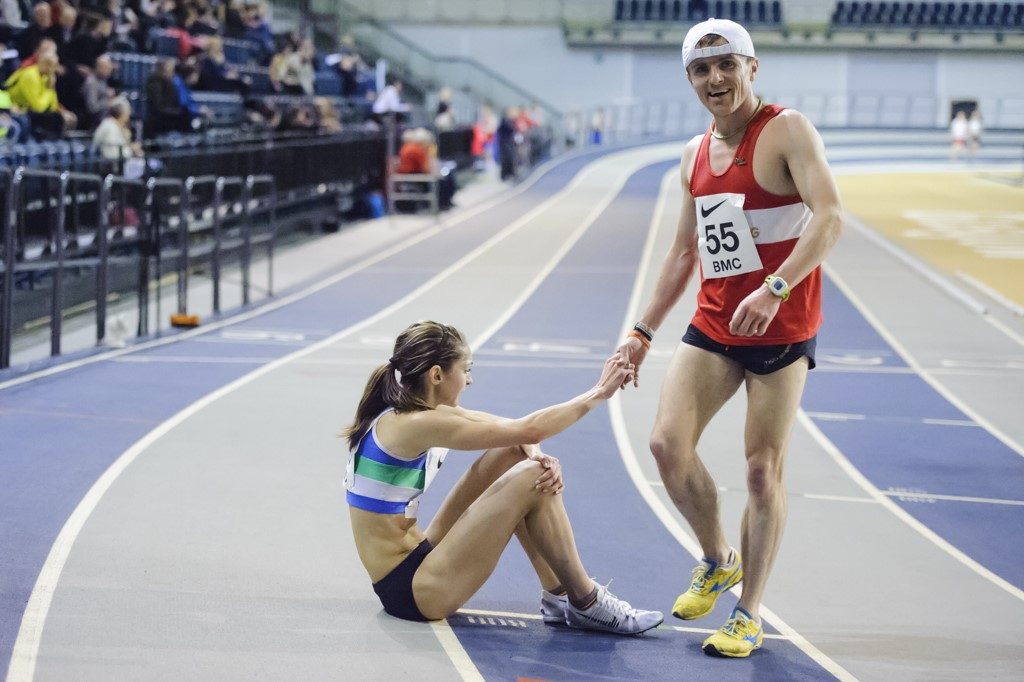 Josephine Moultrie and M35 Robert Gilroy – both collected golds in the same race
Photo by Bobby Gavin
"Josephine Moultrie (VP-Glasgow) always looked favourite for the Scottish Women's Senior 3000m gold and she duly raced to a fine time of 8.57.14. That is sixth best on the all-time list and there are now only five illustrious names ahead of Jo – via McColgan (Liz and Eilish), Yvonne Murray, Laura Muir and Kathy Butler."
3000m Masters Indoor Best Performances at the end of 2015
| | | | |
| --- | --- | --- | --- |
| M35 | Robert Gilroy | 9-09.77 | 2015 |
| M40 | Archie Jenkins | 8-49.90 | 1997 |
| M45 | Archie Jenkins | 8-58.34 | 1999 |
| M50 | Guy Bracken | 8-59.96 | 2013 |
| M55 | Hugh Rankin | 9-37.9 | 1990 |
| M60 | Andy Brown | 9-54.02 | 1993 |
| M65 | Willie Marshall | 10-32.28 | 1993 |
| M70 | Jimmy Todd | 11-17.99 | 1993 |
| M75 | Hugh McGinlay | 13-46.60 | 2001 |
| W35 | Susan Ridley | 10-22.30 | 2001 |
| W40 | Susan Ridley | 10-23.62 | 2008 |
| W45 | Susan Ridley | 10-36.32 | 2011 |
| W50 | Fiona Matheson | 10-06.02 | 2013 |
| W55 | Phyllis Hands | 13-13.18 | 2012 |
2016 MASTERS RESULTS
M35 Robert Gilroy (RCH) 9.06.71 (Championship record)
M40 Gordon Barrie (DHH) 9.17.48
M45 Kerry-Liam Wilson (RCH) 9.16.90
M50 Guy Bracken (North Shields Poly) 9.06.37
M55 Rob McLennan (Garscube) 9.59.80
M60 Alastair Dunlop (Stornoway) 10.22.28
M65 David Cooney (RCH) 12.56.45
M70 Bobby Young (Clydesdale) 12.07.36
W35 Jacqueline Etherington (SVHC) 11.08.46
W40 Lesley Chisholm (Garscube) 10.13.52 (Championship record)
W45 Melissa Wyllie (Dumbarton) 10.52.77
W50 Sue Ridley (EAC) 11.55.04
W60 Phyllis Hands (Motherwell) 13.33.26
SCOTTISH MASTERS INDOORS, 14TH FEBRUARY 2016
The programme for this competition was even more chaotic, with Masters events squeezed in amongst multi-events. It seems likely that Scottish Athletics is not keen on making things easy for older age group indoors athletes, in spite of the website report including the throwaway comment: "The Masters Indoors Champs attracted around 175 entries, with those involved determined to once again prove that athletics is for life."
Last year, the editor was taken to task for not reporting on the whole range of track and field at this championship. He tried to make amends when writing about the (well-organised, Masters-friendly) 2015 summer track and field. However this year, the results on the Scottish Athletics website are utterly impossible and remarkably complicated. Please look them up if you were a participant or are an interested fan.
The Scottish Athletics website report noted: "Philippa Millage has already achieved a Scottish age record at W35 for 800m during the indoor season and added to that success with championship bests at 400m and 800m with 57.10 and 2.08.51. Lesley Chisholm was again an impressive performer in the W40 1500m as she came home in 4.46.65.
English athlete Guy Bracken set remarkable M50 times in both the 800m and 1500m – and in the latter race it was great to see Pete Cartwright, with 5.56.90 at the age of 73, and Alastair Dunlop (M60 – 4.57.84) in good form."
Other highlights included the following. Melissa Wylie (W45) won the 1500m in a rapid 5.08.48. Sonia Armitage (W55) won the 800m in a fast time (2.35.12); and also finished first in the 1500m (5.2644). Darren Scott ran well to record 22.99 in the M45 200m. Gordon Barrie (M40) added another gold medal to his recent collection in the 1500m (4.23.89). Apparently not a highlight was the Men's Shot Put contest, which included competitors aged between 35 to 81. Were the age groups in separate competitions; or was it simply one big confusing chuck-fest? The results shed no light on the matter.
SCOTTISH MASTERS CROSS COUNTRY CHAMPIONSHIPS
AT FORRES ON 30TH JANUARY 2016
Report by Ron Morrison
While the weather ravaged the west and centre of Scotland, those who chose to make the journey to Forres were presented with almost perfect cross country under foot conditions, weather and near record fields.
The women's championship saw Lesley Chisholm (Garscube H), who has been in great form already in 2016, successfully defended her title of last year after a strong initial challenge from Edel Mooney (Lothian RC).
Just as exciting was the W45 championship where Veronique Oldham (Aberdeen AAC) got the better of tiring Shona Robertson (Shettleston H) in the latter stages. Not far behind, Fiona Matheson (Falkirk Victoria H) dominated the W50 championship winning from North District athlete Sheila Gollan (East Sutherland AC).
Sonia Armitage (Aberdeen AAC) took the W55 title from Isobel Burnett (Carnegie H) with near local Jane Kerridge (Deeside R) taking the W60 title from Linden Nicholson (Lasswade AAC) and the far travelled Susan Linklater (Shetland AC).
Janette Stevenson (Falkirk Victoria H), the 1991-2 and 1992-3 overall champion and multiple 5-year age group champion, outstripped the W65 field winning from another multiple title holder and 2012-3 champion Phyllis Lemoncello (Fife AC), who of course lives in Nairn.
Perhaps the biggest cheer of the day went to Anne Docherty of the home club Forres H when she crossed the line first in the W70 championship. The team race was won by some margin by the holders Gala H with Carnegie H beating Corstorphine AAC by 1 point for the minor places.
Over the same 6K course as the women, Alex Sutherland (Highland Hill R) took the M65 title from Charles Noble (Fraserburgh RC) and Alan Lawson (Dundee Hawkhill H).
Timothy Kirk (Inverness H) took the M70 title from the never missing Robert Young (Clydesdale H) and Gibson Fleming (Westerlands XCC). Watson Jones (Clydesdale H) captured the M75 title.
For the second year in a row, three over 80 athletes completed the course with Walter McCaskey (Edinburgh AC) defending his title from James Pittillo (Teviotdale H) and the ever–present Willie Drysdale (Law & District AAC).
The men's 40-60 championships produced a number of exciting duels. In the early stages four runners moved away from the pack and finished close to one another.
In the end, Kenneth Campbell (Ronhill Cambuslang H) prevailed to win the gold in 29.15 from new M45 champion Kerry–Liam Wilson (Ronhill Cambuslang H) in 29.24 with Jamie Reid (Ronhill Cambuslang H) in 29.26 and Jim Tole (Metro Aberdeen) in 29.28 taking the minor M40 places.
The minor M45 places behind Wilson were hotly contested by local runners Paul Miller (Inverness H) in 30.14 and Gareth Jenkins (Moray RR) in 30.18.
The M50 championship was well won by Nick Milovsorov (Metro Aberdeen RC) from Jim Buchanan (Dumfries RC). The 1997-8 overall champion and multiple medal winner Ed Stewart (Ronhill Cambuslang H) defended his M55 title with a remarkable run in 20th place overall. David Weir (Forres H) took the silver with another great run.
The perennial Frankie Barton (Ronhill Cambuslang H) won the M60 title from the event co–convener Doug Cowie (Forres H) with a fast finishing Alex Chisholm (Garscube H) in the bronze medal position.
The men's team races were dominated once again by Ronhill Cambuslang H taking the M40-60 Teviotdale Harriers Shield Trophy for the 8th time in 9 years with 20 points from Corstorphine AAC with 86 and Metro Aberdeen 3rd with 104.
Many thanks to Forres Harriers who were hosting the event for the fourth time and in particular co–conveners Paul Rogan (16th on the day) and Doug Cowie (silver medal in the M60 championship).
OFFICE BEARERS SEASON 2015-2016
Honorary President: ALASTAIR MACFARLANE
President: CAMPBELL JOSS 25 Speirs Road Bearsden, G61 2LX Tel: 0141 9420731 cdjoss2@gmail.com
Immediate Past President: ALASTAIR MACFARLANE
Vice-President: ADA STEWART 30 Earlsburn Road, Lenzie, G66 5PF Tel: 0141 578 0526 stewart2@ntlworld.com
Honorary Secretary: ALASTAIR MACFARLANE 7 Andrew Avenue, Lenzie, G66 5HF Tel: 0141 5781611 almacrun@btinternet.com
Honorary Treasurer: ANDY LAW Euphian, Kilduskland Road Ardrishaig, Argyll PA30 8EH Tel. 01546 605336 Lawchgair@aol.com
Membership Secretary: DAVID FAIRWEATHER 12 Powburn Crescent Uddingston, G71 7SS Tel: 01698 810575 djf@dfairweather.plus.com
Handicapper: PETER RUDZINSKI 106 Braes Avenue Clydebank. G81 1DP Tel.0141 5623416 p.rudzinski@ntlworld.com
Committee Members:
JOHN BELL Flat 3/1, 57 Clouston Street Glasgow G20 8QW Tel. 0141 9466949
MARGARET DALY 24 Strowan Crescent Sandyhills Glasgow G32 9DW Tel. 0141 573 6572
WILLIE DRYSDALE 6 Kintyre Wynd Carluke, ML8 5RW Tel: 01555 771 448
PHYLLIS HANDS 39 Albany Drive Lanark ML11 9AF Tel. 01698 252498
STEWART McCRAE 17 Woodburn Way, Balloch Cumbernauld G68 9BJ Tel: 01236 728783
KEN MONCRIEFF 25 Princes Street Stirling FK8 1HQ Tel. 01786 474978
JOHN SOFTLEY 6 Cathkinview Road, Mount Florida Glasgow G42 8EH Tel. 0141 5701896
PAUL THOMPSON Whitecroft, 5 Gareloch Brae, Shandon, Helensburgh G84 8PJ Tel. 01436 821707
ROBERT YOUNG 4 St Mary's Road, Bishopbriggs Glasgow G64 2EH Tel. 0141 5633714
BMAF Delegates Alastair Macfarlane Ada Stewart
SAL West District Delegate Willie Drysdale
SAL Delegate at AGM Ken Moncrieff
Website Ada Stewart
Auditor George Inglis
FIXTURES
March 2016
Sat 12th Sun 13th British Masters Indoor Track & Field Champs Lee Valley Athletic Centre
Sun 13th BMAF Cross Country Championships Bath University Claverton Down Rd BA2 7AY
Tue 29th Mar – Sun 3rd Apr European Masters Indoor Championships – Ancona, Italy
April 2016
Sat 2nd BMAF & VAC 10k Championships Queen Elizabeth Olympic Park, Stratford, E20 3ST
Sun 10th Tom Scott 10 mile road race Strathclyde Park
Sun 10th 50th Round the Houses 10km RR Grangemouth
May 2016
Wed 4th Snowball 4.8m RR Coatbridge Outdoor Sports Centre, 19:30
Sat 14th BMAF Road Relay Championships Sutton Park Sutton Coldfield B74 2YT
Fri 20th –Sun 22nd European Masters Non-Stadia Championships – Vila Real de Santo Antonio Algarve Portugal.
Sat 28th TBC Cairnpapple Hill Race, Meadow Park, Bathgate
June 2016
Wed 1st June Corstorphine 5 miles Road Race 7:30 pm. Turnhouse Rd, Edinburgh
Sun 19th BMAF Open Pentathlon Championships Horspath Athletics Ground Oxford Rd Horspath Oxford OX4 2RR
Sun 19th BMAF 5k Championships Horwich Leisure Centre Victoria Road Horwich BL6 5PY
Wed 29th SVHC 5K Champs Playdrome, Clydebank, 19:30
July 2016
Sun 3rd Scottish National Masters T&F Championships, Aberdeen
Sun 17th EAMA Inter-Area Track & Field Challenge Norman Green Sports Centre Solihull B91 1NB
Sat/Sun 30th /31st BMAF Open Decathlon/Heptathlon/ Weight Pentathlon/10K Run+Walks/ Summer Classics Alexander Stadium, Birmingham B42 2LR
August 2016
Sun 14th BMAF Marathon Championships Ballacloan Stadium, North Shore Road, Ramsey, Isle of Man, IM8 3DX
Sun 21st SVHC Glasgow 800 10k Champs Cartha Rugby Club, 13:30 September 2016
Sat 17th Trial Race for International XC Tollcross Park
Sat/Sun 17th /18th BMAF Open Track & Field Champs Alexander Stadium Birmingham B42 2LR
October 2016
Sun 9th Neil McCover Memorial Half Marathon Kirkintilloch, Inc.BMAF & SVHC Champs
Sun 16th SVHC Track 10K 11:30 & 13:00. AGM 14:00. Venue TBC
26th Oct – 06th Nov World Masters Track & Field Champs Perth, Australia November 2016 Sat 12th British & Irish Masters Cross Country International Tollcross Park, Glasgow