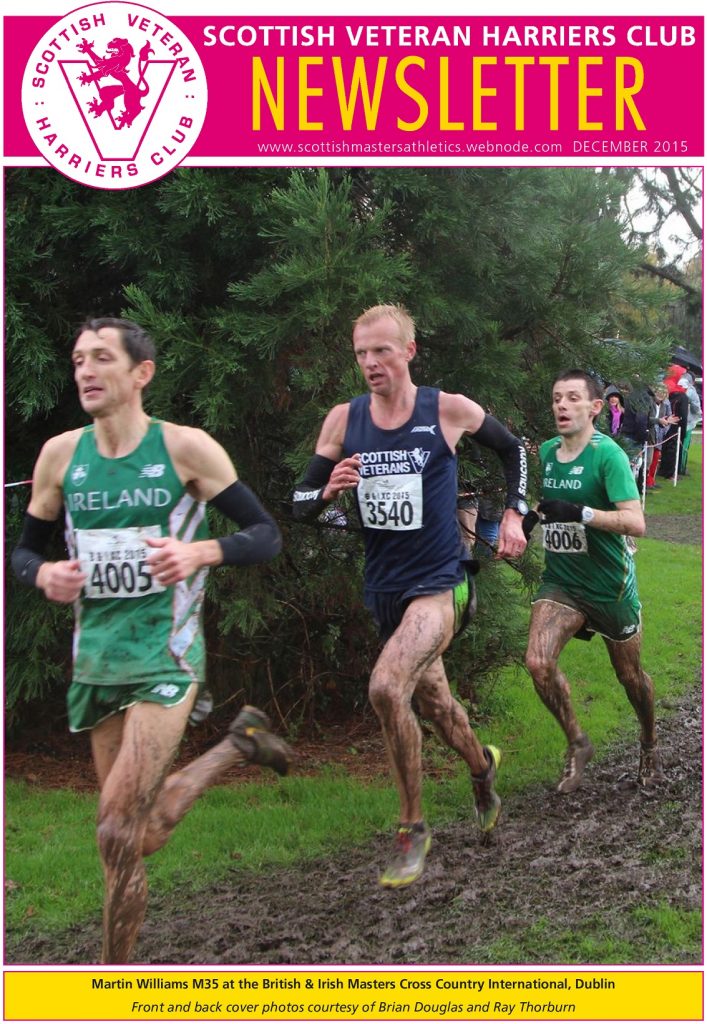 MEMBERSHIP NOTES 4th December, 2015
I will be standing down as Membership Secretary in October 2016. Ada Stewart has very kindly volunteered to take over from me if approved at the next AGM. Alastair Macfarlane has also announced that he'll be standing down as SVHC Secretary, so we'll be looking for a volunteer to replace him before the AGM.
MEMBERS
I regret to report that 1 of our members has died recently. Brian Campbell passed away on 26th August, aged 71. He had been a member of SVHC since 1997.
Welcome to the 14 new and 6 reinstated members who have joined or re-joined since 19th August 2015. 55 members did not renew their subs last year and 4 have resigned. As of 4th December 2015, we have 488 paid up members .
For those who have not already paid or set up standing orders, subscription renewals are due now for 2015/16. It was agreed at the AGM to change the annual subscription as follows: £20 for ordinary members, £10 for non-competing members and zero for all aged 80 or over. Any member not wishing to renew their membership should send me a resignation letter by post or email.
NEWSLETTER The electronic version of the Newsletter is now the preferred option. Any member who would rather receive a printed Newsletter must contact David Fairweather (djf@ dfairweather.plus.com), if they have not already done so. Please inform David if you add or change your email address.
Please send photos, news, letters, articles, etc for the next issue To: COLIN YOUNGSON TOMLOAN, SANQUHAR ROAD, FORRES, IV36 1DG e-mail: cjyoungson@btinternet.com Tel: 01309 672398
SVHC EVENTS
Stewards/marshals are required for club races. The club appreciate all members & friends who volunteer to act as stewards/marshals. If you are not competing just turn up and introduce yourselves to the organisers.
STANDING ORDERS
Thank you to the members who have set up standing orders for membership subscriptions. Please remember to update the amount payable, & keep me informed if your membership details change (especially email addresses). If any other member wishes to set up a standing order please contact me.
CLUB VESTS Vests and shorts can be purchased from Andy Law – £18 for vests, including postage and £23 for shorts, including postage. If ordering both together deduct one lot of postage. Or, can be delivered to any of the Club races by arrangement with no postage. (Tel: 01546 605336. or email lawchgair@aol.com)
NEW MEMBERS
NAME JOINED NUMBER TOWN
Neil Smith 28-Aug-15 2272 East Grinstead
Grant Wooler 28-Aug-15 2273 Perth
Brian McGarrity 02-Sep-15 2274 Glasgow
Deborah Roe 04-Sep-15 2275 Glasgow
Colin Hutcheon 08-Sep-15 2276 Linlithgow
Norman Baillie 13-Sep-15 2277 Glasgow
Sheila Lewis 10-Oct-15 2278 Glasgow
Rory Campbell 21-Oct-15 2279 Galashiels
Alex Wood 02-Nov-15 2280 Linlithgow
Billy Gibson 04-Nov-15 2281 Dundee
Paul Monaghan 09-Nov-15 2282 Glasgow
David Cross 10-Nov-15 2283 Edinburgh
Kenneth White 18-Nov-15 2284 Helensburgh
Philippa Millage 24-Nov-15 2285 Glasgow
Jane Kerridge 02-Sep-15 1705 Banchory
Greg Hastie 04-Sep-15 2064 Glasgow
George Black 10-Sep-15 26 Kingskettle
Phyllis Lemoncello 08-Oct-15 1069 Nairn
James Breen 18-Oct-15 2041 Glasgow
Edward Dickson 20-Oct-15 1176 Bishopbriggs
David Fairweather Membership Secretary
SCOTTISH VETERAN HARRIERS RUN and BECOME RACE SERIES 2014/15
After 16 races spread over 11 months the Jackie Gourlay Trophy for the winner of the Men's event goes this year to Andy McLinden with 73.5 points, with Colin Feechan 2nd on 69.6 and Willie Jarvie 3rd, 68.4. Andy Law & Neil Robbins made up the top five, covered by 6.9 points.
The Dale Greig Trophy for the winner of the Women's event goes to Frances Maxwell 61.7 points, with Ada Stewart 58.8, Pamela McCrossan 51.2, and Shirley MacNab 49.1 taking the minor prizes.
The best performance over the series came from Andy McLinden with 9.3 points at both the Clydebank 5km & the Neil McCover ½ Marathon. David Millar scored 9.3 points and Kerry-Liam Wilson 9.2 at the Tom Scott 10mile race.
For those who are new to this competition, each runner's best 8 performances from the selected races are involved, with age grading utilised to allocate points won. For those who complete more than the required 8 races an additional 1 point is awarded. Over £600 worth of prizes are available along with trophies and competition is always keen. Check the SVHC website for regular updates.
The draft list for 2015/16 is –
18/10/15 SVHC 10K Track Champ Coatbridge
25/10/15 Ruby's Race 5K Kilmarnock
12/12/15 SVHC Xmas Handicap Clydebank
27/02/16 SAL Cross Country Champs Falkirk
06/03/16 Lasswade 10 miles Road Race Lasswade
tbc Lost Trails Race Falkland
10/04/16 Tom Scott 10 mile road race Motherwell
10/04/16 50th Round the Houses 10km RR Grangemouth
08/05/16 SVHC Walter Ross 10km RR Cartha
04/05/16 Snowball Race 4.8 miles Coatbridge
tbc Bathgate Hill Race Bathgate
01/06/16 Corstorphine 5 miles Road Race Edinburgh
tbc SAL Masters Track & Field 3km/5km tbc
29/06/16 SVHC 5km Champs Clydebank
tbc SVHC Glasgow 800 10k Champs Cartha
tbc Moray Marathon Elgin
02/10/16 SVHC Half Marathon Champs Kirkintilloch
Alastair Macfarlane
OBITUARY: BRIAN CAMPBELL 6th October 1943 – 26th November 2015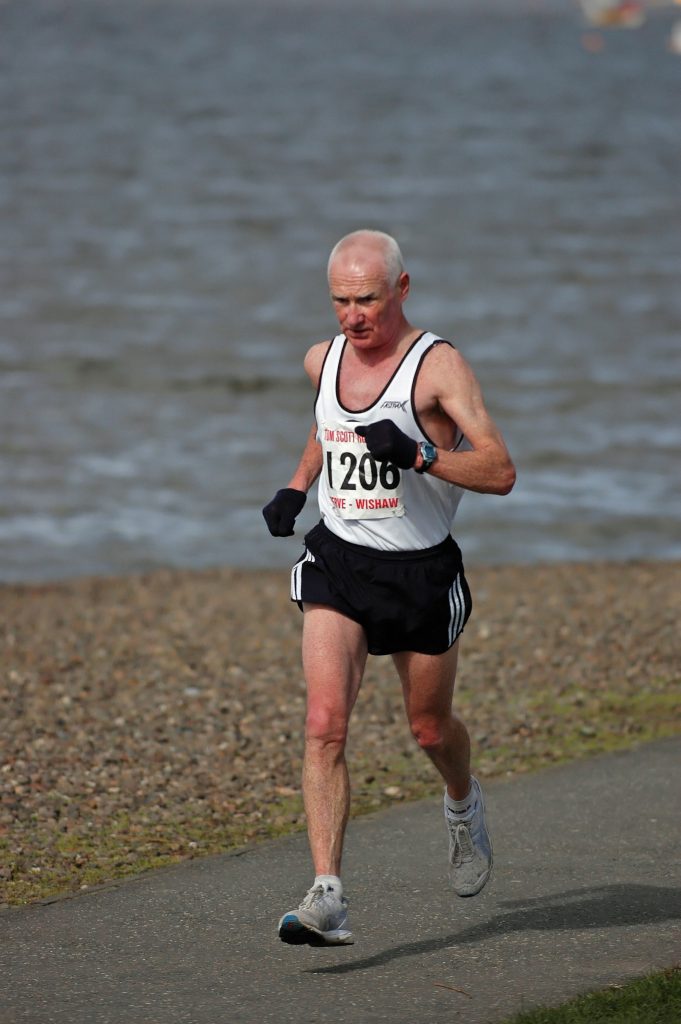 Brian's clubmate Brian McAusland wrote the following:
Probably the most successful Clydesdale Harriers men's team the club has ever had, in terms of winning British titles, is the group known as the Three Amigos who went everywhere as a team in the M60 Age Grouping and won just about every British Team Championship they entered, whether on the road or over the country, whether 5000 metres or 10,000 metres, whether straight race or relay race between 2002 and 2008. In that period they won thirteen titles and medalled in four others – quite remarkable!
Each was a very good athlete in his own right but if ever there was evidence of the total being greater than the sum of the parts, this was it. Brian Campbell started out as a school football player after attending a school in Lanarkshire where the heroes were Billy McNeill and Bobby Murdoch. By fifth year he was captain of the school first eleven and, as was usual, played for the school on the Saturday morning and for an amateur team in the afternoon, thereafter repairing to the pub or the dancing for a couple of pints.
He had what he called the 'dubious pleasure' of playing against Jimmy Johnstone when he played outside right for St Columba's Boys Guild and Brian was left back for St John's!
Athletics became a career purely by chance. At the age of thirty six he had to give up weekly five a side football 'due to several injuries – broken ankle, dislocated shoulder, broken fingers, fed up wife…' By the age of forty he had gone up to 11.5 stones in weight and at New Year 1984 his resolution was to get back some fitness.
By January he had started easy runs with some other 'potential geriatrics'. By April he was running in the Galloway Marathon in 3:26:00 and then three weeks later he ran the Motherwell Marathon in 3:22:00. In his first year he ran four marathons in all – not to be recommended he said!
In 1985 he joined his local club Hamilton Harriers and as his children grew he introduced them to athletics taking three of them to the club twice a week and to League Meetings at the weekend.
In 1986 he went to Inverclyde on a coaching course where he shared a room with one of his heroes, Commonwealth 10,000 metres champion Lachie Stewart, and did some coaching at the club.
!987/88 saw him try some triathlons with a bit of success winning the vets prize at East Kilbride and Cumbernauld. The training demands of three distinct schedules were ultimately too much physically and time-wise and so he went back to road running where he picked up various age group prizes at a variety of distances and venues.
His best performances as a Veteran were: Marathon: 2:49:55; Half Marathon: 74:52; 10 Miles: 54:25; 10K: 33:50.
Brian had known Bobby Young and Pete Cartwright through road and cross country racing plus as members of the SVHC. It was actually at one of the Vets Races in 2003 that he got talking with Pete and the upshot was that he joined Clydesdale Harriers as there were no other over 60s at his club to make up a team.
Like the others Brian had many individual and team successes over the period in question – for example in 2006 he won both 1500 metres and 3000 metres at the Scottish Vets Indoor Championships in Kelvin Hall. In addition, he ran frequently for Scottish Masters in the annual British and Irish Masters Cross Country International.
One of the main ingredients of the success of the trio was that they were indeed The Three Amigos who delighted in each other's company. Indeed in 2009 they spent six weeks together in Australia and New Zealand: you don't do that and not fall out if there is not something special in the relationship.
Brian's great friend Bobby Young added the following: For many years Brian was well known to me and Pete as a fellow runner. From the early 1980s we competed as rivals on many occasions. Brian was a good runner and a very hard man to beat. He was very friendly and always good company. Many a good story, several beers and funny jokes were shared after races.
Towards the end of 2003, as we both approached the new M60 age group, we discussed the potential success Clydesdale Harriers would have on the Masters competitions. Together with Pete Cartwright, we would be a formidable team especially at British Masters level. We had all been successful on occasions individually but together we would be more than the sum of the parts.
So in 2004 we entered the British Masters XC Championships in Durham and won Silver behind Bingley Harriers. Next was the Road Relay Championships at Sutton Park, Birmingham. During the race Brian damaged a calf muscle but typically he struggled on to hand over to myself and we managed to secure Bronze behind Bingley Harriers.
When Brian was fit again we set off into the 2005 campaign in which we entered six British Masters events and won them all, earning the title "The Border Raiders" down South and, at home "The Three Amigos".
Quite a few more titles followed after that. We spent a lot of time together over the next few years, especially the six weeks touring Australia and New Zealand in January-February 2009.
Brian was a great guy to spend time with, knowledgeable, well read, with a great sense of humour. A constant supply of jokes and funny stories flowed by email. He had a great passion for seeking out and consuming Real Ales, with which I was very sympathetic and helped as much as possible.
After a race in 2014 in Maryport, every pub was checked out for suitable ales, but none passed muster. So off we went north to Lancaster which provided two Wetherspoons establishments which satisfied Brian's high standards.
Brian was a lovely man who will be sadly missed by family, friends and fellow runners. On behalf of myself, Peter Cartwright and fellow Scottish Veteran Harriers, I would send our deepest sympathies to Jo, the children and grandchildren. He was extremely proud of them and loved them deeply.
GREAT SCOTTISH VETERAN ATHLETES – ANDY COOGAN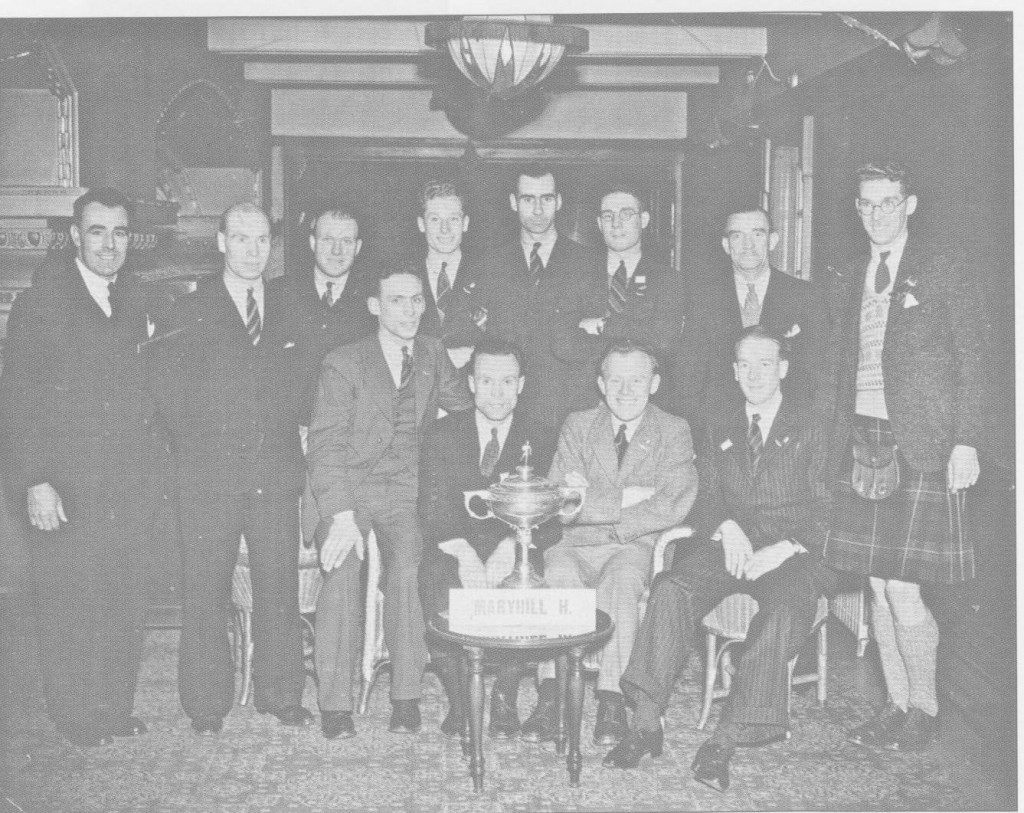 (The Maryhill Harriers team which won the 1939 Edinburgh to Glasgow Road Relay, with Andy Coogan in the back row, third from the right. Can you spot other famous Scottish runners: Donald McNab Robertson, Emmet Farrell and Gordon Porteous? Photo courtesy of the Coogan family.)
Andy Coogan's friend James Munn reports that Sir Chris Hoy's great-uncle (and inspiration) celebrated his 98th birthday in April 2015.
Andy's autobiography ('Tomorrow You Die') was published 2012, and is a marvellous tale of resilience and survival, especially during three and a half years suffering in a Japanese prisoner of war camp.
Andy Coogan was a very talented middle-distance runner, not only before his military service, but also many years later, once the Veteran Athletics movement was established.
His first club was the famous Maryhill Harriers, which he joined as a youth, and then had considerable success, particularly in the mile and half mile, but also in longer races, including cross country. In 1938 Andy won the Police Mile at Hampden; and then the Empire Exhibition Mile at Ibrox.
He was 21 when the Second World War broke out in 1939, and was called up to serve in the Lanarkshire Yeomanry. In November 1939 Maryhill Harriers led all the way to win the prestigious Edinburgh to Glasgow Relay, with Andy coming in first on Stage One.
In 1940, before embarking for Cape Town, Bombay and Poona, Andy was invited by Bill Struth, the manager of Rangers FC, to take part in an international sports day at Ibrox. In a handicap mile, he was to race against the legendary Sydney Wooderson (the world mile record holder) in front of a crowd of 90,000! Before the event, Andy met Wooderson, who turned out to be an absolute gentleman, happy to chat with the young Glaswegian.
There were eight starters. In "Tomorrow You Die" there is a fine description of the race. "Right from the start, there was a tremendous noise from the crowd. With a lap to go, there were three runners ahead of me. At about 150 yards, I overtook Ian Stokoe of Edinburgh University, the British Universities mile champion. I was excited because I knew that Stokoe was very good. The other athletes were well behind us by this time. The atmosphere in the stadium was amazing. I wasn't sure where Wooderson was, but I knew he was coming up, by the way the crowd were roaring. I wasn't racing, using the head; I was just desperate to get to the finish. With about ten yards to go, Wooderson came level, then passed me. I was happy to be in second place and, to tell the truth, just happy to be in the race, as it was a great honour to run against Wooderson……… Afterwards, he was very encouraging. He told me that I had a good future in athletics and gave me his pins and his numbers as souvenirs……That night I allowed myself to dream of running for Scotland and maybe ultimately the Olympics."
Although Andy Coogan also won a half mile and a mile in Poona, that was to be the end of his senior running career, since despite brave fighting in Malaya, he and his surviving comrades were captured by the Japanese after the surrender of Singapore.
Details of the agonies endured during imprisonment are vividly described in the book. Yet eventually, the war did end and emaciated, starving men were freed. Andy Coogan's incredible spirit, positive philosophy and inner toughness shines through the narration.
Back in Scotland, after a long period of convalescence, during which he was helped back to fitness by Maryhill Harriers, Andy met his wife-to-be Myra. In 1948 they moved to Carnoustie and Andy founded Tayside Amateur Athletics Club.
As well as coaching and encouraging everyone in the community to participate in sport, he also took part in Veteran Athletics. In 1987 he was pictured leading the World Veterans 800m in Melbourne, in front of Shettleston's Davie Morrison. Andy won a gold medal in the Commonwealth Vets 800m at the age of 75 and kept running well into his eighties. Aged 82, in the 1999 British Veterans Athletics Championships at Meadowbank, he won the M80 200 metres! Gordon Porteous, Emmet Farrell and Davie Morrison also competed that day.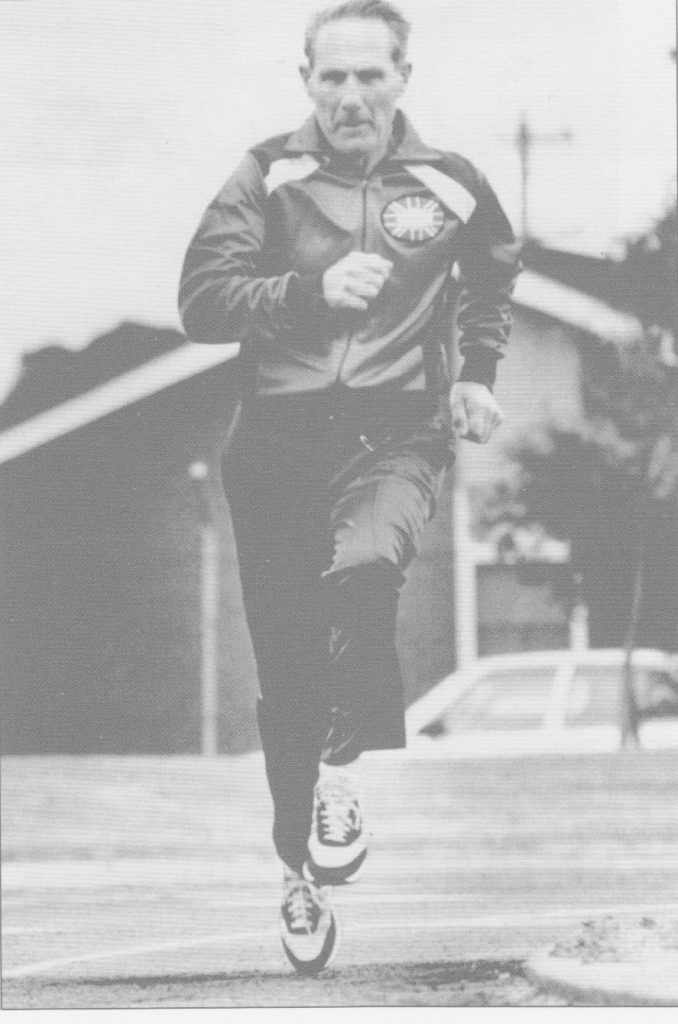 Andy says that veteran meetings were great fun, although deadly serious! Scottish Masters Track and Field presents annually 'The Andy Coogan Trophy' for the best age-graded performance (Indoors or Outdoors) in 800m by any male SVHC member.
In 2012, Andy had a well-deserved honour when he carried the Olympic torch in Dundee. He wrote that he was very moved by the turnout of friends, family and former runners with Tayside Amateur Athletics Club. James Munn reports that, nowadays, this amazing character has good general health at 98, and is an alert, articulate speaker, who lives alone but is supported by regular visits from his daughters.
PROFILE OF KERRY-LIAM WILSON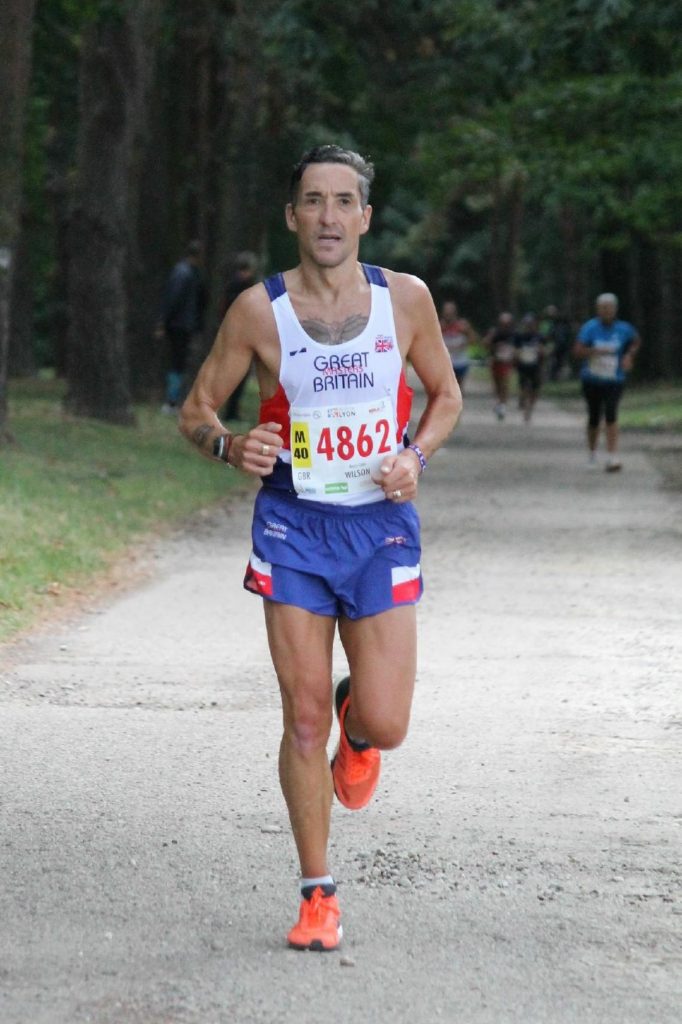 K-L nearing the finish of the 2015 World Masters Marathon in Lyon
Kerry-Liam Wilson has been the outstanding M35/M40 Scottish Veteran Harrier for several years. Only his M35 Ronhill Cambuslang clubmate Robert Gilroy seems likely to rival K-L's achievements.
Kerry has won: five BMAF titles (two cross-country, ten miles, 10k and 5k); 22 Scottish Masters championships; and nine SVHC.
On August 16th 2015, he contested the World Masters marathon in Lyon, France, finishing fourth overall (3rd M40) after a truly valiant effort. He was first Briton and helped GB to team silver. Now, as he has entered the M45 age-group, he is motivated to train for future European and World Masters events.
Both Cambuslang stars run huge mileages in training. Kerry –Liam's programme before Lyon was especially gruelling: three months hard, including six runs of twenty miles plus, and seven weeks of over 100 miles, with a maximum 131! Possibly a bit too much, even for an extremely fit 44-year-old. Once he takes just a little more care not to overdo it, and improves nutrition before and during a marathon, it seems very likely that a World or European Masters gold M45 medal is possible. No one could deserve it more.
QUESTIONNAIRE
NAME Kerry-Liam Wilson
CLUBs Ronhill Cambuslang and Scottish Veteran Harriers Club
DATE OF BIRTH Some time during the 1970s but not exactly sure. Being born in Singapore, a birth certificate isn't something they gave out in those days. OCCUPATION Production Line Operative
HOW DID YOU GET INVOLVED IN THE SPORT? Youngest son Caine-Liam went along to the local football club under 7's. However through time he just became a number, as the club got cliquey and, after I approached the coaches, I was basically told if I wasn't happy then Caine wasn't going to get a game.
After that incident we were out a family walk and met Nat Taylor of Girvan AAC and, after he was told the above story his words were "no matter how good or bad you're at running, everyone gets a number" and invited us along to a training night.
At first I was going along basically to keep an eye on Caine, as I didn't want him doing anything wrong, and also wanted to see him happy after the football incident. A few sessions passed and I was asked if I fancied joining in with the seniors so, after a bit of juggling with Caine and his wee brother Kalle who was two at this time, when Kate worked a back shift, I went out with the seniors on a Tuesday and Thursday and enjoyed it. Whatever route we did on those days I would reverse it on a Saturday before finally getting more involved.
HAS ANY INDIVIDUAL OR GROUP HAD A MARKED INFLUENCE ON YOUR ATTITUDE OR INDIVIDUAL PERFORMANCE?
At Girvan AAC I would say it has to be Nat Taylor and Jack Maxwell, two coaches who went to races a lot and took me along and showed me the ropes. Did a lot of Sunday runs with Jack too and picked his brains when out on those runs. Caine would come along too if he wasn't racing. Jack's wife Eileen would look after him, usually in a coffee shop, before supporting us on the home straight of the races.
At Ronhill Cambuslang it has to be everyone! There's a good team camaraderie, which is a vital part of becoming and staying a winning club. At first it was Stevie Wylie. Jamie Reid and Michael Johnston later on, plus David Cooney, Colin Feechan, James Orr, Owen Reid and Robert Anderson.
Stevie moved to Girvan when he bought a house, and we would do sessions and runs together all the time before his job went onto shifts, but we travelled regularly to races and, not long after that, I switched clubs from Girvan to Ronhill Cambuslang. On training runs again I would pick Stevie's brains about running, training, diet etc, and then, after meeting Jamie Reid, would delve into his knowledge. Michael is another knowledgeable individual and I have learned a lot from him. Getting lifts from Michael after he spent a day working with athletes, he still gave me the time to answer questions I was concerned about.
WHAT EXACTLY DO YOU GET OUT OF THE SPORT? LIFE!
When I'm training or racing it gives me time to search for things in life that I've never had. Gives me a focus and a meaning to be here! I get the chance to mature, be myself and be in a place I want to be, rather than somewhere worse where I have been before. Since I have been let down by many people throughout my life, running helps me to block out those dark times. Growing up without a father has made me more determined to succeed so that my boys can be proud of me. Anger can be channelled into races.
WHAT DO YOU CONSIDER TO BE YOUR BEST EVER PERFORMANCE OR PERFORMANCES?
Probably the Scottish Athletics Masters XC win at Kilmarnock in 2012 was my best win, with the way the race turned around at the front many times, before I made the break on the last uphill section. The only time I got my photo in Athletics Weekly.
Also becoming the first person ever to do the clean sweep of all FIVE Scottish Athletics Masters National title wins during the Scottish Athletics Grand Prix Series in that same year, 2012. Winning the 5k, 10k, 10 mile, Half and Full marathons with PBs at 5k, 10 mile and half marathon. I was nominated twice for the Scottish Athletics Master of the Year Award.
YOUR WORST? Hard to pick one out because, if you think you've had a bad one, there is usually a positive in there that can help you towards the next race. I'm one of the most negative thinking people you'll find and always look at the worst possible outcome. Anything better on race day is a bonus.
FIVE people help me tremendously, whether it's during a meeting, before a race or by email/text conversation. They will remain anonymous but I think of them as: The Boss, The Champ, The Chauffeur, The Coach and The Gaffer. Without them I'd be the first to admit my performances at races would most definitely not have been what they were! I've the utmost respect, and owe them dearly for helping me, not only to get where I'm at in my running, but also to help me stay there.
WHAT UNFULFILLED AMBITIONS DO YOU HAVE?
Just happy to be putting one foot in front of the other!
OTHER LEISURE ACTIVITIES?
Don't do any other sports. Gave up cycling to/from work after consistently having ITB issues. Most strenuous "away from running" thing I do is a walk in and around Culzean Castle Country Park with the family, but after training has been completed for that day.
WHAT DOES RUNNING BRING YOU THAT YOU WOULD NOT HAVE WANTED TO MISS?
Spending time with family. At first when the boys were young I was travelling the night before and sleeping at friends' or family's houses, but through time, with Kate changing jobs and getting a driver's licence, we now go to races together, meaning not many nights away, unless it's with the Masters squad for the International XC.
One thing I've found that running has brought me is the friendliness of everyone, whether they're from the same club or another club, although from time to time I still get questioned about why I left Girvan AAC to join Ronhill Cambuslang.
Before I took up running I followed football home and away in Scotland and throughout Europe with my club and International team, causing mayhem and destruction to the body through alcohol. Once the boys came along this was curtailed dramatically, as the money I used to have pre-kids was now being spent on much more important things. During that time I was often hassled for wearing football club colours, but at running THAT will never happen, so I feel there's a more secure feeling amongst the running network. It is excellent that I get best wishes and congratulations from other clubs, before and after races. Even during races the amount of people that spur you on is great to see. The National XC for example. CAN YOU GIVE SOME DETAILS OF YOUR TRAINING?
I work from Sunday to Saturday for my week's training. At my job I'm currently on a day shift/back shift rota with hours of 06:00- 1400 or 14:00-2200 hours, so my training is around those hours of employment.
Day shift week: Sunday will be the long run day. Depending if I'm racing the following weekend it can go between 16 – 20 miles. Normally around 1.45 – 2.10, again depending on race commitments and the route I choose. If in full marathon training I try and do 2 x 25 mile runs in my training schedule. Nowadays these are done on my own, depending how I'm feeling. If I'm feeling sluggish to begin with, and pick up during the run, I'll turn it into a progressive session. Other long runs I'll do 2 miles normal pace then do 1 x mile fast, 1 x mile steady x 8 then 2 miles normal giving me 20 for the day and try and have that in or around the 2 hours. Monday 05:00 hrs = 30 minutes to work, anywhere between 4.20 – 4.80 miles in length. Monday 14:00 hrs = 8, 10, 12 miles home in 50-52, 62-64 or 73-75 minutes Tuesday the same. Wednesday a.m. run the same, but the run home is a speed session, either a pyramid session or another type of interval workout. 5 x sets of 1 x 100,200,300,400,500 metres, all with 100 metres run through recovery in a pyramid style. 10 x 800 metres, 20 x 1 minute, 16 x 400 metres, 5 or 6 times a mile. Thursday and Friday the same as Monday/Tuesday. Saturday, if not working overtime, will be another session or easy run of 6 or 8 miles, normally, if racing on the Sunday. Sunday again will again be dependent on racing, but if I have not got anything on the radar, then another 16-20 will be run. Sometimes I might do a 22-24 mile run, just for the sake of it.
Back shift week I'll start the Monday with 11 miles at 09:00 10pm is the 30 minutes run home from work. Tuesday : 12 noon = 8, 10 or 12 miles with similar times to the day shift week. Wednesday : either a session as stated above or the same as Tuesday. Thursday/Friday: same as Tuesday but, if racing, I tend to taper ever so slightly, with just 30 minutes to and from work. Saturday the same as last Saturday and again, if racing, an easy paced effort. Mileage can be around 75-100 miles but again, as stated, it's all race dependent. In saying that, I've run 100+ mile weeks and been very close to my PB for that race distance.
I'm like most people who work full-time, and who have to fit in training around the job, as it's the job that pays the bills, not the running which, after all, is "just a hobby, really" – but a serious one!
(After months of intensive training, Kerry-Liam ran the World Masters marathon in Lyon. He emailed his reactions not long after the race.)
A good performance (2.31.01) on a hot day, although under 4 minutes slower than my PB. Mike said afterwards that the results looked good from where he was as, in an ideal situation, I'd have gone out at least five days before the competition to acclimatise. My splits were as follows: 5.21 5.23 5.26 5.25 5.29 5.31 5.27 5.33 5.39 5.34 5.36 5.36 5.40 5.33 5.33 5.35 5.36 5.44 5.46 5.37 5.48 5.52 6.03 6.18 6.34 6.36 2.30 Took fourth overall but third M40 and GB won Team Silver. Two medals in my first ever Worlds can't be bad, even if it didn't quite go to plan. Winner was 2.28:42; second was M45 in 3.30:07; third, second M40, was 2.30:33.
The M45 lad, I was with him from about mile 1 to mile 22. I took the lead at mile 24, but this was short-lived, for 300 metres, before winner and the M45 passed me. Was overtaken in the last 300 metres by the second M40, to leave me third.
After first lap I was 20 seconds adrift, second lap 39 seconds adrift, third lap just one second adrift whilst working well with the M45.
Stitch came from nowhere but in saying that, I took the lead during that period. Short-lived, as previously stated. Then the legs just got heavier and heavier with very little leg lift. What I did notice was the three guys all had energy drinks and the M45 had gels. I only had water from the official stations to use, in paper cups which wasn't ideal. I remember missing the first water station too. Maybe a lesson learned there!
The second M40 passed me and at that time the legs were getting heavier by the second and I knew he was closing me down but couldn't respond at all. Lost toe nail again, same one as before. Legs stiff but I've been worse after previous marathons.
Not doing any other ones this year and won't make a decision until New Year about a Spring one. I thoroughly enjoyed the experience and already thinking of Portugal for the Non-Stadia ones, 10k or half there. Following year it's the Stadia ones in Aarhus; then the Worlds again in Malaga in 2018.
As for diet, I ate pasta the evening before. Didn't have any at all in the week leading. Had chicken, tuna on the Friday night. Breakfast was three small bread rolls and two bananas. Energy drink and an SIS bar. Stomach sore with the stitch and I remember during Edinburgh the same happened. I feel fine over 10k or a half but, as in Edinburgh it hurt from 20-23 mile mark. Something again to ponder. Legs feel tight but not planning to run for a few days
One thing that was going through my mind while other guys were going to the feed tables was Nutrition! My psychologist does triathlons and she happened to ask if I took any nutrition on board during the race. At Belfast I just stuck to water. At Lochaber I had three coffees during breakfast to race start time, then Lucozade during the race. Warm conditions that day too but ended up with excruciating stomach pains almost forcing me to stop.
I really enjoyed the whole experience in Lyon, even though it was just three days. I intend still do the Scottish and British races but will possibly aim for European or World Masters Championships as my "A" races throughout the year.
MEMORIES OF LYON 2015 by Colin Feechan
(Colin ran very well to win M55 team gold for GB in cross-country and team silver in the half marathon.)
I was asked to write some comments on my trip to Lyon for the World T&F champs in August and thought it may be appropriate to focus on what it might be like for others who have thought or are thinking about possible future events, whether they be indoor or outdoor, European or World, as there is always at least one event per year. Whilst some athletes are very comfortable when arranging to travel abroad, for others they may think it's a step too far, or they have a few concerns.
The first point to make is that all of these championship events are all inclusive with respect to ability, whilst the guys and girls at the front are top quality athletes, there is the usual mix of all abilities that you see back home. As an example I saw one lady being lapped in an 800m race, but she received the biggest applause when she did finish and almost went on a lap of honour!
2014 was my first overseas event, the European Track & Field champs in Izmir, Turkey, and my wife Beth and I shared accommodation with Alan & Sharyn Ramage, who have experienced many of these races, and they guided us through the week, pointing out all of the known characters and their foibles.
Although you can use an approved BMAF travel agent and their hotels etc, most people book up themselves. With Sharyn's attendance in doubt due to injury, we booked an apartment via Airbnb.co.uk, which is a very reputable world-wide site for renting out homes, apartments etc, at a price that suits your budget. We also booked our flights separately.
We made sure our apartment had Internet wi-fi, was close to the ½ marathon start (as it was a 7am start), and had a washing machine. The washing machine meant we did not have to worry about exceeding baggage allowances, and I thought it would also help my wife feel at home!
Scott Martin of Kilmarnock Harriers was coming over for the ½ marathon only and was going to sleep on the sofa bed for the last 4 days. This worked out well as the dishes were beginning to pile up by this time (well the wife was on holiday as well!), and he had to pay his way one way or another! I even picked him up at the train station to help him get his bearings and took him immediately to the apartment!
Unfortunately, the location for the ½ marathon was changed after we booked our apartment, which meant an even earlier rise, but the metro system was so efficient in Lyon, even on a Sunday, that it did not overly bother us on the day of the race.
As with all new locations, it takes a day or so to familiarise yourself to new surroundings, so I would advise to arrive at least 1 day before your first event. We arrived late Saturday evening / early Sunday morning, with my first race being the cross county on the Tuesday. Archie Jenkins and Lynne Marr usually attend these events and are a goldmine of useful info, but they didn't make this trip. The Scots and Brits tend to stick together and build up some great camaraderie throughout these events, and we were lucky to meet up with Andy Ronald and Caroline Lawless who were on the same flight out, and again their previous experience was very helpful. Mind you, we did go on some unplanned sightseeing one day when Andy directed us off the bus quite a few stops too early!
Lyon is a wonderful city, with a very efficient public transport system, and we found the Lyonaisse very nice and approachable.
With around 8,000 competitors, around 2,000 of those were from the host country France, it would have been difficult to pick a country that was not represented. As we were competing under the GB&NI banner, all of our athletes had to wear the GB vest, some also bought the tracksuit. This did provide a sense of identity and helped you to mix with other GB&NI athletes, as well as attracting support during the races.
I competed in three events spread over 13 days (XC, 10,000m and 1/2M) so no heats required. We combined the racing with a bit of sunbathing and sightseeing. We ate out in the evenings and sampled the local cuisine, with only sometimes not knowing what we were eating, but that's all part of the experience. Sometime we ate on our own and sometimes we met up with other Scots athletes. I even took Beth out on an evening cruise up and down the Rhone and Saone rivers, with a lovely dinner thrown in, the weather was a wee bit warmer than you usually get with a cruise "Doon the Watter"!
By all accounts the results service this year was not up to the usual standard. Once again Alan Ramage provided excellent reporting with a day by day update on all competing Scots via the SVHC's page on Facebook. He also provided most of the photos which captured the effort and essence of the championships, all of this without media access. SVHC should make representation to BMAF to ensure that Alan is given media access for future events, which will surely help SVHC representation and reporting.
So, for anyone who is contemplating attendance at future events I would highly recommend it. Some of the events last only a few days, some last up to a fortnight, you are sure to find an event suitable for your needs, and will likely visit a city you would never otherwise see. Details of the international events coming up can usually be found on http://bmaf.info/ under "Fixtures"
LYON WORLD MASTERS 2015 by Alex Sutherland
(Alex showed speed and endurance to win M65 team silver for GB in the cross-country and made the top ten in this event, as well as 5000m and 10,000m.)
I thought I'd better share and pass on this experience while the memories are still fresh and for anyone else who might like to give it a try.
First, Lyon is the second largest city in France and has four fully equipped sports stadiums, any one of which casts the Queens Park in Inverness in a modest light. In fact our politicians would probably close three of the French ones under the guise of improvement!
The city played host to more than 8000 competitors from 97 different countries and they ranged from 35 to 95 plus. The organization I experienced was superb and the support and camaraderie between the athletes was excellent although language could be a problem. At one stage a Chilean and I somehow arrived at a misunderstanding that we were both Turkish, and I would love to have seen the 95 year old pole vaulter in action and been able to communicate more effectively with some of the great Russians who took part in my races.
On day one someone said that the most difficult part of the whole business was getting to Lyon, working out the public transport system (incidentally very good metro and integrated tramways), registering, finding your accommodation, and getting to the start line. Running the race was the easiest part!
My big fear was always going to be the heat, which was expected to be in the mid to upper 20s, but fortunately for the first and my main cross country event at 8 in the morning, it was probably just under 20 degrees and very runnable. The terrain was flat and dry, wood and parkland with tree roots and tight corners, not unlike the Inverness park run but 8 K. I started cautiously and then began to enjoy racing and moving up the field. The first results showed me 9th. and first Briton, but then when the chip info came in I was 8th. equal with a Russian who I didn't see at the end but he must have been behind in the big mass start. We also got the silver team medal behind a Russian gold but in front of Germany which won bronze.
The medal ceremony was pure theatrics with the Russian national anthem, flags, and podiums which rose about 2 feet into the air as you were announced, but the silver one was catching under the edge of the gold, tipping it over, so you were in danger of being decanted onto the lower stage, plus by this time I had got changed but fortunately managed to borrow someone's track suit top. No doubt there will be a photo somewhere.
Two days later it was the 5000 metres, only my second on a track, so I wore my new spiked shoes but was the only one to do so, everyone else was in racing flats. [For the 10,000 I used my lighter cross country studs.] I knew it was going to be hot, and it was at 39 degrees so they played a hose across the track in two places and you ran through the water every 200 metres which was some relief. I managed 10th. and third Brit on that one in 20 min 09 secs, which was slower than my last two park runs and the Grangemouth race, but probably to be expected given the conditions on the day.
My last race on the 6th.day was the 10,000 metres on the same track and fortunately the temperature had dropped back again to the upper 20s. Ran it strategically and managed 8th, again in 42 17, two minutes slower than the recent Inverness 10 K, but very glad to reach the end, despite some confusion over the bell ringing for the last lap. I thought I'd finished twice and then had to go back and cross the pad again as I'd veered off too soon to the refreshment stall! The joys of track running. These things don't happen on the hills and trails where my heart really is!
Anyway, it was all a great experience and one I can thoroughly recommend. I also have to thank Ian Johnstone and the late George Mitchell for their encouragement to try bigger competitions, Stratherrick and Foyers Community Trust for their financial help, and of course my family who came to lend such great support along with all the French and their cries of Allez! Allez! which are still ringing in my ears.
Soon after returning from France I needed to take things a bit easier (but managed to fit in the Pollok Park 10K, and a 4th place in the 10 mile Glenurquhart Games trail race) so joined my sister and 30 odd horse runners to run about 85 miles across Wales over 4 days. Lots of rolling hill country, time spent opening and closing gates for the riders and in return I did take a lift on a horse to get across the infant river Severn!
We slept in barns and had a chow wagon following behind, providing great support, and of course it was an opportunity to use ancient tracks and trails on a huge variety of surfaces.
At one point the route was completely blocked by a tangle of wind blown conifers, and the horses had to make a long detour, while I crawled over and under the obstacles and made up 2 hours on the riders.
The highlight on the last day was reaching the 4 or 5 mile stretch of beach at Borth on the West Coast, and running along the wide open sand on the edge of the tide. Looking back over your shoulder and seeing a posse of riders making up ground was the closest thing to being in a Spaghetti Western I'm ever likely to experience!
So what does the rest of the running year look like? I guess staying ahead of injuries, some more study of Chi running, the anorak ambition of trying to get the Park Run time down to 19.47 (my birth year), the Tarbert/Rhenagadal hill race in Harris and of course the cross country season with the Scottish Masters in Forres and the International in Dublin, and I guess whatever other adventures, places and friends that running so often provides.
QUESTIONNAIRE – DAVID MILLAR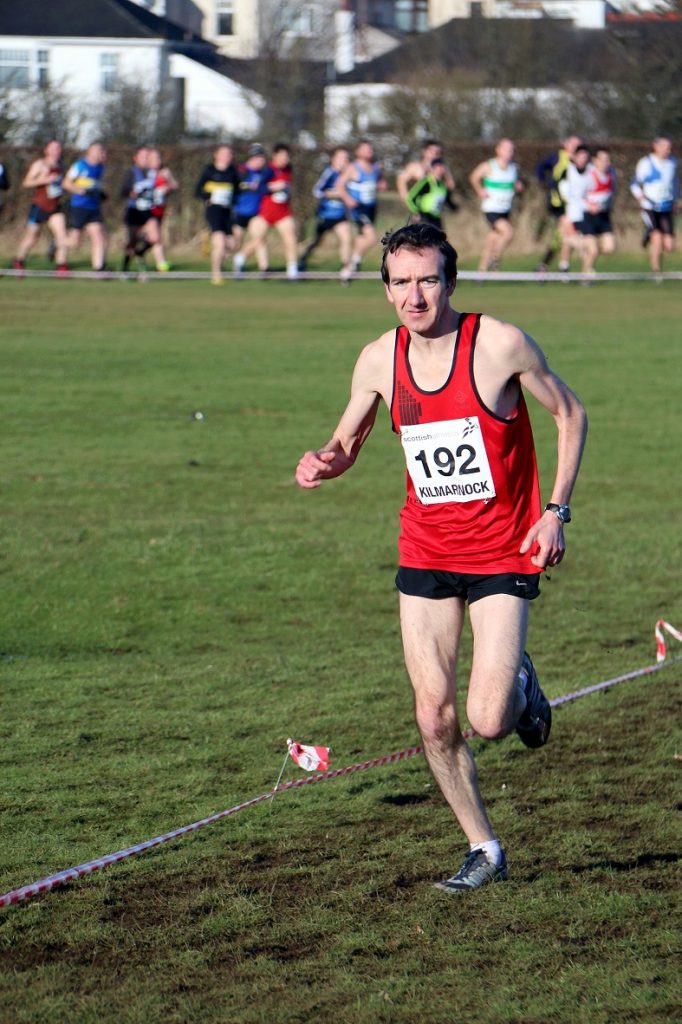 (David en route to winning the 2015 M45 Scottish Masters title at Kilmarnock. Back in 2008 he was first M35. Recently he was first M45 in the Tom Scott 10 miles, beating all the M40 runners.)
NAME David Millar
CLUB Irvine (was Athletic Club, now Running Club)
DATE OF BIRTH 9/7/69
OCCUPATION Investment Analyst
HOW DID YOU GET INVOLVED IN THE SPORT? I initially just started running as way to keep fit in my late 20s. I think I'd made a comment to my brother that a half marathon would be "easy" and signed up for the Glasgow Half when he challenged me to prove that.
Thereafter, in 1997 I started going down to the club in Irvine. For the first couple of years I was also doing some post graduate studying alongside my normal work so was not running as seriously. However, after finishing my studies I was able to start to up my training and get involved in all the races at club level etc
HAS ANY INDIVIDUAL OR GROUP HAD A MARKED INFLUENCE ON YOUR ATTITUDE OR INDIVIDUAL PERFORMANCE? Yes, I think the group at Irvine AC (I'll always think of it as AC) were most influential – they helped me serve my apprenticeship in the running world. We had a great group of experienced and quality club runners and that helped me build up my knowledge of the history of the sport and all the events plus training methods.
WHAT EXACTLY DO YOU GET OUT OF THE SPORT? Firstly, the fitness and health benefits. However, there is a tremendous social side and I've met a lot of good friends and indeed my fiancée through the sport. I enjoy the racing and competition as well – although I've always loved training so will always run even when I lose the competitive edge. Living in Ayrshire, it's always easy to get out into the country or to the seaside and running enables you to get out and enjoy being outdoors in a nice part of the world.
WHAT DO YOU CONSIDER TO BE YOUR BEST EVER PERFORMANCE OR PERFORMANCES? I think I've been pretty consistent over the years and I've won loads of races and titles. It's difficult to rank preferences but in particular I've really enjoyed some of our team successes. Running with a relatively small unfashionable club, we really punched above our weight at times. Some great performances in the old (and much missed Edinburgh to Glasgow Relay) including the Meritorious Award, silver in the West District Cross Country Relay and silver in the National 6 Stage Relays. I remember having watched the top guys in previous years coming flying up the final hill at Livingstone and it was a great feeling to replicate that, coming up in first place after my leg.
I'm pretty proud of my consistent record over the years, my pb at the Glasgow Half in 2007 was a good memory (67'01 and second UK athlete) but looking back and seeing a series of road races where I'm hardly ever out of the top 3 over a sustained period of years is pleasing – I like to think that I always raced hard and gained the respect of my fellow racers in that way.
YOUR WORST? Thankfully I've been fairly consistent and not had too many bad runs – for years I was almost metronomic in my 10ks and could almost set my watch by when I would finish! I can't think of any real disasters, although my only marathon (back in 2000 when I was only really playing about with running) was a bit of an eye opener. I completely hit the wall, finished in 2.45 but that must have been about 20 minutes for the last two miles with rubber legs!
WHAT UNFULFILLED AMBITIONS DO YOU HAVE? As I said I've done fairly well and achieved a fair bit both individually and as a team. I've always been driven by times and tried to run as fast as I can – I suppose the only unfulfilled ambition is more of a lingering doubt as to whether I might have been able to go faster if I had started younger. Having said that, starting later has maybe helped longevity. So although acknowledging the passage of time, I'll still be trying to run as fast as I can and maybe it will be season's bests as opposed to personal bests that I will have to start aiming for!
OTHER LEISURE ACTIVITIES? I enjoy being outdoors and do plenty of walking (does that count as added training?). I also like cycling but that does play second fiddle to running and tends to be neglected when I'm fit – mind you a year of cycling when I missed all of 2013 with Achilles problems was a great way to keep fit and also a good way of reminding myself how great running is.
In terms of other sports, many of my fellow runners will know I have a weakness in my support for the team representing the blue half of Glasgow.
WHAT DOES RUNNING BRING YOU THAT YOU WOULD NOT HAVE WANTED TO MISS? As I mentioned health and fitness and the social side. Also, it's a great way to get out and about and you end up seeing a lot of places, from an industrial estate in Clydebank to the West Highland Way (and that's just this year) – you see it all. I enjoy being part of the running community and have met some great friends.
CAN YOU GIVE SOME DETAILS OF YOUR TRAINING? And then I'd have to kill you! Seriously though, as I have a fairly lengthy commute to my work in Glasgow, I have always tended more towards the quality rather than quantity. So I aim to get plenty of bang for my buck in training – as my club mates will tell you I've still to learn about the concept of the "slow run". So pretty unscientific really.
LAST LEG OF THE E TO G, 1983
(David ran his first Edinburgh to Glasgow Road Relay in 1998, when I took part in my 29th and second-last. Here are brief insights into two earlier ones, especially 1983, when the pressure of this great race weighed heavily on my narrow shoulders. Editor.)
November 1966. A skinny teenager waited nervously for changeover at the beginning of the last stage of the Edinburgh to Glasgow Relay. My first major senior competition. Earlier I'd been glued to a bus window, trying to put faces to famous names in the programme – especially the record-breaking Edinburgh University team. Once the cold metal baton was in my hand, I quite enjoyed the run – only a 'jogger' to pass and no need for heroics. My team, Aberdeen University Hare & Hounds, finished 12th. I didn't envy my exact contemporary, Innis Mitchell, Scottish Schoolboys' Cross-Country Champion, and Aberdeen AAC's last man. He was handed a precarious second place and, due to inexperience, bad luck and lack of local knowledge, was squeezed out of the medals in the last hundred yards. In his place, I doubt whether I could have managed to run in a straight line, let alone fast!
November 1983. A gnarled, cynical old-timer lounged casually against a wall, waiting confidently for changeover on the final leg of the E to G. No way! I was very worried, despite this being my 17th run in the event. It was much worse than 1966 – I knew that Aberdeen AAC had yet to win a 'Scottish team title' at senior level, although many international athletes had represented the club, such as Alastair Wood, Steve Taylor, Mel Edwards, Bill Ewing, and even a couple of very classy 'Anglos' called Peter and Ian Stewart. Our best results included a second place in 1968 (3 hours 38 minutes 40 seconds); and the heartbreak of losing first place in the 1967 'National' ON THE COUNTBACK!
We had a very good team this time and I felt that, when Mike Murray handed me a valuable but uncomfortable lead, I had better not ruin this chance of victory, or I might not get a lift home from Glasgow in the team bus – and goodness knows what the outspoken Wood might snarl at me!
The fact that the 'Best Man' at my wedding, Dave Logue (Edinburgh Southern Harriers) was 30 seconds behind, and Peter Fleming (Bellahouston), the recent winner of the Glasgow Marathon, 53 seconds, didn't increase my confidence.
The tactics are traditional in these circumstances – the person in the lead must go off hard, but not quite flat out (to avoid blowing up) and the pursuers have to charge off as if they were running a race half the distance, hoping to catch the leader, gather their energies, and surge past.
A mile into the stage, cheers from a small group of Aberdeen fans had died away, to be replaced by the Bella Bawlers and the Southern Shouters. My former team-mate, Jackie White of ESH (the guy who blew a bugle) gave a blast as I approached. I assumed that he was trying to encourage Dave Logue, so waved a reduced number of fingers at him. As I passed, he looked shocked and muttered reproachfully, "It was for YOU!"
The Bella supporters narrowed their eyes, pressed their stopwatches and said nothing. They were watching the figure of Peter Fleming, rapidly hurtling closer. (My unfortunate friend Dave had pulled a muscle – thank goodness.) Neutrals and East-Coasters seemed to be cheering for Aberdeen, and their comments quickly changed from "Fine, Colin! Keep it going like that!" to "Push it, Lad! He's catching you!" and "You'll really have to FIGHT now!" The most worrying yell was from a rabid Bella fan "'At's MAGIC, Pe'er! Ye're only 20 secs doon! Ye've GOAT him – he's DEID!"
Just when I was beginning to believe him, a couple of uphill sections appeared (my favourite at that time) and I started to pull away again. Doug Gillon, the Glasgow Herald journalist, drove past telling me to "Slow down – relax! All you've got to do is stand up to win!"
Easier said than done on my wobbly legs, but it was into the last half-mile and, after an awkward piece of dodging through a traffic jam, I flopped over the line. What a relief! Thanks to a tailwind, we recorded 3.35.30, the second fastest ever, and 40 seconds up on Bellahouston. In the end, it was a really great day for Aberdeen AAC.
QUESTIONNAIRE – RHONA ANDERSON
NAME Rhona Anderson CLUB Dunbar Running Club
DATE OF BIRTH 25/01/64 OCCUPATION Marketing & Business Development (Veterinary medicines)
HOW DID YOU GET INVOLVED IN THE SPORT? I started running in my early twenties when some workmates decided to run the local half marathon, the Wycombe Half (I lived in Bucks at the time) and I decided to join them. It wasn`t as bad as I had imagined! I then joined Wycombe Phoenix Harriers and have been involved with running ever since.
HAS ANY INDIVIDUAL OR GROUP HAD A MARKED INFLUENCE ON YOUR ATTITUDE OR INDIVIDUAL PERFORMANCE? My brother in law (Alan Robson – a former Scottish half marathon champion) inspired me to compete and improve in road races – although it would be hard to be as competitive as he was! Also my training partners and friends Rob McGrath (in Bucks), Michelle Beneteau (when I lived and ran in the Paris) and Megan Wright (all better runners than me!) have kept me focussed on training and racing over the years.
WHAT EXACTLY DO YOU GET OUT OF THE SPORT? Keeping fit and the challenge/satisfaction and frustrations of racing and trying to chase down PBs!
WHAT DO YOU CONSIDER TO BE YOUR BEST EVER PERFORMANCE OR PERFORMANCES? Getting my PB of 1h25 in the Jersey Half Marathon some time ago now. More recently – very happy to win the W50 category in the 2015 Scottish Masters Cross Country Championships at Kilmarnock this year. (Along with Fiona Matheson, Beryl Junnier and Pamela McCrossan, Rhona went on to win W50 team silver for Scotland in the 2015 British and Irish Masters International Cross Country in Dublin. Ed.)
YOUR WORST? I had a disappointing run at the Paris marathon last year – I really suffered in the last few miles. Also being out sprinted and losing the team prize as a result in a cross country in France many years ago!
WHAT UNFULFILLED AMBITIONS DO YOU HAVE? I would love to have got closer to 3 hours for a marathon (my PB is 3h08) but should have started running them before I was a vet!
OTHER LEISURE ACTIVITIES? Coaching junior athletics, camping, ski-ing and socialising with family & friends.
WHAT DOES RUNNING BRING YOU THAT YOU WOULD NOT HAVE WANTED TO MISS? I've made some great friends through running and visited all sorts of places. Always having a race to aim for keeps you focussed.
CAN YOU GIVE SOME DETAILS OF YOUR TRAINING? When training for a marathon I run 6 days a week (50-60 miles per week) which includes one long run of 15-20 miles, a 10-11 mile run and a hill or speedwork session. It's less structured outside of marathon training. I train with Dunbar Running Club on a Tuesday.
ALFIE HOWIE: DISTANCE RUNNER SUPREME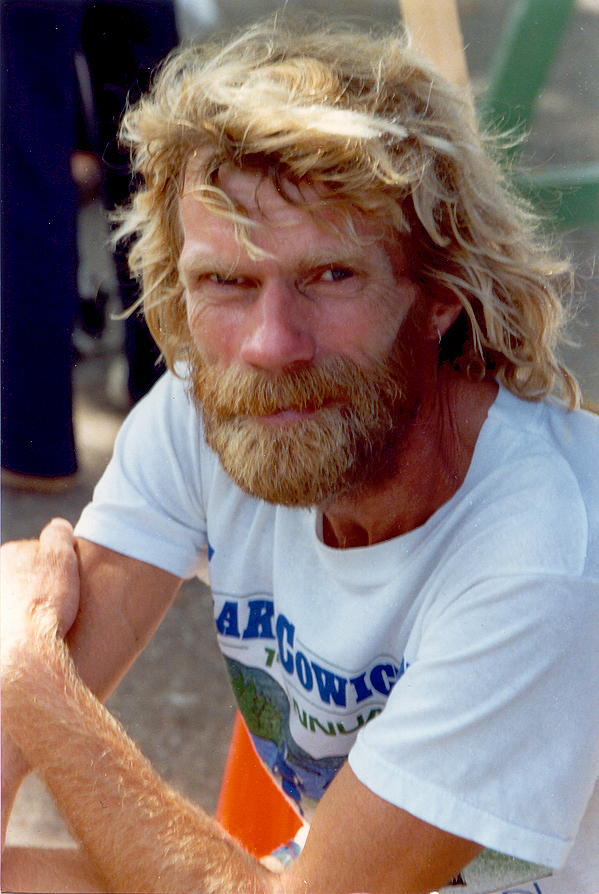 (By Allan Stirling, who was a successful Veteran sprinter from Ayrshire, a former coaching co-ordinator for Aberdeen AAC and 400m club runner. His athletic highlights were: coming second to the legendary professional George McNeill in the 100m; gold for GB in the World Championships (M55) 4x400m in 3.53.02; silver in the South American Championships (M60) 800m in 2.31; and South American Champion (M65) in single sculls. Lives in Ipanema, Rio de Janeiro.)
It often comes as a surprise on encountering old acquaintances to find either that they have changed completely or followed a path not too dissimilar to oneself. The formative years at school, I guess, play a part in shaping our attitudes and having a PE teacher of the old school variety did little to foster a love of running for myself at least, and most likely for the subject of this article, Mr Alf Howie, runner, ultramarathoner and record breaker.
As a classmate of Alfie Howie at Ardrossan Academy in the 60`s neither of us were I believe particularly interested in running, however by some bizarre twist it was decided that we should run the half mile handicap, just for a laugh, and accordingly gave ourselves a more than generous handicap. The honours went to me, however this was a pyrrhic victory as I had to suffer the wrath of the sixth formers for a considerable period of time.
Alfie won the race the next year as I remember, with ease by all accounts. Al (or Alf) Howie, as he is better known in North America, took up running to rid himself of his heavy smoking habit in his late 20s and found something which he clearly enjoyed doing, not for the pleasure of winning, although that would come later, but for the sheer joy of running as he was able to run to and from races with relative ease.
For me Alf Howie epitomises the `Alf Tupper` character, the Tough of the Track, and to finish a race or during meal stops with a pint and fish supper seemed like the natural thing to do. Something that Hash House Harriers have been doing for years. Sir John Walker (Great NZ Miler) was partial to a fish supper I understand. Alf`s feats are the stuff of legends and as a result he is no stranger to the Guinness Book of Records. The SVHC Newsletter is too short to list all his achievements which are well recorded on Wikipedia or in the distance running website www.scottishdistancerunninghistory.co.uk both of which make interesting reading.
He is of course best known for his win in the Trans Canada Highway run from Newfoundland to Victoria`s Mile Zero in a time of 72 days, 10 hrs and 23 minutes (coast to coast) a record which looks to be unbeatable, imagine 100km a day for 72 days. His charity efforts from this race raised $7500 for the Elks and Royal Purple Fund for children with special needs, which speaks volumes.
Other interesting records include: the longest non-stop run, 4 days and nights round a track, covering 1422 laps in 104.5 hrs, solely to publicise the Commonwealth Games; and completing the Sri Chinmoy 1300 mile event in a world record time.
In these ultras Alf Howie set the bar sufficiently high for mere mortals to only dream of, and, while a couple of individuals have bettered a few of the records, no single person has put his or her stamp on ultra distance running quite like Alf Howie.
Always a fighter, he was diagnosed with a malignant brain tumour behind his ear and, instead of submitting to the surgeon`s knife and chemotherapy, he sought alternative medicine, and with the help of a clinic in Vancouver cured the condition in a few months, with a healthy macrobiotic diet free of preservatives and regular shiatsu massage.
In a Trans USA Run he ran across the Mojave Desert but was forced to withdraw due to severe blistering of his feet as he did not have the correct heat-dissipating insoles in his shoes. This he believes led to the onset of Type1 Diabetes some years later. Did this affliction stop him from running? Not one bit. To him it was just another challenge to be met and overcome somehow. The paraphernalia that accompanies diabetes treatment became an everyday part of his kit bag.
Three years after his diagnosis of diabetes he had regained his ultra form once more and won 4 out of 5 races. His last being the 72 hour Across the Years event which started on December 29th and finished on New Year's Day in Phoenix, a race which he won.
Now 70 years of age, Alf lives in Duncan, Vancouver, and is receiving treatment for diabetes. Whilst Alf Howie has been feted in Canada, he is sadly largely unknown in the UK except in distance running circles. The former pupils society in his old school condenses his profile to a few lines but does, however, make reference to the Guinness Book of Records.
My attempts at raising awareness of Alf`s accomplishments with the local running club in Saltcoats, something which never existed in the 60s, seem to have fallen on deaf ears. Who knows, perhaps I will get a retort from an SVHC member from there, which would be cool.
I do believe that this bairn of 'Jock Tamson' is deserving of some recognition in old Scotia. Running side apart, the man is a legend in Vancouver, not only for the running records, but also his views on life, respect for the environment, and willingness to help out charities when the need arises. If there was a Scottish equivalent of the Legion d`Honneur I believe he would have been a recipient years ago, alongside the likes of R.L. Stevenson, another enlightened expat.
AL HOWIE: LOOKING BACK
(This is a 2007 article, posted on planetultramarathon)
Al Howie's thick mustache and Scots brogue remain intact. He's still lean and sinewy, not far off the 135 pounds he weighed in his prime 15 years ago, when he was the greatest ultramarathoner on Earth. But he's 61 now and wears thick glasses, his vision hampered by diabetes, and his hands quiver. "I'm sorry I'm not in better shape," he says quietly, in the Duncan group home where he lives today. "But I guess we all have our problems." Meeting him under these circumstances, it's hard to believe he once held several Guinness world records — but then again, so many things about Al Howie's life have been unlikely.
Born in a tough port town near Glasgow (ED: actually, Ardrossan and Saltcoats are more like seaside resorts) he spent all of his 20s as a vagabond hippie, got married twice, fathered two children, and didn't start running until he was nearly 30 and living in Toronto, trying to work off the aggression from quitting a three-pack-a-day smoking habit.
After he moved to Vancouver Island with his son, his hobby became an obsession; he started entering races, and though he did well in marathons, he found that if he ran in longer contests, he was always way out in front.
To finance his races, he worked as a tree planter; for a while he had a job at a copper mine near Port Hardy and ran to and from work, 12 miles each way.
On the racing circuit, he became famous as much for his unusual style as his victories. Wearing a "Tartan Spartan" T-shirt, he lived on a steady diet of beer and fish and chips — sometimes even during a race. "It drove people crazy. They'd see me knocking back a beer while they were stretching, and the next time they'd see me would be up on the podium."
On top of that, to keep expenses down, he'd often run to races in other cities, putting his bags on the bus to a distant town, catching up to them and changing clothes, then sending them on to the next stop.
He ran from a marathon in Edmonton to one in Victoria. He ran from B.C. to California for a race, and from England to Italy. And when he reached his destinations, he often won.
But after Howie was diagnosed with a brain tumor in 1985 — which he claimed to cure by switching to a macrobiotic diet — he got serious, and set a series of astonishing long-distance records.
At UVic in 1987 he jogged 580 km nonstop in 104.5 hours, the world's longest continuous run. In 1988 he ran the 1,400-km length of Britain in 11 days. In 1989 he became the first person to finish the Sri Chinmoy 1,300-mile race in New York, beating its 18-day time limit. And on September 1, 1991, he arrived in Victoria, finishing the fastest-ever run across Canada, in 72 days — averaging 103 km, the equivalent of two-and-a-half marathons, every single day.
Why do it? "People walk long distances, and running's more entertaining," he replies bluntly. "You see more." Plus there's the satisfaction of setting a seemingly impossible goal, planning, focusing, and then achieving it.
Howie's never talked much about the zen of running, but he did once say his sport was a way of escaping from the materialism of everyday life, from "earning or spending, buying or selling."
"I'm in my element when I'm doing it," he told a reporter in 1998. "All that matters is that you cover ground, eat right. You stop worrying about Saddam Hussein, or that the rent's due back home."
But the material world caught up with him. Though he loved talking to people while running, he never cashed in as a motivational speaker. Though he raised thousands of dollars for charities, he often lived in bitter poverty.
As he wrote in a letter to Monday in 1987, during a round-trip run to the Queen Charlottes for the United Way, "Sometimes I run on adrenalin …. more often, I run on resentment, angrily pounding the blacktop. Why must I run on empty? Why do I get no support from my hometown? Mostly, I plod on because I have committed myself to this asphalt insanity and I simply don't know how to quit."
His personal life has suffered, too. He's no longer with his third wife, and lost contact with his son, who was deported back to Scotland after a marijuana arrest. In 1992 Howie realized he had Type 1 diabetes, and though he managed it carefully, in 2001 he suddenly lost his motivation to compete, and started being treated for depression, a common condition for insulin-dependent diabetics. "The talent's still there," he says. "But I didn't deserve quite that amount of bad luck."
Near the end of this weekend's Royal Victoria Marathon, runners will pass the statue of Terry Fox, and the sign for Fonyo Beach. But they'll actually have to stop and look closely at Mile Zero to see the small plaque there, commemorating Al Howie's own incredible run across Canada. His other records have been topped, but at least he can get some satisfaction knowing that one is literally set in stone. "I don't think anyone'll ever beat it," he says, and he's probably right.
Scottish Veteran Harriers Club AGM 18th October 2015
As usual this year's meeting was preceded by the 10km Track Championships which were well supported. For a change the slightly slower runners along with the hardy walkers started earlier in a separate race followed later by the sub 40 competitors This seemed to work quite well with less cluttered fields although Hugh McGinlay caused some concern when he collapsed halfway through, Thankfully he recovered quickly .
Some people from the race could not wait for the excitement of the AGM whilst others collected their Run and Become awards before scuttling off. In truth it is not the most riveting event of the year but it is a shame more don't stay.
Those who did heard reports from the previous year, which included easier to read accounts. These showed the club to be in reasonably good financial health but it was agreed to increase the annual subscriptions for the first time in many years. This will help to support future teams in international or other representative events.
2016 will be a busy year for club members. Apart from the usual fixtures there is a possibility of teams competing in inter area track matches and a new international 10km road race. In November we host the International cross country at Tollcross Park and a special sub committee is already actively planning for this. Hopefully we shall put in a strong performance as it is important for the host nation to do well.
By Campbell Joss
LETTER FROM BRIAN GARDNER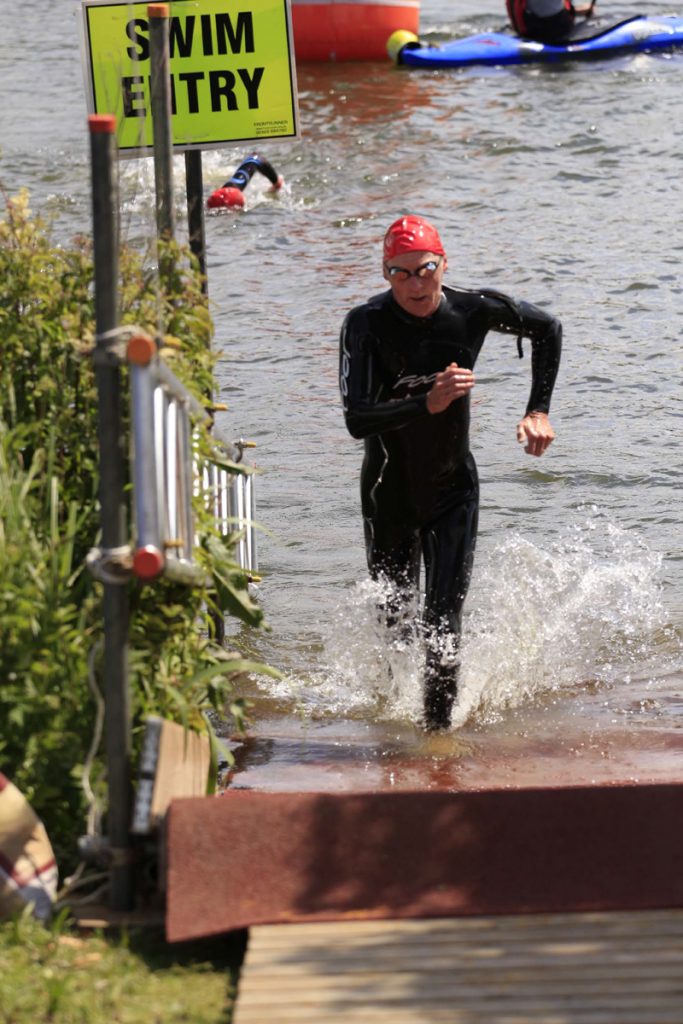 A LETTER FROM BRIAN GARDNER
Hi Colin, How's this for a fairy tale? Two and a half years, several injuries, three operations, and one retirement from athletics after last winning a medal in a Scottish Masters Championship (M55 cross country silver), I win M55 silver in the Scottish Masters Open Water swimming Championships. Unfortunately, that's all it is: a fairy tale. What actually happened was that I failed to finish the swim, had to call in the rescue boat and spent half an hour in the ambulance with near-hypothermia.
However, although my experiment in championship swimming – which is non-wetsuit – didn't work, I did have some success in a wetsuit and have loved my first season of open water season.
Here are ten reflections on the similarities and differences between cross country running and open water swimming:
Open water swimming is to pool swimming what cross country running is to track 2. For a skinny, ex-Scottish Veteran Harrier, swimming without a wetsuit is like running a cross country race naked and barefoot
I felt great running out of the water (see pic) in a triathlon relay (my son cycled and my daughter ran) but half way up the 400m hill towards the transition area I remembered why I had given up running to take up swimming
Even after 40 years of running, a year of swimming can change body shape
Night Swimming is like nothing else on land or water – amazing!
You can make huge improvements in competition swims with small changes to technique in training – my best swims were in July, August and early September (see attachment 4); I like to think that this was down to good coaching and planning as well as warmer water!
Swimming with the tide or current e.g. Bournemouth Pier to Pier is like running downhill, wind-assisted
Results aren't everything: some are unofficial and some don't really matter e.g. my final swim – the Night Swim – was my slowest of the year but the most enjoyable
Although I'm competing at a lower level than I used to do as a runner, I'm having more fun: my wife tells me that I come out of the water elated, like a wee boy, unlike many disappointments after running like a donkey
There is life after running: you're never too old to try something new and if you stick at it the rewards can be wonderful Yes, I'm still as thoughtful as ever!
Best wishes, Brian Gardner.
Date Competition Type Venue Distance Position M55 Time
APRIL
1 Sat 18th April Swimathon Pool Calne LC 5000m (1) (1) 1:35:29nws 2
Wed 29th April KimOswim series 1 Lake (31) Cotswolds 1500m (4) (1) 25:59
MAY
3 Wed 13th May KimOswim series 2 Lake (31) Cotswolds 1500m (3) (1) 25:25sb 4
Sat 31st May Small Fry Lake Reading 1500m 4 (1) 25:51
JUNE
5 Wed 10th June KimOswim series 3 Lake (31) Cotswolds 750m (2) (1) 11:55pb 6 Sat 13th June Events Logic Lake (62) Cotswolds 1500m 7 (1) 25:38 7
Sun 21st June Wiltshire ASA Lake (32) Cotswolds 1500m nws 24 1 (2nd M41) 27.35nws 8
Sun 28th June South West ASA Sea Weymouth 1500m nws 36 (1) 32:34nws
JULY
9 Sat 4th July Big Cotswold Swim Lake (32) Cotswolds 1 mile 12 1 (1st M50) 26:11
10 Sat 11th July Triathlon Relay Lake Bowood 750m (1) (1) (11:13)pb 11 Wed 22nd July KimOswim series 4 Lake (31) Cotswolds 1500m (2) (1) 23:50pb 12 Sat 25th July Big Swim Lake Nottingham 1500m 24 1 (1st M50) 24:04
AUGUST
13 Sun 2nd August ASA National Masters Lake Sheffield 1500m nws 30 4 29:39nws 14
Sun 9th August Pier to Pier Sea Bournemouth 1.4 miles (19) (1) (32:02) 15 Sat 15th August Scottish ASA Loch Callander 2000m nws DNF -­‐ -­‐ 16
Wed 19th August KimOswim series 5 Lake (31) Cotswolds 1500m (3) (1) 23:44pb
SEPTEMBER
17 Sat 5th September Create Swim Lake Bradley Stoke (2600m) 5 (1) 41:43 18 Wed 9th September KimOswim series 6 Lake (31) Cotswolds 750m (1) (1) 12:08 19 Sun 13th September Triathlon Relay Lake (62) Cotswolds 1500m (7) (1) (23:17)pb 20
Sat 19th September Big Cotswold Swim 2 Lake (32) Cotswolds 1 mile 17 1 (1st M50) 26:23
OCTOBER
21 Sun 4th October Lido Challenge Pool Cheltenham 2000m (1) (1) (33:37) 22 Sat 10th October Night Swim Lake Oxford 1500m 26 (1) 26:54
British & Irish Masters Cross Country International Santry, Dublin – Saturday 14th November 2015
This year we returned to Santry Demesne, where the race was held in 2005 & 2010. Most runners chose to fly to Dublin Airport, where free bus transfers were available to the Crowne Plaza Hotel & Travelodge. Travel arrangements were difficult for several runners because of the effects of Storm Abigail, but everyone managed to get there eventually.
Pat Timmons provided us with race numbers, reception tickets and programmes on Friday afternoon, which Archie, Lynne & Colin started distributing before the Team Managers' meeting.
The race was held on almost the same course as previously, but some minor changes were made because of the waterlogged conditions. In spite of invaluable assistance from Alastair Macfarlane, Ada Stewart Archie Jenkins, #andy Law & Colin Feechan, my Scottish Team Manager's job was even harder than usual, as our team had several potential medal winners unable to attend & 2 or 3 late call-offs.
However, the team did a lot better than 5 years ago finishing 3rd Women's team, 3rd Men's team & 3rd overall out of the 5 competing countries and won 4 silver & 8 bronze team medals. There were 4 individual silver medallists & 1 bronze medallist, but unfortunately no gold medals.
In Race 1, Joasia Zakrzewski finished 3rd W35, behind AnneMarie McGlynn & Natasha Adams IRL, followed 32sec later by 2nd W50 Fiona Matheson, who was once again pipped in the finishing straight by Claire Elms ENG. Sharon Muir, Alison Dargie & Megan Wright were next Scots finishers, 7th, 8th & 10th W40s.
Betty Gilchrist again finished clear of Brigid Quinn, but was pushed into 2nd place by new W70 Dot Fellows ENG, who had a commanding lead of nearly 3min!
Melissa Wylie 8th W45, Isobel Burnett 6th W55, Jane Kerridge 5th W60, Hazel Bradley 4th W65 & Anne Docherty 6th W70 all deserve special mention.
Alex Sutherland was first Scots male, finishing 7th M65, 2sec ahead of 1st M70 Peter Giles ENG. Bob Young & Stewart McCrae finished 5th & 6th M70.
George Black put in a brave run, with the aid of permitted painkillers, to finish 2nd M75 just 4sec behind Peter Covey ENG & 1min ahead of 6th placed Watson Jones. 81 year old Walter McCaskey was 8th M75, 2 min behind Watson.
In Race 2, Neil Thin finished 2nd M55. 23sec behind Tommy Payne IRL. Jim Buchanan 12th M50 was next Scot finisher, followed by 5th M55 Colin Feechan. Andy McLinden & Alastair Dunlop were 7th & 8th M60.
In Race 3 Martin Williams 7th M35 was first Scots finisher, followed by 7th M40, Kenny Campbell. Kerry-Liam Wilson was 7th M45
RACE 1: 6KM FOR WOMEN AND M65+
W35: 3 SCOTLAND Joasia Zakrzewski 3, 22:26, Jennifer Forbes 12, 23:59, Fiona Dalgleish 16, 24:23, Claire Thomson 20, 26:03.
W40: 3 SCOTLAND, Sharon Muir 7, 23:12, Alison Dargie 8, 23:30, Megan Wright 10, 23:37, Gillian Sangster 19, 24:46.
W45: 5 SCOTLAND Melissa Wylie 8, 23:54, Anya Campbell 16, 24:44, Bernadette O'Neill 18, 25:46, Julia Harris 20, 26:23.
W50: 2 SCOTLAND, Fiona Matheson 2, 22:58, Beryl Junnier 9, 24:54, Pamela McCrossan 11, 25:19, Rhona Anderson 12, 25:49.
W55: 3 SCOTLAND Isobel Burnett 6, 25:08, Sonia Armitage 9, 25:37, Phyllis O'Brien 11, 26:16, Morag Taggart 15, 27:17.
W60: 3 SCOTLAND, Jane Kerridge 5, 27:27, Liz Bowers 7, 28:21, Linden Nicholson 13, 29:51. Jan Fellowes 14, 30:21.
W65: 4 SCOTLAND, Hazel Bradley 4, 28:13, Phyllis Lemoncello 12, 33:47, Ann Bath 13, 34:11.
W70: SCOTLAND, Betty Gilchrist 2, 32:03, Anne Docherty 6. 32:53.
M65: 3 SCOTLAND Alex Sutherland 7, 24:54, Robert Marshall 11, 25:33, Colin Youngson 14, 26:39, Hamish Cameron 20, 28:29.
M70: 2 SCOTLAND Bob Young 5. 26:27, Stewart McCrae 6, 26:36, Pete Cartwright 9, 27:12, Gibson Fleming 13, 28:56.
M75: 2 SCOTLAND George Black 2, 28:51, Watson Jones 6, 29:55, Walter McCaskey 8, 31:56, Bill Murray 14, 34:31
RACE 2: 8KM FOR M50 – M60.
M50: 5 SCOTLAND James Buchanan 12, 28:51, Ted Gourley 21, 29:54, Alan Derrick 24, 30:05, Chris Upson 26, 30:44, Duncan MacFadyen 29. 32:12.
M55: 2 SCOTLAND Neil Thin 2, 28:41, Colin Feechan 5, 29:16, Robert McLennan116, 30:03, Paul Thompson 17, 30:27.
M60: 3 SCOTLAND Andy McLinden 7, 31:06, Alastair Dunlop 8, 31:15, Tony Martin 11, 31:41, Andy Law 14, 32:03.
RACE 3: 8KM FOR M35 – M45:
M35: 3 SCOTLAND Martin Williams 7, 26:34, Colin Thomas 13, 27:33, Brian McGarrity 15, 27:42, David Henderson 17, 28:06, Andrew Harkins 20, 28:38, .
M40: 3 SCOTLAND Kenny Campbell 7, 27:18, Chris Greenhalgh 14, 28:27, Gordon Barrie 18, 28:48, Stephen Allan 19, 28:49, Stephen Campbell 20, 28:53, Louis O'Hare 24, 29:32.
M45: 4 SCOTLAND, Kerry Wilson 7, 27:40, Kenny MacPherson 20, 29:16. Greg Hastie 21, 29:22, David Hogg, 22, 29:30, Ian Johnston 24, 29:41. Howard Elliott 25, 30:12
TEAM RESULTS:
England Ireland Scotland Wales N.I.
Overall Points: 75 68 46 31 27
Total Overall Position: 1 2 3 4 5
Next year's race is Sat 12th November 2016 at Tollcross Park, Glasgow. The Reception and the main accommodation will be at the Crowne Plaza Hotel near the SECC.
After serving 23 years as Team Manager I want to pass on the responsibility to younger members. Although it has been a fantastic 23 years, and I've made so many friends I have found the last 2 events particularly stressful, with the increased number of competitors, and I'm also feeling the effects of the advancing years!
By David Fairweather
BMAF UPDATE
Masters Athletics Magazine All BMAF members will be able to view the new publication and some previous editions during next month via the BMAF website. Remember to first renew your SVHC membership if it is not up to date. You can still receive a printed copy.
The reason we had to cease production of "Masters Athletics" for all members earlier this year was due to the escalation of costs to more than £20,000 a year. This level of expenditure could not continue. It was therefore decided at the BMAF AGM to go online, with an option for members to purchase a printed copy.
You have two choices in order to receive a printed copy of the magazine for 12 months (4 editions), either • Go to www.bmaf.org.uk and choose Member Login • Follow the instructions to access your membership data • If your membership of the BMAF is confirmed, select the option to receive a printed copy and pay £10 via debit/ credit card or • Print a copy of this message and post it with a cheque for £10 made payable to BMAF to the address of Paul Smith the new BMAF Production Editor: BMAF Magazine, 79a Cotton Road, Bangor BT19 7QH Paul will hold back printing of the December edition until everyone has had a chance to make their decision but if you are too late you will still be able to read the magazine online and your payment will give you 12 months of magazines starting with the following edition. The deadline for printing the December edition is currently 6 January 2016 but this may be extended by a few days – see the BMAF website Urgent News" for any change.
Change of BMAF entry Procedure from AREG to OpenTrack The BMAF is moving its membership management and competition entries over the next few months from AREG to a new system called OpenTrack. This system is being developed by the company Reportlab, which was set up in 2000 to deliver automated document generation facilities to a few very large corporations but has extended its mission to provide systems for managing client data, including meeting the requirements for entry to Surrey county track & field athletics and cross country competitions. This will be used by the members of all BMAF area clubs for management of their member data.
The full scope of the system is as follows: • A database with BMAF member personal details and athletics interests • An online membership system for BMAF area clubs and registration system for open/overseas competitors • A database of UKA athletics clubs and any others to which BMAF members belong • A competition entry system for both BMAF national and area club events • A competition management system for both BMAF national and area club events • A payment mechanism for members subscribing to printed copies of a magazine • A mechanism for automated email communications with members/competitors • A database of records and rankings, including tracking of records ratification • An online help facility and user guide for the software covering the functionality and its usage by each type of user Online payments will be provided by the Stripe service under the control of OpenTrack.
However, payments for SVHC membership and SVHC competition entries will continue to be via existing methods for now. Not all of the above functionality will be introduced immediately. It will take some considerable time for the full scope to be delivered by Reportlab, but they will all be there in some limited form during the first half of 2016
The timetable for the changeover is: Now until 06 Dec 2015: AREG continues to be used for • member registration and member detail update (All BMAF area club members) • Open competitors registration • membership payments (VAC, SCVAC and MMAC members or athletes wishing to join these clubs) • BMAF, MMAC, SCVAC and VAC competition entry and viewing competition entries 07 Dec 2015 – 01 January 2016: OpenTrack accessible to BMAF members and open competitors progressively to: • review their member data in parallel with AREG • update their member data in parallel with AREG • to read online copies of Masters Athletics magazine (Members only) • to subscribe to printed copy of Masters Athletics magazine AREG continues to be used for all its existing purposes but any member data updates will be transferred to OpenTrack on behalf of the members 02 – 03 January 2016 AREG unavailable whilst final changes to AREG data and current competition entries are loaded into OpenTrack 04
January 2016 onwards: OpenTrack to be used for all existing functions of AREG but new functions will be progressively introduced during 2016 for the benefit of members, membership secretaries and competition organisers SVHC Membership queries should continue to go to Ada Stewart and myself. Other assistance will be provided by the BMAF support team Peter Kennedy/Alex Rowe via the email address memsec@bmaf.org.uk
When you wish to use OpenTrack go to the BMAF website www.bmaf.org.uk MEMBER LOGIN and follow instructions shown there. We recommend that you try out the access to OpenTrack, when it is available so that you can see how simple the access is, and review the accuracy of your data which has been provided by me.
David Fairweather
OFFICE BEARERS SEASON 2015-2016
President: CAMPBELL JOSS 25 Speirs Road Bearsden, G61 2LX Tel: 0141 9420731 cdjoss2@gmail.com
Immediate Past President: ALASTAIR MACFARLANE
Vice-President: ADA STEWART 30 Earlsburn Road, Lenzie, G66 5PF Tel: 0141 578 0526 stewart2@ntlworld.com
Honorary Secretary: ALASTAIR MACFARLANE 7 Andrew Avenue, Lenzie, G66 5HF Tel: 0141 5781611 almacrun@btinternet.com
Honorary Treasurer: ANDY LAW Euphian, Kilduskland Road Ardrishaig, Argyll PA30 8EH Tel. 01546 605336 Lawchgair@aol.com
Membership Secretary: DAVID FAIRWEATHER 12 Powburn Crescent Uddingston, G71 7SS Tel: 01698 810575 djf@dfairweather.plus.com
Handicapper: PETER RUDZINSKI 106 Braes Avenue Clydebank. G81 1DP Tel.0141 5623416 p.rudzinski@ntlworld.com
Committee Members:
JOHN BELL Flat 3/1, 57 Clouston Street Glasgow G20 8QW Tel. 0141 9466949
MARGARET DALY 24 Strowan Crescent Sandyhills Glasgow G32 9DW Tel. 0141 573 6572
WILLIE DRYSDALE 6 Kintyre Wynd Carluke, ML8 5RW Tel: 01555 771 448
PHYLLIS HANDS 39 Albany Drive Lanark ML11 9AF Tel. 01698 252498
STEWART McCRAE 17 Woodburn Way, Balloch Cumbernauld G68 9BJ Tel: 01236 728783
KEN MONCRIEFF 25 Princes Street Stirling FK8 1HQ Tel. 01786 474978
JOHN SOFTLEY 6 Cathkinview Road, Mount Florida Glasgow G42 8EH Tel. 0141 5701896
PAUL THOMPSON Whitecroft, 5 Gareloch Brae, Shandon, Helensburgh G84 8PJ Tel. 01436 821707
ROBERT YOUNG 4 St Mary's Road, Bishopbriggs Glasgow G64 2EH Tel. 0141 5633714
BMAF Delegates Alastair Macfarlane Ada Stewart
SAL West District Delegate Willie Drysdale
SAL Delegate at AGM Ken Moncrieff
Website Ada Stewart
Auditor George Inglis
FIXTURES
December 2015
Sat 12th SVHC Xmas Handicap 1:30pm. Playdrome, Clydebank. G81 1PA
January 2016
Sun 24th LSK Relays Strathclyde Park 11.00 am
Sat 30th SAL Masters Cross Country Championships Forres Moray
February 2016
Sun 14th National Indoor Masters Championships Emirates Arena
Sun 14th BMAF 10 Mile Championships Lytchett Minster, BH16 6JD
Sat 27th National XC Championships Callendar Park
March 2016
Sun 6th Lasswade AC 10 Mile Road Race Rosewell, Midlothian
Sat 12th Sun 13th British Masters Indoor Track & Field Champs Lee Valley Athletic Centre
Sun 13th BMAF Cross Country Championships Bath University Claverton Down Rd BA2 7AY
Tue 29th Mar –Sun 3rd Apr European Masters Indoor Championships – Ancona, Italy April 2016
Sun 10th Tom Scott 10 mile road race Strathclyde Park
Sun 10th 50th Round the Houses 10km RR Grangemouth
May 2016
Wed 4th Snowball 4.8m RR Coatbridge Outdoor Sports Centre, 19:30
Sat 14th BMAF Road Relay Championships Sutton Park Sutton Coldfield B74 2YT Fri 20th –Sun 22nd European Masters Non-Stadia Championships – Vila Real de Santo Antonio Algarve Portugal.
Sat 28th? Bathgate Hill Race, Meadow Park, Bathgate
June 2016
Wed 1st June Corstorphine 5 miles Road Race 7:30 pm. Turnhouse Rd, Edinburgh Sun 19th BMAF 5k Championships Horwich Leisure Centre Victoria Road Horwich BL6 5PY
October 2016 26th Oct – 06th Nov World Masters Track & Field Champs Perth, Australia
November 2016 Sat 12th British & Irish Masters Cross Country International Tollcross Park, Glasgow