Jim tells us that the same very successful girls are eligible for the same age group next year again. We can look at their last two meets for an indication of just how good they all are.
The headline for the 30th September meeting read: "Girls won Danner Invite and JV championships went 1-5 to perfect score – good day for the girls – boys still on the upswing."
It was indeed a good day for the girls with victory in the Danner invitational where the top girls were Fiona Max (2), Teaghan Knox (6), Kelsey Gripehoven (11), 14 Isabel Max, Azza Swanson (15) and Jasper Fievet in 26th place. The points for the team were 38 and the second team was well back with 101 points. The equivalent Boys' team was fifth out of 22 teams invited to compete with Zachey Weber fourth and best team runner on the day. The Girls Junior Varsity team over 5000m was well clear of the opposition taking the firt five places in the race. Top runners were Magdalene Williams, Ashley Boone, Liv Dowling, Ellie Skiersaa and Jorun Downing. They won with 15 points to nearest rivals 65. The Boys team was sixth out of 31 competing squads. Top man finished fourth (Will Lange).
It was a big event with 19 races in all and the results of every race, including split times for all runners, were available almost immediately online. We could maybe take a lesson therefrom.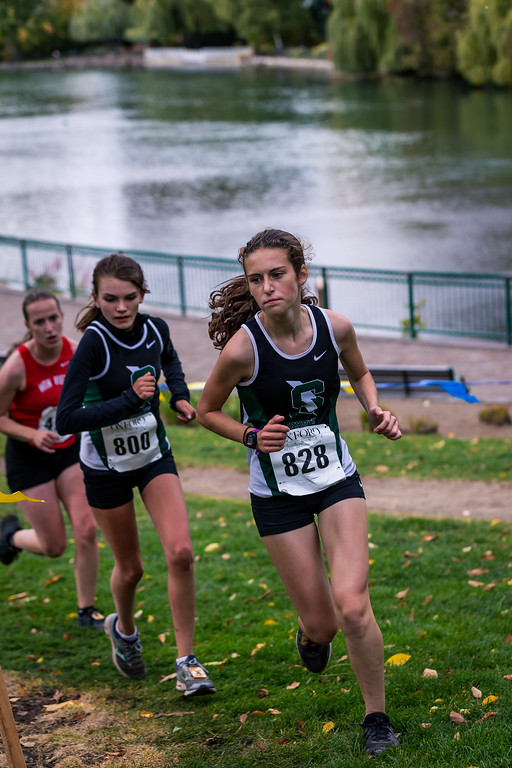 The next meeting was the Oxford Classic ten days later and there were six races in all with Summit teams out in four of them. The Junior Varsity girls did as well as they could and won the race with Magdalene, Ashley and Jorun the first three across the finish line. Zoe Villano was 9th and Sophia Segesta 14th. Team points were 28 to second place Bend's 49. The Junior Varsity 5000m race saw the girls win convincingly – with runners placed 1, 3, 5, 6, 7, 9 and a team total of 22 they won by 76 points from Capital. Top competitors in this one were (in order) Fiona Max, Teaghan Knox, Kelsey Gripekoven, Jasper Fievat, Isabel Max and Stella Skovborg. The Varsity 5000m, boys' team won their race by 63 to 74. Their top runners were Zachry Weber in sixth, Sam Hatfield in seventh and Joseph Sortor in 14th. If the Boys were on an upswing, well the Junior Varsity 5000, showed that they had maybe swung up! The team was first by 46 points from Bend with the top performers finishing 1, 2, 3, 4, 5 and 10. The heroes were, in finishing order, Mason Kissell, Nathaniel Henson, Jaden McCabe, Jesse Vanderborn, Jackson Keefer, and Connor Bellusci. Four races, four team victories, three individual first places and three races where the top two or three Summit athletes were battling each other for first place. For instance in the girls JV Gold race winner Magdalene's time was 20:14.72 against second placed Ashley's 20:14.91 – less than two tenths of a second in it. Great stuff!
If you want to read more about Scotsman Jim McLatchie as a coach at all levels from college coach to coach of Olympic runners (plural) have a look
here
Or even as a Scottish international runner himself, then look
at this link
The Pacific Cross-Country Classic was held at Lents Park on 13th October and Jim's comments on this one were that Summit ran in the Gold groups where the Girls , and I quote, "Throttled the Opposition with 4 girls running under 18 minutes. He also pointed out that Fiona Max and Stella Skovborg had been under the weather all week. This is the time of year when they start passing germs around. Funny that – it seems to be common wherever young runners are in training: I've had runners at various Scottish Universities as well as on Scholarships to the States and it has been a mild problem for many of them. One University coach tells young students that several of them will catch a cold after six weeks – and they do. It's usually just a stress reaction and not significant but it's a nuisance for the coach and the team. The thing, as Jim says, is to try to minimise the effect, keep them healthy for (a) the State championships, and (b) the Regional Qualifier for the Nationals. Results:
Girls Varsity Gold, 5000m: Summit 27 points; St Mary's 146, 21 Teams competing.
2nd Fiona Max 17:28.6; 3rd Teaghan Knox 17:47.3; 6th Kelsey Gripekoven 17:53.6; 7th Isabel Max 17:57.4; 9th Azza Swanson 18:08.7.
The Junior Varsity Girls Gold Group: Summit 3rd (88 points) behind Lincoln (66) and Sunset 67. 17 teams finished.
1st Jorun Downing 10:-8.8; 2nd Ashley Boone 19:10.8; 3rd Ellie Skjersaa 19:21.6; 38th Zoe Villano 21:35.5; 45th Sophia Segesta 21:52.9; 46th Megan Lasala 21:53.1
The Boys were also in the Varsity Gold Group and finished a respectable sixth with 167 points out of 19 teams. Top Summit man was Joseph Sortor in 16:13.3 (27th) followed by Robert Gorman, Nathaniel Henson and Sam Timms. The Junior Varsity Boys were second team (50 points) – closer to winners Sunset (33) than to third team Camas on 80. 16 teams took part. Result:
6th Will Lange 17:08.7; 9th Jaden McCabe 17:11.0; 10th Jackson Keefer 17:11.2; 14th Parker Meredith 17:21,1; 15th Dhruva Sogal 17:21.3.
There's a lot of talent in Summit now, and it tales talent on the part of the coach to develop it. Jim and Carol deserve credit for how the teams are prepped for competition this season – but no one expected the next step in their progress. This came when MileSplit ranked them Number 1 in the USA. Look at this.
MS50 XC Girls Team Rankings 2018
RANK TEAM LAST RESULT COMMENTS
1 (Up 1 Place) Summit @ Warner Pacific Classic See explanation below
2 (Down 1 Place) Mountain Vista HS @ Continental League Champs See explanation below
25 Schools Ranked.
"Our explanation on flipping Summit (OR) High School over Mountain Vista (CO) at No. 1 and No. 2:
Quite simply, Summit has run much better lately and has shown itself as the best team in the country.
While the Golden Eagles have run well over the last month, they haven't blown us away just yet and Summit is coming off a spectacular outing this weekend.
The argument for Mountain Vista: The Golden Eagles are coming off another solid win at the Continental Championships on Oct. 10 where they demolished the field with 27 points on an 18:55 average and 60 second spread. On Sept. 21, the team defeated ranked Cherokee Trail and (newly ranked) Battle Mountain in its biggest meet to date. At Liberty Bell, on Sept. 9, the Golden Eagles dispatched ranked Cherokee Trail, Niwot and a fast improving Peak to Peak Charter Team. How about the speed ratings? On Sept. 21, the squad produced: 138-124-121-112-110. On Sep. 9, the scores were: 136-130-129-129-115. Overall, Mountain Vista has beaten more ranked teams within their state.
The argument for Summit (OR): The program hasn't had a bad race. The Storm's most recent race on Oct. 13 at the Warner Pacific Classic produced four girls under 18 minutes for 5K and its fifth just under 18:10. Summit defeated the next closest team by 119 points and produced a 17:51 average and 40-second spread. The Nike Portland XC Invite on Sept. 29 was its best effort overall. The team dominated with 38 points and dispatched one of Idaho's traditional state powers, Eagle High School. The Storm put down an 18:09 average and 53 second spread. Summit also won the North west XC Classic on Sept. 15 and handily defeated No. 8 Jesuit on Sept. 8. Speed ratings for Summit at Nike Portland on Sept. 29: 138-131-124-121-120. While Summit hasn't raced outside Oregon, it's beaten a top 10 team and has the firepower right now to compete with anyone."
That is quite a ranking and, unlike many such lists, the rating body gives good sound reasons for their decision. Well done girls – and well done Jim and Carol McLatchie. As Jim says, though, getting to the top is easier than staying there but then he has shown at State level that he knows a bit about that too: State cross-country titles won down the years since the school was opened in 2001 by the boys were in 2011, 2012, 2013, 2014, 2015 and 2016, and for the Girls in 2004, 2006, 2007, 2009, 2010, 2011, 2012, 2013, 2014, 2015 and 2016. And that's not counting their contribution to the School's many track & field titles either.
.
Since the race above was posted, Jim has had a stroke and was hospitalised but, being Jim, he asked for a pass to get to the races on Saturday 27th October in the 6A-6 Mountain Valley Conference Championships. They let him go and the results must have done him a lot of good: the girls in the Junior Varsity race finished in the first five places, and with five runners to count towards the team position, they won comfortably. 15 points to the second team's 51. They had 8 runners in the top 11. The Junior Varsity men's team repeated the results – first five places and 8 in the first 11. There wre 97 finishers in the girls race and 169 in the men's. Detailed results, JV Girls first:
Magdalene Williams; 2. Ashley Boone; 3. Jorun Dowling; 4. Ellie Skyersaa; 5. Jocelyn Parks; 7. Sophia Segesta; 8. Nicole Morgan; 11. Megan Lasala.
And the boys: 1. Mason Kissell; 2. Jackson Keefer; 3. Jesse Vandenborn; 4. Jack Strang; 5. Parker Meredith; 7. Tobias Holme; 10 Milo Mora; 11. Evan Grover.
In the Varsity races, The girls won with 20 points to South Salem's 80. There were 49 finishers and Summit had seven in the top ten. The Boy's team also won their race with 33 points to 42 for Bend; 56 finishers, they had four in the top ten, three in the top four. Results:
Women: 1. Fiona Max; 2. Teaghan Knox; 3. Kelsey Gripekoven; 6. Isabel Max; 8. Jasper Fievert; 9. Azza Swanson; 10. Stella Skovborg.
Men: 1. Zachry Weber; 3. Sam Hatfield; 4. Joseph Sortor; 9. Nathaniel Henson; 16. Sam Timms; 19. Jaden McCabe.
A walk in the park? Not at all – big fields on a hilly course at an altitude of 4000 feet. This coming Saturday it is the State Championships and the school is going for eleven in a row. I'll say that again – ELEVEN in a row. No pressure then,
On 3rd November, the Varsity teams were at the State Championships and Jim was there to see them perform. It was a higher standard of race but the girls did the business again. In a field of 155 runners and 21 teams they were first by 29 points – 39 points to Jesuits 68 with the third team, Lincoln, well back on 147. It was their eleventh victory in a row and a tribute to the girls and their coaches. Ten in a row places a lot of pressure on the runners as they go to the starting line but they were equal to the pressure – just note that Fiona Max won the race by 14 seconds in a time only two seconds outside the course record. Jim's advice to her was to make a move on the hill on the last lap and keep it rolling from there: it worked, and she won in some style. As did the team. The boys ran well to finish fifth team of the 21 that were competing. Tom runner was Zachry Weber who finished twelfth in 15:54 which by any standard is a good time for his age group over 5000m of country, and only 17 seconds behind the winner. Sam Hatfield was eighteenth only 15 seconds down. 48th was Joseph Sortor, Robert Gorman was 57th and Mason Kissell 93rd..
Girls Results: five runners to score for the team total:
Fiona Max 17:29; 5. Teaghan Knox 18:01; 8. Isabel Max 18:13; 11. Kelsey Gripekoven 18:16; 14. Azza Swanson 18:27 This was really excellent packing by the team – they had five in before Jesuit had three and before Lincoln had three, and eight Summit runners were in front of Jesuit's fifth scoring athlete.
Girls cross country: Summit wins battle of powers in 6A meet
Hood River Valley takes first title; Tillamook's Solace Bergeron repeats; Kennedy's Alejandra Lopez breaks through
November 3, 2018 by Jerry Ulmer, OSAAtoday
EUGENE — Sure, Summit is proud of its run of 10 consecutive 5A girls cross country titles. But what the Storm accomplished Saturday at the OSAA/OnPoint Community Credit Union 6A championships at Lane Community College was on another level, entirely.
In a long-awaited, head-to-head battle with two-time reigning 6A champion Jesuit, Summit claimed state bragging rights by outpointing the runner-up Crusaders 39-68. In extending its title streak to 11, the Storm proved what it had been saying all along.
"We've never shied from competition. We've always felt that we belonged in 6A," Summit co-coach Jim McLatchie said. Summit junior Fiona Max led the way by winning the individual title in 17 minutes, 29 seconds. The Storm's other scorers were freshman Teaghan Knox (fifth) and juniors Isabell Max (eighth), Kelsey Gripekoven (11th) and Azza Borovicka Swanson (14th). Gripekoven is a transfer from Jesuit, where she helped the Crusaders win the title last year.
"It feels so good," Fiona Max said of the team win. "All the teams in this class are such nice people and they carry themselves with a lot of pride. … It's really nice coming up into this class and proving that we belong here, and that we're here to stay."
There is no end in sight to Summit's domination. "They'll all be back next year, and there's a hell of a lot of good freshmen coming up behind them," McLatchie said. Summit, ranked No. 2 in the nation by DyeStat, relished the challenge of running against Jesuit, ranked sixth. The Storm outscored Jesuit 22-51 to win the Ash Creek Festival on Sept. 8 but knew that the state meet was another matter. "Jesuit's really good at raising the intensity, at bringing it," Fiona Max said. "We knew they were going to bring their best. We know that we have to come prepared, as well, to combat it. We love racing against them because we know they bring out the best in us, and we bring out the best of them."
Fiona Max won by 14 seconds over the reigning champion, Jesuit senior Makenna Schumacher. She lost to Schumacher by two-tenths of a second for first place at Ash Creek, but this time, Max powered past Schumacher going up a hill at the three-mile mark and took control down the stretch. "I followed what the coaches told me to do, and it ended up working out," Max said. "I didn't think I was going to make it all the way around if I made my move there, but it worked out."
The Storm now turns its attention toward the Nike Cross Regional meet next weekend in Boise. A top-two finish would earn Summit a spot in the 16-team Nike Cross Nationals in Portland on Dec. 1.
The Women's team which had earned the right to contest the National championships and that they did right well. They ran in the championship and after having the narrowest spread of times of any of the teams plus the lowest average time of any of the opposition, won the event by no fewer than 60 points. They were interviewed before the meeting and were a bit apprehensive – as they should have been – and you can see the interview here:
https://www.dyestat.com/gprofile.php?mgroup_id=44531&mgroup_event_id=13&year=2018&do=videos&video_id=256106
Contrast this with the interview after the race
https://www.dyestat.com/gprofile.php?mgroup_id=44531&mgroup_event_id=13&year=2018&do=videos&video_id=256106
The team in finishing order was
11th F Max 17:29.0; 42nd T Knox 18:00.7; 67th K Gripkoven 18:18.2; 77th I Max 18:29.2; 96th. A Swanson 18:42.7; 134th S Skovberg 19:10.5. The team was first of the 22 teams that qualified for the Nationals with a 1.13 minute spread and an average time of 18:11. Terrific result to go with all the other top displays of running put on by the team this year.
The icing on this wonderful cake was provided when Jim and Carol were jointly named as Coach of the Year. The results alone make the award more than just appropriate but when you add in the problems that his health problems from October inevitably imposed, it was a well deserved honour.