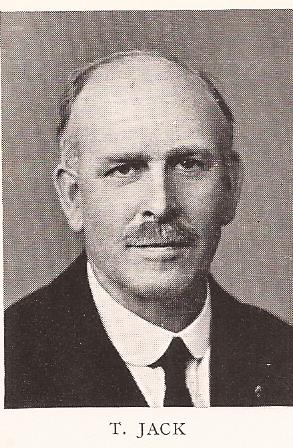 The 1907 international was back in Scotland, and in Glasgow again, at Ibrox Park on Saturday 29th June. The team was a good one with Stronach in the hurdles, Nicolson and Kirk wood in the two throwing events McGough in the Mile and Tom Jack in the Four Miles. Ireland had Con Leahy in the jumping events as well as Fairbairn-Crawford in the 880 yards and PJ Roche in the sprints so it was always going to be a close match. The Glasgow Herald Notes on Sports column the following Monday commented –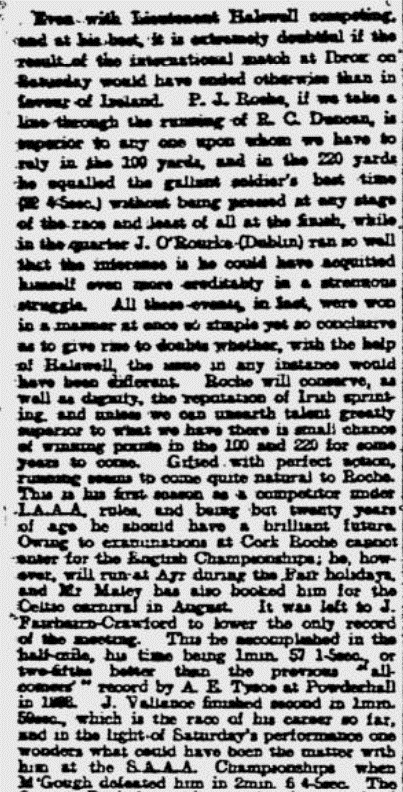 The results:
100 yards: 1. PJ Roche (I) 10.4 seconds; 2. D Murray (I); 220 yards: 1. PJ Roche (I) 22.8; 2. RC Duncan (S)
440 yards: 1. JF Kennedy (I) 51 seconds; 2. WD Anderson (S); 880 yards: 1. IF Fairbairn-Crawford (I) 1:57.2; 2. J Vallance (S)
Mile: 1. J McGough (S) 4:22.2; 2. GN Morphy (I); Four Miles: 1. T Jack (S) 20:22; 2. T Hynes (I)
120 yards hurdles: 1. RS Stronach (S) 16.6 seconds; 2. TF Kiely (I)
High jump: 1. C Leahy (I) 6′ 0″; 2. GM Mayberry (I); Broad Jump: 1. C Leahy (I) 21′ 9 3/4″; 2. RF Twort (S)
Putting the Weight: 1. T Kirkwood (S) 44′ 3″; 2. J Barrett (I); Throwing the Hammer: 1. TR Nicolson (S) 153′ 7″; 2. T Kirkwood (S)
IRELAND 6 EVENTS; SCOTLAND 5 EVENTS
The match couldn't have been closer. You have to go back to 1901 to get as even a contest. The next contest was also in Scotland – at the Exhibition Grounds at Saughton in Edinburgh – on 11th July, 1908. The Scottish Referee summarised the past results since the fixture was inaugurated in 1895.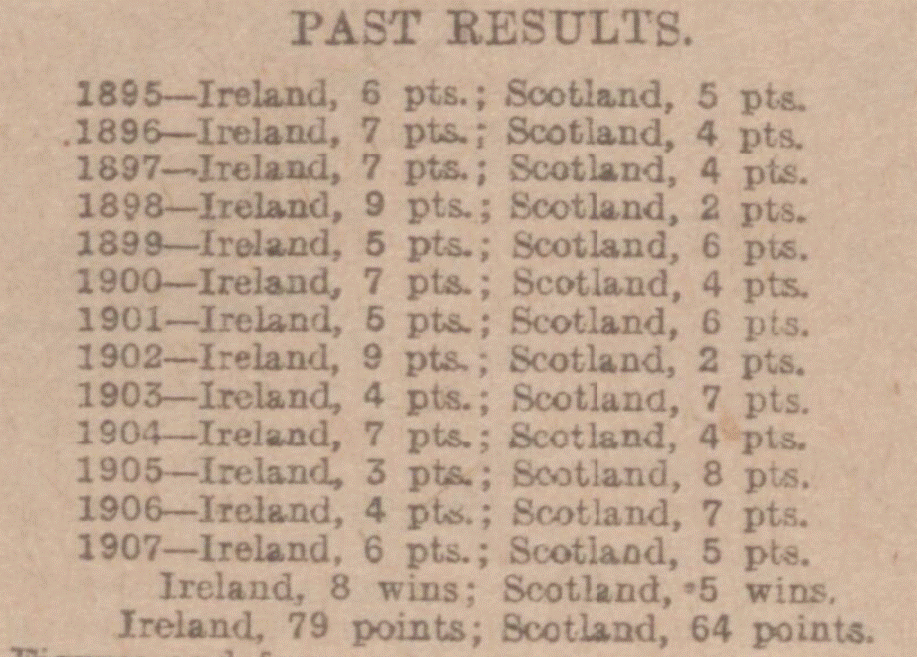 There was pessimism about the chances of the home team. Stronach was not available, A Duncan was a non-starter in the Four Miles, John McGough had been 'off colour' for the previous several weeks. On the plus side, Halswell was available, as was Sam Stevenson in the Four. Meanwhile Ireland had 'man of might' JJ Flanagan, holder of the world's amateur hammer throwing record, and the brothers Murray were in the sprints, Horgan in the Weight Putt and the famous 'Irish leppers' , the Leahy brothers. That was the bill of fare two days before the match and several of those named would not appear.
The summary of the contest as it appeared in the Northern Whig –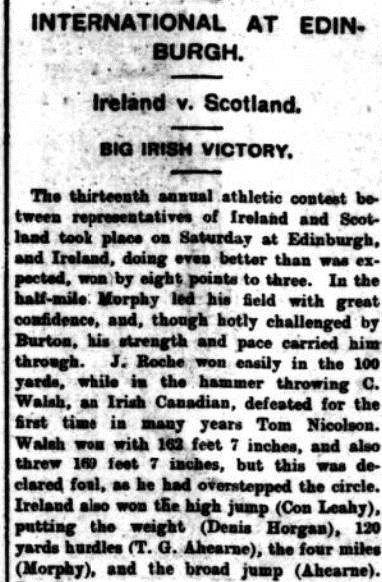 The actual results of the events were as follows.
100 yards: 1. PJ Roche (I) 10.6 seconds; 2. JP Stark (S); 220 yards: 1. RC Duncan (S) 23.2; 2. PJ Roche (I)
440 yards: 1. W Halswell (S) 51.8 seconds; 2. D Dickson (S); 880 yards: 1. GN Morphy (I) 2:00.8; 2. R Burton (S)
Mile: 1. HT Jamieson (S) 4:34; 2. GN Morphy (I); Four Miles: 1. J Murphy (I) 20:46.8; 2. S Stevenson (S)
120 yards hurdles: 1. TJ Ahearne (I) 16.8 seconds; 2. CE Kinahan (I)
High Jump: 1. C Leahy (I) 6′ 0″; 2. TJ Ahearne; Broad Jump: 1. TJ Ahearne (I) 22′ 5 1/2″; 2. WH Bleaden (S)
Putting the Weight: 1. D Horgan (I) 45′ 10″; 2. T Kirkwood (S); Throwing the Hammer: 1. C Walsh (I) 162′ 7″; 2. TR Nicolson (S)
IRELAND 8 EVENTS; SCOTLAND 3 EVENTS
Another victory for Ireland butit should be remembered that Scotland had lost the services of RS Stronach and other top flight athletes while McGough was well below par being third in the Mile. Of the Irish team out that day, PJ Roche (200 metres), TJ Aherne (hurdles, long jump and high jump), CE Kinahan (as Aherne), GN Morphy (400 m, 800m and 1500m ), J Murphy (Five Miles), C Leahy and J Leahy (high jump and long jump) were all selected after the match as part of the Irish team to compete in the Olympic Games that year. Recent competitors also selected were D Horgan, the Murray brothers in the sprints, JF Fairbairn-Crawford (800 and 1500) and LA Kiely (hammer and hurdles).
While Ireland was a country on its own for selection purposes, Scotland was part of Great Britain and the athletes were competing with the best of the Englishmen for places on the team. Nevertheless Sam Stevenson, Tom Nicolson, and Halswell were all selected that year.
The standard of competition was very high indeed. Con Leahy of Ireland is pictured below after winning the silver medal at the 1908 Olympic Games. The Irish 'leppers' were world famous and the country certainly produced many international class long and high jumpers. About Con Leahy, Wikipediea has this to say (it also mentions several other top Irish jumpers of the time):
"Leahy was born in Cregganen the County Limerick-County Cork border. He was one of seven brothers, all of whom were sportsmen. His brother Patrick won the British high jump record in 1898 and went on to win Olympic medals in 1900. Another brother, Timothy, also jumped competitively.
In 1906, Leahy, Peter O'Connor and John Daly, were entered for the Intercalated Games in Athens by the Irish Amateur Athletic Association (IAAA) and Gaelic Athletic Association (GAA), representing Ireland. However, the rules of the games were changed so that only athletes nominated by National Olympic Committees were eligible. Ireland did not have an Olympic Committee, and the British Olympic Council claimed the three. On registering for the Games, Leahy and his fellow-athletes found that they were listed as United Kingdom, not Irish, team members. Leahy was subsequently involved in the protest at the flag-raising ceremony for the long jump when O'Connor scaled a flagpole in the middle of the field and waved the Irish flag. Leahy won the gold medal in the high jump with 1.775 metres, beating Hungarian Lajos Gönczy by 2.5 cm. After his victory was certain, Leahy still tried to reach 1.83 meters, but he failed at this height twice. Leahy then took part in the hop, step and jump, which O'Connor won with 14.075 metres with Leahy coming second with 13.98 meters.
In the 1908 Olympic Games, Leahy again took part in the high jump. Three jumpers, Leahy, Géo André and István Somodi, shared second place with 1.88 meters behind the American Harry Porter, who won with 1.90 metres."
Of those mentioned above, Patrick Leahy and Peter O'Connor also both competed in the Scoto-Irish series.