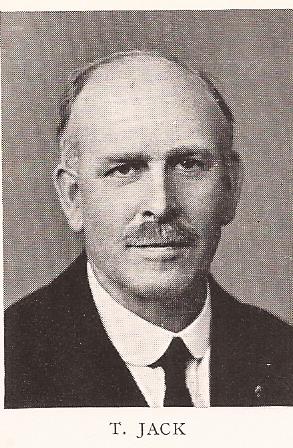 It always surprises me to see how many officials were very good athletes in their day.   You look at these guys on the judges stand or on the timekeepers ladder  and think that they were born looking like that or were always as nimble (or not) as they seem to you as a competitor.    The truth is usually – usually not just often – vastly different.   The subject of this profile is the exemplification of the official/runner interface.    Tom Jack won an SAAA title while he was President of the association.   It has come to me more and more forcibly as I have delved further and further into the subject that in many, many cases the official was a much better athlete than the runner complaining to or about him!!!   Bear that in mind as you read this, and generalise it to today's officials.
 David Keddie says "Jack, born on his father's farm at Brotherton, West Lothian, in 1881 won the first of his seven SAAA 10 miles titles in 1904, creating Scottish records for all distances above 4 miles in the 1907 race which he finished in 53:4.0.   He did not reproduce that form in the AAA's race of 1907 but in 1908 improved to third place.   Tom Jack was an MA graduate from Edinburgh University and later headmaster of Castle Hill School.   He continued to show a keen interest in the sport, especially in the schools and amongst Boys Clubs, and was President of the SAAA in 1912, the year after he 'retired' from active competition.   He died in Edinburgh in October 1960 aged 79."   
Most officials think of themselves as runners who have done as well as they could and have moved on to help current athletes and the sport in general.   Tom Jack was one of the best Scottish runners of all time.   He won the Ten Miles title six times in seven years (third in the other year), the Four Miles once with four seconds and two thirds.    The winning times were 57:09.8 (1904), 54:42.8 (1906),  53:04 (1907), 55:00 (1908),  54:03.8 (1909), 53:46.4 (1910) and, for four miles, 19:12 (55:21.4).   His track records were six miles – 31;18.8 and  ten miles – 53:04.0.   The time in 1907 was a Scottish record that stood until 1912 when George Wallach took 2 seconds from it.    If we look only at his track competition record this is the story that emerges.
In 1904 Tom Jack won the first of six ten miles titles in seven years (he was third in 1905) which added to his record of one first, four seconds and a third in the Four Miles, made him the most successful distance runner in the SAAA championships between 1904 and 1910 inclusive.     The 1904 victory was achieved on 1st April at Powderhall in Edinburgh and he was timed at 57:09.8.   "The flat season was opened on Friday night with the Ten Miles SAAA Championship at Powderhall where the course was in excellent order.   The only drawback was the wind which was rather gusty, and therefore of a somewhat trying nature.   Only four took part in the race, three from this District and one from Edinburgh.   Rankine, who won the cross-country championship, and who was the first huntsman to finish in the Grand National at Haydock Park, did not enter.   It was thought S Kennedy of Garscube Harriers, winner of the Western District cross-country championship, would win, and for a time he moved very freely, but when the pinch came, he was not able to hold out, the wind having contributed to his defeat as much as the want of stamina.   A comparatively unknown man in Jack  of the Southern Harriers won the race in 57:09.8  which is a very creditable performance when the conditions are taken into account.   He finished well and was fully 30 yards in front of Marshall of the West of Scotland Harriers, who just managed to beat his club companion Mulrine by inches.   Jack, the winner, is a valuable addition to the realm of distance amateur runners."
In 1905, he won two championship medals but neither was gold.   The Ten Miles championship was again held on 1st April and this time the best that Jack could do was third behind Sam Stevenson of Clydesdale Harriers and PC Russell (Bellahouston Harriers).   The race was won by Stevenson – who would go on to run in the London Olympics – in the fast time of 53:31.4.   "This important fixture was run off in heavy rain.   The track was all against the runners, of whom seven faced the starter.   Russell forced the pace, and led the field until the seventh mile, when Stevenson got the lead and won a great race in the splendid time of  53 min 31 2-5th sec – only 5 sec outside of record."
On 24th June he was back at Ibrox for the Four Miles at the SAAA championships.   It was clearly Sam Stevenson's year and he won the title in 20:56.4 from Jack and A Wright, the defending champion.   Stevenson only won by four yards.
It was back to Edinburgh for the Ten Miles in 1906, held on 31st March.     Back in his home city, Jack turned the tables on Stevenson when he won in 54:42.2 .   The 'Fifty Years of Athletics' official history of the SAAA gave JM Guild third place.
"PEDESTRIANISM
TEN MILES SCOTTISH CHAMPIONSHIP
This event was decided over the Heart of Midlothian Football Club's  track at Tynecastle on Saturday evening in ideal weather.   Seven started including the holder, S Stevenson, Clydesdale.   The half distance was completed in 26 min 38 2-5th sec.   From this point the issue lay between T Jack, Edinburgh Southern Harriers, and the holder, S Stevenson, who led alternately until the last lap, where Stevenson sprinted 300 yards from home but failed to sustain the effort, and Jack coming away with a great burst in the last 100 yards won by sixteen yards from Stevenson.   W Lang, Edinburgh Harriers was third, RE Hughes, Edinburgh Harriers fourth and T Robertson, Edinburgh Harriers fifth.   JM Guild, Edinburgh Harriers, and N Cormack, Preston Harriers, gave up at three and four miles respectively."
The last sentence corrects the official history (The First 50 Years) as far as third place was concerned.   Given the lap-about running between Jack and Stevenson, a pre-arranged ploy for a fast time maybe, the time was slower than the previous year in the rain when the Bellahouston Harrier forced the first seven miles.   Stevenson however gained his revenge at the championships at Powderhall on 23rd June when he won the Four Miles for the second year in succession.   Everything else was put in the shade by Wyndham Halswell's four titles in one day – it would be pretty difficult o match victories in the 100, 220, 440 and 880 yards on the same afternoon.   There were only two finishers in the Four Miles.
Jack won the longer race for the third time in 1907 at Ibrox on 6th April, and he did it in some style.   "Record smashing in April is something of a novelty as far as Scottish pedestrianism is concerned.   Yet at Ibrox on Saturday, T Jack (Edinburgh Southern Harriers) not only won the Ten Miles SAAA Championship, but enhanced the distinction by setting new records from five to ten miles.   Jack as supreme from start to finish being fully 760 yards in advance of H Young (Monkland Harriers), who in turn was well ahead of W Bowman (West of Scotland Harriers).   Jack ran with admirable judgement and consistent speed.   He accomplished the first mile in 5 min 0 2-5th sec, and the last in 5 min 21 2-5th sec while his time for the full distance was 53 min 4 sec.   The previous record holder was Andrew Hannah who, at Hampden Park in 1895, did the distance in 53 min 26 sec which, in view of the reputed fastness of Ibrox, is little, if any, inferior to Jack's performance on Saturday.   Twelve years is a long time for a record to remain in these days of high physical culture, and the fact that it has held the field so long goes to show what an exceptional distance runner Andrew Hannah was.   Jack has had a brilliant season, as he won the Cross-Country championship, and was first man home among the Scotsmen who ran in the international a few days ago, while on Saturday he added lustre to these achievements by winning the Ten Miles championship for the third time."
The intermediate records which erased Hannah's figures were  – 5 Miles  29:57.6;   6 Miles  31:18.8;   7 Miles  36:45.0;   8 Miles  42:14.0;   9 Miles  47:42.2.   In the Championships at Powderhall on 22nd June, Stevenson again finished in front of Jack – but A Duncan beat them both, winning in 20:12.4.
The following year, on 3rd April, 1908, at Powderhall Gounds, Jack won the Ten Miles title for the fourth time, and the third year in succession.   Not quite as fast as the previous year, he was timed at 55 minutes exactly.   That was probably down to the heavy going after a lot of rain that week.   The referee was Charles Pennycook, Clydesdale Harriers, former Scottish Mile and Cross-Country Champion and only four of the five entrants started the race.   Jack won from T Robertson (Edinburgh Harriers) in 56:24.8, and J Torrie (Gala Harriers) in 58:03.6.   The Four Miles was held on 'a broiling afternoon' at the championships at the Scottish National Exhibition in Edinburgh on 27th June, and, with Stevenson preferring to run in the Mile, Jack won the title from JB McLagan with A Paterson third.   The winning time was 21:52.4 – the slowest winning time in the history of the championship.
A year on to the day, 3rd April, 1909, Jack again emerged triumphant.   The 'Glasgow Herald' reported:
"For the fourth time in succession and the fifth time in all, T Jack (Edinburgh Southern Harriers) won the SAAA Ten Miles Championship on Saturday.   The race was run at Ibrox Park and, though the conditions were far from favourable, the time – 53 min 3 4-5th sec – has only been beaten on four occasions since the institution of the championships in 1895.   Jack is credited with the fastest time, 53 min 4 sec at Ibrox in 1907, A Hannah (Clydesdale Harriers) next 53 min 26 sec in 1895, S Stevenson (Clydesdale Harriers) third with 53 min 31 2-5 sec, and A Hannah fourth with 54 min 2 3-5th sec in 1894.   Five of the ten who started in Saturday's race finished inside standard – 57 min – which is perhaps one of the most noteworthy features of the race.
Jack led all the way till the second last lap when A McPhee (Clydesdale Harriers) got in front but his stay there was short lived as the champion with 200 yards to go put on a fine spurt and won by a couple of yards.   It was a fine finish and it is just possible that McPhee might have won had he not forced matters until the last lap.   All the same he ran a very creditable race, which in con junction with his win in the cross-country championships, gives him a very honourable place among distance runners.   Jack ran with apparent ease, as he always does and he seems more at ease over cinders than he does over field and fen.   A Mann (Clydesdale Harriers) was the third to finish his time being 54 min 49 sec.   No one has displayed more consistent form over the season than Mann and his running at Ibrox on Saturday was a revelation to many.  …. "
In the shorter distance, held on 26th June, it was another silver medal for Jack in a race won by Alex McPhee who, it seems, had finally got his tactics right as far as Jack was concerned.    He won in 20:36.6 and there was 'less than a foot' spearating them at the finish.
1910 was Tom Jack's final victory in the championship again beating Alex McPhee – but he was again second to McPhee in the SAAA Four Miles later that year at the SAAA Championships.   The Ten Miles was held this time at Hawkhill Ground in Edinburgh on 2nd April in glorious weather with a really first class field forward.   Straight to the report:
"The opening of the Scottish athletics season took place on Saturday when under the auspices of the Scottish Amateur Athletic Association the ten miles championship was run  off at the Hawkhill Grounds, Leith, in glorious weather.   The entry was unusually large and out of the 18 entrants, 16 started.    From the start the race lay between the holder, T Jack, Edinburgh Southern Harriers, A McPhee, Clydesdale Harriers, GCL Wallach, Bolton United Harriers, and J Duffy, Edinburgh Harriers.   These runners kept in close company until the third mile, but at the next mile Duffy had dropped back 80 yards, and at half distance was practically out of the hunt.   The field at this distance was reduced to 11.   With three laps to go the Glasgow man tried to pull out from the others but before a lap was covered, Wallach and Jack had closed up on him.   Thereafter they ran neck and neck until 90 yards from the tape, when Jack rushed to the front an won a magnificent race by five yards from McPhee with Wallach third four yards behind the Clydesdale Harrier.
Result:   1.   T Jack, Edinburgh Southern Harriers;   2.  A McPhee, Clydesdale Harriers.   Time : 53 min 46 2-5th sec.   T Jack has now won the championship six times and five years in succession.   His best time, which is a Scottish record, was at Ibrox Park on April 6, 1907.
The following runners gained standard medals: GCL Wallach, Bolton United Harriers, third, J Duffy, Edinburgh Harriers fourth, A Mann, Clydesdale Harriers, fifth, RM Bruce, Edinburgh Harriers, sixth, JC Venn, Edinburgh Northern, seventh, W Laing Edinburgh Harriers, eighth."
Mile times were: First 5:01.2;    Second 10:14.6;    Third 15:34;    Fourth 20:55.8;     Fifth 26:19.6;     Sixth 31:49.4;     Seventh 37:24.2;     Eighth 42:56.4;   Ninth 48:36.4;    Tenth  53:46.4
Given this record, he had to be selected frequently to run in the Scoto-Irish International match and his performances there were as good as might be expected, bearing in mind that the longest distance there was Four Miles.   His first appearance there was in July, 1905 when he finished second to Sam Stevenson in a match held in Edinburgh which Scotland won 8 – 3.   In 1907 he won from J Hynes of Ireland in 20:22 at Ibrox only to see Scotland lose 6 – 5.   In 1910 at Ibrox he was second to Alex McPhee and Scotland won 9 events to 3.   In Edinburgh in 1912 he was second to Ireland's FJ Ryder in a drawn match – five and a half points each.
He was equally good as a cross country runner – he won the national championship three times, in 1907, 1908 and 1912 – with five outings in the Scottish team in the International Championships – every year from 1907 to 1910, then again in 1912.    In 1907 when he was the first Scot home when he crossed the line in fifth place, in 1908  he was thirty third, in 1909 he was thirty seventh, in 1910 he was twenty sixth and in 1912 he was twentieth.    A record to be proud of.
The best tribute to him was by Colin Shields who had this to say:
"Tom Jack was one of Scotland's most distinguished and successful distance runners in the pre-first world war period.  Of West Calder farming stock, Jack was born in 1881 on his father's farm in Brotherton and enrolled as a teacher at Moray House Training College with subsequent graduation as MA from Edinburgh University.   Joining Edinburgh Southern Harriers in 1900, his early running gave no signs of the future  greatness he was to display, finishing runner-up in four successive years in his club's championships.   He blossomed forth as a national champion in 1904 when winning the SAAA track 10 miles title, a title he was to win seven times inside the nine year period from 1904 to 1912.   His best victory came in 1907.  …
Winning the Senior title in the 1907 National championships while still a Junior, he became the second athlete to win the Senior and Junior titles at the same time.   He repeated the Senior title victory the following year and again in 1912.   …
In the 1908 Olympic Games Marathon in London Jack represented Great Britain but, after leading the field for the first five miles at a suicidal fast pace, he was forced to drop out of the race with exhaustion. 
On the administrative side of the sport, after seven years as an SAAA Council member while still an active athlete, he became the only President (1912 – 13) while still an active competitor.   He became president of the Cross-Country Union in 1930 – 31, completing an administrative career which was every bit as distinguished as his competitive one.   He died aged 79 in Edinburgh in 1960 after maintaining his connections with the sport to the end."