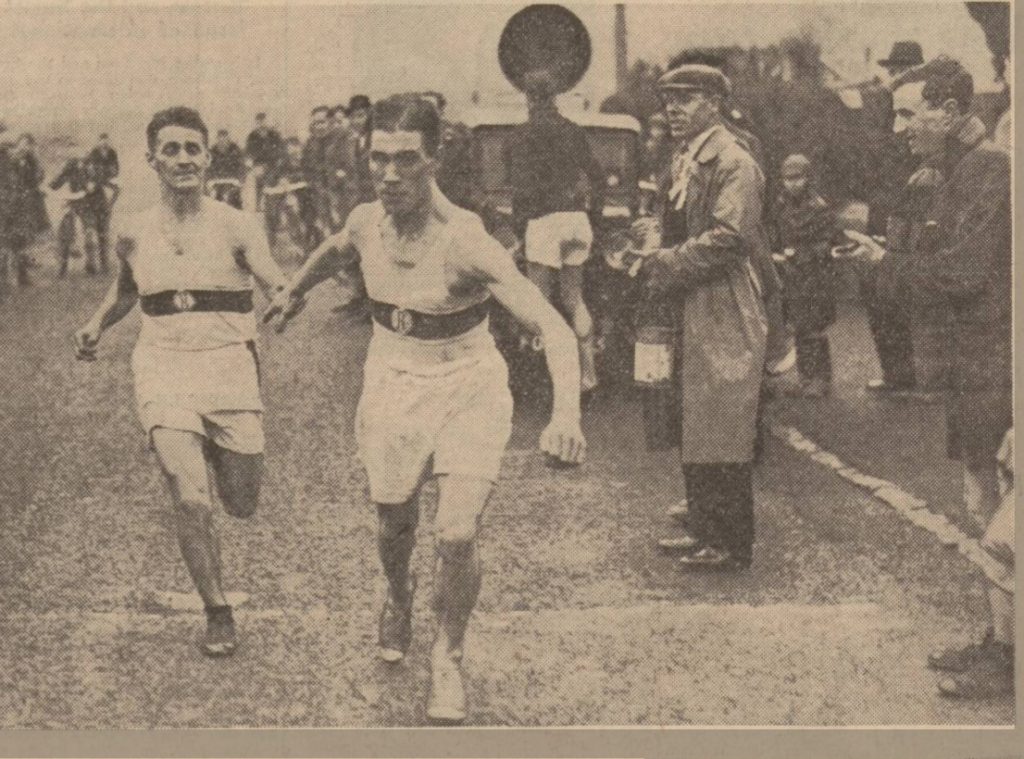 A scene from the 1935 race (see attached report) and it shows John Suttie Smith passing over to W Johnston
The Perth to Kirkcaldy was a popular 36 miles road relay race held in the 1930's which attracted athletes from the west of Scotland as well as from the east. The Edinburgh to Glasgow sponsored by the 'News of the World' had started in 1930 and was run over 8 stages; the district cross-country relays were run over 4 stages and other club organised events were also run over 4 stages. This one, with the first running being on the first Saturday in April in 1934, was over 6 stages. It's not too much of a strectch of the imagination to think that some clubs used it as a run-in to the Edinburgh to Glasgow, given that the dates of the eight stager in the 30's were 4th April 1936, 3rd April 1937, 9th April 1938 and 22nd April 1939. It was first run on the first Saturday in April, 1934, in dreadful weather conditions. The report from the 'Scotsman' on the following Monday read:
PERTH-KIRKCALDY RACE RUN IN SNOWSTORM
DUNDEE MAN'S ORDEAL
Eight clubs contested the first Perth to Kirkcaldy road relay race of 36 miles on Saturday, under most inclement weather conditions. Lord Provost Hunter started the first relay of runners from Perth in gusts of whirling sleet and snow, with treacherous underfoot conditions. Within the first two miles the falling snow had increased in intensity and when the sector from Freuchie to Coaltown of Balgonie was entered upon the road was fully four inches deep in snow and slush.
A mishap occurred to the leader at this stage, D Gowans of Dundee Thistle. With a lead of over a furlong, Gowans, unaccompanied by any stewards, had his own way to find to the next stage, and being strange to the district he took a wrong turning. The second runner, W McGregor, Kirkcaldy YMCA, also took a wrong route but managed to correct his mistake and get on to the right road again.
The non-arrival of Gowans at Coaltown of Balgonie occasioned much concern and a conveyance was dispatched in search of him. He was ultimately found in an exhausted condition, having run almost nine instead of six miles. After attention in a nearby cottage, the Dundee runner was taken to Kirkcaldy hospital where he was detained overnight to recover from the results of exhaustion and exposure. Over the last stage, McIntosh had an easy task to win for Edinburgh Northern. The unfortunate mishap to Dundee Thistle detracted somewhat from the merit of Northern's win, but their runners deserved commendation for the earnest and unrelenting manner in which they raced over each relay, to reduce a deficit of 2 mins 5 secs at six miles to a gain of 2 mins 23 secs at thirty six miles.
Results: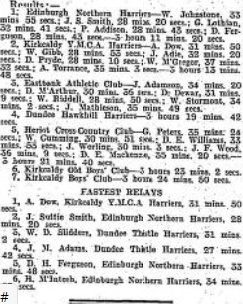 It was a pity that the first running of the race should coincide with a freak snow storm in April but even a quick look at the results will note the names of such quality athletes as Alex Dow, Suttie Smith , W Slidders and Peter Addison. If we look at the field here and the result of the Edinburgh to Glasgow 8 man relay that year, the Dundee Thistle team had won that from Edinburgh Northern and Maryhill Harriers with Gowans on the second stage for the Dundee team. Both Dow and Suttie Smith ran for Scotland in the international meeting that year while Slidders ran the year before too.
In 1935, the race had been brought back by a month and was run on 30th March. The race had attracted a lot of attention locally and a silver trophy had been gifted by Sir Michael Nairn for the winning team. He was of the Kirkcaldy linoleum manufacturing family and the cup would be known as the Nairn Cup. The Courier had a fairly detailed preview of the race in their edition of March 30th. Teams entered were
Edinburgh Northern Harriers – Colours : White with maroon and blue bands. JS Smith, WA Ferguson, C Lothian, W Hinde, JP Laidlaw, H McIntosh. Their achievements are too numerous to mention here, suffice to say they have gained every honour possible both for team and individuals. There are four internationalists in this team, and it is considerably stronger than when had a lucky win in this race last year. As they won the Scottish National cross-country championship, Edinburgh to Glasgow road relay race and the unofficial Scottish 10 miles relay championship this season, they will be all out to win this race too.
Garscube Harriers (Glasgow): Colours: White with blue band. From T Urquhart, D Brooke, J Bennett, T Dailly, J Thomson, W Gowans, T Armstrong, AD McDonald, C Thomson. They have been prominent in cross-country circles for a good number of years back, and were runners-up in Scottish championships and Edinburgh to Glasgow race.
Dundee Thistle Harriers: Colours: Red trimmed with white. A club that has been amongst the honours greatly in the last twenty years and have been just short of championship form being runners-up on two or three occasions. Have won the Edinburgh to Glasgow Relay and were most unfortunate last year in this race when after establishing a winning lead, a runner went off the road. A Team: T Coburn, P Addison, WS Slidders, D Whitecross, D Gowans, A Donnett; B Team: C McDonald, D Thomson, F Suttie, J McKechnie, EH Wright, WW Howie.
Dundee Hawkhill Harriers: Colours Blue and white quarters. Thistle's greatest rivals in the Jute City and quite a go-ahead club in the East of Scotland. Finished fourth last year. Team: G Rudd, A Robertson, D Taylor, F Kane, A Jamieson, W Cook.
Edinburgh Southern Harriers: Colours Blue and white stripes. The Northern's greatest rivals in the East of Scotland and especially in the Edinburgh League races, have also been among the honours. Team W Shaw, J Wilson, L Kapelle, G Jamieson, J Lindsay, T Ross.
Kirkcaldy YMCA: Colours White with Gold Band. The most prominent local club but still short of higher honours as regards team work. Winners of Teviotdale trophy last year in this race and runners-up in the open race. Team J Adie, T Dewar, A Dow, W Duncan, W McGregor. D Pryde.
Eastbank AC: Colours Black with white band. A club that has risen rapidly in East of Scotland cross-country circles and may be Kirkcaldy YMCA's greatest threat in local events. Team: J Rennie, D McArthur, D Dewar, W Riddell, G Ross, G Adamson.
Kirkcaldy (BB) Old Boys Club: Colours White with black and yellow bands. Composed of ex-members of the Boys Brigade but have never fulfilled expectations as yet. Team: JG Cameron, DM Bannerman, LAH Pake, DF Page, DE Williamson, LM Smart.
Kirkcaldy Boys Club: Colours Royal blue with white trimmings. On a par with the Old Boys Club and keen rivalry exists between them. Team: S McGregor, J Bell, W Dryburgh, S Robertson, H Lascelles, D Muir.
Penicuik Harriers: Colours Black with white gate. A moderate club who have been more prominent individually rather than collectively. Team: A McMillan, J Johnston, W Palmer, W McKenna, A Little, W Galt.
Bellahouston Harriers (Glasgow): Colours Blue with pale blue St Andrew's Cross. This club is pretty well to the fore in the West of Scotland and should give a fairly good account of themselves. This is a late entry but the team will definitely include Jacky Campbell, Scottish internationalist.
In the list of names can be found nine Scottish internationalists, namely JS Smith, W Hinde, J Laidlaw and R McIntosh (ENH), D Urquhart (GH), WD Slidders (DTH), J Wilson (ESH), A Dow (Ky YMCA), and J Campbell (BH).
It is an interesting list of teams from the North East, the East, the Borders and the West of the country and all of the teams were putting forth their finest runners. Would the race live up to the expectations of the promoters? The picture at the top of the page shows the intensity of the effort the runners were putting in. The enthusiasm of the spectators is evident too and the host of bicycles at the back presumably are for club supporters to follow the race. So how was the race?
The report in the 'Scotsman' was brief and to the point:
"Edinburgh Northern Harriers on Saturday won the second annual Perth to Kirkcaldy 36 miles road relay race for the Sir Michael Nairn Cup. Twelve teams, each of six runners took part. Northern's victory completed a remarkable sequence of successes, the club having won every open event they have competed in this season. The details:
Edinburgh Northern Harriers (JS Smith 30:29, W Johnston 27:09, C Lothian 30:47, W Hinde 25:42, JP Laidlaw 31:32, H McIntosh 35:35) 3 hrs 01 min 14 secs
Dundee Thistle Harriers (D Coburn 31:14, P Quinn 26:36, WD Slidders 30:34, A Whitecross 25:57, D Gowans 32:43, A Donnet 36:01) 3 hrs 3 min 5 secs
Bellahouston Harriers (G Hunter 31:23, A Hamilton 27:36, R Lumsden 32:21, T Lamb 26:57, R Austin 32:36, J Campbell 34:18) 3 hrs 5 min 11 secs
Garscube Harriers 3 hrs 9 min 33 secs; 5 Dundee Thistle B 3 hrs 9 min 46 secs; 6. Dundee Hawkhill 3 hrs 10 min 50 sec, 7 Kirkcaldy YMCA 3 hrs 11 min 31 secs; 8. Eastbank AC 3 hrs 13 mins 20 secs; 9. Kirkcaldy Boys Club 3 hrs 17 min 48 sec; 10 Edinburgh Southern Harriers 3 hrs 18 min 28 sec; Kirkcaldy Old Boys Club 3 hrs 20 min 32 secs; Penicuik Harriers 3 hrs 26 min 50 sec.
Fastest relay times were accomplished by the following runners: last year's best times are given in parentheses.
First Relay: J Suttie Smith, Edinburgh Northern (31 min 20 sec) 30 min 20 sec; Second Relay: P Quinn, Dundee Thistle, (28 min 20 secs) 26 min 36 sec; Third Relay: A Dow, Kirkcaldy YMCA, (31 min 02 sec) 30 min 13 secs; Fourth Relay: W Hinde, Edinburgh Northern, (27 min 42 secs) 25 min 42 secs; Fifth Relay: JP Laidlaw, Edinburgh Northern, (33 min 48 secs) 31 mins 32 secs; Sixth Relay: J Campbell, Bellahouston Harriers (34 min 53 secs) 34 min 18 secs.
The third running of the race on 23rd March, 1936, was also well supported and the picture below is of the start.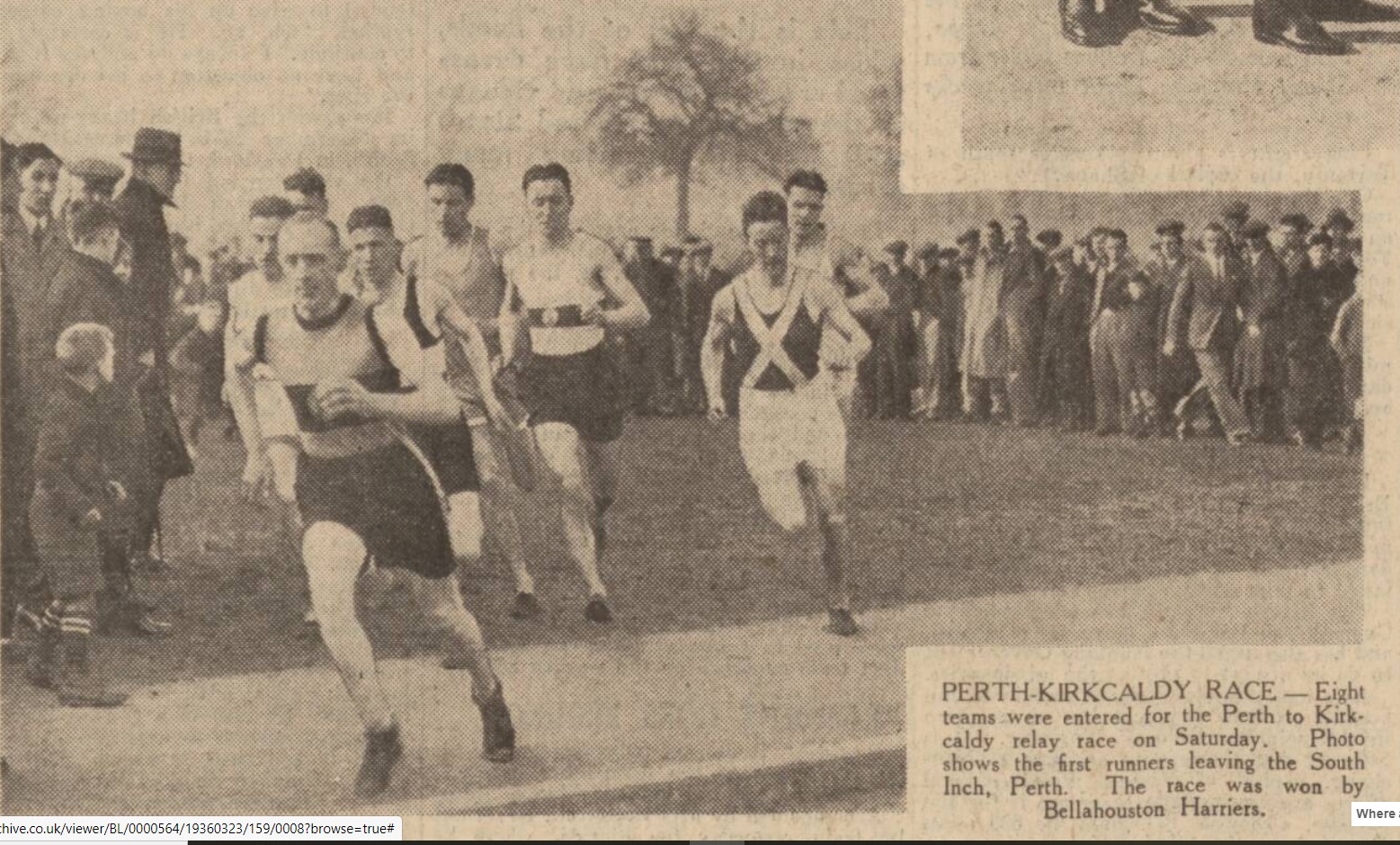 The race was a close one with two Glasgow clubs – Bellahouston and Plebeian Harriers – fighting out the finish. The report in the 'Courier' read as follows:

In 1937 the race was held on 27th March and both Bellahouston and Plebeian were back for more of the same – Bellahouston wanting to win again, Plebeian hoping to gain revenge for the previous year's defeat. Both had good teams out to do battle with (principally) Edinburgh Northern, Edinburgh Southern, Dundee Thistle and Kirkcaldy YMCA. The route was unchanged with change-over points at Aberargie (6 1/2 miles), Newburgh (5 5/12 miles), Auchtermuchty (5 1/4 miles), Freuchie (5 1/2 miles), Coaltown of Balgonie (6 5/12 miles), Esplanade, Kirkcaldy (6 3/4 miles). The route can be seen on this representational map.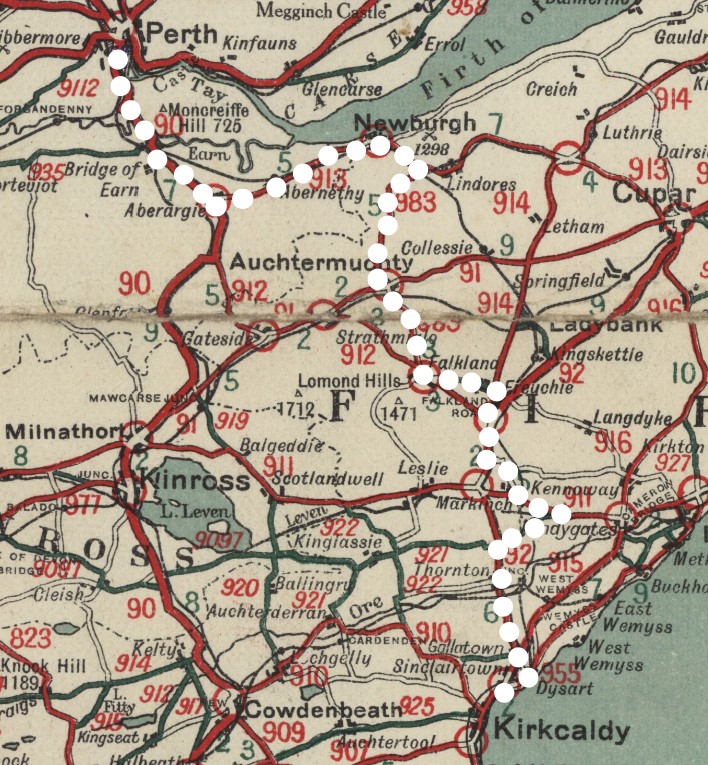 Although the report the previous year had a 5 yard victory for the boys from Bellahouston, the pre-race review this time said that it had been won by a single yard. It all adds to the excitement.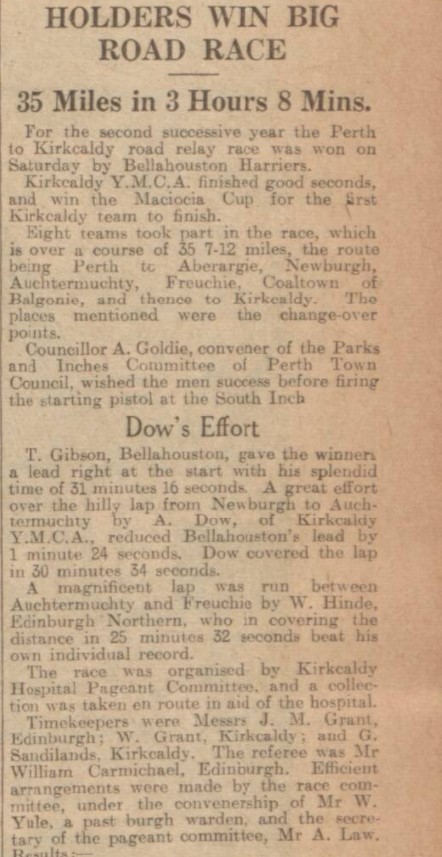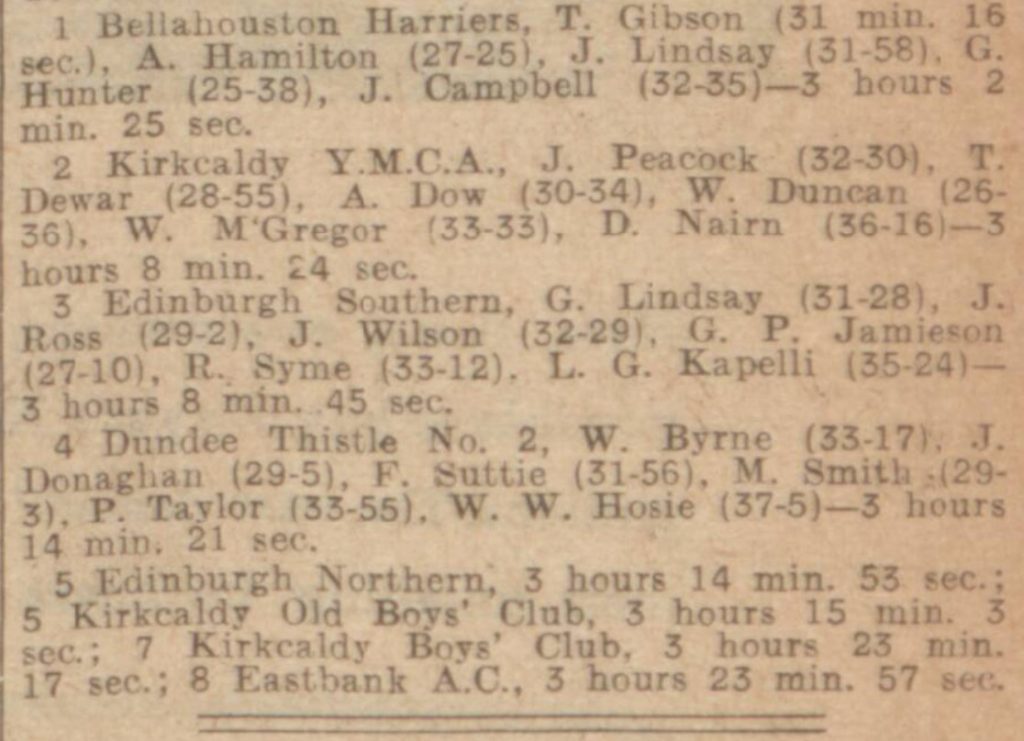 Any club or individual who wins a trophy twice, likes to go back to go for 'three-in-a-row' and Bellahouston Harriers had just that in Mind when they returned to Perth in March 1938. The race was organised by the Kirkcaldy Hospital Pageant Commission and the race was part of the efforts to raise money for the hospital – a reminder that this was pre-NHS days and fund-raising was a necessary part of any such organisation. The appearance of big name runners was a good selling point for the event locally. Bellahouston had all the top men out for the event. Like the Edinburgh to Glasgow relay, the winning club from the year before carried a special baton with a message from the Lord Provost of Perth to the Provost of Kirkcaldy. The report read: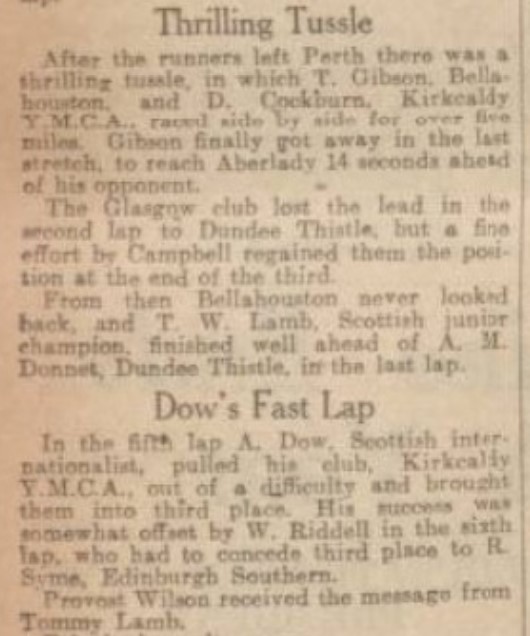 Bellahouston runners obviously liked Perth and they returned on 29th March 1939 for a fifth run in the race. The photograph of two Edinburgh Northern runners below is another very good picture of all that the race entailed – determined runners, enthusiastic spectators and a road cleared by the local police – the race reports usually included a list of officials and the Chief of Police was usually mentioned and thanked for the traffic management for the event.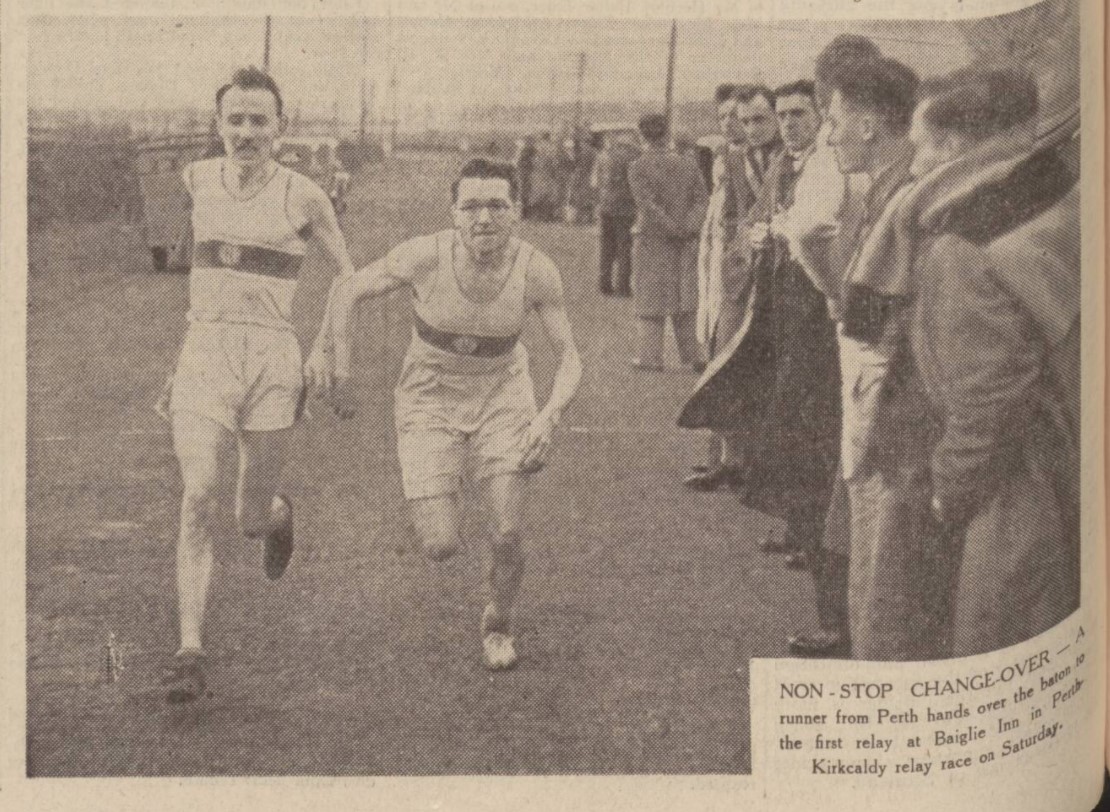 The headline from the 'Courier' tells the story.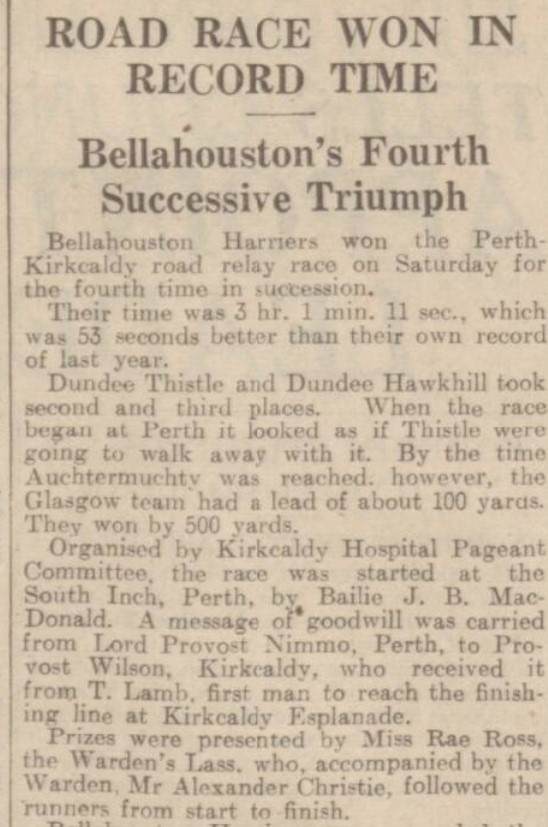 The opposition in what was to be the last race included both Edinburgh clubs and both top Dundee clubs. The results are below and Bellahouston are to be congratulated on winning the race in four consecutive years. Over the 5 years of their participation, they only used nine runners: Jacky Campbell ran in all five as did Tommy Lamb (a junior in 1935) and G Hunter, Hamilton, Lumsden and Gibson ran three each, Austin ran in two and Lawson and Lindsay ran one.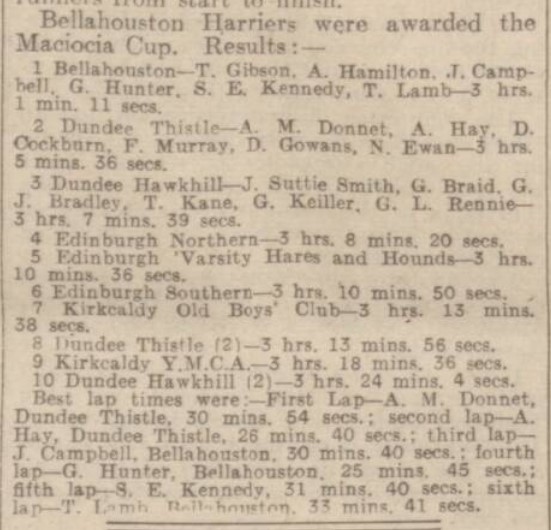 That was to be the last of the Perth to Dundee road relays – the War put a stop to it and it was never resurrected. It was a pity that the only six-man road relay disappeared. The Scottish national 6-man road relay did not appear until 1979 and it is a very popular event with many of the country's best running talent turning out for their clubs.